Heading to Peru, but missed the Inca Trail deadline? Check out these incredible Inca Trail alternatives.
With stunning landscapes and amazing Incan ruins, what better way to spend your time in Peru than outdoors? Trekking is an extremely popular activity for visitors to Peru, especially those wanting to see Machu Picchu or enjoy some of the splendid views.
For one of the country's most iconic hikes, you could hit up the famed Inca Trail…
Okay, let's get real. If you're anything like me, you probably didn't book your trip to Peru in time (6+ months in advance!) to sign up for the Inca Trail. But don't fret! These 7 amazing Inca Trail alternatives will more than make up for it.*
*Some of them might…ahem…be even more beautiful than the Inca Trail. But that's for you to decide.
Best Inca Trail Alternatives
Vinicunca (Rainbow Mountain) Trek
2 Days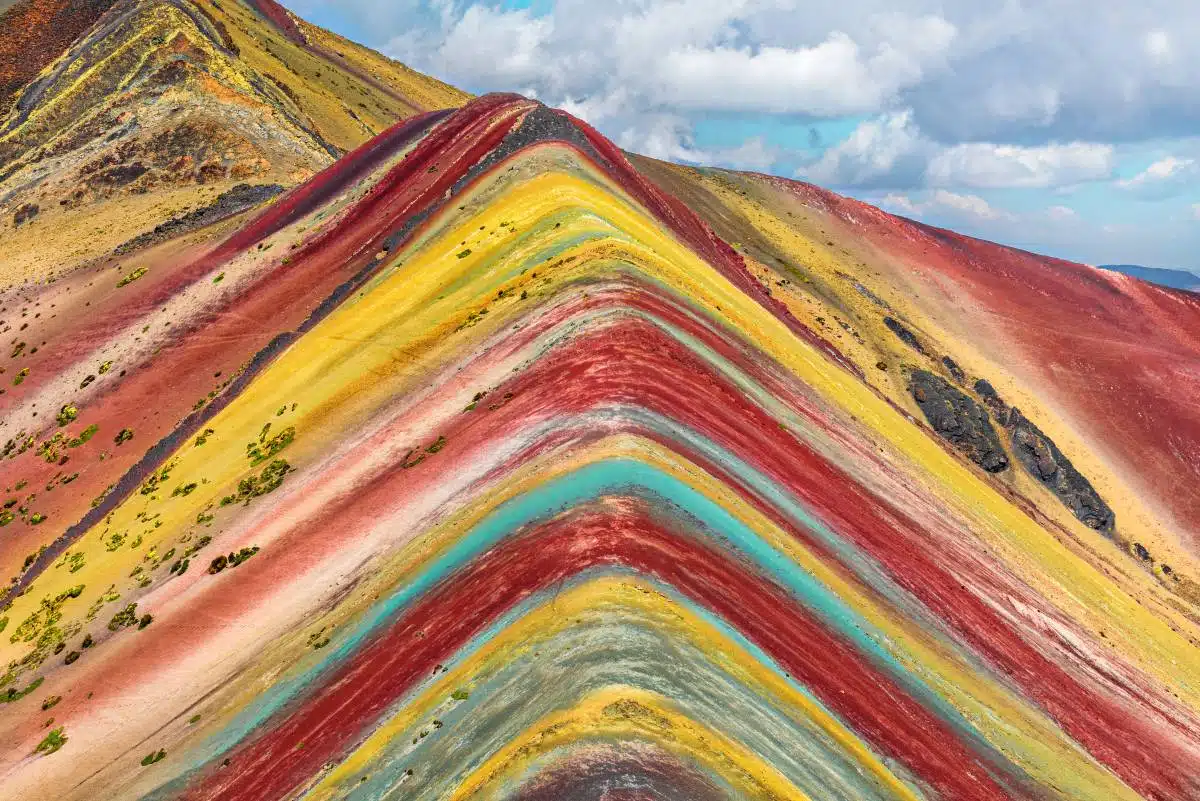 If you're looking for a more "off the beaten path" way to see the famed Rainbow Mountain (Vinicunca), many tour operators run 2-day treks from Cusco to Vinicunca.
On the first day, this trek passes near the mountainous region near Ausangate, the highest mountain in the area. In the night, this area affords stunning night skies and a Milky Way that's often visible to the naked eye.
The trek finishes with the ascent up to the Vinicunca viewpoint, where you can see the social media-famous views of this unique mountain.
For this trek to Vinicunca, many travelers online recommend Flashpacker Connect. You could also ask around at different tour operators in Cusco and compare prices.
Choquequirao Trek
4 – 8 Days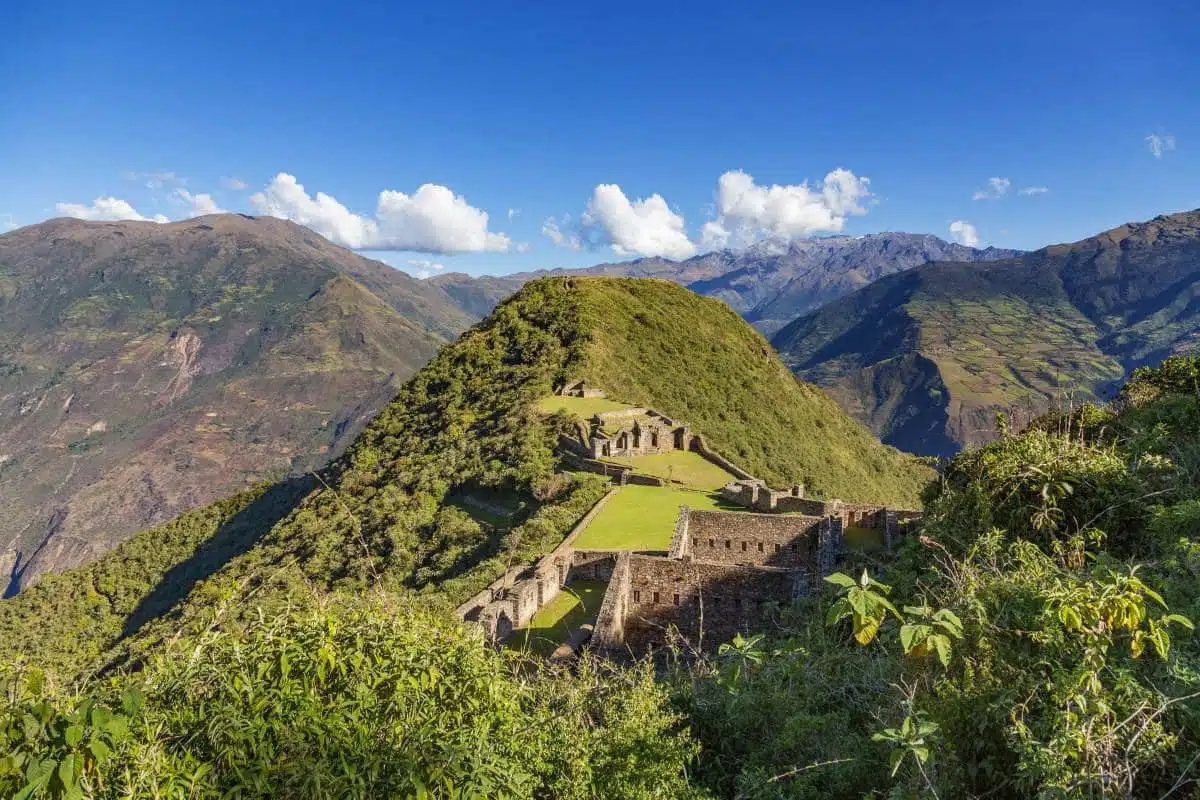 High up in the Andes, some lesser-known but more interesting set of ruins known as Choquequirao are located not far from the famous Machu Picchu.
Several tour operators offer multi-day treks to these beautiful ruins, and some of the tours offer a chance to see Choquequirao and Machu Picchu in one 8-day excursion. This trek is difficult but definitely worth it to learn more about Incan history and Quechua culture in one of the most beautiful settings in the world.
For the Choquequirao Trek, travelers recommend Choquequirao Trek. This tour operator is pricey but has fantastic reviews. Otherwise, you can inquire in local tour agencies in Cusco.
Lares Trek
4 Days
The Lares Trek is one of the most popular alternatives to the Inca Trail, and also one of the most beautiful.
Winding throughout the Sacred Valley, the trek is immersive in both nature and culture. In 4 days, the trails take you to thermal baths, artisan workshops, small rural villages, and stunning Andean landscapes. The final day of the trek will bring you to Machu Picchu, where you can see the famed ruins for yourself.
To book the Lares Trek, many people online recommend Alpaca Expeditions. However, if price is your main concern, I recommend comparing prices in Cusco, as this is a rather popular trek.
Ausangate Trek
5 Days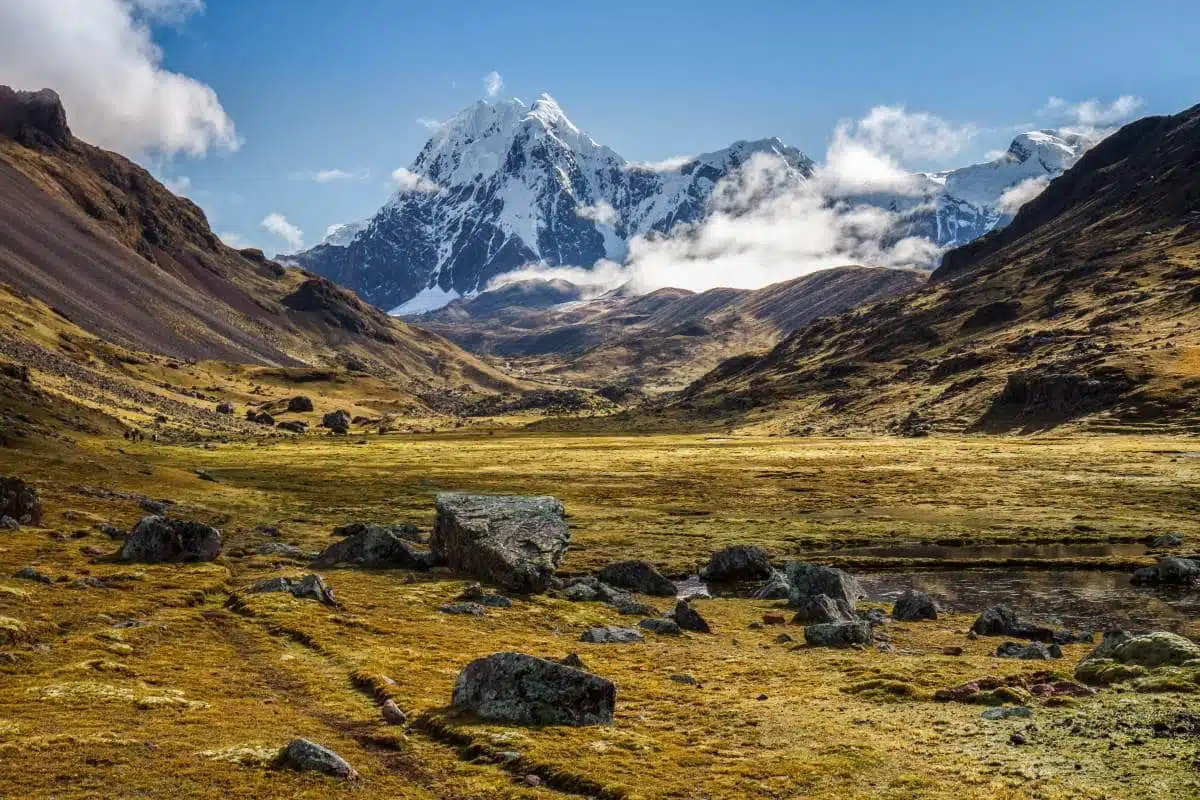 Much like the Rainbow Mountain/Vinicunca Trek, the Ausangate Trek is a challenging trek that traverses the perimeter of the Ausangate Mountain. With some of the most jaw-dropping views in Peru, there are plenty of panoramic glimpses of the snow-capped Andes mountains.
This trek also passes by Rainbow Mountain, so you can catch a glimpse of this fascinating colored landscape. It's much less popular than some of the other hikes mentioned here, so if you're looking for an 'off the beaten path' adventure, this is a great one to try.
For more information, check out this handy guide to the Ausangate Trek. We also found this comprehensive guide to the Ausangate trek to be helpful. This trek overlaps with the 2-day Rainbow Mountain trek, so I would recommend just choosing one.
Inca Jungle Trek
4 Days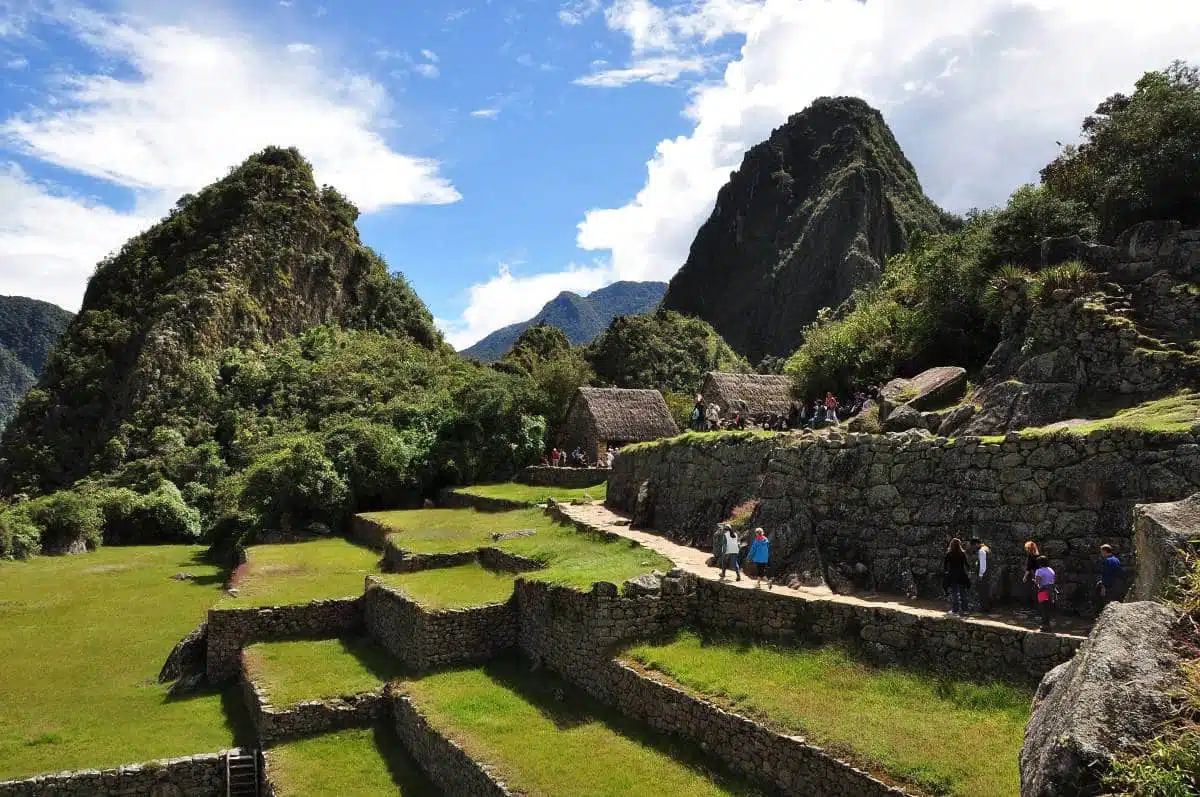 An alternative to the Inca Trail that actually covers part of the Inca Trail…without having to get a permit? Win/win! The Inca Jungle Trek has portions that involve hiking, mountain biking, zip lining, and go rafting on the river.
Although I didn't end up doing this trek, I spoke with some people who found the mixed variety of this trek to be exciting and adrenaline-inducing. It's not for the faint of heart!
As one of the most unique treks to Machu Picchu, there's a lot of competition. Many people who have done this trek in the past recommended booking through Loki Hostel. You can also book directly with a tour operator in Cusco.
Vilcabamba
5 Days
One of the lesser-known treks to Machu Picchu, the Vilcabamba trek is a hidden gem.
Journeying through beautiful landscapes, small Quechua towns, and other sets of Incan ruins and historic sites, there's a lot to see on this 5-day adventure. The fourth day ends in Aguas Calientes, with the last day reserved for visiting Machu Picchu.
There seem to only be a handful of companies that offer the Vilcabamba route. Llama Path has good reviews on TripAdvisor and Google.
Salkantay Trek
4 – 5 Days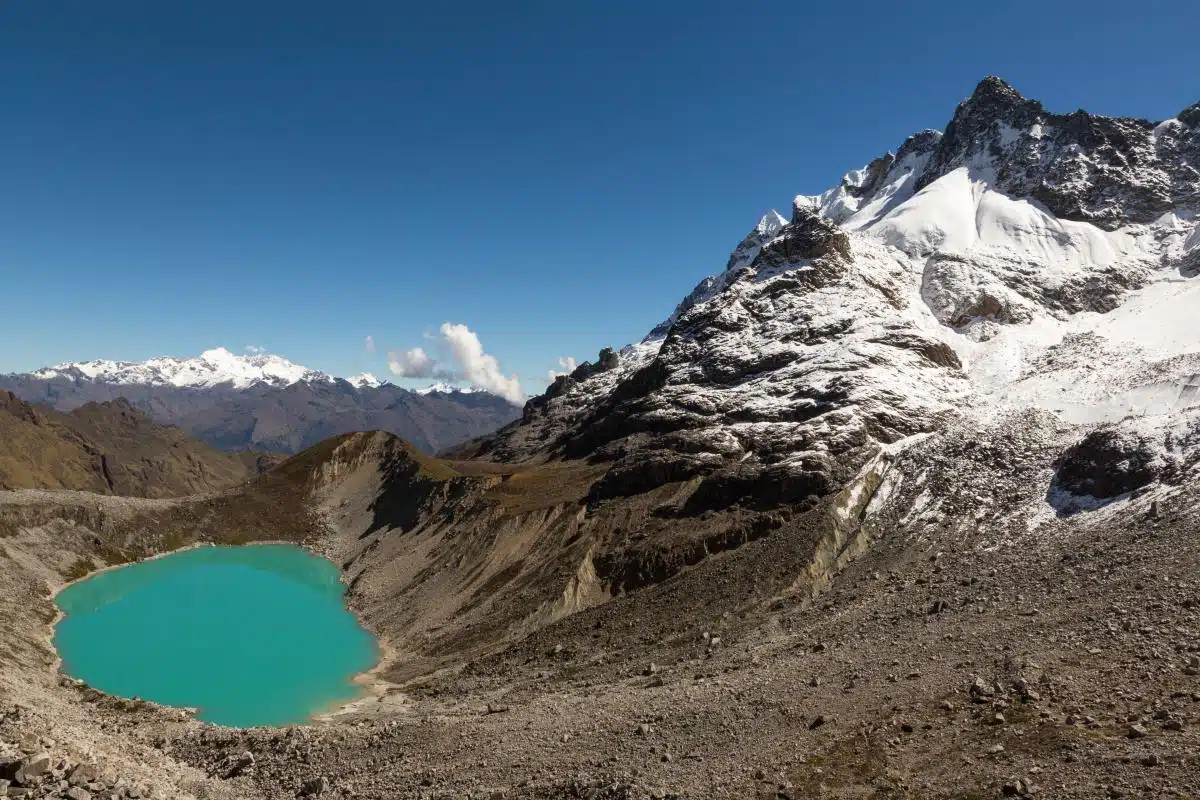 Of all of the options for trekking to Machu Picchu, the Salkantay Trek may possibly be the most beautiful one. (I may be biased because this is the Inca Trail alternative trek that I actually did.)
Hiking through snowy mountain passes, alpine lakefronts, cloud forests and striking valleys, this is a very challenging trek that's definitely worth the hype.
I trekked with Salkantay Trekking (the 4-day itinerary) and had a fantastic experience. If you'd like to hear more about how my trek went, check out the post here.
They aren't the cheapest provider, but I believe the added comfort of accommodations and the professional guides are worth the extra expense.
Inca Trail Alternatives: When to Go
The high season for Peru is the summer months, June-August. However, the dry season lasts from May-late September.
If you'd like to avoid the crowds, it's best to plan your trip in May or September. The other months of the year are more rainy and can cause dangerous or unpleasant conditions on the trails.
Inca Trail Alternatives: Final Thoughts
While the Inca Trail is the most famous trek in the Cusco area, it isn't necessarily the best or most beautiful. If you're looking for an alternative to this highly famous trek, consider booking one of these amazing Inca Trail alternatives. You won't be disappointed with any of them!
Love This? Save and Share on Pinterest