Tayrona National Park is Colombia's best-kept secret. Pristine beaches, tropical jungle and exotic wildlife await those intrepid enough to make the trip.
By Torie Ross
Set along Colombia's Caribbean coastline, the Parque Nacional Natural Tayrona is treasured among locals and a must-see for many visitors to the South American country.
Colombia is increasingly known for its jaw-dropping beaches and Tayrona is no exception. If you only make time for one beach during your trip to Colombia, this should be it. 
From the expanses of sandy beach to the desert-like conditions of the park's western region, to the lush rainforest of the eastern region, Tayrona National Park is awash with incredible scenery and exotic wildlife.
The Tayrona National Park covers more than 37,000 acres and reaches all the way from Bahia de Taganga to the mouth of the Rio Piedras, so a visit can be both exhilarating and overwhelming.
However, with so many options for accommodation, activities and transportation, it is easy to make the most of any visit.
How to Get to Tayrona National Park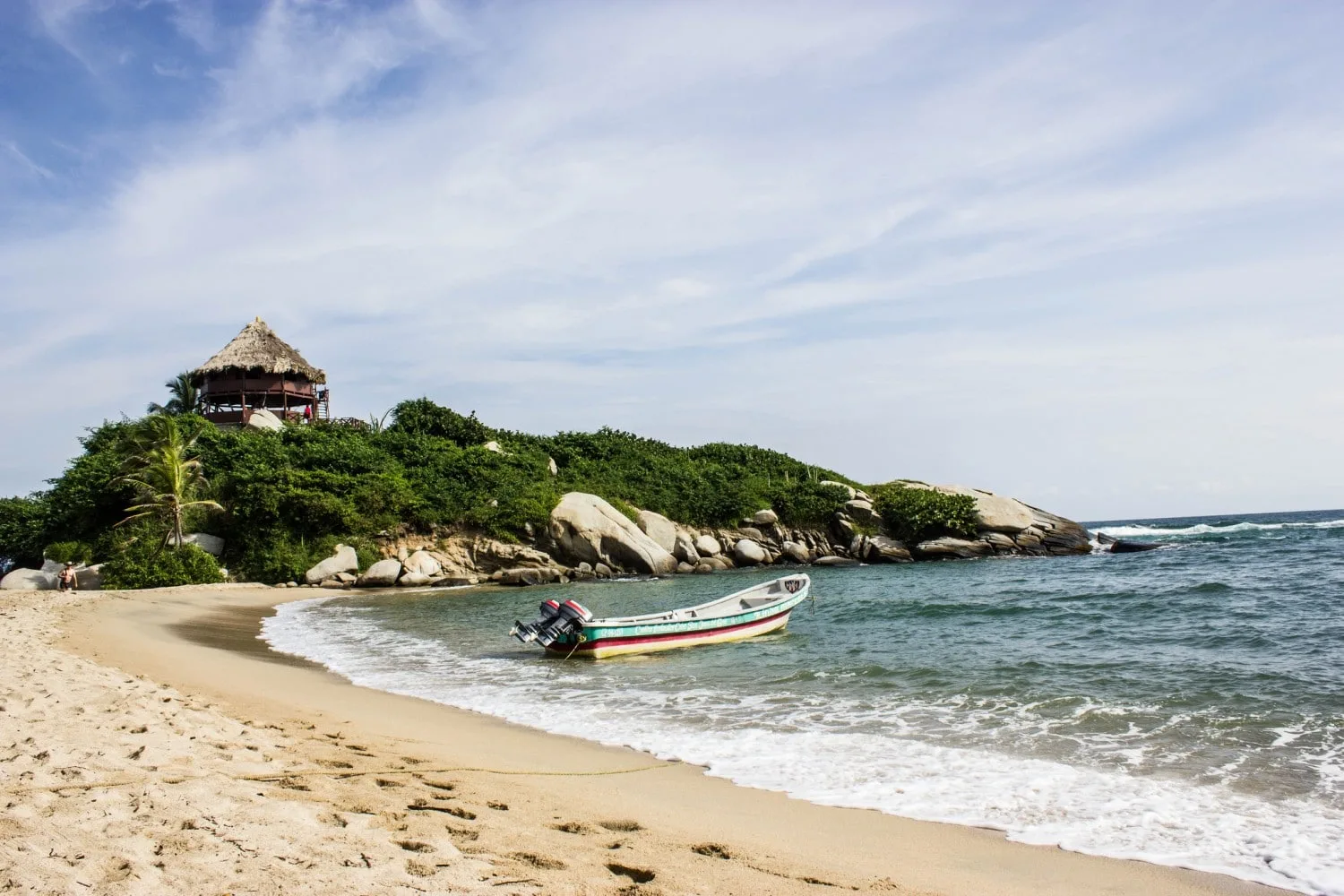 Although Tayrona is largely revered for its remote location, there are several ways to arrive at the park without having to rent a car or spend a fortune.
The park is easy enough to access from the main hub of Cartegena, so a day trip from the city is possible. However, with the long travel times, sometimes unreliable transport options and variety of sights and activities to enjoy within the park itself, it is not necessarily recommended.
Instead, many travelers opt to journey to nearby Santa Marta the night before, then take the first buses into the park the next morning. This gives you the opportunity to scope out the best spots on the beach and enjoy the park before the crowds arrive.
Multiple bus and shuttle services run between Cartagena and Santa Marta. Most of them either leave from Cartagena's main bus terminal or will pick travelers up from their accommodation.
A one-way journey, which takes four hours, costs about 50,000 COP or $20US.
To get to Tayrona the following day, visitors will need to take a bus from Santa Marta to the park entrance. The buses pick up passengers at the corner of Calle 11 and Carrera 11 and the hour long journey costs 6000 COP or around $2US.
Entrance fees into the park vary, but for foreign nationals, the price is around 40,000 COP or $14US or £10. You need to show your passport to the park officials upon entering Tayrona, so it is important not to forget it.
Where to Stay in Tayrona National Park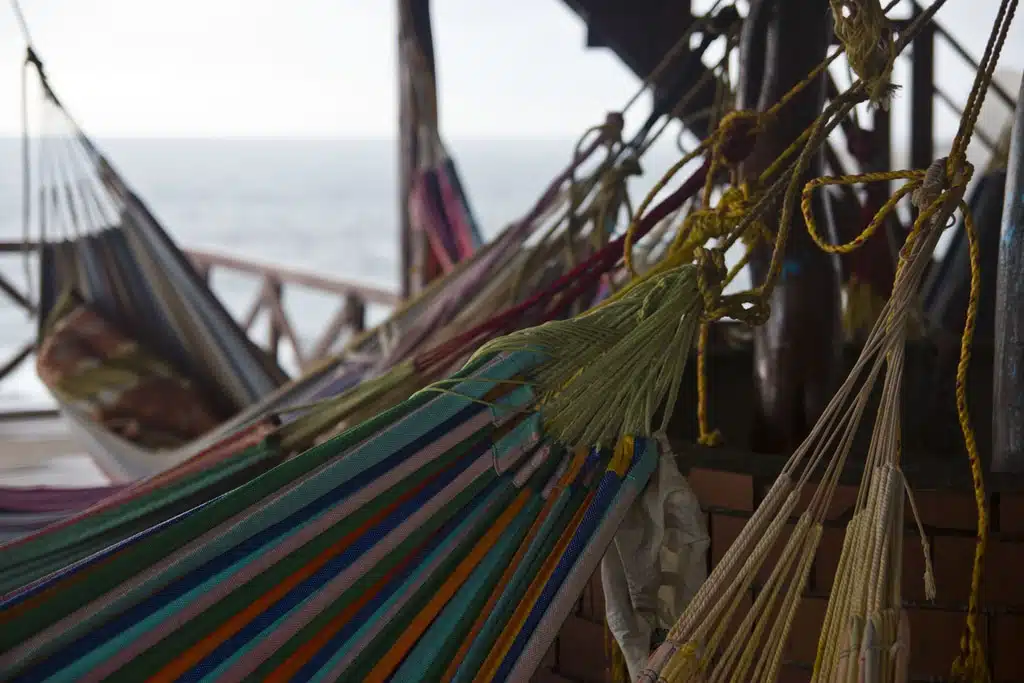 When it comes to choosing where to stay in Tayrona National Park, you can take your pick of everything from luxurious eco-huts to open-air hammocks. All tastes and budgets are catered for.
Campsites make up the majority of accommodation available inside the park. The beach of Cabo San Juan is Tayrona National Park's most popular campsite.
The swimmable beach (a rarity in Tayrona), abundance of tent and hammock rental options, nearby restaurant and facilities and central location mean that this site is always busy, especially in the high season.
Tent rentals at Cabo San Juan cost around 18,000 COP or $9 US per night while hammocks with ocean views cost 25,000 COP or $12 US. More off the beaten track campsites are also available at Playa Brava and Bukaru.
If you want to stay inside the park itself, but don't want to camp (or make the two hour trek from the park entrance to the nearest campsite), Ecohabs offer an awe-inspiring alternative.
The native wood and palm leaf covered huts blend seamlessly into the natural surroundings and offer their guests the use of a mostly private beach, stunning views over the Carribean, multiple dining and excursion options and the chance to be truly immersed in the park without giving up too many creature comforts.
A small Ecohab, which sleeps two, starts at $334US / £260 per night.
Things to Do in Tayrona National Park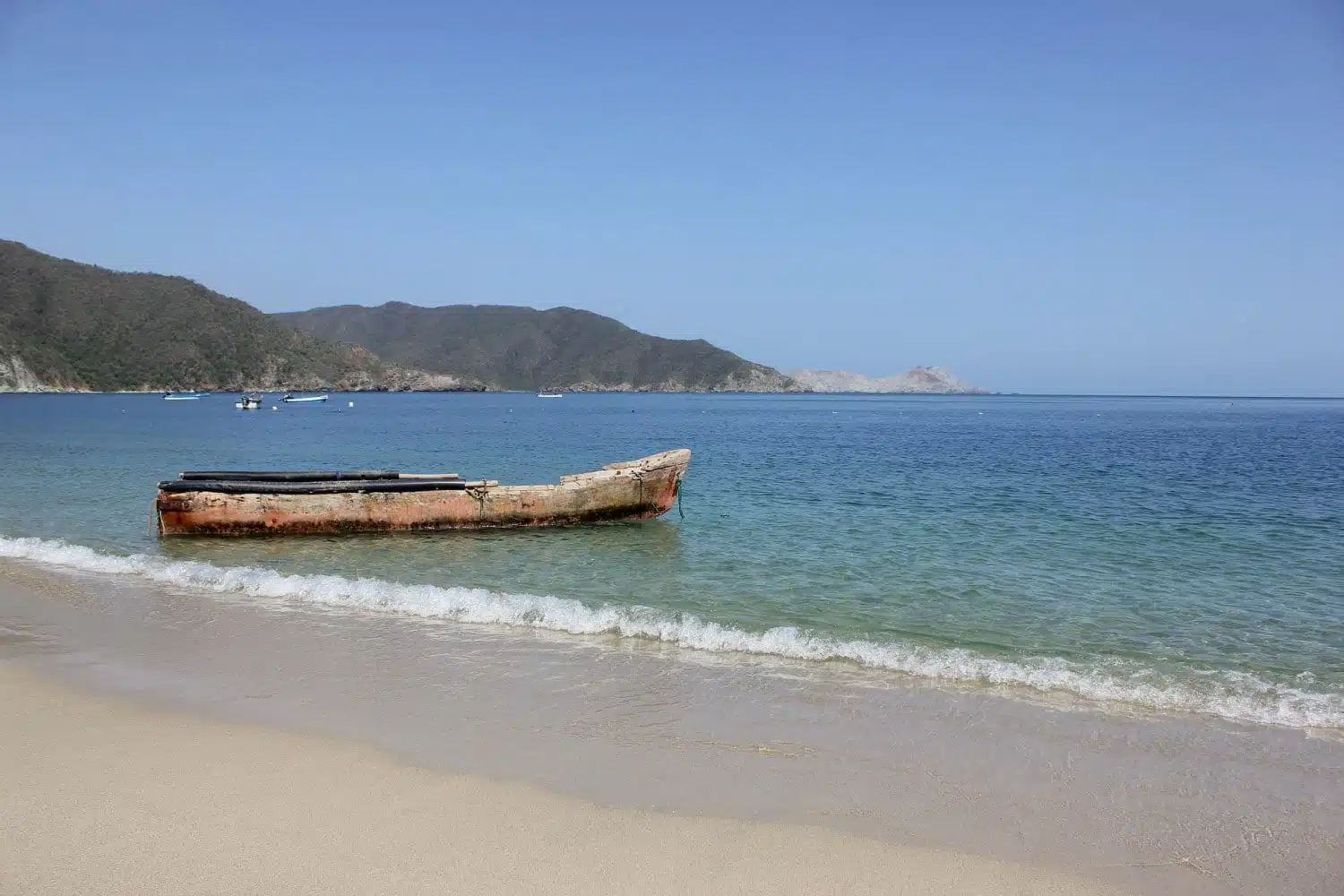 With miles and miles of stunning coastline, it can be tempting to spend an entire trip in Tayrona just lounging on the beach. While there's nothing wrong with a bit of sunbathing, Tayrona offers so much more to be discovered than beautiful beaches.
Hiking is a big part of visiting Tayrona and exploring the park on foot allows visitors to really appreciate their surroundings.
For those interested in learning more about the Tayrona people who once inhabited this land, the scramble up the hill from Cabo San Juan to Pueblito is well worth the effort.
Today the settlement is still inhabited by a small community of indigenous Colombians. The '9 Piedras' walk is another popular hike within the park which takes walkers past a succession of ancient stones, hidden beaches and secluded trails.
South America is famous for its abundance of wildlife, and Tayrona National Park is no exception.
Hundreds of animals, including more than 50 endangered species, call Tayrona home, making spotting wildlife another popular activity within the park.
Multiple species of monkeys and wild birds can commonly be seen along the trails and campsites. Signs of Tayrona's small jaguar population, giant boas, poison dart frogs and more can also often be observed.
Parque National Tayrona's beaches are one of the main draws for visitors. While watersports and swimming are possible at some spots, many of the beaches are too dangerous for swimming and warning signs should be taken seriously.
Cabo San Juan is the most popular beach in the park for swimming and snorkeling, but swimming is also possible at nearby La Piscina.
Although swimming is far too dangerous at Arrecifes beach, the boulder strewn sand is a popular spot for visitors wanting to take iconic Tayrona photos, especially at sunrise and sunset.
What to Bring to Tayrona National Park

With so many different activities to enjoy and places within the park to explore, it can be hard to know what to pack for a trip to Tayrona, especially if the trip is just a few days out of a larger trip to Colombia or South America.
The most important thing to remember when coming to Tayrona is to pack light.
With the exception of the Ecohabs, which is located close to the entrance and exit of the park, arriving to any of the campsites in Tayrona involves at least an hour or two of hiking.
Travelers who have suitcases or large backpacks should arrange to leave them in a secure locker at their accommodation in Cartagena or Santa Marta. The second most important thing to remember is a passport, as foreigners will not be allowed into the park without it.
If you've just arrived in South America, it's a good idea to buy a South America Sim Card as it's much cheaper than using your own sim on roaming.
A trip to Tayrona usually involves a great deal of walking, swimming and playing in the sand, so suitable footwear and a swimsuit and towel are all recommended.
For visitors staying in the campsites, lightweight long sleeved shirts and trousers for protecting against cool ocean air and mosquitos at night, shower shoes for the communal bathroom facilities and a padlock to keep belongings secure in the campsite lockers overnight should all be included.
Many visitors also choose to bring in their own water that they purchase in Santa Marta as buying bottles of water within the park itself can be expensive.
Bringing food into the park is also common, especially among budget travellers, however plastic bags and alcohol are both not allowed to be brought in.
Tayrona is a unique ecological world just waiting to be discovered and the peace and tranquility the park offers its visitors is well worth the planning it takes to visit.
---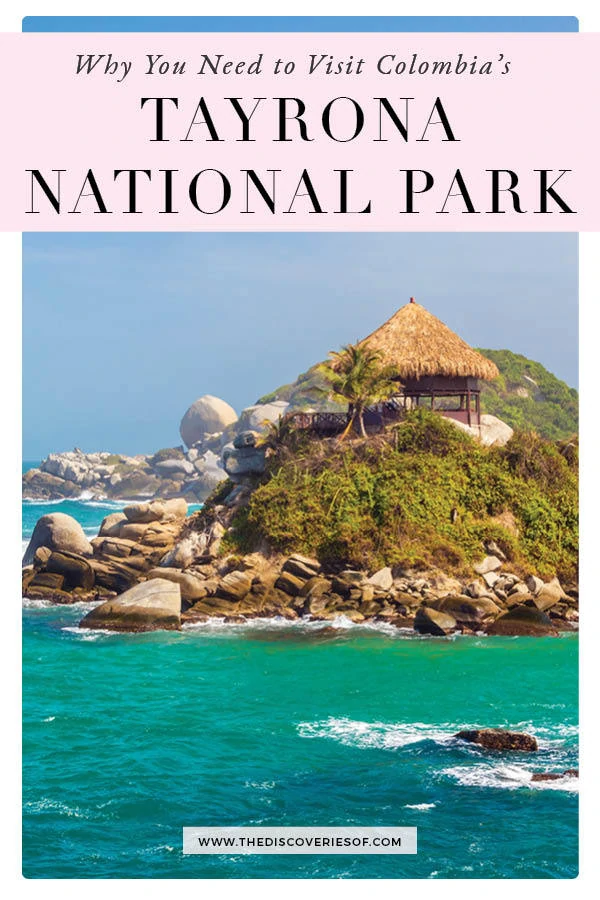 ---