It was the best of times, it was the worst of times… Charles Dickens might well have been talking about winter in Northern Europe when he penned his famous words. Escape the doom and gloom – we've hunted out the best winter sun destinations in Europe for your next dose of short-haul sunshine.
Let's tell a little story. Every year the days get shorter, the temperatures plummet and the sky goes that kind of stomach-sinking grey with a tinge of ochre and you just can't deal.
Sound familiar? Yeah, thought so.
Of course, you can fly to exotic destinations for your dose of winter sunshine – Barbados is particularly good at this time of year. So are The Maldives. Only problem is they're a long flight away and pretty pricey when you get there.
So what's a person to do? Head out in search of the best winter sun in Europe of course.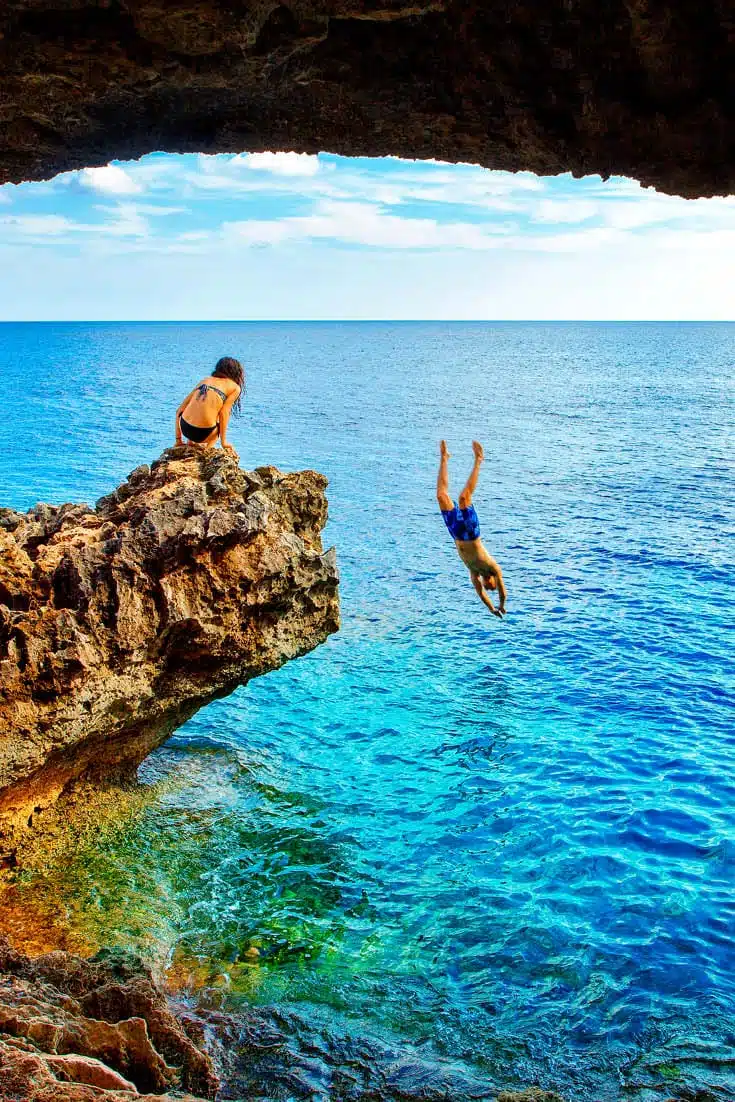 Contrary to popular opinion, winter in Europe isn't restricted to Northern Lights spotting, skiing and crying in your hot chocolate because it's so cold.
Winter sun in Europe might be an elusive beast, but it is there if you know where to look.
Wanna know where it's hot in December in Europe? Or where to find February sun in Europe? There are plenty of warm spots where you can kick back, margarita in hand, bikini on body and soak up the sunshine. Here's my pick of the best.
Where to Find Winter Sun in Europe
Cyprus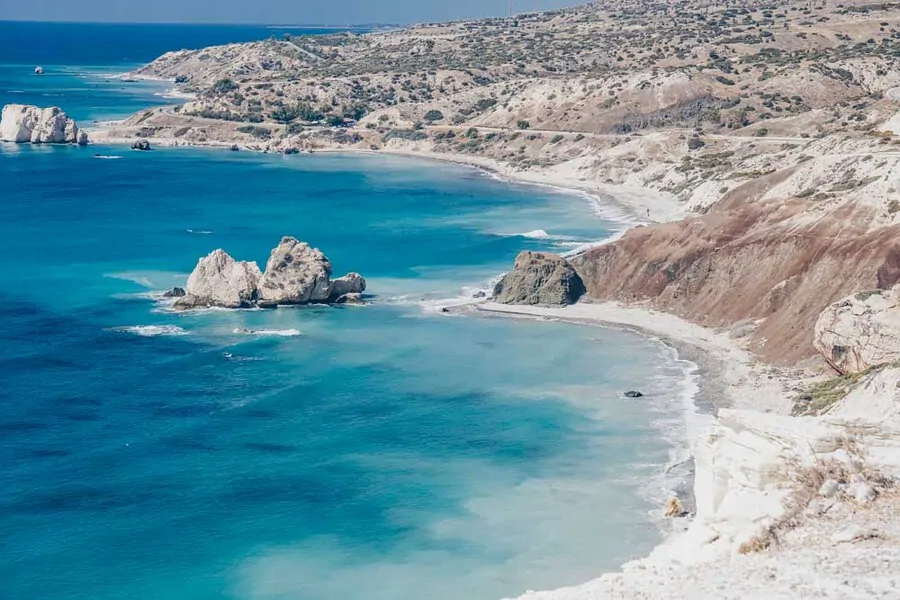 (c) Julianna Barnaby
Ah Cyprus, you beautiful island.
Although it's only a four-hour flight away, Cyprus is a world away when it comes to sunshine when you most need it – the island has an envy-inducing 340 days of sunshine per year.
There are so many reasons why I'd always choose Cyprus as one of the best places to find winter sun in Europe.
Not only does Cyprus boast some of the cleanest and clearest waters in Europe, the beaches are everything you'd want from your winter escape.
Add to that a fascinating culture and history, a number of archaeological sites, delicious food and plenty of outdoor activities, and you'll see why this is such a great winter sun spot.
I'd encourage you to spend time exploring Cyprus' gorgeous countryside. Getting off the beaten track is truly part of the fun.
That said, the capital Nicosia is a pretty maze of alleys and age-old architecture, while chic Limassol's party season never quite stops in the winter months.
Add to that the museums and gorgeous beaches of Paphos and you can understand why I can't stop going back for my fix of European winter sun.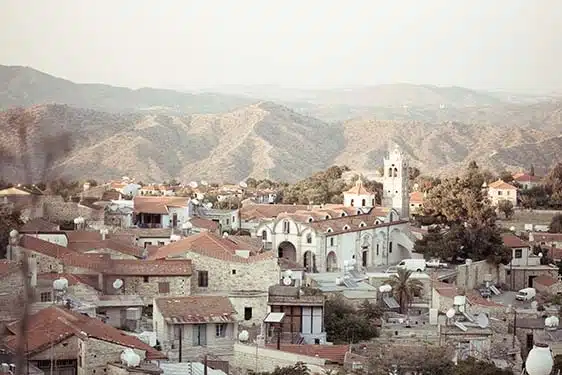 Some of the biggest resorts can feel a little sleepy in winter – but it can be the perfect time to snap up fabulous deals that are otherwise unthinkable in the summer.
Otherwise, go independent, book a boutique property and explore solo.
Average temperature in January: 18ºC
Flight time: 4hrs 40 mins – Check Flights on Skyscanner
Recommended stay: Columbia Beach Resort, Pissouri – Check Reviews and Prices

Read more about why I think Cyprus is the perfect getaway (and not just in the winter)
Madeira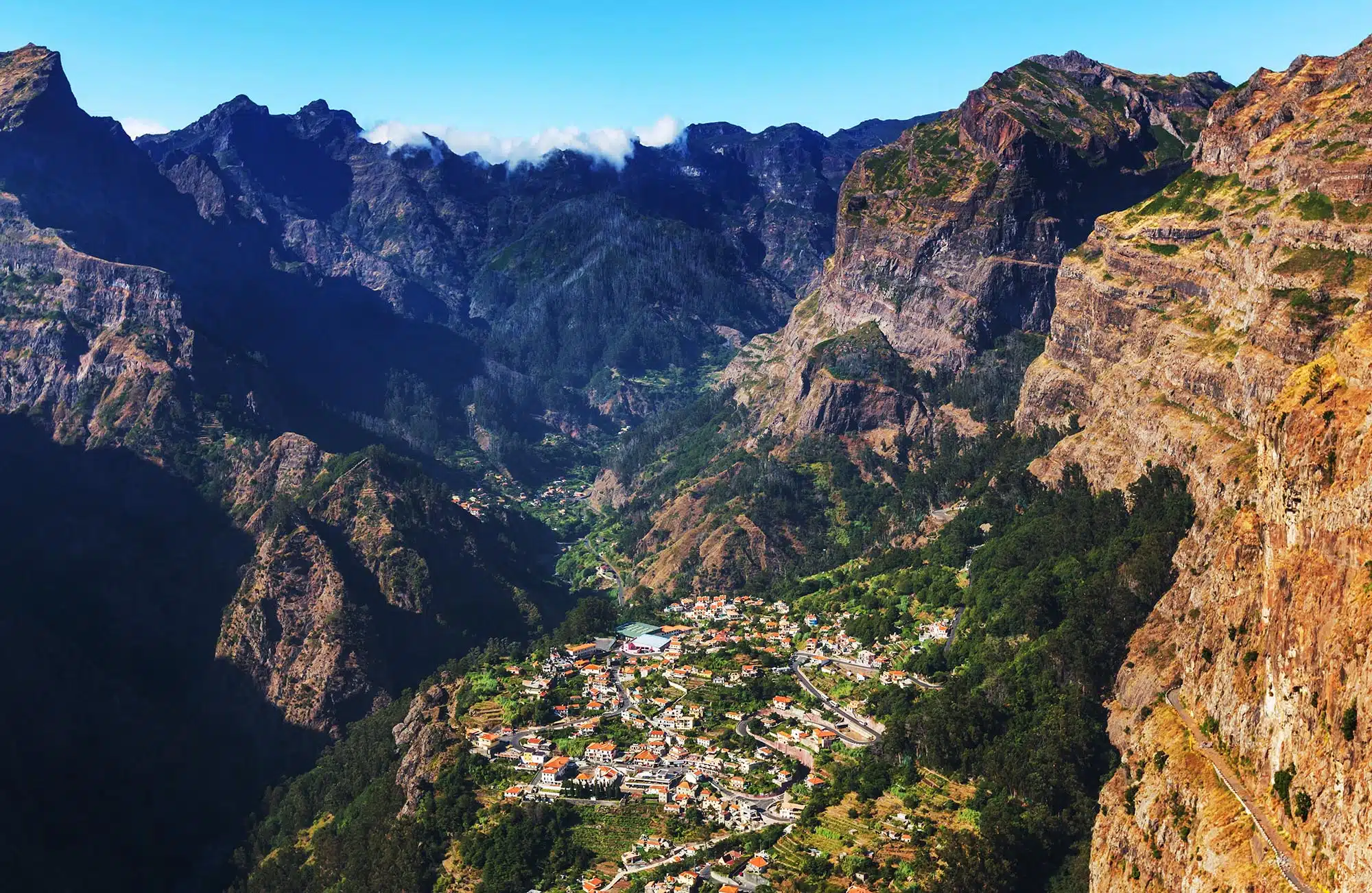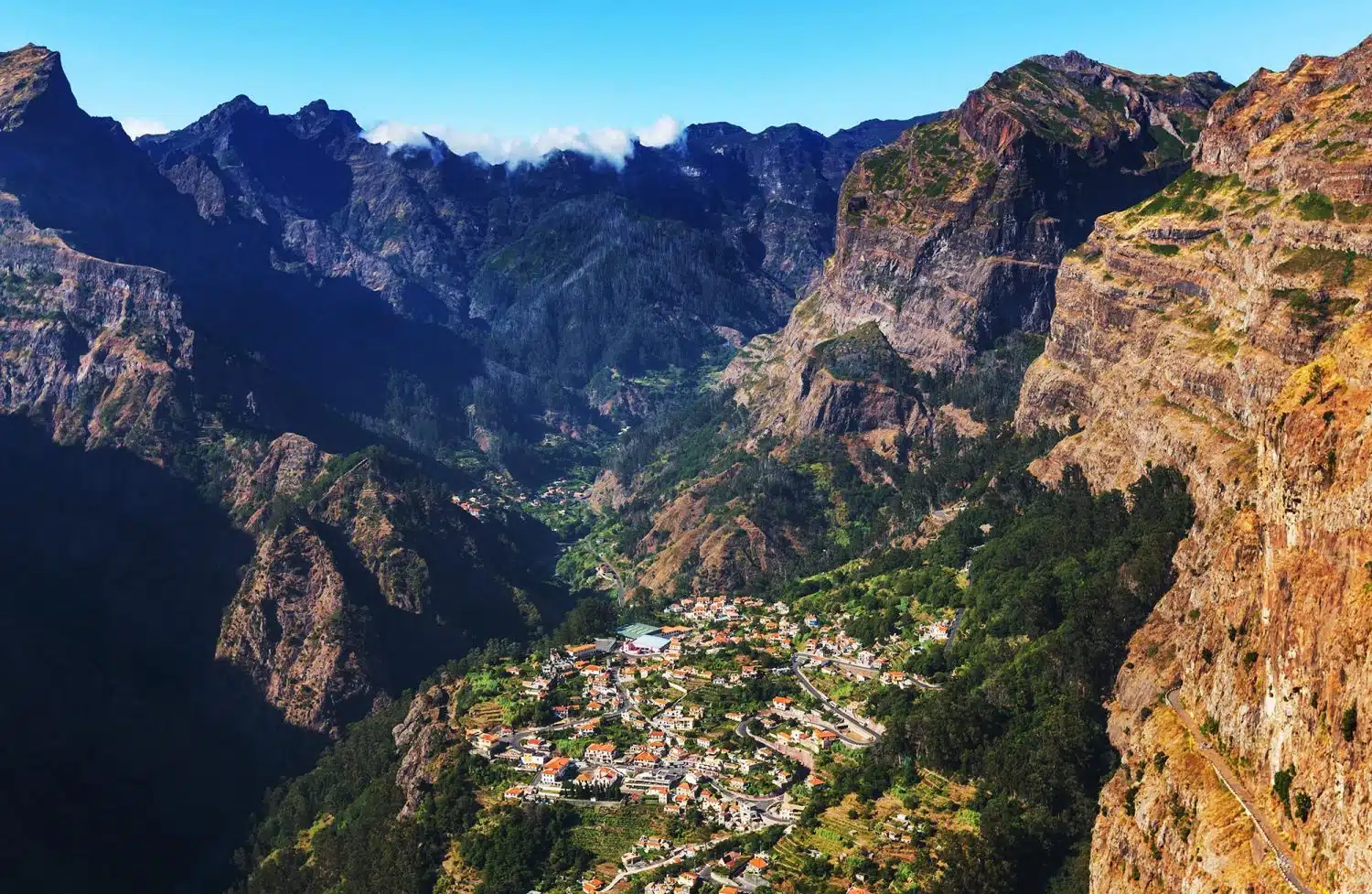 Galyna_Andrushko/ Envato Elements
Another island bobbing in the middle of the Atlantic, Madeira is probably best-known for its old-school fortified wine and local Cristiano Ronaldo (in fact, Madeirans love Ronaldo so much the island's airport is named after him). It also happens to be one of the best winter sun destinations in Europe.
Sub-tropical Madeira doesn't look much like Europe. The volcanic island, with its steep inclines and leafy canopy are more similar to scenes out of Jurassic Park than anything else.
Now this isn't one of the best winter sun destinations in Europe for beach lovers – there are precious few on Madeira. However, what the island lacks in decent beaches, it makes up for in year-round surfing, hiking, biking, canyoning… you get the picture.
Average temperature in January: 18ºC
Flight time : 3hrs 50 mins – Check Flights on Skyscanner
Recommended stay: The Vine Hotel, Funchal – Check Reviews and Prices
Sicily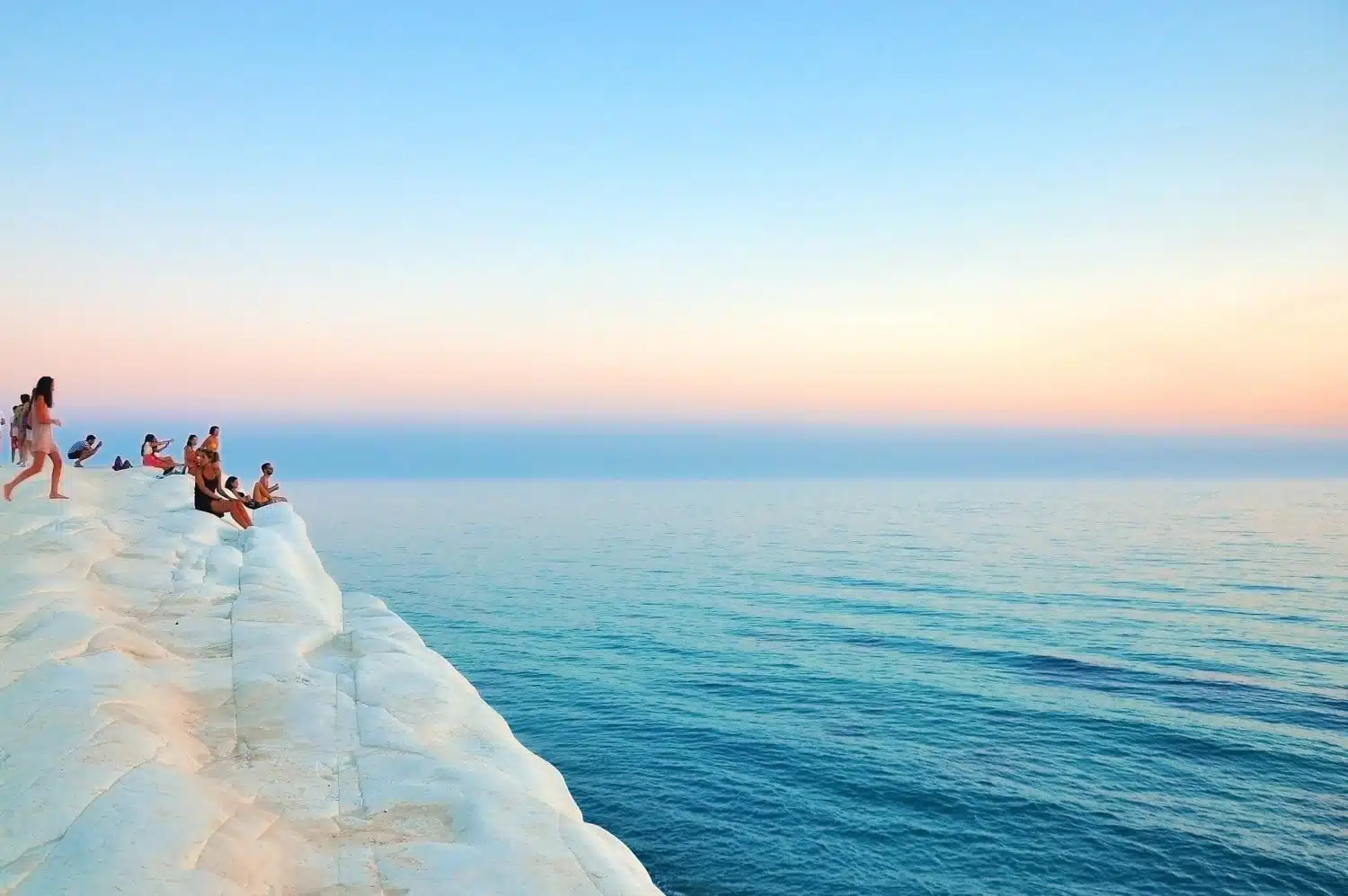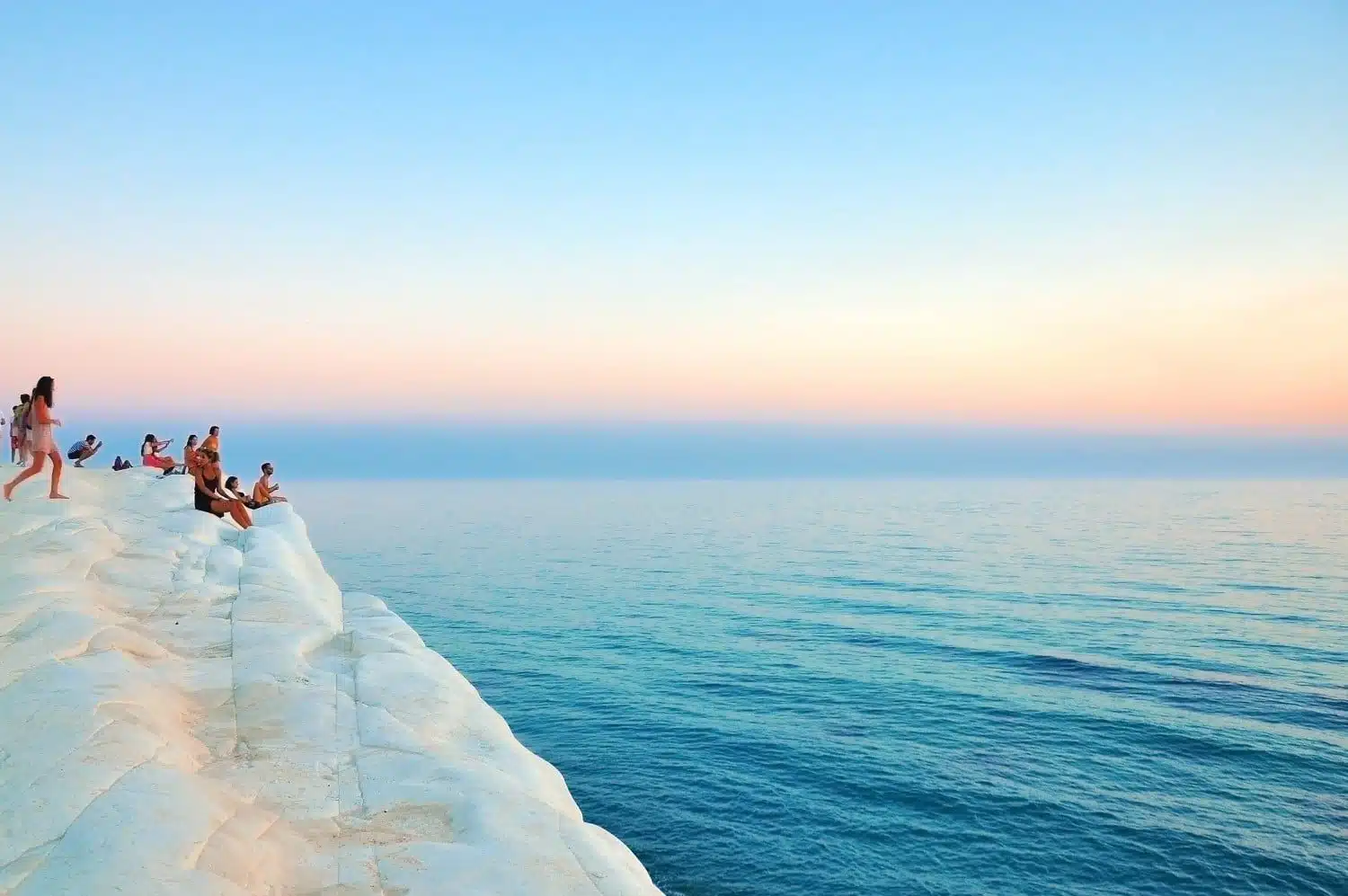 Davide Ragusa on Unsplash
Sicily. Great food, wine and winters. What's not to love?
Sicily is the largest island in the Mediterranean and certainly one of Europe's best winter sun holiday destinations for sun-worshippers and outdoor lovers alike.
The triangle-shaped island is having something of a heydey after decades of being overlooked. People are awakening to the wealth of Baroque towns, medieval villages, skiing and (of course) yummy food Sicily has to offer.
Taormina restaurants and attractions are around every corner in Taormina, the gateway to Sicily. It is a great place to absorb your first impressions of this culturally fascinating island.
Beaches that are swarmed with crowds in the summer are all but empty in the winter months and protected natural reserves such as the Zingaro Reserve combine pristine beaches with rugged landscapes that are ripe for exploration.
Of all the island's (many) beaches, I love the pink sand beach in San Vito Lo Capo – it's the kind of beach that wouldn't look out of place in the Caribbean and perfect for a bit of chill time in solitude.
It's a little chilly during the winter months for sunbathing, but there's still plenty of bright Sicilian sun and fresh air.
Plus, when you're finished, you can go and explore the island's several UNESCO world heritage sites and/ or vineyards as you choose.
Average temperature in January: 13ºC
Flight time: 3hrs 10mins – Check Flights on Skyscanner
Recommended stay : Hotel Borgo Pantano – Check Reviews and Prices
Malta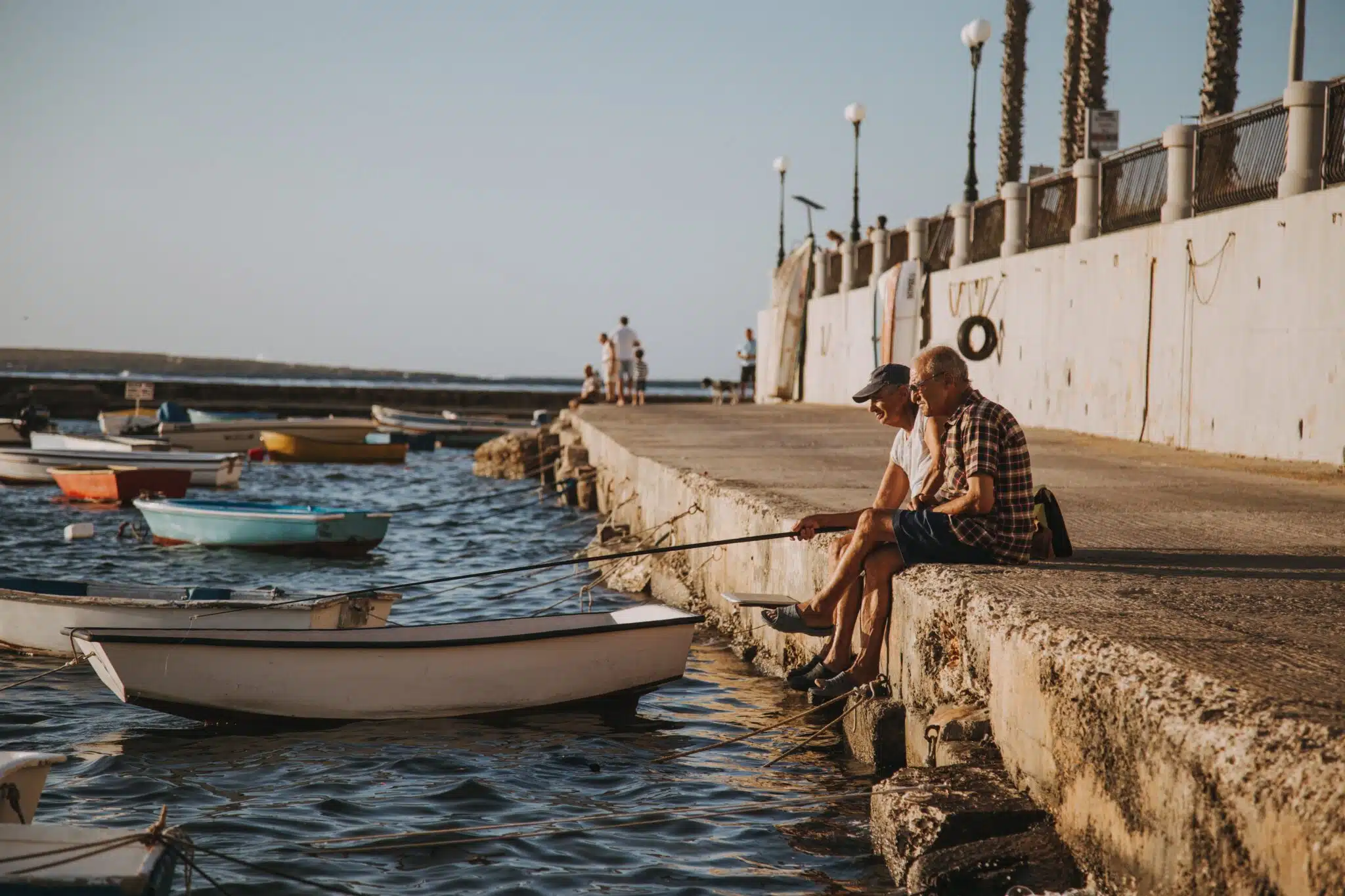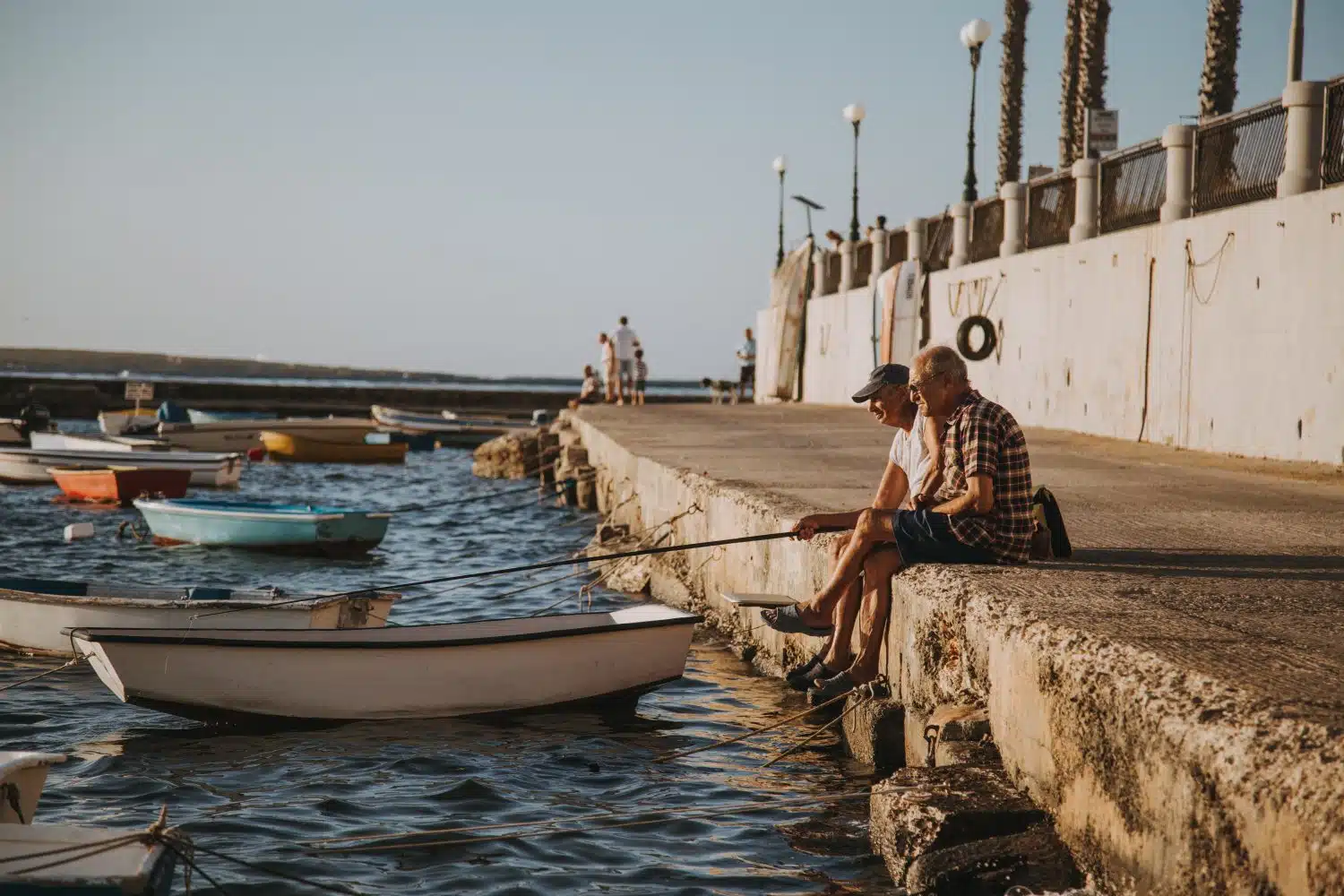 Sara Cardoso on Unsplash
300 days of sunshine, crystal clear seas and a capital city that is constantly cropping up on Instagram (#pursuepretty), Malta is the island that many people (including me) just can't get enough of.
Malta's capital, Valletta has exploded onto the international radar in the past few years thanks to it being designated as a European Capital of Culture in 2018. That meant a new art gallery (Muza) and plenty of cultural events, many of which have left their legacy for the future.
Sure, Malta looks a lot like the U.K. in some ways (sporting red letterboxes and telephone boxes) but you show me a place in the UK where the winter highs reach 21ºC and I'll eat my hat. (Most probably).
It's not just its looks that has Malta cropping up on many lists of Europe's winter sun destinations. Those clear waters are perfect for a host of activities.
Malta is one of Europe's best diving spots – winter sea temperatures vary between 15-17ºC – so perfectly comfortable with a wetsuit.
Average temperature in January: 16ºC
Flight time : 3hrs 10mins – Check Flights on Skyscanner
Recommended stay: The Palace Hotel, Sliema – Check Reviews and Prices
---
La Palma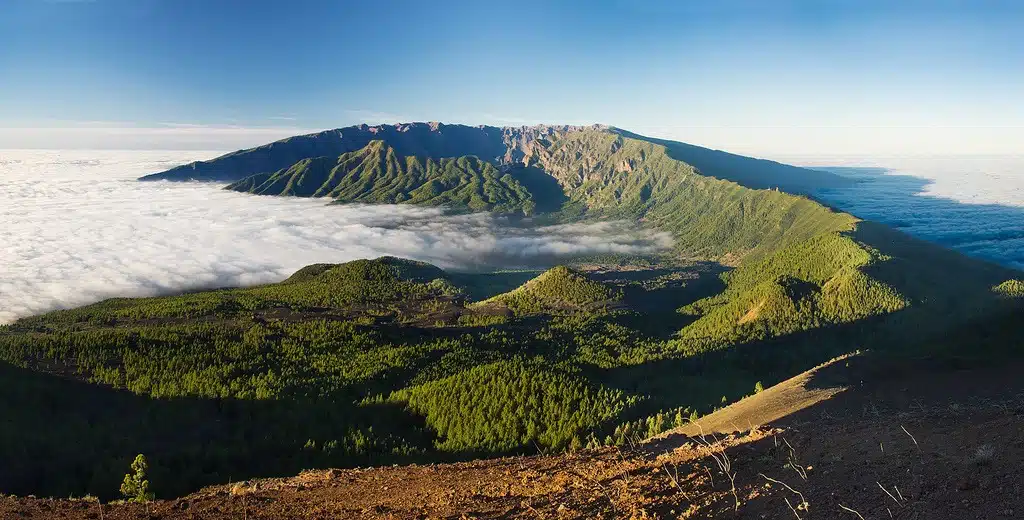 Ivan Borisov/ Flickr
Verdant and lush, La Palma is the greenest of the Canary islands and a nice pick if you're looking for a quieter getaway for winter sun in Europe.
This unspoilt paradise might not have some of the glam resorts of neighbouring Tenerife and Lanzarote but who needs glam when you have rainforests and a near-surreal volcanic landscape to explore?
Thought so.
With average temperatures of around 18ºC in January, La Palma is one of the warmest places in Europe in winter.
OK, I should probably be upfront and tell you that you're not going to find gorgeous white sandy beaches on La Palma. All of the sandy beaches are a rather fetching shade of… black.
What's the difference anyway? As long as it's good for lying down with a good book, you won't be complaining – and the photos are more dramatic anyway.
Average temperature in January: 18ºC
Flight time : 4hr 35mins – Check Flights on Skyscanner
Recommended stay: Hotel San Telmo, La Palma – Check Reviews and Prices
Crete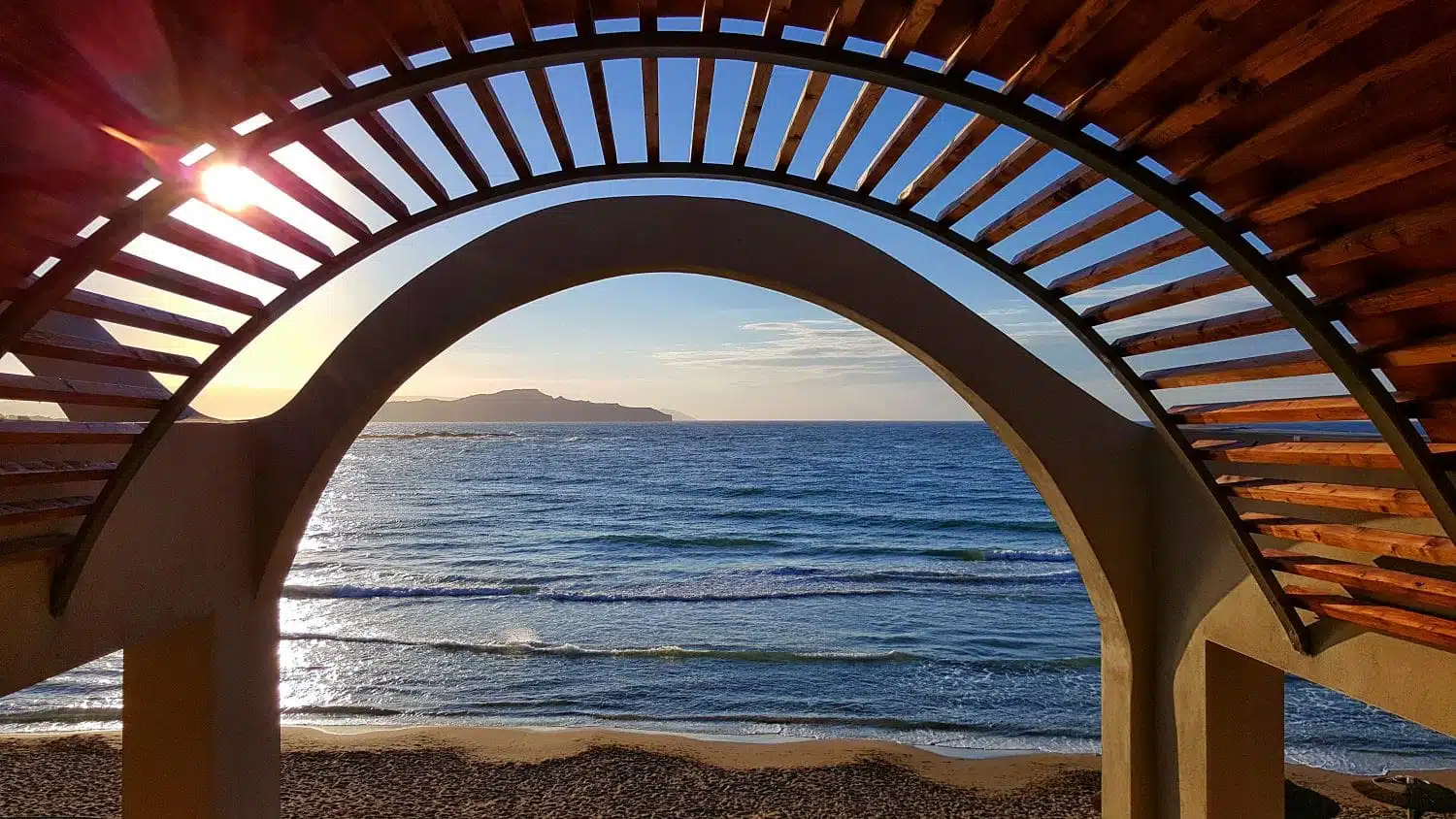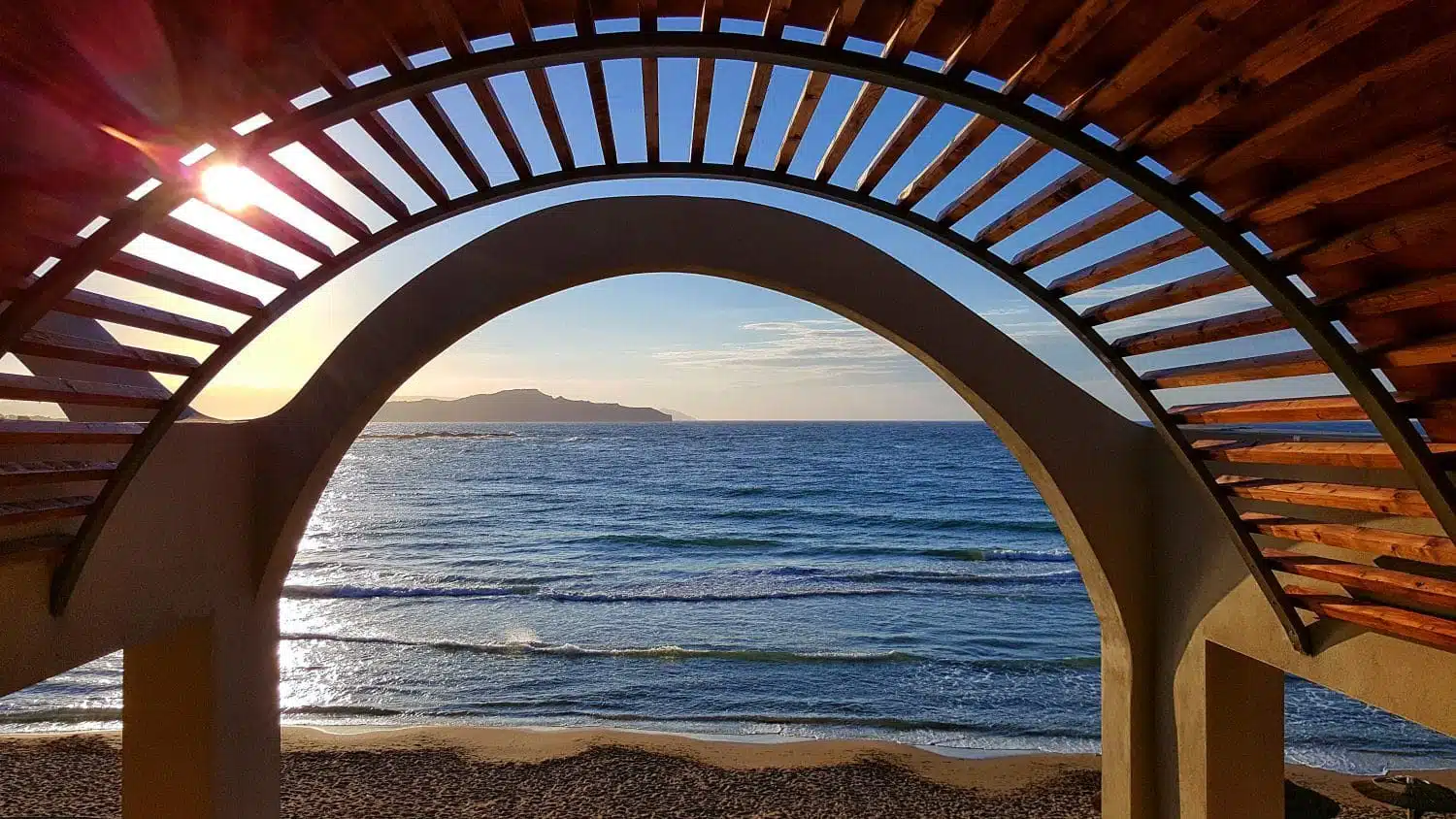 One of Greece's southernmost islands, Crete is a bewitching destination.
Bewitching or not, there's no denying that Crete can sometimes get a bit much in the summer, when it feels like every sun-seeker in Europe descends on the island's shores to park themselves on its beaches.
Crete constantly appears on lists of the best winter destinations in Europe, thanks to its pleasant temperatures and varied terrain.
Many of the beach resorts and party bars are closed, so you can knock about the island seeing very few tourists and exploring to your heart's content. Great if you are travelling solo, as a couple or wanting a family holiday in Greece.
Average temperature in January: 12ºC
Flight time : 4hrs 10mins – Check Flights on Skyscanner
Recommended stay: Casa Delfino Hotel & Spa- Check Reviews and Prices
---
Fuerteventura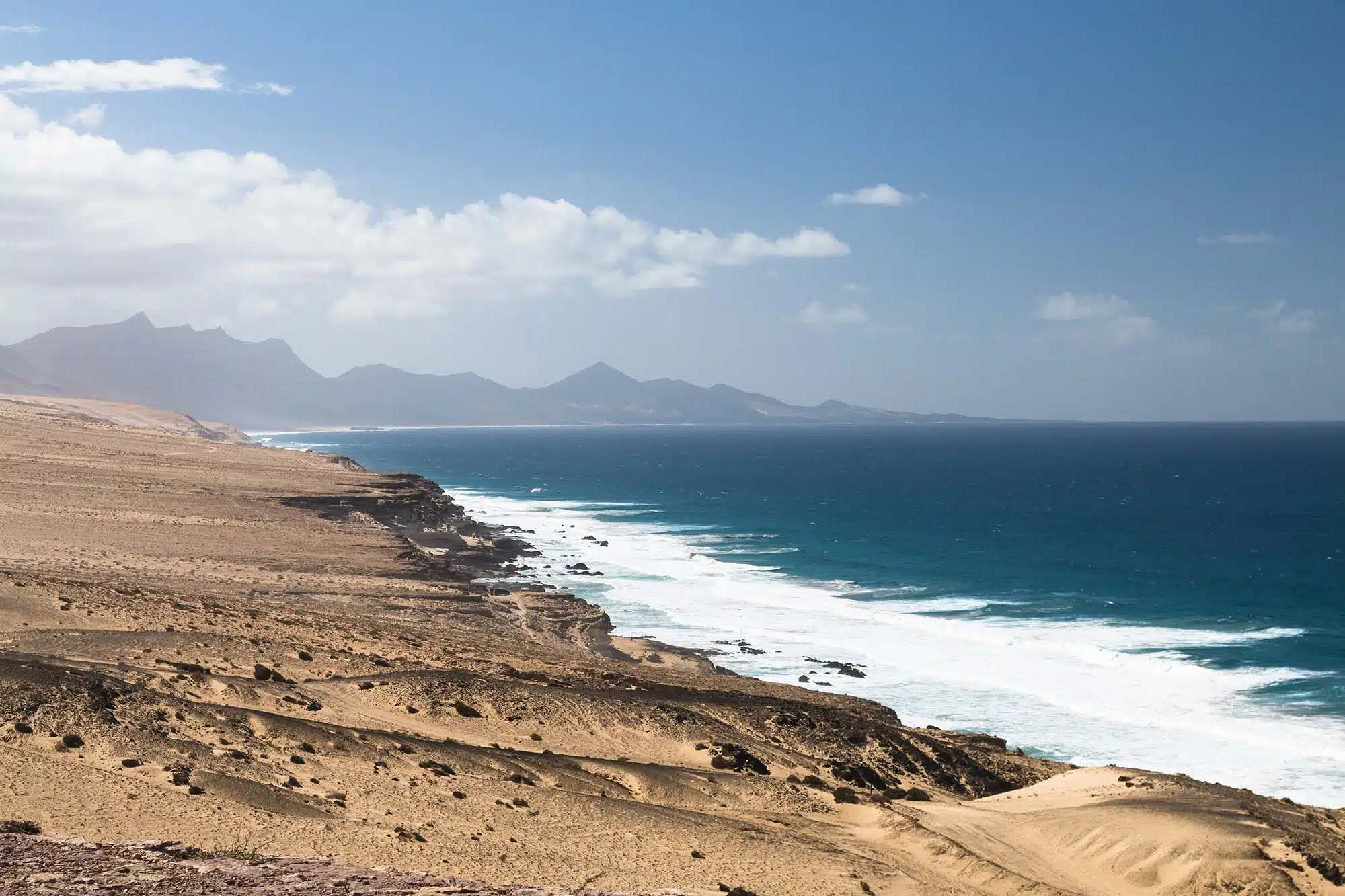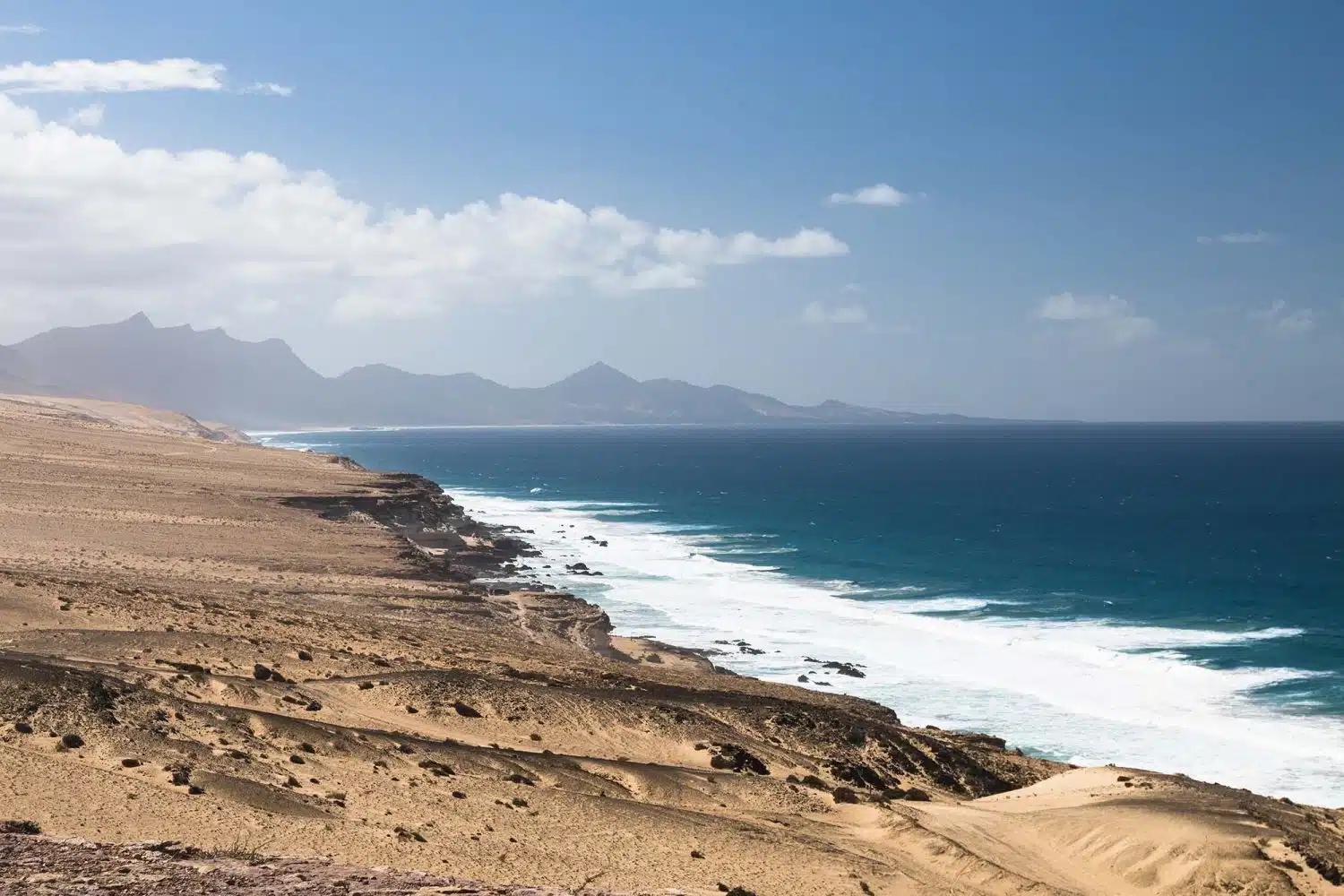 iamdmnk on Unsplash
Fuerteventura, like La Palma, is in the Canary Islands, but unlike its smaller cousin, it's got more than enough beaches to go around.
Pretty good news then that winter barely touches the Canaries, with January temperatures frequently hitting the 21ºC mark. Again, no surprises that it's a frequent pick for hot places in Europe in December.
There are two main resort areas: Corralejo and Morro Jable – both of which offer a range of beach-front properties perfect for flopping down with your favourite playlist and lying in the sun.
If you're partial to a spot of naturism, you'll be glad to know that Fuerteventura is very naturist-friendly, with beach spots all around the island where you can work on your all-over tan.
Average temperature in January: 18ºC
Flight time : 4hrs 15mins- Check Flights on Skyscanner
Recommended stay: Barcelo Corralejo Bay Hotel (Adults Only) – Check Reviews and Prices
The Algarve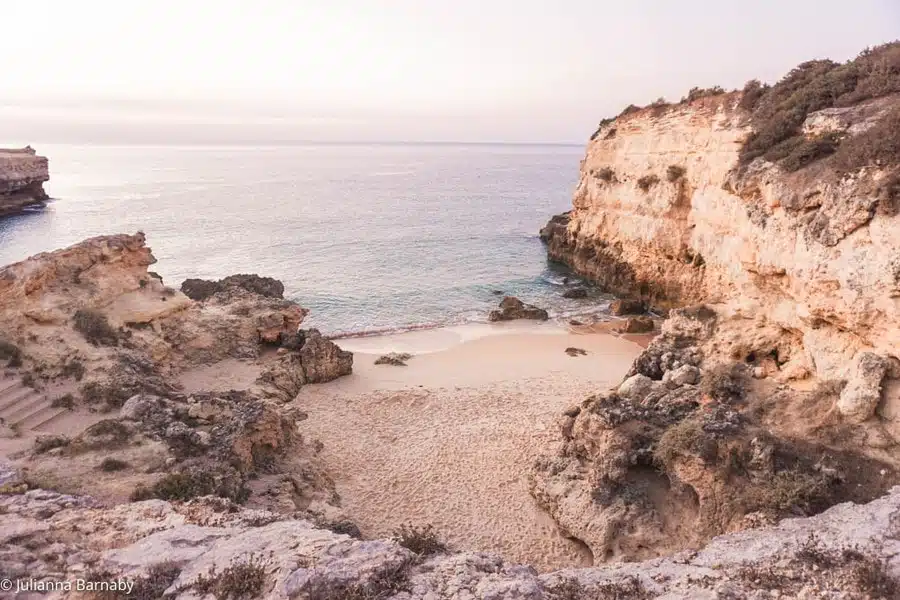 Praia da Albandeira
I'll be honest – it was touch and go about whether I should recommend The Algarve as one of the best places for winter sun in Europe. Winter temperatures, while balmy, hover around 16°C in January – not exactly hot enough to whip off your clothes and lie down for a day of sun worshipping.
Still, The Algarve is bright and sunny and still a very good antidote to the horrid thing we call winter in the UK and other countries further north.
Would you rather go for grey and drizzly days in London or radiant beaches, lots of hikes and fabulous local wine? I think I know your answer.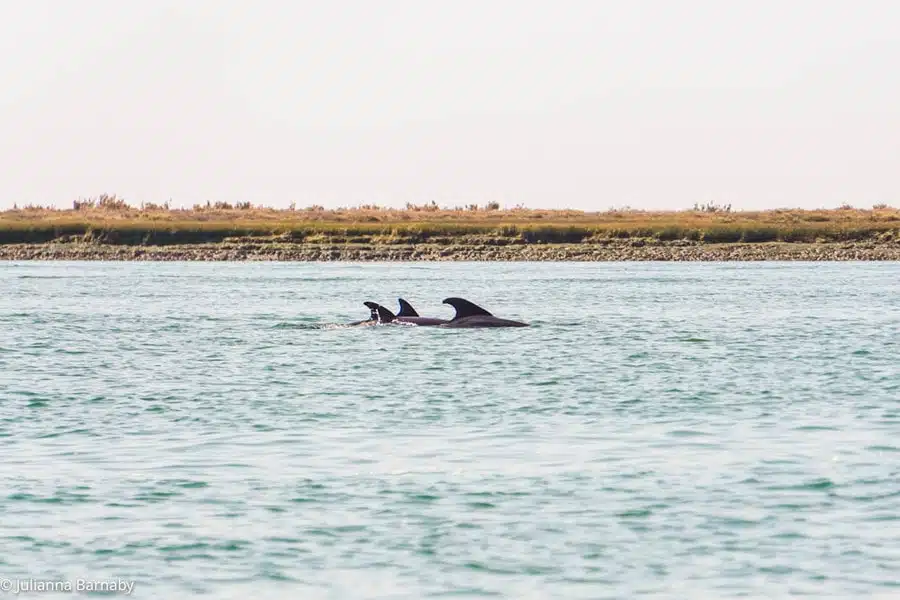 There's so much more to beaches in the Algarve (though, in truth, it does have some spectacular ones). The mix of Moorish and Portuguese cultures has left a unique culture and architectural style in cities and towns like Faro and Tavira.
Fancy a challenge? The long-distance Fisherman's Trail on the Rota Vicentina starts in the Algarve before winding its way up into the Alentejo. Winter is the perfect time to do it too – it's near impossible in the sweltering heat of the summer months.
Average temperature in January: 16ºC
Flight time: 2hrs 55mins- Check Flights on Skyscanner
Recommended stay: Anantara Vilamoura – Check Reviews and Prices
Gran Canaria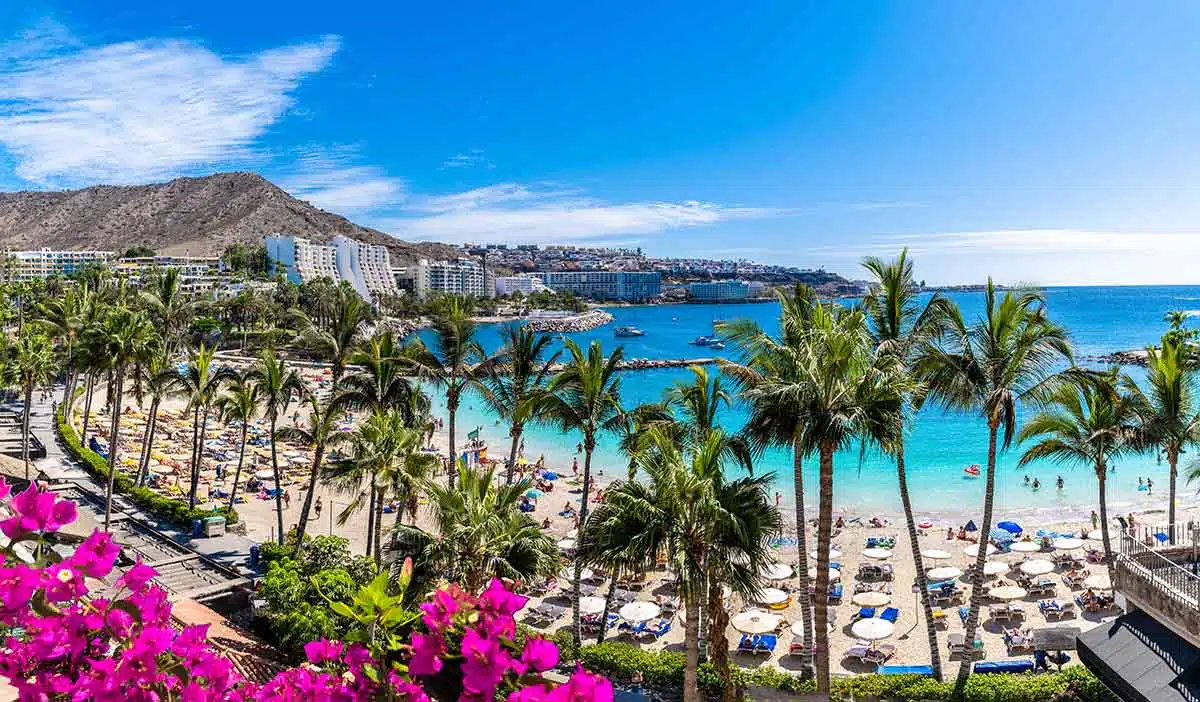 The second Canary Island in this guide to the best places for winter sun in Europe, Gran Canaria may just steal the edge on earlier-mentioned Fuerteventura thanks to the fact it avoids the winter breezes that blow through Fuerteventura and Lanzarote.
Jaw-dropping expanses of beaches and relatively high temperatures make this a firm favourite for a winter escape.
It's not just beaches either – a slew of gallery openings and chic restaurants means there's plenty to do aside from flopping and dropping on the sand.
Those feeling particularly adventurous can tackle the hiking trails around Artenara.
Average temperature in January: 18°C
Flight time: 4hrs 25mins- Check Flights on Skyscanner
Recommended stay: Seaside Palm Beach – Check Rates and Availability
---
Best Winter Sun Destinations Near Europe
The Dalaman Coast – Turkey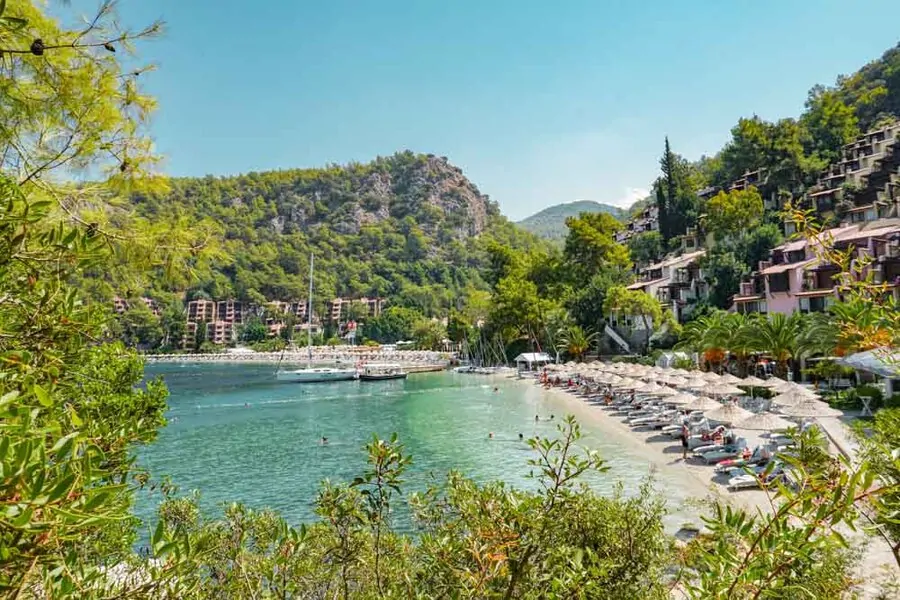 I've just got back from a trip to The Dalaman Coast and I sincerely cannot believe that I've never been before.
Framing the Aegean Sea, The Dalaman Coast's nickname The Turquoise Coast says everything. Sparkling cerulean waters framed by secret coves, fragrant pine forests, small towns and chic resorts.
Spend your days making the most of the winter sunshine – average temperatures in December hover around 17ºC, slightly cooler in December and January – not quite hot enough for sunbathing but plenty warm enough to spend your days outside, hiking, sailing, snorkelling, diving and exploring ancient ruins in Turkey.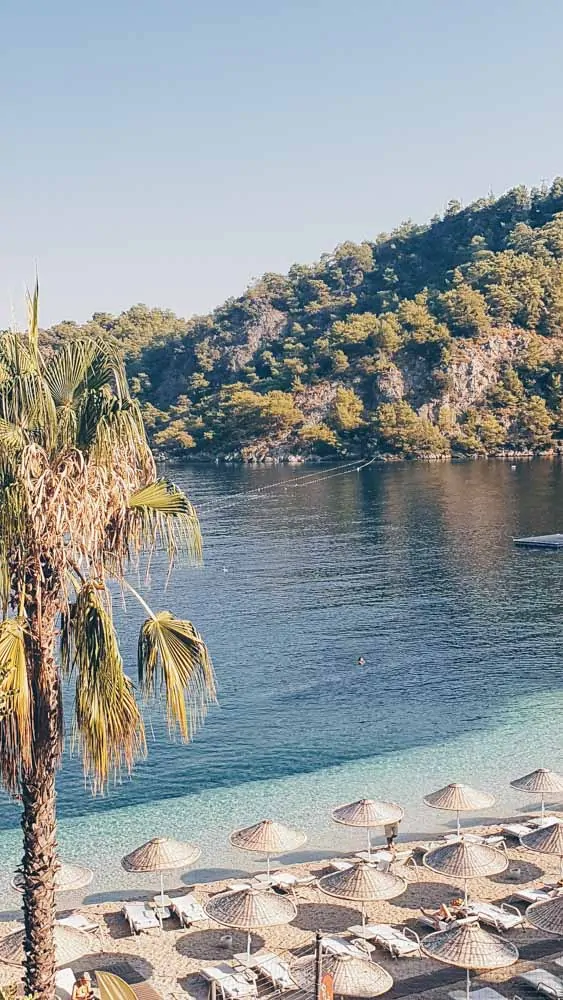 If you really want to sunbathe, you're best going in November when the average temperatures are around 21ºC.
Now, I'm not going to front. Turkish food is incredible – every time I return to the country I'm blown away by the incredible flavours and healthy dishes available.
If you're a foodie, I'd highly recommend this as one of the best places to go for winter sun near Europe – the combination of gorgeous views, lively culture and delicious food is too tempting to pass up.
Average temperature in January: 16ºC
Flight time : 3hrs 50 mins – Check Flights on Skyscanner
Recommended stay: Hilton Dalaman Sarlgerme in winter. If you do visit between April and October, Hillside Beach Club is an incredible hotel that's (quite rightly) often described as paradise on earth.
Essaouira – Morocco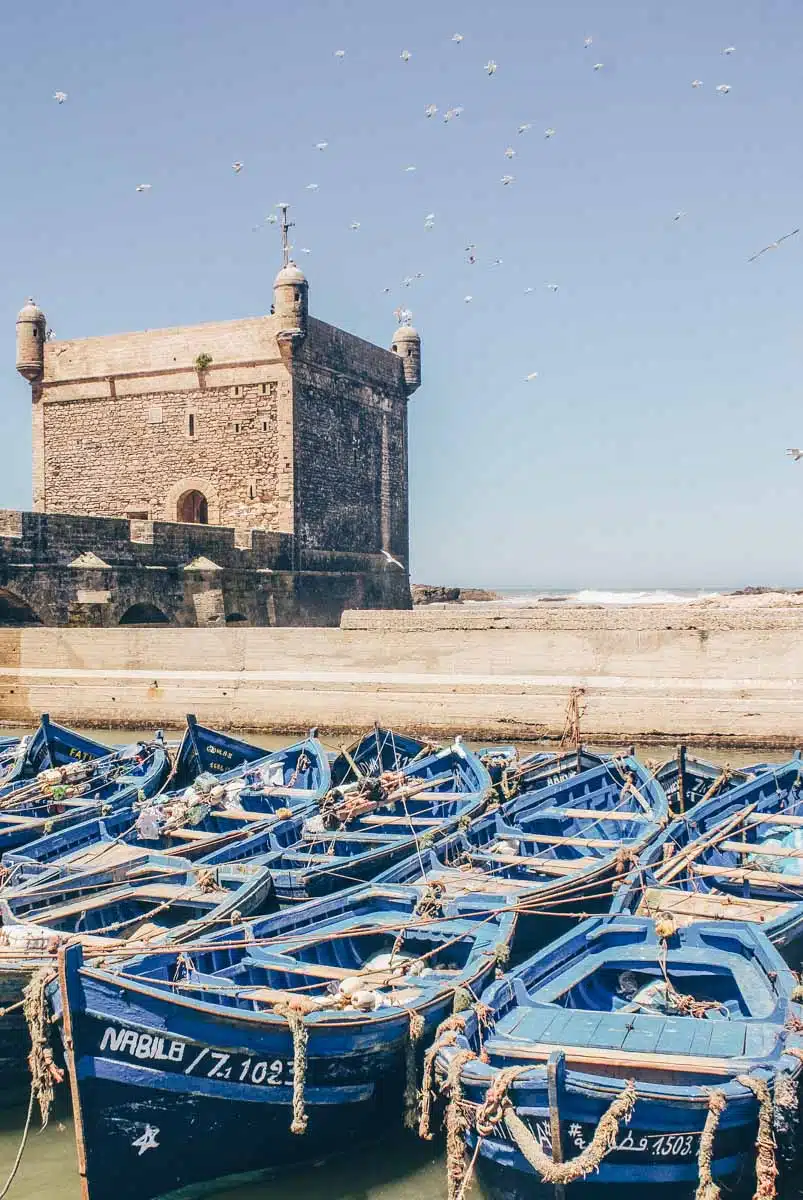 Fishing boats in the Port of Essaouira (c) Julianna Barnaby
It's not in Europe, but Essaouira is one of my favourite short-haul winter getaways.
This Moroccan port town is evocative of days gone by – not much has changed since it was one of the much-beloved spots on the hippy trail.
It's not really a beach destination, but Essaouira is the perfect place to practice your yoga poses, ride the surf and gallop along the beach before rounding the day off with a plate heaving with fresh seafood and a refreshing mint tea.
Nothing could feel further from winter in the U.K, that's for sure.
Average temperature in January: 19ºC
Flight time : 3hrs 50 mins – Check Flights on Skyscanner
Recommended stay: Sofitel Mogador Essaouira – Check Reviews and Prices
Here's how to have the perfect weekend in Essaouira.
Practical Tips for Finding the Best Winter Sun Destinations in Europe
As with most of Europe, late December, January and February tend to be the coldest months – if you want the hottest winter temperatures in Europe, go in November when many of these destinations are still hot enough to sunbathe yet significantly more affordable than in peak months.
A lot of large resorts close during the winter months – so you're better off booking a boutique hotel or an Airbnb to discover the best European winter sun destinations.
Check whether nearby facilities / restaurants / cafes / transportation options are running during the winter months. You can plan around any closures if you know about them in advance but you don't want to get caught out.
Places to Go for Winter Sun in Europe – Final Thoughts
So, that's it. The best winter sun destinations in Europe.
Winter might not be the most obvious time of year to book your Europe trip, but that's a good thing..
I hope you manage to make a break for it and catch a few rays this winter. You totally deserve it. We all do.
Love this? Save and share on Pinterest!