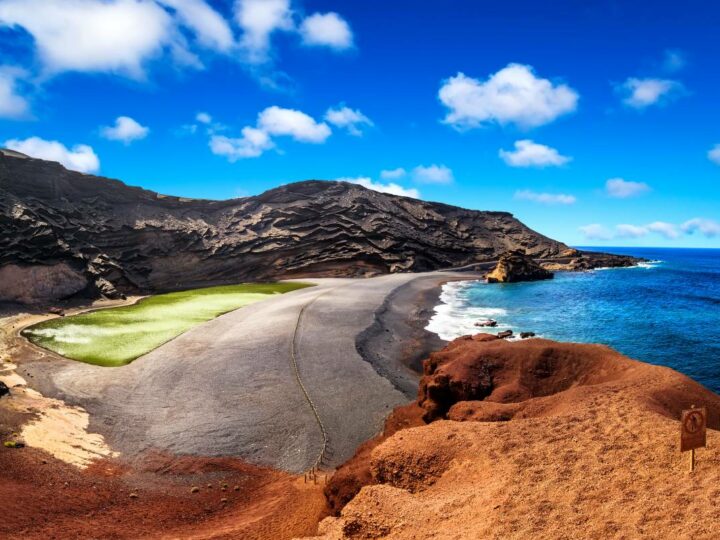 Discover the best things to do in Lanzarote with this handy guide. Its magical volcanic landscape, mixed with the curious creations of César Manrique, make it a unique palace to visit.
Don't underestimate it – one of the most beautiful Canary Islands might be Lanzarote.
While the Canary Islands might have a little bit of a reputation for all-inclusive family holidays spent lounging by the pool, there's plenty to see and do outside of your resort. Trust me.
Beaches, wineries, stellar views, and enigmatic volcanic creations add to its mystique and allure. Plus, Lanzarote's a beautiful place to visit in winter thanks to its warm climate year-round.
Itching to book a flight? I thought you might be. Read on to discover the best things to do in Lanzarote.
Situated in close proximity to beaches and plenty of restaurants, not to mention some fun decor and design in the white-washed buildings, H10 Rubicón Palace is a perfect choice for where to stay.
Top 5 Things to Do in Lanzarote
Hike the Caldera Blanca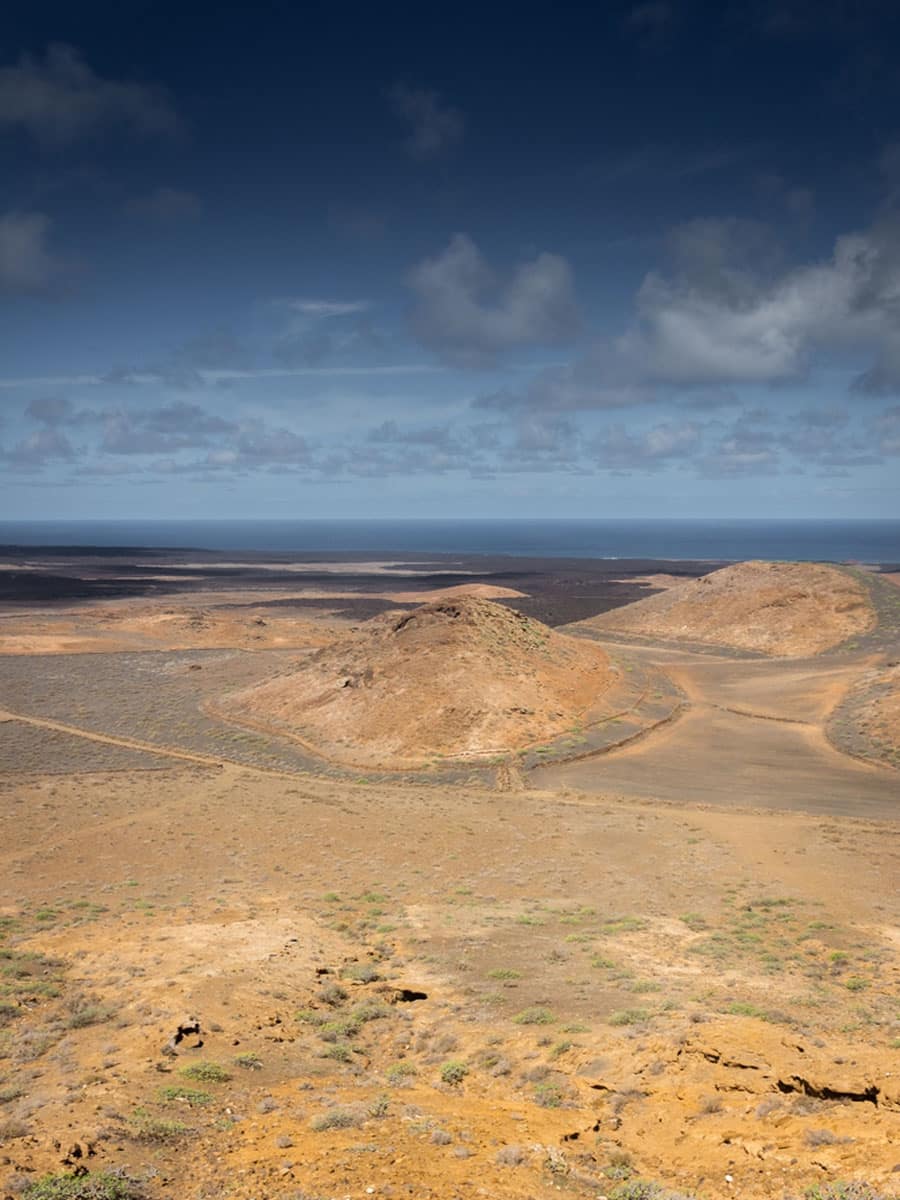 When it comes to things to do in Lanzarote, hiking is my favourite way to while away the hours on the island. One of my favourite treks is the Caldera Blanca in the centre of Lanzarote.
It's also called the "White Crater", formed by a single eruption that created the widest crater on the island at 1,200 metres across. It rises dramatically out of a sea of black lava rock, creating quite the impression.
You'll begin this epic journey at Our Lady of Sorrows Church, then climb uphill until you reach the top, where you'll skirt the rim of the great crater of this extinct volcano.
Don't stress if you're a hiking noob, though — the ascent is gradual, so most consider this an easy 5.9-mile loop trail.
The view into the crater from the rim is spectacular, so it's well worth your time. It's open year-round and takes about three to four hours to complete.
Top Tip: It can get very windy at the top of the crater. Wear good hiking shoes to maintain your footing on the volcanic rocks.
Admire the Beauty of Timanfaya National Park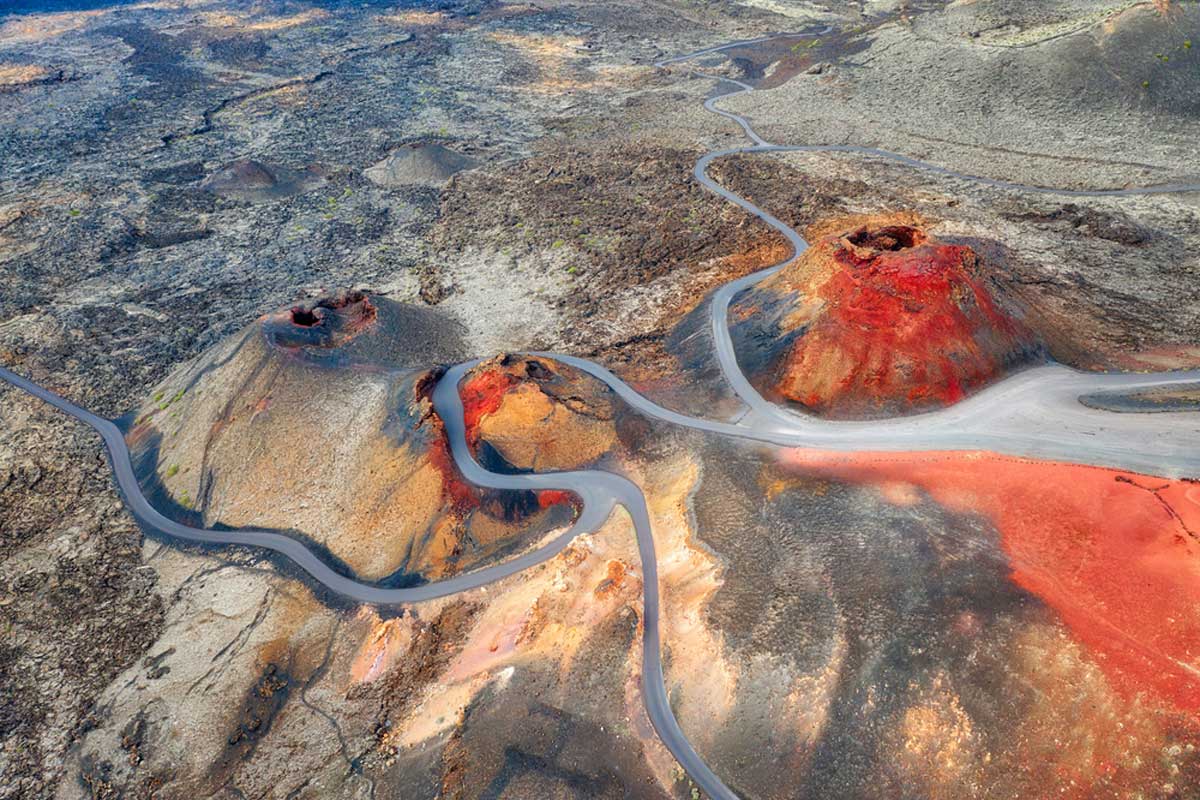 This isn't your average national park. It might not be quite as dramatic as Hawaii Volcanoes National Park with its bubbling lava flows, but Timanfaya National Park has unique beauty.
Firstly, its volcanoes are dormant, the last one having erupted in 1824. The serene and colourful landscape you see is the result of eruptions from more than 100 volcanoes from 1730 – 1736, creating the park's barren basalt moonscape.
Even though the eruptions have stopped, geothermal activity keeps the landscape cooking, so you can't walk around freely to visit the 25 craters. You'll need to take a tour that uses vehicles to see the place to the fullest.
Explore the Leafy Cactus Garden
This isn't your granny's succulent garden. Actually, it's César Manrique's.
Sitting pretty in the village of Guatiza, the Jardín de Cactus was a quarry where they first extracted volcanic sand and spread it on the cultivated areas to help them retain moisture.

Now it's an influencer's dream come true with 4,500 cacti, including 500 different species, artfully arranged according to their natural shape to create a living work of art.
There are spindly asparagus spears, towering saguaros, and spiky soccer balls with pools of black volcanic sands and red rocks between them.
The fact that the garden's built in a low-lying quarry helps it trap sunlight and heat, making it a haven for its solar-loving inhabitants. It took 20 years for this project to come to fruition, so don't think too lightly of it while you explore it on this tour.
Venture Into the Jameos del Agua Caves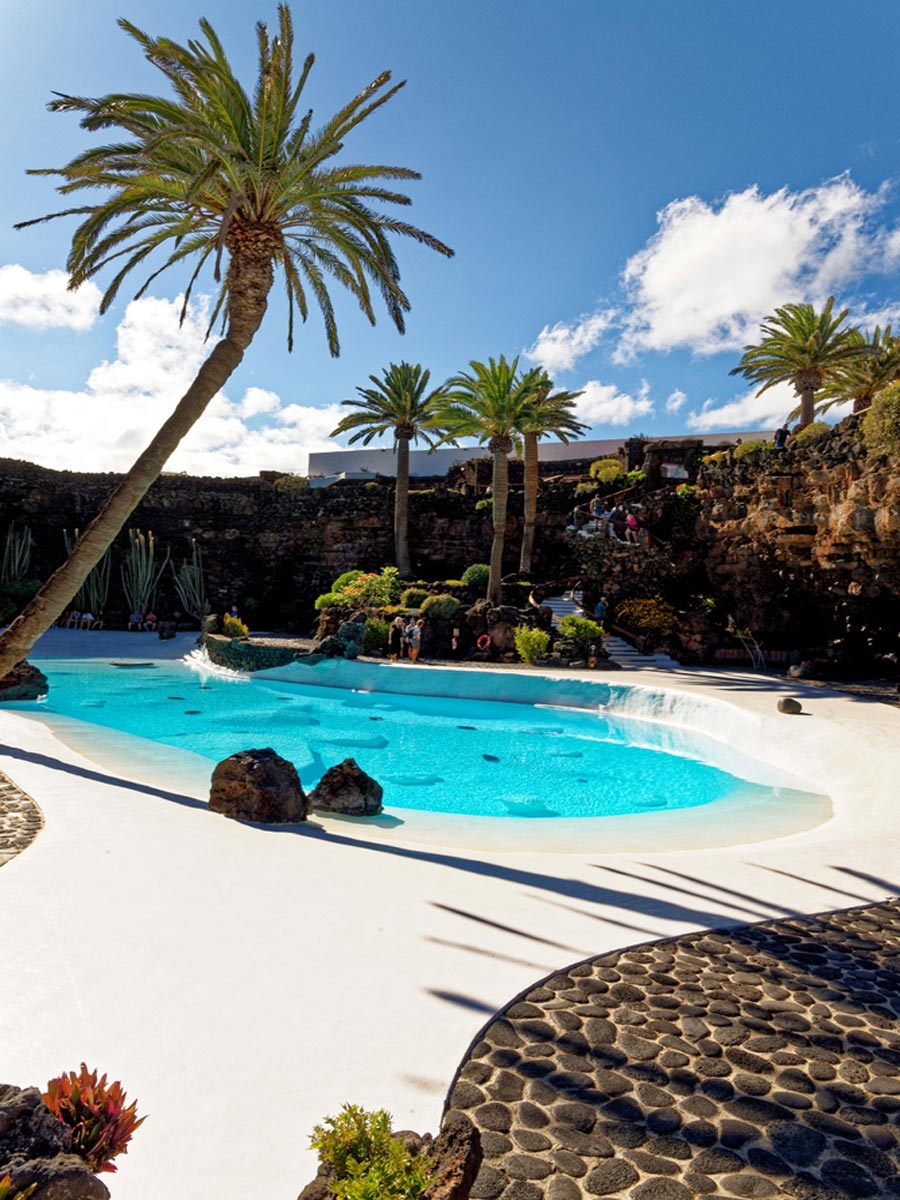 The Jameos del Agua Caves are one of the best places in Lanzarote for an unforgettable (and highly Instagrammable) experience.
Take a daring stroll through lava tubes past an underground lake with tiny albino crabs huddled in its waters like a marine galaxy of white stars.
Follow the path towards sunlight, and a crystal pool with palm trees and a swinging 60s decor vibe will make itself apparent. In another of the lava tubes, you'll find an auditorium used for concerts surrounded by scattered cafés and a restaurant, which plays live music come nightfall.
This beauty, designed by the island's famous architect, César Manrique, showcases his eclectic way of combining the natural landscape with curvy and chic aesthetics and is glorious.
Take a tour if you must, but either way, don't skip this.
Take in the Views from Mirador Del Rio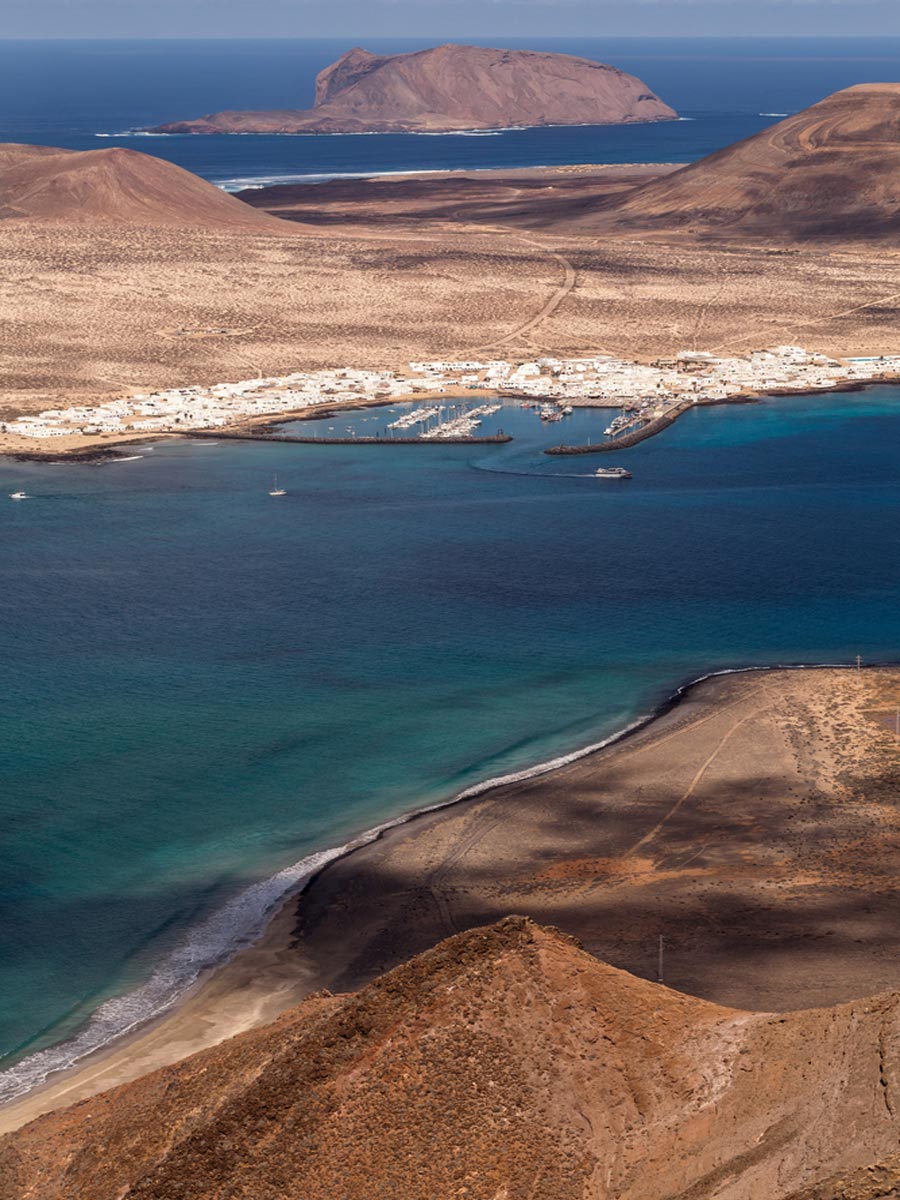 400 metres above the sea on Risco de Famara sits Mirador Del Rio, both an architectural delight and a spectacular viewpoint. As you enter, you'll see César Manrique's sculpture of a fish and bird meshed into one, a metaphor for water and air.
After crossing through the entrance, you'll see stunning vaulted windows that make the most of the panoramic view just beyond, where the El Rio sea separates Lanzarote from La Graciosa.
You'll also find Manrique's typical spiral staircases and curvy designs here, along with a bar/cafeteria and souvenir store. The view is what you should come to see, though. It's a spectacular view of the island and the Chinijo Archipelago.
Take a trip on this tour to see this and three other of Manrique's artful architectural works.
Brilliant Things to See & Do in Lanzarote
Marvel at Los Hervideros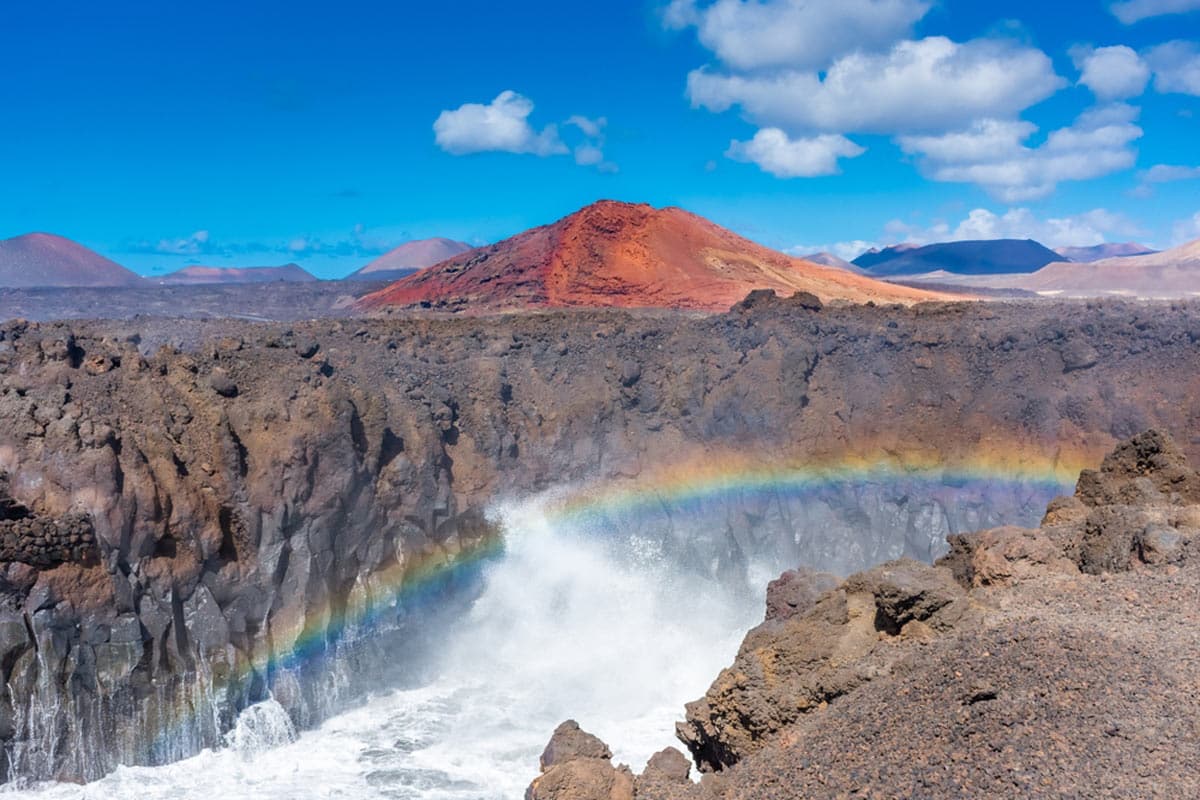 "Los Hervideros" translates to "the boiling place" in Spanish — it creates a very concise image in your head of what to expect.
This is where the craggy coastline of volcanic rocks meets the wild Atlantic Sea. The black-pockmarked cliffs feature lava tunnels and blowholes where the churning waters rush and throw seaspray skywards.
It's a dramatic, rugged landscape that's one of the top things to see in Lanzarote, so bring your walking shoes and follow the paths. You can even look right down into some of the blowholes at the foamy waves below.
Los Hervideros is just one stop on this day tour of Lanzarote.
Sip Wine (And Learn About it's History) at Bodegas El Grifo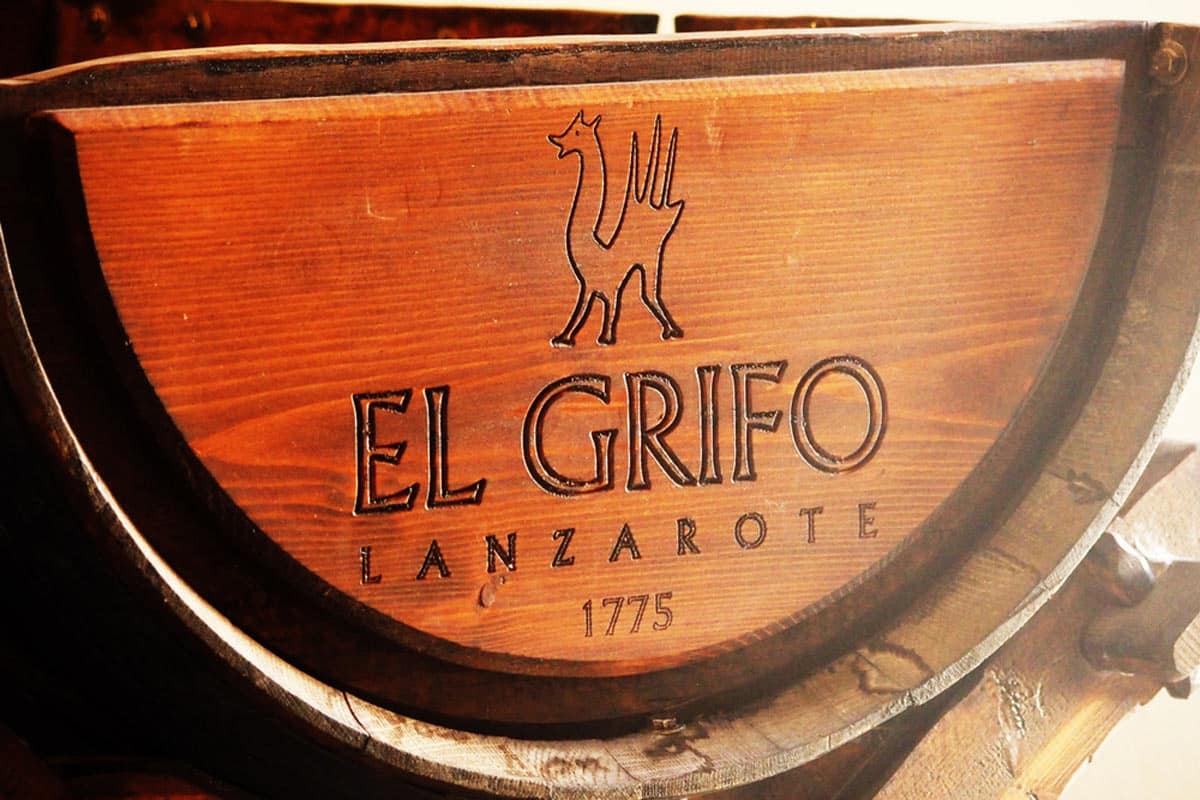 Where there's wine, that's where you'll find me.
Bodegas El Grifo is one of the five oldest wineries in Spain and the oldest in the Canary Islands. The people who currently own it are the fifth-generation descendants of the family who bought it in 1880.
There's a museum where you'll find wine pumps, crushers, and presses, amongst 500 other preserved pieces of wine-making history.
Otherwise, you can tour the cellars and vineyard in the heart of the protected La Geria area. There's also a wine bar on-site to sample the fruits of the facility's labours (dad joke alert).
Be Wowed at Mirador De Guinate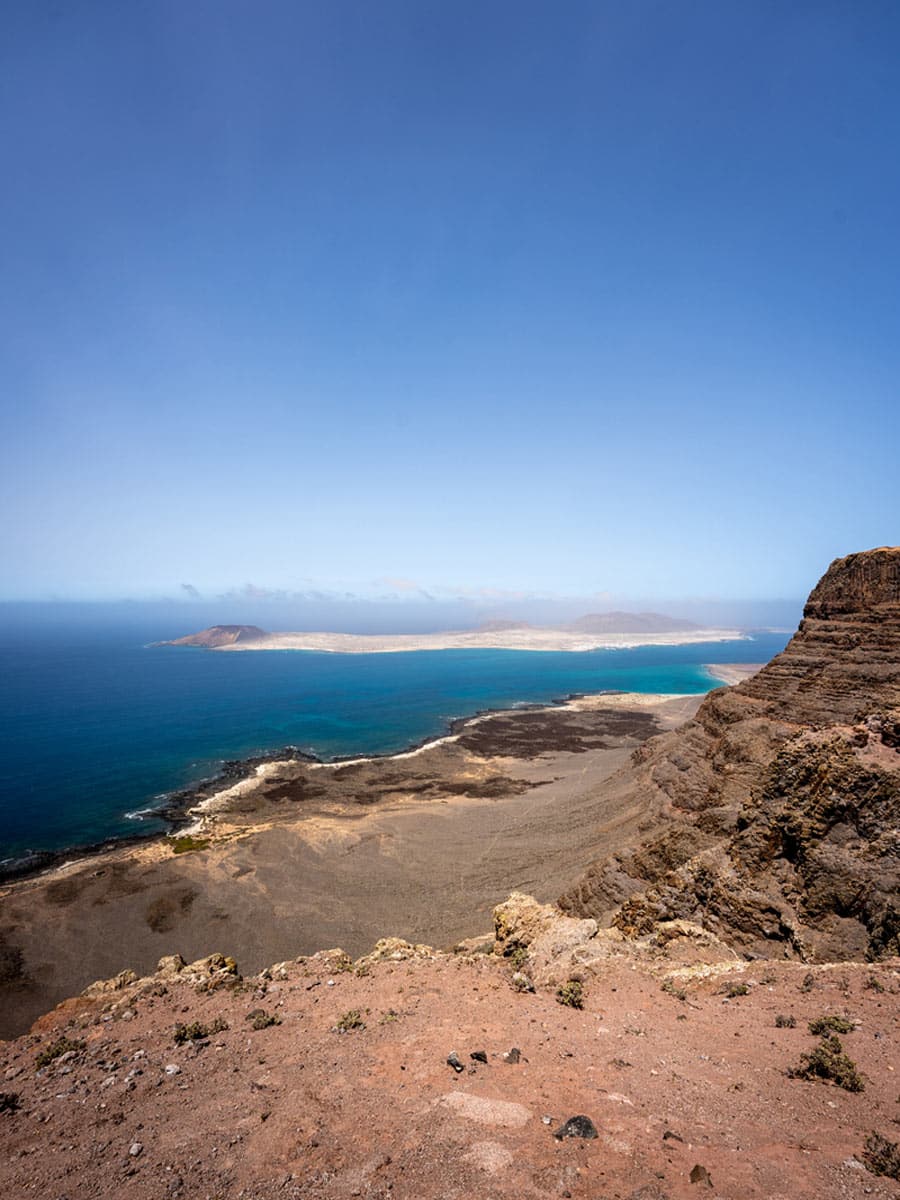 If gorgeous views from up on high are what you crave, Mirador de Guinate offers them in abundance. Perched 500 metres above the sea on the cliffs of Risco de Famara, you'll see gorgeous views of the Chinijo Archipelago and churning Atlantic Ocean.
You can even see past La Graciosa island to Montaña Clara and Alegranza in the distance – lying before you is the European Union's largest marine reserve, about 70,000 hectares.
There's also a wall separating the viewpoint from the abyss with a mosaic that bears the words "déjate llevar", which in English translates to "let yourself be carried away".
Considering that Guinate faces directly into the strong northern trade winds, you could almost take this literally.
Top Tip: It's often cold here, so bring a jacket. Also, don't come before 11 am as it's usually foggy, so the view won't be worth much.
Wander Around the César Manrique House Museum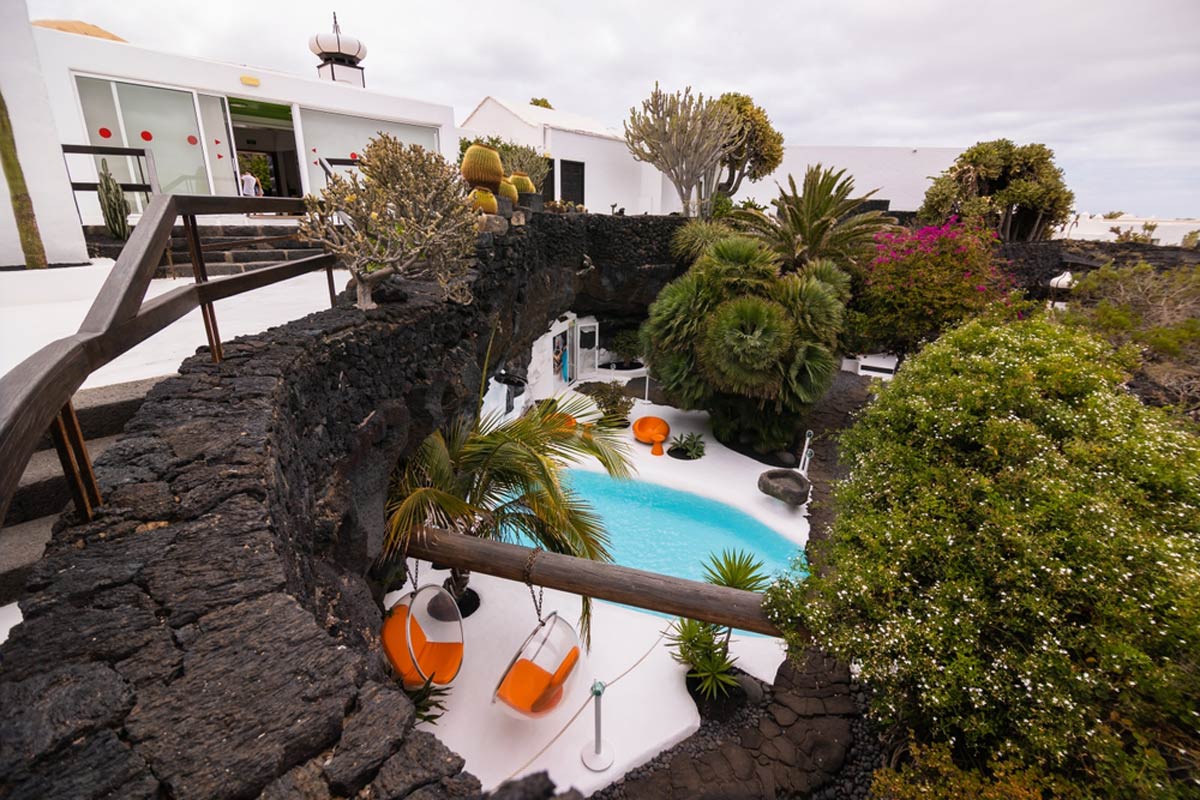 Many houses boast an interesting interior, but the César Manrique Museum House takes it to the next level.
Why? Well, it's a house built out of an old lava flow, with five rooms in underground caverns formed from the natural bubbles of cooling lava, complete with interconnecting tunnels. Pretty cool, I think.
The bubbling volcanic walls combine beautifully with the curvy lines, white terraces, and mid-century furniture. Despite this, the home still manages to look chic and comfy, as well as being a natural wonder.
Take a look for yourself on this tour.
Unique Things to See & Do in Lanzarote: Hidden Gems That are Off the Beaten Track
Pay a Visit to Cueva De Los Verdes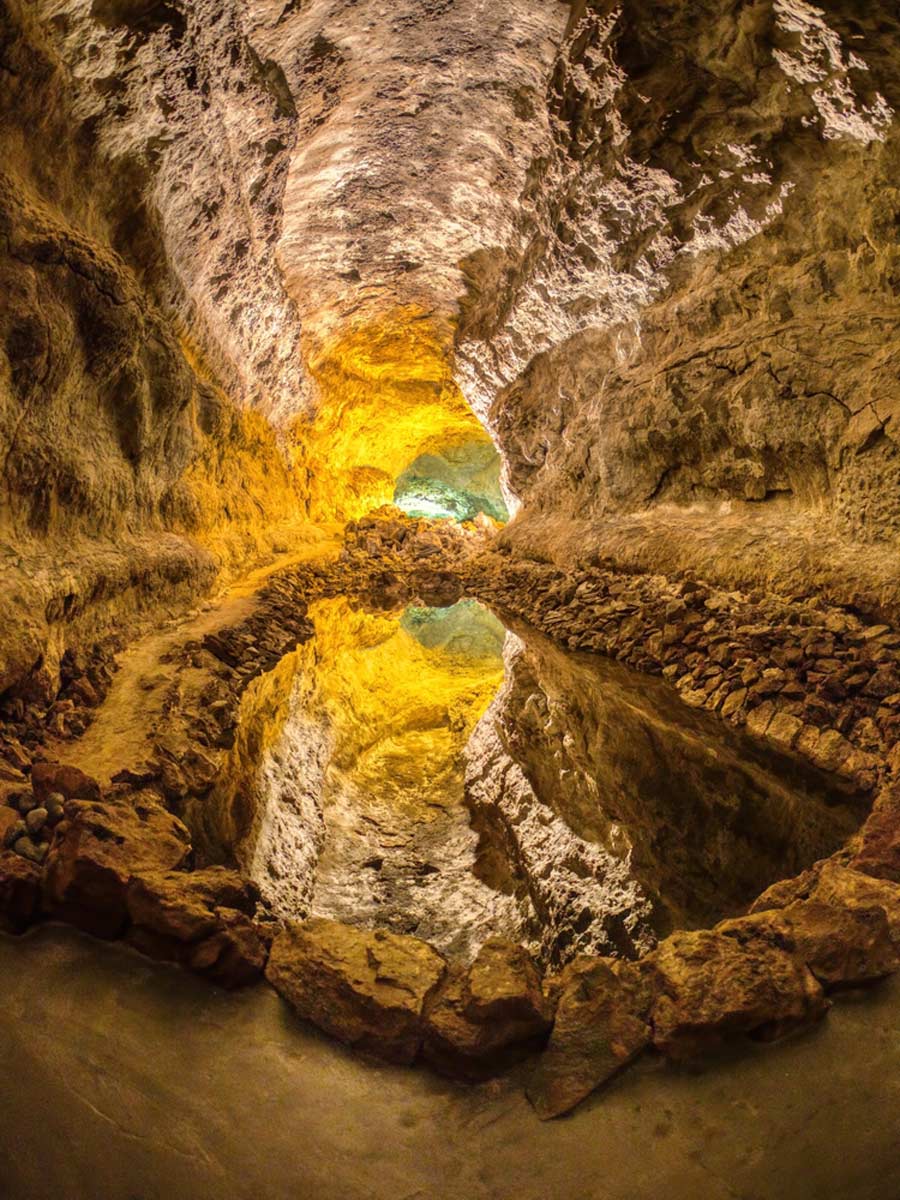 If you're wondering what to do in Lanzarote, the Green Caves (or Cueva De Los Verdes) should be high on your list.
Their existence is all thanks to the eruption of Volcán de la Corona, which formed an intricate labyrinth of lava tubes underground.
A local artist, Jesús Soto, put his creative mind to work setting up coloured lights in designed illuminations combined with soft, moody music. You have to visit on a guided tour to navigate the passageways, some of which can be narrow and claustrophobic.
But you'll see chamber after chamber open up as you go, with the final cave revealing an underground auditorium that hosts concerts.
A little spelunking is good for the soul, so hop on a tour and explore this wonderful mishmash of nature and art.
Climb to Lanzarote's Highest Point
As you might be able to expect, the highest point on the island, Peñas Del Chache, is one of the best places to visit in Lanzarote for spectacular views.
It's an impressive 672 metres above the briny waters below, which you can gaze at endlessly from the viewpoints.
You can explore the military installations or seek out the hidden cave if adventure is what you crave. Stick around after dark to stargaze at the observatory and examine the glorious night sky far from the bright lights of big cities.
Make your own way there, or simply hop on this tour.
Get Salty at Tienda De Salinas del Janubio
This place will leave your tastebuds delighted. The Tienda de Salinas del Janubio sells all sorts of salts from the Salinas de Janubio or the salt flats.
Outside, you'll see a patchwork of pretty colours in hues of pink, baby blue, charcoal, and chamois, all stitched together near the turquoise waters of the bay.
This is just a continuation of past practices, as in older times, before refrigeration, most of the coast lay covered in salt pans for harvesting salt used to preserve food. If you take a guided tour, you'll learn about its history and taste some of the uniquely flavoured salts.
Enjoy More Wine Bodegas Rubicón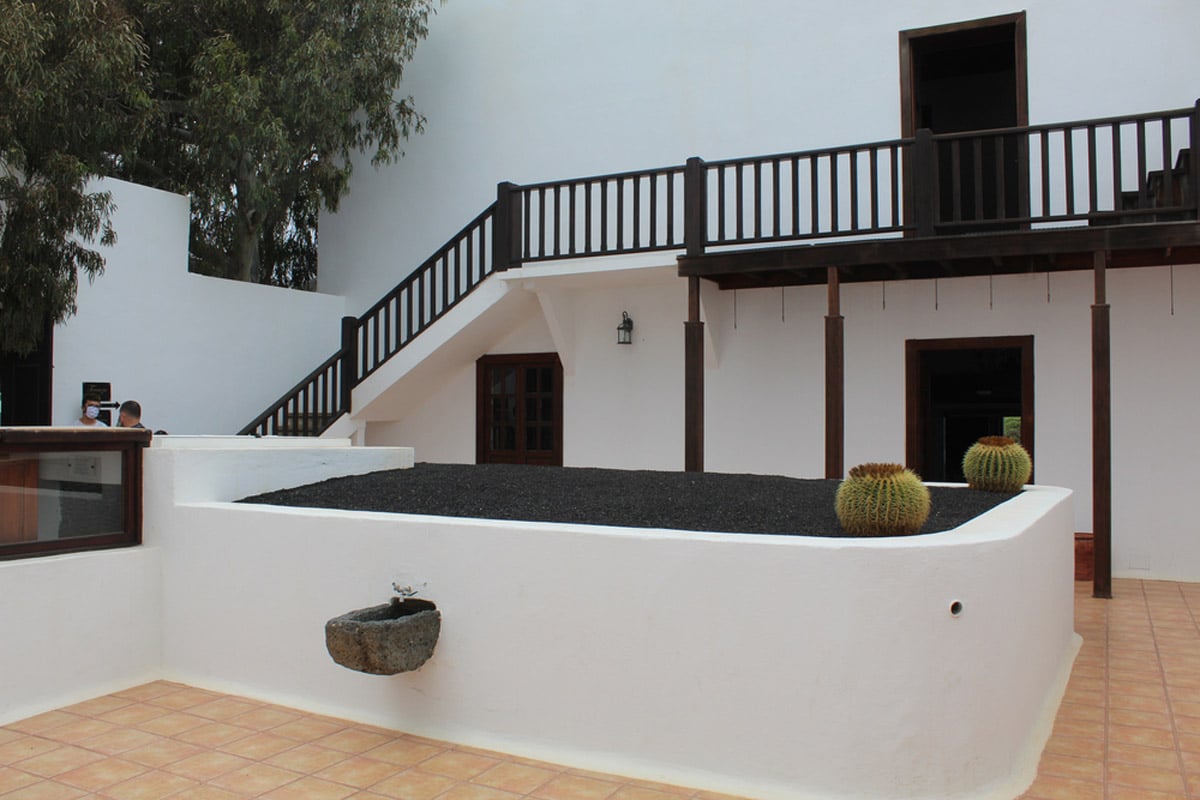 The Bodegas Rubicón winery has supplied locals and tourists with divine wines for over three centuries. Located in La Geria, there's a museum, wine shop, and restaurant for visitors, plus beautiful courtyards to admire.
You'll be treated to some great views, too, as the winery, with its huge 100-year-old eucalyptus trees, faces Timanfaya.
Seeing the sun set behind the low mountains with the vineyards before you and a glass of vino in your hand is one of the ultimate things to do on Lanzarote. Their Moscatel is particularly delicious.
Take a stroll through the grounds and then stay for a delectable dinner of traditional dishes — you won't regret it.
Things to Do in Lanzarote: Practical Tips for Your Trip
How Long to Visit in Lanzarote?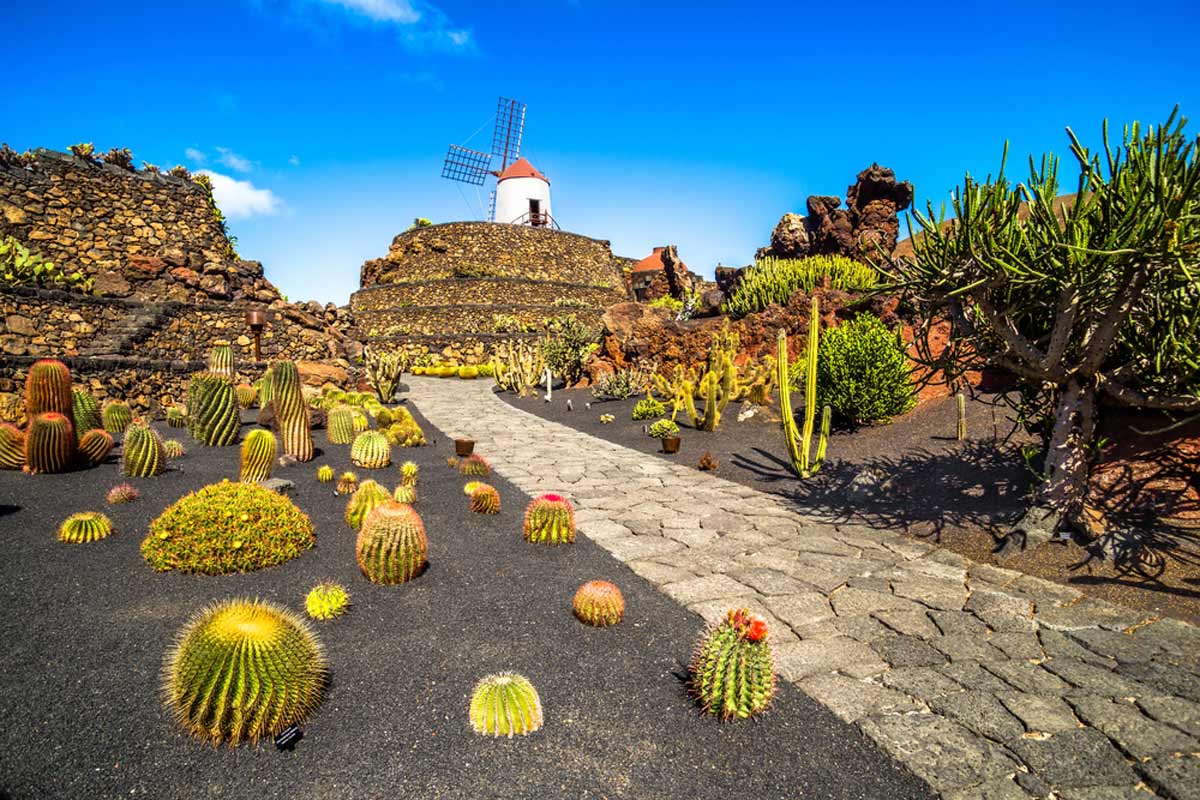 You can see most of Lanzarote's attractions and enjoy a few excursions in around four days. But seven days is a good time estimate for a more leisurely exploration of the island and its wonders.
Best Time to Visit Lanzarote?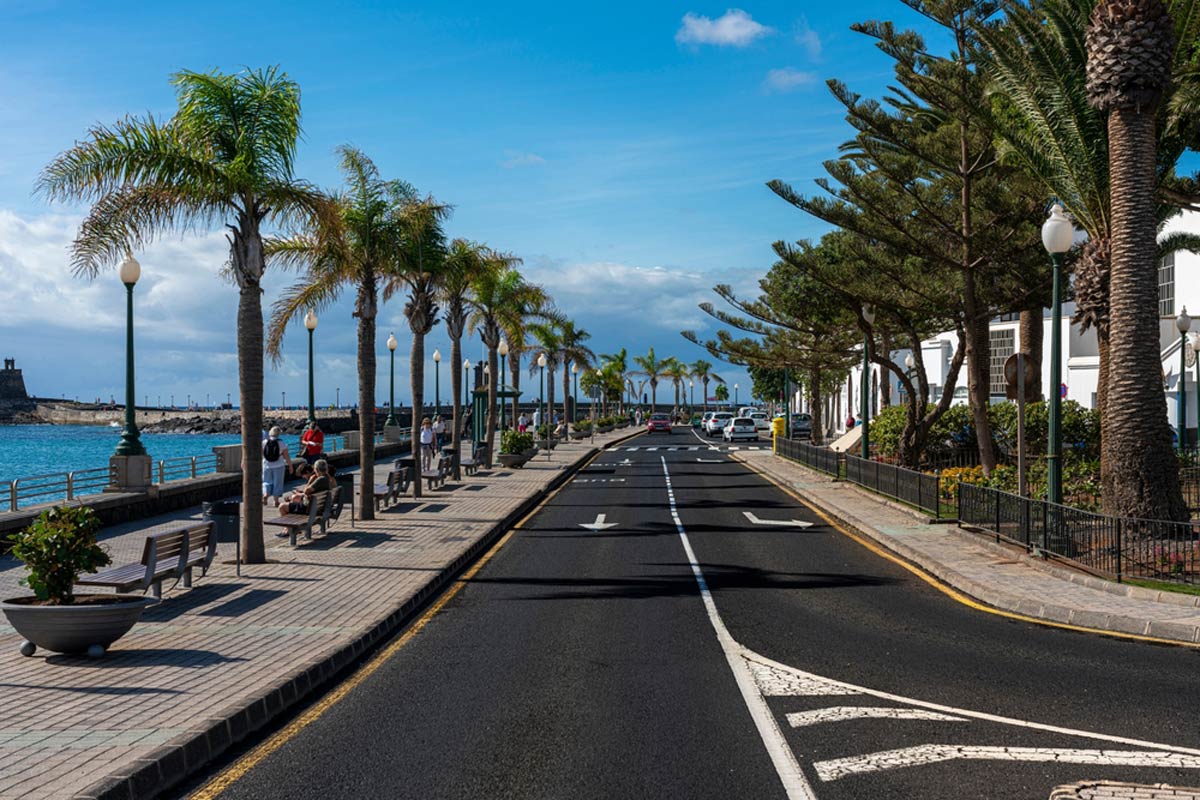 Lanzarote offers a mild climate for the most part, meaning any time of year it's bound to be warm. In summer (June to August), the temperatures rise to around 28ºC, and in winter (December to February), you're more likely to encounter rain.
So the shoulder months of spring (March to May) and autumn (September to November) are best if you want to avoid peak heat (and tourism).
Where Should I Stay in Lanzarote?
Arrecife Gran Hotel & Spa (Mid-Range)
A spa, indoor pool, and modern rooms with relaxing and fresh colour palettes — what more could you want?
This five-star hotel offers city or beach views and Mediterranean and international cuisine at their restaurant.
Dreams Lanzarote Playa Dorada Resort & Spa (Luxury)
Crystal infinity pools, cabana sunbeds, and luscious warm interiors make Dreams Lanzarote Playa Dorada Resort a magical experience.
Only 200 metres from the beach with a bar on-site, it's the perfect holiday respite.
Recommended Tours in Lanzarote
Things to Do in Lanzarote: Map
Things to do in Lanzarote: Read Next