With its raw beauty and unassuming charm, Lanzarote is a vibrant tapestry of beaches, dramatic volcanos and otherworldly landscapes. Explore the best things to do in Lanzarote with this guide.
Don't underestimate Lanzarote. The most spectacular of the Canary Islands, Lanzarote stands apart as a place where the simplicity of island life meets a rich cultural tapestry and the full force of nature's drama.
While it might have a bit of a reputation for all-inclusive holidays spent lounging by the pool, there's plenty to see and do on the island. Trust me.
Whether it's curious vineyards where vines poke out of shallow holes in black volcanic earth, vast underground caves or stunning views of the island and beyond, there's a lot to keep you entertained.
Read on to discover the best things to do in Lanzarote.
Best Things to Do in Lanzarote
Hike the Caldera Blanca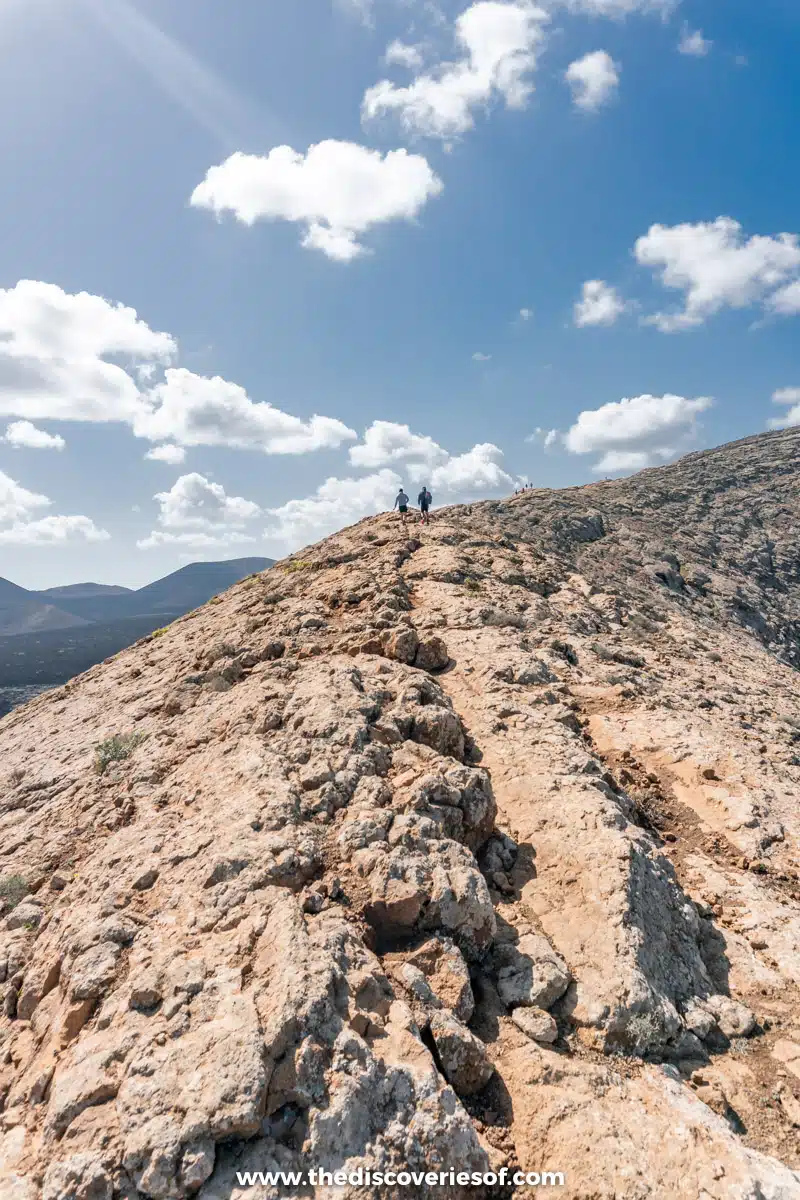 Avid hikers are spoilt for choice on the island, but one of my favourite hikes was hiking the Caldera Blanca – a journey that takes you straight into the heart of Lanzarote's volcanic landscape.
The so-called "White Crater" is part of the Timanfaya National Park (which I'll cover in more detail later in this guide) and was formed around 5,000 years ago during the eruptions that created the Timanfaya lava fields.
That eruption resulted in the widest crater on the island at 1,200 metres across, one that rises dramatically out of a sea of black lava rock.
Sounds epic right? It is, as is the hike you do to get there. The trailhead starts near the village of Macha Blanca, winding its way through the lava field (wear sturdy footwear, it is quite uneven) before skirting up the side of the caldera to the rim of the great crater of this extinct volcano.
Don't stress if you're a hiking noob, though — the ascent is gradual, so most consider this a moderate 5.9-mile (9km) loop trail.
Once you're at the top of the rim, you have a couple of choices – the first is to extend the hike and do the loop around the crater's rim before heading back down, or to simply take in the views and head back down. I chose to hike around the quarter of the rim to see the crater from a few different angles, but it was getting quite late in the day and I didn't want to lose the light.
The whole hike takes 3-4 hours to complete, more if you hike the rim too.
Top Tip
It can get very windy at the top of the crater. Wear good hiking shoes to maintain your footing on the volcanic rocks.
Admire the Beauty of Timanfaya National Park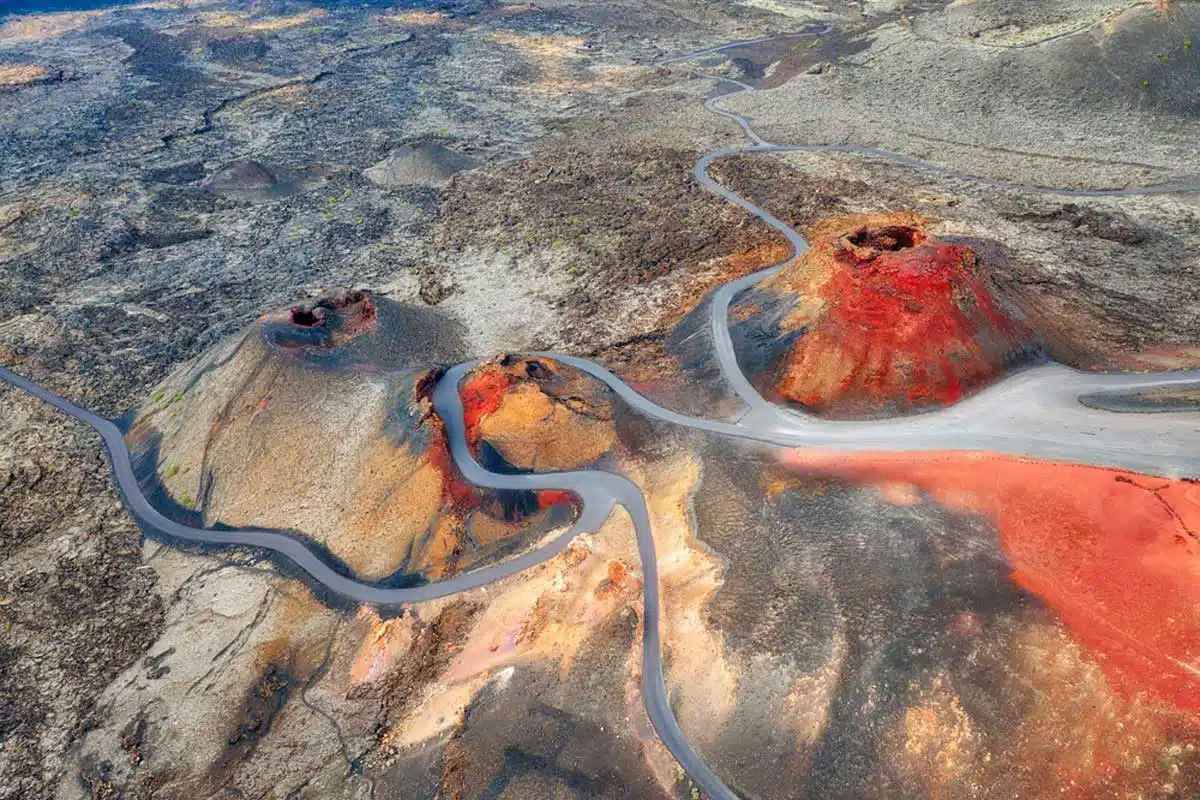 Timanfaya isn't your average national park – a patchwork of dramatic volcanic landscapes that were primarily formed by the eruptions of more than 100 volcanoes between 1730 and 1736 and again in 1824.
The result is a barren moonscape that's eerily beautiful – a vast area of volcanic soil that was one of my highlights from my time on the island.
While you can access some areas of the park (like the Caldera Blanca) independently, access to most of the park is restricted to coach tours that are organised by the park to protect the delicate natural environment. These guided tours delve into the geology and history of the park, along with providing fascinating insights about its unique ecology.
Interesting as the whole experience is, the Montañas del Fuego (Fire Mountains) really stand out – an area where the heat below the earth's surface is still so intense that when the guides pour water into boreholes, it almost immediately erupts out in the form of steam.
It's a stark reminder of the volcanic activity still simmering below the earth's surface.
Explore the Jardin de Cactus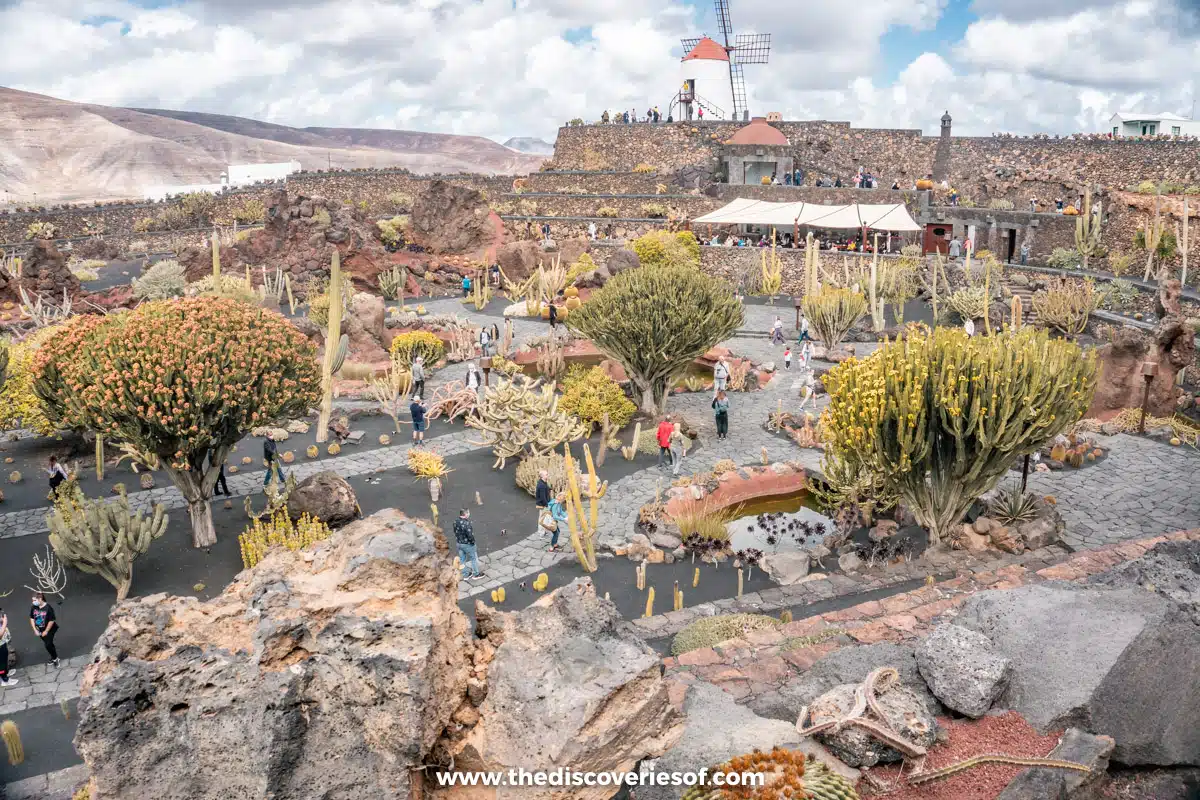 This isn't your granny's succulent garden. Actually, it's famous Lanzarote architect César Manrique's.
Sitting pretty in the village of Guatiza, the Jardín de Cactus used to be a quarry where they extracted volcanic sand to spread it on cultivated areas to help them retain moisture.

Now, it's levelled up to something of an aesthetic dream. Opened in 1990, it's a vertical maze of 4,500 cacti, including 1,000 different species, artfully arranged in the contours of the quarry to create a living work of art.
I wasn't quite sure what to expect from my visit – on the face of it, a cactus garden sounds like it could be a bit of a snooze, but the reality was anything but. There were spindly asparagus spears, towering saguaros, and spiky soccer balls with pools of black volcanic sands and red rocks between them.
Manrique's central philosophy revolved around working with the island's natural landscapes – a philosophy that helped shape some of the island's quirkiest destinations like the Cactus Garden and the Jameos del Agua Caves featured below.
The fact that the garden's built in a low-lying quarry helps it trap sunlight and heat, making it a haven for its solar-loving inhabitants.
Do
The garden is open from 10am to 4.30pm. Tickets cost €6.50 for adults, €3.25 for children aged 7-12. Children under 7 go free.
Venture Into the Jameos del Agua Caves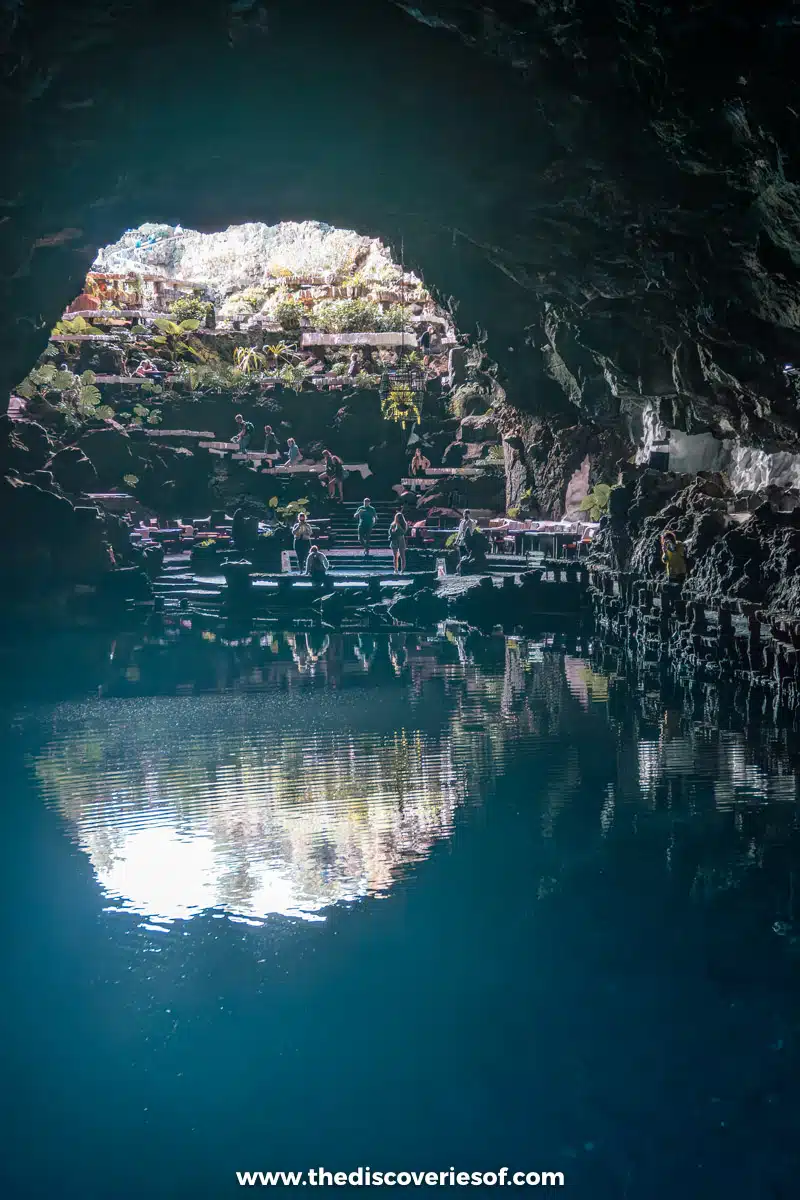 You know how I said that Lanzarote was full of weird and wacky places you can't find anywhere else? The Jameos del Agua Caves are one such place.
Another masterpiece by César Manrique, the caves are a prime example of blending art with nature for a unique experience.
The caves were originally formed by the eruption of La Corona and are actually a series of collapsed lava tubes. Manrique saw the potential in these twisted, arching caverns and transformed them into a magical subterranean realm.
Venturing down the stairs from the entrance, I was immediately plunged into the gloomy darkness of the main cave, an underground lake with tiny albino crabs huddled in its waters like a marine galaxy of white stars.
The whole effect was surreal, even more so when I followed the path towards sunlight, where a crystalline turquoise pool fringed with palm trees and a swinging 60s decor vibe.
There's also an auditorium used for concerts surrounded by scattered cafés and a restaurant, which plays live music come nightfall, plus a small museum dedicated to volcanology.
Do
The caves are open between 10am and 5.15pm daily. Tickets cost €10 for adults or €5 for children aged 7-12. Alternatively, you can book onto a guided tour to learn more about this unique location.
Take in the Views from Mirador Del Rio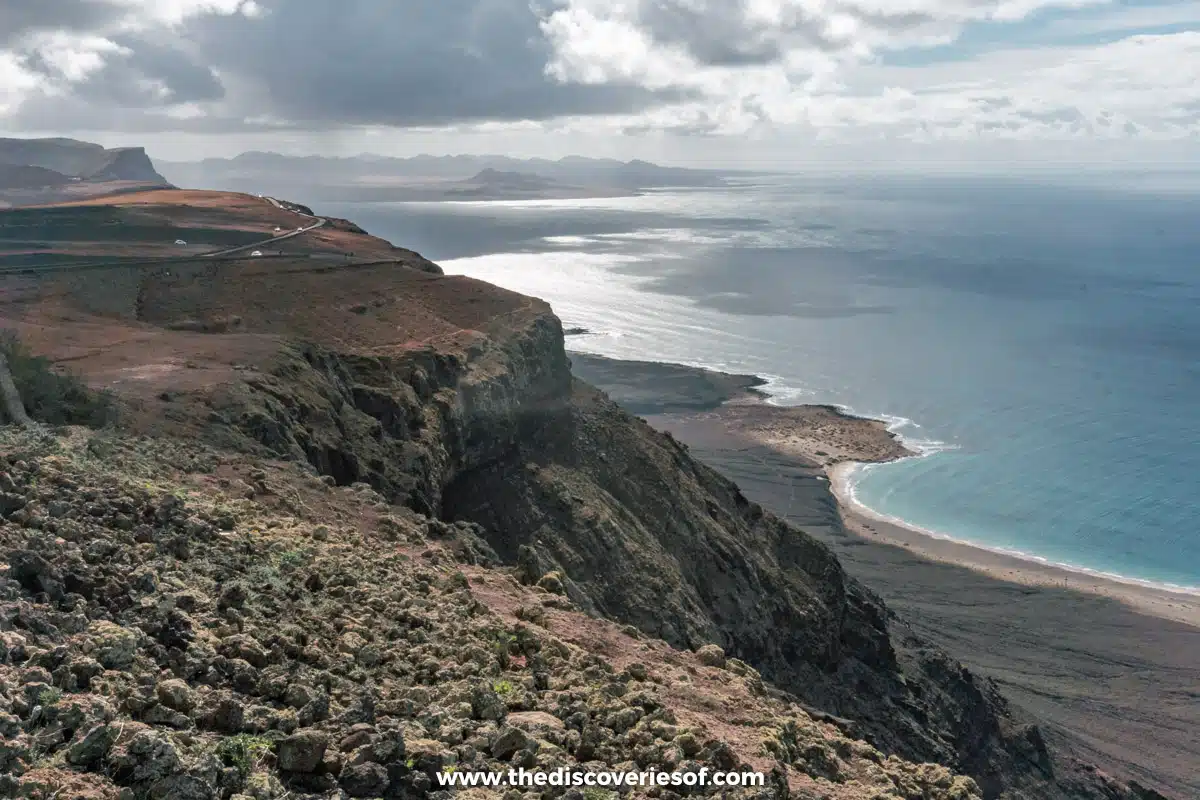 Perched a jaunty 479 metres above the sea on the northernmost part of Lanzarote, the Mirador del Rio is the place to go for straight-up spectacular views, as well as an architectural attraction in its own right.
Designed by (you guessed it…) César Manrique, it was originally constructed in the 1970s, tucked away into the cliffside of Risco de Famara.
Manrique's sculpture of a fish and bird meshed into one, a metaphor for water and air sits just above the entrance – a bold piece that encapsulates what's to come.
Head beyond the entrance to catch a look at the large domed windows showcasing the stunning panoramic view where the El Rio sea separates Lanzarote from the small island of La Graciosa. Beyond that, the Chinijo Islands lie scattered in the azure blue of the Atlantic. On a clear day, the view stretches for miles.
You can buy tickets on the door, in advance from the website or book onto this tour to see this and three other of Manrique's iconic architectural works.
Top Tip
Visit late in the afternoon to avoid the crowds and to catch some of the best light for admiring (and photographing) the views.
Marvel at Los Hervideros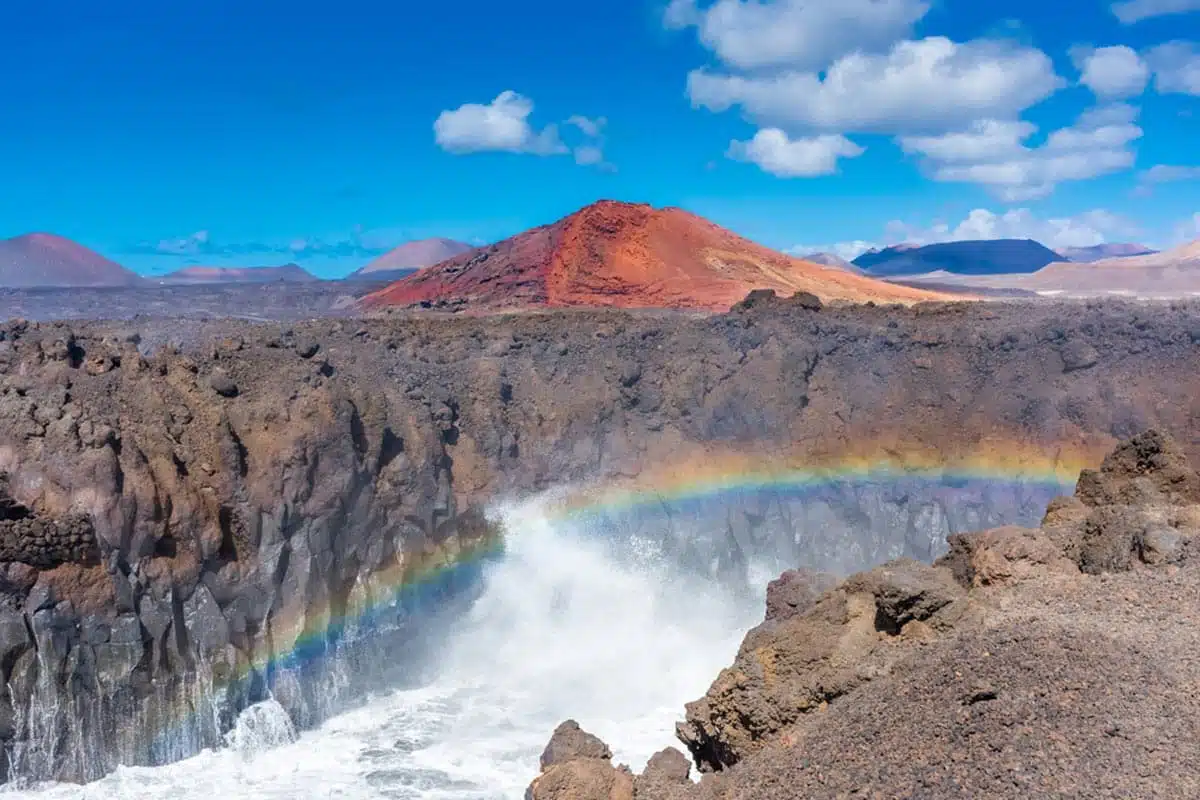 "Los Hervideros" translates to "the boiling pots" in Spanish — which is kind of a giveaway about what to expect.
This is where the craggy coastline of volcanic rocks meets the wild Atlantic Sea. The black-pockmarked cliffs feature lava tunnels and blowholes where the churning waters rush and throw seaspray skywards, much like a geyser.
The area was created by the very same volcanic eruptions that created Timanfaya National Park – the molten lava cooled rapidly as it reached the sea, leaving in its wake a geological marvel formed of layers of solidified lava, each with its own unique texture and shape.
Top Tip
There's no charge to visit. You have to explore the area on foot – wear sturdy shoes and stick to the marked paths as some of the rocks can be slippery and the waves can be unpredictable.
Sip Wine (And Learn About it's History) at Bodegas El Grifo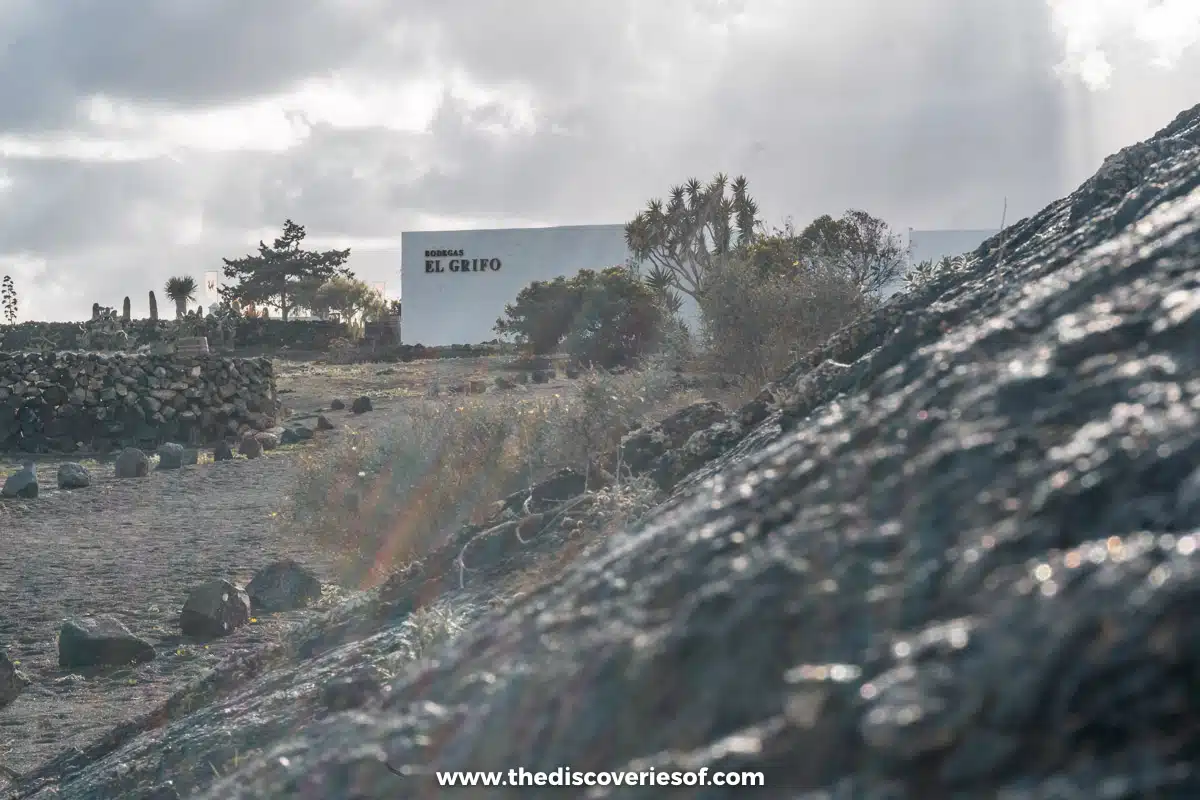 Where there's wine, that's where you'll find me.
I'll bet that if I say Lanzarote, wine isn't one of the first things that springs to mind, but the island has a long winemaking history that stretches back centuries.
In fact, established in 1775, Bodegas El Grifo is one of the ten oldest wineries in Spain and the oldest in the Canary Islands. Nope, I didn't know that before I visited either.
But wait, doesn't the winery date from close to the time a series of volcanic eruptions pretty much rewrote the whole of Lanzarote's landscape? Correct.
The eruptions left the island covered in a layer of volcanic ash – and locals discovered that rather than the ash killing the vines, they actually thrived in the unlikely environment. They're planted in cone-shaped pits and surrounded by a small stone wall to help protect them from the elements – a method that gives Lanzarote's wine a distinct taste.
The people who currently own Bodegas El Grifo are the fifth-generation descendants of the family who bought it in 1880.
There's a museum where you'll find wine pumps, crushers, and presses, amongst 500 other preserved pieces of wine-making history.
Otherwise, you can (and should) tour the cellars, museum and vineyard in the heart of the protected La Geria area. There's also a wine bar on-site to sample the fruits of the facility's labours (dad joke alert).
Be Wowed at Mirador De Guinate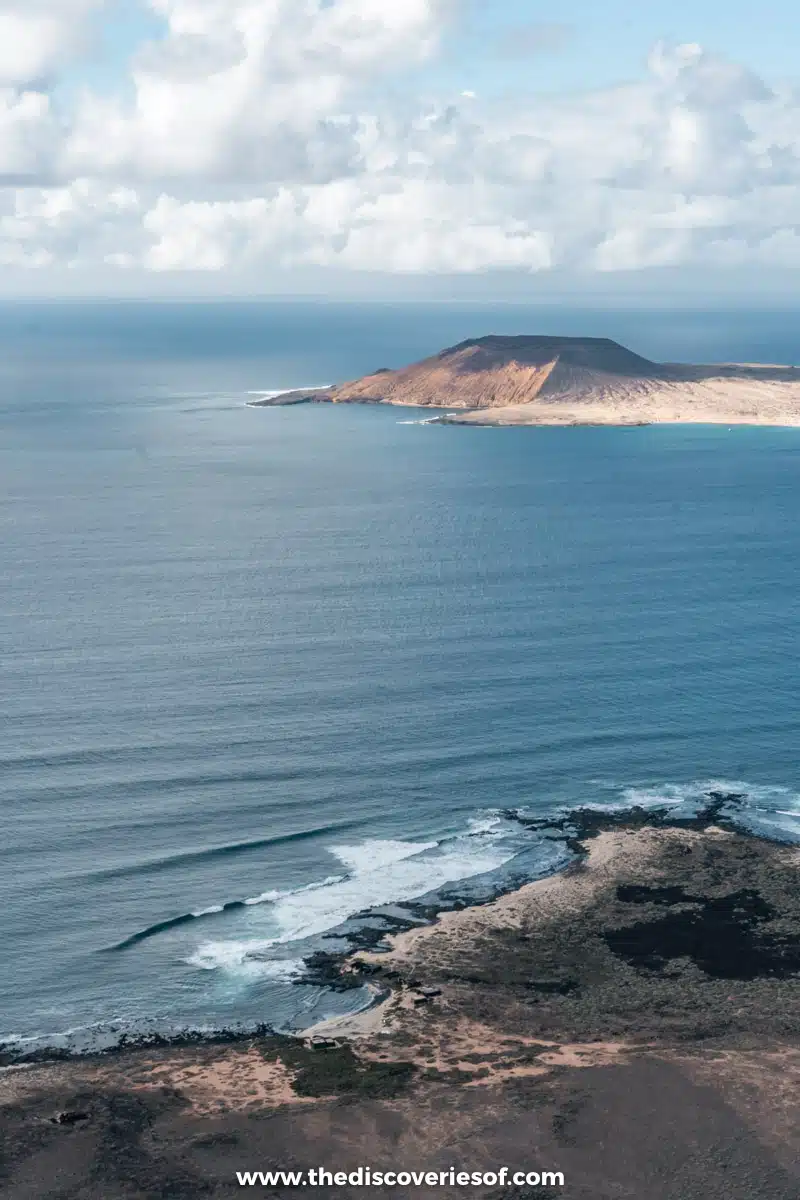 More stunning views of Lanzarote? Don't mind if I do!
The Mirador de Guinate is perched 500 metres above the sea on the cliffs of Risco de Famara, boasting gorgeous views of the Chinijo Archipelago and churning Atlantic Ocean.
It's a much quieter alternative to the Mirador del Rio down the road – and the views are no less spectacular either.
You can even see past La Graciosa island to Montaña Clara and Alegranza in the distance – lying before you is the European Union's largest marine reserve, about 70,000 hectares.
There's also a wall separating the viewpoint from the abyss with a mosaic that bears the words "déjate llevar", which in English translates to "let yourself be carried away".
Top Tip
It's often cold here, so bring a jacket. Also, don't come before 11 am as it's usually foggy, so the view won't be worth much.
Wander Around the César Manrique House Museum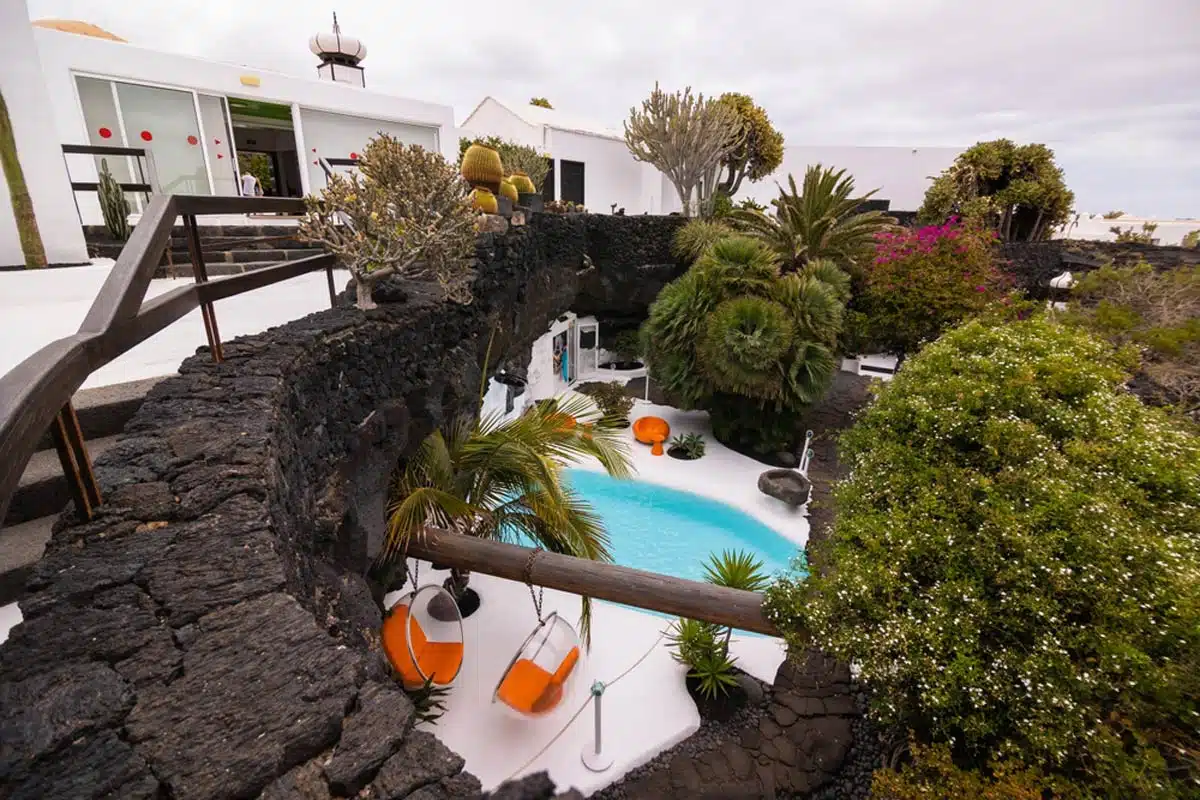 If you've got the feeling from reading this guide that César Manrique was kind of a big deal in Lanzarote, you'd be right.
Manrique was an artist, architect and environmentalist who played a pivotal role in shaping and protecting many of Lanzarote's natural wonders. Where better to learn more about this fascinating artist than in his former home in Haría?
The Cesar Manrique House Museum is a work of art in itself – built out of an old lava flow, with five rooms in underground caverns formed from the natural bubbles of cooling lava, complete with interconnecting tunnels. Pretty cool, I think.
His touch is evident everywhere you look: from the bubbling volcanic walls that combine beautifully with the curvy lines, to the white terraces and mid-century furniture.
Bearing Manrique's obsession with blending the natural with the man-made, it should come as no surprise that the indoor spaces give way to stunning views of the Valley of the Thousand Palms beyond.
Learn about Manrique's personal life and artistic process via an engaging range of exhibits in the very places he lived and worked.
Pay a Visit to Cueva De Los Verdes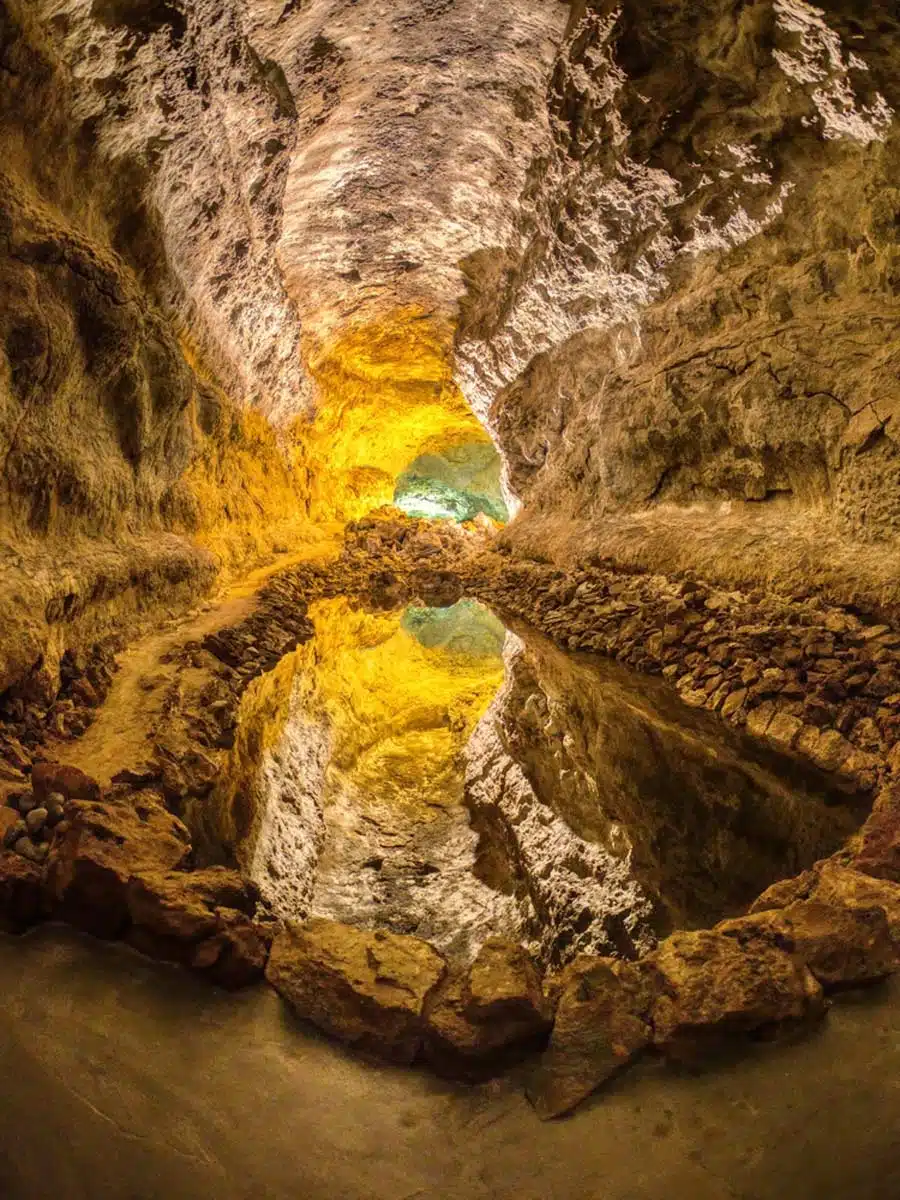 The Green Caves (or Cueva De Los Verdes) should be high on your Lanzarote list.
Much like the Jameos del Agua I featured above, the caves were formed by the eruption of Volcán de la Corona, which formed an intricate labyrinth of lava tubes underground.
A local artist, Jesús Soto, put his creative mind to work setting up coloured lights in designed illuminations combined with soft, moody music.
Do so, to see chamber after chamber opening up as you go, with the final cave revealing an underground auditorium that hosts concerts.
Top Tip
You have to visit on a guided tour to navigate the passageways, some of which can be narrow and claustrophobic.
Climb to Peñas Del Chache, Lanzarote's Highest Point
It's not some big reveal to say that Peñas Del Chache, the highest point on the island, comes with some seriously good views.
Sitting an impressive 672 metres, while Lanazarote is best-known for its volcanic landscapes, the journey to this viewpoint reveals a series of different landscapes, including lushly-vegetated areas at odds with the normal stark volcanic fields.
On a clear day, you can see across most of the island and across to neighbouring islands like La Graciosa. Stick around after dark to stargaze at the observatory and examine the glorious night sky far from the bright lights of big cities.
Top Tip
You can drive to the peak, but there are a number of trails to the summit for the avid hikers among you. Go prepared with suitable footwear, water and protection from the sun.
See the Salinas del Janubio (and Shop at the Tienda)
The patchwork of the Salinas del Janubio salt flats's pretty colours in hues of pink, baby blue, charcoal and ecru may look like an Instagrammer's dream, but in reality you're looking at one of the most important historical sites on the island.
Constructed in the late 19th-century, the salt pans quickly became the largest production site for salt in the Canary Islands and played a pivotal role in the island's economy.
More than that, it also serves as an important ecological area – attracting numerous bird species, particularly during migration periods.
Afterwards, pop into the Tienda de Salinas del Janubio, which sells all sorts of salts from the Salinas de Janubio or the salt flats.
Do
Visiting the Salinas del Janubio is free.
Enjoy More Wine Bodegas Rubicón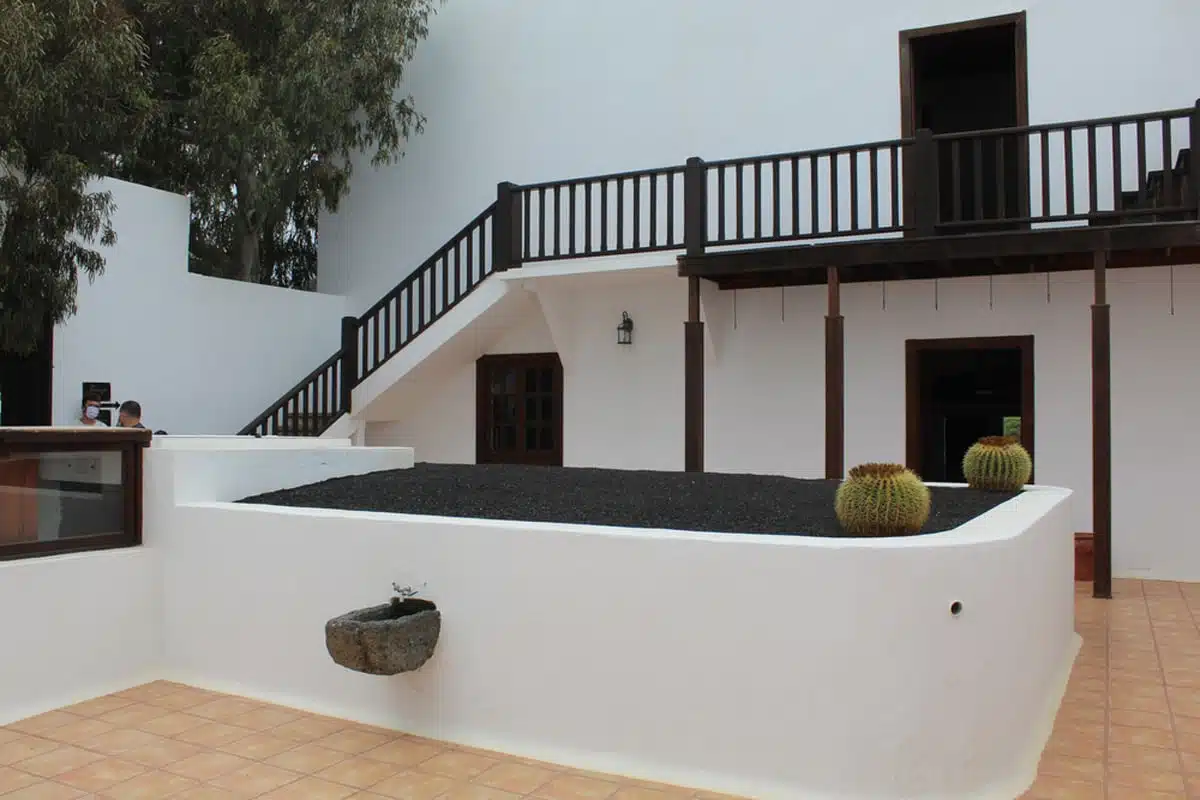 The Bodegas Rubicón winery has supplied locals and tourists with stellar wines for over three centuries. Located in La Geria, there's a museum, wine shop, and restaurant for visitors, plus beautiful courtyards to admire.
You'll be treated to some great views, too, as the winery, with its huge 100-year-old eucalyptus trees, faces Timanfaya National Park.
Seeing the sun set behind the low mountains with the vineyards before you and a glass of vino in your hand is one of the ultimate things to do on Lanzarote. Their Moscatel is particularly delicious.
Take a stroll through the grounds and then stay for a delectable dinner of traditional dishes — you won't regret it.
Soak Up the Vibes at Playa Blanca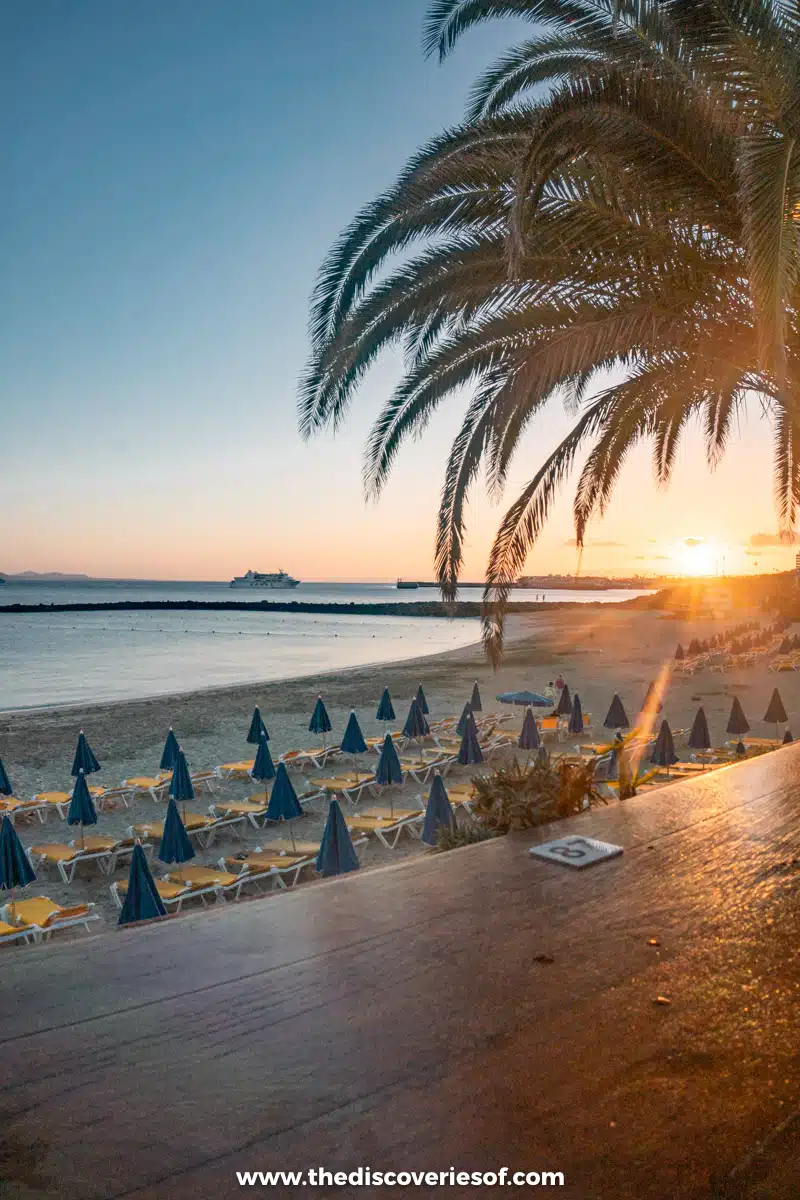 Playa Blanca, a vibrant coastal town, known for its beautiful beaches – is one of the island's most popular destinations.
What's so special then? First up, there's the stunning white beaches that give the town its name – perfect for a spot of sun worshipping.
Playa Dorada and Playa Flamingo are good options, with beautiful clear waters and water sports. If you want something a little more secluded, head to the Papagayo beaches, a series of coves that are accessible via a dirt track.
Beyond this, there's a glitzy marina, Marina Rubicón, and a lovely promenade lined with a variety of restaurants, cafes and shops.
Top Tip
There's a cool market twice-weekly in Playa Blanca, where you can pick up some beautiful local crafts and artwork, along with fresh produce.
Head to the Pretty Coves at Playa de Papagayo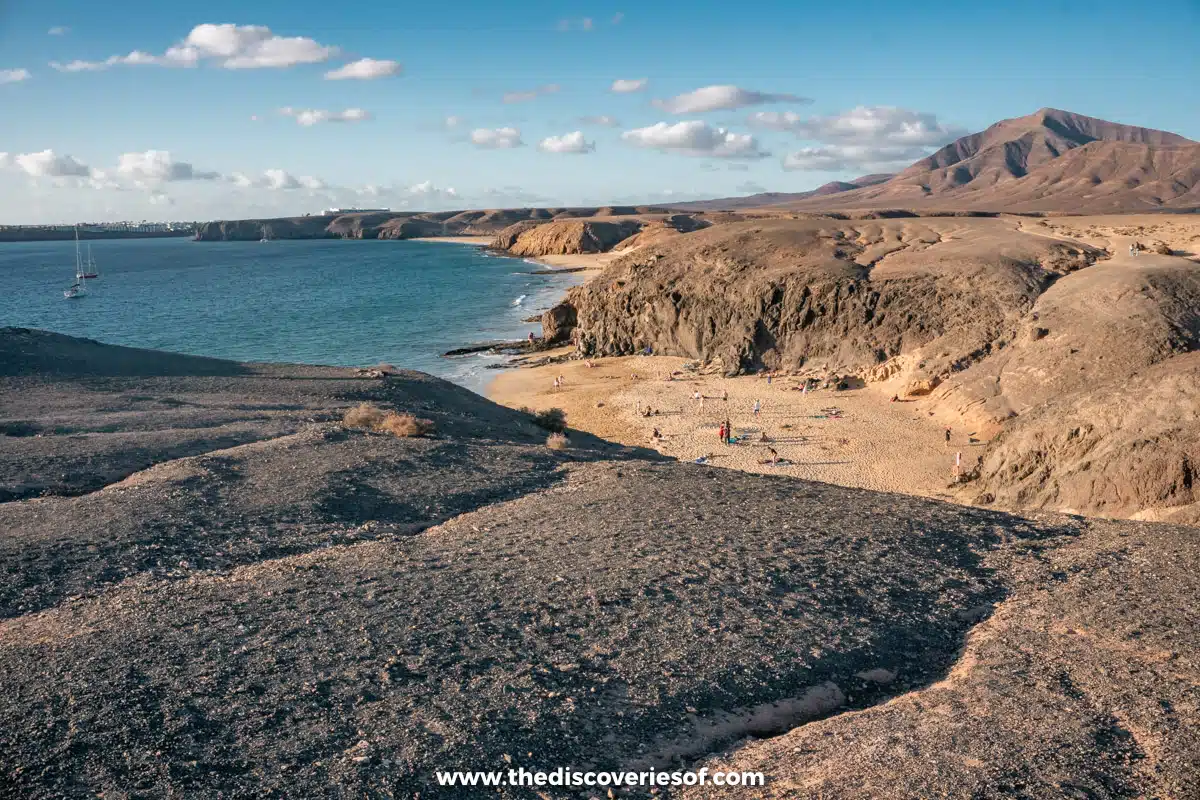 A series of stunning coves on the southern tip of Lanzarote, Playa de Papagayo is renowned for its crystal-clear waters and pristine sandy beaches.
Have to be honest, I was totally blown away by the beaches, which were my favourites on the island.
Tucked away in the Los Ajaches National Park, they're the perfect place to head to if you want to spend time on some of the island's most beautiful beaches in a quieter setting.
Do
There's a small entrance fee for access to the park – bring some change to pay at the booth.
Take a Day Trip to La Graciosa, The Island With No Roads
If Lanzarote draws in the crowds, La Graciosa, one of the Chinijo Islands and just a short hop away from Lanzarote, is its polar opposite.
This serene island measures just 29 square kilometres and is a wonderful blend of postcard-perfect beaches, whitewashed houses and quiet charms. In fact, there aren't any paved roads on the island – only sand and dirt tracks that lead you to unspoiled beaches.
About those beaches – Playa de las Conchas, Playa de la Cocina and Playa de la Francesco are each stunning – a pristine triumvirate of powdery sand and crystal-clear waters.
Beyond this, the island is also a hiker's paradise – with several trails heading into its volcanic interior to scale peaks such as Montaña Amarilla and Montaña Bermeja and many more circumnavigating its otherwise relatively flat terrain.
Getting There
The easiest way to get to La Graciosa is by ferry from Orzola in Lanzarote to Caleta de Sebo on Graciosa.
Spend Time in Teguise (and Visit the Sunday Market)
Nestled in the heart of Lanzarote the former capital of Lanzarote, Teguise, is the perfect place to wander around, seeing traces of the island's long past.
Founded in the early 15th century, it's filled with historic buildings and old churches meandering out from the Plaza de la Constitución, the town's main square.
Be sure to visit the Castillo de Santa Bárbara – a pretty castle with panoramic views and a rather fun Pirate Museum. Another highlight is the Palacio Spinola, an old aristocratic house that offers insight into life on the island in times past.
Top Tip: Teguise is famous for its Sunday market, which is the biggest on the island. Every Sunday, the town fills with stalls selling everything from handmade crafts to traditional Canarian foods and unique souvenirs. I can't recommend visiting it enough.
Practical Tips for Your Lanzarote Trip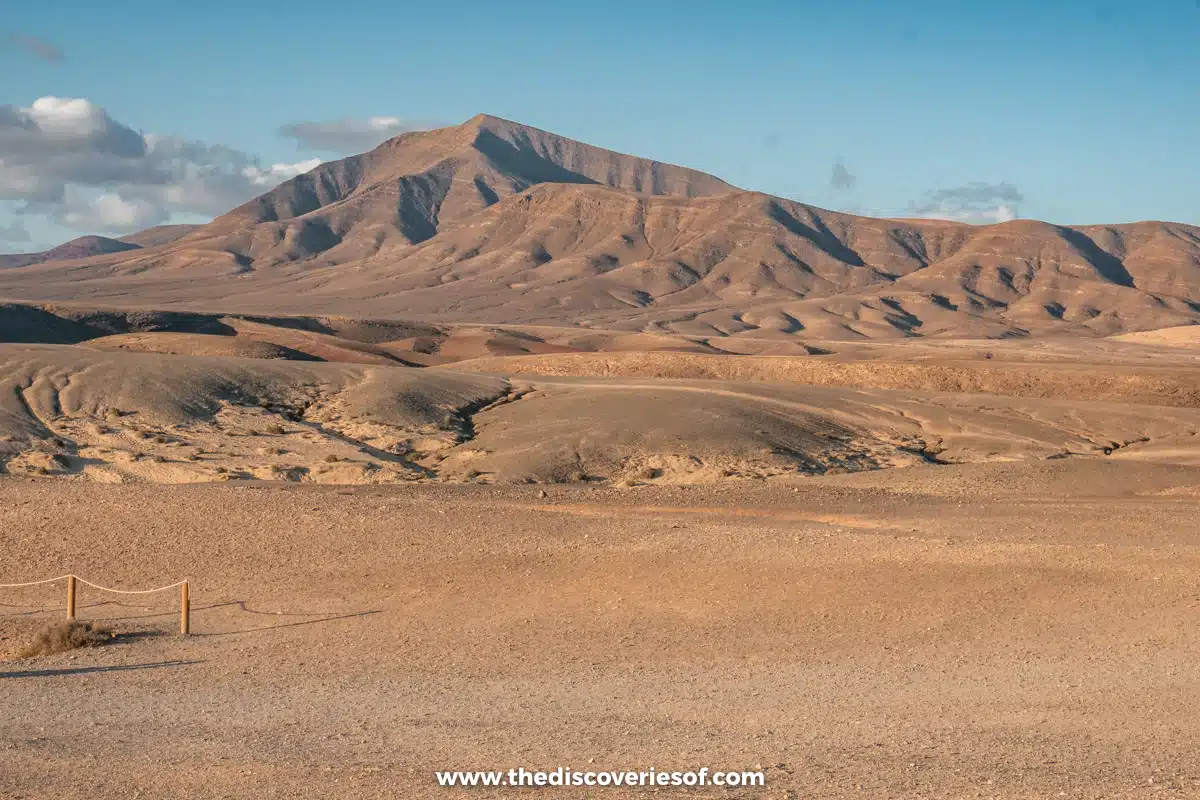 Top Tips for Your Visit
Rent a Car: Public transport on the island is limited and having a car will give you the freedom to explore at your leisure.
Book The Tour at Timanfaya National Park Early: Tickets do sell out – so book as far in advance as you can. Also plan to go early in the day for a quieter experience.
Come Prepared for the Wind: The island can get (really) windy – try and have a light jacket or windbreaker on you all the time as it can whip up at short notice.
Stay Hydrated and Protect: The arid climate can cause dehydration faster than you'd think. Wear sunscreen to protect you from the fierce sun, particularly during outdoor activities.
How Long to Visit in Lanzarote?
You can see most of Lanzarote's attractions and enjoy a few excursions in around four days. But seven days is a good time estimate for a more leisurely exploration of the island and its wonders.
Best Time to Visit Lanzarote?
Lanzarote offers a mild climate for the most part, meaning any time of year it's bound to be warm. In summer (June to August), the temperatures rise to around 28ºC, and in winter (December to February), you're more likely to encounter rain.
So the shoulder months of spring (March to May) and autumn (September to November) are best if you want to avoid peak heat (and tourism).
Where Should I Stay in Lanzarote?
Arrecife Gran Hotel & Spa (Mid-Range)
A spa, indoor pool, and modern rooms with relaxing and fresh colour palettes — what more could you want?
This five-star hotel offers city or beach views and Mediterranean and international cuisine at their restaurant.
Dreams Lanzarote Playa Dorada Resort & Spa (Luxury)
Crystal infinity pools, cabana sunbeds, and luscious warm interiors make Dreams Lanzarote Playa Dorada Resort a magical experience.
Only 200 metres from the beach with a bar on-site, it's the perfect holiday respite.
Things to Do in Lanzarote: Map
Discover More Winter Sun Destinations
Love This? Save and Share on Pinterest