Wondering where to stay in Florence? I've got you covered with this handy guide to the city.
So, you've narrowed down your sightseeing options, picked out all of Firenze's unmissable landmarks and decided which restaurants you NEED to visit during your trip to Florence. 
All that's left now is to find your dream accommodation.
But, let me just take a moment to swoon over Flo…
Renaissance masterpieces, gardens, and buildings define this picturesque city, making it one of the most unmissable places in Tuscany.
And, if you're wondering where to stay, look no further. I'm a huge fan of the city and have been lucky enough to visit on multiple occasions. So I know a thing or two about where to base yourself.
Read on to discover the top neighbourhoods and hotels in Florence.
Best Places to Stay in Florence: At a Glance
Where to Stay in Florence, Italy
Despite being a smaller city, the Florentine neighbourhoods can heavily differ in vibe and culture. Read on to discover my fave places to stay.
Duomo: Best Neighbourhood in Florence for First-Timers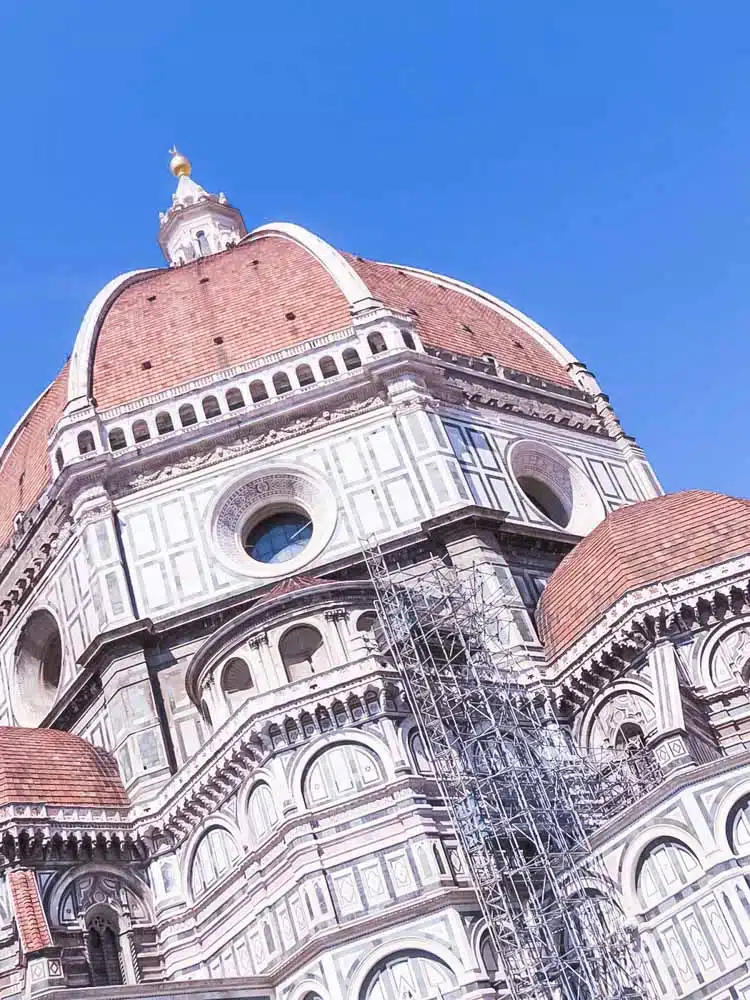 My general rule is if in doubt, go with the middle. And, in Florence, this pays off.
With a host of Renaissance and Medieval art surrounding you, the cobble-stoned city centre is where many of the main attractions await your gaze. Most are within walking distance of each other, too.
You need only step outside your hotel and you'll find yourself surrounded by impressive cathedrals, piazzas, and museums. In between sightseeing, you can shop at high-end boutiques for the ultimate holiday shopping splurge or indulge in gourmet cuisine.
Come nighttime, there are casual and chic rooftop bars to sit and sip an Apéritif or two while you gaze at the city lights below.
Duomo Highlights
The pastel houses on the Ponte Vecchio spanning the Arno River are iconic, and stopping by to shop here is a must.
You can't miss the Cathedral of Santa Maria del Fiore with Brunelleschi's iconic dome, the Duomo, that this neighbourhood gets its name from.
The Uffizi Gallery, or Galleria degli Uffizi, houses an incredible collection of art. You'll find work from famous Renaissance artists like Michelangelo and Da Vinci as well as more contemporary European painters.
Suggested Best Hotels in Duomo
Donati Luxury Tower Suites — This 5-star hotel is where the old world meets the new, with chic industrial decor and views of nearby landmarks like the Cathedral of Santa Maria del Fiore.
B&B La Terrazza Sul Duomo — With inviting warm palettes, hints of vintage decor and fabulous terrace views of the Cathedral, this historic building is only a 10-minute walk from the train station.
Hotel Spadai — Ultra modern and sophisticated, this 4-star historic building is next to Palazzo Medici Riccardi. It's central, and all rooms offer rain showers.
Santa Croce: Best Area to Stay in Florence for Nightlife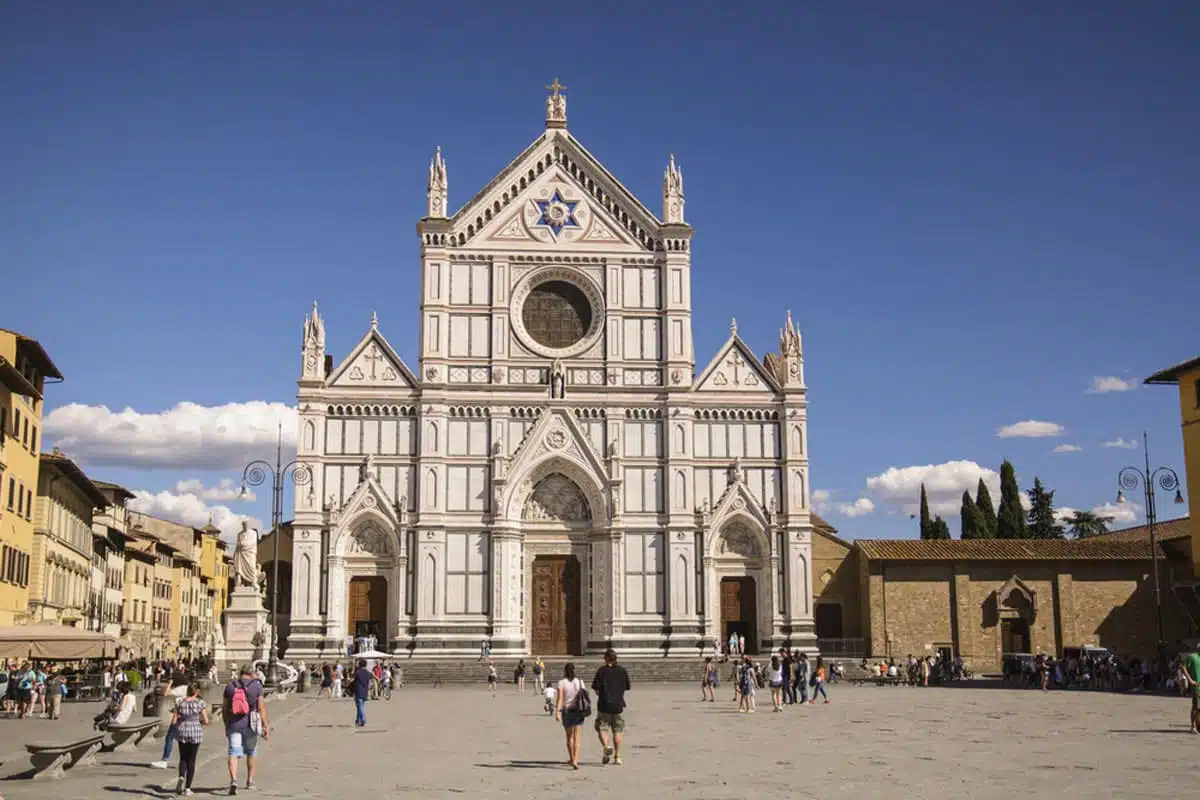 Bit of a party animal? Santa Croce is one of the best places to stay in Florence.
The young – and young at heart – gather at the bars and cafés that line Piazza Santa Croce once the sun goes down to fuel up for a night of boozed-up partying.
There's often live music, too. But there are also some laidback attractions. Not far from the bustling Duomo area, it manages to be less touristy while maintaining its own impressive wonders.
The basilica and Bargello museum are top sights, and you can always wander through the local flea markets for Italian snacks and souvenirs.
Santa Croce Highlights
The Basilica of Santa Croce is the main Franciscan church of Florence and is a striking minor basilica to view from the inside and out. The outer façade gleams white, and the inner walls drip with gold while light plays through the stained-glass windows.
Museo Nazionale del Bargello is home to an outstanding array of sculptures from the Renaissance.
Via dei Benci Street is where the nightclubs cluster together, so this is where you want to be to dance the night away.
Suggested Best Hotels in Santa Croce
Plaza Hotel Lucchesi — On the bank of the Arno River, this delightful modern hotel with cool chic tones and elegant decor offers sweeping views, plus a rooftop bar and pool.
La Maison du Sage — Just a few steps from Santa Croce Basilica and other attractions, this tastefully decorated 4-star hotel has spacious rooms, sometimes with a spa bath included.
Eurostars Florence Boutique — This is modern luxury on a budget. With white minimalist decor, there's even a billiard and fitness room for free. The bus stop is 50 metres away, making it the perfect spot to base yourself.
San Marco and San Lorenzo: Best Place to Stay in Florence on a Budget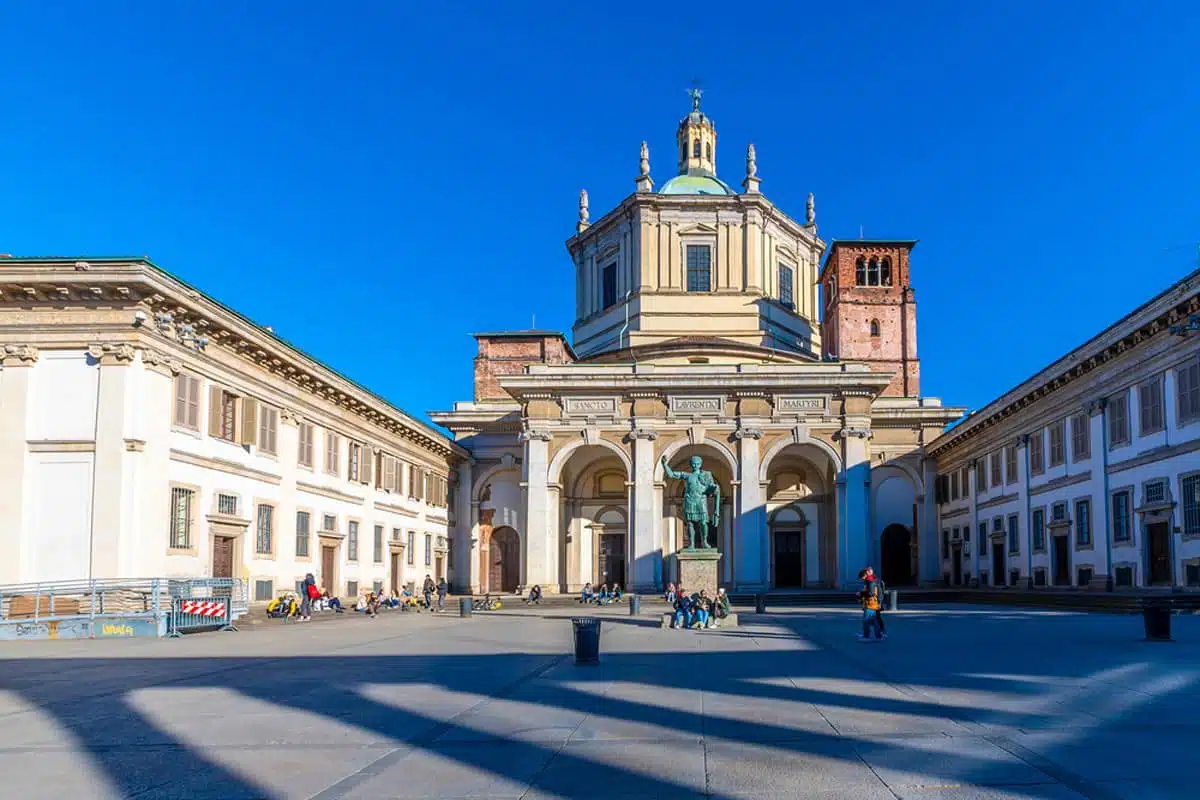 Vibrant eateries, historic churches, and fascinating museums are the specialties of this area. Street stalls in San Lorenzo purvey speciality Florentine leather goods that you can get at great prices. San Marco offers gourmet street treats, from traditional tasties to artisanal pizza and chocolates.
There are also plenty of family-run restaurants, meaning hearty and authentic Tuscan dishes to give you all the energy you'll need to traverse the small city on foot.
The best thing about San Marco and San Lorenzo is that they have fantastic food and goods at lower prices than the more touristy sections of the city. If you want to grab some bargains to take back home with you, this is the place to find them.
San Marco and San Lorenzo Highlights
The Galleria dell'Accademia is home to the famous statue of David by Michelangelo, so it's a bucket list destination in Florence.
The Monastery of San Marco is another outstanding visit, with an impressive structure and paintings by Fra Angelico and his pupils.
Cappelle Medicee is the burial place of the wealthy Medici family, so you can imagine how grand it is.
Suggested Best Hotels in San Marco and San Lorenzo
Four Seasons Hotel Firenze — This luxurious hotel oozes with rich decor, chandeliers, and gold trimmings. If you're looking for a royal experience in Florence, this is it.
Hotel Firenze Number Nine — This artistic and colourful 5-star hotel has an on-site spa that offers massages and free pilates classes. It's also conveniently located near both attractions and transportation.
Hotel Monna Lisa — With bold, old-world charm, this sprawling 15th-century building is only 5-minutes walk from the Duomo. Each room boasts a unique design with antique furniture, and the landscaped gardens are a sight to behold.
Santo Spirito: Best Neighbourhood to Stay in Florence for Foodies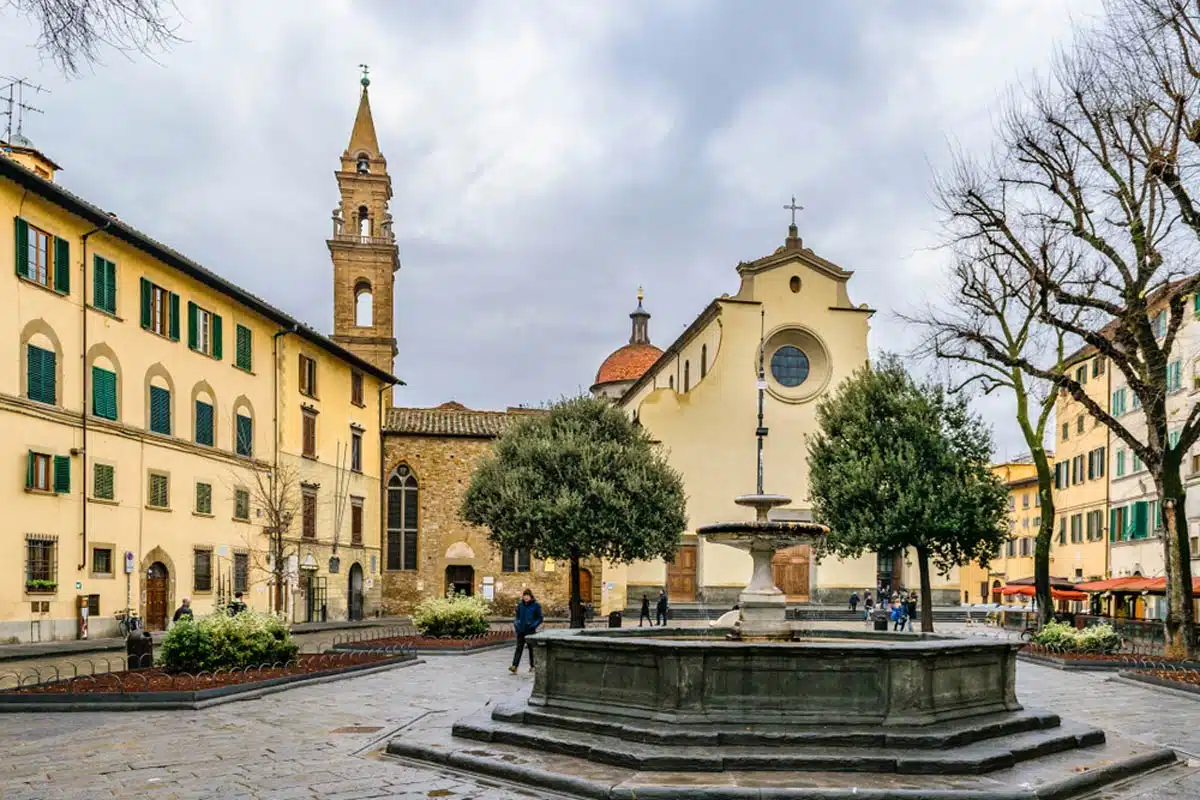 I'm going to let you in on a little secret now, Santo Spirito might just be the best area of Florence to base yourself.
Honestly, most of Florence offers delectable delights, but Santo Spirito is where they're most concentrated. It's a quiet neighbourhood away from the touristy sectors where wine bars, cosy cocktail corners, eclectic cafés, and fine dining restaurants are in abundance.
The speciality is Tuscan cuisine (duh), so prepare your palate for a world of wonder in terms of pasta and other hearty Italian dishes. When you're not indulging in the incredible food, you can walk off the calories by exploring the nearby piazzas and beautiful Boboli Gardens.
It's generally not as busy as other tourist sites, and little cafés line the plazas waiting for you to choose where you'll be enjoying your next meal. If you happen to be visiting Italy in winter, slipping into a warm restaurant and plunging fork-first into a steaming bowl of carby pasta is a must.
Santo Spirito Highlights
The Palazzo Pitti is a gorgeous place to meander and take a snapshot or two for your Instagram
Piazza Santo Spirito is quaint with plenty of rustic charm. It's where the locals head for food and drinks, so you know you're bound to find some of the best food here.
Boboli Gardens are a part of the Palazzo Pitti, and their perfectly manicured hedges and greenery beg for Instagram snaps.
Suggested Best Hotels in Santo Spirito
Piazza Pitti Palace — Rooms with painted ceilings and walls and lux trimmings are what this 4-star hotel in a historic building is all about. The breakfast is pretty exceptional, too.
Soprarno Suites — With high ceilings and eclectic decor that makes every room a delight, this 4-star facility is near major attractions.
Hotel Lungarno — Sleek and modern, the rooms at this 5-star hotel along the River Arno are outstanding. The Ponte Vicchio is within view from river-facing rooms, and the on-site restaurant has creative cuisine that will delight.
Santa Maria Novella: Places to Stay in Florence for Shopping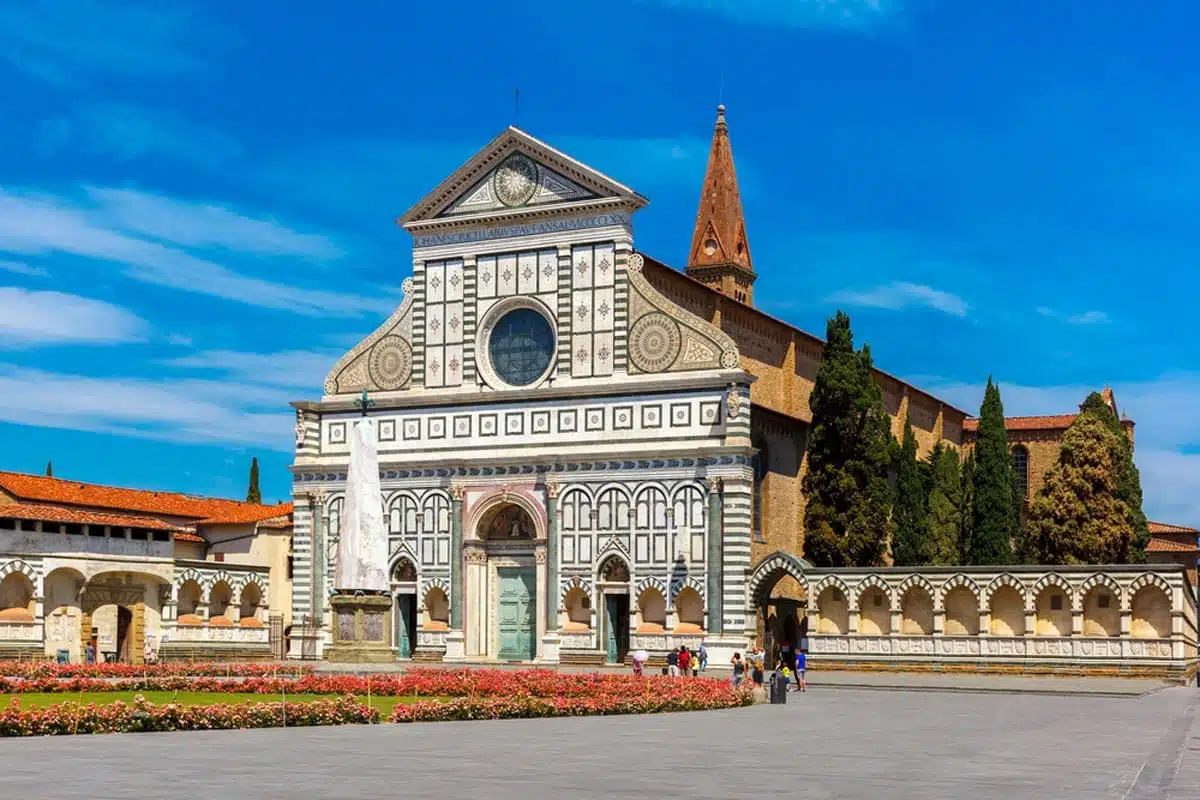 The Santa Maria Novella district is home to the main train station in the city. I'll warn you that the station is a little grungy (it's the same in Rome), but away from it and towards the river, the neighbourhood becomes a bustling area of high-end commerce.
Yes, friends — this is where you come to get your shopping on. The top labels are up for grabs, and interesting boutiques offering unique wares are open to the casual and serious shopper alike.
You'll also get some bargain vintage items along Via della Spada if you're lucky. When you aren't dropping from shopping, stroll about the galleries, enjoy a drink at a riverside café, or have some Tuscan lunch at a fancy trattoria.
If you need a break from all that rich Italian fare, visit Shake for detox green juices and fresh bagels. Sitting on their terrace sipping a fresh juice, you'll have fantastic views of the nearby Basilica di Santa Maria Novella.
Santa Maria Novella Highlights
Via de' Tornabuoni is where you'll find classy and expensive labels, so if you intend to become an icon of Italian fashion, make it happen here.
The Basilica di Santa Maria Novella is downright beautiful; strong lines and white accents make quite a statement. The Fountain of the Tritons stands before it.
The Santa Maria Novella Pharmacy is another classic attraction to visit in the area as it's the oldest pharmacy in the city. Founded in 1221, the interior is pretty decadent, and frescoes, ancient tomes, and statues cover every inch of the place.
Suggested Best Hotels in Santa Maria Novella
The St. Regis Florence — Decadent interiors combine luxurious rooms and stunning views in this 5-star hotel near the Ponte Vecchio. The Florentine furnishings and marble bathrooms will wow you, and the on-site spa will rejuvenate you after a long day of sightseeing.
The Westin Excelsior Florence —The rooms here have a modern appeal and ultimate comfort, and the bathrooms are all Carrara-marble. Only a short walk from the historical centre, plenty of the most popular restaurants and boutiques surround this 5-star hotel.
Dimora Palanca — Tastefully modern with neutral tones and hints of Renaissance trimmings, you can relax on the terrace outside or enjoy something tasty at the on-site restaurant.
Where to Stay in Florence: Frequently Asked Questions
Related Searches FAQs
Practical Tips to Consider Before Booking Your Florence Accommodation
As with most major metropolises, be aware of petty crime in congested touristy areas. Pickpockets are plentiful in areas like the Piazza del Duomo, Ponte Vecchio, and Mercata di San Lorenzo. Busy public transport can also be a hotspot for theft, so keep your belongings close and stay aware of your surroundings.
Pick a hotel that's entrance is on a busy street. This is just a simple safety precaution so that you don't have to wander quiet roads at night after a long day of touring and potentially make yourself a target.
Identify the main points of interest you want to see and which neighbourhood they're in before choosing a hotel. It's best to pick one that's central to all of the main attractions you plan on visiting.
Rates are often cheaper for hotels if you book in advance. They're also typically lower during off-season periods (aka outside of the summer months).