Planning to visit Bilbao and looking for somewhere to stay? Don't miss these stylish Airbnbs in Bilbao.
Bilbao is a cool destination: not only is Bilbao itself packed with brilliant things to do, it's the perfect jumping-off point for exploring surrounding areas such as La Rioja and the Basque Coastline.
Planning your visit but not sure where to stay? Check out these cool Airbnbs in Bilbao, Spain.
Best Airbnbs in Bilbao: At a Glance
Best Airbnbs in Bilbao
Airbnb is a great option for finding a unique and comfortable stay in Bilbao. Whether you're looking for an Airbnb in Bilbao's Deusto neighbourhood or you'd prefer to be right in the city centre, you're sure to find some great options.
I also love using Plum Guide as an alternative to Airbnb – the apartments are hand-selected to ensure that only the very best make it onto the site.
Here are my top picks.
Secluded Mountain Retreat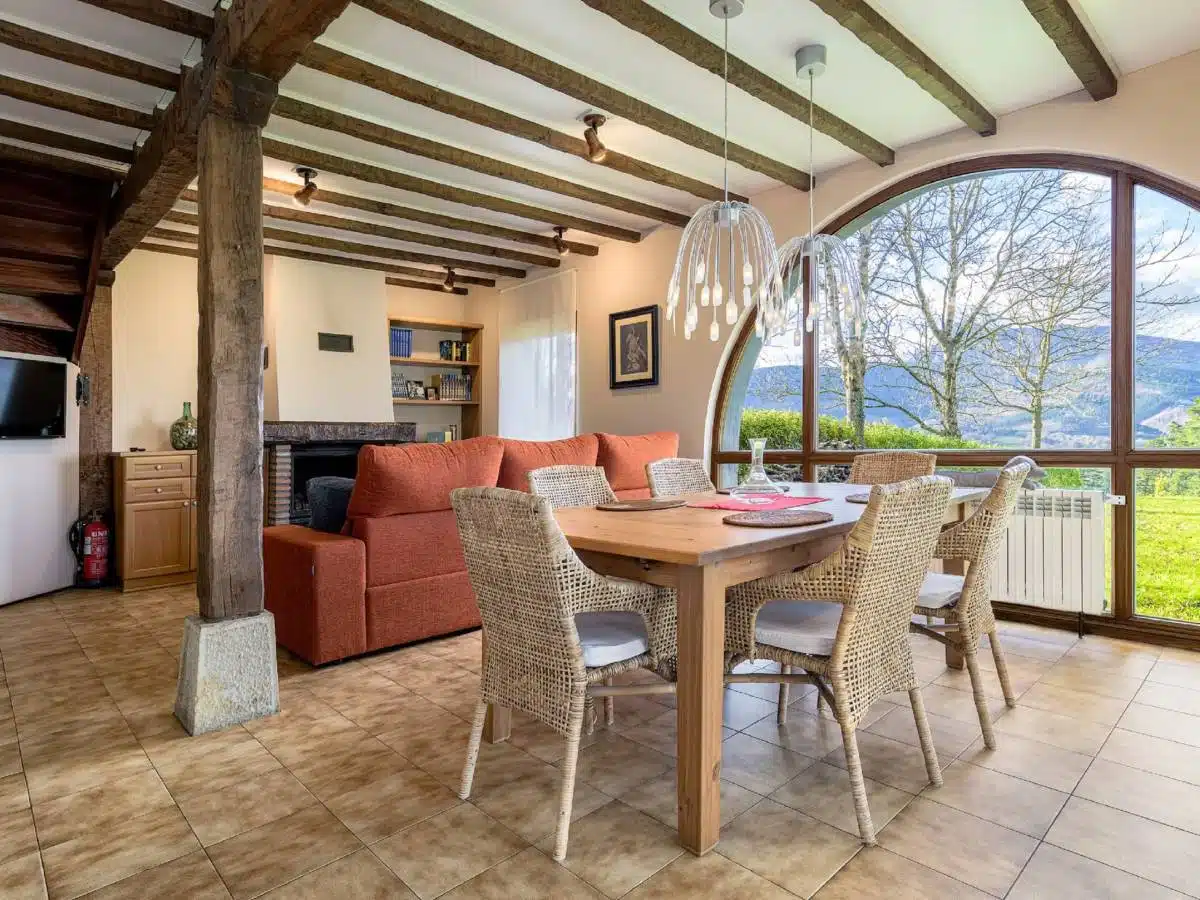 Located just a little bit out of Bilbao, this gorgeous villa is nestled within meadows and trees and makes for the ultimate escape.
The dining table is framed by a huge overarching window that perfectly frames the Basque Mountains, while the roaring fire provides the perfect place to curl up with a book and escape the outside world.
This apartment is perfect for those looking to escape the buzzy city, though you're looking to explore Bilbao every day of your trip, I would pass on this home.
Location: Elorrio
Located just outside of Bilbao, there's no compromising on space in this beautiful secluded villa.
Design and Elegance in Casco Viejo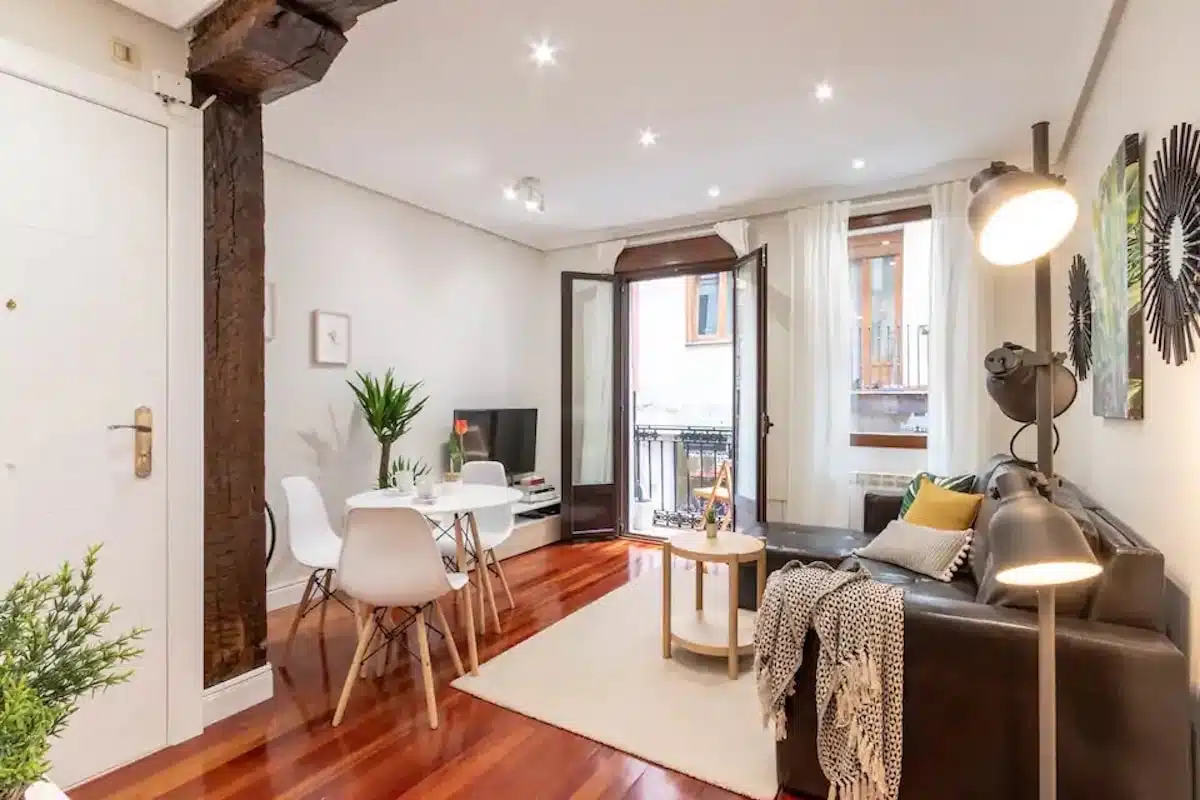 It makes sense that an Airbnb in Bilbao's Casco Viejo would be distinctly vintage inspired – and it's a winner for me.
This beautifully decorated apartment is full of charm and charisma. Plus, it's perfectly located to reach the attractions of Bilbao. You'll pay for the convenience, but it's totally worth it.
There are two bedrooms but the second only has a single bed, so it's better for couples (or small families) rather than groups.
You'll be hosted by Xabi and Almu, who are passionate locals who love giving tips on what to do and see.
Location: Casco Viejo
This is an Airbnb in Bilbao Old Town, meaning the location is fabulous. You'll be within easy walking distance of all the best that the city has to offer.
Flat In The Heart of the City
The best part of choosing Airbnb in Bilbao is staying in a real home. Say goodbye to impersonal hotels and hello to charming flats like this one.
This gorgeous 2 bed flat has been lovingly decorated, with dashes of colour and cute artwork so you feel like you could be staying at your friend's place.
If your friends have really good taste in interior design.
Location: Casco Viejo
The apartment enjoys an amazing location being an Airbnb near Bilbao's centre. You're tucked away from the craziness of the city, yet the neighbourhood is quiet and safe at night.
Beautiful Luxury Apartment in CV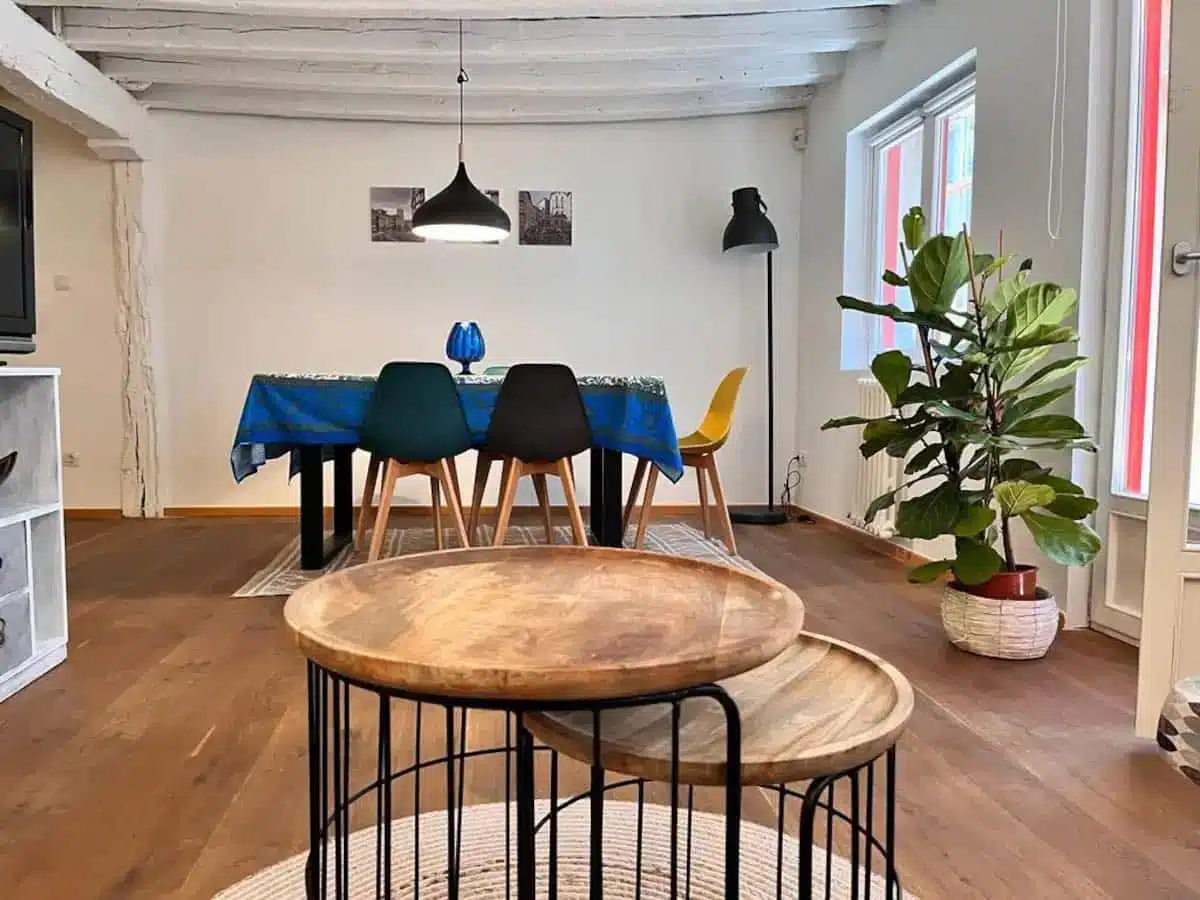 If you're looking for a little extra space with plenty of style, then you've got to check out this stunning Airbnb near Bilbao's centre.
It's got two bedrooms and four beds, meaning it's perfect for larger groups or families – or anyone who just likes a little more room.
It's beautifully decorated and looks like something out of a glossy magazine.
The owners are experienced hosts who put lots of thought into how to make your stay comfortable – like offering tickets to catch the football nearby.
One thing to be aware of is that the area near the apartment is on a busy road, so there may be some noise. But the upside is that you've got all the best restaurants in Bilbao on your doorstep.
Location: Casco Viejo
Again, what can I say? The apartment is in the centre of Bilbao – foodies, culture lovers and history buffs will all be very happy with the location.
Bright and Airy Flat in Matiko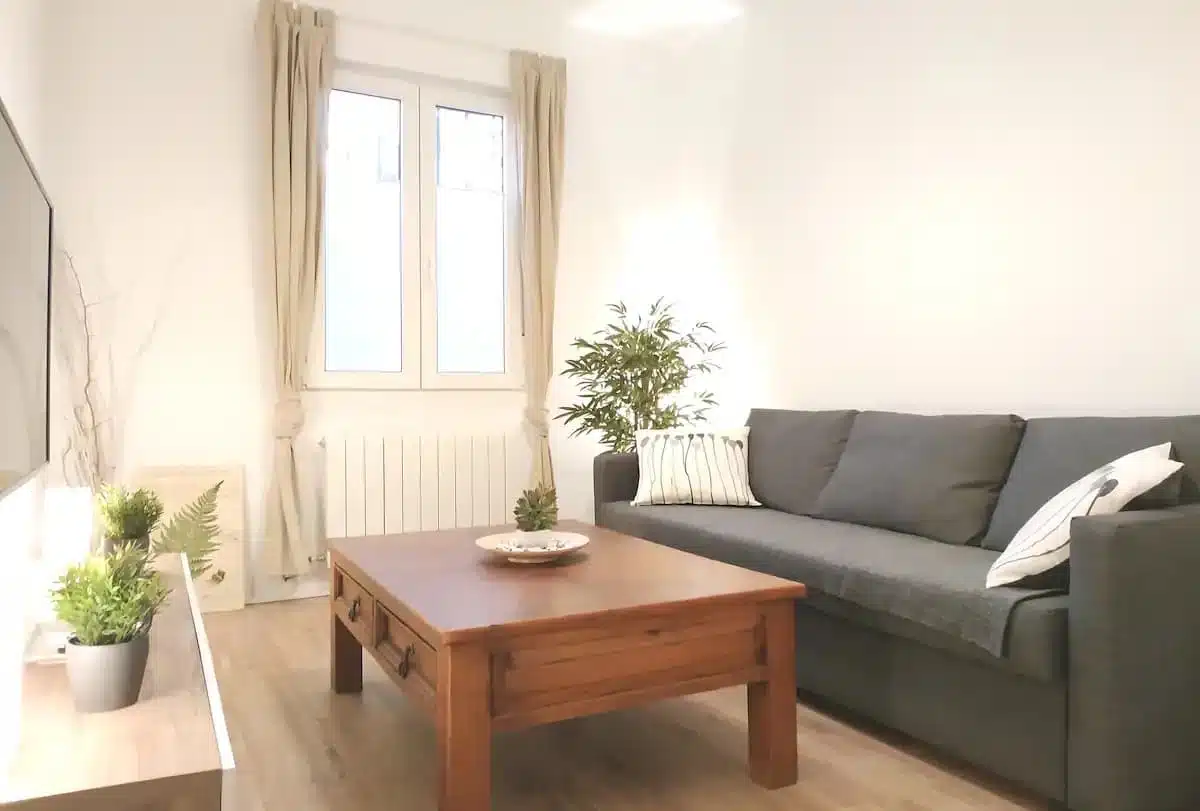 Staying near the heart of Bilbao's Old Town doesn't mean sacrificing modern style – especially if you stay at this chic apartment.
Honestly, it's like a home decor Instagram come to life – in a good way. It's minimalist, yet totally charming.
The host Jose goes out of her way to ensure a great stay, providing extras like children's toys if required. Honestly, it's pretty hard to fault this place – if you can get it before it's booked out.
There's only one bedroom, although there is a fold-out couch for an extra guest, and cots can be arranged for the little ones.
Location: Matiko
The apartment has a great location just north of Bilbao's Old Town, which is the most beautiful part of the city. You'll be mere minutes from the best attractions as well as gorgeous cafes, restaurants and bars.
Cool Apartment in the Old Town
This gorgeous apartment is cute and colourful – just the kind of place that puts a smile on your dial when you wake up there. Think colourful wallpaper, quirky art and lots of charm.
There are two bedrooms, though the apartment itself is pretty small. This means it's ideal for couples and small families.
Everything you'd need for a great stay is right outside the apartment, including the many attractions of Old Town. Although there's no parking, you'll easily get around on public transport.
The host is warm and welcoming – and brimming with ideas for what to see and eat.
Location: Solokoetxe
The Airbnb is near Bilbao Centre, making it a super convenient choice for enjoying the city. It's stunningly beautiful, and you're just a stone's throw from the main attractions.
Bilbao Urban Apartment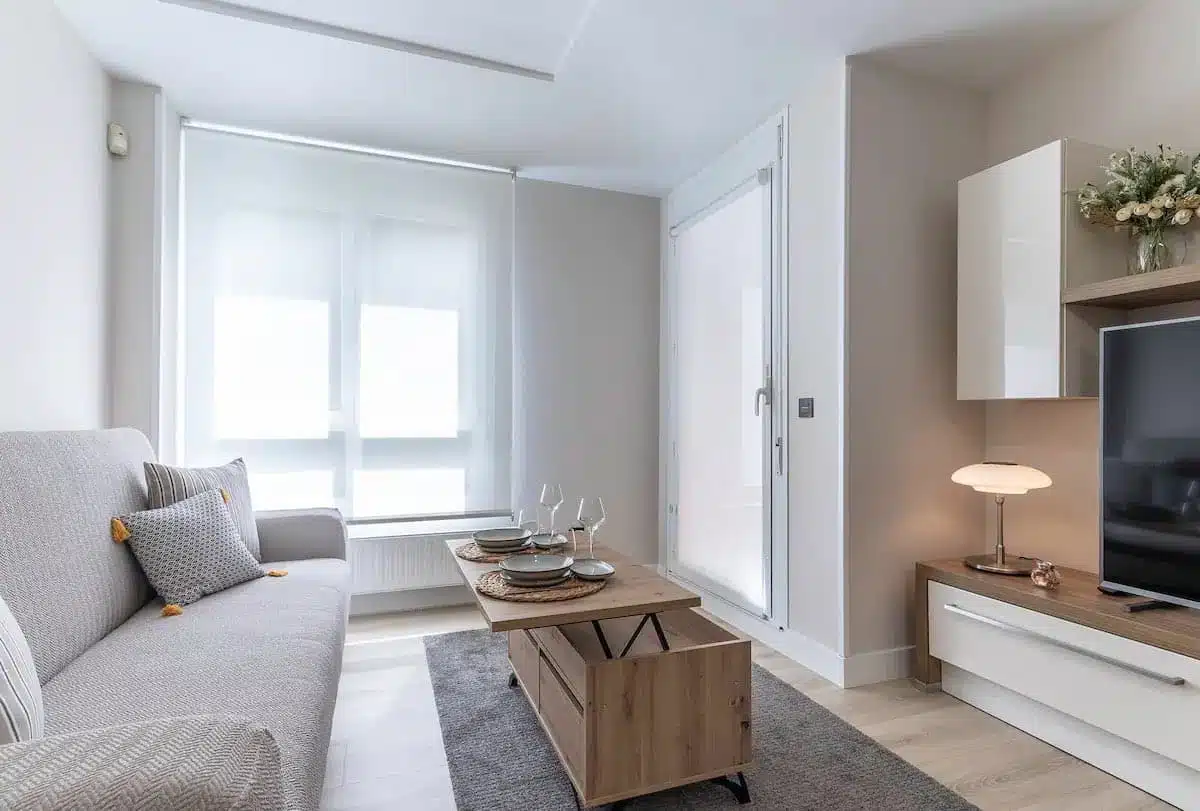 Good things come in small packages with this swanky apartment.
It's on the smaller side, so it's pretty cosy – though it's plenty big enough for a couple.
In a small space, it squeezes a lot in, including a very chic kitchenette – hot plate and all. It's also super stylish and modern.
Location: City Centre
The apartment is well located in the city centre, near the popular residential neighbourhoods of Indautxu and San Francisco. While things are a little more peaceful in this part of the city, you're still an easy stroll from the highlights.
Traveller's Apartment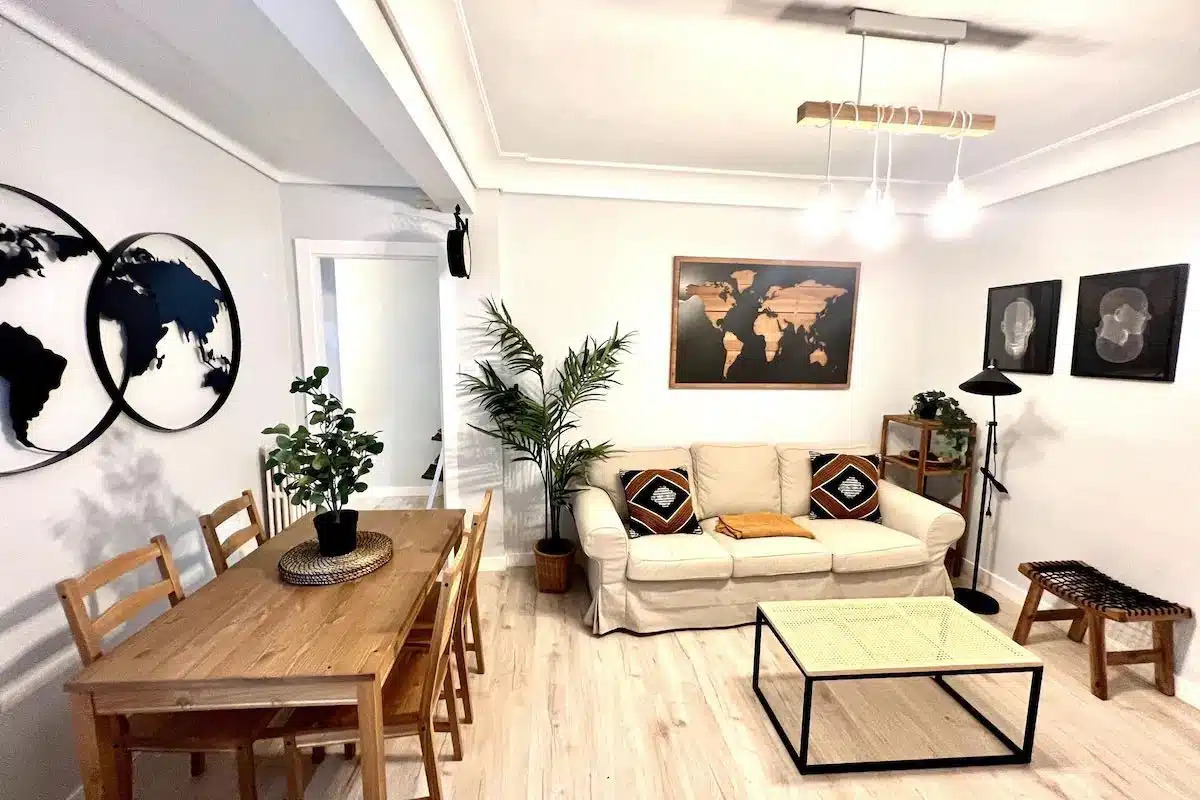 This cosy apartment has everything you need for a great stay with Airbnb in Bilbao. It's charming yet modern and stylish.
There are two bedrooms, meaning that up to four guests can sleep comfortably here. A sweet lounge room is a nice shared space for spending time together.
Just keep in mind things can get a bit noisy due to the central location, nearby bus stop and construction on the street.
Location: Ametzola
Just a few minutes from Old Town, Ametzola is the most central neighbourhood in Bilbao. It's central yet safe, with a good selection of restaurants, cafes and shops nearby – as well as excellent public transport links.
Airy Apartment in Abandorra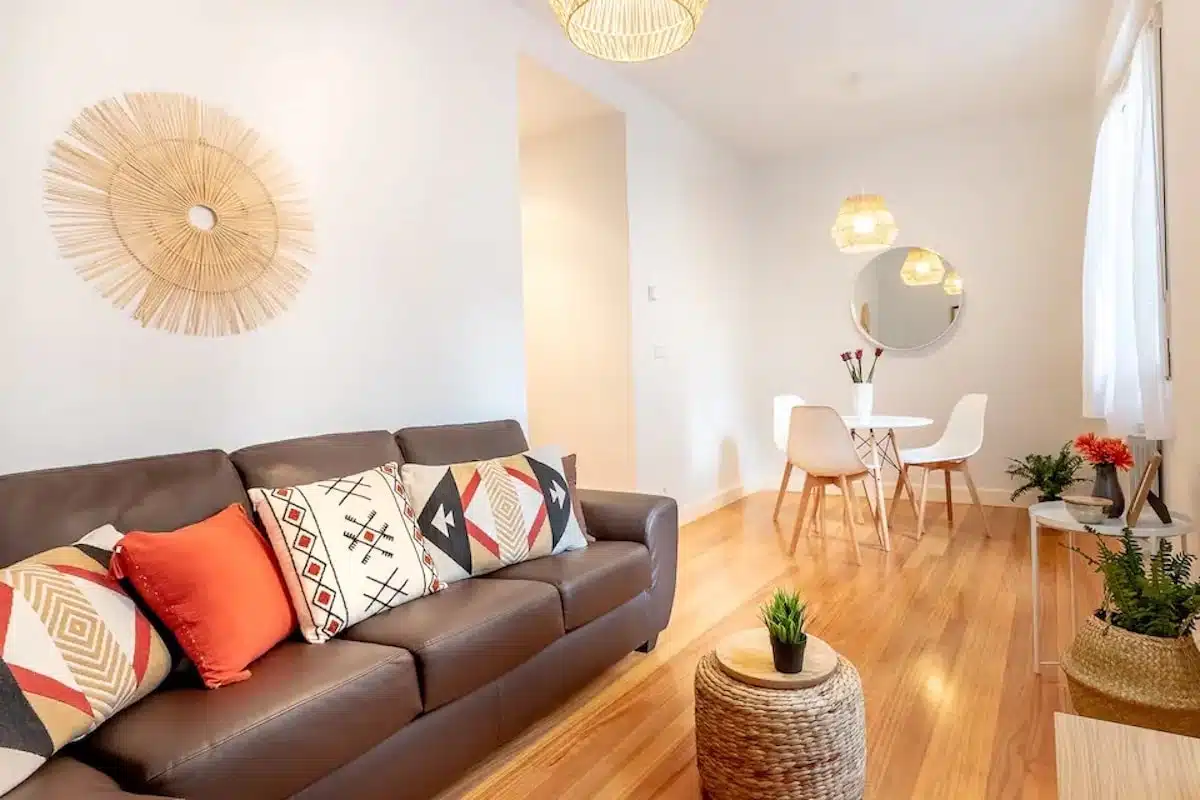 Basically, this is where I'd want to live if I was a local to Bilbao (a girl can dream.) It's oh so stylish and full of charm – just how I like it.
Rattan, terracotta accents and hardwood floors – it's all my interior decor dreams come to life. Plus, it's pretty roomy for a two-bedroom apartment.
Xabi and Almu (who own a few places in Bilbao) designed it themselves and take great pride in welcoming guests to stay.
There's free parking here, but being so close to public transport and Old Town, a car would probably only be a nuisance anyway.
Location: Abandorra
Located just to the north of Abando and Old Town, this is a great place to stay in Bilbao. You'll be within a short stroll of the highlights, yet will also get a taste for the local life as well. It's especially convenient for the airport, being just one shuttle stop away.
Stylish Flat Further Out
Yet another great Airbnb in Bilbao is this super charming – and BIG – apartment. With two large bedrooms, and plenty of floor space, it's ideal if you're looking for a little more room to move. Though the second bedroom is definitely better if you're travelling with kids – the decor is aimed at little ones.
The layout of the apartment is super well thought out – there's even a cute little workspace if you're stuck working on holiday. Oh, and your host, Begona, is friendly and responsive if you need anything at all.
It's a bit further out from the city centre, but there are easy public transport links right into Old Town.
Location: Santutxu
This is a largely residential area, so it is about a half an hour walk (or quick bus ride) into Old Town. However, within close proximity of the apartment you'll find great local bars as well as pretty green spaces.
Practical Tips to Consider Before Booking Your Airbnb in Bilbao, Spain 
Even though Casco Viejo is perhaps Bilbao's most famous neighbourhood, Abando is actually considered the city centre. Helpfully, they're within easy walking distance of each other.
Bilbao is a super walkable city, so there's no need to bring your car if you're planning on sticking to the city sights. Parking can be difficult downtown, so if you do have a vehicle I recommend staying a little further out.
Remember that Plum Guide is a brilliant alternative to Airbnb – the properties are often more luxurious (though higher in price).