Want to explore the world of Game of Thrones in Northern Ireland? Don't miss this step by step guide: complete with filming locations, map, tips and more.
It may have caught your attention but I'm totally obsessed with Game of Thrones.
From scoping out filming locations in Dubrovnik, Seville and Iceland to seeing the new spots that feature in House of the Dragon, some of my recent travels have had a distinct Game of Thrones focus – and no, I'm not remotely abashed by it either.
There was pretty much no way then that I was going to travel to Northern Ireland, the home of the Titanic Studios (the main studio in which the series was filmed) as well as 26 filming locations, without creating a little Game of Thrones-themed trip.
Throughout the course of my trip, I traversed almost every corner of Northern Ireland, hunting out Game of Thrones filming locations with a passionate fervour that would have done Daenerys proud (albeit without the out and out madness that reveals itself at the end. That was disappointing).
The result? A four-day Game of Thrones Self-Guided tour that you are going to LOVE.
Throughout the course of this guide, I'll walk you through a step by step Game of Thrones Northern Ireland itinerary, cover what you need to prepare for your trip and heap loads of geeky Game of Thrones trivia at you along the way.
Sound good? Let's go!
Game of Thrones Northern Ireland Filming Locations Self-Guided Tour
Game of Thrones Northern Ireland Self-Guided Tour: Day One – Causeway Coast
OK, we're going to start big peeps – no messing about and easing into it – we're going to start as we mean to go on, with the steely heart of the Night King, the nimble feet of Arya and… you get the point.
The lush, windswept hills surrounding Cairncastle are not just an impressive sight – they also double up as some of the series' iconic filming locations.
From there, it's a matter of hopping along the Causeway Coast towards Ballycastle, where you wrap up for the day – but not before you've taken in seven filming locations and two little surprises along the way.
Stop One: Ballygally Castle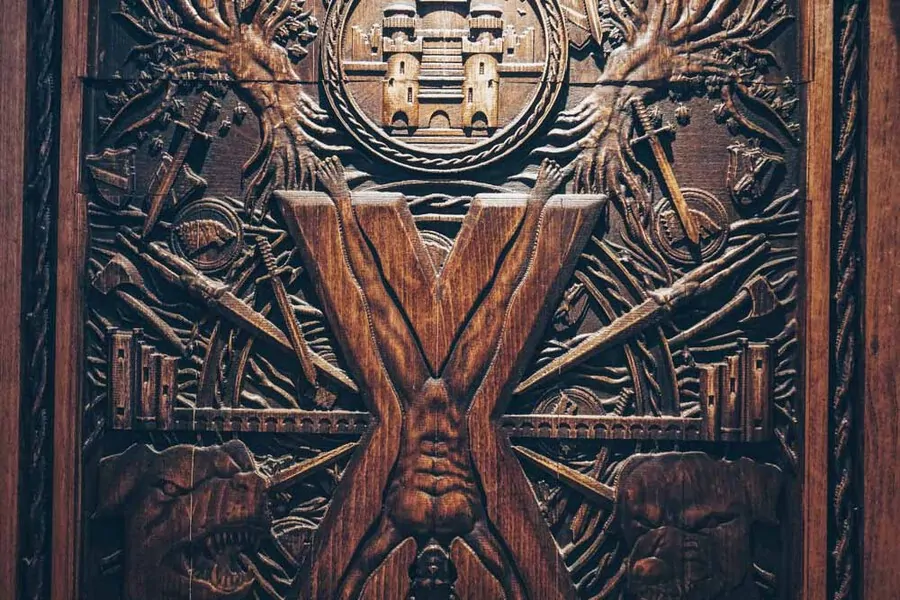 I recommend staying at Ballygally Castle for the duration of this Game of Thrones tour, but even if you aren't it's worth ducking in for two things – the first is their brilliant Game of Thrones Afternoon Tea (though as we've just gotten started, it might be a bit early in the day for it).
The second is the striking wooden door depicting the clash between House Stark and House Bolton at The Battle of the Bastards. The door is the ninth in a series of ten dotted across Northern Ireland.
They were created after heavy storms in January 2016 felled some of the trees in The Dark Hedges and placed in key pubs and restaurants in Game of Thrones territory.
Stop Two: Sallagh Braes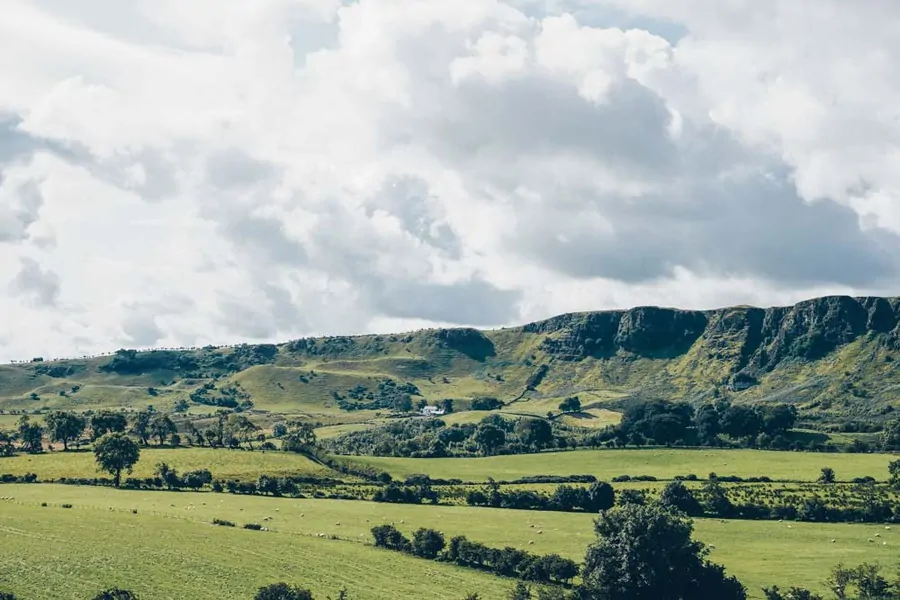 The beauty of this natural amphitheatre would be reason enough to make your way to Sallagh Braes – but we have a bigger reason to visit.
Remember when Arya brutally left Sandor Clegane to die after he fought with Brienne of Tarth and Clegane starts being a decent person and helping out with the villagers? You guessed it, that was filmed here.
Stop Three: Cairncastle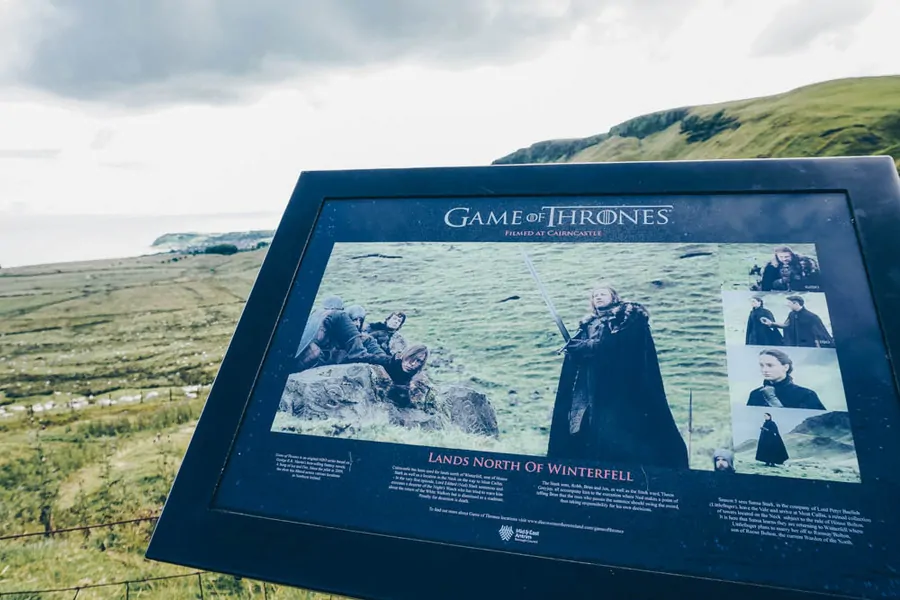 Meander through the narrow, twisting country roads to the old Bronze Age Fort of Cairncastle. A couple of scenes were filmed in two separate locations in Cairncastle (locations 13 and 14 on the Game of Thrones Territory Map or both marked as Cairncastle in the app).
The first is the moment that Sansa arrives at Moat Cailin and realises she's returning to Winterfell to be married to Ramsay Bolton and into the very family who have stolen the Stark castle and lands.
The second is waaaaaaaay back to the first ever episode when Ned Stark (remember old Eddard) beheads the man who deserts the Night's Watch after seeing the White Walkers.
So yeah, the scenes weren't the chirpiest… Maybe time to move on.
Stop Four: Shillanavogy Valley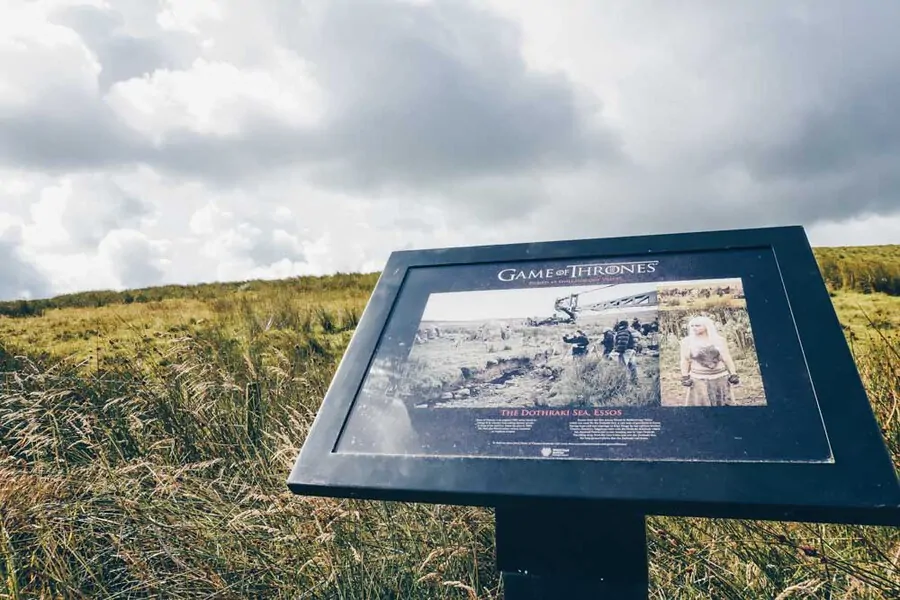 It's up to you whether you decide to include the slight detour to Shillanavogy Valley as it is a little out of the way from the coastal road and, while beautiful, isn't a key filming location.
I'm certainly glad we did – the valley is rumoured to be the very place where Ireland's very own patron saint, St Patrick tended sheep… and it also doubles up as the Dothraki Sea – the grassy area in Essos the Dothraki call their home.
Stop Five: Carnlough Harbour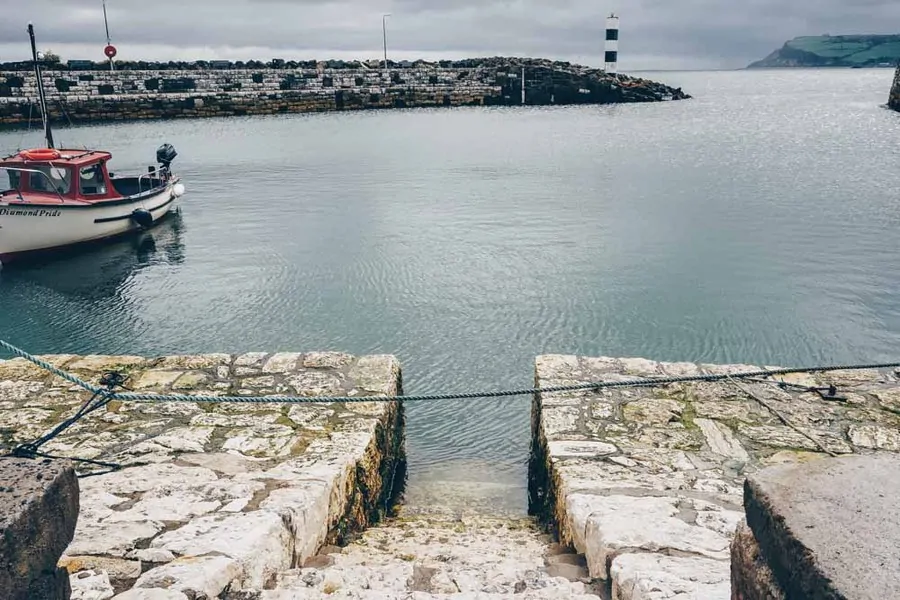 Hit the road again, this time your destination is Carnlough, a pretty little coastal village with its own mysteries to reveal.
The filming location is one that's hidden in plain sight – truck your way to Carnlough's stone harbour and take a good look.
You've got it – it's the spot in Season 6 Episode 7 where Arya drags herself out of Braavos harbour after being stabbed in the stomach by the Waif. Luckily it's a lot more of a chill place in real life.
Stop Six: Cushendun Caves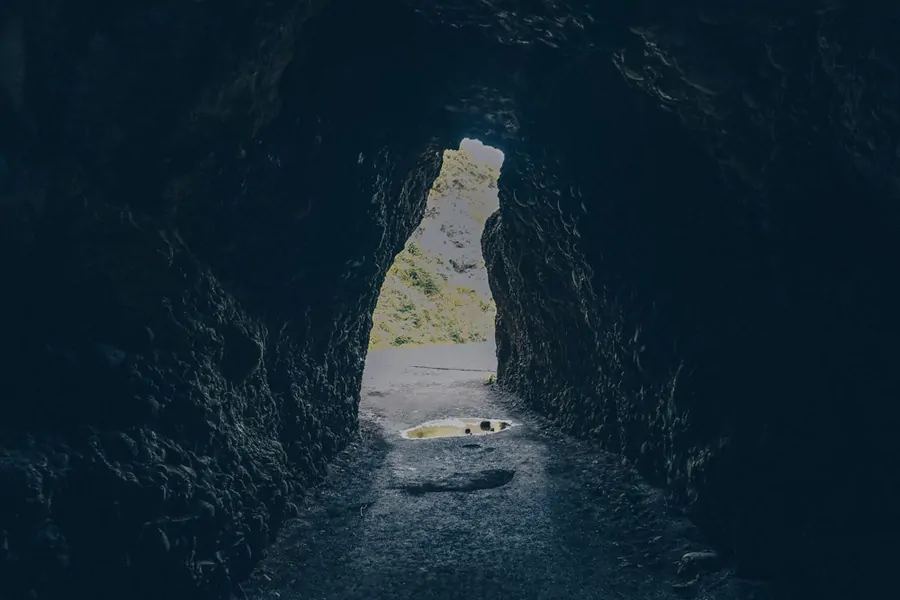 Some of the Game of Thrones locations in Northern Ireland aren't immediately recognisable… but some leap out at you the moment that you look at them. The Cushendun Caves are one such location.
No sooner had I entered the gloomy, damp surrounds before the scene filmed here jumped out at me, larger than life. The creepy scene in Season 2 where Lady Melisandre gives birth to the dark shadow who melds into the darkness, emerging to kill Renly Baratheon.
It was one of the key points in Game of Thrones that had me gripping my seat like "OMG this is insane," and I'll be honest, seeing the caves in real life gave me the shivers. Enjoy that.
Stop Seven: Murlough Bay and Above Murlough Bay
Boom – just like that, day one of your tour of Game of Thrones sites in Northern Ireland is almost over…. But not before you head to Murlough Bay.
It is a fair drive off the main road, so if you're running out of time for the day, you can forego it. It would be a shame though as while Murlough Bay and the surrounding areas only pop up fleetingly in the series, it's a gorgeous part of the Causeway Coast that is rarely overrun precisely because it's a bit off the beaten track.
Filming location-wise, Murlough Bay and its surrounds makes two separate appearances in Game of Thrones – one in Season Two as Renly's camp where Stannis and Renly have their little war of words and the other in Season Five as Slaver's Bay when Tyrion and Ser Jorah are captured by slavers.
The specific locations are marked as 8 and 9 on the map or "Murlough Bay" and "Above Murlough Bay" in the app.
Game of Thrones Northern Ireland Self-Guided Tour: Day Two
Ready for day two of your Game of Thrones tour of Northern Ireland? Today's trip will pick up where we left off yesterday, heading westwards towards the Northern Irish / Republic border and swinging by the most famous filming location: The Dark Hedges.
Stop One: Larrybane
We're starting strong today – the Game of Thrones Northern Ireland app names Larrybane as one of the "most sheltered and scenic locations along the Causeway Coast," and guess what, they're not wrong.
Larrybane's large sea cave boasts stunning views of the surrounding area – including the wobbly-knee-inducing Carrick-a-Rede Rope Bridge.
Anyway – two scenes were filmed in this area: the first the scenes in the Stormlands, including the touching moment when Brienne of Tarth is named as one of Renly Baratheon's Kingsguard.
And the second in Season Six when the Kingsmoot is held on the Iron Islands to decide between Yara and Theon Greyjoy as the ruler… before Euron turns up and sticks his oar in.
Stop Two: Ballintoy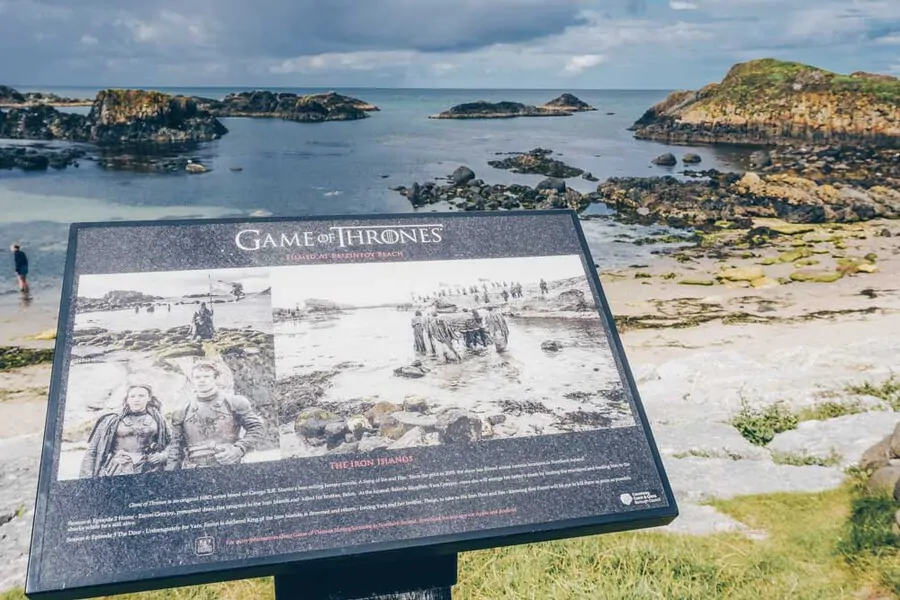 You can tell you are in the heart of Game of Thrones land from the moment you turn up in Ballintoy: the signature plaques detailing which scenes were filmed there are present and correct – but more than that, it's a real favourite for the tours to have that iconic in-costume shot.
Not sure you're in the right place? The sight of a motley crew of Daenerys, Jon Snows and Arya Starks trailing past should help decide the matter.
Beautiful Ballintoy used to be a dozy fishing village with a great tea shop (I highly advise you to buy one of their massive slabs of cake – you won't regret it). That was until it was featured as a Game of Thrones Northern Irish location in both seasons and two six as the Iron Islands.
It's Ballintoy you see when Theon disembarks from his rather steamy journey to the Iron Islands and also Ballintoy for Balon's funeral and the subsequent drowning and rebirth of Euron Greyjoy. No better place to make like the Ironborn and do a bit of pillaging I say (joking guys JOKING).
Stop Three: The Dark Hedges
Whaaaaaat. Yes, you heard me right. The next stop on our tour of GOT locations in Northern Ireland is none other than The Dark Hedges – the moody AF and atmospheric avenue of trees that pops up as the Kingsroad in Season Two when Arya's escaped King's Landing after poor old Ned lost his head.
The Dark Hedges might be a Game of Thrones filming location, but really, they're one of the best-known attractions in Northern Ireland full stop and a total must for your time in Northern Ireland. Don't miss them.
Stop Four: Portstewart Strand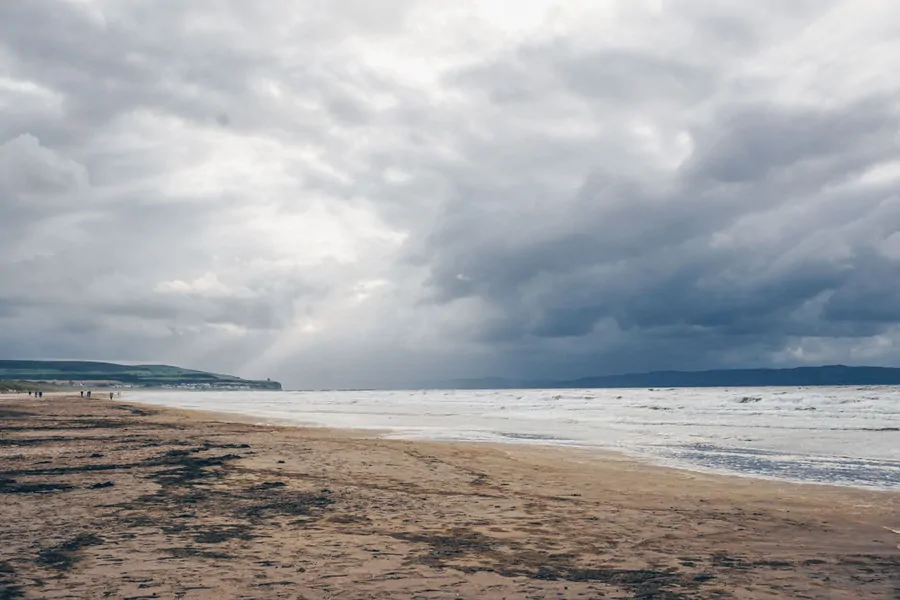 After all of the excitement of the Dark Hedges, you could be forgiven for thinking that all I'd expect you to do for the rest of the day would be to lie in a darkened room, damp cloth on head. Not at all. There are three further filming locations to tackle and tackle them you will.
The first is Portstewart Strand in County Derry – managed by the National Trust, this windswept stretch of coast is a feast for the eyes. It also doubles up as the Dornish Coast in Season Five when Jamie Lannister and Ser Bronn land in Dorne to recapture Myrcella.
Stop Five: Downhill Beach
The penultimate spot on day two of our tour is Downhill Beach – a well-known spot in Northern Ireland that takes on a much more sinister aspect in Series One when Lady Melisandre uses it to burn effigies of the Lord of Light at Dragonstone.
Little did we know that was only the beginning.
Stop Six: Binevenagh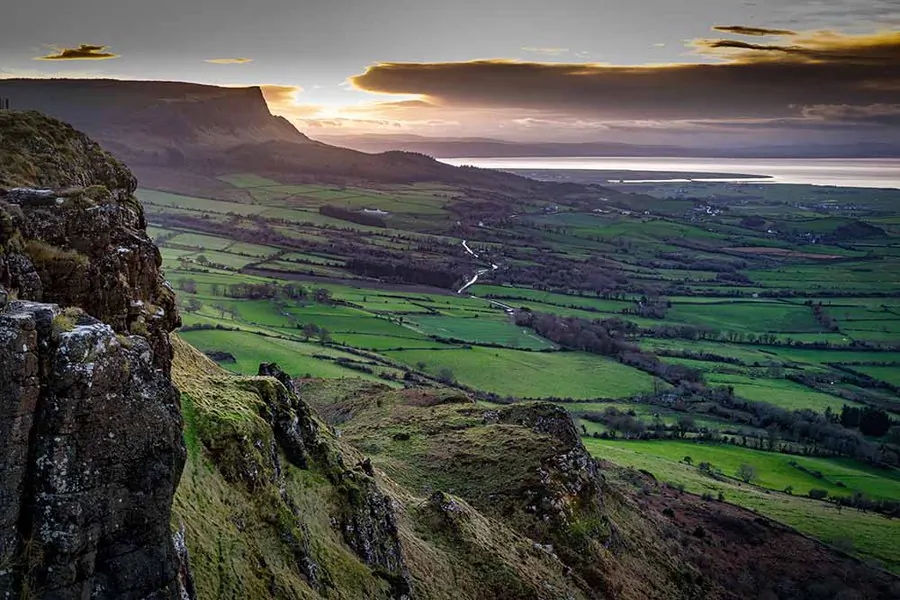 Views don't come much more dramatic than Binevenagh – the rugged cliffs, hills and plateaus that make an appearance in Game of Thrones as the north of Meereen in both Seasons Five and Six.
In Season Five, it's to Binevanagh that Drogon flies Daenerys after rescuing her from the Sons of the Harpy. In Season Six, it's the place where Daenerys is captured by the Dothraki and taken to Dosh Khaleen.
Game of Thrones Northern Ireland Self-Guided Tour: Day Three
Day Three of this Game of Thrones driving tour of Northern Ireland explores a completely different part of Northern Ireland: the region east and south of Strangford Lough towards the southern border.
Stop One: Quintin Bay
The quiet area of Quintin Bay is home to a castle (the rather imaginatively named Quintin Castle) and one of the lesser-known Game of Thrones filming locations for Season Five.
The rascally Ser Bronn is having a stroll in the Crownlands with his fiancee when Jamie arrives to persuade him to come to Dorne and rescue Myrcella.
Stop Two: Castle Ward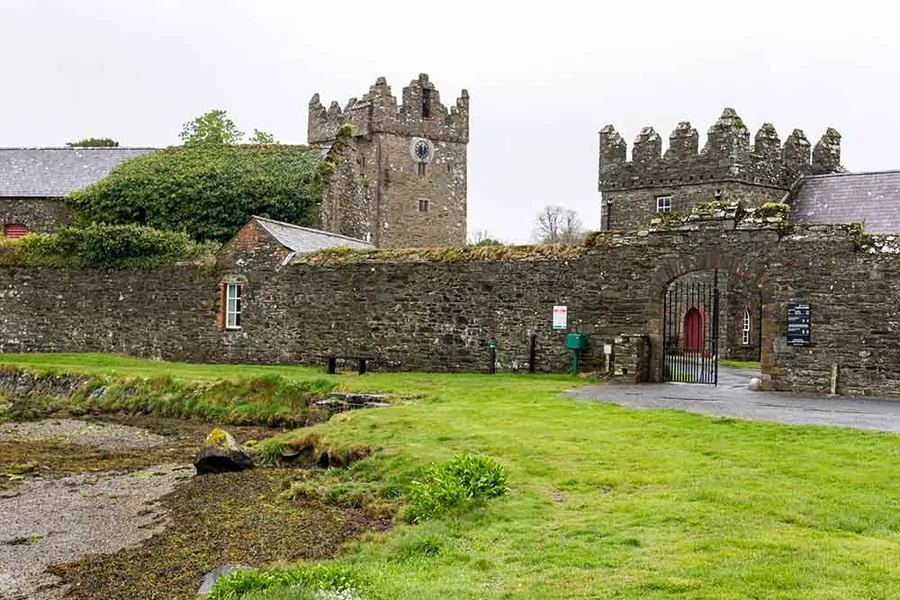 Separated by the waters of Strangford Lough, you'll need to hop on the Portaferry to reach your next destination – the National Trust property Castle Ward. Recognise it? It's only WINTERFELL. Well, Winterfell in Season One anyway.
Cast your mind to the plotting, intrigue and dastardly actions that took place within the walls of the castle – Jamie pushing Bran out of the window, King Robert and his Royal retinue arriving to ask for the Stark's help – hard to believe it happened in this very spot – hence its nickname of Northern Ireland's Game of Thrones castle.
Stop Three: Audley's Field
Audley was a popular family – you'll find a field, castle and many other Audley-named attractions in the vicinity… but it's the field we're interested in.
The field and its accompanying ruin of a tower appears in Season Two as the backdrop for Robb Stark's camp and when Robb, The King of the North meets Talisa – the nurse from Volantis that is soon to become his wife (that was a total facepalm moment – I knew it even before we witnessed the horrific consequences).
Stop Four: River Quoile
The pretty wetlands of the River Quoile, just outside of Downpatrick set the scene for the aptly-named Riverlands in Game of Thrones.
While it appears in a few scenes in Season Three, it's the cringe-worthy moment when arrogant Edmure Tully misses the funereal boat of his dead father with his flaming arrow not one, but three times and has to let his uncle Brynden do the job properly that you'll probably remember. Awkward.
Stop Five: Inch Abbey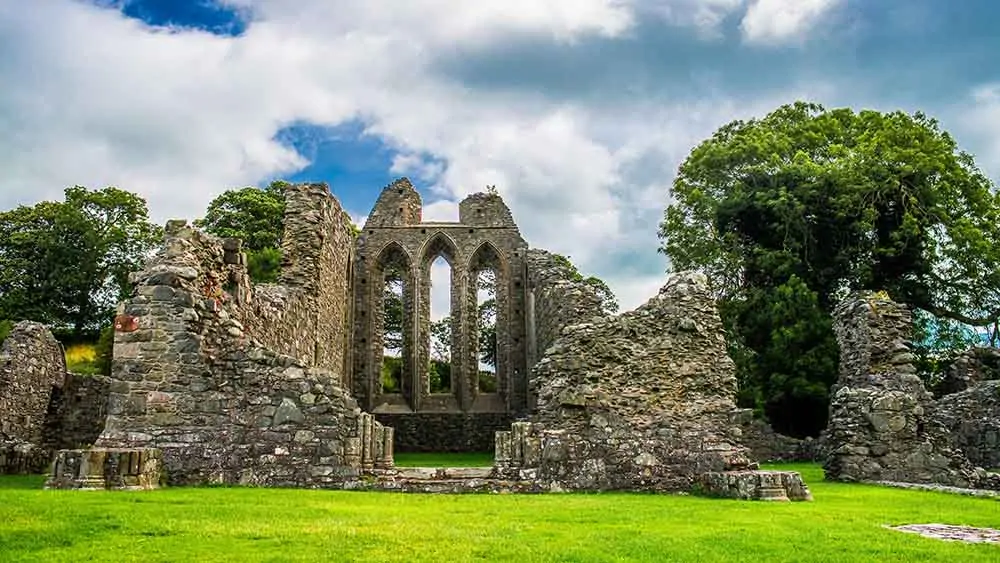 Who doesn't love a good old ruin? Well, the atmospheric Inch Abbey blends picturesque views with a bit of Game of Thrones geekery – IMHO the best combination.
Its appearance may be brief (it crops up in Season One as Robb Stark's camp at Riverrun) but it's an easy stop as it's only a short distance from the River Quoile.
Stop Six: Tollymore Forest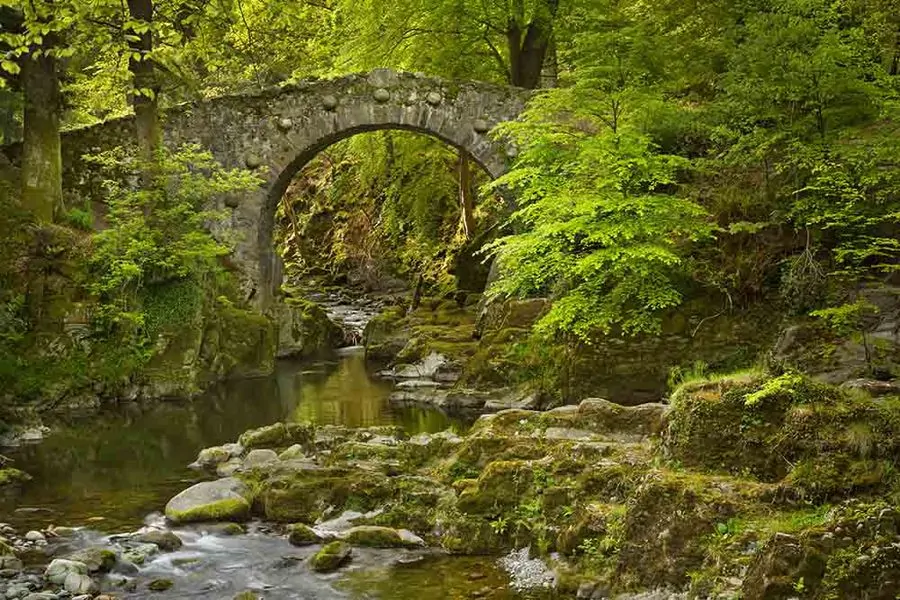 I'll warn you, it's something of a schlepp to locations six and seven on today's itinerary so if you're short on time, I'd advise skipping them (tough but sometimes it needs to be done).
If you do have the time, Tollymore Forest is a lovely area you can explore on one of the marked trails. Being somewhat dark and moody, it's only fitting that it appears in the first season as the lands around Winterfell where the Starks find the Direwolves.
Stop Seven: Leitrim Lodge
We're almost done – but before you start crying into your tea, there's one more spot to tackle – Leitrim Lodge in the west of the Mourne Mountains. Make it this far and you can give yourself a massive pat on the back – very few do.
The rugged environs of the Mourne Mountains make their way into GOT as the area north of Winterfell to which Bran, Rickon and their entourage escape after Theon takes the castle.
Game of Thrones Northern Ireland Self-Guided Tour: Day Four
Just like that, our Game of Thrones driving tour of Northern Ireland is almost over. I know, I know, I'm sad too. All that's left to see is a couple of filming locations just outside of Belfast and, if you have the time, a series of Game of Thrones-related sights in Belfast itself.
Stop One: Lough Neagh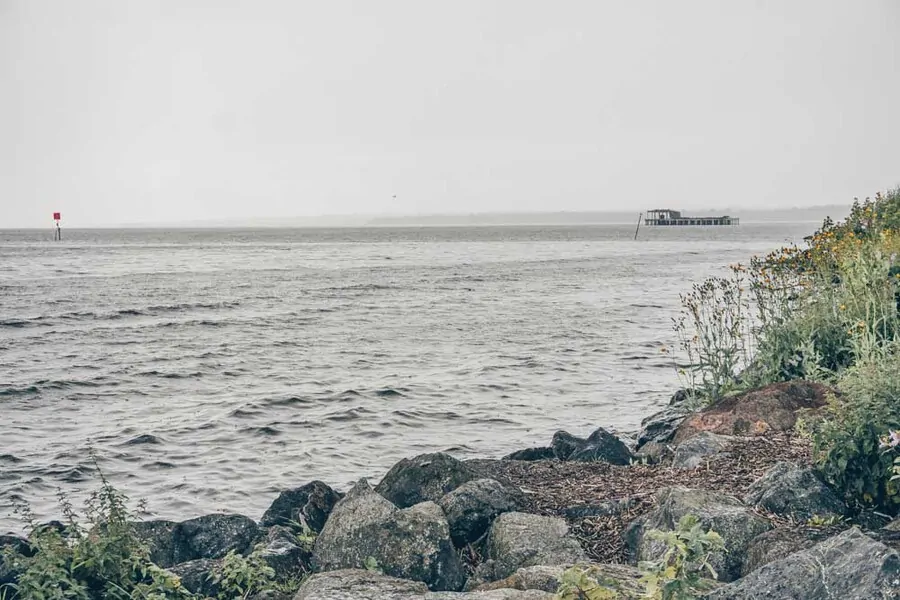 I'll admit that my trip to Lough Neagh wasn't a roaring success – it was raining so hard that I could barely see the Lough, even when I was standing right beside it. A shame as the Lough is the largest freshwater lake in the British Isles and supposedly quite beautiful.
Not sure that Tyrion or Ser Jorah thought so though – it's across Lough Neagh, aka the Summer Sea that Tyrion is brought by Ser Jorah when he kidnaps him to take him to Daenerys and on the shores of which Jorah discovers that he has greyscale. Grim all round.
Stop Two: Toome Canal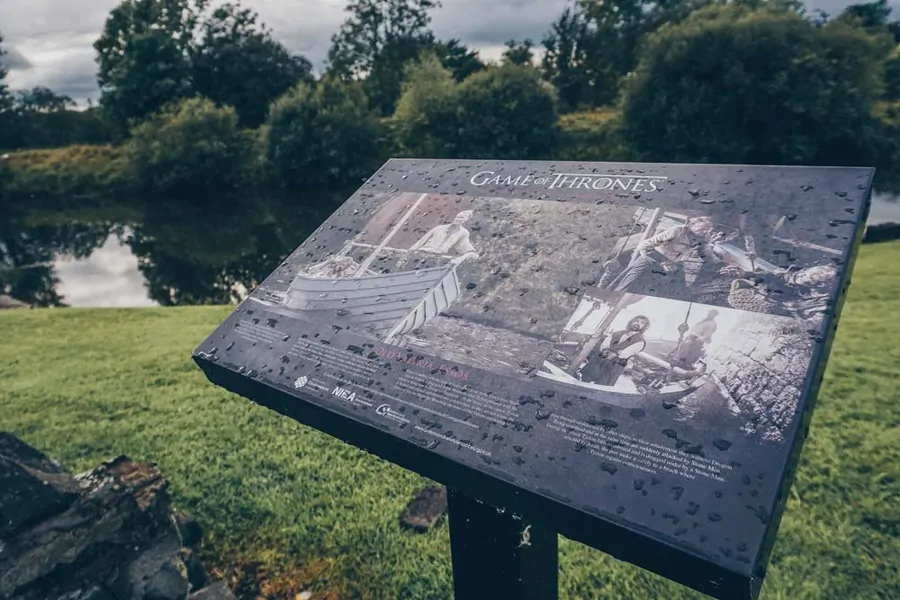 The rains having stopped for a moment, my trip to Toome Canal was more successful. It's a quiet spot, without much to see… until you imagine it as the Old Valyrian Canal through which Ser Jorah and Tyrion navigate when they're attacked by the Stone Men.
All of a sudden I wouldn't blame you if you wanted to scuttle out of there as fast as possible.
Stop Three: Belfast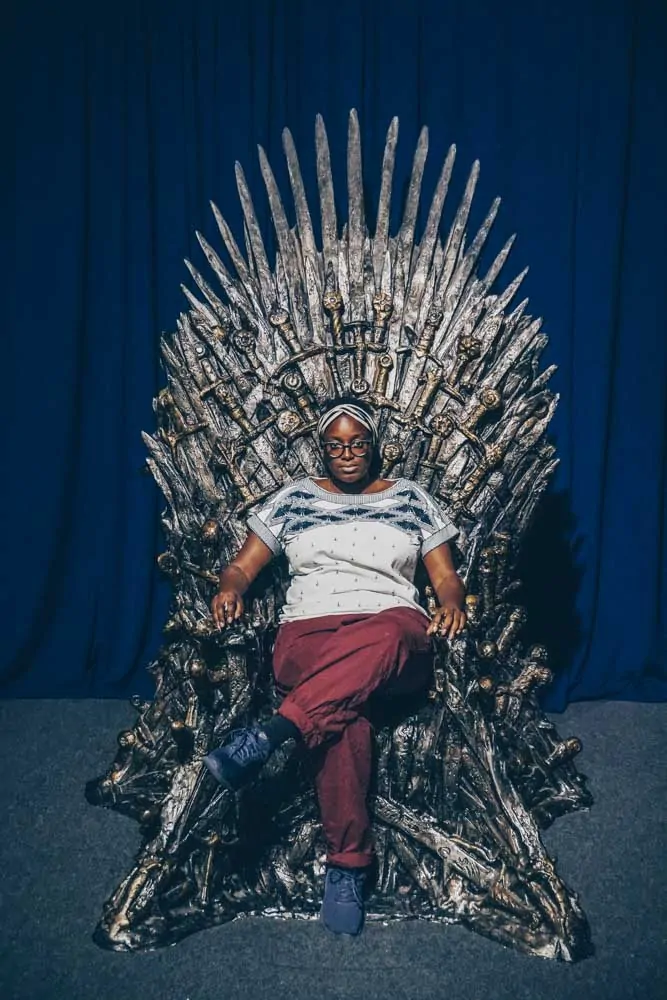 It's time to celebrate.
Your work is done – you've successfully navigated all of the major Game of Thrones filming locations in the course of four days… someone ought to give you a knighthood or something like that.
All that's left for you to do is to grab a pint, have a drink and pretend you're Tormund Giantsbane trying to outdrink everyone in the last series… or settle for a good old high-five with yourself, whichever takes your fancy.
If you have some time, I'd recommend walking the Glass of Thrones trail, which wends its way between a series of intricate glassworks dotted across the city, each depicting a different house or legacy.
Game of Thrones Locations in Northern Ireland: If You Have More Time
Fair Head Cliffs
While you're in Murlough Bay, take a little detour to Fair Head Cliffs – you might recognise them as a Dragonstone backdrop. It was at this rugged coastal location in Antrim that Jon Snow had a memorable encounter with Daenerys and her massive dragon.
The Marble Arch Caves + Pollnagollum Cave
Now, these next locations are pretty out of the way, situated in the southwest of Northern Ireland. This means most people skip them – a huge mistake if you're a massive fan like me.
If you just so happen to find yourself near Belmore Forest, make sure to explore Pollnagollum Cave. It's a pretty magical sight, and the walk around the landmark is equally as impressive.
It's hidden away behind a waterfall, but is well worth hunting out – this is where Beric Dondarrion and the Brotherhood Without Banners hid from Lannister and his gang.
Handy Tips for Planning Your Game of Thrones Northern Ireland Adventure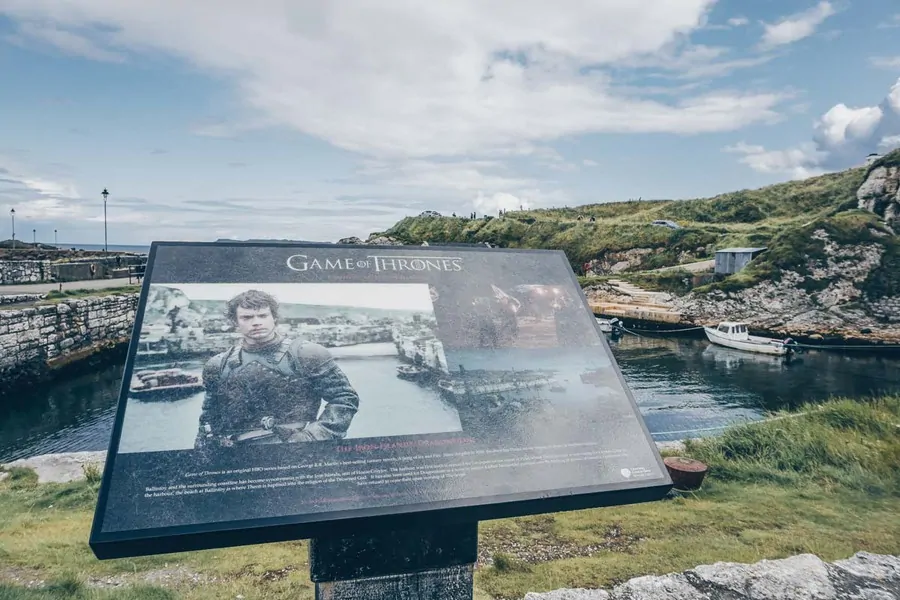 Before we get going, there are a couple of things you should know that are going to make your life so much easier.
Discover Northern Ireland's Game of Thrones App
The single best tip I can give you for exploring Game of Thrones Northern Ireland filming locations is to download the brilliant app created by Discover Northern Ireland. The app is incredible – so well thought-out and easy to use.
It has two main sections: one an introduction to Westeros and Essos, the continents in Game of Thrones and the second is dedicated to showcasing the Game of Thrones filming locations in Northern Ireland.
Now while I would highly recommend spending some time getting low down and geeky with the glut of info in the introduction to Westeros and Essos section of the app, it's the filming locations section that is going to elevate your trip from ace to totally badass levels.
Each filming location (there are 26 in total) has its own page and is clearly marked on a map of Northern Ireland.
The pages give you information about the place itself and then, if you click on the section with the arrow at the bottom, the scene that was filmed there. Cool right? (I'm totally going to assume that you are nodding your head vigorously at this point).
Where to Stay for Your Game of Thrones Tour of Northern Ireland – Ballygally Castle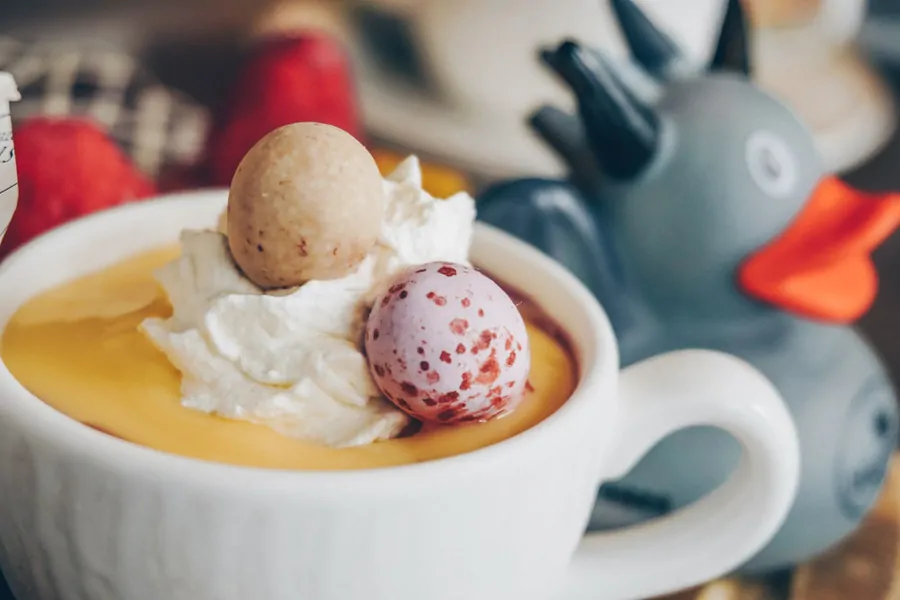 You have plenty of options when it comes to choosing where to bed down for your Game of Thrones odyssey across Northern Ireland – I'd recommend the gorgeous Ballygally Castle on the Causeway Coast for a couple of reasons.
The first is that I've stayed in a few of the family-run Hastings Hotels properties and have always found them to be friendly, comfortable and welcoming – and Ballygally Castle was no exception.
The second is that the hotel has fully-embraced its Game of Thrones connections (I'd highly recommend hunting out the intricately-carved Stark-themed door, made from the wood of trees that blew down from the Dark Hedges).
During my stay I had the pleasure of trying their brilliant Game of Thrones-themed afternoon tea and it was everything you'd expect from marrying two such fabulous things. Plate after plate of cleverly-named and scrumptious treats magicked their way onto our table: Rustic Ironborn Foccacia with Glenarm Smoked Salmon and Cream Cheese and, course, Sansa's beloved lemon cakes.
Finally, and just as importantly… location, location, location.
Ballygally Castle is situated in between two large clusters of filming locations – one around Strangford Lough, the other along the Causeway Coast, both within easy driving distance of the hotel.
Check rates and availability at Ballygally Castle
If you don't stay at Ballygally, the next best option to follow this itinerary is to stay in Belfast as you'll be able to reach all of the relevant locations just as easily.
Hire a Car
I'll level with you – the only way you have a hope of following this self-guided Game of Thrones Northern Ireland Tour is to hire a car. We hired a car from Enterprise, which is handily located next to Belfast Airport and who are generally a reliable option I often use while travelling.
Can't Drive? Book a Game of Thrones Northern Ireland Tour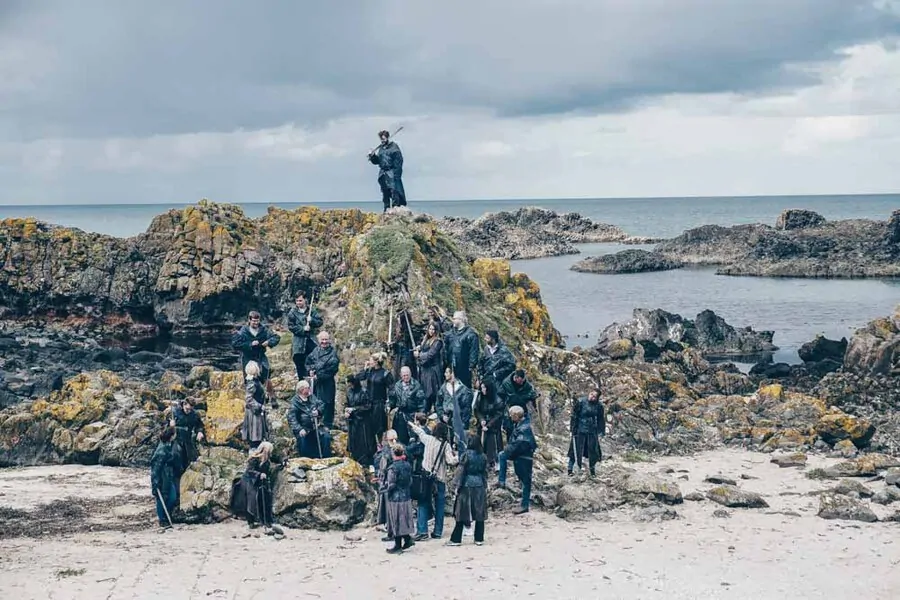 If you can't drive, don't want to, or just fancy taking a guided tour, don't fret, you have plenty of options. The easiest is to book a one-day Game of Thrones Causeway Coastal Tour from Belfast.
Bear in mind that as it's a one-day tour, you're not going to cover nearly as much ground as you would on our four-day itinerary, but you do away with all the fuss of navigating yourself around and get loads of insider insights from the knowledgeable guides so it's a win-win situation really.
Getting There and Away
The simplest option is to fly into and out of Belfast – it's not a long drive from Belfast to Ballygally and Belfast is served by a number of national and international flights.
If that's not feasible, Dublin has a larger number of international flights – it's roughly a two-hour drive between the two, or you can catch the bus or train between them.
Check out More Game of Thrones Filming Locations Around the World
Love this? Save and share on Pinterest!