Discover the best hotels in Praslin, the Seychelles, with this handy guide. Incredible luxury resorts and self-catered getaways for every kind of traveller.
Praslin is often outshined by its larger sibling, Mahé, but it would be silly of you to miss out on staying on this stunning Seychellois island.
Believe me – Praslin may sound like an elusive celebrity paradise with crystal clear waters, sprawling forests, and soft sand beaches, but trust me. It's for everyone. Especially you!
If you're planning a trip to Praslin, finding a dream resort is not an easy task – there are so many to choose from. But that's where I come in.
I've done all the hard work for you and narrowed down your options to ten of the very best. Read on to discover the Praslin hotels you need to consider.
Best Hotels in Praslin: At a Glance
Best Hotels in Praslin, Seychelles
Constance Lemuria
£££
Grand'Anse Praslin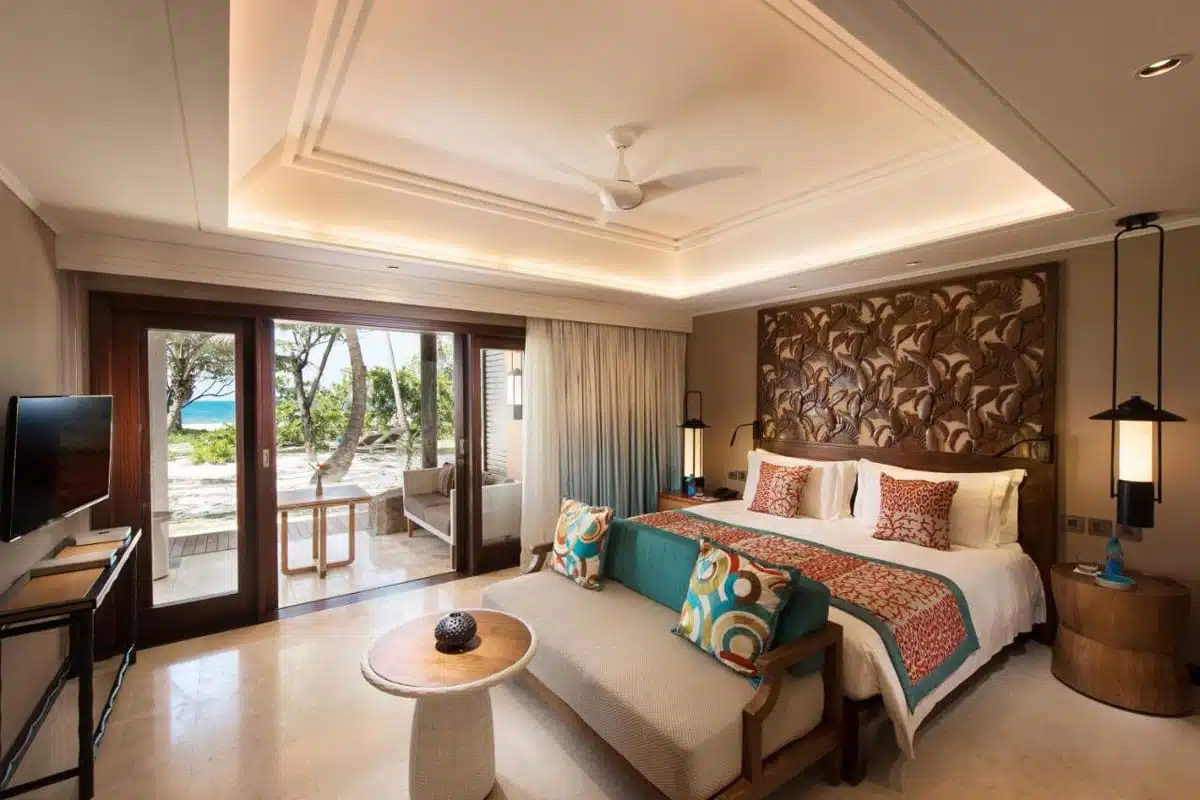 Of all the wonderful hotels in Praslin, one really stands out: Constance Lemuria. There's no better place to enjoy the azure blue waters of the Indian Ocean with private access to Petite Anse Kerlan Beach.
Sounds incredible, right? Well, just wait until you try a meal at all four restaurants in the dense forest. Don't worry; five bars are also on-site, each offering a bespoke experience, from relaxing boho-chic vibes to a party till you drop energy.
You may even opt to spend the day at your villa with its sophisticated and stunning interior. Or you can relax on the private balcony overlooking Pointe Millers Anse' Georgette. They have it all.
Even the Spa at Constance is the best on the island. Don't believe me? I guess you'll have to find out for yourself…
Raffles Seychelles
£££
Baie Sainte Anne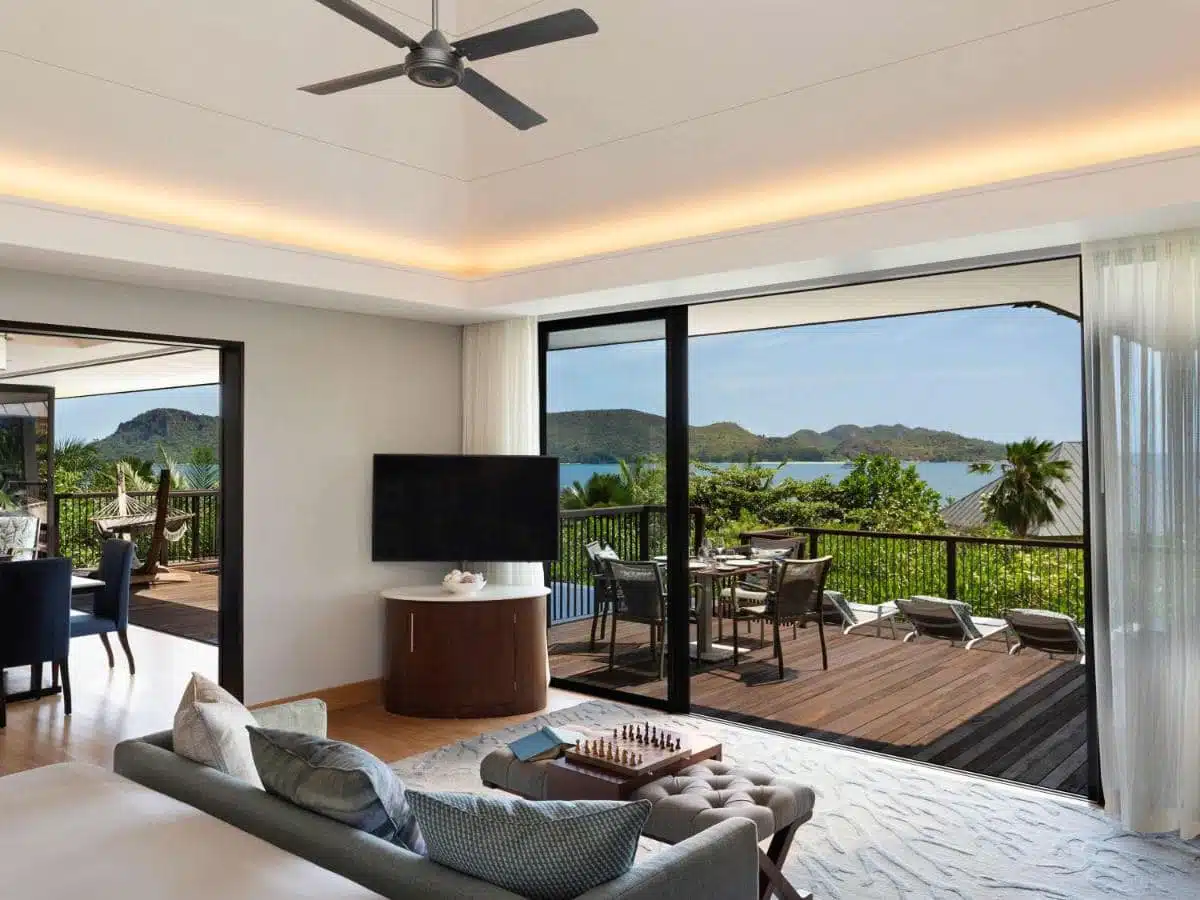 You'll never fall sshort of excellent 5-star hotels in Praslin, the Seychelles. And this continues to ring true at Raffles Seychelles. Much like Constance, you'll have private access to the tranquil waters of Anse Boudin Beach.
Enjoy the freedom of lounging in your comfy bed and admiring the scenery through your floor-to-ceiling glass French doors. Or spend time soaking in one of two infinity pools with mesmerising views.
How could it get any better, you may ask. How about enjoying a treatment at the Raffles outdoor spa? Or you can discover Seychelles' giant tortoise as the hotel has its own tortoise sanctuary.
Did I mention you can also enjoy a vast range of inclusive activities, like learning how to make Creole cuisine? Cooking for yourself isn't necessary, though, as the themed dinner nights can also be something to remember.
Hotel le Duc de Praslin
£££
Baie Sainte Anne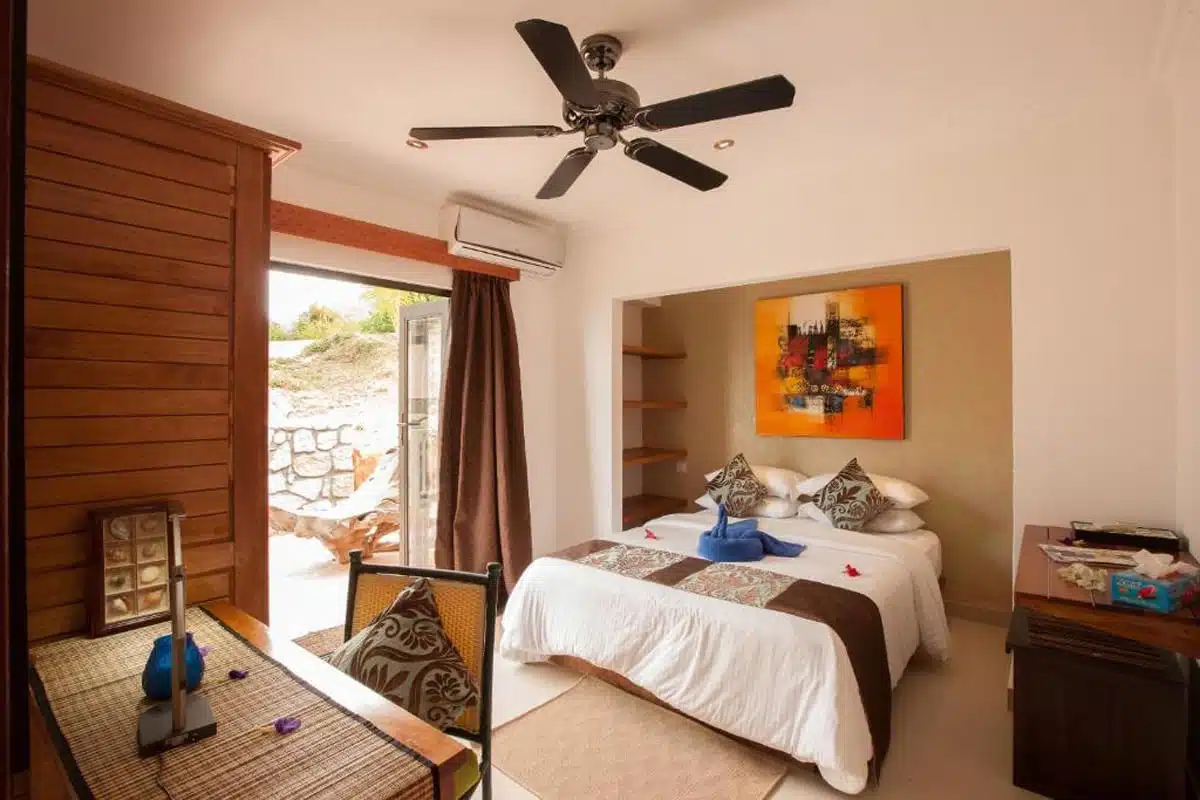 Hotel le Duc de Praslin is an accommodation in and of itself that makes this Seychelles island worth visiting.
You may think that's a bit of a bold statement — which it is — but you simply need to relax in the hot tub while feasting on the best Creole cuisine to get why I say this.
Yes, really – there's a hot tub right at the hotel's restaurant, and the nighttime blend of blue and purple lights makes it a magical place to eat.
It's not just the restaurant that makes this hotel a top choice, as you'll find serenity in all the suites and villas. Their simple interiors of off-white and timber finishings make relaxation a given, while the views of Cote D'Or Beach are simply stunning.
PS. The spa services are inclusive and oh-so-good. I would go back just for that.
Hotel L'Archipel
£££
Baie Sainte Anne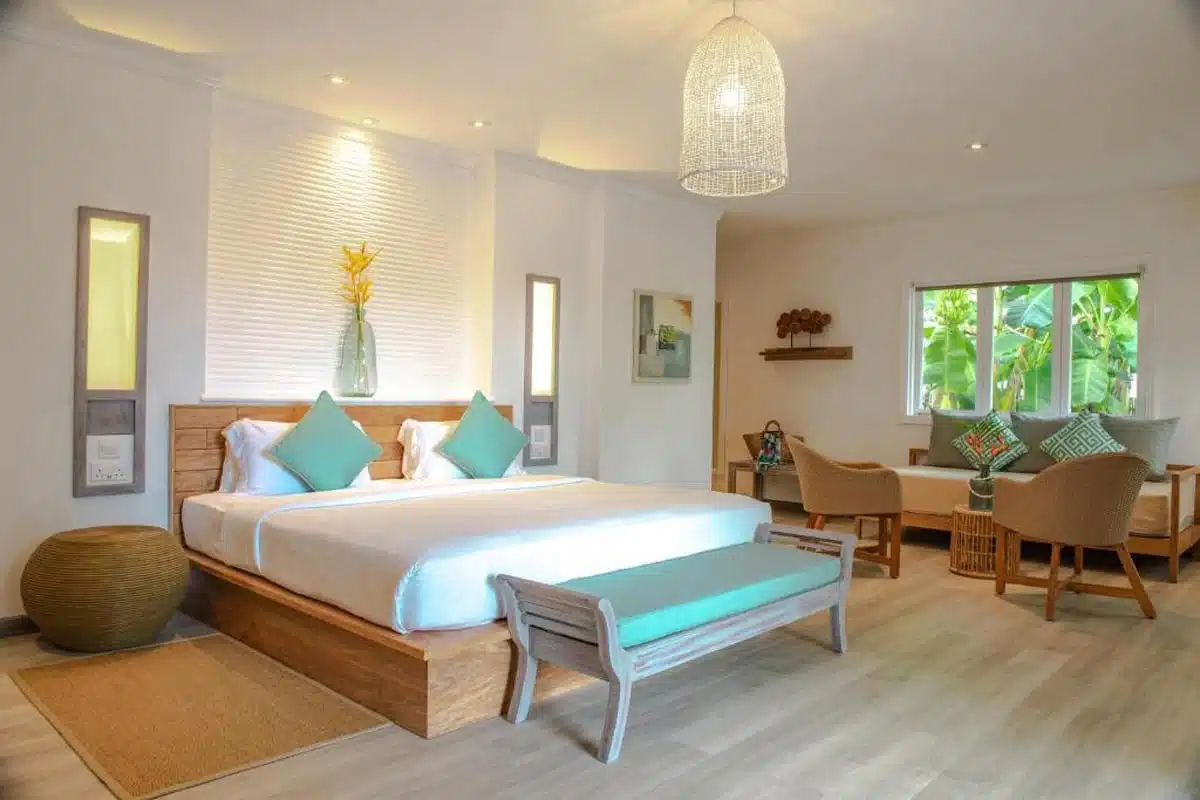 Hotel L'Archipel is here to challenge every other fabulous Praslin hotel. If you can picture yourself rebooting in a clean room with timber furniture and baby blue finishes, you may as well already be at L'Archipel.
Its two restaurants serve none other than delicious Creole dishes and some international cuisine. But who doesn't want to try out some fantastic seafood when in Seychelles?
The hotel boasts a stunning infinity pool, but I doubt you'll spend much time there with Anse Gouvernement Beach at your doorstep. Here's where you'll find some of the best snorkelling spots in Seychelles.
And if you don't want to get too wet, grab a paddle and canoe through the calming ocean waters. What's there not to love about Hotel L'Archipel?
Dhevatara Beach Hotel
££
Grand Anse Beach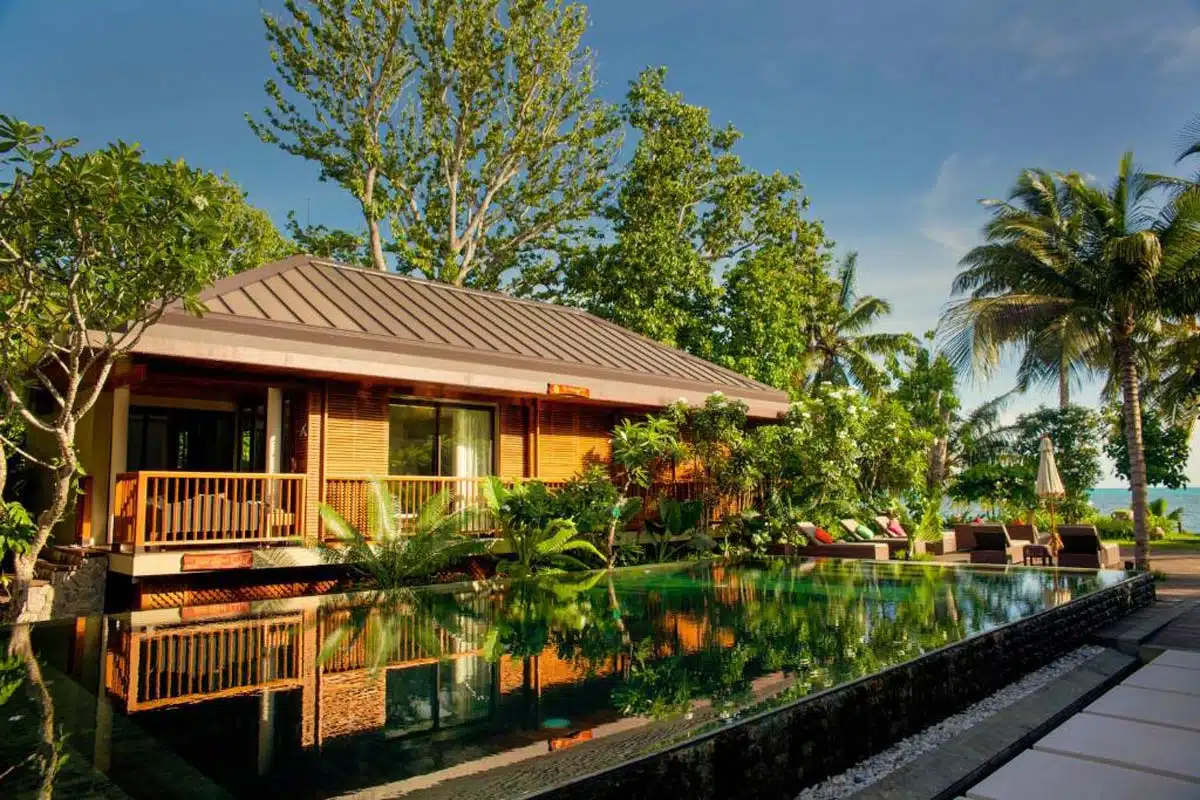 If you're seeking 5-star treatment at a (more) affordable price, stay at Dhevatara Beach Hotel.
Have you ever seen a pool within a pool within a pool? Even if you have, I highly doubt it's as mesmerising as the ones you'll find at Dhevatara, with the lush forest encircling the tranquil pools.
After enjoying the pool's warm waters, experience one of the best beaches in the Seychelles at Grand Anse Praslin Beach. Spend the day kicking about on the sand or walking through the nearby lush gardens.
As for the rooms, well, they don't skimp out on the finishes, that's for sure. They consider everything from handmade furniture to the Deluxe Nuxe-Paris bath amenities.
Need I say more, or are you already booking a room?
Coco de Mer Hotel and Black Parrot Suites
££
Grand'Anse Praslin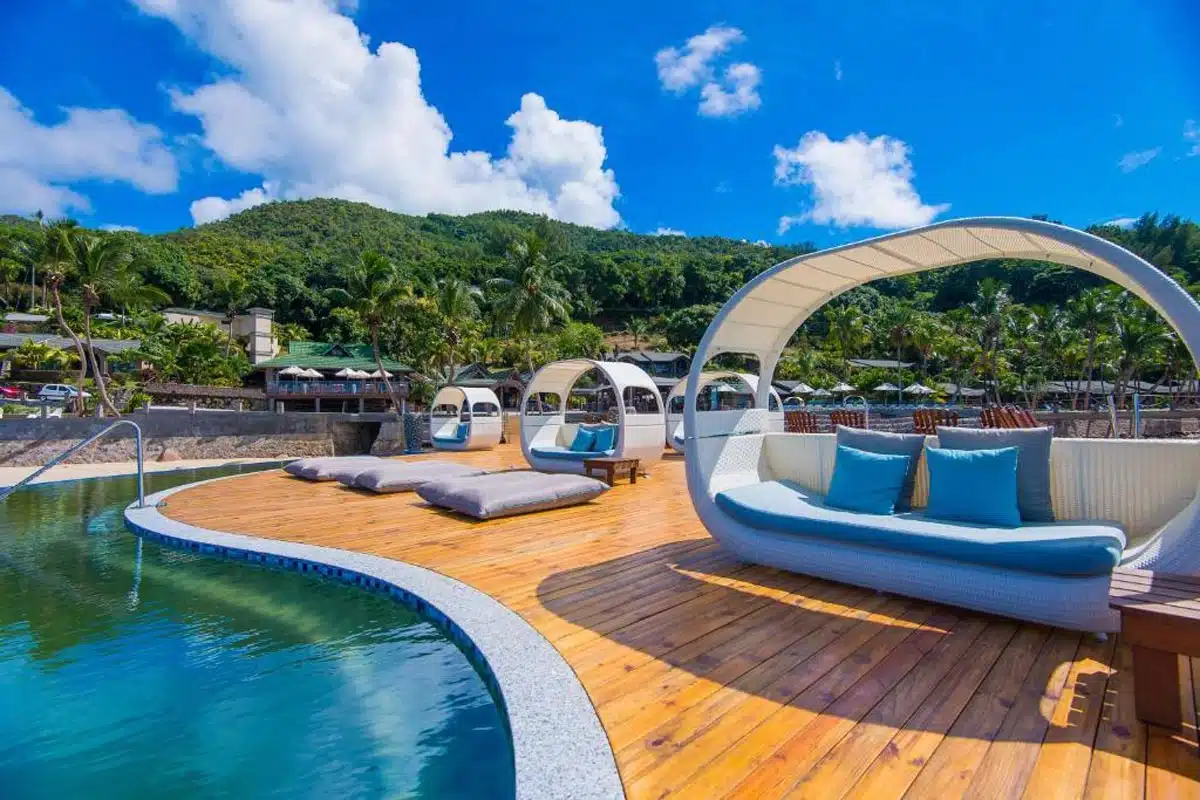 If it's a unique stay you seek, it's a unique stay you'll get at Coco de Mer Hotel. Each of the rooms here have an open-plan setup, so say goodbye to small poky spaces.
While the open-plan rooms are fantastic, the majestic views of Anse St. Sauveur Beach steal the show.
Dine in style at The Hibiscus restaurant or The Mango Terrace Bar, both offering stunning views of the Indian Ocean. And get a massage (or two) at The Waterfront Spa for the epitome of relaxation.
There are also three pools for you to enjoy, including an infinity pool at the Waterfront Spa that floats about the ocean below. I know, it almost sounds like fantasy, but it's very much real and something you'll adore.
Acajou Beach Resort
££
Baie Sainte Anne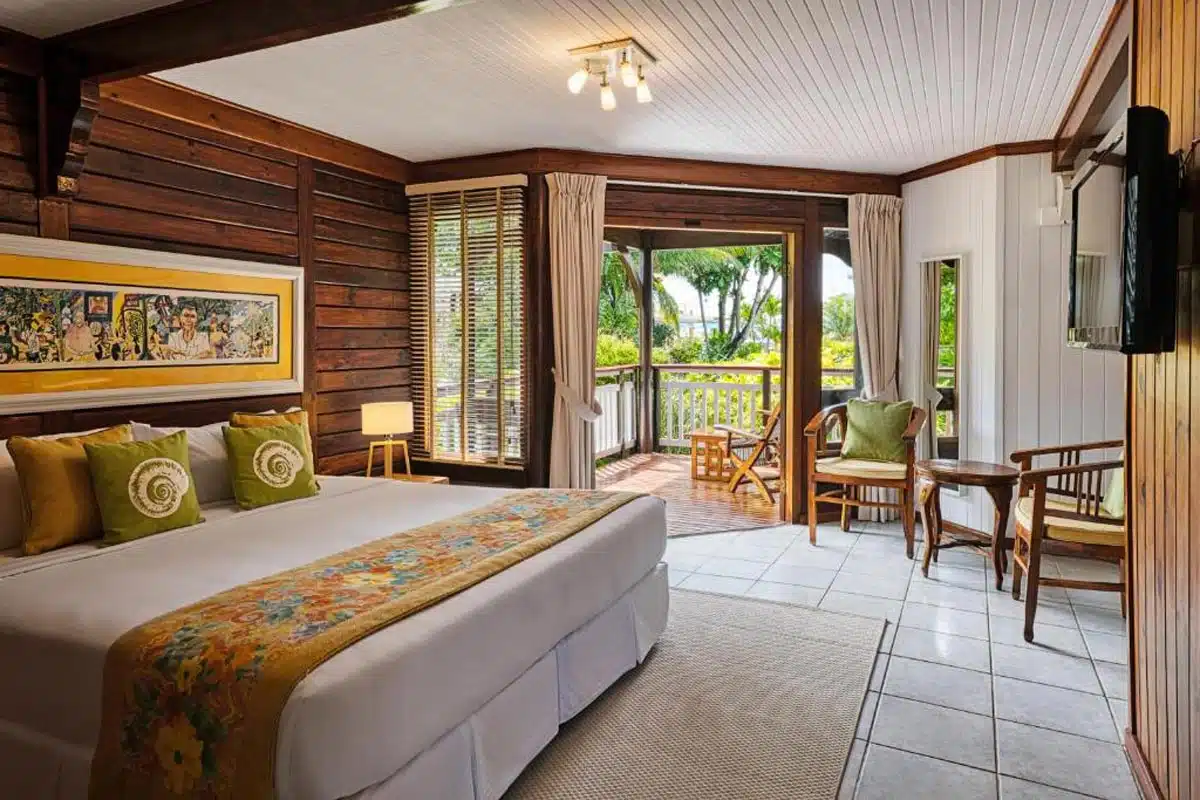 Luxury has no limits, which is still very much the case at the affordable Acajou Beach Resort. From Cycladic-inspired interiors of white and azure blue to down-to-earth stays in timber and cream, you have a range of rooms to pick from.
You can sip on a mojito — or three — in the infinity pool as you overlook the Cote d'Or Beach. Or you can indulge your senses at the two in-house restaurants serving everything from Italian masterpieces to Mexican delights.
Ready to stay here yet? If you need more convincing, you can use the complimentary bikes to cycle around the island and find hidden gardens within the resort. You can also visit the Vallée de Mai Nature Reserve (a mile away) to spend some time amongst the island's diverse wildlife.
Le Tropique Villa
£
Grand'Anse Praslin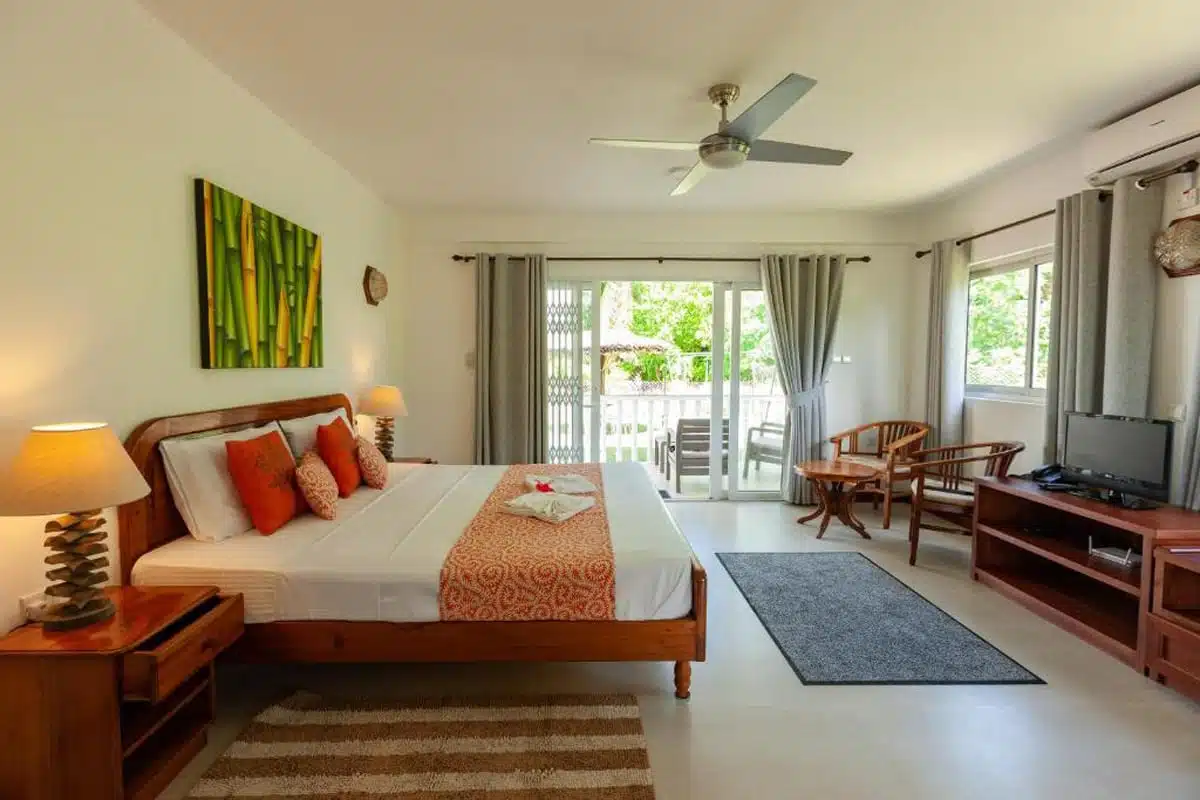 There's nothing wrong with self-catering accommodation, and Le Tropique Villa is easily the best of the bunch. The spacious rooms open up to breathtaking views of the ever-popular Grand Anse Beach.
It may be self-catering, but you can still get a delicious breakfast brought to your room, and Le Paradisier is a fantastic restaurant just down the road. Sounds good so far, right?
It gets better because the tanning deck is the perfect place to catch some sun. That's the end of pesky beach sand getting everywhere. You can even use the hotel's pedalo to motor along the ocean's calm waters.
Terrasse Sur Lazio
£
Anse Lazio
Sure, being on the beachfront is great, but finding accommodation near the top of Mont Plaisir is just as breathtaking. And there's no better place for it than at Terrasse Sur Lazio.
You can admire the turquoise ocean and flowing greenery below from the open patio and pool section. Trust me; you won't want to miss these magical views. After a rain shower, it's the perfect place to spot a rainbow.
The rooms are simple yet elegant and open out to beautiful private balconies. It's another self-catering accommodation, but the outdoor dining section stretching over the hill makes it a truly romantic dinner location.
Although it's 0.5 miles from Anse Lazio Beach, there's still plenty of outdoor fun. You can peruse the forest along the Mont Plaisir to Anse Georgette Nature Trail, one of the best hiking spots in Seychelles.
Palm Beach Hotel
£
Grand Anse Beach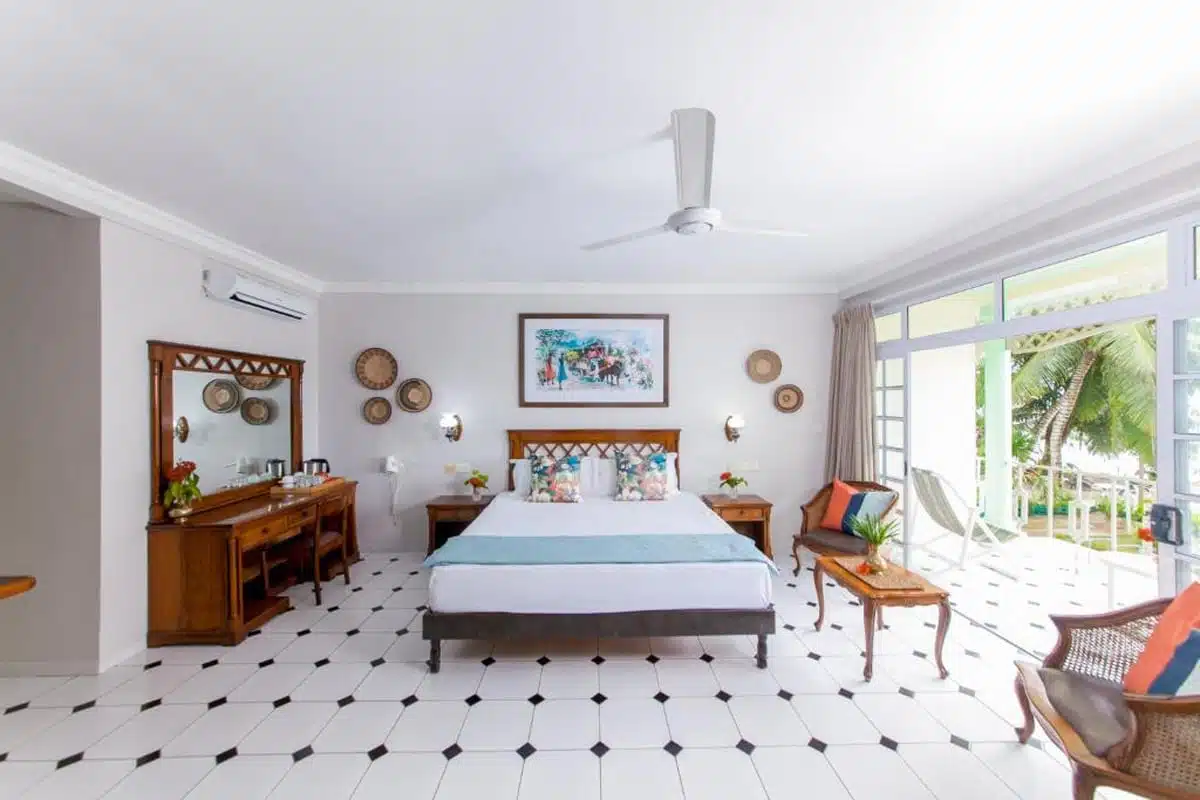 Last but certainly not least, book your lodging at Palm Beach Hotel for some of the best ocean views around. This is "the" destination for beach dwellers, as you can't get any closer to Grand Anse Praslin Beach.
Pick from rooms with timber floors and ceilings or a more Art Deco vibe with black and white tiling and tasteful furnishings. Every room has a private veranda overlooking the vibrant hotel garden or the tranquil ocean.
If you like the sound of that, just wait until you grab a cocktail from the bar and rest easy in the large pool. Or enjoy a romantic dinner for two that the restaurant can set up for you on the beachfront. Pure bliss.
Best Hotels in Praslin: Frequently Asked Questions
Practical Tips to Consider Before Booking Your Praslin Hotel
You may have heard this before, but book your accommodation well ahead of time. Hotels book out quickly in the peak months of July, August, and the shoulder seasons. So keep this in mind when booking your hotel.
Always add an extra day to your holiday. Okay, this may be easier said than done, especially when on a budget, but you need to factor in travel time from island to island.
That said, there are regular boats between many of the islands, so you can easily hop between places. Alternatively, there are regular flights from Mahé to Praslin, but these can be pricey, so consider this when budgeting.