Wondering when is the best time to visit Egypt? You're in luck. This guide gives you an in-depth breakdown of the best months to visit Egypt and which attractions to explore.
If there's one thing I found during my trip to Egypt, it's that this destination requires a lot of preparation – from knowing what items to pop on your packing list to choosing the ideal attractions to include in your itinerary (there's only so much you can cover in a two week trip).
But aside from this, weather, religious holidays, and peak tourist seasons are all things to consider before you book your flights. It can seem overwhelming, so that's why I've written this guide to take the stress out of planning your trip.
Ready to discover the best time to travel to Egypt? Let's go.
When's the Best Time To Visit Egypt: At a Glance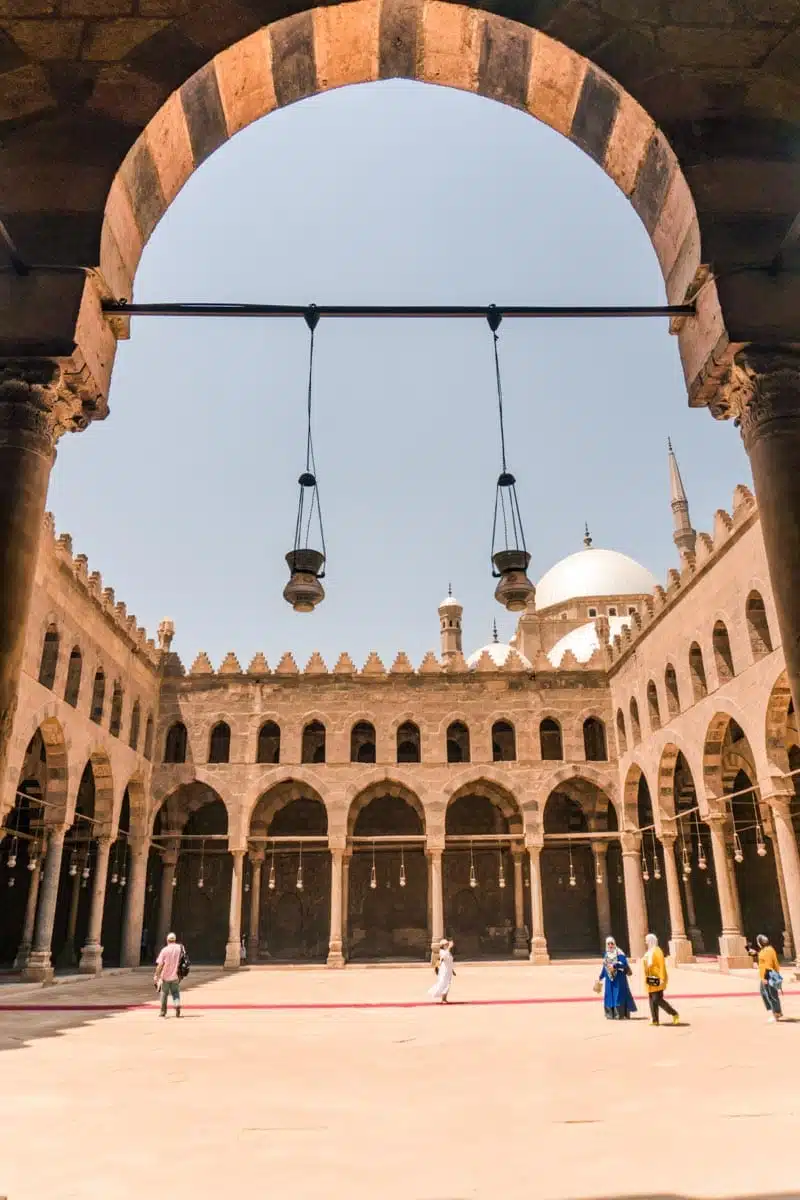 Egypt's Mediterranean climate boasts dry, hot summers and cool, rainy winters. While coastal cities like Alexandria see the most of the annual rainfall, temperatures vary widely across the inland desert areas.
If you'd like to take on the attractions and landmarks in your Egypt itinerary seamlessly, it would be best for you to plan your trip according to the weather in each region, the travel season, and national holidays or festivities that may impact your travel plans.
I'll level with you… Summer is too hot. Avoid visiting during the hottest months as you'll end up a sweaty mess and you'll struggle to enjoy yourself – lots of the main attractions in Egypt are outside, after all. Typical.
The Best Time To Visit Egypt: In Detail
What Is the Best Month To Travel to Egypt?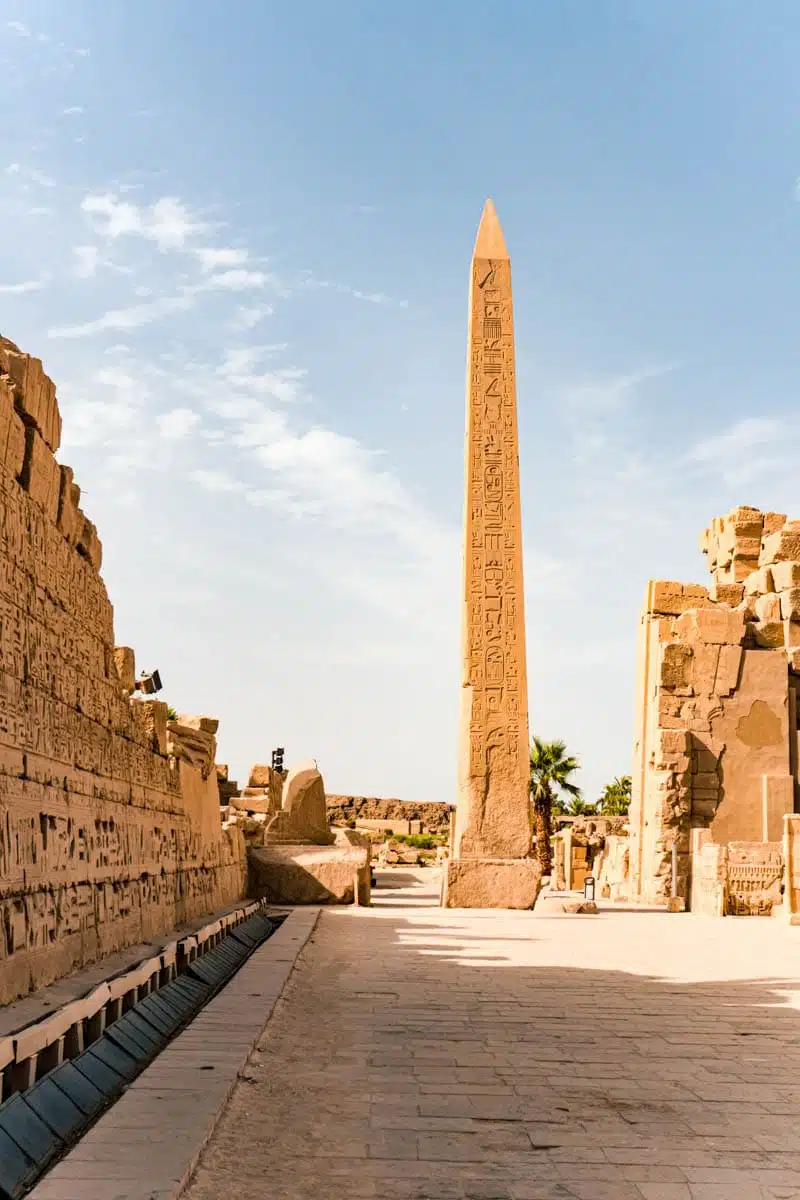 If you're looking to travel through the country and see its top attractions without competing with large crowds for views and accommodation, October is the best time of the year to visit Egypt.
October falls just before the peak season. During this time, tourist arrivals are still relatively low compared to the high peak season, and hotel prices are also quite reasonable. Daytime temperatures drop while the nights become cooler, making it the best month to visit Egypt.
You can expect daily temperatures to average around 30°C, so pack light and airy clothing. But, it's good to also bring a windbreaker or puffer jacket for those occasional wet days and chilly autumn evenings.
When's High Season in Egypt?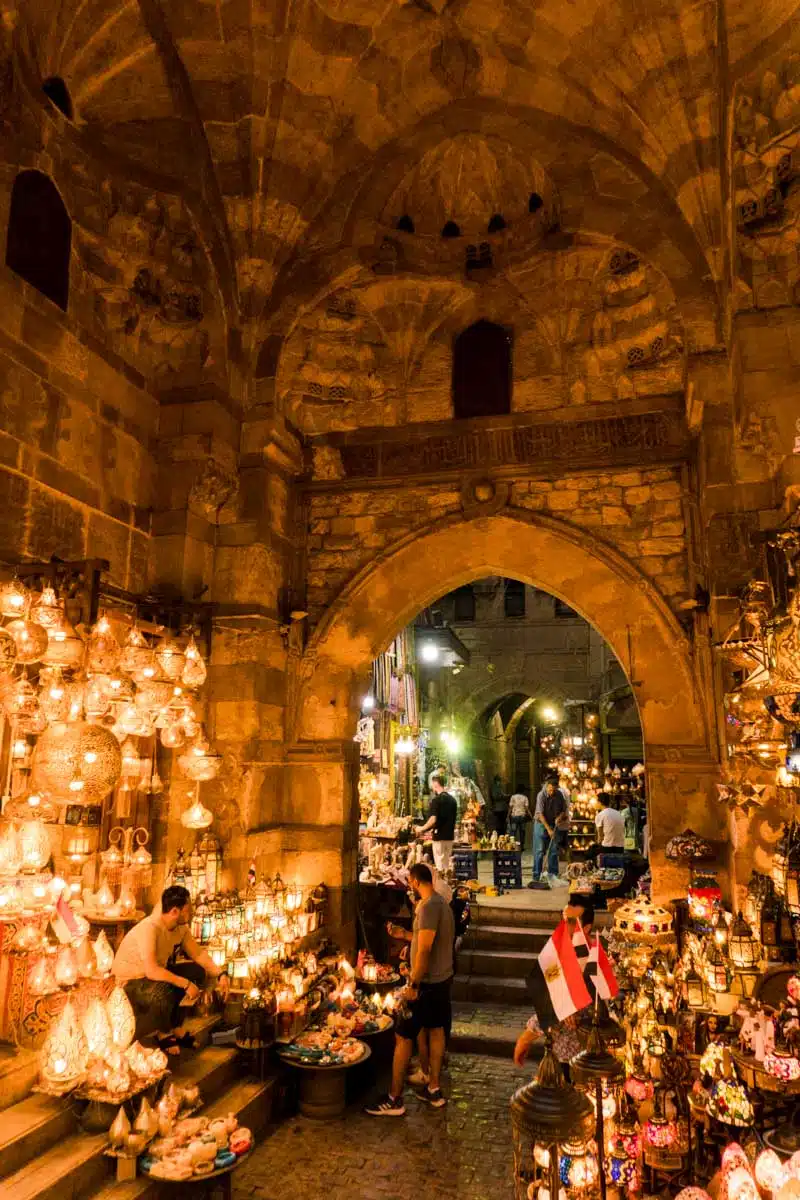 Unsurprisingly, winter is the peak visitation season in Egypt. Most travellers flock to Egypt between December and February, thanks to the mild daytime temperatures and cool nights.
During this season, the most famous tourist attractions get crowded, while hotel prices and other amenities like tours and food prices skyrocket. The cost of travelling to Egypt is also significantly higher during this time.
The Cheapest Time To Visit Egypt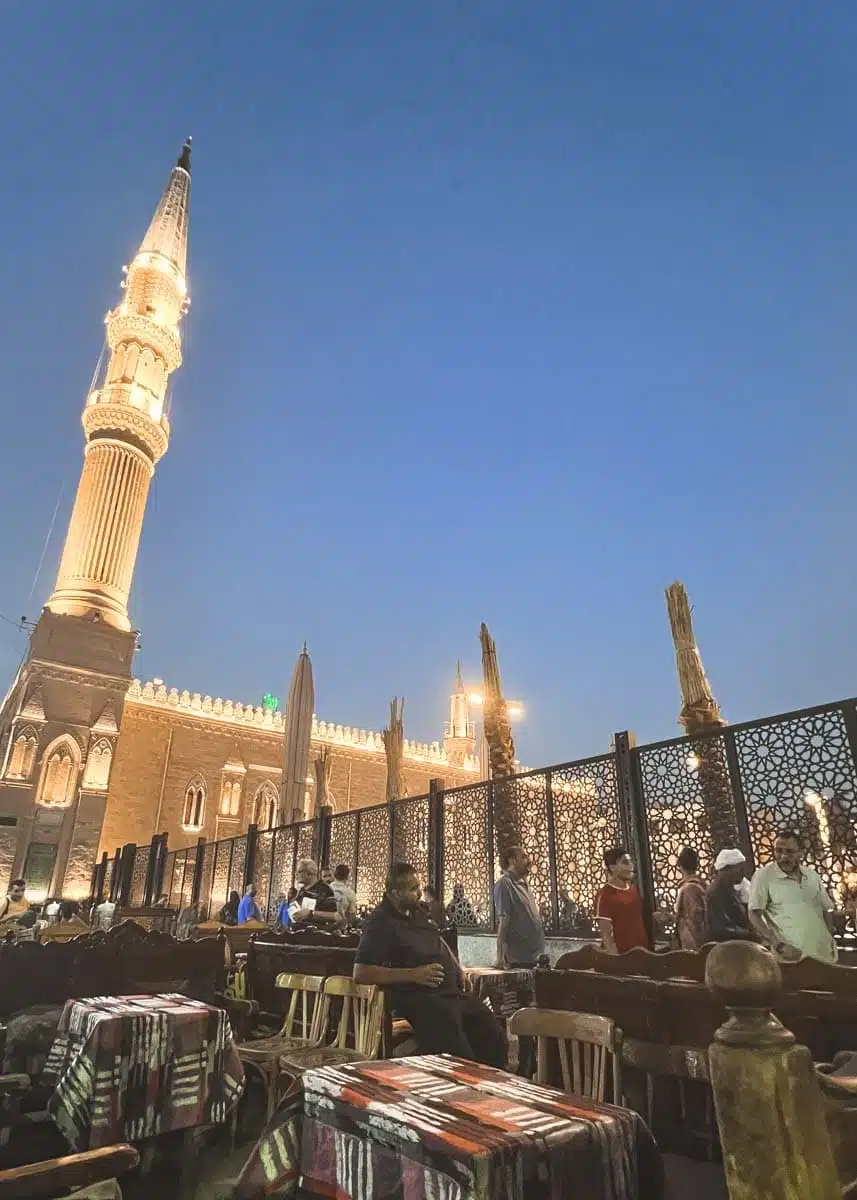 Now that you know when's the most expensive time to travel to Egypt, let's explore a more budget-friendly alternative. The cheapest time to go to Egypt is between January and February.
This is right at the end of the peak season, so hotels and airlines tend to encourage an extended stay from tourists by offering discounted prices and deals. The best part about it is that although daytime temperatures will begin to rise, the evening storms will reign down, leaving behind a trail of cool and tepid nights.
If you're visiting Egypt during this time, I encourage you to take advantage of the low prices and calm weather. Go on a desert star-watching tour or enjoy an epic night out with a vibrant dinner cruise on the Nile River.
Visiting Egypt During Ramadan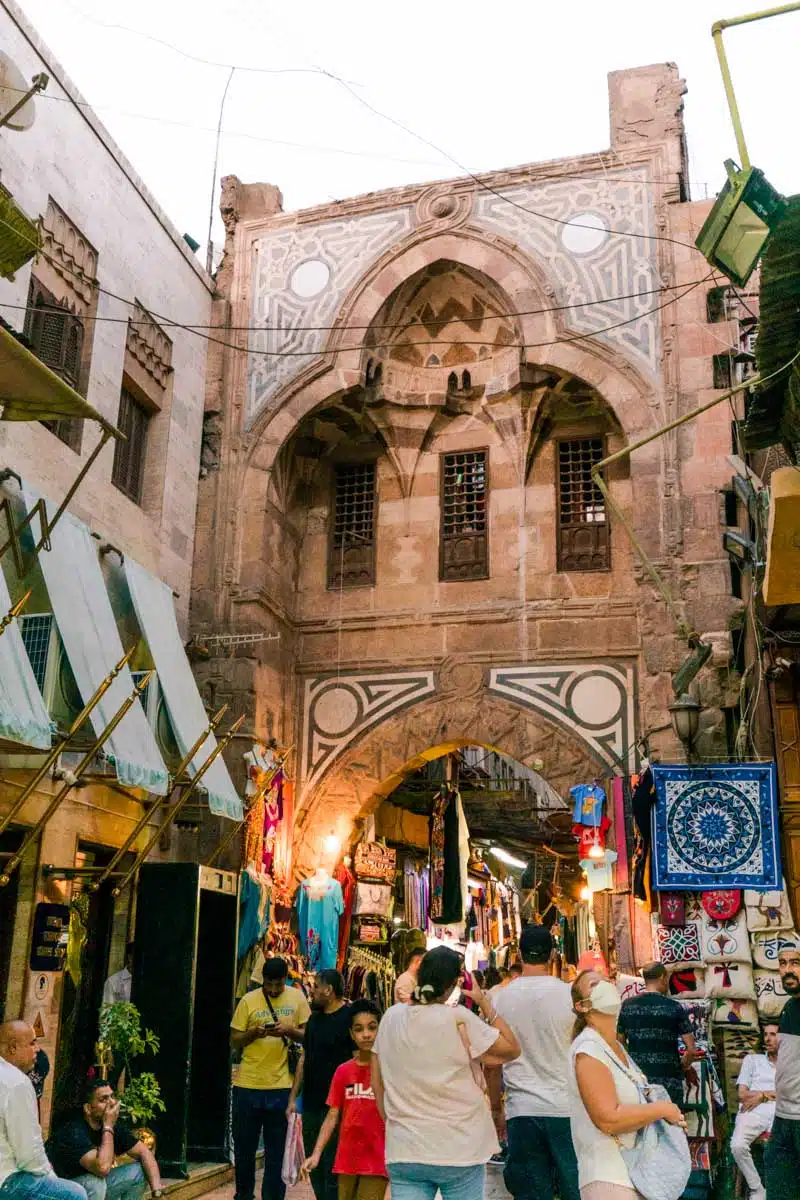 Due to Egypt being a predominantly Islamic nation, the month-long religious event of Ramadan and the Eid al-Fitr celebration following it may significantly affect your travel plans. The closing times of restaurants, shops in bazaars, and some tour providers might be earlier than usual.
Occurring in April or May, Ramadan is a holy period where Muslims worldwide fast from sunrise to sunset as a symbol of spiritual rejuvenation. At the end of the fast, Muslims everywhere enjoy a three-day celebration called Eid al-Fitr.
Many locals gather in the streets with friends and family to mark the end of Ramadan, and tourists are welcome to join in on these celebrations.
While you will be able to eat and drink during the day, it's best to keep this private to respect local culture. This is something to consider if you dream of perusing bazaars and scoffing street food.
Best Time To Travel to Egypt To…
Cruise the Nile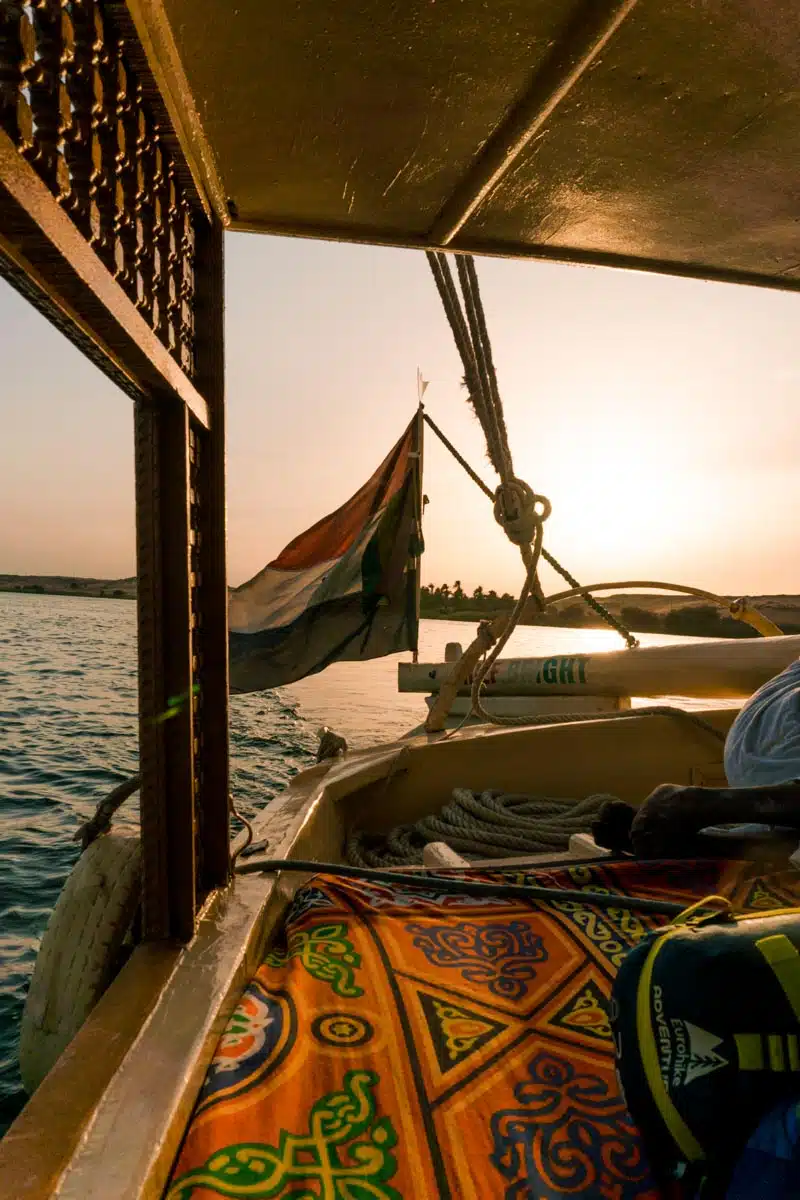 The ideal time to cruise down the Nile is between October and April. The pleasant weather allows you to take in the stunning sights throughout Egypt, experience breathtaking sunsets, and perhaps take part in some fun water activities like hang gliding.
Taking a Nile River cruise is undeniably a must-do when visiting Egypt. This iconic 6,650 km waterway is not only the longest in Africa but also the lifeline for many civilisations past and present.
A day cruise along this natural wonder takes you through several fishing villages, meeting local fishermen along the way. You'll also enjoy swiftly getting to landmarks in Aswan and visiting the majestic Temples of Abu Simbel without having to deal with Cairo's impeding traffic.
Visit the Pyramids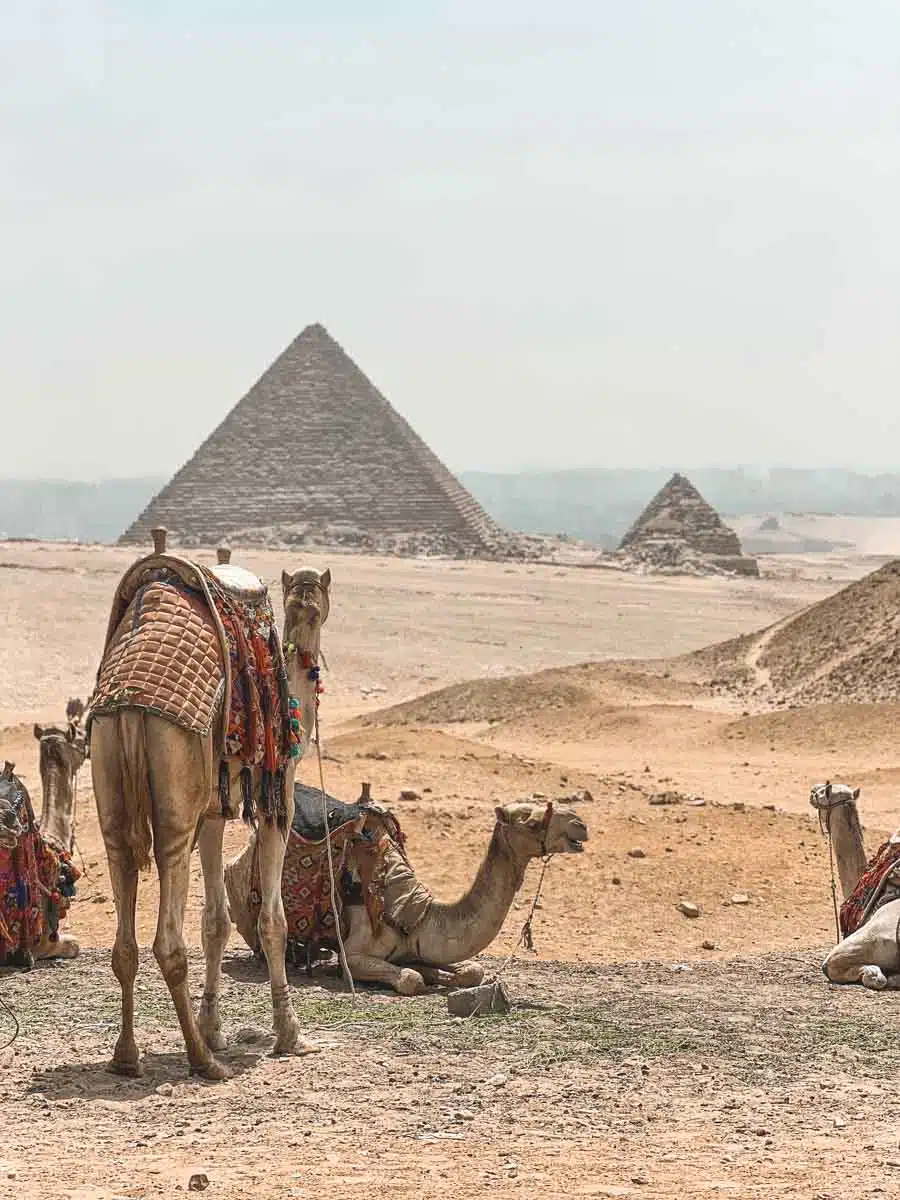 Another must-see attraction is the Pyramids of Giza. To see this world-renowned cultural landmark and get the most out of your trip, visit between October and March.
More specifically, book a half-day tour between 10 am and midday to avoid the morning rush. Temperatures will be slightly warmer, but nothing a bottle of water and a sunhat can't handle.
Explore the Western Desert
What's the point of visiting a desert country and not seeing the desert, right? For these types of excursions, the best time to travel Egypt's arid lands is spring or autumn.
During these seasons, temperatures are friendly. From March to May and between September and October are the shoulder seasons. And in addition to the favourable weather, prices are also at their lowest.
You can enjoy exploring the Western Desert, from camping to thrilling quad biking tours, and experience Egypt in a unique way. But, spring travellers must take note of the annual "khamsin" winds.
Enjoy the Red Sea
By now, you probably think summer is the worst time to visit Egypt, but that's not necessarily true. As I mentioned before, temperatures are generally lower along the coast than inland.
So the ideal time is June to September if you'd like to enjoy plenty of water activities like scuba diving, dolphin-watching, and snorkelling in the Red Sea.
July and August are also optimum travel times to visit the Red Sea. But make sure to book well in advance as this is when many tourists and affluent Egyptians flock to the coast to escape the sweltering Cairo weather.
Best Time to Travel to Egypt: Region by Region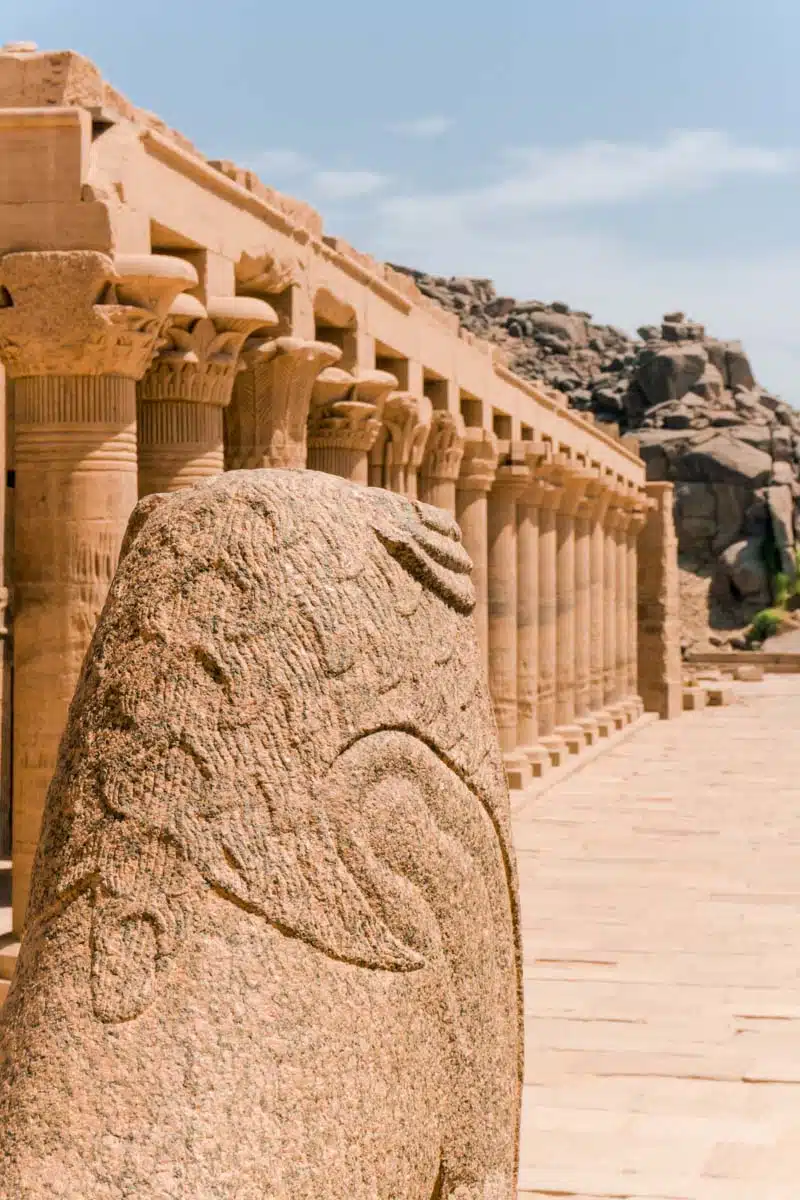 Egypt has physiographic divisions into four major regions. These regions experience vastly different weather patterns throughout the year.
From boiling conditions across Egypt's vast deserts to cool coastal regions, with excess amenities for water activities, it's not hard to see why travelling here may be challenging. Because temperatures across regions tend to vary in winter and summer, it's best to plan your trip around specific landmarks and attractions you want to see the most.
Do this while considering the peak season price surge and each month's annual festivities and celebrations, which could potentially throw off your perfectly planned itinerary.
So take note of the following best times to visit Egypt, and design your trip accordingly.
Region Best Time to Visit
Nile Valley & Delta September-November
Western Desert March-May; September-October
Eastern Desert October-April
Sinai Peninsula December-February
Best Time to Visit Egypt: By Season
Spring in Egypt
March – April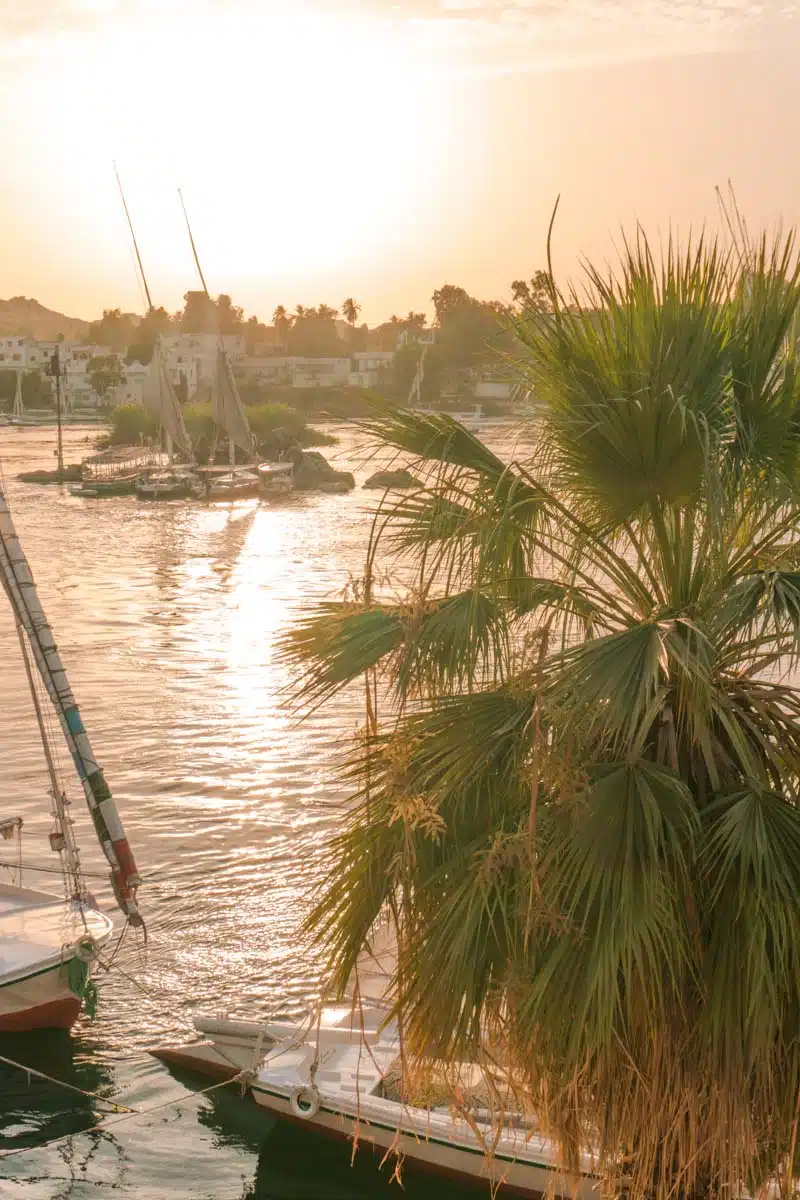 Spring is an excellent time to visit Egypt. Temperatures are moderate and tend to fluctuate between 22°C and 32°C during the day. But beware, these best months to travel to Egypt also have an erratic climate – ranging from clear warm days to strong, unpredictable winds.
Key Events and Things To Do in Egypt in Spring
Abu El Haggag Moulid is a 5-day festival in honour of the 13th-century Sufi leader, Yusuf Abu Al Haggag. This happens in Luxor, typically two to four weeks before Ramadan.
Everyone in Egypt celebrates Sham El Nessim because it predates Islam and Christianity. The April holiday welcomes the spring season following the Coptic Easter.
Pros of Travelling to Egypt in Spring
Spring is a shoulder season, boasting lower prices and less crowded attractions.
Temperatures are pleasant, allowing you to enjoy water activities like snorkelling in the Red Sea.
Cons of Travelling to Egypt in Spring
Unpredictable sandstorms are common during this time and can hinder your ability to see some top attractions.
Egypt's Muslims will observe Ramadan for a month, after which they'll celebrate Eid al Fitr's religious festival.
Summer in Egypt
May-August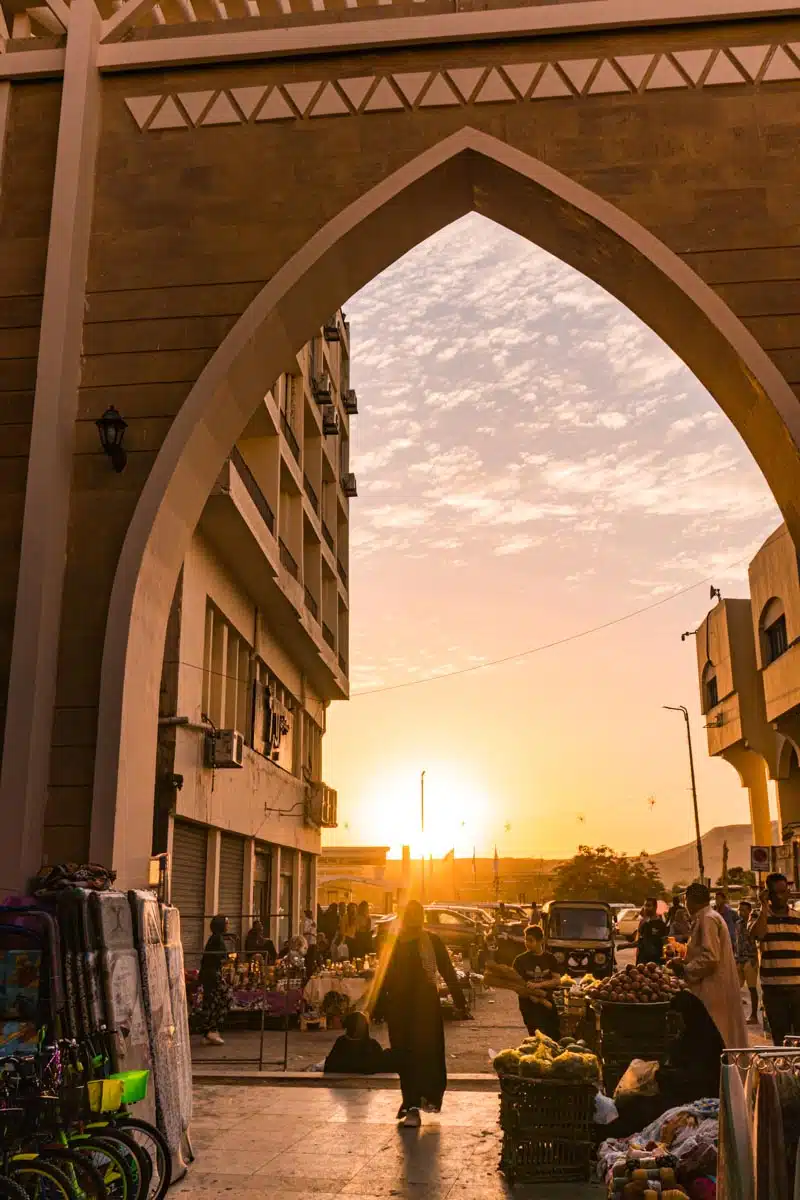 The summer brings scorching days, hot air, and even warm oceans, making it not an ideal time to go to Egypt. Daily temperatures range from 23°C to 36°C, making visiting inland landmarks like Luxor Temple and Valley of the Kings nearly impossible.
But summer is not all doom and gloom – use the warm weather to your benefit by heading to the coast for a much-needed escape and plenty of seaside activities.
Key Events and Things To Do in Egypt in Summer
The two-week-long celebration, Wafaa El-Nil, commemorates the ancient annual flooding of the Nile.
Revolution Day celebrations in July mark the anniversary of Egypt's 1952 revolution.
Pros of Travelling to Egypt in Summer
In the off-season (summer), there's a significant price drop for hotels and tours.
Attractions will have lesser crowds, giving you uninterrupted sightseeing opportunities at the country's most revered monuments.
Cons of Travelling to Egypt in Summer
Temperatures are sweltering, making it nearly impossible to go on full-day trips (the deserts are an absolute no-go).
In some regions, like Aswan, nighttime temperatures can drop to 0°C.
Autumn / Fall in Egypt
September – November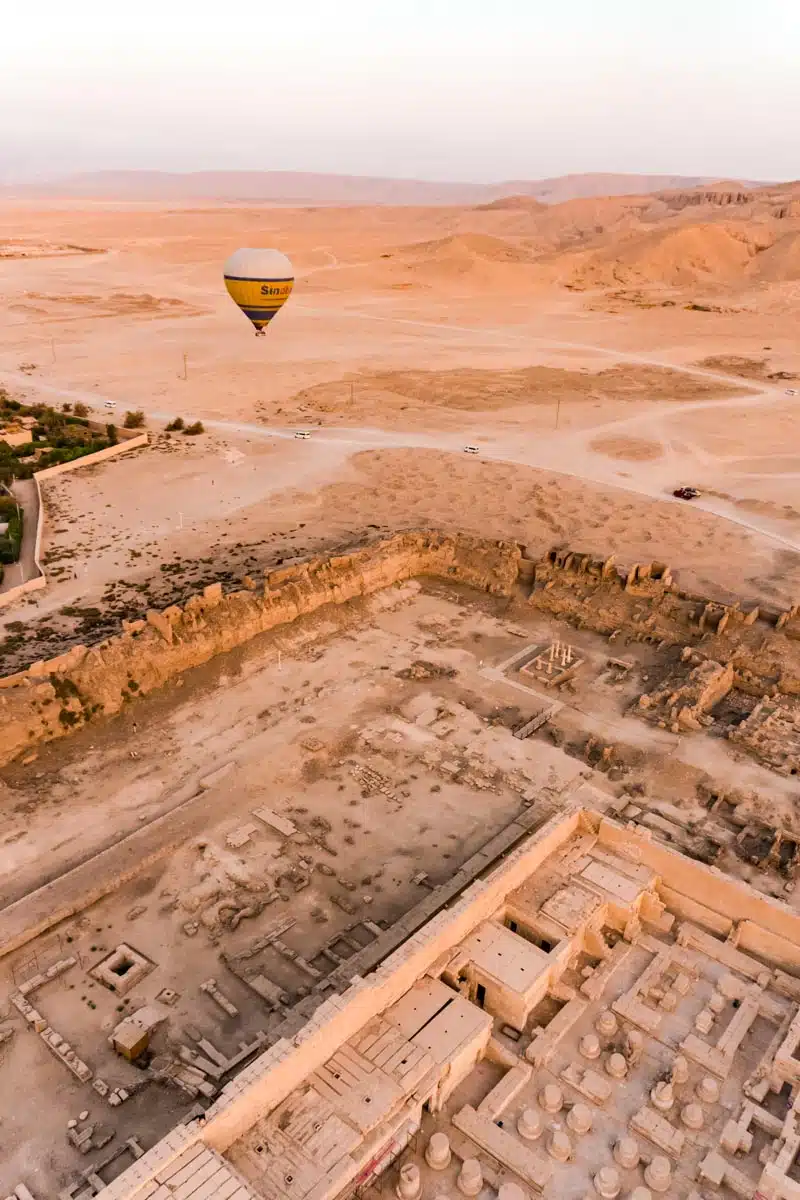 Like spring, autumn is a shoulder season boasting cooler temperatures and budget-friendly prices. This is the best time to visit Egypt as the sun isn't as harsh and the number of tourists is still minimal.
Key Events and Things To Do in Egypt in Autumn
Mawlid al-Nabi or Al-Mouled El-Nabawy in October is when Muslims across Egypt observe the prophet Muhammad's birthday.
Armed Forces Day is an annual celebration marking the start of the 1973 October War with Israel.
Abu Simbel Sun Festival in October, when Egyptians celebrate Ramses II's birthday.
Pros of Travelling to Egypt in Autumn
Ideal temperatures for visiting attractions and swimming in the Red Sea.
Fewer traveller influx as compared to winter.
Cons of Travelling to Egypt in Autumn
Hotel and air travel prices begin to increase as temperatures become cooler.
Winter in Egypt
December – February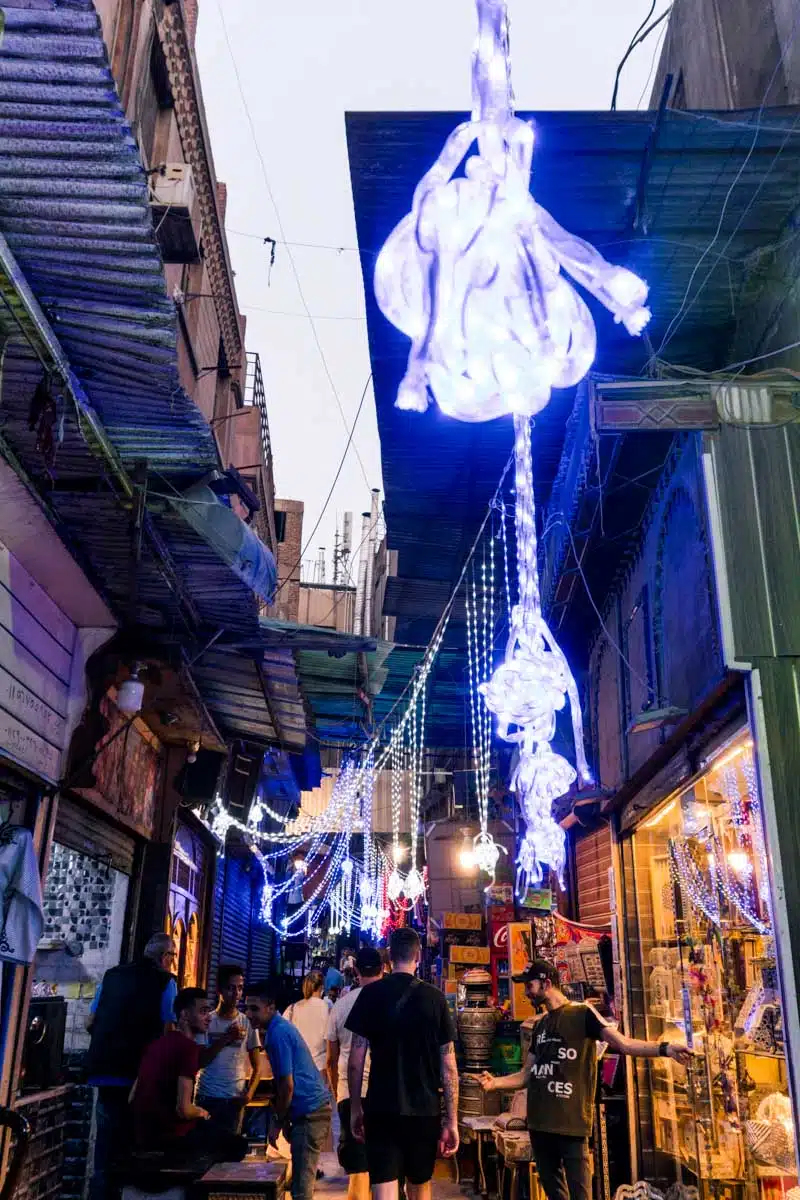 Winter is Egypt's peak season. Tourists flood major attractions and landmarks during this time, thanks to the moderate daytime temperature and cool nights. Average daily temperatures range from 18°C to 26°C.
Key Events and Things To Do in Egypt in Winter
Abu Simbel Sun Festival in February. Egyptians celebrate Ramses II's ascension to the throne.
Coptic Christmas celebrations happen in the first week of January.
The Egypt International Art Fair is a 3-day event from Friday to Sunday. This occurs right at the end of February.
Pros of Travelling to Egypt in Winter
The weather is ideal for travel throughout most of Egypt, making it the best time of year to visit Egypt.
Most amenities are open, and closing times tend to span later than usual.
Cons of Travelling to Egypt in Winter
During peak season, hotels, airfare, and tours tend to skyrocket – this may affect your ability to see all of the country's top attractions.
Crowds are larger, making it challenging to relish the beauty of Egypt's wonders without anyone getting in the way.
When to Travel to Egypt: Practical Tips + Tricks
When travelling in Egypt, it's crucial to note certain risk areas that tourists are highly advised to avoid. This is due to various reasons, like terrorist activity near the borders of Libya and Sudan.
Consider what you want to do on your trip to help you figure out the best time to go to Egypt. Remember to consider the weather, hotel prices, and religious holidays in the region.
The Egyptian capital is typically the central hub containing various hotels and tour providers. Book one of the best hotels in Cairo, and enjoy many of the nearby landmarks and attractions.
Best Time to Travel to Egypt? Discover More Egypt Guides