One of the things that I love most about travelling is the chance to discover new cuisines. Indonesian food is the perfect blend of spicy, punchy flavours that make for a delicious meal. Interested in Balinese cuisine or travelling to Bali and want to know what to expect? Here's my Bali food guide, complete with recipes for you to try at home
How much do you know about Indonesian food? If it's anything at all, you knew more than I did before my first trip to Bali eight years ago. I'd booked a last-minute flight from Vietnam after hearing rave reviews from pretty much everyone I'd met in Southeast Asia during my travels.
I found myself on an island filled with beautiful beaches, incredible temples, hidden waterfalls and a cuisine full of punchy flavours, heat and spice.
If I fell in love with the country (and clearly I did, I'm in Bali once again for a month during the rainy season as we speak), I certainly couldn't get enough of the food.
I've been to high-end Indonesian restaurants, local warungs (small family-run restaurants or cafes), eaten tonnes of Indonesian street food and taken cooking classes (I just did another really in-depth class earlier today). Each time I've discovered a new dish, an ingredient or a tidbit of information to store in my mental Bali food encyclopedia.
Are you interested in Balinese food? You've probably heard of satay and nasi goreng (if not – don't worry, you will by the end of this article) but what about beyond that?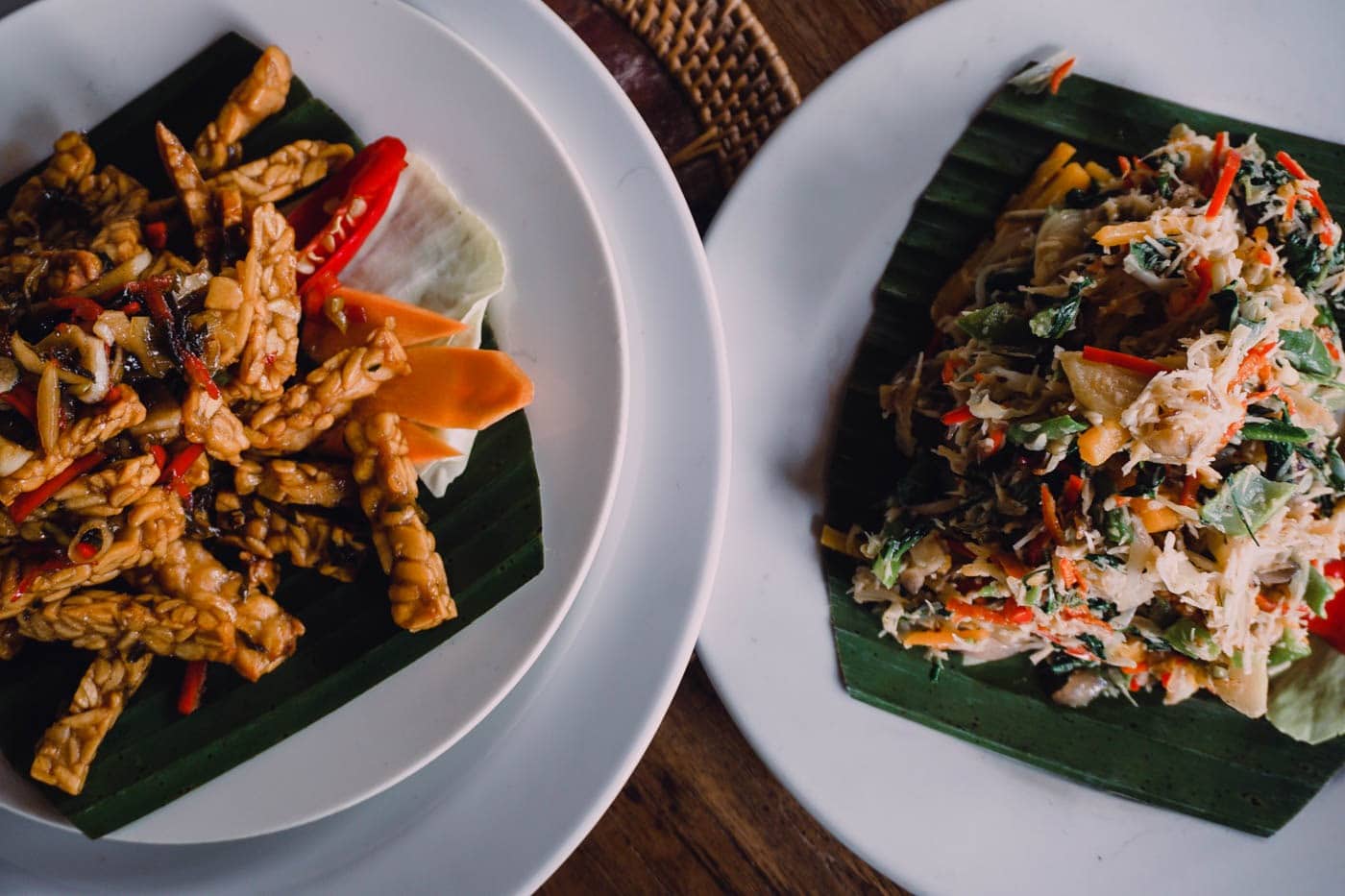 Balinese food can be something of a mystery…That's why I'm sharing my Bali food guide: the best of Balinese cuisine, complete with must-try dishes and a few Balinese recipes for you to cook at home.
---
Planning a trip to Bali? Don't miss my guide to where to stay in Bali to help you pick the perfect spot
---
Balinese Food: An Overview
So what is Balinese food? Like many aspects of Bali, Bali food is an amalgamation of different cultural influences over time, fused together to create a spectacular cuisine that's unlike any other. Head to neighbouring islands such as Java and Lombok and you'll find completely different dishes: Balinese food is completely unique.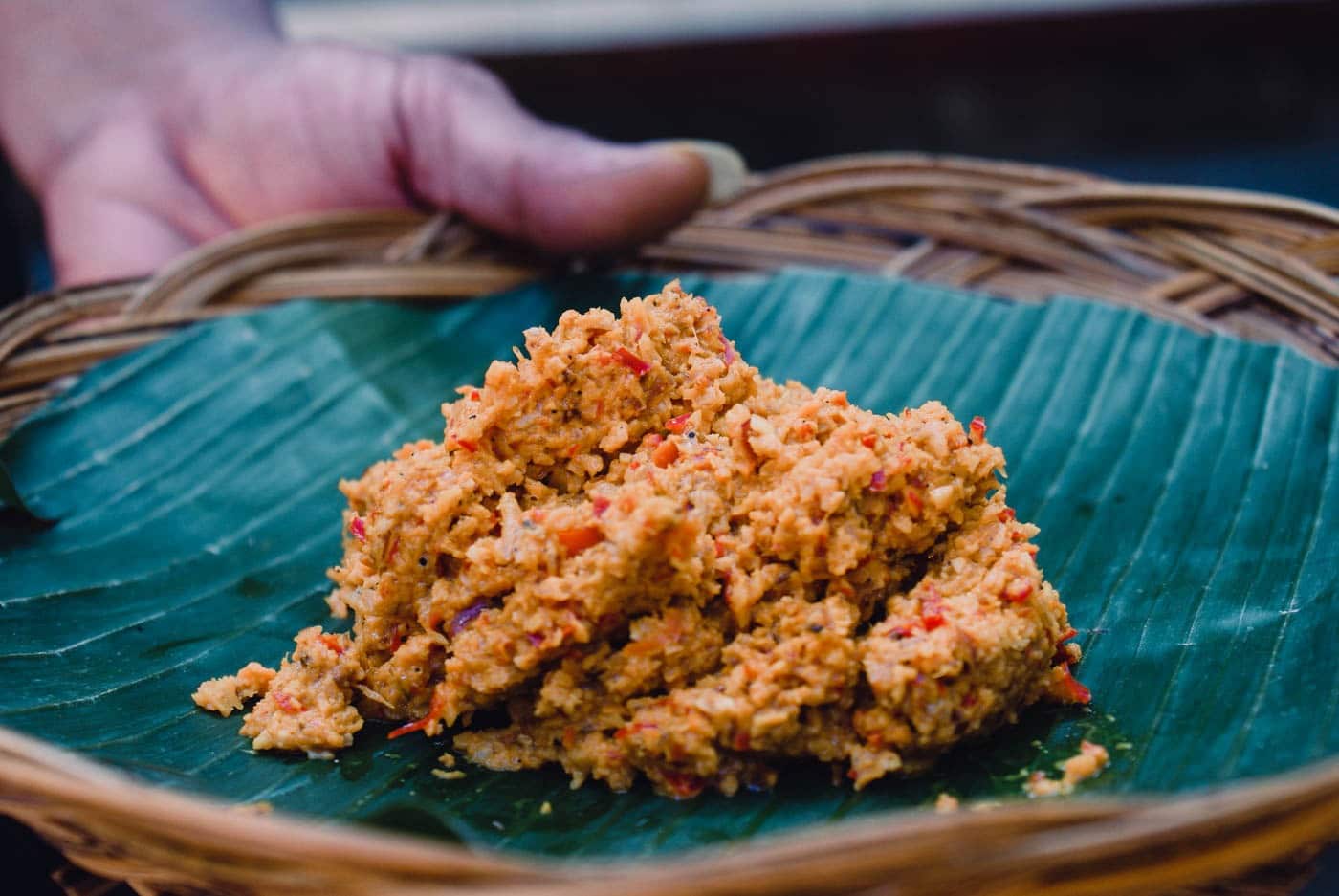 Indonesian food varies and changes from island to island, but Bali's cuisine stands out from them all.
Famous Bali Food Dishes
So what is the national dish of Indonesia? The answer is generally considered to be nasi goreng.
Other famous Balinese foods include, satay, Balinese duck or chicken curry, gado gado (mixed vegetables) and pepes – small portions of seasoned meat, tofu or tempe, wrapped in banana leaf and grilled until cooked.
Balinese Food: History and Culture
If you think of Balinese food as a final dish, to make it, you'd need to add a pinch of stir-frying, soy sauce, tempe, tofu and bean sprouts (all of which was introduced by the Chinese), a dash of Dutch influence in the form of the pineapples, avocados, peanuts, pumpkin and cacao introduced to the island when it was a Dutch colony, and a tidbit of Arab influence – most obviously seen in satay, which are thought to have stemmed from kebabs.
Most importantly of all, Balinese foods need a fertile island with plenty of sunshine, rain and rice.
Regional Bali Food Specialties
While different areas of the island have different specialities, they are generally united by the fact that they are spicy and make use of a lot of pungent flavours.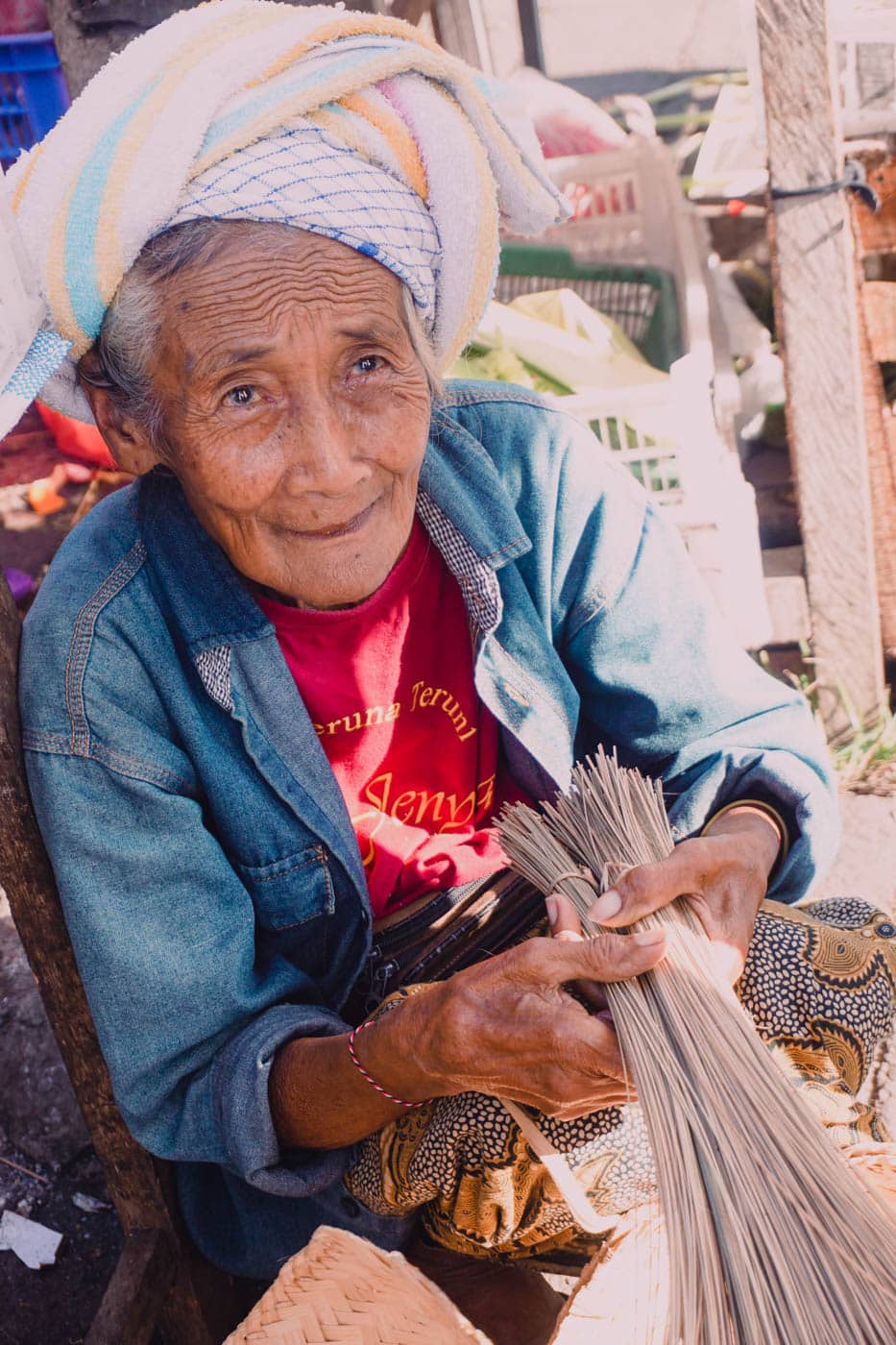 Ubud (of the Eat, Pray, Love fame) is better represented by its duck dishes than by that saccharine book and even worse film. Jimbaran Bay, on the coast, is famed for seafood dishes. The Gianyar region is rumoured to make the best suckling pig on the island (no small feat as babi gulung is one of the most revered foods in Bali).
The Bali Food Bible: 18 Dishes You Need to Try
If you're heading to Bali, these are the Indonesian foods you shouldn't leave without trying.
1. Nasi Goreng – Balinese Fried Rice
The informal national dish of Indonesia, Nasi Goreng literally translates as "fried rice" from Bahasa Indonesian. The ingredients vary from region to region, but expect rice fried with spices, vegetables, chicken and/or shrimps and topped with a fried egg. Delicious.
2. Bebek Gerang Asem – Balinese Duck Curry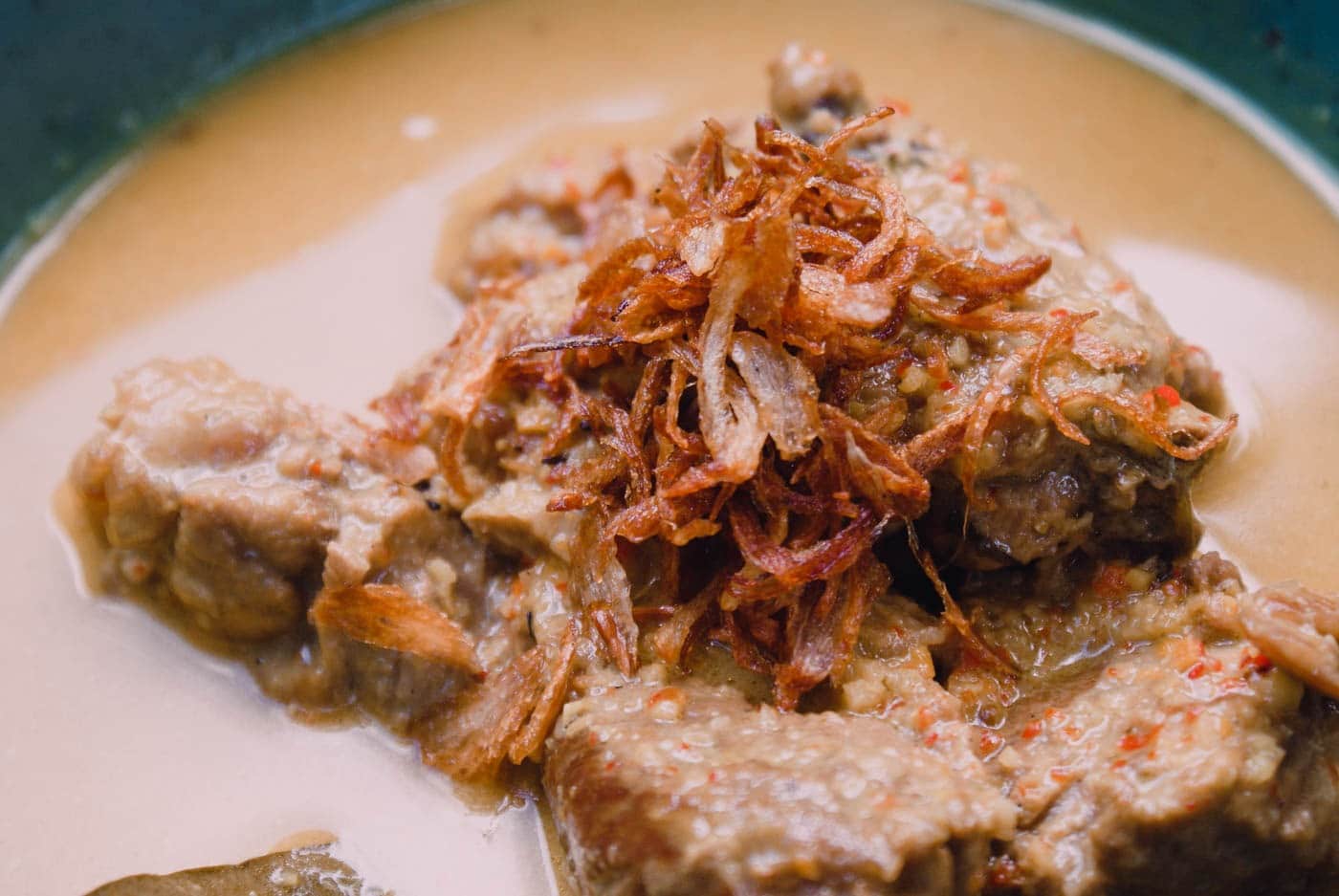 My personal favourite Balinese meal, traditional Bumbu Bali curry paste is cooked with stock, duck and coconut milk for a melt-in-the-mouth culinary experience. (Recipe Below)
3. Babi Gulung – Roasted Suckling Pig
One of the most popular dishes in Bali, the suckling pigs are rubbed with tumeric and filled with the aromatic and flavourful base gede (includes galangal, turmeric, ginger and chillies among many, many other ingredients), then slow roasted on a spit. The contrast between the flaky, soft meat and crackling needs to be tried to be believed.
4. Gado Gado – Mixed Vegetables with Peanut Sauce
In its simplest form, gado gado is just mixed vegetables with a peanut sauce. In reality, it's so delicious, I guarantee it will become one of your mainstay Bali foods. Normally cooked with tempe, tofu and potato – it's a filling vegan Balinese meal (Recipe below).
5. Urap Campur – Balinese Mixed Vegetable Salad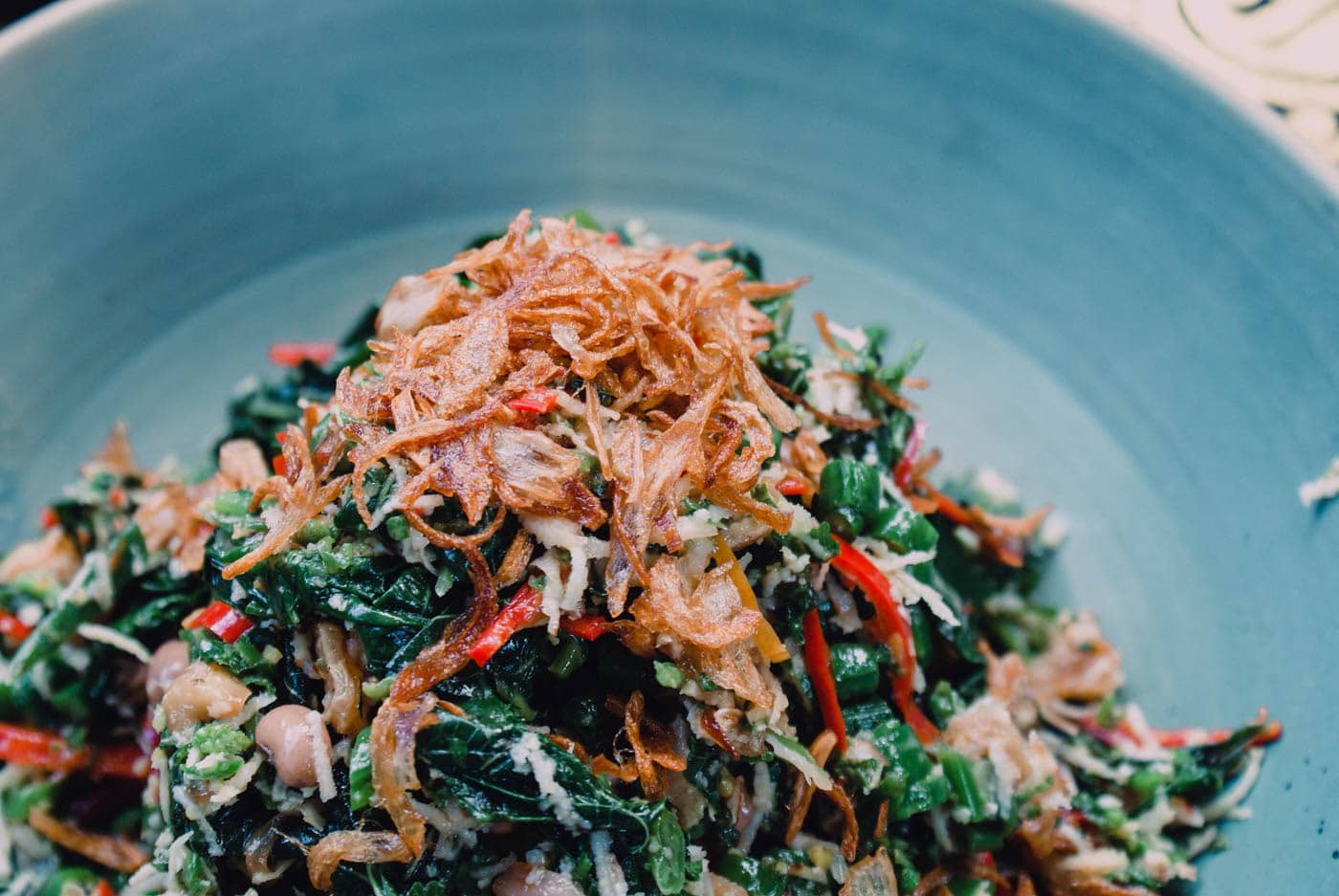 Quite similar to gado gado, Urap Campur is another tasty vegetable-based Balinese dish (recipe below).
6. Sambal Matah – Raw Shallot, Lemongrass and Chilli Dip
Sambal is common across all of Indonesia and Malaysia, but Sambal Matah is unique to Bali. This raw dip is a simple combination of shallots, chillies, lemongrass, ginger and lime (plus a few other ingredients) and is often served with grilled/ griddled seafood to give it extra kick. (recipe below)
7. Tumis Pakis – Sauteed Fern Tips
Tumis Pakis can be really difficult to find in commercial restaurants but be sure to give it a try if you do. A combination of fern leaf tips, spices and sauces it's one of the most traditional Bali foods you can find (recipe below).
8. Nasi Sela – Rice with Sweet Potato or Taro
Surprisingly tricky to make, Nasi Sela sits at the centre of many Balinese meals. The taro/ sweet potato means it's extra tasty and filling too (recipe below).
9. Sayur Urab – Mixed Vegetable Salad With Coconut and Lime
A gorgeous mixed vegetable salad in an impromptu coconut sauce made from squeezing the cooked vegetables with grated fresh coconut and kaffir lime juice. Deliciously moreish (recipe below).
10. Traditional Grilled Fish or Seafood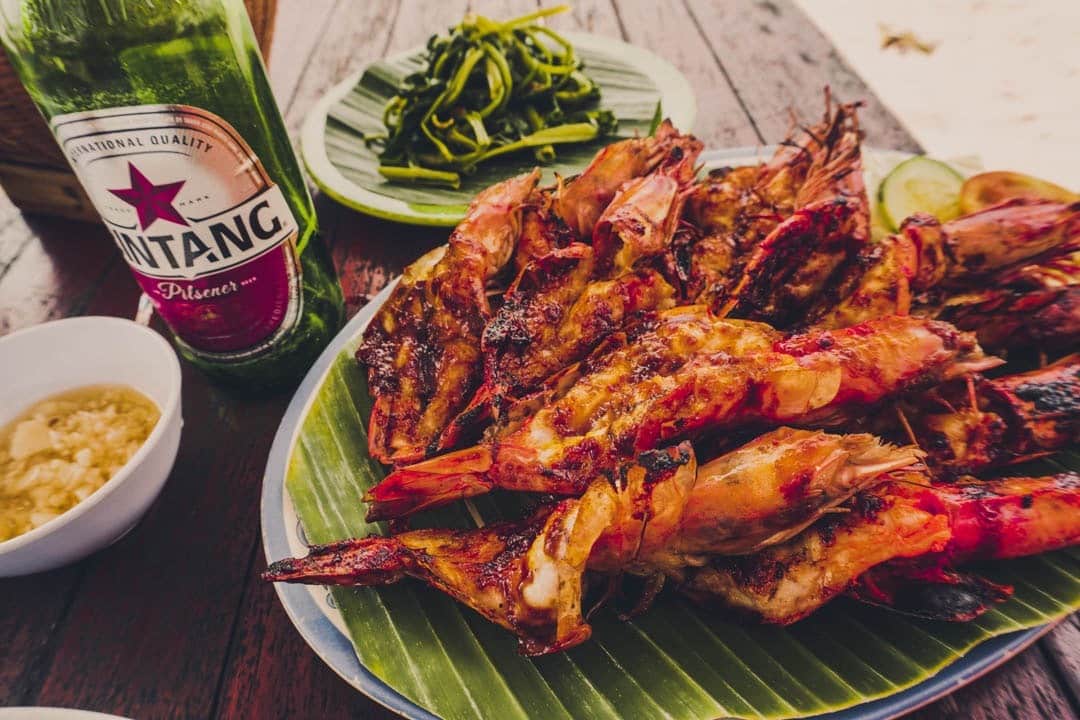 Particularly found in the area around Jimbaran Bay and Kuta, grilled or barbecued fish is served with fresh sambal matah for a light and zingy meal.
11. Kering Tempe – Sweet & Sour Tempe
Tempe – made with whole, unfermented soybeans, is a delicious and filling meat alternative. Deep fried tofu is paired with a palm sugar, chilli, lime and garlic sauce (check out this delicious sweet and sour Indonesian tempeh recipe).
12. Opor Ayam – Balinese Chicken Curry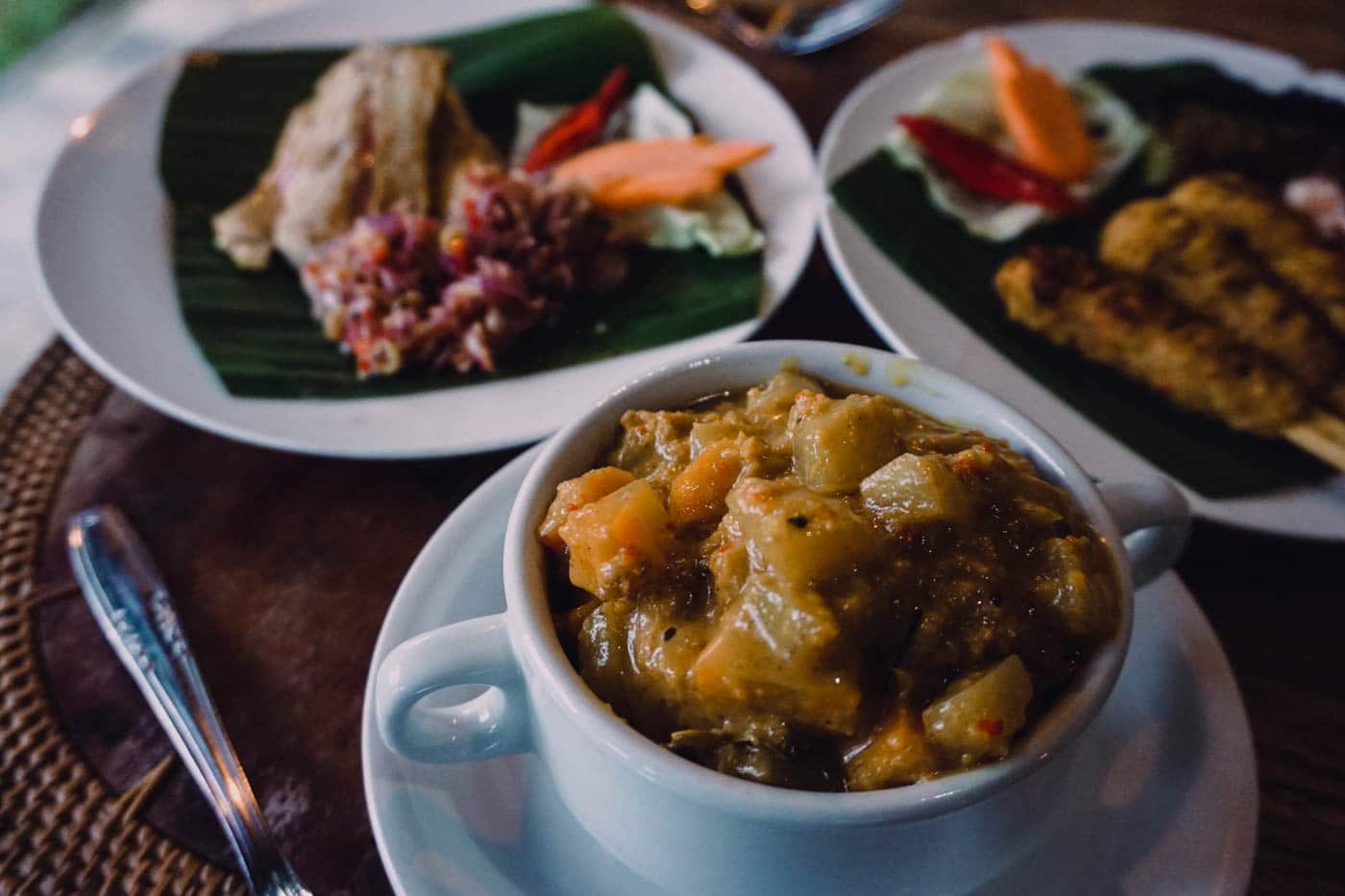 A tasty alternative to the duck curry, Balinese chicken curry is a fiery concoction of bumbu bali, coconut milk and water that's traditionally served with rice (recipe below).
13. Pepes – Bamboo / Tofu/ Veggies or Meat Wrapped and Steamed in Banana Leaf
You can find pepes in small traditional warungs all over Bali – small parcels of young bamboo, tofu, vegetables or meat (depending on your preference) mixed with Bumbu Bali and other spices that are steamed in banana leaf (recipe below).
14. Satay Lilit – Balinese Satay
If Nasi Goreng is the national dish of Indonesia, Satay Lilit is a close contender for the second. Indonesian street food at its very finest. A combination of ground meat (or shrimp), coconut and spices wrapped around stick and grilled – you'll normally find it served with a peanut sauce or with sambal matah (check out the recipe below).
15. Pisang Goreng – Fried Bananas
If you're really lucky, you'll catch Pisang Goreng – a widespread Bali food, fresh out of the kitchen from a small warung. A popular Indonesian street food – who knew that banana, coated in flour, sugar and egg and deep-fried could be so tasty (let's face it, we all knew it would). Make your own – recipe below.
16. Jukut Gedang Mekuah – Green Papaya Spiced Balinese Broth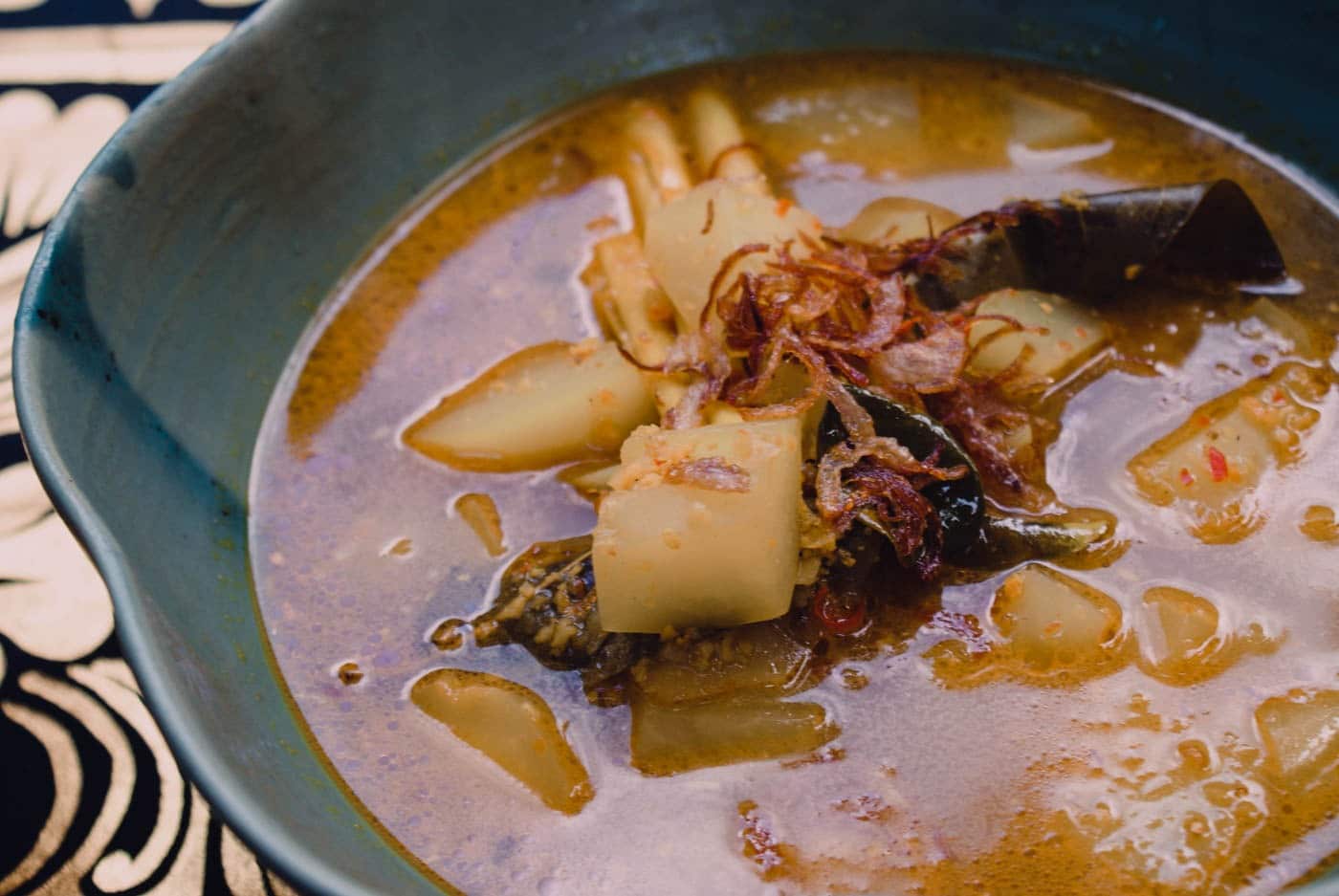 Another one that you're probably going to have to hunt out a bit, this light but spicy broth is unique to Indonesia and provides the perfect spicy start to a lunch or dinner. Or you can make it yourself – the recipe is further down.
17. Bubur Injin – Black Rice Pudding
Lots of Balinese desserts err on the sweet side, but Bubur Injin – a moreish concoction of black rice, sticky rice, pandan leaves, palm sugar, banana and coconut milk keeps the balance just right. Have it cold on a hot day for a cooling snack. Recipe below.
18. Kopi Luwak – Luwak Coffee
How do you feel about drinking coffee that's been made out of luwak poop? OK, that's simplifying things a bit but Luwak is one of Bali's most interesting culinary experiences.
So how did it come about? When Bali was under Dutch colonial rule, much of the quality coffee was exported out of the country. Local farmers realised that the local luwak cats ate the coffee fruit but, as they were not able to digest the beans themselves, whole beans could be harvested from their droppings, cleaned and processed into coffee.
What's more, the digestive enzymes of the luwak changed the flavour of the coffee beans to a mellower and tastier flavour: and so Kopi Luwak was born.
There are some stories about the luwak being kept in poor conditions on some kopi luwak farms, but many of the farms still allow the luwak to roam free in the grounds – it's worth checking the provenance of the producer before you buy.
Unmissable Bali Food Experiences
Balinese Markets
Balinese markets are at the heart of traditional Balinese food. If you take a cooking class in Bali, make sure it's one that takes a trip to a market to learn about the ingredients first.
On my first cooking class, we pulled up in a small village for a 'real market experience' according to my guide.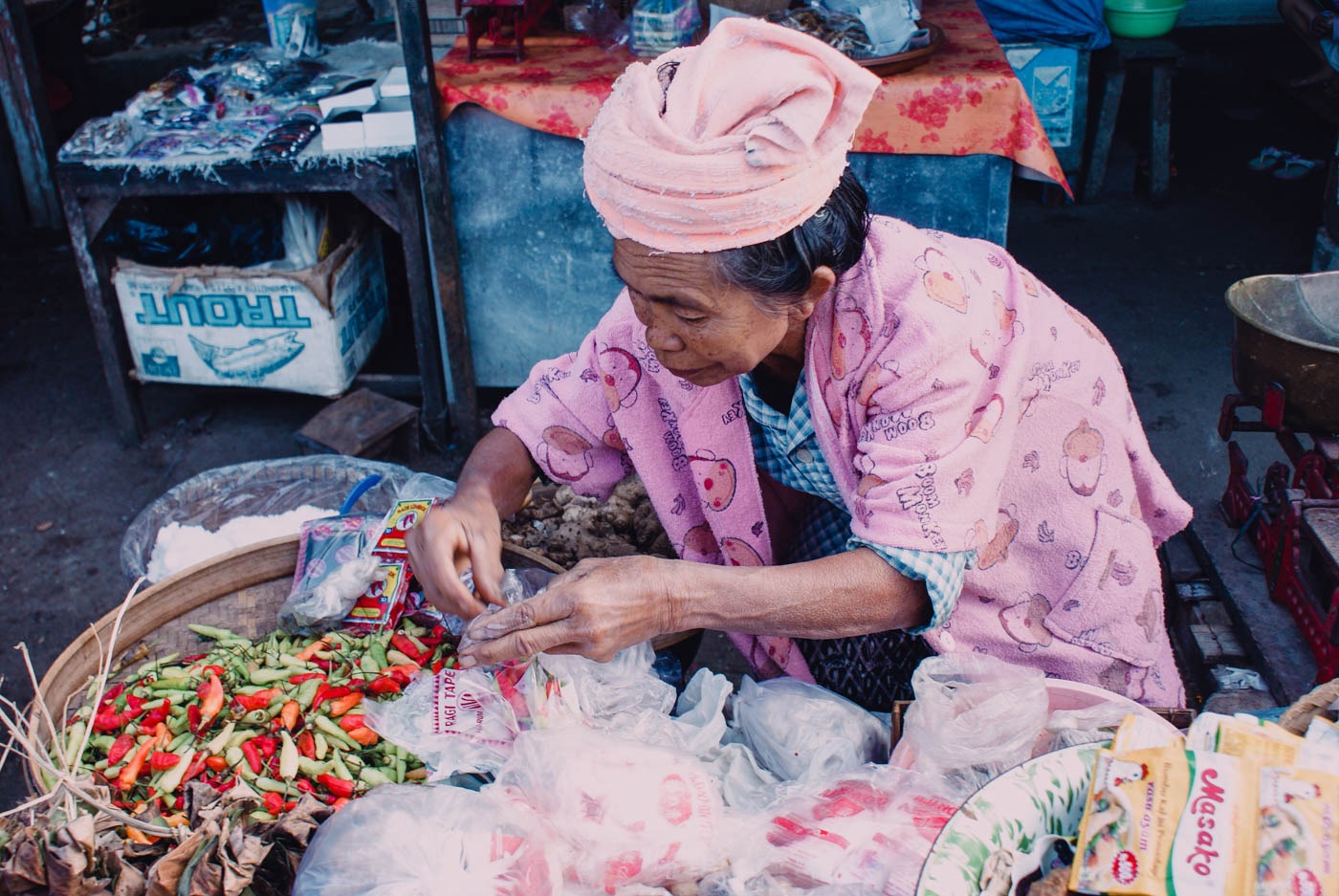 I suppose it would have been even more authentic if he'd left me to communicate with the stallholders in my rather indecipherable form of mime, but there's only so much a girl is willing to embarrass herself first thing in the morning and I gladly accepted his assistance (read: his perfectly fluent Bahasa Indonesian). I'd been kitted out with a shopping list and together we worked our way through stalls stuffed to the brim with the wacky and the wonderful.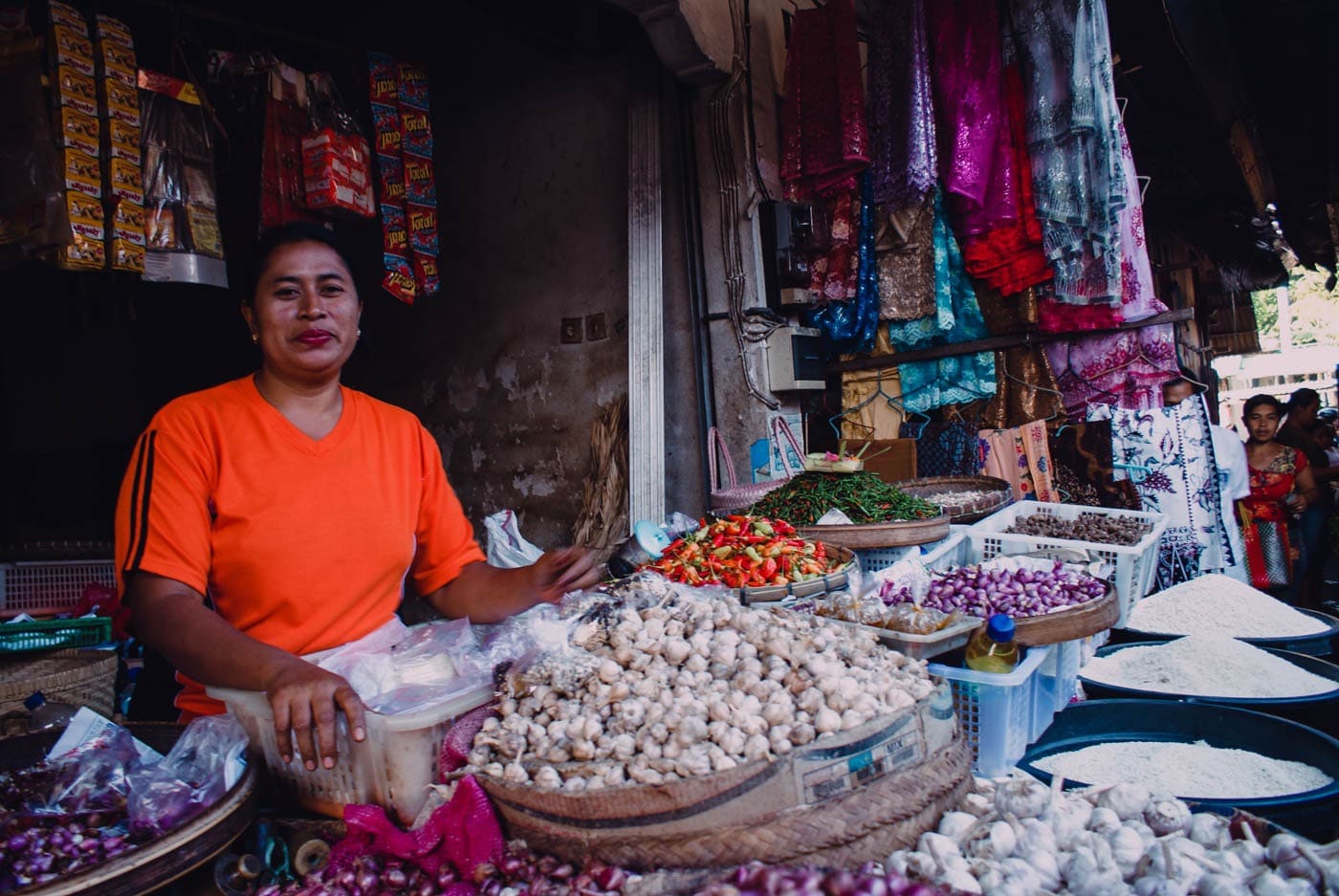 At 7am the market was almost empty. I'd assumed that this was because anyone with perfect senses and no pressing matters to deal with would still be comfortably drifting in the land of nod.
But no, it was because most of the women in the village had already been at 4am when the market had opened and were now busy turning their purchases into delicious meals to be scoffed by the rest of the family later in the day. Hats off to them. I wouldn't want to force anyone to eat what I'd make at 4am in the morning.
Most food markets in Bali tend to close by midday-2pm, and start winding down by about 9-10 am, so if you want to do your ingredient shopping in a market, my best tip would be to start early.
Balinese Cooking Classes
I don't think there's any better way to understand the flavours and balance of a country's cuisine than by taking a cooking class.
While I've taken quite a few Balinese food cooking classes, there are two that have really stood out: the class at the uber-luxe Amandari in Ubud and the cooking class offered by the Balinese Farm Cooking in Pemulan – about a 45 minute drive north of Ubud.
Balinese Organic Farm Cookery Class, Pemulan
This one is hot off the press (as in, I just finished the class a few hours ago) and hands down the best cooking class I've ever taken. The Balinese Farm Cooking Class is organised by a small farmer's collective in a small village 45 minutes outside of Ubud.
This authentic experience combines a market visit with a walk around the collective's huge organic farm to learn about how they're grown and pick the produce you'll use in the class – all before you learn to cook several dishes over a period of several hours.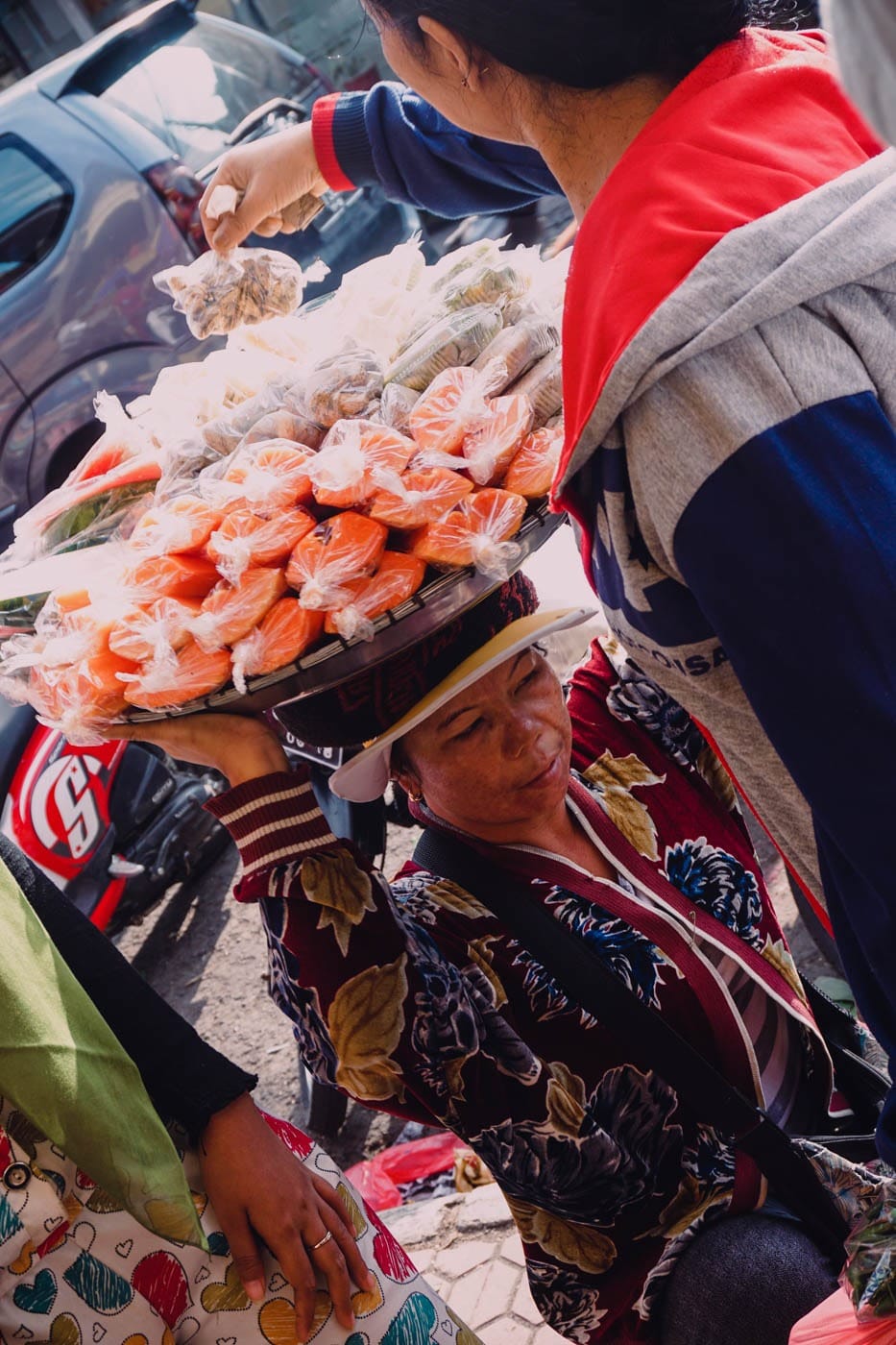 The class started with a visit to the small Tegalalang Market. Tegalalang is where Bali's most famous rice terraces are located, but away from the paddies, it's a traditional village with a lively and varied market.
Our guide, Bimo walked us around the market, stopping off to explain the uses of different ingredients and their roles in the food we were going to be making later that day.
It was an assault on the senses – fruit, vegetables, live chickens, meat, shampoo, bracelets – you name it, it was there.
After a bumpy journey to the farm, we gathered our baskets and strolled out into the lush greenery to learn more about how they grow the vegetables and (most importantly) collect our own to cook with later.
Coffee, lemongrass, pineapples, beans, chillies, giant passion fruit – there's little that grows in Bali that the Pemulan collective don't grow on the farm.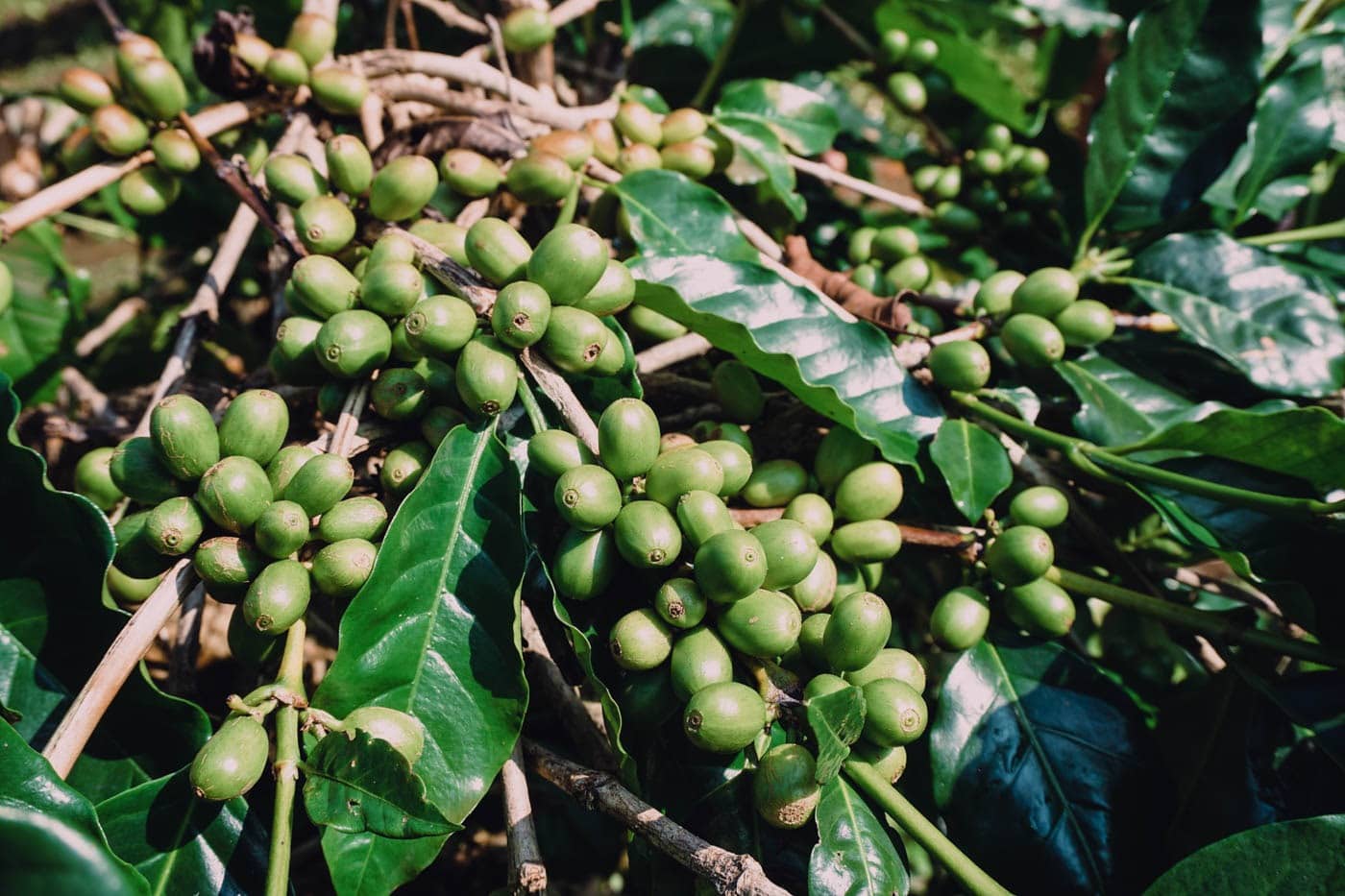 Bimo peppered his conversation with little Balinese food facts: did you know that a pineapple takes three years to grow its first fruit and then only produces one a year after that?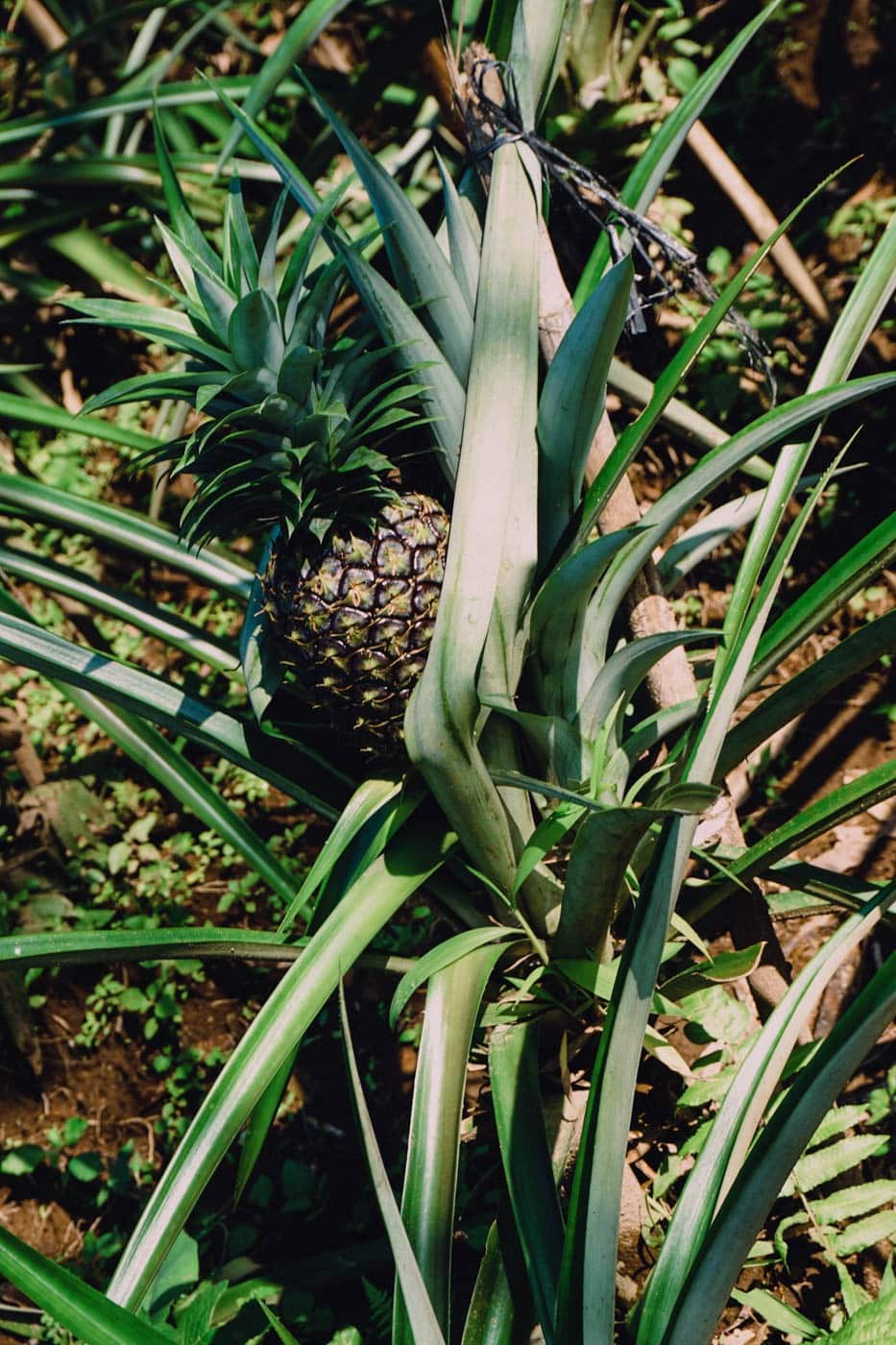 Half of the fun was peeking at plants and trees to see things that you only ever see on market stalls or in the supermarket back home. …
Cookery-wise, we were shown how to make five dishes over the course of the next four hours. Those looking for a hands-off demonstration should probably stay away: this was a fully immersive experience that had me grating coconut, squeezing vegetables, chopping, pounding and generally cooking my little socks off for hours.
I loved every second of it and would definitely recommend it as one of the best things to do in Bali if you're even remotely interested in food. Sure, I've included the recipes below – but nothing beats learning first-hand before you try something yourself at home. If you're in Bali, it's too good an opportunity to pass up.
Traditional Bali Food Cooking Class, Amandari, Ubud
My first ever Balinese cooking class was in the Amandari in Ubud (a.k.a a very fancy hotel). We went to the market and then came back to prepare the food. The menu of the day consisted of six dishes, which mean a fair amount of chopping, peeling and pounding. All with the help of some very sharp knives….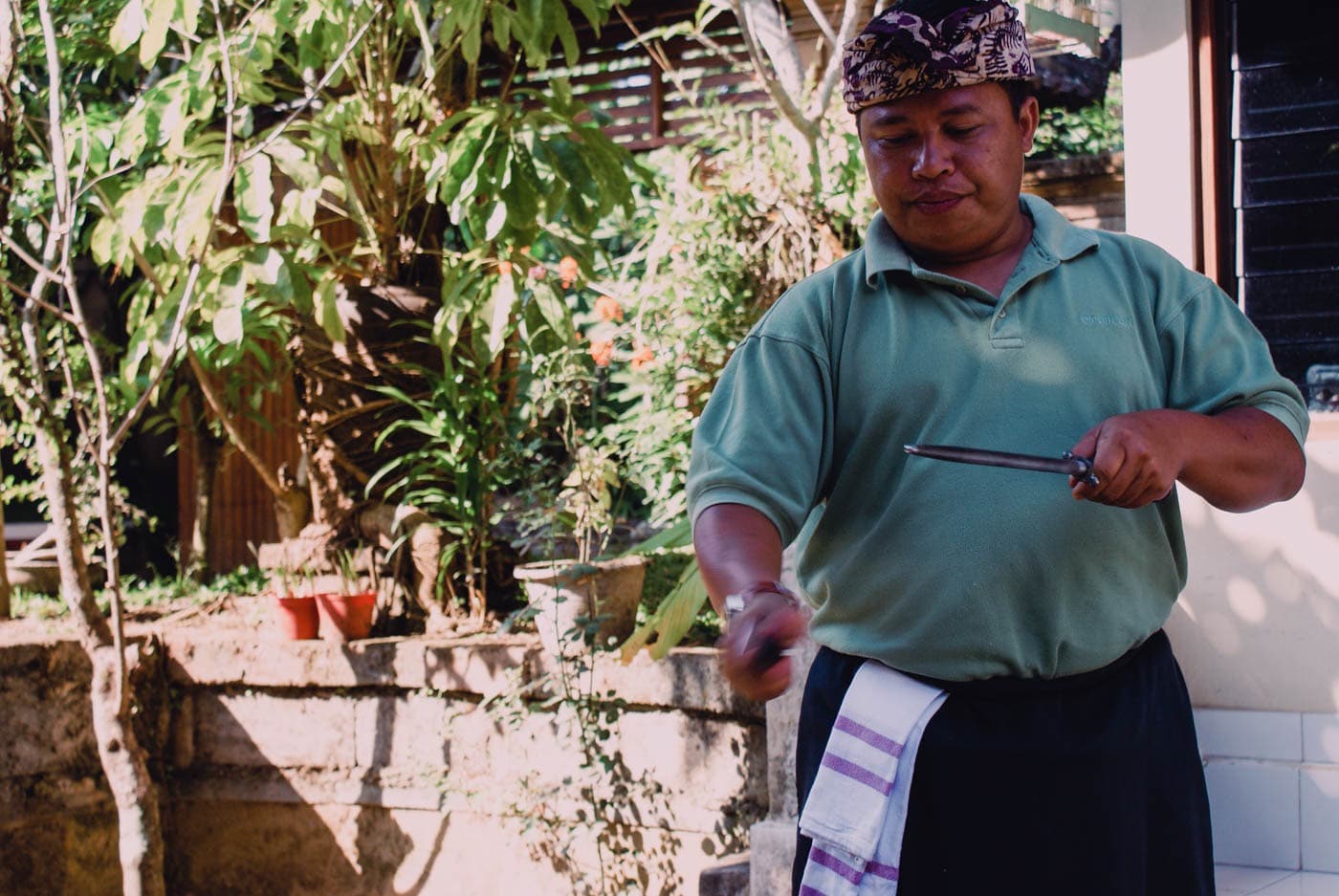 We prepared the food on low tables out in the courtyard. Time after time I was shown how a vegetable or spice was to be chopped (as a rule, into as small pieces as is humanly possible with very few exceptions), provided with a block of wood and set to it.
There was rather messy making of the coconut milk (squeeeeeze, and squeeze – an excellent stress reliever, who needs one of those silly little balls when you have a duck curry to make?), which was my favourite…
The dish that took the longest time to prepare was actually the simplest – the rice, which we served with sweet potato. There are several stages to preparing this rice: you have to wash and steam the rice in a bamboo steamer for 20 minutes or so, take it off the heat, put it in a bowl and add boiling water.
Cover and leave until the water has been absorbed and then add the diced pieces of sweet potato. Put back into the steamer with bay leaves for 30 minutes and voila! It's rather complicated but worth the hassle, take my word for it.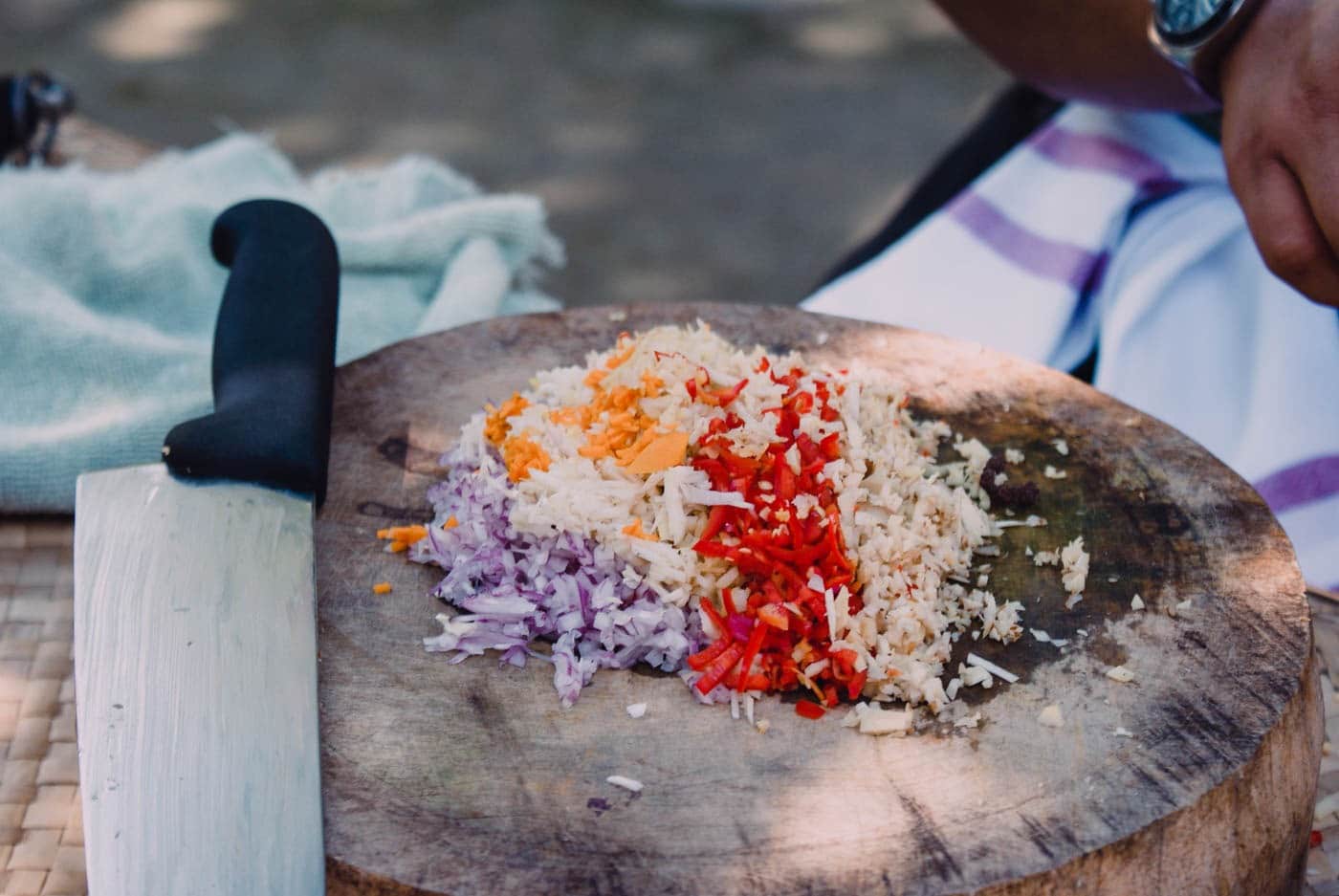 By this point, everything was bubbling away in pots, cooling or ready to be mixed together (in the case of the vegetable salad), so we had a short breather in which the chef told me the key to success with when cooking Indonesian food is to keep calm. "Hot and flustered food is not tasty food."
The next dish was the Balinese duck curry or Bebek Gerang Asem. I wasn't fully convinced by the idea as I thought the duck's strong flavour might prove to be a bit too much with all the other herbs and spices. But I was completely wrong and very happy about it.
Unlike Thai curries, you add chicken stock to the paste and cook until the duck is as soft as butter (there are a few more stages in between, see the recipe). You add the coconut milk, cook it on a low heat for a little longer and it's good to go.
Finally, it was time to eat. It would be hard to say which was my favourite. I think the duck curry might have won the title, but it was close. Another highlight of the meal (there wasn't really a lowlight if I'm honest) was the Urup Campur, Balinese Mixed Vegetable salad, one of those glorious concoctions of cooked and raw vegetables with just a hint of chilli, which went perfectly with the duck curry.
Oh stuff it, I loved it all – especially the part where I got to eat all that lovely Indonesian food sitting on a platform overlooking a quiet valley of rice paddies. It was the perfect setting for some incredibly tasty dishes.
I've made these recipes time and time again at home (with the exception of the fern leaf tips – turns out it's really, really hard to find those in the UK) and they've been a great success.
To be honest, I was staying at the Amandari whilst doing a review, so unless you have £800+ per night to drop per night on a hotel and then are willing to pay more for their cooking class, this one is probably off-limits. Still interested? Book here.
Traditional Balinese Food Recipes
Depending on where you go on the island, it can be surprisingly hard to find authentic and varied Balinese food in Bali. Why's that? Because Bali food requires a lot (a lot) of preparation, time and needs to be eaten while it's fresh to taste at its best.
That's not to say that you can't find Balinese food on the island – of course there are plenty of great restaurants and warungs serving authentic dishes. Even better, book into a homestay and enjoy the local food with a Balinese family. Alternatively, you can do as I've done a few times and book a Balinese cooking class.
If you're willing to put in some time and effort, you can also cook these delicious Balinese recipes.
Like most cuisines, the trick to Indonesian food is in the preparation. Lots of preparation. I've tried and tested all of these recipes, and can attest to the fact that they are going to blow you away. Go on, try something a little different….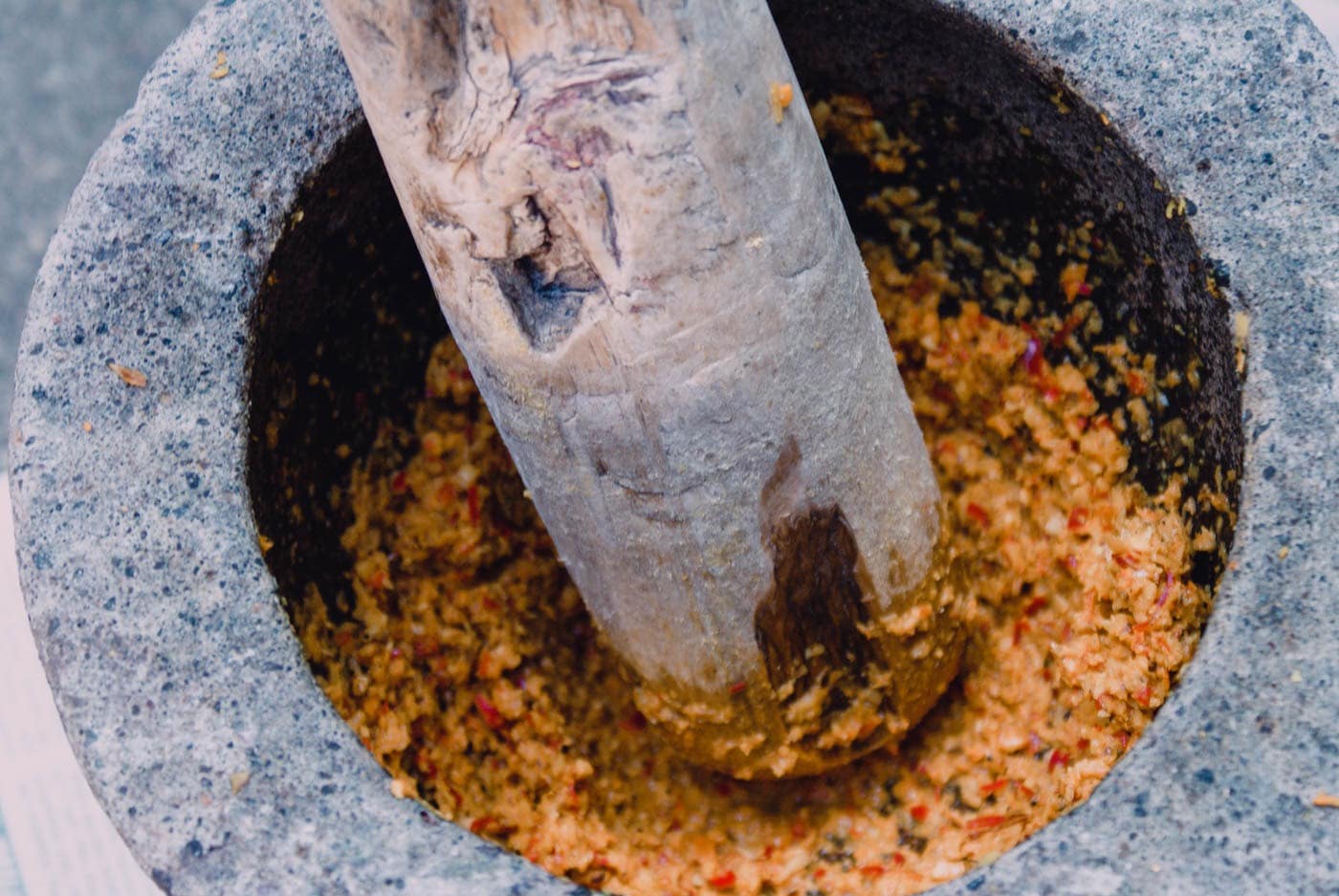 If you're not based in Asia, head to your local Chinese or Indian food shop where you should be able to find a lot of the ingredients to make at home.
Balinese Food Recipes
Delicious recipes, straight from Bali to your kitchen.
Bebek Gerang Asem – Balinese Duck Curry
Serves four
4 duck legs divided into two, marinated with salt, merica and limewater.
1 litre chicken stock
80g shallots
50g garlic
50g candlenuts
25g ginger
4cm galangal
20g lesser galangal
15g turmeric (fresh)
4 pc lemongrass
4 pc daun salam (bay leaves)
15g coriander
5g nutmeg
7g chopped black pepper
7g ground white peppercorn
10g shrimp paste, salt and palm sugar
2 tbsp oil
200ml coconut milk
Prepare a hot pan. Cook the duck in the pan without oil until the fat renders out and the duck is well browned all over.
Cut and pound the spices until a paste is formed.
Fry the paste until fragrant in a little oil. Add the duck, stir until marinated and add the chicken stock. Cook for around 45 minutes or until the duck is tender. Add coconut milk, stir and cook on a low heat for a little longer.
Season to taste and serve.
Jukut Gedang Mekuah – Green Papaya Spiced Balinese Broth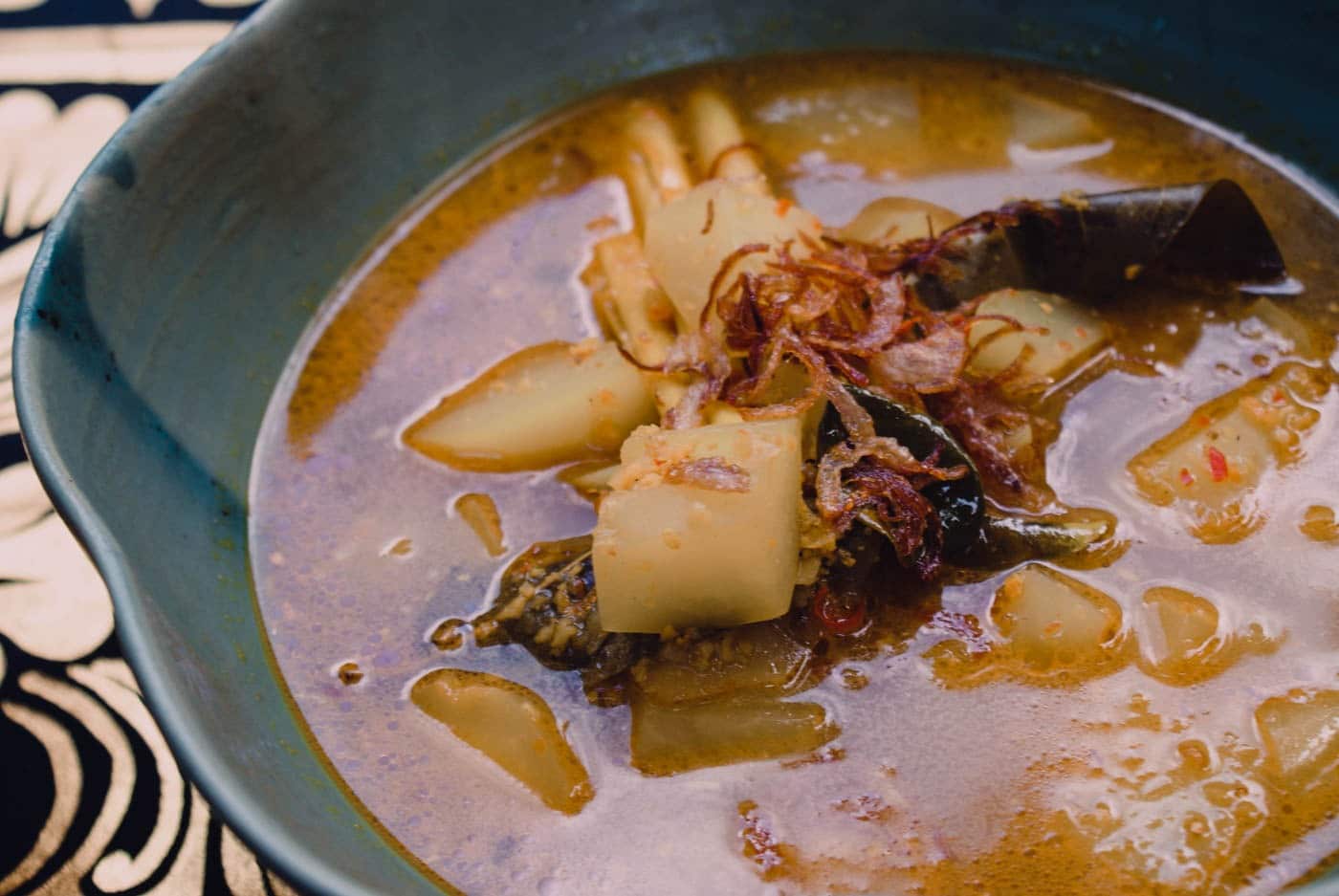 Serves 4
1 shallot
1 garlic clove
50g lesser galangal (normal galangal will do)
3 hot chillis, deseeded
10g fresh turmeric, peeled
1g terasi (shrimp paste)
50ml oil
3 bay leaves
1 ½ litre chicken stock
800g green papaya peeled and sliced
2 red banana chilli, seeded
1 lemongrass, smashed (discard outer layer)
Peel the papaya and slice into large chunks. Soak the papaya in water while preparing the other ingredients.
Roughly chop the banana chilli, shallot, garlic, galangal, chilli, terasi and turmeric. Saute together in oil until fragrances are released.
Add the lemongrass and bay leaves, sauté a little longer before adding the chicken stock and drained green papaya pieces.
Simmer for a few minutes until the papaya is tender. Season to taste and serve.
Urap Campur – Balinese Mixed Veg Salad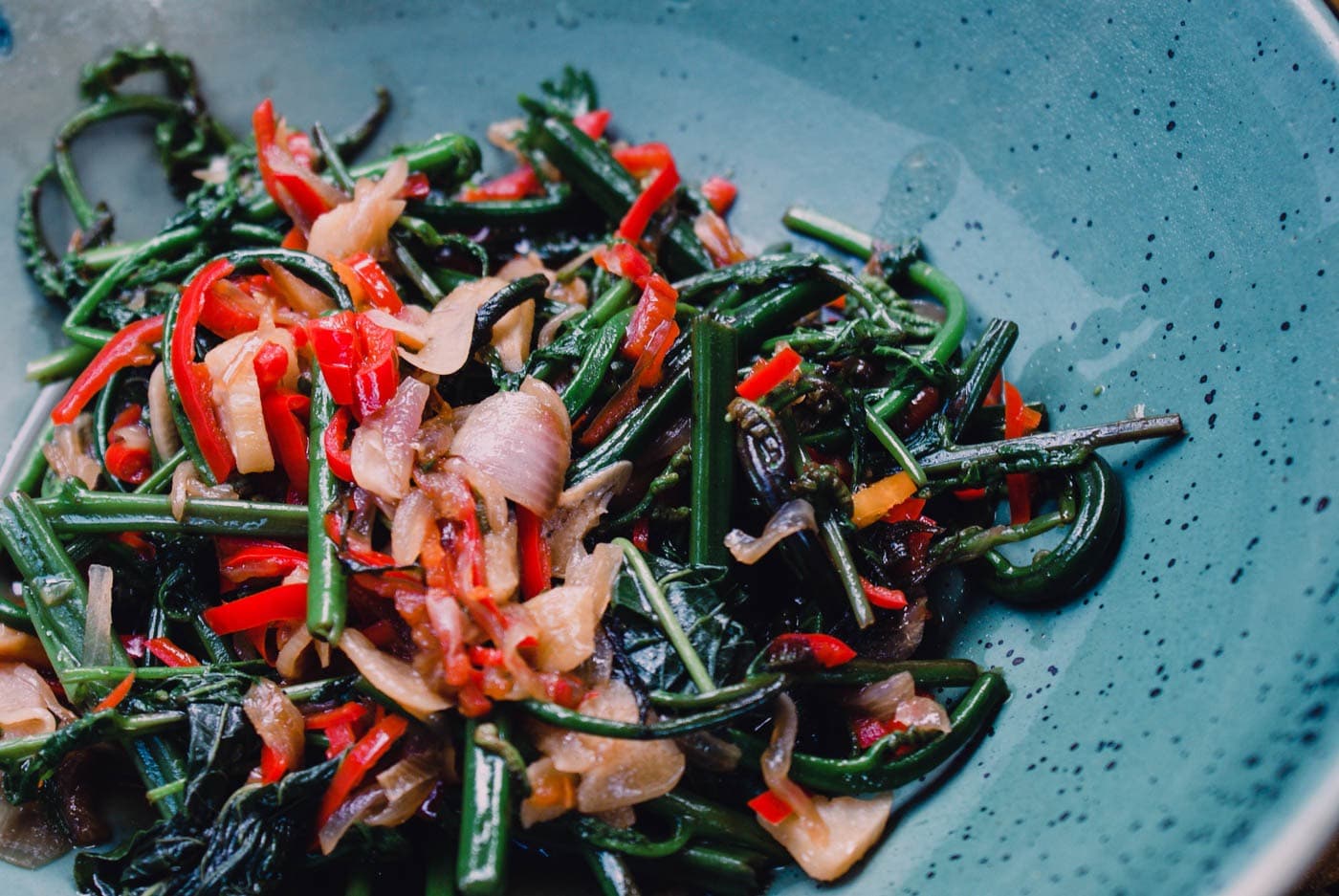 Serves 2
4tbsp duck sauce
50g roasted coconut grated
50g cooked red beans
50g cooked long beans, sliced (keep these quite crunchy)
50g blanched fern tips sliced
50 g blanched spinach
Juice of one lime
3tbsp fried shallots (for garnish)
Boil all the vegetables for 5 minutes, squeeze the lime and toss with the coconut. Garnish with the shallots.
Sambal Goreng
3 cloves garlic
6 shallots
2 large red chillies
1 small red chilli
1 tsp shrimp paste
1tsp salt
Slice the ingredients for the sambal, fry until light golden colour – season with the salt and leave to cool.
Mix the duck sauce with the roasted coconut and add the sambal goreng. Mix in the other ingredients gently, add lime juice and garnish with fried shallot.
Tumis Pakis – Sauteed Fiddle Head Fern Tips
Serves 2 as a side
500g fern tips blanched and drained
3sp salad oil
10 shallots sliced
1 garlic sliced
15g lesser galangal chopped
1 red banana chilli, deseeded and sliced
1 hot chilli, deseeded and sliced
1tbsp oyster sauce
2tbsp light soy sauce
1 tsp fish sauce
Blanch the fern tips in boiling salted water and drain. Plunge into ice water, drain again and set aside.
Sautee the shallots, lesser galangal, garlic and chilli in a hot wok. Add the fern tips and season with the oyster sauce, soy sauce, fish sauce and salt and pepper to taste.
Nasi Sela – Traditional steamed rice with sweet potato
Serves six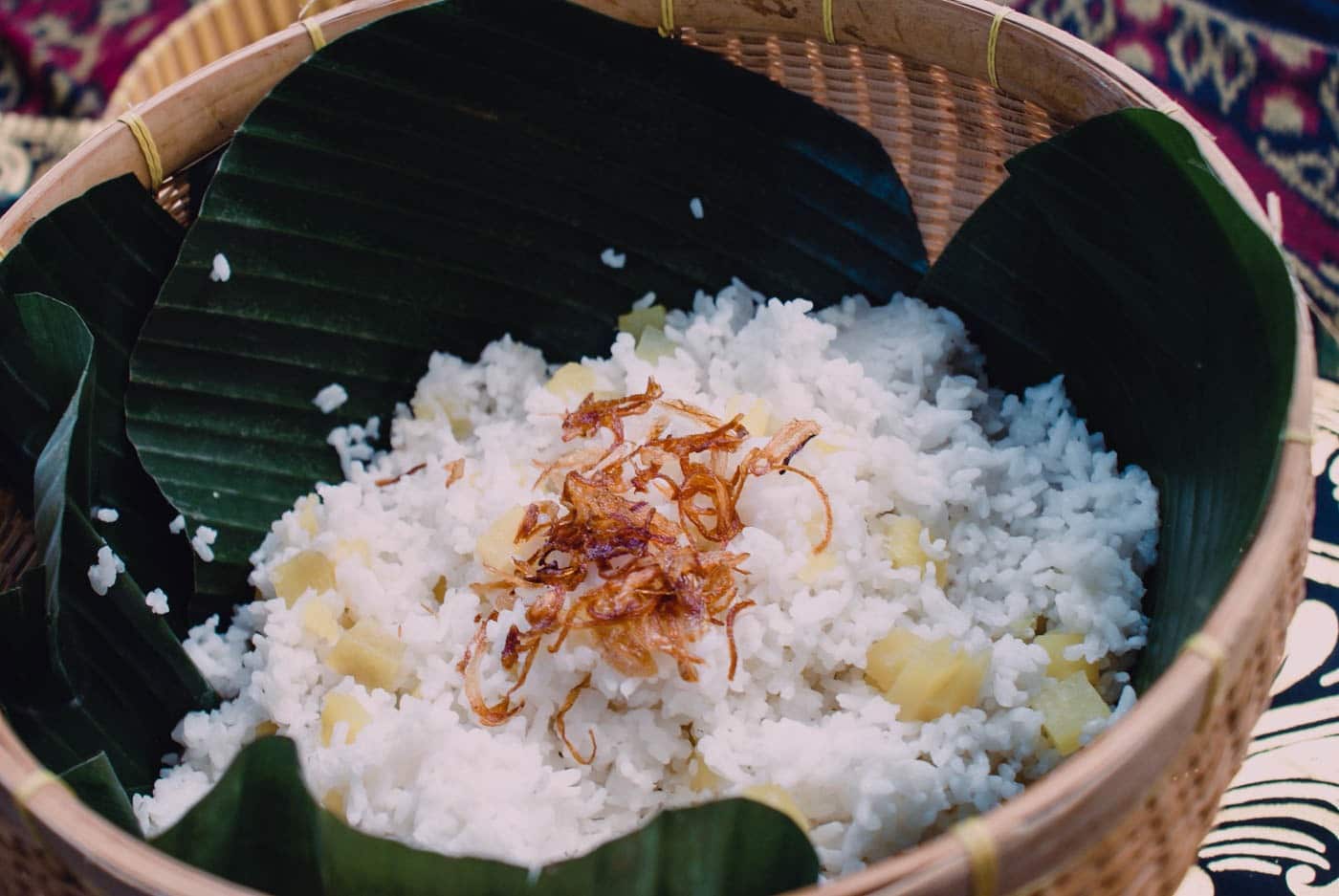 1kg Balinese rice (soaked in water for about an hour)
1kg sweet potatoes or taro diced and soaked in water
2 bay leaves
Heat water in a pan until it's boiling, place a bamboo steamer on top. Add rice to the steamer – cover and steam for 20mins.
Remove rice from the steamer, place in a bowl, add hot water (1litre), cover and leave until all the water has been absorbed.
Add diced sweet potato and the bay leaves, mix and put back int he steamer. Cover and steam for 30 minutes (it's advisable to leave a hole in the centre of the rice/potato to ensure even distribution of heat).
Serve.
Sayur Urab – Mixed Vegetables with Coconut and Lime
Serves 2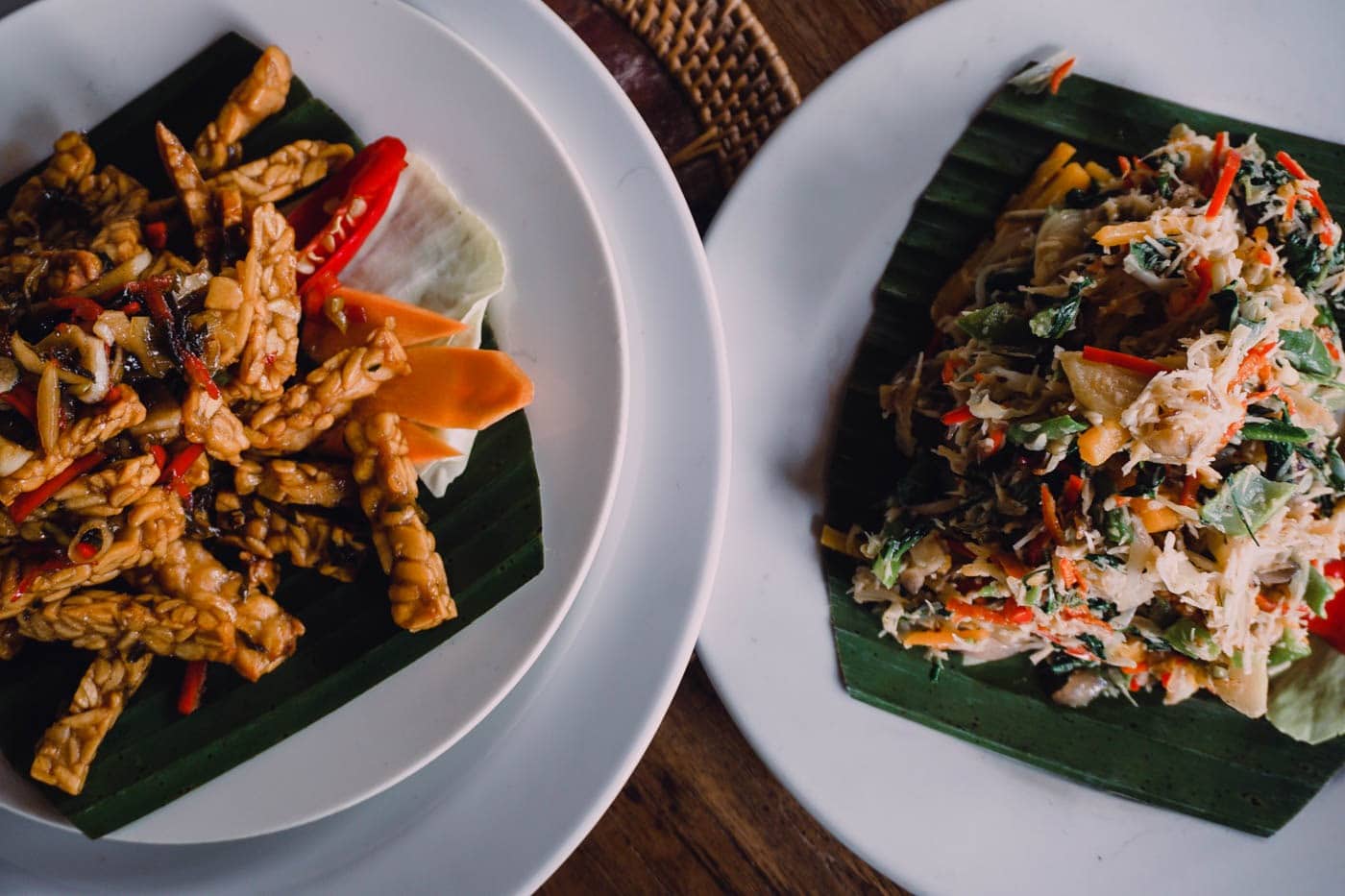 500g combination of long beans, carrots, green beans, spinach, bean sprouts and cabbage (can also use broccoli and cauliflower as an alternative).
Fresh grated coconut (or dried, unsweetened coconut)
2 kaffir lime leaves
Juice of ¼ kaffir lime
7 shallots thinly sliced
5 cloves of garlic, thinly siced,
3 pieces of long red chilli thinly sliced
¼ tsp shrimp paste
½ tsp salt
½ tsp white pepper
3 tablespoons of coconut oil
Julienne the vegetables and spices.
Bring a pot of water to the boil – add the hard vegetables first and cook for two minutes followed by the soft vegetables for a further three minutes. Drain and set aside.
Heat the coconut oil until hot and fry the garlic and shallot until starting to brown then add the chillies. Stir and continue to cook until crispy.
Add the shrimp paste, salt and pepper and stir until ready to use. Remove from the heat.
Grate the fresh coconut.
Mix the fried seasoning in the grated coconut, add the kaffir lime leaves and squeeze the lime juice into the mix. Add the cooked vegetables, mix together and squeeze so that the juice mixes with the coconut then re-mix and serve.
Pepes
Makes 6-8 pepes
2 small pieces of young bamboo
1 egg
2 tablespoons of bumbu Bali
¼ cup wheat flour
½ teasponn palm sugar
2 pieces of kaffir lime leaves, finely chopped
¼ tsp salt
¼ tsp white pepper
8 banana leaves for cooking (or use aluminium foil)
¼ red pepper, thinly sliced
¼ green pepper, thinly sliced
¼ onion diced
Chop all of the ingredients.
Mix the vegetables, spices and other ingredients until well blended.
Divide the mixture and wrap in the banana leaves.
Steam for 30 minutes. If you are using foil, grill or bake for 10-15 minutes instead.
Satay Lilit – Balinese Satay
Makes 6 pieces
60g ground pork (can also use minced chicken, prawns, lamb or tuna)
½ cup of fresh coconut
1 tbsp bumbu Bali (recipe below)
½ tsp palm sugar
¼ tsp salt
¼ tsp pepper
1 kaffir lime leaf, finely chopped
6 satay sticks
Add all of the ingredients together and mix well.
Divide into six balls.
Take a meatball and a satay stick – wrap and twist the mixture from the top to bottom, making sure you firm it onto the stick. Repeat for the remaining meatballs.
Grill, bbq or shallow fry the satay until lightly browned. Drain and serve.
Pisang Goreng – Fried Bananas
Makes 20
10 bananas
2 ½ cups of flour
¼ cup of sugar
1 egg
Vegetable oil for frying
Mix the flour, sugar and egg in a bowl.
Add enough water to make a smooth, slightly thick mixture. Put aside for five minutes.
Heat the vegetable oil.
Peel the bananas and slice them lengthwise. Cut in half.
Coat the bananas with the mixture and deep fry them in the hot oil.
Remove when they're golden, drain and serve.
Sambal Ulek – Tomato Chilli Sambal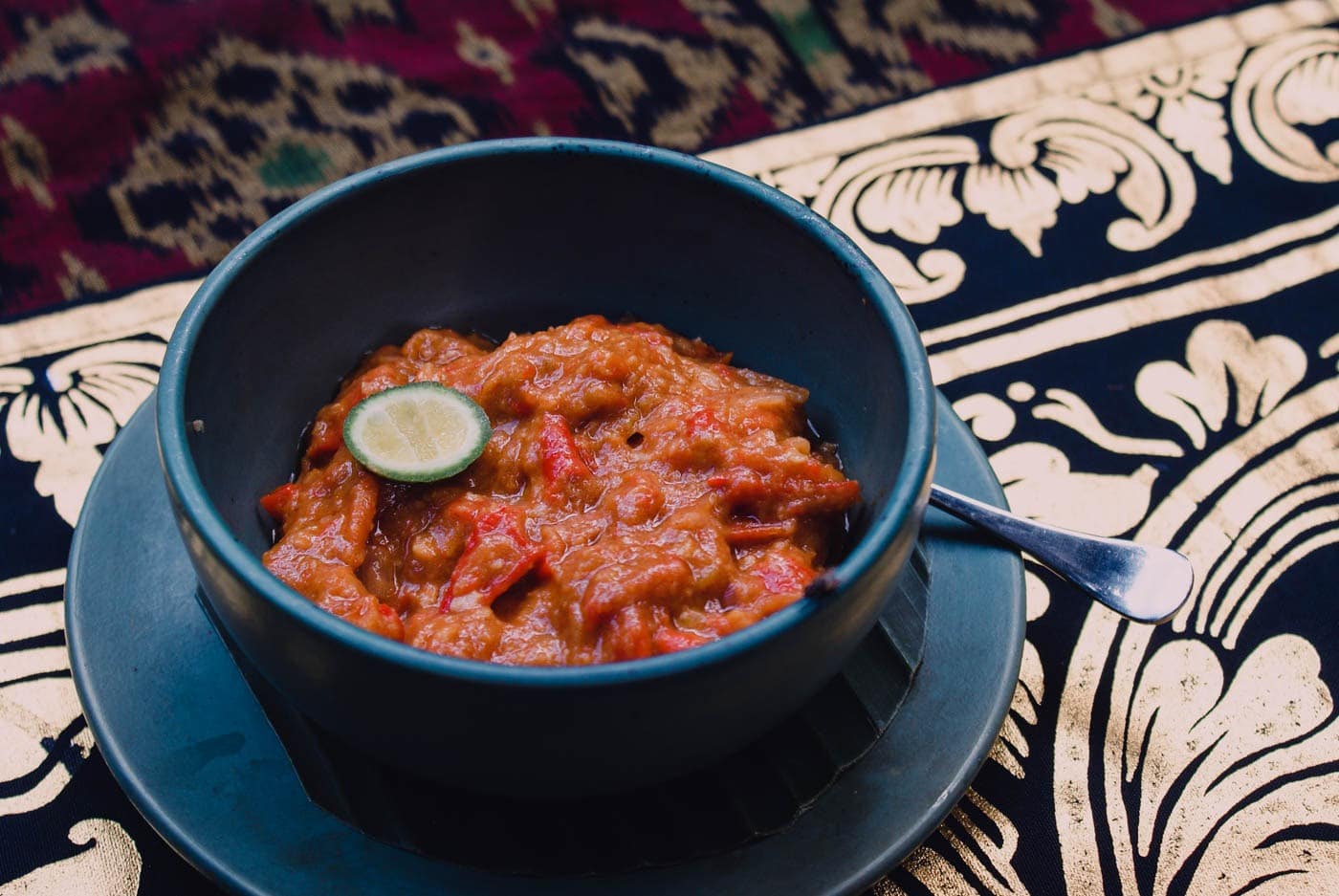 8 shallots, halved
12 red banana chillies seeded and chopped into large pieces
6 hot chillies seeded and halved
3 candlenuts ground
5chopped tomatoes
15g shrimp paste
5sp salad oil
250ml water
Juice from 2 pieces of small limes (kaffir or Balinese)
Sautee all the ingredients in the oil, add the water and simmer until soft. Set aside to cool.
Grind the ingredients into a smooth paste, season with salt, pepper and the lime juice.
Bubur Injin – Black Rice Porridge with Pandan and coconut cream
400g black rice
50g glutinous white rice
2litres water
2 pandan leaves
2 vanilla pods split lengthwise
1tsp salt
1 litre coconut cream
200g fresh grated coconut for garnish
Palm sugar to taste
Mix the black and glutinous rice together and soak overnight in lots of water.
Drain and refresh with one litre of water and cook slowly over a low heat with the pandan leaves and vanilla.
When the water has been absorbed add one more litre and cook until thickened
When the rice is tender and porridge-like sweeten with palm sugar.
Add salt and coconut cream, cook again until thick consistency. Serve with grated coconut.
---
Looking for more food recipes and culinary experiences from around the world? You can also learn how to cook Thai food with these recipes straight from Phuket or feast on the flavours of Vietnam – complete with a few dishes for you to try at home.
Love this? Save and share on Pinterest!