There are countries that just know how to do salad right.
Prime example? Way back, when our sorry asses in the UK we were still thinking that iceberg lettuce and a slice of unripe tomato constituted a salad, other, more palate-aware countries like Indonesia were dishing up tasty salads like gado gado.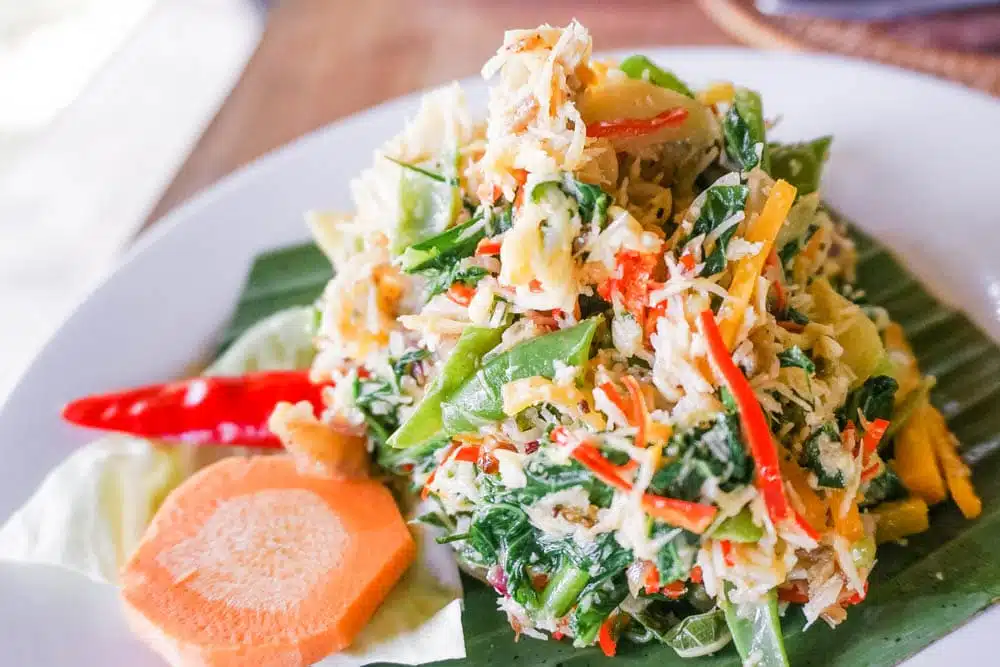 Which would you rather? A heady concoction of fresh vegetables, bursting with flavour, dressed in an unctuous coconut and peanut sauce… or some limp lettuce and wet tomato?
I won't even make you answer that. There's no competition.
Gado gado literally means mixed mixed – and that's really what this salad is, a mix of vegetables, a mix of flavours and a mix of textures that come together in one big party in your mouth.
I learnt how to make this gado gado in Bali but the ingredients are relatively easy to find elsewhere – just plan ahead to buy more unusual ones like the tempeh, galangal and candlenuts (though you can easily substitute other nuts instead).
Practical Tips for Making Gado Gado
Alternatives for Tempeh
Most of the ingredients in this recipe are easy to find, if you know where to look. These days I can pick most of them up in the supermarket or a local Asian store, but tempeh can still be a bit elusive. If you can't find tempeh (or you don't like it), you can easily substitute it with more tofu – it will have slightly less bite but it's just as tasty.
How to Make Vegan Gado Gado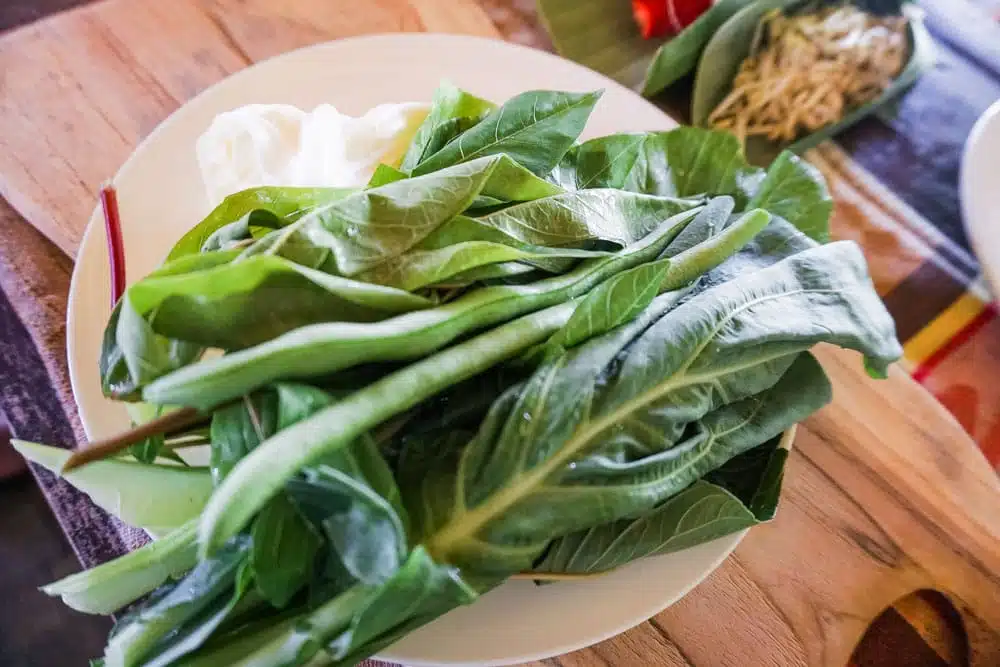 The recipe I've included below isn't vegan because it includes an egg, as is traditional but the good news is it's super-easy not to make it vegan, just don't include the egg.
What to Serve it With?
This gado gado is easily enough to serve two people as a main course. Want to add some carbs? Have it with brown rice.
Want to make it as part of a larger Balinese dinner feast? I'd recommend cooking it with a Balinese Curry, some Sweet and Sour Tempeh and some sambal on the side.
How to Make Gado Gado Peanut Sauce
Making the peanut sauce for gado gado is relatively easy. Heat the coconut milk in a pan and add the peanut paste, salt, pepper and soy sauce. Cook for 10-15 minutes until thick.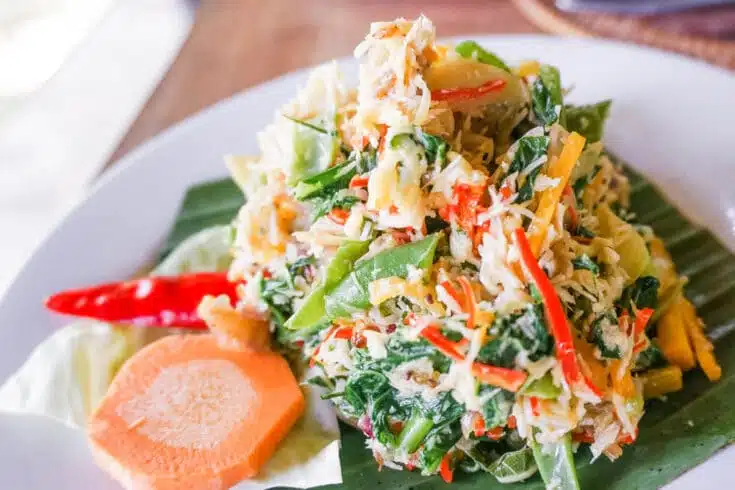 Yield:

Serves 2
Authentic Gado Gado Salad Recipe
Gado Gado is a spicy Indonedian salad that's bursting with flavour and is served with a delicious peanut dressing. Make this authentic recipe at home.
Ingredients
50g raw peanuts
Juice of 1 kaffir lime (can be replaced with normal lime juice)
2 candlenuts
3 hot chillies
2cm of galangal
2 cloves of garlic
1 tbsp soy sauce
3 tbsp hot water
200ml vegetable oil for frying
150ml coconut milk
50g tempe, chopped into bite-size pieces
50g firm tofu, chopped
1 medium potato, cubed into bite-size pieces
1 large egg
500g of long green beans, cabbage, spinach and bean sprouts
Instructions
Boil the egg for 7 minutes and plunge into cold water. Peel, discard the shell and slice into quarters. Set aside.

Cube the potato and add to cold water. Bring to a gentle boil and cook for 10-15 minutes.
In the meantime onto the spicy peanut sauce.

Heat the vegetable oil until it's hot and deep fry the peanuts, tempe and tofu until they turn golden brown. Remove from the oil.

Pound the peanuts, candlenuts, chillies, galangal and garlic into a paste - once you've got a rough paste, add warm water to help loosen it up and pound some more.

Check on the potatoes and remove from the heat and drain if cooked. Set aside.

Heat the coconut milk in a pan and add the peanut paste, salt, pepper and soy sauce. Cook for 10-15 minutes until thick.

Add the kaffir lime juice and stir to mix. Set the peanut sauce aside.

Cut all the vegetables to bite sized pieces.

Bring a pan of water to the boil, add your hard veg first, simmering for two minutes before adding your soft vegetables and cooking for a further three minutes.

Remove from the heat, strain and serve with the peanut sauce, tempe, tofu, egg and potato.

Nutrition Information:
Yield:
2
Serving Size:
1
Amount Per Serving:
Calories:

961
Total Fat:

148g
Saturated Fat:

28g
Trans Fat:

2g
Unsaturated Fat:

112g
Cholesterol:

98mg
Sodium:

899mg
Carbohydrates:

92g
Fiber:

21g
Sugar:

40g
Protein:

40g
Love this? Save and Share on Pinterest!