Looking for a delicious vegan dinner with tonnes of flavour? This Indonesian style tempeh recipe is a simple and quick shortcut to a tasty feast.
Of all the destinations I've travelled and cooked in, Bali is still one of my favourite foodie spots.
I've travelled to the beautiful island several times – each time discovering new flavours and ingredients that have gone on to become much-loved staples in my culinary repertoire.
One of the things I love most about Indonesian food is the variety of totally scrumptious vegetarian and vegan dishes that form the backbone of the cuisine.
Like this delicious traditional tempeh.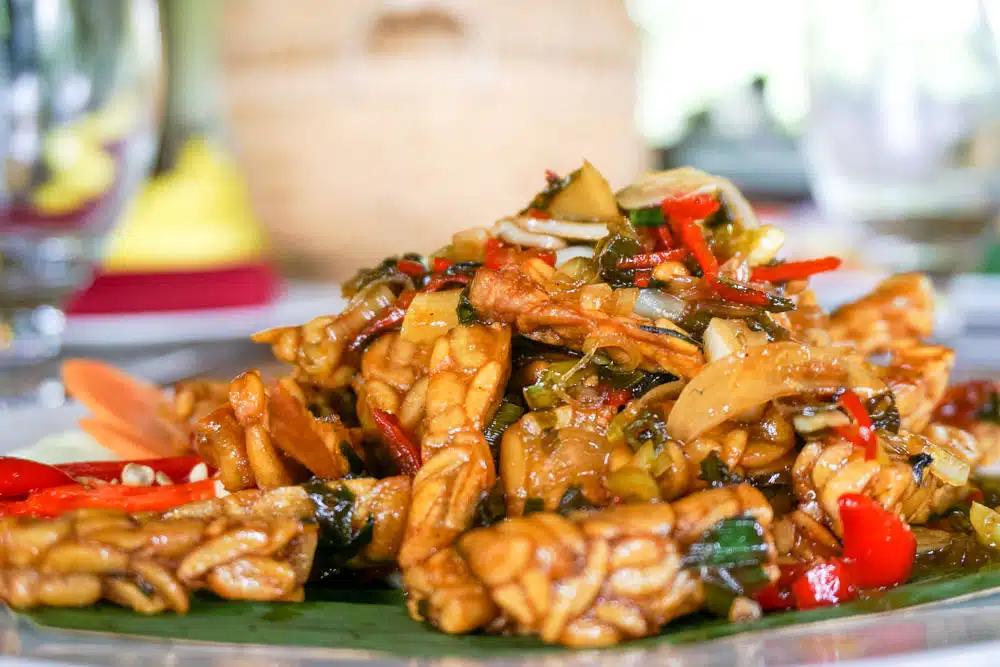 Tempeh is native to Indonesia – and this dish – with its crispy tempeh and zingy sauce, showcases it at its very best. What's more, it's so easy to cook at home. Let's delve in.

Top Tips for Making Indonesian Tempeh
What is Tempeh?
If you're not familiar with what tempeh is, tempeh is a loaf of fermented soybeans. Unlike tofu, the beans are left whole, which gives it a lovely texture, while the fermentation gives it a depth of flavour that livens up any meal.
I first came across it in Bali (hence the Indonesian slant to this recipe) but it is starting to get better known worldwide as people look for meat-free alternatives.
Steam the Tempeh
If it's your first time using tempeh or you've had it and are not a fan of the slightly bitter flavour, I'd suggest steaming the tempeh first.
Personally, I quite like the bitter note, which contrasts nicely with the sweetness of the palm sugar and the tartness of the lime juice, but I did steam it for this recipe as I wanted it to absorb as much of the delicious sauce as possible.
To steam the tempeh, you can sit the tempeh in a basket over simmering water, or wrap the tempeh in a wet paper towel and microwave it.
A third option, although it's not steaming per se, is to put it into some hot water on a low simmer – this also does the trick.
How long you steam it for will depend on whether it's pre-cooked or raw tempeh. For pre-cooked tempeh, you should do 10 minutes in the steamer / hot water or 3 minutes in the microwave, for raw tempeh, 15-20 minutes in the steamer / hot water and 5 minutes in the microwave.
If you do go down the microwave route, please be sure to let it rest after every 1-2 minutes of microwaving.
Be sure to dry the outside of the tempeh before you put it into the hot oil.
Deep Frying the Tempeh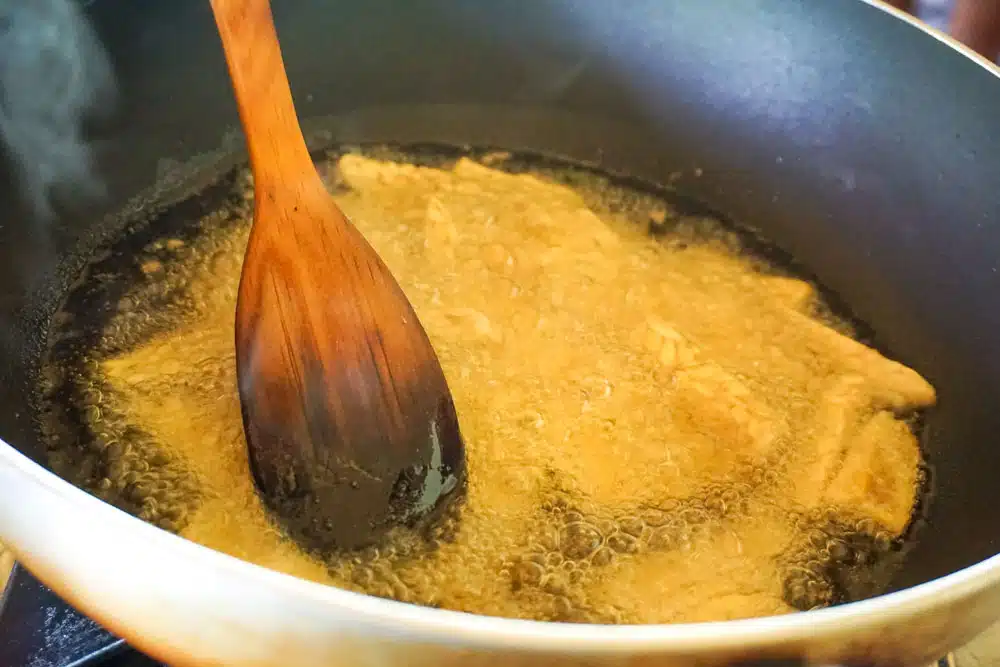 The secret to making this dish as delicious as possible is to get the frying of the tempeh right. Look, I never said this was going to be healthy, I just said it was delicious.
You need to get the oil up to 170 degrees Celsius or 340 degrees Fahrenheit in order to get a crisp outside without overcooking the inside.

What to Serve it With?
Best served on a bed of rice, with some delicious Balinese vegetables with coconut on the side.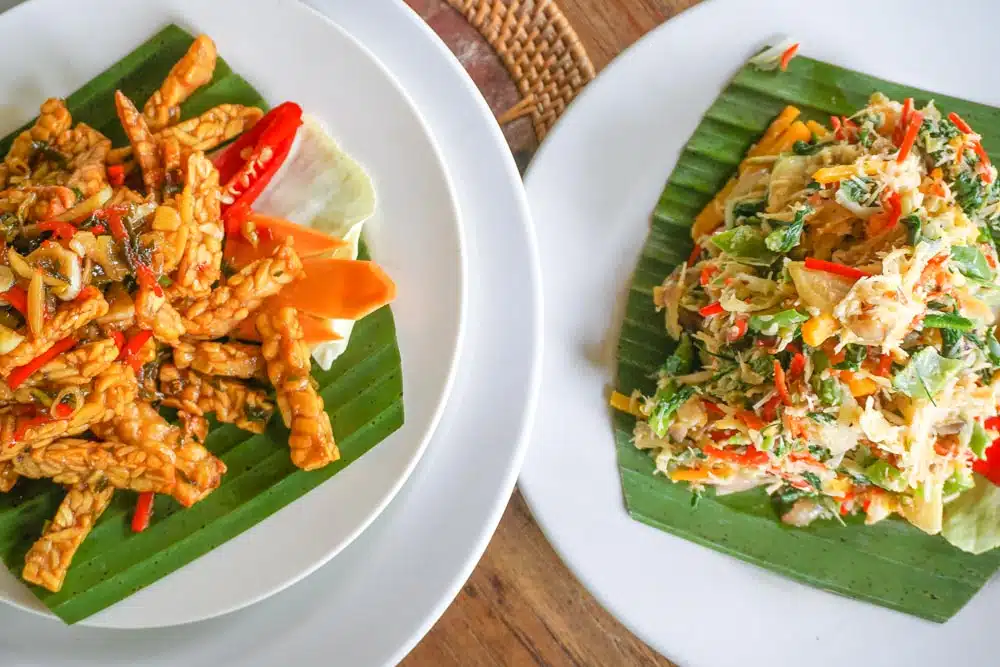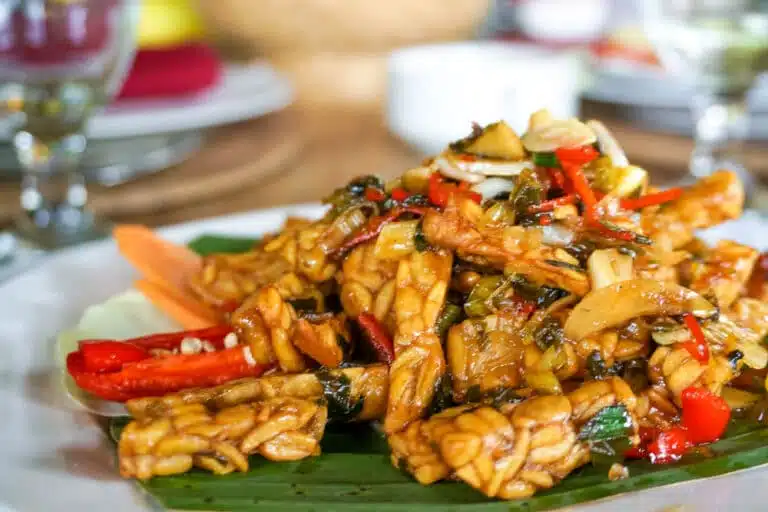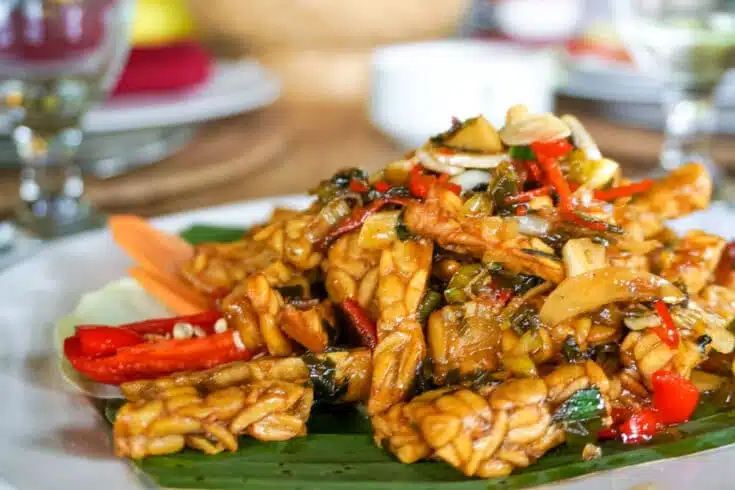 Yield:

Serves 2
Indonesian Style Sweet and Sour Tempeh (Kering Tempeh)
Looking for a delicious vegan dinner with tonnes of flavour? This Indonesian style tempeh recipe is a simple and quick shortcut to a tasty feast.
Ingredients
1 block of tempe, cut into slices about 1 cm thick, 2 cm long. Use tofu as an alternative.
300ml vegetable oil for deep frying
5 cloves of garlic, crushed
1 spring onion, finely chopped
2 pieces of long red chillies, chopped
1 tablespoon of palm sugar
1 piece of lemongrass, pounded to a paste
2 pieces salam leaves or 1 bay leaf, crushed
Juice of 2 limes
2 tablespoons of coconut oil
¼ tsp salt
¼ tsp white pepper
Instructions
Cut all of the ingredients.

Optional: Steam the tempeh.

Heat the vegetable oil and deep fry the tempe for 8-10 minutes or until golden brown. Strain dry and set aside.

Heat the coconut oil and sautee the garlic until slightly browned. Add the spring onion, chillies, salam leaves, lemongrass, salt and pepper. Cook for around 30 seconds on a low flame.

Crumble in the palm sugar until it's melted in, squeeze in the lime juice and stir - simmer until it starts to caramelise.

Add the fried tempe into the mixture, stirring until it is coated in the juices (less than a minute) then serve.

Nutrition Information:
Yield:
2
Serving Size:
1
Amount Per Serving:
Calories:

977
Total Fat:

156g
Saturated Fat:

23g
Trans Fat:

4g
Unsaturated Fat:

125g
Cholesterol:

0mg
Sodium:

388mg
Carbohydrates:

46g
Fiber:

5g
Sugar:

24g
Protein:

10g
Love this? Save and Share on Pinterest!