This Balinese chicken curry pairs a thick, aromatic sauce with tender chicken and rice for a hearty and warming meal.
You knew this was coming when I published my recipe for Bumbu Bali (Balinese curry paste) yesterday didn't you?
There was no way that I was going to publish a recipe for a curry paste and then not tell you how to make the actual curry with it. No way at all.
I've said it several times but Balinese food is the bomb. The last time I spent a month there I had to go to body pump every day to counterbalance the fact that I was treating myself to scrummy Balinese dishes every damned day.
Let me tell you, je ne regrette rien.
The next logical step was to learn how to make my favourite dishes at home – 'cos much as I love a Balinese chicken curry, ain't nobody able to book flights to Bali whenever the craving for it takes hold.
I've made this fragrant curry at home several times and it is joy.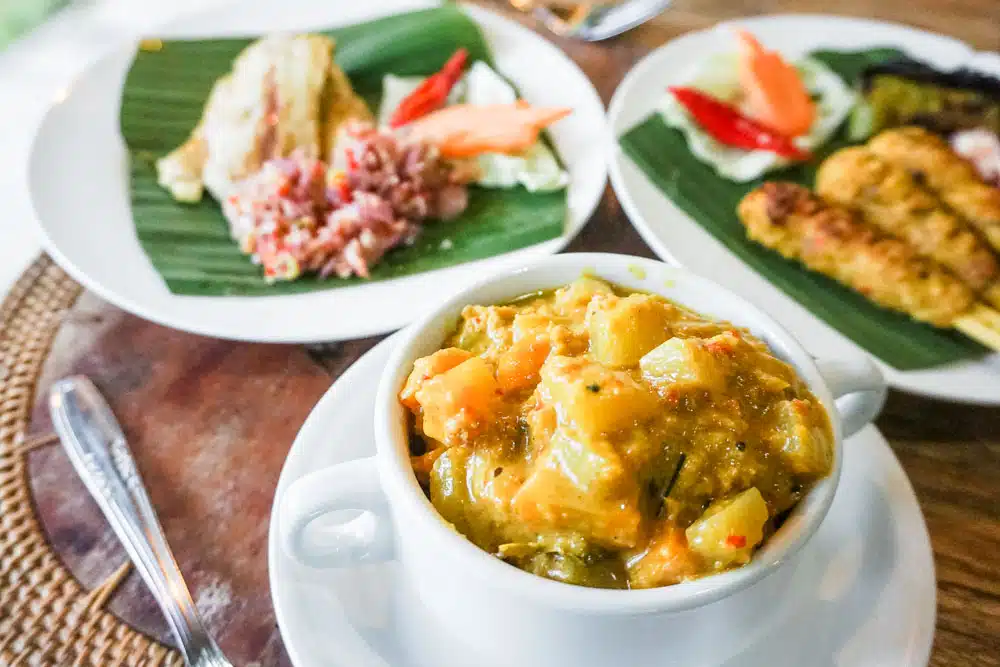 The Bumbu Bali paste contains so many of those ingredients that people are going nuts over for their secret superpowers. Turmeric, galangal, chillies – all good for you and you don't even need to put them in some slightly disappointing "latte" to enjoy the benefits.
Instead, you get to spoon mouthful after mouthful of this warming curry onto your tongue, savouring the citrusy lemongrass and sharp lime tempered by the calm of the coconut milk and with just the smallest touch of sweetness from the palm sugar.
Joy.

Tips for Making the Balinese Curry Recipe
You Need to Make Some Bumbu Bali First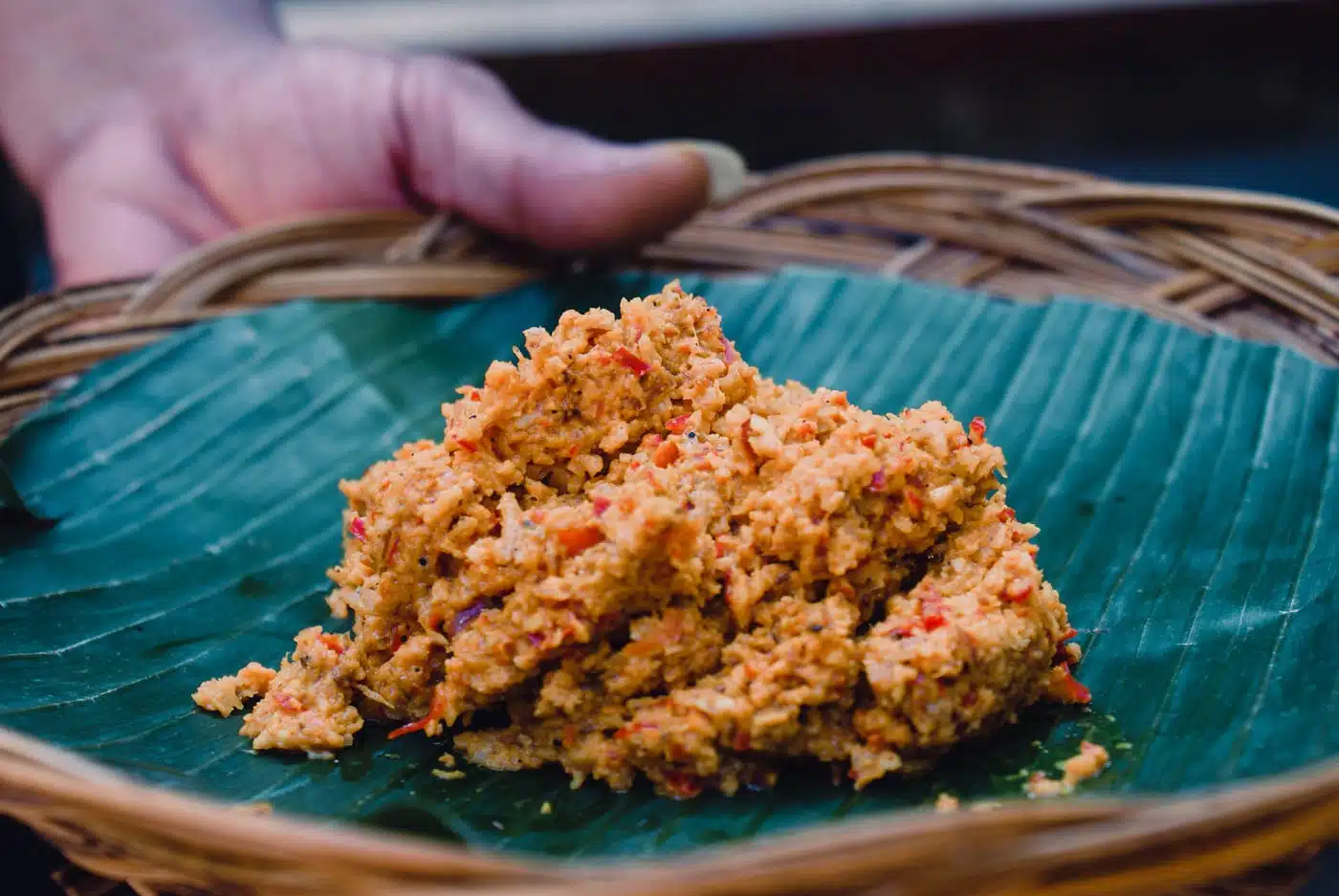 This recipe uses Bumbu Bali or Balinese curry paste. Listen up when I say that a good Bumbu Bali is the KEY to a delicious end product. Don't bother with the shop-bought pastes, which are laden with salt and lacking in flavour, it's super-simple to make your own.
Just make sure you go and check my recipe for Bumbu Bali to make sure you have all the ingredients you need before you get started.
Chicken Breast or Thigh?
I personally like the extra depth of flavour you get from chicken thighs in this Indonesian curry recipe. Plus you can cook thighs a bit longer when you thicken the sauce, whereas you need to be really careful that you don't cook chicken breasts too long or they will take on the texture of an old boot.
My vote is for chicken thigh, but you can use breast if you want to make it even healthier.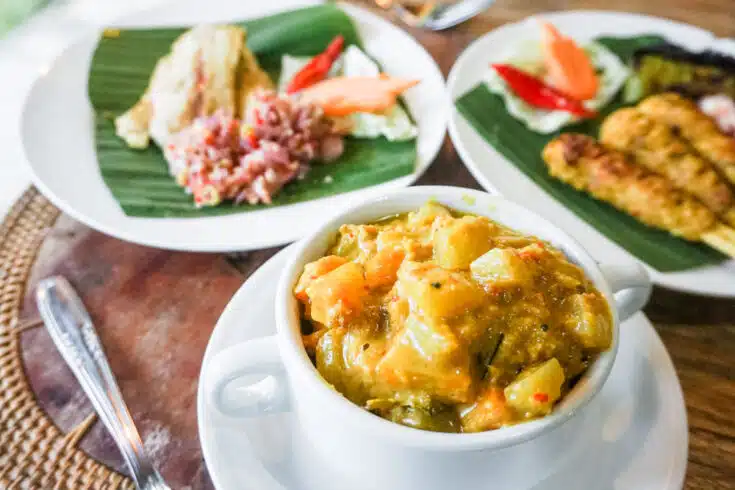 Yield:

Serves 2
Balinese Chicken Curry (Opor Ayam) Recipe
This Balinese chicken curry pairs a thick, aromatic sauce with tender chicken and rice for a hearty and warming dinner for your table.
Ingredients
2 chicken thighs, chopped into bite size pieces
2 tablespoons of Bumbu Bali Curry Paste
1 stalk of lemongrass
1 salam leaf (or replace with bay leaf)
1 tablespoon palm sugar
2 limes
½ tsp salt
½ tsp pepper
150ml coconut milk
½ litre of water
¼ kg of diced hard vegetables or potatoes.
Instructions
Put the chicken in the pan with the Bumbu Bali, salam (or bay) leaf, lemongrass, salt and pepper. Massage into the meat.

Pour water onto the mixture and bring to the boil. Simmer for ten minutes.

Add the vegetables and simmer for a further ten minutes.

Add the coconut milk, sugar and lime juice to taste. Continue to cook for five-ten minutes until the curry has thickened - remove the chicken if necessary to prevent it overcooking.

Serve with rice and steamed vegetables.

Nutrition Information:
Yield:
2
Serving Size:
1
Amount Per Serving:
Calories:

674
Total Fat:

19g
Saturated Fat:

15g
Trans Fat:

0g
Unsaturated Fat:

3g
Cholesterol:

18mg
Sodium:

988mg
Carbohydrates:

112g
Fiber:

26g
Sugar:

25g
Protein:

23g
Love this? Save and Share on Pinterest!