A short drive from Grenoble, the Ecrins National Park is home to some of the best hiking trails in France. Add to that spectacular alpine views, hikes of all difficulties and rarely-seen wildlife and you'll understand why this is the place to go hiking in the French Alps.
About the Ecrins National Park
The Ecrins National park was created in 1973 to protect the biodiversity and spectacular natural environment of this section of the French Alps. It covers lands ranging in altitude from 669 metres to 4102 metres and a core area of 918,000,000 square metres with over 700km of paths to explore too.
A short hop from Grenoble, the park is home to several wildlife species, including golden eagles, vultures, long-eared bats, ibex and… 744 types of moth.
Why Should You Plan to Go Hiking in the French Alps within the Ecrins National Park?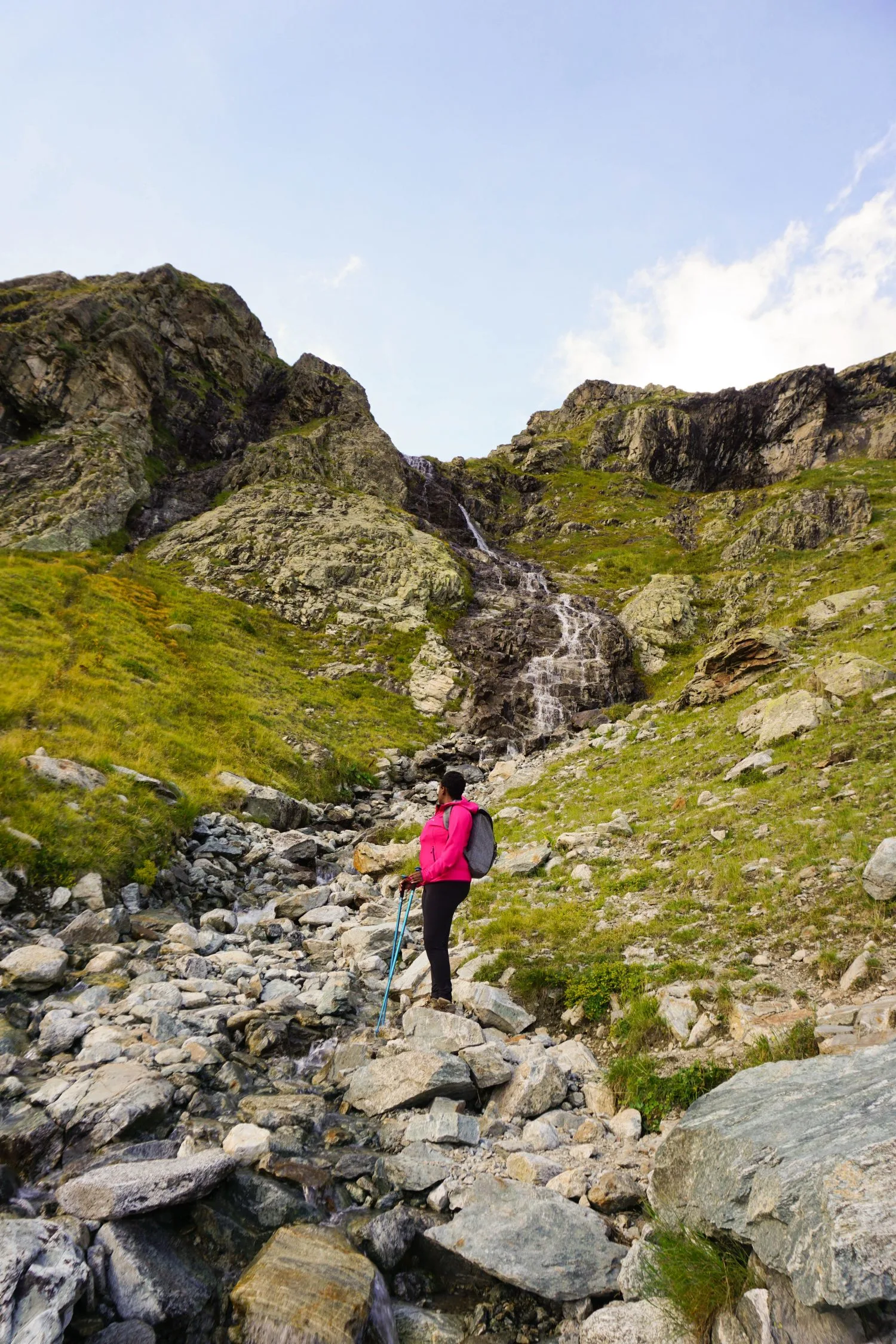 Thanks to its relatively early designation as a national park, the Ecrins National Park is a great place to go hiking in the French Alps as there's very little development within the park and a variety of terrain to explore. It's got all the stunning views of the Alps, but the peace and solitude you find when hiking in the Vosges range.
---
Love hiking? We've chosen the best hikes in Europe – how many have you tried? Also, check out what to wear hiking to ensure you are comfortable on your trek, hiking gadgets and what to packfor your hiking snacks.
---
Walking in the French Alps: The Pigeon Loft Loop in the Cirque de Gioberney
"I may or may not be able to move". In my mind, was really quite calm about it, but my voice sounded high pitched and nervy, even to my own ears. "You'll be fine, just pass me your poles and take all the time you need – there are plenty of hand and footholds for you to use".
See, the thing is, even though I love hiking and being outdoors, I have a tendency to be a bit… clumsy from time to time. I'm never more aware of this than when I am hanging off the side of a mountain with nothing but a few rocky outcrops, shallow footholds and some mental grit between myself and at least a serious physical injury.
I have a tendency to be a bit… clumsy from time to time. I'm never more aware of this than when I am hanging off the side of a mountain
It was pretty much the only hairy moment during our hike in the Ecrins National Park. Tired of a spectacularly dull and grey British August, we'd booked our flights to Grenoble and scouted around for the perfect location to go hiking in the French Alps. It turned out that location was the Ecrins National Park.
Starting Out
We chose the Pigeon Loft Loop for our first hike. The day had dawned bright and clear and we had packed our lunch, then taken the hour-long drive from our hotel to the starting point for the hike, the Gioberney Chalet-Hotel. The drive itself was the purveyor of things to come: while Jon was understandably occupied with navigating the twists and turns of the steep mountain roads, I was free to soak up the ever-changing views of the mountains, valleys and brightly-coloured lakes.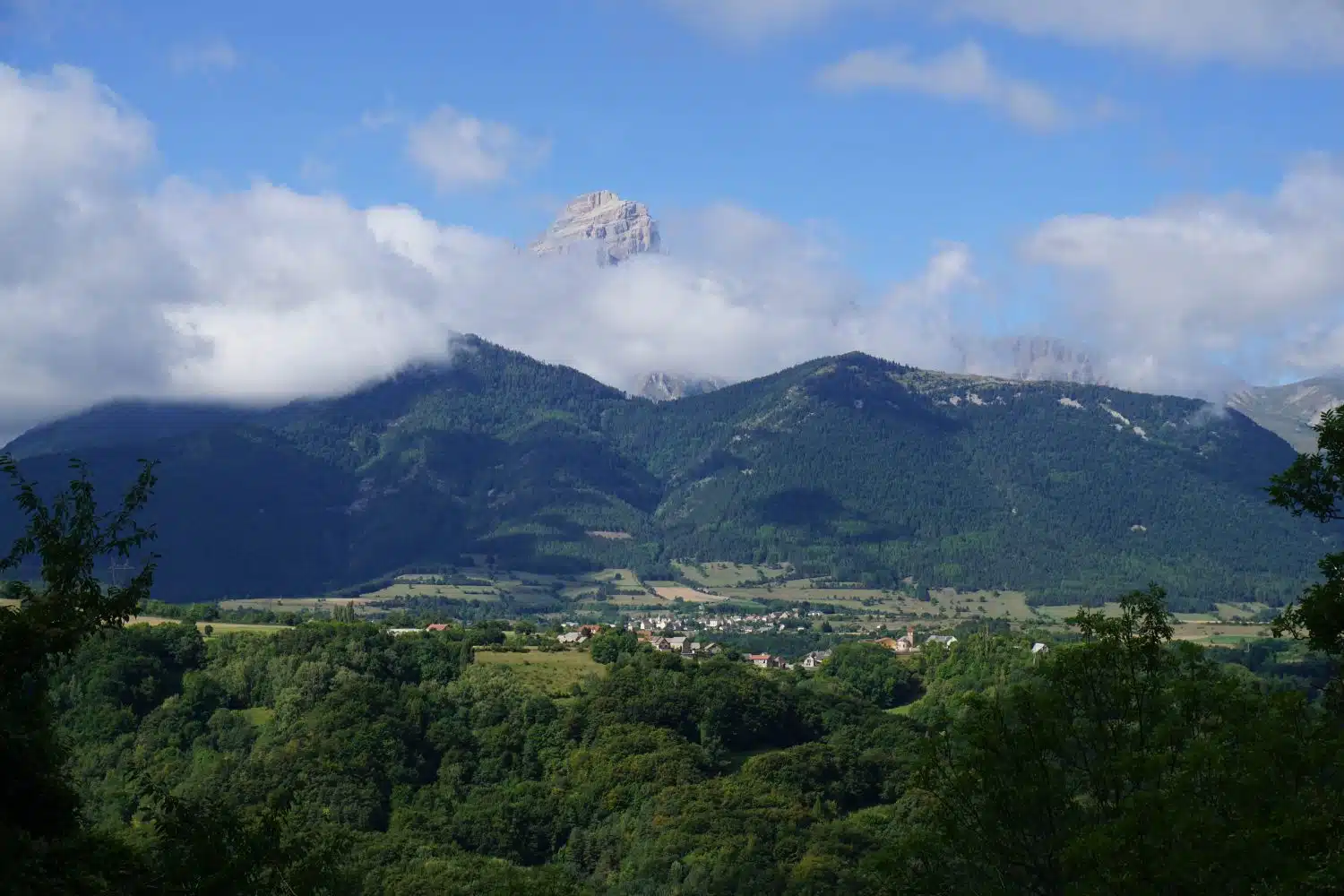 The first part of the drive was filled with picture-perfect Alpine villages, perched prettily at the side of the road – but as the drive continued and we went deeper into the Ecrins National Park, signs of human habitation became less and less frequent until finally, there was nothing but the impressive spectacle of the mountains soaring up into the sky.
A Fortuitous Accident
Once at Gioberney, we unpacked, geared up, pulled out the map and…. Immediately took the wrong path. Yes, despite years of cadets, self-guided hikes and other things that mean I generally have a lot of faith in my map reading skills, we actually ended up doing the hike in the opposite direction to that described on the Ecrin National Park's hike guide.
Why am I telling you this? Because if you do this hike, I would advise you to do the same. It's a circular route, so it really doesn't matter which way you do it, but if you go in the same direction we did, you start with a slightly gentler gradient (and who, in truth, doesn't appreciate the chance to get their legs into gear before really kicking off) and you get beautiful views of the Gioberney Valley as you descend.
Easing Your Way into the Hike
The first section of the hike was beautiful and not very steep – you ford a wide glacial stream almost as soon as you start the hike.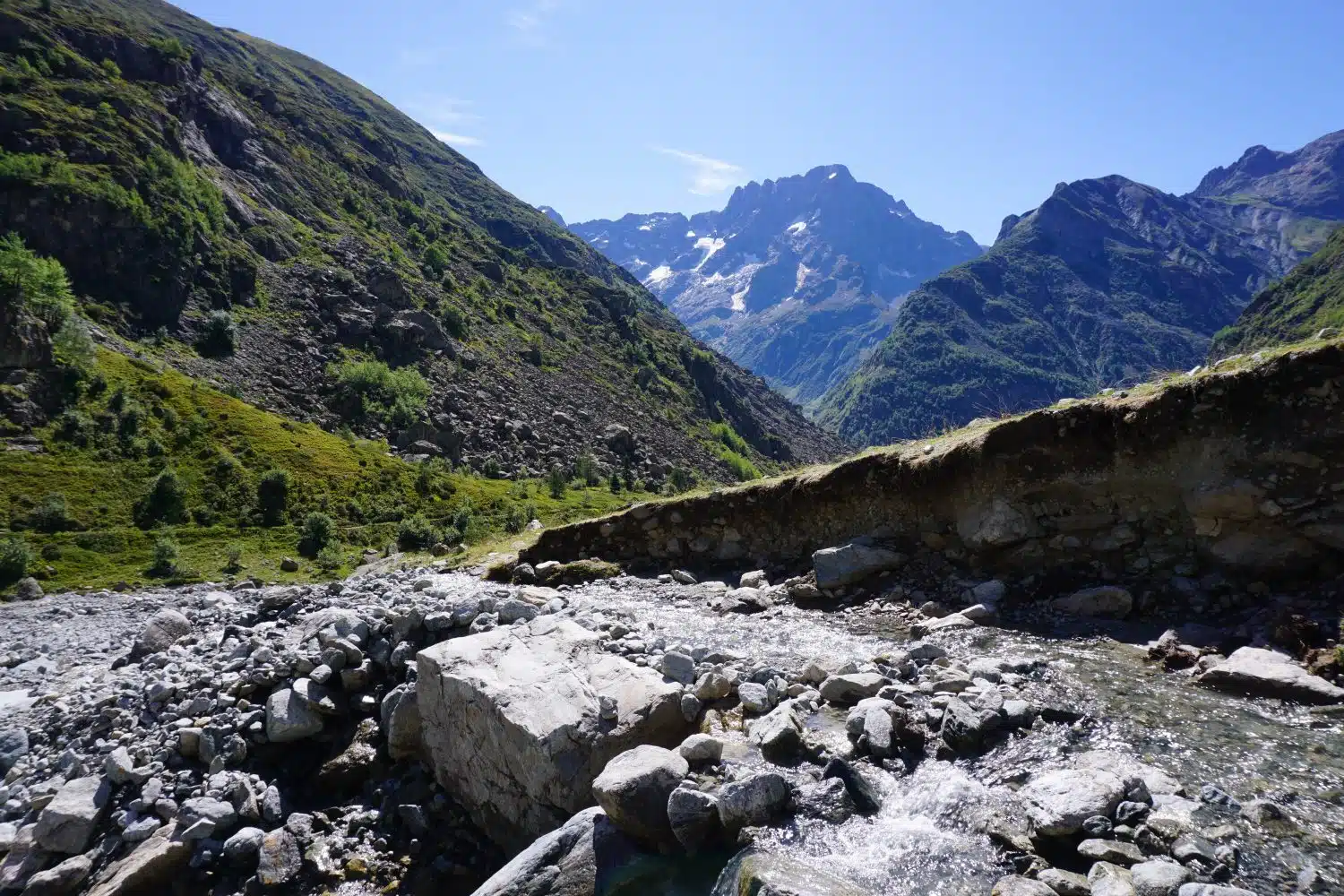 On the other side, you pass by some remote farmland before a brief spell (and some welcome shade) in a small larch forest. Once you emerge from the forest, things tend to get a little more serious – both in terms of gradient and in terms of views.
---
Less explored, but no less beautiful – here's why you should be planning a hiking trip to the Slovenian Alps
---
Gaining Altitude & Views
The great mountaineer Gaston Rébuffat described the Valgaudemar Valley in which the hike is set as "The French Himalayas" and it's no understatement. Crowded together to the point where you can't tell where one ends and the other begins, at first glance it looks near impossible that you'll be able to scale the side of any single one of them.
Still, as the path continues up a series of switchbacks with increasingly impressive views, you begin to gain elevation very quickly. Soon enough, the Rouies Glaciers, on the mountains on the other side of the valley are near enough to eye level for you to truly appreciate them and the worrying scale of their retreat, which has left a trail of worn, smooth rock shaped by hundreds of years of ice.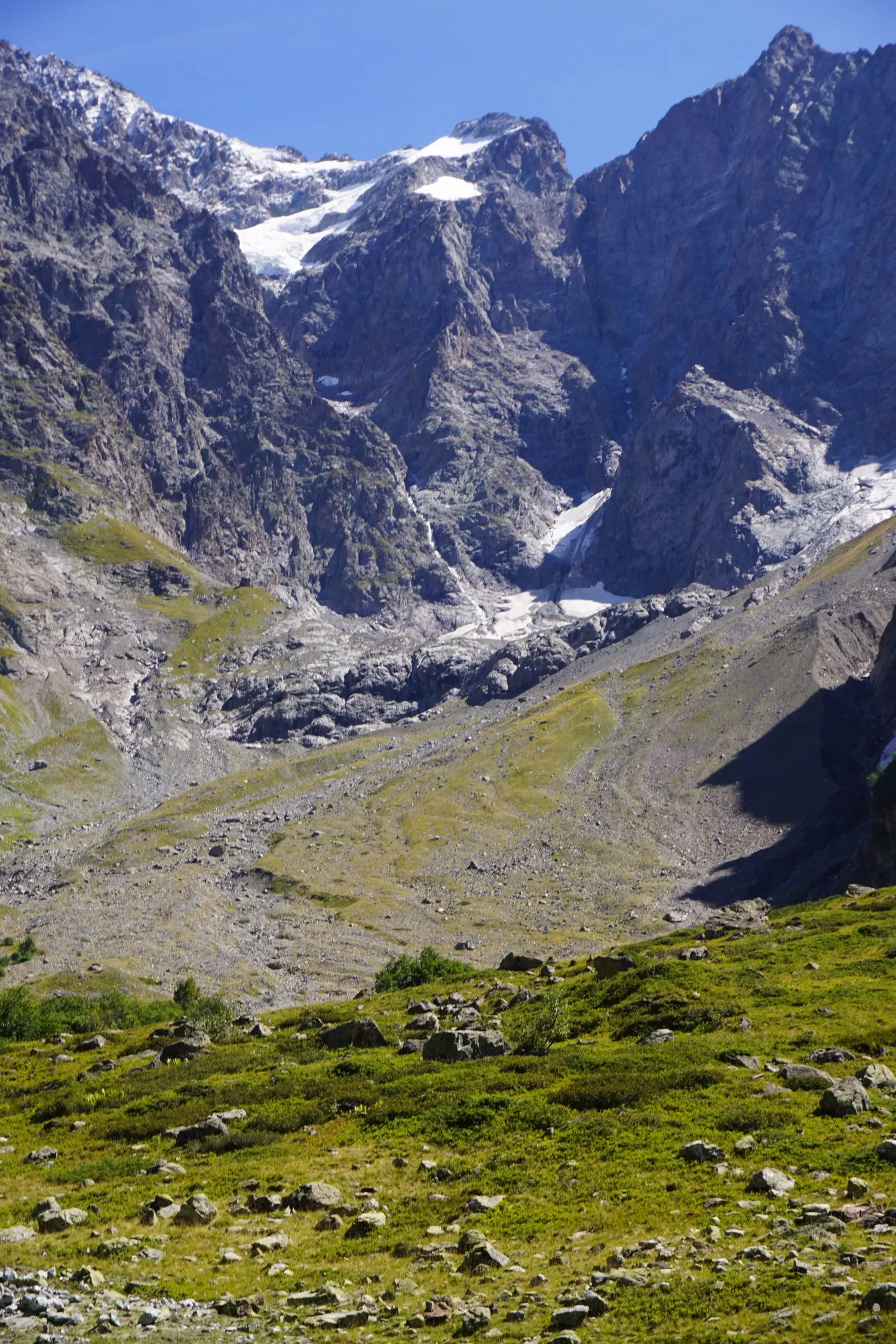 There are few places to rest until a small refuge and salt store about 1.5 hours into the hike. The path continues to ford across glacial streams, small and large and leads the way ever upwards until you make it to a viewpoint and one of the most arresting views during the hike.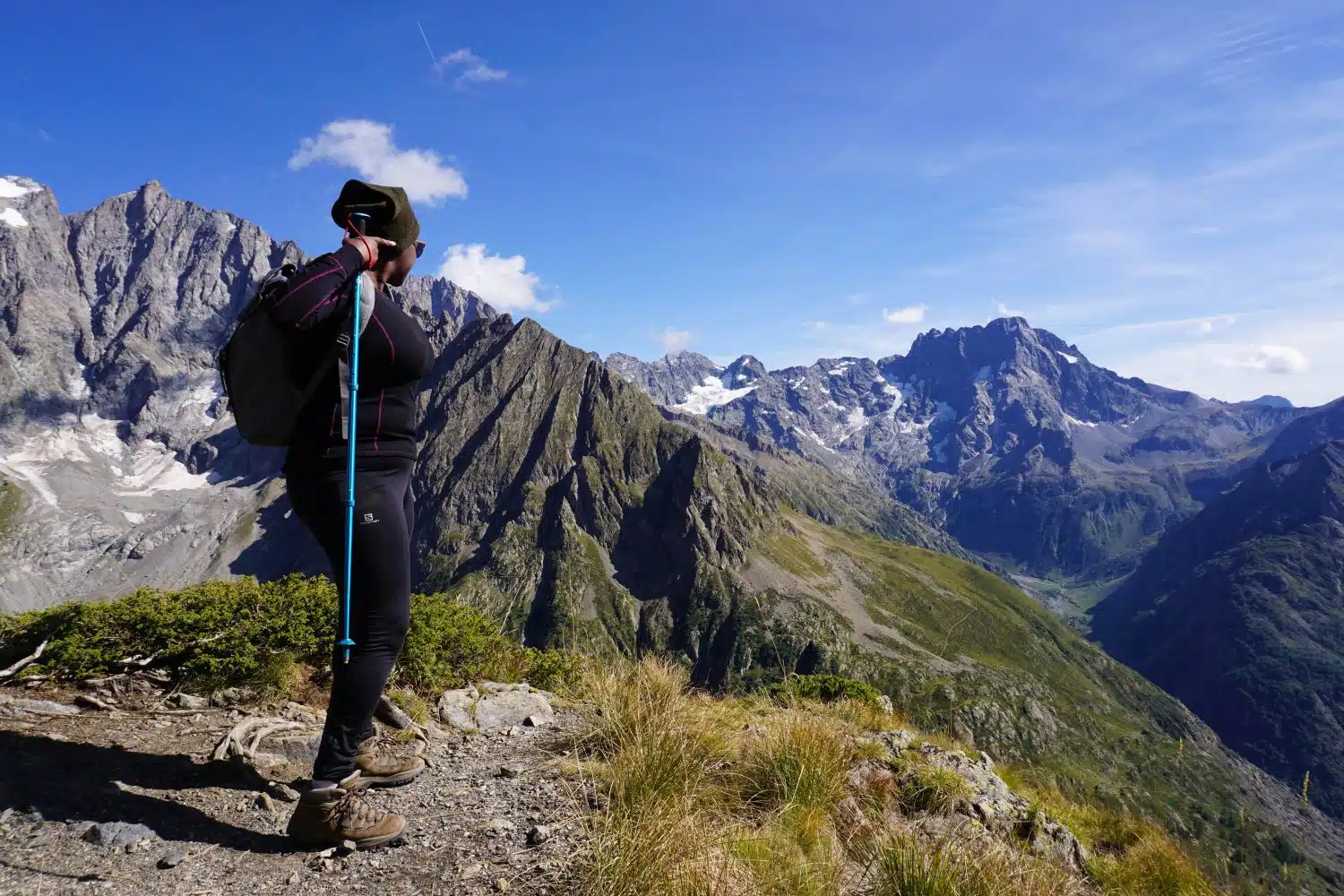 After two to two-and-a-half hours of continually grinding upwards, I'll freely admit I was so happy to see a bit of path that didn't look like it was going to set my legs on fire
At this point, the path levels off for a short while. After two to two-and-a-half hours of continually grinding upwards, I'll freely admit I was so happy to see a bit of path that didn't look like it was going to set my legs on fire that I virtually skipped along this section, tempted (but refraining from) to let out a little situation-appropriate yodel or two.
A Tight Spot
Perhaps that's why my little spot of difficulty took me by surprise. I'd been so relieved to see that the path wasn't going practically vertically upwards anymore that I had failed to notice that what it did instead was disappear at the very moment you were overhanging the Gioberney Valley.
a few steps in…my confidence fled, leaving a tremulously-voiced wobbly-legged mess clutching to the side of the cliff
I started off sure-footed enough, but a few steps in, when I began to appreciate the true nature of the situation, my confidence fled, leaving a tremulously-voiced wobbly legged mess clutching to the side of the cliff.
Jon was right of course, there were plenty of handholds and footholds and though it might have felt like an eternity, in reality, that whole section was over in a matter of no more than ten minutes.
A Natural Habitat
We turned the corner, flushed with the success of not falling off the side of the mountain (well I was, Jon just took it as a given that he'd be fine) and I felt Jon go still. "Shh", look over there. I followed his finger.
For the whole of the hike, we'd watched birds of prey circling over our heads, lazily floating on the geothermals along the mountain's side. Now, rather than above us, they were directly in front of us – two crouched on a small rocky outcrop, the others flying high above and below, gracefully circling with minimum effort.
Ignoring the fact that we mistook said birds for eagles, when in fact they were vultures (I even told Instagram that I'd seen eagles, can you imagine? Whoops)
Ignoring the fact that we mistook said birds for eagles, when in fact they were vultures (I even told Instagram that I'd seen eagles, can you imagine? Whoops) it was a magnificent moment. No sound, the air perfectly still, both of us entranced by the vultures' elegant flight.
A little beyond was the designated refreshment stop, the Refuge du Pigeonnier, standing proudly at 2423m with views of the valley spread out below. I think it will come as no surprise that an ice-cold beer and some Orangina were very, very welcome.
Time to Descend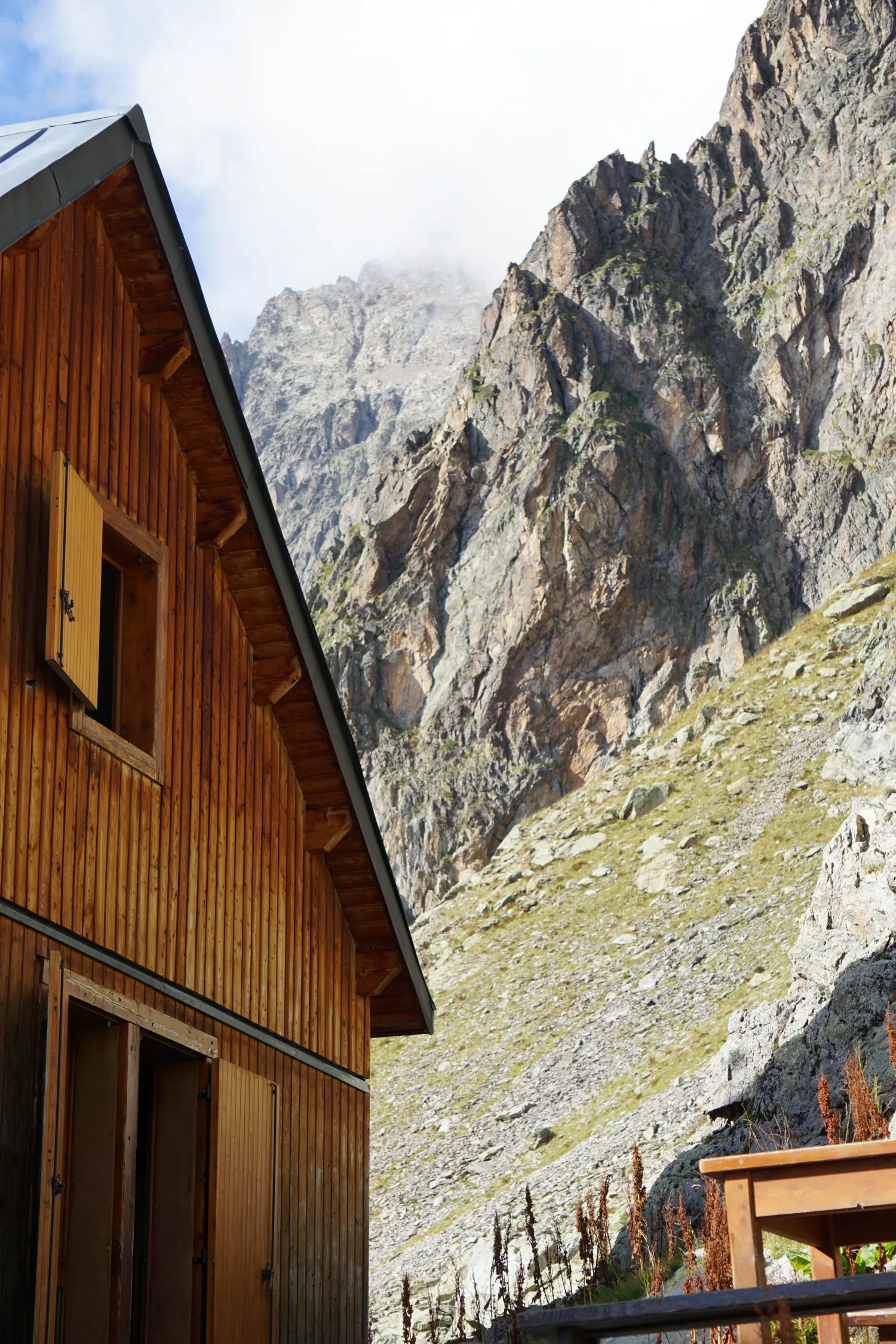 Much as I envied those who'd thought ahead to book a bed at the refuge for a night's stay, we hadn't and the time soon came for us to get up and start descending to complete the hike.
In truth, I preferred the first half of the hike – though we passed a number of pretty waterfalls and skirted underneath a few more peaks, the descent was mainly switchbacking on a path rocky enough to keep you on your toes but without the expansive views we'd had on the way up. Tiring (and, a little tiresome) as it was making our way down the endless path, I think I would have liked it a lot less on the way up – that's really the main reason why I preferred doing the hike backwards.
Finishing The Hike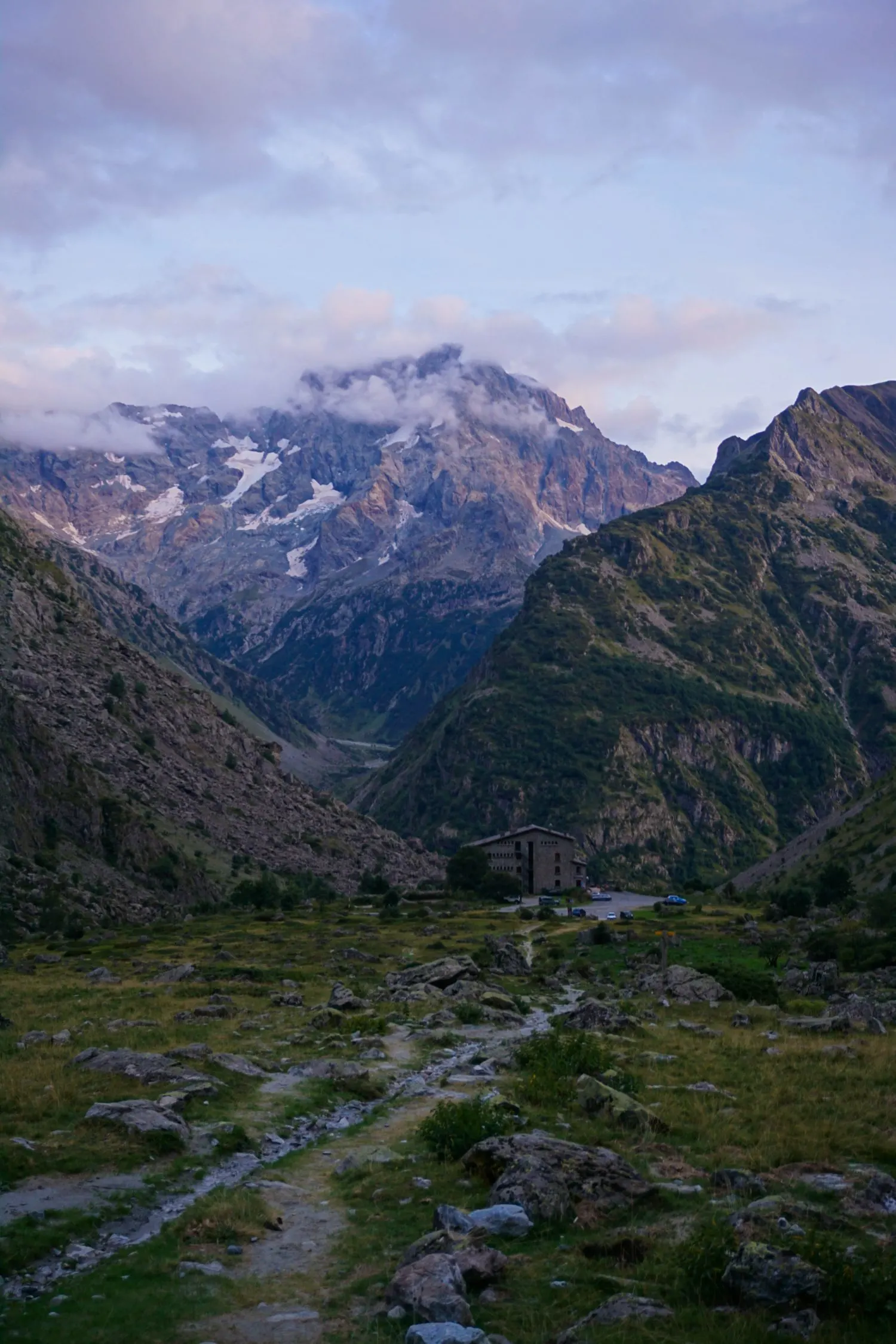 Dusk started to settle as we made our way down the mountain, the golden glow bathing the peaks in rosy hues then fading to darkness just as we reached down to the Gioberney Chalet. We climbed into the car, happy to remove our boots for the day and give our legs a rest, then made our way back to Grenoble.
Unfortunately, we couldn't access the hike we planned to do the next day, the Les Aigulles de Chabrières, on the other side of the Ecrins National Park as the road between Grenoble and Briançon was closed. Instead, we spent some time hiking in Les Deux Alpes area, which was nice, but not really comparable in terms of hiking in the French Alps to our previous day in the Ecrins National Park. Still. What better reason could I have to return?
---
If you enjoyed this, we think you might just love our feature on hiking in the UK's Lake District…
---
Did you know?
The chalet-hotel at Gioberney was started during WWII as a youth project that enabled a few young men to escape obligatory work service in Germany (GTO). At the time, there was no road to the site, so the chalet is constructed from local stone and rock, which were cut and then put together using cement mortar.
Planning Your Hike in the Ecrins National Park
The park stands out from many national parks in that it has a very informative website and accompanying app with recommended hikes of differing difficulties. Each hike has a detailed map and description, and also comes with information about particular points of interest or wildlife special to that area.
You can offline the hikes within your app, so you don't need to worry about loss of phone signal when you're on the side of a mountain (don't forget to bring a spare battery charger though, just in case).
Useful Resources to Help Plan Your Hike in the French Alps
Rando Ecrins – Contains details of all of the hikes within the Ecrins National Park
Recommended Hiking Gear
A good pair of hiking boots with ankle support.
A windproof and water resistant softshell jacket. Waterproof jacket if the weather's going to be wet. Don't forget: the temperature drops 1℃ for each 150m you ascend, so it's never as warm at the top of a mountain as it will be at sea level.
Breathable layers: walking trousers or leggings. Waterproof ones if the weather's really wet.
Walking poles if you like to use them.
Water – lots of it. A refillable water bladder is always an easy option.
Torch
Warm jumper and/ or fleece. Hat, gloves and a buff if it looks like the weather will be cold.
Love this? Save and Share on Pinterest!