There's more to France than just Paris (although the city of lights is a great place to start). If you're looking for a truly unforgettable adventure, these are the best things to do in France to add to your bucket list.
I'm sure you don't need me to urge you to visit France – after all, Paris is one of the most iconic European destinations.
But there's plenty more to see than just the uber-romantic capital. From fairytale castles and awe-inspiring cathedrals to some of the world's best restaurants and even some brilliant skiing regions, you're in for a treat.
So if you thought spending two days in Paris was terrific, after this guide to the best attractions in France, you might never want to leave.
Looking for somewhere to stay for your delightful French trip? Opting for La Demeure Montaigne is a no-brainer. Situated in the heart of Paris, this 5-star property is a magical blend of classic and modern. With a variety of uber-luxe amenities, it's second to none.
Top 5 Things to Do in France
Experience the Magic of the Eiffel Tower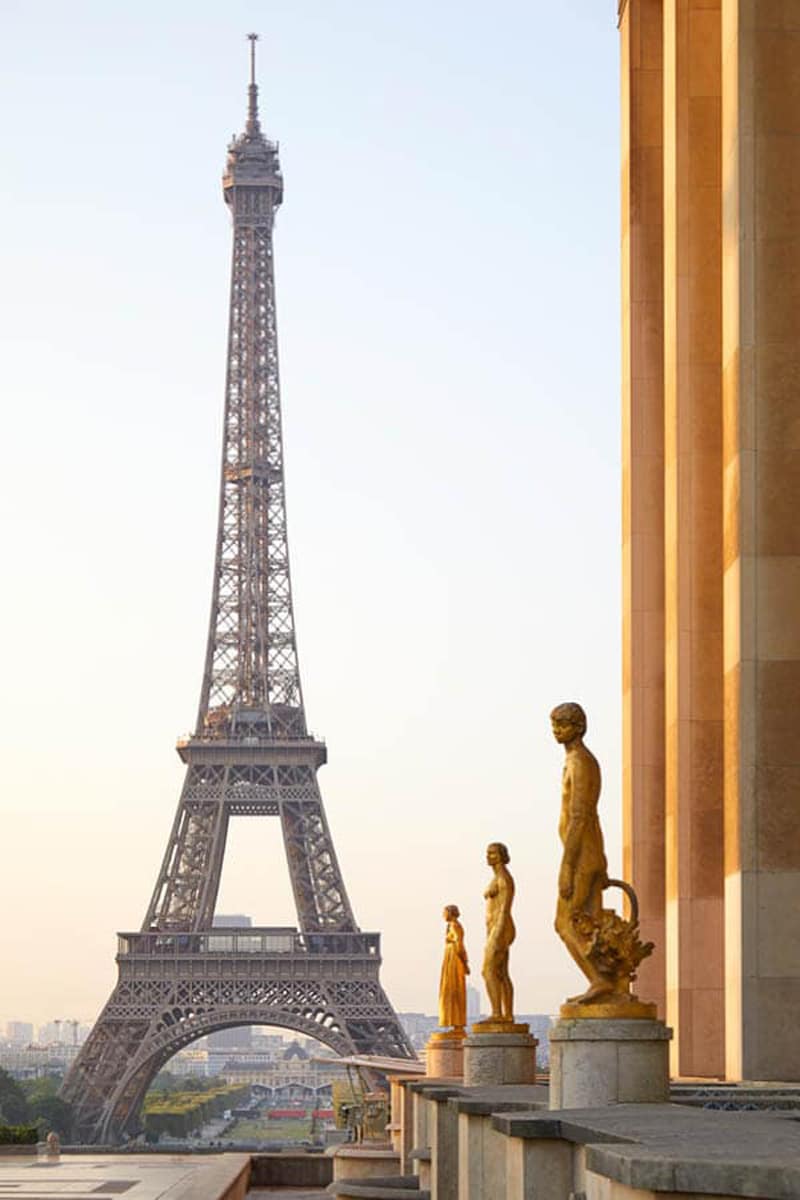 I know, I know. It's a cliche, but visiting Paris without succumbing to the allure of the Eiffel Tower is almost impossible. The imposing icon of the city's skyline is undoubtedly one of the best things to see in France.
Yes, the many near-ethereal panoramas visible from each of its levels is the stuff of legend, but there's much more to experience at the tower. Although a sunset scene over the Seine bathed in a gentle glow of colour couldn't be more perfect.
But why not add fine dining at an award-winning restaurant to it? Pick a contemporary-styled lunch at Madame Brasserie or a gastronomic adventure at Michelin-starred La Jules Verne for an authentic taste of Paris.
Top tip: if you want to head up the Eiffel Tower, book your entry ticket in advance or risk waiting in huge queues.
Explore the Louvre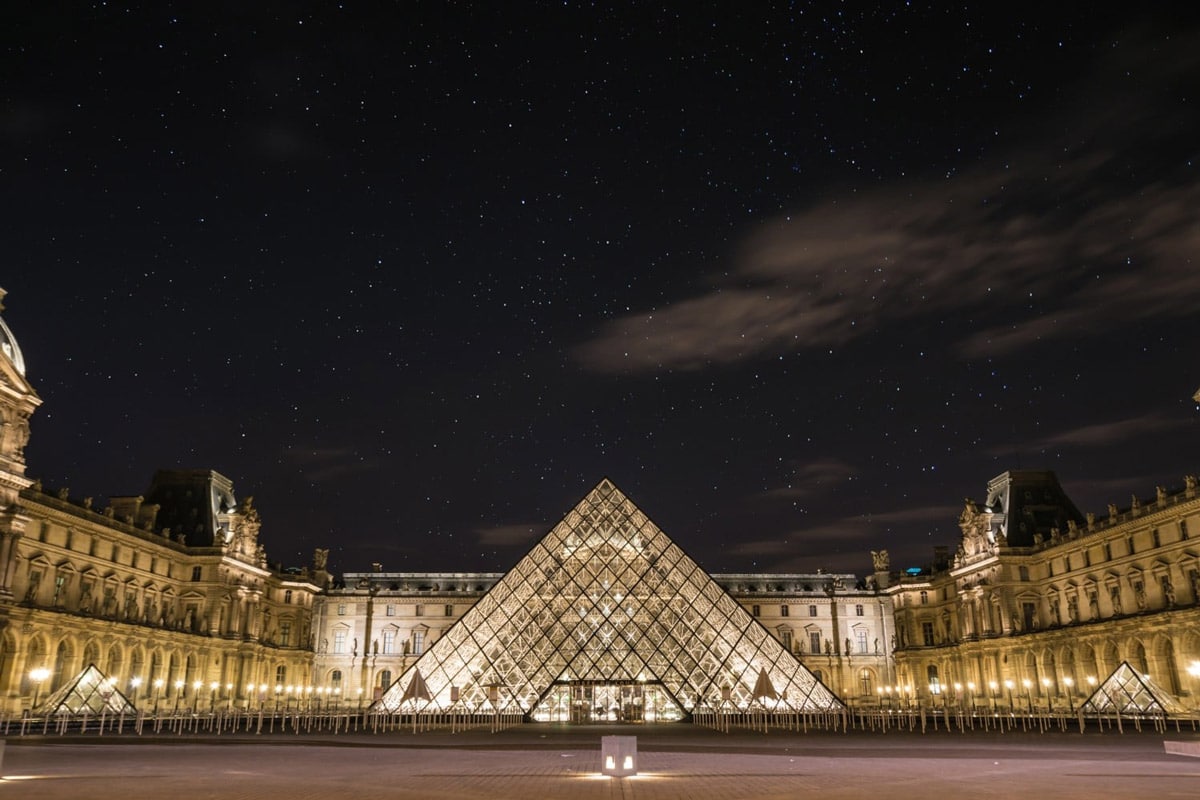 When planning a trip to Paris, I'll bet that taking a tour of the Louvre comes to mind. An essential part of Paris that personifies the country's love for the art world, long before you even step inside, its glass pyramid entrance already sets expectations.
Once inside, it's a colossal art tour featuring pieces from every corner of the planet. One minute you're admiring the Code of Hammurabi, and the next, you're rubbing shoulders (metaphorically… Kinda) with an ancient Egyptian mummy.
Synonymous with the Louvre, you can't pass up the chance to see the beauty of Da Vinci's Mona Lisa. Equally as impressive, within the museum halls sits the Venus de Milo, which rivals the epic painting in scene-stealing appeal.
Wander Through the Palace of Versailles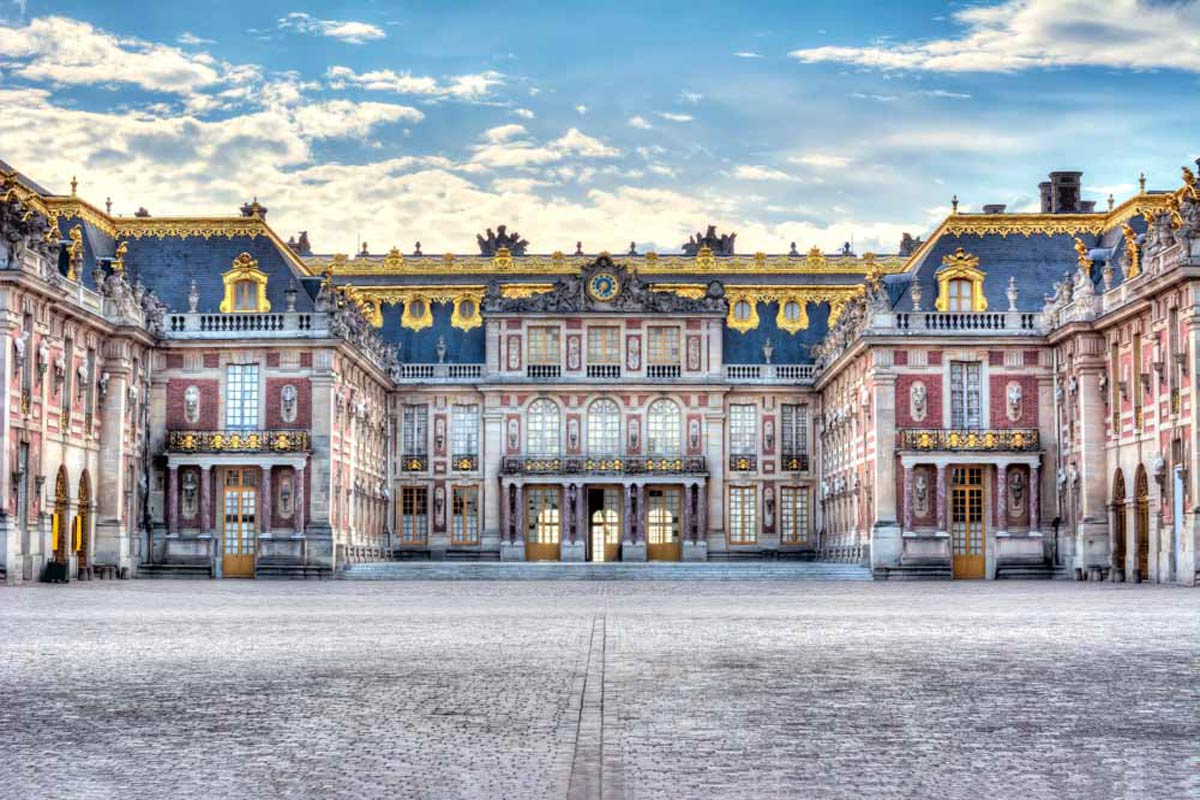 Beyond reigning over what history books call Le Grand Siècle (the Great Century), Louis XIV did a lot right. One is his relocation to the Court of Versailles and the epic scale on which he did it.
Although this happened in 1682, his royal residence is one of France's foremost tourist attractions. To be fair, this isn't just any run-of-the-mill palace, even with the expected pageantry in the sprawling manicured gardens and interior furnishings.
Everything about Versailles aims to be its own spectacle, whether it be the Royal Serenade in the Hall of Mirrors or the musical dancing fountain shows in the gardens. This all adds up to make a day trip to Versailles from Paris one of the best things to do in France.
See the Wildlife of The Camargue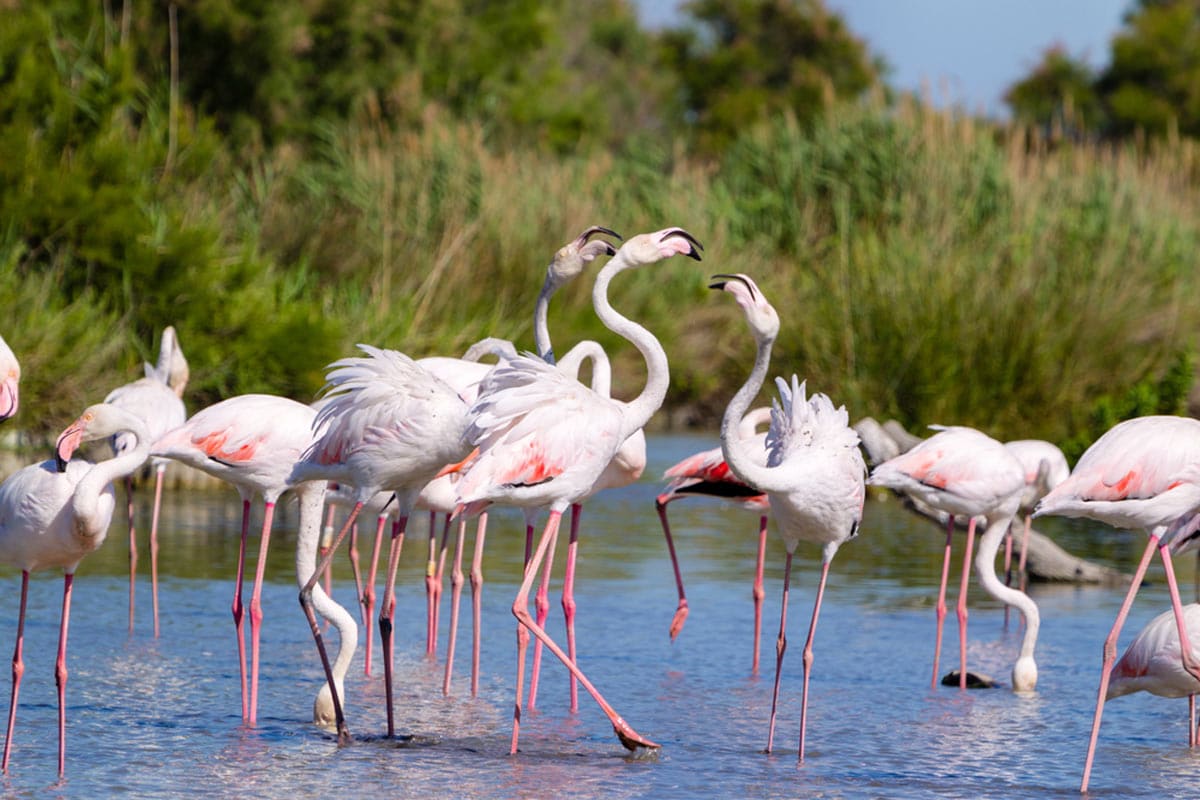 Okay, first things first, there's no shortage of spectacular wildlife in the Camargue National Park. If you're looking for an incredible addition to your things to do in the south of France and love animals, this is a no-brainer.
Not to take anything away from the likes of the wild boars, foxes, beavers and shrews that roam the park, but there are a few standouts. Camargue is famous as one of the world's most important breeding grounds for flamingos.
Then you'll also have the chance to see miniature black bulls native to Camargue, but the showstoppers are the white horses of the national park. Considered one of the oldest horse breeds in the world, these semi-wild steeds, paired with the rest of Camargue, are a gorgeous site.
Top tip: book this 4X4 safari if you want to check out the Camargue's wildlife in all its glory.
Go Skiing in the French Alps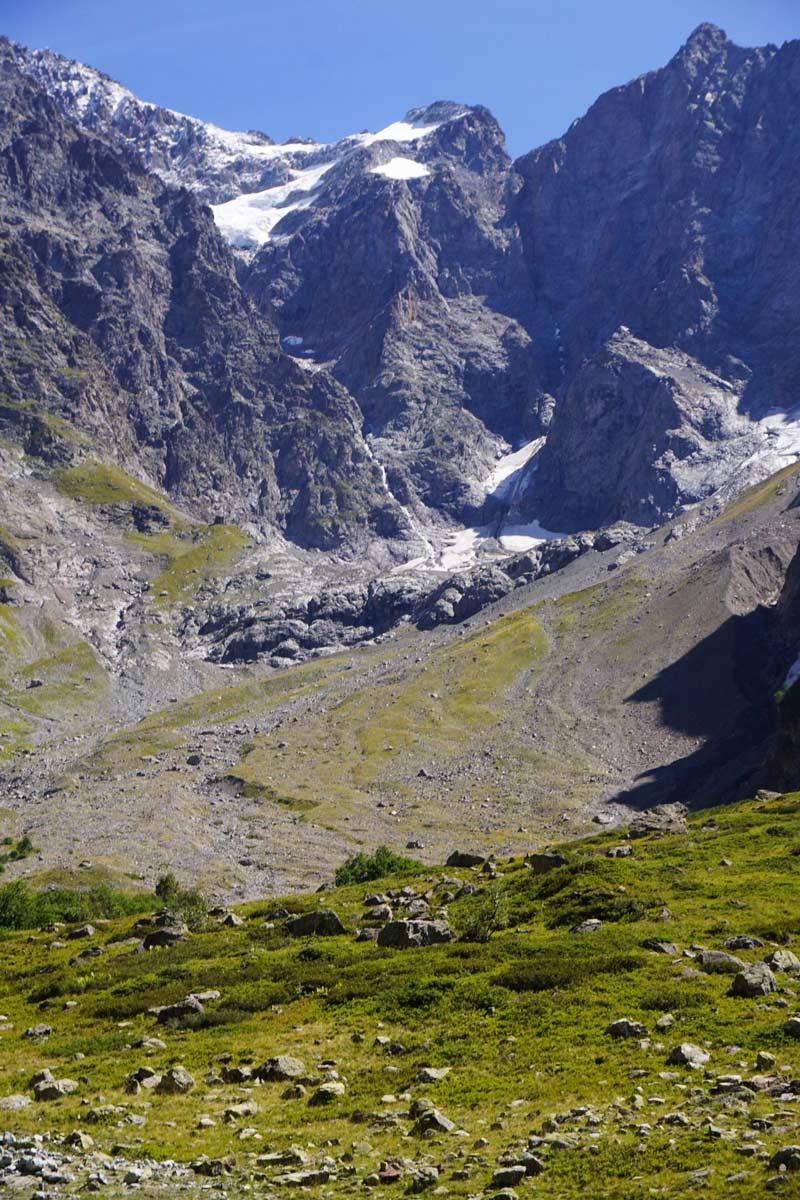 There's skiing, and then there's skiing in the French Alps. This is a stellar option if you've ever wondered what to do in France. Breathtakingly stunning, the powdery snow of this winter wonderland is an alpine fairytale playground waiting for your skis.
Beyond the promise of epic ski conditions, the region is home to captivating mountain villages and the legendary ski resort of Chamonix-Mont Blanc. This was the site of the first Winter Olympics, and it has since remained a must-visit for any intrepid alpine adventurer.
That's not to say there aren't many other buzzworthy destinations in the French Alps. The atmospheric Val d'Isère boasts 186 miles of expansive ski terrain, while Les Trois Vallées is the world's largest ski area at over 370 miles.
Brilliant Things to See & Do in France
Visit the Notre Dame (When it Reopens)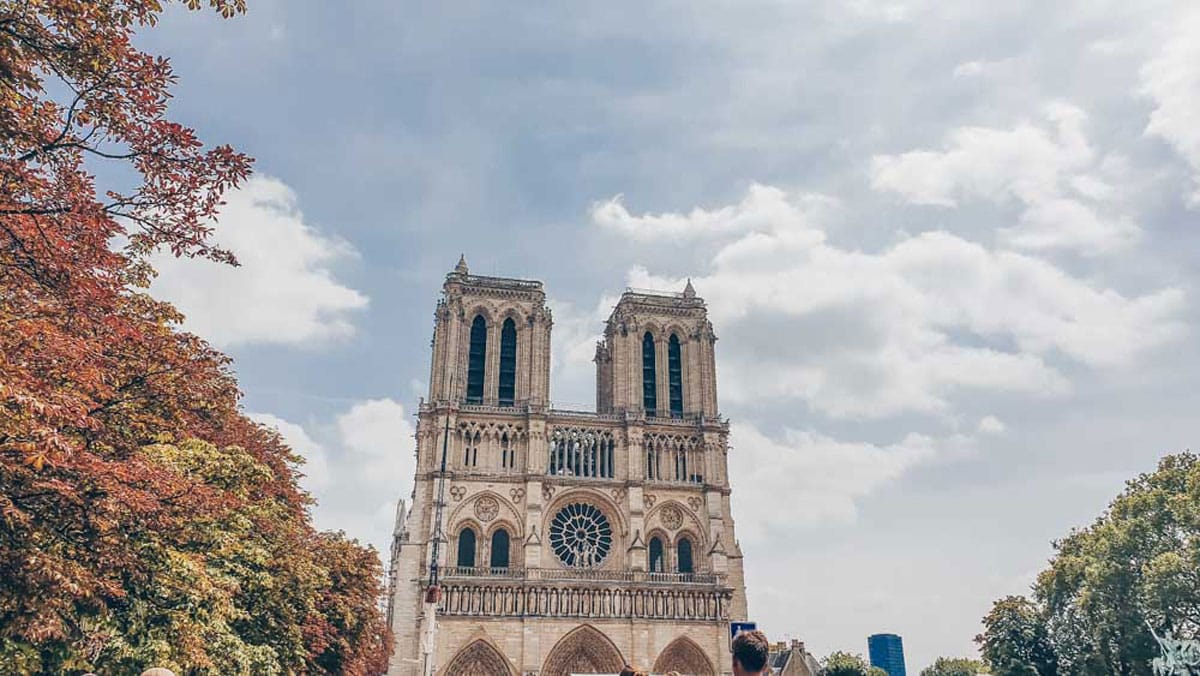 Sure, you could visit the capital city of Paris and not spend some time at Notre Dame Cathedral, but why would you want to? Simply put, it's just one of those places to see in France that add a certain je ne sais quoi to any worthwhile trip.
Reflecting the city's prestige, Notre Dame is a prime example of Gothic architecture that has stood the test of time. With restorations set to wrap up in 2024, visiting the site now is like seeing a phoenix slowly rising from the ashes.
Several exhibits and outdoor tours on the surrounding grounds of Île de la Cité also detail the cathedral's history.
Marvel at Mont Saint-Michel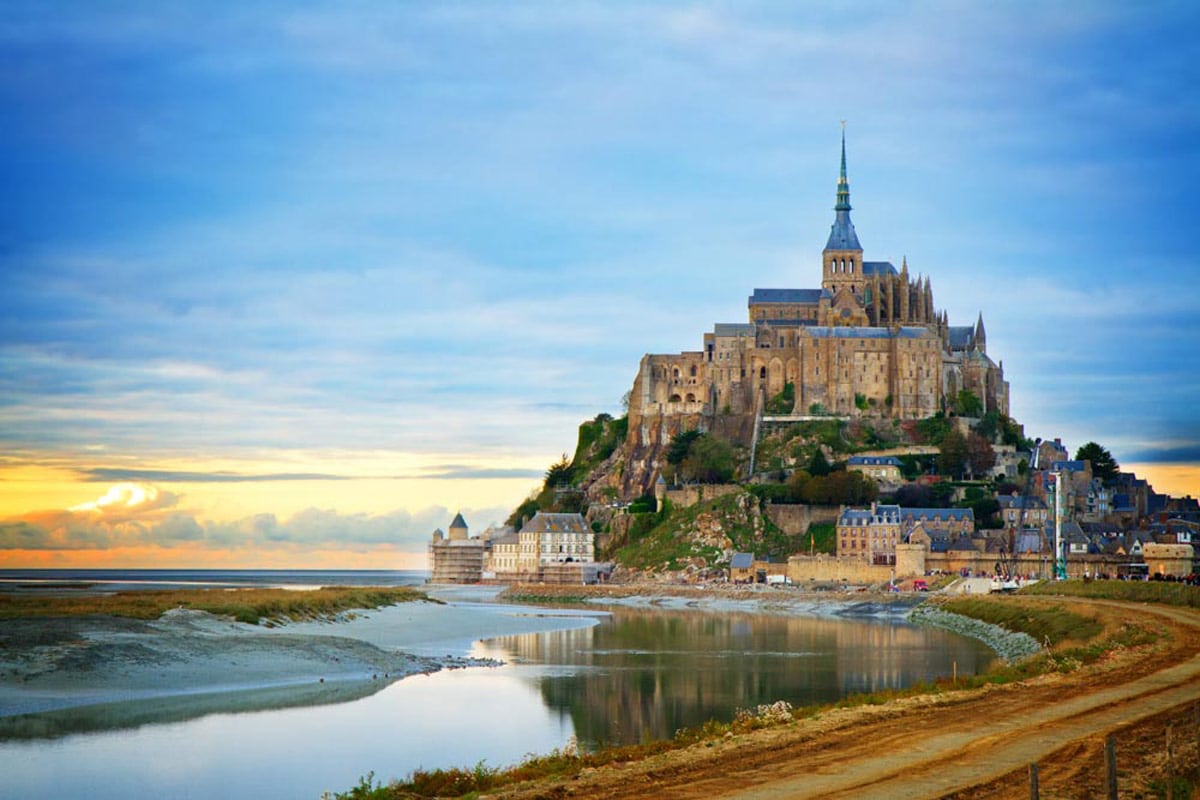 You'll find the Abbaye du Mont Saint-Michel on the border between Brittany and Normandy. Why is this one of the best places in France to visit? Well, few destinations blend mediaeval architecture and the actual forces of nature like Mont Saint-Michel.
The abbey, which stands atop a tidal island, became a UNESCO World Heritage Site in 1979. Sitting nearly 2,000 feet from the mainland, pilgrims could only reach it during low tide, and from afar, there aren't many scenes that can compare.
Luckily, your entrance ticket gets you where many of them wanted to be.
Discover the Museums of Paris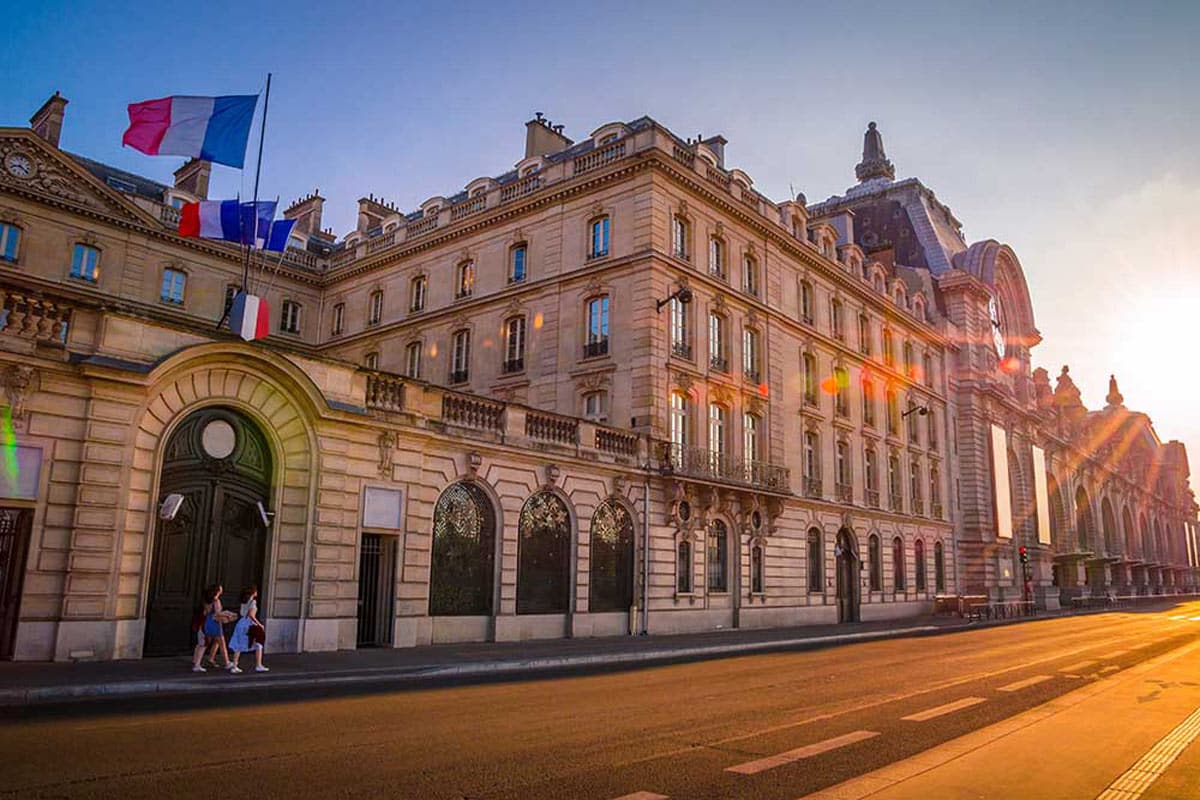 Make no mistake; there are quite a few French tourist attractions in Paris that defy expectations.
The competition is stiff, with the Louvre taking centre stage, but a close second is the Musee d'Orsay. Located on the left banks of the Seine, when you're on a guided tour, you'll find works by Monet, Cezanne and Renoir.
A museum rarely offers you the chance to see masterful art in the home of the artist responsible. If this sounds good, you have to grab a ticket to the Musee Rodin. As both the private home and gallery of famed sculptor Auguste Rodin, it's a surreal experience.
Top tip: get a Paris Museum Pass to make visiting these and other excellent museums in the city a breeze.
Go Chateau Hopping Along the Loire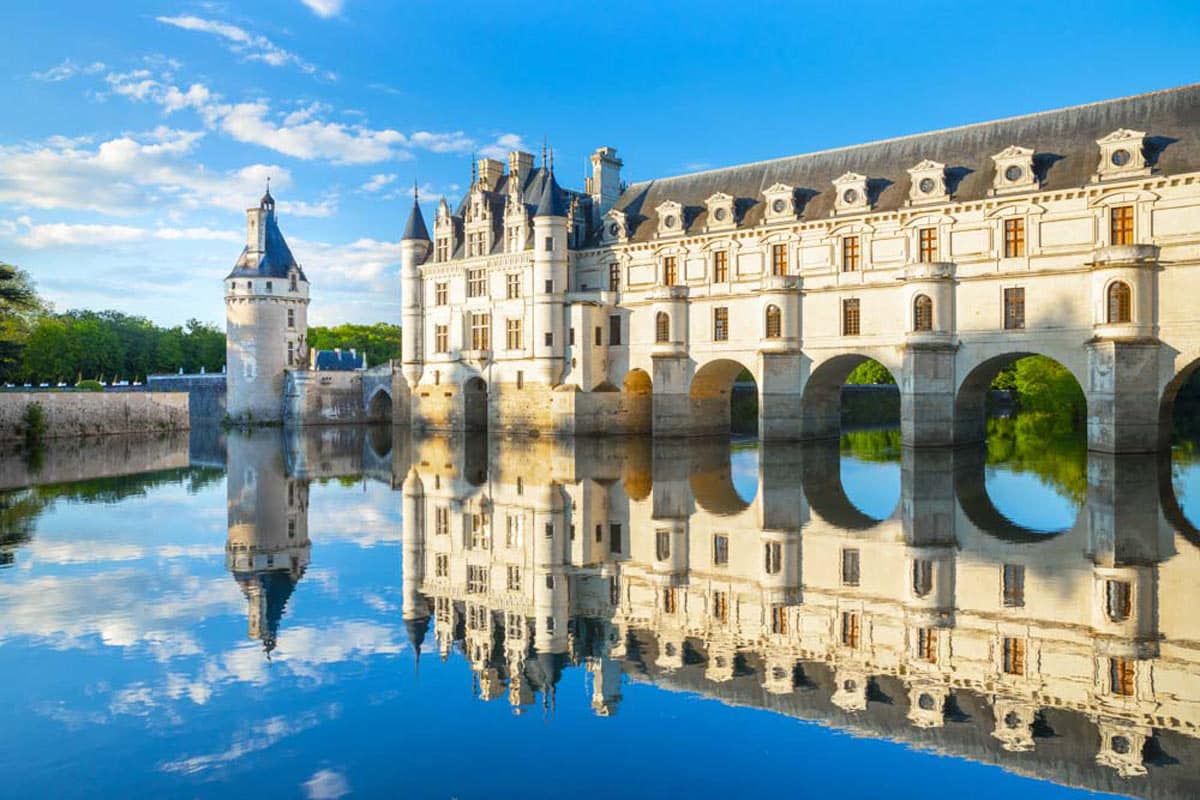 You may have heard of the many chateaus that dot the landscape of France, and you might have seen pictures of these elaborate castles. So why not opt for a day trip from Paris, or even a longer trip through the picturesque Loire Valley with rolling hills, a gorgeous river and over 1,000 chateaus?
If you're after a trip to remember, following the river that stretches an impressive 174 miles from Sully-sur-Loire to Chalonnes-sur-Loire in Anjou is a must. Trust me. It won't take you long to agree with the Valleys' UNESCO status, even if you're just after snapshots for your Instagram feed.
Tour the Château de Chantilly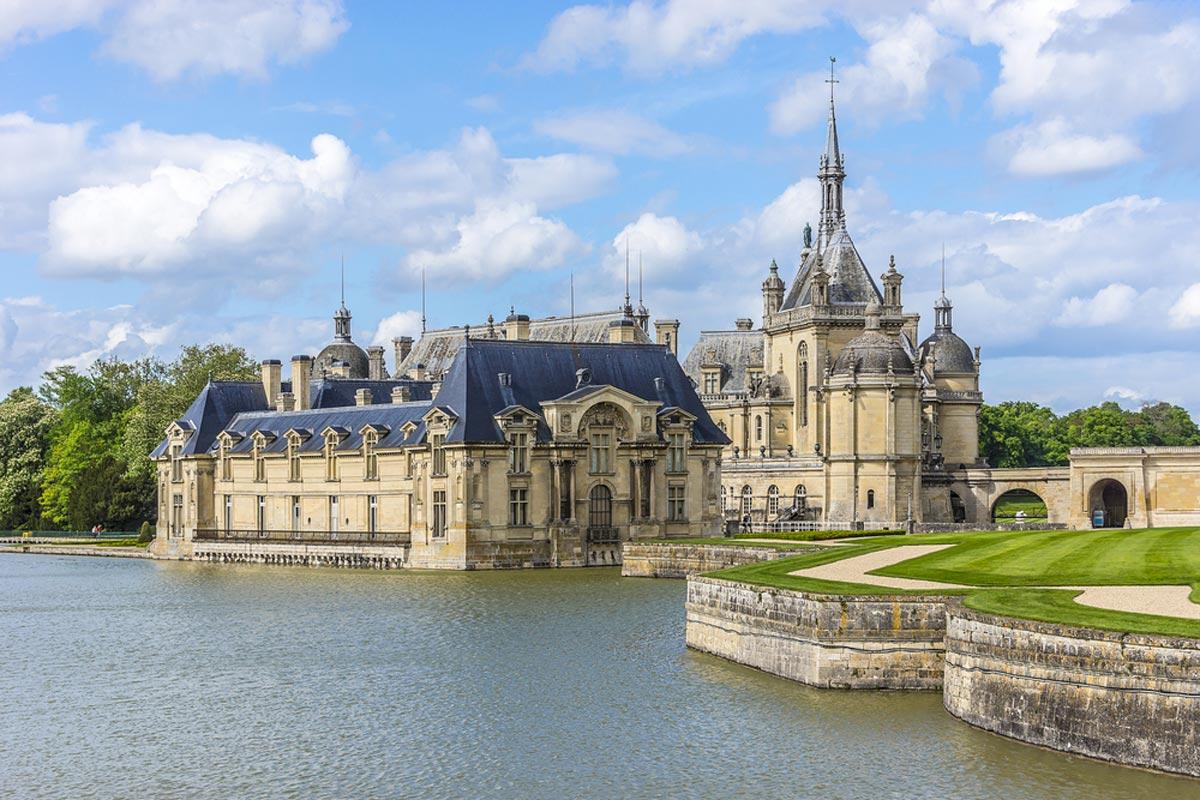 Sitting within the commune of Chantilly, located in the Hauts-de-France region, Chantilly Palace is a must-visit on any France itinerary.
One thing about this truly imposing property that you'll want to do is explore, and getting a skip-the-line ticket is the best way to start doing that. Besides the chateau, the grounds feature a racecourse, a golf course and a deer park — all open to the public.
As if that's not enough, the villages surrounding Chantilly, such as Gouvieux, are all worth a visit.
Eat Your Way Around Lyon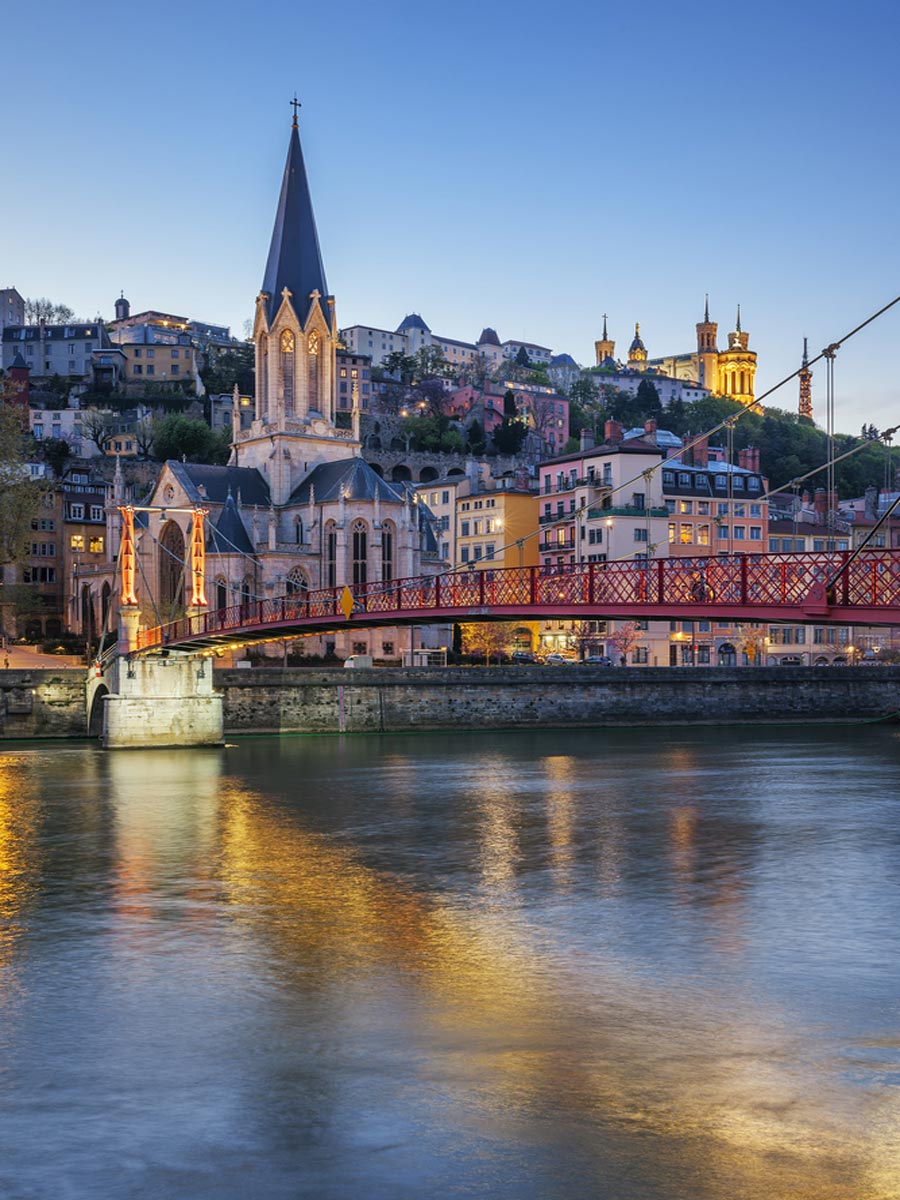 It's no great secret that France is as close to culinary nirvana as possible. With every region of the country offering some sort of flare when it comes to cuisine, there are a few surefire must-visit locales.
One, if not the most noteworthy, is Lyon, and when it comes to fun things to do in France, eating your way around this city is without parallel. Most locals and visitors consider Lyon to be the gastronomic capital of France, where food is a way of life.
It could be easy to get lost in the maze of options, so set out on a walking food tour to ensure you don't miss anything.
Bike Through Bordeaux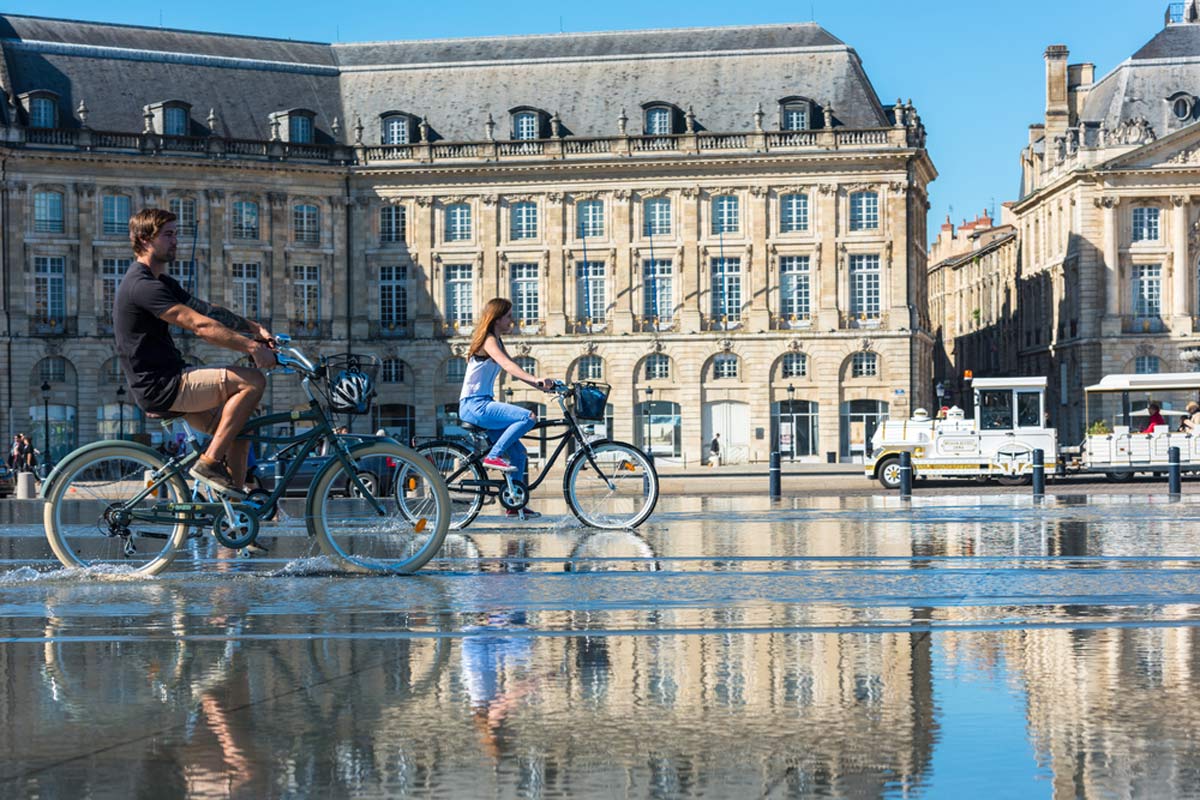 If ever there was a part of France that just aims to show off awe-inspiring natural beauty, it would be Bordeaux. It's almost as if Mother Nature thought of every possible trick in the book and threw it at the region.
There's no shortage of evidence as to why this is one of the best places to visit in France. So why not combine all that with the prospect of a cycling excursion?
You've got a few routes to choose from, such as the Roger Lapébie bike path that ends in the mediaeval village of Créon. Or set out on the 31-mile trail from Bordeaux, culminating in the monastery-lined streets of Saint-Émilion.
Go Champagne Tasting in Champagne
Can you really create a list of the best places in France and not include the Champagne region? Obviously not. On the other hand, there is a lot more to the area beside fizzy alcohol, but let's be honest, having champagne in Champagne is epic.
Considering there are five wine-producing districts and the two commercial centres of Épernay and Reims, you don't have to worry about where to indulge. Taking you through adorable villages, a variety of vineyards and opulent champagne houses, two things are a given…
These are obligatory champagne tastings and, more often than not, excited vineyard owners happy to share their passion. I'm not sure about you, but I'm more than happy to oblige. Cheers.
Admire the Arc de Triomphe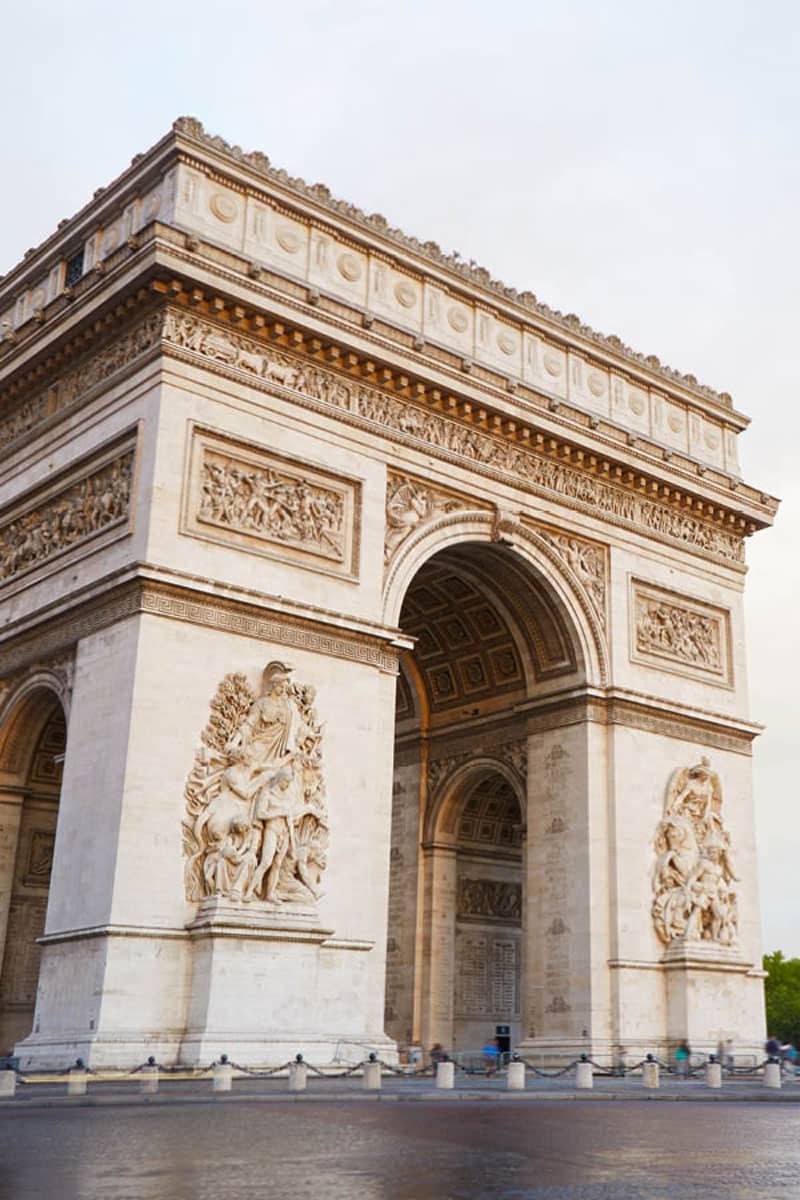 This is another essential part of a trip to France, and even though some might just see another iconic French landmark, the Arc de Triomphe is almost ineffable.
Beyond wanting to boast about his victories, Napoleon I also intended the Arc to be a historical remembrance site. Fast forward a fair few years and there's also the tomb of France's Unknown Soldier beneath the arch.
You must get a rooftop access ticket where otherworldly panoramic city views await (it's better than the view from the Eiffel Tower IMO).
Head Out to Gorges du Verdon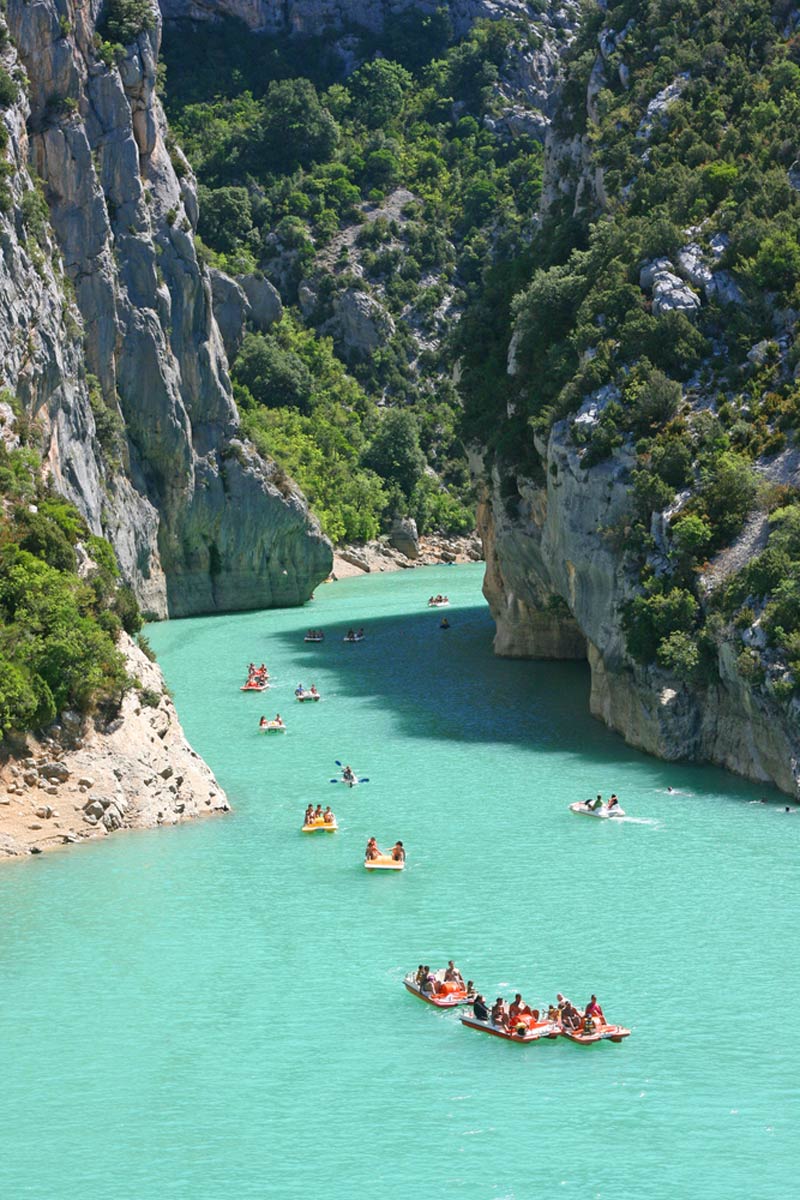 Although a simple visit to the canyon is one of the best things to do in southern France, venturing onto the waters of the Verdon River is a must. Picture a breathtaking canyon that stretches for 15 miles, rising out of emerald-green-hued waters to a soaring 2,300 feet.
On either side, lush greenery lines the gorge, and its waters offer the prospect of various enticing aquatic adventures. Sounds perfect, doesn't it?
As fantastic as it is to look at, the gorge and its activities — such as sailing, kayaking, rafting and water skiing — are not for the faint of heart.
Stroll around Avignon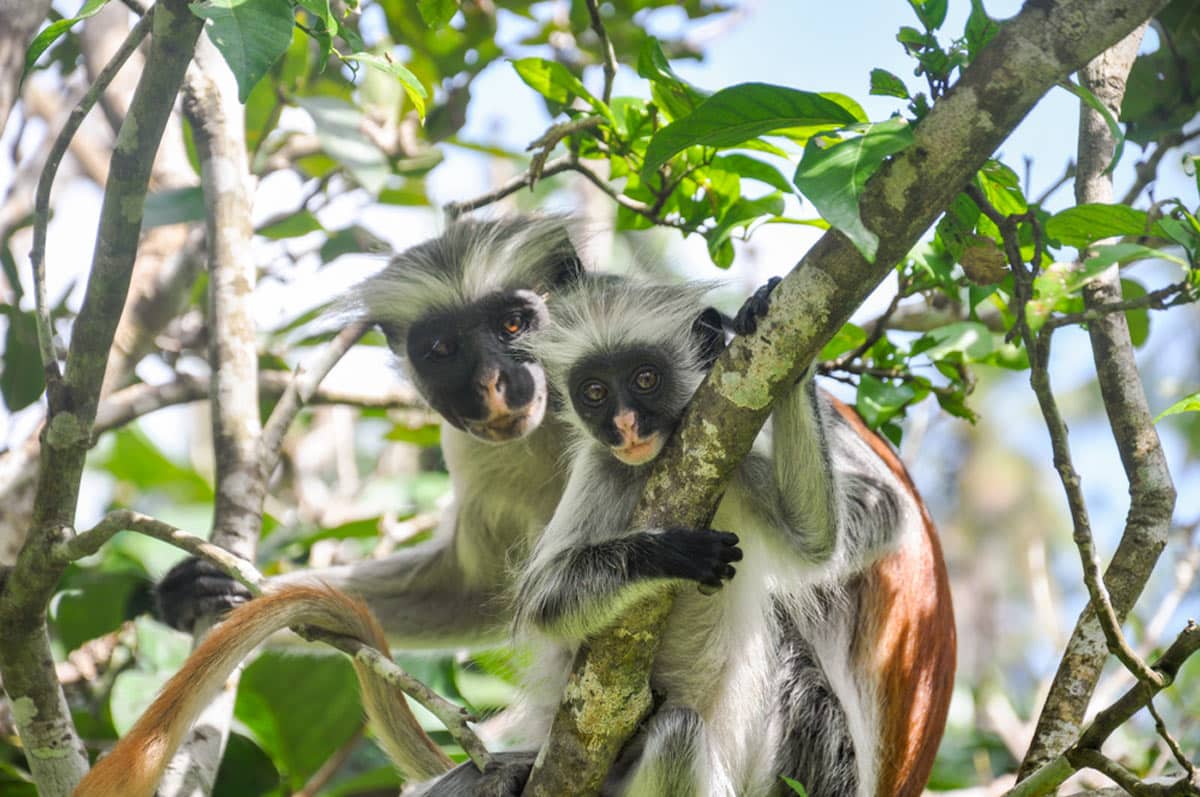 Previously the papal residence, Avignon bears a striking resemblance to Vatican City, making it one of the best places to see in France. Its walls, which are still intact, contain 44 guard towers, nearly two miles of ramparts, and seven gates dating back to mediaeval times.
Impressive as these are, they don't compare to the Palais des Pape or the Pont d'Avignon, both iconic city landmarks. Despite the city's small size, there is a ton of exploration to do, with numerous walking tours and great vineyard tour adventures available.
Spend a Day in the Medieval City of Le Mans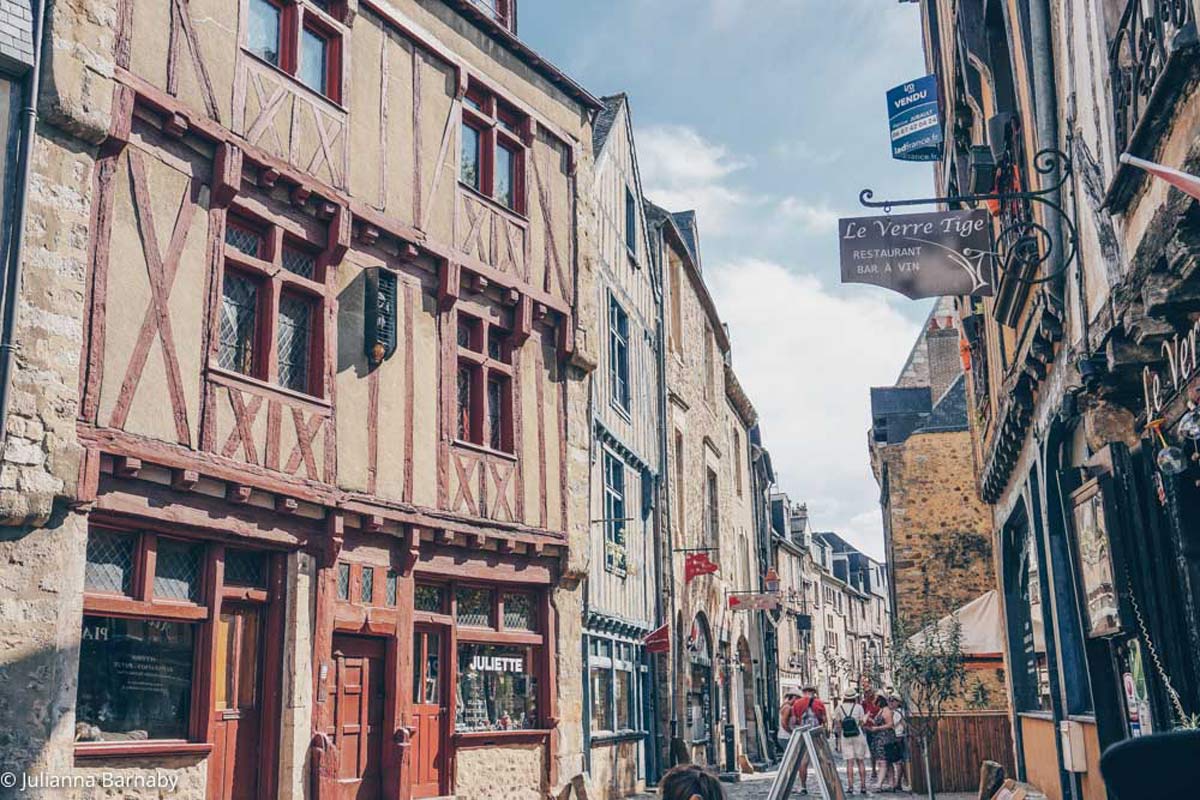 Now if you're a fan of circuit racing, you already recognise the city's name, which is synonymous with the annual 24 Hours of Le Mans race. But Le Mans also bears the title of City of Art and History. Either way, you're in for a wild ride.
On the other hand, you don't need to be a petrolhead to love the city. Yes, there's the Circuit de la Sarthe Museum chronicling the history of the race, but the ancient bones of the city also attract those interested in history and architecture. The Le Mans Cathedral is the most-favoured attraction aside from the circuit museum.
Top tip: Plan an epic getaway to Le Mans with my Sarthe weekend break guide.
Unique Things to See & Do in France: Hidden Gems That Are Off the Beaten Track
Delve into the Paris Catacombs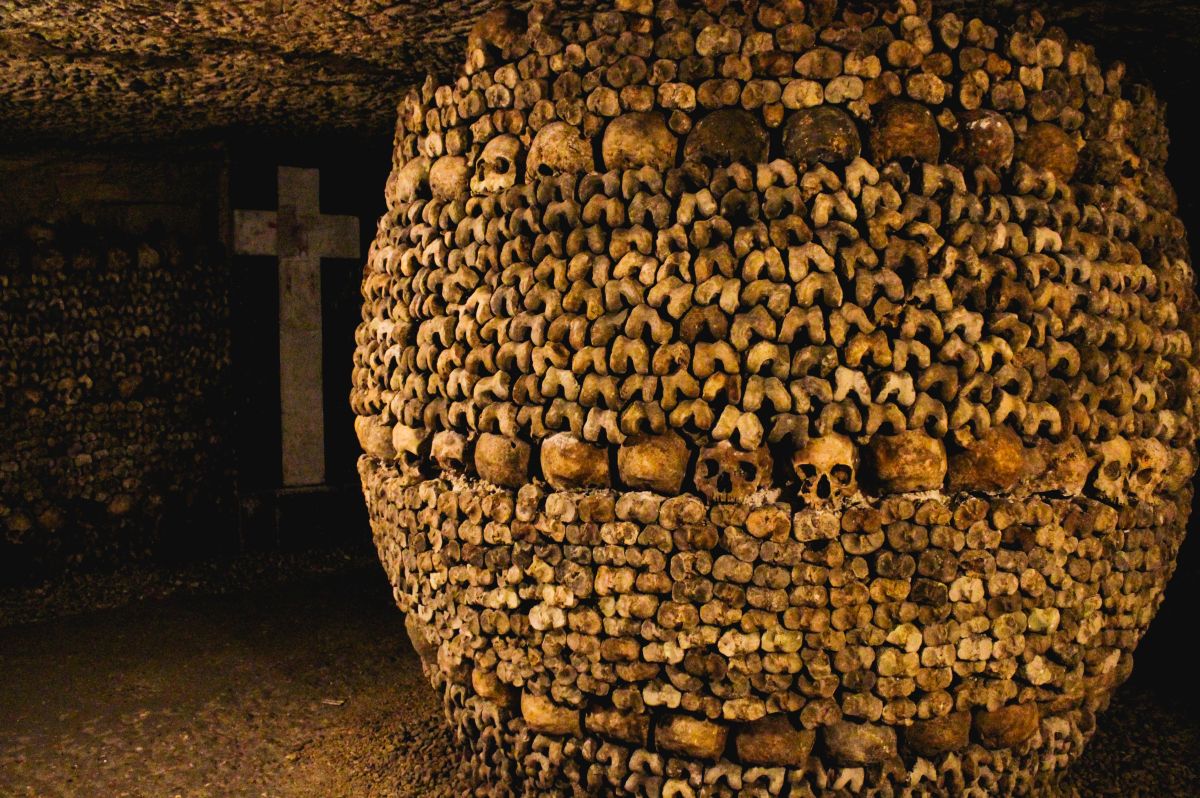 For those of you who have no idea what the catacombs are, you're in for a spooky experience. You see, the Catacombs of Paris hold the skeletal remains of more than six million people, forming a small network of tunnels underneath the city.
And when I say "hold," I mean that the original builders used these remains to create the tunnels. Walls lined with bones stretch for miles, and intricate patterns using skulls adorn both sides to give you a rough idea.
Although haunting, a guided tour of the catacombs is the best way to tick this off your must-see in France list.
Get Lost in the Old Quarters of Paris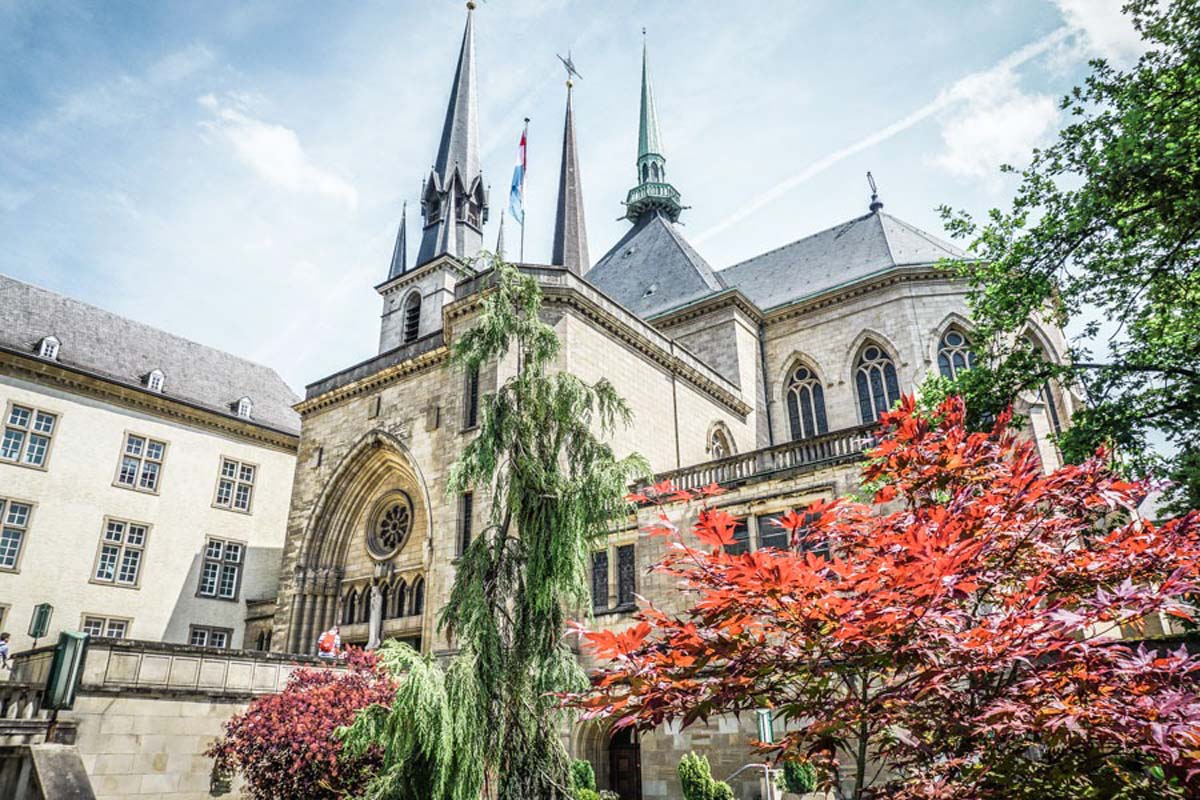 If it's not clear by now, France has a lot of history within its borders. If you're not looking to delve into the rest of the country, do yourself the favour of exploring the old quarters of Paris, at the very least.
Meander through the Quartier Latin, stroll around Île Saint-Louis and get wonderfully lost in the streets of Le Marais. This is a second-to-none culture trip, with highlights including the Petit Pont Bridge, Notre Dame Cathedral and mediaeval boutique stores along Rue Saint-Louis en l'Île.
Immerse Yourself in Monet's Garden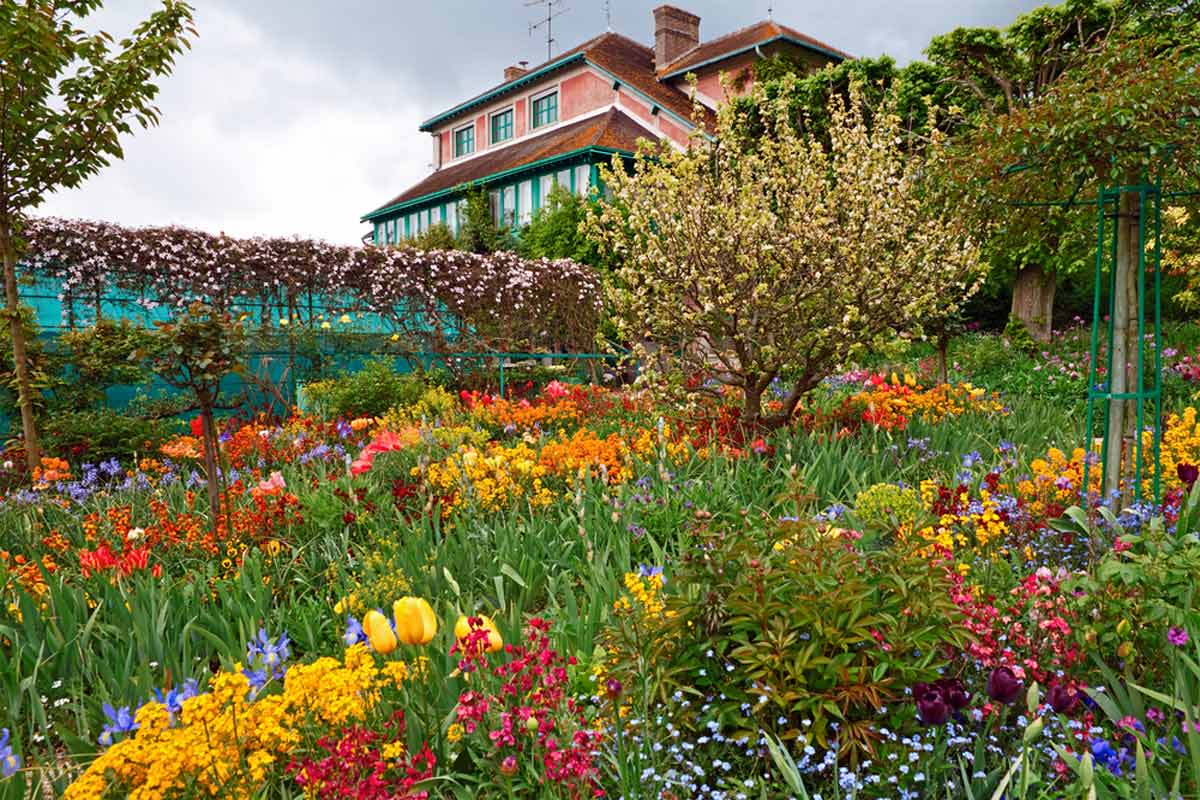 Now for something a whole more soothing than the catacombs: Monet's garden in Giverny. Unlike other name-dropping gardens worldwide, these include Monet's home and workshop, among other highlights.
Yes, they're whimsical to stroll through, but these grounds and the plant life that populate them inspired much of the artist's works. Especially his water lily series, and if you fancy yourself a lover of the arts, a guided tour is an excellent glimpse into Monet's mind and life.
See the Cliffs of Etretat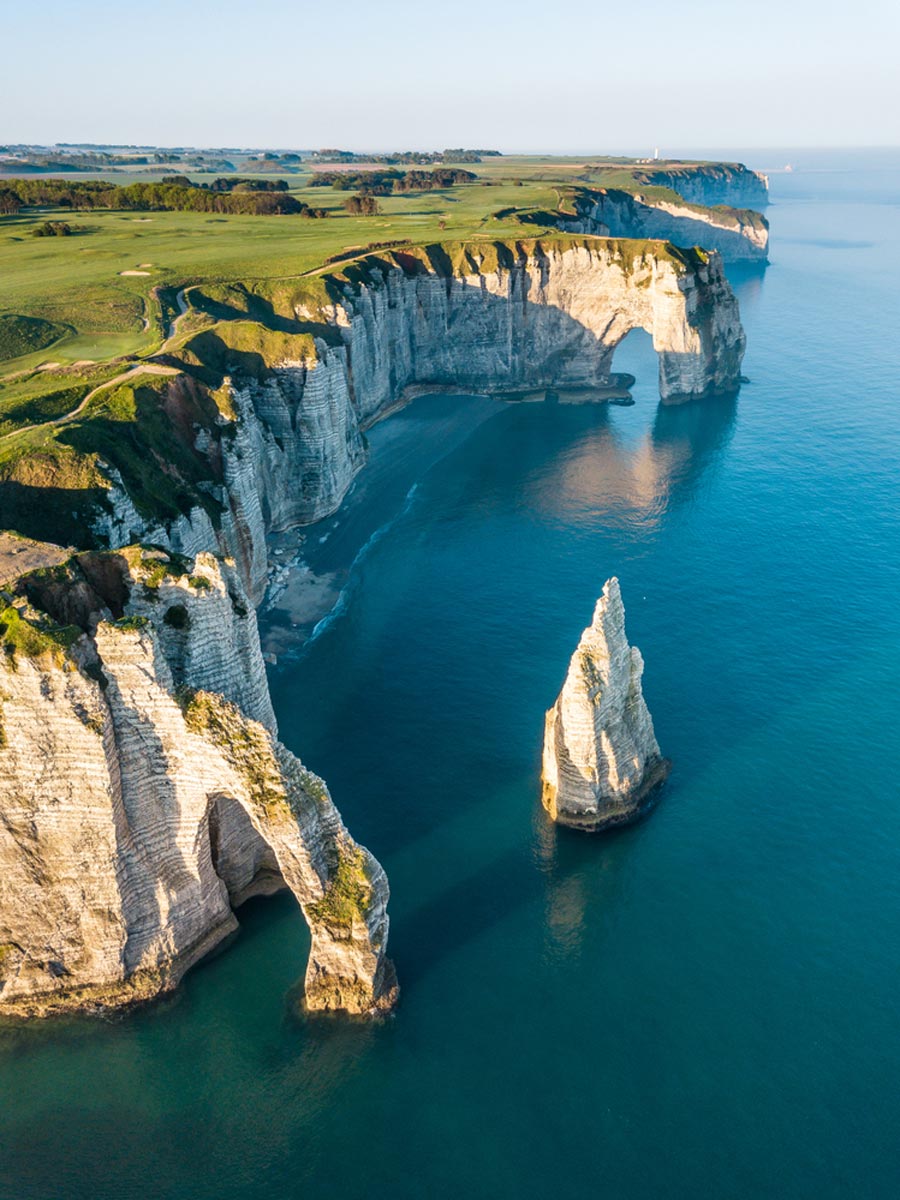 Another natural attraction sure to take your breath away is the cliffs of Etretat, just outside the small town of the same name along the Alabaster Coast.
These vertical cliffs, along with various other rock formations, acted as inspiration for Monet and rank highly as a must-see place in France. Imagine stunning natural arches, numerous sea stacks and tunnels cut into imposing chalk walls – and I'm sure you get the idea.
Learn About D-Day in Normandy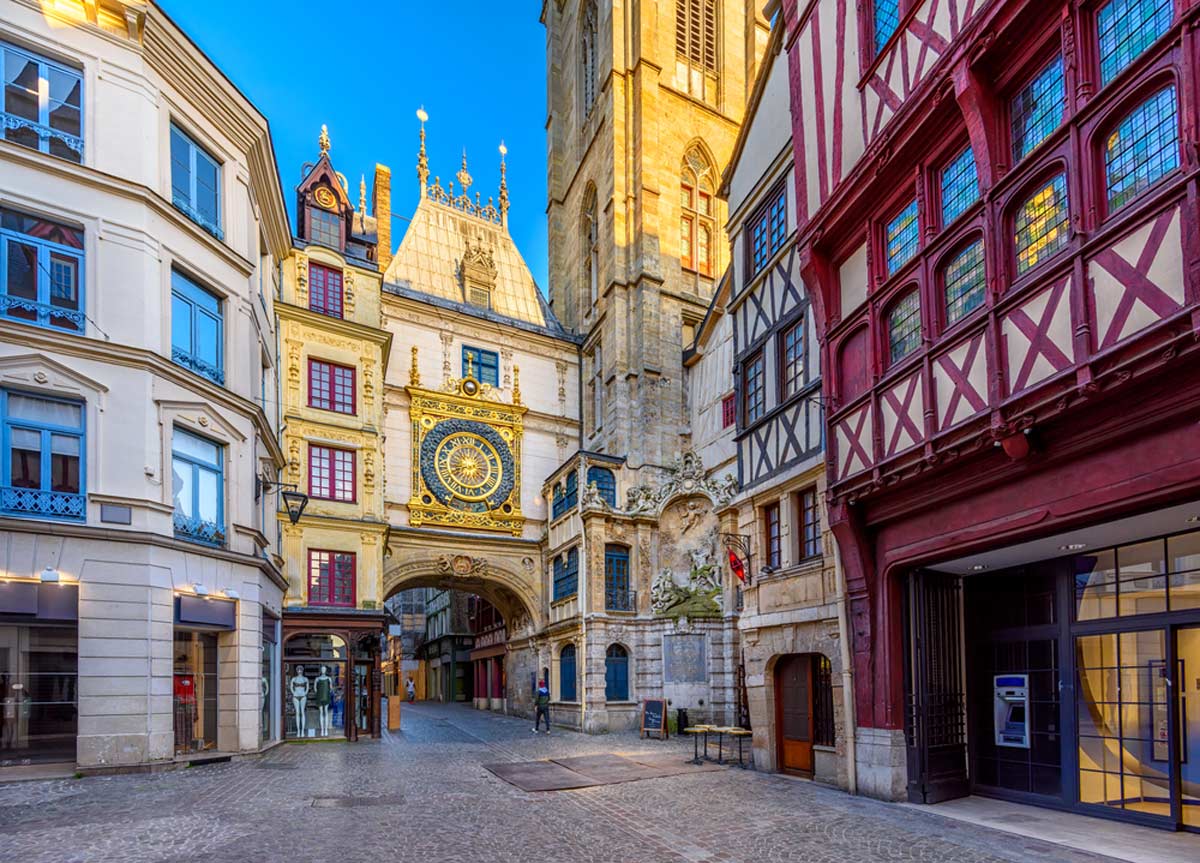 As the grounds for the largest seaborne invasion in recorded history, the beaches of Normandy will forever have a significant standing. On the 6th of June 1944, the Allies launched the Normandy Landing Operations that would eventually lead to the liberation of France.
Exploring these beaches on a day trip from Paris is a sobering addition as one of the most unique things to do in France. Aside from the beaches, numerous war cemeteries and memorials surround each, paying homage to one of the world's most critical battles.
Be Entertained at a Parisian Cabaret
Fans of the Moulin Rouge rejoice. Not only is experiencing a genuine Parisian Cabaret show a must-do in France, but it's also one of the best ways to discover Paris at night.
A mix of music and burlesque performances that showcase extravagant theatrics – this is lavish musical fun at its best.
While the Moulin Rouge is undoubtedly the most famous, other venues, such as Lido, provide just as much fun. Each show features choreography to display fanciful costuming, singing and dancing, with most offering dinner and the best in French wine. What more could you want?
Feel Like a Kid Again at Disneyland Paris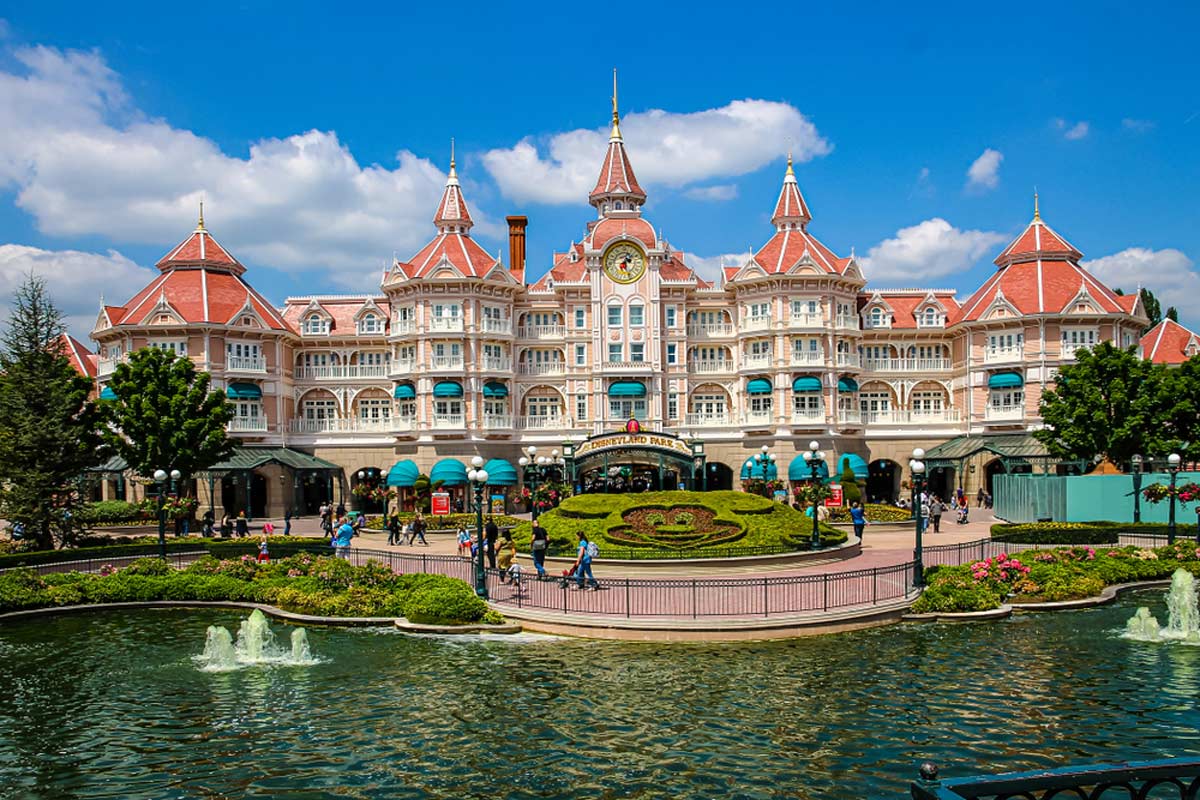 If you've got an extra day to spare in Paris, hitting up Disneyland Paris is an incredibly fun option. Sure, it's not as big and fancy as its American cousins, but it's a magical place that combines European charm with (arguably) the most famous brand on earth – and plenty of stomach-turning rides.
So whether you're up for chanting your favourite Disney theme song, going on an excursion through Sleeping Beauty's Castle or Captain Hook's Ship, or being hurled through the air on Space Mountain, you're in good hands. With multiple themed restaurants and hotels, this is a one-stop destination to treat your inner child.
Discover the Scents of Grasse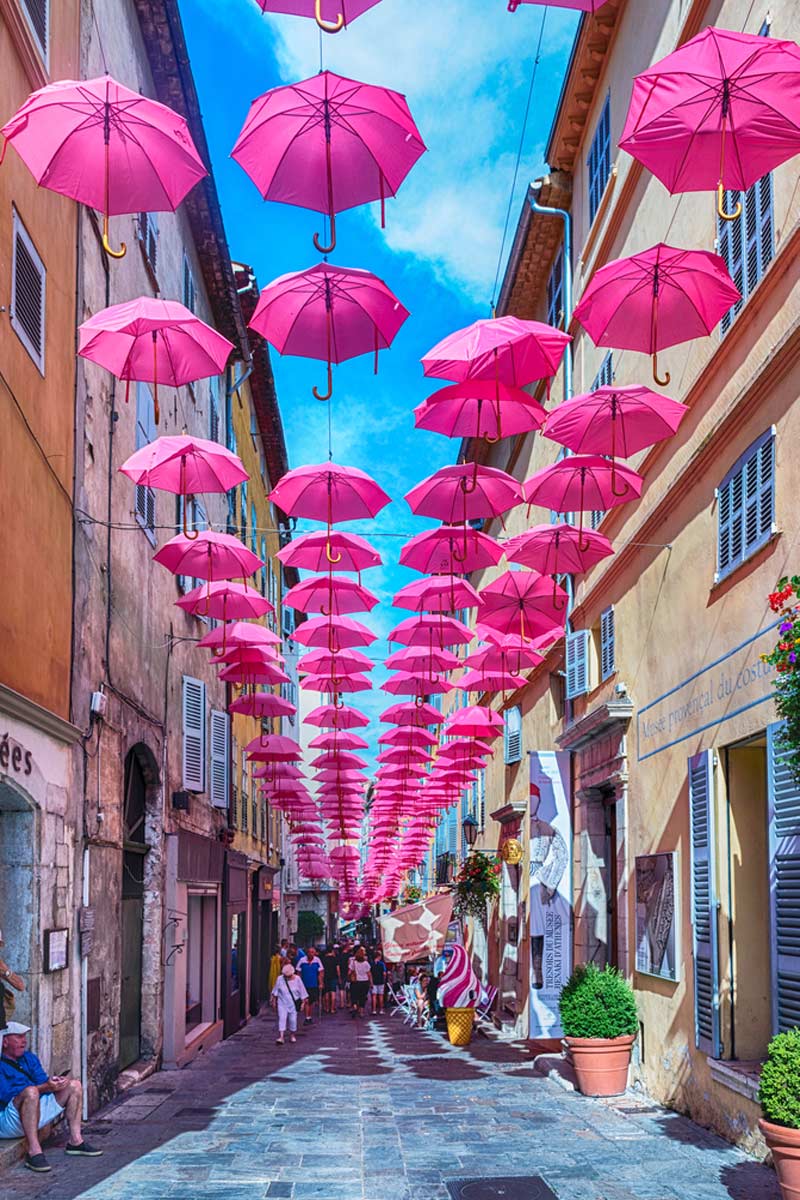 It's no secret that France is a global cuisine, culture and fashion destination. But it also holds a firm grasp on perfume, too. Yes, perfume. More specifically, the small town of Grasse in Provence holds the title of the world's perfume capital, originating back to the 18th century.
There's a lot to nose about in with magnificent displays of the thriving perfume industry, and it's a hotspot for eager travellers looking to learn about the art of perfumes. In the town, you'll find a few factories where you can design your own fragrance, and if you're in the mood for an epic road trip, Grasse is also the final stop on the famed Route du Mimosa.
Attend the Festival de Carcassonne
So what happens when you introduce modernity into a mediaeval setting, such as the famous walled city of Carcassonne, seemingly trapped in time? Well, you'll find the answer during the annual Festival de Carcassonne.
Every year from the end of June through August, the fairytale city transforms into a massive musical venue. The acclaimed Festival de Carcassonne combines an unimaginable collection of opera, classical, jazz, rock and folk genres. With performances in several open-air museums, it's a concert event you can't skip.
Catch a Show at the Roman Theatre in Orange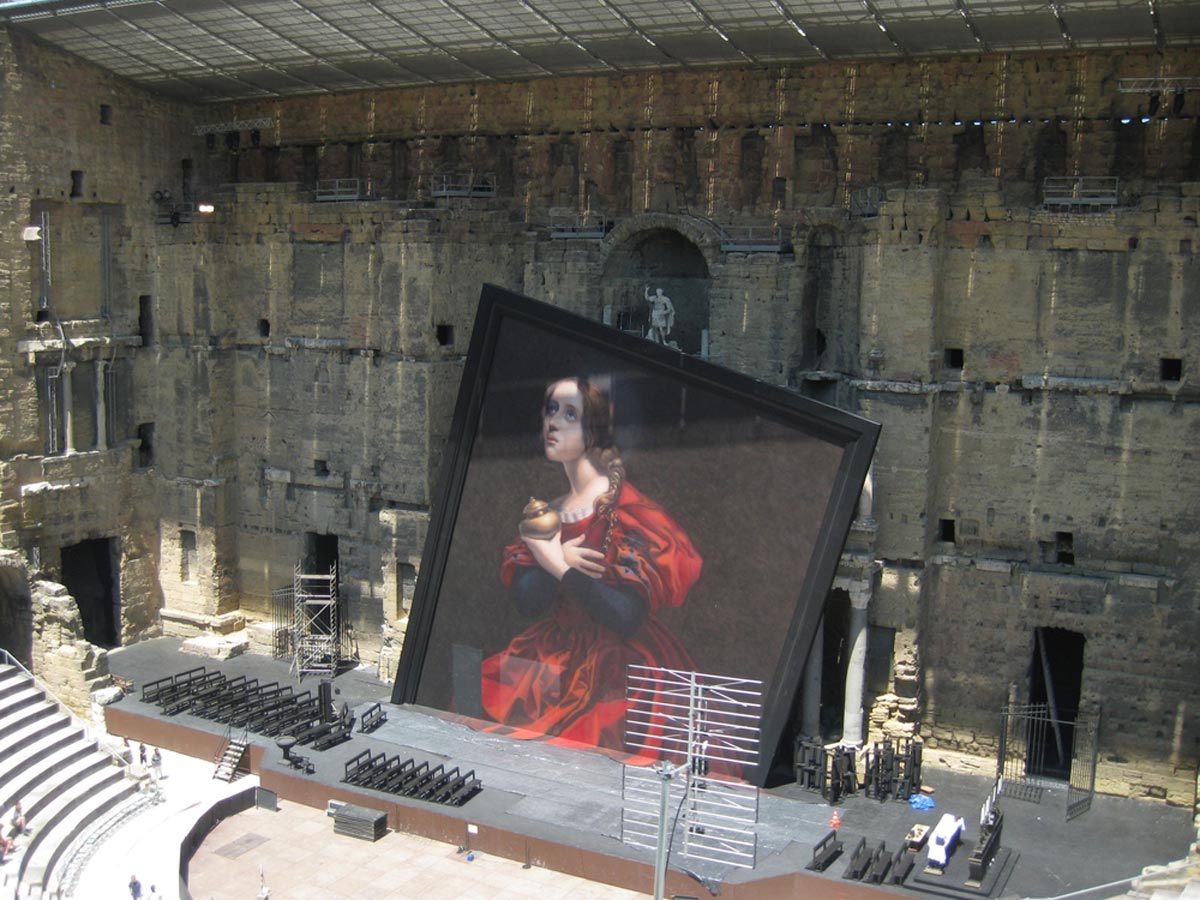 While we're on the note of epic musical events, if you're in Provence's Haut-Vaucluse region during summertime, the ancient town of Orange puts on the prestigious Les Chorégies d'Orange. And it's unmissable.
Here, classical operas and symphony performances are the highlights, making it one of the best places to go in France.
But if that's not your vibe, don't stress. Ancient Theater Week in the village of Vaison-la-Romaine showcases live stage productions. These include legendary comedies and tragedies from the minds of Sophocles, Aeschylus and Ovid.
Things to Do in France: Practical Tips for Your Trip
Where Should I Stay in France?
B Montmartre (Mid-Range)
An exceptional mid-range hotel situated in the 17th arrondissement of Paris, B Montmartre offers affordable luxury and the ideal setting to explore the city. Close to the Place de Clichy Metro, it's both convenient and well-appointed.
Le Vallon de Valrugues & Spa (Luxury)
If you want to spend your time in France living in the lap of luxury, La Vallon de Valrugues is your best bet. Standout features include opulent suites and villas, an on-site gourmet restaurant and a near-perfect location in the heart of Saint-Rémy-de-Provence.
Recommended Tours in France
Things to Do in France: Map
Love this? Save and share on Pinterest!