Creating the perfect Bali itinerary can be a difficult task – no matter how long you have, you will always end up wishing that you had more. Use this step-by-step 2 weeks in Bali itinerary to help you plan your trip.
Regular readers of the blog will know that I've just come back to the UK from a month in Bali.
One of the biggest questions I had, as I was planning the trip, was what my Bali itinerary would look like.
It can be difficult understanding how much or how little you should try and pack into your itinerary when you're travelling anywhere, and Bali is no exception.
After a month of researching and exploring, I wanted to share this suggested Bali itinerary for 14 days on the island to help you plan the perfect trip.
Looking for more Bali travel inspiration? Check out the other posts in my Bali travel series
I'll be honest, putting together an itinerary for two weeks in Bali is slightly tough as there are so many options to choose from. I've opted for four destinations with a few day trips, as I think it can be pretty tiring if you are moving around every night.
2 Week Bali Itinerary
Days 1-4: Canggu
Canggu is very much one of the new kids on the cool block when it comes to spending time in Bali. You can see why – with its laid-back Instagram aesthetic, reputation as a surfer's paradise and plentiful beach bars and sundowner spots, it was only a matter of time before Canggu found itself on many a Bali-bound traveller's radar.
Sundowners at The Lawn

Echo beach at sunrise
Canggu is one of my favourite spots in Bali and a great place to start your trip. It's more relaxed than party-central Kuta but without the never-ending pretension of Seminyak. That said, its growing popularity has meant that it's becoming one of the more expensive places to stay in Bali.
What's more, Canggu is within easy reach of several other Balinese hotspots, such as Kuta and Legian further down the bay and Tanah Lot, one of Bali's famous sea temples.
Things to do in Canggu
Breakfast/ Brunch
Canggu's food scene is poppin'. I don't think I've ever stayed in a place with so many outstanding breakfasts and brunches – it seriously takes the meal to a new level. Brunch is a serious pastime in Canggu, one which you should indulge in at least once during your stay.
My favourite spot Milk & Madu actually burnt down just before I left but they were talking about rebuilding it pretty quickly, so I'm going to put it in here in the good faith that they have. Try their minted pea and feta on sourdough and wash it down with the best coffee in town (I don't say this lightly, I'm very fussy when it comes to my morning dose of caffeine).
Motion Cafe has a tasty health-oriented menu. I picked the sweet potato waffle with smoked salmon and cream cheese more out of curiosity than anticipation, yet found myself ordering it on the numerous times I stopped by for breakfast.
Surfing on Echo Beach
OK, so I really don't like surfing. I've tried it a few times and not only am I terrible at it (which was pretty much a given as I'm notoriously uncoordinated and unbalanced), but I really don't like being smashed in the face repeatedly with salty water.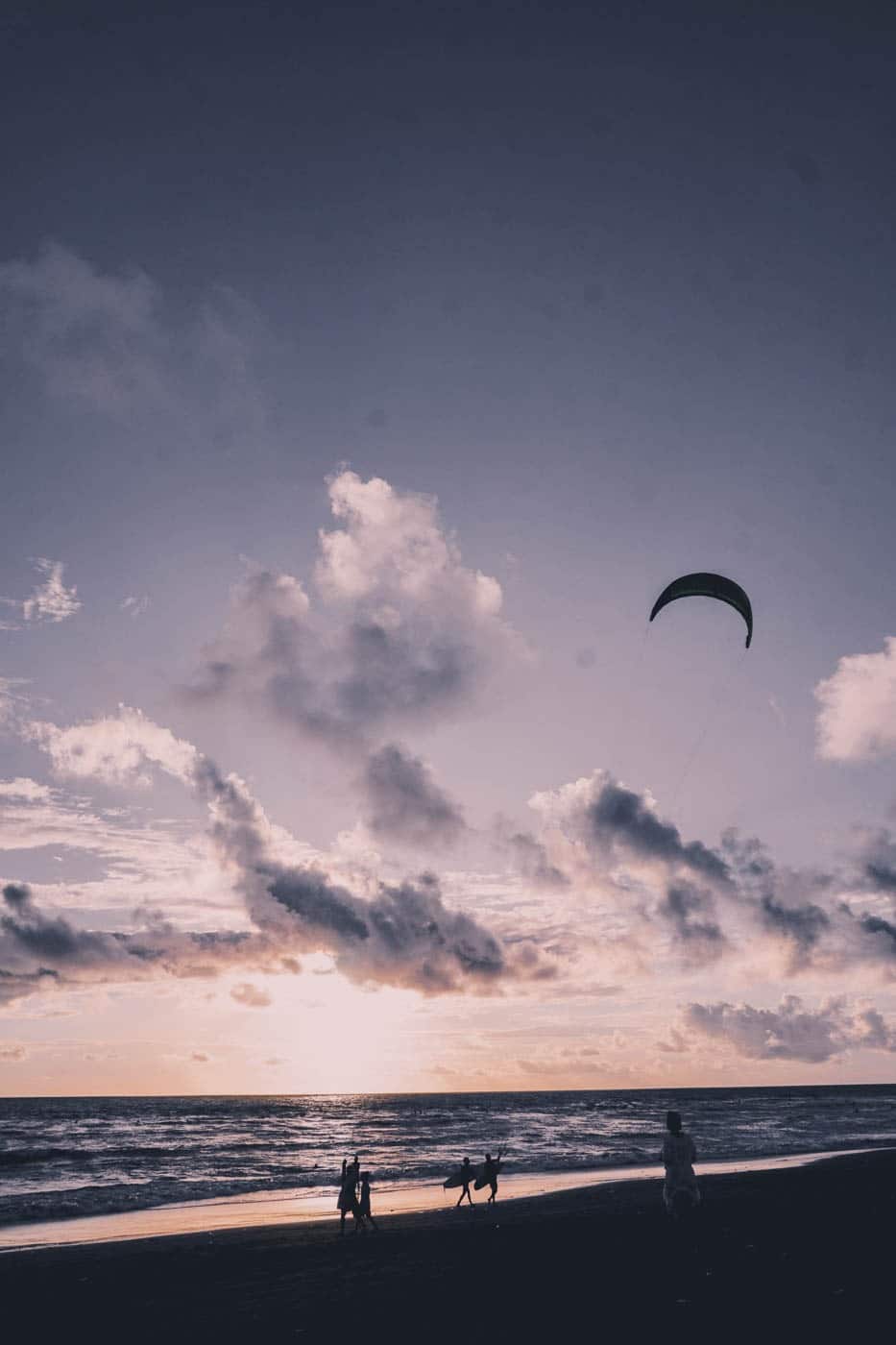 So why am I recommending that you try it during your Bali itinerary? Valid question – the answer to which is because you'll never know unless you try it yourself and Canggu is the perfect place to take a lesson and work on your technique.
Learn a New Skill
Canggu has become a real entrepreneurial hub, with co-working spaces such as Dojo attracting digital nomads and entrepreneurs. This has translated into a thriving scene of cool experiences and things to do.
Local company Learn With Locals, run by the uber-cool Ulla Risager have created a programme of unique experiences for you to try during your Balinese trip.
Take your pick from their diverse range of workshops, which span from watercolour illustration, to hand-making your own bra.
Each class is taught by a local, and offers a unique insight into the wealth of talented craftspeople and artists on the island.
I opted for the watercolour illustration class taught by NHissy Illustration and (to no-one's surprise greater than my own), came home with new skills and a piece I was actually proud of.
Tanah Lot
A holy temple, perched on a small island just off the coast, amid the roar of crashing waves and black-sand beaches. Tanah Lot is one of Bali's most important and holiest sights.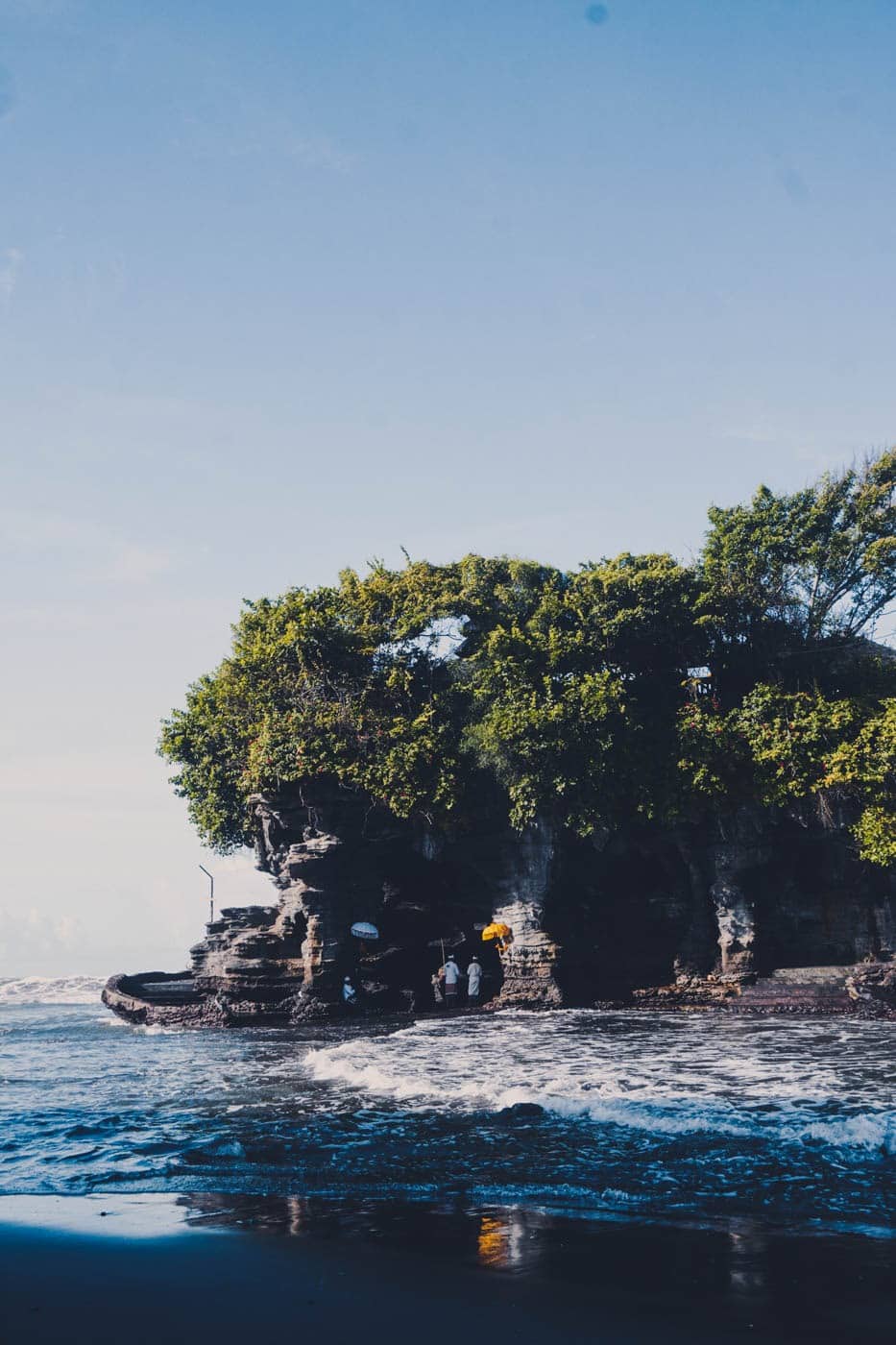 Sounds incredible right? It is, that is before the crowds hit and you're all fighting for your square metre to take a picture without getting drenched.
While Tanah Lot isn't in Canggu itself, it's only a 5-10 minute drive or scooter ride away, meaning you can get there early and pretty much get the site all to yourself.
Work on Your Tan On Batu Bolong or Echo Beach
Canggu's beaches are not the prettiest – in fact, if you were to pick a colour to describe them, it would be… grey. The colour comes from the volcanic minerals present in the sand.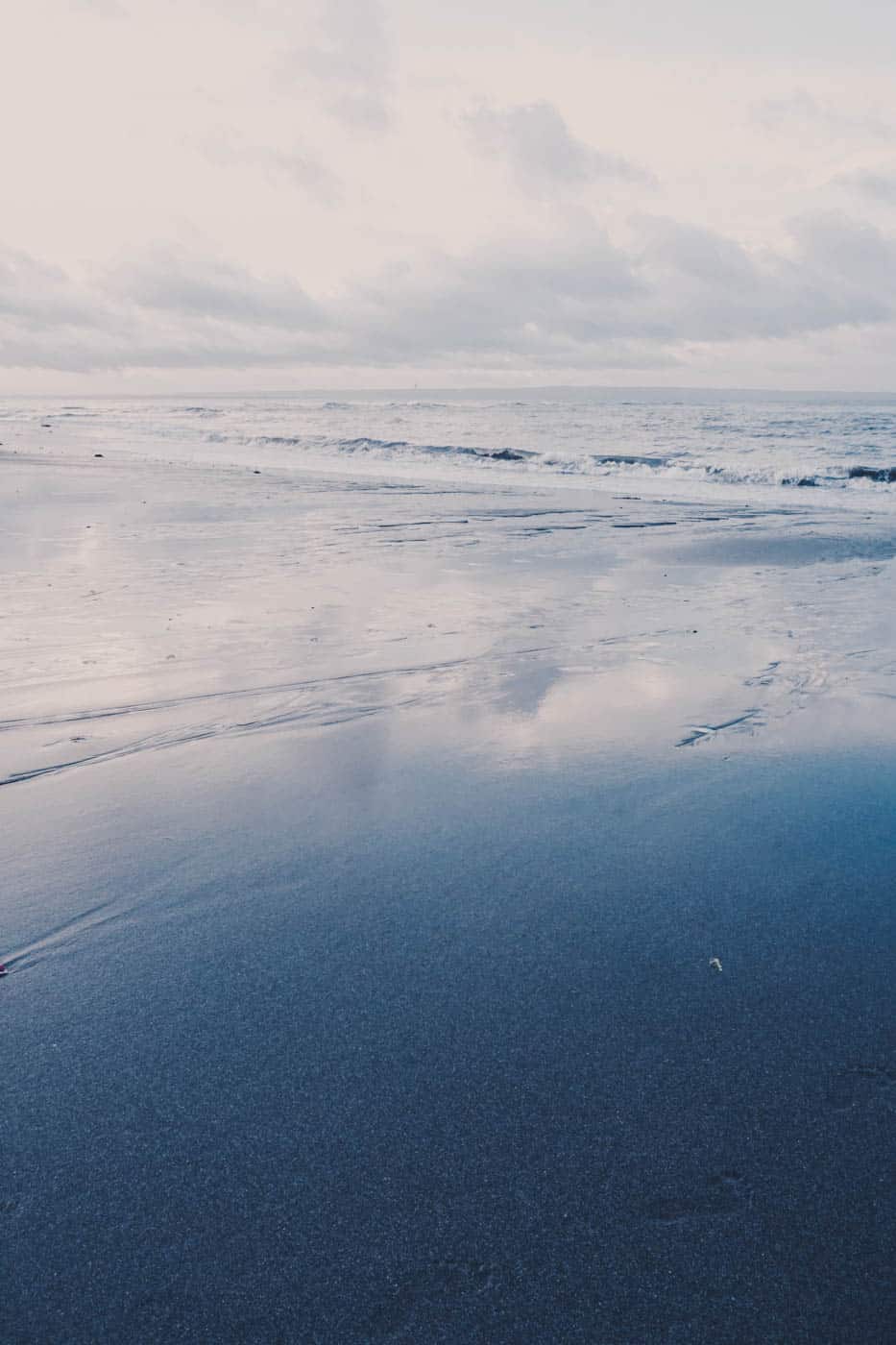 Still, it doesn't actually make a blind bit of difference when it comes to the important things: basking in that hot, hot Balinese sunshine and cooling off with a nice cold Bintang, so really, who cares anyway.
Best Places to Eat and Drink in Canggu
Betelnut Cafe
Authentic and delicious Indonesian food in a gorgeous setting, Betelnut Cafe is a great spot for a filling and well-priced evening meal.
In The Raw
A gorgeous open-air cocktail bar, restaurant and health food shop with the friendliest staff in Canggu. I tried breakfast, lunch and dinner at In the Raw – all were superb. Highly recommended.
Old Man's
One of Canggu's liveliest night time spots. Old Man's also serve the best margaritas in town (this is a certified fact. I tested a large number of Margaritas during my stay) and have a banging hip-hop / rap/ rnb classics night on Wednesday that went straight to this London gal's heart.
Going into Old Man's is like entering into a rabbit hole – one night I bumped into an old colleague I worked with years ago, every night I made a new Bali bestie, you've got to give it a try.
Watercress
Watercress Bali is over on the Batu Belig side of Canggu towards Seminyak.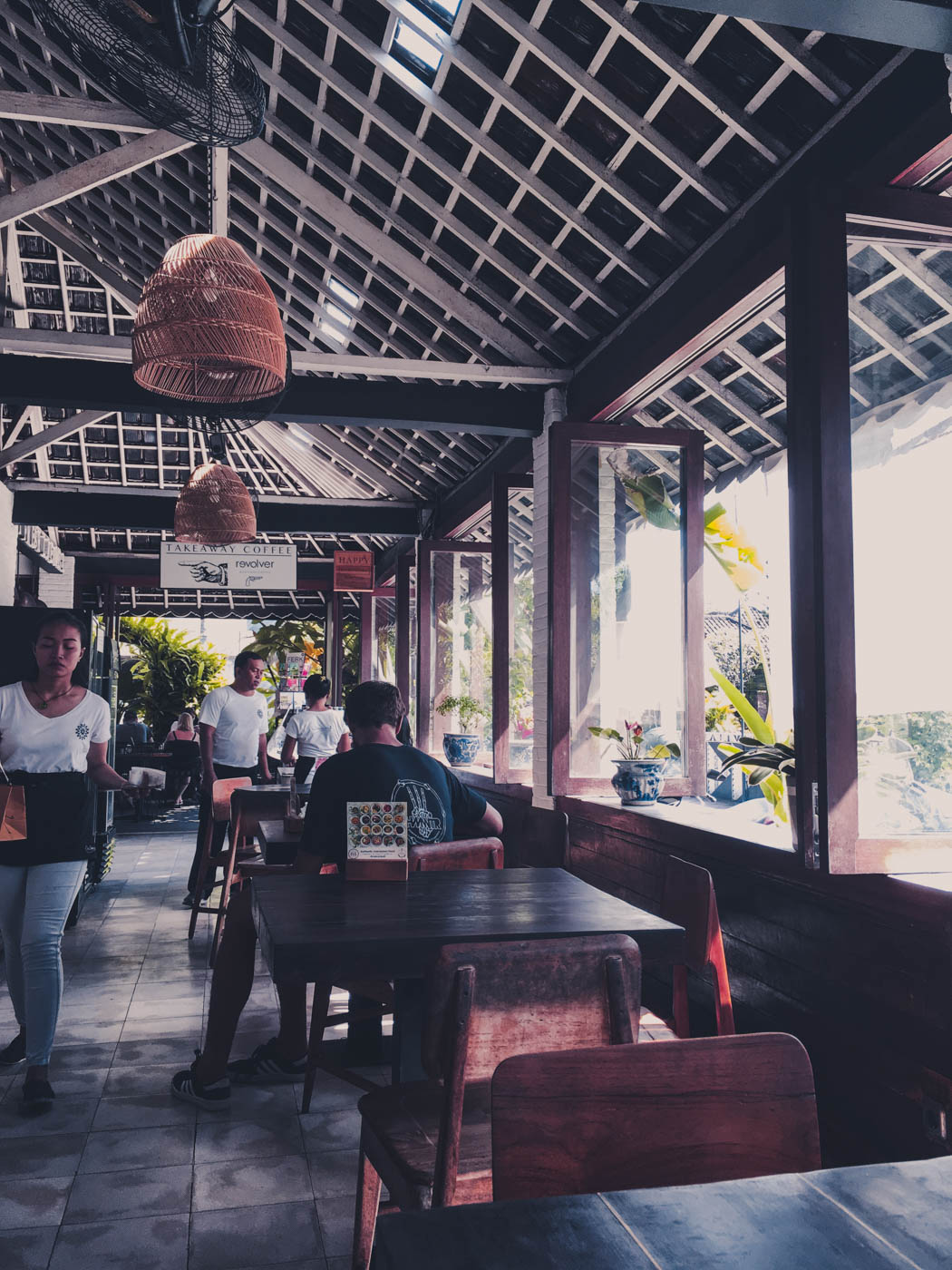 Watercress serves delicious breakfasts and nice coffees. Win win.
Crate Cafe
Crate Cafe is one of Canggu's classic brunch spots. Book a table or get there early, Crate is pretty much always heaving (but so worth it).
The Lawn
The Lawn is an upmarket spot for a sundowner or three, grab a spot on the artificial lawn to see out the day with a cocktail, before heading inside for dinner.
Where to Stay in Canggu
The Slow
£££
The Slow is a beautiful boutique hotel in the middle of Canggu. Think polished concrete, opulent art and a cool bar/ restaurant.
Wiras Village
£
Wiras Village is a small B&B set in a quieter area of Canggu. Rooms are spacious and airy, and there's a nice communal area with a pool. Great value option.
---
Read my full guide to the best hotels in Bali, area by area
---
Days 4-10: Ubud
Ubud is Bali's spiritual and cultural hub. Packed with temples, yoga studios and surrounded by lush rice paddies and tropical forest, it's one of Bali's most enchanting destinations and a must-see spot during your two weeks in Bali.
Where Canggu is all about surfing, cocktails and brunches, Ubud is more about yoga, temples and traditional crafts.
Tegalalang Rice Terrace
It's the kind of place where some people go to "find themselves" but even if that's not your bag (being honest, it most certainly isn't mine), there's something about Ubud that will make you fall just the tiniest bit in love with it.
Even though you know that at least a proportion of the other people there read Eat, Pray, Love and it inspired them to do something other than throw the book (of drivel) in the bin.
While there's plenty to do in Ubud itself, it's also a great place to base yourself while exploring more of south-central and central Bali – see the suggested day trips at the end of the section.
Things to do in Ubud
Ubud Monkey Forest (Sacred Monkey Forest Sanctuary)
Monkeys, like Marmite, split people into one of two camps. There are the "OMG these things are so cute, I think it's really funny that that monkey has just nicked my £500 camera and dropped it from the top of a tree, smashing it into smithereens" peeps and there are the "get that thing away from me, does it have rabies, I think it has rabies, it's eyes are all funny" kind of people.
I'm probably the latter (one day I'll be able to talk about the time I was too scared to go to my overwater villa on a private island because the boardwalk was inhabited by a family of very aggressive monkeys. That day is not today).
But you know what, the Ubud Monkey Forest is a pretty incredible experience.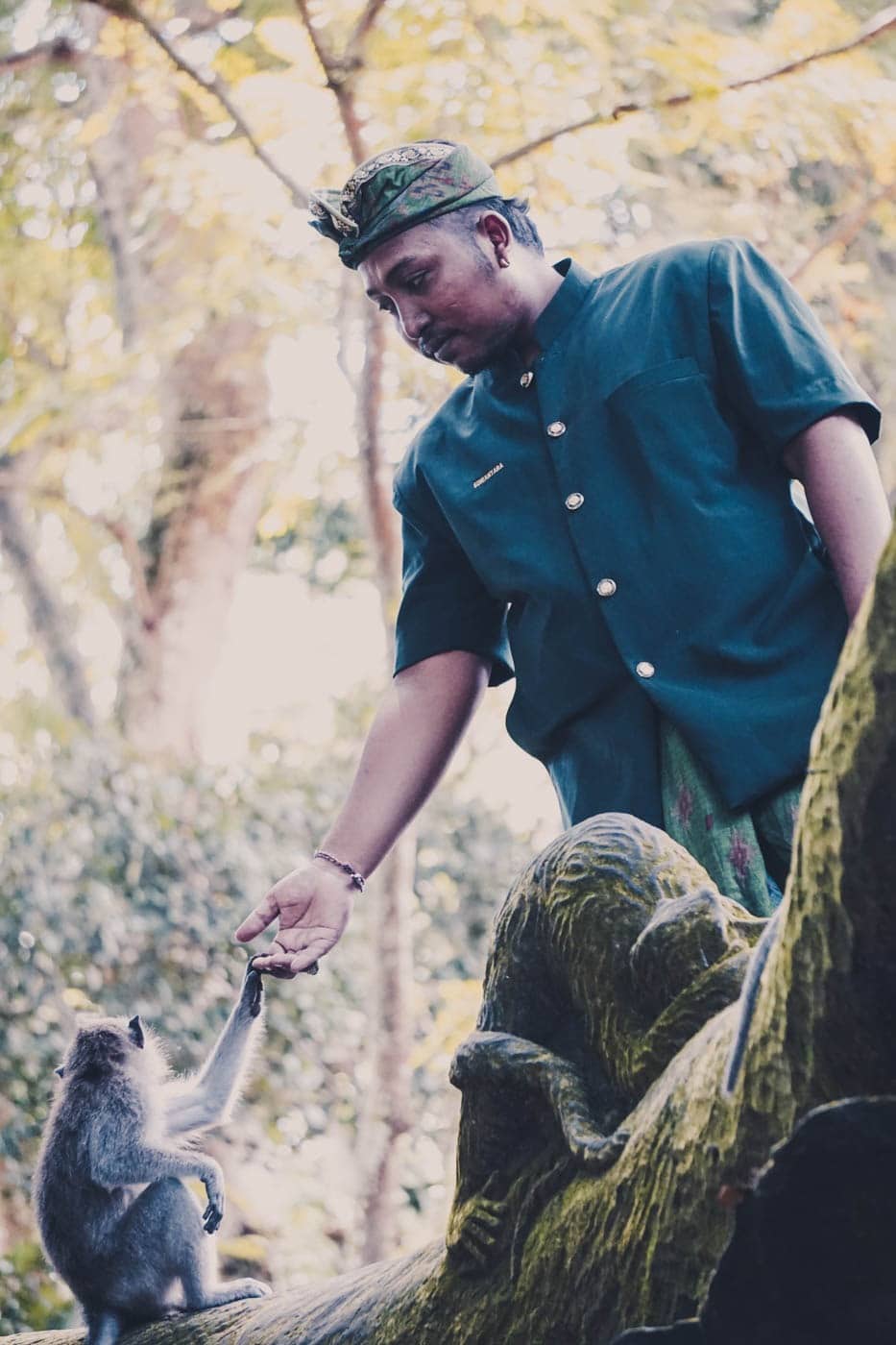 From the moment you step into the forest and down into the slightly creepy but atmospheric tunnel that leads into the forest, you are surrounded by the little scamps.
The sanctuary aims to embody the Hindu concept of "Tri Hata Karana". This focuses on the idea that there are three ways to reach spiritual and physical wellbeing, one of which is a harmonious relationship between humans and their environment. As such, the monkey forest is a way of bringing about that harmony.
And there you were thinking it was just an opportunity to play with some cute monkeys.
Tegalalang Rice Terraces
Imagine a landscape of green, bright and lurid, sculpted through centuries of agriculture into a series of undulating terraces. That's Tegalalang. They crop up on pretty much every Bali itinerary out there – here's why.
Now, I think these rice terraces are the tiniest bit overhyped. Bali is full of beautiful rice terraces, and for me, the UNESCO Jatiluwih ones are actually more striking. BUT. The Tegalalang terraces are a short distance from Ubud and are pretty magical anyway.
You should take the walk through the terraces. Come with cash and be prepared to pay it to a series of locals throughout the walk for permission to access their land. Go early in the morning – it's cooler temperature-wise and there are fewer people about.
Balinese Dancing in Ubud Palace
Bali has a rich heritage of dancing. Dances that have evolved over centuries are still performed today and watching one of these performances should be on your Bali itinerary.
Ubud Palace or Puri Saren Agung, is the perfect place to catch a performance – the historical setting provides the perfect backdrop for the dramatic productions.
---
Read more about seeing traditional Balinese dance in Ubud.
---
Cooking Class
Just don't get me started on Balinese food. It's SO good. I mean, it is ridiculously good. Do your future self a favour and take a Balinese cooking class while you are in town because you are going to want to know how to make some of this magic at home.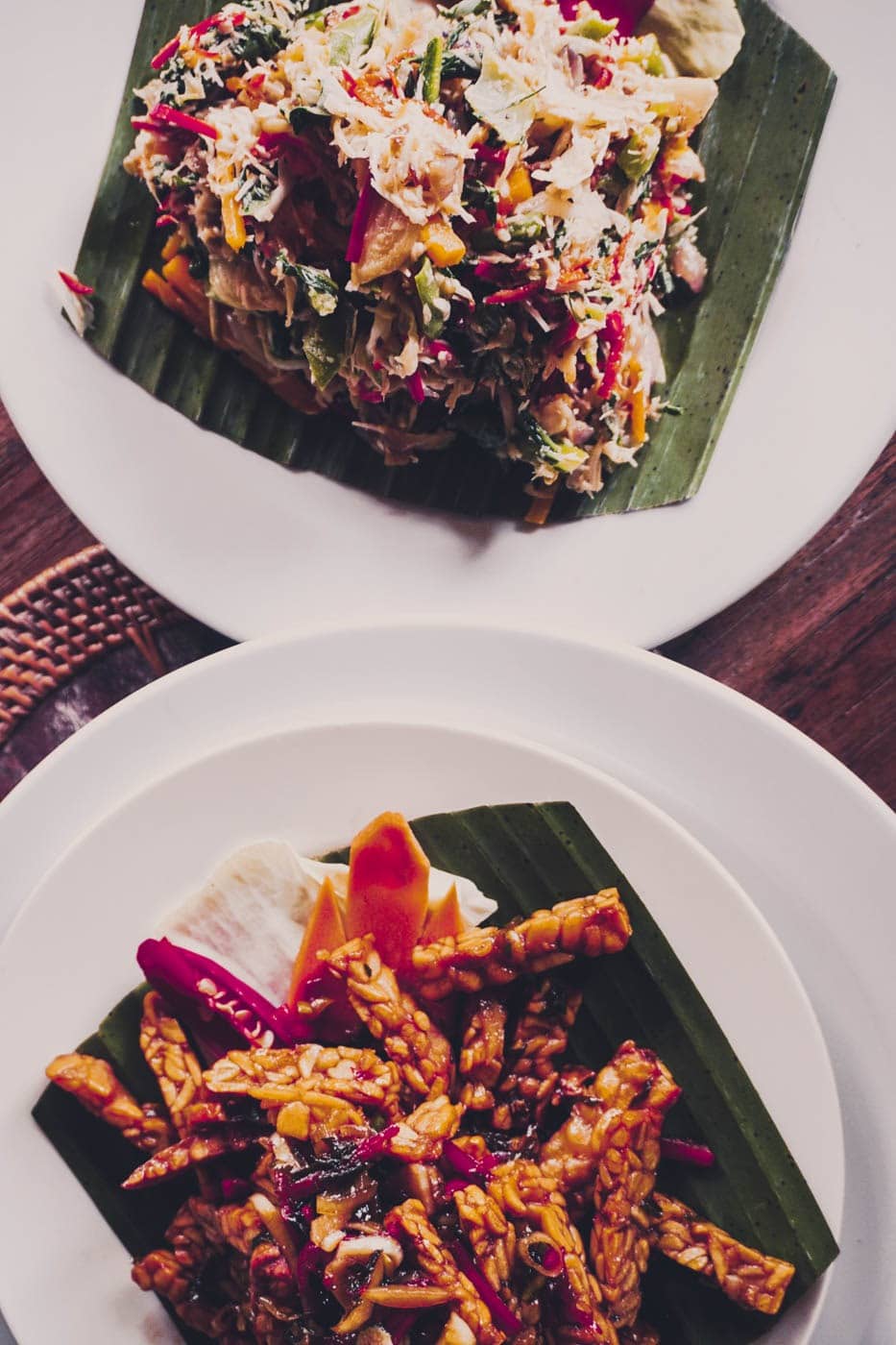 I've been to loads of cooking classes, some brilliant, some yawnsville and can honestly say, hand on heart, that the cooking class I took in the Pemulan Organic Farm School is one of the best I've ever done.
You start by going to the local Tegalalang Food Market to buy some ingredients, then you walk around the school's own organic farm, learning about and picking more cookstuffs before going into the kitchen and learning how to turn it into tasty food.
---
Want to know more? Read my Bali food guide, complete with recipes to try at home.
---
Jewellery Making Class
You can pretty much try your hand at almost every craft and skill while you are in Ubud, but you should definitely give the silver jewellery making a go.
You are given a square of silver and then shown the skills to help you transform it into a ring, earrings or jewellery of your choice.
Visit Some Temples
There are a number of interesting temples in and around Ubud that are well worth visiting during your time in town.
These range from the immersive Pura Tirtul Empul water temple, where you can bathe in the holy pools, to Goa Gajar Elephant Cave Temple (I'm just going to manage expectations here and tell you that no, there aren't any elephants in a cave at the temple).
Others include Saraswati Temple, Gunung Kawi and Gunung Kawi Sabatu.
Yoga Class
Yoga and Ubud go hand in hand. There are so many studios in Ubud that your main difficulty is going to be choosing which one to try.
Big names such as The Yoga Barn offer a diverse range of classes for every level, or you can go the whole hog and book onto a yoga retreat like The Discoveries Of contributor Nora Elias did – read about her experiences here.
Day Trips to Take from Ubud
Jatiluwih Rice Terraces
If you excuse my french, these rice terraces are worth losing your shit over.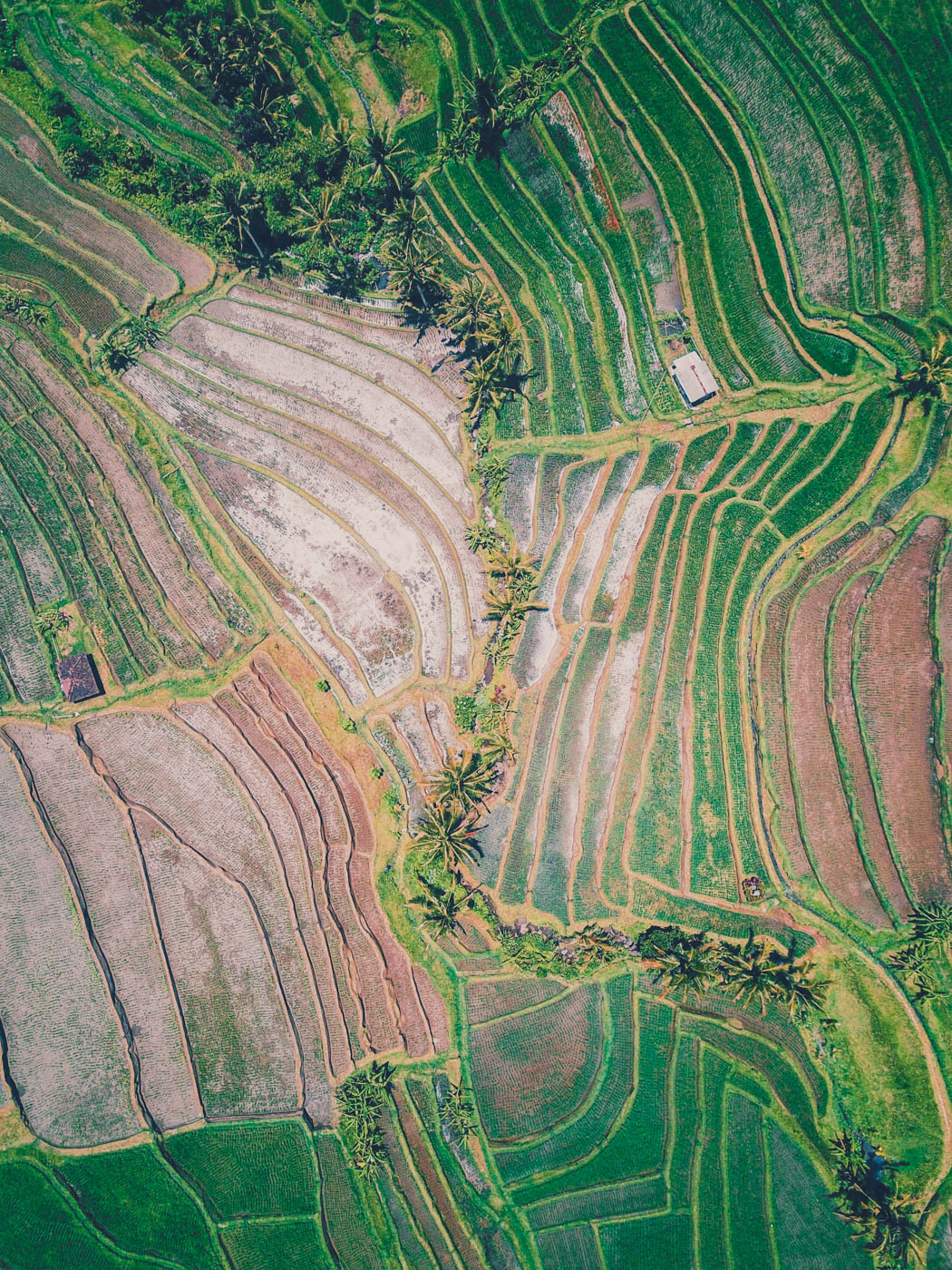 The terraces, which are spread out over 300 acres, have been designated as a UNESCO heritage site, are much quieter than their Tegalalang counterparts and there's a cool 2-3 hour walk you can take through the terraces too.
Book a two-hour electric bicycle tour of the Jatiluwih rice terraces.
Pura Ulun Danu Bratan
Pura Ulun Danu Bratan is one of the most famous temples in Bali.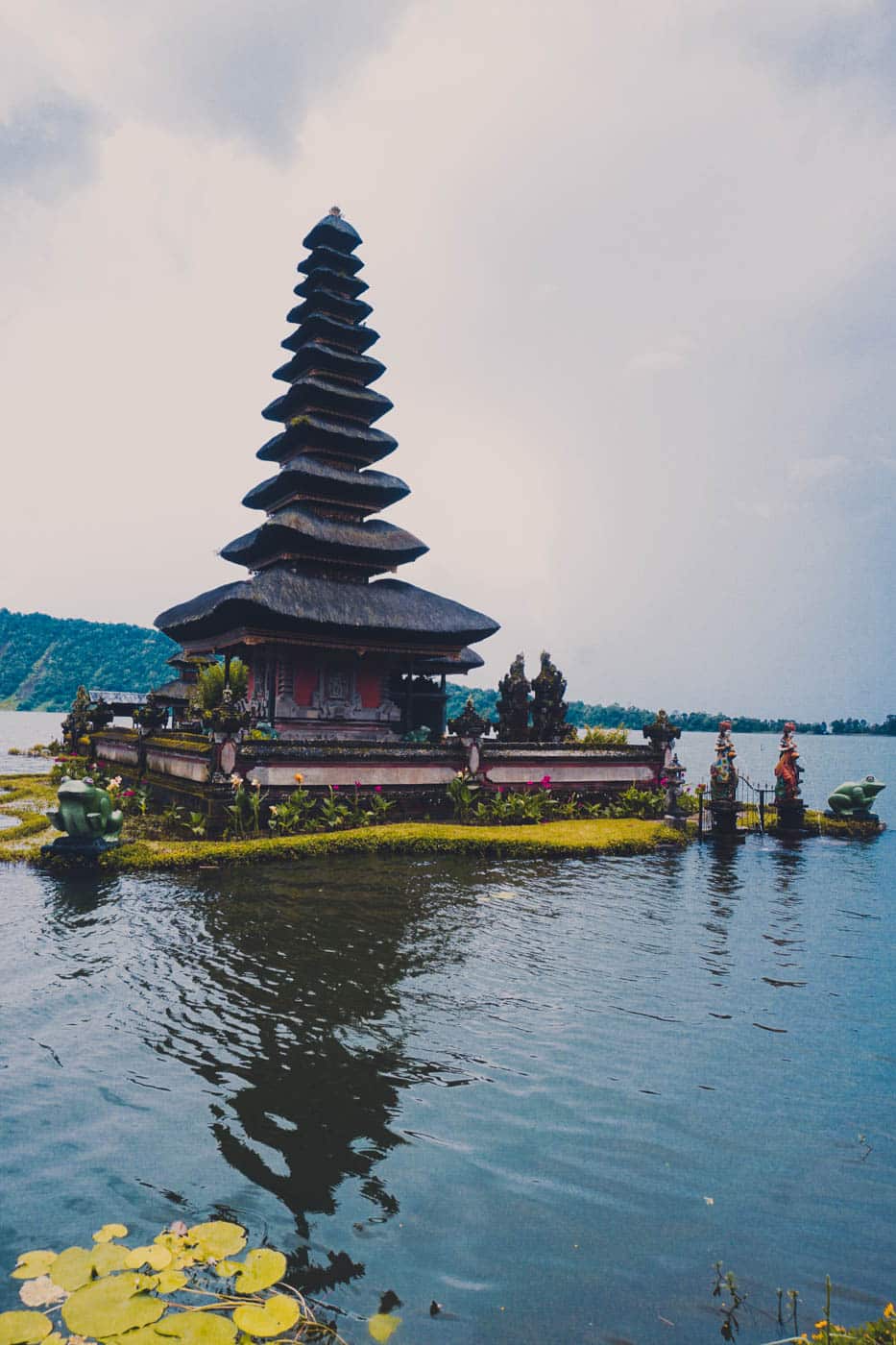 The "floating temple" is set on Lake Bratan and floats on the lake depending on the water level. The higher altitude can mean it is often misty here, which can make for some nicely atmospheric snaps.
Pura Taman Ayun Temple
Pura Taman Ayun is a temple complex set in the midst of perfectly maintained tropical gardens.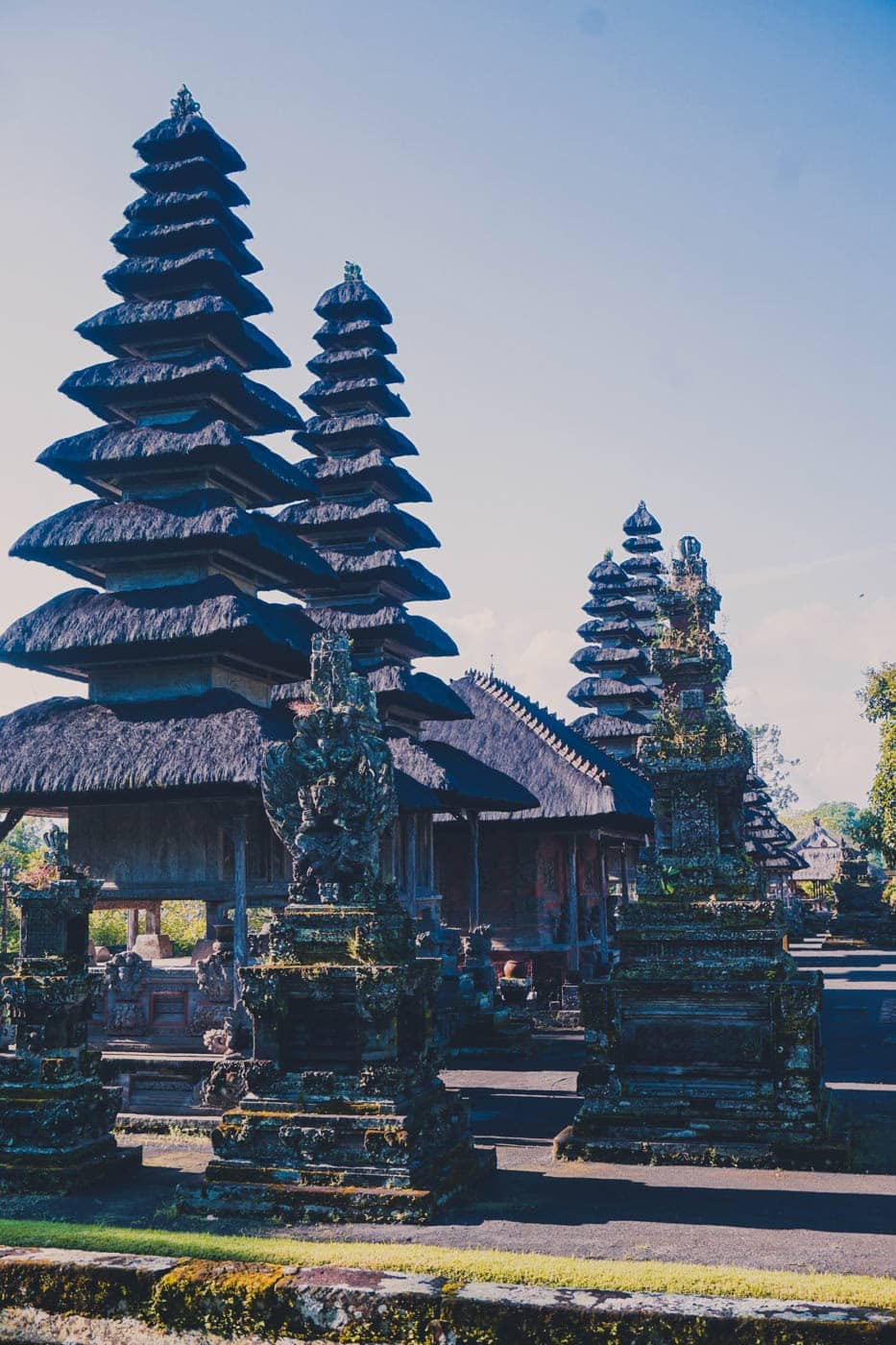 Though the central complex itself is off-limits for non Hindus, its beautiful gardens and gorgeous location make for a nice morning out.
Pod Chocolate
Chocolate lovers beware. Pod Chocolate is highly addictive. This small-batch chocolate producer makes high-quality chocolate sourced from the best Indonesian cacao.
Their visitor's hub is well worth a visit – I learnt a lot about the chocolate-making process AND you get to buy bars of the good stuff at the best prices you'll find on the island. Win win.
Mount Batur
I didn't get a chance to hike Mount Batur thanks to my visit being in the middle of the rainy season – it's firmly on the list for my next visit to Bali.
Everyone I've spoken to has rated the hike highly – you set off in the middle of the night so you can see sunrise from the top of the volcano.
Book your sunrise hike on Mount Batur
The Best Places to Eat and Drink in Ubud
Cafe Vespa
Cafe Vespa is a cute cafe come restaurant with a delicious international menu and great coffee (they say it's the best in Ubud, and you know what, they might be right).
Room4Dessert
Cocktails or dessert? The correct answer is both. Internationally-acclaimed chef Will Goldfarb creates stellar after-dinner concoctions of both the sweet and drinkable varieties at Room4Dessert. Honestly, their negronis are nothing short of divine.
The Elephant
Tasty vegetarian restaurant with great views.
Where to Stay in Ubud
Chedi Tanah Gajah
£££
The Chedi Tanah Gajah quiet and secluded luxury hotel on the outskirts of Ubud. Book one of the private pool villas for the ultimate luxury Ubud experience.
Plataran Ubud Hotel & Spa
££
Plataran Ubud Hotel & Spa is a centrally located hotel with all the creature comforts at an affordable price.
---
Suggested Read: Where to stay in Bali
---
Days 10-12: Nusa Lembongan and Nusa Ceningan
You know all those stunning Bali beach pics you see on Instagram. The ones with emerald waters, soft sandy beaches and some person striking a low-level annoying pose accompanied by a mysterious caption?
There's a good chance that they've been taken on Nusa Lembongan.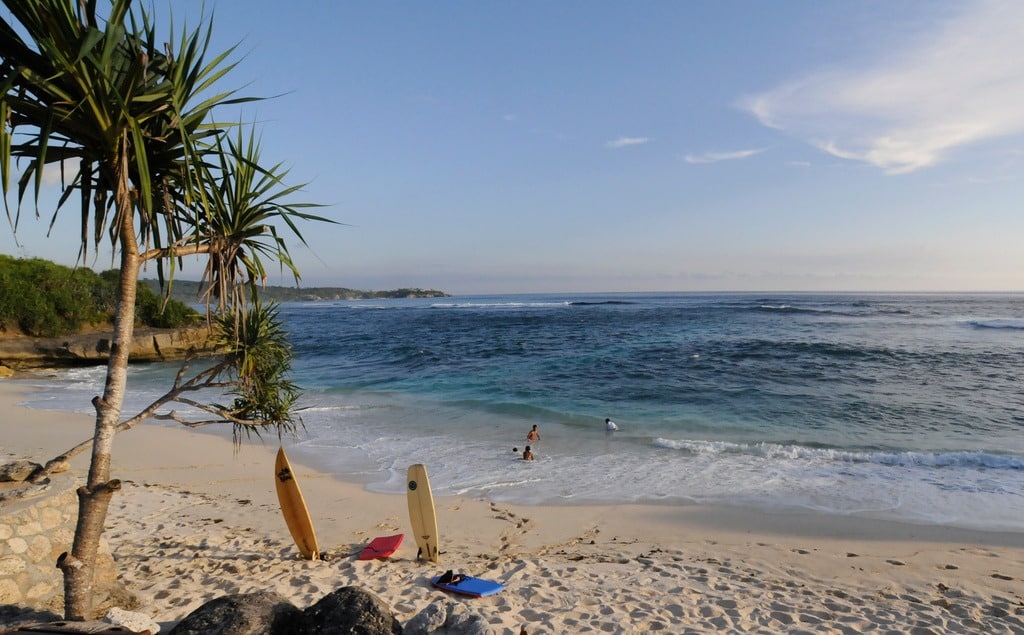 Don't let the annoying Instacrowd put you off though. Nusa Lembongan is an island paradise and one that you should spend some time on during your two weeks in Bali. It's also connected to its neighbour Nusa Ceningan by the aptly-named Yellow Bridge.
Things to do in Nusa Lembongan and Nusa Ceningan
Snorkelling and Diving
Nusa Lembongan is surrounded with good snorkelling and diving spots. You can go snorkelling with manta rays, see tropical sunfish and witness the thriving sea life around the coral surrounding the islands.
Day Trip to Nusa Penida
A 20 minute boat ride away from Nusa Lembongan, Nusa Penida is actually the largest of the three islands and has its own share of cool things to do and see, including the stunning Atuh Beach.
Spend Time on the Islands' Beaches
You should set some time aside for sunbathing on Nusa Lembongan's stunning beaches. Start with Dream Beach, before moving on to Sandy Bay, Mushroom Beach and Coconut Bay.
The Best Places to Eat and Drink in Nusa Lembongan
Bali Eco Deli
Healthy, wholesome and tasty food is the dish of the day at Bali Eco Deli. Everything is made from scratch in-house from the freshest ingredients.
Tigerlily's
Tigerlily's serves up pizzas and cocktails in a tropical location, complete with palm trees and a pool.
Where to Stay in Nusa Lembongan
Lembongan Beach Club and Resort
£££
Private villas (many of which come with private pools) on the beachfront. Check availability and prices.
Blue Corner Dive Resort Lembongan
££
A cute resort with a stretch of private beach and an in-house dive school. Check availability and prices.
Read more about Nusa Lembongan
You can skip the Nusa islands and use the time to go to the Gili Islands – Gili Trawangan, Gili Meno and Gili Air (which are actually part of Lombok, not Bali).

You can definitely do this as part of your two week itinerary, but I'd suggest you spend days 10-13 at least and then come back to the mainland on the day before your flight home.
Days 12-14: Bukit Peninsula
It's almost time to go home, and time to head back onto the mainland. Take the boat back to Sanur (PS – if you have the time to stop, the food in Sanur is banging) and transfer to the Bukit Peninsula – the tiny teardrop-shaped area on Bali's southernmost tip.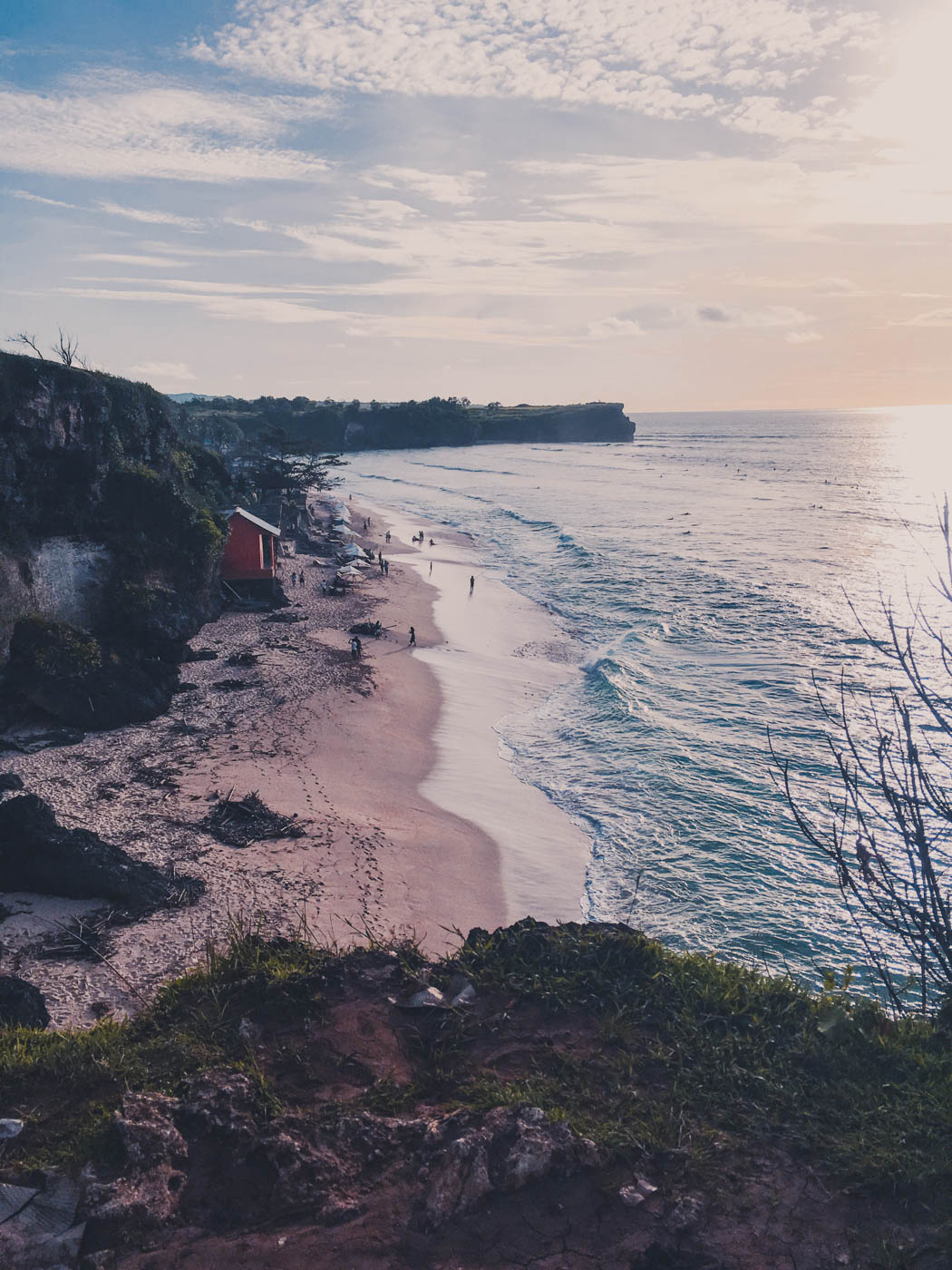 The true south of Bali is a lot quieter than the bustling hubs of Kuta, Legian, Seminyak and (to a smaller degree) Jimbaran.
Unlike some parts of the island, where the beaches are kind of an unappealing grey, the Bukit peninsula is brimming with small, white sand beaches, fringed with turquoise waters.
Base yourself in one of the small beach resorts (I'd suggest low-key Bingin Beach) that line the peninsula for a last spot of Bali chill before you head back home.
Things to do on the Bukit Peninsula
Bingin Beach
Bingin Beach is easy to reach and not too busy, despite its picture-perfect location. Bingin is popular with surfers, who come to coast its year-round swells. Other than that, the beach is framed by gorgeous limestone cliffs – making it one of the most beautiful spots on the island.
Balangan Beach
Unlike many beaches on the peninsula, Balangan is easy to get to by scooter and car – it's a short descent from the car park down to the gorgeous sandy beach tucked between the cliffs.
Though the views from the beach itself are stunning, head up to the panoramic lookout above for a bird's eye view of the beach.
Uluwatu Sea Temple
Uluwatu is another must-see sea temple, this time set in a striking location perched high on a jutting cliff. Its spectacular setting, tucked behind a verdant forest filled with lively monkeys is no small part of its appeal and it's well-known for being one of the best spots to see the sunset on the island.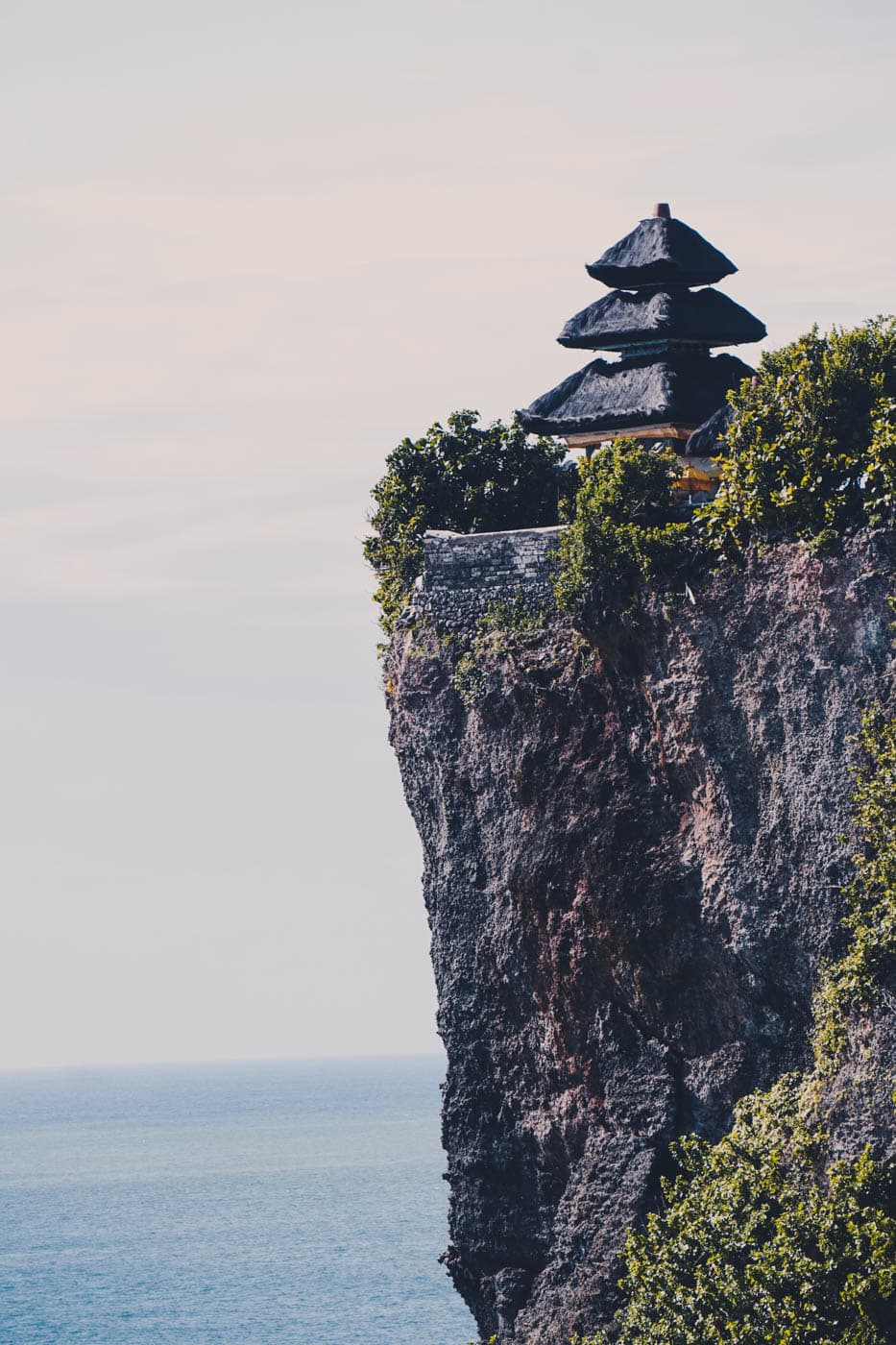 There's also a nightly kecak (traditional Balinese dance) performance at 6pm in an amphitheatre carved into the rock.
The Best Places to Eat & Drink on the Bukit Peninsula
Sundays Beach Club
Sundays Beach Club was made for lazy days on the beach, cocktail in hand accompanied by cooling dips in the sea. The perfect spot for a bit of chillaxing after your hectic two weeks in Bali.
The Cashew Tree
Steps away from Bingin, The Cashew Tree is a cafe-come-restaurant-and-bar. There's no better place for a spot of yoga followed by a relaxed acoustic music session by the shore.
La Baracca
Hot on the heels of its Seminyak and Canggu outposts, La Baracca Bali has opened its Bukit peninsula outpost to serve up homemade pizzas and pastas to hungry diners.
Where to Stay on the Bukit Peninsula
Anantara Uluwatu
£££
It's a bit of a splurge but if you have the cash to stay at the Anantara Uluwatu, you're rewarded with a chic, stylish resort overlooking the ocean near to Uluwatu.
The Inn Possible
£
Even apart from the super-cute name, The Inn Possible is a great spot to bed down in Bingin. Simple decor is paired with ocean views and friendly service for a low-cost option.
2 Weeks in Bali – Practical Tips
There's pretty much zero public transport in Bali, so you will need to get a taxi, transfer or driver to get you pretty much everywhere.
The other option is to hire a scooter to move in between locations. I'm personally very clumsy so didn't opt for this but know lots of people who did as it's cheaper and makes getting from A to B so much easier during your time on the island.
A driver will cost around 550k Indonesian Rupiah (INR) for a full day, 400k INR for a half day. Be prepared to negotiate prices in advance for shorter trips.
Transport From Bali Airport
You can try walking a distance away from the airport and catching a Bluebird (download the app on your phone, be warned, it can be a bit unreliable).
Is there Uber in Bali?
There are Ubers in Bali but they're heavily frowned upon and campaigned against.
I never quite worked out what the official line was, but just know that if you order one, there's a good chance they won't pick you up from certain places. To be honest, I did use Ubers in Bali and found them to be unreliable and not worth the hassle.
Find Accommodation in Bali
Check accommodation, rates and reviews for Bali in Tripadvisor.
I hope you've found this itinerary for 2 weeks in Bali useful. As ever, drop me a message in the comments section below and I'll get back to you right away. Enjoy your trip!
Save and share on Pinterest