Wondering where to stay in Bali? Check out these Bali Airbnbs for some of my favourite spots on the island.
If you're planning a holiday in Bali, you'll no doubt be dreaming of a gorgeous place to stay. Lush jungle surroun
While the best hotels in Bali can be great, sometimes booking an Airbnb instead is a better idea.
Trust me; there are some unbelievable accommodations to choose from.
Rest assured, platforms like Airbnb and Plum Guide do a fantastic job curating a list of amazing places where you can stay. In fact, I'm a huge fan of Plum Guide – the staff go above and beyond by individually vetting properties of the highest quality.
So what are you waiting for? Let's get into where the best Airbnbs in Bali are and why it's not only an option for your next stay on the Indonesian Island but, many times, your best choice.
Best Airbnbs in Bali: At a Glance
Best Airbnbs in Bali
Are you looking for a Bali Airbnb? If you don't want just any Airbnb in Bali, I got you covered with a list of the best places to stay all over the island. Read on to learn about the most stunning Airbnb accommodations Bali has waiting for you.
The Secret Passage: Luxury Villa for Groups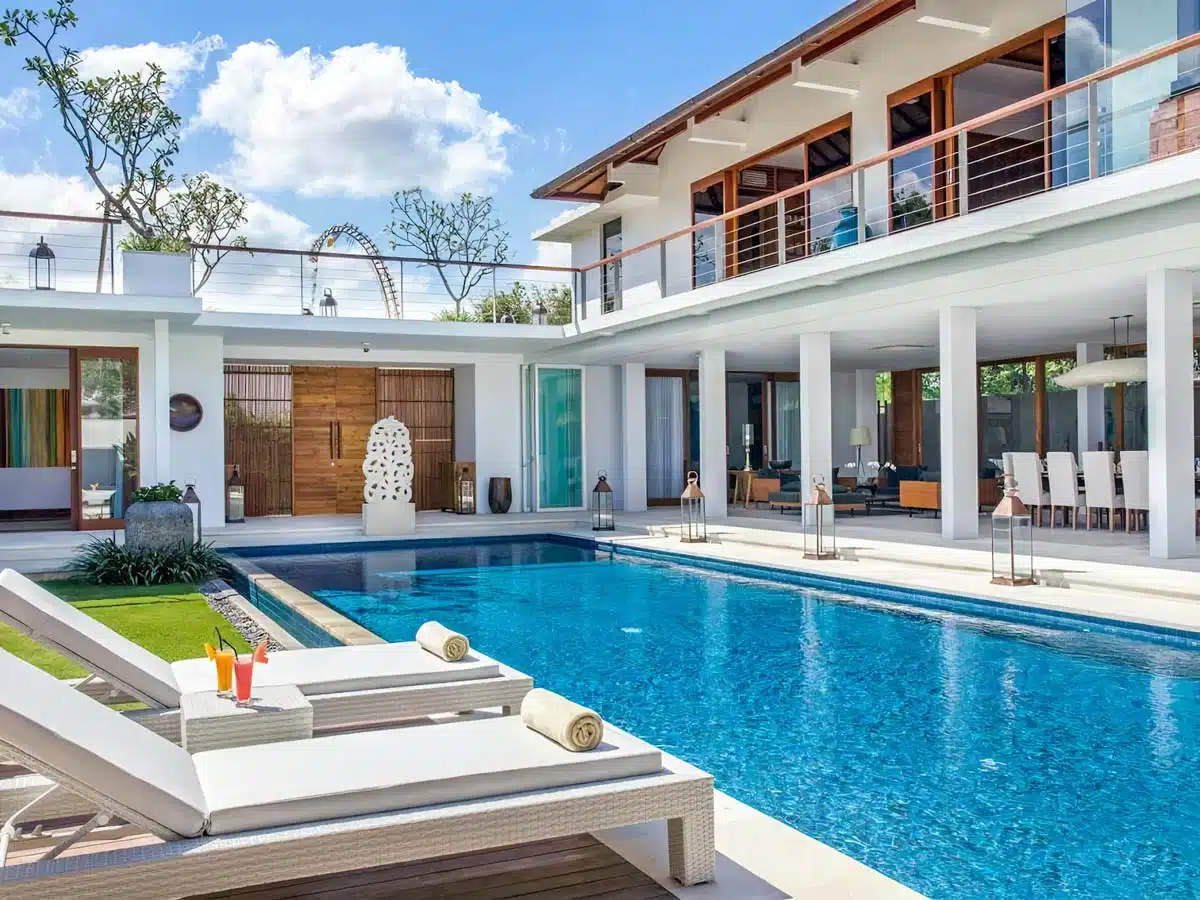 What's in a name? In this case, I think it tells you all you want to know if you and a few of your closest friends want to reserve a gorgeous five-bedroom Airbnb in Bali, Indonesia.
Every single aspect of this luxury villa is impressive, and the balconies above the pool are a great place to start or end your day.
The stunning property includes a private chef, a dining area overlooking your private pool, and in-house massages after you explore the gorgeous area.
Location: Dalung
Location, location, location. Stroll through a secret passageway onto the shores of Batu Belig beach. Enough said?
You can also borrow a bicycle and ride to the Jutilwah rice terraces to see one of my favourite locations in Bali.
Serenity Calls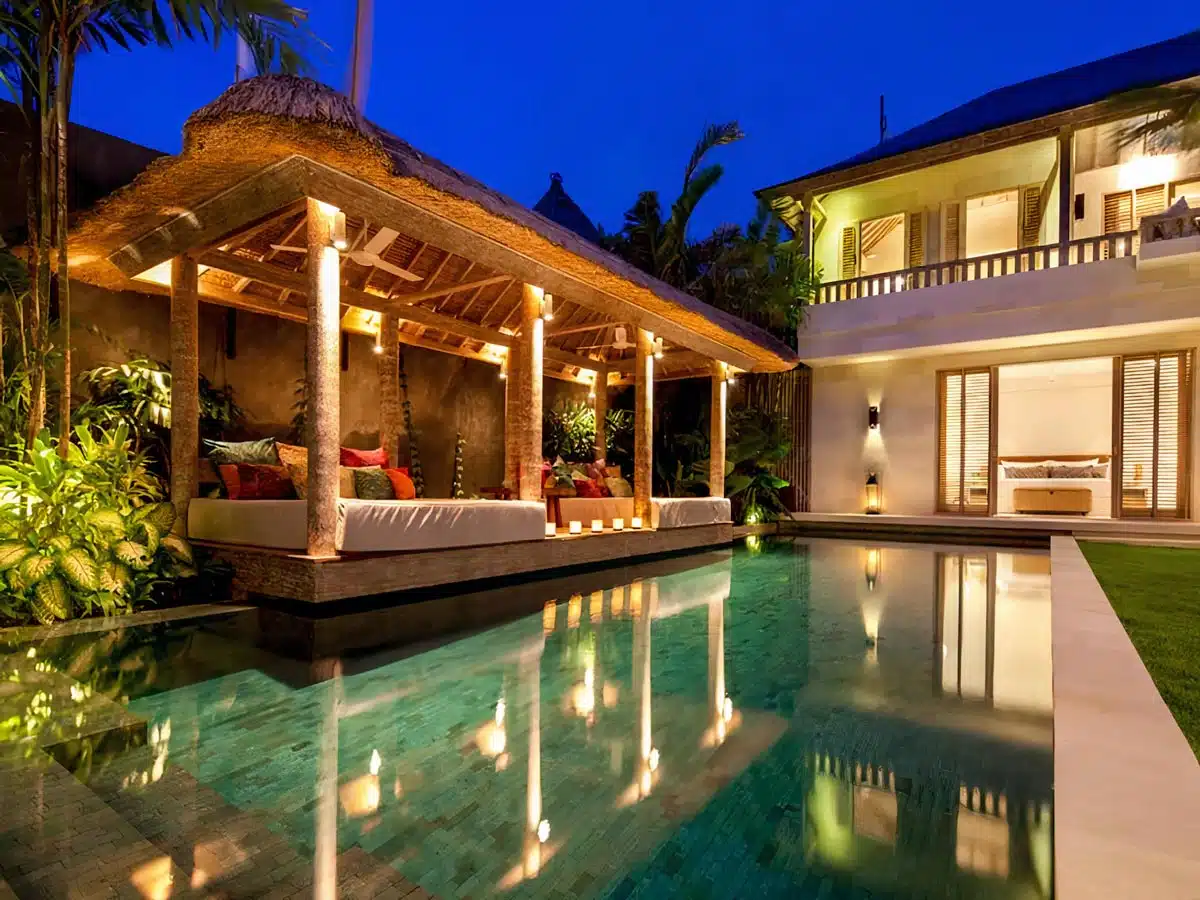 This three-bedroom luxury Bali Airbnb is an excellent choice for groups or families. Why? From the private pool with thatch roof cabanas to a Sonos sound system to pump your favourite tunes, it's a (very bougie) home away from home.
The rooms are spacious, the living area is luxurious, and it's a great place to host a weekend getaway with a few of your closest companions. And the outdoor bar is a nice touch, where you can try crafting a cocktail for your friends or family.
Like many poolside villas in Bali, the outdoor pool is close to the living area and not fenced off, so this one is not recommended for young children without careful supervision.
Location: Kuta
Head to Petitenget Beach or walk around local neighbourhoods with great dining and shopping nearby. You are in Bali after all, so there are always cool things to do.
Sea & Trees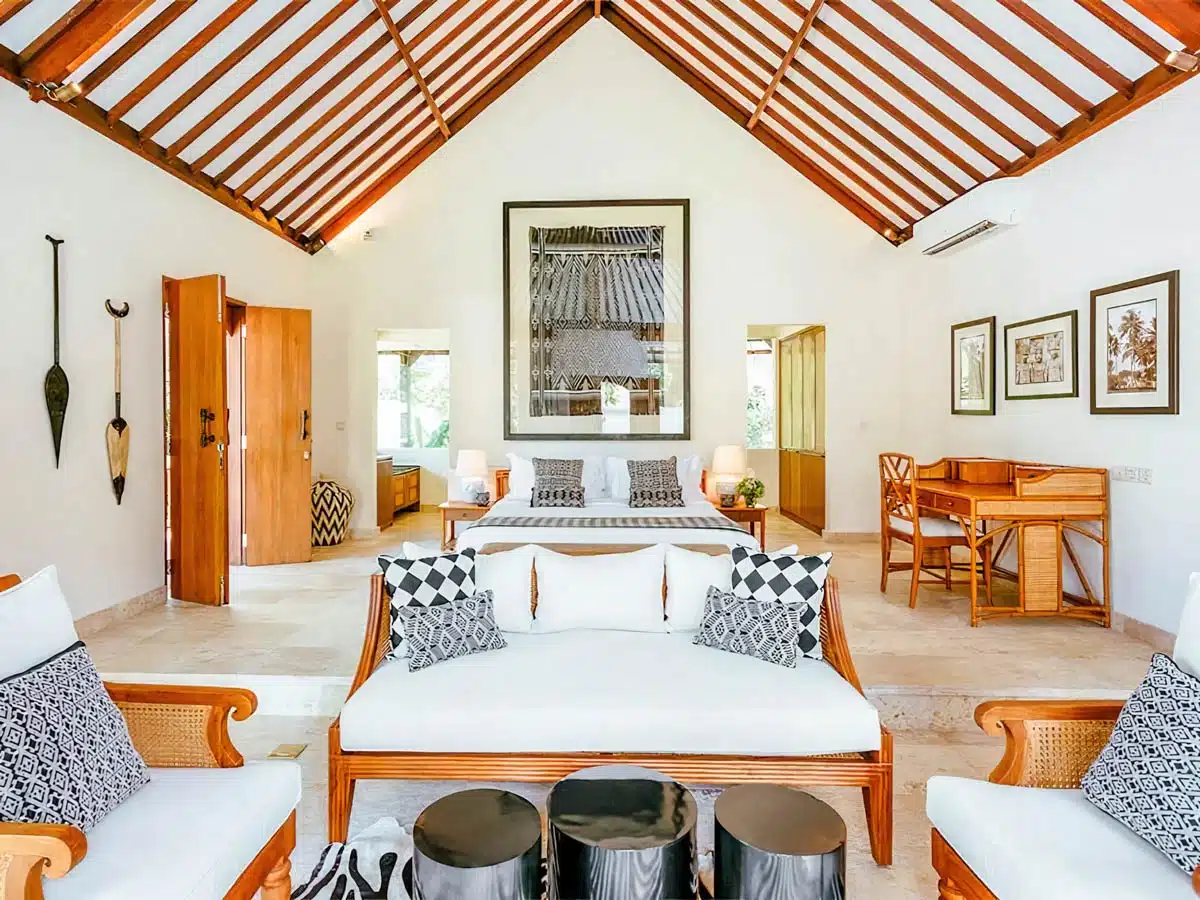 This absolutely massive five-bedroom Bali Airbnb treehouse is admittedly a bit over the top (in the best possible way).
The famous interior designer Elaina Myers designed this incredible treehouse interior boasting hardwood accents, beautiful artwork, and a colour scheme straight out of Architectural Digest.
Invite a few of your closest friends and share the space and its brilliant gardens, pool, and tranquil garden setting. In short, it's the best overall Airbnb in Bali.
Location: Sanur
You're about a mile away from one of the best beaches in the area, Echo Beach. Take a leisurely walk or hire a scooter to explore the area.
The setting is peaceful and private but close enough to all the incredible things to do on your Bali itinerary.
Wooden Bungalow in a Truly Beautiful Location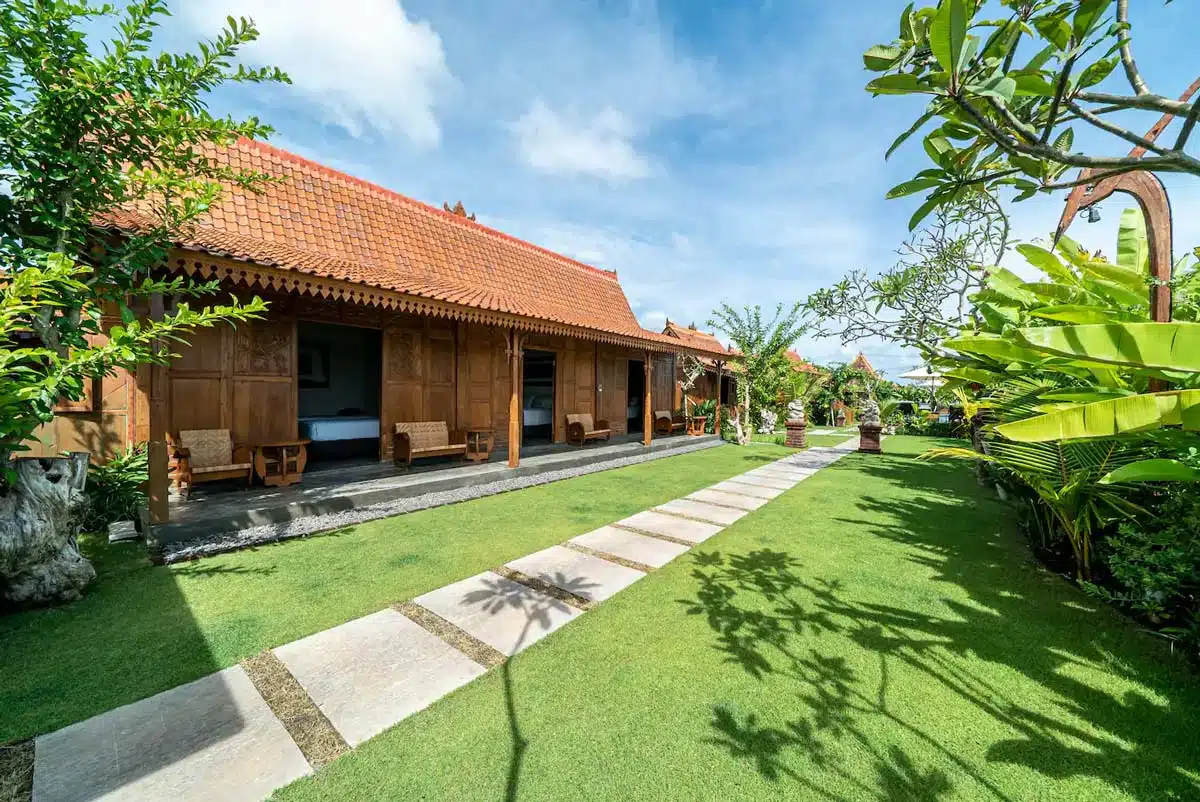 One of the best value spots I've found for Airbnbs in Bali is this charming one-bedroom poolside bungalow with a private veranda, WiFi, and AC (you'll likely need it much of the year).
The beautiful hardwood interior is minimally decorated but has enough furniture and space to make it the perfect place to spend your evenings between adventures in Bali.

It's spotless, charming, and, quite honestly, a deal that's too good to pass up. Book this one far in advance; it's a rare find.
Location: Canggu
When staying at this Airbnb Bali bungalow, you're a short ride away (via scooter) from downtown Canggu. One thing I love about the location here is its proximity to all the dining and nightlife in downtown Canggu.

Still, it's far enough away from the bustling downtown area that you feel a bit more connected to the peaceful and quiet side of the island.
Luxury Poolside Villa in Canggu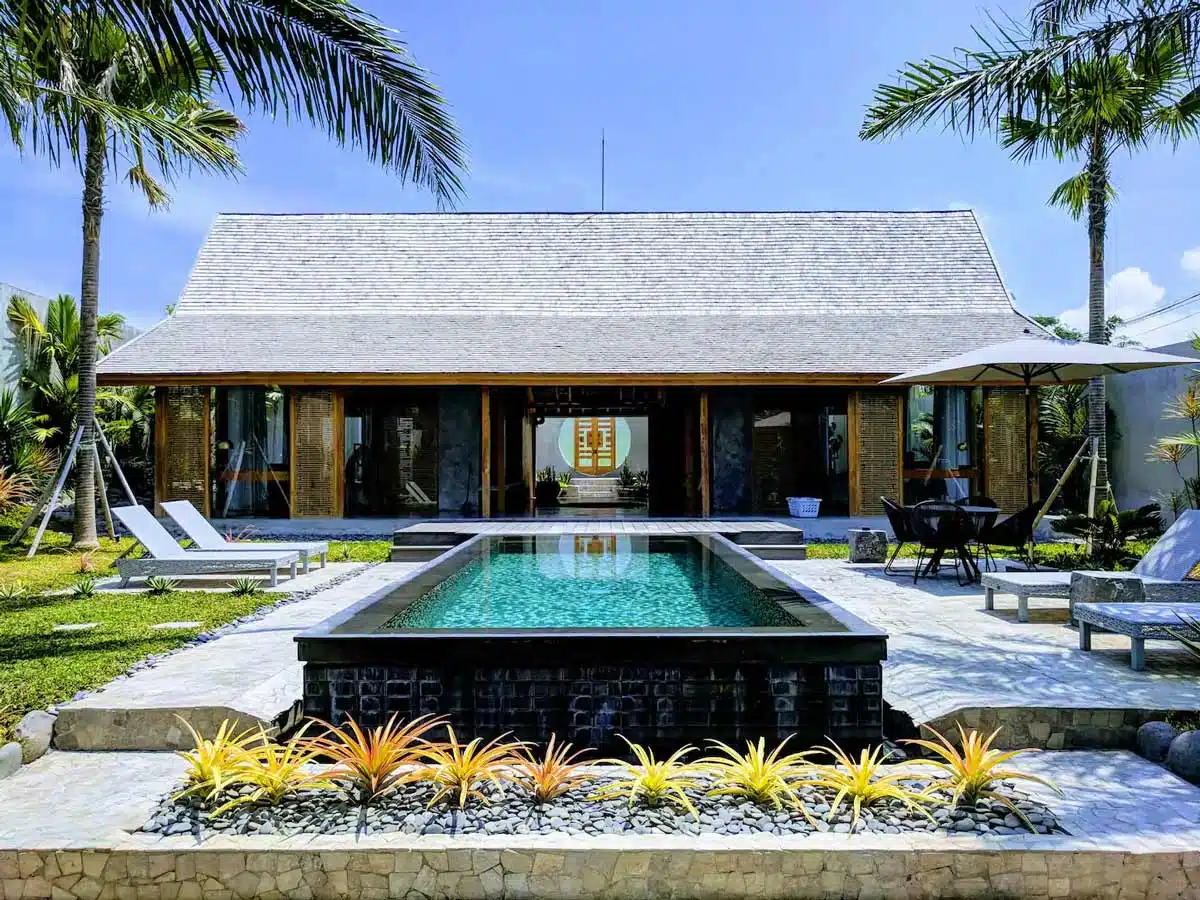 Ok, this next one is on the opposite end of the price spectrum, but hear me out. This two-bedroom Bali Airbnb villa is worth splurging on.
Both rooms have king beds and their own bathrooms, and the living room and dining area boast an airy, open layout that's perfect for evenings in Bali.
Indoor and outdoor spaces are beautifully decorated and feature all the amenities you need to live like a movie star, if for only a week. Go on, you totally deserve it.
The bedroom and entertainment area anchor the incredible outdoor space with a private pool, where you'll likely be spending some sunny Bali afternoons between heading into town or booking a private massage in your villa.
Location: Canggu
Everything that makes Canggu a massive hit with tourists is within walking distance from your luxury villa. Head over to the cafes, spas, and nightlife from your Bali Airbnb in Canggu and see what all the fuss is about.
Luxurious & Spacious Private 2BR Villa with Pool
If it's a poolside Bali Airbnb you're after, you can keep on reading about this two-bedroom home and prepare to be wowed.
A flat-screen television, AC, and a stylish modern interior are all part of the package, but you're here for the pool. Not to worry, the indoor space opens up directly to your private swimming area, so you can access it whenever you'd like.
The large pool and wooden deck are all yours and the perfect way to spend a week at your Bali Airbnb villa.
Location: Seminyak
You'll be in the Bidadari area of Seminyak and can quickly get to some of the best food and entertainment in the area.
Seminyak is also known for some stunning beaches, so schedule some time in the sand and surf in your Bali itinerary.
Balangan Beach Front Villa Nakar Two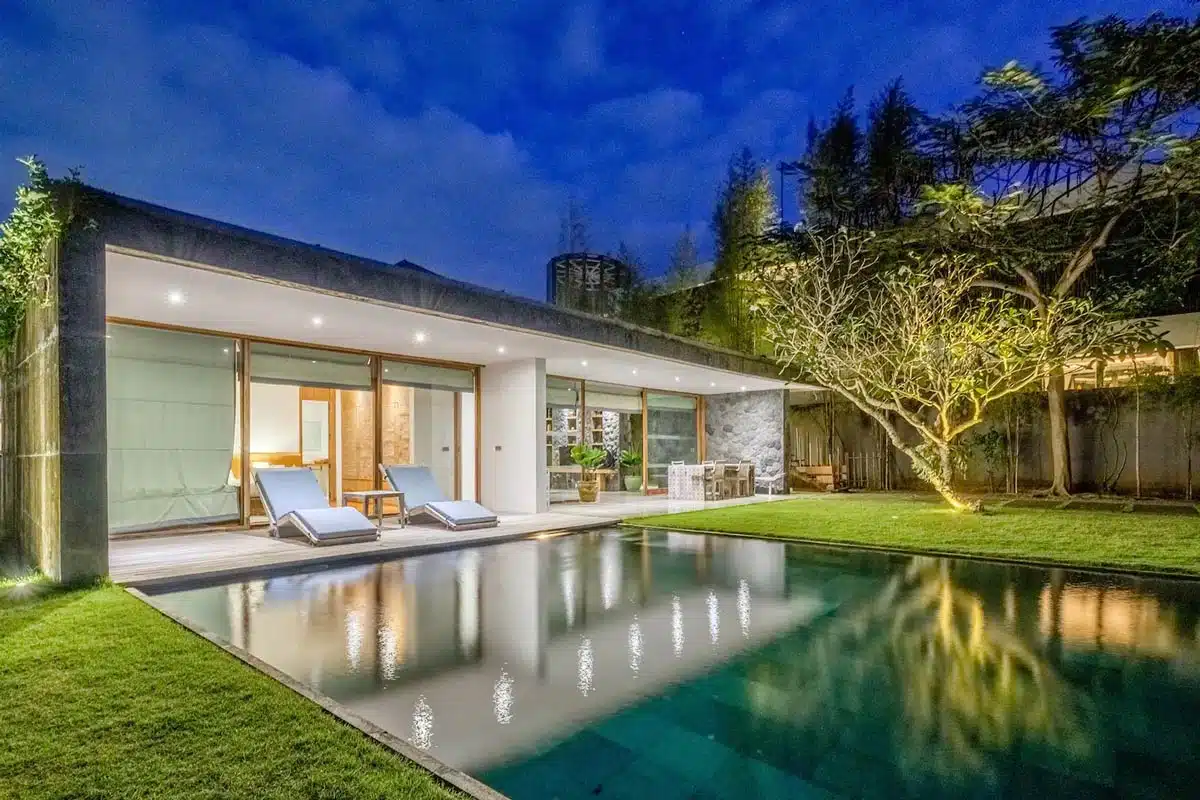 Keen to stay near one of the best-kept secrets in Bali? This two-bedroom Airbnb in Bali is incredible from top to bottom.
You'll love more than a few things about this rental: panoramic ocean views from your rooftop gazebo, a large living space, a garden, and a pool are a few noteworthy mentions.
Choose from a room with a king bed or two twins, with access to a private bathroom, making it a great pick to share with another couple or a set of friends.
Enjoy a meal or cocktail in several outdoor spaces, including a large outdoor table with views of the stunning property around you. Not too shabby, right?
Location: Balangan
Keen to stay near one of the best-kept secrets in Bali? You'll be in Jimbaran, only a few minutes, on foot, to one of the most incredible beaches in Bali. Book now, and thank me later.
Hidden Paradise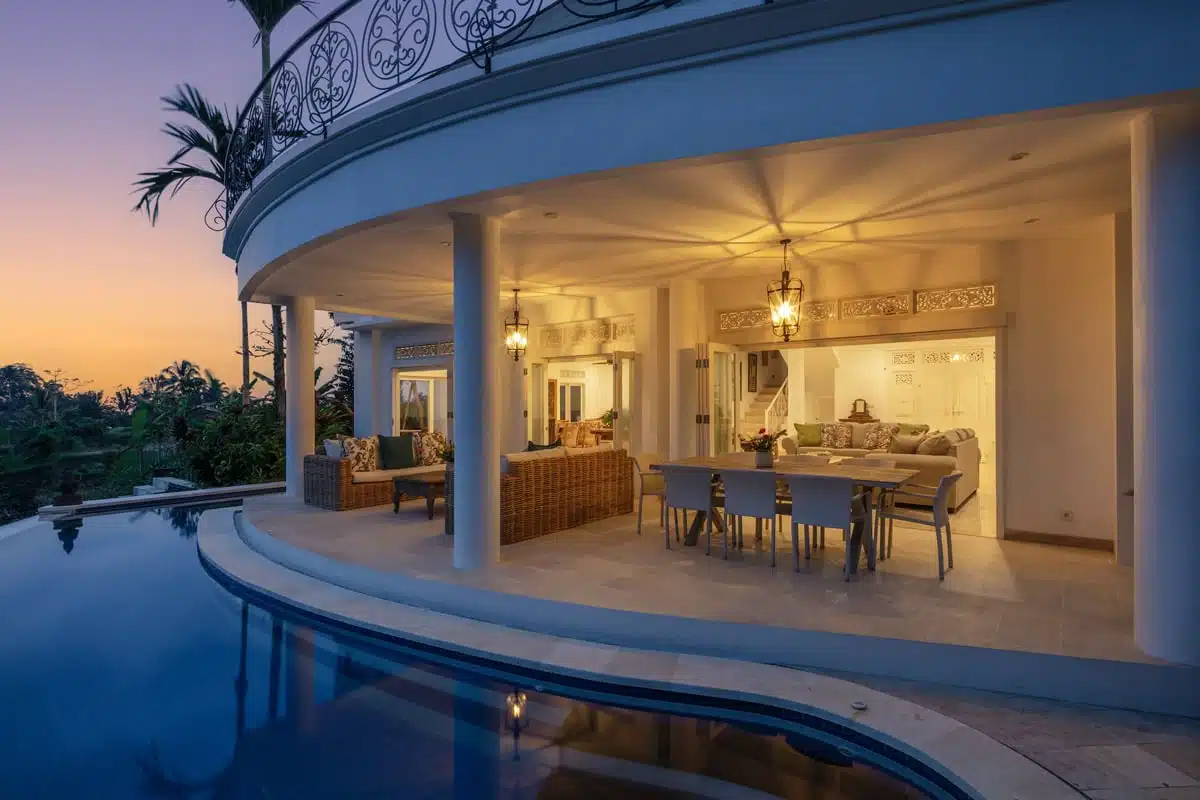 This opulent four-bedroom villa comes with a complimentary breakfast, a concierge to help plan your outdoor activities, and a private pool in a simply gorgeous outdoor space.
There are two houses (you'll need to figure out who gets the private villa), but you'll feel like royalty in whichever bedroom you end up in.
The shared outdoor spaces are divine, and I can't stop thinking about the poolside dining table and patio furniture where I want to spend every second of every day.
It's also a good choice if you visit Bali during the wet season, with plenty of modern amenities like WiFi and a work desk to get some things done if you're so inclined.
Location: Ubud
Nestled in a quiet part of Ubud, you're within driving distance from some of Bali's best beaches, temples, and forests. I can't think of anywhere I'd rather be.
Jasminum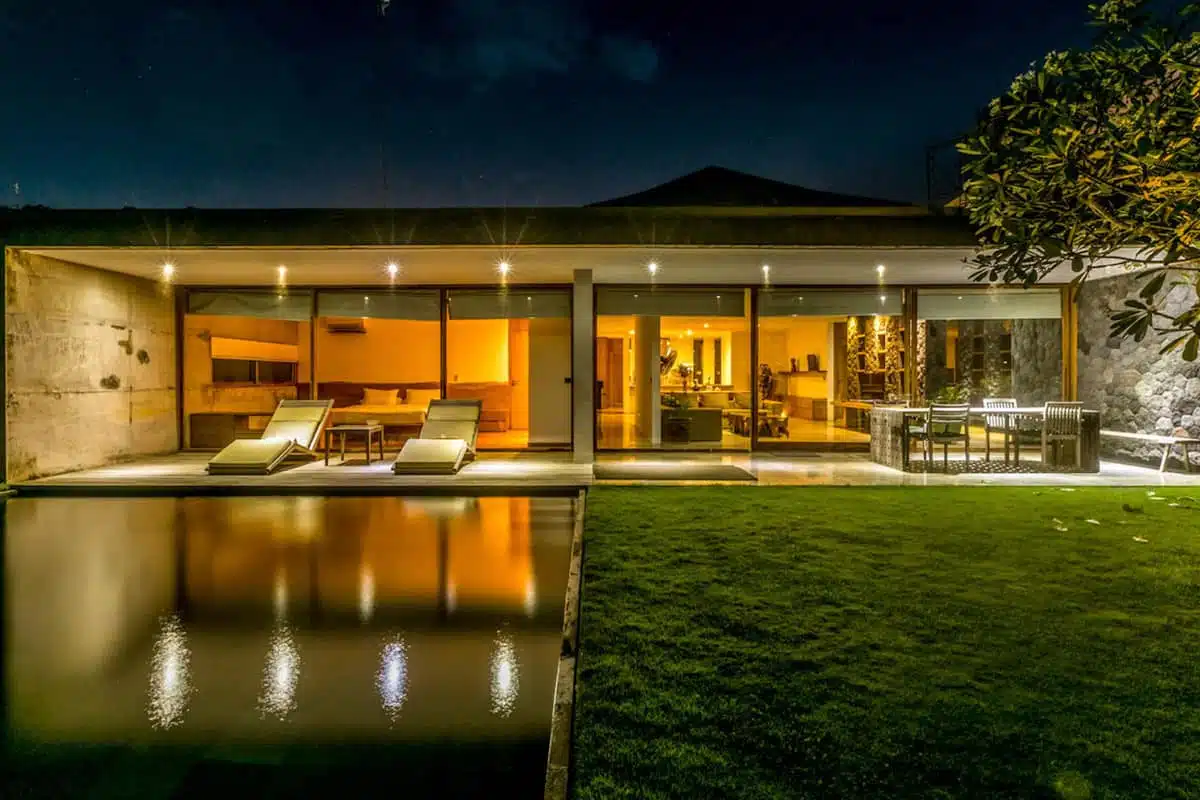 This three-bedroom Bali Airbnb is a perfect choice if you're keen to find a luxury villa in a tropical garden setting (I'm willing to bet that's a resounding yes).
Property grounds feature rooftop balconies, a stunning pool, and lush jungle gardens. But the interior is just as impressive, showcasing local artwork, beautiful architecture and decor, and modern comfort in every living space.
It's a great location for families and friends, but there is a firm cancellation policy, so you'll want to arrange all the details before booking.
Location: South Kuta
The idyllic Bukit Peninsula near South Kuta is where you'll find this hidden gem. You're staying in one of my favourite seaside locations in Bali, Balangan Beach.
What makes Balangan a well-kept secret? Think white sands, glistening turquoise waters, and a rocky cliffside background practically begging you to snap a few photos of yourself in the sun.
Villa Aman Oceanfront Airbnb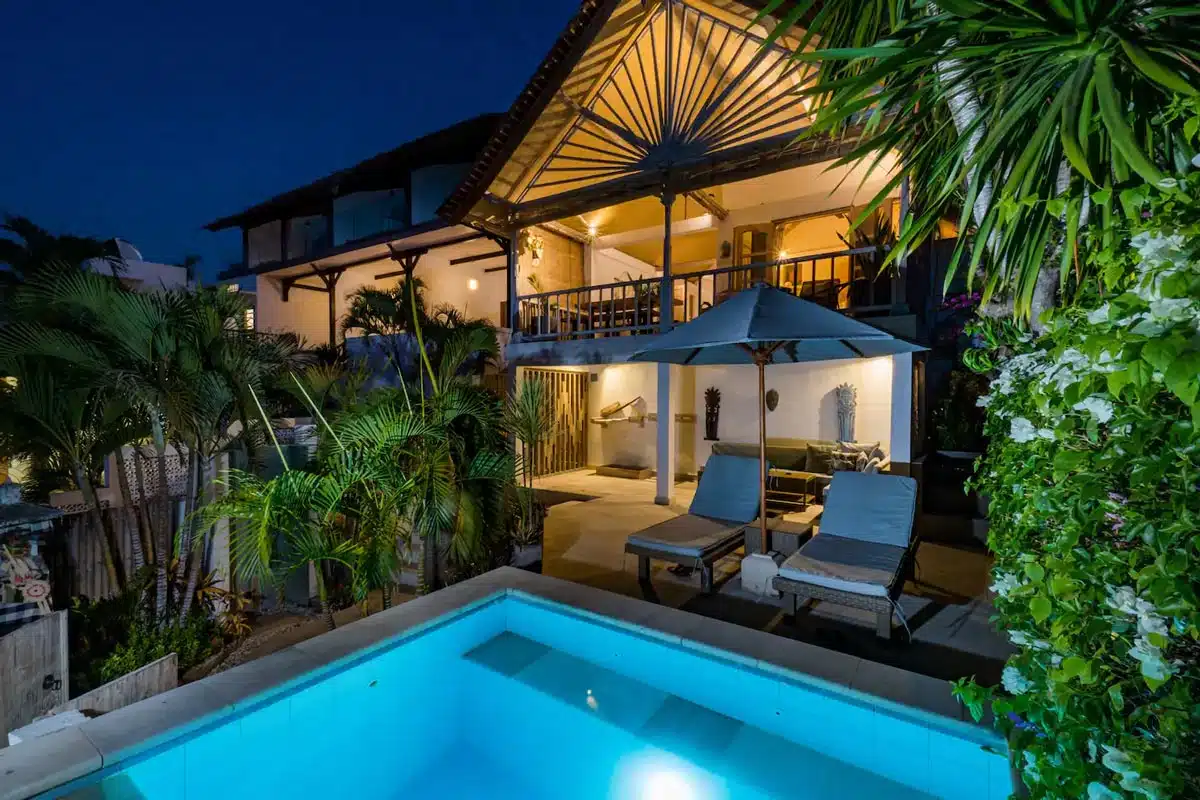 Nusa Lembongan is a perfect location for beach lovers, and this two-bedroom Bali Airbnb will have you admiring the soft sands and rolling waves from up above day and night.
In addition to incredible views, you'll have access to a queen bed, two single beds, a private plunge pool, a full kitchen, and a night watchman to ensure your safety.
Tile floors, a thatch roof, and a beachy Indonesian vacation home vibe add to the charm of this spot. All this at a reasonable price, too (run, don't walk to your computer to book).
Location: Nusa Lembongan
This location is a fantastic choice if you're looking to spend a few days in an affordable Bali Airbnb right on the water.
Wake up and look out at the beaches and Mt. Agung from the tiny island of Nusa Lembongan off the coast of Bali. You can also walk to some great dining options from the rental, making it an all-around excellent choice.
Practical Tips to Consider Before Booking Your Airbnb in Bali
Some Bali Airbnbs even come with private chefs, but you'll want to know whether you need to do your own shopping and cooking before arriving.
Announce all your guests before you show up. You may get charged extra fees if your total headcount changes (this includes your furry friends, too, as many Bali Airbnbs don't allow them to come along).
Check the cancellation policy if you have any doubts about whether you'll make your trip. Some hosts are more strict than others when changing your plans for your Bali holiday.