Looking for the best hikes in Joshua Tree? Add these epic treks to your California bucket list.
It's fair to say that I'm a hiking enthusiast. As in, I love nothing more than getting up at the crack of dawn and schlepping my way across the desert in search of an epic sunrise.
I just returned from a trip through Cali where I tackled a fair few of the Joshua Tree hikes below, and I come bearing gifts. Gifts being handy tips and epic hikes you NEED to add to your Joshua Tree itinerary.
Get ready to discover the magnificent landscapes of Joshua Tree National Park by trying out some of its best hikes and trails. The park has a rich history dating back to the Gold Rush era, so history buffs and nature lovers alike will adore its charms.
Ready? Strap on your hiking boots, lather on the suncream, and let's go.
Best Hikes in Joshua Tree
Hidden Valley Hike
Length: 1 Mile
Time: 1 Hour
Difficulty: Easy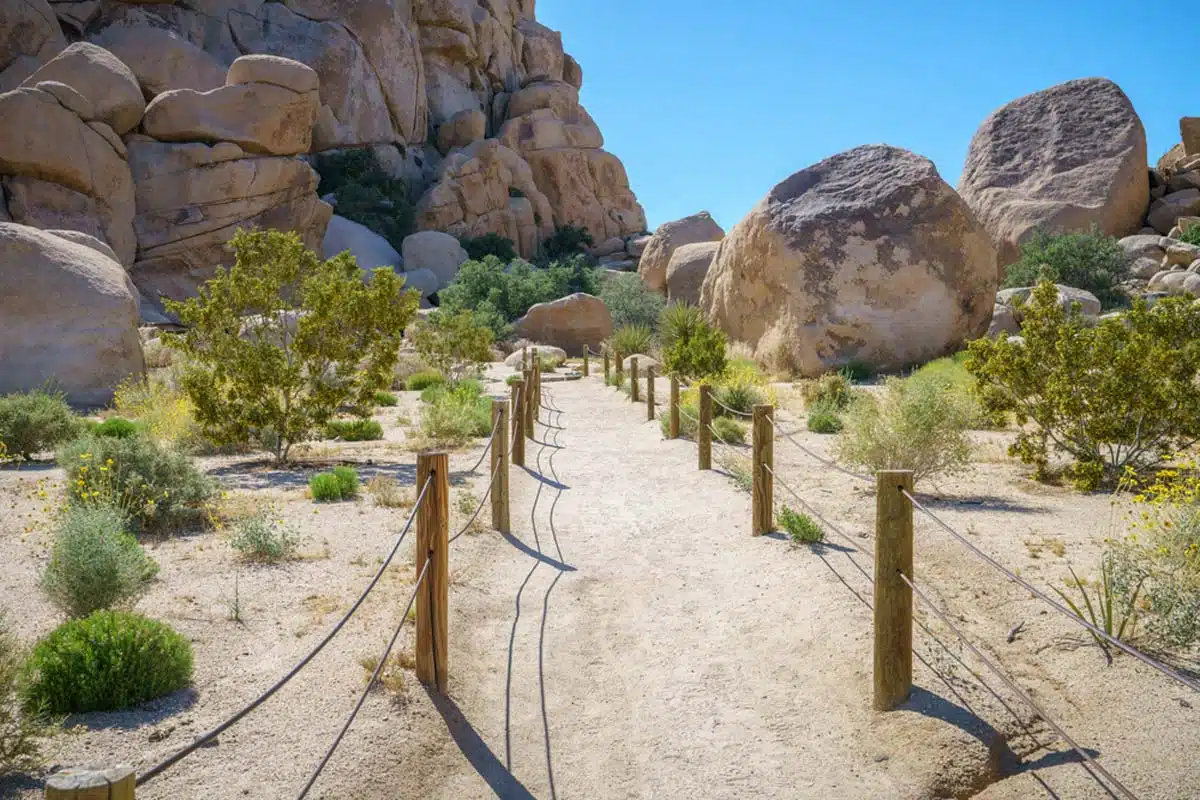 Let's kick things off with a simpler hike, shall we? Nestled snugly in the embrace of lumpy hills on the valley floor, the Hidden Valley Hike is a short but popular trek. It's a pretty flat trail with an elevation gain of only 114 feet and gorgeous up-close-and-personal views of the surrounding Mojave Desert.
So you can see why it's so popular, right?

You'll see unique desert flora like the ubiquitous Joshua trees, California junipers, and beavertail cacti amongst the standard dry shrubs and lizards. While massive boulders lie scattered about, begging for climbers… So give in to their pleas and see how high up you can scramble.
This enclosed valley that cattle rustlers once used has a calmer pace of life now with a picnic area in the shade of some large boulders near the trailhead, perfect for lunch.
Cholla Cactus Nature Hike
Length: 0.2 Miles
Time: 30 Minutes
Difficulty: Easy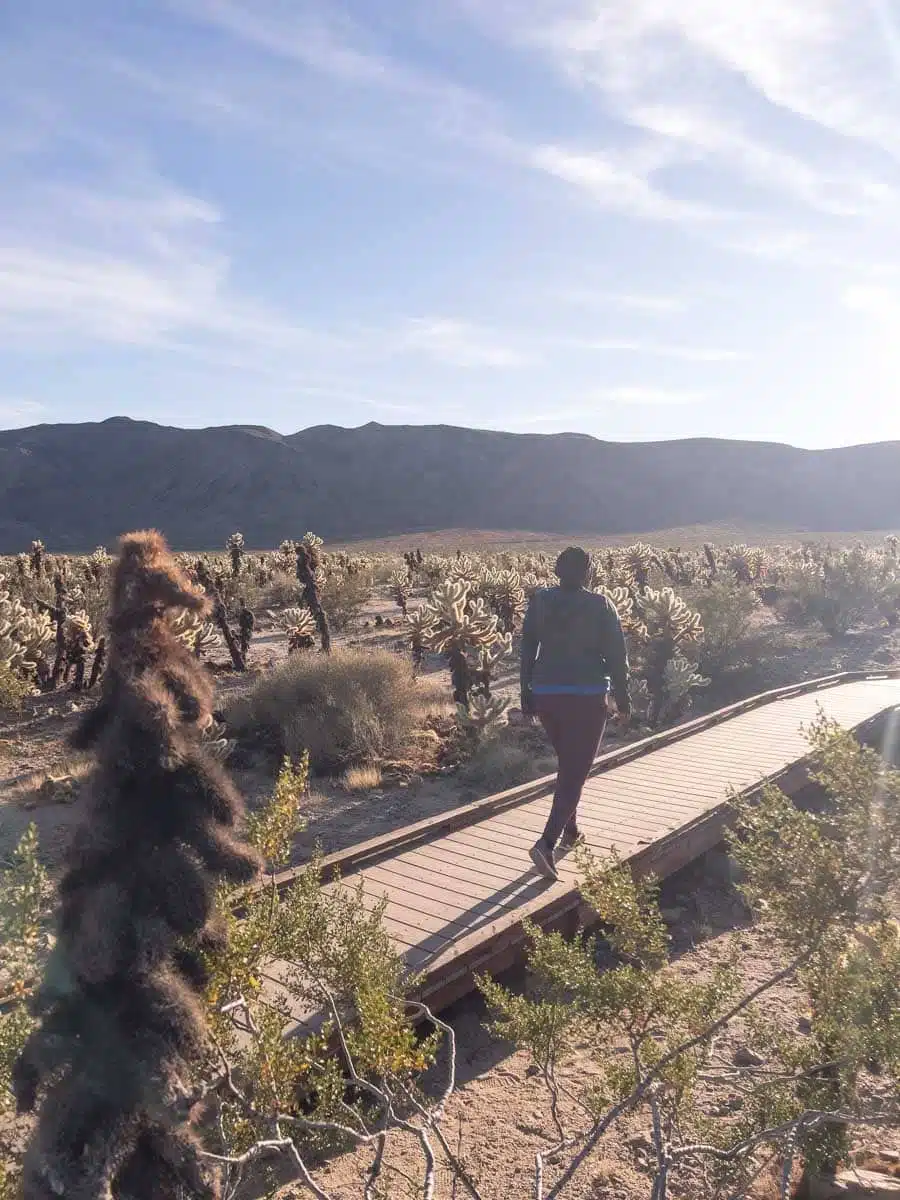 Another one of the many easy hikes in Joshua Tree that oozes rewards, the Cholla Cactus Nature Hike is a visual delight you won't want to pass up. And it's so short that there's no excuse not to go on it.
The elevation gain is a measly 9 feet, so take a mellow walk amongst the cacti and bask in their eclectic ambiance.
The loop begins at the parking lot and goes over a wooden walkway and gravel patches, but you can venture off the trail to take some epic snapshots for your Instagram if you fancy it (and if you're anything like me you will).
The Cholla cacti – also known as the Teddy Bear cactus because it looks so darn fuzzy – are everywhere you turn, and it's glorious. Though you'll need to watch out for their spikes; they're barbed on the ends, making them a pain to remove from clothing and — worse — from the skin.
The golden orange rays of the evening bring out the best in the cacti, so it's one of the best hikes in Joshua Tree at sunset.
Wall Street Mill Hike
Length: 2.4 Miles
Time: 1-2 Hours
Difficulty: Medium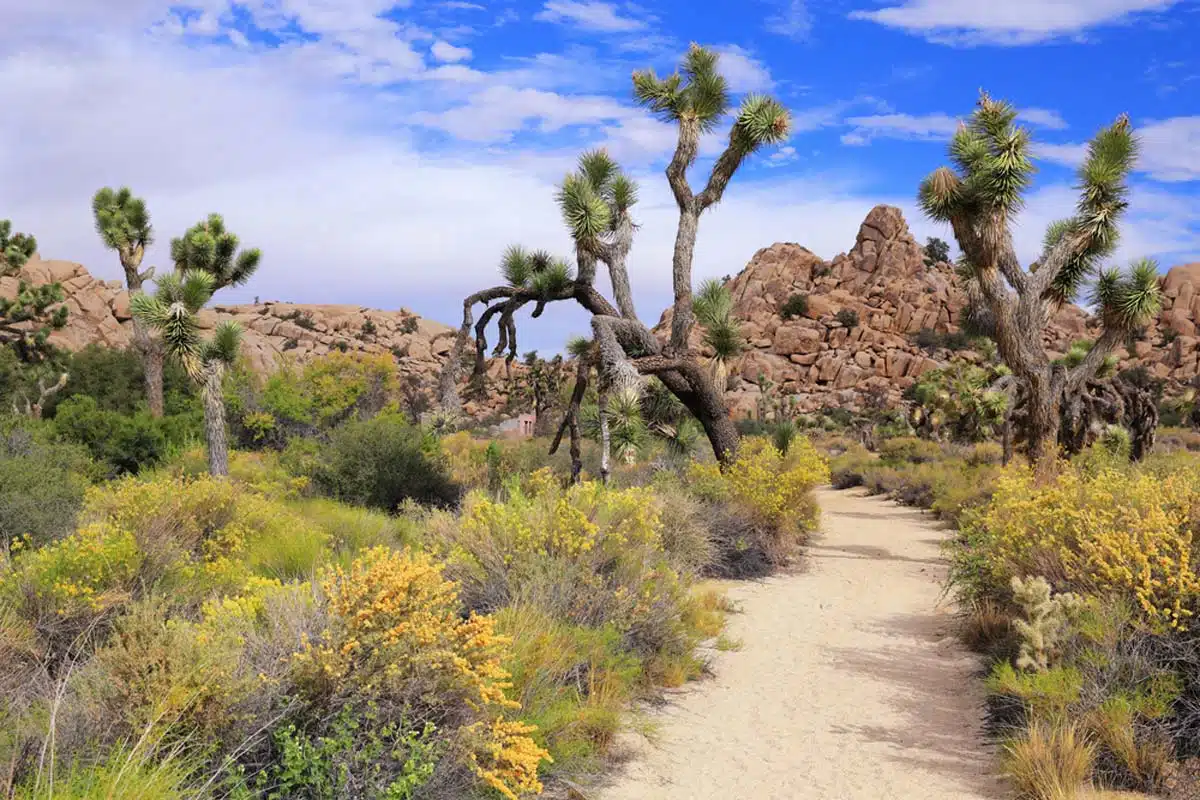 The Wall Street Mill Hike offers scenic beauty and historical significance — I'd say that's two birds with one stone. It's one fascinating trek: You'll find the rusty remains of 19th- and 20th-century cars and mining equipment slowly decaying into the desert sands along the way, as well as Joshua trees and boulders.
The biggest pay-off for this hike is the mill itself. Once owned by Bill Keys and used to crush gold ore, it's superbly well-preserved and makes for the ultimate ghost town, gold rush statement. It's even on the National Register of Historic Places.
The trail only has an elevation of 88 feet, so it isn't too intense, but it's exposed, so either attempt it early or late in the day to avoid the sweltering heat.
Barker Dam Hike
Length: 1.3 Miles
Time: 1 Hour
Difficulty: Easy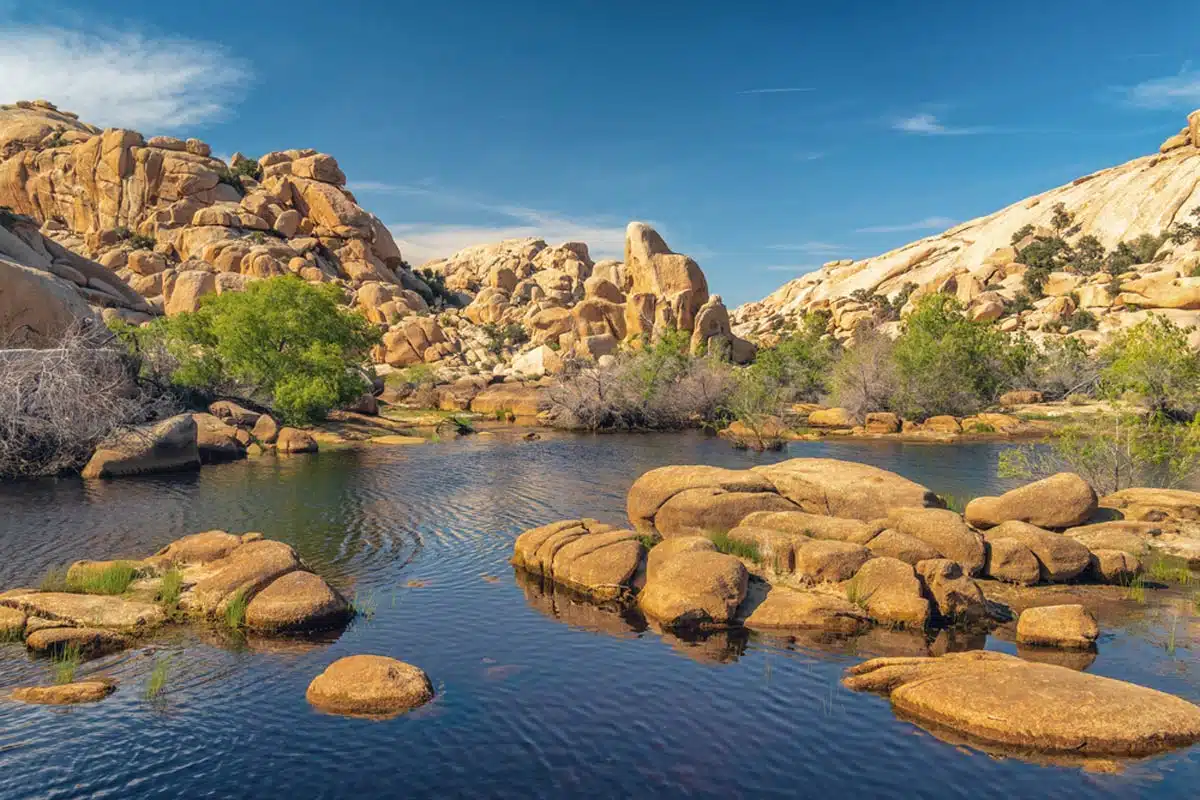 When it comes to the best hikes Joshua Tree has to offer, Barker Dam Hike is one of them. It's popular thanks to its incredible desert topography, with a seasonal pool of water glistening beneath the sweltering sun.
Cattle ranchers built the dam during their peak in the late 1800s and early 1900s, so it's an excellent route for history buffs. For an ancient adventure, take the small spur to the west to see some stellar Native American petroglyphs carved into the sides of a small cavity in one of the larger rocks.
It's one of the best trails in Joshua Tree for spotting wildlife, especially when there's water in the dam. You're most likely to catch a glimpse of elusive bighorn sheep here, along with lizards and many birds. Cholla cacti, Joshua trees, and granite mounds jutting from the earth are standard parts of the scenery along this trek.
Ryan Mountain Hike
Length: 3 Miles
Time: 1.5 – 3.5 Hours
Difficulty: Hard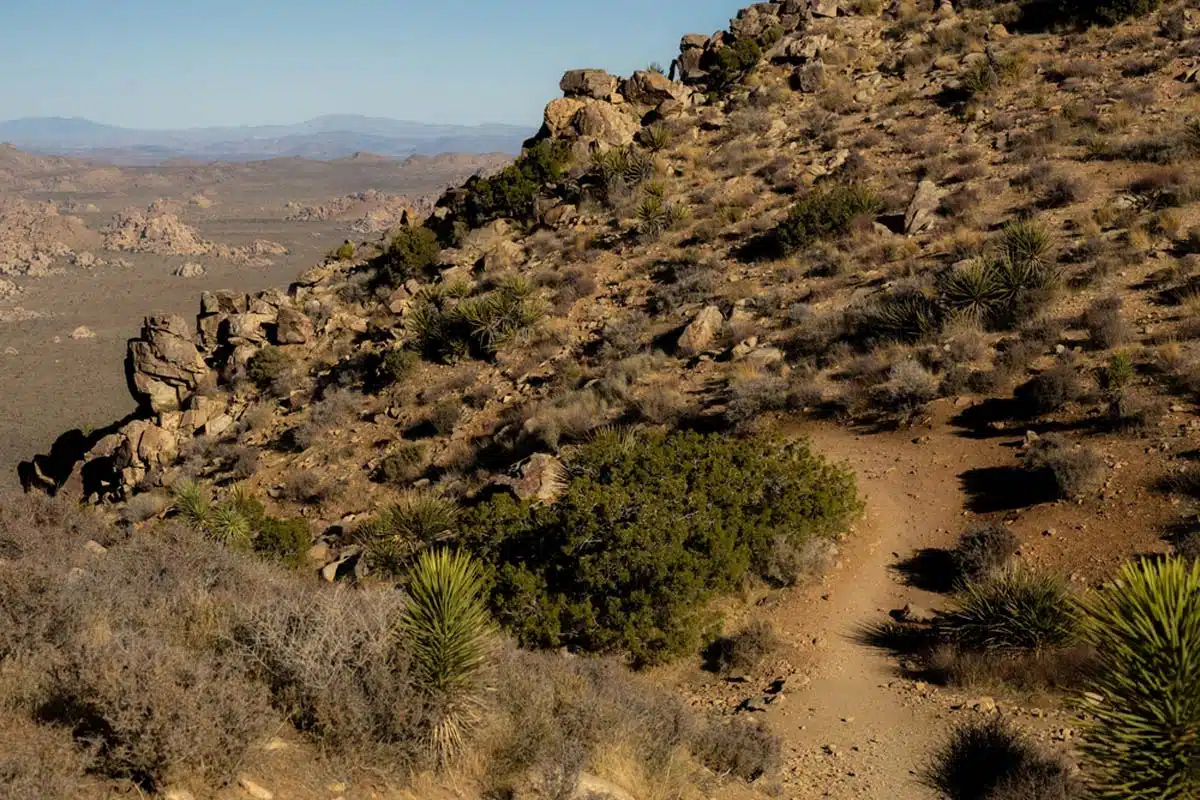 Fancy an aerial view of the park? The Ryan Mountain hike is one of the must-do Joshua Tree trails. Take note, though: hiking this baby is no joke. It'll leave your thighs cramping and your calves crying. But that's no reason to back down from a challenge.
Sure, it has a steep uphill climb with a 1,069-foot elevation gain and is exposed to the sun. But the 360-degree views from the top of the unique boulder formations, desert floor, and Joshua trees below are astounding.
On a clear day, you can even see straight to the peaks of San Gorgonio and San Jacinto in the distance.
Maybe now you understand why I'm raving about this one. It's worth it, even if you have to bring a ton of water and complete the hike earlier or later in the day when the sun isn't at its most brutal.
Hall of Horrors Hike
Length: 0.8 Miles
Time: 1-1.5 Hours
Difficulty: Easy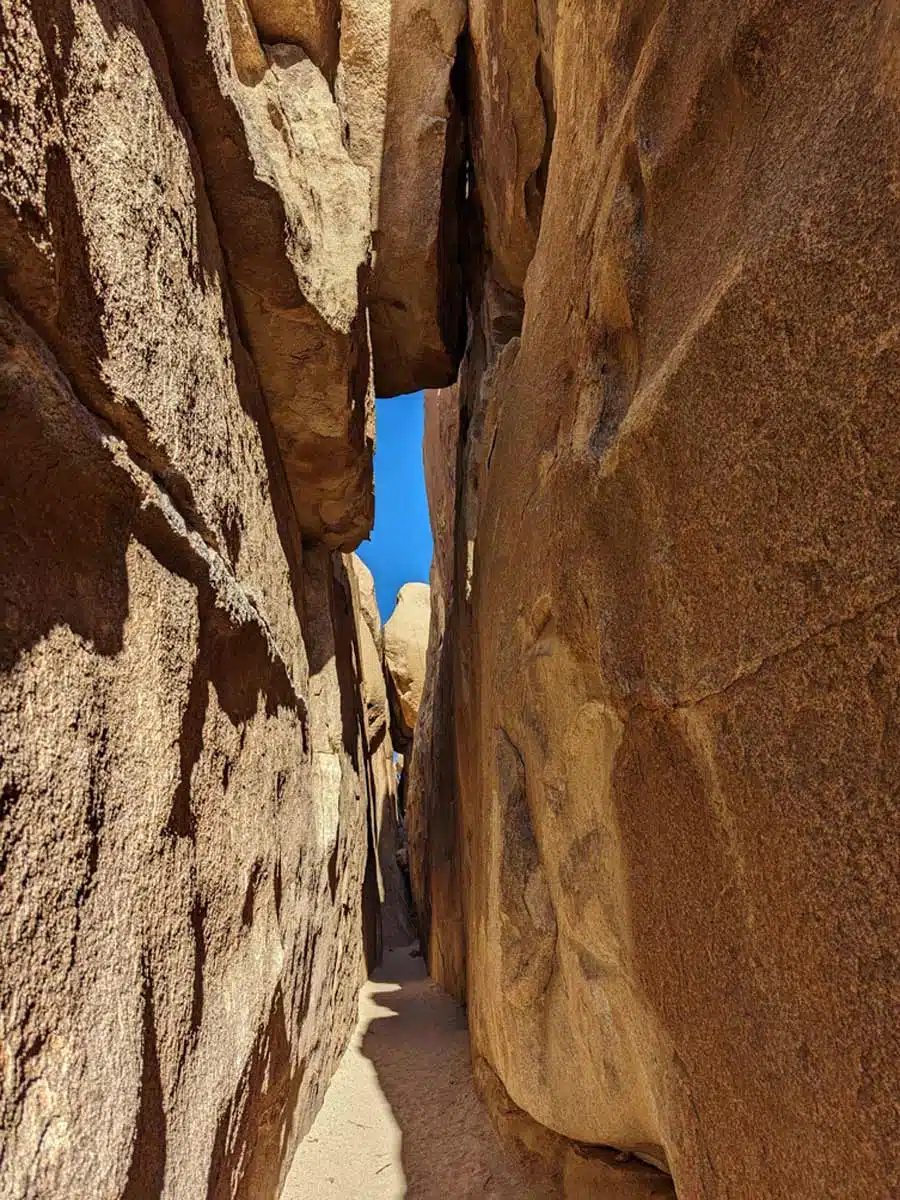 Don't worry, it's not as terrifying as it sounds. But it is one of the most popular Joshua Tree hiking trails for scrambling enthusiasts thanks to its enormous boulder and rock piles. The hike there is one of the easiest in the park, with a 100-foot elevation gain.
But the real fun (for scramblers, anyway) is the boulder piles that the trail loops around, culminating in the famous Hall of Horrors area.
Here you'll find giant stacks of boulders mashed together, hiding their treasure: the slot canyon. You'll have to scramble up the jutting stones to find the narrow crack, which can be pretty tricky. But once you do, it's selfie-central for some incredible snapshots in this unique spot in Joshua Tree.
Speaking of selfies, it's also one of the best places in the park to take pictures of the Joshua trees — they're just ultra-photogenic along this trail.
Skull Rock Hike
Length: 1.7 Miles
Time: 1 Hour
Difficulty: Easy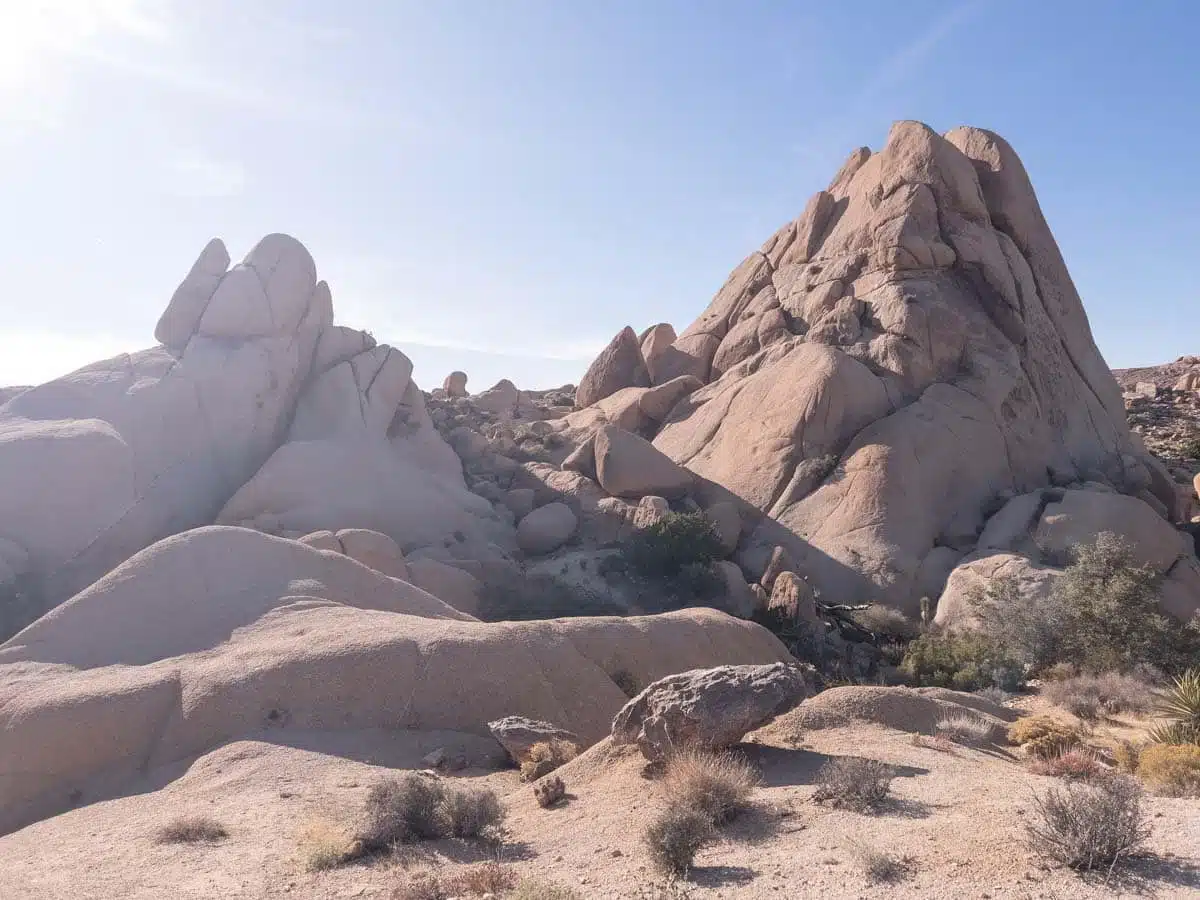 Newbie when it comes to trekking? All hiking skill levels are welcome on this next entry. Giant rock clusters scatter the area, but you won't be able to miss the iconic Skull Rock.
It looks somewhat like an alien skull protruding from a jumble of boulders: elongated forehead, huge, empty eye sockets, and a misshapen nose that's pretty prominent. In other words, he's pretty uggerz. Sorry.
It's creepy enough from ground level, but you can climb some adjacent rock piles for a different perspective of this rocky giant slowly emerging from its stone bed.

Apart from the namesake of the hike, the boulder formations are gorgeous to ogle as you walk by, and you can take a detour to climb them if the mood takes you. Otherwise, you'll come across cacti, yucca, Joshua trees, and some native wildlife like the odd coyote and jackrabbit.
Boy Scout Trail
Length: 8 Miles
Time: 5-7 Hours
Difficulty: Medium-Hard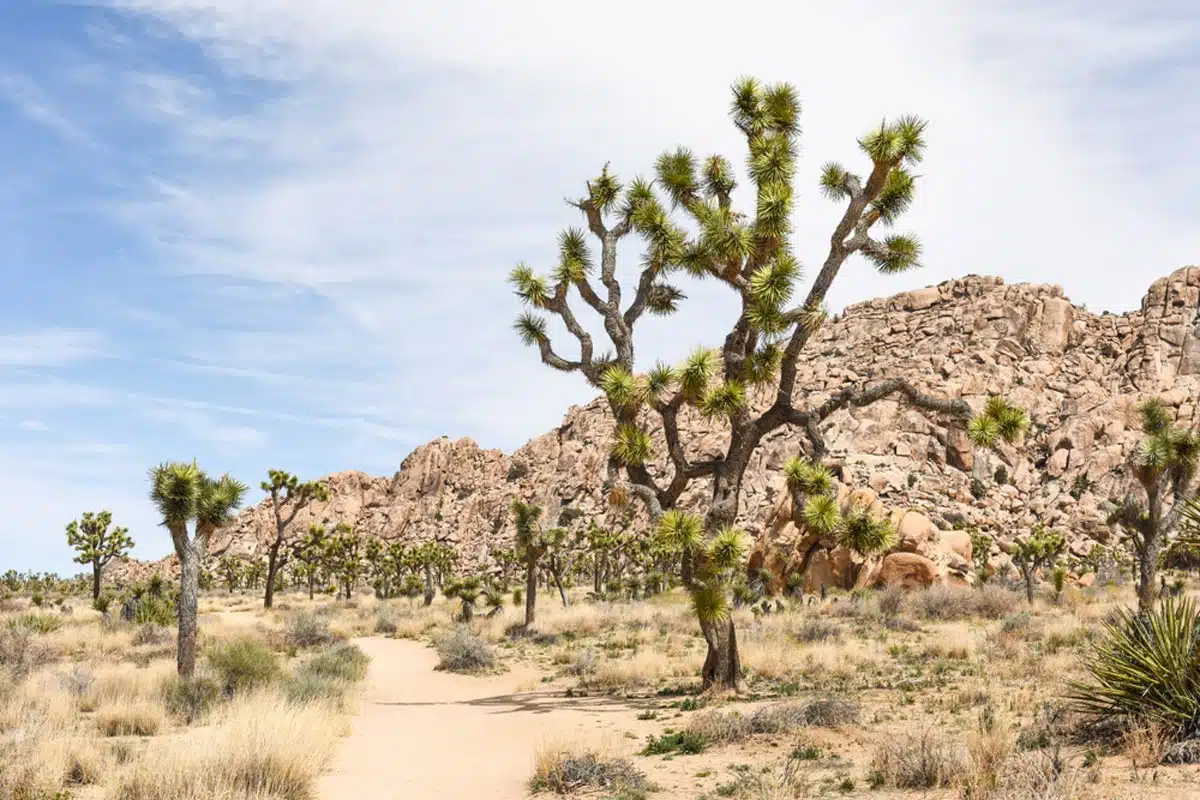 Fair warning: You might need to organise a shuttle for the Boy Scout Trail unless you're confident enough to do an out-and-back of 16 miles. Sure you can turn back at any point, but where's the fun in that?
This is one of the best day hikes in Joshua Tree, but starting this hike as early as possible is best. You'll begin in the Wonderland of Rocks — tempting though it might be to explore the boulders, stick to the marked path to avoid getting lost.
The elevation gain is 1190 feet, which you'll mostly feel on the way back, so save some energy for the return journey, especially as the first half of the trail is fairly loose sand. If you make it through the whole hike, you'll pass landmarks such as Big Pine Junction, Wash Begins, and eventually, your endpoint, Indian Cove.
Arch Rock Hike
Length: 1.8 Miles
Time: 1-2 Hours
Difficulty: Easy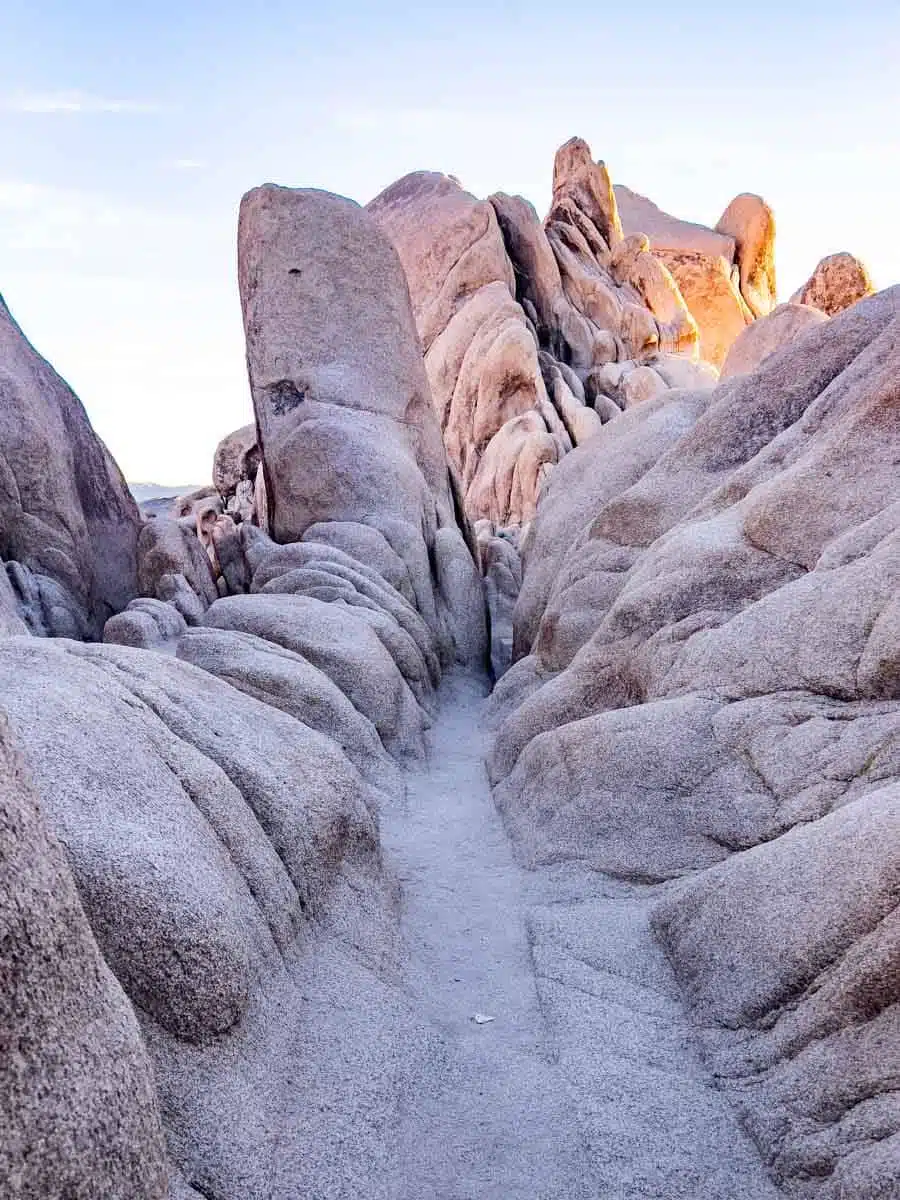 If you're feeling nostalgic for the red rock landscape of southern Utah with its graceful arches, there's no doubt you'll count Arch Rock Hike as the best hike in Joshua Tree.
It boasts the only arch in the park, and makes for a stellar hike. In fact, it's my favourite in the entire park.
The arch itself can be tricky to spot, so keep an eye on the signs. It's a popular photo spot, so if in doubt, follow the other hikers. You'll have to do a little rock climbing to get the best selfies with this magnificent piece of geography, but it's worth it.

The elevation gain is a mere 210 feet, and there are plenty of scrambling opportunities for adventure. But I'll tell you about the secret detour you can't miss.

Once only a whispered rumour passed on from hiker to hiker, there's now a dedicated small trail next to the junction with the access trail.
After a short walk, you'll find your prize: Heart Rock, named because of its almost perfect heart-shaped silhouette standing firmly on its pointed base. You don't want to miss it if you're in the area, and it makes for an ultra-sweet snapshot.
Mastodon Peak Hike
Length: 2.5 Mile loop
Time: 1-2 Hours
Difficulty: Medium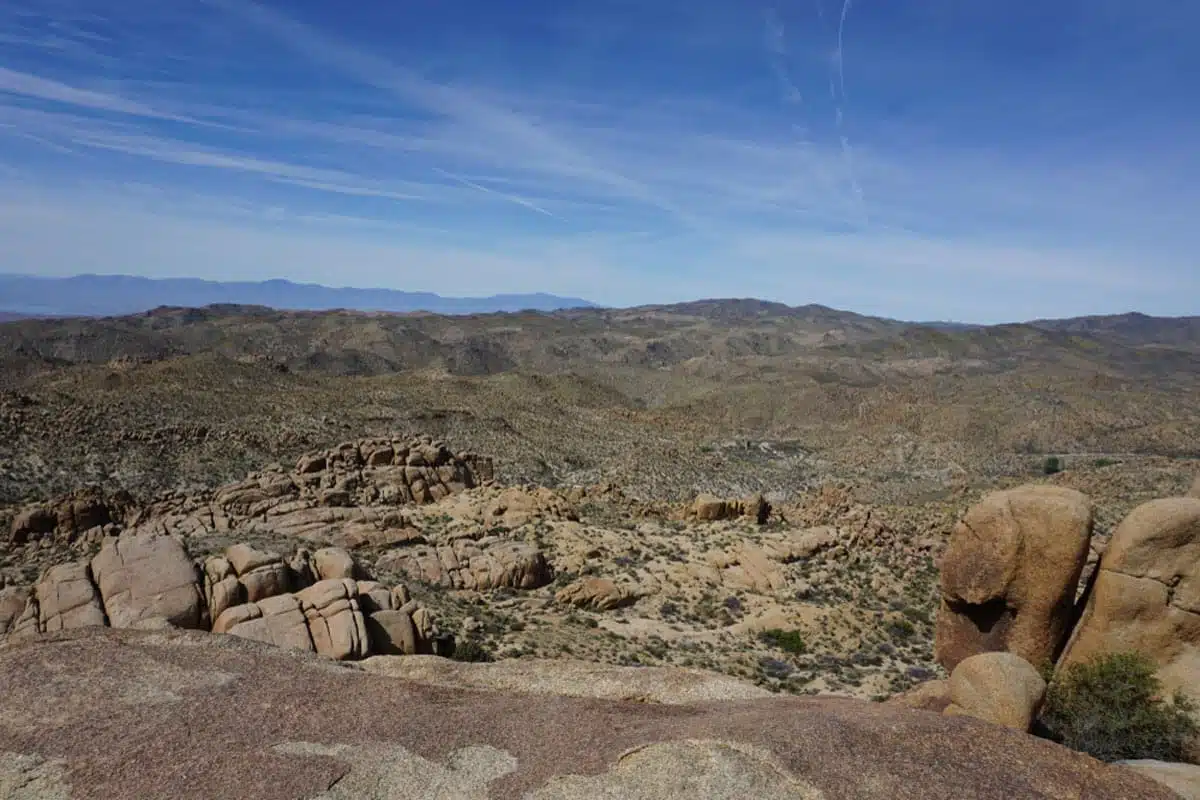 If you're expecting dinosaur fossils while hiking Joshua Tree, you might leave disappointed. But once you reach the viewpoint of Mastodon Peak, all raptor fancies will slip away in the face of the incredible vistas below.
You won't see many Joshua trees when you start the Mastodon Peak hike from Cottonwood Spring. Instead, odd-looking ocotillo and bushy palms will dominate the scene. As you climb the 600-foot elevation, you'll hit a stage where some easy-to-moderate rock scrambling is necessary, so tighten those glutes and push those calves!
Once you reach the top, you'll find Joshua Tree laid out below you — scattered clumps of boulders and desert brush pockmark the landscape for miles, with purple hills in the distance. What a view.
On the way down, you'll pass by a surprise: an abandoned mine in pretty good preservation, so get your camera ready for some historical snapshots.
Fortynine Palms Oasis Hike
Length: 3.1 Miles
Time: 2-3 Hours
Difficulty: Medium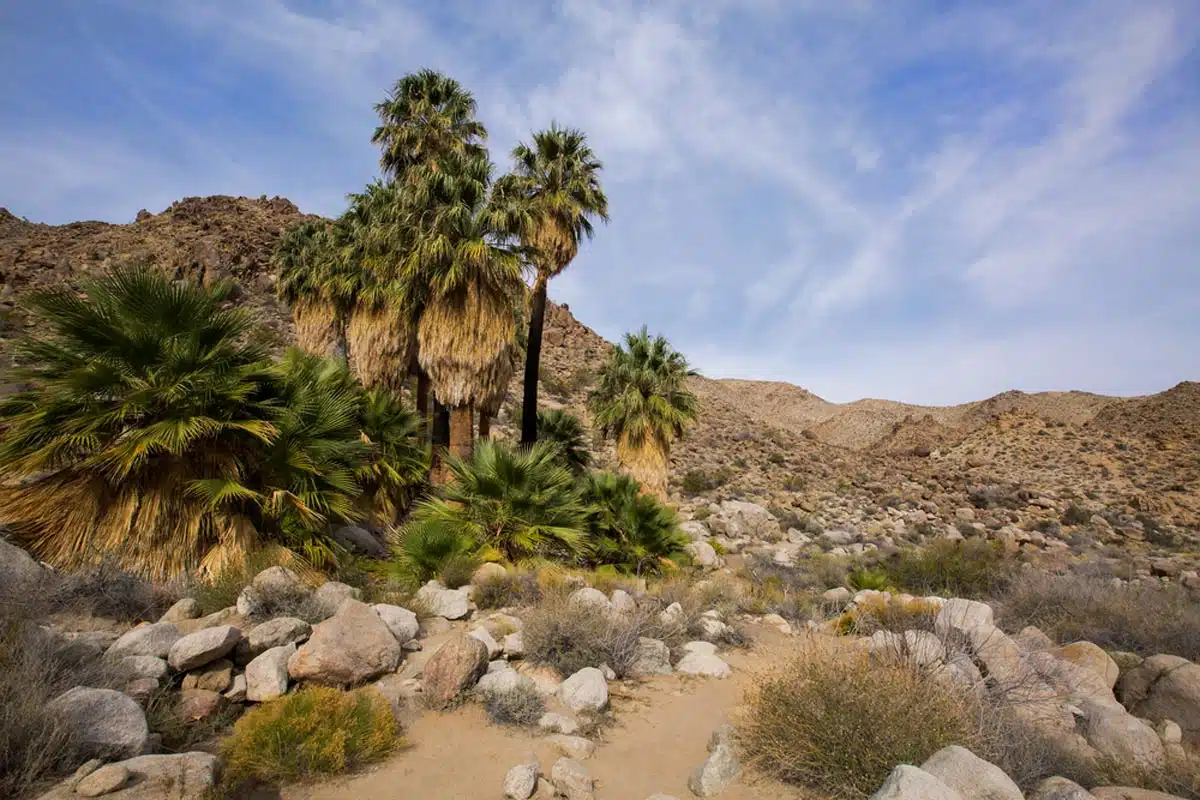 Prepare yourself: Challenging terrain and rock scrambling are the name of the game on the Fortynine Palms Oasis hike. You immediately head uphill with barrel cacti to keep you company and a splendid view of the town of Joshua Tree and 29 Palms below.
You'll encounter plenty of rocks and boulders on this trail with an elevation gain of 775 feet, so good hiking shoes and poles are a must.
Bring sunscreen, too, because the trail is mostly smack-bang in the sun. And I promise, no matter how hardy you are, you'll fry in the heat (been there, done that).
There is a portion towards the end of the trail that provides some rest, though. The next step is to descend into a cool, shaded canyon bursting with giant palm trees. This idyllic desert oasis is the perfect setting to enjoy a peaceful lunch, so make sure you bring one.
From there, you can scramble up the rocks at the trail's end for a glimpse of the small oasis and a great view of the larger oasis next to it.
Best Joshua Tree Hikes: Practical Tips
The northwestern entrance is best if you want to visit the most famous park attractions, and it has the larger Visitor's Centre.
The terrain is pretty spiky, so toss those open-toed sandals and bring out the proper footwear and maybe some hiking poles. If you're just planning on doing easier hikes or nature trails, you can get away with tennis shoes. But for any hike over 2 miles, I wouldn't recommend anything less than an uber-comfy pair of hiking shoes.
There are no shops inside the park, so fill up your water bottles (don't forget them in the car) and pack all the trail treats for your day of exploration.
Don't forget to protect that lovely skin. Bring high-SPF sunscreen, a hat, and sunglasses to protect your delicate eyes.
Although uncommon, California Black Bears may frequent the area. If you are one of the unlucky few to run into one, back away slowly. You can also make yourself look bigger by waving your arms or making a noise by yelling to scare them off. Whatever you do, don't run or make eye contact.
For Joshua Tree hikes, winter is an optimal choice for Joshua Tree hikes thanks to the milder temperatures. October to May is the best time to hit the trails without working up too much of a sweat.
You can grab a Joshua Tree hiking trails map from any of the Visitor's Centres. There are two kinds: a colourful brochure with all the trails marked out and a newspaper-style one with only the trails that are currently open or accessible.
If you're planning on exploring Joshua Tree further, you might need a place to stay. Check out these Joshua Tree hotels for an idyllic respite.
Best Hikes at Joshua Tree: Map