Planning a trip to California's stunning Joshua Tree National Park? These are the best Joshua Tree hotels you need to consider.
By now, it should come as no surprise that I absolutely adore Joshua Tree. I've raved and raved about this gorgeous stretch of desert, its rugged rock formations, and beautiful mountain views.
This park is a haven for rock climbers, hikers, and horseback riders alike. And, while you can camp inside, there are no hotels in Joshua Tree National Park.
Not to worry, there are so many stellar places to stay on the fringes of the park and beyond. These are my top picks…
Best Hotels in Joshua Tree: At a Glance
Best Hotels in Joshua Tree
AutoCamp Joshua Tree
£££
Joshua Tree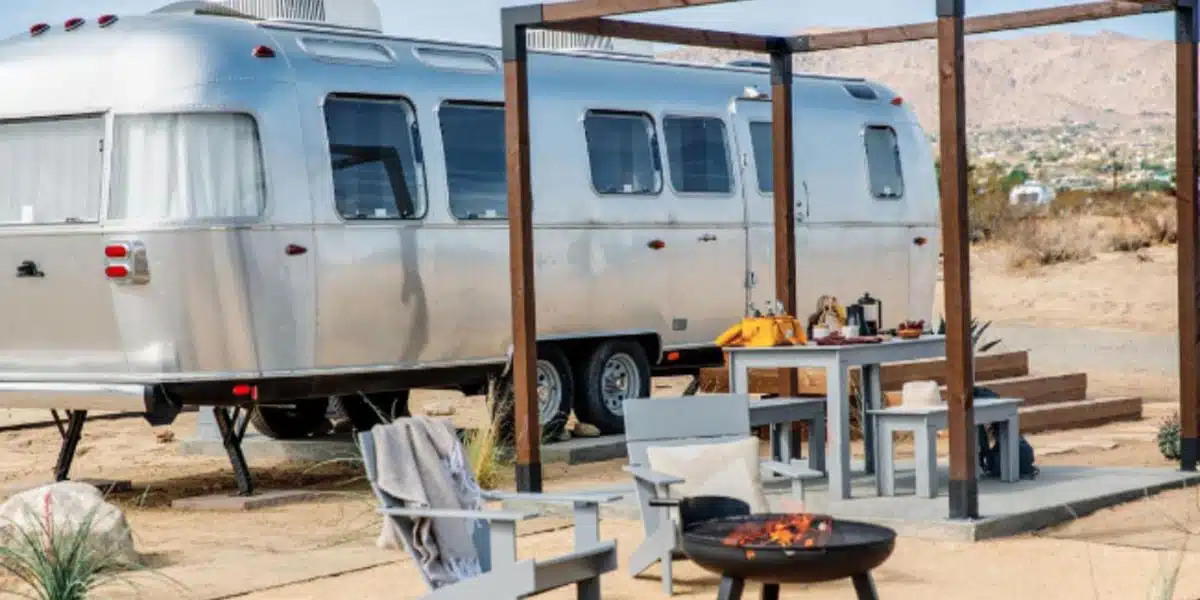 If it's close proximity to the park you're after, you won't get much better than this spot. Located just 9 minutes from the park, AutoCamp Joshua Tree is a superb hotel to stay at.
Well, I say hotel… But really you'll be staying in an ultra-modern RV. Orthopaedic mattresses, air conditioning, and soft linens are just some of the ways this hotel manages to replicate a home away from home.
The unique space comes with a flat-screen TV, a rain shower, a kitchenette, and your private patio with a BBQ grill. Oh, and one of (many) advantages of staying at this hotel is that you can also enjoy stargazing in the night sky from your private fire pit.
If you're after a more spacious room, consider staying in one of AutoCamp's suites. These feature a fully-equipped kitchen with an electric stove top, microwave, mini-fridge, sink, and cooking equipment.
If you'd prefer not to cook, fear not, as AutoCamp has breakfast, lunch, and dinner options.
Sacred Sands
£££
Joshua Tree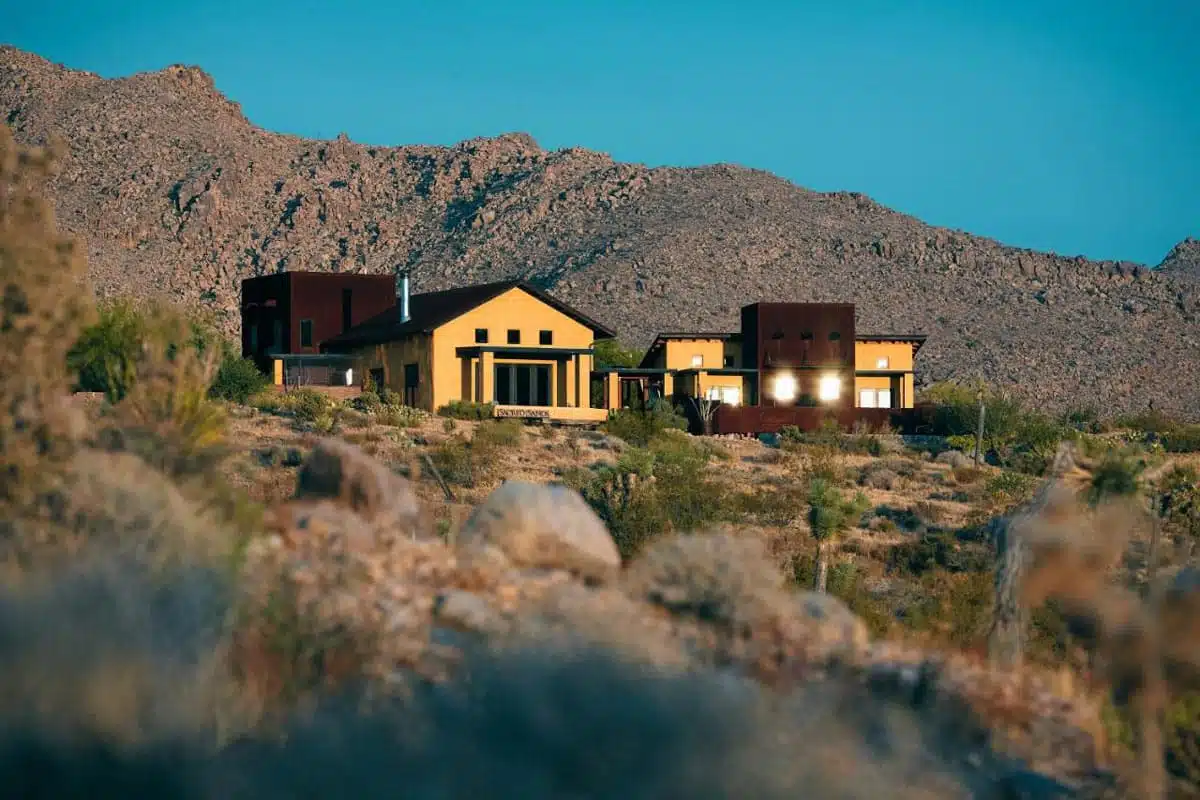 From the Dr Seuss-like Joshua trees to the sands of the Mojave Desert, this next spot is a great place to step away from life's busyness. Sacred Sands exemplifies this by advertising itself as "your own private oasis". 
In addition, it's only a mile from Joshua Tree National Park's West Entrance. This makes it the ideal place to stay. It's one of the best Joshua Tree hotels with luxury bedding, well-thought interior design, and a ridiculously tempting tub.
Just because it appears rustic doesn't mean you'll be without modern amenities. Sacred Sands has fast WiFi, air conditioning, a Bluetooth speaker, and records for a night of dancing under the stars.
Fairfield Inn
££
Twentynine Palms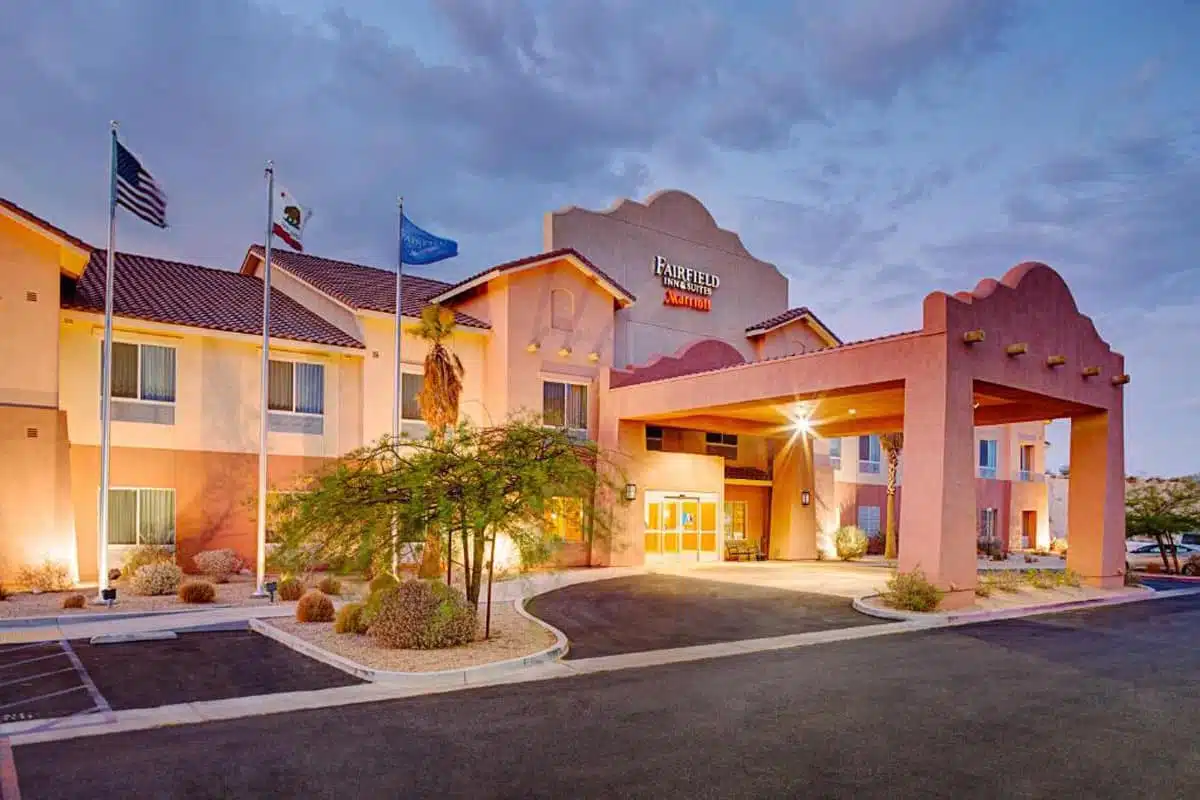 In nearby Twentynine Palms, you'll find Fairfield Inn & Suites. It's only a 10-minute drive from Joshua Tree National Park, so it won't be long before you get to admire the park's sights. 
There's a complimentary continental breakfast to start your day, free WiFi, BBQ grills, and a massive outdoor pool – perfect for relaxing after a day full of activity in the park.
And there's more, Fairfield Inn also offers bicycle rental, which you could use to visit the Twentynine Palms Art Gallery or Knott Sky Park.
Holiday Inn Express Hotel & Suites
££
Twentynine Palms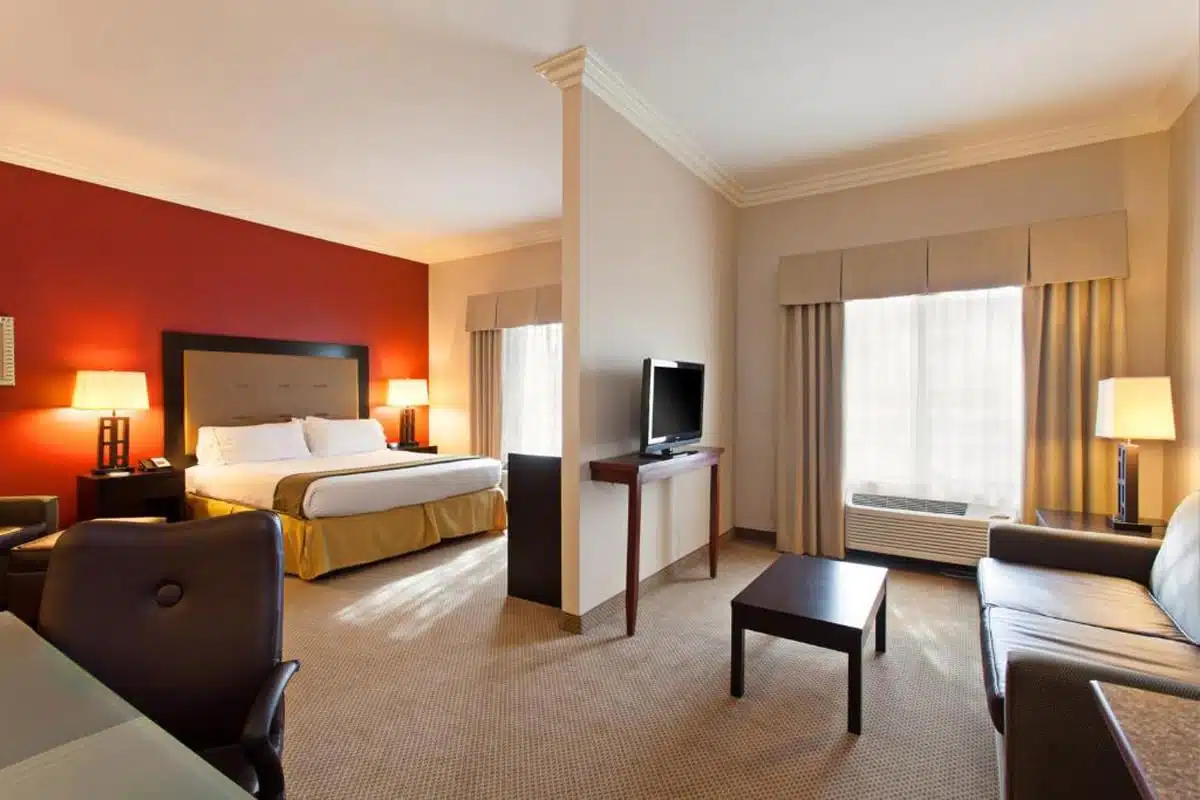 This has to be one of the closest hotels to the Joshua Tree National Park's border. It's only nine minutes from the park's North Entrance, making it perfect for heading out early on Joshua Tree hikes, such as Fortynine Palms Oasis or the Arch Rock Trail.
After a budget-friendly stay but don't want to skimp on luxurious, Holiday Inn Express is a brilliant place to stay. Rooms are modern but simple, and there's a fitness centre, a heated outdoor pool, free breakfast, and a business centre on site. 
Pioneertown Motel
££
Pioneertown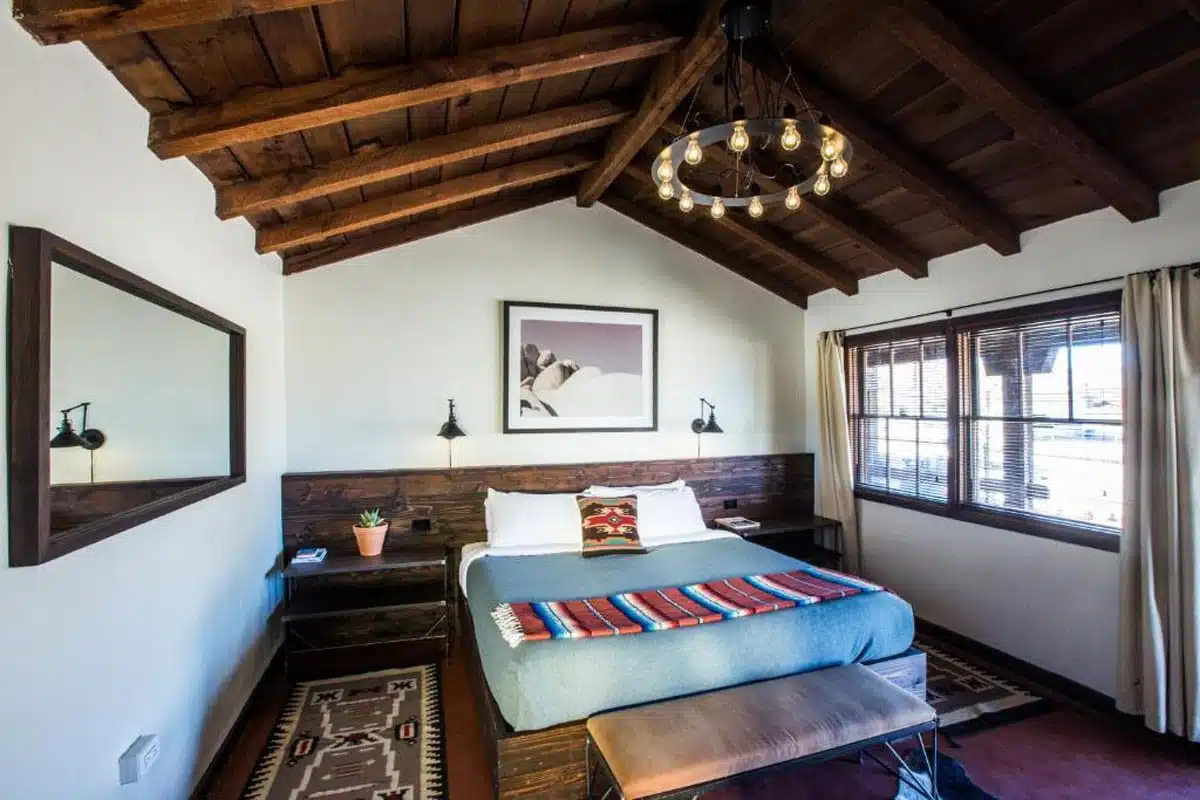 Prepare to step back in time as you mosey on down to Pioneertown Motel. With timber walls and ceilings, this motel is bursting with the classic Wild West vibe. Though it's been given a pimped-up makeover.
Each room is decorated with locally-designed furniture, comfortable bedding, and features air conditioning – not that you'll need to use the aircon that much, as Pioneertown is higher than the surrounding areas and can get pretty cool.
And for a truly unique experience, grab a hammock from reception and try spotting a shooting star.
Oasis Inn and Suites
££
Twentynine Palms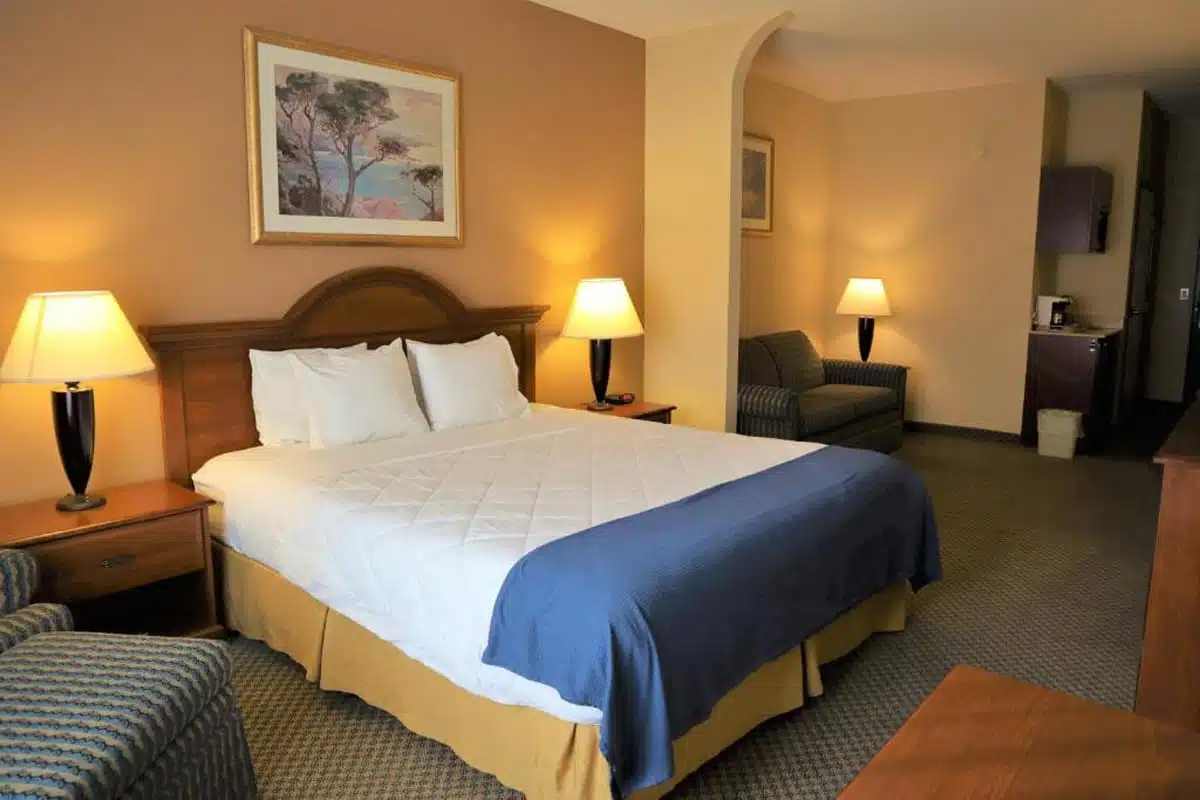 Oasis Inn and Suites is the ideal place for a cosy stay. It's also budget-friendly, so you've got more money to spend on epic things to do in Joshua Tree National Park. It's situated in Twentynine Palms, like many of the hotels on this list, so it's close to Joshua Tree National Park's North Entrance. 
Oasis Inn has outdoor BBQ facilities, patios with gas fireplaces, a hot tub, a pool, and sun loungers, making it the perfect place to relax or get a tan if you want to have a chill day in between exploring the park.
If it's incredible mountain views you crave, consider upgrading your room to a suite.
El Rancho Dolores
£
Twentynine Palms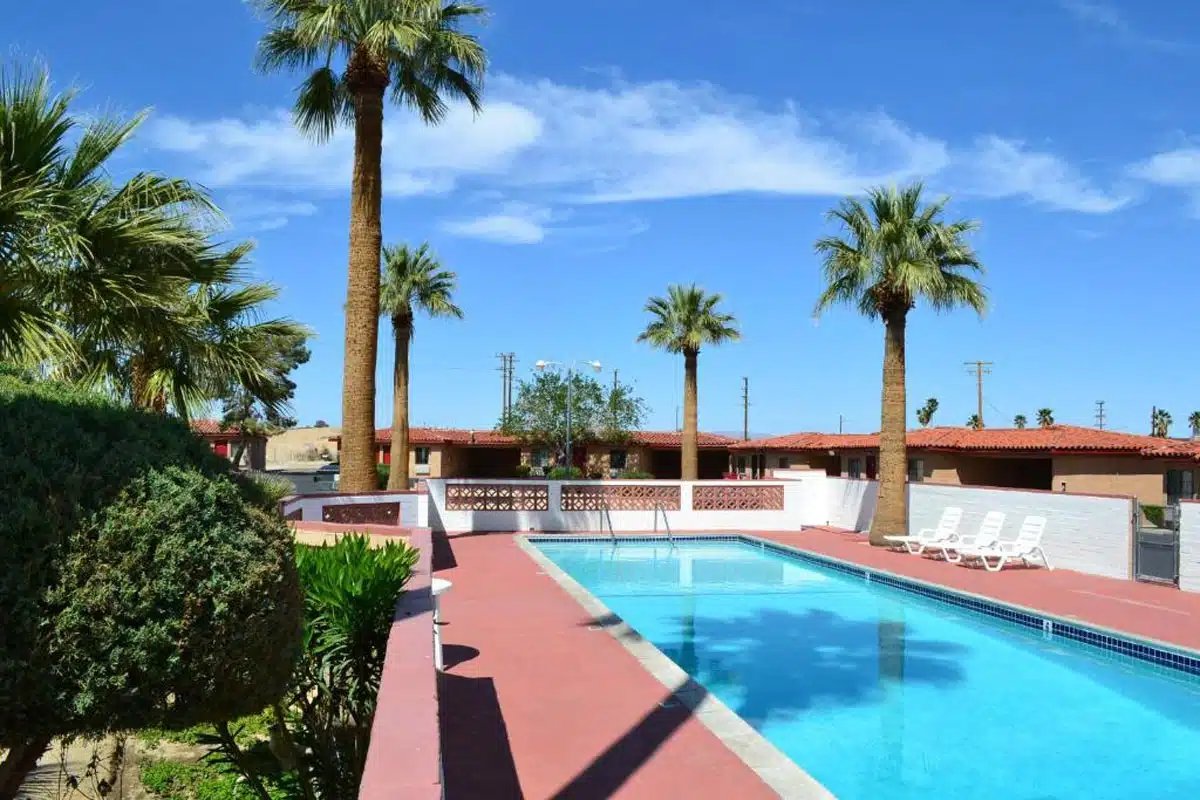 Excellent value for money is what's so fantastic about El Rancho Dolores. These motel rooms may be simple, but if you're simply just bedding down here, why pay more?
These rooms are spacious, and while the hotel's design might be rather old-fashioned, everything remains extremely well-kept.
The motel's pool, however, is the star of the show, boasting epic mountain views.
Super 8 by Wyndham Yucca Valley
££
Yucca Valley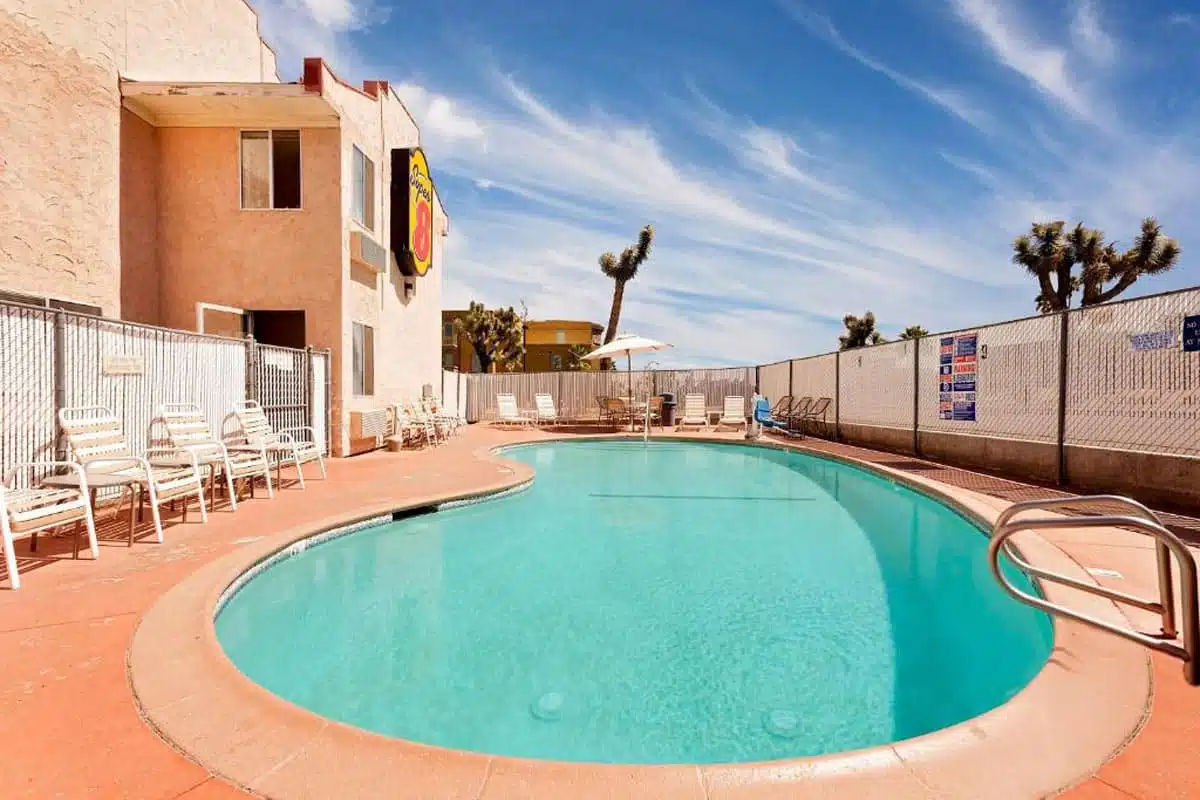 If you want to explore Palm Springs and Joshua Tree National Park, consider staying at Super 8 by Wyndham – it's 30 minutes from Palm Springs and 15 minutes from the Joshua Tree. It's also incredibly affordable, with all the comforts of a luxury hotel.  
Rooms are, how do I put this… Unique in decor. While not exactly to my taste, they're perfectly functional.
There's coffee and tea in your room, free WiFi, a flat-screen TV, and free American breakfasts each morning, as well as a large outdoor pool to jump in when the desert temperatures get a bit high.
Motel 6-Twentynine Palms
£
Twentynine Palms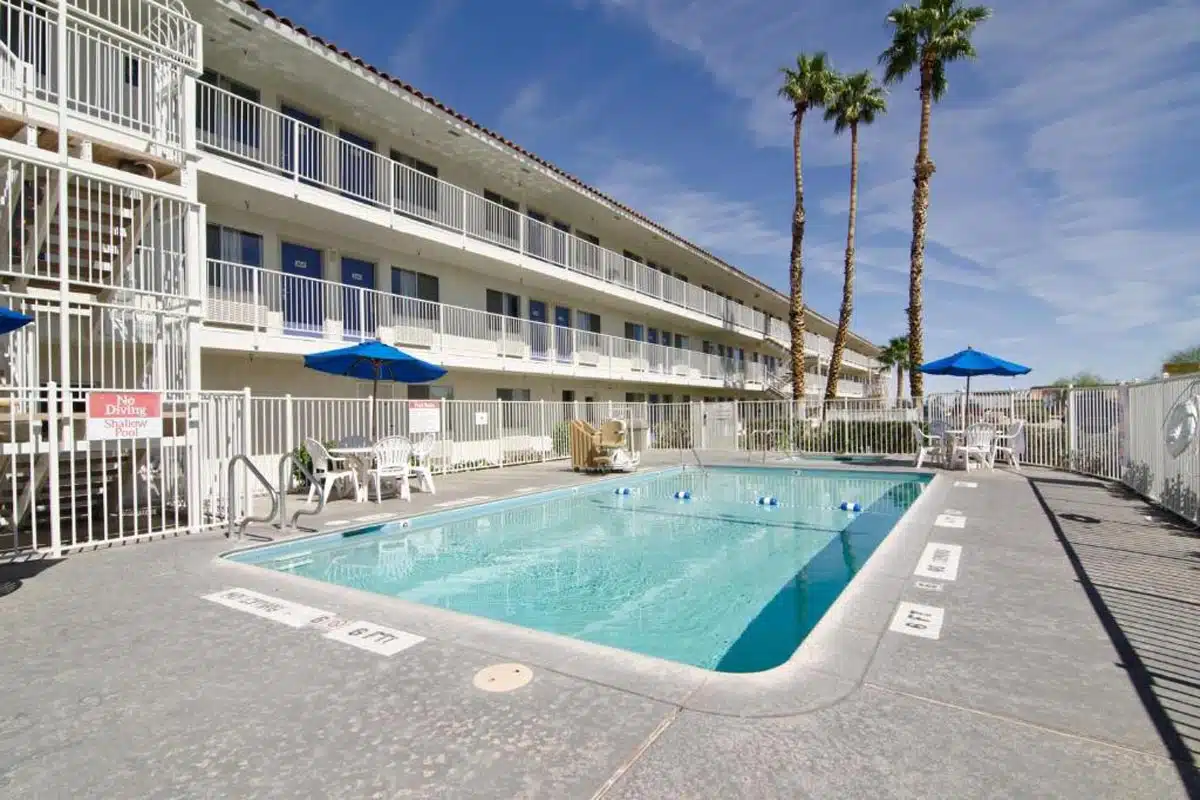 First of all, one of the best things about Motel 6-Twentynine is it's one of a few dog-friendly hotels near Joshua Tree National Park. And to make things even better, there's no extra charge for your furry friend to stay here. 
You can expect colourful rooms with flat-screen TVs, air conditioning, and free WiFi. There's also a pool, laundromat, and a 24-hour front desk with friendly service.
The only downside? There's no breakfast service here, but it's close to restaurants, like John's Place (highly recommended), and The Rib Co.
Americas Best Value Inn
£
Twentynine Palms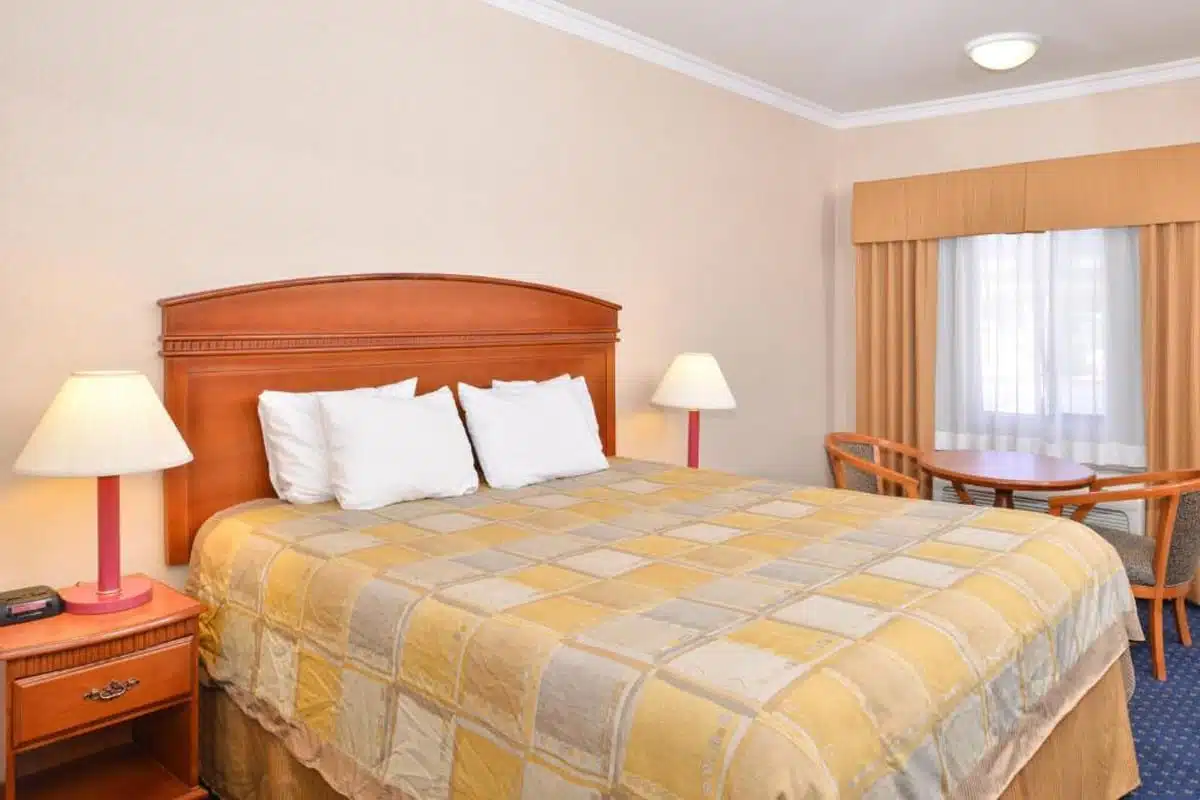 Americas Best Value Inn stays true to its name with brilliant prices for spacious rooms. 
This hotel is situated conveniently close to Joshua Tree National Park, so it's perfect for those looking to get into the park early to avoid crowds.
Bedrooms might be simple, but they're spacious and fully equipped with everything you need for a comfy stay – including tea and coffee-making facilities, a mini fridge, and a microwave.
And the hotel even boasts washing facilities, so you don't need to stress about getting your finest hiking gear dirty.
Best Hotels in Joshua Tree: Frequently Asked Questions
Practical Tips to Consider Before Booking Your Joshua Tree Hotel
Book your hotel in Joshua Tree well in advance, especially if you're travelling during wildflower season.
If you're looking to save some cash, it can be worth staying in areas just outside the park, like Twentynine Palms. Hotels here are usually cheaper throughout the year.
Joshua Tree Accommodation Guide: Map