Looking for the best spots to go glamping in Joshua Tree National Park? Check out these fantastic Joshua Tree glamping accommodations for the ultimate California vacation.
I just got back from an epic trip to Joshua Tree National Park… And I have to say, I've never travelled anywhere more suited to a glamping experience.
Joshua Tree is a land of extremes, from scorching summers to breathtaking wildflowers that bloom in spring. But if there is one guarantee, it's that this park is an explorer's paradise.
I mainly spent my time soaking up the gorgeous weather, tackling early morning hikes, and spending cosy evenings under the stars.
If you ask me – which, you kinda are – all of these things are made ten times better when staying in a tent. But not just any kind of tent. A bougie tent (ok, so there might be an RV or five involved, too).
I've done all the donkey work for you and compiled this guide to the best Joshua Tree glamping spots. From unique UFO tents to the classic Joshua Tree glamping bubble, you'll find so much inspiration that booking your stay won't even be a question.
Best Spots for Glamping in Joshua Tree National Park
MoonCatcher Desert Dome Tent
$$$
Area: Twentynine Palms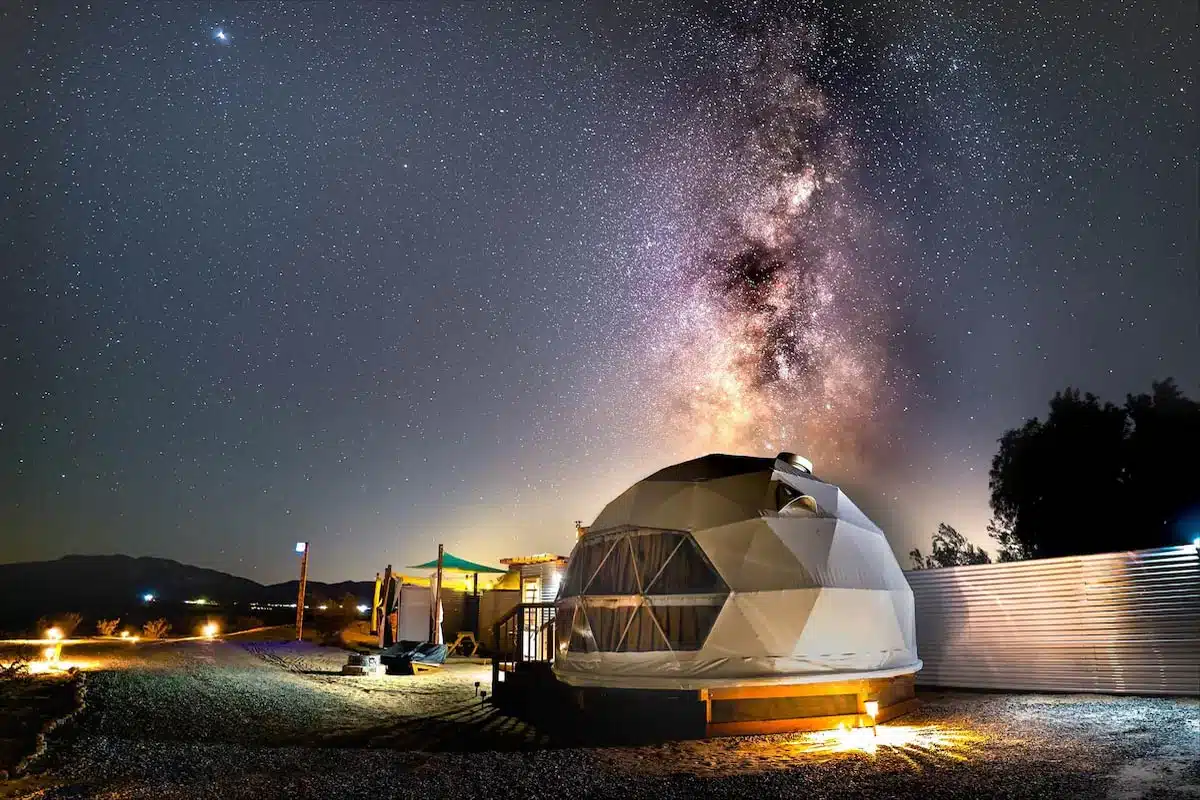 Total cosiness meets ultra-cool: Nestled 7 miles from the park is the Mooncatcher Desert Dome. Sure, it looks like an igloo from the outside, but once you step inside, the warm colours and wooden flooring creates a homely feel.
The oval window provides a picturesque view of the desert. But the main event is the hexagonal skylight, which offers unforgettable starlit sky views. There's a (very) small cooking area, and the bathroom is separate, so it doesn't spoil the open flow of the room.
You can also relax in the hammock after a long day and admire the sunset in the distance.
Sunkissed Glamping Tents, Joshua Tree
$$
Area: Twentynine Palms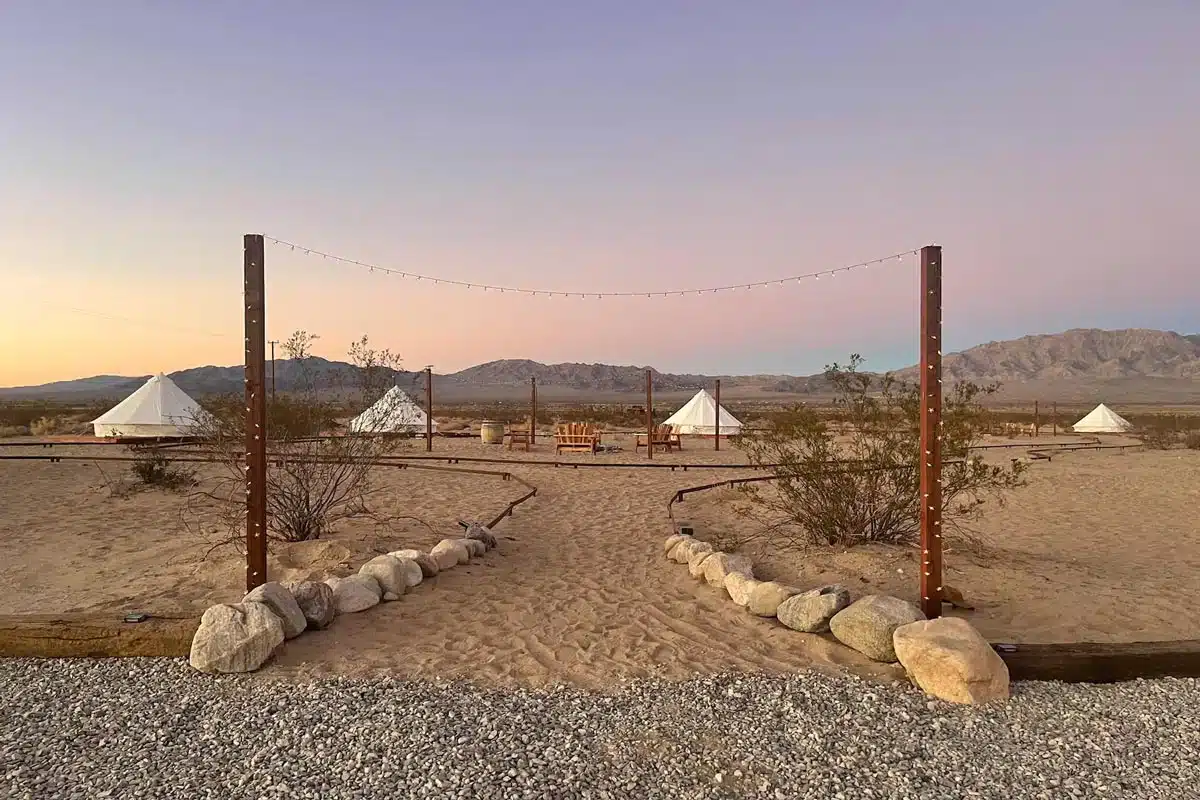 I doubt you'll find a more aesthetic accommodation than at Sunkissed Glamping. It's seven miles from the park entrance and has all the bells and whistles you could want from comfortable lodging.
The rooms are simple yet elegant, but it's the lovely communal lounge area with hammocks, couches, a barbecue, and a large campfire for sitting around after a day of exploring that really sells this spot.
The communal toilets have a sophisticated palette of cedar timber and exposed steel. And to top it all off, each tent has a unique view of the Mojave Desert.
Autocamp Joshua Tree
$$$
Area: Joshua Tree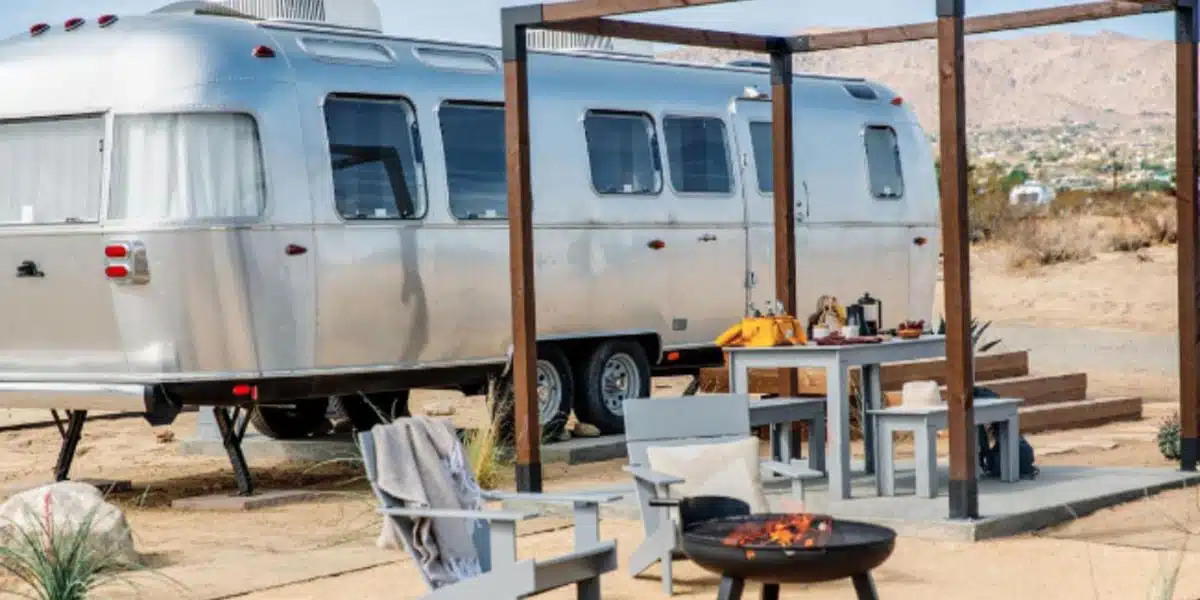 For a modern camping experience, this caravan is a fantastic option. It's just 5.2 miles from the Joshua Tree National Park entrance and provides some pretty impressive views of the Mojave Desert.
I'll warn you that this is not a traditional camping set-up with a tent but takes on a modern twist using a caravan. But this means you have a private bathroom and kitchenette, which is ideal. And if you want to socialise, the on-site bar is the perfect place for it.
The caravans use light and airy colours that allow the surrounding landscape to be the star of the show. You'll also find delicious food nearby at the Joshua Tree Saloon or the Country Kitchen. And how about cooling off at the lovely communal pool?
Attitude Trailer
$
Area: Joshua Tree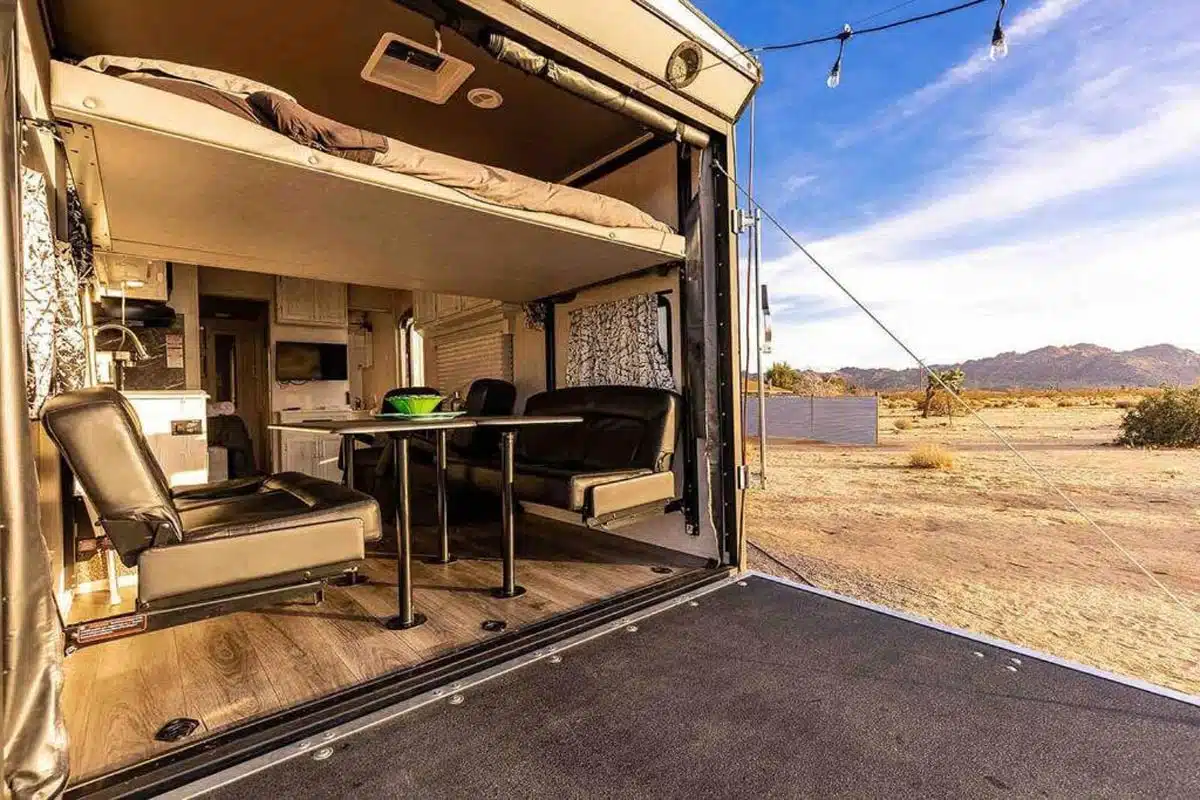 Look no further than Attitude Trailer for another excellent glamping in Joshua Tree vacay. It's in the heart of Joshua Tree City, so you can easily access some popular attractions like the Desert View Conservation Area.
Its name is appropriate, with moody black and white finishings throughout the caravan, it serves up some serious 'tude. I reckon you'll allow it though, as there's also a quaint tin pool that you can relax in – I recommend enjoying the waters at night so you can gaze at the stars.
This is a self-catering option, though that's not an issue with a lovely kitchenette and outdoor barbeque. But if you don't feel like cooking, the Joshua Tree Saloon is just a 2-mile drive from the property.
The Rock Yacht
$$
Area: Joshua Tree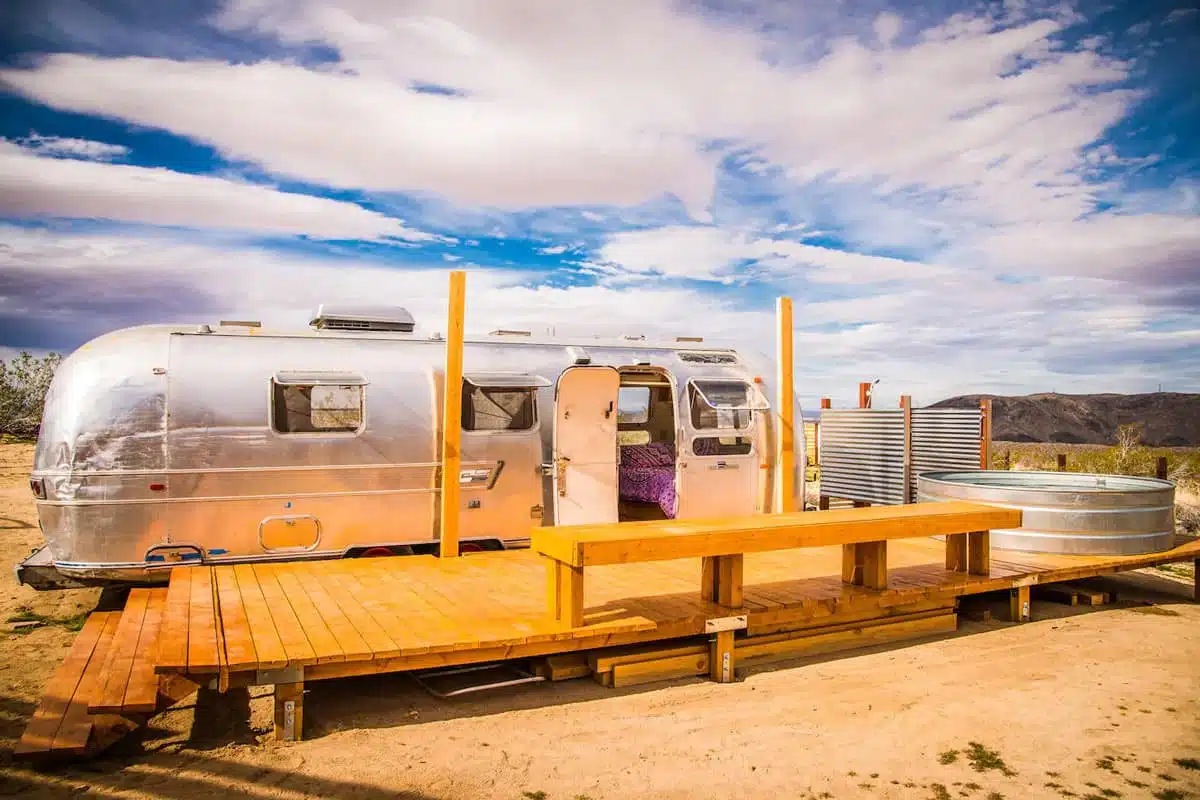 Yet another modern take on the glamping experience, The Rock Yacht caravan rests on the rocky hillside. It provides private lodging with a unique combination of hippie finishings in a minimalist space.
The dining and living rooms are outside the caravan on a wooden deck, and there's even a tin pool. It's small, but it's a pool nonetheless.
The property also provides fantastic views of the iconic Joshua trees from which the park gets its name. And, if that wasn't enough, you can also visit the Harrison House Music, Arts, and Ecology Centre up the road or grab a bite to eat at the Joshua Tree Saloon 7 miles away.
JTHAVN — Airstream Glamping Joshua Tree
$$$
Area: Joshua Tree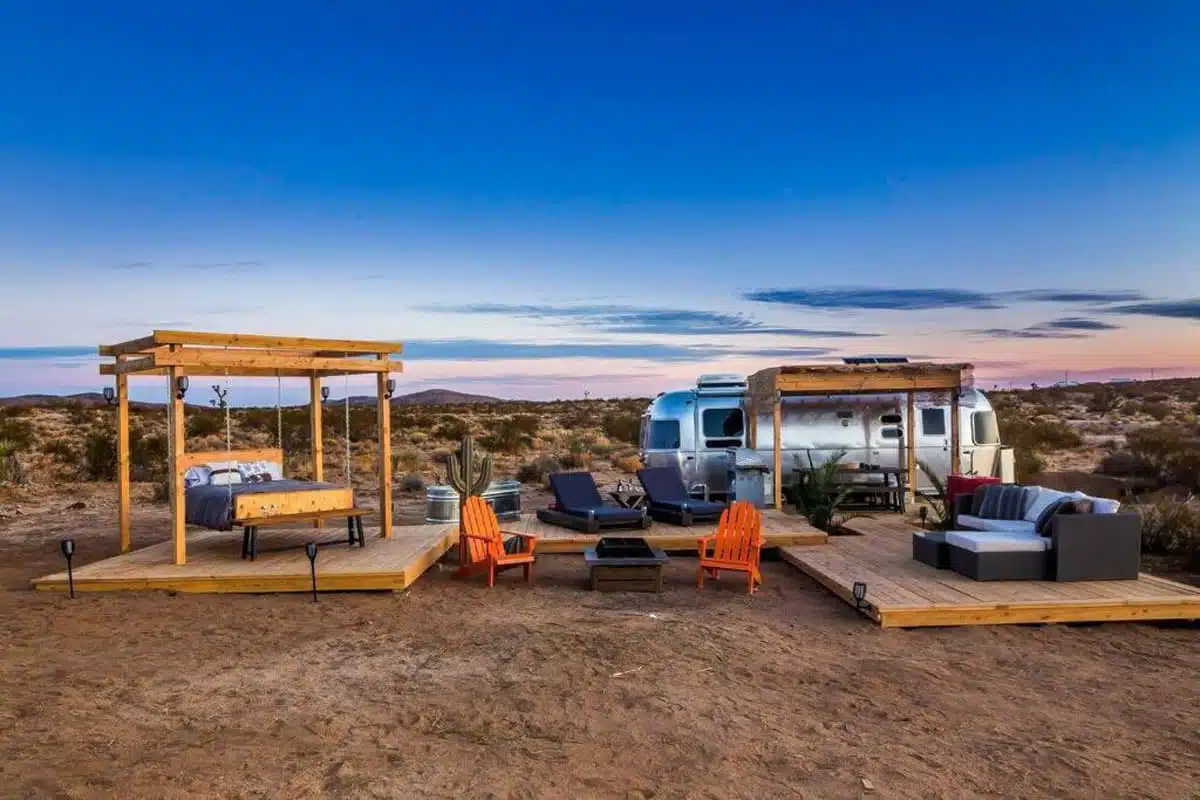 If you're looking for that extra bit of comfort and seclusion (aren't we all), stay at the Airstream glamping site by JTHAVN. It's at the centre of Joshua Tree city, so you've got quick access to the park and shops. But that's not what makes this such a great glamping destination.
For starters, it's one of the few glamping sites that offers fast and reliable Wi-Fi, so you can stay connected to family and friends. The outdoor swing bed is also one of the best spots to gaze at the starry night, and the sun loungers are fantastic for soaking up the afternoon sun.
Although there's space to cook and eat inside the caravan, there's a lovely outdoor seating area that makes for an ideal picnic location. There's also only one campsite on the entire property, so you know privacy is guaranteed.
Dirtbag X — Joshua Tree Yurt Glamping
$
Area: Joshua Tree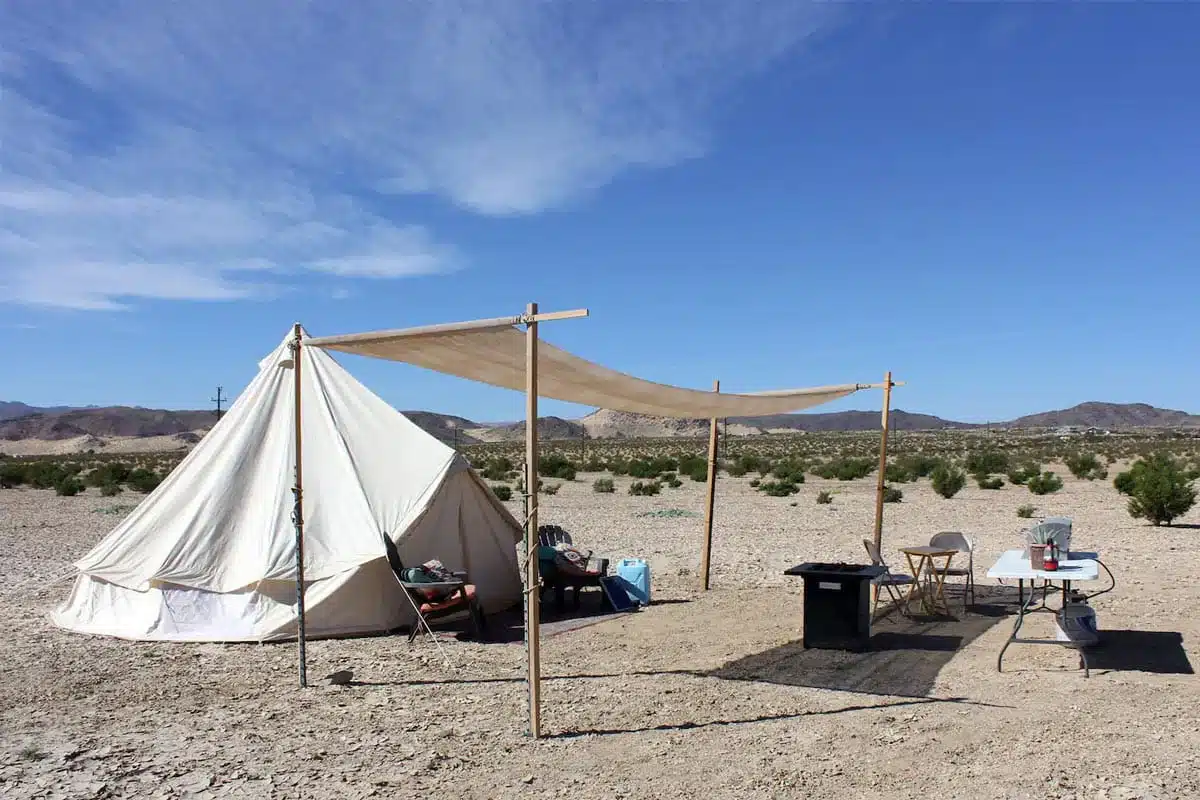 For something similar to teepee glamping in Joshua Tree, look no further than Dirtbag X. This is a rustic but super affordable glamping option in the Coyote Dry Lake region. It has all the simple luxuries, from a charging port to romantic lantern-lit rooms.
And to make things better, it's pet-friendly, so your furry family member can join you on your epic adventure.
The only drawback? The toilets are communal. But the setting more than makes up for it, with a field of wildflowers creating truly stunning scenery in spring.
It's one of the more budget-friendly accommodation options in this guide, but it's still a fantastic choice for those looking to visit Joshua Tree.
Joshua Tree Stargazing Dome
$$
Area: Twentynine Palms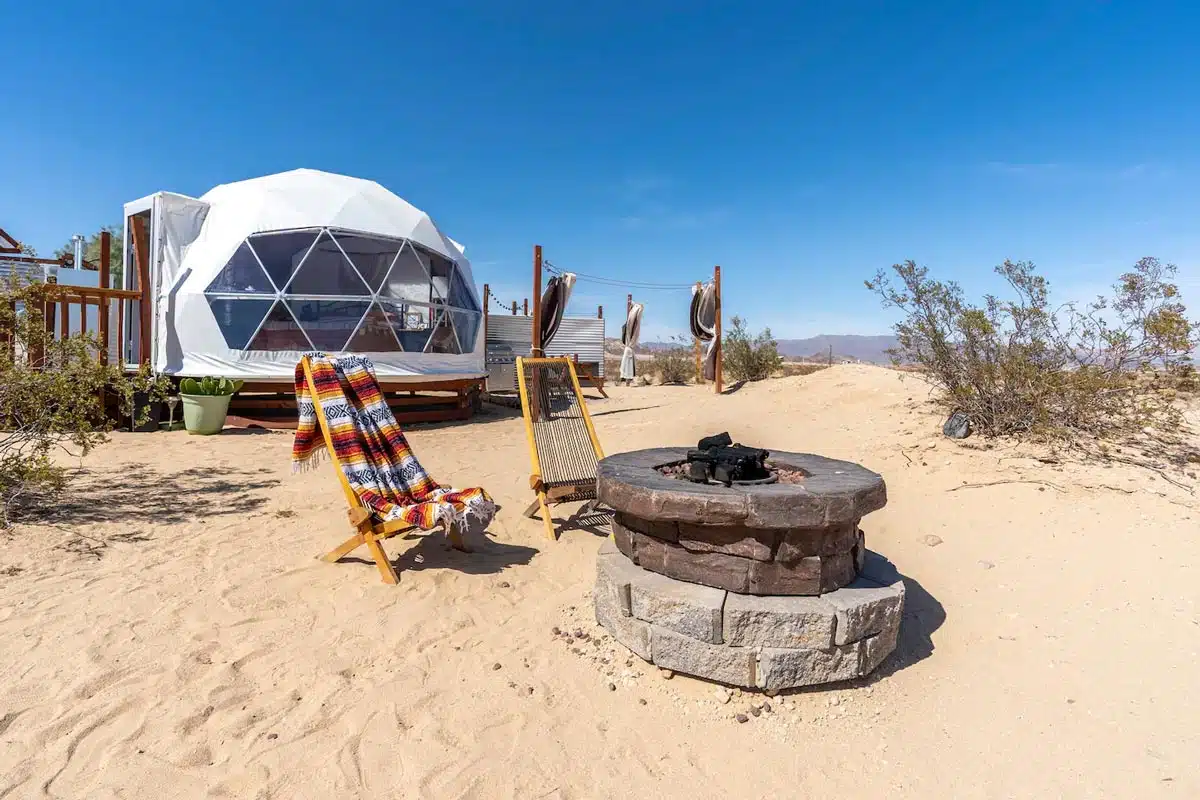 As Joshua Tree is a Dark Night Sky park, staying at this Stargazing Dome is a brilliant idea. The windows in the front section of the dome frame Wonder Valley perfectly, giving you unforgettable views from the comfort of your bed.
There are plenty of other notable things about this glamping spot, like the 10 MBPS WiFi ideal for streaming series or movies. You can also enjoy a relaxing afternoon here, with a comfortable hammock and outdoor seating near a fireplace.
And as you end a day of adventuring, how about climbing into the outdoor shower and admiring the Milky Way overhead? I like the sound of that very much.
Area 55 Futuro House
$$$
Area: Joshua Tree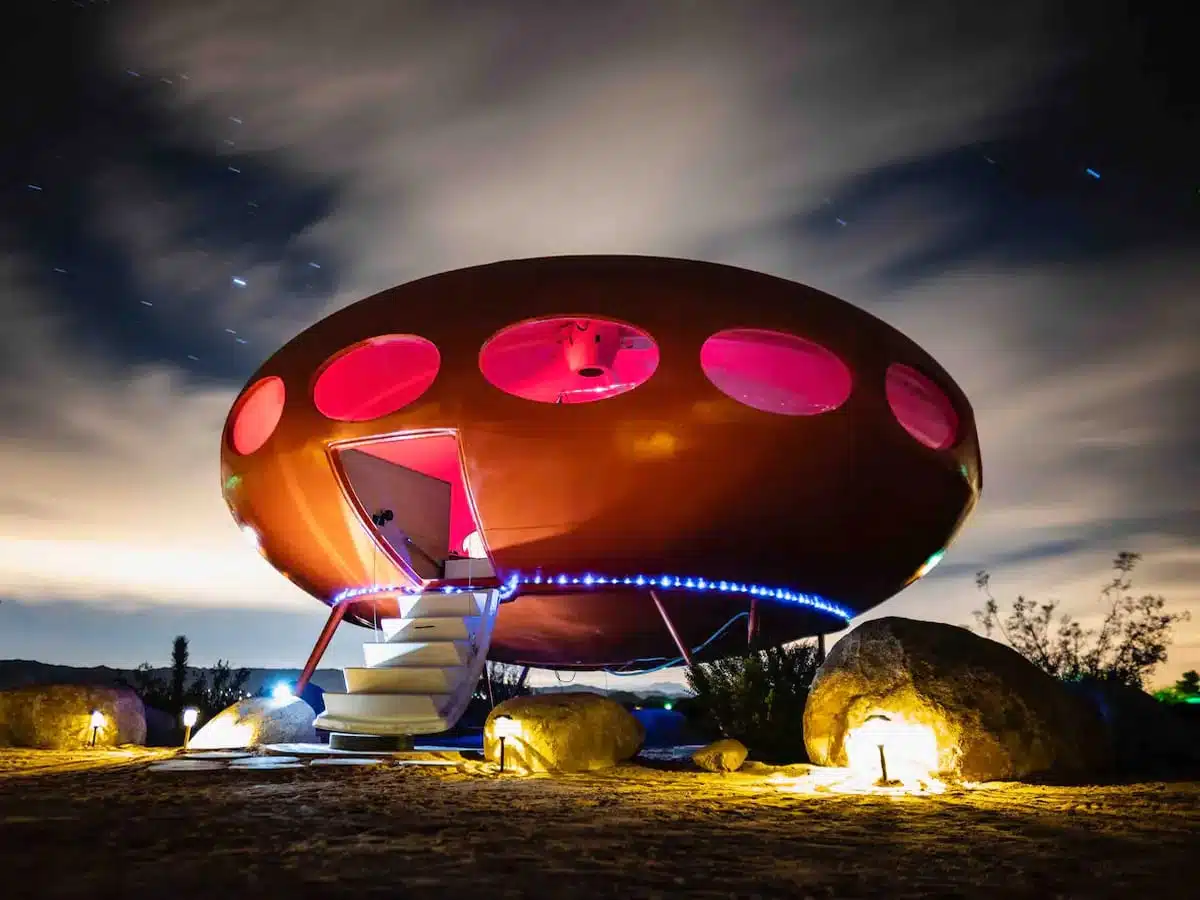 This is, hands down, the most unique glamping option I've ever seen, with its funky UFO-inspired design. The Futuro House is one of 85 in the world and provides unbelievable 360° views of the outdoors from its oval windows.
The orange exterior pops in the desert, and the interior replicates the boldness of the tent's outer façade. Accents of colour fill the relatively neutral palette, and quirky additions like an alien statue bring the space to life – pun intended.
The outdoor shower helps you stay close to nature, and the excellent cooking facilities make it the perfect self-catering option. And when you're done exploring Joshua Tree National Park, take a 5-minute walk to Noah Purfoy's Museum.
Practical Tips for Booking a Glamping Trip to Joshua Tree
The best time to go glamping in Joshua Tree is March or November. It might be poppin' in spring because of the wildflowers, but you can still find some good deals during March. Just make sure you book at least a couple of months in advance. If you're after a cheaper option with weather similar to spring, then autumn in November is your best bet.
Although there aren't glamping options inside the park, the town of Joshua Tree has many fantastic options. It also has some excellent restaurants and is no more than a 10-minute drive from the park entrance.
I recommend spending at least three days glamping here. Joshua Tree is great for all budgets, so spending three days or more to explore the entire park is more than doable.
Most glamping bathrooms are communal – much like regular camping. If you want more privacy, pick a lodging with a bathroom in the main room.