Planning a visit to Addo Elephant National Park? Here's what you need to know before your trip.
I'm going to start this guide by being uncharacteristically gushy because I need to tell you something.
Addo Elephant National Park is an unbelievable experience.
Located in Addo, about a nine hour drive from Cape Town, it's the third largest national park in South Africa and the only national park where you can see the big seven (that's lions, rhinos, elephants, buffalo and leopards plus Great White Sharks and Southern Whales to those uninitiated with the wildlife lingo).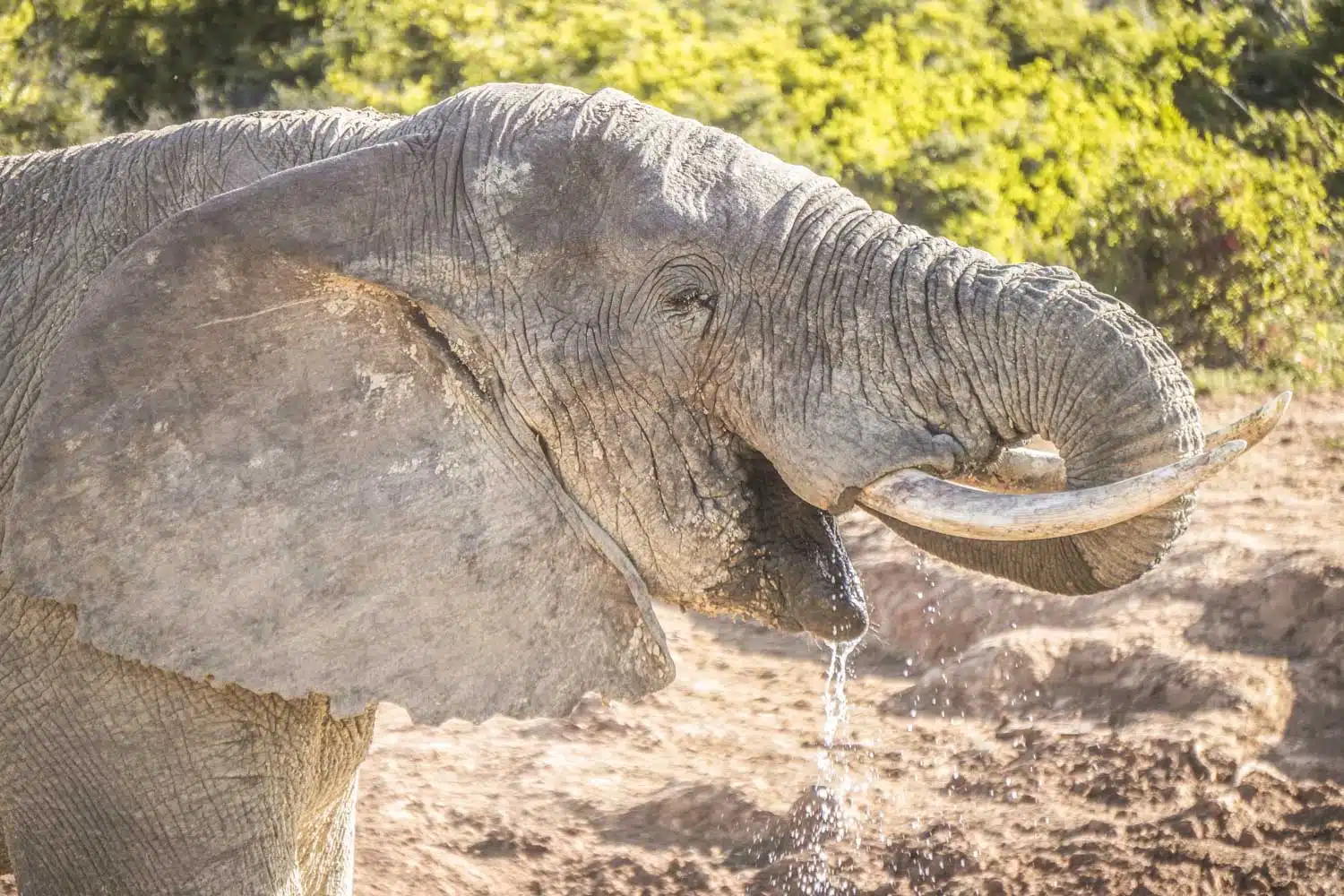 Facts aside, I can truly say that visiting Addo Elephant Park was one of the most memorable experiences I've had in all my travels.
To put that in perspective, I've travelled to over 70 countries and spent endless days on the road, both as a travel writer and since moving to blogging full time. Let's just say that there was some stiff competition.
If you're thinking about visiting Addo, do it. If you've already decided to go – well done, you're in for a real treat.
Now it's time for the good stuff. A step-by-step guide to visiting Addo Elephant National Park, everything you need to know before you go.
Top Travel Tips for Visiting Addo Elephant National Park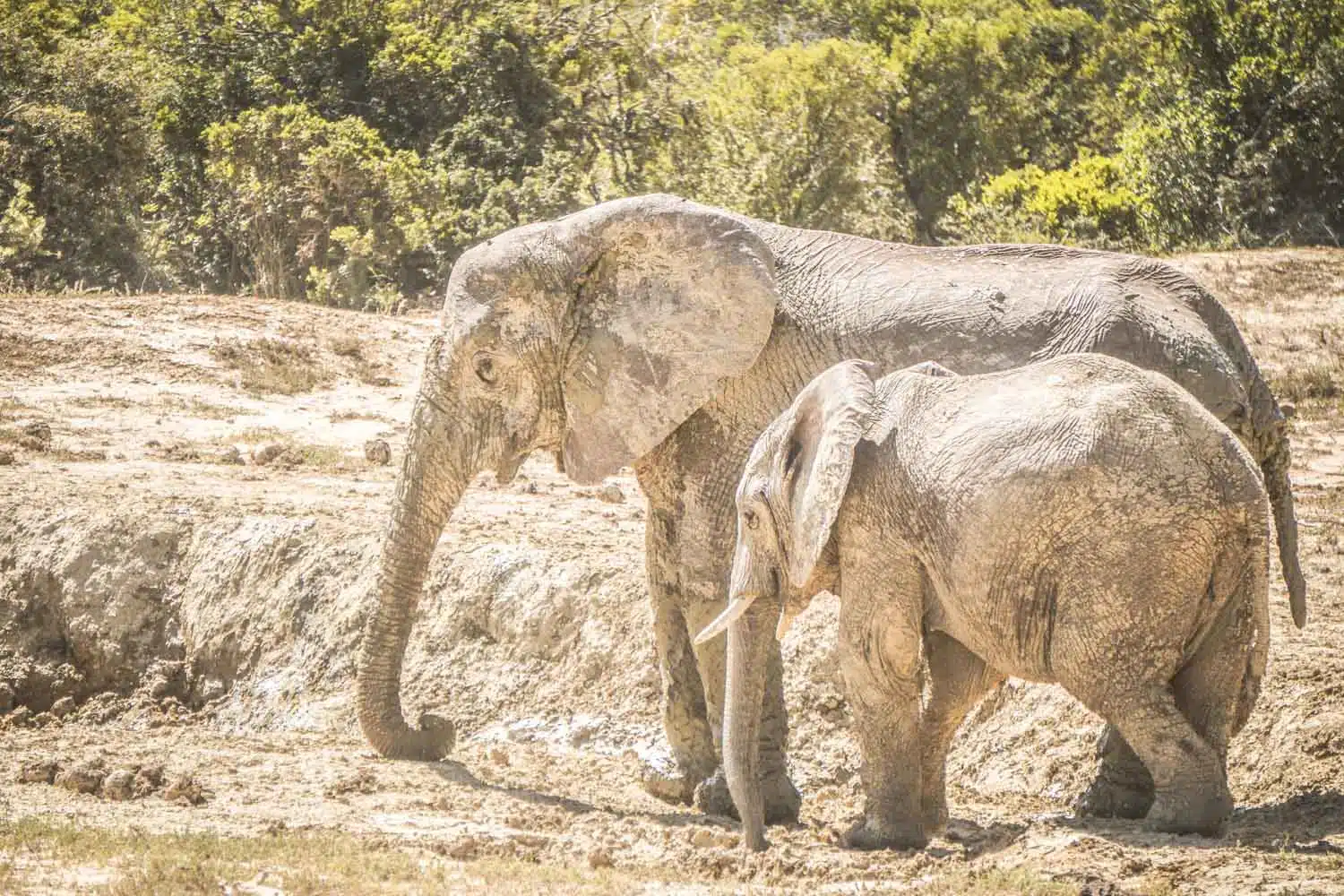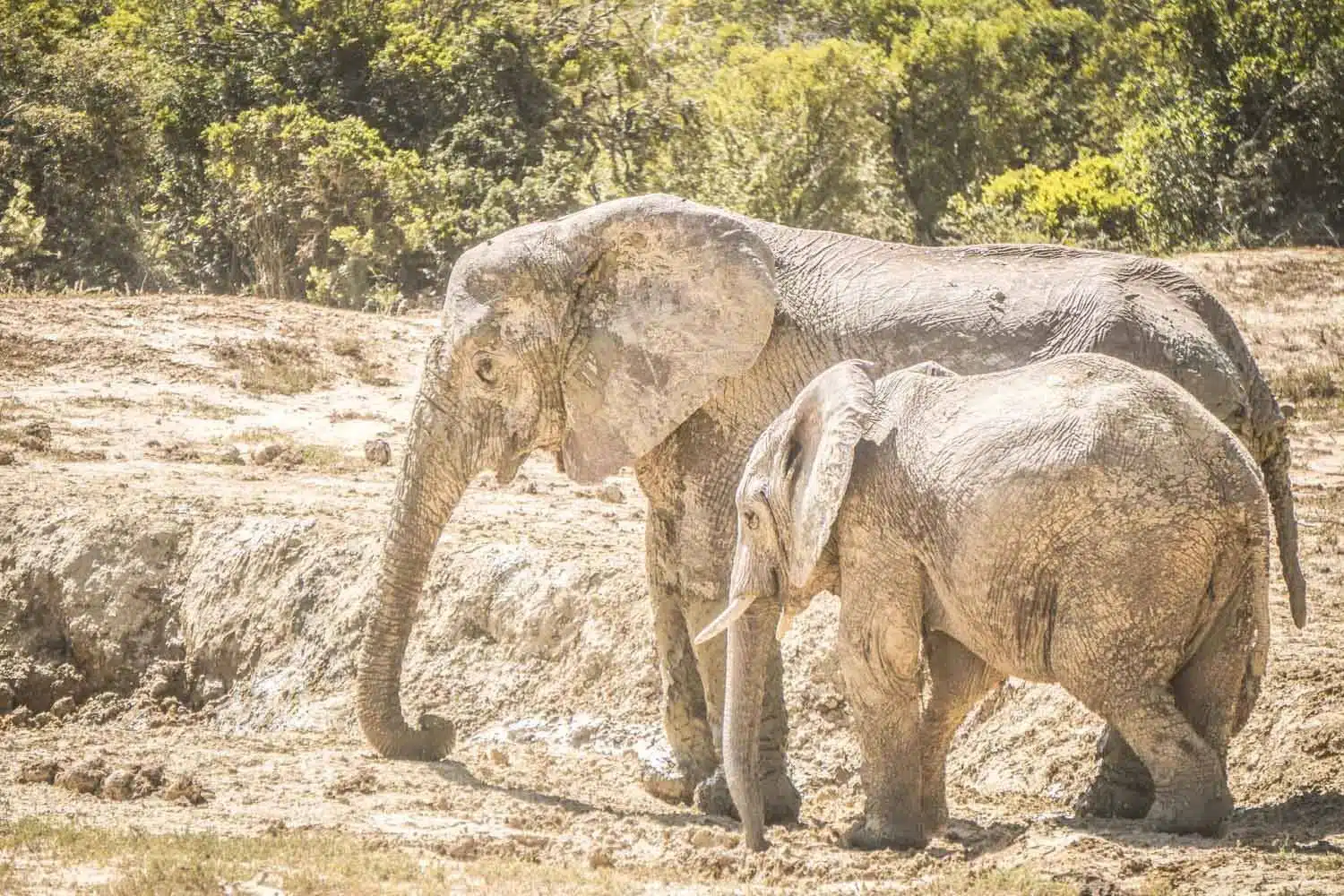 Here are my top tips for visiting Addo Elephant National Park.
Book a Game Drive
Yes, it's more expensive than renting a car and going it alone but it's absolutely worth it. We booked a full day tour with Crisscross Adventures and would highly recommend them.
The day was seamless, thanks to the efforts of our awesome guide Lungelo and the vast amount of experience of the team.
Go On the Full Day Game Drive
You have the option to book a half day or full day game drive when visiting Addo. I'd recommend booking the full day – different animals are active at different times so it gives you the chance to see a broader range of wildlife.
Not to mention the fact that you are able to cover more ground within the park, which is VAST.
Stay in or near the park
We bedded down in the chic Chrislin African Lodge, about a 15 minute drive away from the park – again, highly recommended.
Not only were the rooms lovely (and comfortable), but the close location meant that we were in the park nice and early and could stay all day without needing to worry about a long drive back to the destination.
Spend More Than a Day in the Addo Area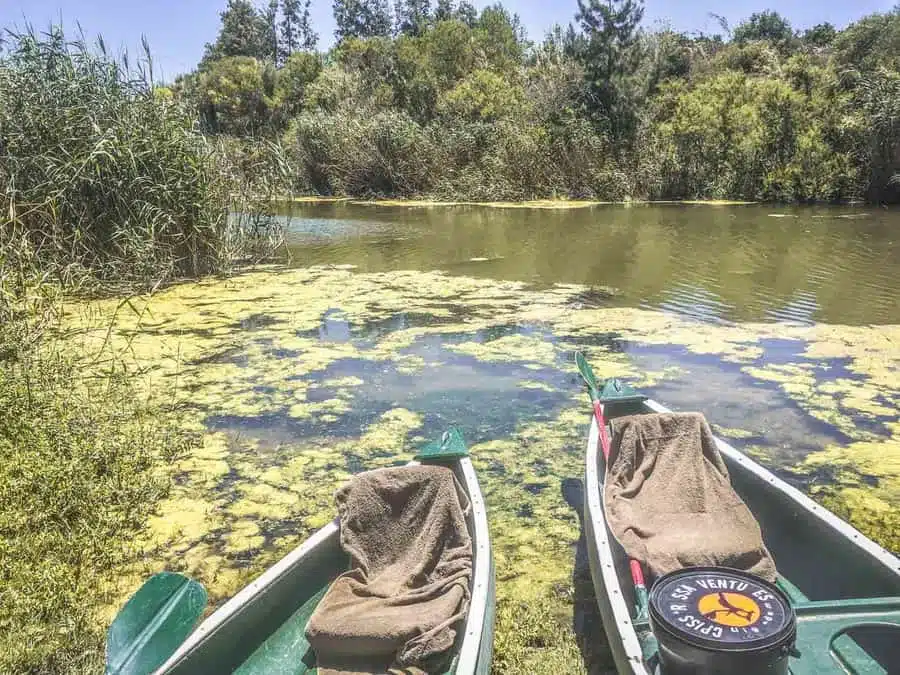 The area of Addo is beautiful, and there's more to the region than just the park: particularly if you love the outdoors. We went canoeing on the Sundays River and off road quad biking, also with Crisscross Adventures.
Both were fabulous experiences and allowed us to see a completely different side of Addo.
Read more: The Best Activities in and Around Addo Elephant National Park.
Get Excited About Braai
Prepare for braai. If you book onto a full-day game drive, you're pretty much guaranteed to get a full braai lunch in Jack's Picnic Area (believe me when I say that this is something you should be excited about).
You can still use the area if you are doing an independent trip – just make sure that you bring plenty of wood to get the braai going – and food to put on it!
Take all your rubbish with you. There are no bins in the park – to prevent scavenging and sanitation issues. Take every single thing you came with back out with you 🙂
Visit During the Dry Season if You Can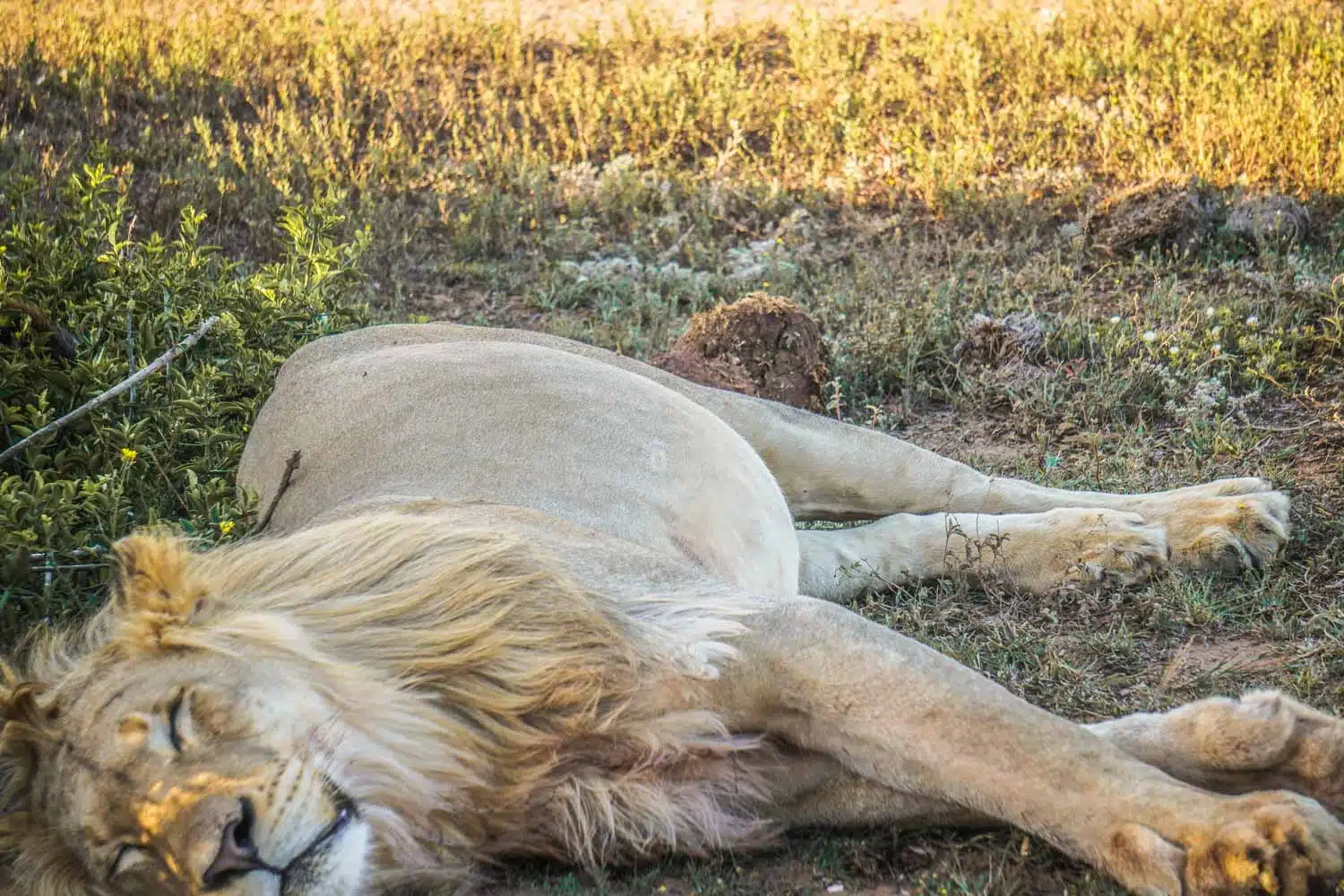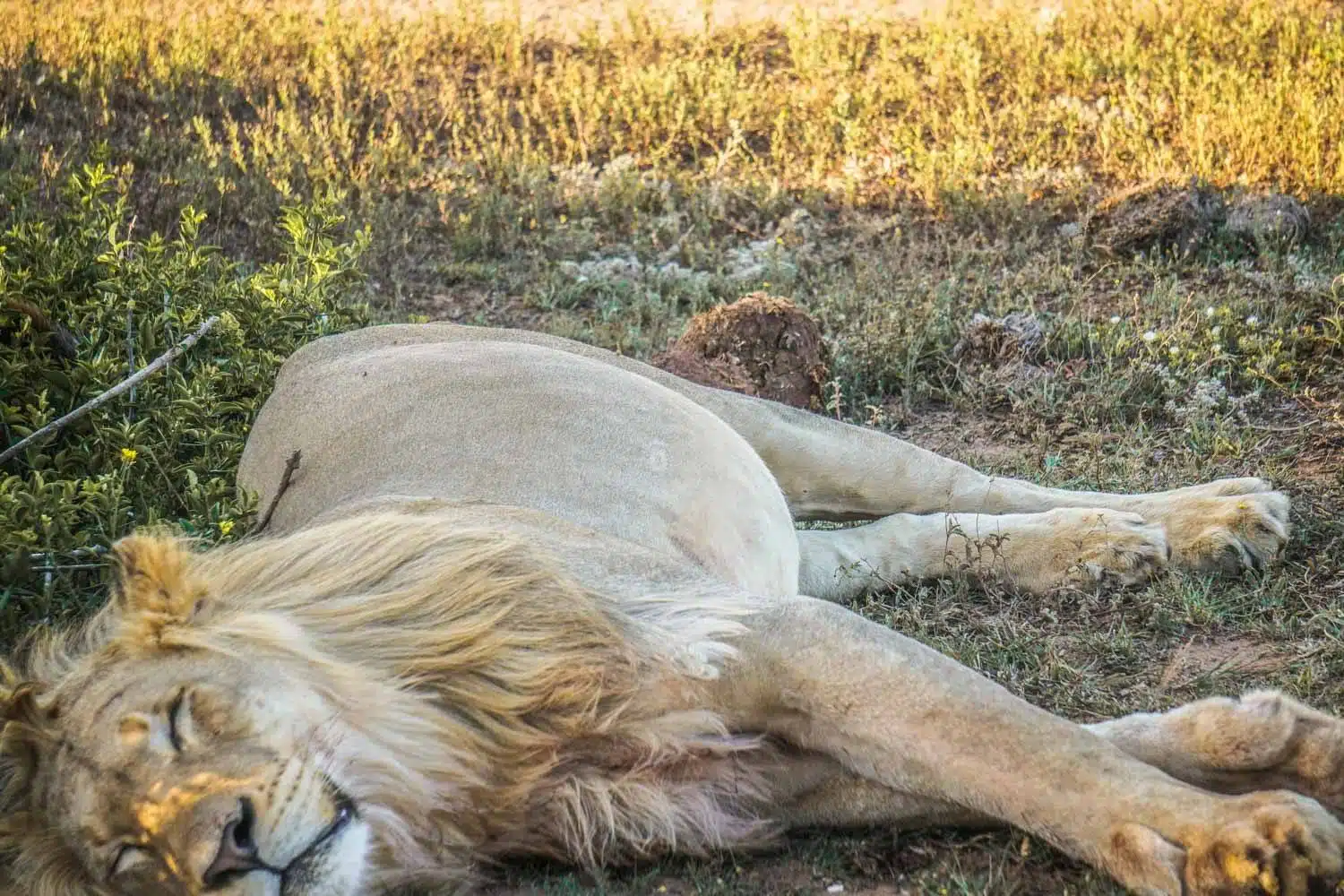 The park's watering holes are strategically located in sight of the road and are a good place to spot all kinds of wildlife.
The animals use the watering holes less in the wet season as natural sources of water are more abundant throughout the park. This can mean fewer wildlife sightings during your trip.
Don't Post Images of the Rhinos
When you visit Addo Elephant Park, please don't post photos of the rhinos. And certainly don't geotag your pics.
I know all you want to do is share images with your family, friends and followers, but poachers are getting ridiculously good at hunting out these creatures and stealing their horns.
What to Pack for Addo Elephant National Park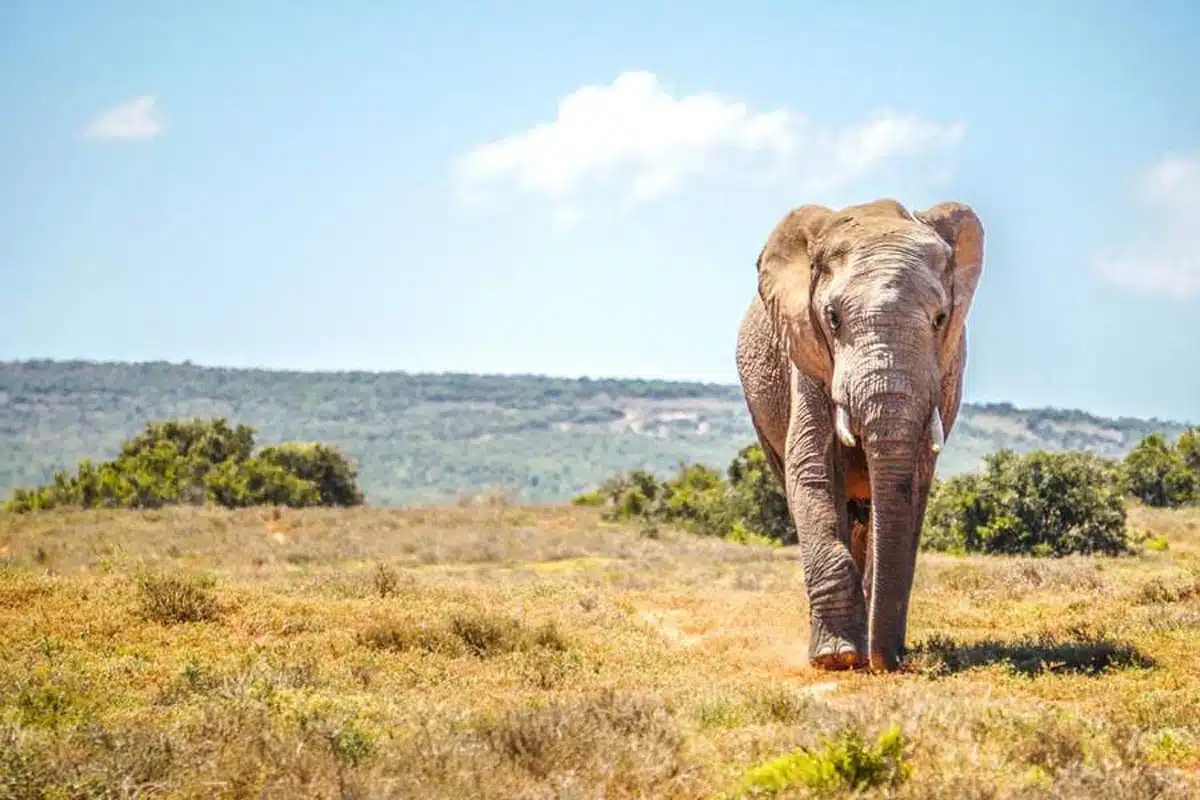 Camera
A camera. I use the Sony A6500 and love it as it's light and produces great images on the fly.
Make sure you have an empty SD card, because you are going to take more photos than you ever thought possible. I went with one that was almost empty and pretty much filled it in the course of a day.
And to think that back in the day I used to panic if I used a roll of film in one day. Old school.
What to Wear
Wear a hat and plenty of sunscreen. That South African sun is hot, hot, hot. We were in a covered vehicle and even then it was scorchio.
Wear tops with long sleeves, and generally light and comfortable clothing. I made the mistake of wearing a vest top and spent time trying to hide my arms from the sun in the hottest part of the day.
Clothes need to be comfortable as you're going to be in the car all day, and you will totally regret opting for a pair of stomach-cutting trousers that are too tight.
Other Necessities
Bring insect repellent. There were surprisingly few critters around during our visit (at the beginning of December) but it can get pretty brutal.
Stay hydrated. Crisscross provided us with beverages but if you do decide to go it alone, you will also want to bring a tonne of liquid with you too.
If you're going without a guide, make sure you bring binoculars.
Should I Book one of the Addo Elephant Park Game Drives?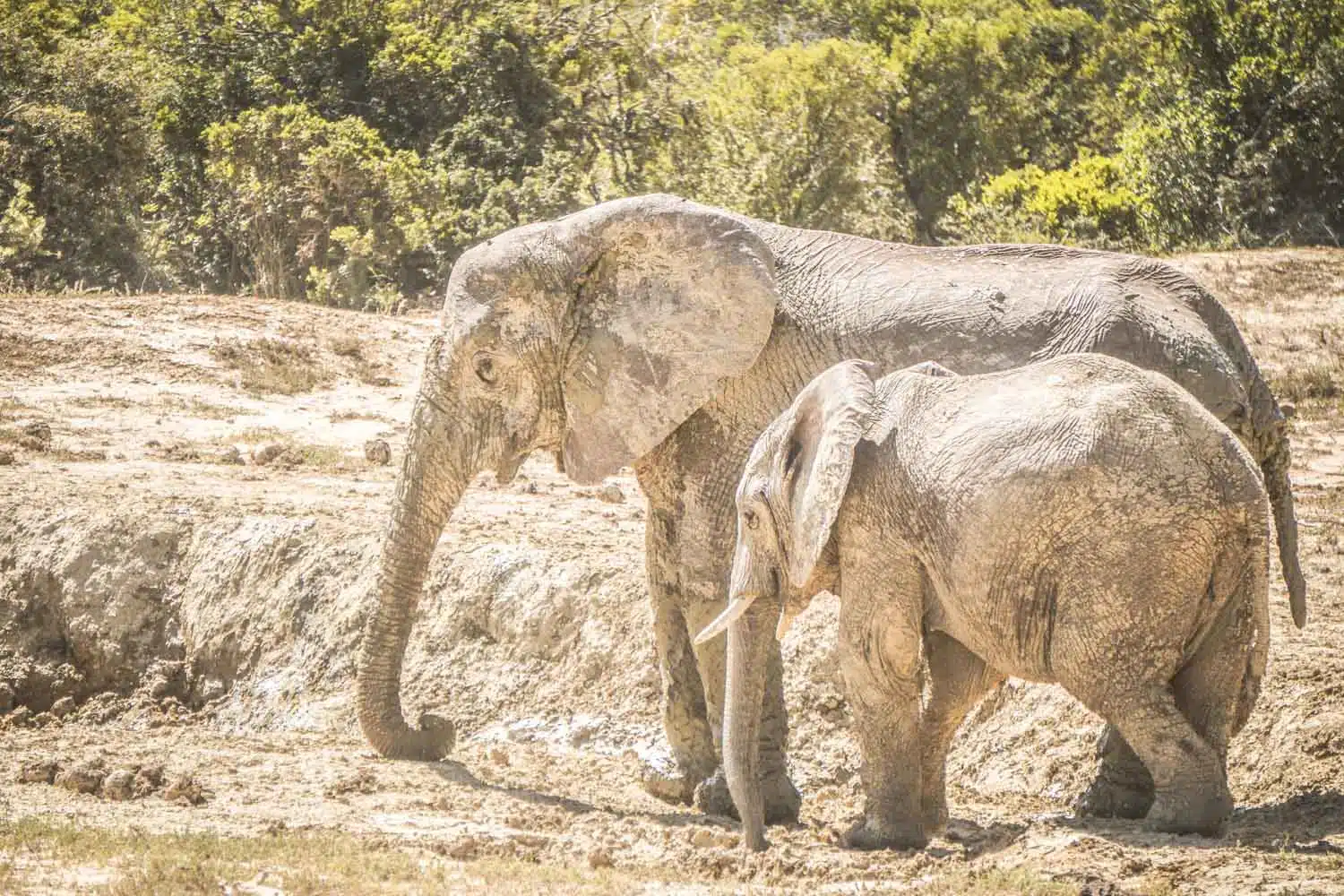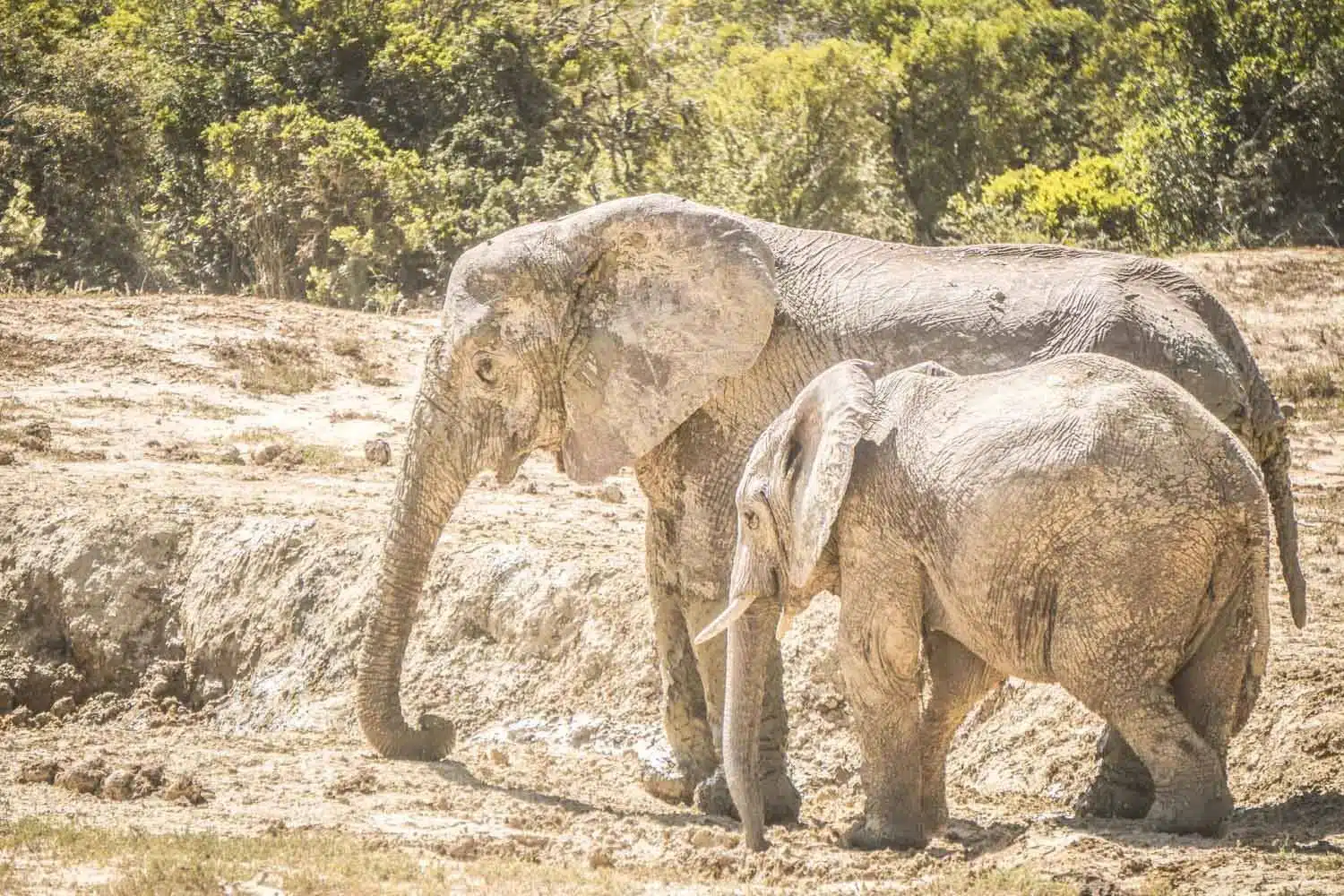 In short, yes. IMHO you should totally book onto one of the Addo Elephant Park game drives. We went on the game drive with the absolutely wonderful Crisscross Adventures and would 100% recommend them to anyone considering a trip to the park.
But you don't have to take my word for it. Not only was the experience pretty incredible overall, but there are practical reasons why you should book onto a game drive in Addo Elephant National Park.
The Vehicles
There's a reason that safari vehicles are so high: because it means that you have a much better vantage over the landscape and a much better chance of seeing the animals in the park. Plus, is it really a safari if you aren't sitting in a pimping Land Rover? No.
The Guides
Our guide Lungelo totally blew me away with his in-depth knowledge of the park and all its inhabitants, large and small. Honestly, I just can't imagine what the experience would have been like without him. He was chatty, friendly, but most importantly, knew the park like the back of his hand.
Seeing the animals in the park is largely a matter of being in the right place at the right time. Lungelo knew where the animals were most likely to be and was literally a walking, talking fact machine when it came to telling us about what we were seeing.
Insider Information
The guides are always tipping each other off about recent wildlife viewings.
We saw lions twice in the park: the first time we came across them on our own, but the second time we saw them Lungelo's colleague had tipped him off with a call.
That call ended up with us trucking straight over to the spot and getting up, close and personal with the lions in a way that I never imagined. It was truly breathtaking.
The Braai
Now, as a Brit, I reckon that I am a pretty dab hand at cooking up a storm on a barbecue (Jon's even better, but don't ever tell him or his head will swell to the point he won't be able to get through a door again).
However, both of us bowed down in the face of Lungelo's kickass braai skills. That man had a way with fire that would have put all our ancestors to shame. I still get a pang of hunger when I think about that meal.
Self-Drive Addo Safari (Without a Guide)
No matter how much I stress that you should go with a guide, I know some of you guys will fancy taking on the safari alone. Here's how.
While you technically can take yourself around the park in any vehicle, a large rental car is ideal as the roads are pretty uneven and unpathed throughout most of the drive. There's one petrol station at Addo Main Camp, so make sure you fill up with enough petrol before you head inside the park.
The main benefit of exploring Addo Safari without a guide is that you can set your own pace. You can stop and take photos of the animals for as long as you like without feeling rushed or limited by a guide's schedule.
Top tip: if you're heading to Addo alone, be sensible. Bring a map (one that works offline) and don't approach the animals.
History of Addo Game Reserve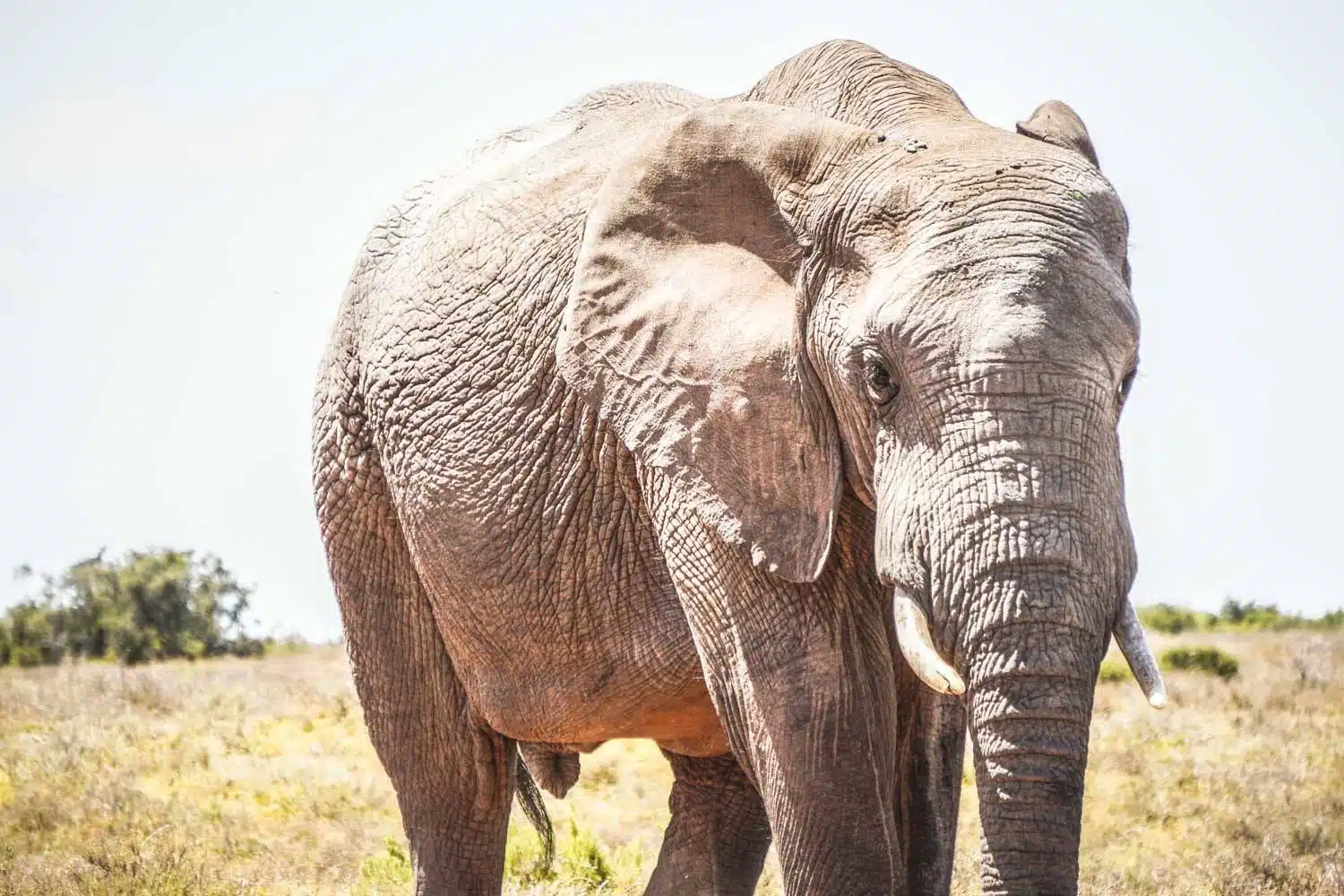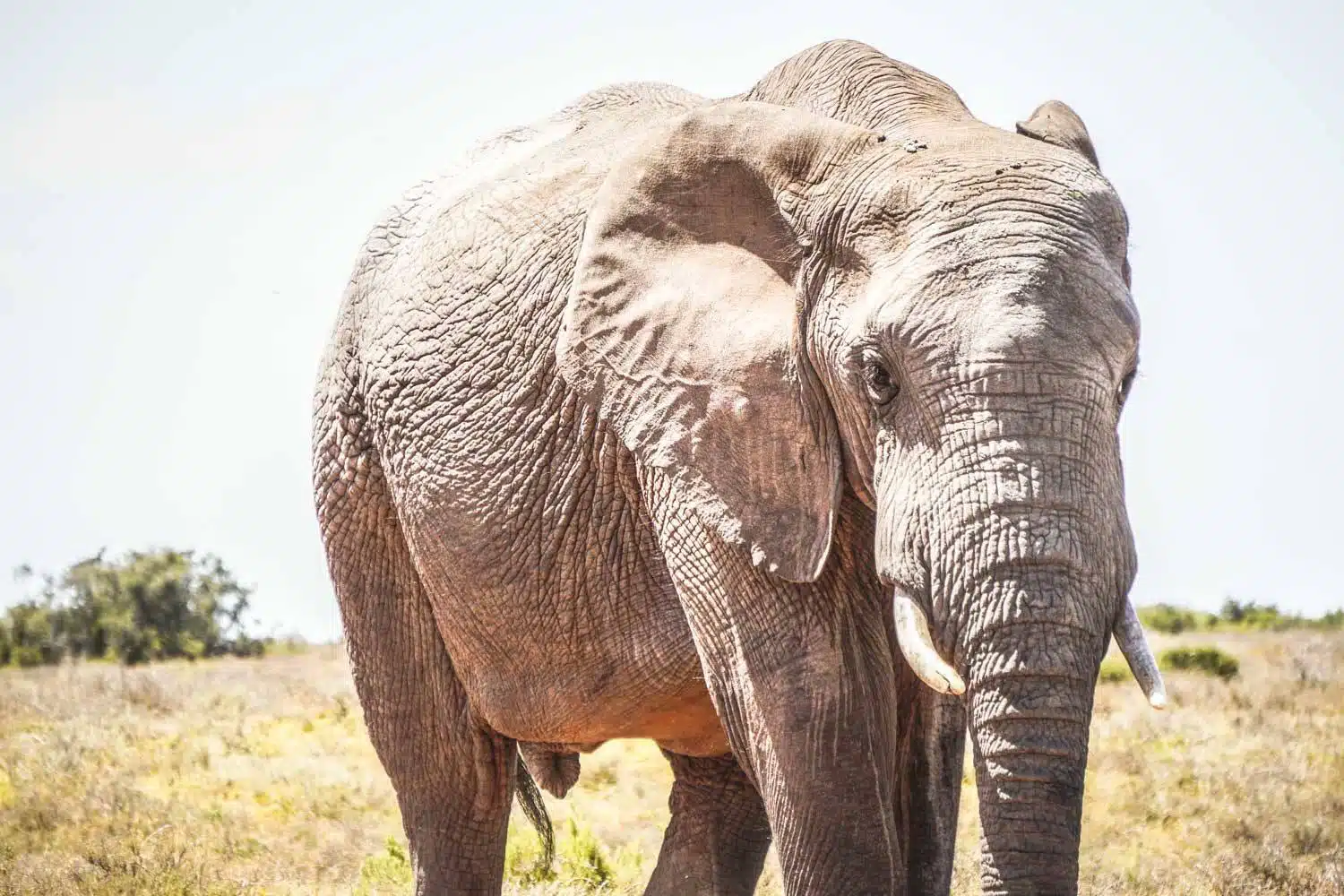 Addo Elephant National Park was founded in 1931 – the peaceful end to a bloody war waged by local farmers on elephants in the area.
Ancient travellers moving between Port Elizabeth and the northern territories recognised that the area of Addo was fertile, and over time, it became a big farming area (even today, over ⅓ of the citrus fruits grown in South Africa are grown in the Addo region).
But there was one problem… elephants.
Conflict Between Elephants and Humans
Elephants destroyed crops and competed with farmers for natural resources such as water. By the 1800s, farmers had started killing the elephants – a practice that continued until 1919.
In 1919, the greatly depleted herd of elephants numbered 140, which still made it the largest herd in southern (not just South) Africa. The farmers considered that to be around 140 too many elephants, so they employed a hunter, Major P.J. Pretorius to kill all of the elephants in the region.
Between 1919 and 1920 the hunter killed 114 of the 140 elephants in the herd, sparking a national outcry and resulting in a growing number of voices supporting the elephants' cause.
The Formation of Addo Elephant Park
Finally, Addo Elephant National Park was established in 1931. By the time the park opened, there were only 11 elephants remaining.
What started as around 5,000 hectares of unfenced land set aside to protect the elephants has evolved into over 180,000 hectares of parkland dedicated to protecting the vulnerable species of the Eastern Cape.
Addo Game Reserve is now the third largest national park in South Africa – exclusively focusing on the flora and fauna indigenous to that area (heads up – that means no giraffes).
What Wildlife Will I See at Addo Elephant National Park?
The day of our visit started with a tonne of anticipation and one burning question. What wildlife would I see during my visit to Addo?
You'd think that with a name like Addo Elephant National Park, it would be pretty obvious what you would expect to see during your time there. But if you think that the national park is limited to spotting elephants… you would be wrong.
Don't get me wrong. You will definitely see elephants in Addo. You are going to see all the elephants, so many elephants – trust me on this one. But you're also going to see more fauna of the Eastern Cape too.
Here's a mini guide to some of the wildlife in Addo – I couldn't resist including a few fun facts about each of them too. Because nothing gets my geeky little heart beating faster than a fun fact or two. Enjoy.
Elephants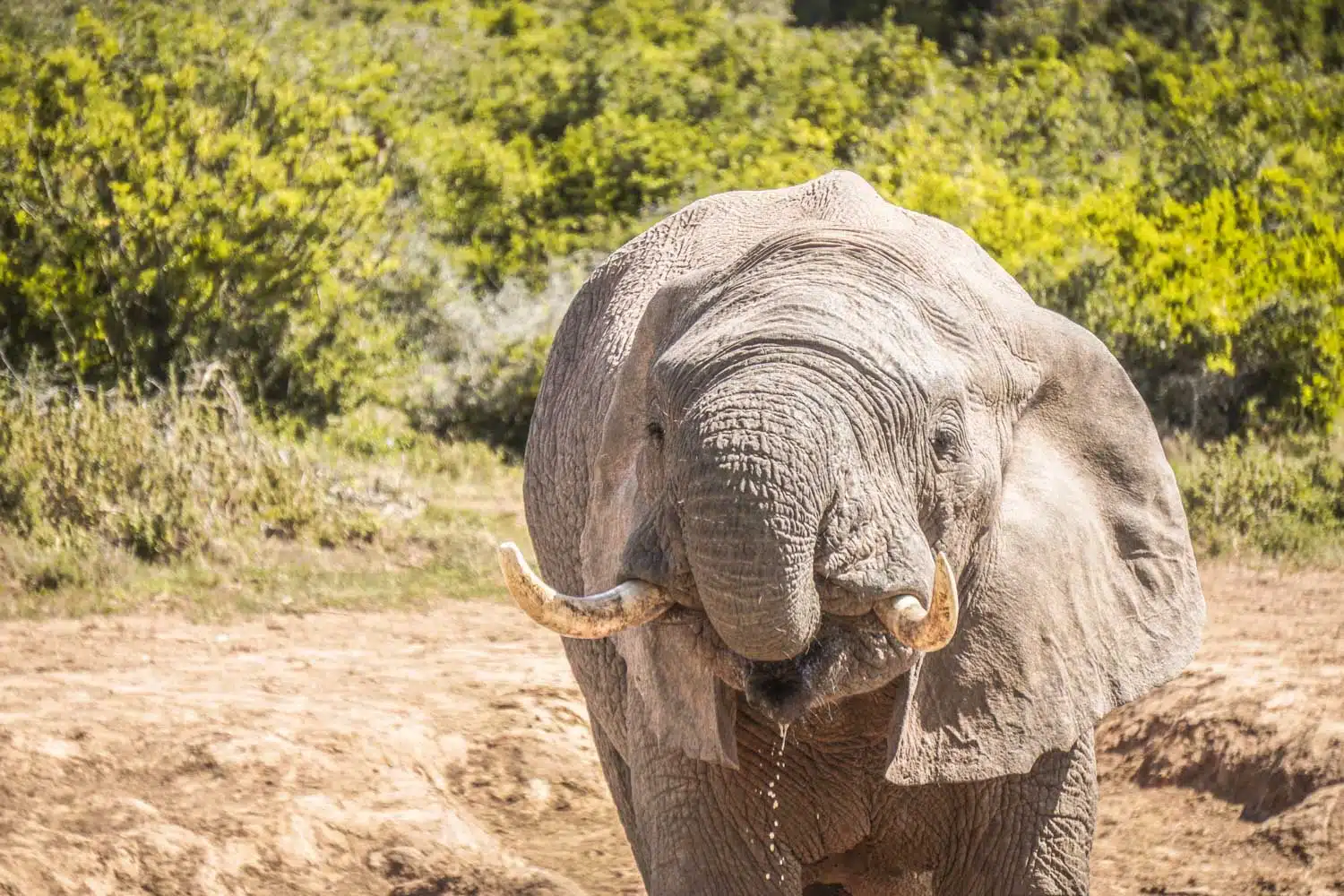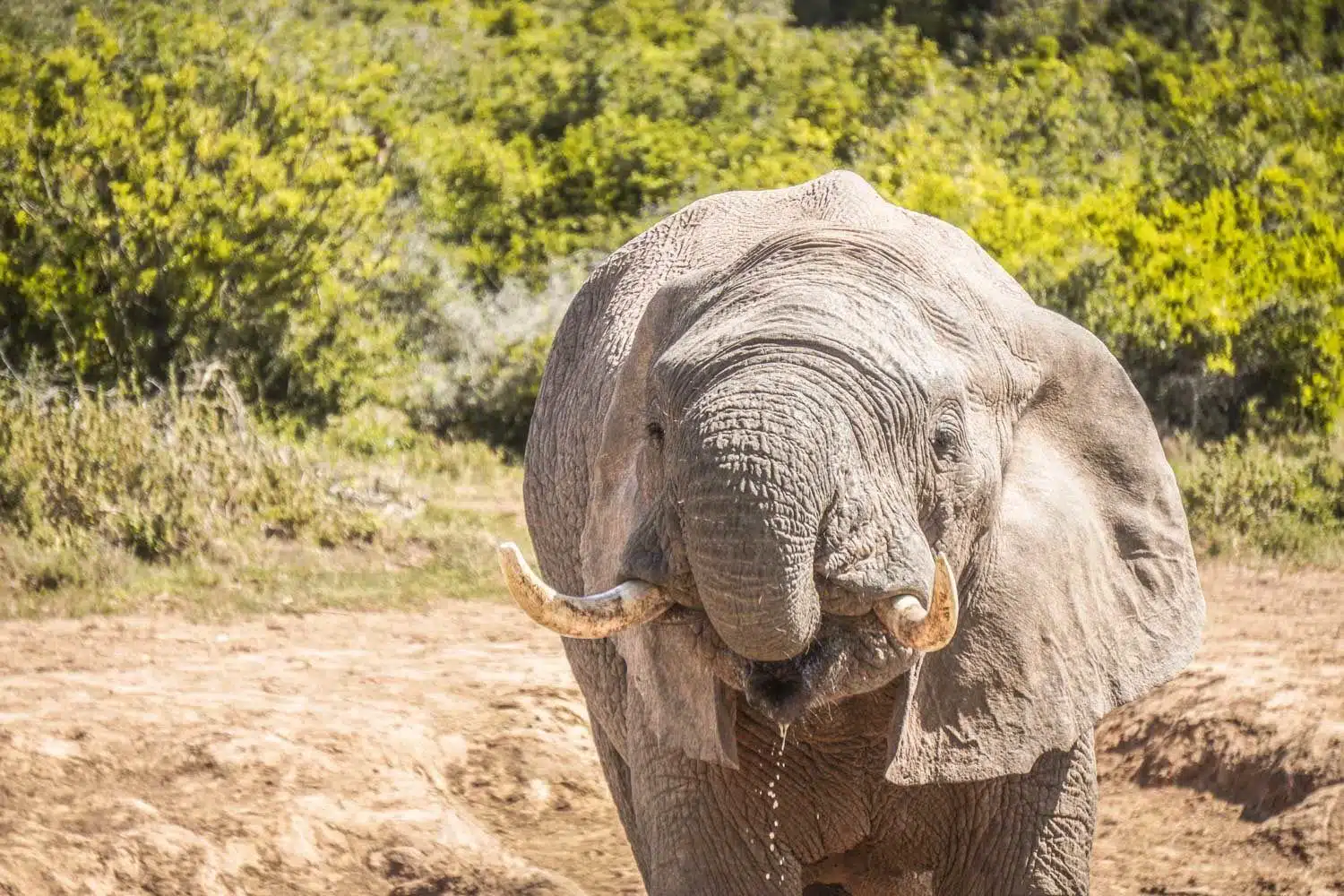 Specifically African Elephants. There are over 600 elephants in Addo Elephant Park – it would be an unlucky day indeed if you managed to avoid every single one of them.
I've never seen African Elephants in the wild before – but by the end of the day, I'd seen at least 50 of them! We saw them at watering holes, or just casually padding past the car (elephants feet are padded and expand when they hit the ground so they're surprisingly quiet for such large creatures).
Did you Know?
African elephants have larger ears than Asian elephants: this helps them to cool down in the hot and shadeless conditions. 12 litres of blood flows through a network of small blood vessels in each ear per minute and they flap their ears to help cool down even more.
Elephants communicate in a number of ways, often using frequencies that humans can't hear. For examples female elephants on heat make a low sound that travels for up to 4km – the vibrations are picked up by males who can tell the female's location, which direction she's moving in and how far along in heat she is.
Older elephants won't mate with the female until the last days she's in heat to increase their chance of fathering a baby. Those are some next level communication skills right there.
Blue Cranes
These are relatively rare sights in the park but you might spot one if you're lucky enough. Take it as a good omen if you do – they're the national bird of South Africa.
Did You Know?
Cranes are one of the few wildlife species that partner for life.
Ostriches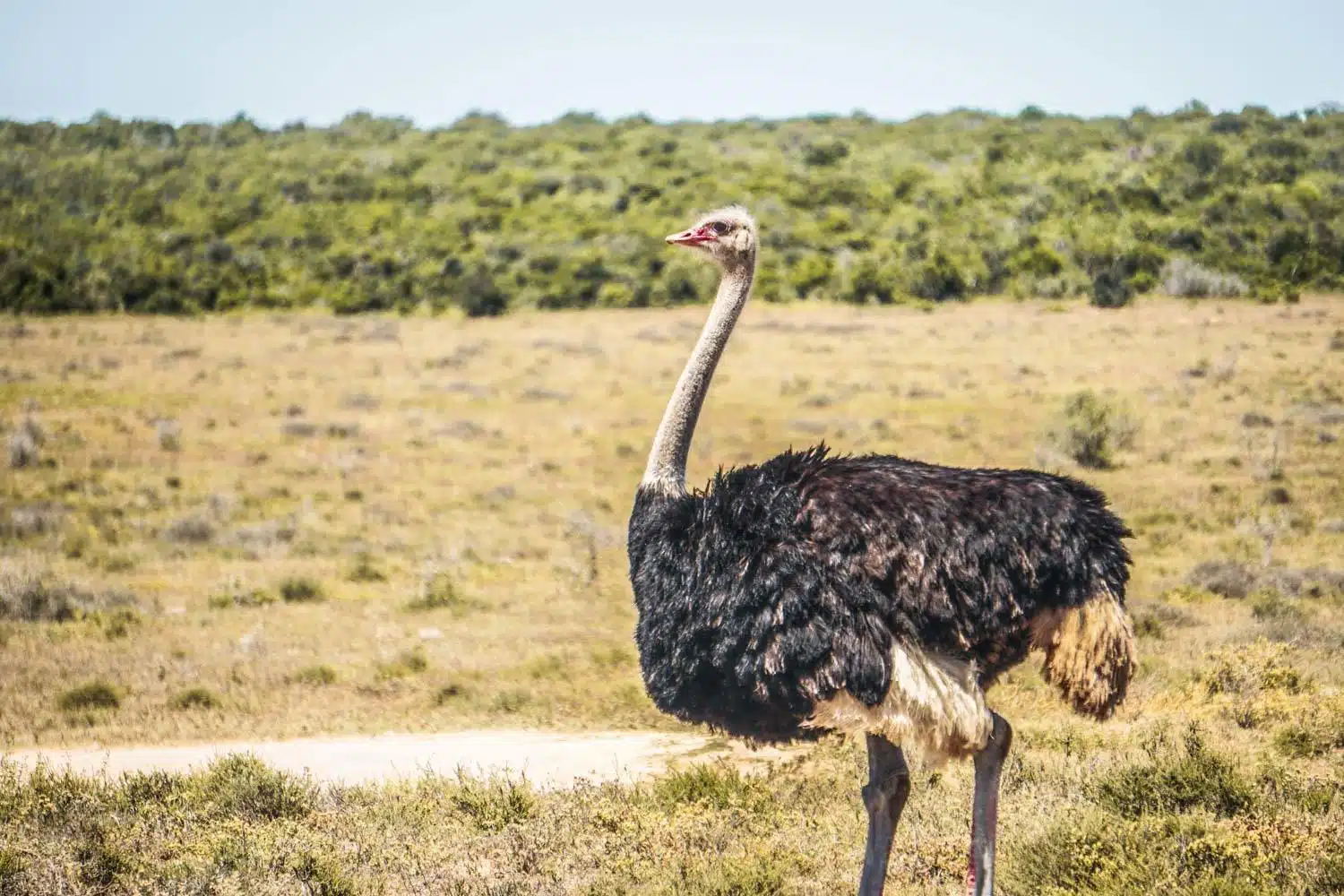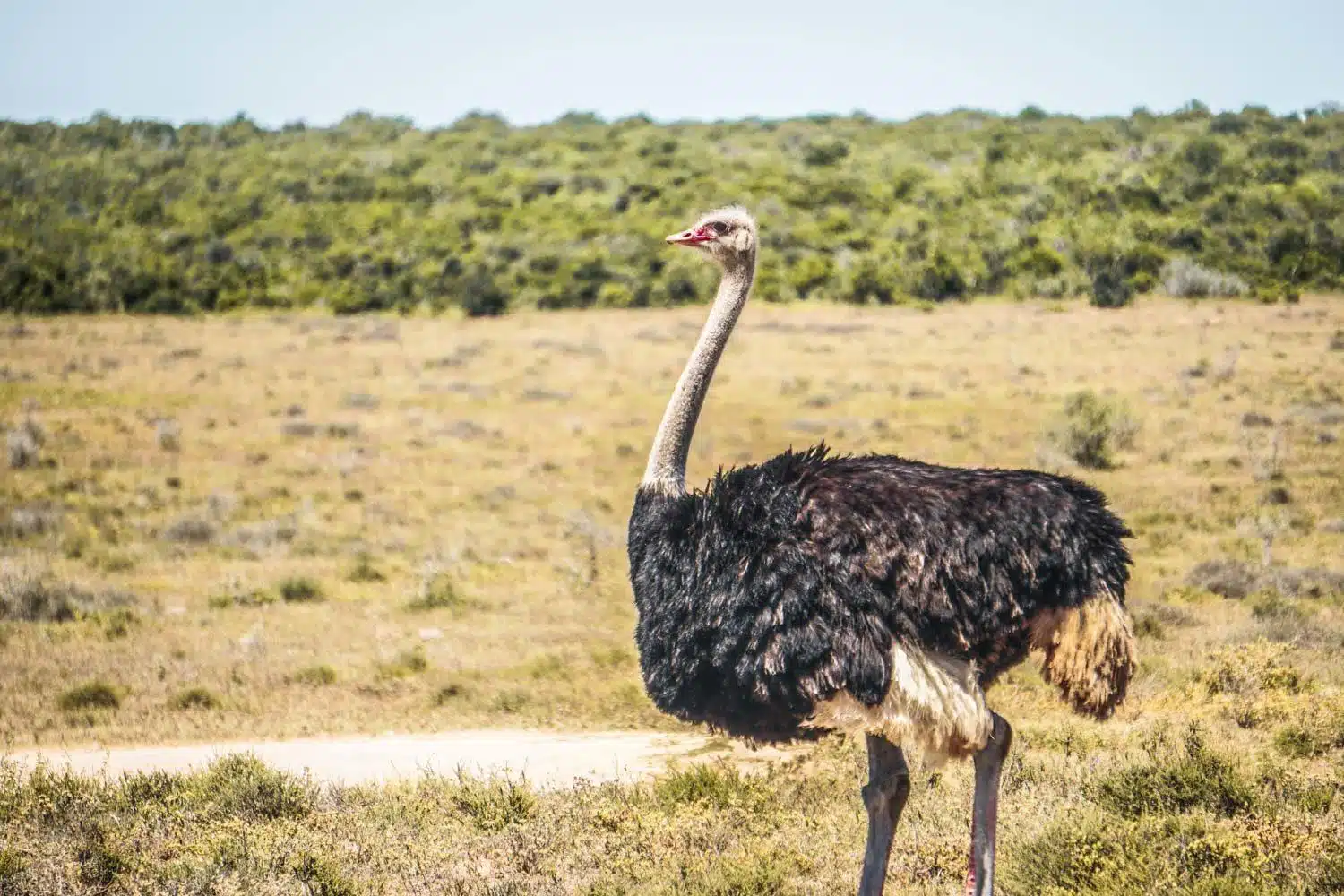 There are a lot of ostriches in Addo – the males with their elegant plumage outshine the females, who look rather dowdy in comparison.
Don't let that fool you though. The females are dowdy because they call the shots and don't need beautiful plumage to impress their potential mates.
Did you Know?
Once they have bred with the female ostriches in the surrounding area, the males will build a nest into which all the females will lay their eggs.
Of course, it's nature, so there's an alpha female thrown into the mix – one who will dominate the other birds so that she can lay her eggs in the centre of the nest. This ensures that her eggs will have the greatest success rates because they're incubated better and better protected from predators.
The alpha female and male will care for the eggs together. The black males tend to sit on the eggs during the night, while the brown females tend to sit on the eggs during the day – both taking advantage of their natural camouflage at the time that best suits them. Team work has never looked so beautiful.
Pale Chanting Goshawk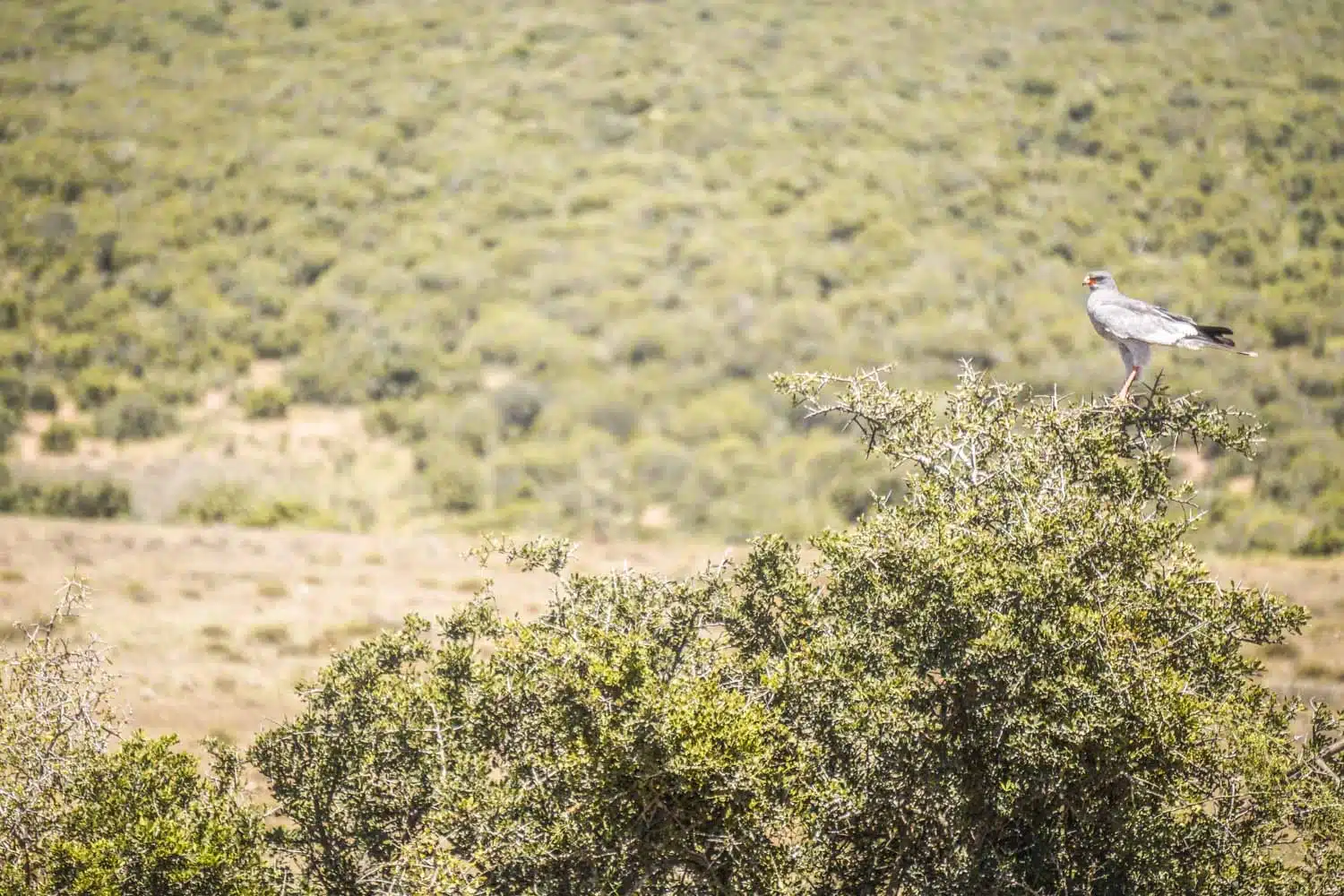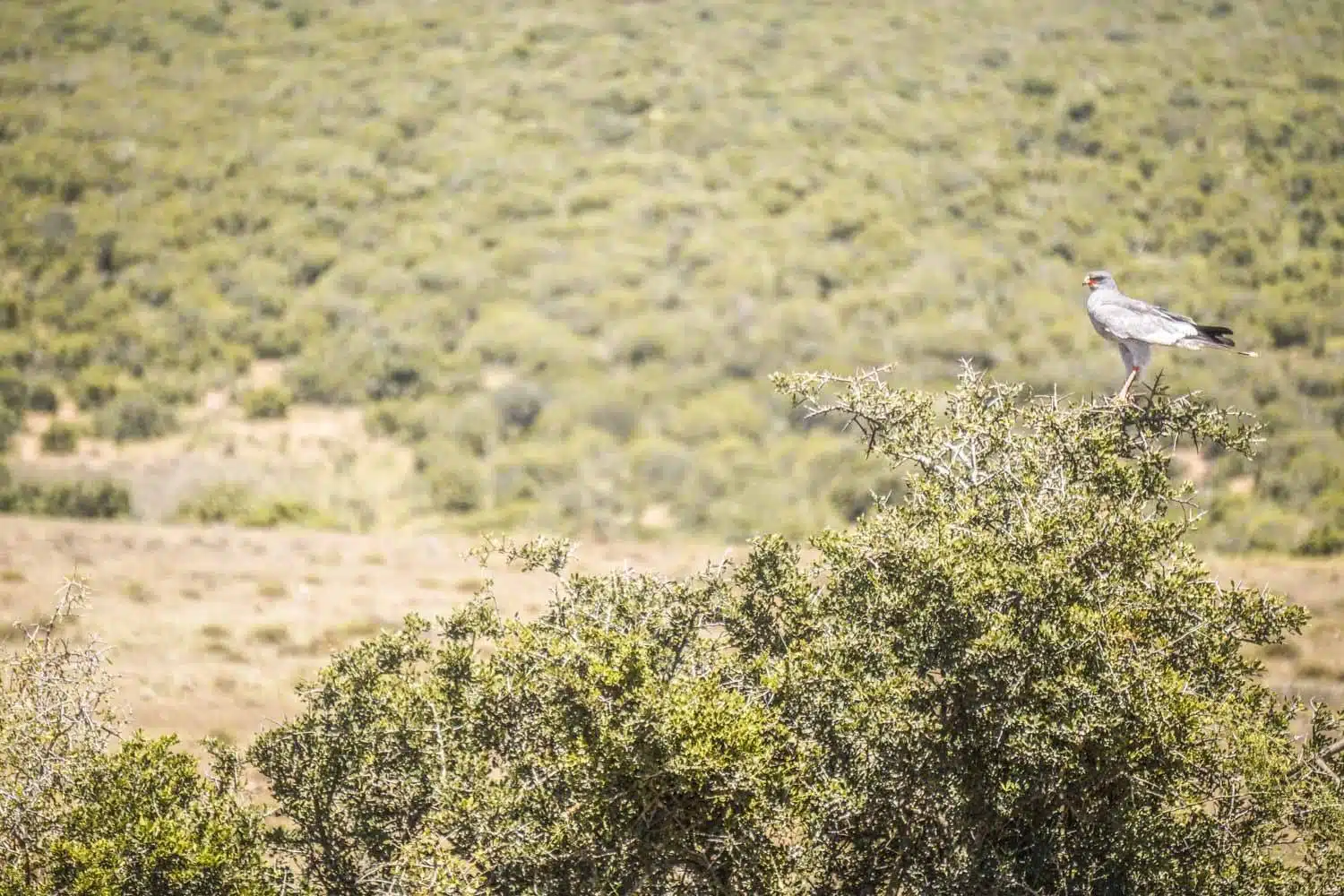 At first, I thought that the Pale Chanting Goshawks were a bit lazy. I'd see them there, perching on branches, stiller than still, not a care in the world.
Or at least it seemed… Turns out that they were really doing was watching. The moment they saw potential prey, they'd shoot off like a jet.
Did you Know?
The natural world is a hotbed of iniquity – these polyamorous birds see the females forming a relationship with quite a few males. Saucy.
Zebras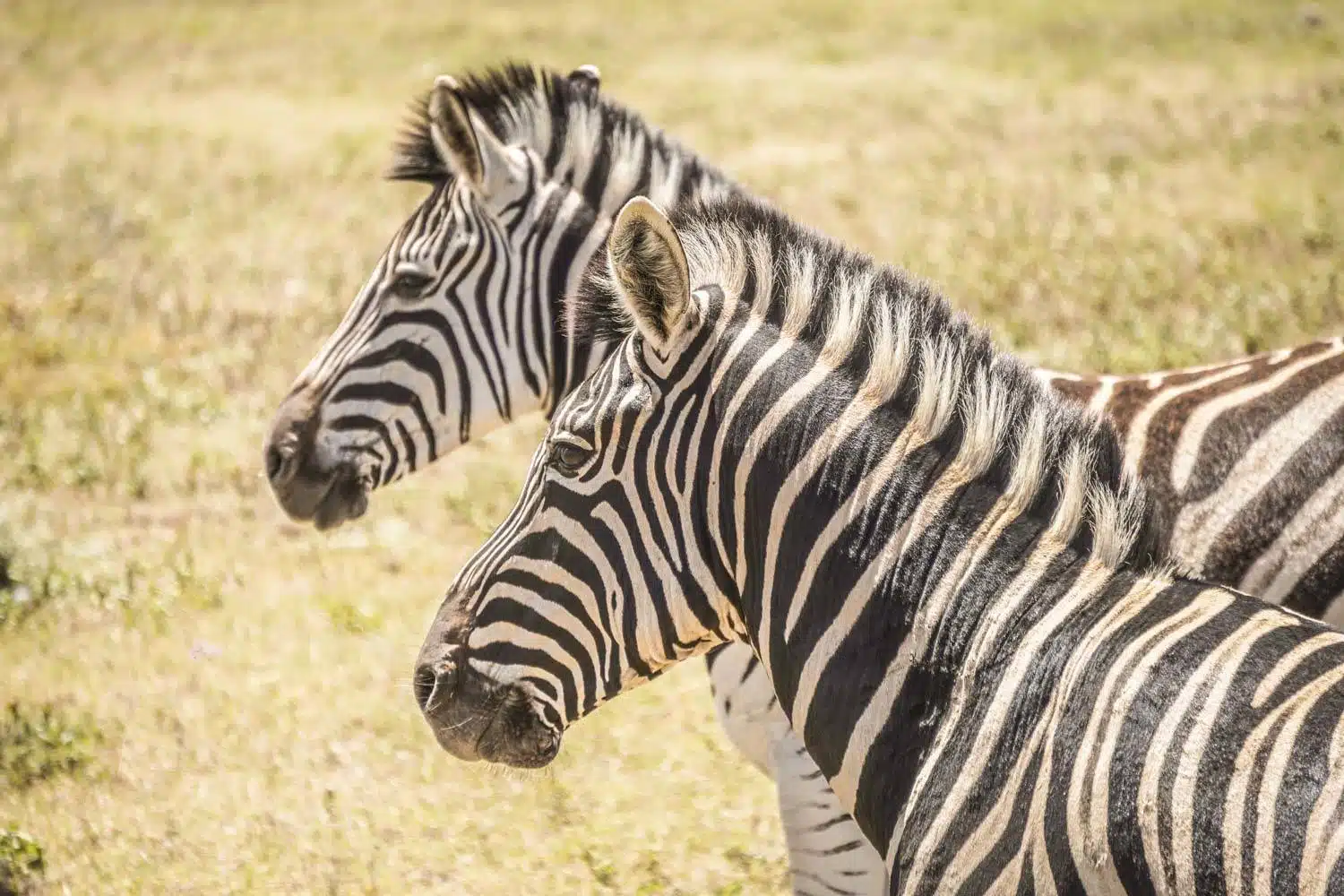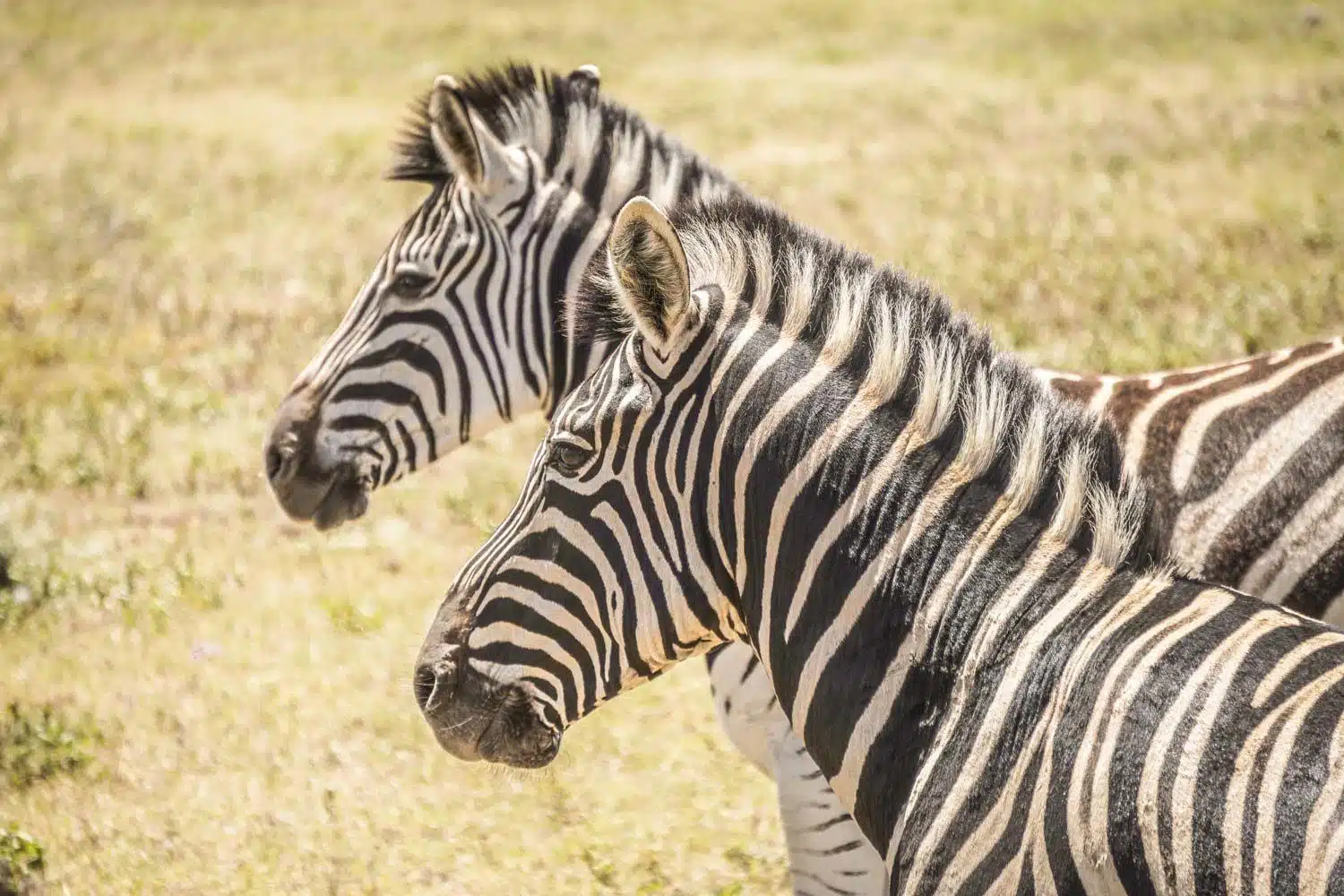 Herds of zebras roam the park, surprisingly beautiful up close with their strange, stiff and short manes and definitive stripes. Colts play close to their mother's side, the sole male zebra looking out for the herd -it was certainly enough to make this witchy heart melt to a puddle.
You'll see a lot of zebras in Addo Elephant National Park, particularly during the hottest part of the day when their predators are sleeping.
Did You Know?
Zebras stripes exist for several reasons: the main one being temperature regulation. The white helps to reflect the light in the hottest parts of the day, while the black helps absorb the heat during the night. Surprisingly, they also seem to put off the irritating horse flies that plague other animals in the park too.
One question… Are zebras white with black stripes or black with white stripes? I'd have bet the former but the folks at San Diego Zoo proved that they are black with white stripes. They shaved a zebra and it turns out that they're black underneath. Guess that's one way to settle an argument.
Flightless Dung Beetle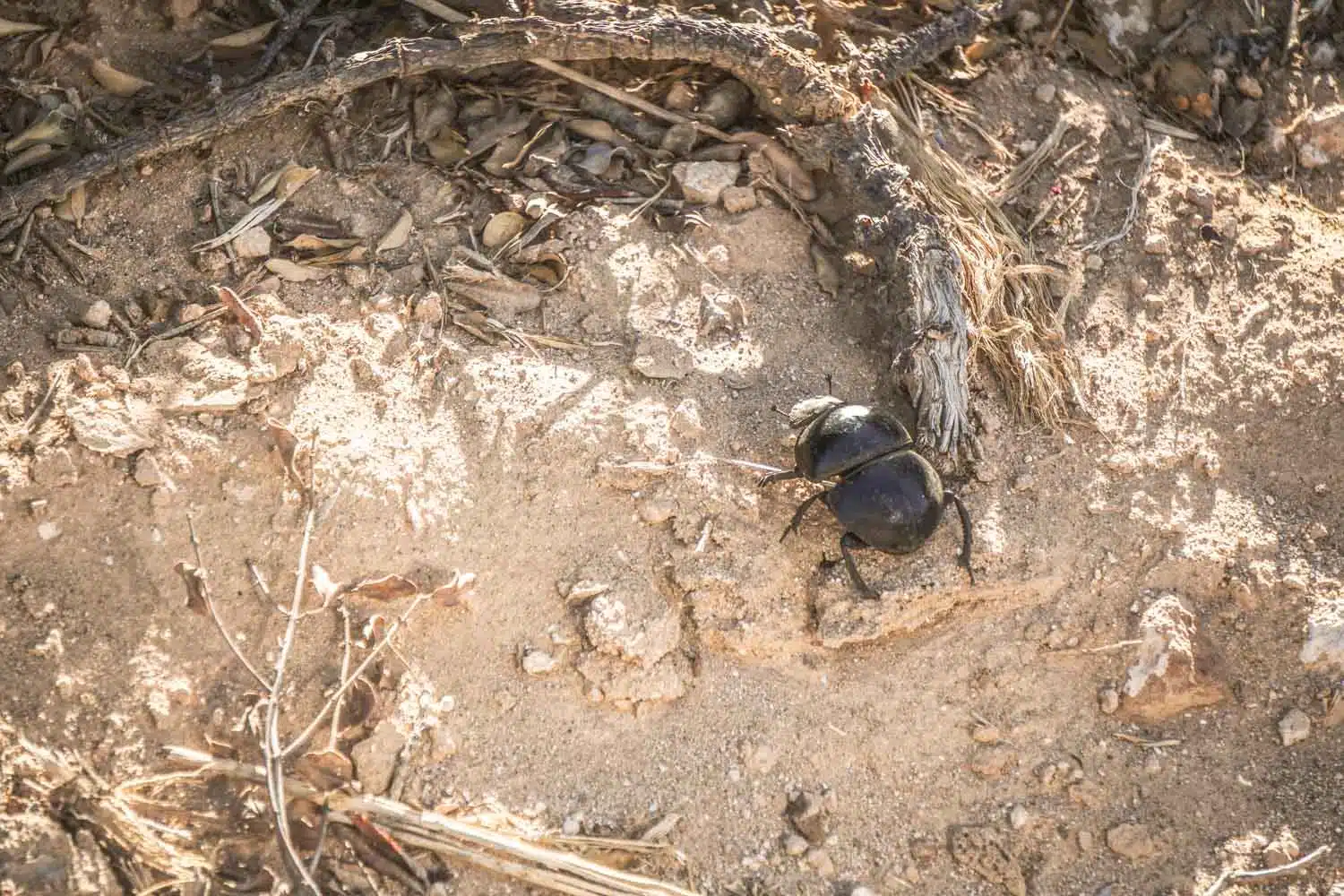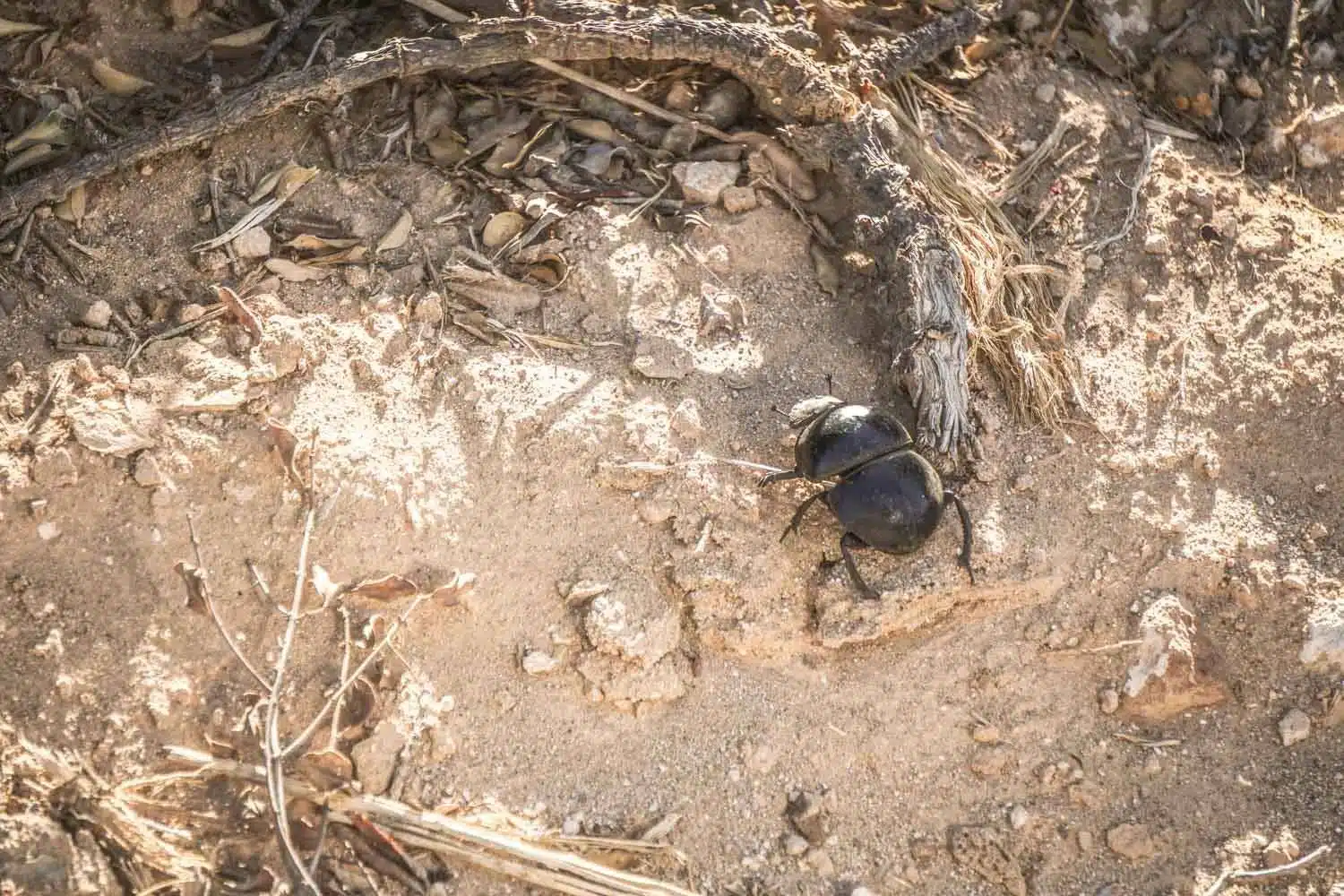 "Exercise caution when driving: it's an offence to drive over a dung beetle".
At first I thought the sign was a joke – nope. Dung beetles are an endangered species who play a critical role in the local ecosystem.
The dung beetles were nowhere to be seen during the heat of the day, but gradually came out as the temperature subsided and we moved towards dusk. Each time, we'd slow down, waiting for the beetle to lumber its way across the road, taking its time as it focused on the task at hand.
Hadada Ibis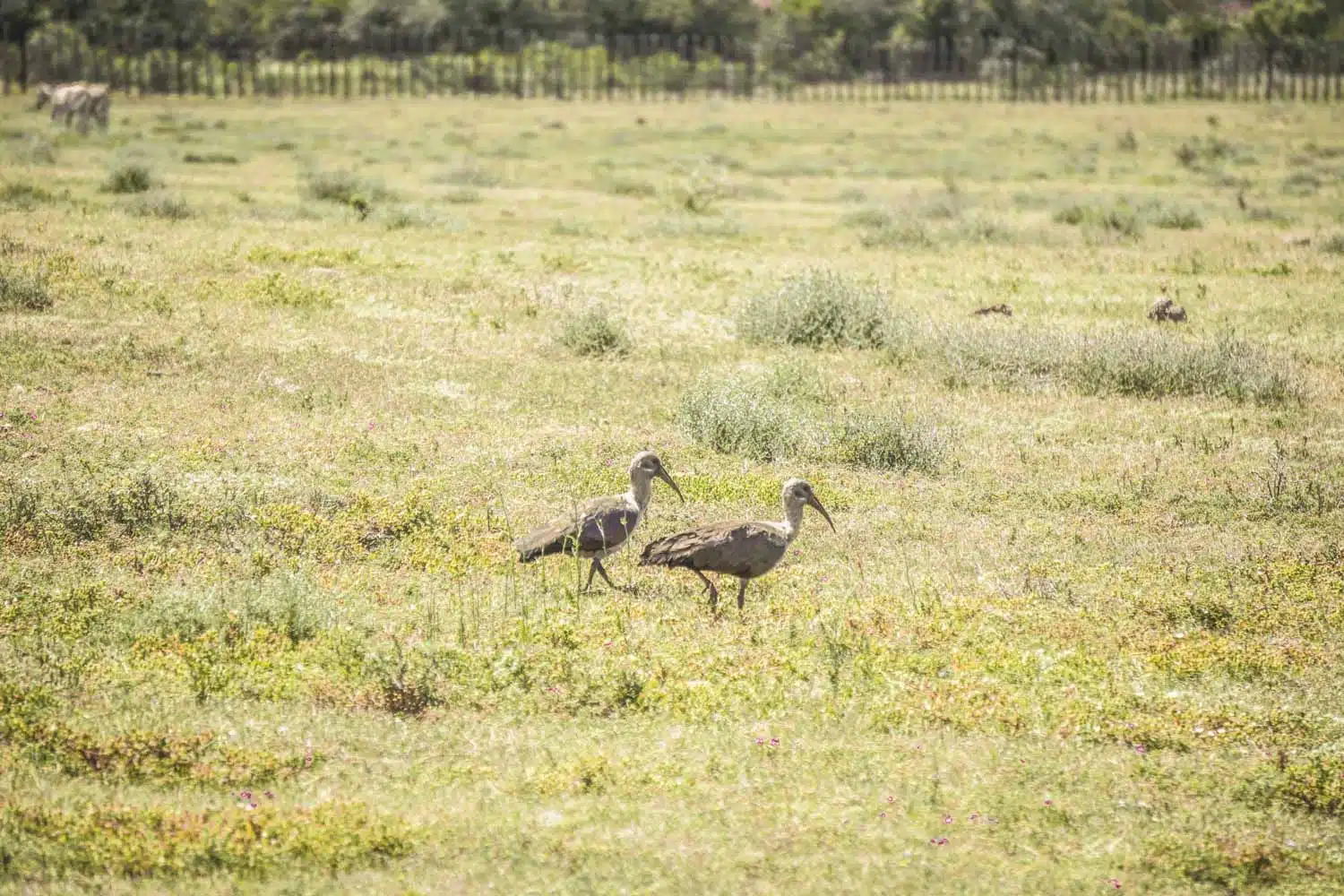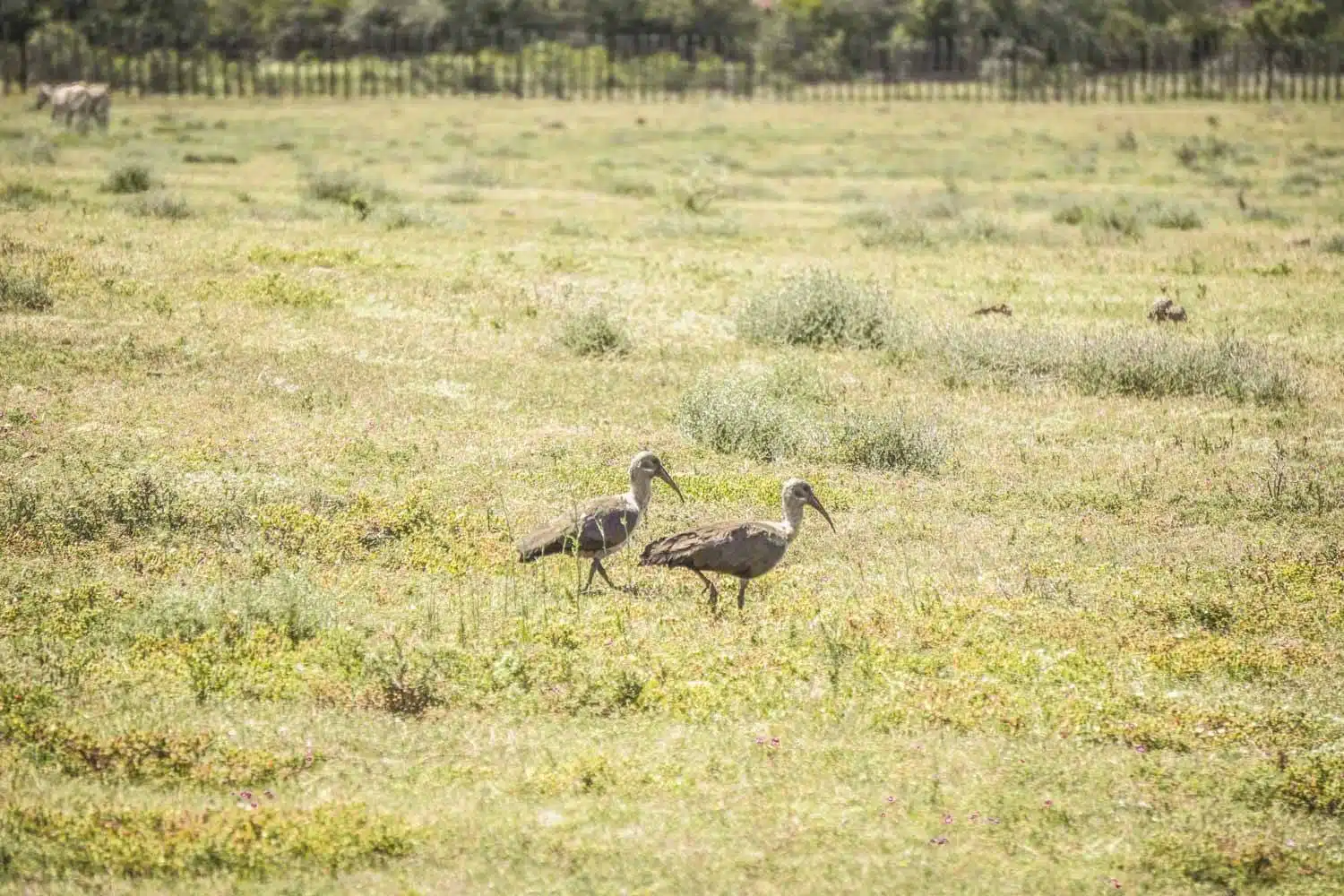 Spend any time in the Eastern Cape and I'm pretty sure that you will hear a Hadada Ibis before you'll see one.
Locals joke that they are scared of flying because of the unholy racket they make every time they do. Hard to think they're that cute when they're probably the reason you're downing your 10th coffee after they woke you up at 5am with their cacophony of squawks.

Cape Buffalo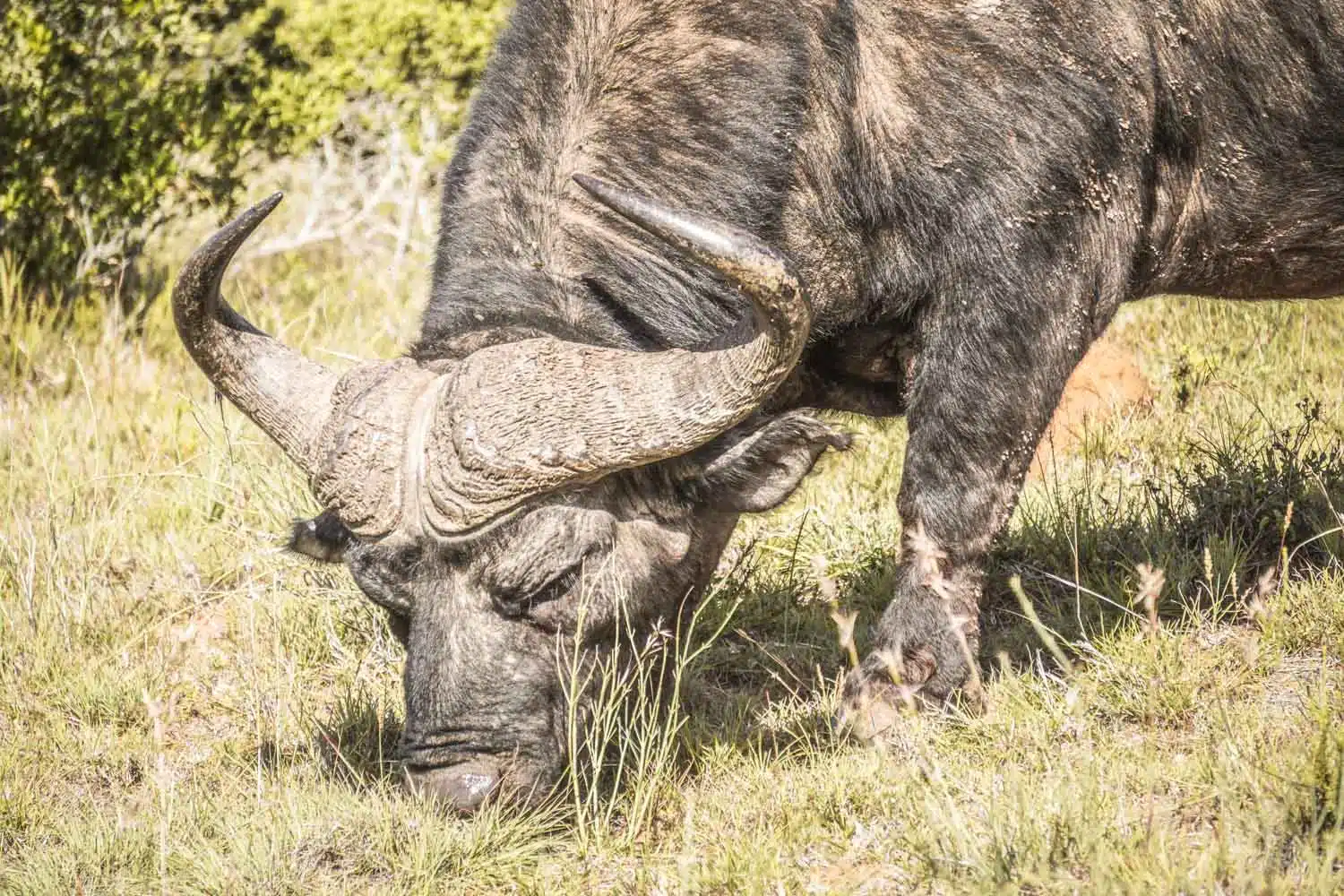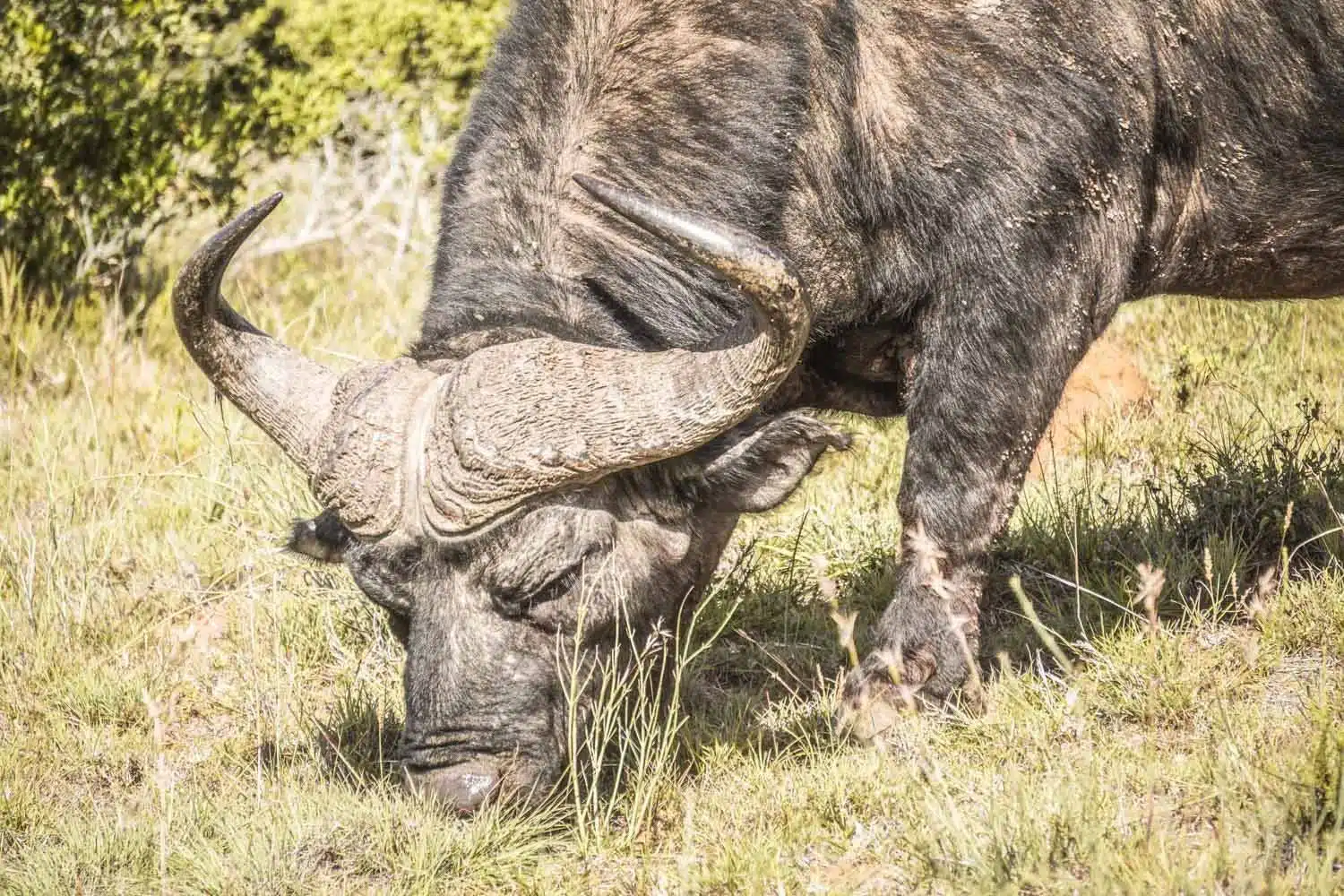 We only saw one Cape Buffalo during our time in the park, an old bull who'd left his herd, wandering slowly whilst grazing without a care in the world.
Looks can be deceiving though: the powerful shoulders and razor-sharp horns on that one alone made it clear why buffalos have a reputation for being so dangerous.
Did you Know?
Old bulls are particularly dangerous as they adopt an "attack first, ask questions later" strategy to defend their vulnerable positions away from a herd.
Warthogs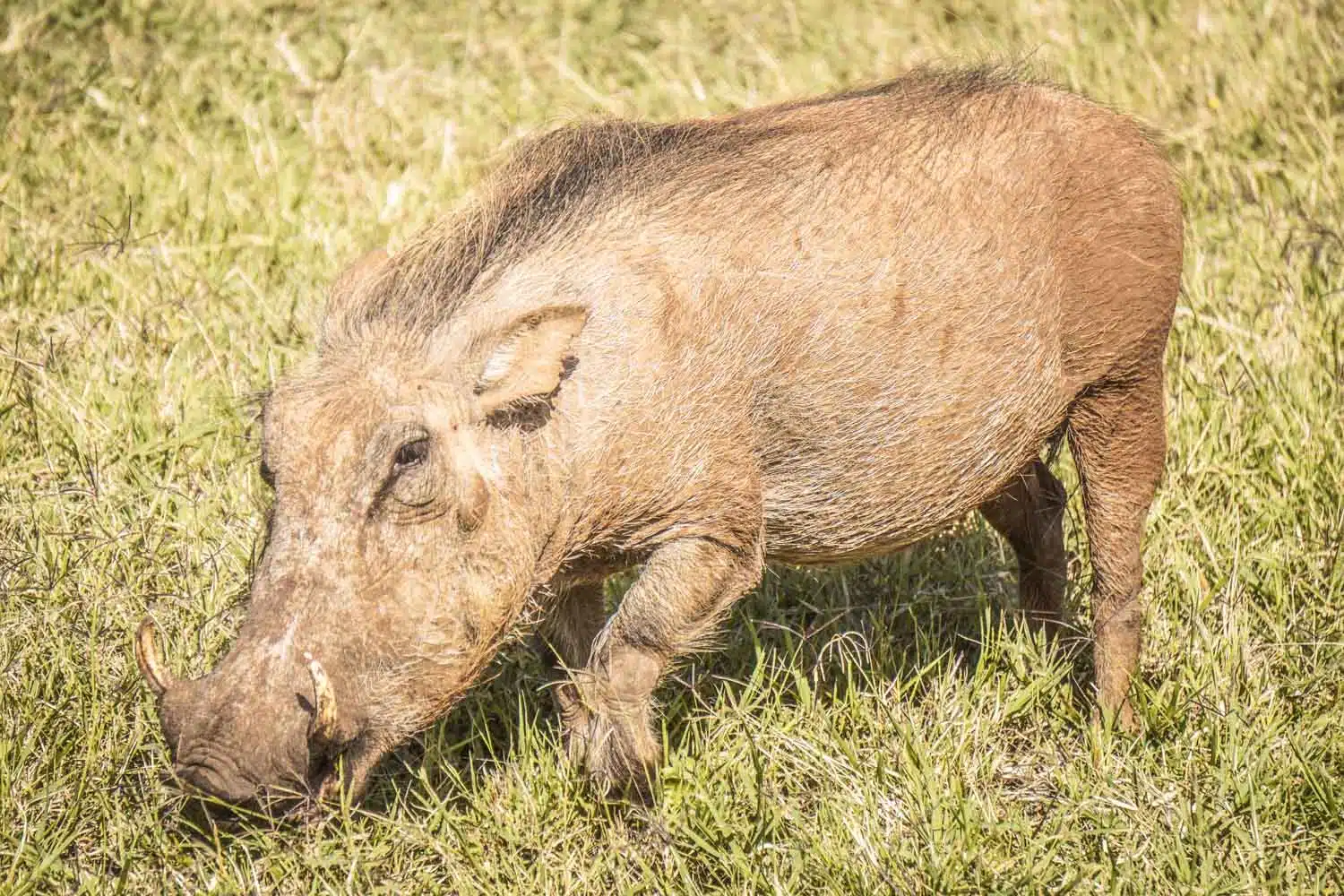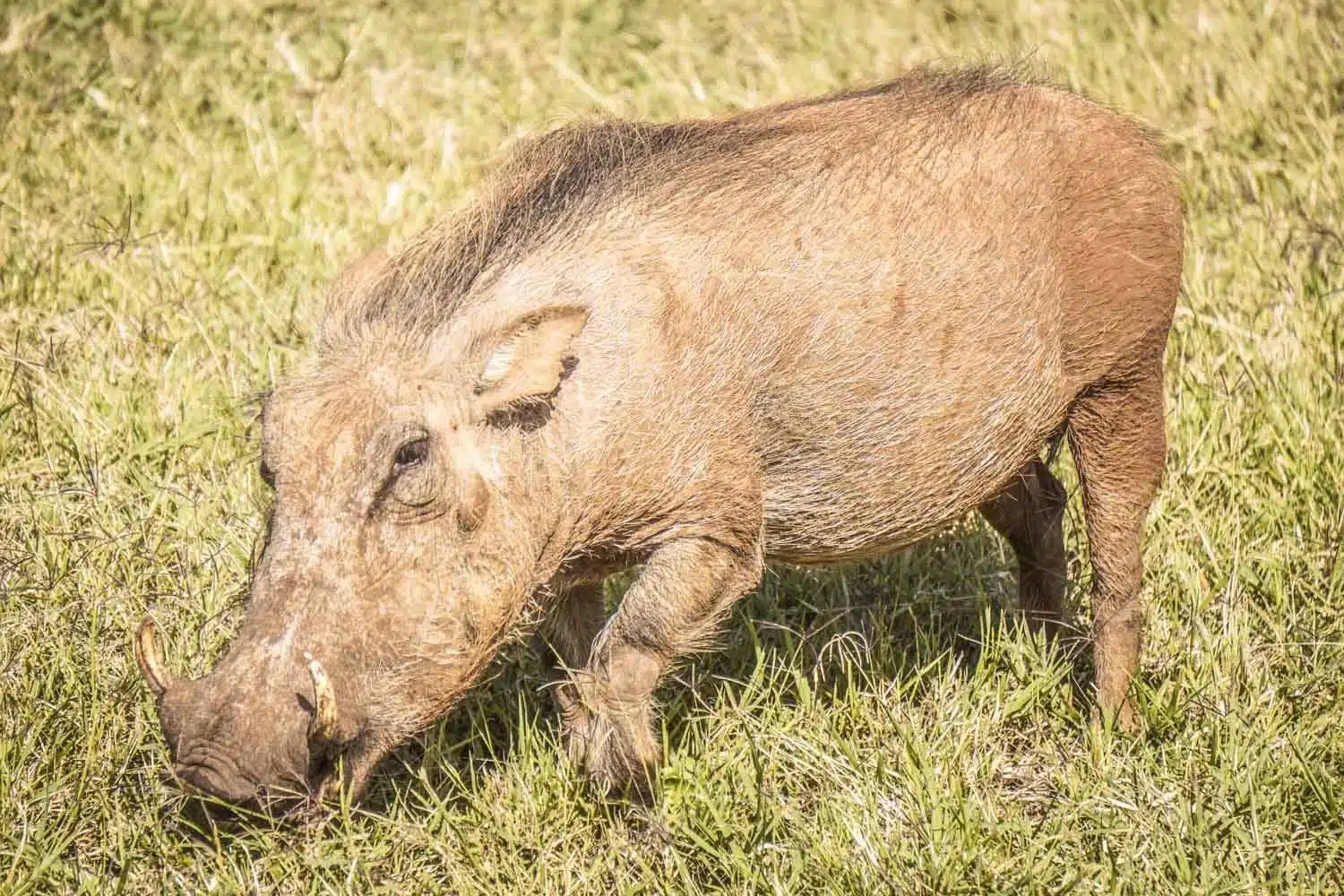 Forget what you saw on The Lion King, warthogs are not cute and don't burst into motivational songs at the drop of a hat (sad) – but they are everywhere in the park.
Did you Know?
Warthogs sleep in burrows at night, which they back into tail first. Any predator who attacks the burrow will get a face full of tusk to deal with before it has any chance of success.
Lions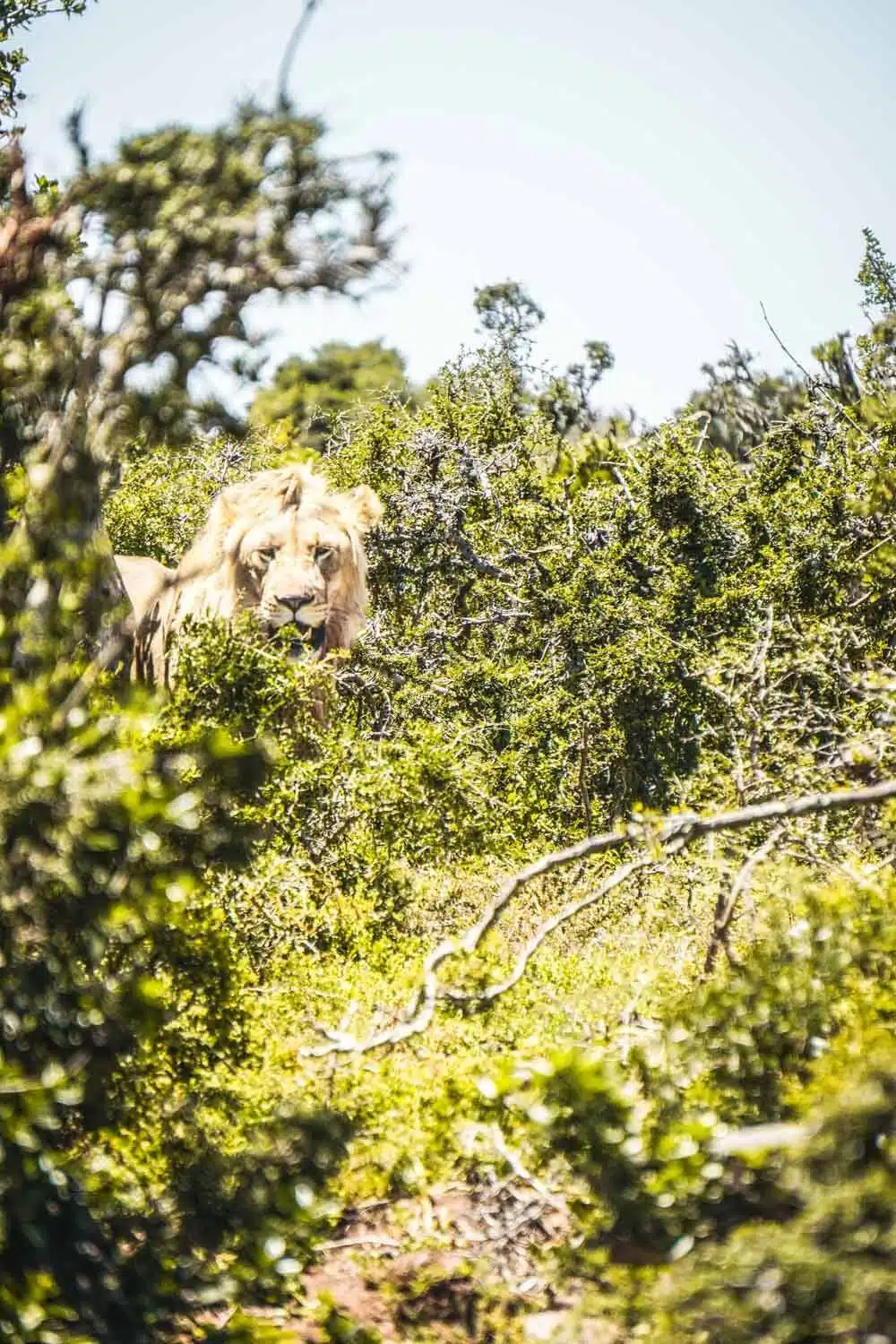 The cluster of cars gave the lion's presence away. They were parked by the side of the roadside, each one's inhabitants craning their necks to see the so-called King of the Jungle.
A few clever manoeuvres and Lungelo had us in the thick of it. We marked our time with baited breath, but the lion wasn't in any hurry to please. So we waited, Lungelo's calm voice telling us about the history of lions in the park.
Just as we'd resigned ourselves that we were so close but so far to the lion, or that we'd need a volunteer to run in and lure him out (joking guys, joking), there he was. Standing tall, turning his head until I'll swear that his eyes fixed on mine.
I'd like to say that I experienced a magical moment, but really, I'd describe it as near terror. Apparently, I don't enjoy being the nearest living being to a lion, even if the pictures are pretty rad.
That was the beginning. After a few seconds, the lion sat back down to resume his slumber and we drove off, chattering excitedly about seeing what is still a relatively rare sight in the park. But when we returned to the spot later in the day, a surprise awaited…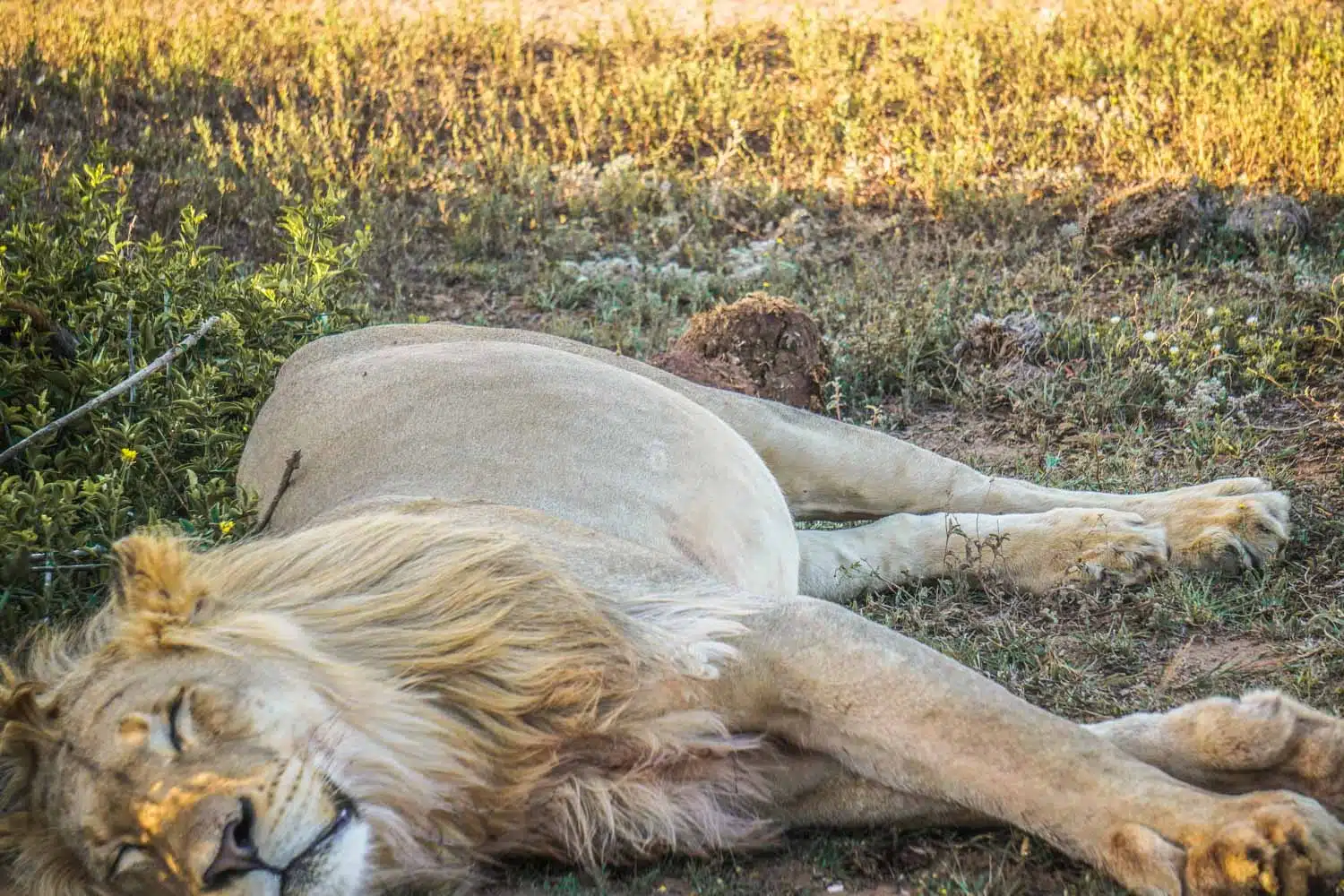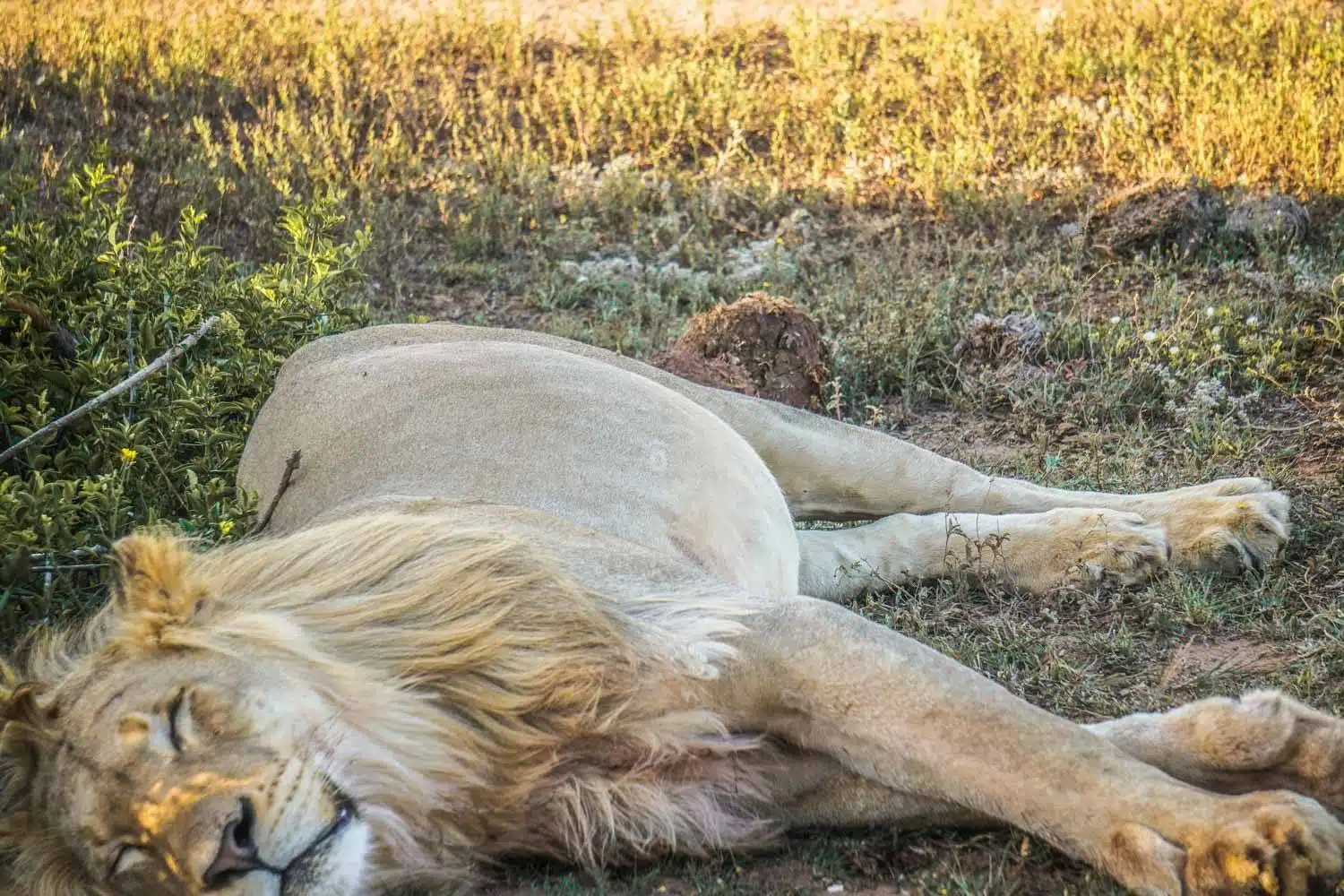 Not one but two lions, a male and a lioness, a brother and sister, watching their potential prey at the nearby watering hole. One eye on the watering hole, one eye on the safari cars, all eyes on them. It was still terrifying, but totally captivating.
Did you Know?
4 males and 2 females were introduced into the park a few years ago. They were brought in from the Kalahari as they are thought to be the closest relations to those that originally lived in the eastern cape. Today there are 10 males and 4 females in the park.
Lions naturally breed quickly – the park has to exercise a careful balancing act to keep the population in check. If they failed to do this, lions might very well be the only animals you'd see in the park (this situation happened in Bubwe National Conservancy in Zimbabwe, and led to the conservancy having to face the difficult decision of whether to cull the lion population).
Rather than using contraceptives, the park controls the population by sporadically introducing new males into the park. A new male roams from pride to pride, trying to establish his position, which results in the females coming into heat less frequently. This naturally prevents lions breeding so quickly and keeps the population in check.
Kudu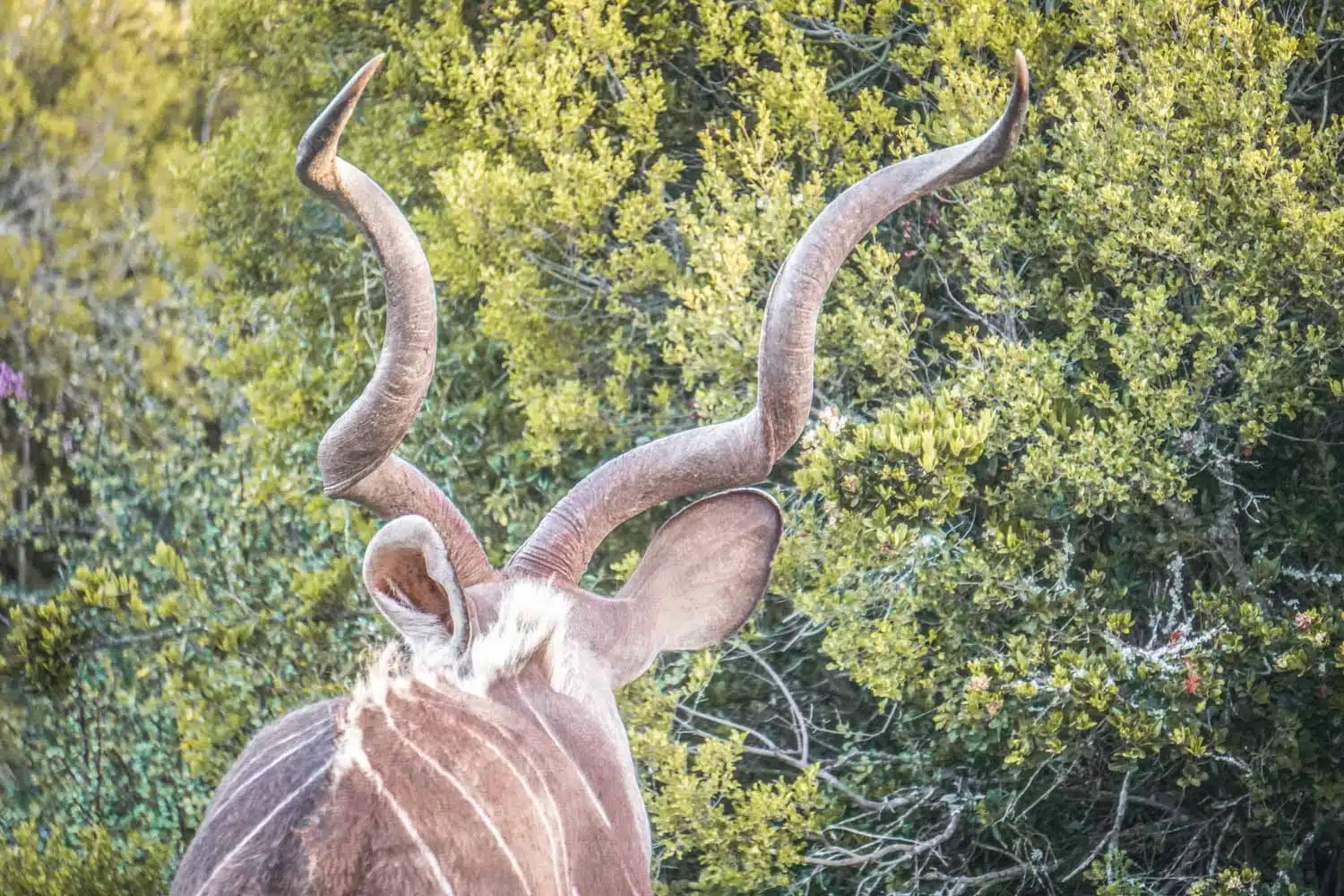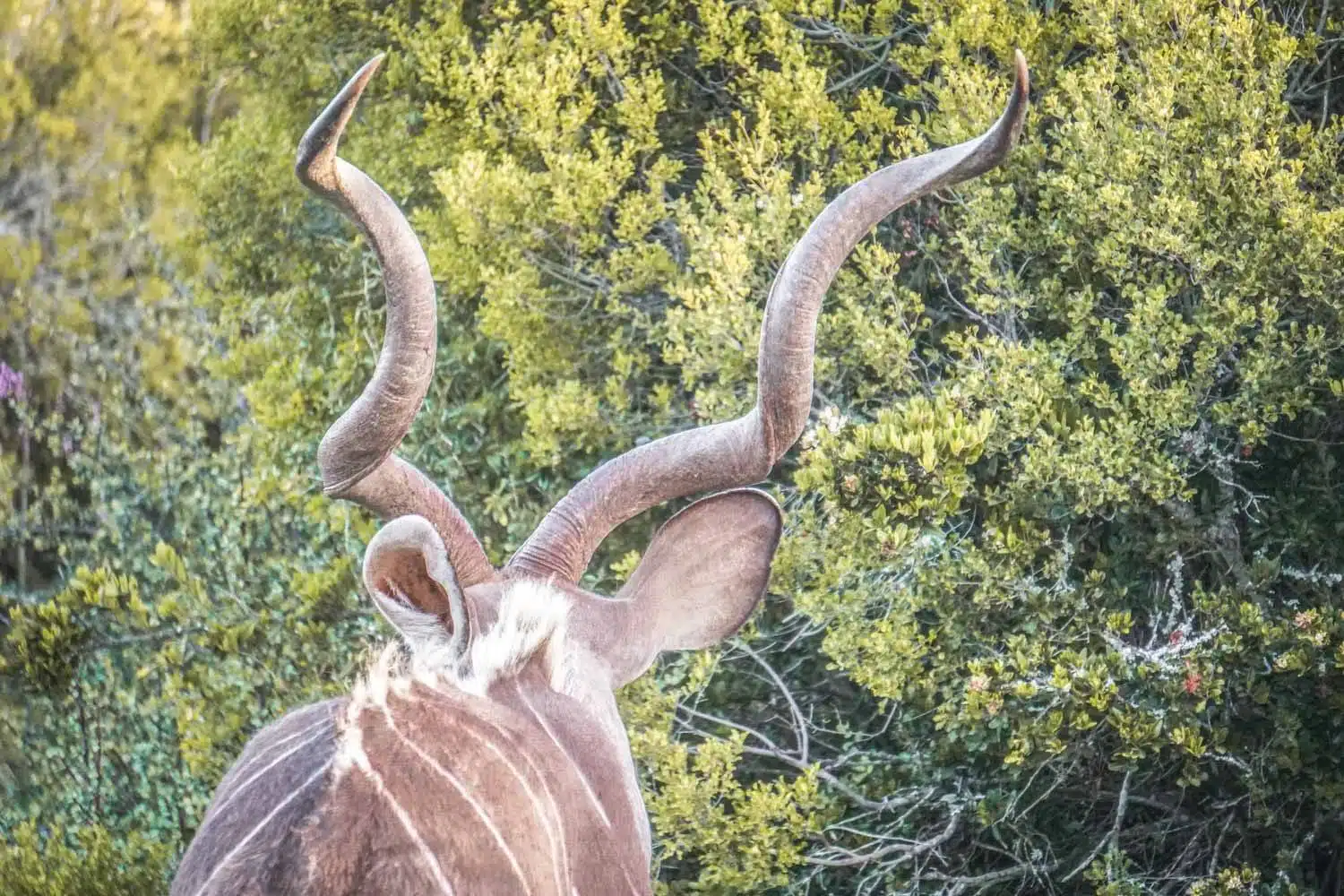 I have to admit that I don't know that much about Kudu other than the fact there are a lot of them and their horns are possibly the coolest thing mother nature has ever invented….
Did you Know?
Kudu's distinctive, spiral horns can grow up to 6 feet long in males. The males actually use them to fight each other and assert dominance.
Practical Information and FAQ
Where is Addo Elephant National Park Located?
R335 Paterson Road, Addo, 6105, South Africa.
How to Get to Addo Elephant National Park
Addo Elephant National Park is a 9.5 hour drive from Cape Town. You can drive along the N2 (The Garden Route) or the N1.
We spent a week and a half driving along the Garden Route from Cape Town and then drove back in a day after spending three days in Addo.
Compare car hire prices with rentals.com
Getting to Addo Elephant Reserve by Air
If you are short on time, you can fly from Johannesburg or Cape Town to Port Elizabeth and either hire a car or arrange your Addo game drive to start from there.
Flights between Cape Town and Port Elizabeth take roughly 1 hour 10 minutes. Flights from Johannesburg take roughly 1 hour 40 minutes.
Check flights to Port Elizabeth on Skyscanner
Addo Elephant Park Entrance Fee
Daily Conservation Fee
South African Citzens and Residents
Adults R94
Children R47
SADC Nationals
Adults R188
Children R94
Foreign Visitors
Adults R376
Children R188
Addo Elephant Park Contact Details
Telephone: +27 42 233 8600
Crisscross Adventures Contact Details
Telephone: +27 83 330 0480

Chrislin African Lodge Contact Details
Telephone: +27 82 783 3553
Addo Elephant Park South Africa Map
Love this? Save and Share on Pinterest!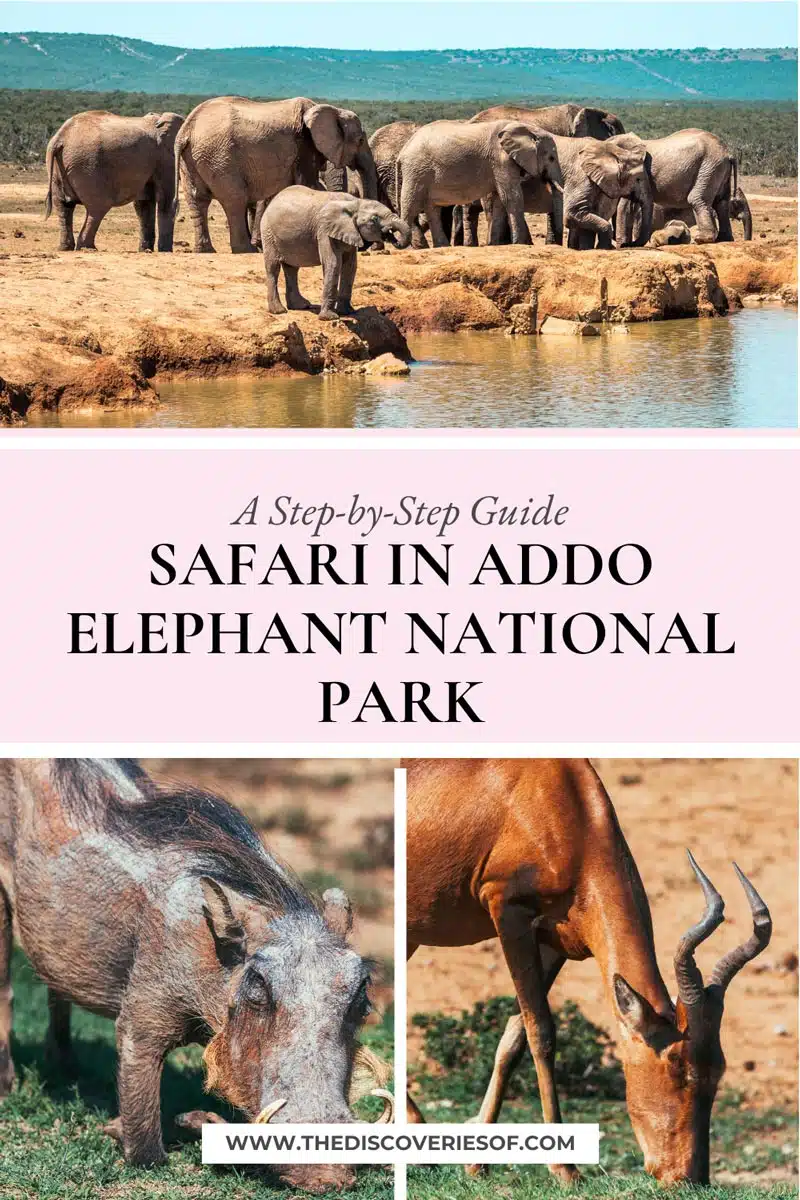 I was hosted by the Eastern Cape Tourism Board for my trip to Addo Elephant National Park. As ever, thoughts and opinions are very much my own.