Get ready to discover the beauty of the Rocky Mountains and beyond when you stay in Estes Park. From hiking to snow skiing, these are the best things to do in Estes Park – and what you need to know before you go.
Estes Park is often overlooked – and it's a real shame. Sure, it might be the gateway to the Rockies, but it's an excellent destination in its own right.
It's no wonder; Colorado is the kind of place that's almost too beautiful to describe. And while that might sound like an overstatement, I kid you not – Centennial State is absolutely incredible.

When you plan a Colorado itinerary, Rocky Mountain National Park will likely take at least a couple of days of your time. And unless you brought your camping gear and booked a spot the year before, Estes Park is where you'll want to stay.

But Estes Park is more than just the closest town to the waterfalls, lakes and mountains of the nearby Rockies. Let's explore.
Looking for luxury accommodations on Lake Estes? The Estes Park Resort offers inviting rooms with spectacular mountain views at a reasonable price.
Top 5 Things to Do in Estes Park
Explore Rocky Mountain National Park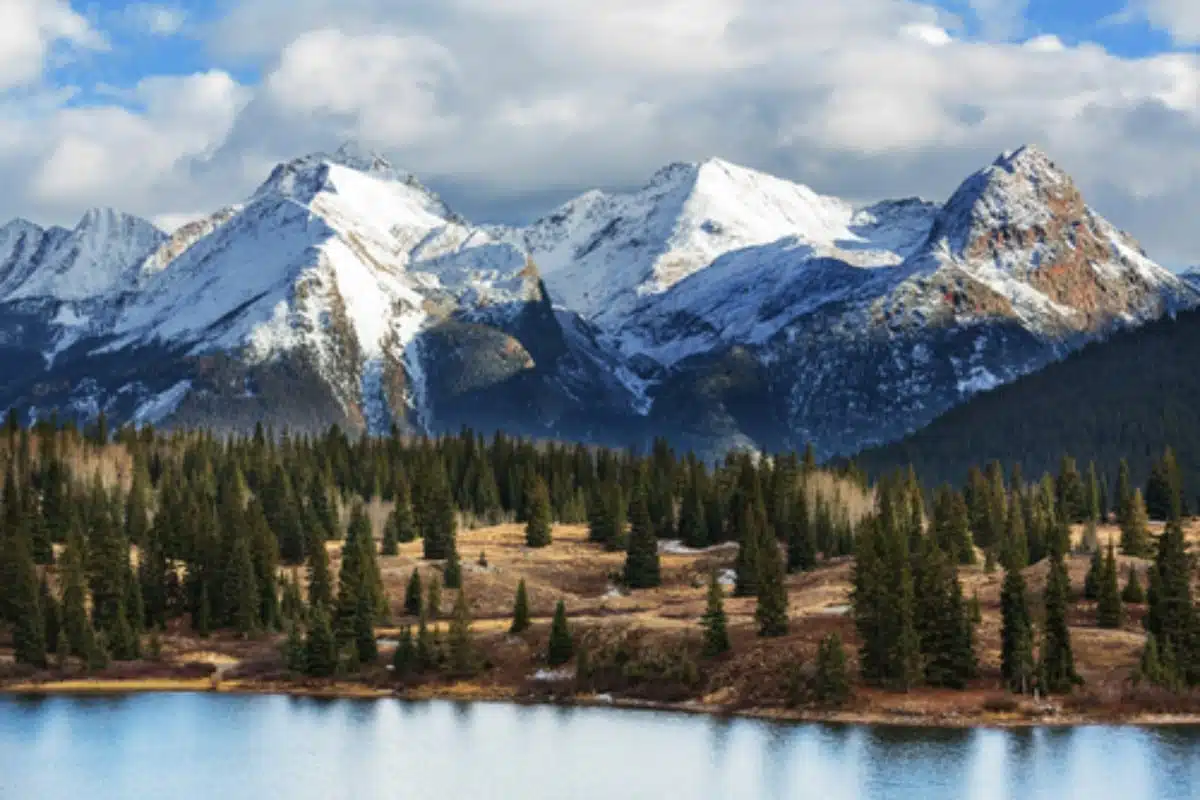 You know I can't write a guide to Estes Park without including the heart and soul of this part of Colorado, Rocky Mountain National Park.

Let's start with the hiking trails. Whether you want to walk along quaint streams and rivers flowing through the pine tree forests or stand beneath the famous Bridal Veil Falls – hiking in Rocky Mountain National Park is easily at the top of what to do in Estes Park, Colorado.

You can attend a ranger-led event or reserve a campsite (many months ahead of time) for a unique wilderness excursion. You might also try mountain biking or cross-country skiing. For the most outdoorsy travellers, pack your fishing gear and try your luck around the lakes and creeks.

But if you aren't up for an outdoor adventure involving long days and blistered feet, I've got you. The driving tour through the Rockies is sensational, and this guided audio tour can give you all the fun facts and historical tidbits to keep you entertained along the way.
Go Horseback Riding
When I think of the Rocky Mountains, it's hard not to dream up visions of the wild west. Giddy up.
There are plenty of choices regarding where to rent a horse and set out for a ride, but trotting alongside Fall River to Horseshoe Park is a perfect two-hour excursion through Rocky Mountain National Park from Estes Park.
You can also make a full day of it, as National Park Getaway Stables also features some longer rides for the more seasoned cowboys and cowgirls. Bring your best hat and some sun cream.
Check Out Rainbow Curve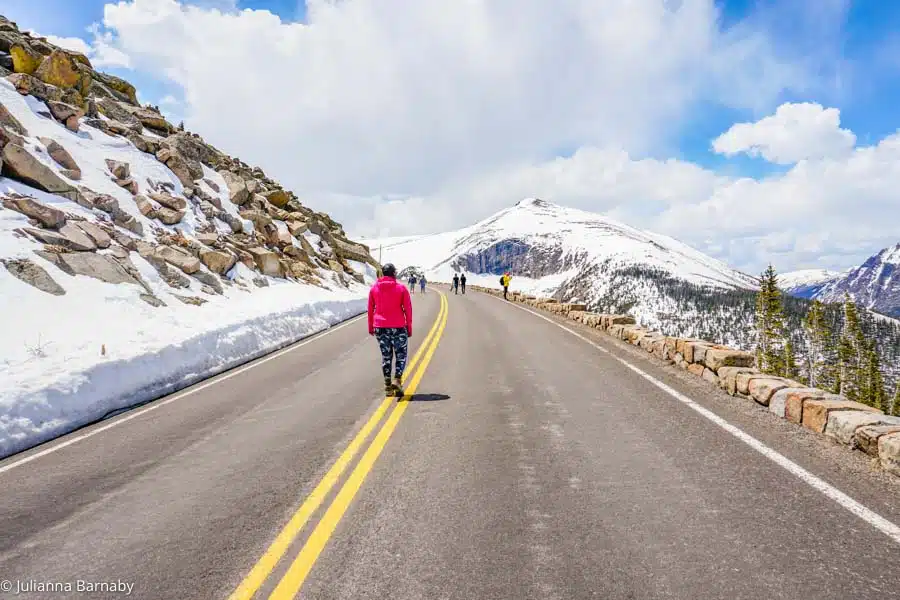 Want impressive views? Head a few miles outside of town and take Trail Ridge Road up to a viewpoint that rivals any in the world. From over 3,000 metres, you'll look out at Horseshoe Park, Mummy Mountain and other iconic Rocky Mountain highlights.

When I took my Colorado road trip, Rainbow Curve was closed to cars, which meant we had an up-close look at the stunning beauty of the scenic route on foot.

If you can time it just right, you very well may see a namesake rainbow when you visit one of the best things to do around Estes Park. Bring your camera.
Eat Locally Sourced Food at Bird and Jim
One of the big advantages of choosing Estes Park for exploring the Rockies is the pick of surprisingly fantastic food spots.

Don't believe me? Though it's a short drive from other things to do in downtown Estes Park, you'll want to make the quick trek to the popular Bird and Jim.

Using ingredients sourced locally (like hyper-locally), the dishes here for lunch and dinner are high in flavour but remain relatively healthy, so you can have a guilt-free meal no matter how many miles you hiked (or didn't).

Want something heartier? Not to worry, entrees like lamb bolognese with whipped mascarpone and the half-pound free-range bison burger with tomato-bacon jam will do the trick.

If you're keen to try something unique, the smoked pheasant chowder is a house specialty here – and is well worth a try.
Try Climbing at KMAC Guides (Kent Mountain Adventure Center)
Looking for exciting things to do in Estes Park? Try your hand at rock climbing. Trust me.
Before you rule it out because you think it's only for experts, hear me out. KMAC Guides (Kent Mountain Adventure Center) offers programs for any skill level, and the expert climbers will show you the ropes no matter how confident you are.
You can also make a weekend of it with events that allow you to rock climb during the day and camp overnight. Wake up to epic views of Longs Peak and admire the great outdoors from a remarkable vantage point.
Brilliant Things to See & Do in Estes Park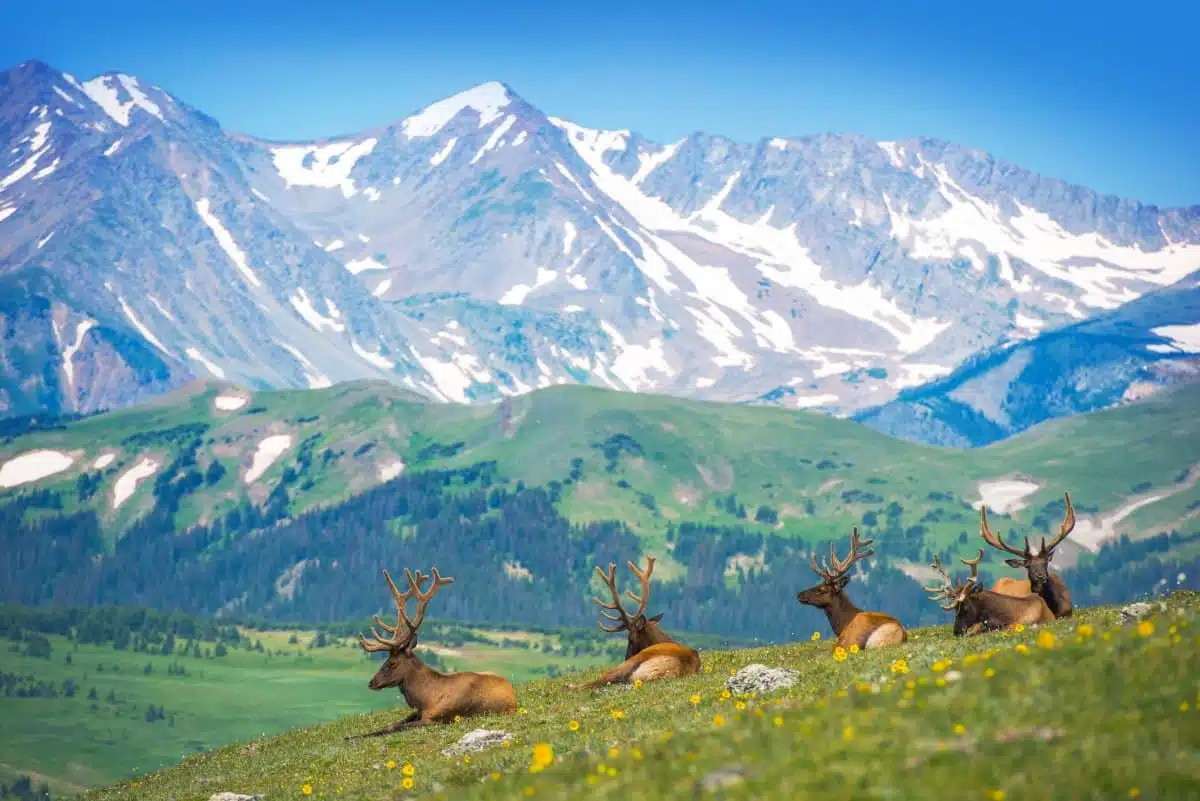 Visit the Estes Park Museum
While the majority of things to do in Estes Park revolve around the great outdoors, the weather might not always play ball.

Don't panic – if you travel on a rainy day or want to switch up your travel plans a bit, check out Estes Park Museum. The best part? Admission is free.

While it might sound like a bit of a snoozefest, it's really anything but. The self-guided tour will give you an idea about the rich history of the land and village. You'll learn plenty about how Estes Park developed and survived over the years, and how it thrives today.
Go Lake-Hopping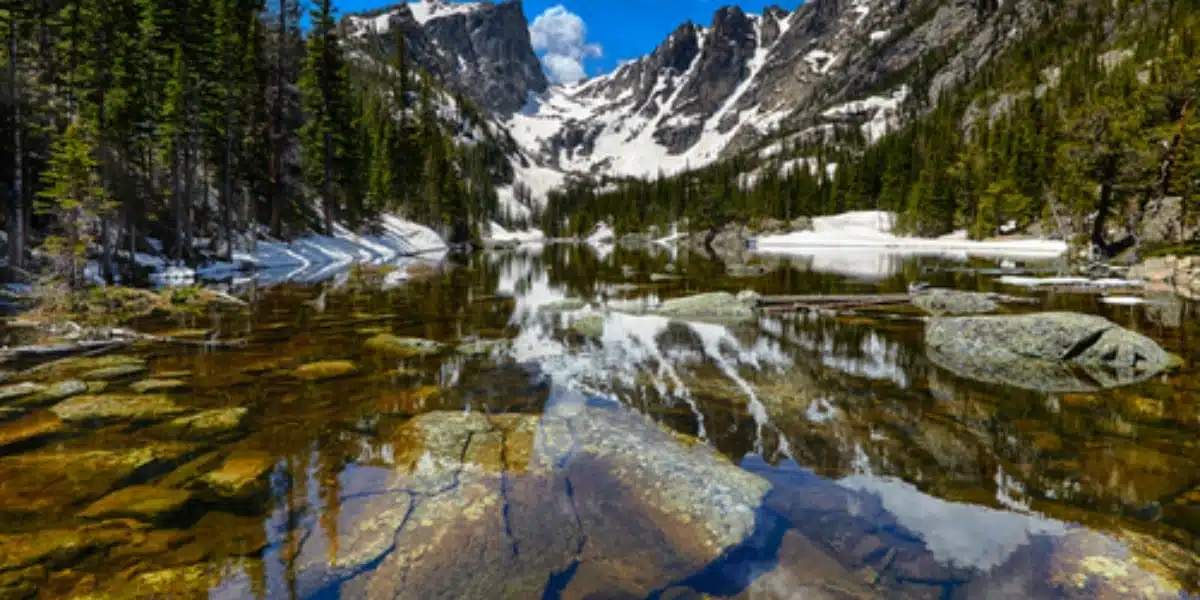 I'm sure visiting Lake Estes is a must on your ever-growing list, right? I don't blame you – there's plenty to do on this large reservoir, including kayaking, paddle boarding, or even fly fishing.

But don't set your sights on just one lake while visiting Estes Park. Rocky Mountain National Park is a short drive away and boasts stunning spots for the tranquil beauty of Emerald Lake, Gem Lake or the wildly popular Bear Lake.
Top tip: visit most of these in the summertime as they're a bit too chilly and iced-over to appreciate during the coldest months. However, this hiking tour to Dream Lake is fun to do any time of year.
Explore the Fall River Region
What to see at Estes Park in the summertime? Two words: Fall River.
Take a leisurely walk around the Riverwalk and sightsee near downtown. The views are pretty epic – think cosy wooden cabins and leafy forests. All set to the sound of a babbling river.
If you have some extra cash and are in the mood for a thrill ride, book an afternoon with Rocky Mountain Adventures. Regardless of your skill level or a knack for adventure, you'll find a tour guide willing to show you a great time.
Think whitewater rafting with an RMNP backdrop. Enough said?
Go Sledding at Hidden Valley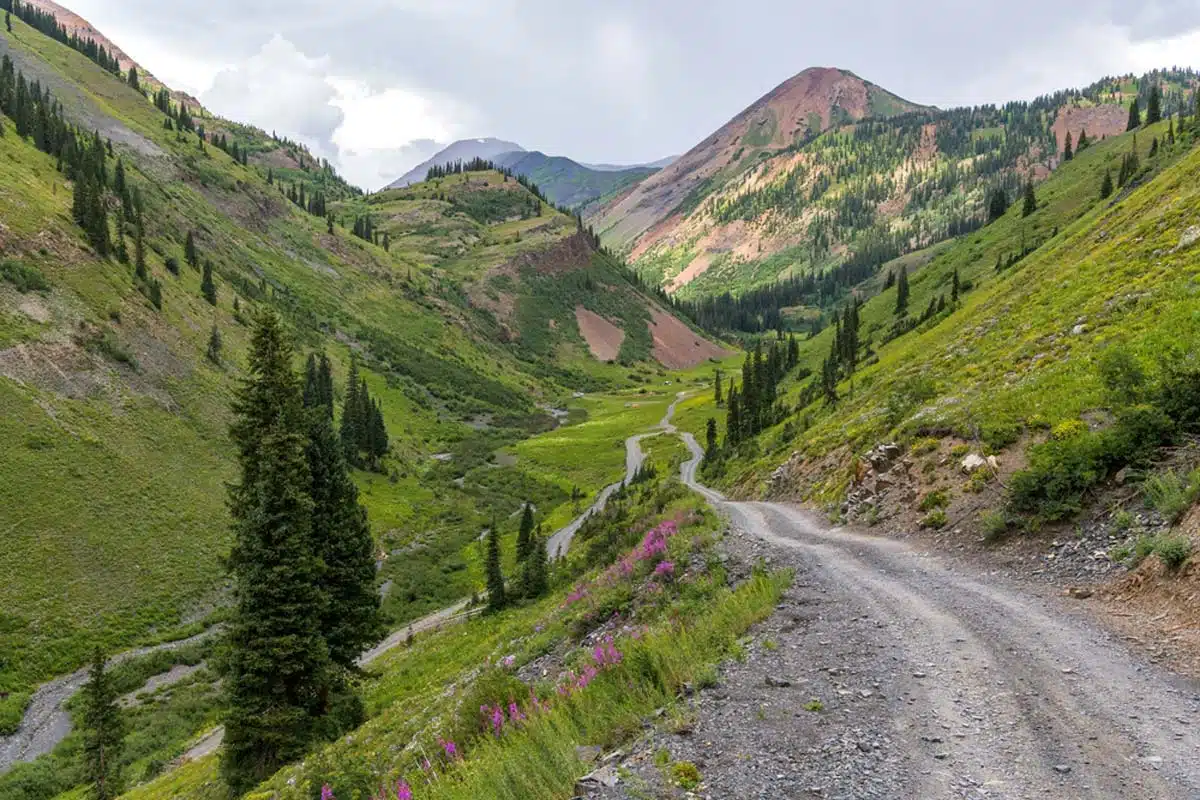 If you're from many parts of the world, sledding might be something you've seen in the movies. But come to Estes Park in the winter, and you're in for a real treat.
Hidden Valley is an excellent sledding hill (and the only place you're technically allowed to practise the sport in RMNP).
Not to worry if you didn't pack a toboggan. There are sled rentals in downtown Estes Park, so plan ahead if you want to try your hand at this exhilarating activity in the winter months.
Warm Up With a Beverage at The Barrel
Now – I'm not sure about you – but after a day of hiking, I'm always in the mood for a bar with a neighbourhood feel and plenty of delicious grub. If you're also in the mood to loosen up after a day exploring the Rockies, head over to The Barrel and plan on staying for a few hours.

The beer garden has an impressive array of IPAs, stouts and small-batch sodas. But what really floored me was the wine selection. They had some real surprises for such an unassuming spot, including a Malbec I've rarely seen outside Argentina.

Better yet, it has a welcoming atmosphere and is a great place to share a cocktail and chat with some locals while visiting Estes Park.
Snowshoe to Alberta Falls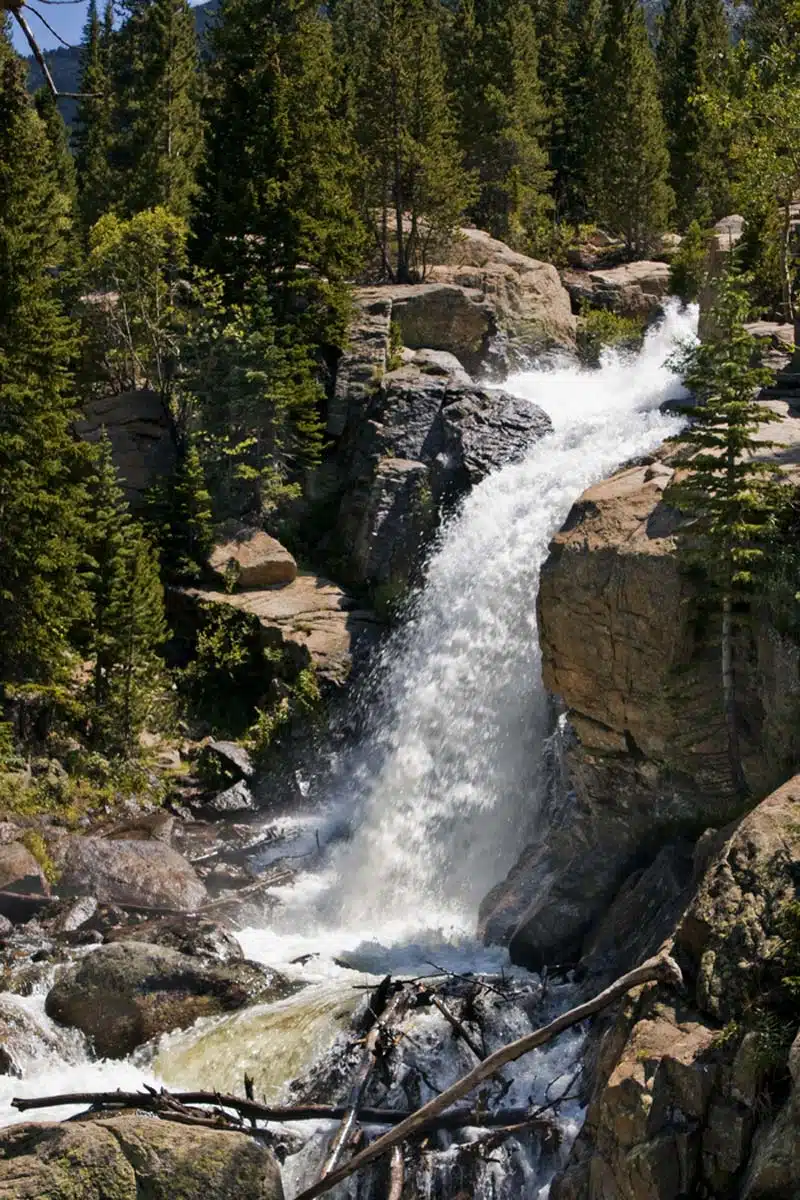 Want an idea for things to do in Estes Park in the winter? Snowshoeing is an absolute must-try when you're spending time around Estes Park.
Where's the best place to do it? Glacier Gorge Trailhead is a fantastic trail that brings you to the iconic Alberta Falls.
Take this 5.3 km loop if conditions are safe, and your reward is an epic scene of frozen rapids that brings a unique beauty to this already incredible thing to do near Estes Park.
Visit During Catch the Glow Parade
Travelling to Colorado during the holiday season adds a special charm you can't get in many other places.

From the snowy banks of the nearby mountains to the festive treats like a slice at the iconic Estes Park Pie Shop & Diner (You Need Pie! – oh yes, I do), there's plenty to get you in the mood for the holidays when visiting Estes Park in the winter.

And of all things to do at Estes Park, the Catch the Glow Parade is an annual classic. Over 40 festive floats make their way down the streets of Estes in this community event following the Thanksgiving holiday.
Head to Saint Catherine's Chapel on the Rock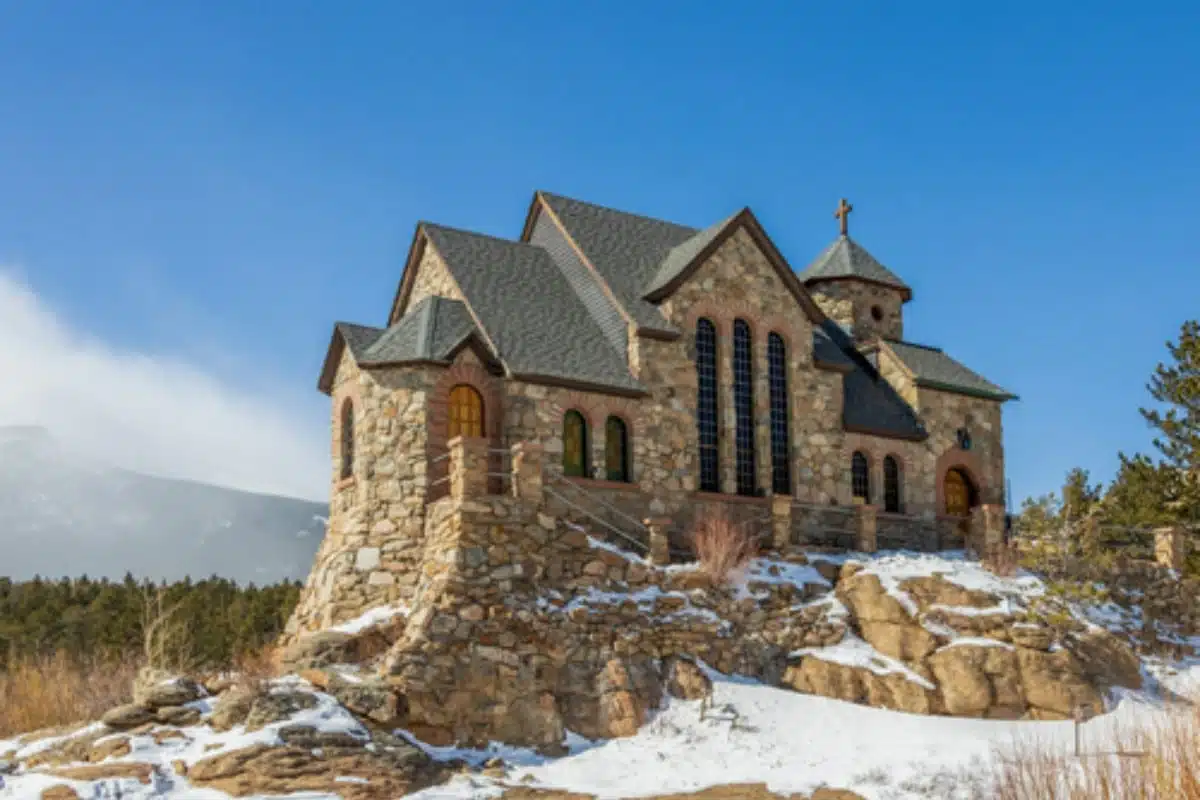 Looking something like a cathedral in the middle of the Alps, paying a visit to the beautiful Saint Catherine's Chapel on the Rock is a must-do.
The nearly 90-year-old Saint Catherine's Chapel on the Rock is open from 10 am to 4 pm Tuesday through Sunday. The iconic structure built atop the rocky soil pairs perfectly with the stunning backdrop of the iconic Longs Peak.
It's a miracle it still stands after numerous natural disasters threatened it in the past, but a blessing from Pope John Paul II and a community dedicated to preserving this Colorado treasure have kept it standing strong.

Swinging by is a wonderful free thing to do near Estes Park, but you're welcome to donate cash if you wish.
Unique Things to See & Do in Estes Park: Hidden Gems That Are Off the Beaten Track
Admire Estes Park from a Bird's Eye View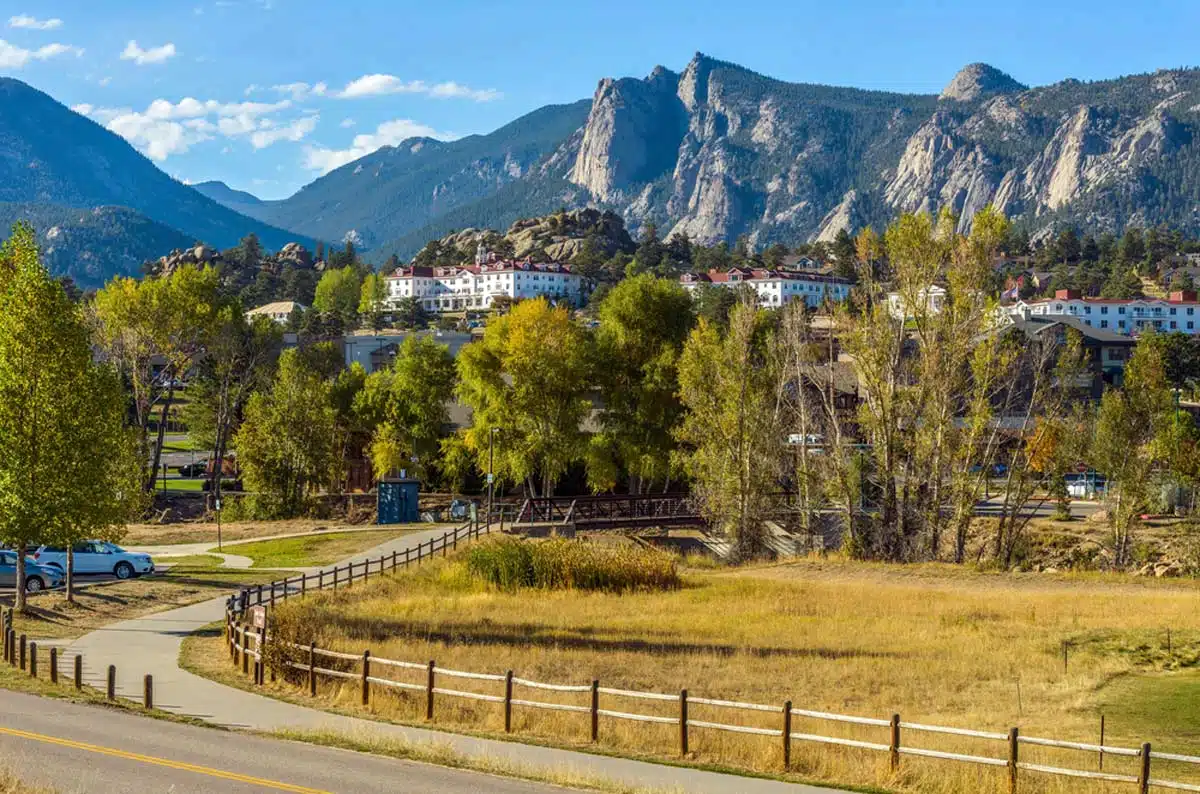 Want my advice on how to appreciate the beauty of Estes Park truly? Photograph the spectacular nature from above.
Whether you pack your drone or opt for an adventurous flight above, seeing the Rocky Mountains and Lake Estes from every angle possible makes for some truly inspiring photographs.
Top tip: if you opt for a flight, check out this tour on Get Your Guide.
Snap Photographs of the Stars
Long time readers might just know about my affinity for stargazing. And, if you don't mind heading outside when everyone else is getting ready for bed, capturing nighttime photos is one of the most stunning things to do in Estes.
Depending on where you plan to do this, it can involve a steep climb in your car that's downright sketchy at certain times of the year. For example, roads may be closed, and you might need a permit to enter park areas at a designated time.
That said, if you plan accordingly, dress the part and know where you're going, the reward of capturing the galaxy above is up there as one of the best winter photography destinations in the world.
Want to make it easier on yourself? Book a tour and travel with an expert guide who can show you where you'll find the most amazing nighttime shots near Estes Park.
Ghost Hunt at the Stanley Hotel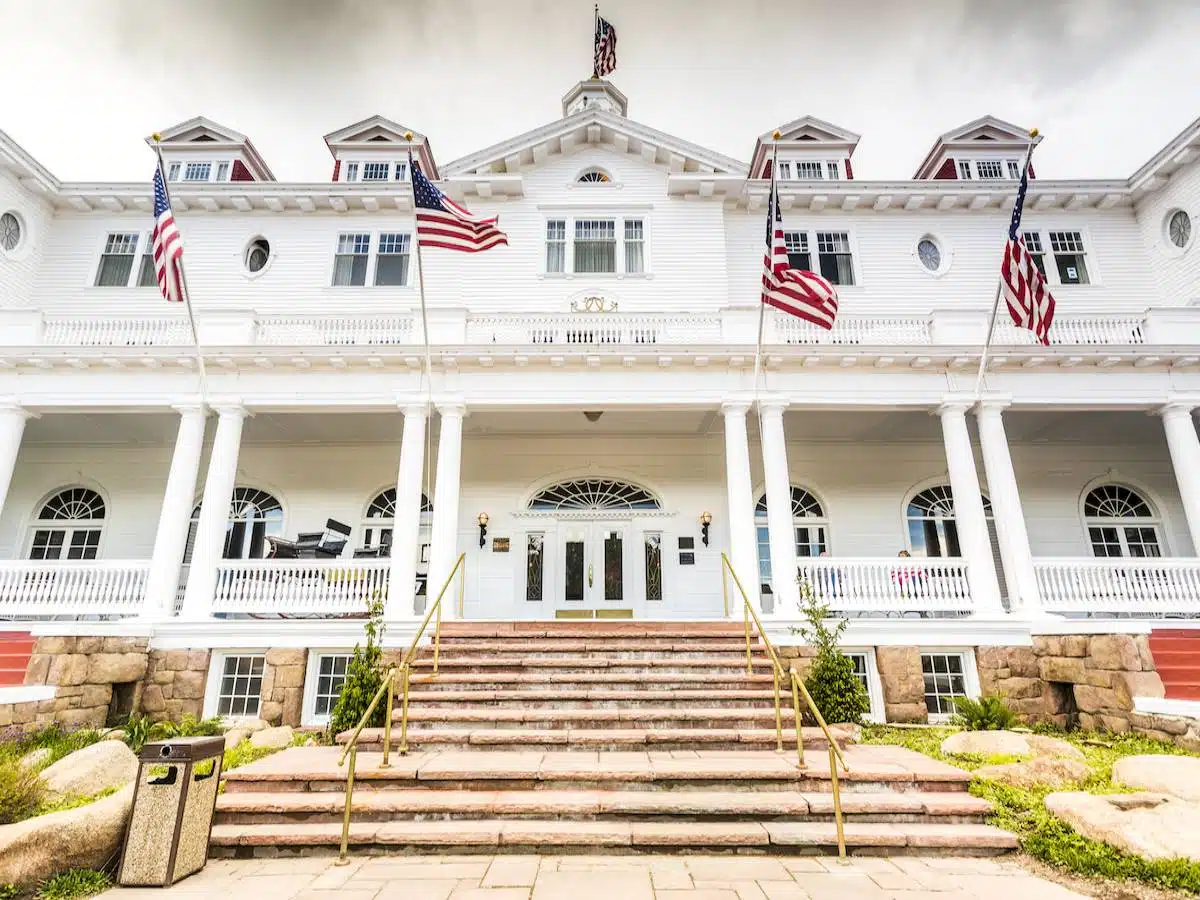 For horror aficionados, Stanley Hotel means one thing: The Shining. Spoiler alert: it was the TV series rather than the original film that was shot here, but still…
Stop by this hotel to capture the beauty of the historic property sitting beneath the mountainous backdrop.
But if you want an adrenaline ride, take a tour (preferably at night) of the hotel and learn about the spooky history that inspired Stephen King's masterpiece.
If you're even braver, check into a room on the fourth floor where numerous hauntings have occurred over the 100+ years the hotel has operated.
Visit One of Three Christmas Shops (Or All Three)
Christmas is kind of a thing here (ok, that's an understatement), and one of the fun things to do in Estes Park is going shopping for some holiday souvenirs. Yes, even in May. And June. You get the point.
Want to experience one of the unique and unusual things to do in Estes Park? Celebrate the holiday in July by perusing the knick knacks at Spruce House, Christmas Shoppe or Simply Christmas.
Hike the Formidable Longs Peak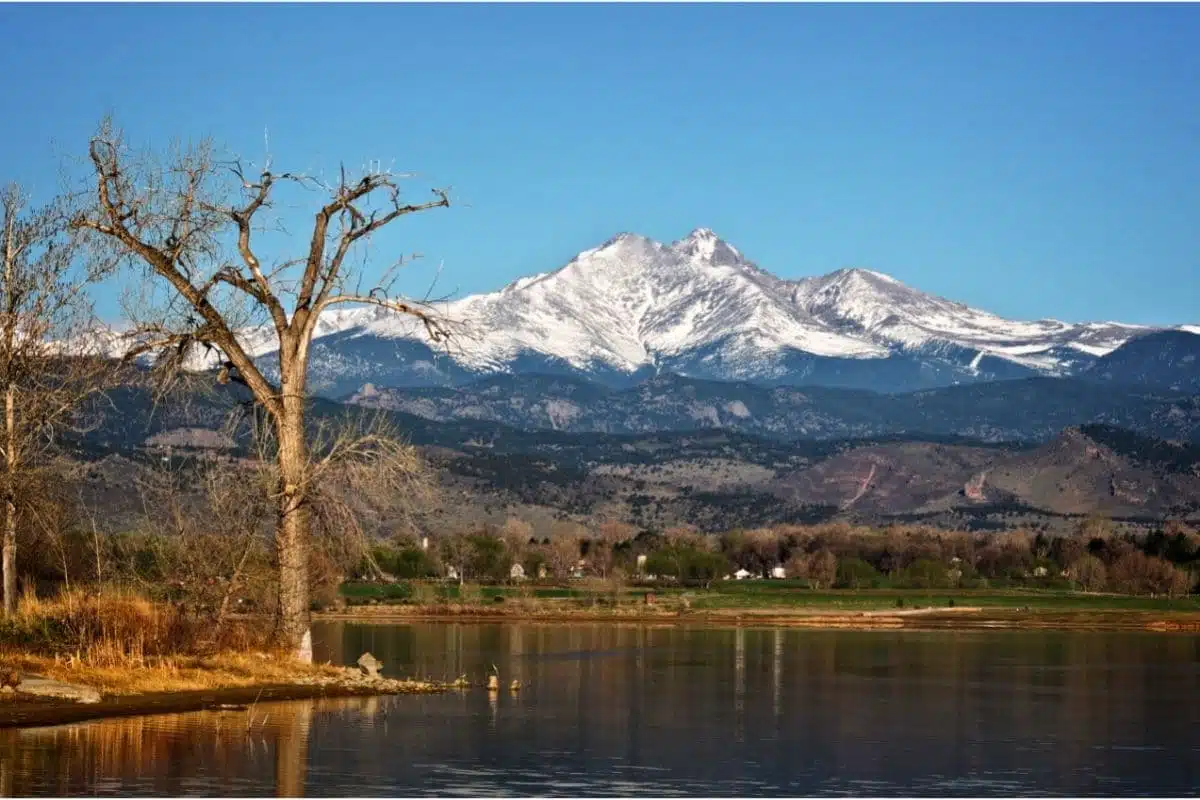 Fair warning: the Longs Peak Trek is only for dedicated hikers who have packed their best gear and timed the weather just right.
Longs Peak is no joke, and it's one of the top things to do at Estes Park, Colorado, for the most adventurous of spirits.
For starters, this Rocky Mountain National Park hike has the highest summit in the area. Couple that with the 5,000+ feet of elevation change, and it's a doozy.

Start early in the day, during the summer, and pack plenty of water and snacks. If you don't finish, you're not alone. Over half the hikers attempt this turn around before reaching the fabled peak.
Things to do in Estes Park: Practical Tips for Your Trip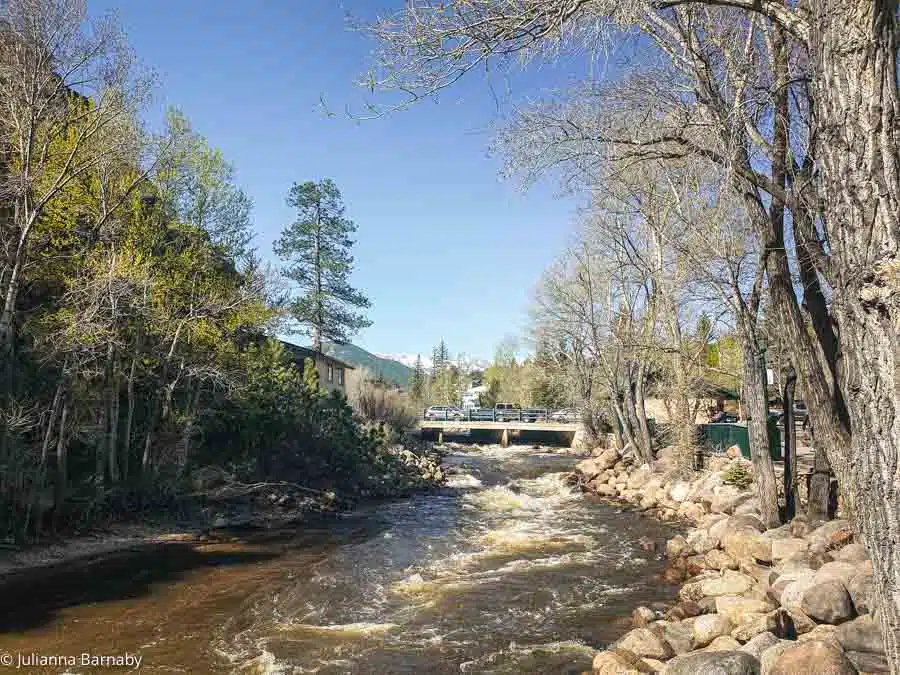 Where Should I Stay in Estes Park?
The Evergreens on Fall River (Mid Range)
For a totally rustic escape, head to The Evergreens on Fall River. When I took my first trip to Rocky Mountain National Park, nothing made me happier than enjoying the spa tub while resting up after challenging myself on the mountains.
The view of the Fall River alone is worth staying at these perfectly charming rustic cabin rentals in Estes Park.
The Estes Park Resort (Luxury)
The four-star Estes Park Resort, situated next to Lake Estes, is perfect for travellers who want the most luxury that Estes Park offers.
Opt for a suite, and you can enjoy the warmth of a fireplace while admiring the Rocky Mountains from the comforts of your room or balcony. Sounds like heaven? I thought so.
Recommended Tours in Estes Park
Things to do in Estes Park: Map
Things to do in Estes Park: Read Next
Love This? Save and Share on Pinterest