Ready to discover Lokrum, Croatia? Here are the top tips and must-see destinations for visiting this small island off the coast of Dubrovnik.
Not only is Lokrum a place of stunning coastal beauty, but the architecture and gardens on land are equally impressive. And then there's the whole Game of Thrones connection.

You probably remember when Daenerys mingled with the warlords in Qarth. That was here.

Not sold yet? What if I told you that you can actually sit on the Iron Throne when you visit… Start packing.
Even if you're not a GOT fan, this gorgeous island escape is well worth a day trip from Dubrovnik. Benedictine monasteries, crumbling fortresses and crystal-clear waters await. 
Looking for where to stay when visiting Lokrum Island? Boutique Hotel Stari Grad is a perfect option in Old Town Dubrovnik. 
Top 5 Things to Do in Lokrum
Benedictine Monastery of St Mary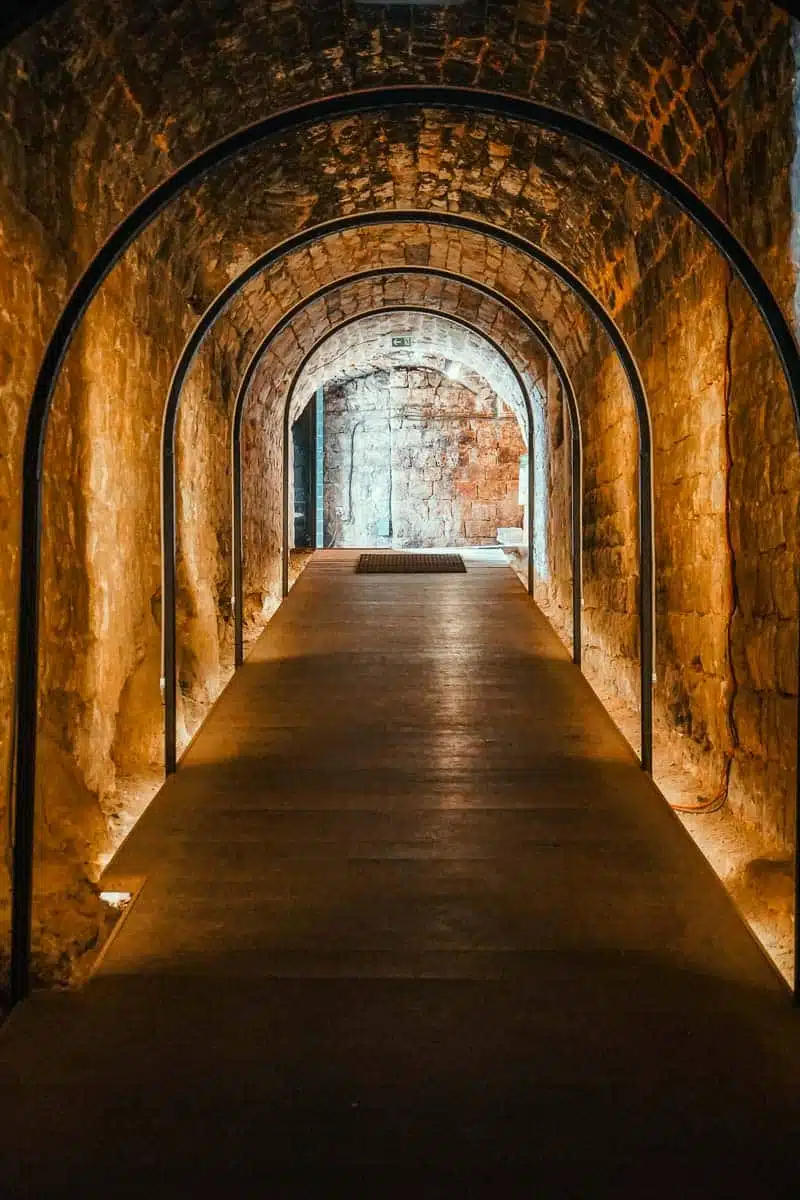 Want to check out ruins spanning the 12th to 19th centuries? Add a visit to the Benedictine Monastery of St Mary to your Croatia itinerary.

Highlights include the ruins of a Romanesque-Gothic basilica, the 15th-century monastery, and the private gardens at the short-lived vacation home of Maximilian I (yes, the same Maximillian who lived at Chapultepec Castle in Mexico City).

Rumor has it the monks cursed the island after they were forced off it. And anyone who purchased the land (Maximillian I included) met their end shortly after. Spooky, isn't it?

Nonetheless, it's a great day trip and a stunning place to walk around and enjoy the storied scenery. There's also a Lokrum Island Game of Thrones Museum on site (more on that in a bit).
Take a Boat or Kayak to Golub Spilja\
You can get to Lokrum by ferry or kayak. Choose the latter, and you'll have the chance to visit one of the most striking locations on the island, Golub Spilja.

The cave is at the southeastern tip of Lokrum and is a fun place to kayak through and take in the green-blue waters around the dramatic cavernous backdrop.

Check the tides before you go. Waves can swell up in a hurry and make it a challenging voyage.
Hike to Fort Royal for Beautiful Views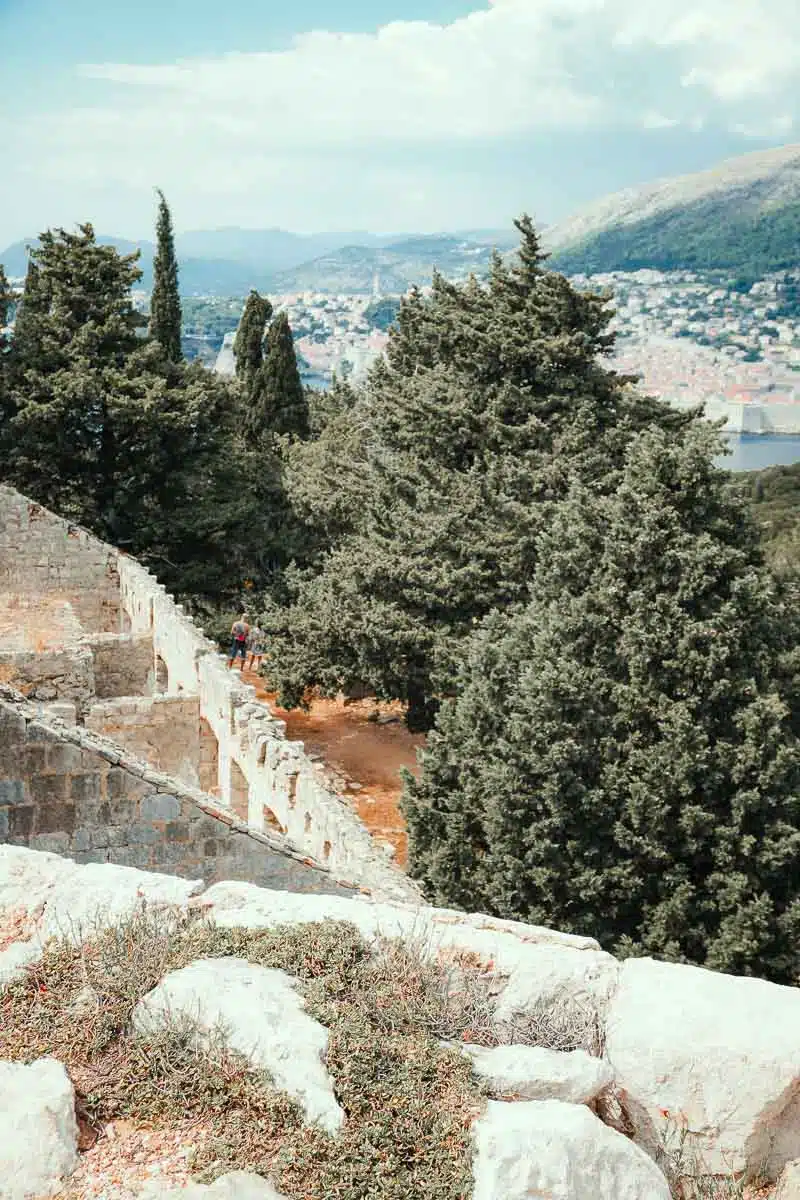 Head north to Fort Royal, and you'll enjoy some of the most captivating views on Lokrum.

Bring lots of water and sunscreen. The hike isn't long but can get very hot in the Croatian sunshine.
It takes about one minute to understand the appeal of Lokrum as a day trip from Dubrovnik when you're staring down at the Dalmatian Coast and Dubrovnik in the distance.
Chill Out on Lokrum Main Beach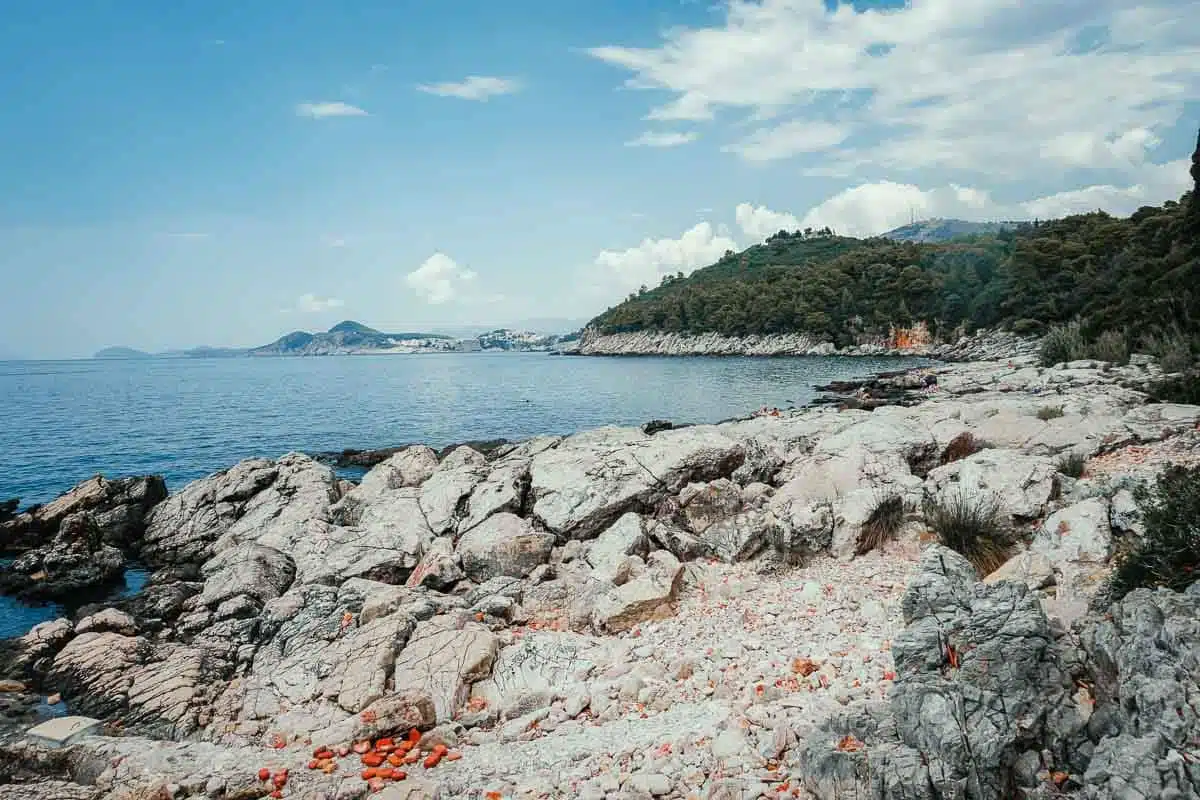 Find a spot on the rocky but idyllic coastline at Lokrum Main Beach and spend an hour (or two) enjoying the beauty of the Adriatic Sea.

Swim in the clear blue water or just soak up the sunshine next to the peacocks, rabbits, and fellow tourists at Lokrum Beach. Perfect.
Even though it's a popular spot, it's not too hard to spread out once you're in the ocean, and there are several ladders to climb back up after you jump in.
Explore the Botanical Gardens 
Home to over 800 different plant species, the gorgeous gardens are an excellent place to take a stroll through when visiting Croatia's Lokrum Island.

Maximilian I designed the lavish gardens filled with palms, succulents, and ivy interspersed between native flora and fauna, and it's a pleasure to walk around and explore.
Brilliant Things to See & Do in Lokrum
Sit on the Iron Throne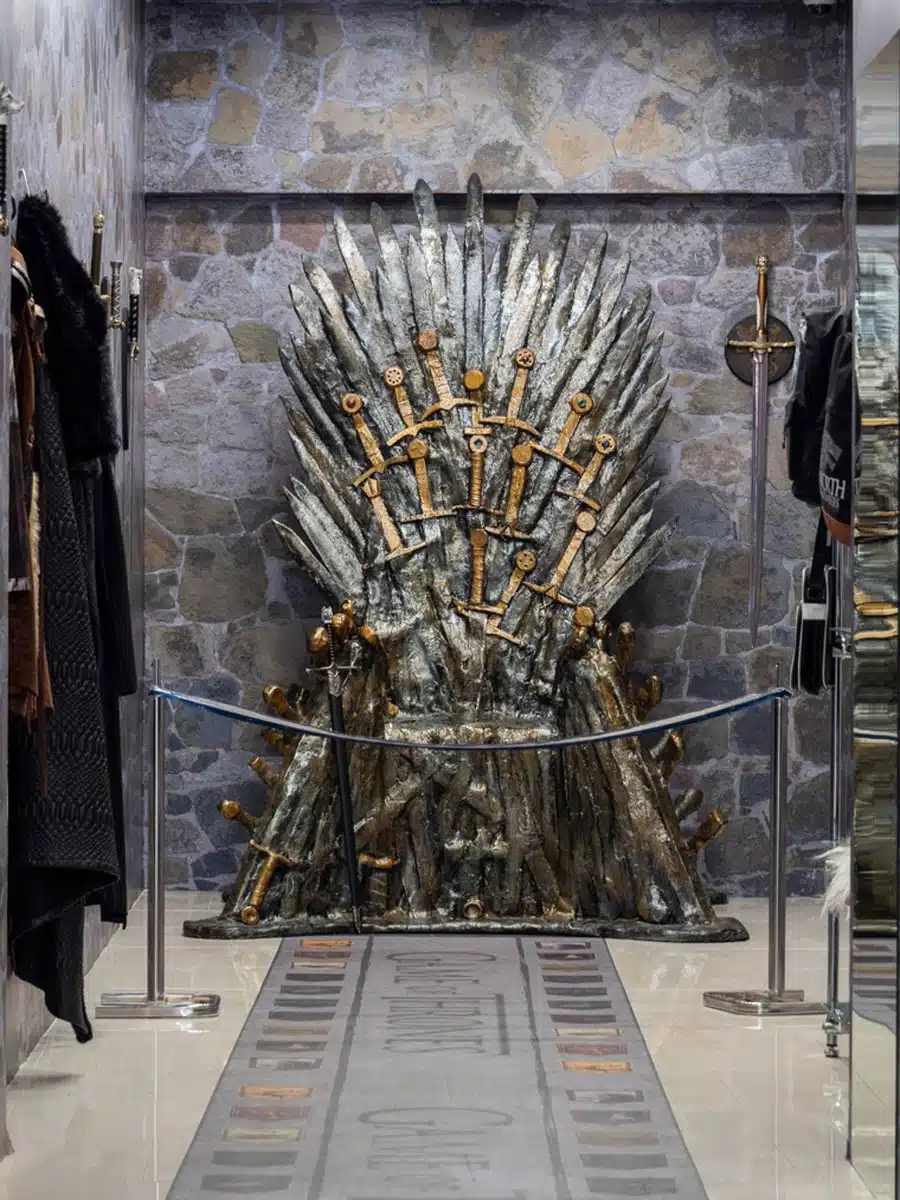 It's no secret a lot of GoT took place in and around Dubrovnik. But Lokrum Island was also an important setting on the show and home to a small but mighty museum.
Best of all? You can sit on the Iron Throne. I'll control my enthusiasm, but it's pretty special.

You can visit the Lokrum GoT throne for free or take a guided tour and learn some fun facts from an expert guide. I'll leave that decision up to you. 
Walk Through the Path of Paradise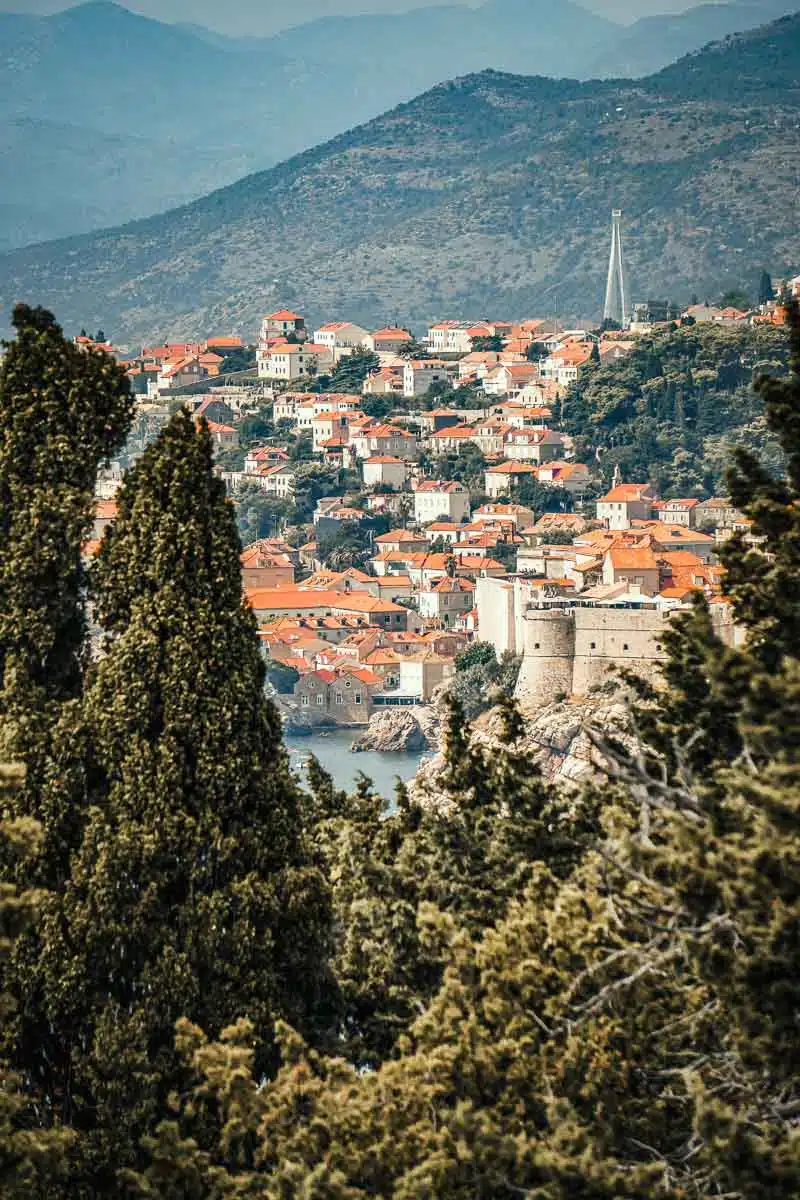 Take the hike up to Fort Royal, and you're bound to walk through the Path of Paradise.

The pyramidal cypress trees help guide the way to Fort Royal, and it's worth slowing down so your hiking buddy can snap a few photos from the top. Trust me.

The views of the Dalmatian Coast framed by the idyllic pines are priceless.
Visit the Lazaret Ruins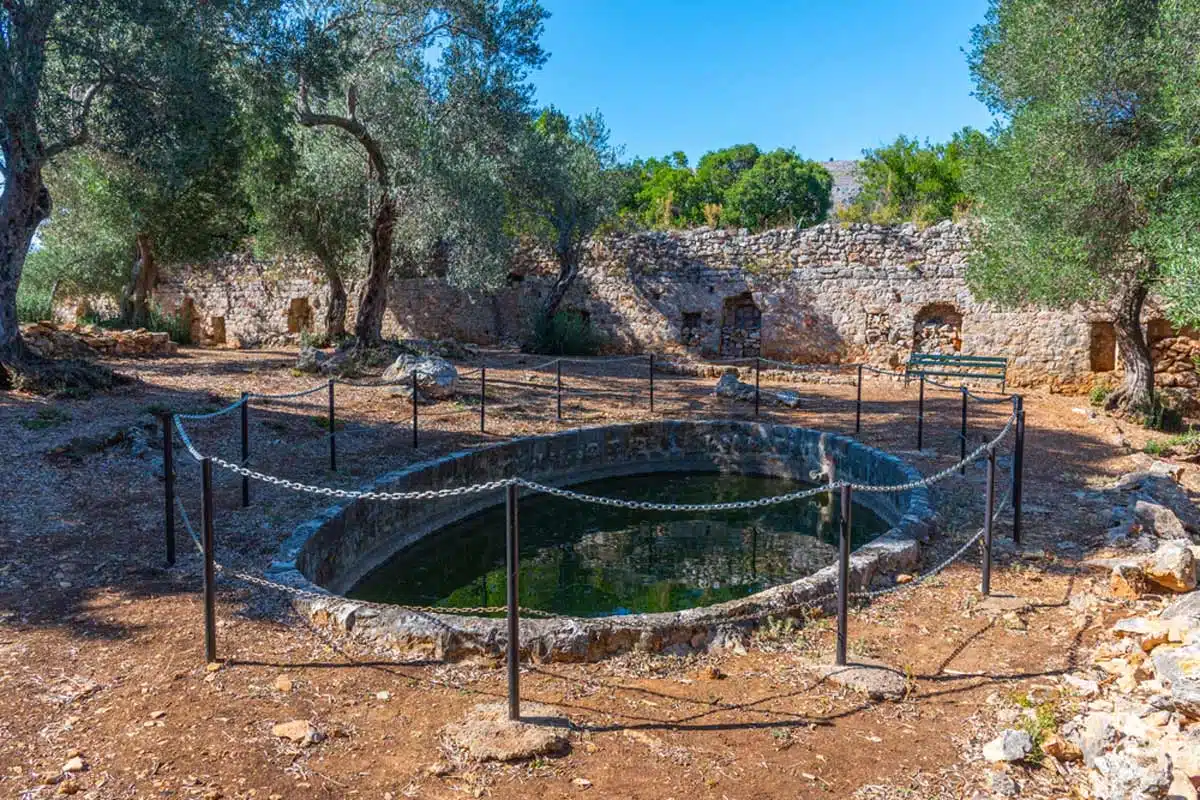 Another must-see location further north on the Lokrum Island map is Lazaret.

The ancient stone walls from the abandoned 16th-century hospital remind you quickly of the island's complex past.

Walk along the tree-lined paths and stone walls for a perfect example of nature and ancient architecture coexisting. You may even catch a trademark peacock strutting around the island countryside.
Must-Try Bars & Restaurants in Lokrum
Lake Cocktail Bar
Lake Cocktail Bar is a chill little haunt overlooking the famous Mrtvo More below. Also known as the Dead Sea, you can take a swim before or after lunch in the tranquil saltwater lake.

The bar itself is a nice shaded spot under a few large trees, offering a decent selection of gin-based cocktails, beer, and wine.

Hungry? You can order a simple but filling sandwich as needed.
Lacroma Restaurant
Lacroma Restaurant is the spot to eat if you're looking for a memorable meal on your day trip from Dubrovnik to Lokrum.

Most of the choices on the island are ideal for preventing hanger between kayaking and sitting on the iron throne. Lacroma goes a step further.

The setting is stunning, especially if you can snag a table under the vines hanging from the patio roof. Top it off with expertly prepared burgers, seafood, desserts, and friendly service, and you have a winner.
Snack Bar Lacroma
If a laid-back atmosphere near the Adriatic sounds like the perfect spot to refuel after a few hours on the island, Snack Bar Lacroma is for you.

Expect uncomplicated but perfectly acceptable food and drinks with an authentically Lakroma island feel – wandering peacocks and all.

Like most places on the island, the prices are probably higher than you expect, but just look around at the gardens, wildlife, and Dalmatian Coast, and you'll get over the sticker shock pretty quickly.
Best Hotels in Lokrum
Lokrum is a beautiful place for a day trip, but it's just that. There are no hotels on the island, so you'll want to stay in Old Town Dubrovnik.
Boutique Hotel Stari Grad
Boutique Hotel Stari Grad is in the heart of Old Town and is just a short drive up the hill from the port.

Rooms are modern and comfortable (but on the small side). 
Opt for a junior suite with a balcony if you want a little extra space inside and out. The walk-out terrace is spacious and offers gorgeous views of Old Town Dubrovnik all around you.
Lokrum: Practical Tips for Your Trip
How Long to Visit Lokrum?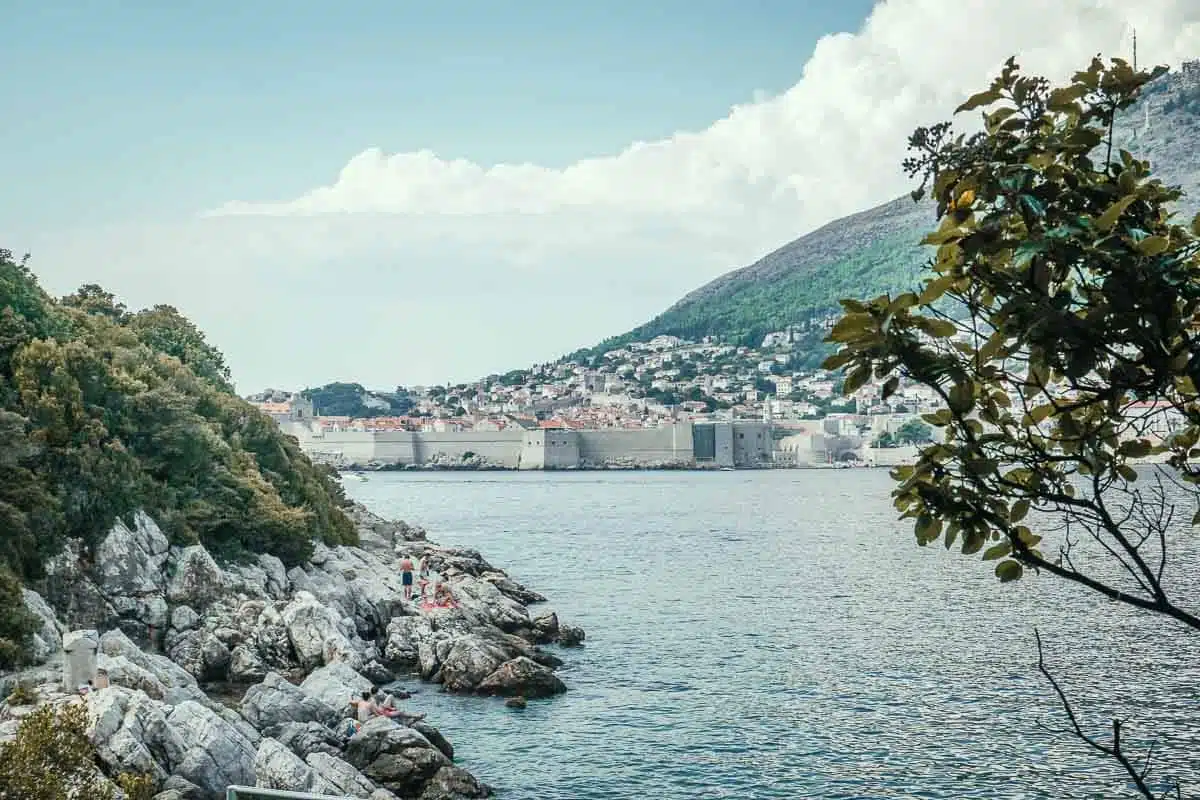 I'd recommend spending at least a few hours in Lokrum on your trip to Croatia. But the longer, the better.

Take your time exploring the beaches, gardens, and caves. Just be sure to catch a Lokrum Island Ferry back to Dubrovnik by sunset.
Best Time to Visit Lokrum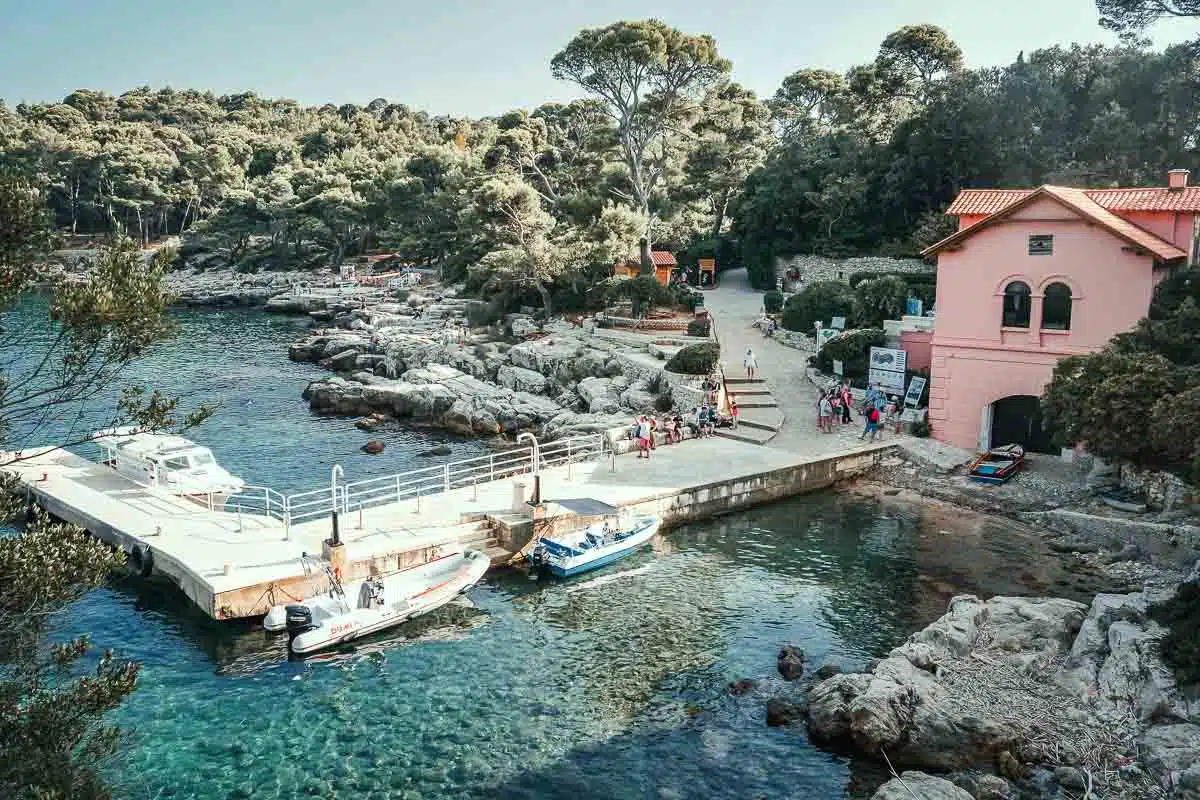 You can only visit Lokrum from April to November. If you want the best weather without the long lines, aim for May or September, and you'll have ideal conditions for exploring everything Lokrum Island offers.

Check the cruise ship schedule and try to go on a day with the fewest boats in the port. It makes a big difference.
Where Should I Stay in Lokrum?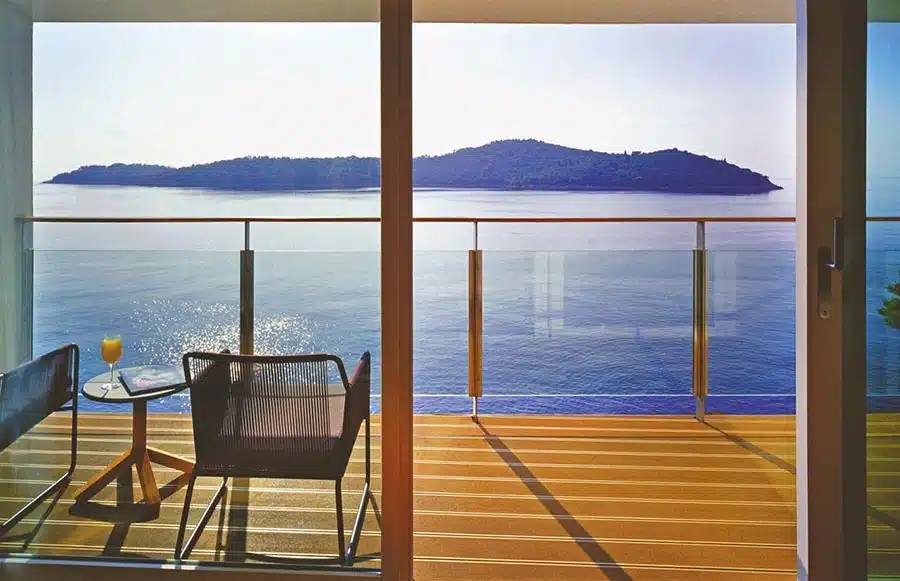 Unfortunately, you won't be staying on the island of Lokrum on your trip to Croatia. There are no hotels, Airbnbs, or even campsites on the island.

Luckily, it's a 15-minute boat ride from Dubrovnik, so you can stay near the Old Town Port for the easiest access.
How to Get to Lokrum?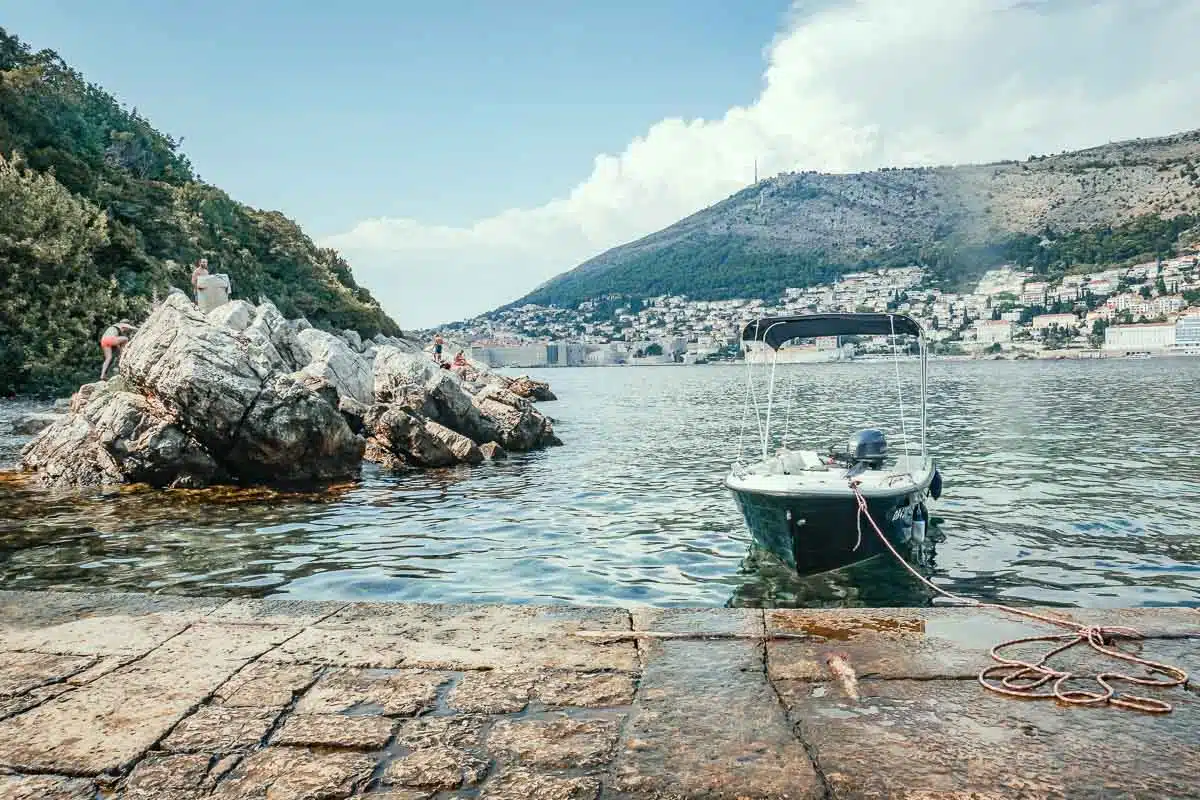 Getting to Lokrum Island is easy enough. During the peak tourist season, you can catch a boat in Dubrovnik Old Town Port, which runs every half hour and takes about 15 minutes to get you from Point A to Point B.
Recommended Tours in Lokrum
Things to Do in Lokrum: Map
Love This? Save and Share on Pinterest