Ready to discover the best things to do in Hvar, Croatia? Discover the top landmarks, restaurants, and nightlife for your trip to this idyllic island off the Dalmatian Coast.

Hvar is well-documented as a hub for the rich and famous to park their yachts and put on their best threads before exploring the beach clubs and dance parties that dot the coves and rocky shores of this Croatian Island.

But let me tell you, there's so much more to Hvar than rich people and parties. This small island in the Adriatic has numerous historical landmarks (some dating back to the Ancient Greeks), outstanding cuisine and oodles of laid-back charm.

I swung by Hvar on one of my most recent trips to Croatia and, although I initially only planned to stay a few days, a few days turned into just over a week – I was all kinds of obsessed with the island.
I'm not one to gatekeep though – I'm going to share this collection of the very best things to do in Hvar in this practical AF, in-depth guide. Let's go people!
Looking for a stylish hotel in Hvar? Book a room at Heritage Hotel Park Hvar for a luxury resort near the idyllic harbour.
Top 5 Things to Do in Hvar
Explore Hvar Town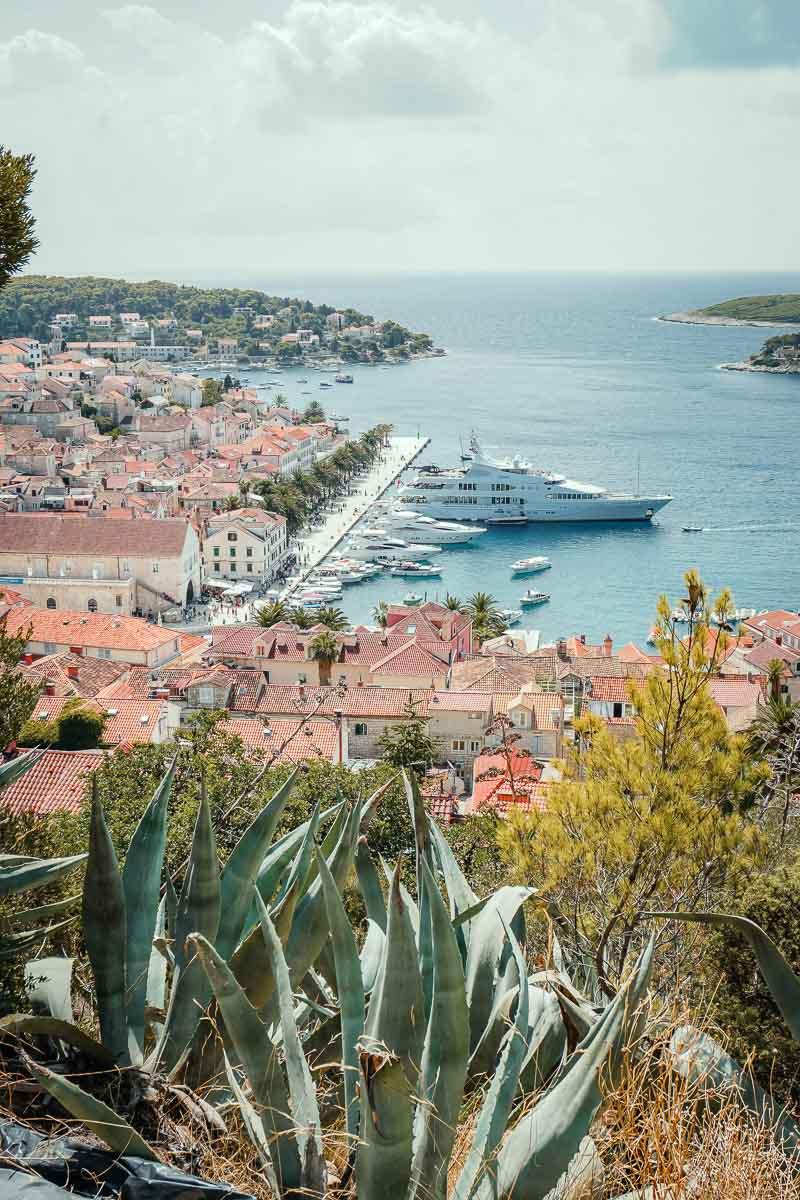 While it may seem obvious, exploring Hvar Town is a must-do when planning things to do in Hvar, particularly when you consider that it's home to some of the city's best food, nightlife and architecture.

It's most famous for being a party spot and has a fair share of nightclubs and bars (some of which are pretty fun).

But there is a great deal to do in the historical village of Hvar Town, from incredible food and drink (more on Konoba Menego later) to the 17th-century St. Stephen's Cathedral just steps away from the narrow white marble alleys and Hvar Harbour.

Add to that some of the island's best beaches within walking distance (Pokonji dol Beach and Bonj Beach are great options), and you'll have plenty to do in Hvar Town.
Top Tip: Wear your best walking shoes and a water bottle. Monuments like Fortica Fortress and Fortress Napoleon a bit further up require some hiking under the blazing Croatian sun.
Kayak Around the Pakleni Islands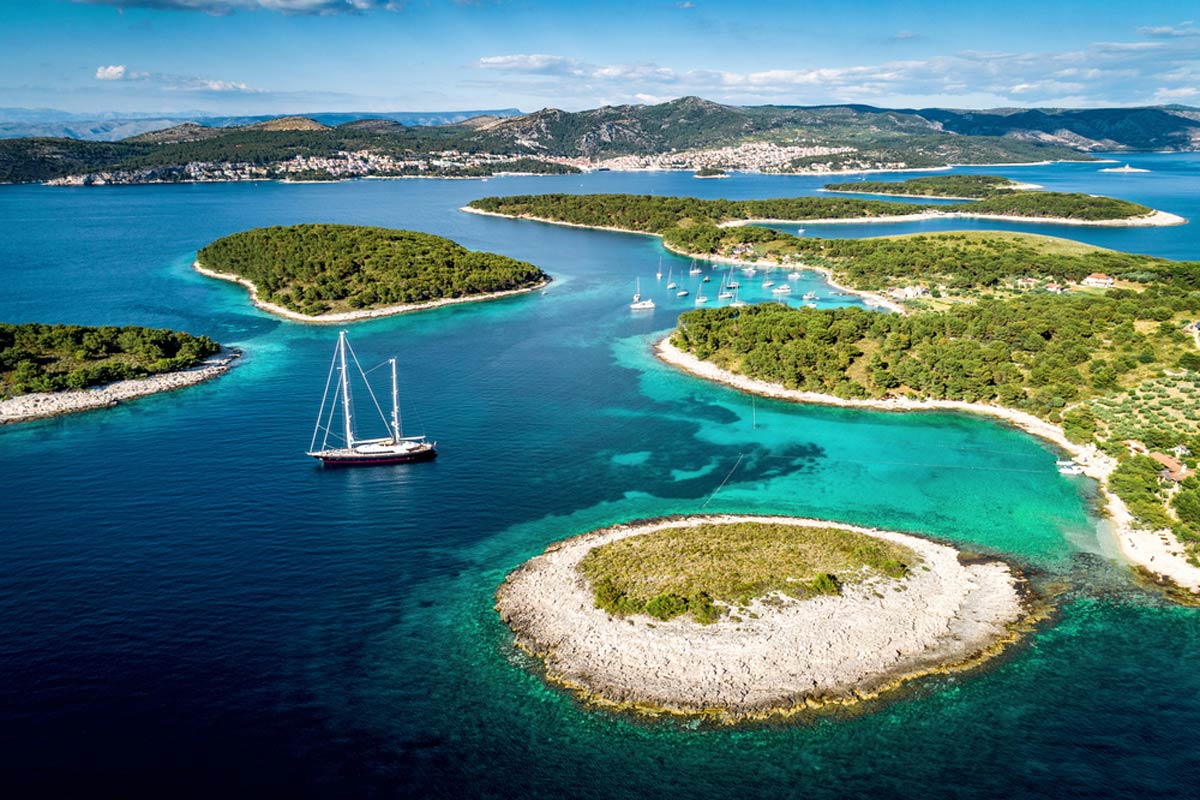 If you're like me, paddling around in a kayak on a self-guided tour ranks comfortably at the top of any holiday itinerary.

But the Pakleni Islands take it a step further, allowing you to work around a stretch of gorgeous bays and pebbled beaches tailor-made for an afternoon of adventure.

Stop by one (or a few) of the islands where you can explore the coves or dock your boat and head to one of the great restaurants, bars, or beach clubs nearby.

Marinkovac Island has some of the best beaches (Mlini Beach is exceptional) and the famous Carpe Diem Beach, but Sveti Klement Island is the biggest island and has some of the best seafood.
Top Tip: Hit Laganini Lounge Bar & Fish House for delicious seafood and cocktails under a thatched-roof beach bar.
Visit the Fortica Fortress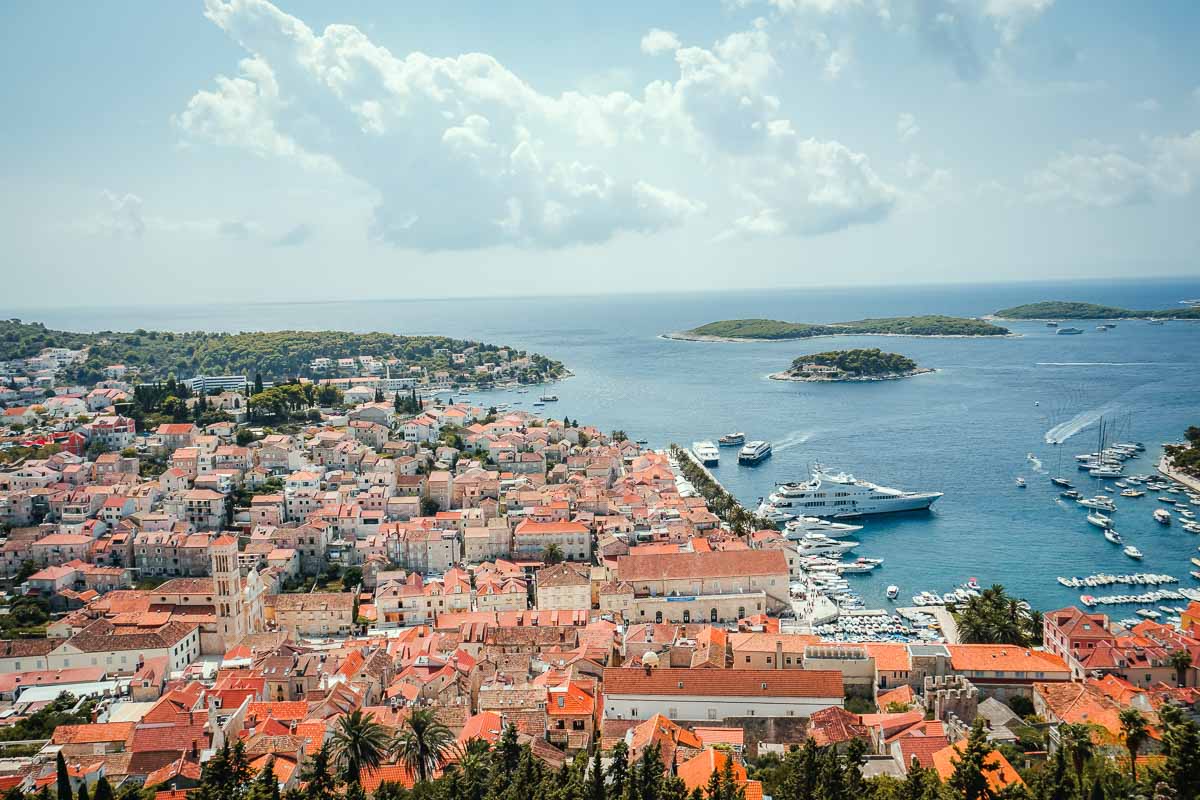 When you're in Hvar Town, Fortica Fortress is a gorgeous landmark you'll want to tick off the list for a bit of history and some stunning views of Hvar Town and the harbour.
Visiting the historic 16th-century landmark really puts things in perspective in more ways than one, as it's thought to have played an important role in defending the island long before the current fortress was constructed.
Top Tip: Hike up to this landmark early in the day, especially if you visit Croatia in the summer. There isn't much shade, and the Croatian sun gets legitimately hot.
Wine Tasting in Hvar's Vineyards
Fancy yourself some fine wine on your trip to Croatia? You're in luck because wine tasting is one of the top things to do on Hvar Island..

This guided tour brings you across the island from Hvar to the region of Vinogorje, where you'll sample locally grown grapes that Croatians have cultivated for years.

If you venture off near Jelsa on your own, Dubokovic Wine and Pinjata are popular stops.
Top Tip: Hydrate before and after the tasting because it's hard to avoid tippling on obscure varietals like Plavac Mali, Kuč, and Pošip to excess.
Discover the Hidden Beaches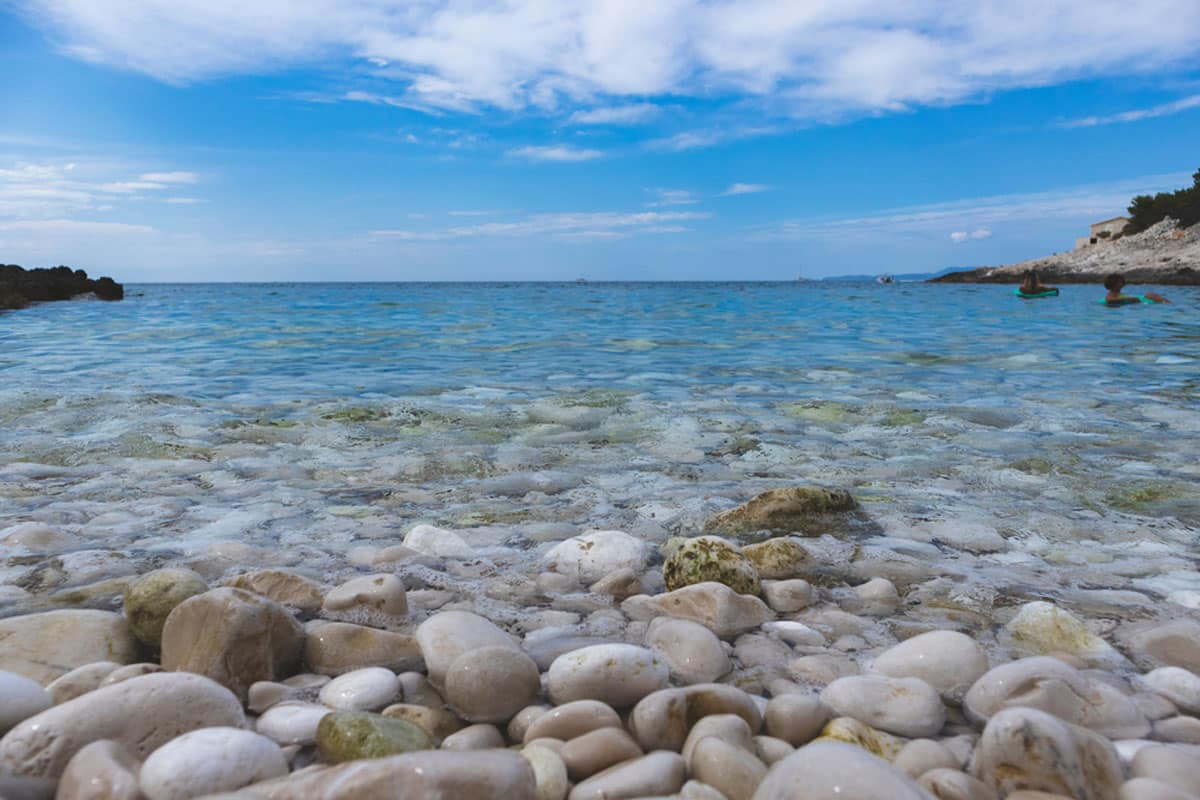 Remember when I mentioned kayaking as one of the things to do Hvar offers tourists that are too good to pass up? If you do decide to paddle around the Pakleni Islands, you absolutely have to stop off at some of the hidden beaches along the way. Trust me.

Even if you want to stay on the main island, Hvar is full of hidden beaches you can access by boat or sometimes on foot. Take a taxi boat out and explore the islands, lay out a beach towel, and enjoy the moment. You deserve it.

So which beaches are the best? I like the idea of heading to Beach Zucica, Beach Mekicevica, and Maslinica Beach for quiet afternoons along the Adriatic.
Top Tip: Tell your taxi to take you to Robinson Bay. It's a short journey that pays dividends.
Brilliant Things to See & Do in Hvar
Soak up Some Sun at Beach Club Hvar on Bonj Beach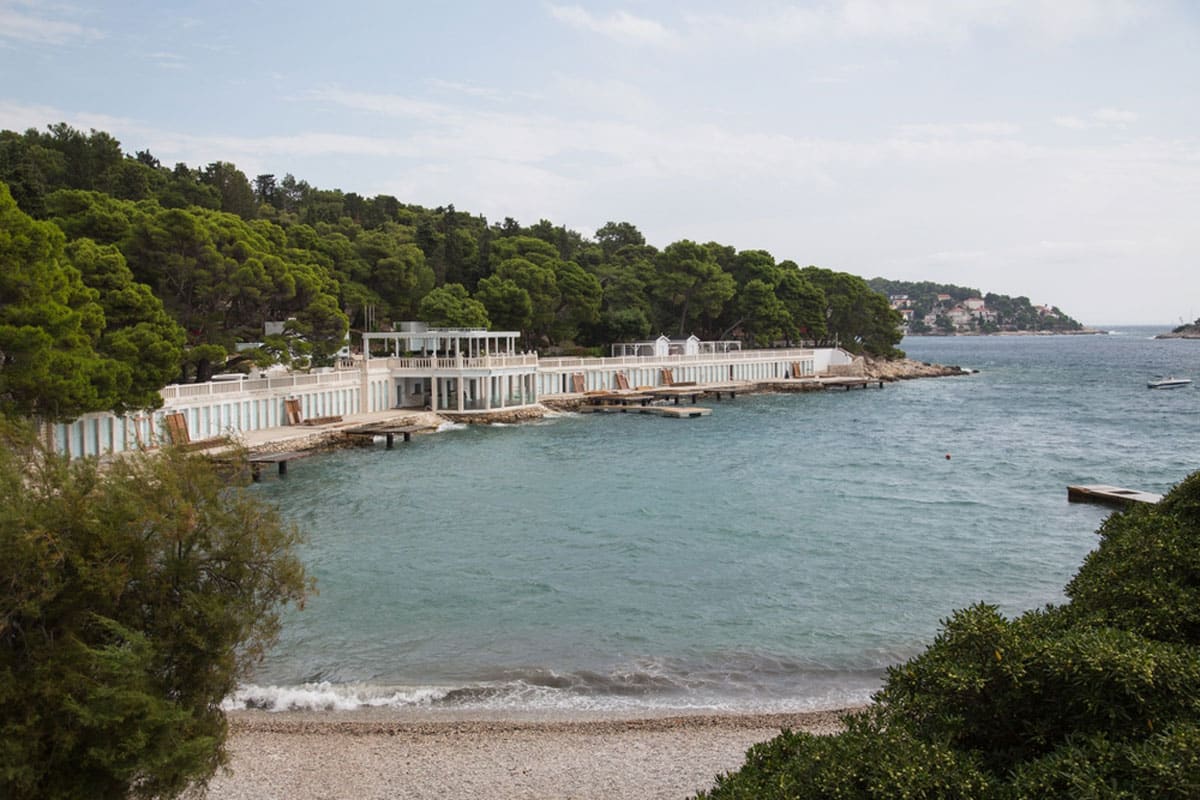 Rent a lounger, club deck, or cabana at the exclusive Beach Club Hvar and check all worries at the door. Really, spending some time staring out at the Adriatic Sea from this high-end beach club on the iconic Bonj Beach is worth every penny.
Top Tip: While the sunbeds are perfectly fine (especially for singles), I recommend upgrading if you travel with a partner. The added comforts of lockers, WiFi, and AC are well worth the additional cost.
Visit the Franciscan Monastery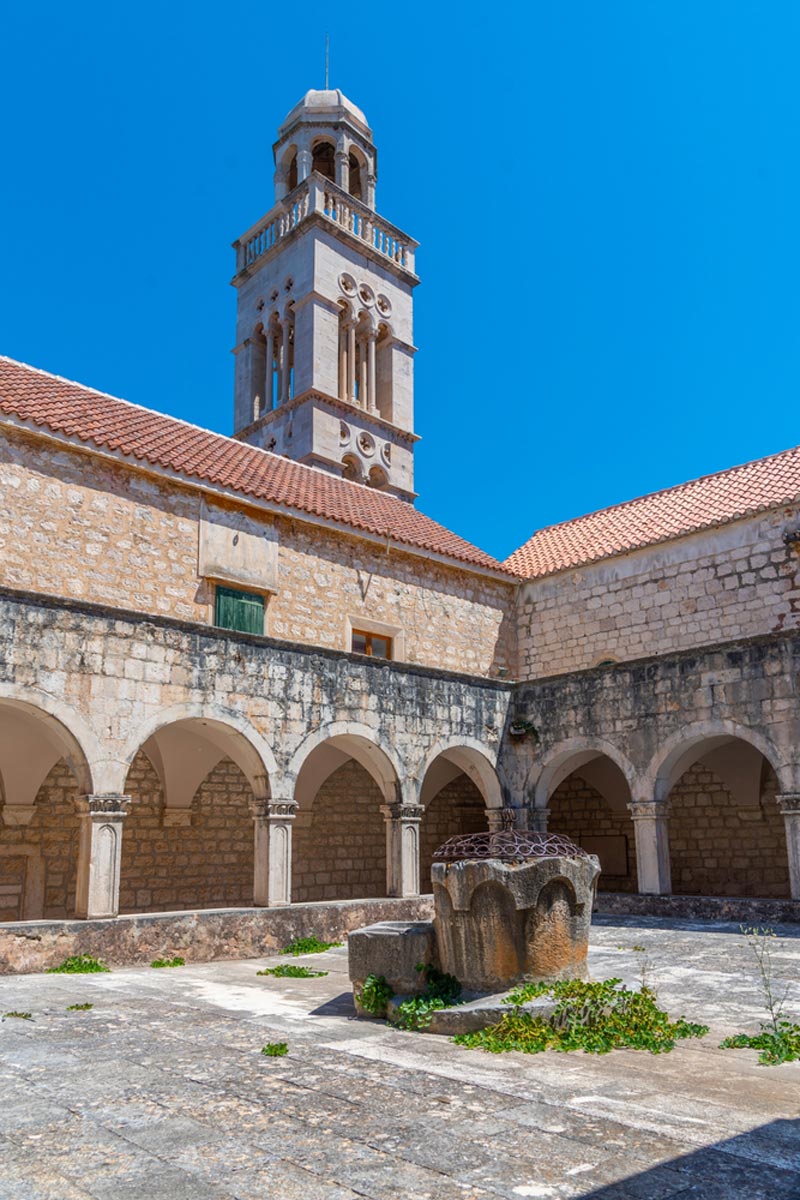 If you find yourself walking around the seaside near Hvar Town, you may notice a large stone structure on the edge of the coast.

Franciscan Monastery is a 15th-century gothic-style building that's a gorgeous landmark along the Dalmatian Coast. Bring your camera.

But inside, you'll find a collection of artwork, with a painting of The Last Supper as the highlight.
Have Dinner at Konoba Menego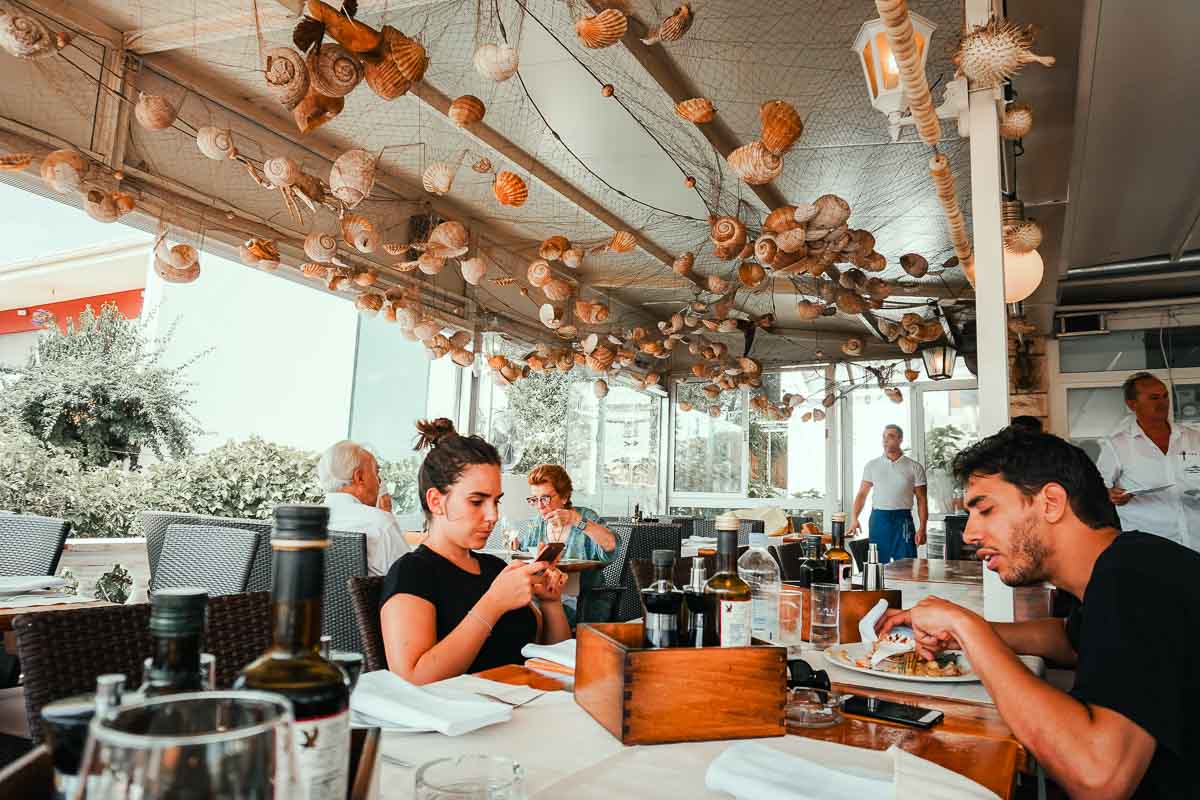 There are a fair amount of amazing restaurants on the island, but Konoba Menego ranks pretty high on my list of things to do in Hvar Old Town.

Hike up the stairs and into the quaint dining room and see why this family-run restaurant is such a treat. Order the gnocchi, any seafood on the menu, and have a glass of wine or two while you wait or with your meal.

The atmosphere is welcoming and charming, and you'll enjoy every moment of the experience.
Stop by a Cafe in St Stephen's Square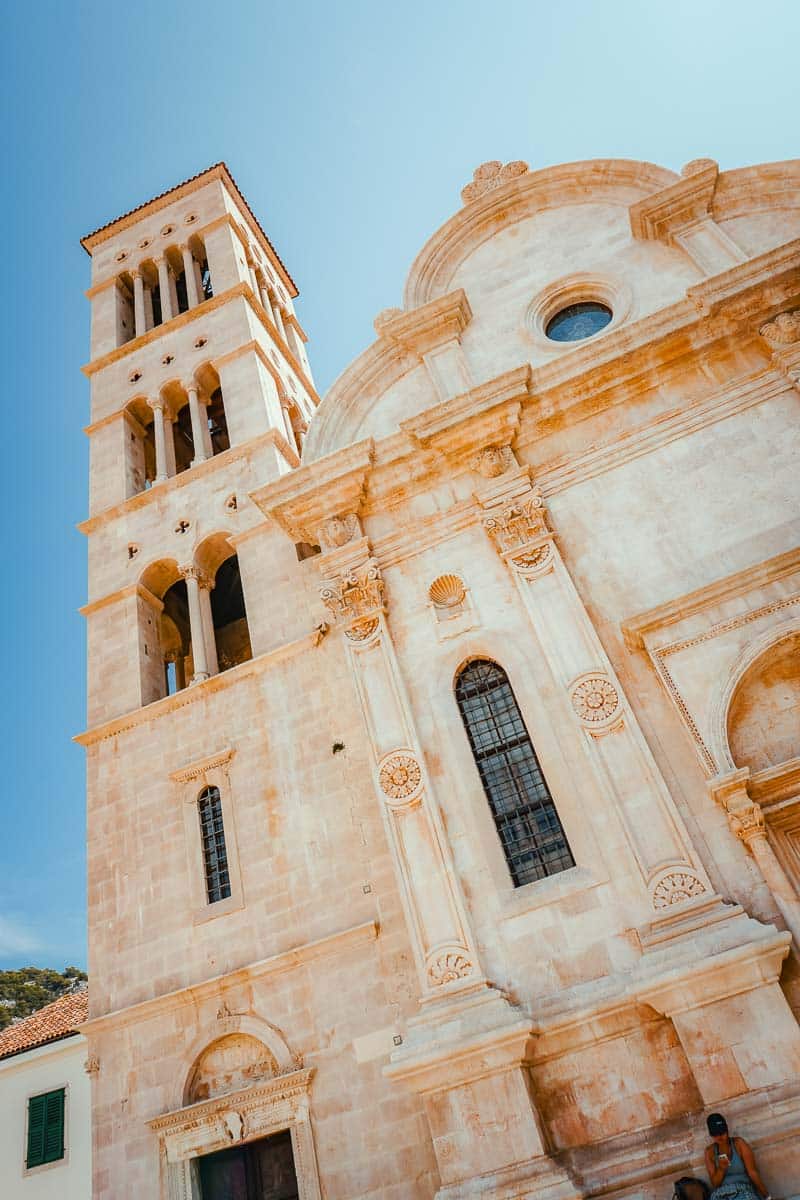 Spending an afternoon snacking on gelato or having a cup of coffee along the idyllic St Stephen's Square is one of those things to do Hvar offers that you don't have to put much thought into to enjoy.

Head out on a sunny day, grab a seat at just about any cafe, and watch the busy city streets in style. Caffe Bar Domenika and Caffe Marin are great options.
Top Tip: Be sure to walk over to St. Stephen's Cathedral, where you can see the iconic church and bell tower watching over Hvar Town.
Visit the Fortress of Petar Hektorović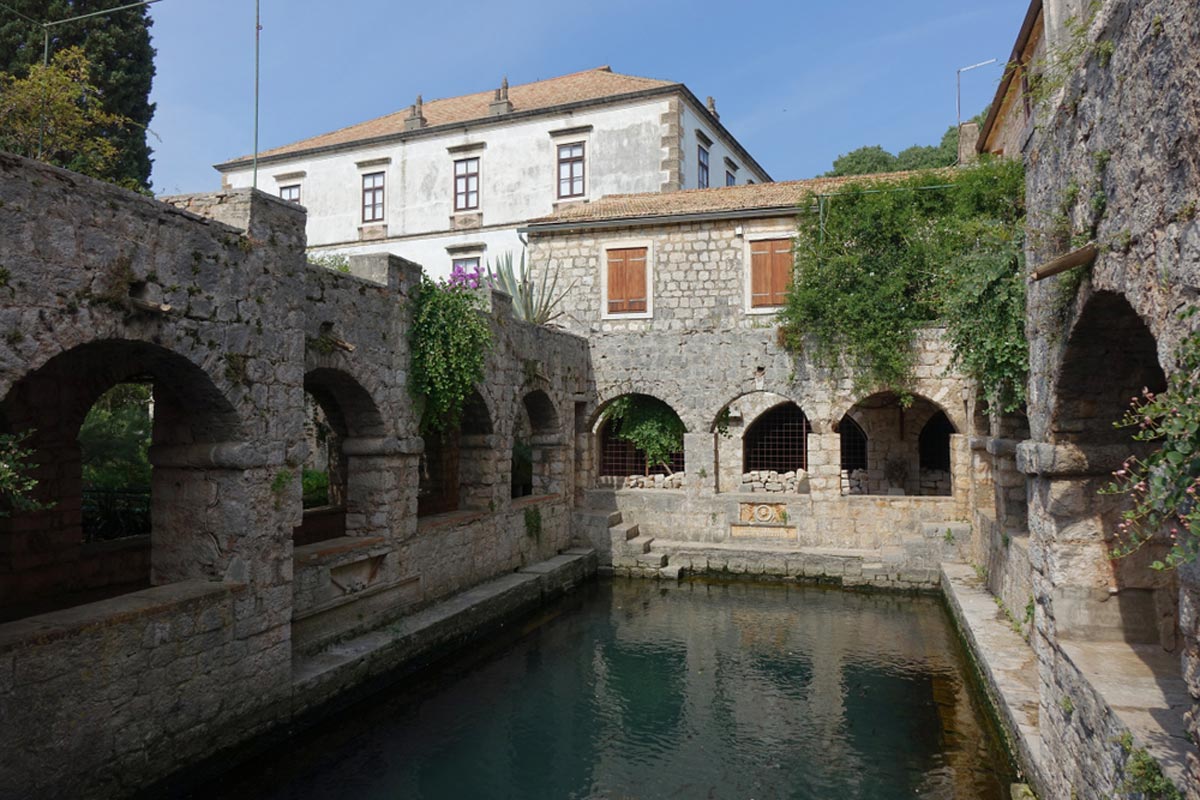 If you find yourself in Stari Grad, you'll want to tour the Fortress of Petar Hektorović, the famous poet from Croatia.

The 16th-century fortress (Tvrdalj Castle) boasts charming architecture, an ancient fish pond, and idyllic gardens in the heart of Old Town Stari Grad.
Top Tip: You can only access the fortress seasonally, so be sure to check the calendar online.
Unique Things to See & Do in Hvar: Hidden Gems That Are Off the Beaten Track
Hike Up to Fortress Napoleon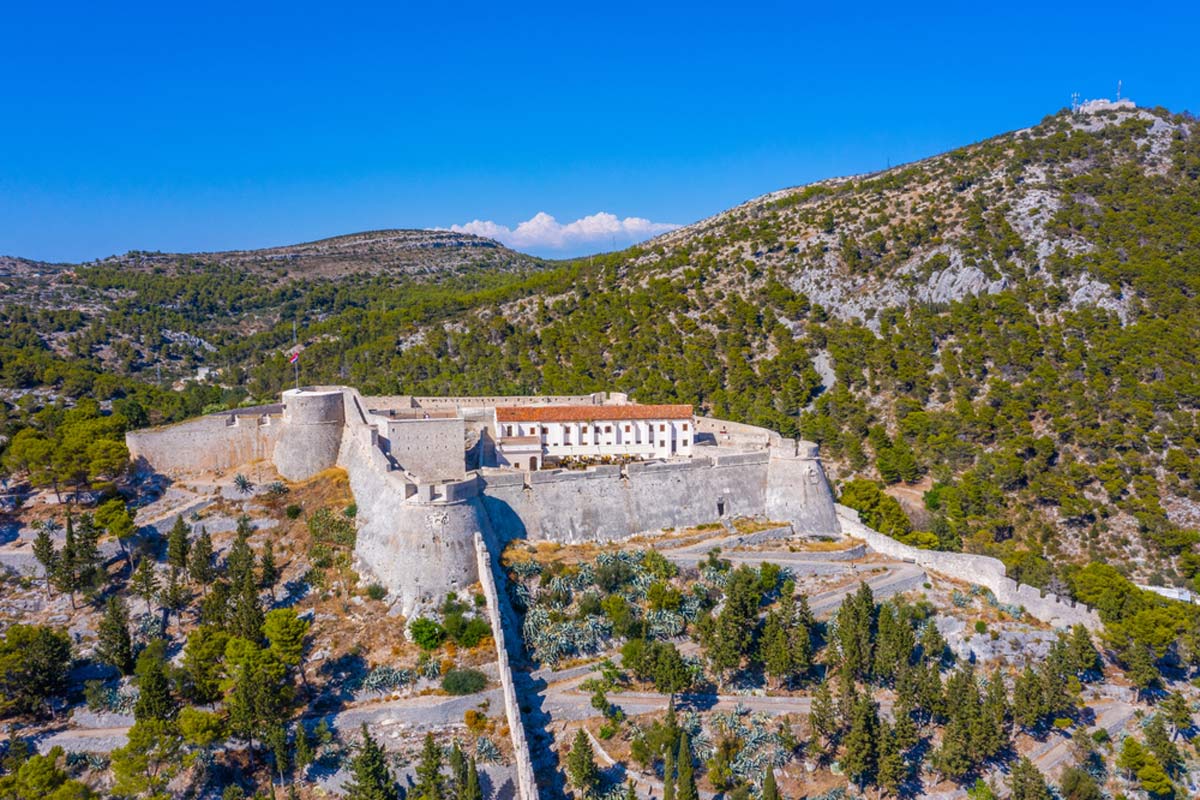 If you're looking for a Croatian landmark that's a bit less touristy and involves a decent amount of climbing, head to Fortress Napoleon.

The hike up from Hvar Town will take you about an hour, where you'll see the 19th-century castle built by Napoleon's army. You can also take a guided tour of some of Hvar's hidden gems, which makes a stop here along the way.
Top Tip: You can't go inside the fortress, but it's still well worth a trip for the absolutely incredible views.
Visit the Abandoned Village of Malo Grablje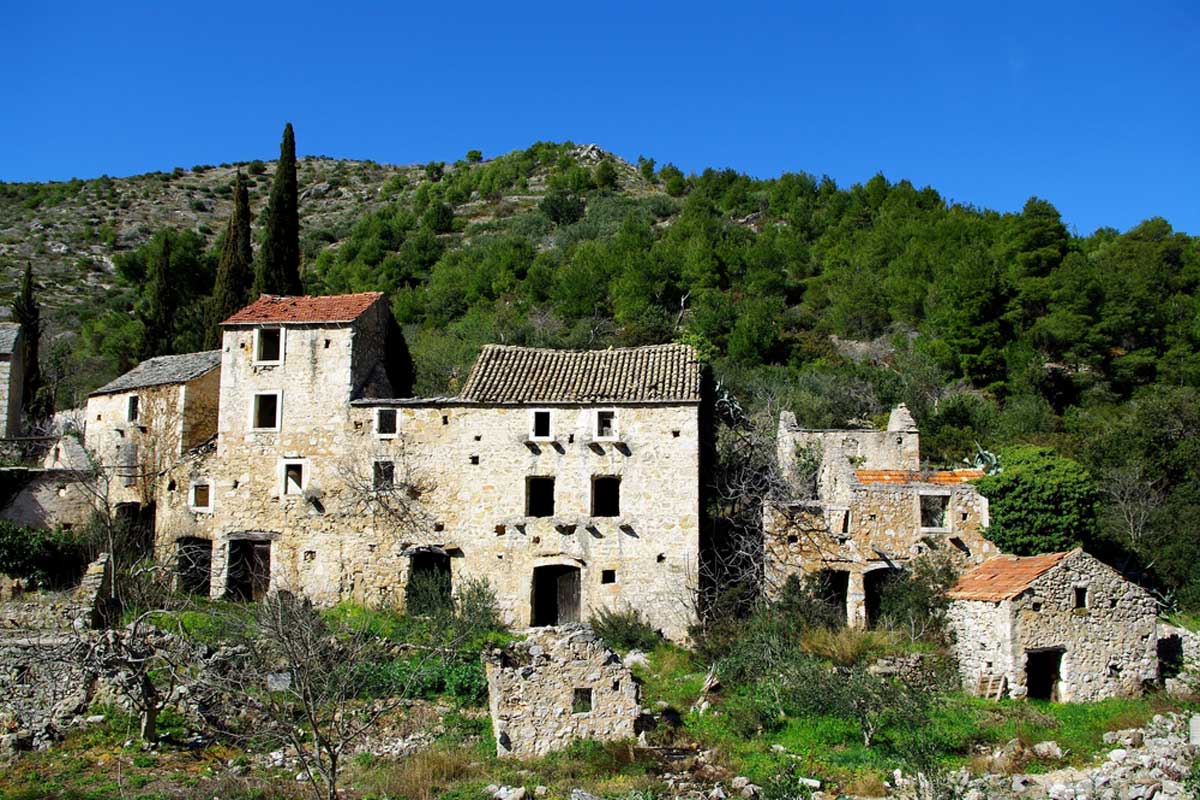 If you find yourself wine-tasting in the town of Jelsa, be sure to make the drive over to Malo Grablje to explore an abandoned village.

Malo Grablje is one of the top things to do in Hvar, Croatia, for travellers who want a glimpse into a historical ghost town on their visit.

Be sure to bring your camera when you walk the streets of this long abandoned village near Hvar wine country.
Top Tip: You can take a guided tour or hike through the village on your own, but steer clear of entering the abandoned houses as they are in disrepair.
Stari Grad Plain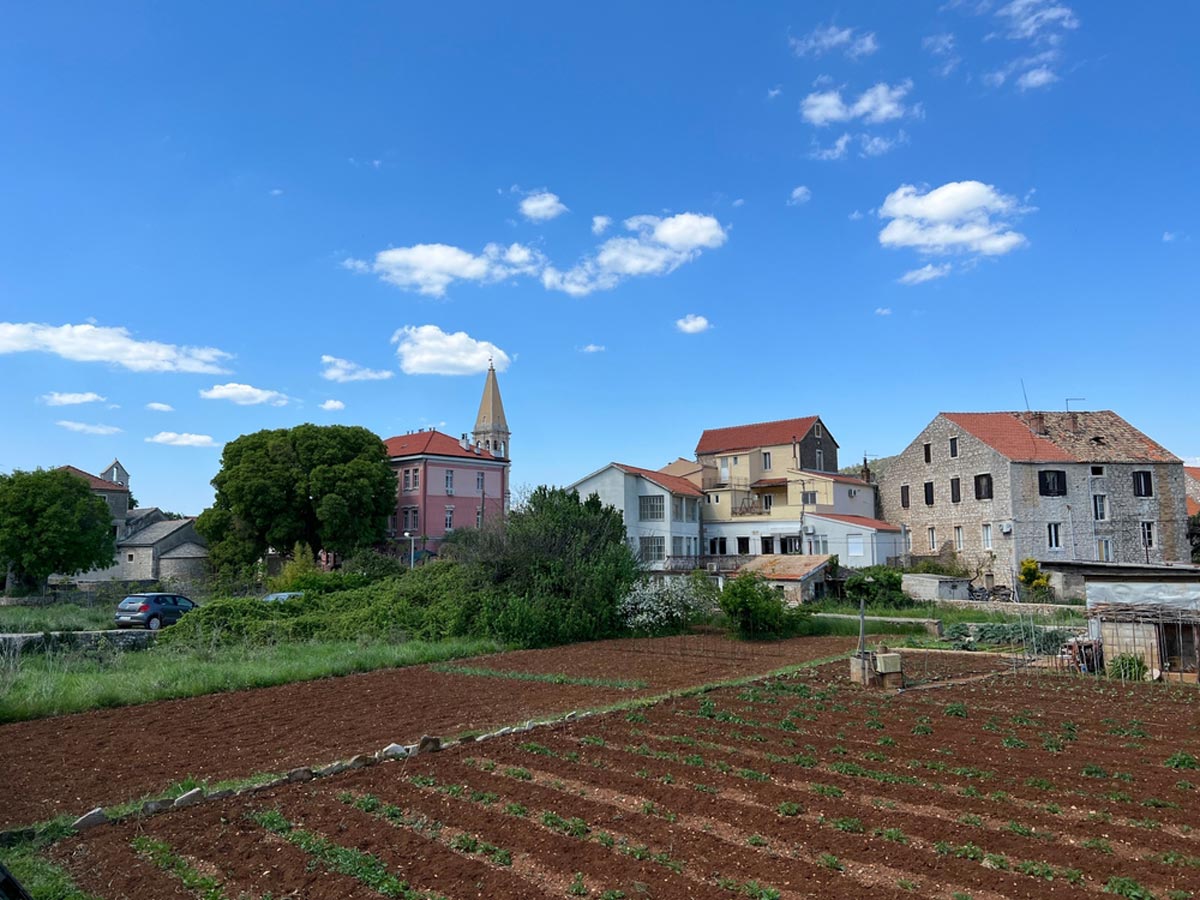 For a little bit of history, away from Hvar Town, head to Stari Grad Plain and hike or bike around the agricultural land actively harvested since the 4th century BC.
From a bird's eye view, the Stari Grad Plain is a magnificent feat of land parcels divided by ancient stone partitions and is now a UNESCO World Heritage Site.

Take a guided tour from Star Grad or rent bikes in town and see why traversing the idyllic countryside is one of the best things to do in Hvar Island.
Attend the Lavender Festival
Each year in the summertime, Hvar celebrates the gorgeous lavender fields that seasonally dot the countryside in towns like Brusje.

The window is short, with summertime being the best time of year to see them, and you can attend the festival in late June or early July (exact dates vary each year).

Head to the lavender festival if you're lucky enough to be around for it, and enjoy arts and crafts and hands-on demonstrations showing how to use lavender in oils and even ice cream.
Take a Stroll Around the Port of Hvar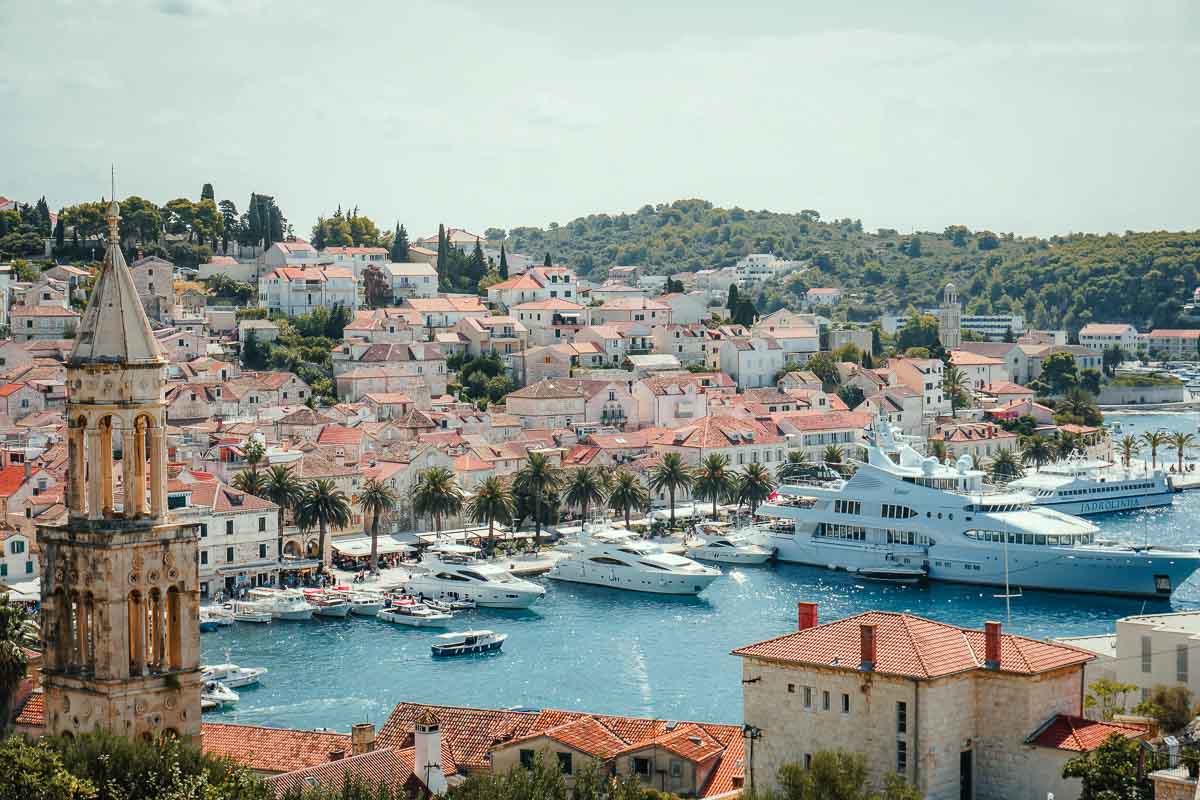 Keen to enjoy free things to do in Hvar any time of day? Walking around the Port of Hvar is a great way to kill some time while seeing the lavish yachts docked portside in the sparkling blue waters of the small cove along the Dalmatian Coast.
Glance back up at the scene of rolling green hills dotted with ancient villas and pine trees, and you'll be happy you took a walk around the idyllic harbour.
Top Tip: Stop by Val Marina Restaurant and enjoy a meal with first-rate views of the harbour.
Visit the Blue Cave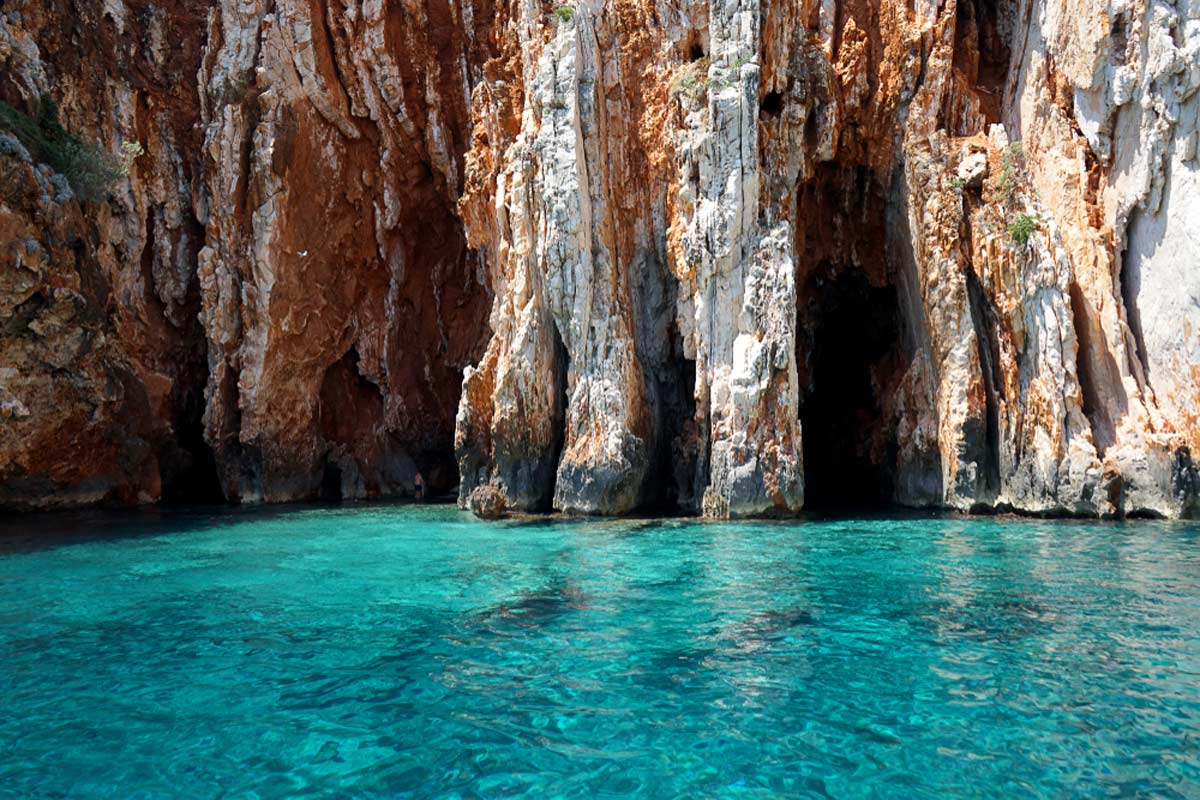 Hvar is well known for its secret beaches, mellow bays, and a string of other islands nearby. But the serene waters inside the Blue Cave are worth a mention as one of the most unique things to do near Hvar.

This guided tour takes you to Budikovac Blue Lagoon before checking out the blue and green waters of the famous namesake caves (Blue Cave and Green Cave).

Snorkelling and swimming are excellent, and you'll have some of the best photo ops near the island on one of the top things to do in Hvar.
Things to Do in Hvar at Night
Sundowners at Hula Hula Hvar – Beach Bar & Restaurant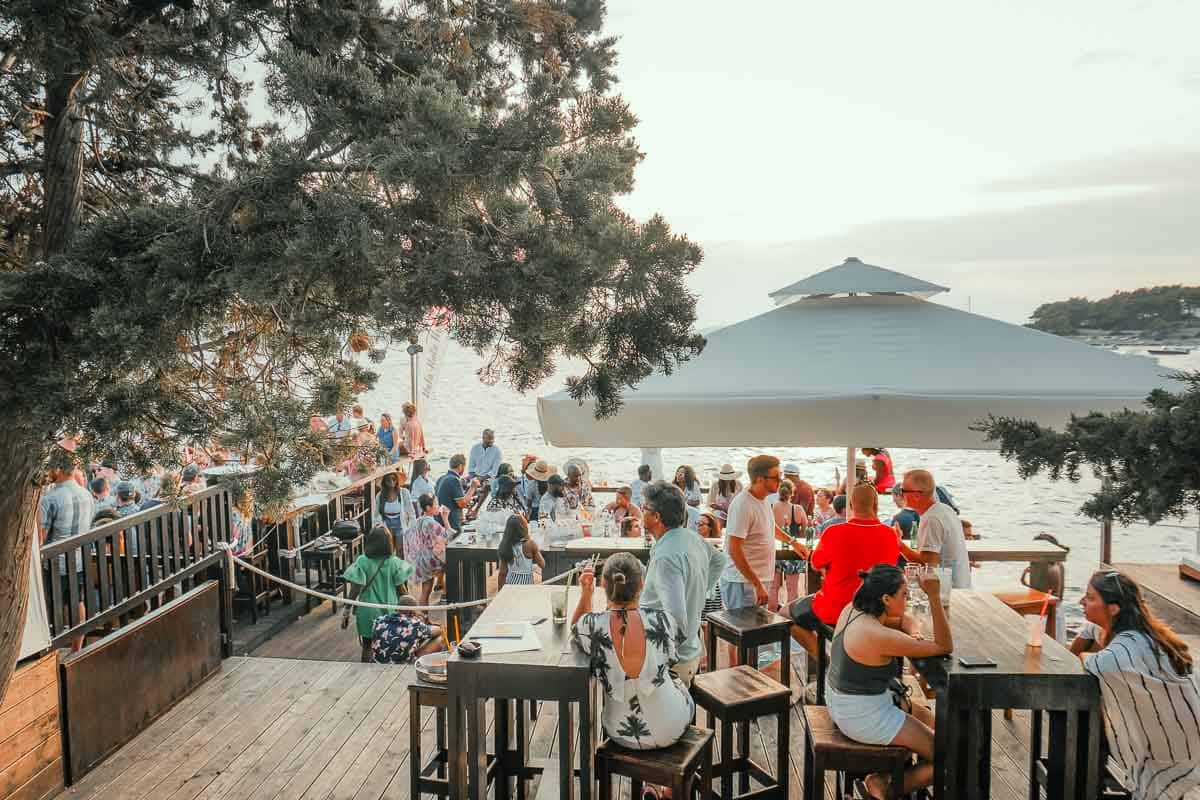 I'm not wild about the nightlife in Hvar. I understand why it has the reputation it does (the parties are lit), and plenty of holidaymakers base their trips around dancing until the sun rises over the Adriatic Sea. Not judging.

That said, I actually found Hula Hula Hvar to be one of my favourite spots for nightlife, even if it's a bit dialled down compared to other popular spots like Carpe Diem.

The music wasn't terrible, and the views are absolutely stunning at this popular hangout near the Harbour of Hvar. Go if you want a more laid-back nightlife vibe.
Carpe Diem Beach Club
If you're here to party big time in Hvar, Carpe Diem Beach Club should be at the very top of your list of things to do.

You can go any time of day, as the nightlife hot spot doubles as a beach club during the day – but once the sun goes down, the club gets some of the best DJs in the world. And the scene is lively and energetic, to say the least.
Top Tip: You'll need to hire a water taxi to get you to the club, which is on a small island off the coast of Hvar Town.
Things to do in Hvar: Practical Tips for Your Trip
How Long to Visit in Hvar?
You can pack in most of the best things to do in Hvar in 2 – 3 days, making it a perfect idea for a weekend getaway.
Best Time to Visit Hvar
Croatian Islands are typically jam-packed in the summers (because the weather is absolutely amazing).

But head to Hvar in September or October, and you'll still enjoy highs between 20°C / (68°F) and 25°C / (77°F), often with much better hotel rates.
Where Should I Stay in Hvar?
Pharos Hvar Hotel (Mid-Range)
Pharos Hvar Hotel offers excellent value and convenience just minutes away from the best things to do in Hvar Island, Croatia.

The outdoor pool and garden allow visitors to kick back and enjoy the warm weather in the daytime, and the lobby bar is a nice, casual place to grab a cocktail before exploring the restaurants nearby.
Heritage Hotel Park Hvar (Luxury)
A central location near many top things to do in Hvar Town makes Heritage Hotel Park Hvar an easy choice for travellers wanting to pack in all the great landmarks and sightseeing in Hvar.

But this hotel also offers first-rate service, stylish rooms, and a breakfast buffet with vegan and vegetarian options.
Recommended Tours in Hvar
Things to Do in Hvar: Map
Love This? Save and Share on Pinterest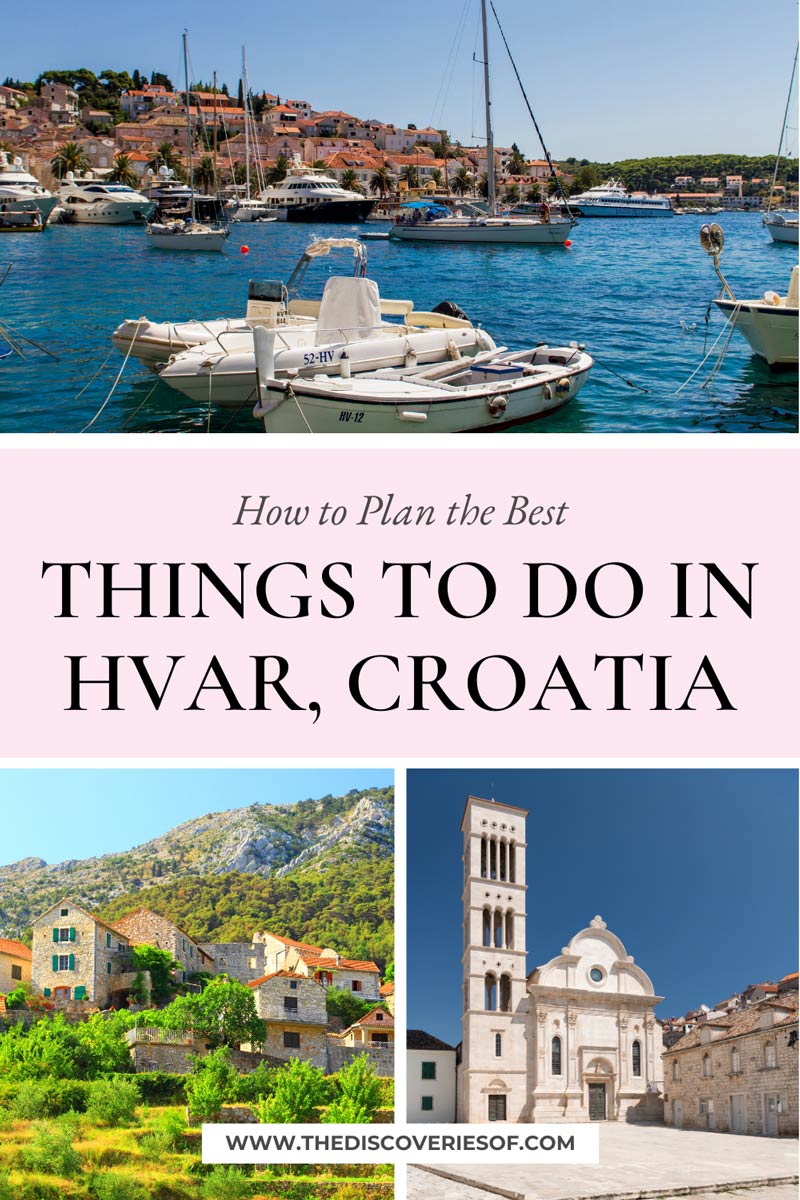 Inspired by These Things to do in Hvar? Read Next