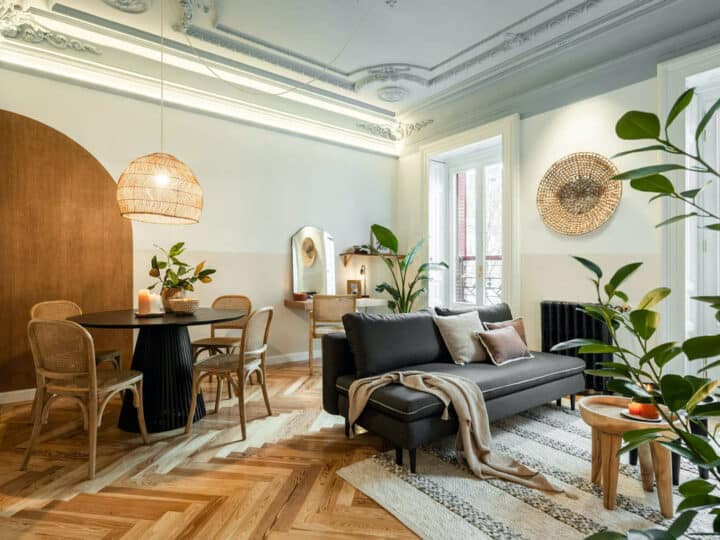 Planning a visit to the Spanish capital and wondering where to stay? Check out these stylish Airbnbs in Madrid.
Madrid is Spain's capital city and also its largest. But this city is not your run-of-the-mill concrete jungle — it's an architectural masterpiece.
It's cosmopolitan and a conglomerate of styles and times, as seen with its baroque, expressionist, and French buildings.
It's no wonder you've stumbled upon this article when looking for places to stay in Madrid. It's only natural that you'd want to stay in such a fascinating city and discover all the exciting things to do in Madrid.
Not sure where to start? I've got you.
Top Tip: I prefer using Plum Guide when looking for Airbnbs as their vetted properties are higher in quality.
Best Airbnbs in Madrid: At a Glance
Best Madrid Airbnbs
Let me tell you, finding the best rentals in Madrid was a challenging task. Let's jump in.
East of Java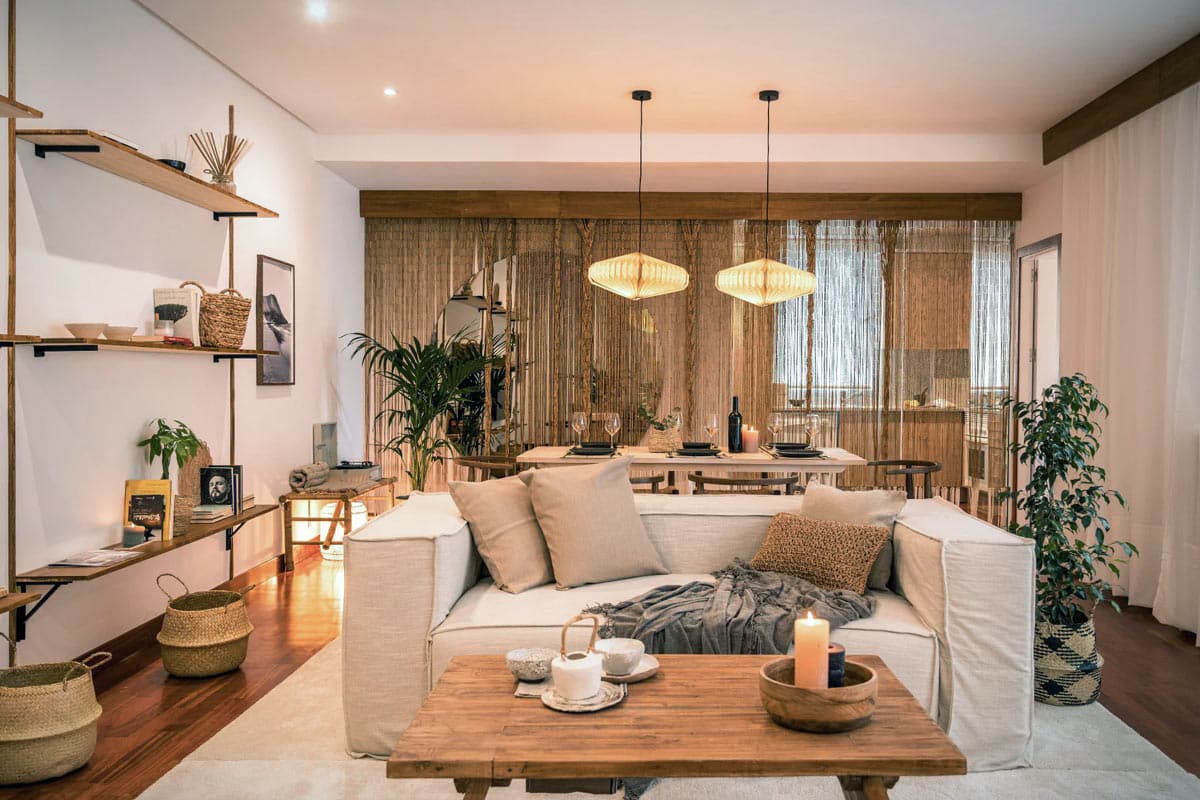 Rustic, earthy, and carefree is the best way to describe the quirky East of Java. This home draws you in with its cosy seating enhanced by an effortless beachy look, dripping in sandy tones with pops of greenery and quirky bits.
Bring your pup along and walk up to splendid views from the balcony. You can access a desk, washing machine, air conditioning, and WiFi.
While this listing grants no car park space, it does have public transport nearby. This home's host emphasises sustainability, renewable energy, and eco-friendly furnishings, which I completely love.
Location: Chamberí
Chamberí is a unique residential area with many quirky attractions, such as the Sorolla Museum.
The Hidden Library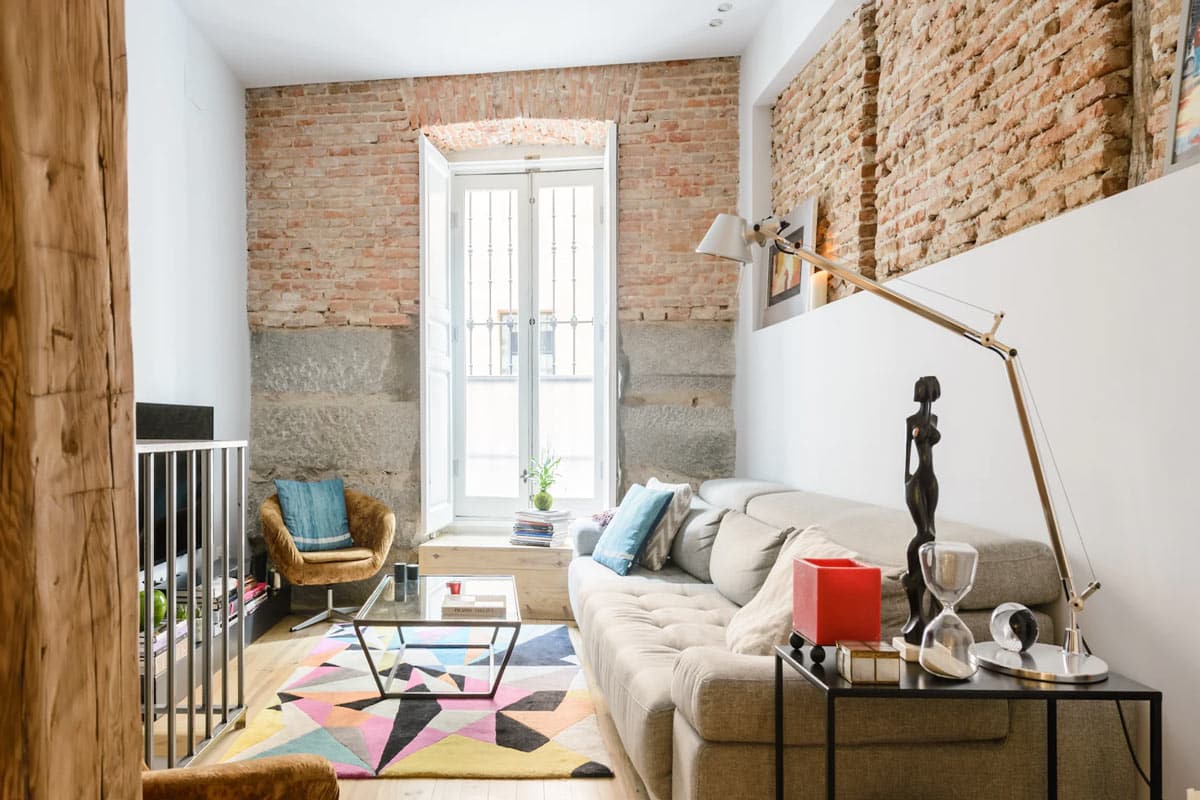 The Hidden Library indeed lives up to its name as you'll find books, quirky objects, and design elements placed throughout.
While ample light seeps in through tall windows, you can use the black-out blinds to block it and curl up with your favourite Netflix show (the WiFi is fast too). However, nothing beats taking in the splendour of Madrid from the quaint garden.
Your welcoming host invites you to taste Madrid's unique atmosphere. Although stunning, the bedrooms are on the smaller side.
Location: Malasaña
Malasaña is a vibrant neighbourhood filled with indie bars, artisan coffee shops and street art.
In the Terrarium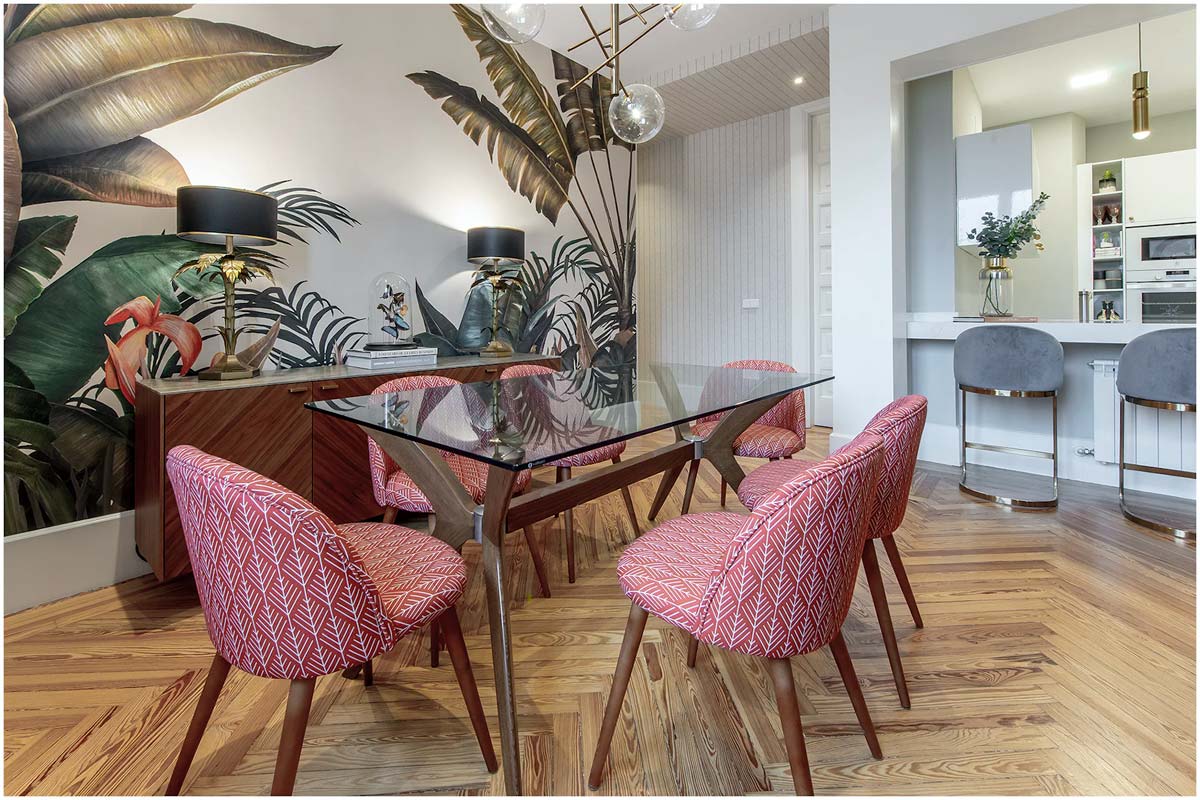 Book a stay in the Terrarium – this property has elegance and luxury written all over it.
It's spacious with chic modern furnishings, and the best part is the tropical mural in the sophisticated dining area.
No, wait, it's the gorgeous French-style balcony overlooking the streets. Then there are the soft contemporary rooms and a glossy white kitchen (Pinterest-board-worthy).
Enjoy this lavish stay and superb amenities such as air conditioning and lift access courtesy of your friendly host. There's no car park space, but the rain shower makes up for it!
Location: Retiro
Retiro is an elegant neighbourhood with an old-school charm to make you feel at home.
Federico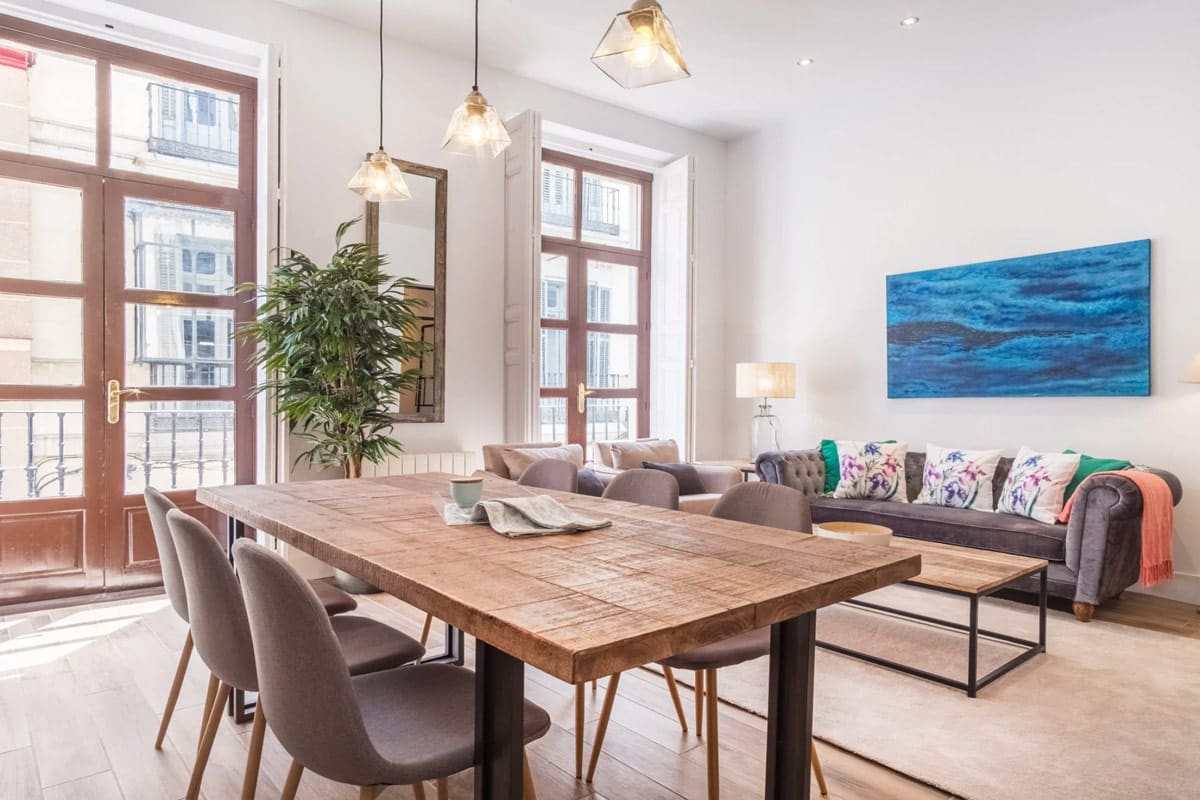 Federico is straight out of a stylish home magazine. The luxe finishings of the kitchen and soft brown furnishings in the living space are ultra-classy. But the pops of colour and elegant light fixtures tie it all together.
Take advantage of the WiFi, air conditioning, parking area, washing machine and dryer.
Partying is not allowed, but that's not an issue thanks to the lively location and proximity to public transport.
Location: Chueca
Chueca is a nightlife hub and gay capital featuring buzzing bars, galleries, and bookshops – and known for hosting impressive pride parades.
Sorolla's Muse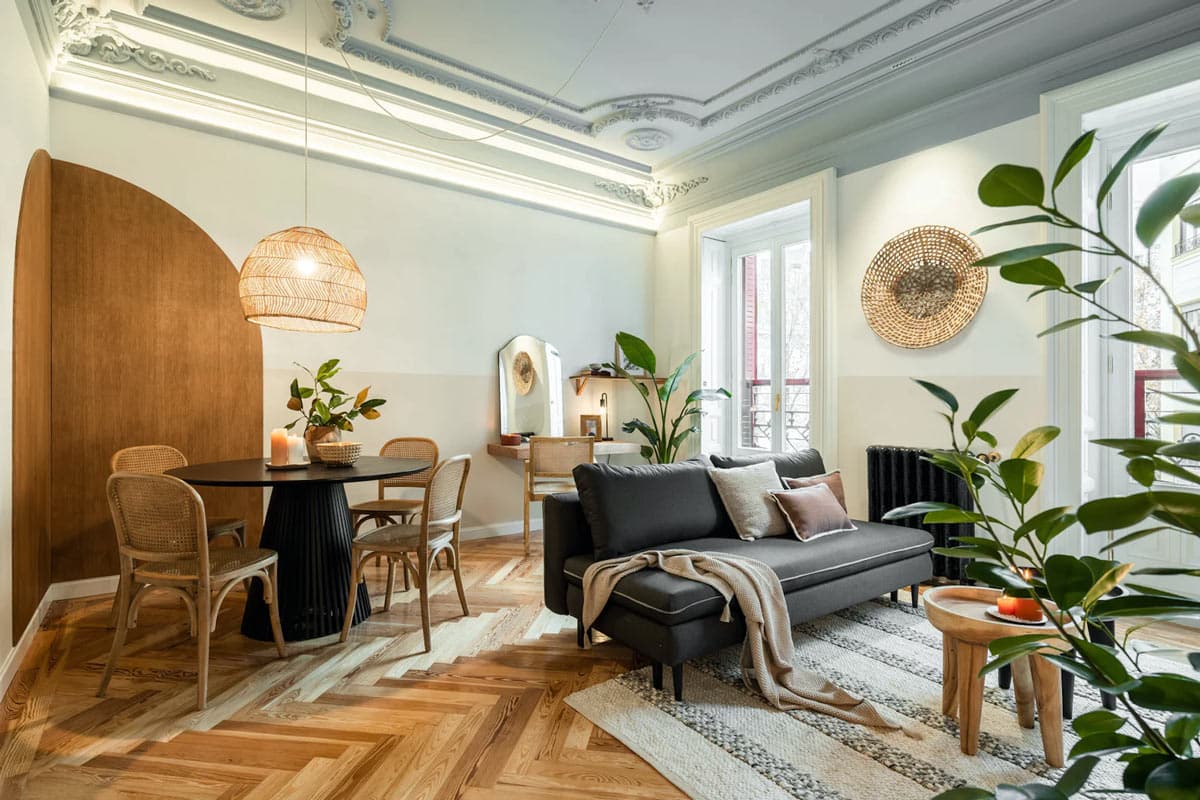 Thanks to its laid-back chic, Sorrolla's Muse is a home away from (very swanky) home. Take in the elegant blend of old and new represented by modern lighting, ornate Victorian ceiling and beachy furnishings.
The fantastic amenities, such as a gym, Netflix, WiFi and air conditioning, might win you over. Your pup can join too. The only downer is the lack of parking space, but you're fine if using public transport.
Know that it can get noisy at night, so bring your earplugs.
Location: Chamberí
Chamberí is a unique central Madrid residential area with many quirky attractions, such as the old Chamberí metro station.
The Understudy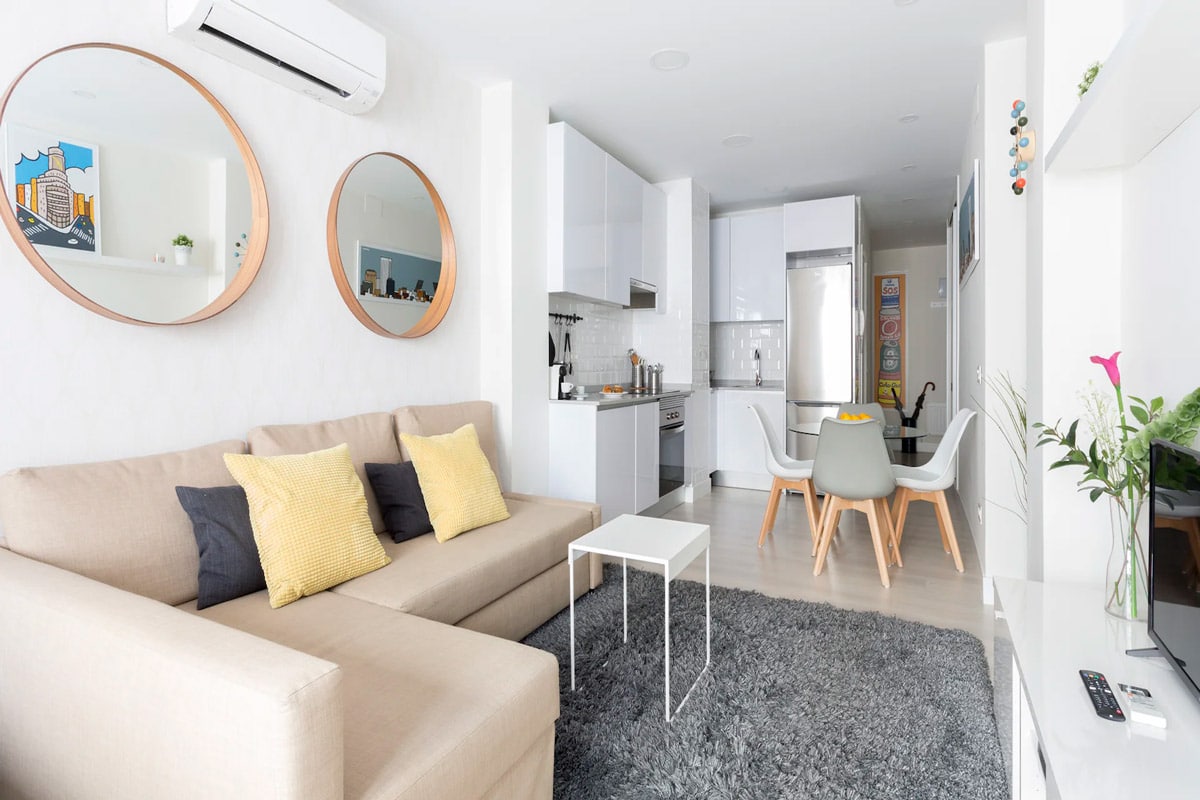 Don't underestimate the Understudy. It might not be as lavish as most other properties I'm mentioning, but it has a minimalist, sleek look reminiscent of a hotel room.
This bright studio apartment comprises spacious areas and simplistic furniture, perfect if you're mainly exploring the city.
You have access to amenities such as dishwashers, WiFi, washing machine and air conditioning. And you can expect daily cleaning, cab booking and restaurant reservations thanks to a fantastic hosting team.
Location: Chueca
Chueca is a nightlife hub featuring buzzing bars, galleries, bookshops and independent boutiques. It just so happens to be one of my favourite neighbourhoods in Madrid.
Mayor Magic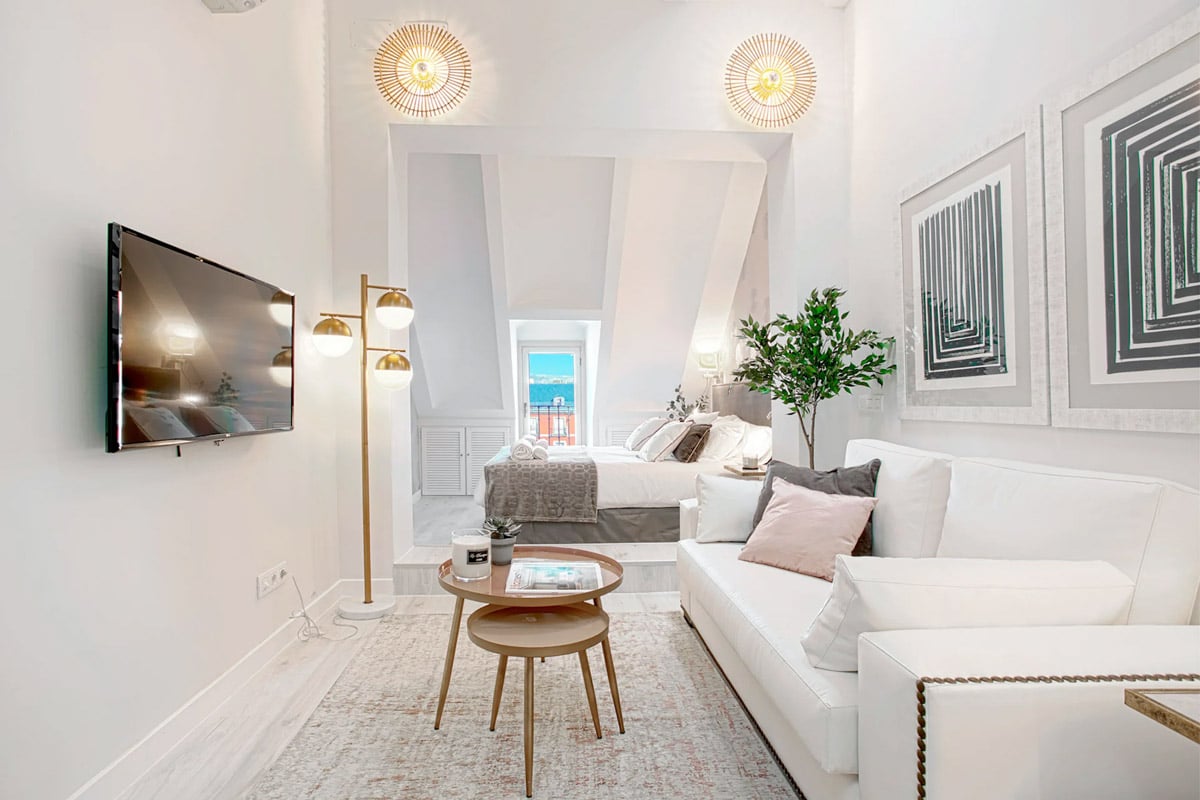 Experience the allure of Mayor Magic. Set in a 17th-century historical building, this stylish spot will leave you in awe. Don't believe me? Just wait til you see the breathtaking views of Plaza Mayor from the cosy rooftop balcony.
A warm, bright and airy space welcomes you. The entire area looks like a white canvas with soft minimalist furnishings that create a homely atmosphere. The amenities include a patio/terrace, WiFi, pod coffee machine — oh, and pets are welcome.
There's no parking space, but you're in the epicentre, so public transport is easy to come by.
Location: Puerta del Sol
Puerta del Sol is the city's beating heart, with camera-worthy iconic sights and plenty of brilliant restaurants.
Balinese Boho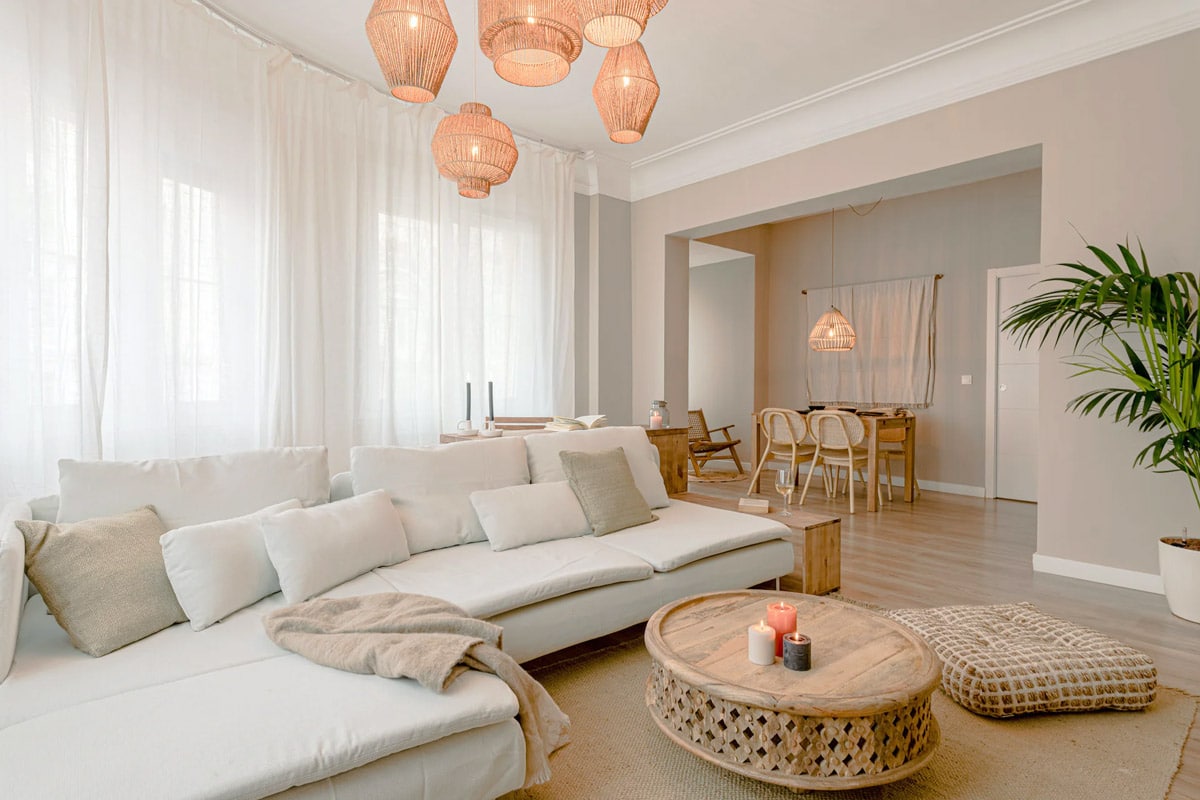 If barefoot boho vibes are what you're after, then the Balinese Boho is the obvious answer. White curtains, warm beige tones and light natural furnishings — are you getting the idea?
This stylish home features a snug reading nook and a hanging egg chair overlooking the atmospheric street to enhance the laid-back feel.
It's minimalist yet chic with clever light fixtures for cosy ambience. Make use of their excellent amenities such as a desk/working space, washing machine, balcony and more.
The only downsides? As with most places in central Madrid, it can get noisy and has no parking space.
But – here's some good news – you can also speak to your friendly host, who also runs East of Java and Sorolla's Muse, about the additional pet fee.
Location: Salamanca
Salamanca is a glamorous and prestigious quarter made for the elite featuring Michelin-starred restaurants.
Paloma White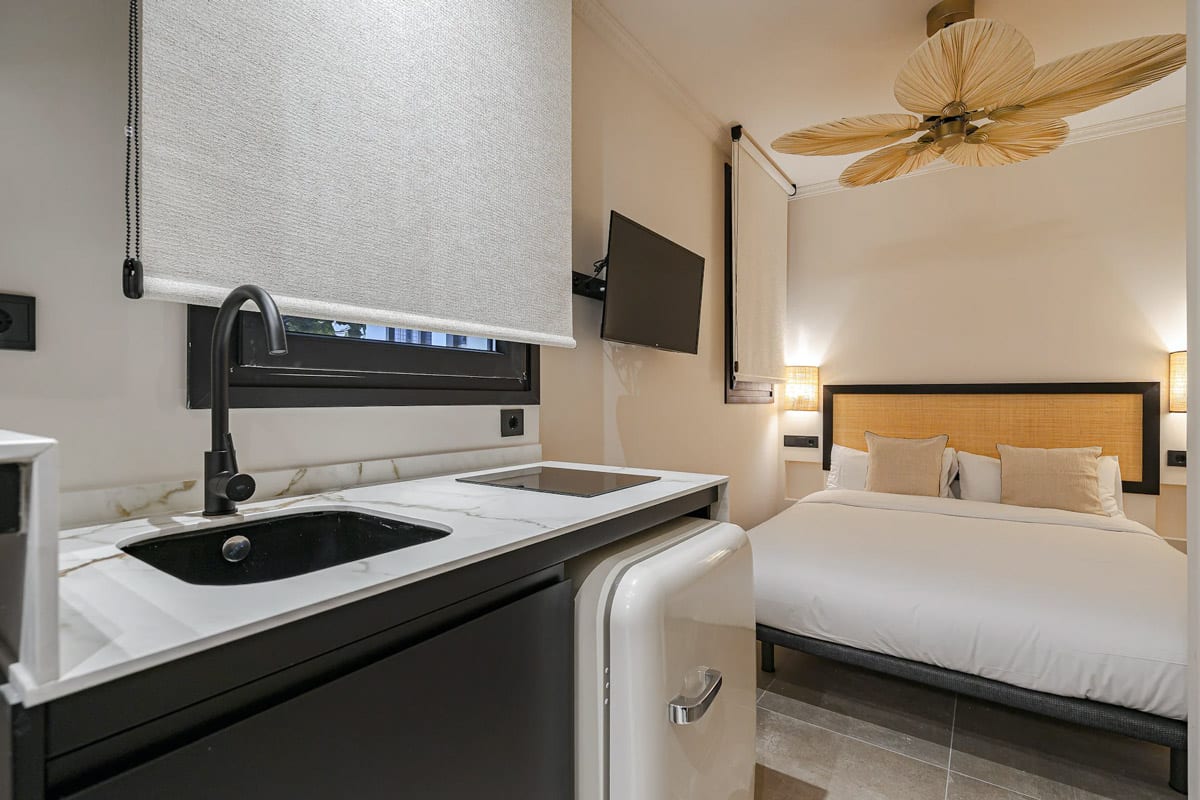 Paloma White is much smaller and less luxurious than some of the other Madrid Airbnbs in this guide, but it still packs a punch for a cosy stay in an upcoming neighbourhood.
It's compact, so your bedroom and kitchen area are all in the same room, with only the bathroom being separate.
That said, it's still modern, neat, and perfect if you're looking for somewhere cool to bed down. Ironically, this is one of the few places with a parking area (yay). Take advantage of the WiFi, dryer, TV, and washing machine.
There's not a lot of storage space here but your host, Olala Homes, is super passionate about hospitality.
Location: Lavapiés
Lavapiés is a rising star of a neighbourhood, a melting pot of cultures and features stylish boutiques and restaurants to keep you busy.
Puesta de Sol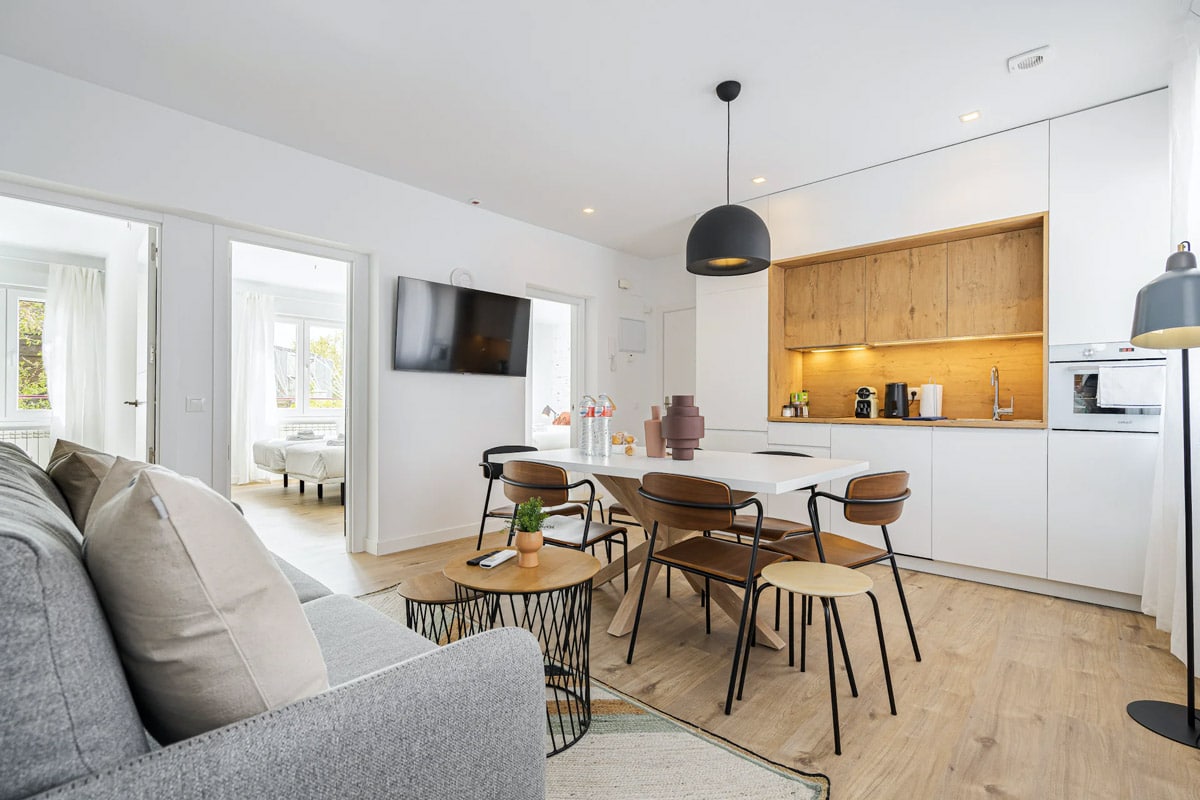 Welcome to the lavish Puesta de Sol. This home features white walls contrasted by black fixtures and wooden features typical of the scandi look. It's gorgeous, elegant, and situated in the eclectic Puente de Vallecas neighbourhood — need I say more?
Soak up the light entering this space and take advantage of the great amenities, including air conditioning, a dryer and WiFi.
And if you liked the fact that the previous listing had parking available, you'll like this one too. Plus, you're right by the Portazgo train station.
Location: Puente de Vallecas
The Puente de Vallecas neighbourhood showcases Madrid's authentic side being close to markets, lively bars and restaurants.
Practical Tips to Consider Before Booking Your Airbnb in Madrid, Spain
Madrid might seem intimate and cute, but it's actually pretty big. Choose a location near all your interests and sightseeing opportunities.
Unless you're travelling around Spain, It's best to use public transport. But if you're renting a car, enquire about the space and availability of a parking spot before you book.
Airbnb in Madrid: Map