Tired of hunting for the best Airbnb in Lake Tahoe? Don't fret – I've got you covered with these stylish Airbnbs in and around Lake Tahoe.
With its crystal clear waters, verdant forests, and granite boulders, Lake Tahoe is a popular destination for locals and tourists alike. Due to its massive size, there are many things to see and do here and in the surrounding areas.
Whether you're visiting Lake Tahoe on its own or as part of a larger California road trip, you'll definitely need a place to stay. That's why I've created this list of rentals available from Airbnb and Plum Guide for an incredible stay.
PS: While Airbnb provides great vacation homes, Plum Guide is a fantastic alternative. I actually prefer Plum Guide as they use an extensive vetting process that ensures you'll be browsing only the best places.
Best Airbnbs in Lake Tahoe: At a Glance
The Best Lake Tahoe Airbnbs
The Northstar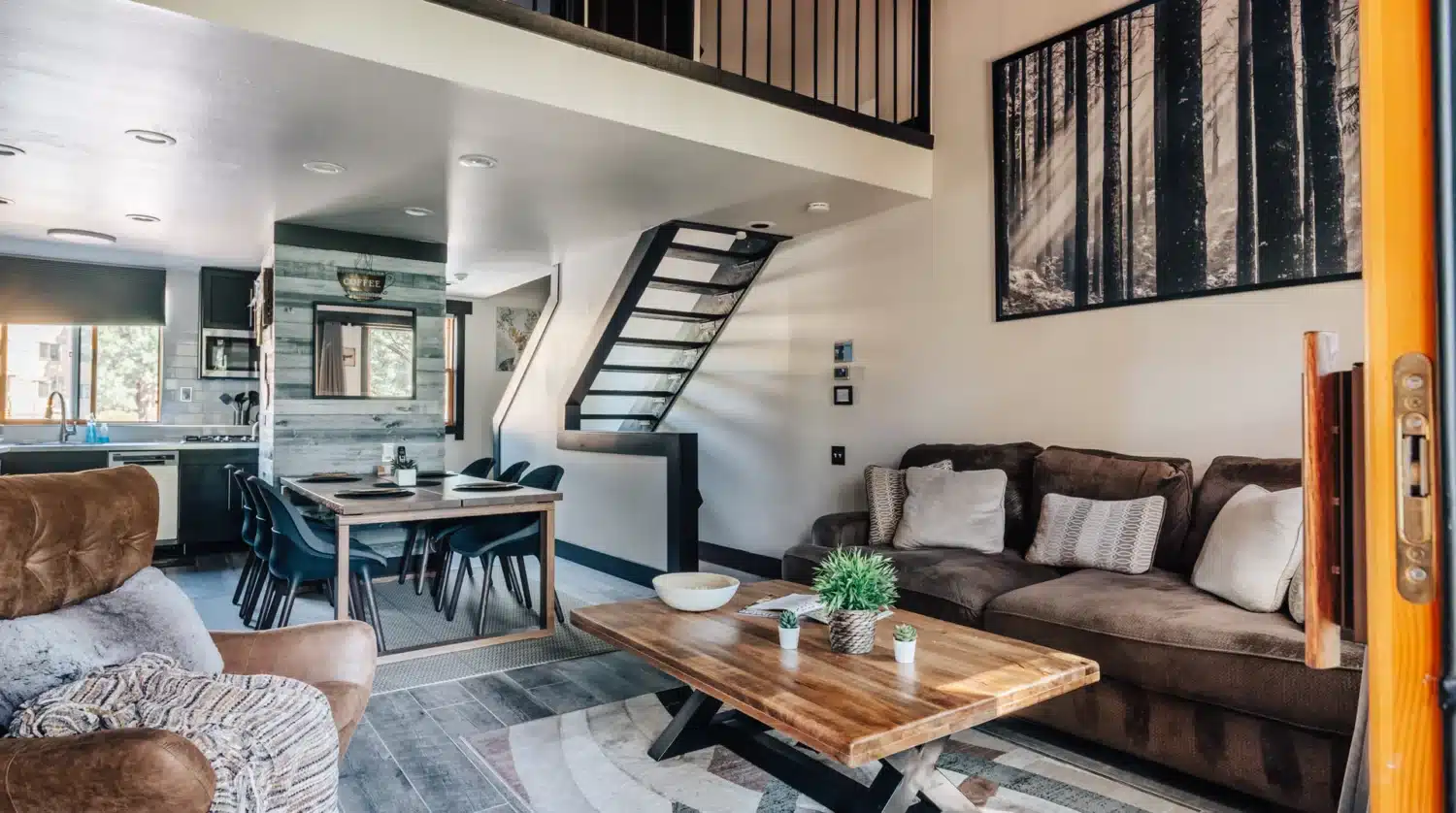 This pet-friendly condo, set in the heart of a pine forest, is a cosy escape near Lake Tahoe. Step outside and you have activities and attractions like skiing, hiking, and Lake Tahoe itself right at your doorstep.
Whilst air-conditioning isn't available at this property (not a huge problem), you can enjoy the fresh countryside air from the balcony while sipping on a cup of joe made from the coffee machine. It's my pick for the best Airbnb in Lake Tahoe.
Location: Placer County
This stylish property is set in Placer County and has natural wonders like forests and lakes in close proximity.
Baby It's Cold Outside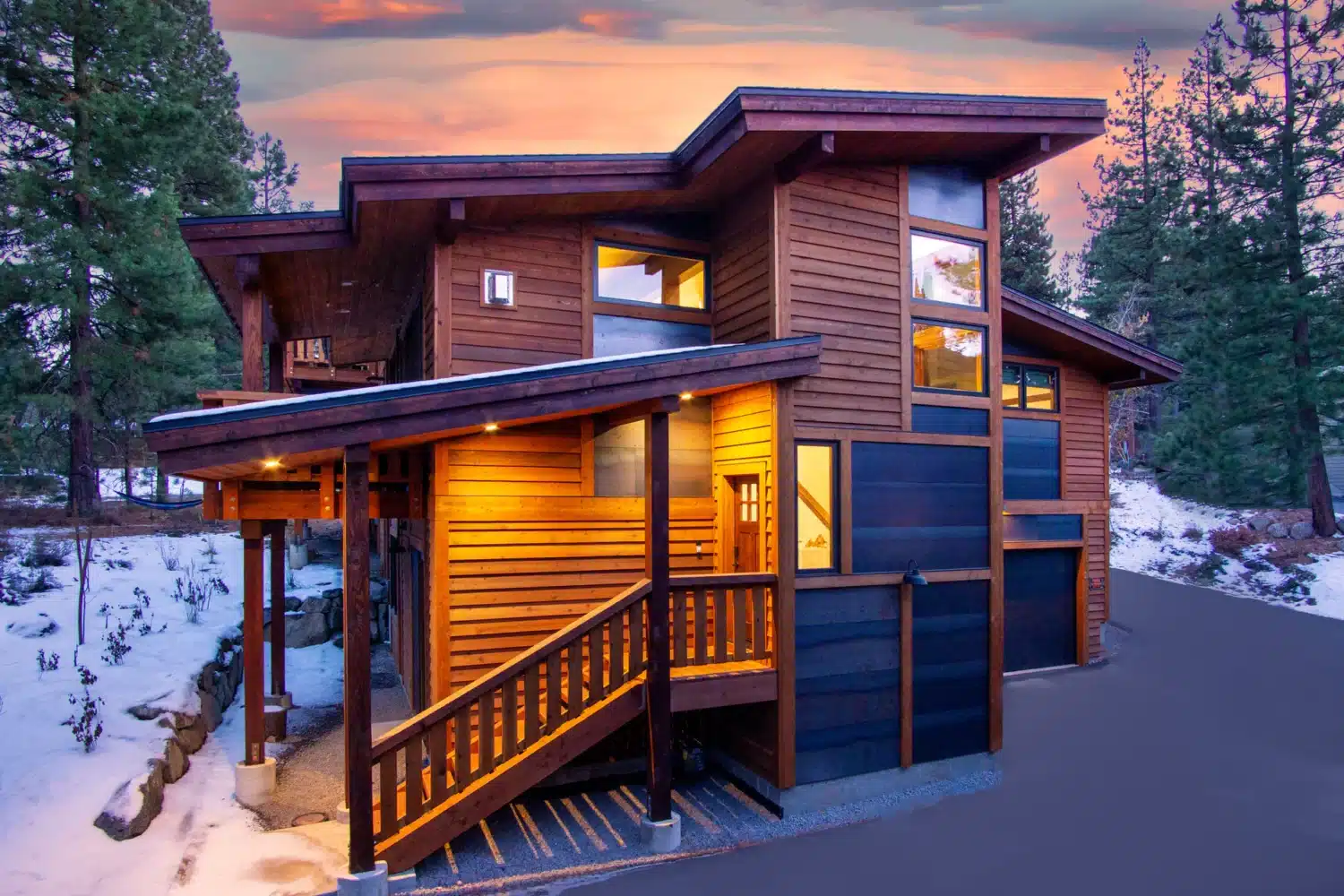 This beautiful spot boasts wooden frames and a stunning terrace overlooking lush trees – it's the perfect place for couples, and you can spend your days hiking, kayaking, or skiing nearby.
Return home and enjoy a delicious meal on the balcony or soak in the bathtub for a relaxing experience. End an eventful day cuddled up on the comfy sofa with the TV and a fireplace making for a relaxing time.
Location: Truckee
This property is in Truckee, where fantastic restaurants, fashion stores, and fascinating history await.
The Edge of Blues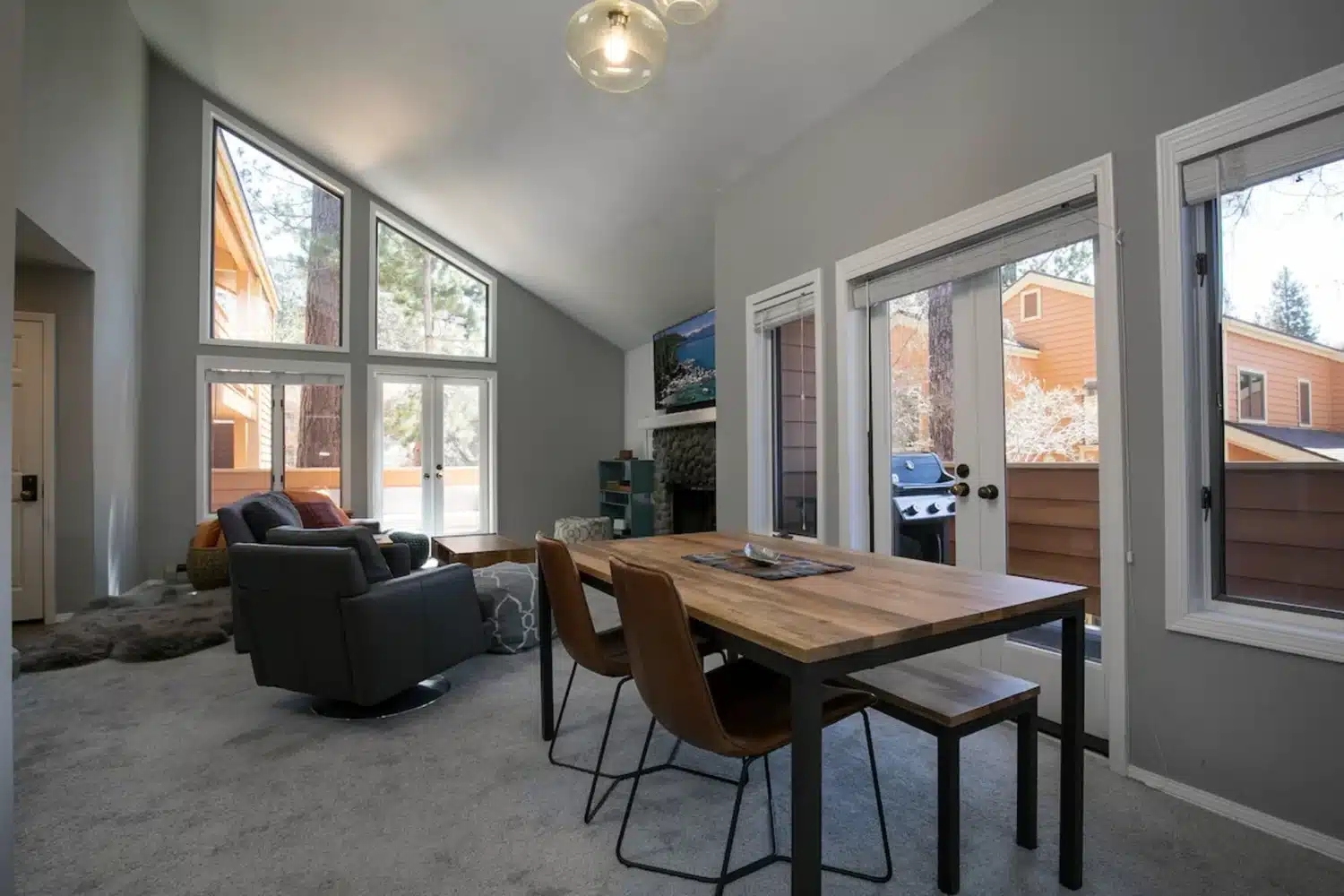 This cosy apartment blesses visitors with plenty of natural light and green views, thanks to the bay windows. The property makes up for the lack of air-conditioning with two balconies on either side of the home – one of them features a barbecue stand for hearty food.
A rustic fireplace blends with modern amenities like Wi-Fi, a pod coffee machine, and central heating to try to keep you away from the best things to do in Lake Tahoe.
Location: Incline Village
Set in quaint Incline Village, some of the area's most relaxing beaches and, of course, Lake Tahoe is just minutes away from the property.
Lake Astronomer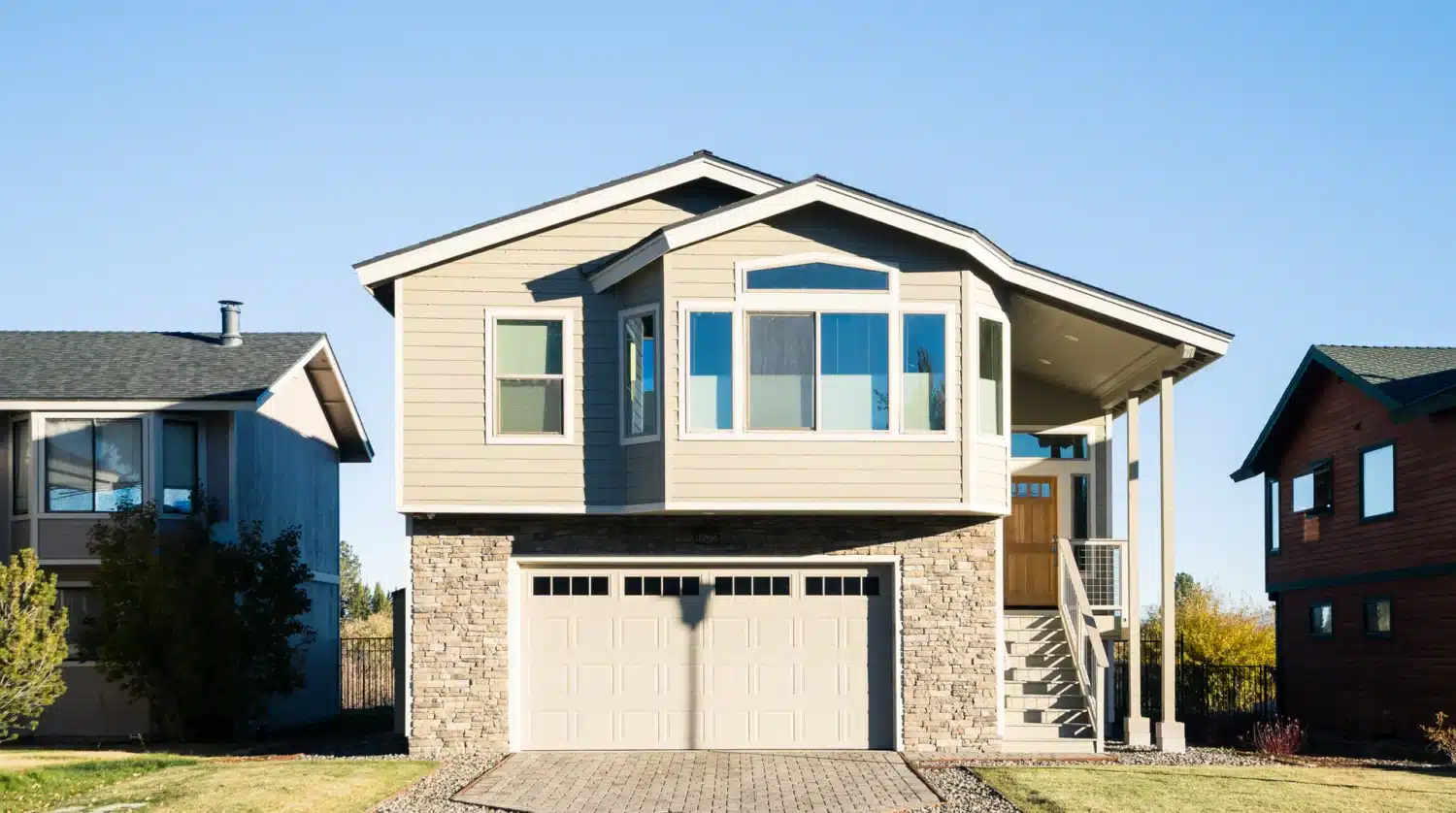 This South Lake Tahoe Airbnb is almost as beautiful as the surrounding areas. Here, you can wake up bright and early to take in mountain and lake views as the sun rises. In the evening, watch the stars dance through the telescope.
Cosy up by the TV and a crackling fire or challenge your mates to a game of pool and darts, all before retiring to one of four comfy bedrooms.
Location: El Dorado County
Somewhat of a hidden gem, El Dorado County has whitewater rafting, forests, and delectable farm-to-table food on offer.
No Two Snowflakes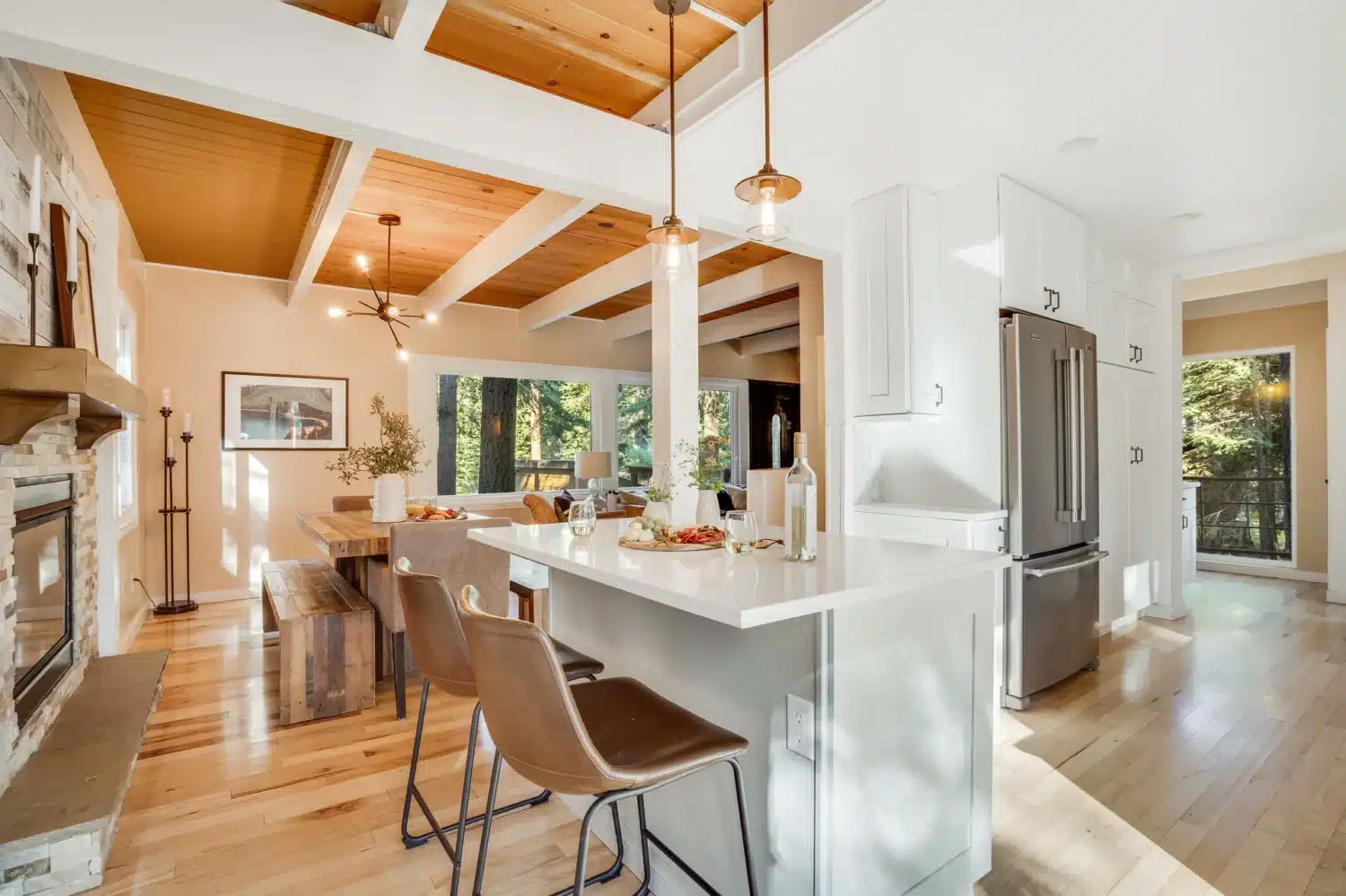 This luxurious home features idyllic decor in the form of wooden furnishings and framed artworks. Also adding to the beauty is the beautiful forest in the view from the large windows around the property.
On days when the weather is terrible, take cover in the house by the fireplace or battle your buddies in shuffleboard and board games. After tiring yourself outdoors, head to the opulent spa or steam rooms for some much-needed reinvigoration.
Location: Placer County
Placer County is an outdoor enthusiast's paradise with mountain biking and horseback riding on offer.
Sequoia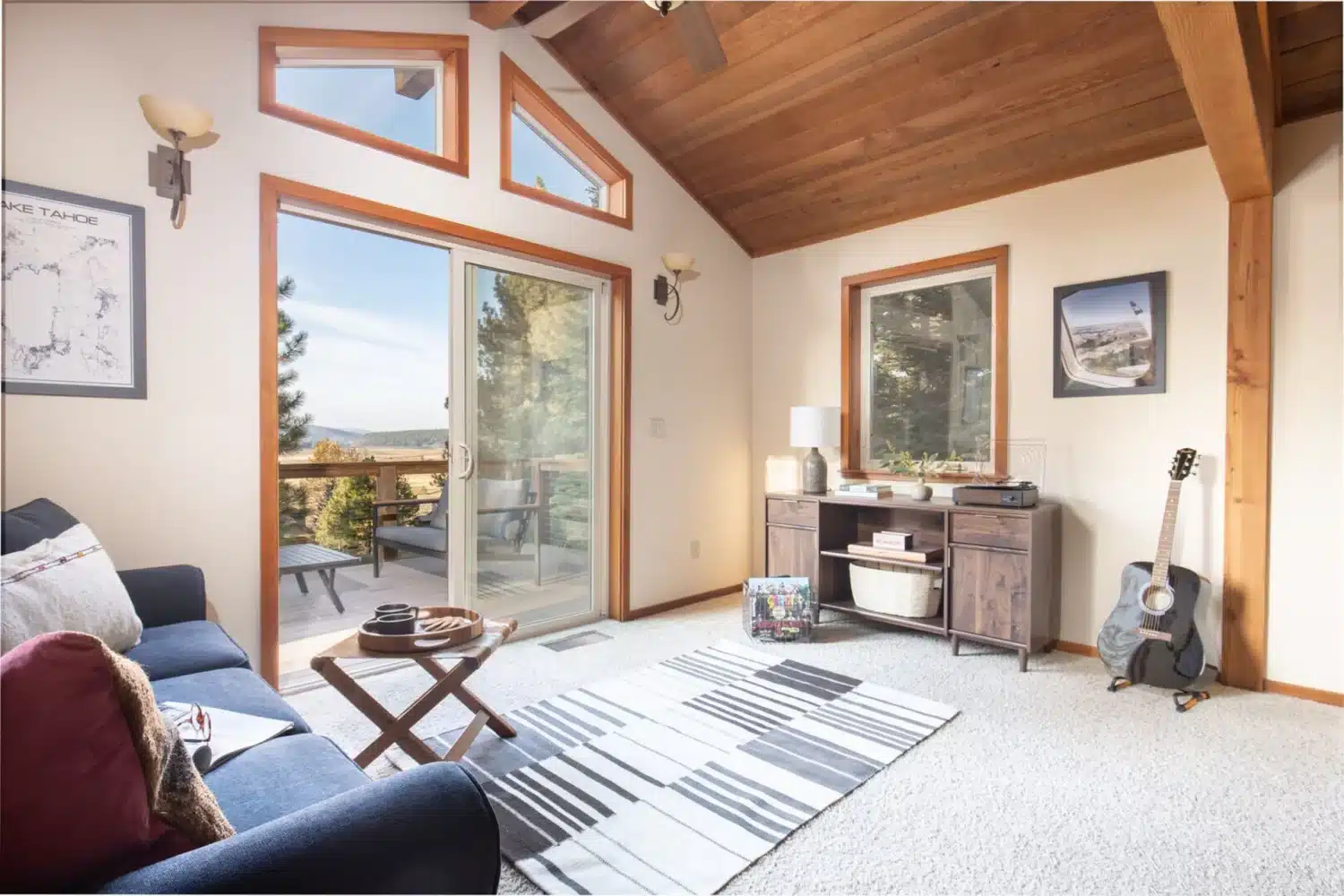 When choosing an Airbnb, north Lake Tahoe doesn't have many that beat this breathtaking cabin. The pet-friendly home, hidden behind verdant flora, offers guests views from a private deck—one of the bedrooms features its own deck fitted with a hot tub.
Vaulted ceilings and wood beams line the home, while amenities like a dishwasher, a washing machine, and complimentary hair dryers make a living here a breeze. Boasting five bedrooms, this Lake Tahoe Airbnb with a view is my pick for group stays.
Location: Placer County
Charming Placer County is home to several museums, galleries, breweries, and outdoor fun.
Lake A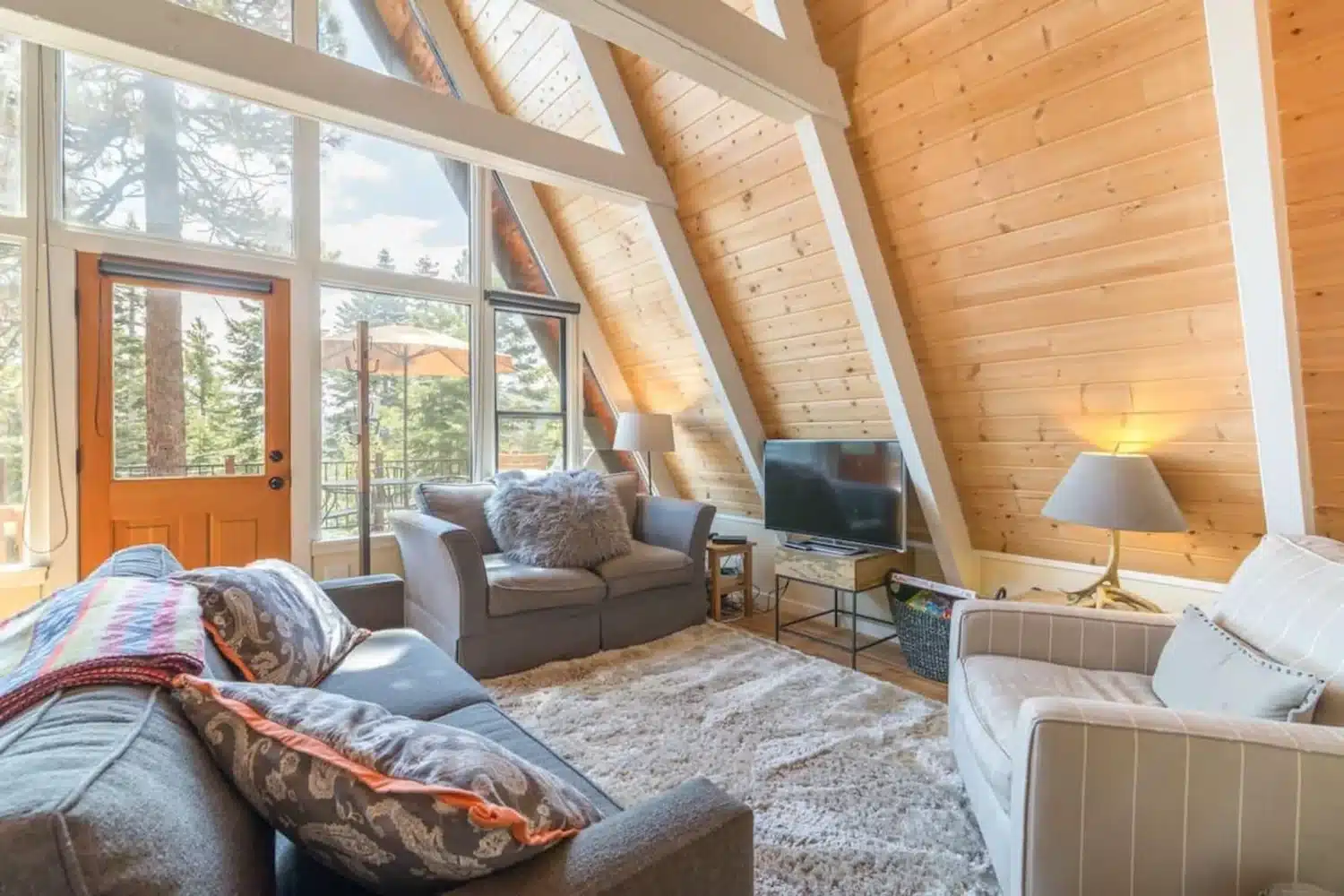 The secluded home-away-from-home cabin boasts lofty ceilings and tall windows offering unobstructed views of the nearby and distant natural splendour.
Cook up a storm in the kitchen or by the barbecue on warmer days and enjoy your meal on the deck with lake views on offer.
Note: You'll need to be 25 years or older to book this property.
Location: Tahoe City
From this Airbnb, Tahoe City, is mere minutes away, along with attractions like incredible vistas, hiking trails, and snowy slopes.
Stone Top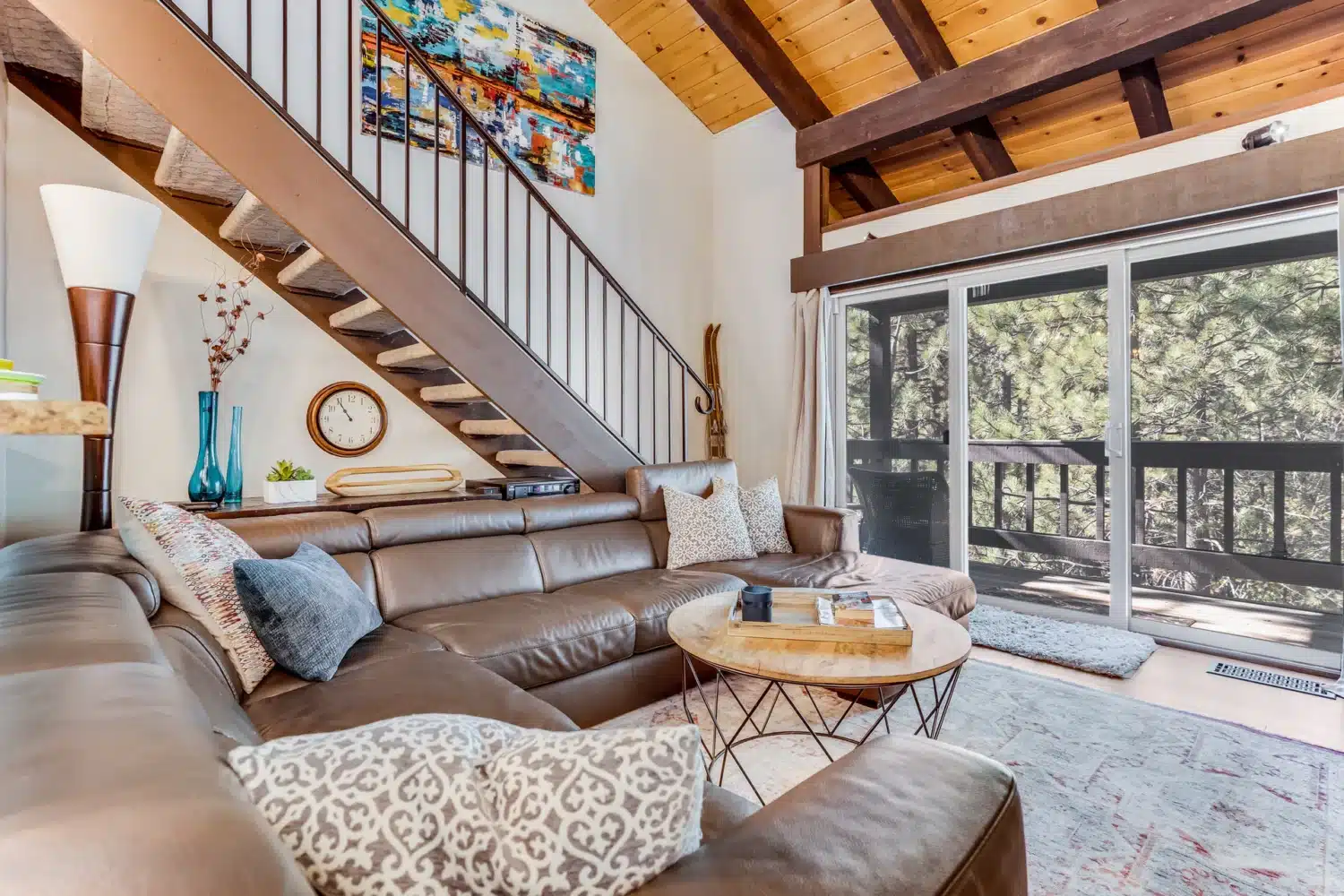 If you're looking to get out in the sticks, without compromising on luxury, this stylish property might be just the spot for you.
Not only does it boast minimalist touches supported by incredible artwork to give the home a vibrant feel, but it compensates for the lack of air-conditioning with its dreamy balcony with sweeping views.
After a long day out, cooling off should be a breeze as this is a Lake Tahoe Airbnb with a pool.
Location: Dollar Point
This property's location in Dollar Point means you'll have Lake Tahoe at your doorstep—literally—and state parks and nearby ski areas.
Modern Mountain A-Frame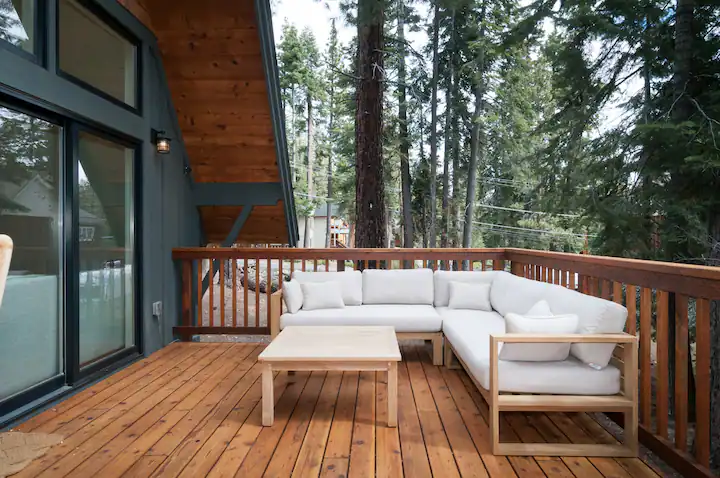 This renovated A-frame cabin is the perfect stay if you're after a secluded escape tucked away from the hustle and bustle of the city.
Whilst this tiny home boasts fast Wi-Fi and a Tesla EV charger, it really leans into a rustic feel with a gas fireplace and traditional design.
Location: Carnelian Bay
While secluded in Carnelian Bay, you can step outside and enjoy hiking, mountain biking, and fishing nearby.
Ski, Ride, Relax Newly Updated Studio w/ Kitchen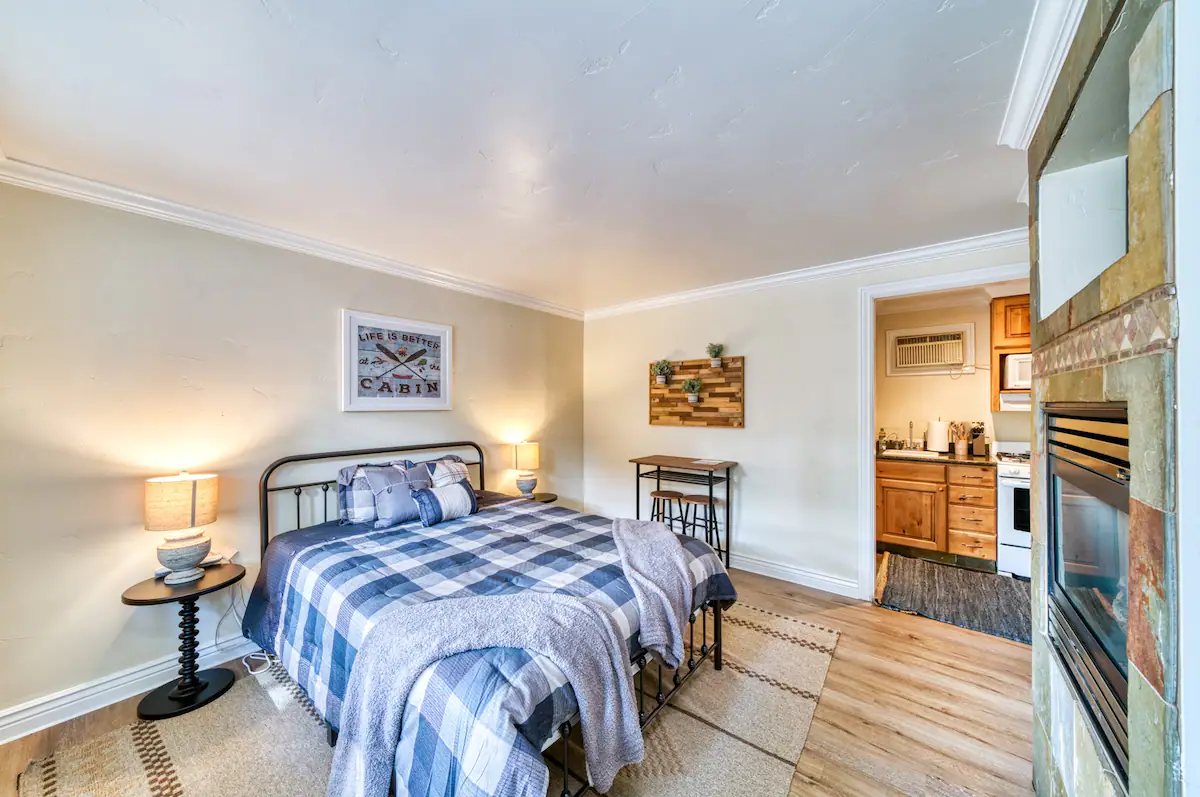 This chic, one-bedroom apartment offers a cosy stay and is equipped with a complete kitchenette for making hearty meals and a gas fireplace for keeping warm. The views don't disappoint either, with a balcony featuring a fire pit on the stage for mountain views.
Also found at this Airbnb in South Lake Tahoe is super-fast Wi-Fi and a selection of streaming services for your indoor enjoyment. Though, with the lake on your doorstep, you'd be a fool to stay inside.
Location: South Lake Tahoe
Set in South Lake Tahoe, you'll have casinos, bars, and clubs right at your doorstep for an electric night out.
Little Black Cabin by the Lake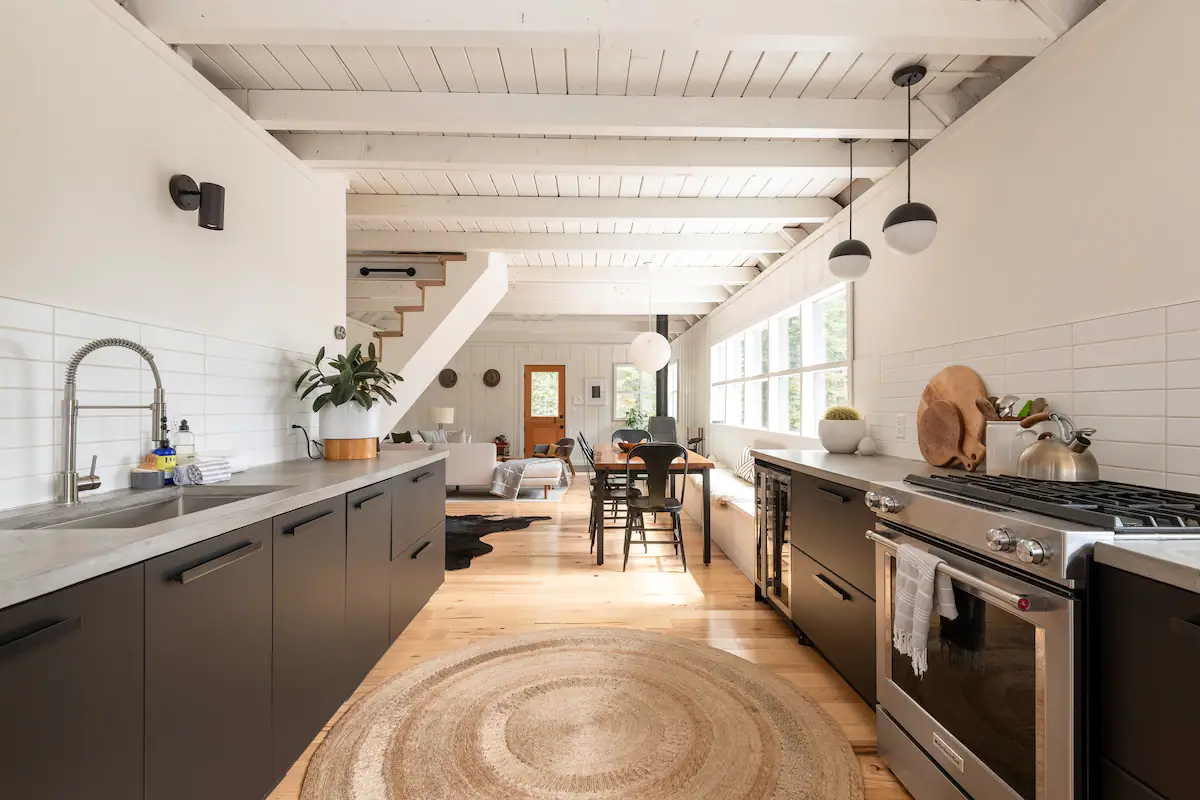 This cosy, renovated cabin has abundant windows and Dutch doors that flood the home in glorious natural light. If you want to bask in the sun's full glory, you can step onto the deck and soak it in from the couch while surrounded by towering trees.
When the weather's unforgiving, prepare delicious meals in the fully-kitted kitchen and indulge by the fireplace.
Location: Carnelian Bay
The property's location in Carnelian Bay means you'll have plenty of water fun via kayaking, boating, and just taking in the shoreline scenery.
Eco View – Contemporary Lake View Retreat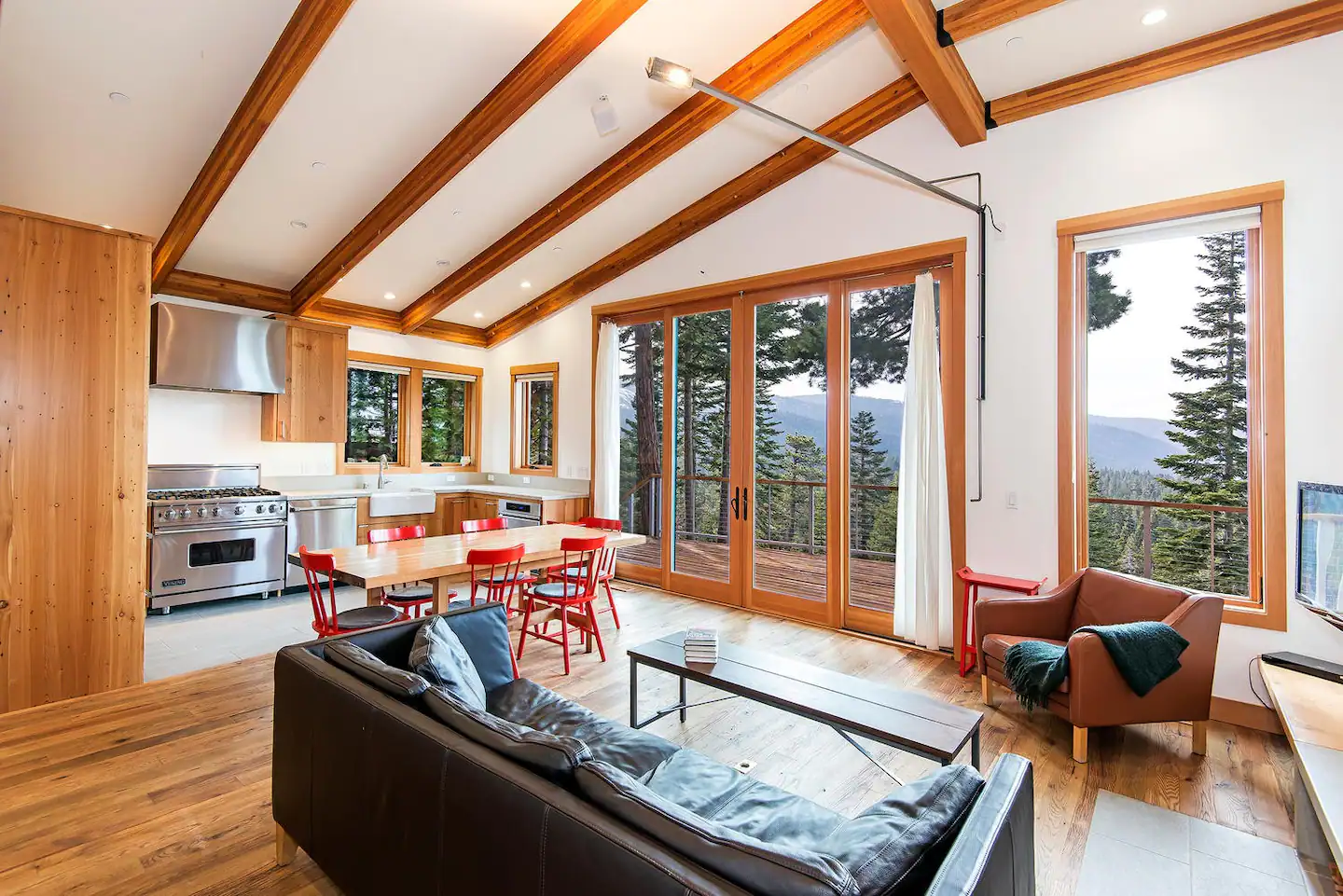 This Airbnb in Lake Tahoe, CA, boasts a minimalist design brought to life by the views of the forest and lake found on its terrace. A top-floor seating area and a bottom-floor living room showcase the home's spacious nature, with a private hot tub also found on a deck.
While pets aren't allowed, a low environmental impact design and green efficiencies will rest your heart at ease.
Location: Tahoma
Located near Tahoma, you'll have plenty of hiking and skiing trails and fabulous beaches a few minutes from this rental.
Carson City Newly Renovated Duplex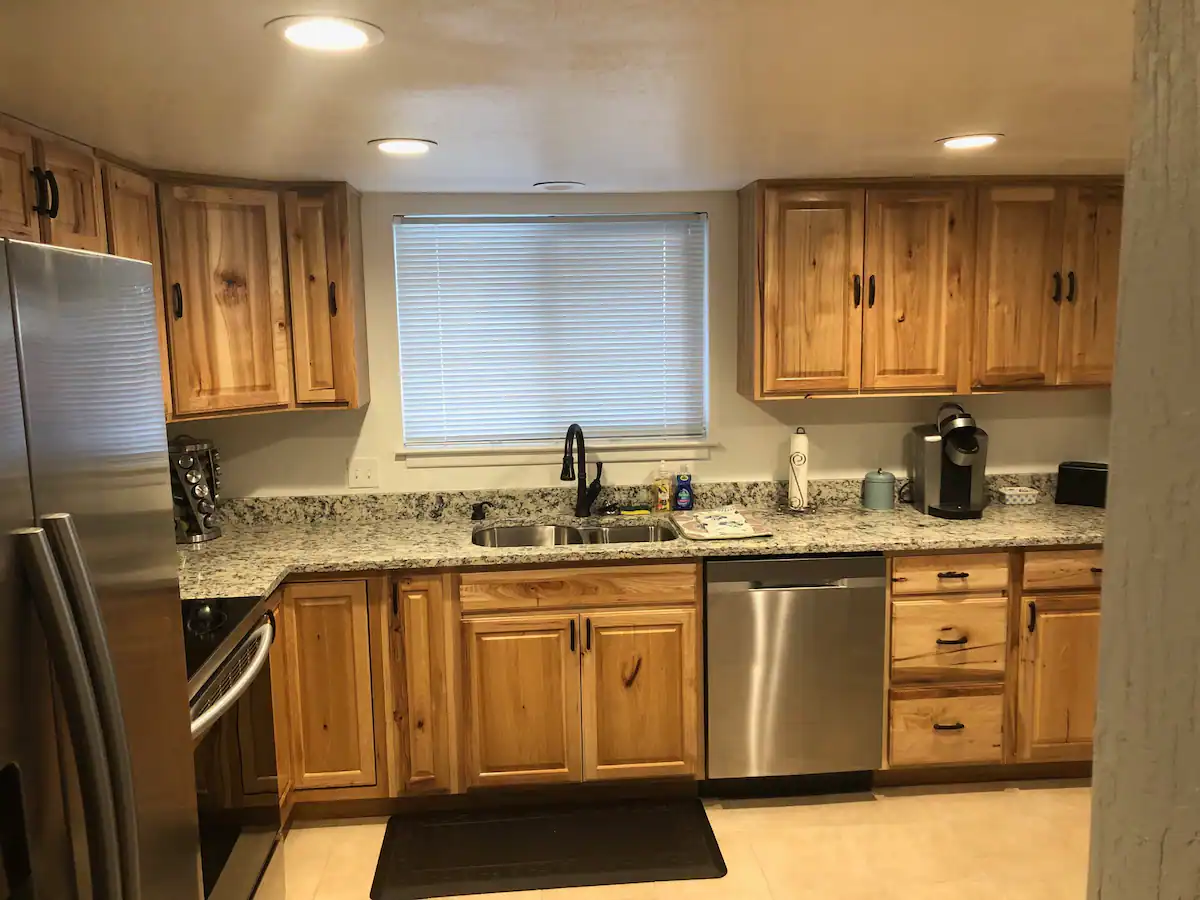 This modern Airbnb near Lake Tahoe is an excellent choice if you want to stay in the heart of Carson city, with Lake Tahoe just down the road. The property boasts a little courtyard for soaking in the sun and a TV, Wi-Fi, and granite top counters indoors.
The best bit? You're more than welcome to bring your four-legged friend along for an adventure.
Location: Carson City
This rental is a little further out in Carson City, but a buzzing art and culture scene, exquisite restaurants, and more make the distance worth it.
Discover More Lake Tahoe Guides