Looking for the best Airbnbs in California? You're in luck – this West Coast state is brimming with brilliant places to stay. Say goodbye to boring apartments, you'll find some of the coolest in the US dotted across California.
When it comes to apartment hunting, I also love using Plum Guide as an alternative to Airbnb. They handpick the apartments themselves so that only the very best make it onto the site and quality is guaranteed.
Whether you're looking to check out Joshua Tree National Park, go hiking in the wine region, or explore the star-studded LA, these are the best places to bed down in California…
Best Airbnbs in California: At a Glance
The Best Airbnbs in California
Duneside Delight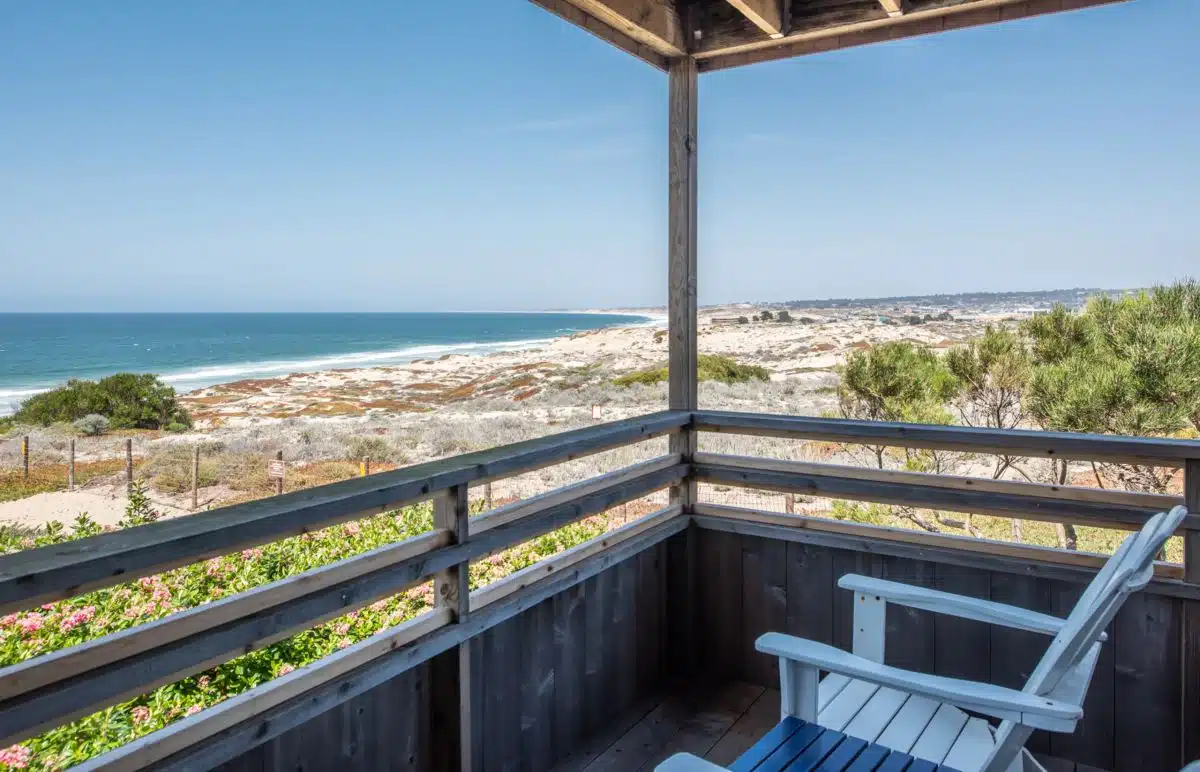 If it's views you're after, this Monterey apartment sleeps up to four and offers tranquillity in abundance. Huge windows frame a dreamy ocean view, while the patio practically sits on the beach.
Alongside the ideal location, the apartment also boasts a communal pool and spacious open-plan living – it's the perfect Airbnb for a family of four.
Joshua Tree Ranch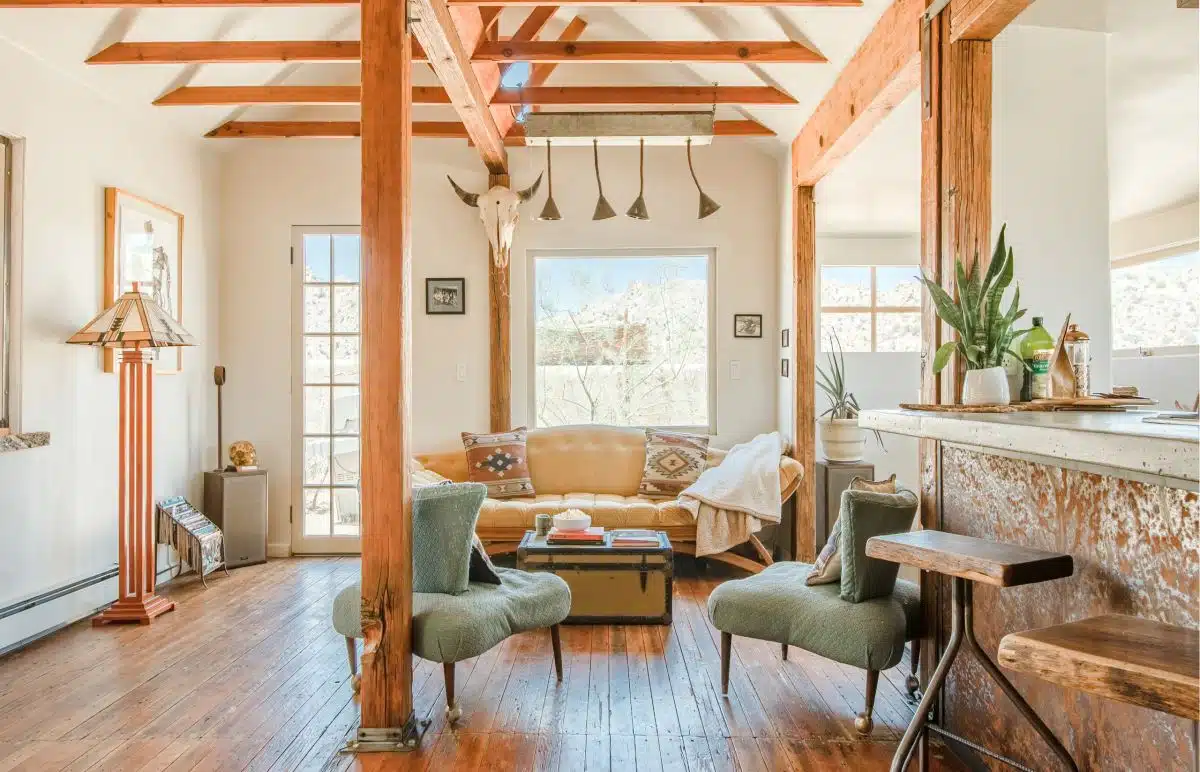 If you ask me, the best place to get an Airbnb in California is Joshua Tree National Park. Why? It's total peace and quiet, you're immersed in nature, and surrounded by beautiful landscape – pure bliss.
And when the apartment looks this good, why would you ever want to leave? This Joshua Tree California Airbnb sleeps 4 and comes with a cowboy hot tub, warming log fire, and a vintage bus in the background – the perfect photo spot for the 'Gram. 
The 4 Bed Oasis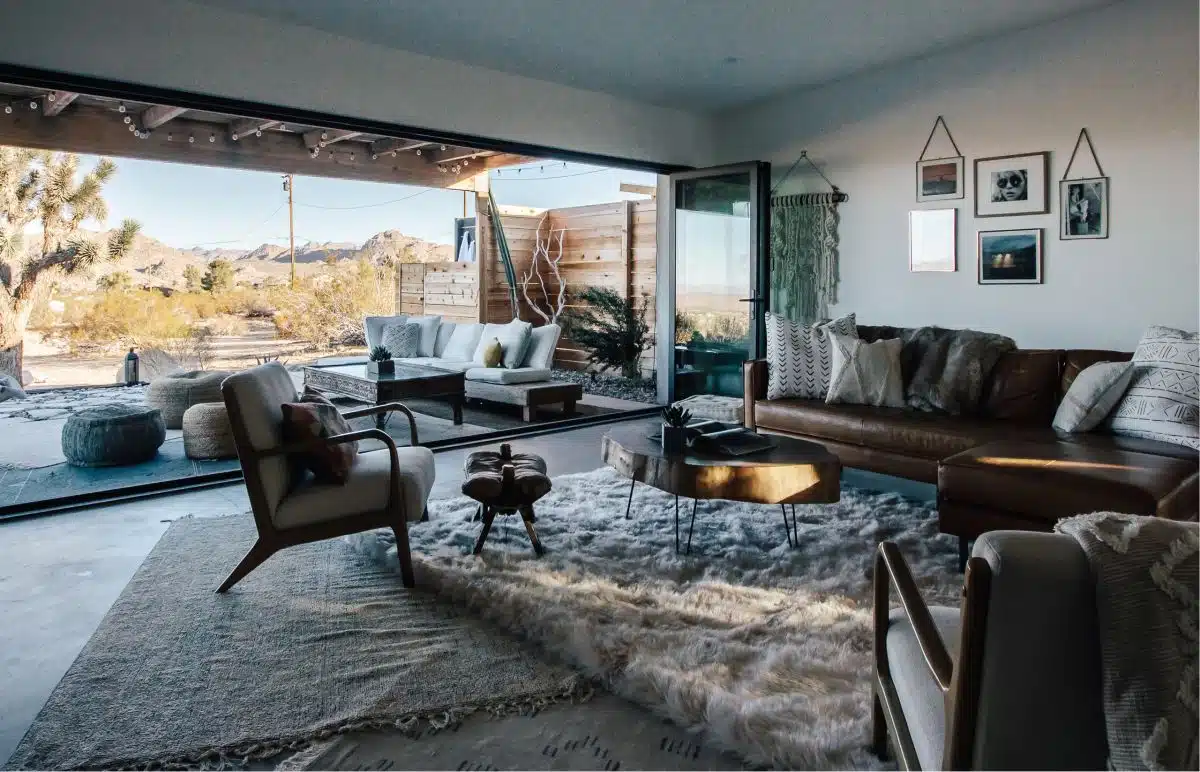 With space enough for 8 people, this rustic oasis brings the inside out and the outside in. Throw open the sliding doors and you'll get to experience the true joy of living near Joshua Tree National Park.
The best part? This unique California airbnb boasts a saltwater tub and an outdoor rainshower, perfect for soaking off the dust from exploring the dry area nearby.
Golf Course Ranch with Pool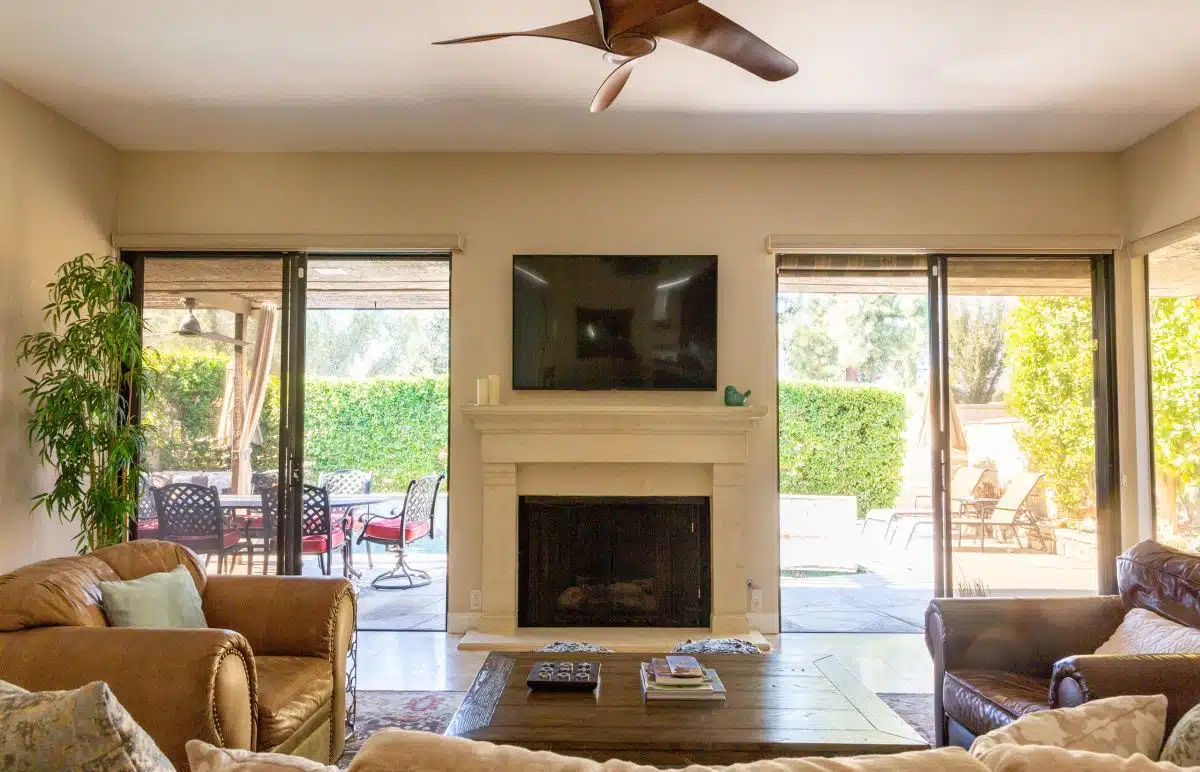 Situated on Rancho Mirage's Springs Golf Course, this offering might just take the title of best Airbnb in California. 
Don't believe me? Take one look at the poolside area and I guarantee you'll be smitten, not to mention that Joshua Tree National Park is a short drive away.
Inside, the spacious living area is equally as impressive – complete with marble floors and luxurious ensuites.
Huge Party Pad for 16 People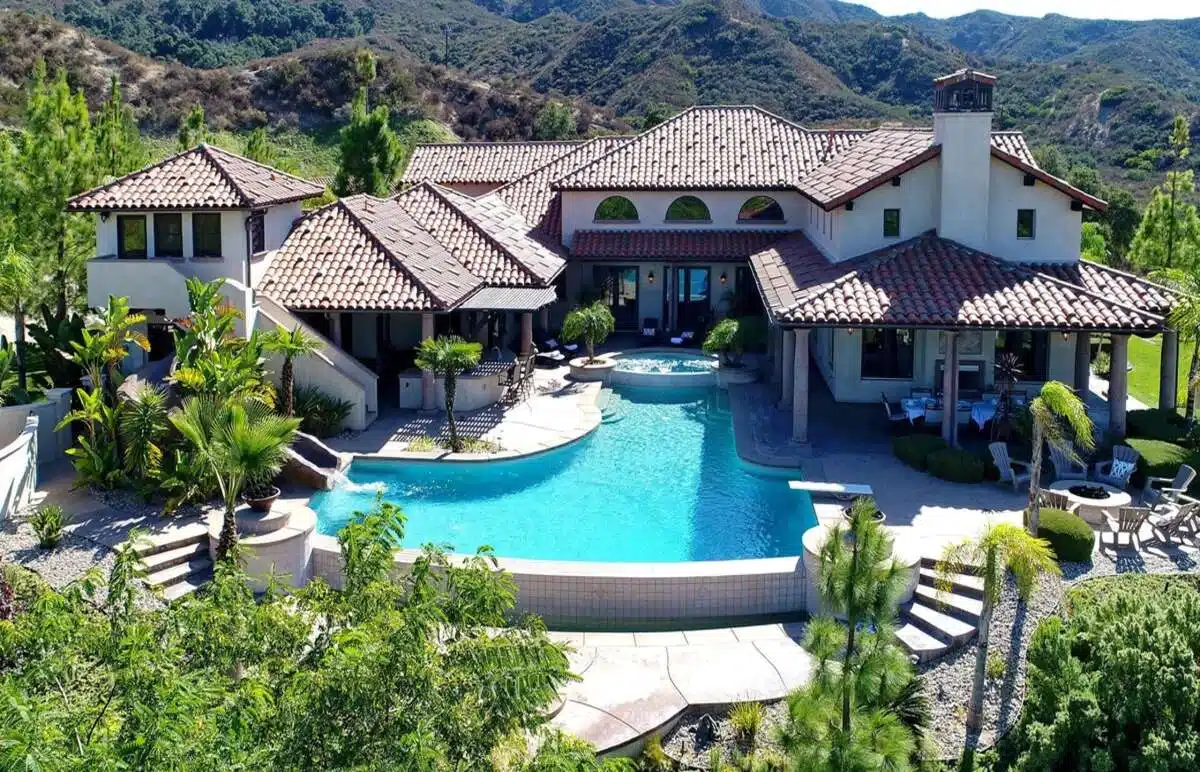 Get your friends together (I mean it, this is an expensive property) and prepare for a weekend of partying in this Spanish-style villa located in the region's winelands. 
Everything about this place is extravagant, from the 7 bedrooms and dining room adorned with medieval chandeliers to the huge pool outside.  
It's one of the coolest Airbnbs in California – I couldn't think of a better place to splurge on a once-in-a-lifetime Hen Do weekend.
Serene Spot for Wine Lovers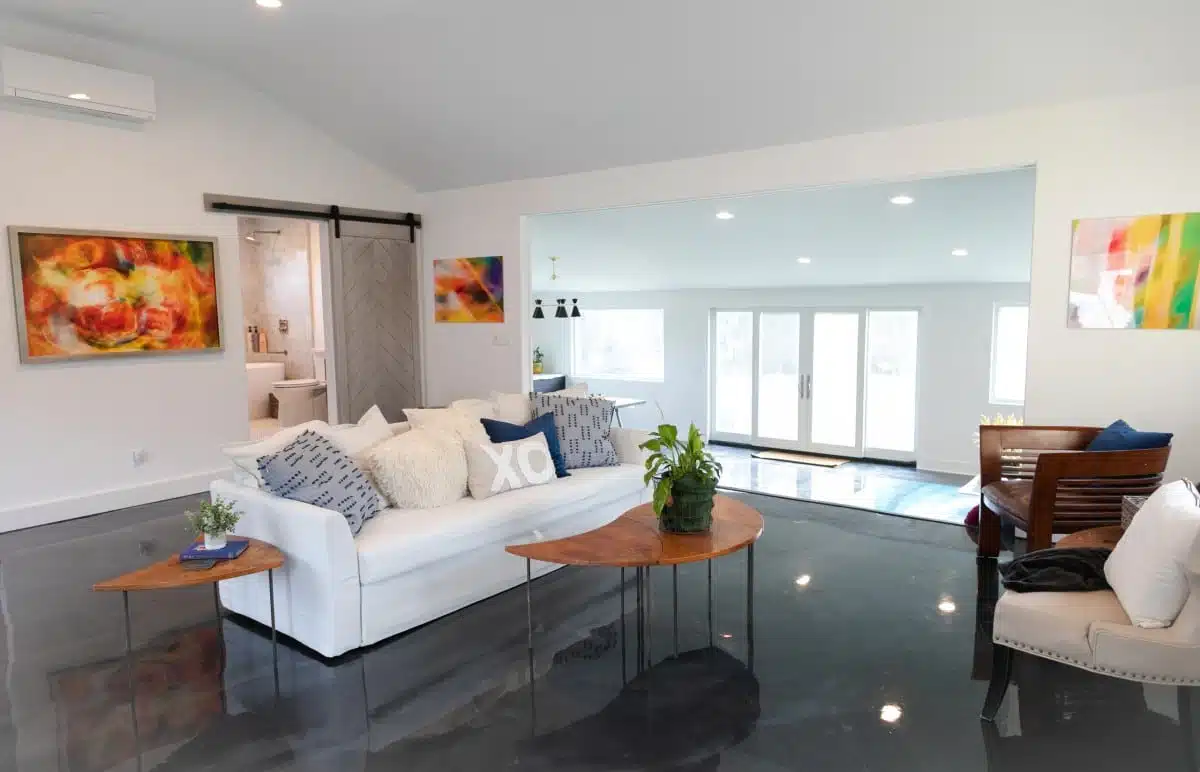 If you're all about wine tasting (my hand is straight up in the air), there's no Airbnb in California more perfect than this. 
Located just five minutes from Paso Robles Wine Trail, and across the road from Jack Creek Cellars wine tasting, there's no excuse not to indulge in a glass or three during your stay.
The apartment itself is a vision of white and earthy tones, and the patio (complete with a firepit) is the perfect place for stargazing after a long day of exploring and hiking the trails nearby.
Malibu Beachfront Airbnb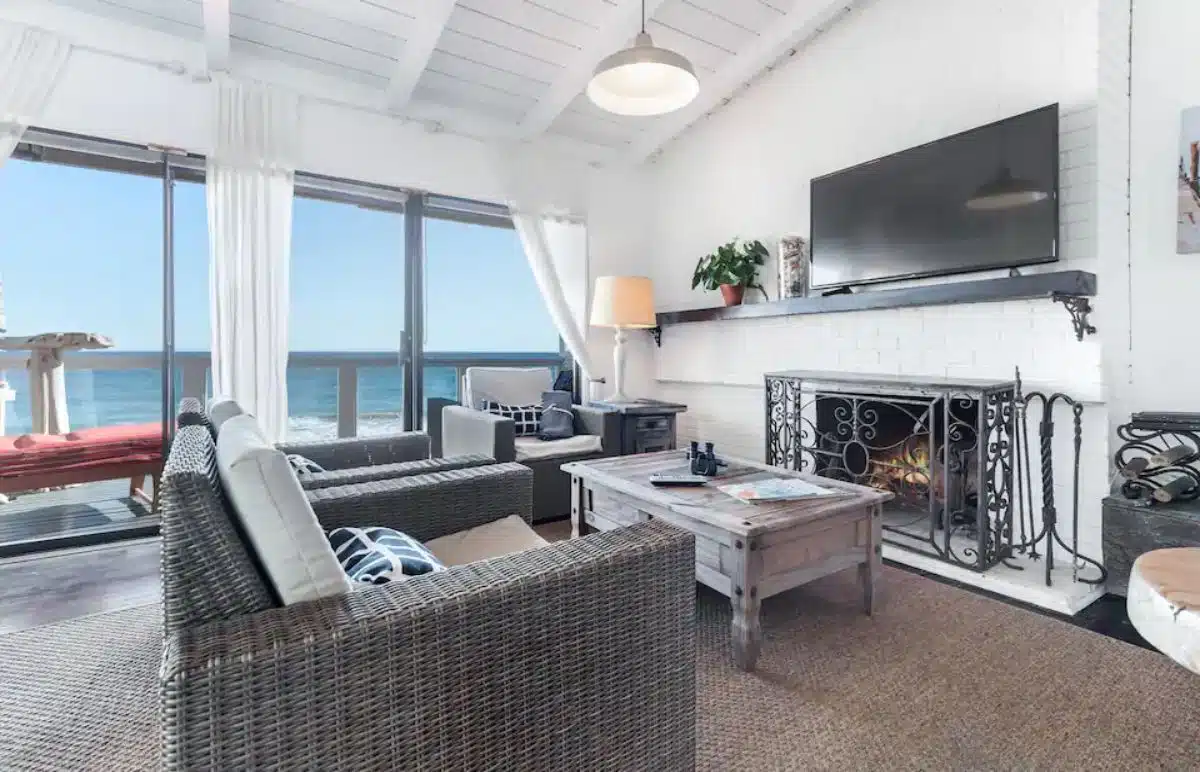 Step through the adorable floral door and you'll find yourself perched over the water in this Airbnb in Malibu, California.  
Sleeping up to four, the host of this oceanfront Airbnb in California has gone above and beyond with this home – from the personalised greeting upon arrival to the spotless decor that transports you straight to your very own surfer fantasies.
Located inside a 1950's updated Malibu Beach property, this is a California beach front Airbnb that you don't want to miss.
Simple but Sleek Long Beach Airbnb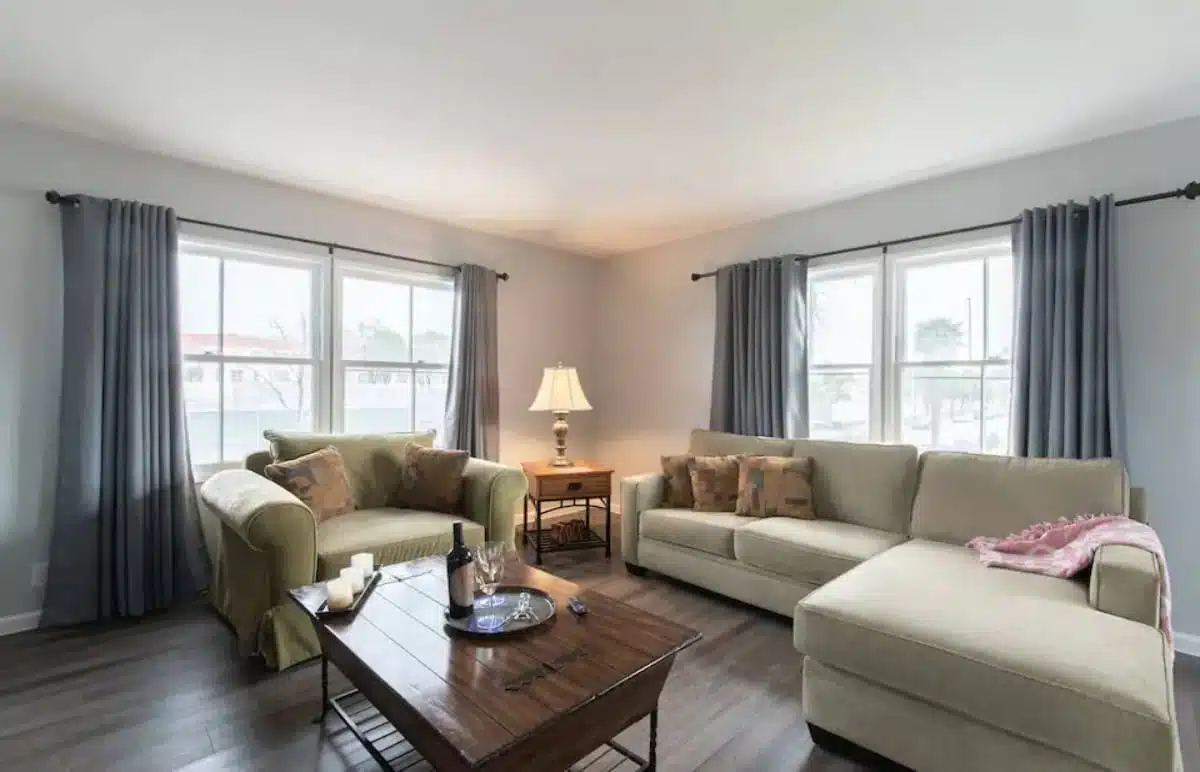 If you're looking for one of the best beach Airbnbs California has to offer, look no further than this offering. It's the perfect place to bed down in Long Beach, and is fully equipped with all the amenities you could need for even a long-term stay.
This two bedroom flat is on the outskirts of Long Beach, and just a short drive away from Anaheim.
Stylish 1 Bed with Hot Tub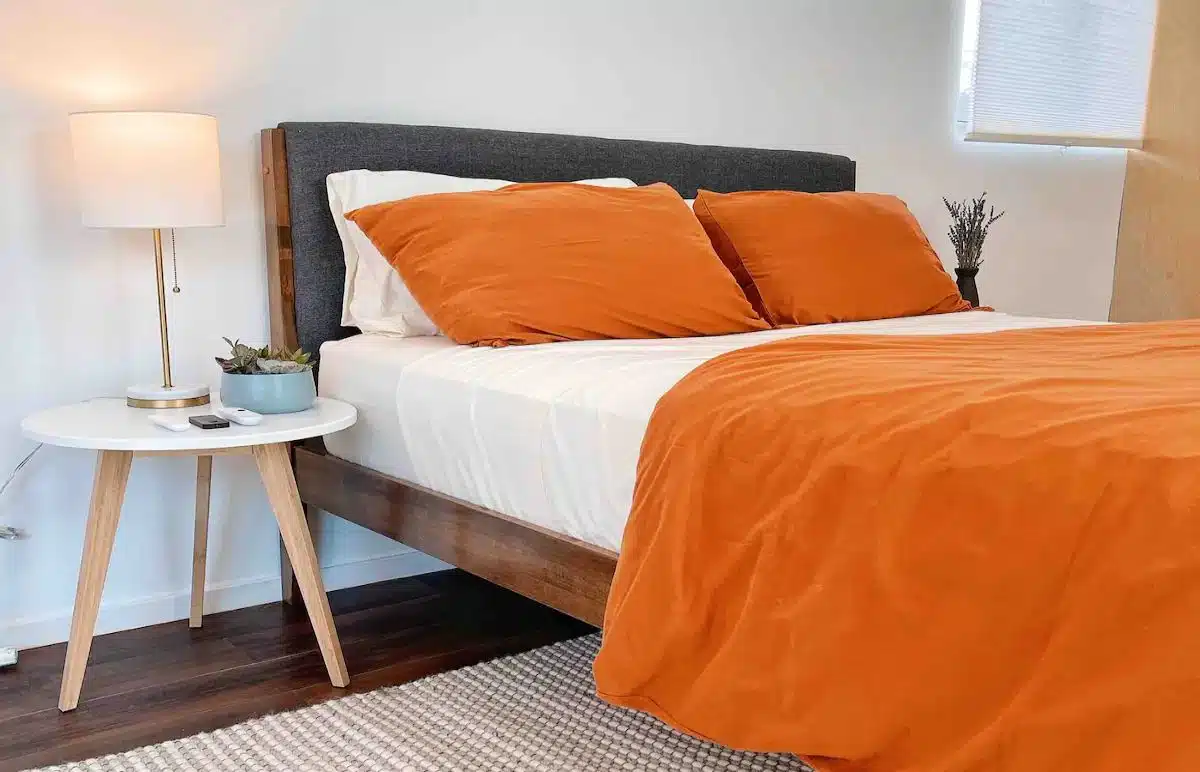 Relax in style at this ultra-stylish LA Airbnb, decked out in earthy linens and beachy accessories. While you don't have access to kitchen facilities, the outdoor patio has a fireplace and you're around ten minutes from nearby restaurants in LA.
From the luxe hot tub on your private porch to the minimal but swish decor, this is the best Airbnb in California for couples.
Beachy Apartment for Two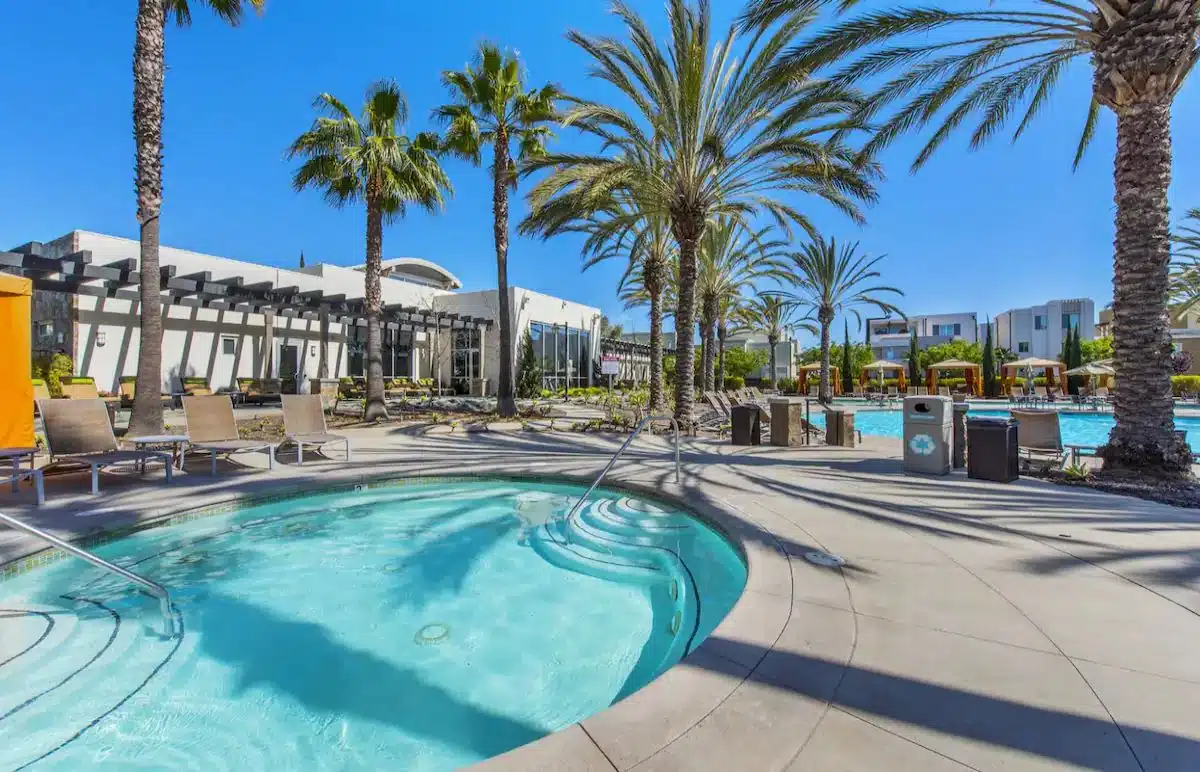 Ever fancied sleeping on the beach? Well, now you can. Kinda. This beachfront Airbnb California is right on Manhattan beach and boasts a huge pool area as well as modern amenities within the apartment itself. 
Wake up in the morning, make yourself a coffee and catch up on Netflix, and then head to the beach for a day of sun, sea, and sand.
Homey Cottage Near Disneyland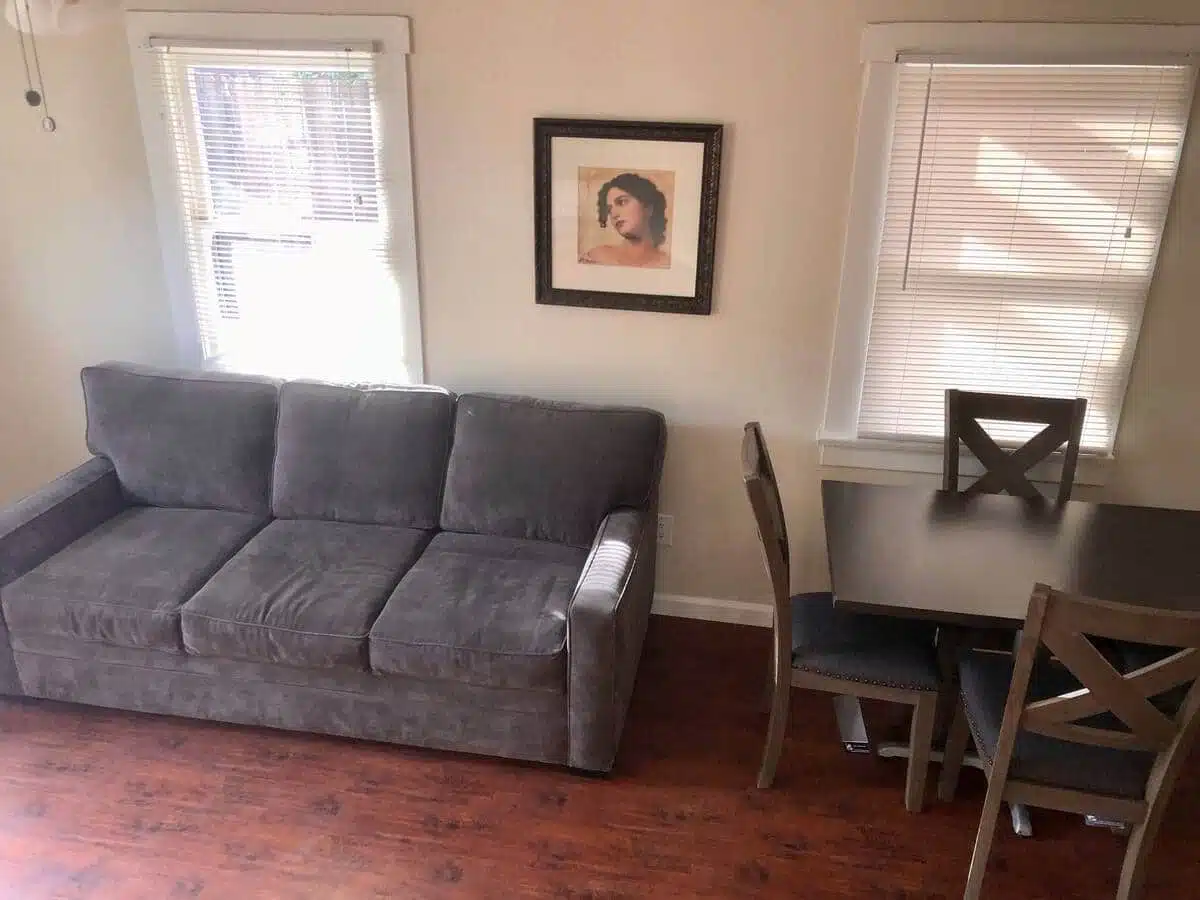 If you're looking to spend the day in the most magical place on earth (that's Disneyland, FYI), then you'll probably want to book an apartment in the Anaheim area to save you time and money transporting yourselves to and from the Magic Kingdom.
Lucky for you, I have found the best Airbnb California has to offer in this area.
I adore this cosy cottage that comes fully equipped with everything you need for a short stay, including 6 beds – perfect if you're bringing kiddies along – and a modern kitchen to rustle up a fuelling breakfast.
Two Story Wine Barrel (Yes, Really)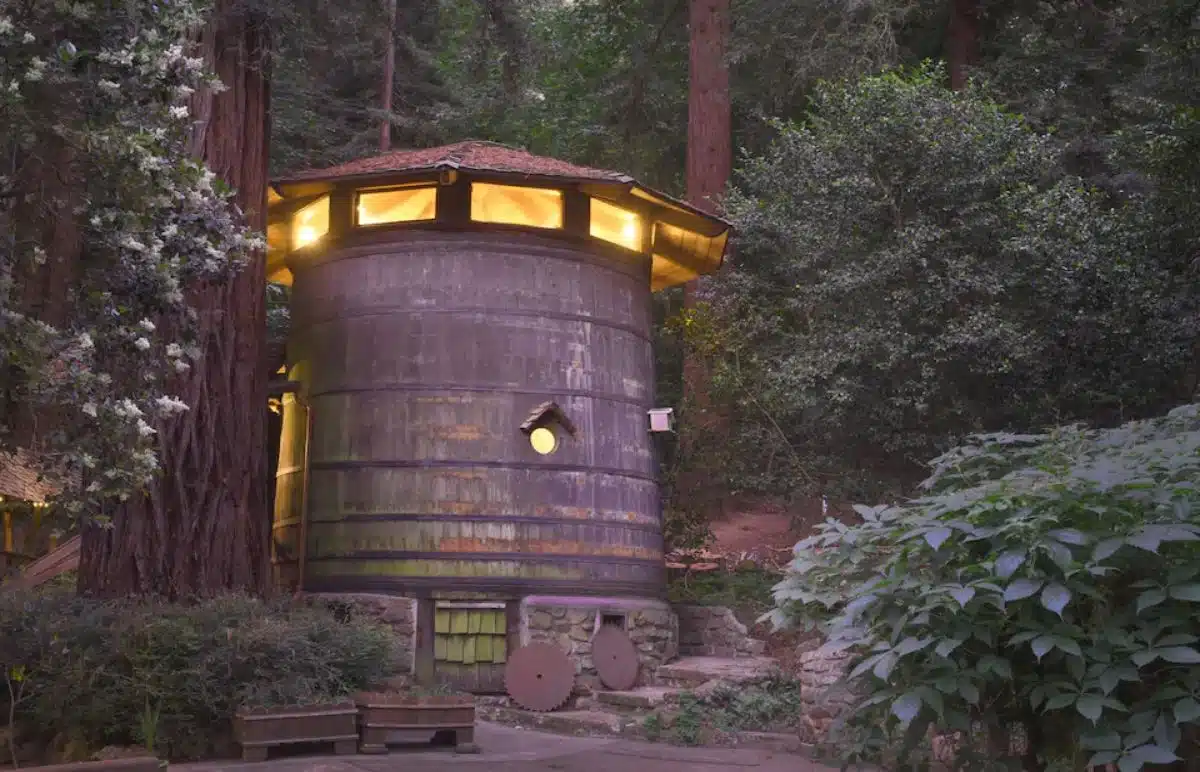 I might just have saved the best 'til last. If the idea of staying in a wine barrel doesn't make you giddy with excitement, then why not? It might just be the most unique Airbnb California has to offer.
You'll find this cool spot tucked away in Los Gatos, surrounded by nature and pure serenity. The outside is akin to a pixie garden, while the inside looks like a magical library – it's a bookworm's dream.
Curl up in one of the armchairs, or head upstairs to the mezzanine where you'll find the cosiest looking bed ever. When it comes to cool Airbnbs in California, this one takes the prize.
Search More Airbnbs in California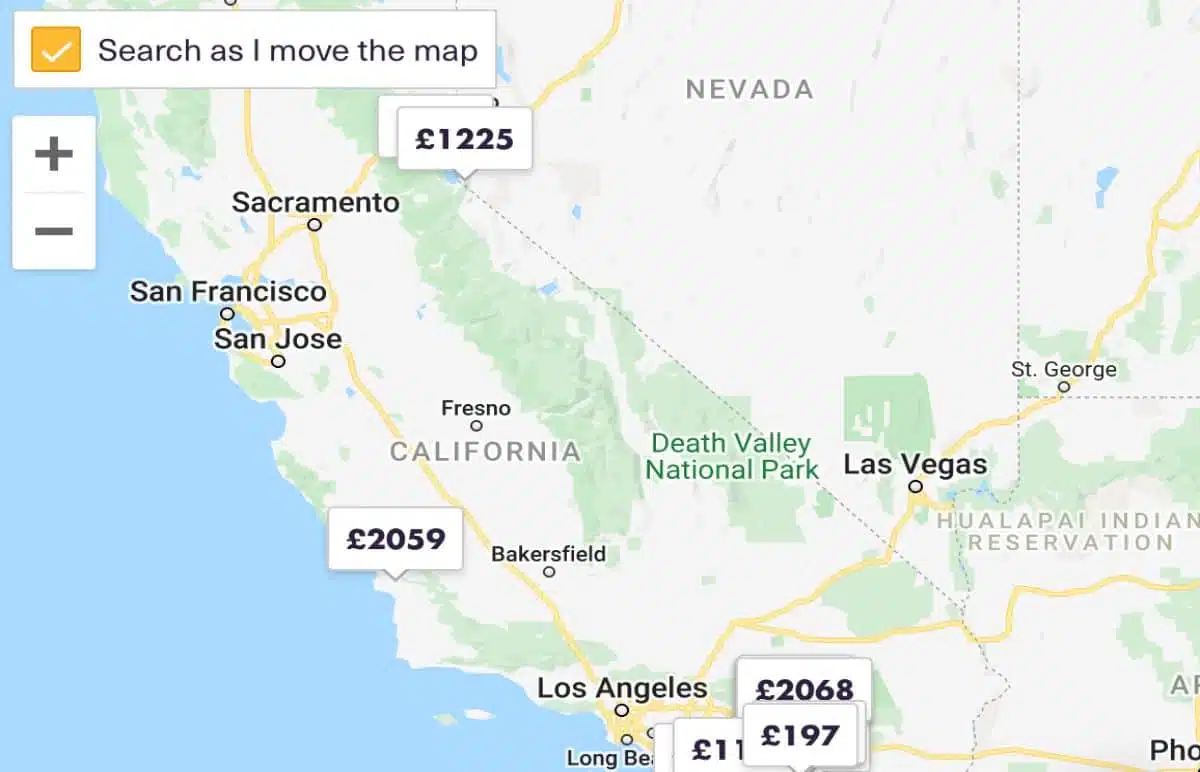 Read More California Guides