Discover these incredible day trips from Reykjavik, Iceland, with this handy guide.
With the surge of low-cost flights to Europe with layovers in Iceland, Reykjavik can be a perfect place to explore.
Iceland's beautiful landscapes, vast open roads, and incredible sunsets are the reason it is becoming one of the world's main tourism hotspots.
While here, you can maximize your trip by hopping in a car and checking out a few of these incredible day trips from Reykjavik.
Brilliant Reykjavik Day Trips
The Blue Lagoon
Distance from Reykjavík: ~45 minutes
Cost: €50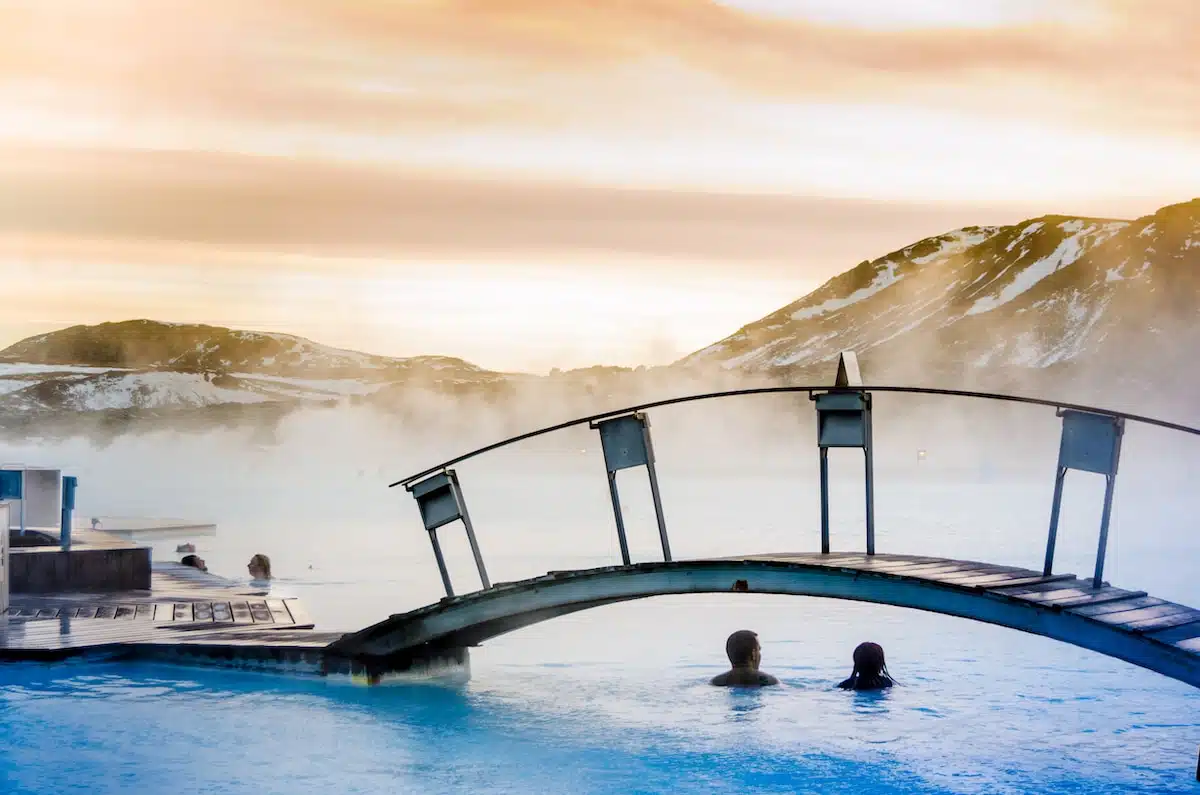 You've probably seen photos of this milky-blue pool surrounded by black volcanic rocks. Nonetheless, it's worth a spot on any Icelandic itinerary.
Choose the earliest time slot (8 am) for the lowest volume of people in the pool – if you change and shower quickly, you might just get the lagoon to yourself! While you're soaking your worries away, you can head to the small cabana in the center of the pool for a free face mask.
Pro tip: if you have sensitive locks, be sure to avoid getting them wet. The high mineral content in the Blue Lagoon's water may dry your hair out. If you're extra concerned, put some conditioner in your hair before entering the pool.
Friðheimar
Distance from Reykjavik: ~1.5 hours
Cost: €19 for the tomato soup buffet
In all of your cold adventures, you might be craving a hot, healthy bowl of soup. Friðheimar Farm offers just that – a buffet of homemade bread and delicious, freshly-made tomato soup.
Though this might seem like a lot of money for a tomato soup, this farm is the start of an interesting movement in Iceland – the use of greenhouses and geothermal energy to grow crops in the otherwise hostile Icelandic environment.
Friðheimar is one of the pioneers in the movement, and upon arrival you can learn all about the ways they've grown their farming enterprise. Afterward, enjoy your lunch amidst the rows of tomato plants in one of its greenhouses.
Seljavallalaug
Distance from Reykjavík: ~2 hours
Cost: Free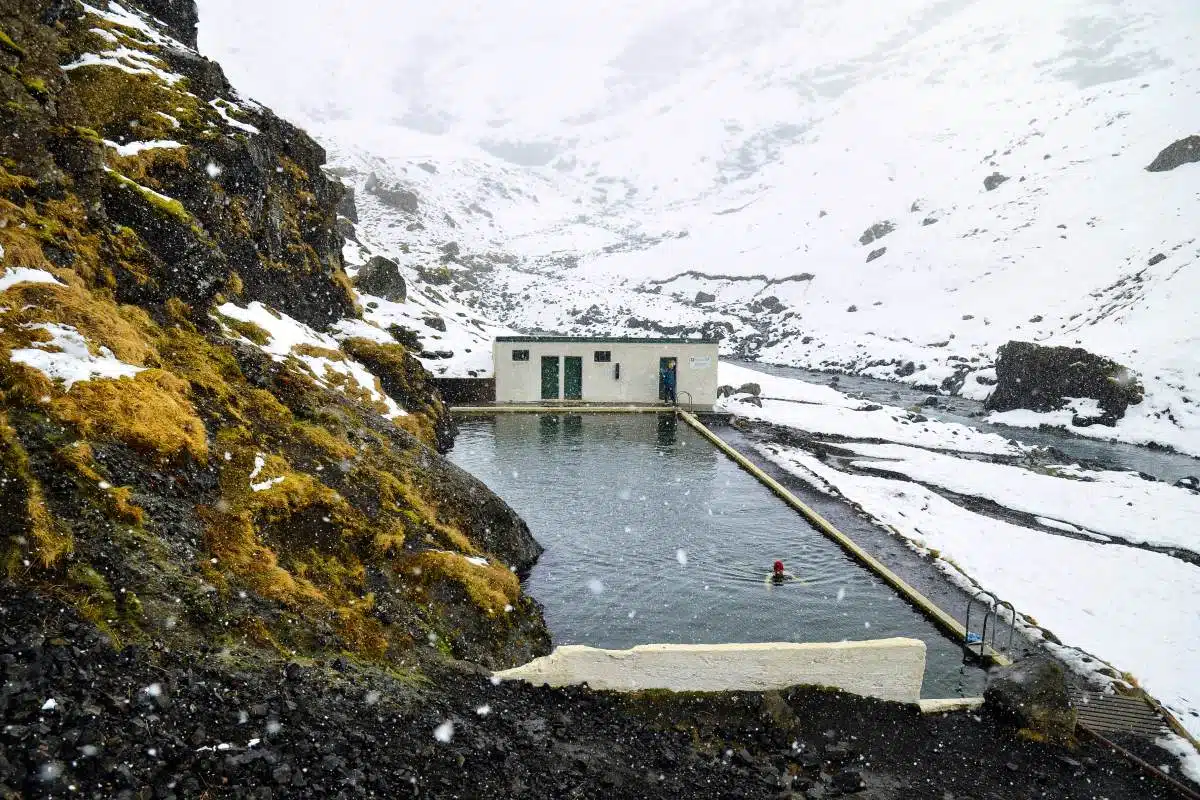 If you're looking for a swim in a hot spring that is a little more off-the-beaten-path than the Blue Lagoon, take a trip out to Seljavallalaug, a secluded geothermal pool that is surrounded by mountains.
To get there, follow the Ring Road until you see signs for Seljavallalaug. Turn when you see the sign and park in the gravel parking lot towards the mountains. Then, follow the trail for about 20 minutes. Be careful of steaming hot spring water on the way.
After rounding an uphill corner, you will see a small white building and the pool in front. Get there early to enjoy a few moments to yourself before other adventurers join you.
The Golden Circle
Distance from Reykjavik: ~1.5 hours
Cost: Free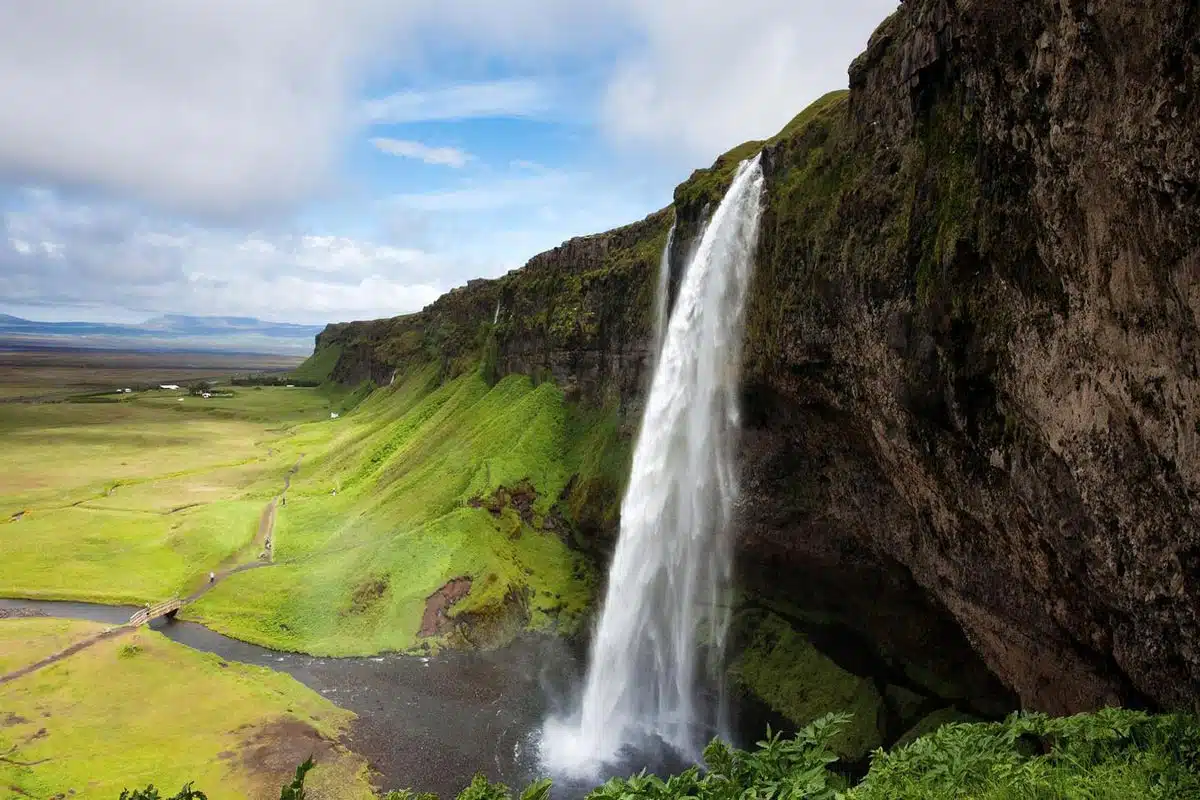 This is a beast of a day trip, but a great bang for your buck if you have very limited time in Iceland and want to see a variety of beautiful landscapes.
Consisting of Gulfoss Waterfall, Geysir (a large geyser), and Þingvellir National Park, it's a long but worthwhile day trek perfect for solo travelers or couples. You can even do the Golden Golden Circle if you're traveling in Iceland with kids – just be mindful of weather conditions and the distances between each destination.
If you are not planning on renting a car, many tour operators have day-long bus tours from Reykjavik to all three sites. However, I recommend driving this circuit, as visiting the Golden Circle is much easier and more fun when there are fewer time limits.
Seljalandsfoss and Skogafoss
Distance from Reykjavik: ~1.5 hours
Cost: Free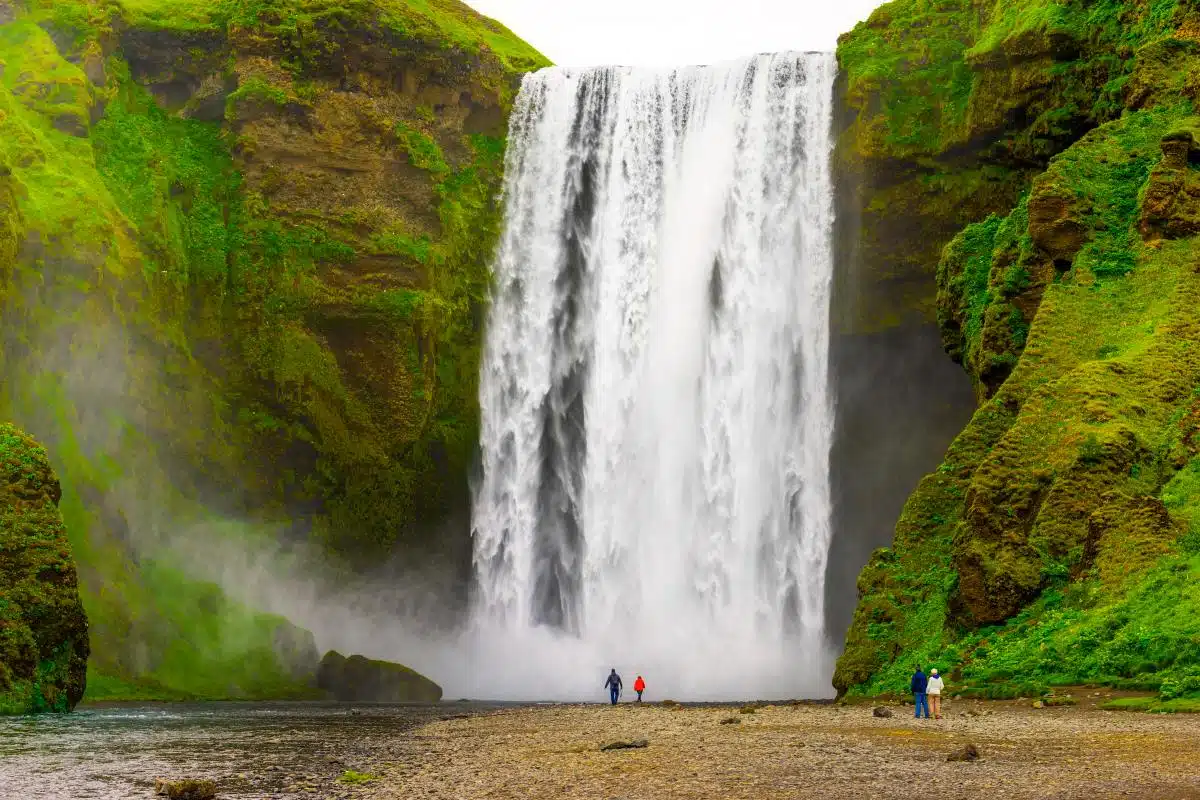 Two of Iceland's mighty waterfalls are just a quick road trip from Iceland. In the summer, Seljalandsfoss is the perfect destination to watch the midnight sun hover over the horizon.
The golden-orange light diffuses through the waterfall unlike anywhere else in the world. If you're planning on hiking behind the Seljalandsfoss waterfall, be sure to bring a waterproof shell – the glacial meltwater in the waterfall is freezing cold!
Skogafoss is just around the corner from Seljanadsfoss and is worth the extra few minutes of drive time. You can walk almost all the way up to the waterfall, and on clear days, you can see the rainbows cast by its spray. There's also a small hiking trail of the right of the mountainside for a higher view of the falls.
In the winter, this is also a fabulous place to view the northern lights in Iceland.
Swimming in the Continental Divide at Silfra
Distance from Reykjavik: 1 hour
Cost: €120+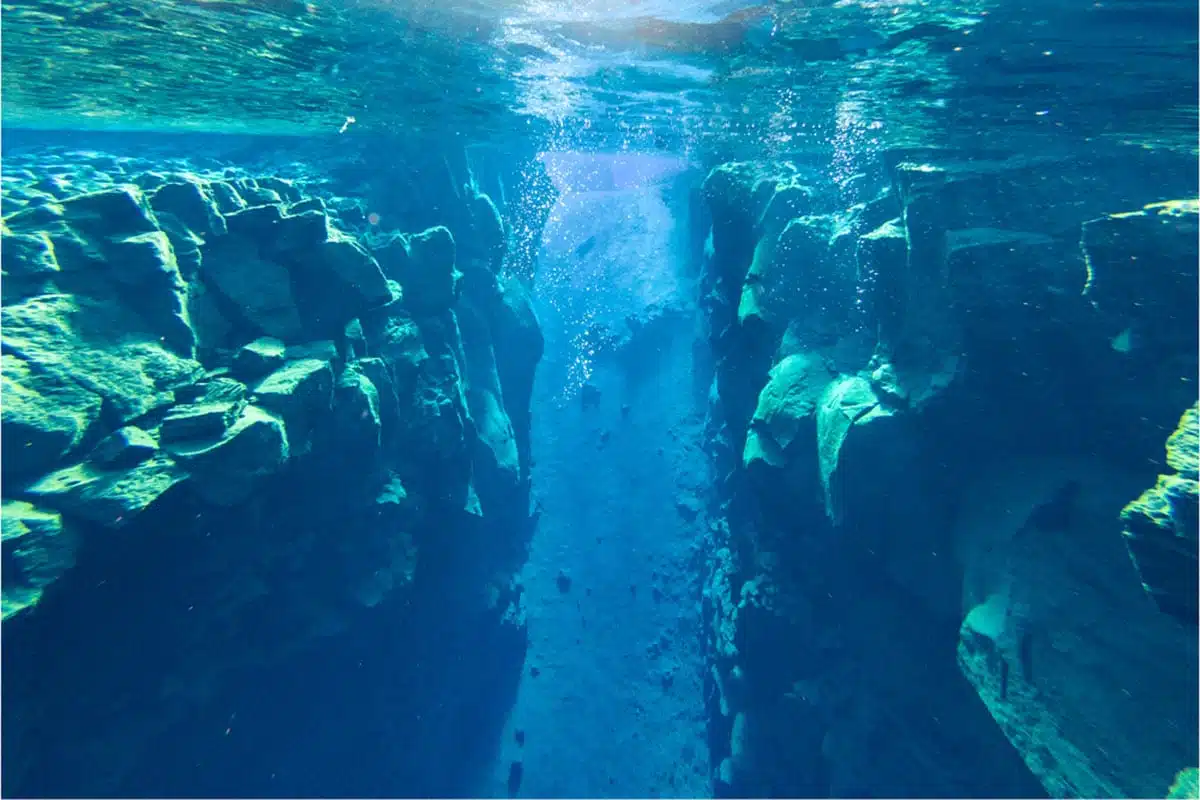 Inside of Þingvellir National Park lies the Continental Divide between North America and Eurasia. If you're feeling especially adventurous, you can opt to scuba dive or go snorkeling in Slifra, the crevasse between the continents.
This experience is unique not only because of the geological implications, but the water here is also extremely clear, making way for some insane visibility. In the high season, you must book these tours in advance, and they usually come with a drysuit rental and all of the necessary equipment.
Be sure to bring an underwater camera to document this incredible adventure!
Reynisfjara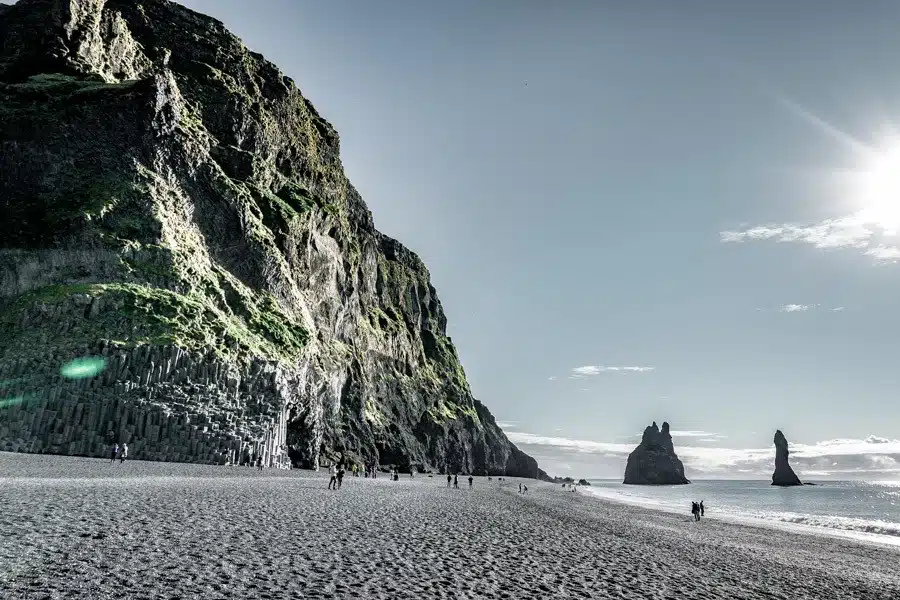 Distance from Reykjavik: ~1.5 hours plus 1+ hour(s) of walking
Cost: Free
Iceland is home to many black sand beaches, and one of its most iconic ones is called Reynisfjara. This beach is known for its towering basalt columns, pitch black sand, and oddly-shaped rock structures.
It was also where Bon Iver filmed his music video for Holocene.
The best time to visit Reynisfjara is around sunset, when the sky turns orange and pink and the waves gently lap the shoreline. Sit yourself on top of a basalt rock and listen to the world pass you by.
Love This? Save and Share on Pinterest