Ready to discover the best hot springs in Iceland? Dip your toes into the best of the bunch with my ultimate guide to the 12 hot springs in Iceland you have to visit.
Iceland is a pretty cool country, and I mean that literally, but one of the hottest attractions it boasts is its hot springs.
From the shores of its black sand beaches and the almost otherworldly fjords to the out-of-this-world aurora borealis, it's as if mother nature uses Iceland as her personal tapestry.
And, just when you think she's run out of ideas — boom — she outdoes herself with an immense collection of (roughly 800) hot springs sprinkled across the country.
A visit to any of these natural wonders is easily one of the best things to do in Iceland.
I don't know about you, but I'm ready to dive in.
What You Need to Know Before Visiting Iceland's Hot Springs
Showering at the Natural Hot Springs of Iceland: Etiquette 101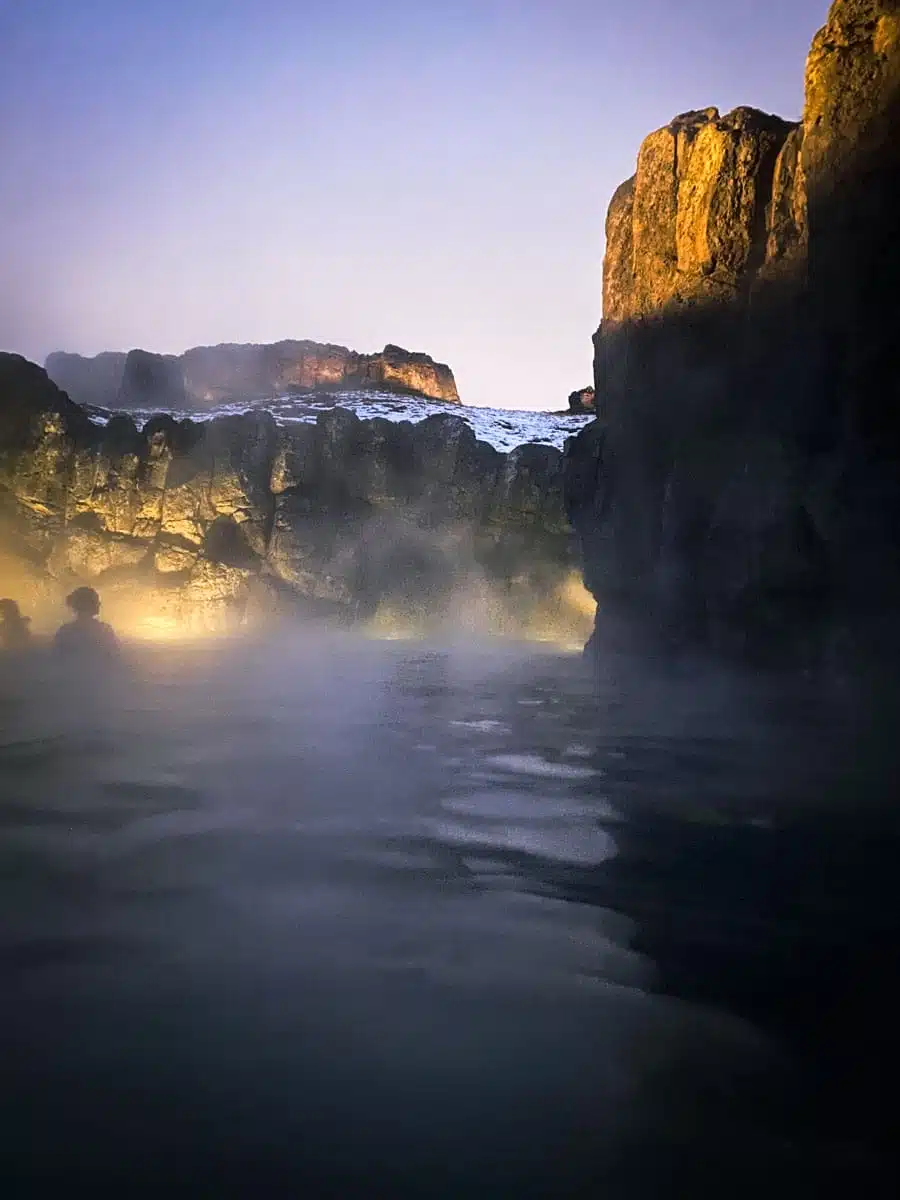 Class is in session. Welcome to showering etiquette 101. No matter which hot spring you choose to visit, standard practice requires you to have a shower before you take your dip.
Every visitor to one of the pools must grab a shower (in your birthday suit) to ensure that the pools stay free of harmful bacteria.
Most pools have private cubicle showers, while those that don't will have open ones. That's all well and good, but do you have to? Yes, Iceland is stringent on this and even includes (very) illustrated posters on how you should go about it at every pool.
This short ritual is why the water quality of the pools remains exceptionally high. You won't be the first to do it and certainly not the last. In a sense, it's part of the experience, so why not?
Iceland's Geothermal Pools: Relaxation With Respect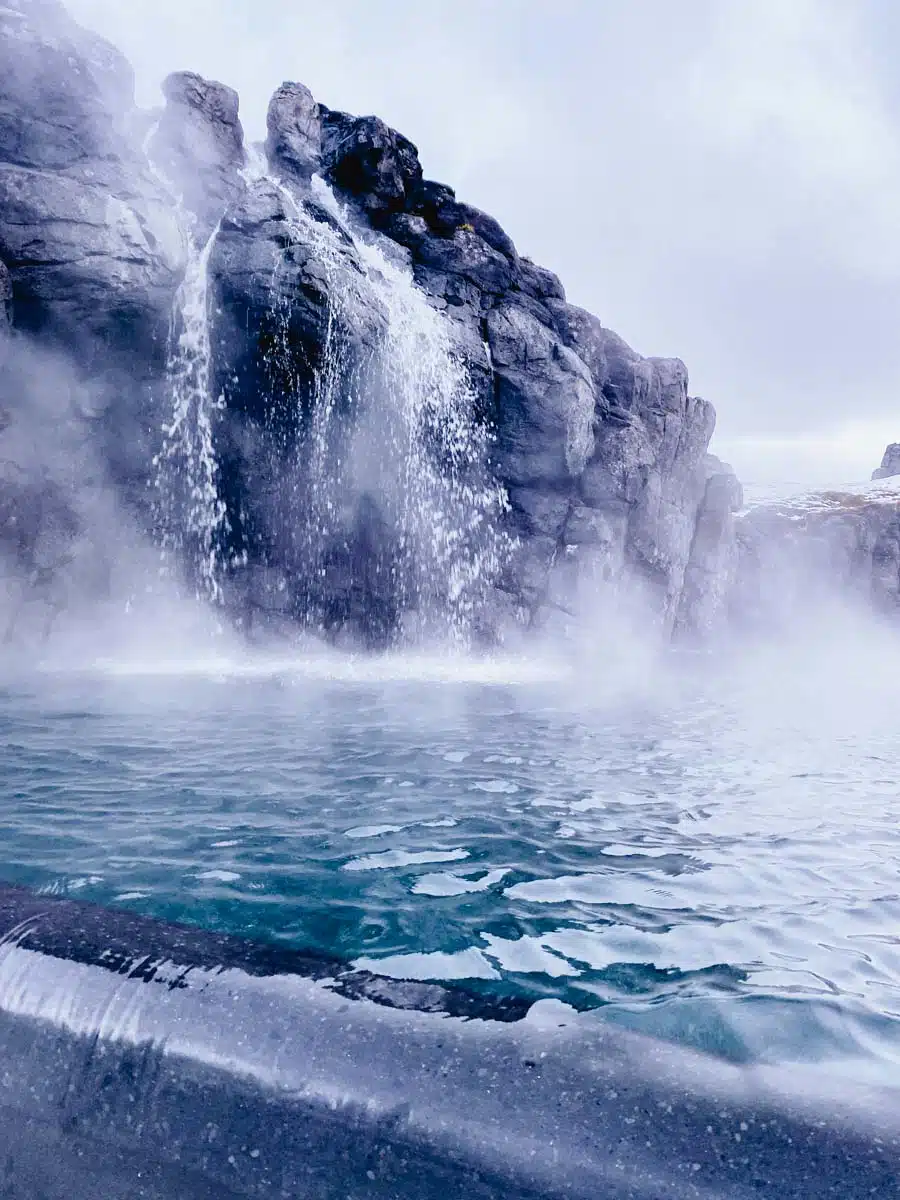 A crucial part of Icelandic culture, the hot springs throughout the country are a place where locals and visitors come to relax.
The pool's natural setting is serene, which means certain things are not allowed. Although you might have the urge, you aren't allowed to shout, run, or dive.
What to Wear for a Dip in the Geothermal Pools in Iceland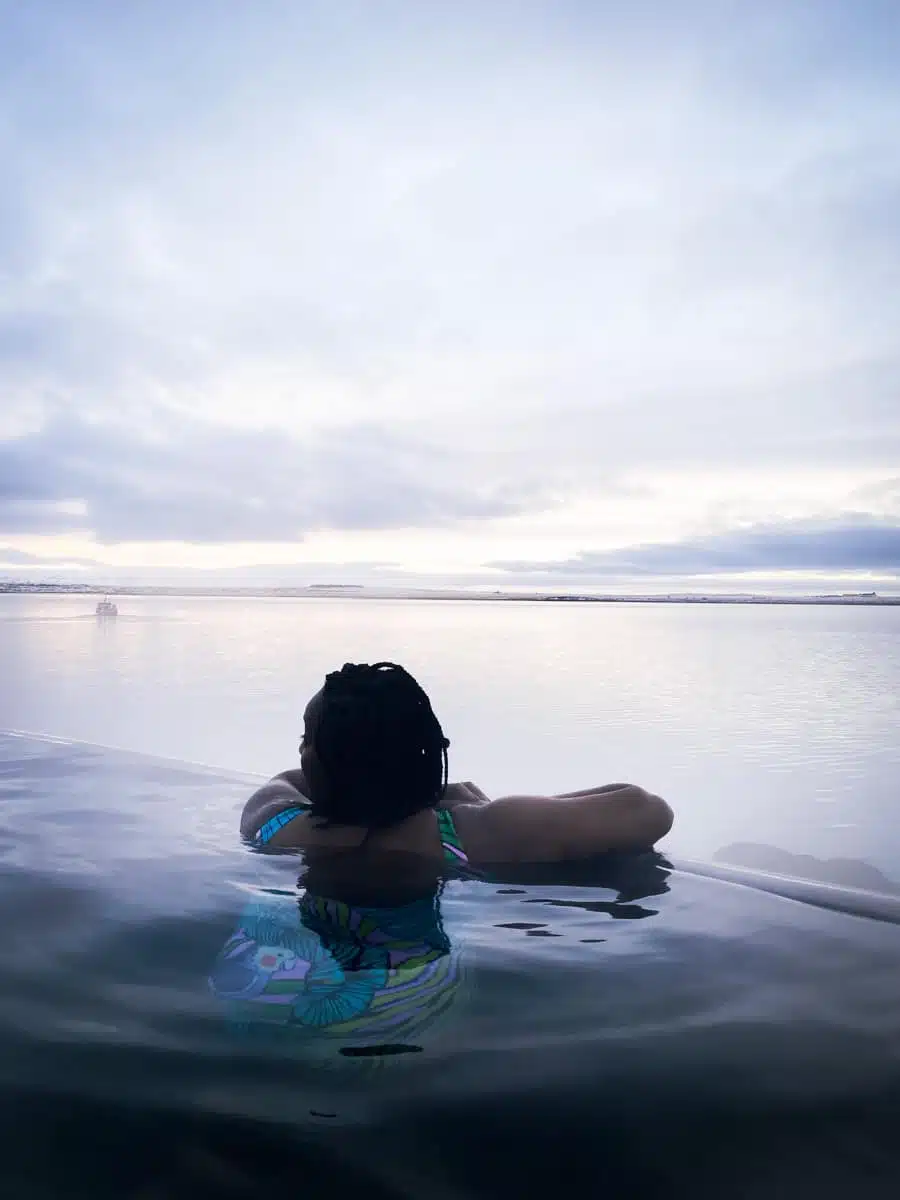 This might seem like a no-brainer, but swimsuits are mandatory when swimming in any of the natural pools in Iceland.
Fellas, that means swimming trunks. Ladies have the option of a traditional one-piece swimsuit or bikini. Oh, you can also choose to go topless, but that's up to you.
Iceland Hot Springs: Cleanliness Is Next to Godliness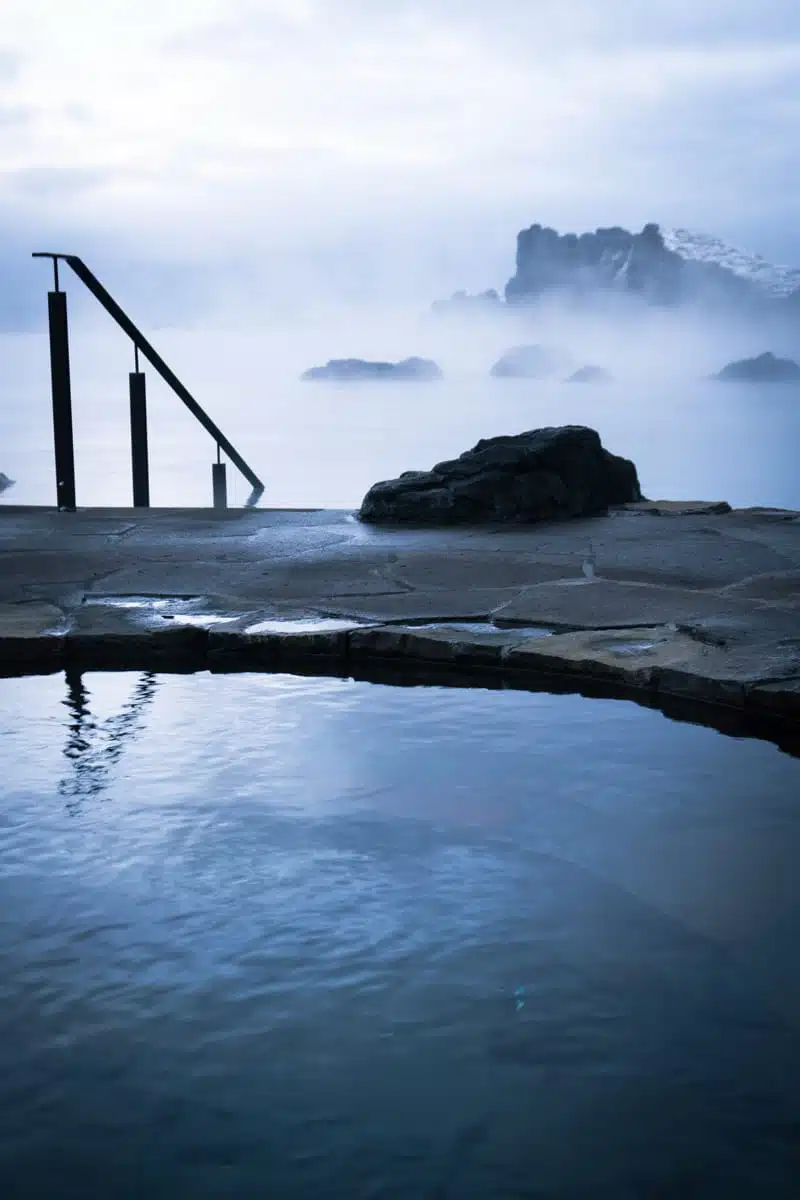 Due to how much the hot springs and their surroundings add to the natural beauty and allure of Iceland's countryside, littering is very frowned upon.
Clean up after yourself, and take your trash with you as you leave. This keeps the springs clean and also shows your respect. It's the right thing to do.
What Are the Benefits of Bathing in Hot Springs?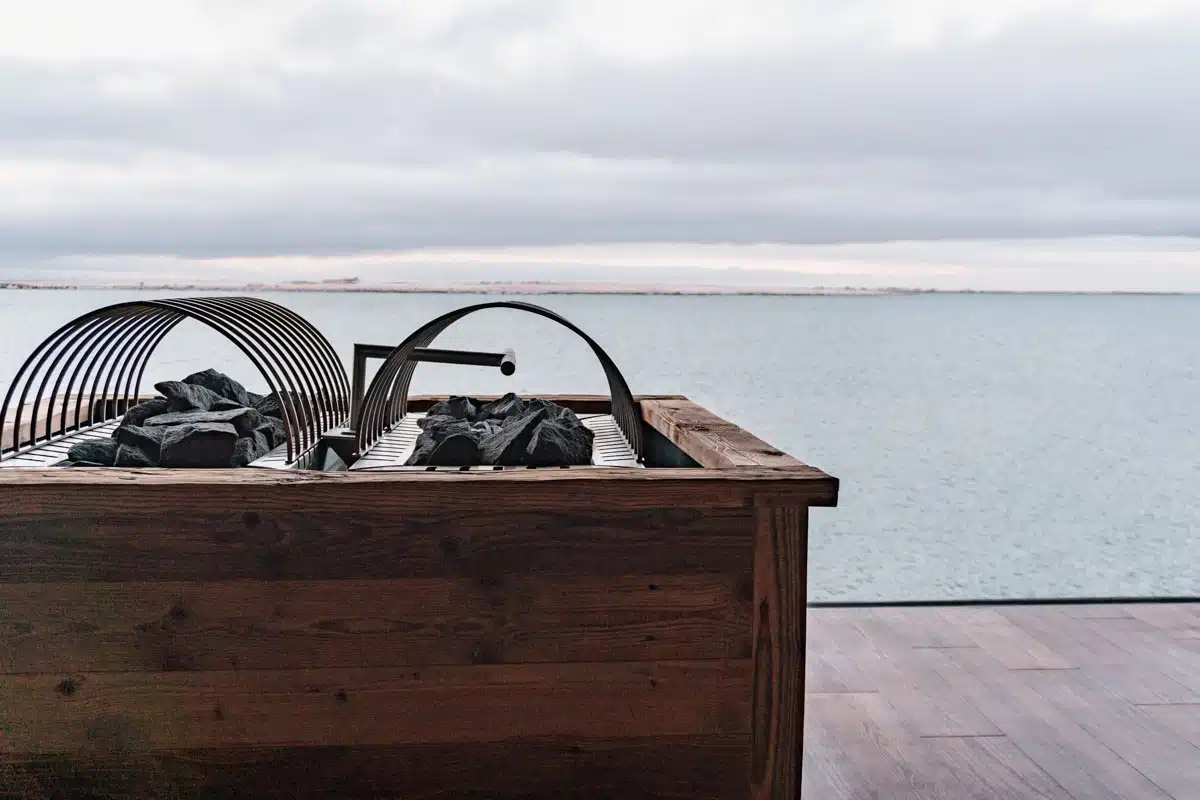 So besides the ultimate spots for some relaxation, what other benefits do the springs hold? Well, the commonly found minerals in most springs include sulphur, calcium, potassium, magnesium, and sodium.
These are the perfect combination of elements that help with respiratory issues, alleviate dermatitis, improve blood circulation and blood flow. The waters also help treat skin conditions such as eczema.
Finally, the hot spring waters also reduce musculoskeletal pains that usually stem from arthritis, swollen joints, and ligament damage.
12 Stunning Hot Springs in Iceland
Blue Lagoon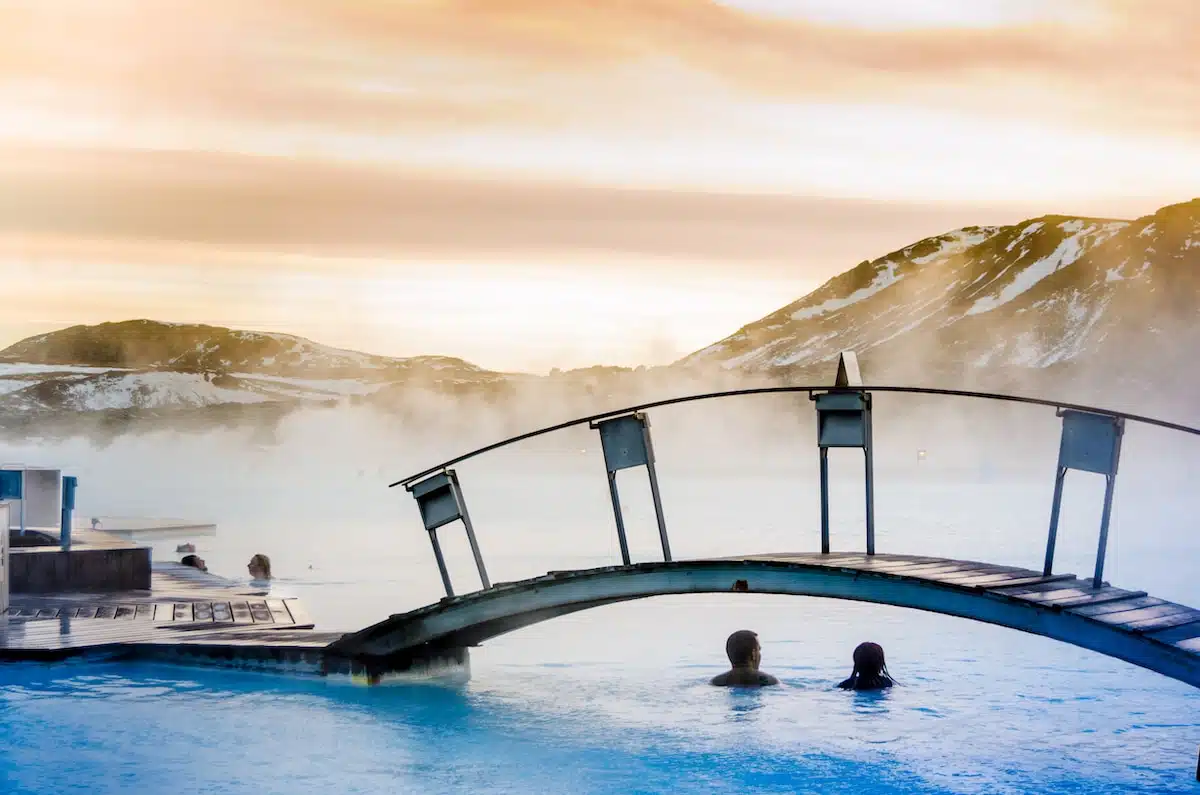 It's hard to start a guide like this without the most iconic hot spring in Iceland. The Blue Lagoon is not just one of the best hot springs in the country; it's also the epitome of luxury. Its steamy and pristine waters include swim-up bars and spas.
With a unique mashup of moss-covered boulders, breathtaking mountain views, and high-end wellness elements, it's no wonder why the lagoon is so famous.
I mean, it's also super convenient — Keflavik Airport is a few miles away, while the uber-luxurious and opulent Silica Hotel sits right at the lagoon's edge. I think you'll agree it ticks all the best boxes.
Sky Lagoon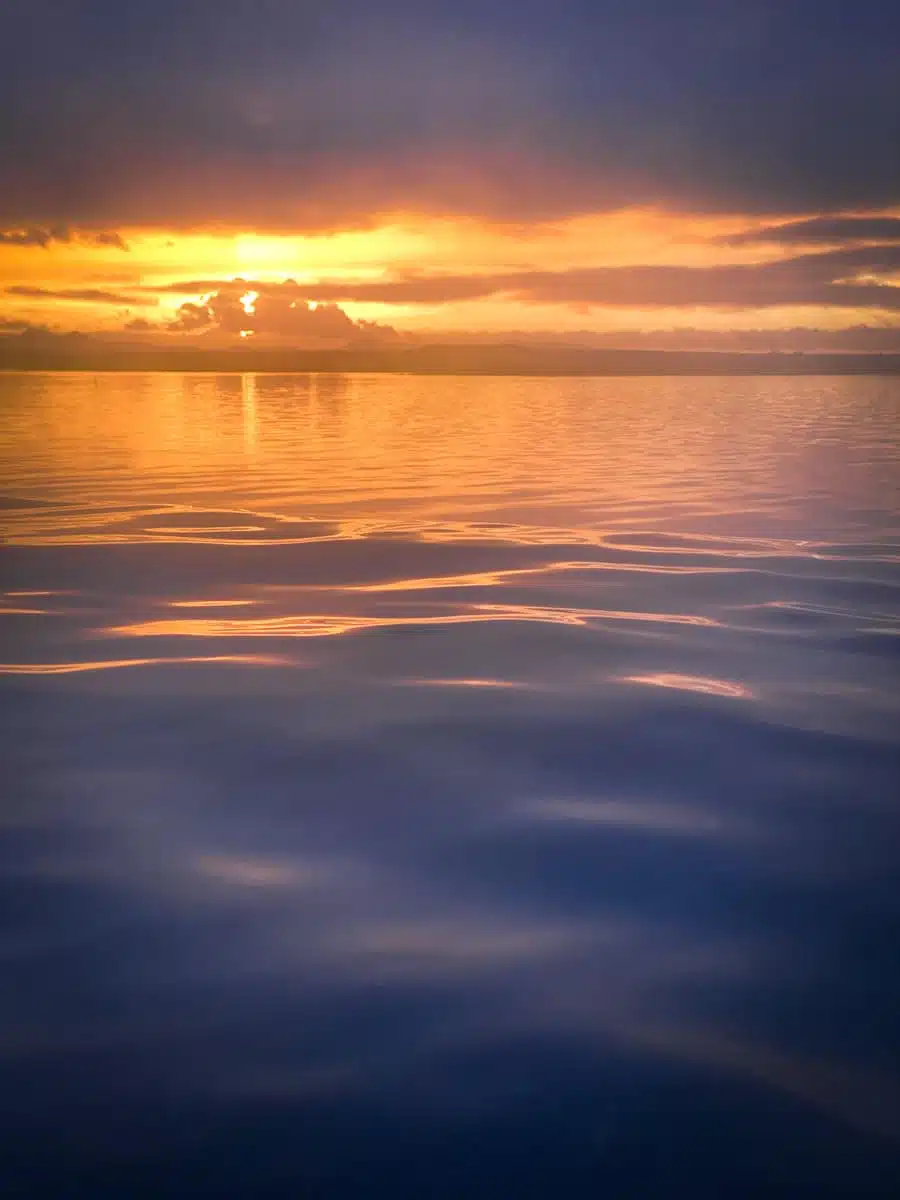 A stunning feature of the country's Atlantic coastline, Sky Lagoon rivals Blue Lagoon for the most famous hot spring in Iceland.
What makes it stand out, though? Well, any scenery addict will agree its highlight is the dramatic pairing of oceanic views and soothing natural spring serenity.
One of the country's newest thermal spas, it's just outside of Reykjavik inside Kársnes Harbour. Opening in March 2021, it quickly rose to fame, with features such as a 70-metre ocean-view infinity edge.
I loved my time at Sky Lagoon and would definitely recommend booking at least a half day to make the most of the seven-step process that sees you move from the warm lagoon to a chilly plunge pool and through steam rooms and saunas to achieve a state of nirvana.
Other on-site things to do include a cold pool, steam room, and sauna.
Mývatn Nature Baths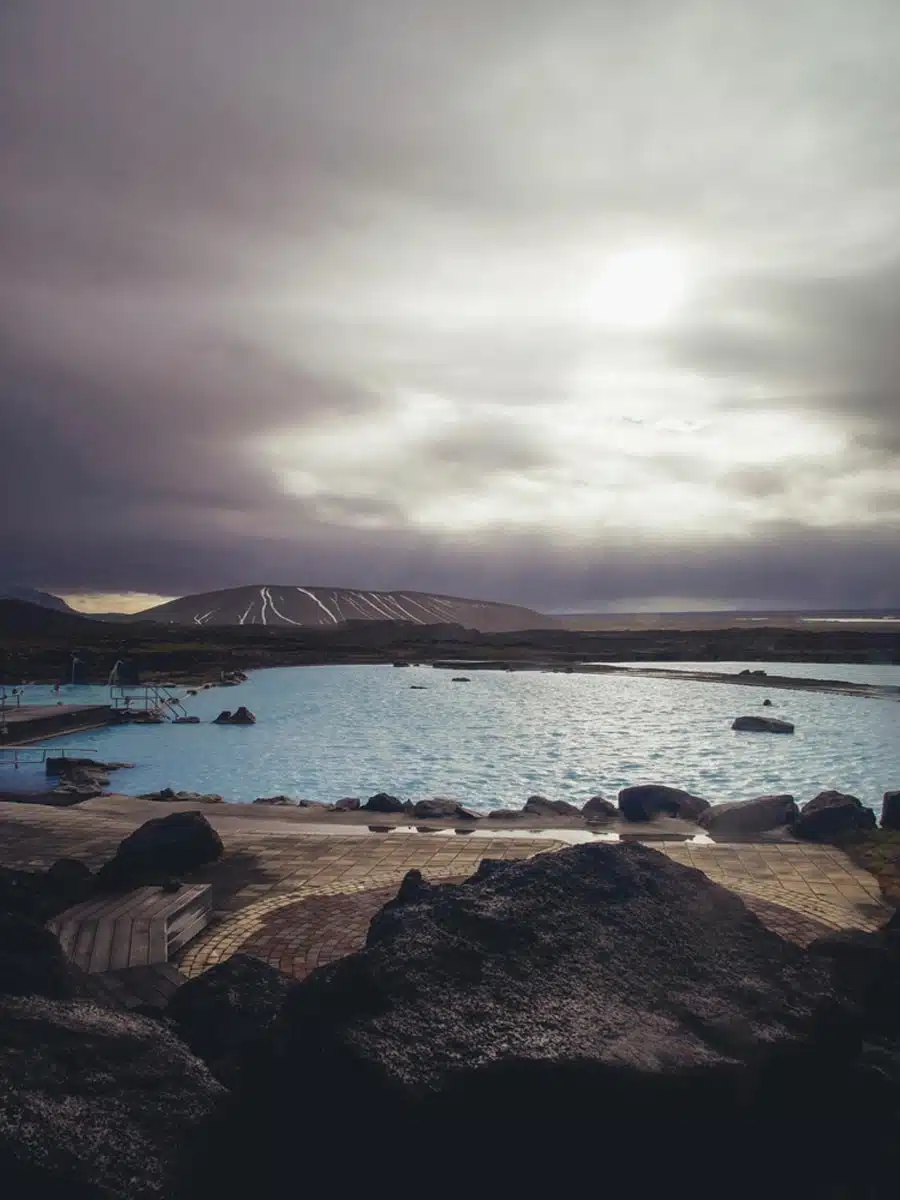 What do you get when you combine stunning snow-capped mountains, a massive hot spring, and the best seat to catch the aurora borealis?
The answer — Mývatn Nature Baths. Situated about 80 kilometres from Akureyri, the pools here get their heat from Lake Mývatn.
You're also just about 105 kilometres from the Arctic circle, which is prime real estate for the beautiful Borealis showcase. Beyond the lagoon, there are also several steam baths and saunas located around the baths.
And if you get hungry, there's also an on-site café that serves hot coffee and snacks. They even serve delicious Icelandic meals, like geyser bread with smoked char.
Gudrunarlaug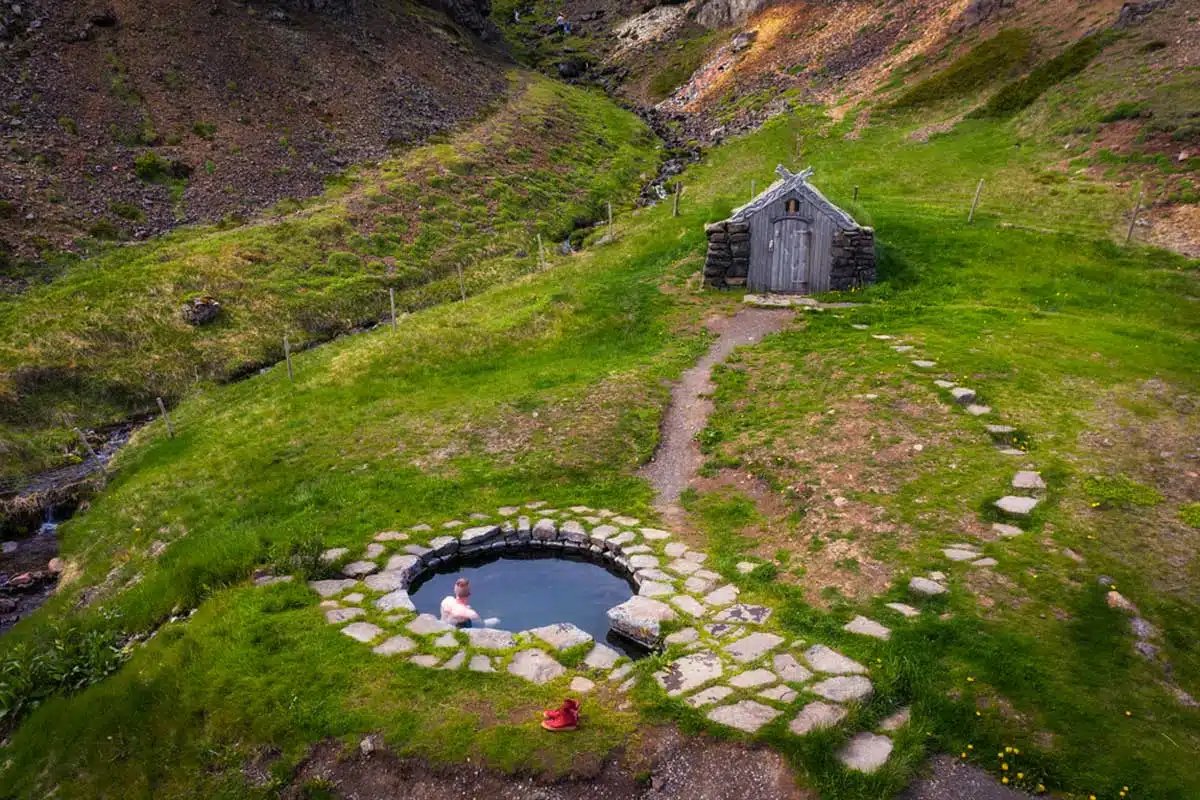 One of the best geothermal hot pools in Iceland is Gudrunarlaug in the west of the country as you make your way to the Westfjords. Compared to other entries in this guide, the pools here are relatively small.
But don't let that fool you. The picturesque landscapes, rustic layout, and rich history make it as worthy of a visit as the rest. Named after one of the most prolific female figures in Icelandic history, Gudrun Osvifursdottir, this spot lives up to its heritage.
Due to its location, you will have to rent your own car as no scheduled buses or tours head out to Gudrunarlaug.
Hrunalaug
If you're looking for a more intimate setting while indulging in some hot spring therapy, then Hrunalaug should top your list. This relatively small yet cosy natural hot spring in Iceland is near the small town of Flúðir, right outside the capital.
With stone walls surrounding the pool, it is the perfect setting to get an intimate natural experience while bathing in Iceland's geothermal hot springs.
Although it sits on privately owned land, everyone is welcome, and all donations go to maintain the spring and the area around it.
Laugavallalaug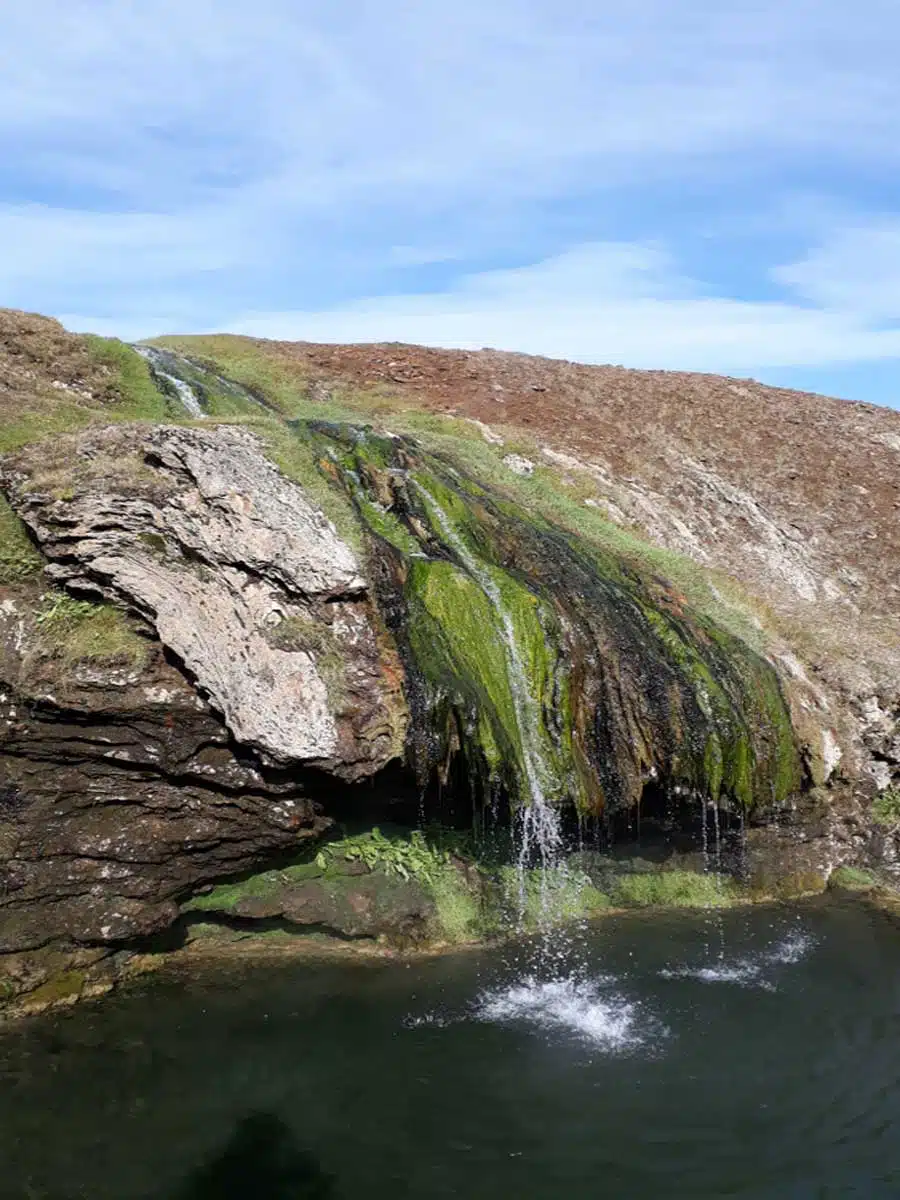 So the next entry to this guide rightfully deserves its spot. Laugavallalaug doesn't just offer tranquillity within its hot spring waters; there is also a natural hot waterfall.
This one is also a bit of a hidden gem in the eastern highlands of Iceland.
Getting to the spring is part of its appeal, as you will venture to it via a 4×4 up the steep mountainside drive. Or, you can hike to the spring, which in itself is truly impressive (it'll take you about seven hours, though).
Secret Lagoon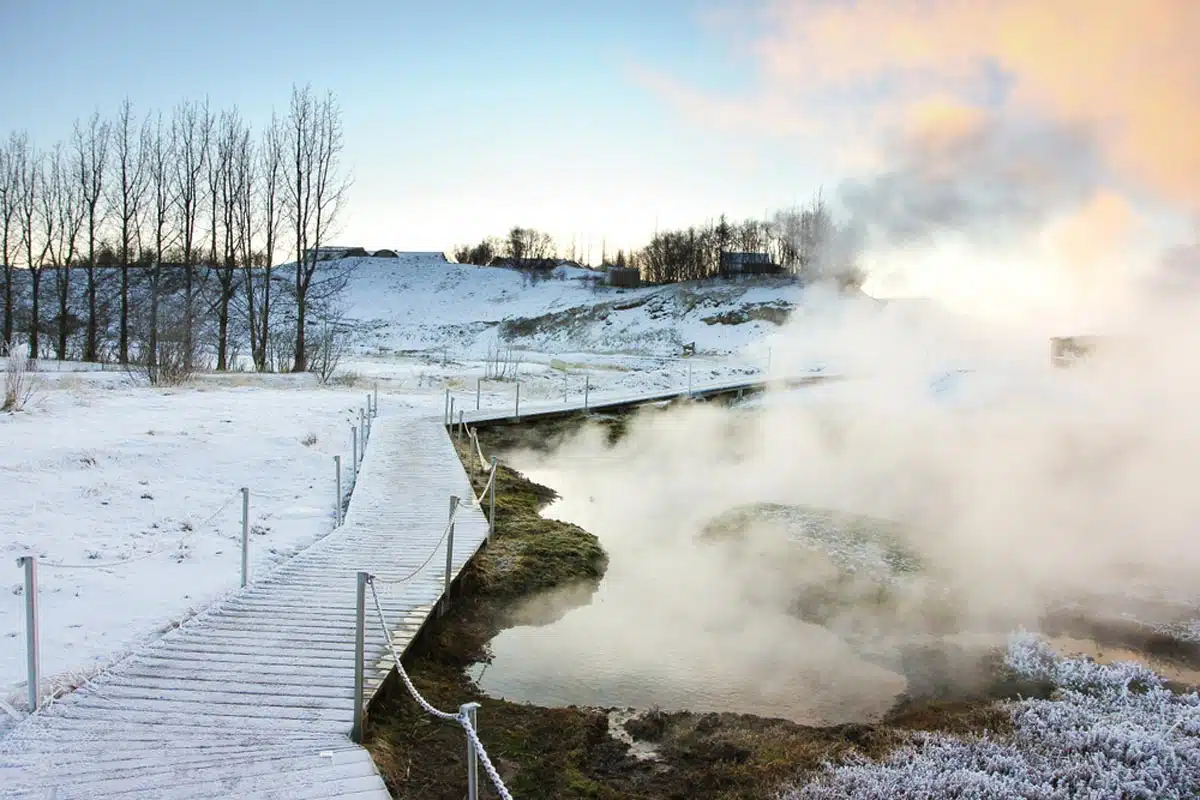 That's an odd name, isn't it? Well, yes, it totally is because there is nothing secretive about this Icelandic natural hot spring. Locally, Gamla Laugin is officially the oldest hot spring in the country.
It opened in 1891 to the public and has since been a premier inclusion on many a traveller's to-do lists. The three nearby geysers keep the water at a steamy 37℃.
Although it is spectacularly popular, the hot spring is in the Hverahólmi geothermal area, which some consider off the beaten path.
Hveravellir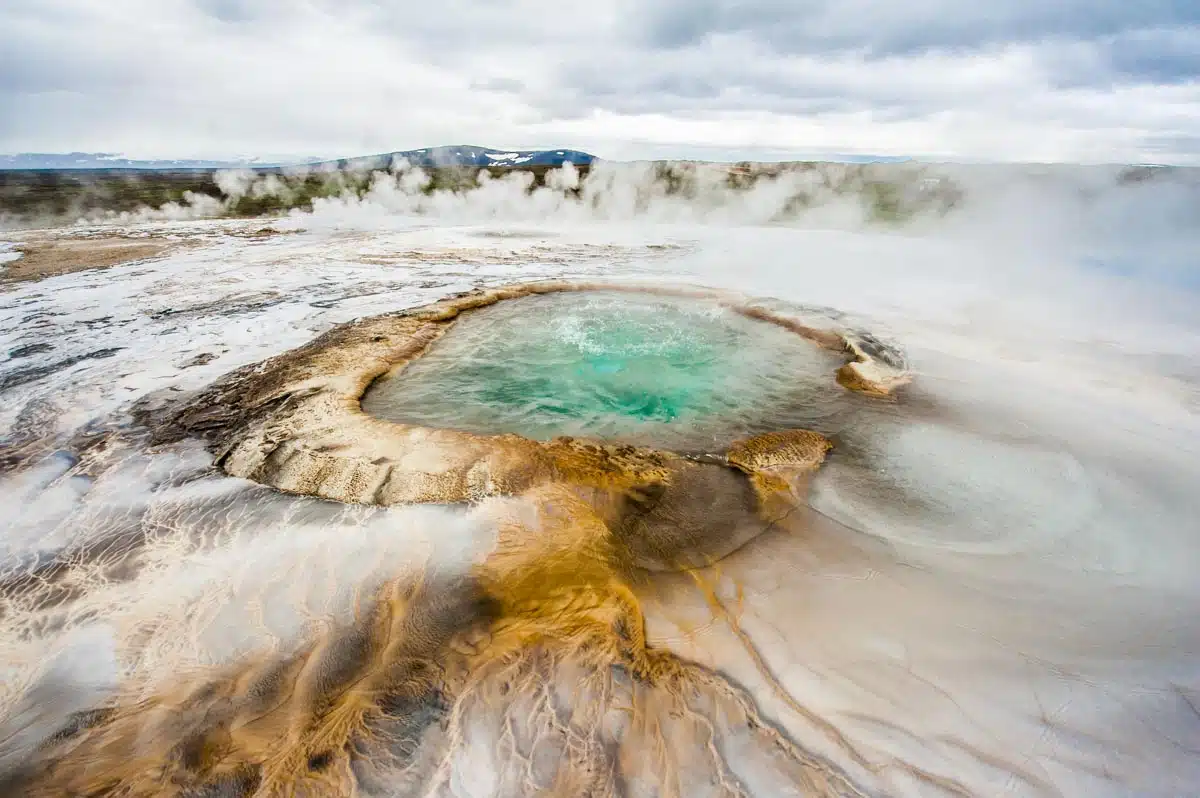 For one location in any country to be this mind-blowing should be cosmically illegal. Yet, Hveravellir is a place that exists and is undoubtedly one of the best hot springs in Iceland.
It sits inside a nature reserve with a few water holes and smoking fumaroles.
You can relax if you're scared that you'll lack epic aesthetics. This hot spring is right in the middle of stunning icy glaciers on one side and literal lava fields on the other.
I'd go so far as to say that you won't find a more breathtaking natural wonder elsewhere. A visit to the hot spring should be part of an adventure through the entire reserve because, trust me, every inch of land is near paradise.
Reykjadalur Steam Valley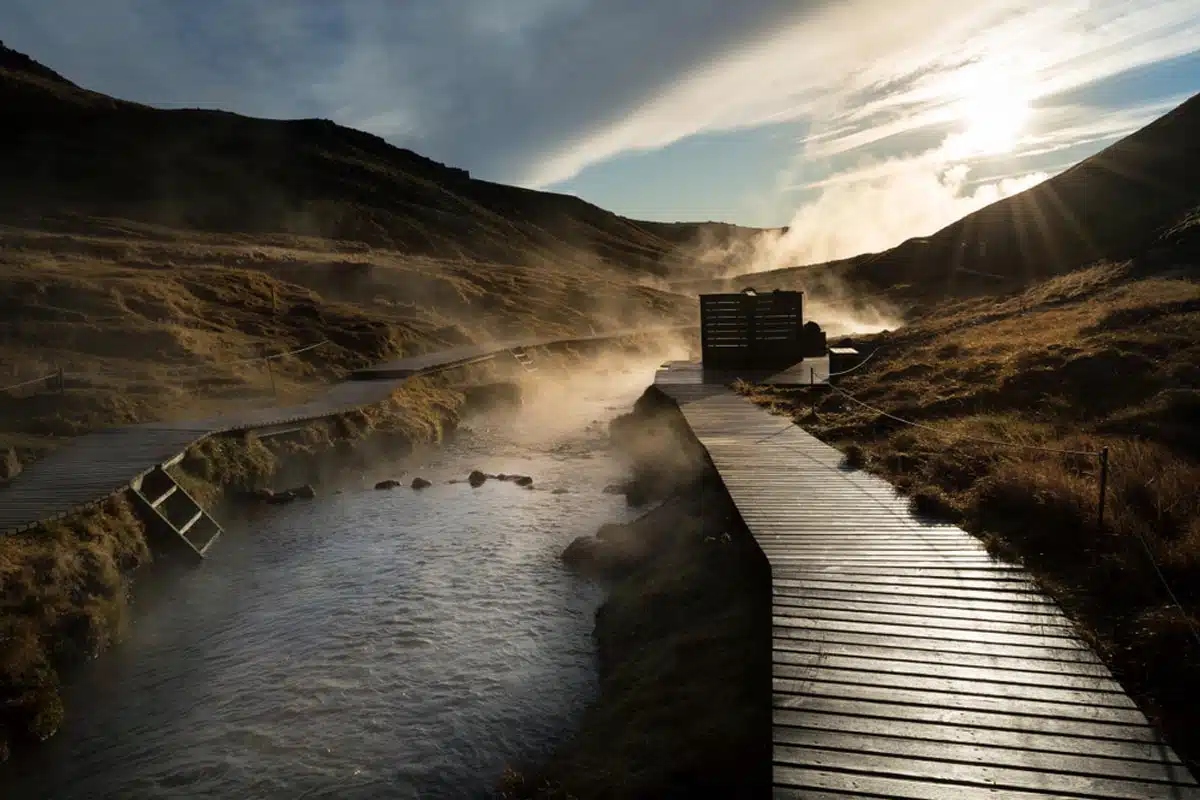 For those who have an inner need to explore as much of nature as possible, I can't recommend Reykjadalur enough.
This eye-catching green valley features many hot natural springs and mud pools, and get this: even a naturally heated river. And yes, you can swim in it.
This is a day trip treasure because of its proximity to Reykjavik. At just over 48 kilometres, it's one of the best things to do in Iceland (especially if you're on a short visit).
This Reykjavik hot spring is a must-visit, and once there, as difficult as it might be to skip dipping into one of the pools, venture past them to the boardwalk that sits right on top of the river.
GeoSea Geothermal Sea Baths
In the unassuming fishing village of Húsavik is the GeoSea Geothermal Sea Baths. It's the ideal spot to indulge in Icelandic culture while you take in the surreal views of Skjálfandi Bay and the Arctic circle.
Settle into the pools as you lose yourself in one of Iceland's best hot springs. The cherry on top? If the seasons are in your favour, you might spot whales in the bay or the northern lights above you.
Landmannalaugar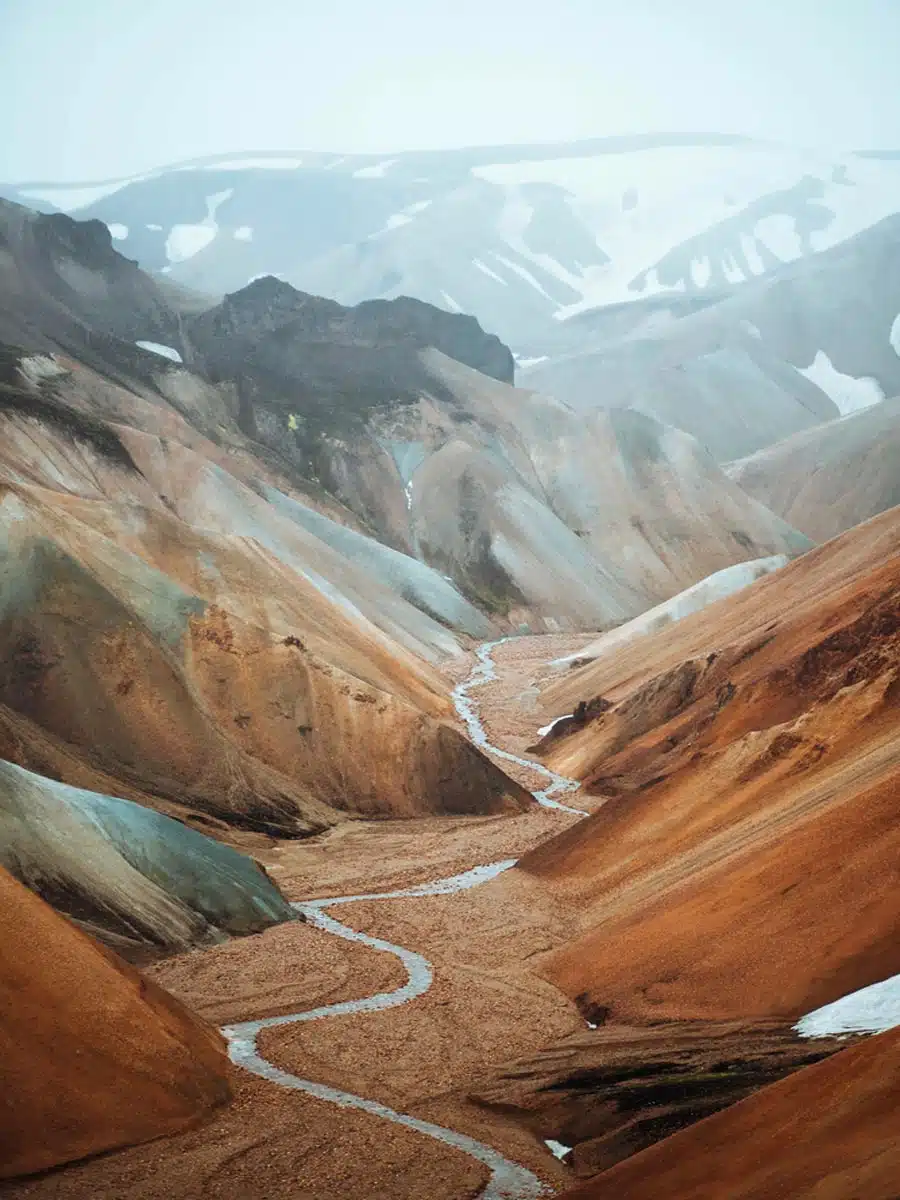 Translated as "the people's pools", the geothermally heated hot spring is in Iceland's southern Highlands. As a commonly used rest stop for travellers in decades past, these pools are majestically beautiful.
To reach them is rough, though. The road that leads here winds through mountains and lava fields only accessible by 4×4 or specially designed buses. However, experienced hikers can also choose to test their mettle on the trail to the pools.
Seljavallalaug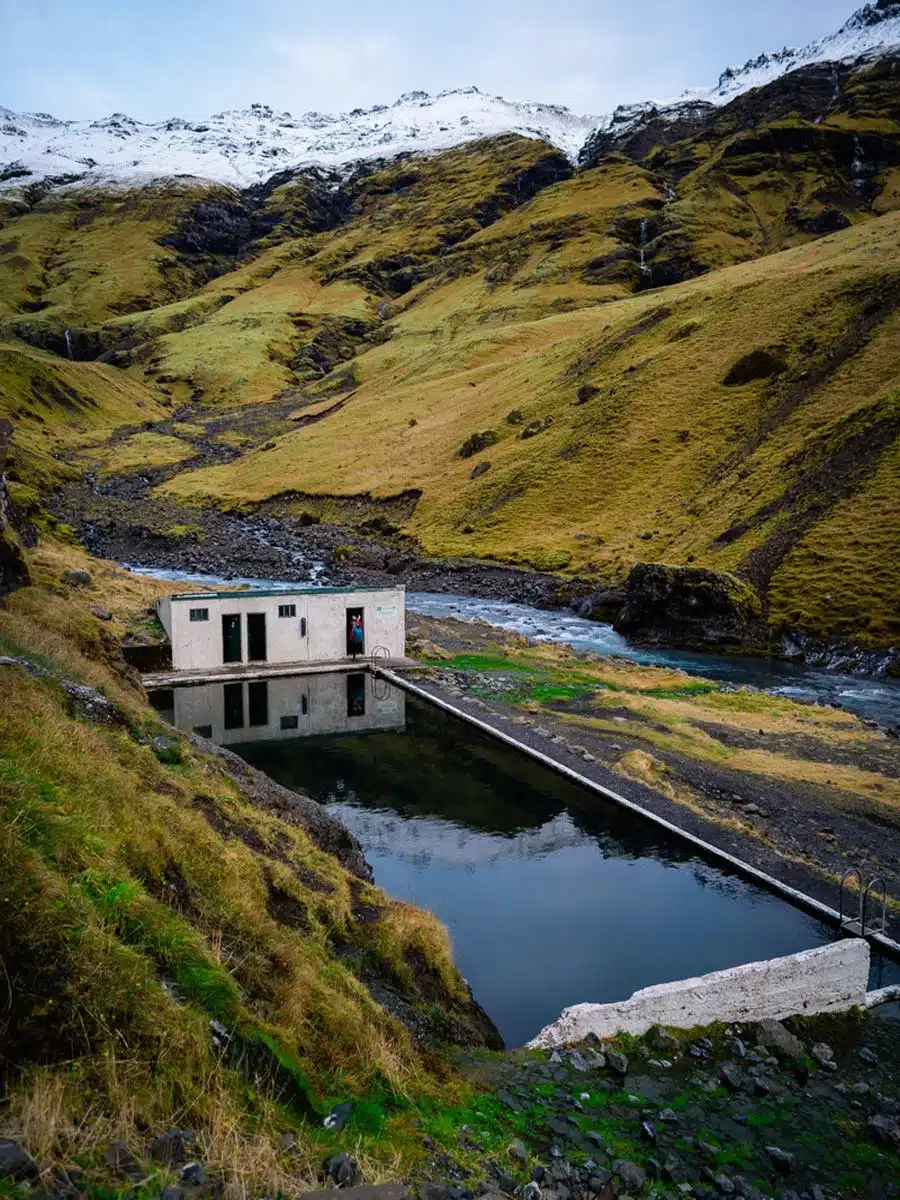 One of Iceland's largest natural swimming pools, Seljavallalaug, is the perfect testimony to why people love the country's hot springs. It blends mountains, a rugged coastline, and serene springs perfectly.
It's more thrilling due to a swim-at-your-own-risk vibe as there are no lifeguards or other facilities. This makes it one of the top free hot springs in Iceland — what's not to love?
Natural Hot Springs in Iceland: Practical Tips and FAQs
Iceland Hot Springs: Map
Iceland Hot Springs: Discover More Iceland Guides