Planning to explore Dorset and not sure where to start? Don't miss this guide to the best things to do in Dorset – brilliant places to visit, things to see and cool spots for your trip.
Dorset is just beautiful – as someone who grew up on the outskirts of London, the first time I ventured down to Dorset as a teenager I absolutely fell in love. Who wouldn't when the region boasts beautiful spots like Durdle Door and Lulworth Castle?
I'm not the only one. Jane Austen loved it, Thomas Hardy was obsessed with it – but what is it about Dorset that captures people's imaginations so?
Time to find out with this guide to the best things to do in Dorset.
Top 5 Things to do in Dorset
Durdle Door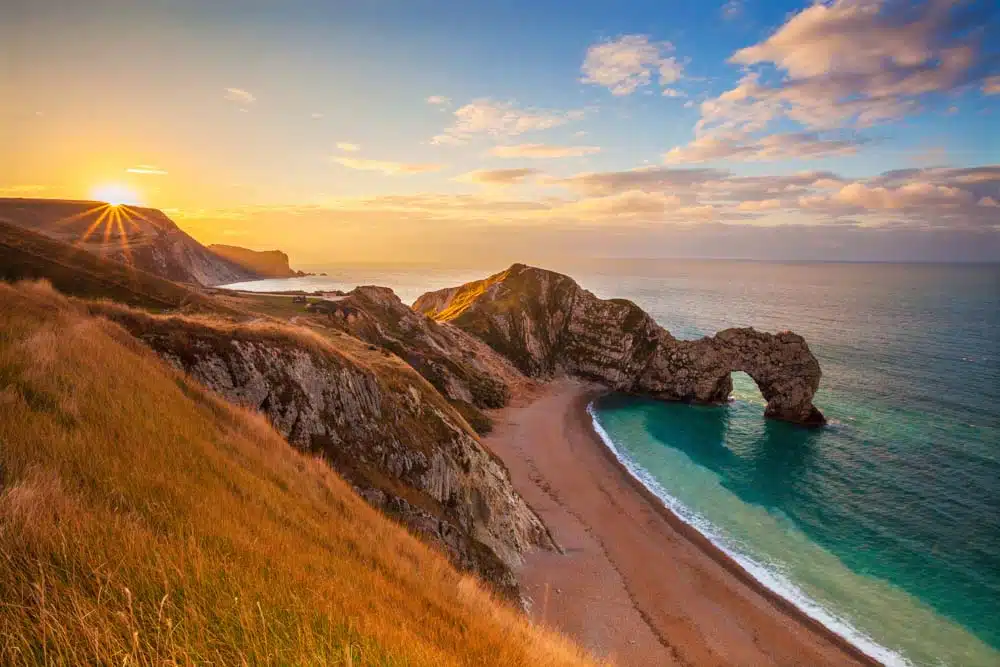 Gorgeous Durdle Door was England's first natural UNESCO World Heritage Site, so named back in 2001.
One glance at this quirky "doorway" and you're sure to agree it's a worthy inclusion. Years of erosion have left this true natural wonder, which attracts tens of thousands of eager visitors and photographers every year.
It's not just a pretty face, either. There's also a nice (rocky) beach not far from the rock formation, so you can easily spend a couple of hours here if the weather is good.
You can even take a tour (starting from Bournemouth) that explores both Durdle Door and Lulworth Castle in one day.
Lulworth Castle
Arguably the most beautiful castle in the south of England, Lulworth Castle is undeniably very, very romantic.
It was first built in the sixteenth century, not as a fortification but to entertain rich guests – hence its status as a "mock" castle.
Like many old castles, it was badly damaged by a fire and largely rebuilt back in the 1920s. Today, it is open to the public to admire the beautiful interior and fancy grounds.
If you're looking to go full British then you can even stop in for a cuppa and a cake at the castle's tea house.
Sherborne New Castle
Don't be fooled. Sherborne "New" Castle is actually over 400 years old. That's pretty old if you ask me.
In fact, Sherborne New Castle was built back in the Tudor era of the late 16th Century. The reason for the moniker is that it's believed to have replaced an even older castle built in the 12th Century.
Old or new, the castle is very beautiful and one of the best places to visit in Dorset. You can visit the elaborate gardens most of the year, but if you want to actually get inside the castle then you'll need to visit on a Saturday.
They also run frequent events including some pretty impressive fireworks.
Chesil Beach
Looking to enjoy a day at the beach in Dorset? Then I highly recommend making your way over to Chesil Beach.
Now, it is a shingle (rocky) beach, which I know don't get the same love as their sandy counterparts. However, this is a seriously excellent shingle beach.
It's not just me who thinks so – it's considered one of the three best and most important rocky beaches in Britain.
I mean, it goes for a staggering 12 miles (28 kilometres), which you've got to admit is pretty epic. Don't miss it when you're penning your list of Dorset places to visit.
Brownsea Island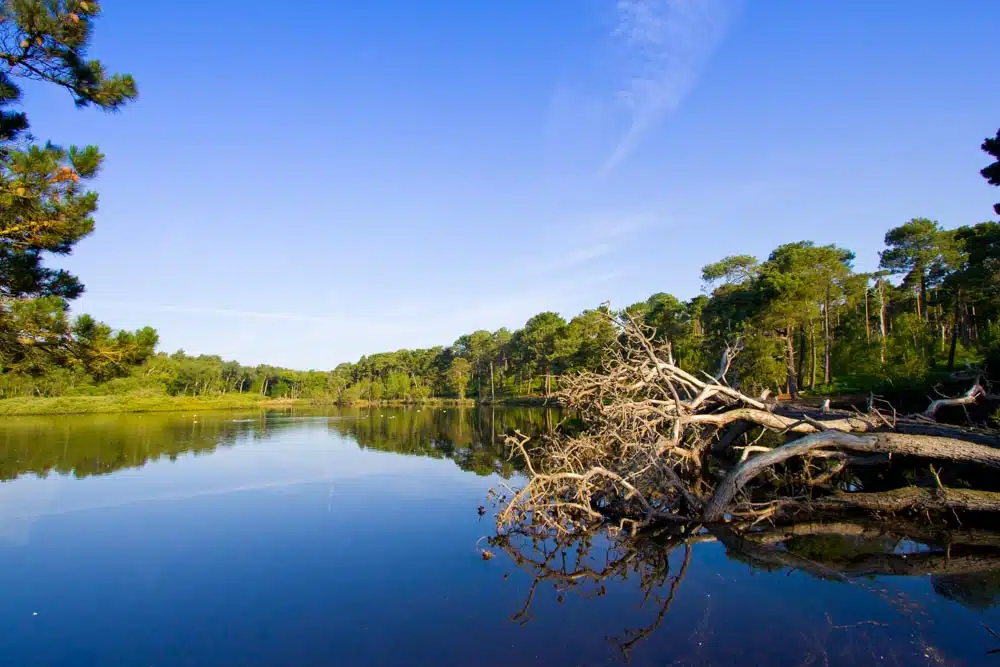 The biggest island in Poole Harbour, Brownsea Island is one of the most famous Dorset tourist attractions.
Although you can easily see the mainland while you're on Brownsea, you still get those relaxed island vibes.
There are particularly great wildlife watching opportunities on the island. It's easy to spot the international visitors – they're the ones squawking at the (admittedly pretty cute) squirrels.
Brownsea Island is managed by the National Trust, so if you've got a pass then you get in for free. Winning.
More Brilliant Things to See & Do in Dorset
Kingston Lacey
If I ever leave London and become horrendously wealthy, I plan to stake a claim for Kingston Lacey. This 17th-century mansion is seriously impressive.
If you're interested in history then the backstory of Kingston Lacey is a dramatic and scandal-filled read. Or, you can just wander through the gardens and dream of the good life.
As dogs are welcome, this is one of my picks for things to do with dogs in Dorset.
Fun fact – Kingston Lacey was gifted to the National Trust back in 1981, along with the equally impressive (but far less preserved) Corfe Castle. If you've seen them both, it's probably no surprise to hear it was the National Trust's largest-ever donation.
Highcliffe Castle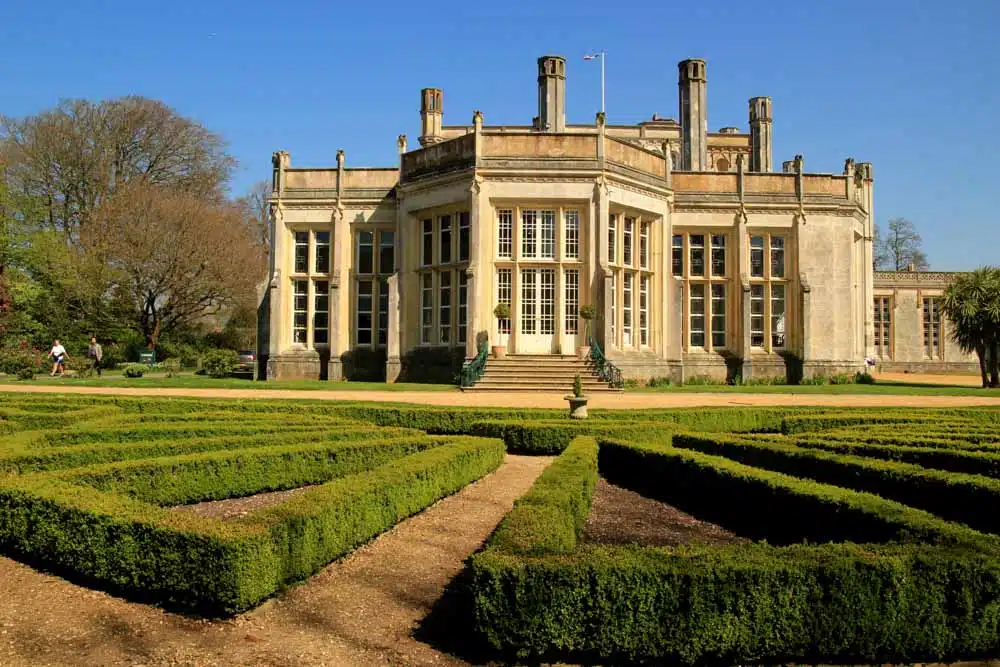 As you might have picked up from this list, Dorset isn't short on a fancy castle or two.
Of all of them, their settings don't get much more impressive than the stunningly beautiful Highcliffe Castle.
The name might be a bit of a giveaway as to its location – up on the hilltop, overlooking the staggeringly beautiful coastline.
It's no surprise to hear it's a popular wedding venue, considering it really does look like something a romance novelist cooked up. Don't miss it when you're looking for what to do in Dorset.
Corfe Castle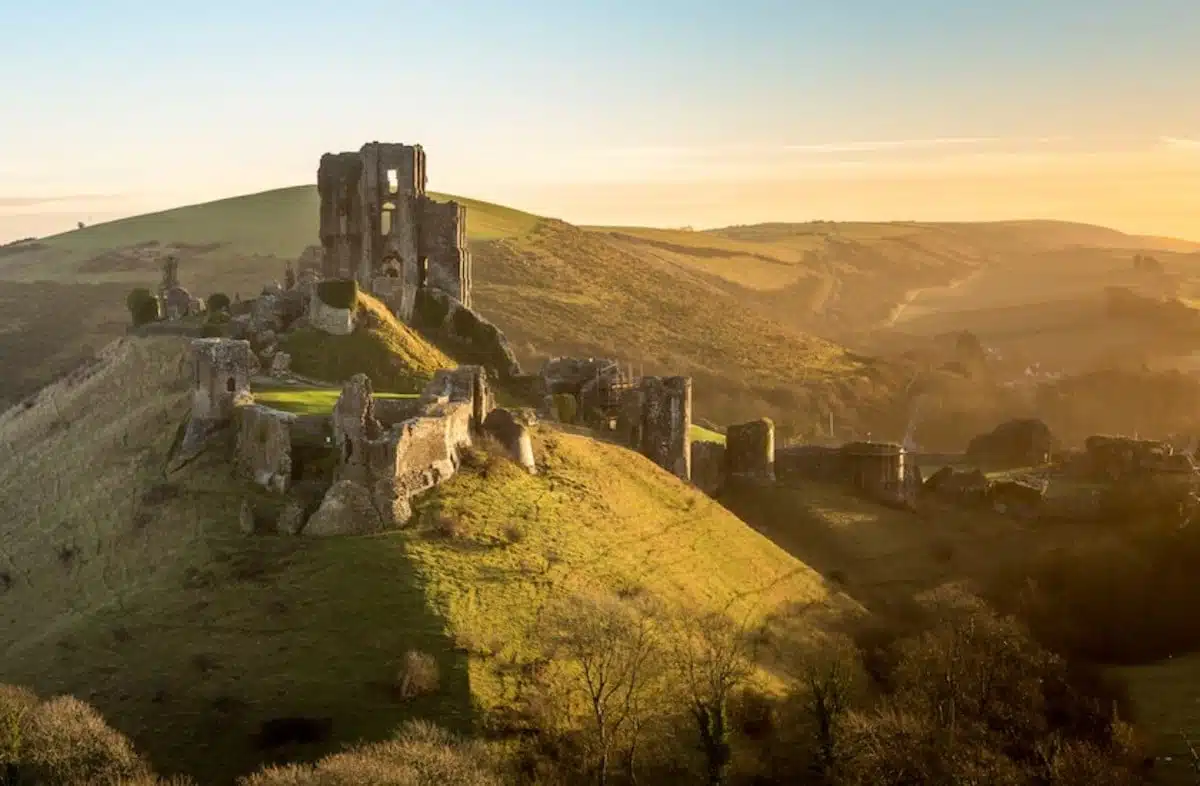 Owned by the same family as Kingston Lacey, Corfe Castle was the other half of the National Trust's largest-ever donation.
The result is that absolutely everybody is welcome to come and visit this iconic place of interest in Dorset.
Now, if you've spent much time in the UK you'll know that we're not exactly lacking in ruined castles – but the fascinating backstory of this one makes it particularly special.
If you're a bit of a history geek, then you'll want to head along to one of the special events where you can find out more about the castle during the English Civil War.
Maiden Castle
Don't be fooled by the name, this is not a castle in the regular sense. Instead, it's an iron age hill fort.
In fact, it's not just any iron age hill fort – but the oldest and most complete in Britain.
Parts of the archaeological site date back around 3,500 years, making Maiden Castle around the same age as Stonehenge. There's also significant evidence of a Roman settlement.
So, if you've got any interest in European or ancient history – you'd best add this to the list of unusual things to do in Dorset.
Hunting Down Thomas Hardy in Dorchester
If you don't know who Thomas Hardy is, I recommend brushing up before a visit to Dorchester. The author is kind of a big deal around these parts.
If you do know of the famous author, then you're in for a treat. The area is peppered with plenty of sites relating to his life.
Dorchester itself inspired many of his novels, while you can also drop by to see his family home. The Dorset County Museum also houses several original manuscripts.
Cerne Giant
Kids, look away now. Turns out drawing, ah, questionably-clad figures on things is not a modern invention.
Case in point: the Cerne Giant. Standing at 55 metres high and totally starkers, this is certainly one of the more memorable places to see in Dorset.
While some early historians thought that it was prehistoric, recent studies pitch it as a piece of political satire from around the 17th century.
If so, they really did leave their mark on the landscape.
Abbotsbury Swannery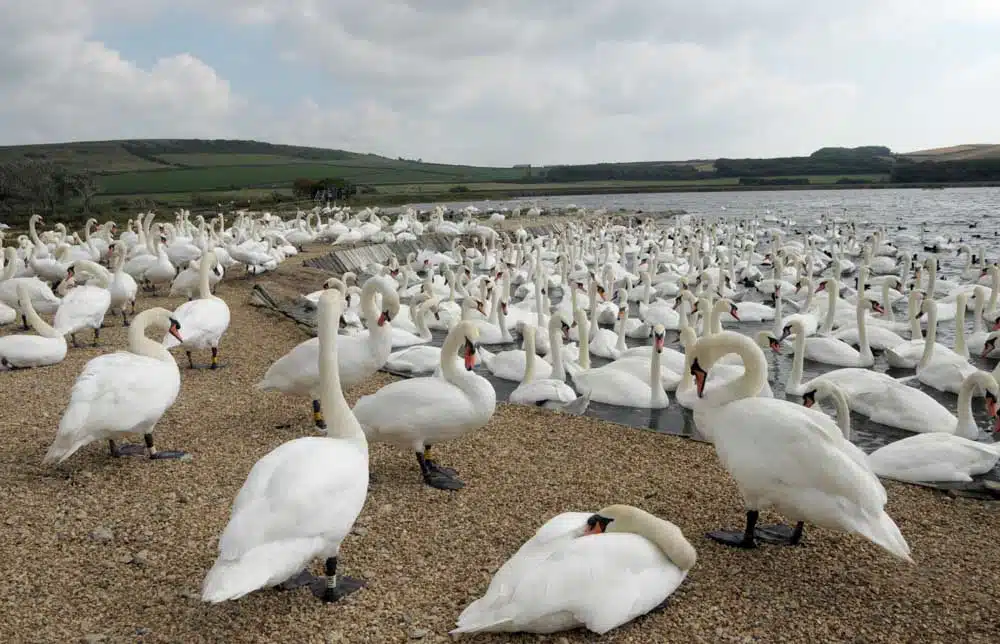 For a seriously amazing and unique experience, head down to the Abbotsbury Swannery, one of the most exciting things to do in Dorset.
This area is home to more than 600 mute swans, including hundreds of breeding pairs. It's a totally unique attraction, being the only place on earth where you can walk through a colony of mute swans.
If you've got any interest in wildlife photography or are looking to rack up the likes on Instagram – be sure to bring a camera.
Portland Castle
In the mid 16th Century, Henry VIII (the one who famously offed his wives) built a number of fortifications along the coast of England. This was so that Old Blighty could be protected from the cunning French and Spanish.
One of these was Portland Castle, and it's one of the best preserved examples of a coastal fort. Today, you can check it out and also admire the sweeping views from it.
Walk in the Footsteps of Jane Austen at Lyme Regis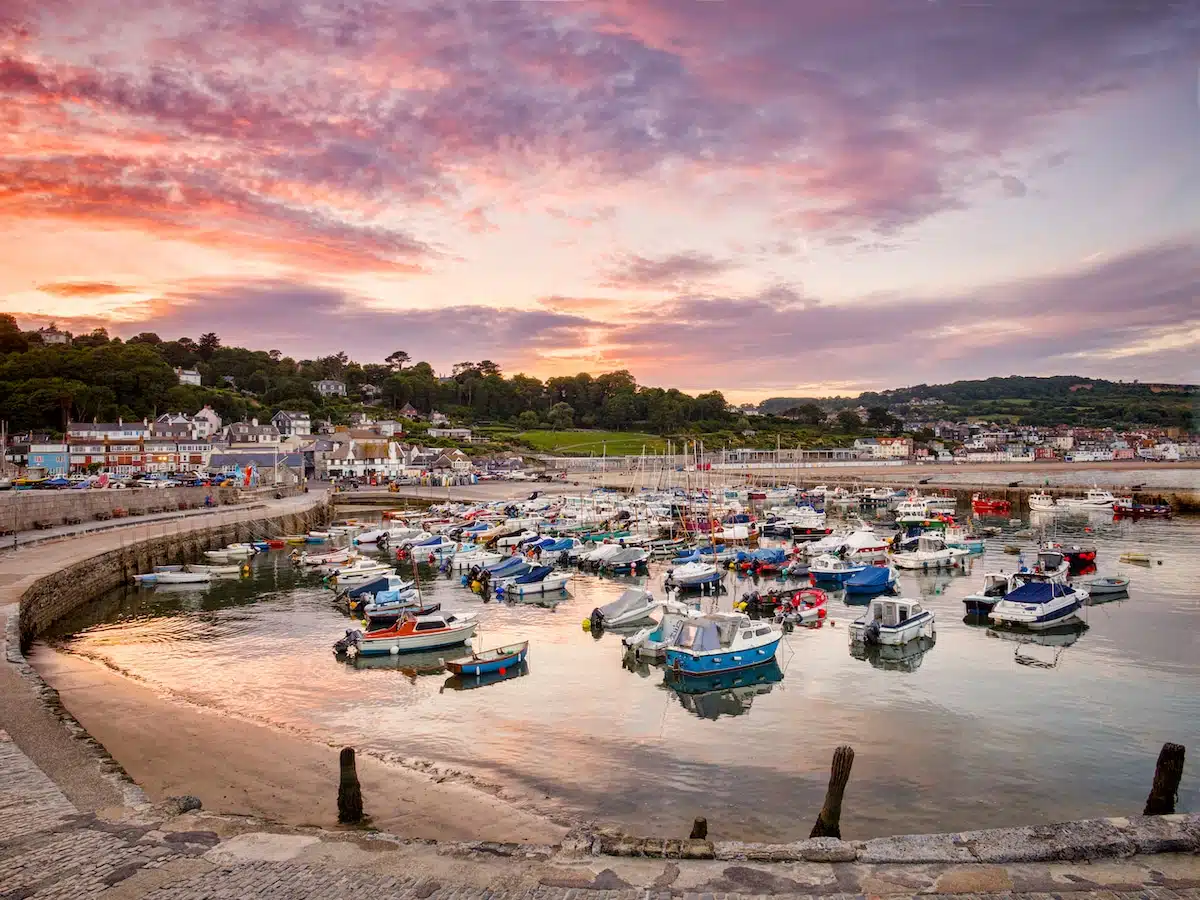 Now, I could tell you that Lyme Regis is beautiful – but I suspect you'll put more weight on the words of Jane Austen.
The famous author described it breathlessly in her novel Persuasion, having visited the area at least twice on research missions.
Whether you love Jane Austen's novels or just trust her (or my) judgement on beautiful places, it's a great option if you're looking for where to go in Dorset.
Sherborne Abbey
There are quite a lot of old abbeys around England, however many of them have been ruined due to the Dissolution of the Monasteries.
That's why it's so fascinating to visit a well-preserved one like Sherborne Abbey.
It's believed to have been a spiritually significant site since at least 705, although much of what is on display dates from the 13th and 15th centuries.
Forde Abbey
Yet another beautiful old abbey is Forde Abbey, which is a privately owned Cistern Abbey.
Originally started by 12 monks in the 12th century, the abbey is (unsurprisingly) Grade I heritage listed.
Far from being a dusty museum, the Abbey is open to the public to explore and admire. It's set amongst over 1,600 acres of beautiful gardens, making it a fabulous thing to do in Dorset for adults – although kids may also appreciate the wide green space.
Free Things to do in Dorset
Bournemouth Beach
Dorset is famous for its beautiful coast, and with beautiful coast comes beautiful beaches. Like Bournemouth Beach.
Technically, Bournemouth actually has several beaches that overlap, offering a magnificent seven miles of dazzling sand and surf.
They're well-maintained, with lifeguards and constant cleanups, making them some of the most popular in England. For good reason.
Isle of Portland
Located about five miles out to sea in the English Channel, the Isle of Portland is a seriously cool place to visit.
It's just far enough away that you feel like you're on a real adventure. Plus, all the cool maritime-inspired attractions like the historic lighthouse adds to the feeling of being a real explorer.
As well as the attractions including a castle and museum, the Isle is also famous for its gorgeous wild scenery – so strap on those walking shoes and get ready for a hike.
Isle of Purbeck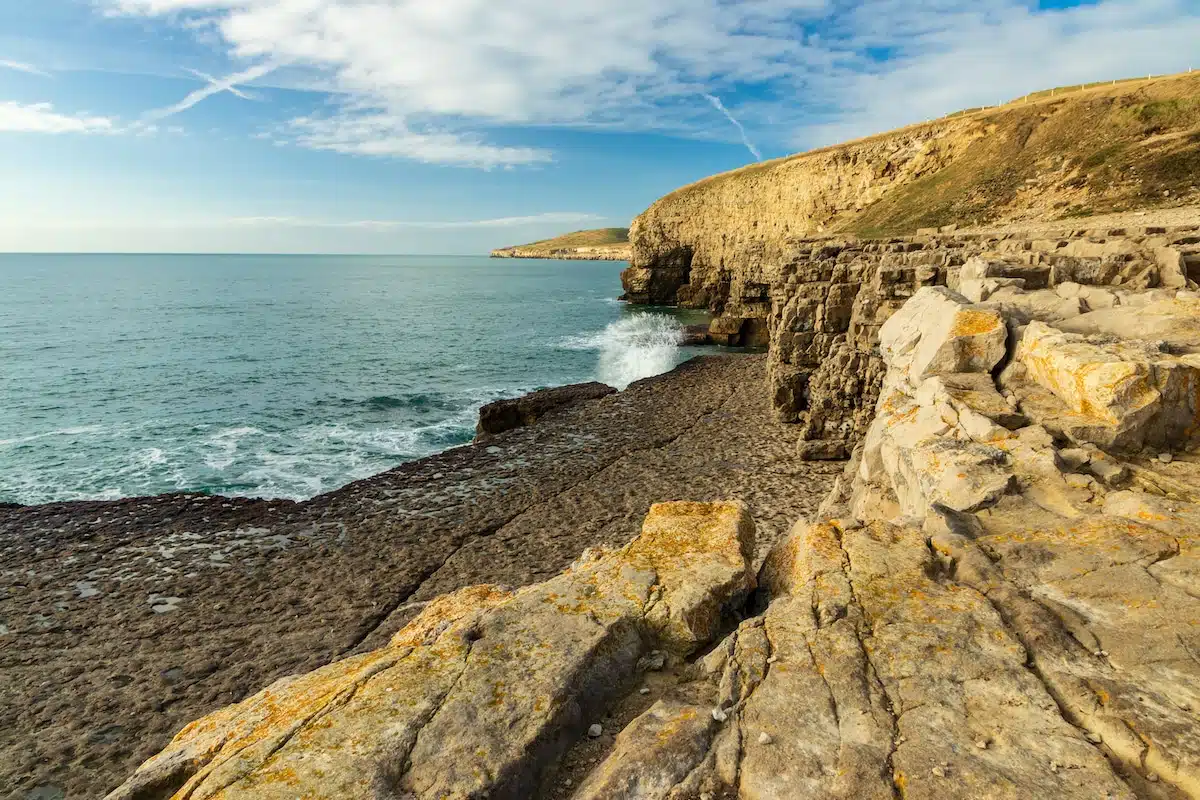 Yet another spot to take in some seriously gorgeous coastal views is the Isle of Purbeck.
So, sorry to burst your bubble, but the Isle of Purbeck is not technically an island. That said, it is surrounded by water on three sides – so close enough, I guess?
Island or no, it's got amazing coastal views for miles and miles. There's also a golf club if you consider yourself a Tiger Woods in the making.
Sandbanks Poole
Sandbanks Poole is home to one of the best beaches in all of Britain. If you don't believe me just ask the local real estate agents – rich people are falling over themselves to secure a home nearby.
I certainly don't blame them – this sandy, wide beach is enough to make you think you've popped up in the south of France.
There's also a very beautiful harbour, as well as a small selection of shops and cafes to browse as well.
Weymouth Beach
If you're looking for beaches, then Dorset really does deliver.
Weymouth Beach is yet another popular option, thanks to its long stretch of soft sand and calm, warm water.
Located along the Jurassic Coast, it's also got pretty beautiful views and is a great stop off after a hike.
Stair Hole Bay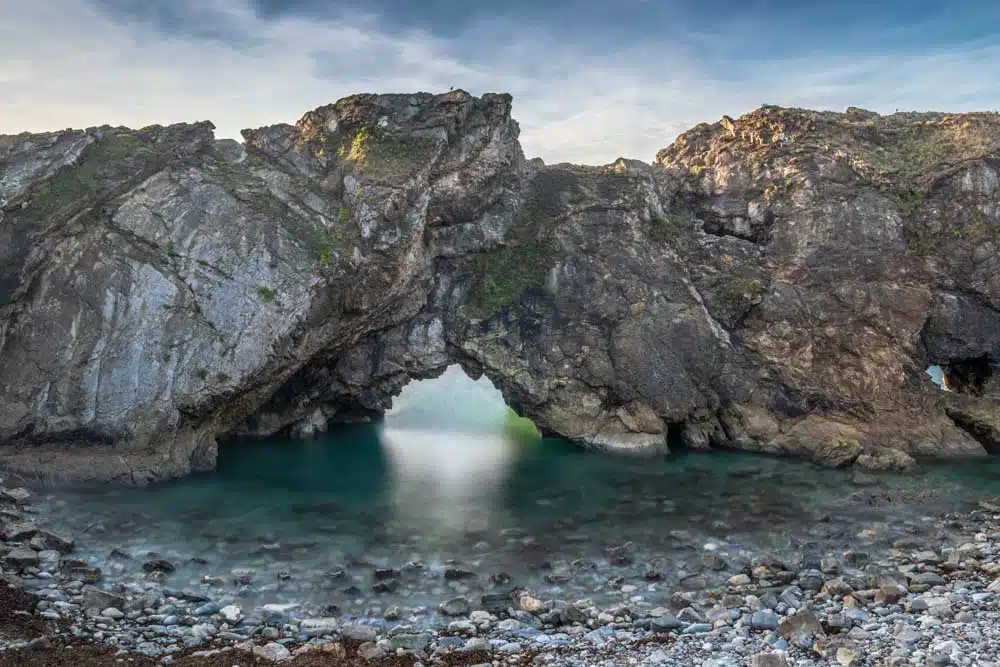 You know those places that are super gorgeous and tend to go viral on Instagram? Stair Hole Bay is one of those places — minus the viral fame (for now).
Not far from Lulworth Cove, it's a little pool of dazzling blue with interesting rock formations around.
It's a popular route with kayakers, or you can make your way down to it – I just recommend wearing some sturdy footwear so you don't take a tumble.
Tout Quarry
Mining isn't usually associated with beauty, but in the case of Tout Quarry, they've really made the best of a bad situation.
In fact, this abandoned stone quarry has become one of Portland's most famous attractions since it was turned into a sculpture park.
There's more than 60 sculptures to discover, with artists completing residencies since the 1980s.
Cool Things Do in Dorset in the Rain
Sea Life
Learn more about the world under the sea at Sea Life in Dorset. With sixteen themed areas, you can be dazzled by the different sea creatures.
There are plenty of interesting and informative things to do at Sea Life, however my personal favourite is to visit the teensy Little Penguins. They're the smallest penguins in the world, and seriously cute.
They run lots of fun events, especially in the school holidays – so check out the website to see what's on.
Dorset County Museum
One of the oldest museums in the south of England, the Dorset County Museum was set up way back in the mid 1800s.
In fact, it replaced a pub – I guess I have to admit that's better for your brain cells.
The design is distinctly Neo-Gothic on the inside and out, which is pretty cool. Inside, things are even better.
There's an impressive collection of objects relating to the Dorset area. It's a wide-spanning collection, from local author Thomas Hardy's original manuscripts to fossilised dinosaur footprints.
Lyme Regis Museum
I just love cute little local museums, and the Lyme Regis Museum is a beauty.
The museum was built back in 1901, by Thomas Philpott. His aunt – and the inspiration for the museum – was Elizabeth Philpott. Elizabeth was a fossil collector so prolific that she ended up with her own Wikipedia page.
Fittingly, the museum is mainly devoted to fossils and geology of the Jurassic Coast area. However, the collection is wider, incorporating local and maritime history as well.
If you're looking for things to do in Dorset on a rainy day, this is a great option.
Unusual Things to do in Dorset
Old Harry Rocks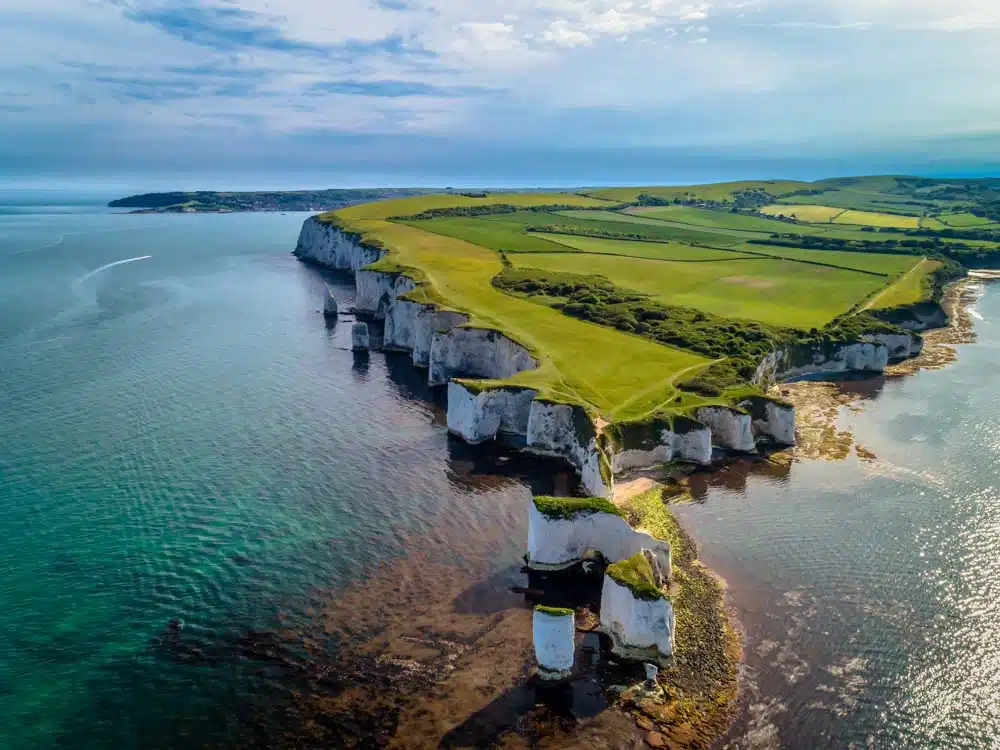 Marking the most easterly point of the incredibly beautiful Jurassic Coast Path, the Old Harry Rocks are quite the spectacle.
Jutting out of the water, they're a stark white against the blue of the ocean and green of the mainland.
No wonder that photographers (and nature lovers) are kind of obsessed with them.
If you want to see this Dorset attraction you'll want to hurry on over – one (Harry's Wife) has already collapsed.
Tyneham Ghost Village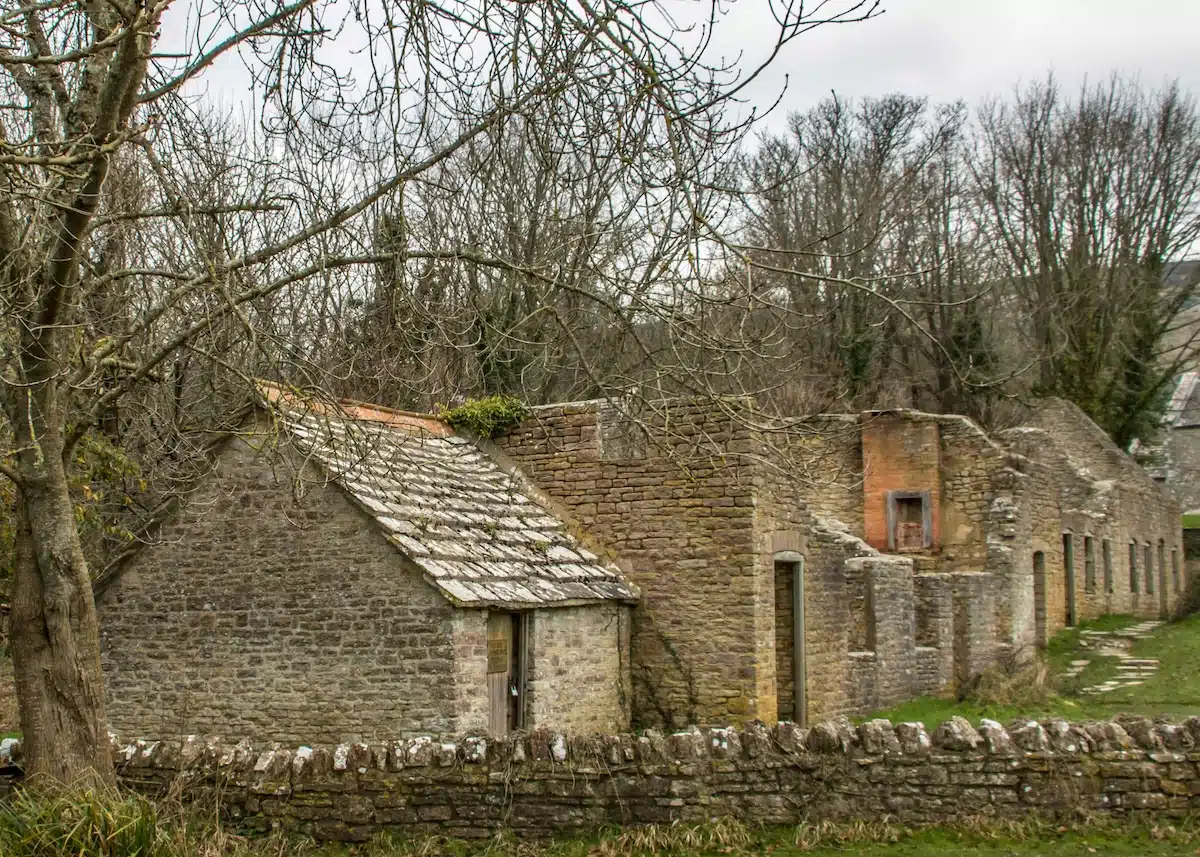 Since WWII, Dorset's Tyneham Village has been completely abandoned – in 1943, the villagers who resided there were given notice that they would need to leave within 28 days as the area was required in order to train soldiers.
But today, the village still sits in ruins. It's really cool to wander around and see a quaint English village frozen in time, completely undisturbed. Keep your eyes peeled for the ultra-retro phone box – London who?
Pirate's Graveyard
St Andrew's Church in Portland is known by many by its creepier title, the Pirate's Graveyard.
Sitting underneath the equally-spooky Portland Castle are the ruins of the church and the bones of smugglers who used to operate within the region. Not to mention the incredible sea view. Make sure to visit the castle while you're there.
I won't lie, it's a bit eerie, but it's a great place to bring older kids along to.
Knob Throwing
Yes, you read that correctly – this cheeky biannual event involves hurling the area's famous bread rolls – (or is it a biscuit?) – known as Dorset knobs, FYI. A food market also takes place alongside the event, so you'll get to try out local delicacies.
Bear with me on this one. Attractions include: Knob eating, knob painting, guessing the weight of the Big Knob (I'm not making this up, I swear), and a knob and spoon race.
Whilst the exact date and location changes each year, this is a pretty unique way to spend a day in Dorset.
Places to Visit in Dorset: Practical Tips for Your Trip
How Long Should I Stay in Dorset?
As you can see from this list, for a relatively quiet place there is a lot to do in Dorset. Many people choose to spend extended breaks here, enjoying the amazing sights and relaxed seaside atmosphere.
A few days to a week will give you plenty of time to explore – which is especially ideal if you like history and hope to take a deep dive into the sights.
That said, if you're on a tight time frame then an overnight trip from London is possible. It's best to do this in summer when the days are long, giving you enough time to really explore it.
Best Time to Visit Dorset
Since Dorset is on the coast, you'll see it at its best during summer. At this time, the sun is (often) shining and rain is at a minimum – meaning you can enjoy sunny days at the beach.
Of course, you won't be the only one who thinks so, so prepare to share the beach.
If you prefer the peace and quiet, then late spring or early summer are good alternatives. They may be on the cool side, but you won't have to compete with the crowds.

Where Should I Stay in Dorset?
While there are plenty of hotels in Dorset, it's a fabulous destination for a self-catered holiday as there's plenty to keep you entertained for the course of a week or two and you can settle in to explore the area at your leisure..
Dorset Coastal Cottages offers a range of comfortable and stylish properties dotted around the Dorset, including fabulous options in Lyme Regis, Lulworth and the Isle of Purbeck.
Dorset Attractions: Map
Love This? Save and Share on Pinterest!