Is there any region in England prettier than The Cotswolds? Good question.
Gorgeous rural landscapes are punctuated with cuter-than-cute villages and the result is a beautiful area that draws people from around the world to explore.
Situated between the Thames and the Severn basins, this region of low-lying rolling hills and historic towns and villages fully deserves its designation as an area of outstanding natural beauty.
Wealth from the wool trade helped shape the Cotswolds into the place it is today – well-preserved limestone cottages, intriguing manor houses and bustling villages and towns.
In need of inspiration for your Cotswolds trip? I've picked the very best Cotswolds villages and towns you shouldn't miss off your British bucket list.
GET YOUR U.K BUCKET LIST
A handy copy of this UK Bucket List Destinations guide, ready to save to your phone, packed with tips and insights, sent straight to your inbox.
The Prettiest Cotswolds Villages
Castle Combe
Castle Combe has everything you could ever want in a pretty Cotswolds village. The streets are quaint, a babbling river flows through it and it's shrouded in an abundance of trees. There are even ivy-covered bricks… and that's exactly the way it should be.
Castle Combe is located in Wiltshire and named after a 12th-century castle that once stood just 1.3 miles away from where the village is today.
Although you won't be able to visit the castle, there is another attraction worth seeing. Dr Dolittle's house from the 1967 movie is located in Castle Combe and is well worth the visit – especially if you're a fan of the movie.
If not, the rows of picture-perfect medieval houses and other historic buildings are more than enough to keep you entertained.
Where to Stay in Castle Combe – The Manor House Hotel and Golf Club
This stunning 14th-century building is about as grand a stay as you can come across in this little village. It's located on 365 acres of green parkland and contains a Michelin star restaurant, a spa and some extremely comfortable rooms.
Click here to see prices and availability for The Manor House Hotel and Golf Club
PS – Check out my guide to The Best Places to Stay in Cotswolds
Painswick
Painswick's famous honey-coloured stone cottages are an absolute must for any Cotswolds trip.
Don't be lulled by the relaxed ambience, Painswick is perfect for exploring. Pack your walking shoes – just beyond the village lies a whole variety of walking paths that provide stunning views of the countryside.
Be sure to stop by the Painswick Rococo Gardens, the 18th-century Gothic gardens are rather striking – not to mention they're the only gardens in that style left in the whole of the UK.
Its maze-like layout makes it extremely photogenic, but be sure to check out the seasonal vegetable garden and the flower garden for a little added interest.
Away from the gardens, much of Painswick's appeal is in its slow pace of life – there are good pubs, small art galleries, laid-back cafes and, of course, the opportunity to stroll around one of the best villages in the Cotswolds.
Where to Stay in Painswick – Court House Manor Luxury B&B
The Court House manor is a B&B located on a luxurious estate that's been around since the 16th century. They provide free WiFi throughout the manor and TVs in all the rooms. Stroll the landscaped gardens during your stay, or play a game of badminton, croquet, and other lawn sports.
Click here to see prices and availability for Court House Manor Luxury B&B
Stanton
Stanton can only be described as beautifully charming. Limestone cottages line the wide country streets and there's plenty of vegetation and flowers scattered around the village.
Just outside the village, you'll find a variety of great walking paths that will help you explore the countryside.
Stanton is home to some elegant buildings and churches that were built between the 14th and 17th century. There are also two World War II memorials which are a point of interest for history-lovers.
This out-of-the-way village is perfect for adventurers who like to take the road less travelled. There may not be many people visiting this village every year, but that's because many travellers simply don't know what they're missing out on! So take it from me, this is one of the Cotswolds villages that is worth the visit.
Where to Near Stanton – The Lygon Arms Hotel
Because Stanton is not a popular tourist destination, there aren't many options in the way of accommodation. But that doesn't mean you can't easily find somewhere nearby. Broadway is just a 3-mile drive away, and that's exactly where I recommend you stay.
The Lygon Arms is perfectly quaint, and is the only place you'll want to lay your head after a day of exploring Stanton. The rooms are modern yet cosy, and the pub and grill serve hearty British meals.
Click here to check prices and availability at the Lygon Arms Hotel
The Slaughters
Despite what the name may suggest, The Slaughters are two peaceful country villages with quaint stone cottages and gorgeous flower displays.
Collectively called The Slaughters, they're actually two separate villages: Upper Slaughter and Lower Slaughter. Both make it onto pretty much every list of the prettiest Cotswold Villages – and for good reason
This idyllic setting is known for its 15th-century Manor House, its medieval almshouses, and its historic church – St Peters.
The village gets its name from "slough", an Old English term that means "wetland". Slaughter is more aesthetically pleasing than anything else (in other words, don't expect to create a jam-packed itinerary for your visit) but it is a great place to spend a day or two.
Where to Stay in the Slaughters – The Lamb Inn
The Lamb Inn offers absolutely luxurious rooms decked out with all the best furnishings right in the heart of Upper Slaughter. It has an on-site country-style restaurant and bar that you'll be ever so grateful for after a long day of exploring the village.
Click here to see prices and availability for The Lamb Inn
Tetbury
Tetbury is an incredibly old village in The Cotswolds which makes its history all the more interesting. During the Middle Ages, this town was an important market place for wool and woven thread.
To this day, the historic Market House is one of its main attractions and by far the most photographed building in Tetbury. I highly recommend you check it out for a series of unique photographs.
This pillared Market House is still used as a meeting place, but on non-trading days, it makes a great place to take some eerie photographs. While you're in the village, be sure to visit the Police Museum and Courthouse for a little added interest.
Where to Stay in Tetbury – The Hare and Hounds Hotel
The Hare and Hounds Hotel is a traditional English country hotel with a vibrant restaurant and bar attached. The bedrooms overlook the picturesque countryside, and if you're looking for a little more privacy there are private guest houses available too.
Click here to see prices and availability for The Hare and Hounds Hotel
Bibury
Bibury is ravishingly beautiful. The secret is well and truly out, but if you time your visit right, it's impossible not to fall under its spell.
The combination of picturesque buildings, quiet ponds and babbling brooks is so "ye olde England" it hurts.
All of that before you get to Arlington Row – a row of 14th century buildings that were transformed into cottages and which feature on pretty much every picture of the village (not to mention on the inside of the UK passports).
Where to Stay in Bibury
The Swan Hotel is an old coaching inn that has been brought into the 21st century with luxurious rooms that make the perfect base for your Cotswolds stay.
Bourton-on-the-Water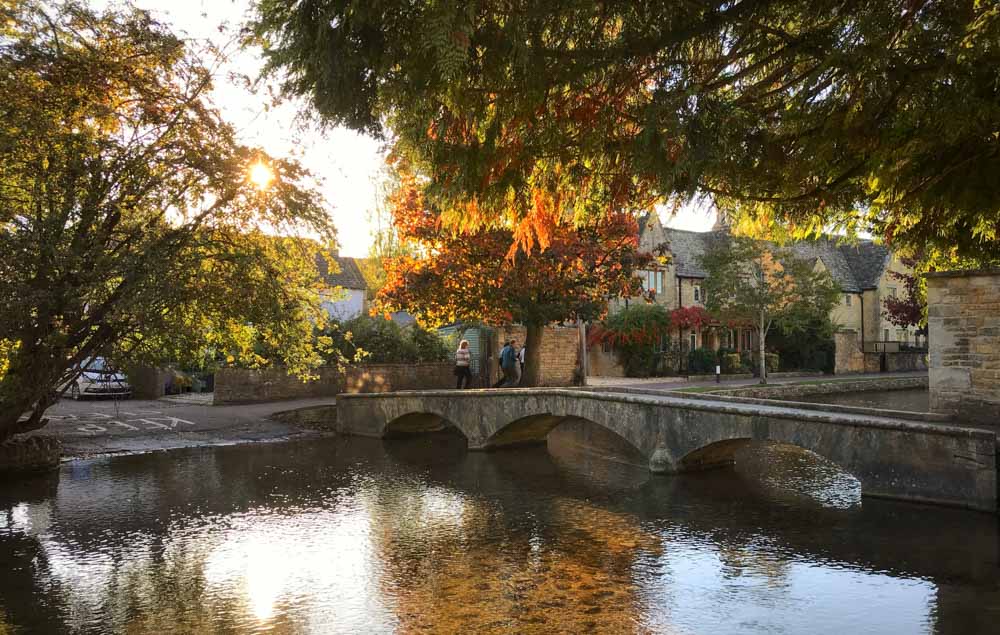 Its nickname, the "Little Venice of the Cotswolds" says pretty much everything you need to know about the jaw-droppingly beautiful Bourton-on-the-Water.
With the River Windrush meandering through the centre of the village, it's punctuated by a number of small bridges and lined with willow trees waving gently in the breeze.
It would all be so idyllic, were it not for the other million stampeding tourists that are sure to be visiting at the same time. Bourton-on-the-Water is busy – thanks to its fine aspect and the number of attractions in the village itself. My advice? Go as early in the day as possible, or stay overnight to experience a quieter side of the village others rarely see.
Where to Stay in Bourton-on-the-Water
The Wheatsheaf Inn – there's plenty of luxury and English hospitality in this hotel (the beaten copper baths are my favourite aspect).
Beautiful Towns in the Cotswolds
Cirencester
Cirencester is a town, rather than a village. Dating all the way back to Roman times, it's located along the River Churn and is ever so slightly more urbanised than that of the surrounding villages.
It's a market town with plenty of things to do. Visiting the Corinium museum during your stay is an absolute must for those wanting to see an extensive collection of Roman artefacts. It's also home to the Royal Agricultural University which is the oldest agricultural university in the English-speaking world.
The village also contains the Church of St John the Baptist which is known for its Gothic porch, merchants tomb, and fan vaults. The stunning ancient architecture of this church makes it a must-visit during your stay at Cirencester.
Where to Stay in Cirencester – De Vere Cotswold Water Park
If you're looking for a room with a view, it simply doesn't get better than this lakeside setting in the country. The rooms are stylish and modern, and there's free WiFi access in all areas. Dine by the lake every evening at the boathouse pub before heading to the hydrotherapy pool and steam room.
Click here to see prices and availability of De Vere Cotswold Water Park
Chipping Campden
Chipping Campden is a small town in The Cotswolds that is most famous for its near-perfectly preserved High Street, which was created in the 14th century.
The village was established as a wool trading centre during the Middle Ages but today thrives on its tourism industry. Because of this, there are plenty of inns, restaurants and shops.
The village is home to the second-largest concentration of protected buildings in England. The Town Hall, The Woodstaplers' Hall and the Old Grammar School are three such buildings, all dating back in whole or in part to the period between the 14th and 17th centuries.
Fancy yourself as an adventurer? You'll be happy to know that Chipping Campden is the endpoint of the Cotswold Way. This 164-kilometre long-distance footpath is the perfect way to see even more of the beautiful countryside.
Where to Stay in Chipping Campden – Eight Bells Inn
The Eight Bells is the quintessential English country inn, but with all the modern bells and whistles any guest could ask for.
There is a high-quality restaurant on the premises, as well as a bar with a terraced garden.
Click here to see prices and availability at the Eight Bells Inn
---
There we are – the most beautiful Cotswolds villages and towns you have to visit. Time to start planning a road trip?
Read More UK Travel Guides
Love This? Save and Share on Pinterest!