Gorgeous coastline, expansive landscapes and pretty villages – the neighbouring counties of Norfolk and Suffolk offer the chance to kick back and enjoy life at a slower pace.
Wild, craggy and unkempt in the best possible way, life marches to a different rhythm in Norfolk and Suffolk and that rhythm is a peaceful one.
Much as I love London, an escape from the noise and the crowds is never a bad thing – which is why I've made several jaunts to Norfolk and Suffolk over the years – lured by the promise of beautiful views and a slice of the quiet life.
You're never far away from the water – together Norfolk and Suffolk's coastlines boast some of the UK's best beaches. All of that before you include the pretty expanses of The Broads – a National Park featuring a network of rivers and lakes that hold the promise of discovery and adventure.
The areas also happen to feature some of England's best-preserved historic villages that deserve a spot on your British bucket list. Picture-perfect Lavenham pops up on many an Instagram feed thanks to its well-preserved Tudor architecture, while Georgian Walberswick is too cute for words.
But it's not all bucolic countryside living – there's plenty to liven things up too. Georgian towns such as Burnham Market and Southwold bring a change of pace, not forgetting Norwich with its beautiful cathedral and vibrant Ipswich.
Top Places to Visit in Norfolk
Wells Next the Sea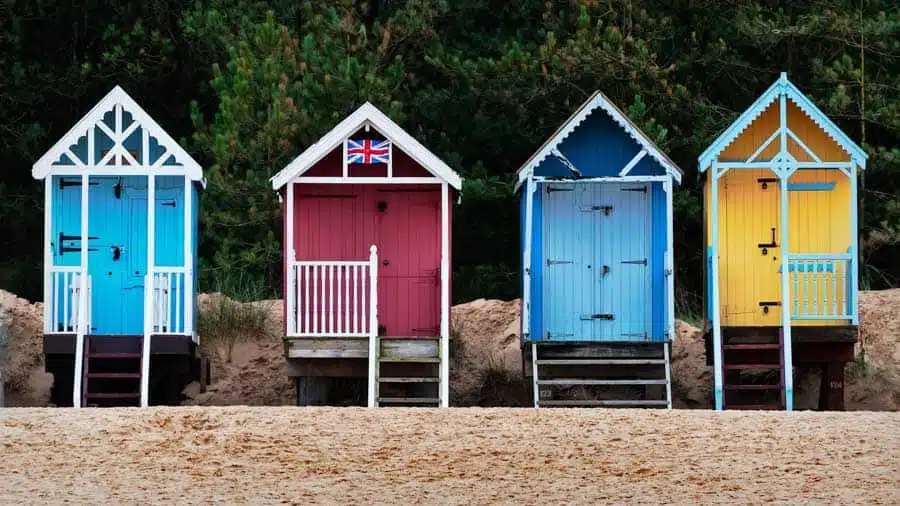 Perfectly-maintained beach huts, golden sands – Wells Next the Sea is the archetypal British seaside spot… without the crowds that often come with. Pack your bucket and spade and your crabbing lines – but also take the time to explore one of Norfolk's prettiest towns.
Blakeney Point
The National Nature Reserve of Blakeney Point is best known for the hundreds of seals that call it their home. The residents (the largest seal colony in England) may be noisy – but they're so cute too – be sure to have your camera ready.
Holkham National Nature Reserve
A wild landscape that's been partially tamed through the passage of time, Holkham National Nature Reserve is a blend of salt marsh, pinewoods and beaches that's a pleasure to explore.
Norwich
Norwich is full of surprises – whether that's one of the biggest (and oldest) open-air markets in the UK, or its stunning cathedral, it should be at the top of your list of places to explore while in Norfolk.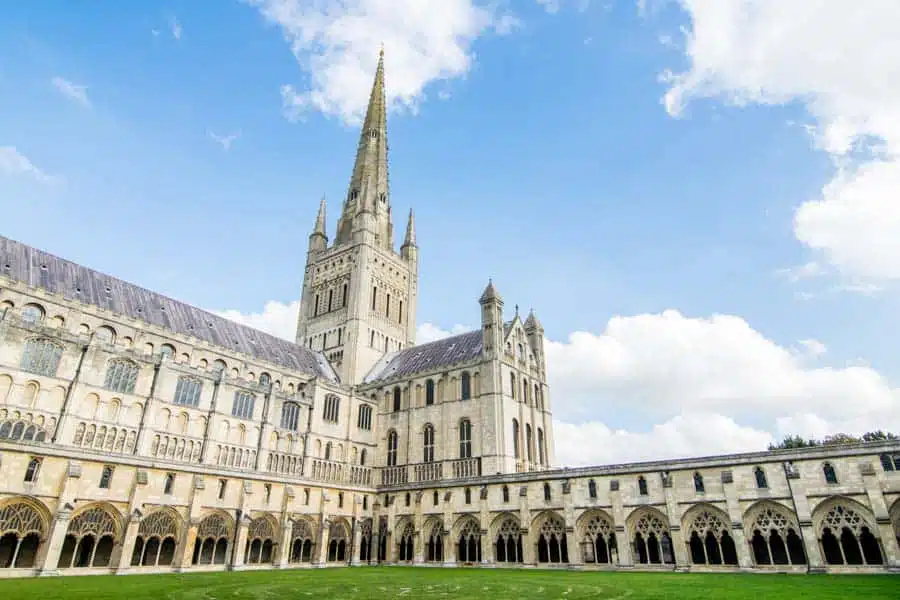 Norwich Cathedral is one of the great Medieval cathedrals in England and is surrounded by an area brimming with historic houses and quaint shops that smack of ye olde England.
Pop into Norwich Castle, one of the country's best-preserved Norman forts for a look into the area's history (and rather stellar views of the city itself).
Sandringham
Sandringham – the Queen's country estate is a world away from the quiet beauty of the surrounding areas. Wild marshland makes way for immaculately landscaped gardens and a stately Victorian mansion that remains much as it did in the days of the then Prince and Princess of Wales who built it in 1870.
King's Lynn
King's Lynn's prestigious maritime history dates back to the 12th century – as a result, it boasts a wealth of merchants' houses, pretty churches and historic buildings that set it apart from the surrounding towns.
The Broads
The Broads are the UK's biggest wetlands – with more waterways than Amsterdam.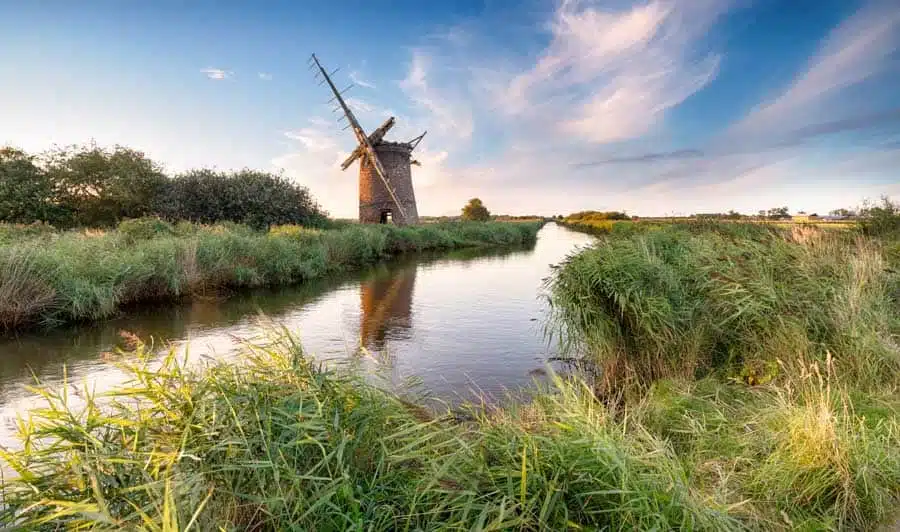 Hop on a boat and explore the 125 miles of waterways that wend their way between the scenic countryside and the 40 broads (man-made lakes), taking in the picturesque villages and landscapes dotted around the area as you go.
Top Places to Visit in Suffolk
Walberswick
The cute Georgian village of Walberswick is one of my favourite spots in Suffolk. Set against the backdrop of grass-tufted dunes, this idyllic spot is the perfect place for some serious downtime. Crabbing, pub lunches, beach walks – what's not to like?
Southwold
Home to Adnams Brewery, Georgian Houses and a gorgeous sandy beach, Southwold is a quiet delight. The bustling pier and beach huts transport you back in time to a Victorian seaside escape, but the delicious locally-sourced food scene sits firmly in the 21st century. The famous lighthouse also offers interesting tours.
Aldeburgh
Quaint Aldeburgh's most famous resident Benjamin Britten has left a lasting legacy – Aldeburgh Festival of Music and Arts, which was founded by Britten in 1948.
Add to this stunning beaches, historic forts and a year-round cultural calendar of events and you'll find a vibrant town that should be high on your Suffolk hotlist.
Lavenham
Instagram has gone gaga for pretty little Lavenham – see it in real life and you'll understand why. Rows of higgledy-piggledy buildings in rainbow colours, it's England's best-preserved medieval village.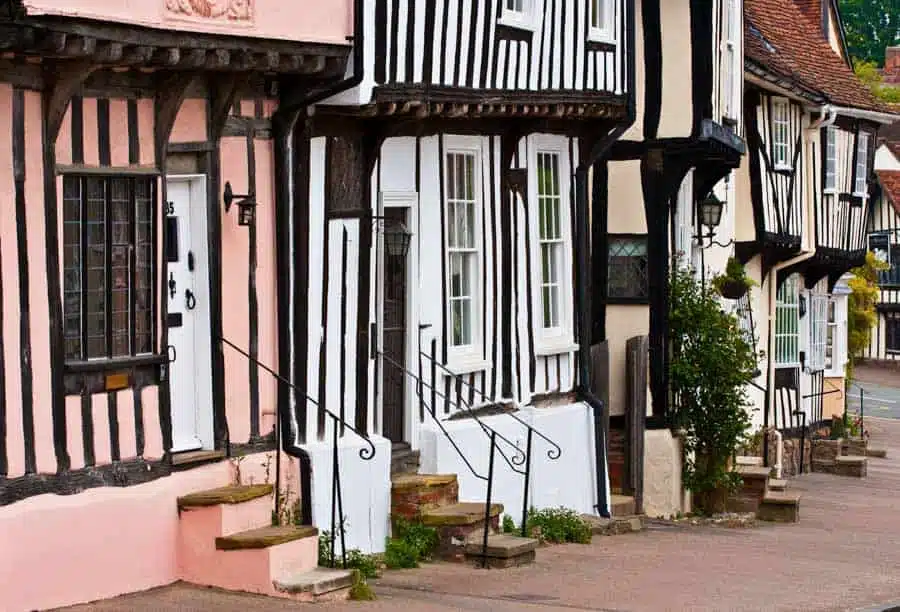 Lavenham's position as one of Suffolk's most important wool towns has left a legacy of Tudor buildings and historic attractions that will charm the socks off of you.
Ipswich
The county town of Suffolk, Ipswich has many charms – not least the vibrant waterfront with its collection of fabulous eateries and drinking spots. Hop on a boat to sail along the River Orwell to the Shatley Peninsula – the views are incredible and you can combine it with a spot of birdwatching to peep the birdlife for which the area is famed.
Back on dry land, the Christchurch Residence holds an art collection – with pieces by Thomas Gainsborough and John Constable among them – displayed in the quirky setting of a 16th century town mansion.
Accommodation Ideas: While there are plenty of boutique hotels in both counties, the freedom of hiring a cute holiday cottage to use as a base to explore allows you to take things at your own pace.