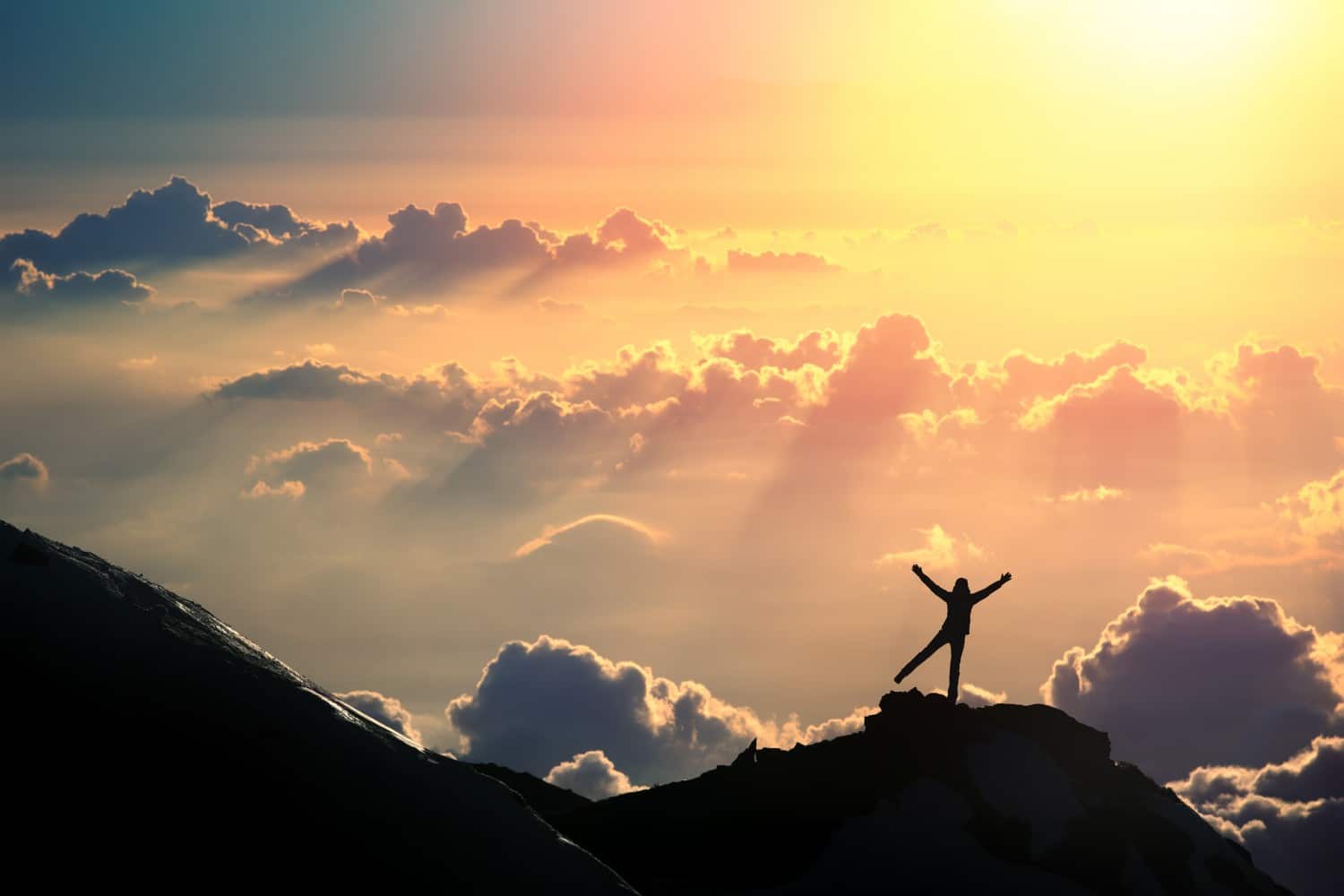 Book your tickets, hop on a plane and hold on tight, here are the 15 most amazing travel adventures from around the world.
Warning: this will inspire severe wanderlust!
15 Epic Travel Adventures to Inspire Your Next Trip
Ice Climbing in Alaska, USA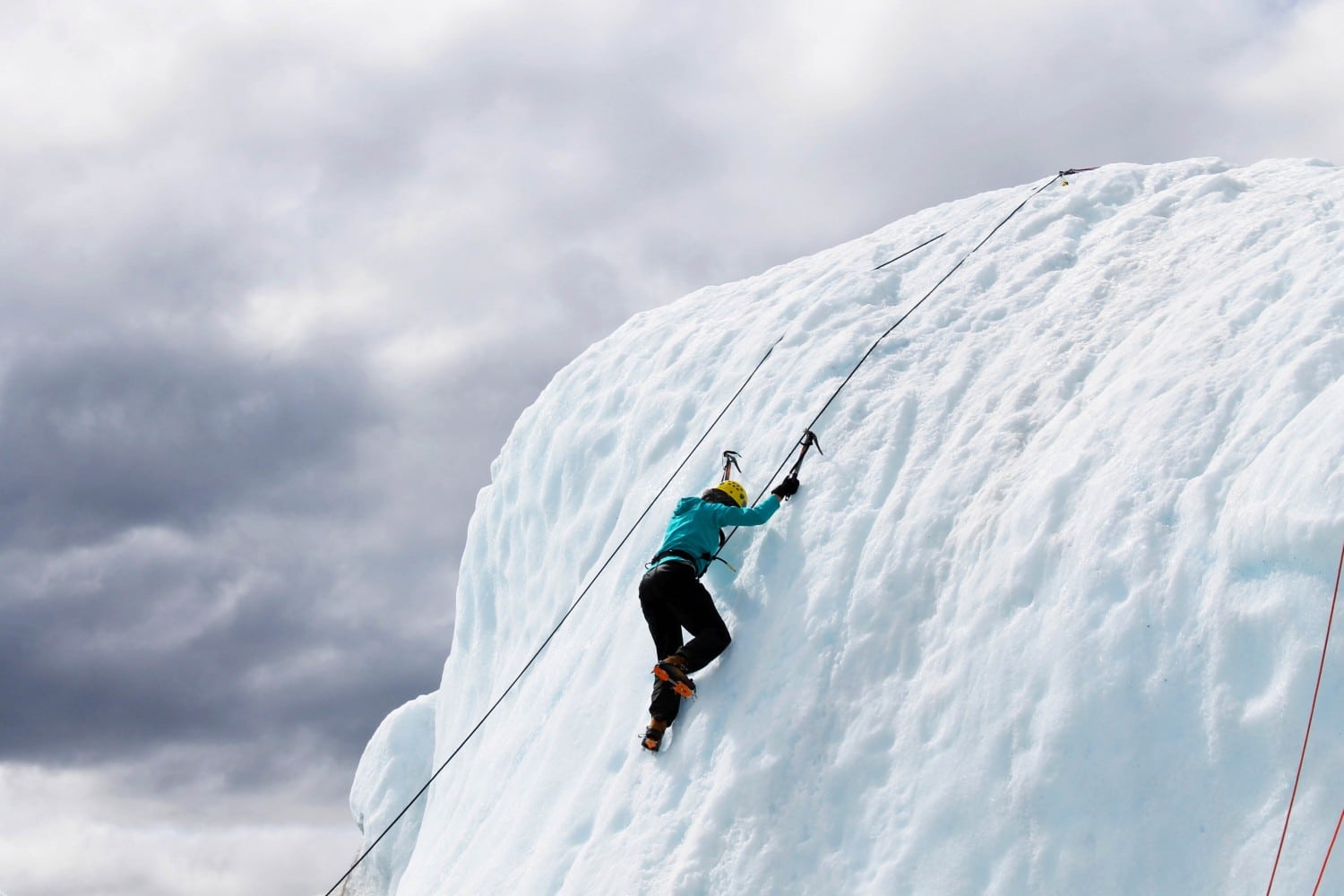 Outfitted with climbing gear, an ice pick in hand and crampons tightly around your feet, setting off across the powerful Matanuska Glacier in Alaska for a day of ice climbing is an unforgettable experience not to be missed.
Given that it's Alaska, there are a lot of outdoor activities you might want to try – from backpacking the many trails to white water rafting, kayaking in fjords, or even whale watching – but ice climbing is so entirely unique and can be done on such otherworldly landscapes that it should be included in any Alaska itinerary.
The Matanuska glacier is a great spot to try the sport as a beginner, sitting a 2-hour drive Northeast of Anchorage it's the largest glacier that can be reached by vehicle in Alaska. You might be thinking, "but I've never even been ice climbing, there is no way I can do that!" but you certainly can! If you are a beginner and decide to be adventurous and give the sport a try, look at going with a tour company like MICA Guides, who will make sure to keep you safe and teach you the proper techniques so that you too can ascend a massive wall of ice!
Recommended by Eleonore of Eleonore Everywhere – Instagram, Pinterest
Cenote Diving in Mexico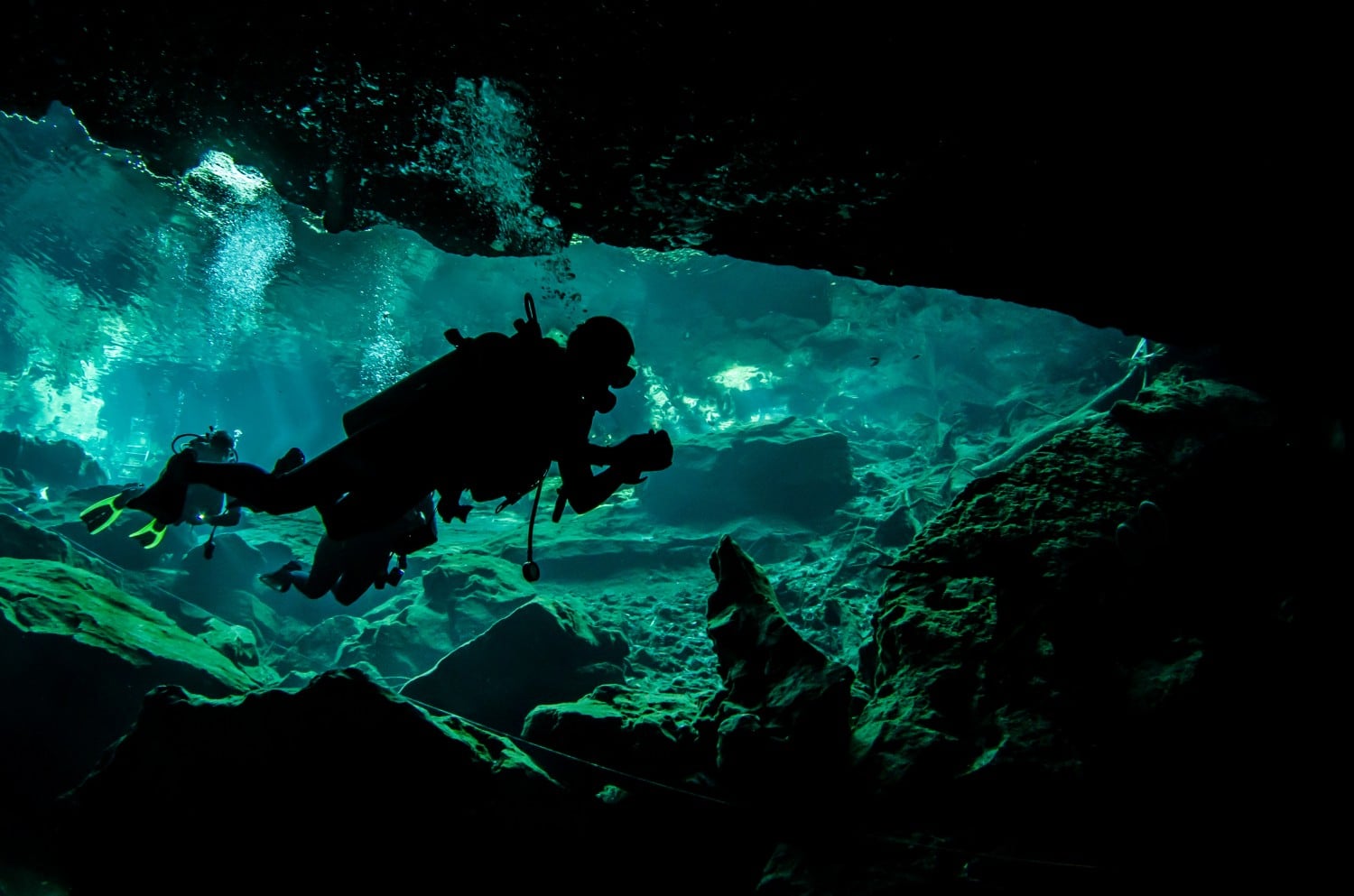 Cenote diving in Mexico is one of those activities that everyone should have on their bucket list. Essentially ancient Mayan sinkholes, Mexico's cenotes are all part of an interconnected, underground waterway system that has been in existence for centuries. Nowadays though, hundreds of the literal thousands that can be found across the country are open to the public for swimming, diving, snorkelling and exploring.
Whether you choose to visit a more commercial one near Tulum (think, Dos Ojos) or a more 'virgin' and unexplored one, swimming in a cenote will definitely make for an unforgettable experience, or at the very least, a refreshing respite from the Mexican sun! If you do decide to go though, follow the rules– no suncream and no peeing the water.
Recommended by Lauren of Northern Lauren – Instagram, Pinterest
Tracking Gorillas in Rwanda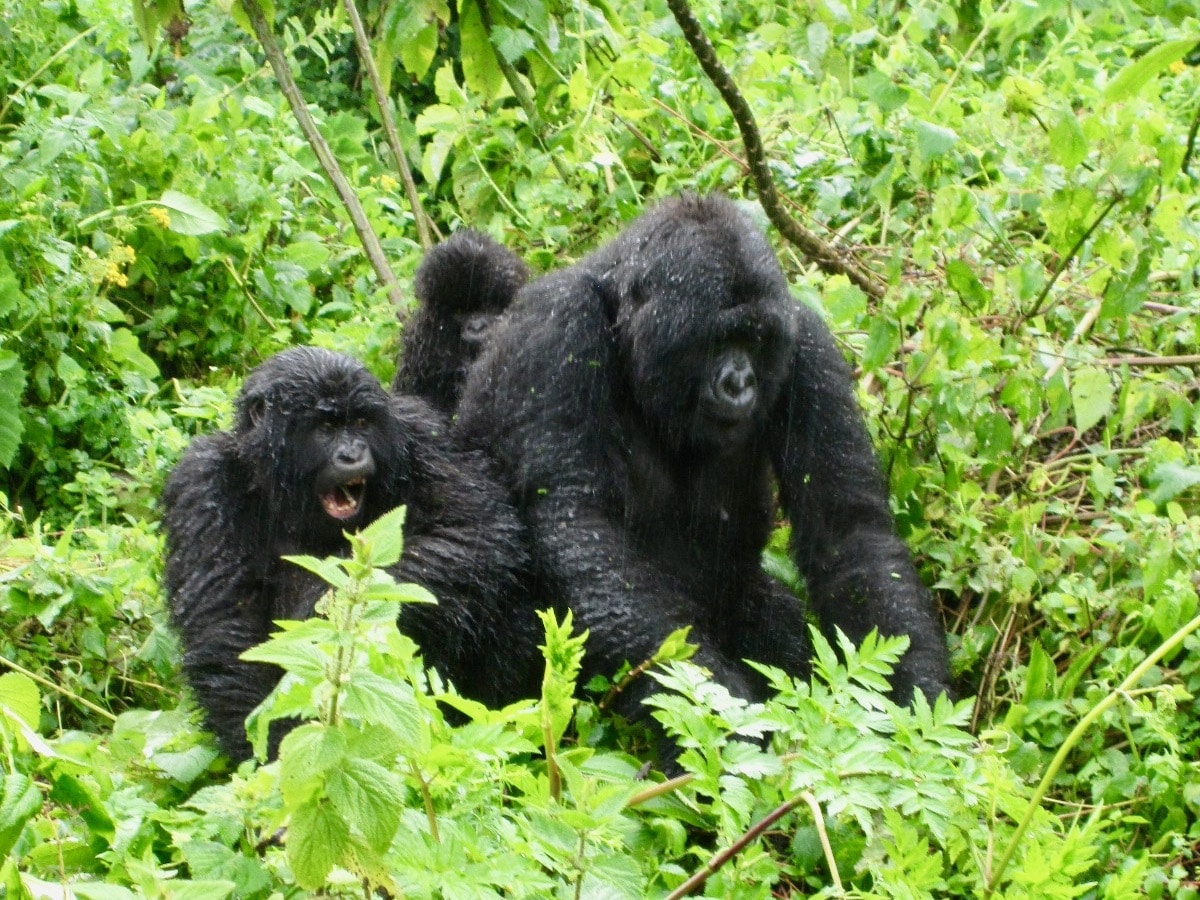 What kind of wildlife comes to mind when you think of Africa? Lions, giraffes, and elephants might be the most famous – but Central Africa is the only place in the world you can find mountain gorillas. And unlike a traditional safari, gorilla trekking means you can get up close and personal with these magnificent creatures.
In Rwanda, the gorillas live in and around Volcanoes National Park. You hike with a guide through
stunning scenery to wherever the gorillas are hanging out that day. If you're lucky, you'll get to see everything from tiny baby gorillas to massive silverbacks, and they'll walk just a few yards in front of you. For conservation purposes, only a few trekking permits are available each day in Rwanda, so you need to book in advance.
Recommended by Jennifer of Passion & Places – Instagram, Pinterest
Skydiving in the Philippines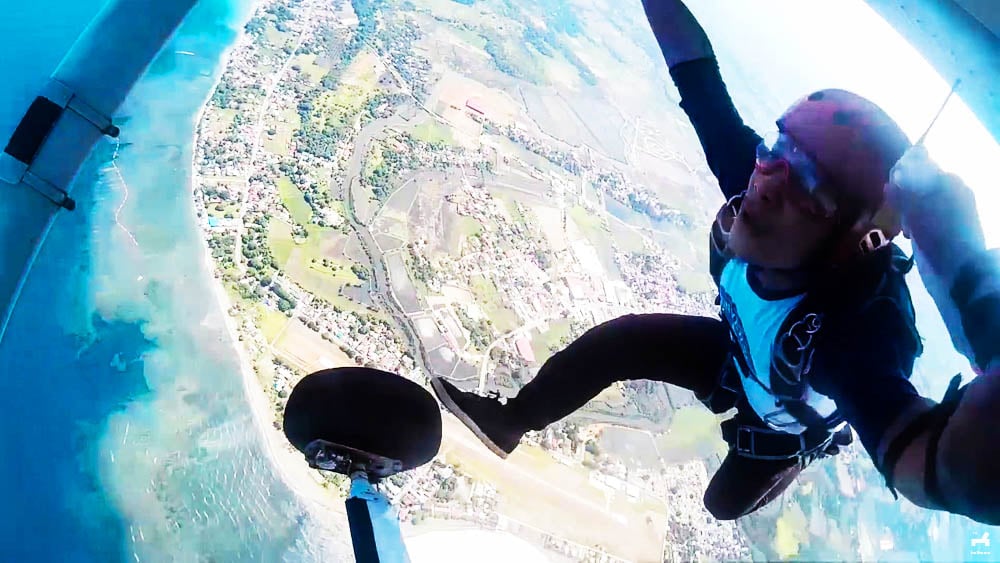 Skydiving should be on every adventurer's list! Nothing conquers fear as much as jumping from thousands of feet in the sky and relying on a mere parachute – and faith, that is – to survive. There are many places on earth to skydive, and one of them is the Philippines.
Unlike in other countries, solo skydives are allowed here – even for first-timers! Solo skydivers are assisted by certified divemasters via radio every step of the way. Tandem jumping another option of course. Before the actual jump, all participants undergo a few hours of orientation and training. You then go in a cargo plane in small batches. Once up in the sky, you are instructed to jump one by one.
The skydiving spots in the Philippines overlook beautiful beaches. My particular favourite is in Iba, Zambales.
Recommended by Katherine at Lets Go Anywhere – Instagram, Pinterest
Riding with the Gauchos in Patagonia, Chile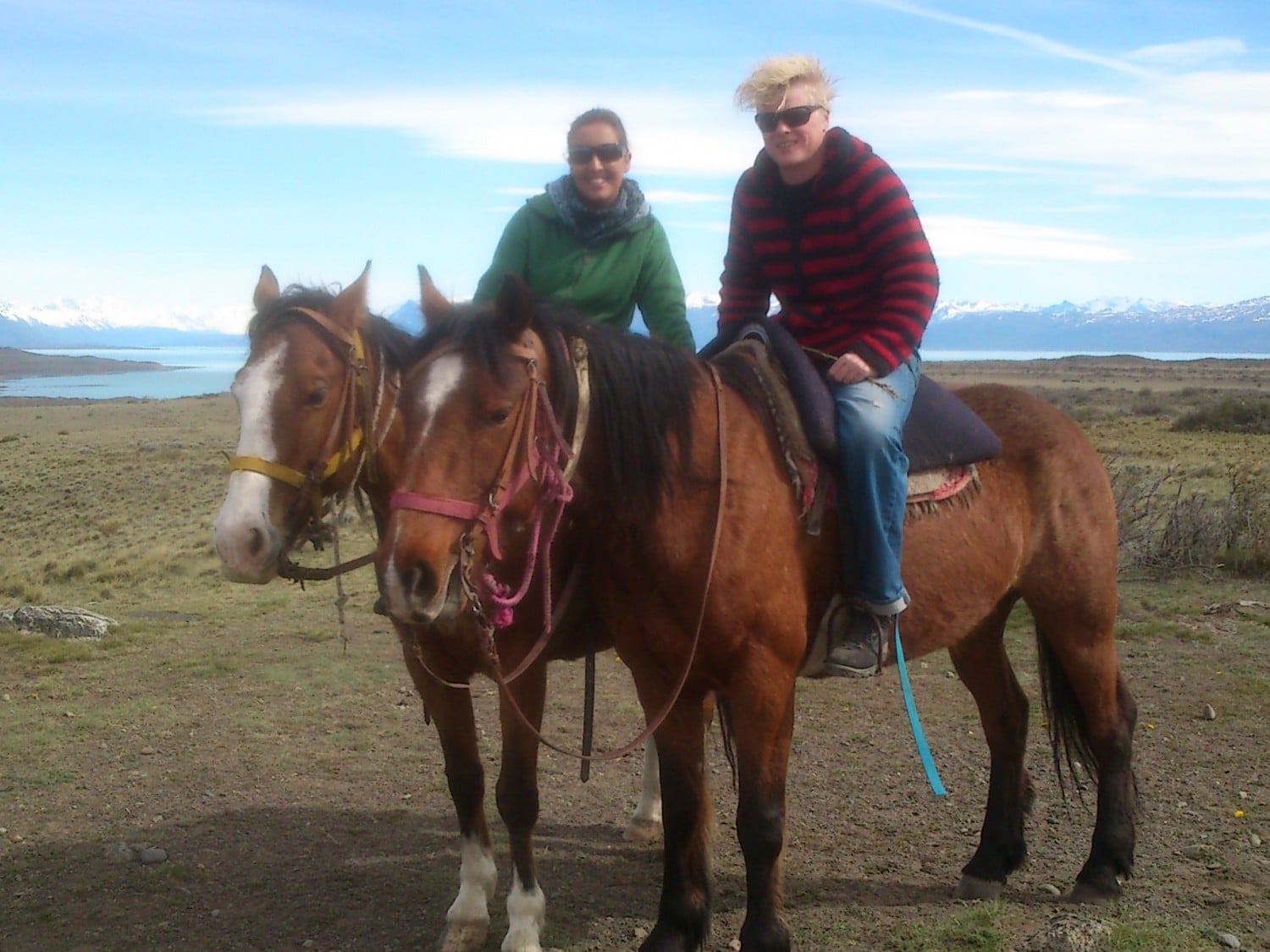 Riding a horse on the Argentinian pampa, accompanied by a real gaucho and a flock of wild dogs… It must be everybody's dream! It definitely was for us. Actually doing it felt so wonderful and it's certainly an experience we will never forget. The completely deserted, wide open fields are a great place for horseback riding. The sight of the snowcapped mountains in the distance while approaching Lago Argentino, the peace and tranquility of the pampa is simply superb.
We started our ride in El Calafate and rode for an hour or two. We were very lucky to be the only riders that day, so we had our lovely gaucho all for our self. The flock of wild dogs actually weren't all that wild. They were keeping us safe from the real wild dogs. Though they seemed pretty scary when we took off, we got accustomed to them very soon. We totally recommend horseback riding in Patagonia!
Recommended by Inge of Only Once Today – Instagram, Pinterest
Sound like your cup of tea? You may also want to check out this piece on horse riding in Salta.
Climbing a Volcano in Indonesia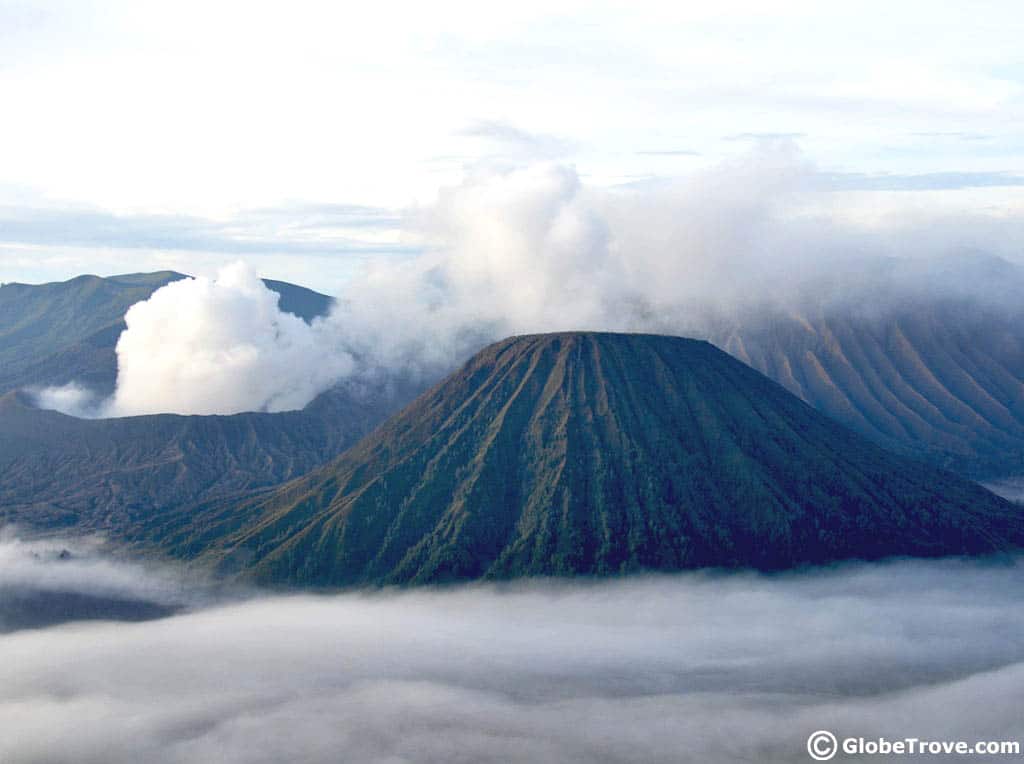 Indonesia is a country that is spread across many islands. Most people don't realise just how many volcanoes are spread across the land. Volcanoes have fascinated me. Imagine lava spewing out from the guts of the Earth. It just sounds so surreal. Definitely something that one would want on their bucket list.
The best part about the volcanoes in Indonesia is that there are treks for everyone. Mount Rinjani in Lombok is something that would make me shudder but Mount Bromo in East Java was extremely easy. If you really want to see a picture book volcano then head to Mount Bromo! It is conical, it puffs smoke but the clincher is that you can climb right up to the mouth of the volcano. I have no idea what the science is behind it (I like to assume that it's the wind!) but the volcano actually rumbles and roars.
If you are in the vicinity and have time, don't forget to head out to Mount Ijen! That's the volcano that spits out blue fire. Blue fire? The Sulphur fumes that exit the volcano ignite and turn blue. It is a unique place to visit but albeit one of the most toxic places in the world.
Recommended by Penny of Globe Trove – Instagram, Pinterest
Hiking the Inca Trail, Peru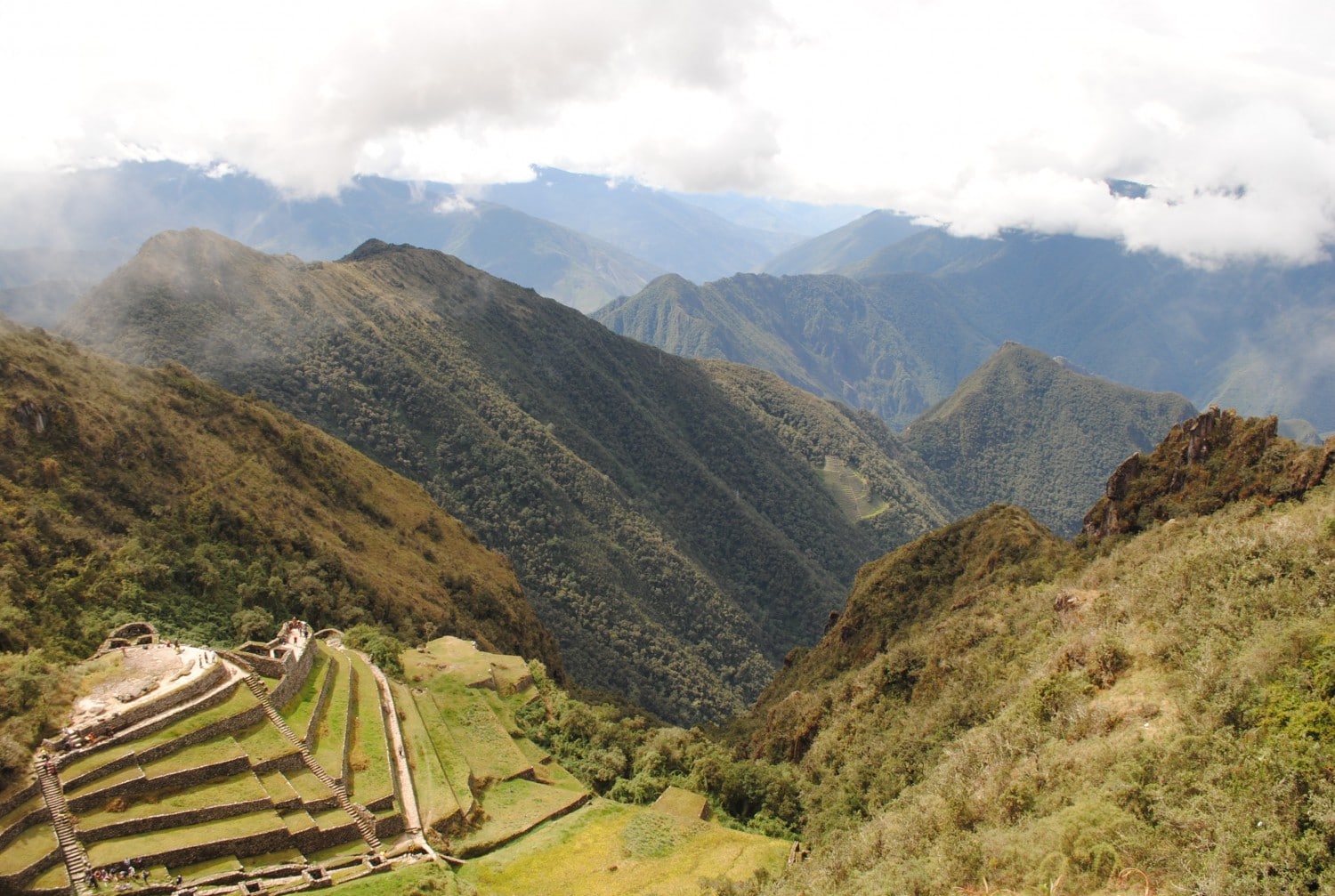 Making a visit to one of the 7 Wonders of the World, Machu Picchu, might already be on your bucket list. However, not as many people have added 'hiking the Inca Trail' to their list. Not only is this hike a once in a lifetime experience, but it's beautiful, physically challenging and you see things that people who take the train don't get to see. In fact, if you ask those of us who have hiked the trail, we'll probably tell you that the sites you see along the way are almost better than Machu Picchu itself. Need any more motivation to add it to your bucket list?
Recommended by Katie at The Travelling Spud – Instagram, Pinterest
Not got enough time to hike the Inca Trail? You can get the train from Cusco and visit Machu Picchu from Machu Picchu Pueblo, the nearest town.
Hiking the W Trail in Torres del Paine, Chile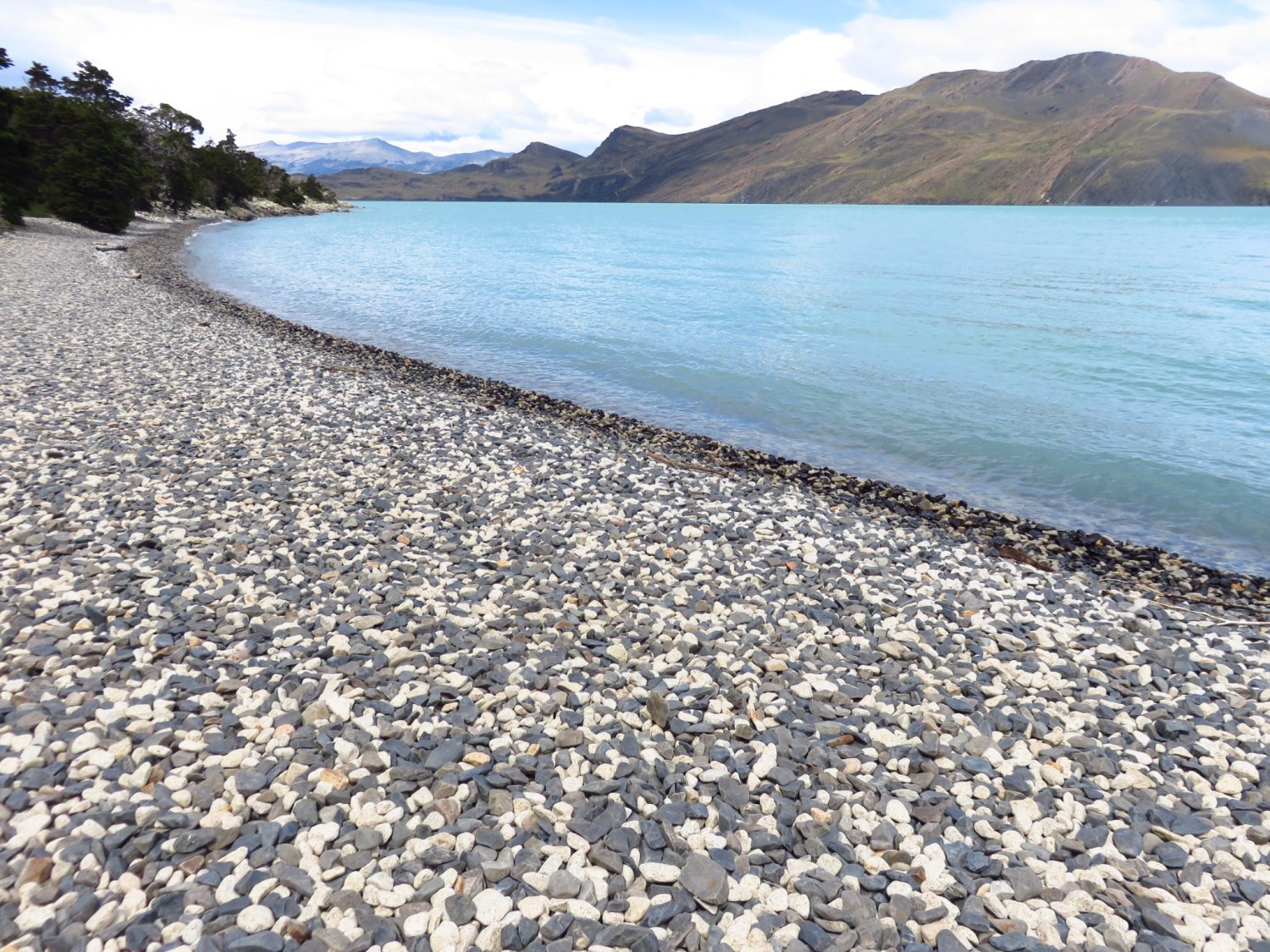 Hiking in Patagonia is something that should be at the top of every adventure lover's list. The landscape and the hikes are varied and it's like there's another breathtaking view around each and every corner. Hiking the W Trek in the Torres del Paine National Park was one of the travel adventures of a lifetime. Each day I walked through different terrain, from valleys filled with foxgloves, across from huge glaciers, through woods and open pampa – there was no time to get bored.
I hiked the trail solo and would recommend it to anyone wanting to try a challenge on their own (or even in a group). The real highlight for me was the hike up the Frances Valley on the second day, it's a bit of an uphill slog, but the views are certainly worth it.
Recommended by Julianna here at The Discoveries Of – Instagram, Pinterest
White Water Rafting in Zimbabwe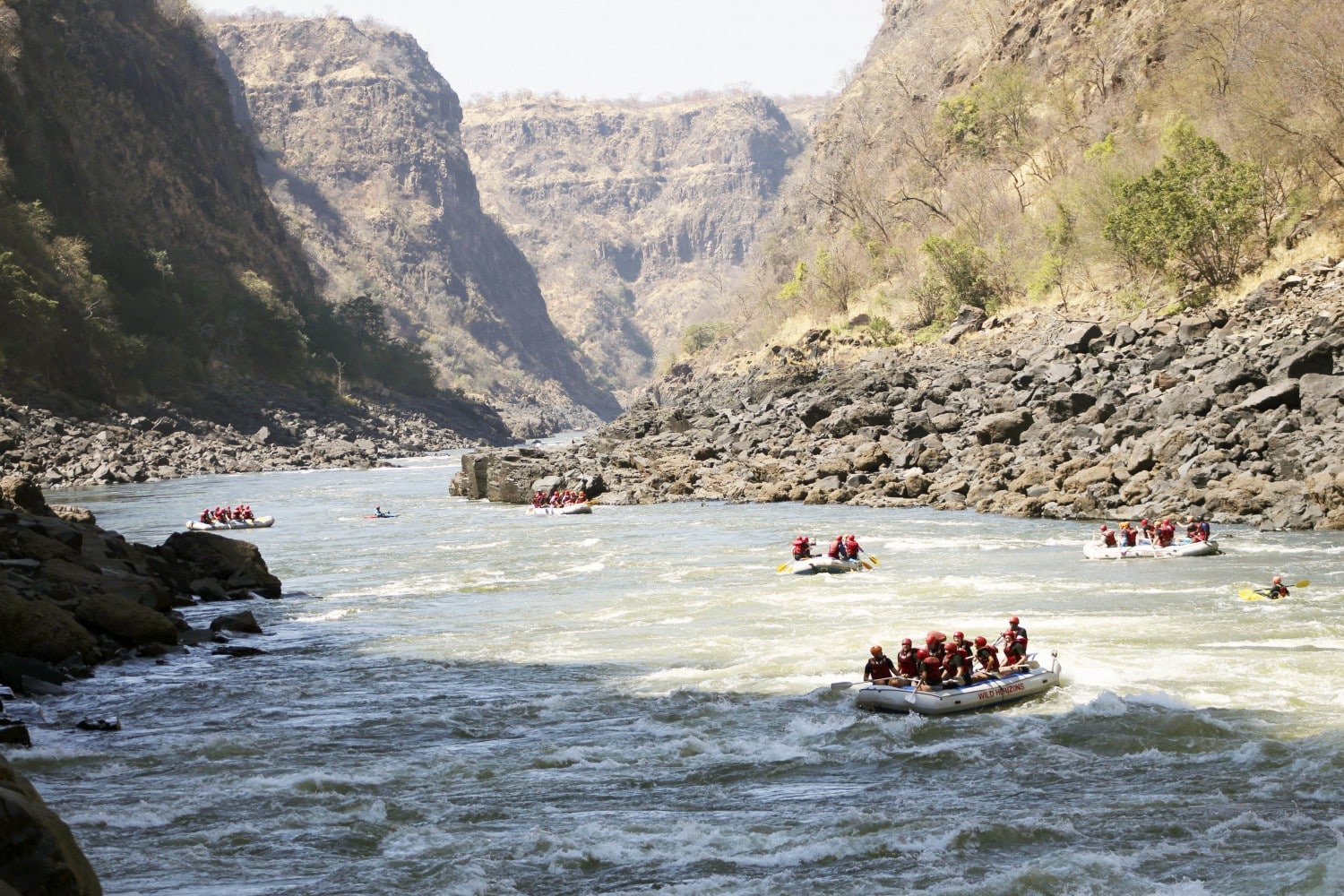 The Zambezi River flows right along the border of Zambia and Zimbabwe, with its most famous point being the locally known Mosi-oa-Tunya (which translates to the smoke that thunders) – and to the rest of the world is simply, Victoria Falls.
The impressive waterfall provides an incredible backdrop to one of the best white water rapid routes in the whole world. From the starting point at the base of the 100m high falls, the river runs raging through 24 Grade 3-5 rapids that make for one gruelling, adrenaline filled day.
When you finish the trail and your arms are tired and your legs feel like jelly – you have to hike a dirt track back out of the canyon. Hardcore doesn't even cover it – and you have definitely earned your African sundowner at the end of this day!
Recommended by Vicky at Make Time to See the World – Instagram, Pinterest
Skydiving in Bulgaria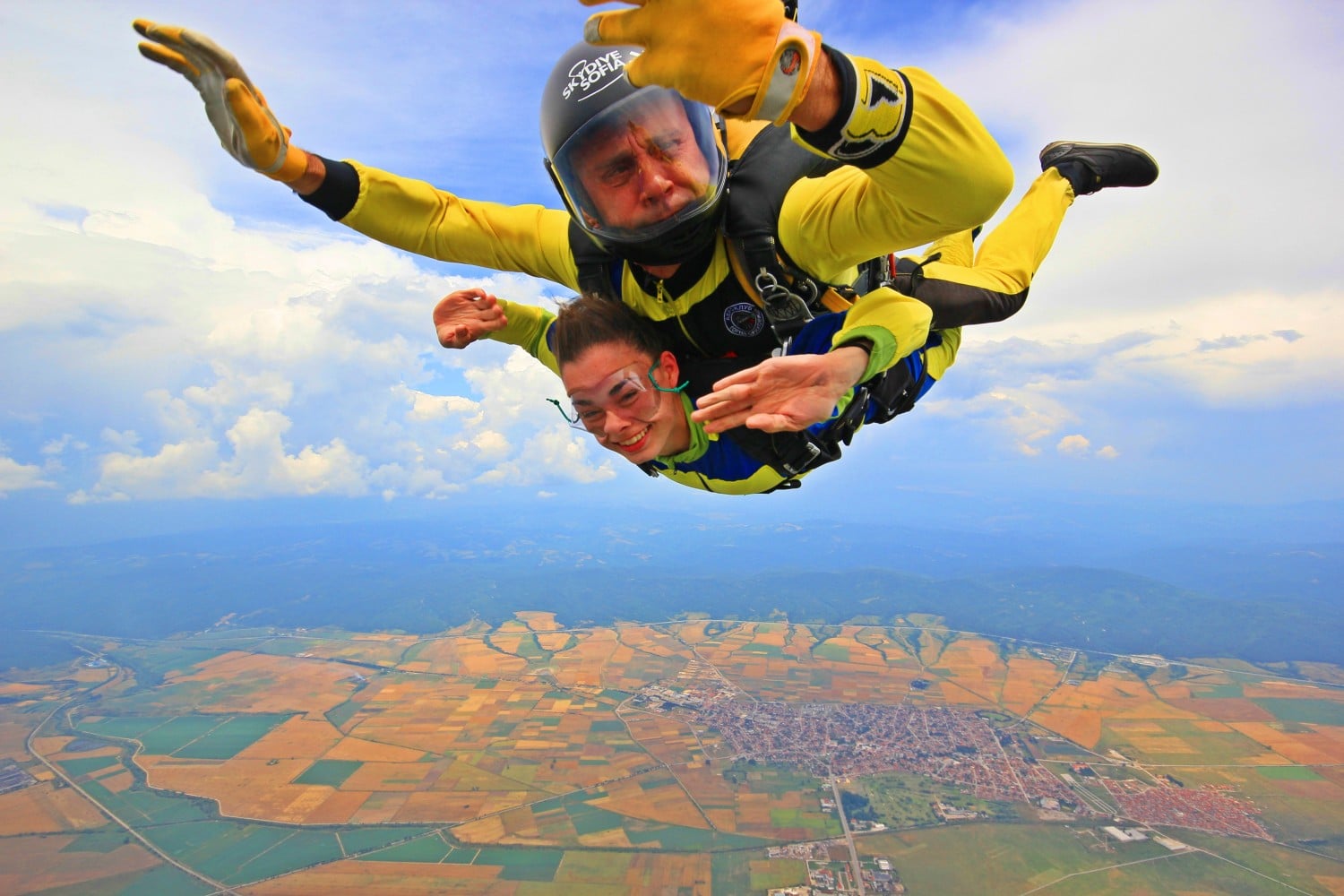 Have you ever skydived? If not, you should! Bulgaria is the perfect place to do it. Why? Because Bulgaria is a beautiful country and the jumps are made around two very beautiful areas. One is above at Ihtiman, from where, after you jump, you will see the beautiful Iskar dam and the surroundings.
The other jumps are done in Primorsko, a Bulgarian Black Sea town, and you guess it, the views from jumping near the sea are amazing as well! Another reason to come skydiving in Bulgaria is the price. Skydive Sofia offer the lowest prices for skydiving in whole Europe.
Skydiving is still one of the best things I've experienced so far and I recommend that everyone to do it, even if you're afraid!
Recommended by Bilyana from Owl Over The World – Instagram, Pinterest
Camel Riding & Camping in the Sahara Desert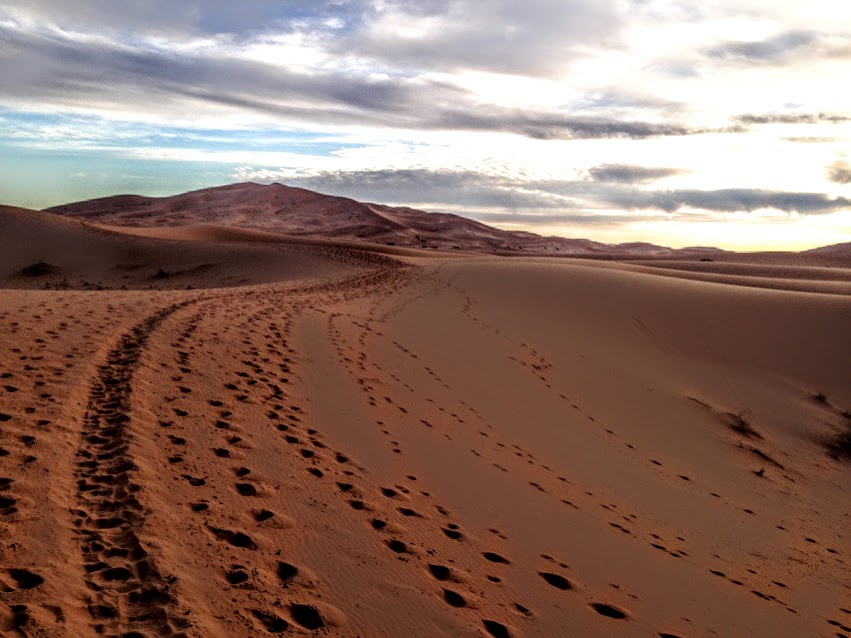 This past December, I spent all night in the Sahara as part of a weeklong G Adventures tour of Morocco. I've seen quite a few of the world's famous natural wonders: the thunderous spray of Iguazu Falls, the swirling colours of the pools at Yellowstone National Park, and the frosty peak of Mt. Fuji. But nothing compares to the first sight of the Sahara Desert at sunset.
As I sat astride my noble camel steed Camille, I tried to take in as much of the sandy surroundings as I possibly could. Even Camille's sudden lurching back and forth (I am not an experienced camelwoman) couldn't detract from the majesty of the moment.
After an hour's ride, we stopped at our camp where a warm tagine and Moroccan mint tea, aka Berber whiskey, were waiting for us. We drank our tea around a blazing bonfire as the stars lit up the sky around us, one by one. The next morning, Camille was waiting enthusiastically to take me back into the Sahara so we could watch the sunrise together. At least, I think she felt enthusiastic about it. It's so hard to tell with a camel.
Hang Gliding in Rio de Janeiro, Brazil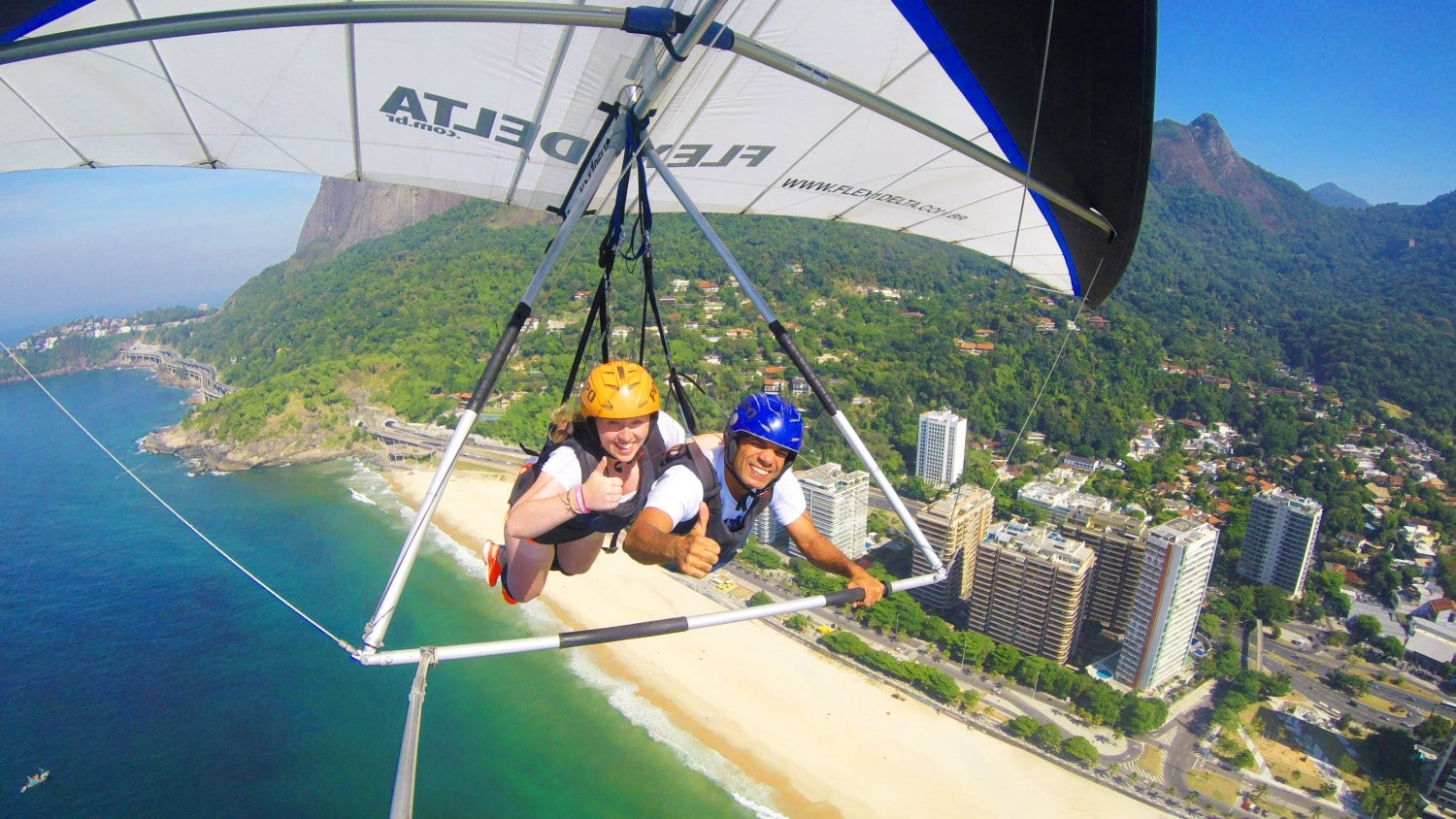 Hang-gliding in Rio was always on the bucket list. Rio, in general, was so high on my list! I mean a city with a glorious statue overlooking it, mountains, beaches, caipirinhas and incredible people, why wouldn't it be on your list? Therefore, if I was ever going to hang-glide, I was going to off the mountains of Rio onto the beaches of Rio. And what an experience it was! To get a bird's eye view of the mountains, city and the beach was all I thought it would be. Even the trip up the mountain in the buggy was a great experience in itself. My only complaint, the flight wasn't long enough. I honestly could have been up there forever.
Recommended by Lauren from The Traveller's Guide By #ljojlo – Instagram, Pinterest
Hiking Seoraksan National Park, South Korea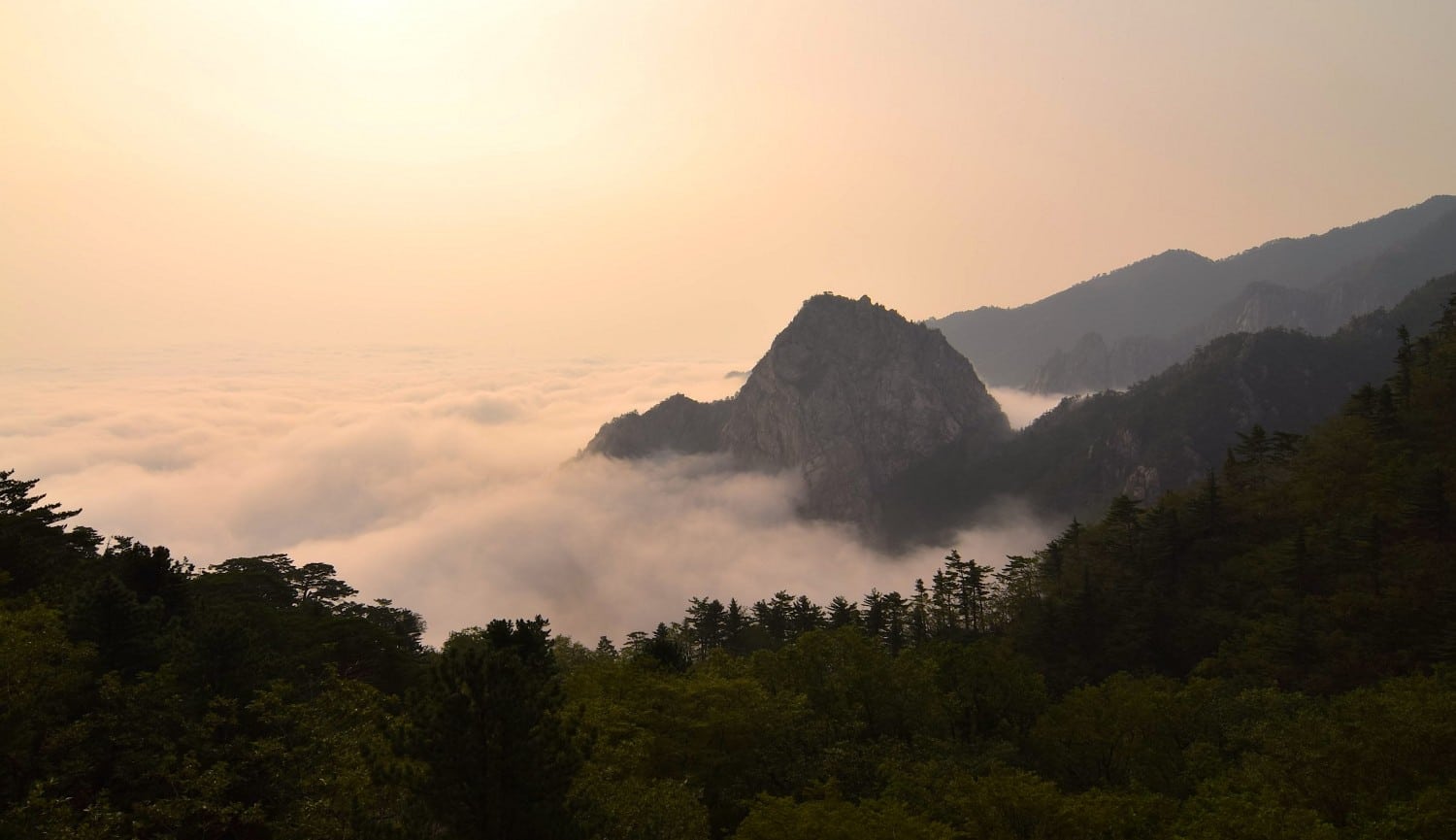 Photo: Positive Impact Journey
To venture into a land of jagged peaks cutting into the skyline, scraping the clouds, you should go and explore South Korea's Seoraksan National Park. Nestled against the northern eastern coast of the country this iconic mountain range attracts a vibrant community of mountaineers, rock climbers and visitors looking to witness the clouds receding among the peaks.
Often referred to as a fairytale land and continually topping the list of hikes in South Korea, this UNESCO Biosphere Protection site should claim a spot on your adventure bucket list. Hikes start off with a mild trail around the park before taking a drastic incline to scale the vertical pinnacles. You'll navigate between well-maintained trails and staircases built into the rock faces to help facilitate the steep climb.
Hiking knows no age in South Korea. While hiking I continually encountered groups of older hikers dominating the steep climb. You can't find a better motivation to pick up the pace than being passed by energetic sixty-year-olds.
If you're tempted to add this hike to your ultimate adventure bucket list, check out which hikes you should do in the park.
Recommended by Alexandra at Positive Impact Journey – Instagram, Pinterest
Climbing, Hiking and Rafting in the Waitomo Caves, New Zealand
Climbing, zip lining and rafting in the Waitomo Caves in New Zealand has been my favourite outdoor adventure recently. The caves are full of millions of glow worms and amazing natural rock formations. There's nothing quite like swinging through them on zip lines and floating through the water in a rubber tube! There are also walking tours and boat trips for those who prefer to stay on the ground. If you ever head down there, be sure to take a walk around the area in the evening. The whole place is teeming with glow worms!
Recommended by Katie at Real World Runaway – Instagram, Pinterest
Cycling the Death Road in Bolivia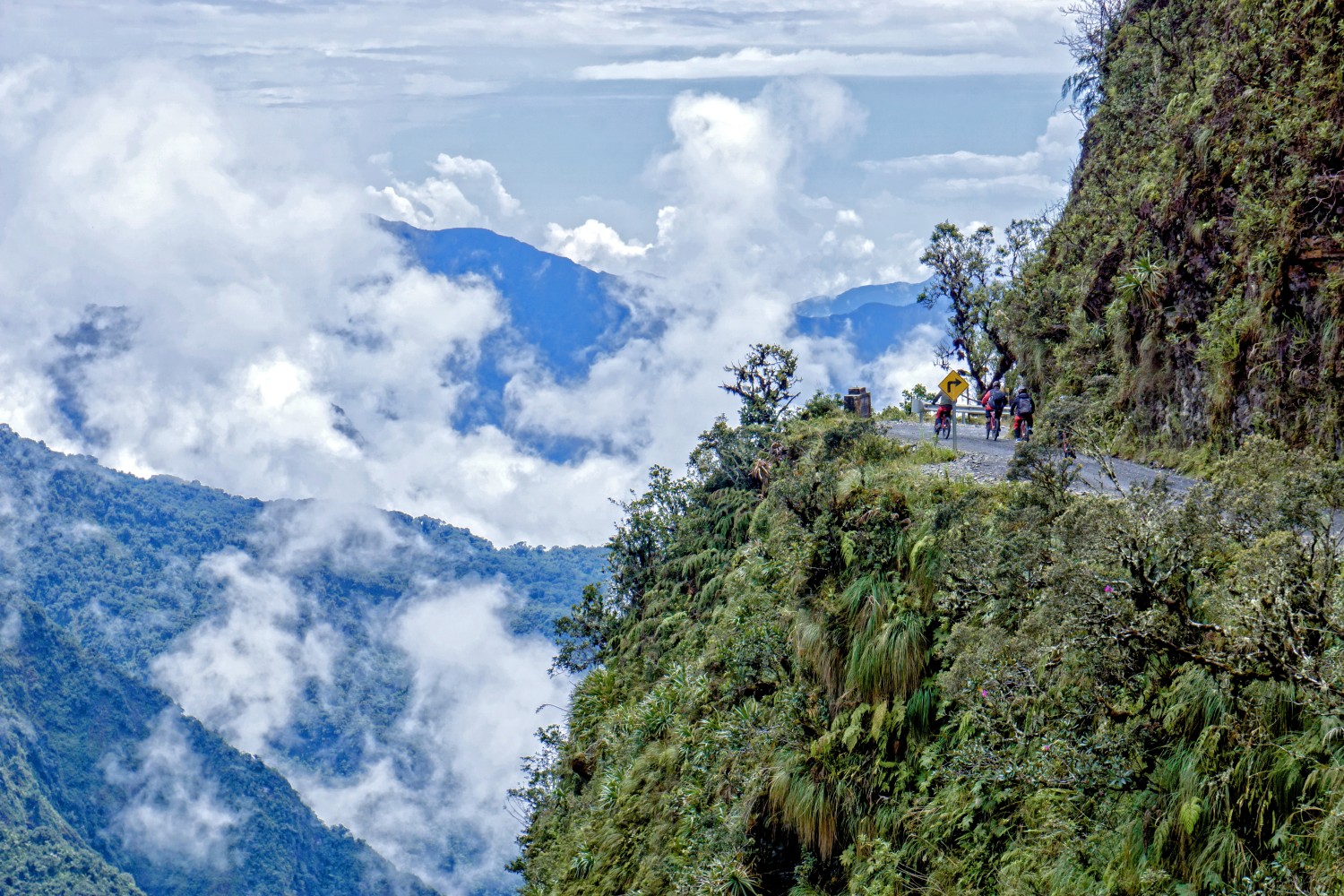 Bolivia's 'death road' begins just outside La Paz at a breathtaking 4,700m high, before winding its way down narrow ledges into the rainforest. Known as one of the world's most dangerous roads, it's also incredibly beautiful and spending a day mountain biking down it is an experience you won't forget in a hurry! It's one of our favourite travel memories – the perfect combination of exhilarating adventure and stunning scenery.
Recommended by Sarah at Not Another Travel Blog – Instagram, Pinterest
So there it is, 15 of the most amazing travel adventures to fuel your wanderlust. How many have you tried? Let us know if you give them a try.
Love this? Share it on Pinterest…