NYC is an urban jungle teeming with iconic sights and hidden treasures… are you ready to hit up the best things to do in New York? Discover the city's must-see attractions and offbeat gems – your very own ticket to the ultimate New York experience.
New York, New York. The city that never sleeps. The Big Apple… Whatever you call this place, one thing's for sure – it's one of the most iconic cities in the world.
With its bustling streets, vibrant art culture and colourful history, it's a must-visit on a USA bucket list as it's full of attractions and brilliant food. Only problem? It's hard to know where to start.
Don't stress, this guide to the best things to do in NYC is the ultimate companion as you set off on a journey through the city's most beloved spots, winding your way through insider secrets, and exhilarating adventures along the way. Let's go!
Looking for a swanky place to stay in New York? Look no further than The Wallace Hotel for luxurious and spacious rooms – it's one of my favourite places to bed down in the city.
Top 5 Things to Do in NYC
Head to the Top of the Empire State Building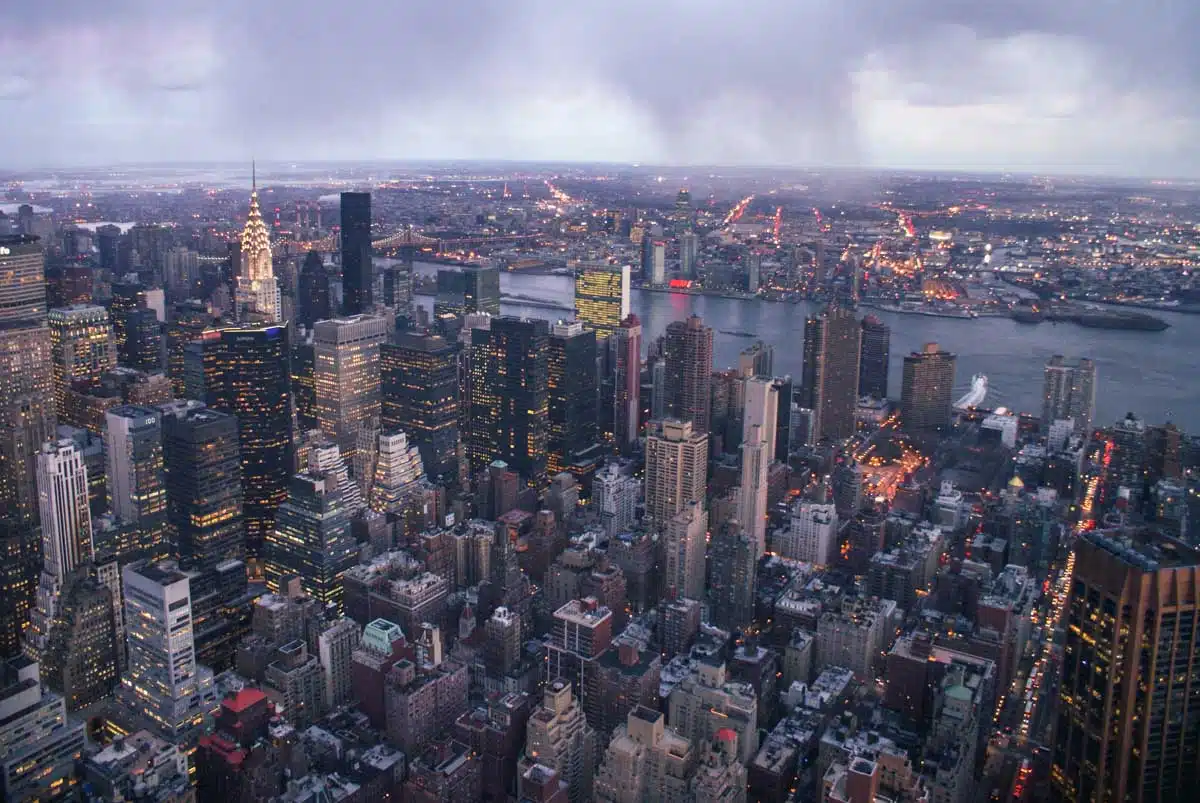 New York is a concrete jungle, and there's no better way to explore that than by going to the top of the Empire State Building. The world's tallest building until 1971, this skyscraper is an iconic part of the Big Apple's skyline with its symmetrical design and needle poking the sky.
Out of all the activities in New York, this isn't the cheapest, but it's still worth it to experience the city's beauty.
Beyond the breathtaking views, the Empire State Building also offers a glimpse into the history of New York City. From its role in pop culture to its significance in the city's skyline, the building has played a crucial role in shaping the identity of NYC.
Top Tip: Book a skip-the-line tour of the building and swan past the queues of tourists. Thank me later.
Wander Through Central Park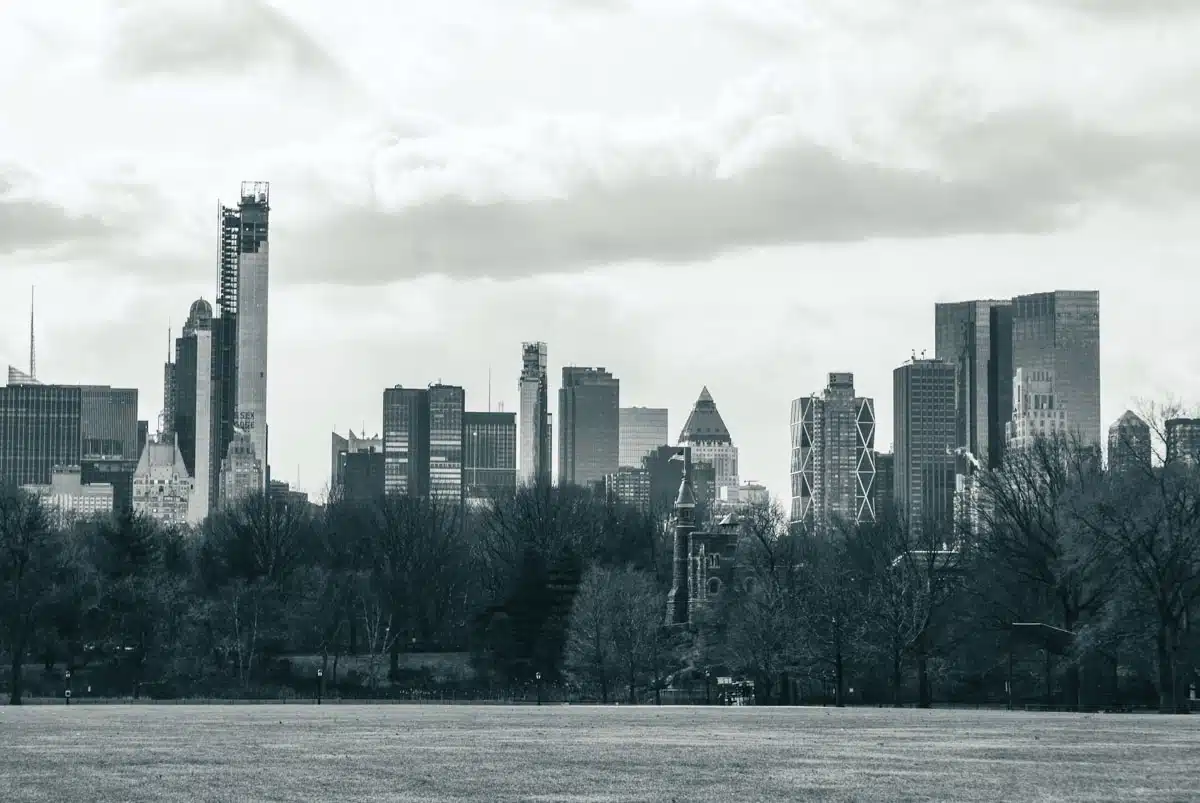 It's no news that New York isn't exactly teeming with green spaces (let's face it, it more than makes up for it with its massive skyscrapers, museums and concert halls). That said, there's one gigantic exception to this: the 843-acre Central Park.
It's a spot both New Yorkers and visitors adore for many reasons. For one, it's an excellent place for a picnic, a stroll, or a bike ride.
There are so many great spots to visit in Central Park, such as:
Strawberry Fields Memorial: Many come here to pay tribute to John Lennon, an idyllic five-acre landscape.
Conservatory Garden: This is the perfect spot for an afternoon walk as it's peaceful and filled with seasonal plants.
Alice in Wonderland: This eleven-foot-tall bronze statue sits on the eastern edge of Central Park and pays homage to Lewis Carroll's classic characters.
Check Out the Guggenheim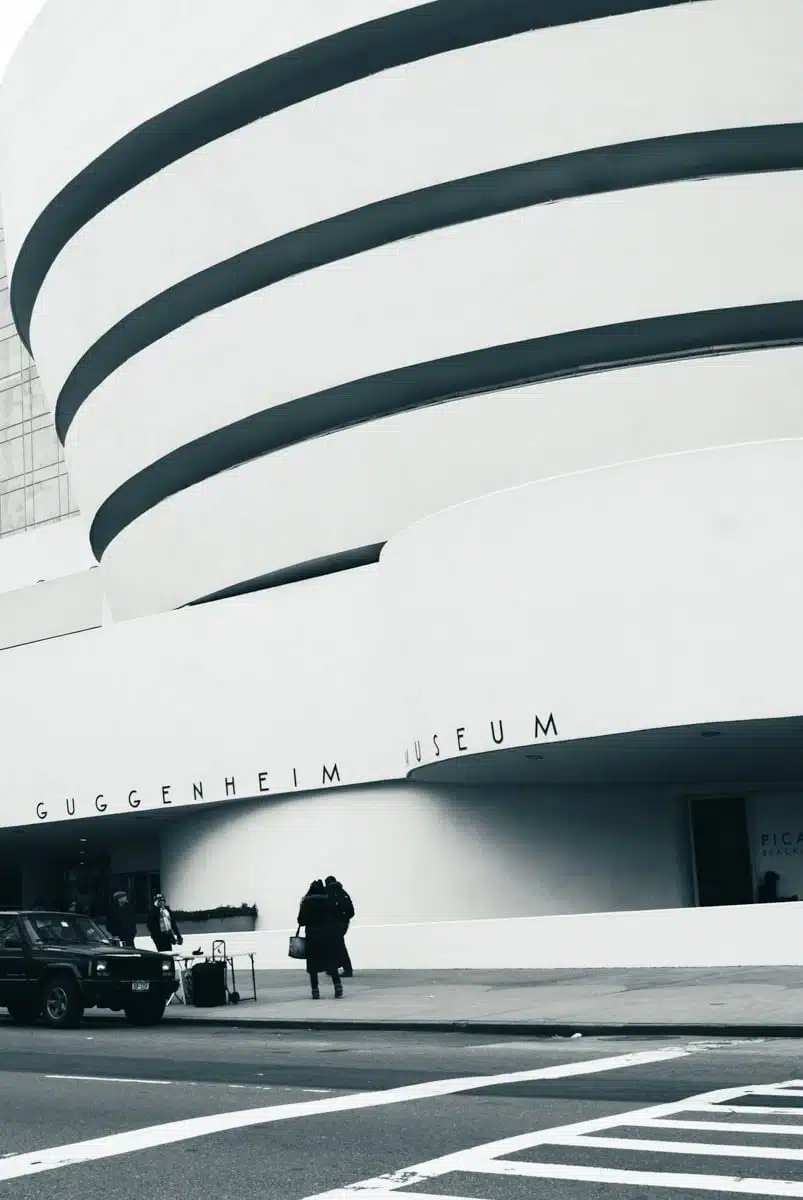 The Guggenheim Museum holds over 600 artworks, from impressionist masterpieces to contemporary works. Go to marvel at works by all the big hitters – Van Gogh, Picasso, and Magritte included – and the building's stunning design, inside and out.
Frank Lloyd Wright designed the Guggenheim in the 1950s, and boy, is it incredible. Its modern design makes it stand out from the rest of New York, with its abstract shapes and curved lines.
When Wright first unveiled his masterpiece to New York, locals weren't too impressed, saying it looked like an "inverted oatmeal dish" or a "hot cross bun" — and even a washing machine. But today, it stands as a prominent building in the city.
Top Tip: While The Whitney and MoMA aren't part of Museum Mile, I'd still visit them if you have time on your New York itinerary – for some brilliant modern art.
Visit the Statue of Liberty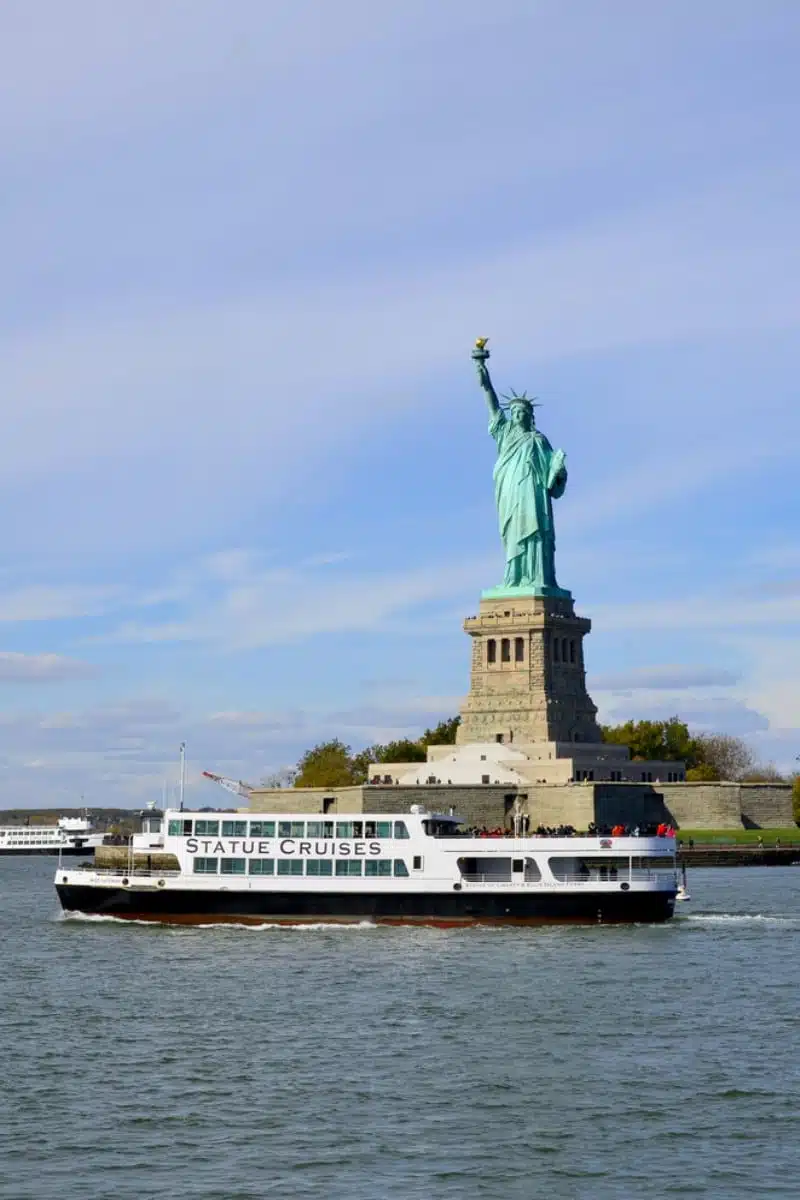 One of the most emblematic icons of the US is the 305-foot-high Statue of Liberty sculpture. It celebrates America's independence and sees millions of visitors yearly.
For the best experience, getting in line early and catching a ferry at Liberty State Park in Jersey City is advisable. This way, you'll avoid a crowded experience and might even get to walk to the top of the statue.
My advice? Don't bother climbing the statue. Take a boat tour around Ellis Island instead – you'll get far better views of the monument that way.
Top Tip: If you're interested in visiting the statue's crown, I recommend booking tickets in advance – they sell out quickly as the monument is so popular.
Stroll Along the High Line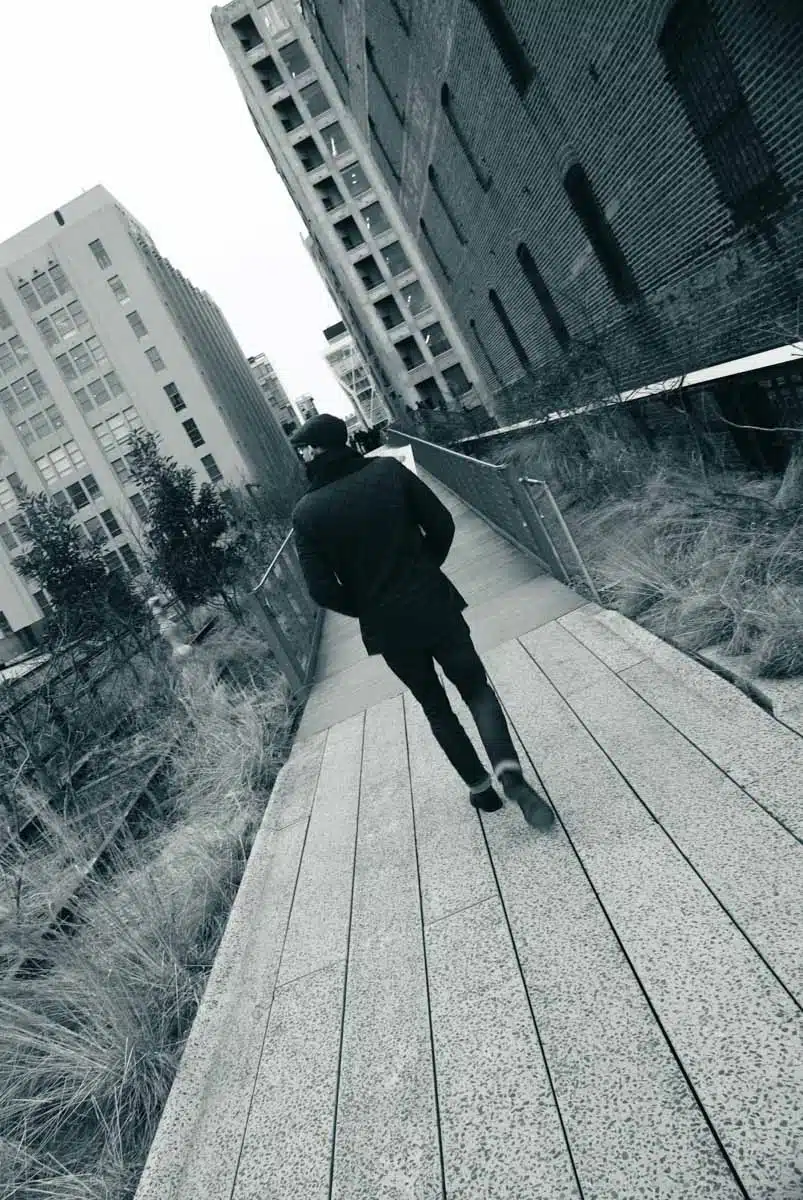 The High Line, a public park built on an abandoned railway track, is the perfect example of how New York continuously evolves while keeping historical elements central.
It runs through several city districts, such as the Meatpacking District, Midtown and Chelsea, making it one of the best cheap things to explore in New York. This is because it features cool art installations, over 110,000 plants, and picnic areas and benches.
Brilliant Things to See & Do in NYC
Walk Across Brooklyn Bridge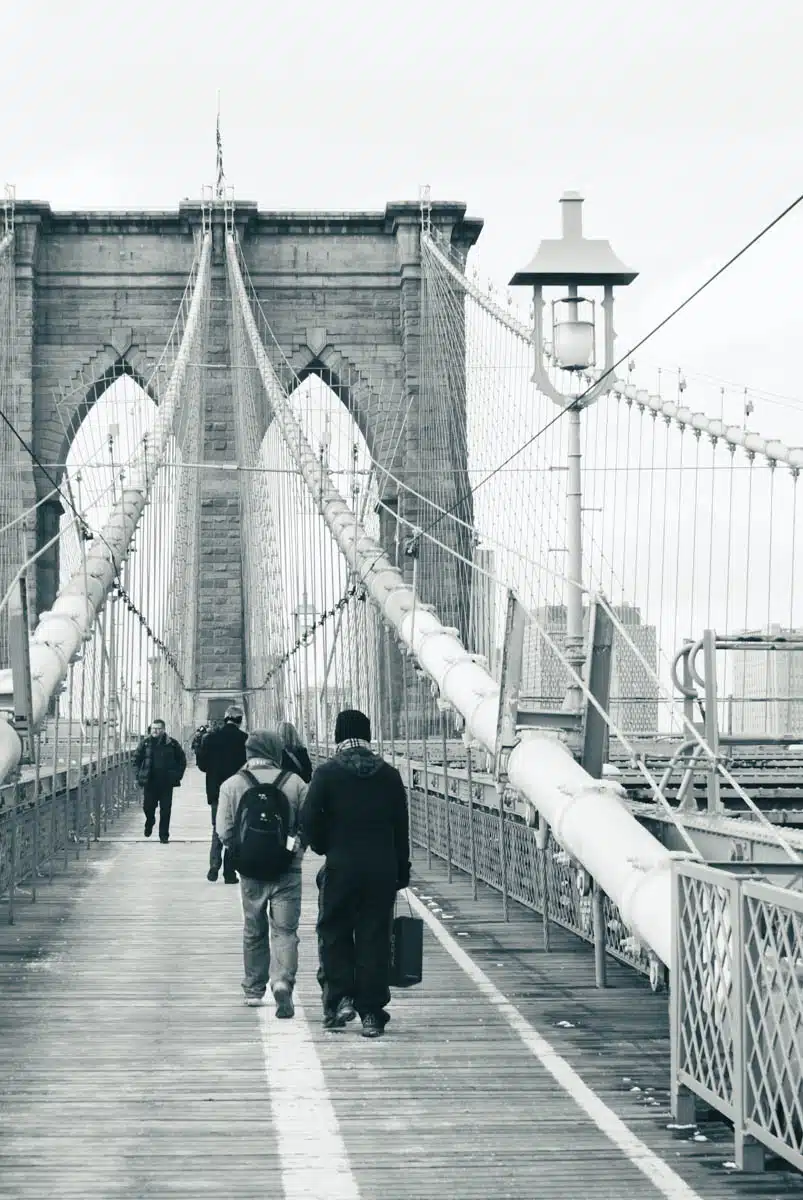 Another signature landmark of New York, the Brooklyn Bridge, connects the two boroughs of Manhattan and Brooklyn. Grabbing a shot of the iconic suspension bridge is a must-do in NYC, especially for that Insta post.
However, an even better way to experience the bridge is by walking across it and glancing at a spectacular view of the Manhattan skyline. This is best in the early morning when it's not as hot, as the bridge has no shade.
Top Tip: If you're visiting with your partner, consider organising a picnic at Brooklyn Bridge Park on a sunny day for one of the most romantic things to do in New York.
Experience the Glitz and Glamour of Times Square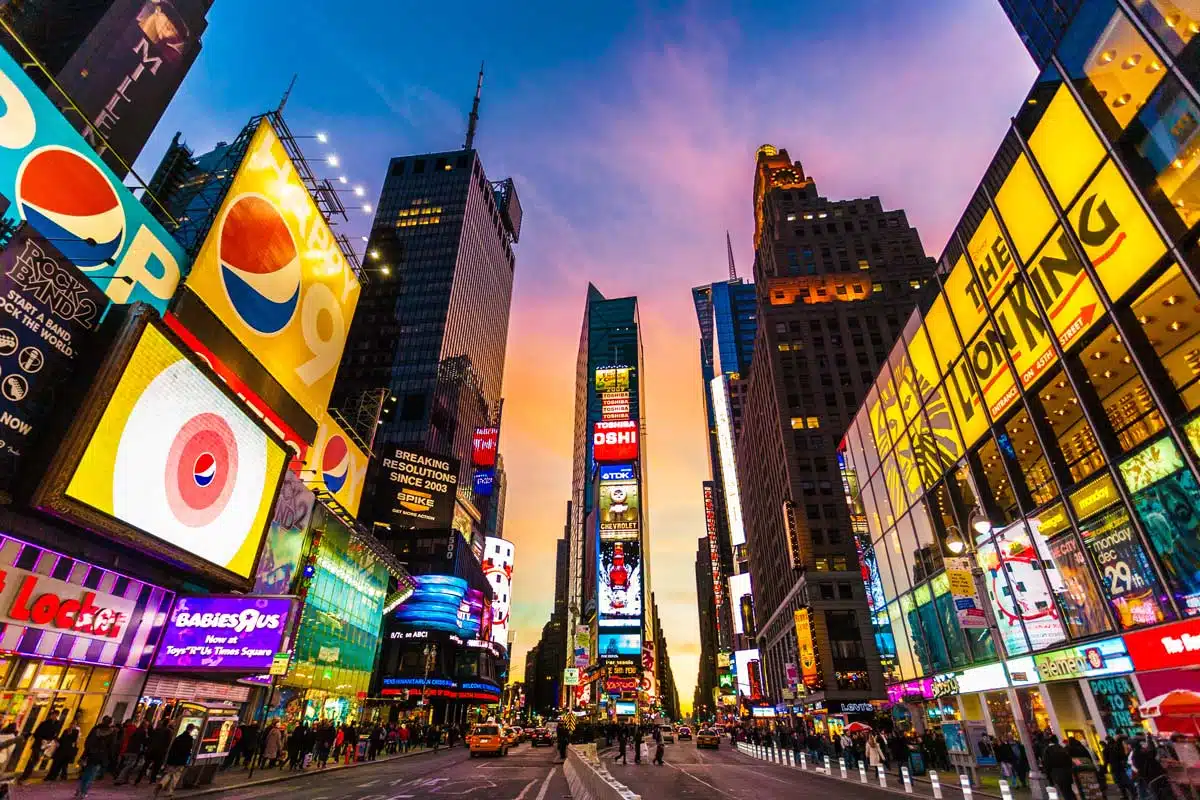 Yes, Times Square is a huge tourist trap – but it's one that must be done on your first trip to NYC. It's a rite of passage.
Found in Midtown Manhattan, Times Square draws in crowds with its sprawling billboards, Broadway performances and unmatched energy. While many New Yorkers advise skipping it, I wouldn't be as quick to agree.
Sure, it's busy and noisy, but there's no better expression of New York than this. I mean, it truly exemplifies the idea of the city that never sleeps.
Top Tip: For the most iconic experience of Times Square, visit New York on New Year's Eve and see the ball drop.
Pay Your Respects at the 9/11 Memorial and Museum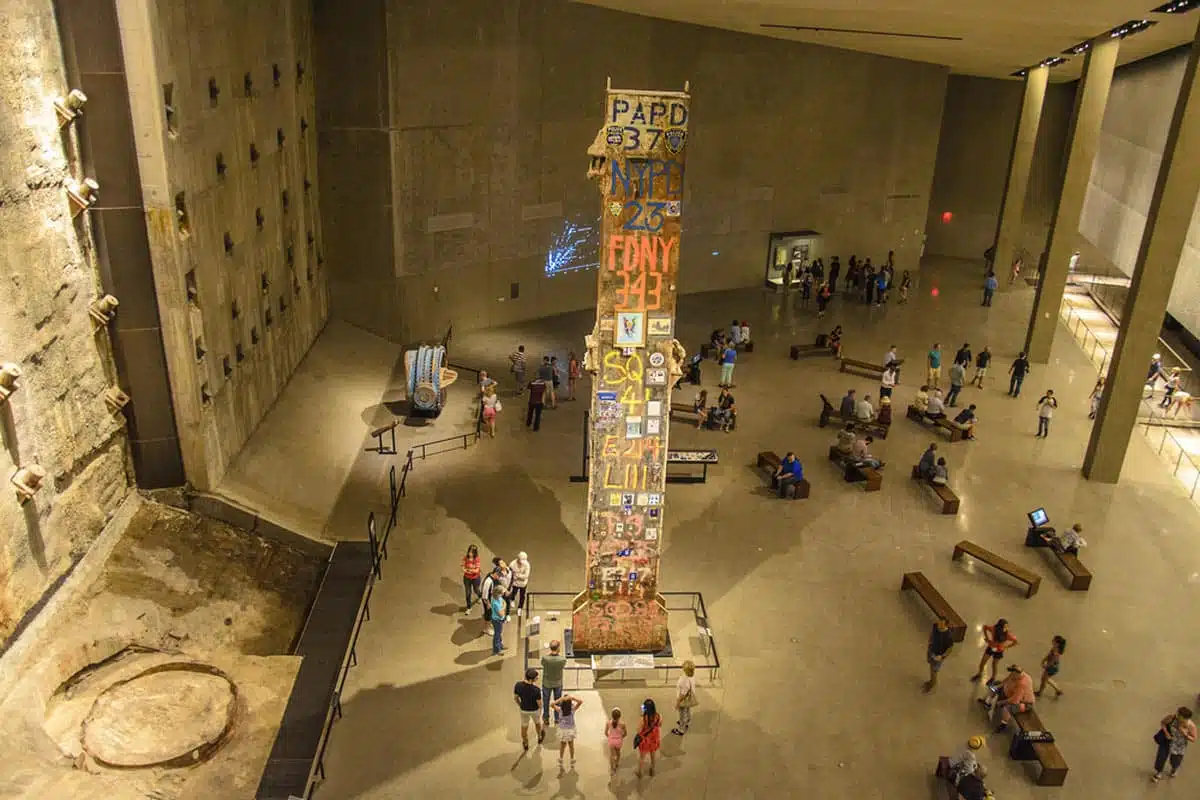 New York isn't all glitz and glamour. It also has a more sombre past, such as the awful event of the Twin Towers plane crash on 11th September 2001.
Although saddening, one of the top things to do in NYC is to visit the 9/11 Memorial and Museum to learn more about this tragic day. It is an insightful museum full of interactive displays, artefacts, and exhibits, as well as a reflecting pool that pays respect to the deceased.
The In Memoriam exhibit is one of the most moving parts of the museum. Here, you can learn about the 2,977 victims, where they came from, and what they did.
Visit the Rockefeller Center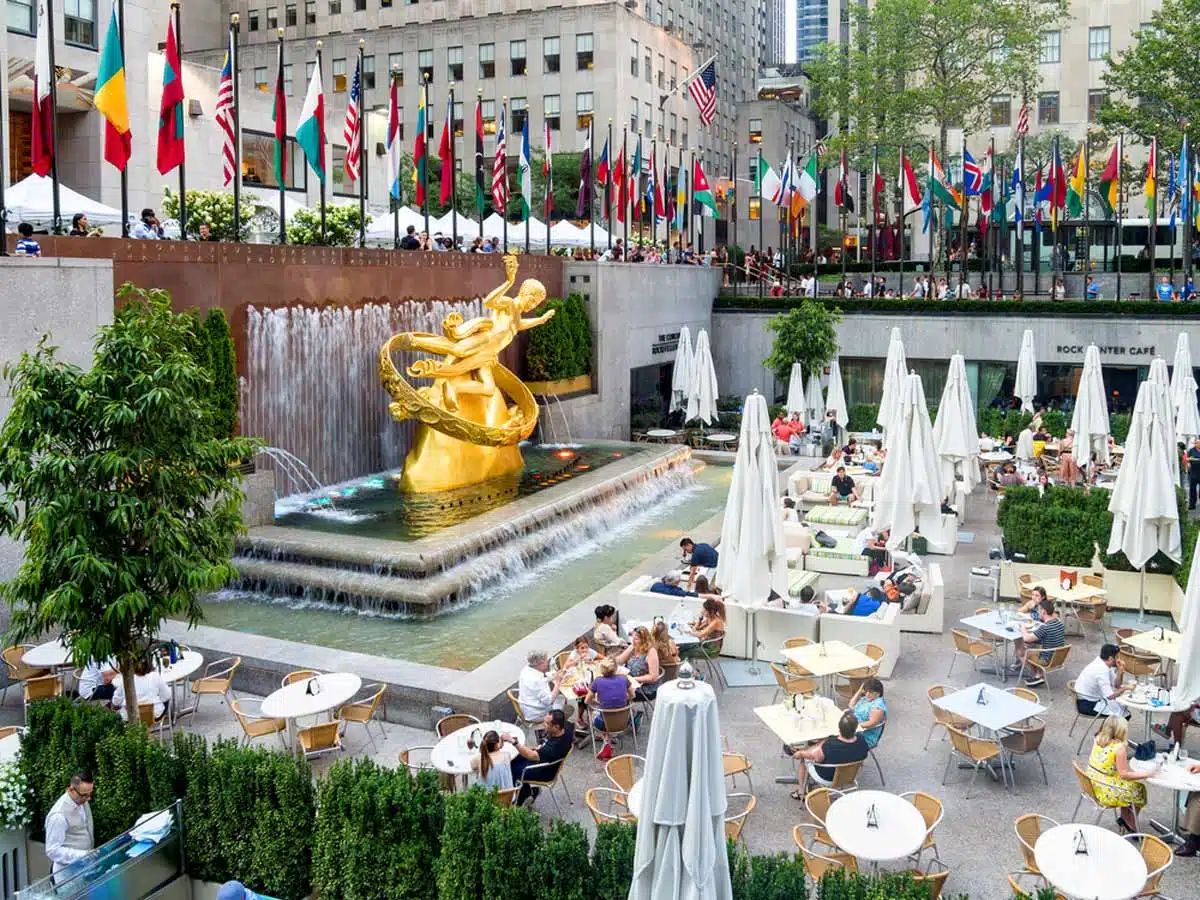 Almost nothing is as iconically New York as the Rockefeller Center, a building central to the city's culture. That is because it's home to Radio City Music Hall, The Tonight Show and Saturday Night Live, among plenty of other shows.
I'll be honest, I recommend heading to the Top of the Rock over heading up the Empire State. This observation deck sits on the 70th floor of the Rockefeller Center, and it offers pretty spectacular views of the city, including one of the Empire State Building.
So consider visiting Rockefeller Center to get an exquisite view of Midtown from the Top of the Rock or opt to ride on the roller rink instead. If you're lucky, you'll catch a performance of Saturday Night Live.
Top Tip: Book this Top of the Rock entry ticket in advance and beat the queues.
Go Shopping on Fifth Avenue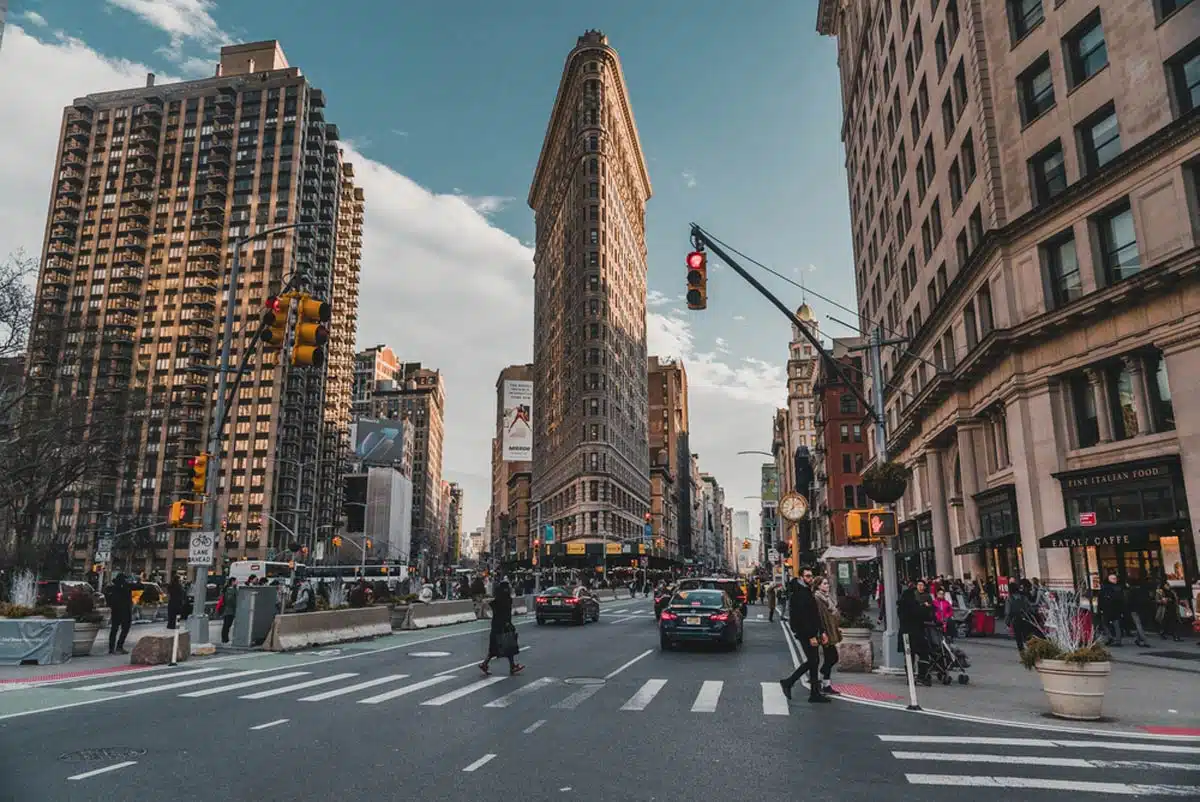 If you want to have your Breakfast at Tiffany's experience in New York, I highly recommend spending a day along the city's iconic Fifth Avenue between 59th and 96th streets.
There is ample opportunity to shop-til-you-drop at famous stores like Saks, Van Cleef & Arpels, Tiffany & Co. and Bergdorf Goodman.
However, if you'd prefer a cheaper alternative, don't fret; it also has shops like Gap, H&M, Abercrombie & Fitch and Zara. And even if you don't shop, it's also a brilliant spot to walk along as you pass landmarks like the Pulitzer Fountain, St. Patrick's Cathedral and the Rockefeller Center.
Visit Summit One Vanderbilt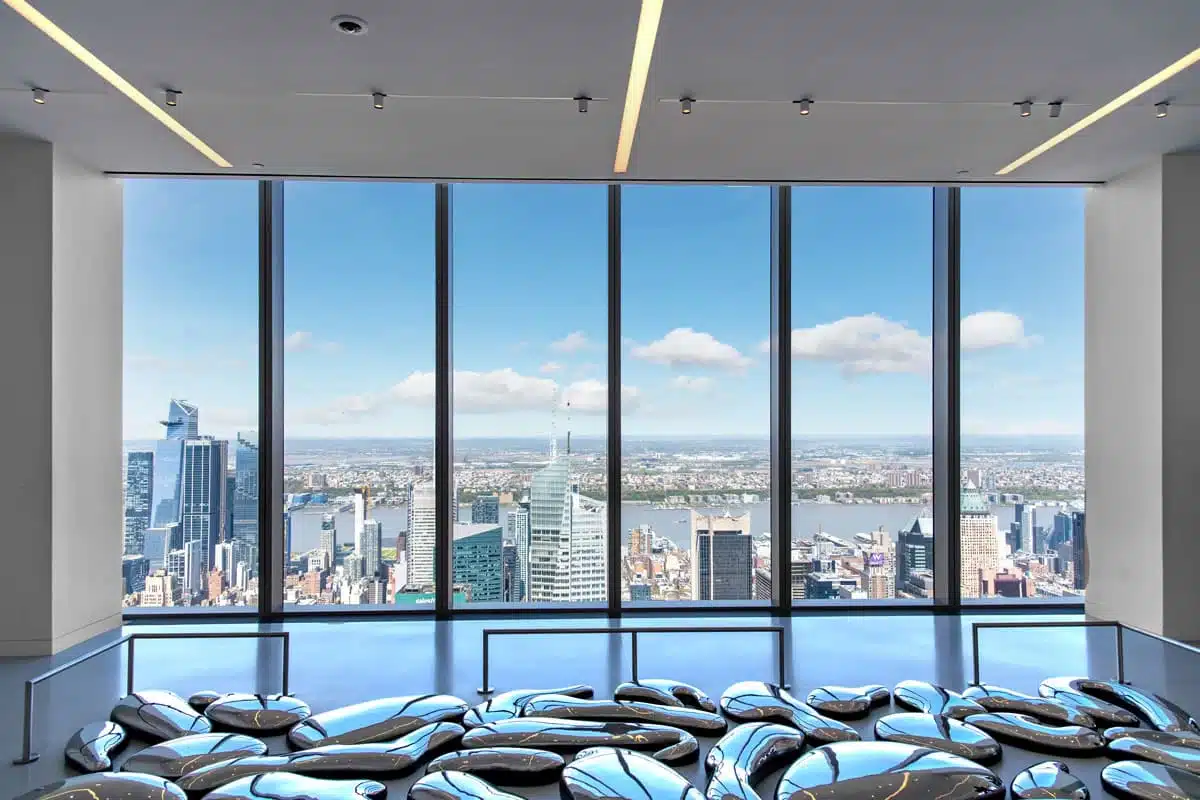 One of the most iconic New York experiences is seeing some jaw-dropping views surrounding the city. And there's no better spot to see them than at Summit One Vanderbilt, where you whoosh up to the 91st floor.
Once at the top, you'll enter a gigantic mirrored room that looks out over NYC. However, the fun doesn't end there. Next, if you're feeling up for it, enter Levitation, a glass skybox, and imagine you're floating 1,000 feet above Madison Avenue.
Lastly, enter Ascent, a separate glass elevator that takes you even higher, perfect for gazing over downtown Manhattan and pretending you're a billionaire in your own personal tower.
Catch a Broadway Performance
Another fun thing to do in New York is to watch a Broadway show. This is a must-do in New York City as it's one of the best ways to experience the city's cultural talent.
This is a lovely way to relax, laugh, and revel on a fun night out. You can catch all kinds of shows, but here are my faves:
Hamilton: Learn about one of America's founding fathers, Alexander Hamilton, in the most entertaining way – through this Pulitzer Prize-winning musical full of energy and action.
The Book of Mormon: You might fall off your seats laughing, as this story follows two missionaries preaching in a remote Ugandan village and the mishaps of their adventure.
The Lion King: This classic Disney tale of Simba and Nala is perfect for families and even movie enthusiasts: the set design and acting is phenomenal.
Watch a Game at Yankee Stadium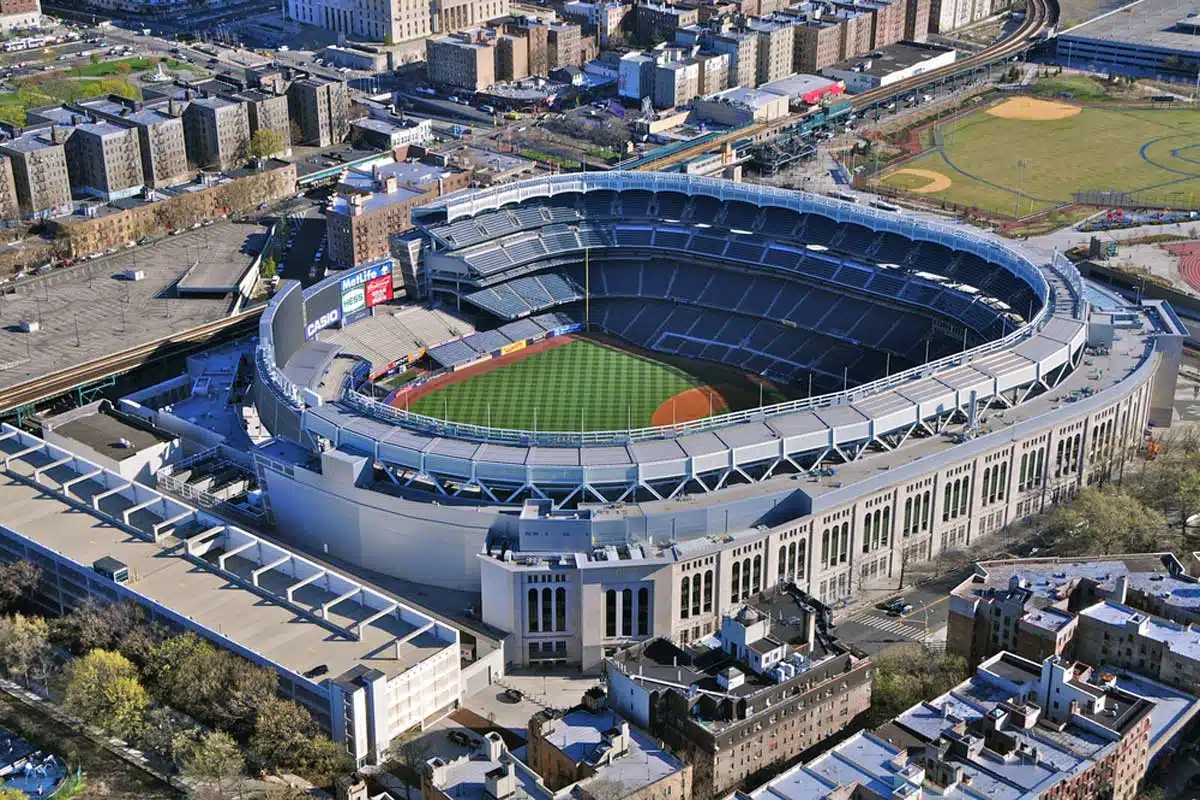 If you're looking for something exciting to do in the Big Apple in the summer, why not catch a live baseball game at Yankee Stadium? It's a quintessential American experience, with classic stadium food (pretzels and hot dogs), home runs and strikeouts.
Want to catch a game? Then the best time to visit New York is between March and October, when Major League Baseball holds games. Tickets cost between $20 and $300, depending on your seat.
Eat Delicious Jewish Food at Katz's Deli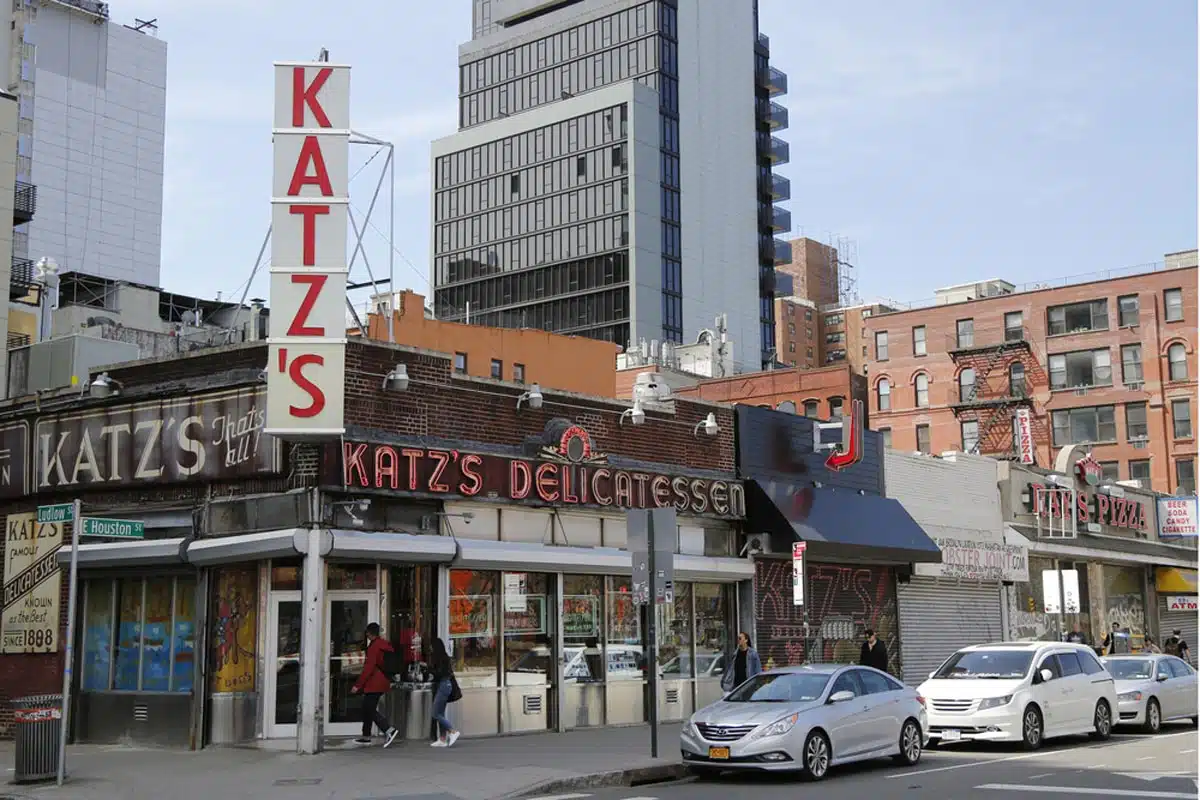 This iconic Katz Deli is famous for many things, from being the oldest New York deli to its appearance in the cult classic When Harry Met Sally. So it goes, without saying that you must visit Katz's Deli while in New York.
Their most famous item is the pastrami on rye sandwich, and I totally get why. Sandwiched between two slices of mustard-slathered rye bread is a huge pile of freshly-shaved pastrami.
What's more, it comes with sweet and sour pickles on the side, the perfect accompaniment – you better believe I gobbled it up in an insanely short amount of time.
Take a Walking Tour
New York is so expansive, so you'll probably spend a lot of your time walking. What better way to take advantage of this than by taking a walking tour of the city?
There are so many to choose from, with unique themes like food, music, movies, and ghosts, but here are some of my faves:
Superheroes of NYC: This guided walking tour shows you iconic NY landmarks and filming locations of your favourite superhero movies, such as The Avengers, Spiderman and Daredevil.
New York City's Hell's Kitchen: Be delighted by flavourful food of this renowned neighbourhood. You'll also walk through Hell's Kitchen's history and get to try all kinds of cuisines.
NYC: Speakeasy Drinks and Prohibition History Tour: Learn all about the city's sordid past, bootleggers, speakeasies, and notorious gangsters. A must-try for history buffs and cocktail lovers.
Explore Williamsburg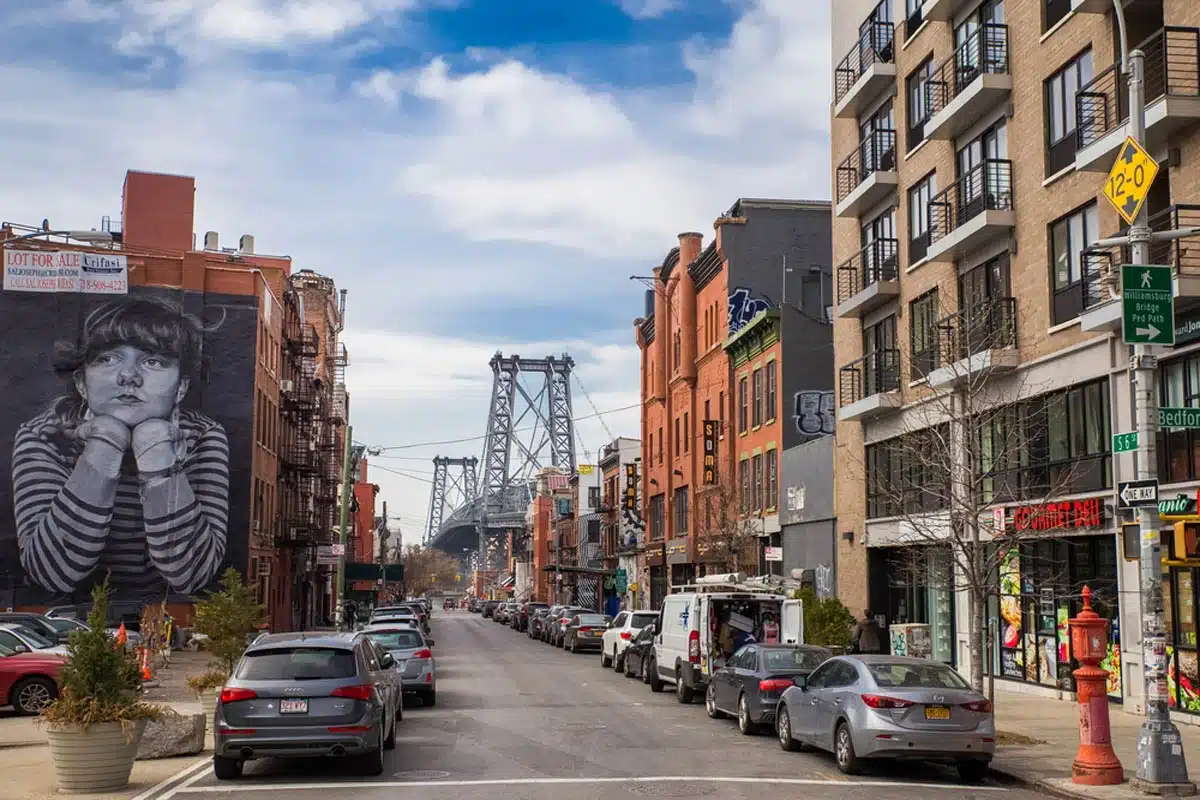 If you're looking for brilliant things to do in Brooklyn, New York, I recommend visiting the trendy and bustling neighbourhood of Williamsburg.
Why? Only because it has some top pizza joints in NYC, such as Best Pizza (their White Pie is iconic) and Roberta's Pizza (their Bee Sting will get you going). Don't forget Williamsburg Pizza for classic grandma slices.
You can also see cool street art along Bedford Avenue, catch a movie at Nitehawk Cinema, or go thrift shopping at the Brooklyn Flea Market. Now, that sounds like the perfect day!
Top Tip: Every Saturday in Marsha P. Johnson Park, Smorgasburg, a foodie market offers delicious meals with 75+ vendors and sweeping city views. Add this to the top of your NYC what-to-do list.
Visit The MoMA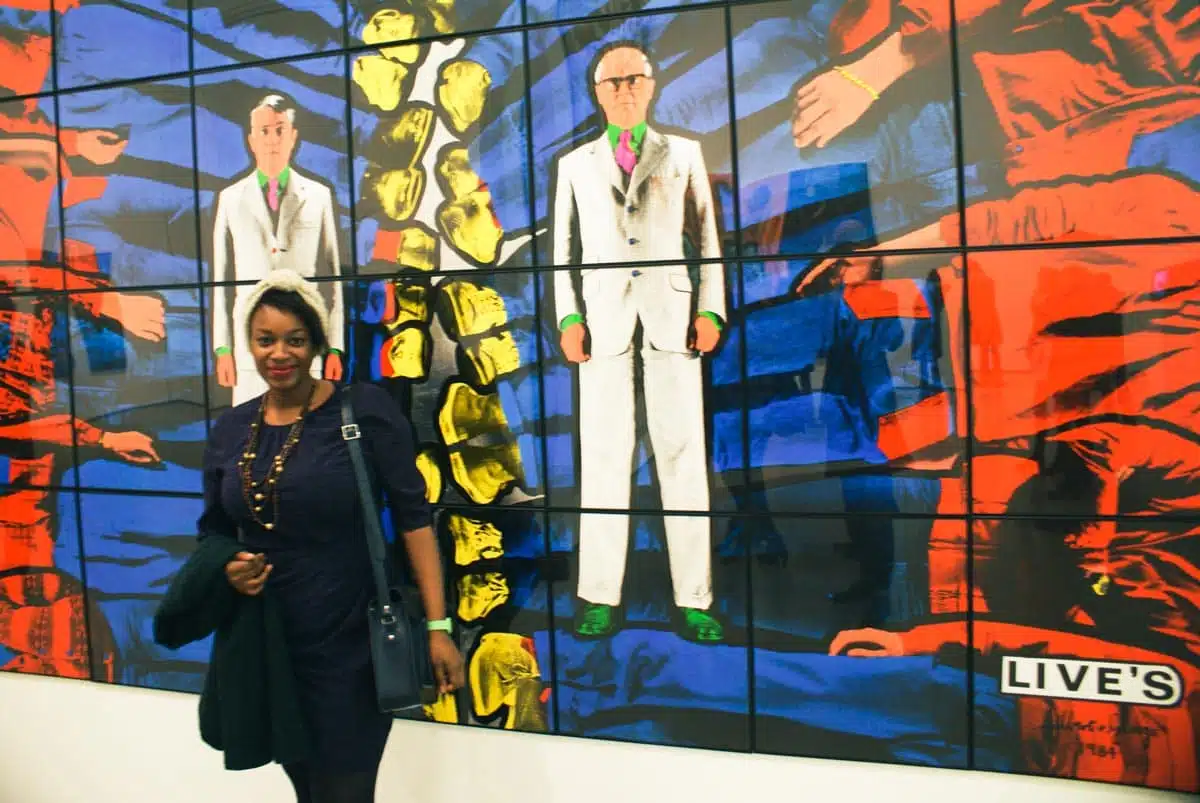 New York is famous for being an international hub and home to many famous artists throughout the years, such as Keith Haring, Andy Warhol and Basquiat. What better way to explore them than at the incomparable Museum of Modern Art?
This museum has over 1,000 works on display in various genres and is one of the best ways to see the world's best modern art. Want a bite to eat after? Don't worry, as the Terrace Café offers classic American dishes, such as mac and cheese and BLTs.
Try Dim Sum in Chinatown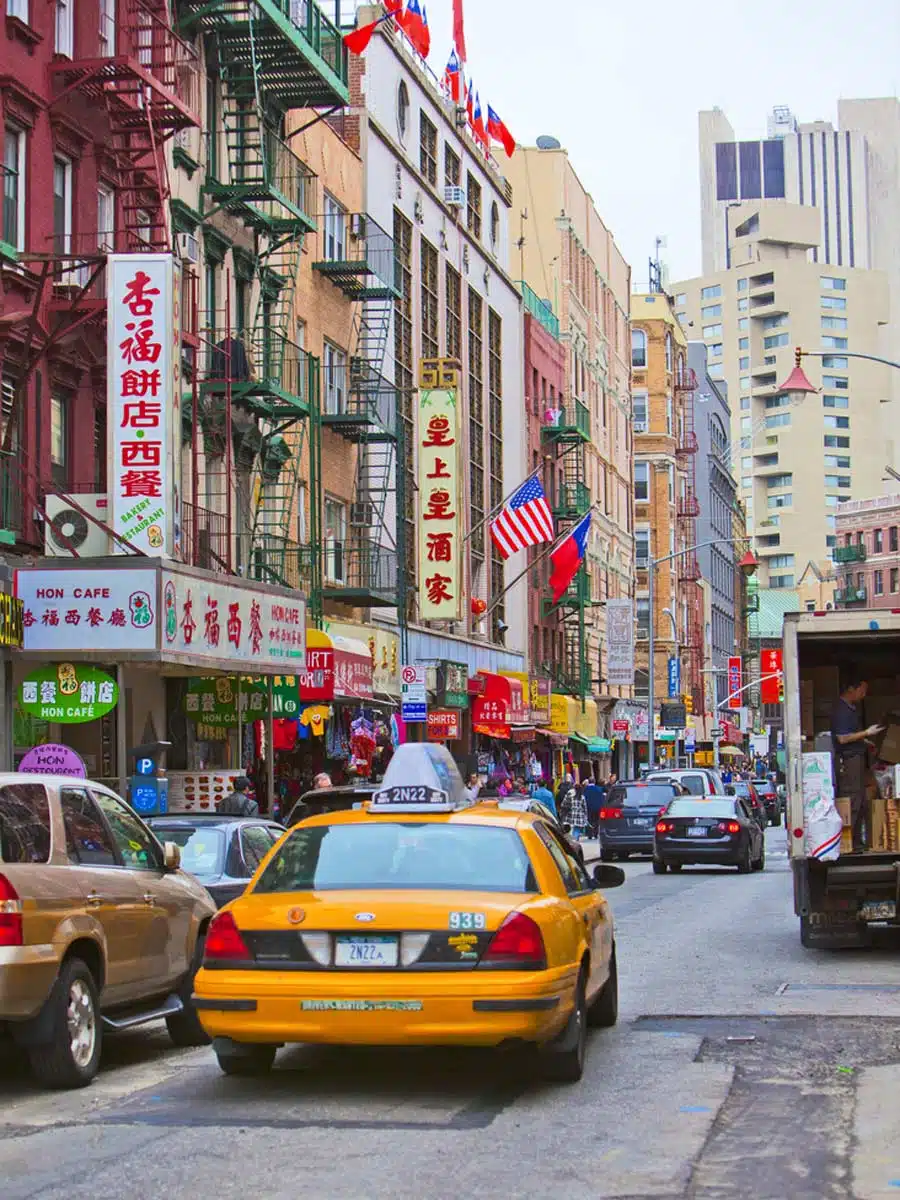 Did you know that New York City has one of the biggest Chinese populations outside of China? Yeah, that's right, and a majority of them live in Lower Manhattan's Chinatown.
This is why out of all the stuff to do in New York, I recommend visiting this gorgeous neighbourhood for delicious food and a delightful stroll through its lively streets. Getting hungry? Stop at these spots:
Xi'an Famous Foods: for spicy lamb noodles, one of Anthony Bourdain's favourites.
Jing Fong: for dim sum in a vast dining room.
Golden Steamer: for steaming-hot dumplings, bao buns, and egg tarts.
Visit The Morgan Library & Museum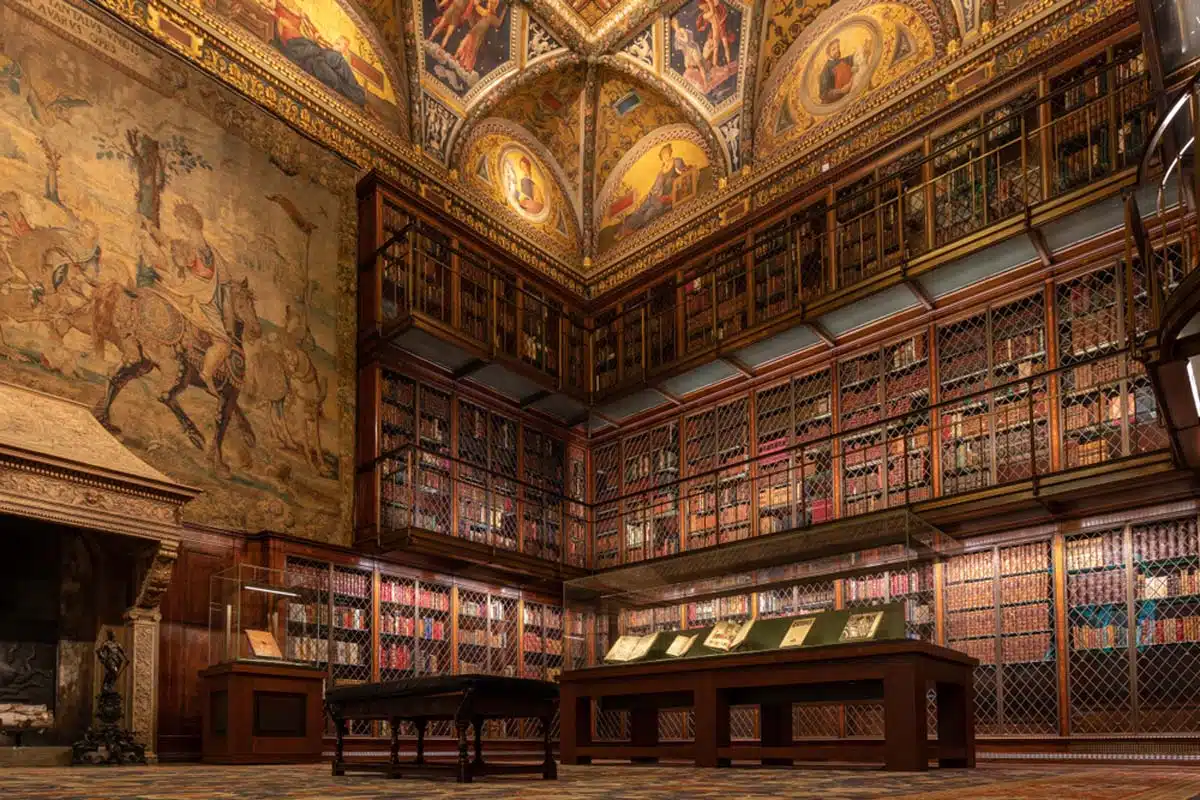 If you love literature and history, then the Morgan Library & Museum is the perfect New York attraction for you. You'll find all kinds of rare artefacts, from copies of the Declaration of Independence to Mozart's handwritten Haffner Symphony score.
Being inside the library is like being in a treasure chest, as you can see artefacts that date back to 4000 B.C. That's not all, as the museum also has ongoing exhibitions of photography and paintings – featuring contemporary and past artists.
Top Tip: Admission costs $20 per person, but it's free if you come on Friday between 7 and 9 pm.
Spend a Day at Coney Island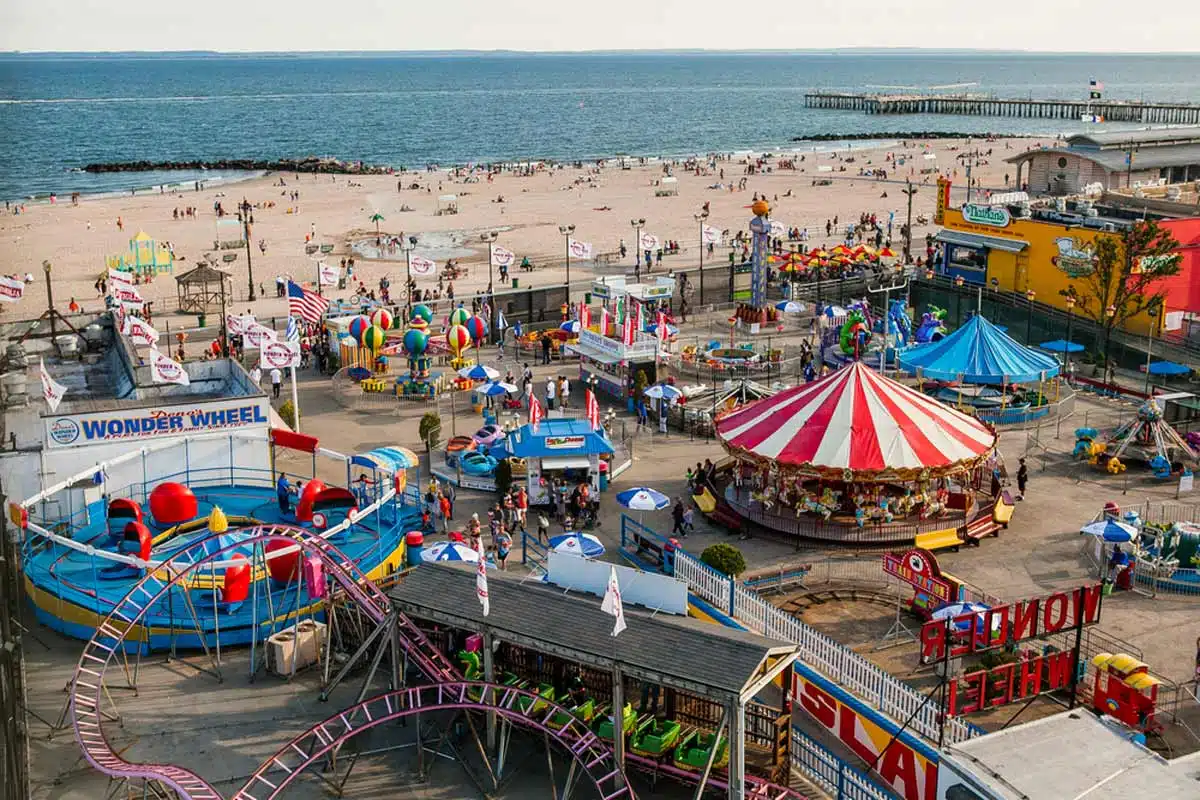 One of the most fun things to do in New York City is to spend a day at Coney Island. This iconic island is home to Luna Park, an amusement park with exhilarating roller coasters and classic games like Whack-A-Mole, Ring Toss, and Basketball Hoops.
After a few rides (if you're still hungry), walk along the Riegelmann Boardwalk, grab a hot dog from Nathan's Famous Hot Dogs or eat ice cream on the promenade. It's certainly a New York classic for locals and tourists alike.
Visit the American Museum of Natural History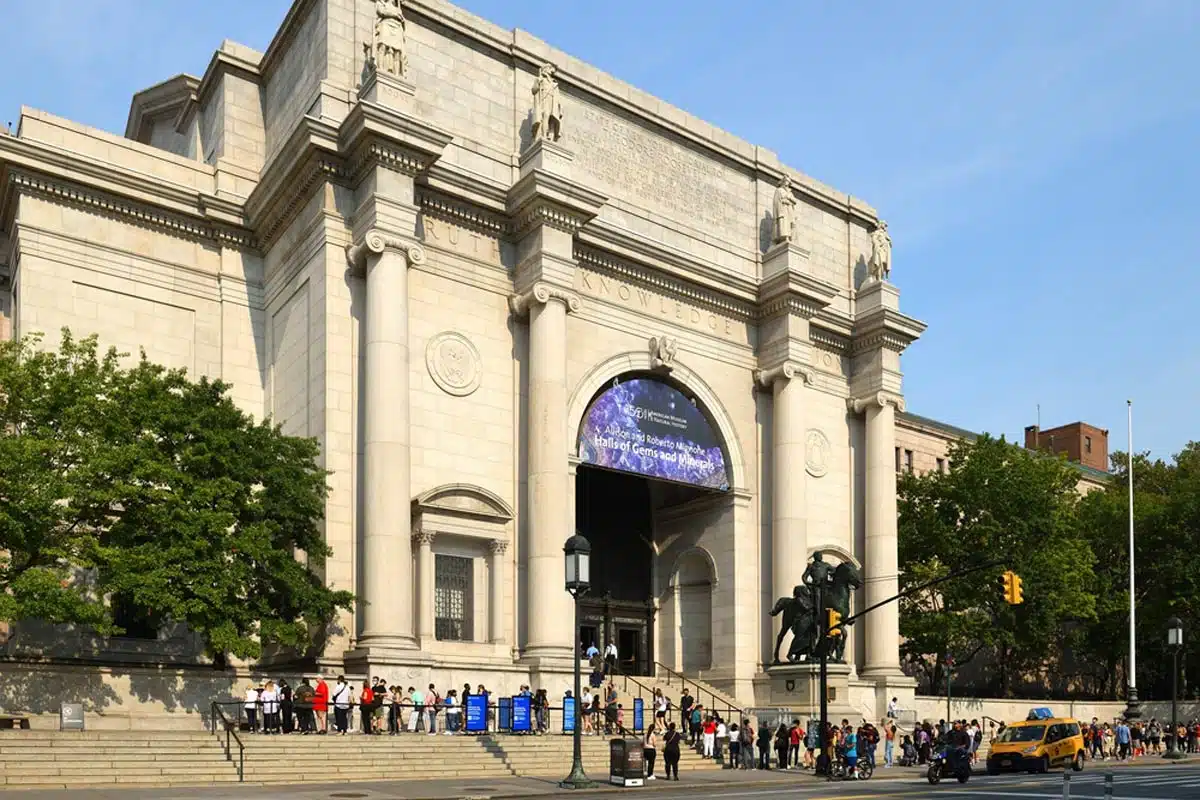 Another New York classic is the American Museum of Natural History, with its expansive collection of taxidermied animals and incredible architecture. Visiting it is one of the top things to do in New York, as it's the world's largest natural history museum with exhibits about dinosaurs, ancient humans, and space.
It's perfect for those looking to learn more about the world, as it's sure to have interesting facts I bet you didn't know.
Catch the Staten Island Ferry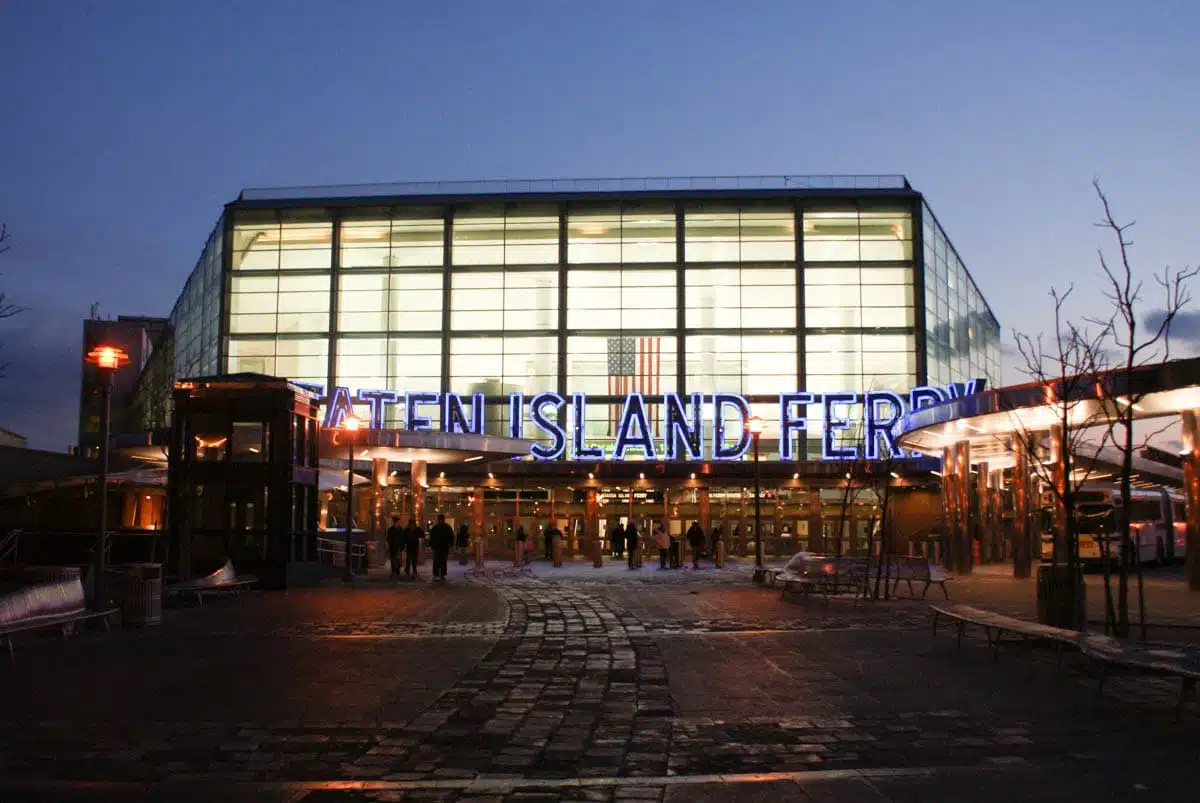 Catching the Staten Island Ferry is a great way to experience views of New York's skyline. And it helps that it's a free ride.
Take advantage of that and come in the evening as the sun sets – you'll get romantic views of the Empire State Building, the Statue of Liberty and the Manhattan Bridge.
Once you get to Staten Island, head to Enoteca Maria for dinner made by international grandmothers. It's truly a heartening experience that will make you feel right at home – and some of the best food I had in New York.
Unique Things to See & Do in New York: Hidden Gems That Are Off the Beaten Track
See a Performance at Lincoln Center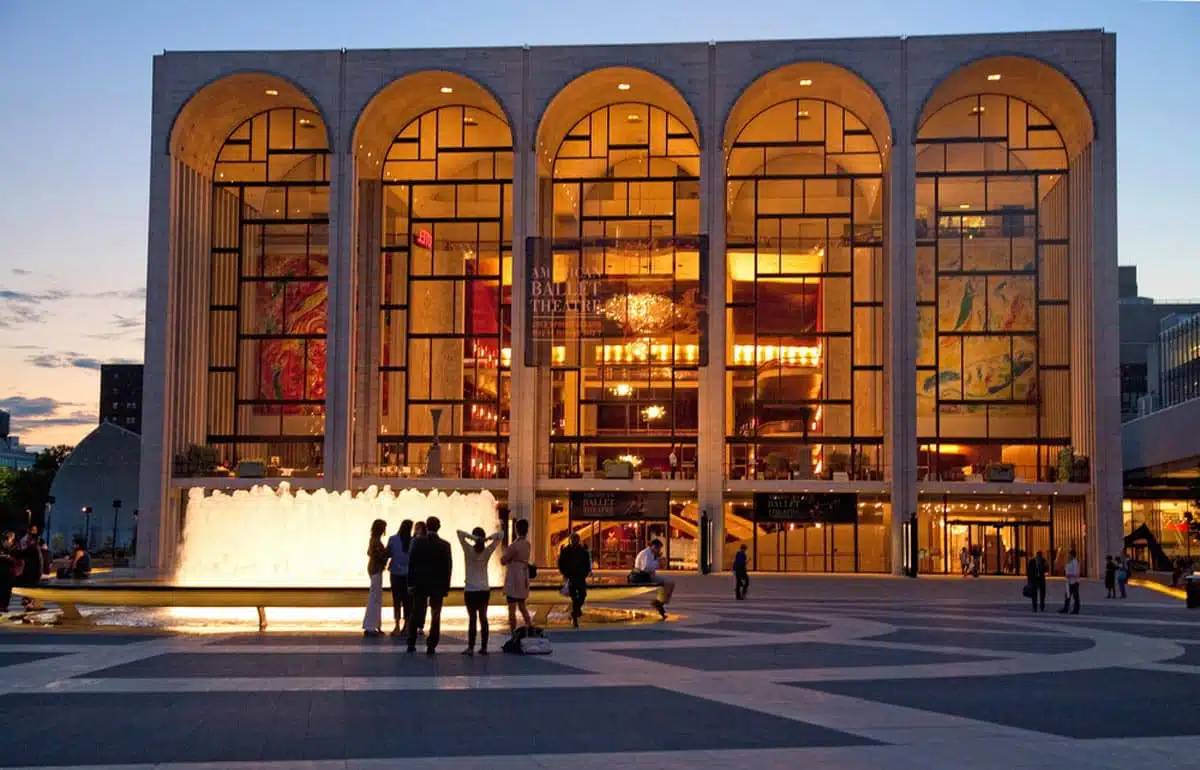 If you love live music, why not catch a show at the Lincoln Center? They have all kinds of performances and shows, from chamber music to operas.
It's the perfect thing to do in Central New York for cultural aficionados, as there is always something entertaining on. This includes off-Broadway productions if you're looking for a cheaper show alternative.
There's also Summer for the City – a social dance festival from June until August.
Visit the New York Public Library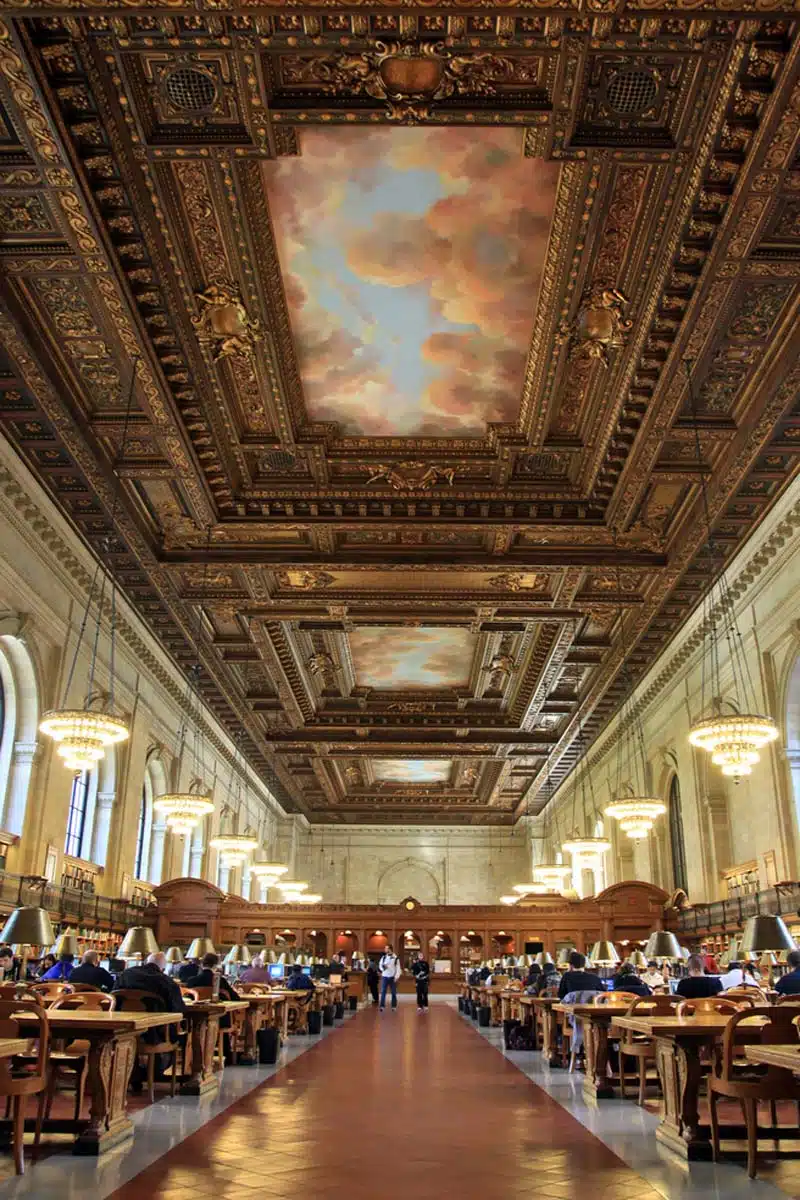 Even if you just visit the New York Public Library to admire the incredible architecture, it's worth it. But it's what's inside that is truly magnificent. It's the world's fourth-largest library, with millions of books, movies and audiobooks to peruse.
However, it's also a tranquil spot in New York, perfect for introverts looking to escape life's busyness. The Stephen A. Schwarzman Building offers a unique way to experience the city on one of their free tours. This is also one of the only ways you'll get to see the Rose Main Reading Room.
Check Out the Little Red Lighthouse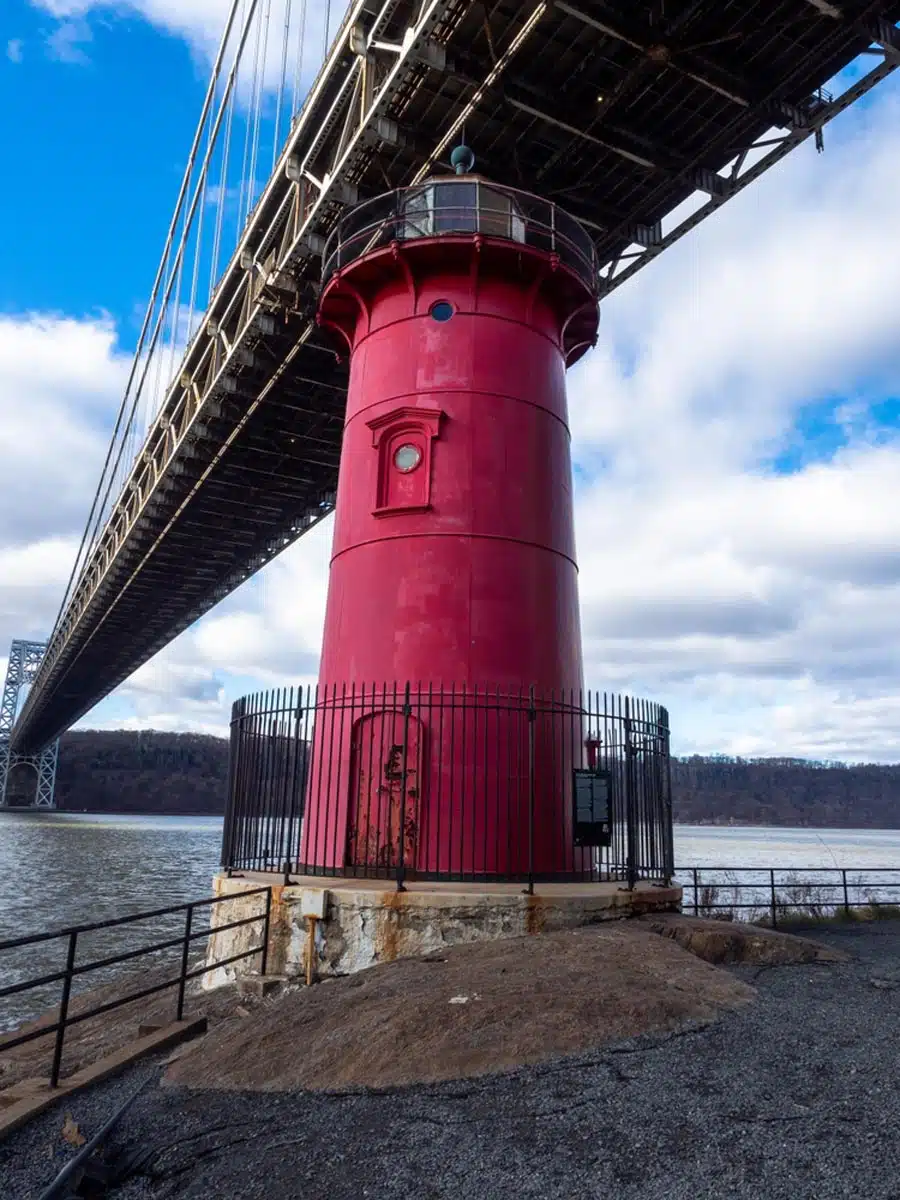 New York is full of unique buildings and enchanting vistas, even if some are a bit out of the city. So live your best Wes Anderson life and visit the stunning Little Red Lighthouse along the Hudson River.
At only 39 feet, it's incredibly small and oh-so cute, tucked under the George Washington Bridge. It's one of the best activities to do in New York to escape the city's hustle, as you can even climb up the stairs to see some gorgeous views of the Hudson River.
Walk Through the Frick Collection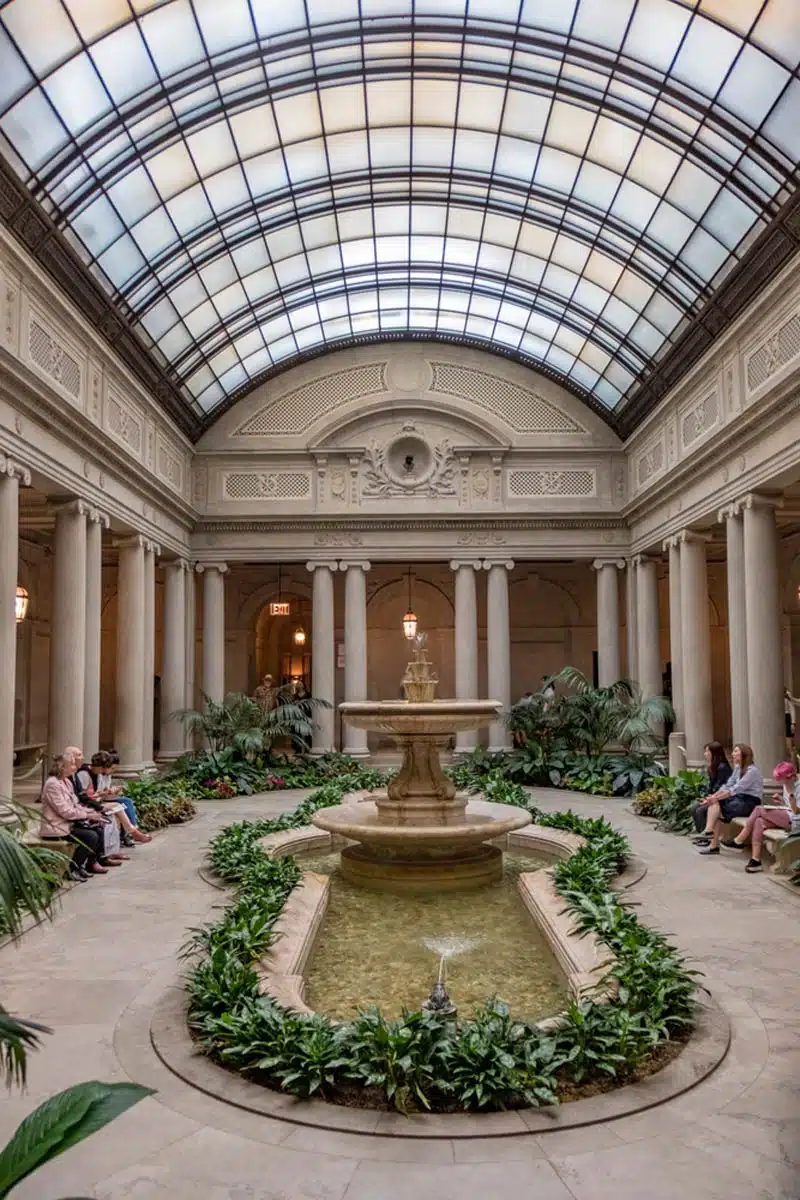 As much as New York's main art museums are fun to visit, they can get busy quickly. So, I'll let you into a little secret: visit the Frick Collection. Okay, so it's not really a secret, as many adore this stunning building.
It houses artwork from masters like Turner, Goya, Vermeer and Rembrandt, so visiting the collection is a cool thing to do in New York for impressionist art lovers.
Top Tip: Renovations are currently underway at the Frick Collection, so check out Frick Madison at 945 Madison Avenue to avoid disappointment.
Escape the Chaos at The Elevated Acre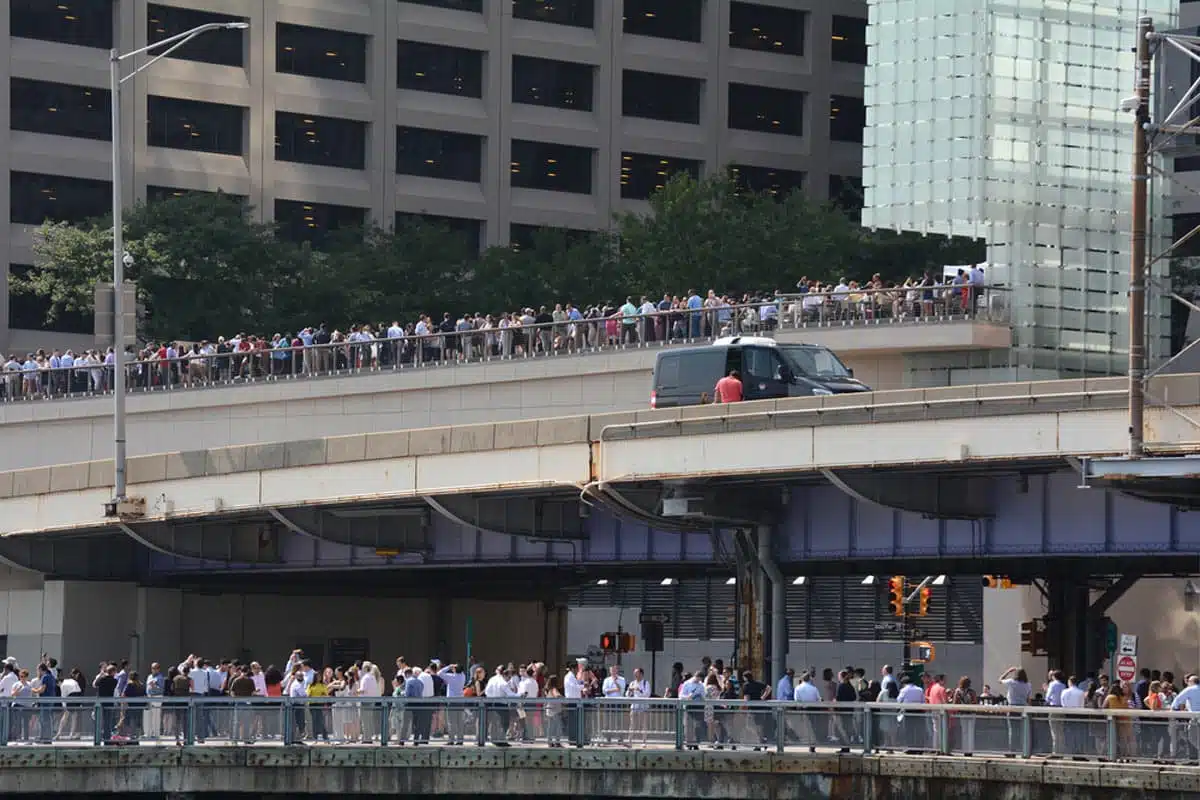 Out of all the stuff to do in New York City, you may be looking for a relaxing spot amid all the noise. If so, I suggest visiting the Elevated Acre in Lower Manhattan.
This is a one-acre meadow and an urban oasis in a concrete jungle. It's a beautiful spot with a summer beer garden and stunning views of Brooklyn and the East River, ideal for a picnic.
Visit an Abandoned Smallpox Hospital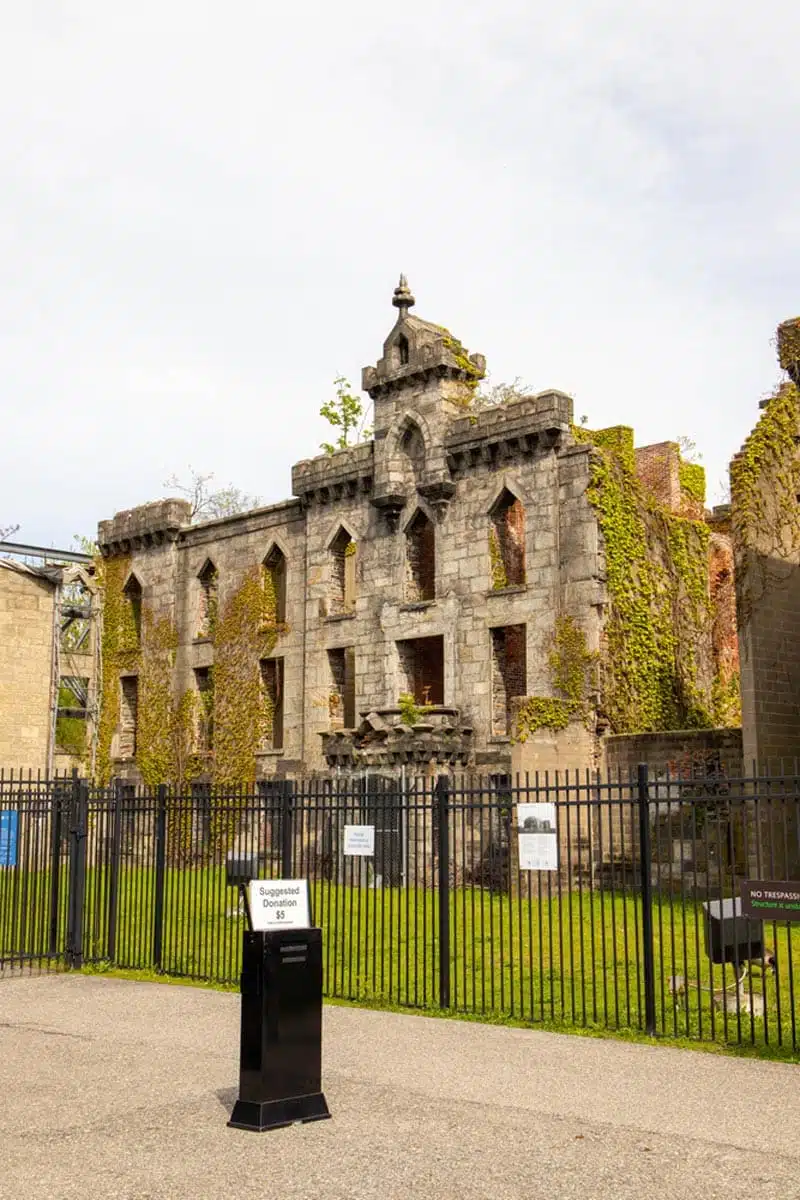 If you're looking for one of the most unusual things to do in New York, this is probably it. Located on Roosevelt Island, the Renwick Smallpox Hospital served as a quarantine area during a smallpox outbreak in the 1850s.
Nowadays, you can visit it as a small reminder of how far we have gotten in terms of healthcare. Its gothic ruins may appear sinister, but James Renwick Jr. designed it. Yep – he's also famous for designing the New York Stock Exchange facade and the Smithsonian Institute.
Learn about Immigration at The Tenement Museum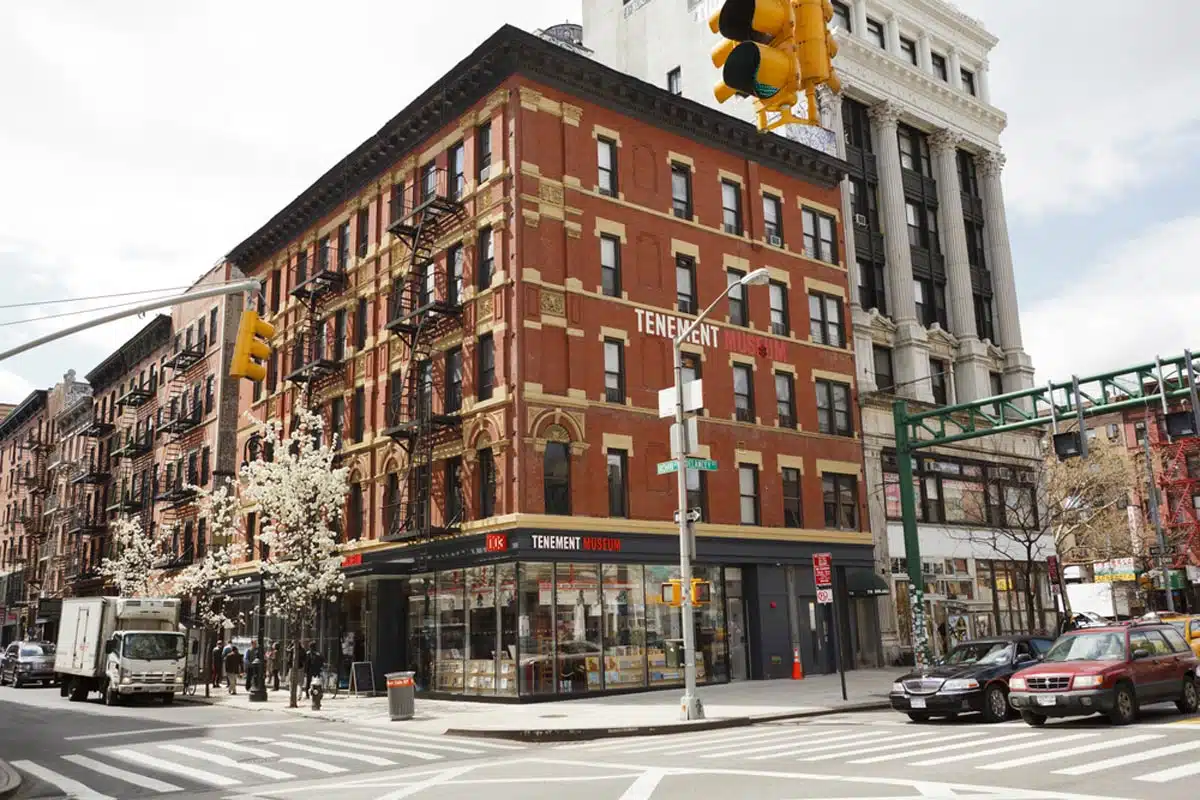 The USA and New York were central locations for the mass influx of immigrants in the 20th Century following World War II and other mass catastrophes. So it's no surprise that New York is one of the world's most diverse cities.
What better way to learn about this melting pot than at the Tenement Museum in New York's Lower East Side? The museum has exhibits that recreate what life looked like for immigrants in the 19th and 20th centuries – and it's a glimpse into the past.
Be Enchanted at the Whispering Gallery of Grand Central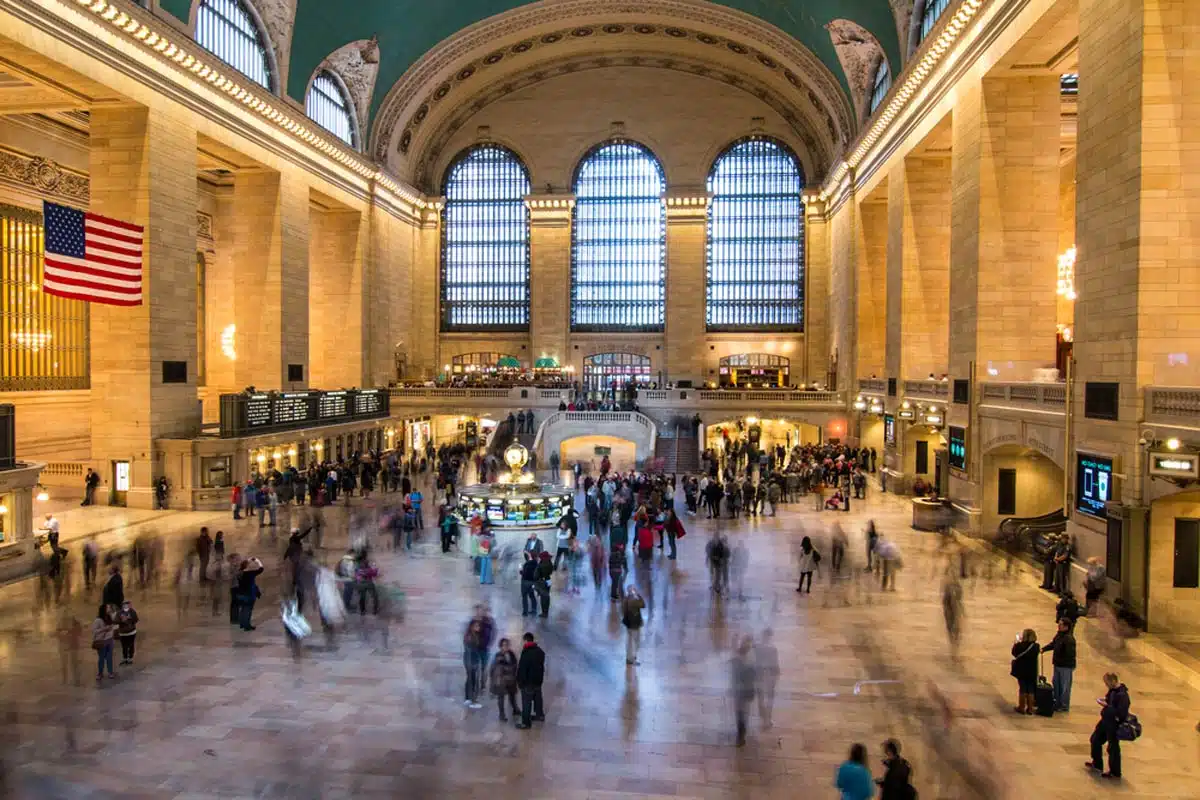 The Grand Central Terminal is a highly-visited building in Midtown for tourists and commuters, with hundreds of thousands of people walking through it daily. Its gorgeous arches, iconic Booth Clock, and grand constellation-adorned ceiling draw many visitors.
But what many don't know about Grand Central is that it's also home to a whispering gallery in the terminal's dining area. Here, you can stand on opposite corners of the room and whisper messages to each other. It's one of the top unique New York activities – but fun for everyone.
Catch the Roosevelt Island Aerial Tramway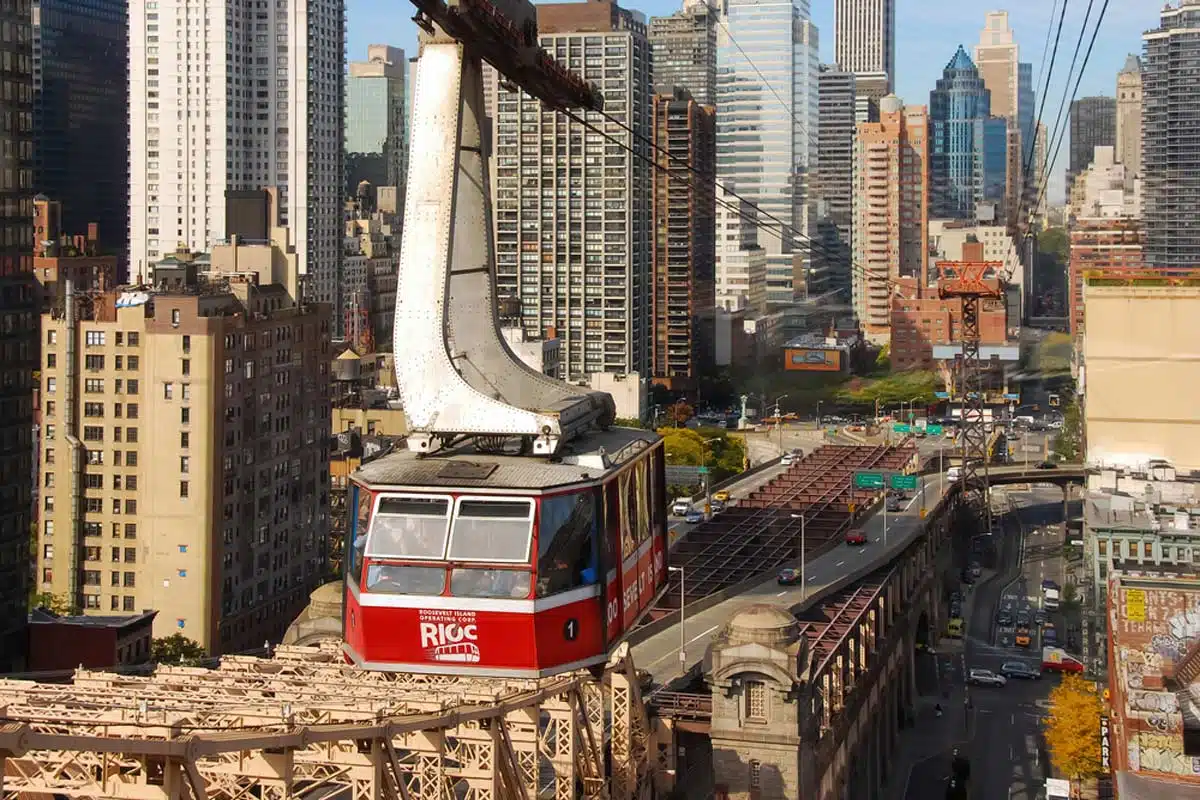 Looking for a unique way to experience New York? All you need is a Metrocard to head to the 59th Street and Second Avenue station in Manhattan.
From here, you'll ride across the East River and past the Queensboro Bridge to Roosevelt Island. You'll get stunning views of the Manhattan skyline, including the Empire State and Chrysler buildings. Even better, it's affordable at less than $3 per person.
Gain Inner Peace at Brooklyn Botanic Garden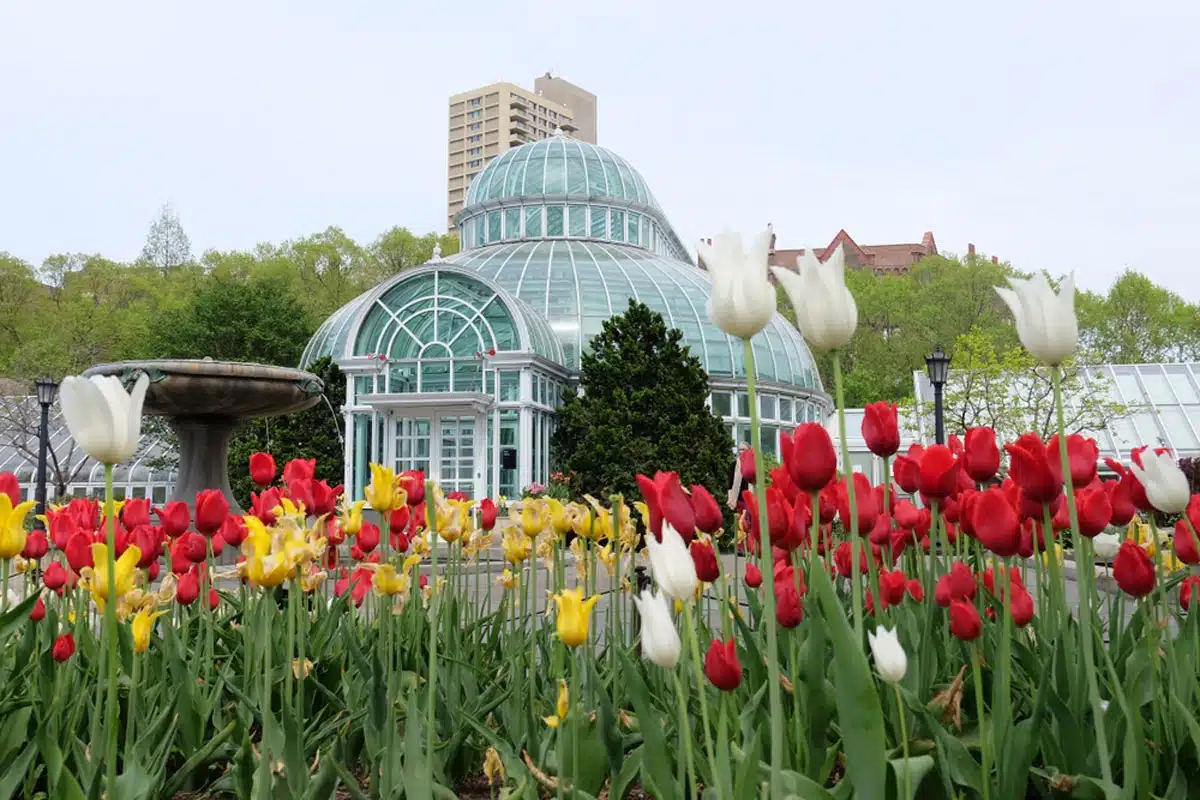 Even if New York is busy, busy, busy, it still has fantastic spots for a peaceful time. One such spot is the Brooklyn Botanic Garden, where you can see over 52 acres of plants and trees.
It is an enchanting place to be in New York, from its Virginia Bluebell fields to the aroma-filled Fragrance Garden. And then, there's the Shakespeare Garden, which features more than 80 plant species mentioned in the Bard's works.
Top Tip: Visit in Spring to see cherry trees blossom – it's truly beautiful.
Explore a Borough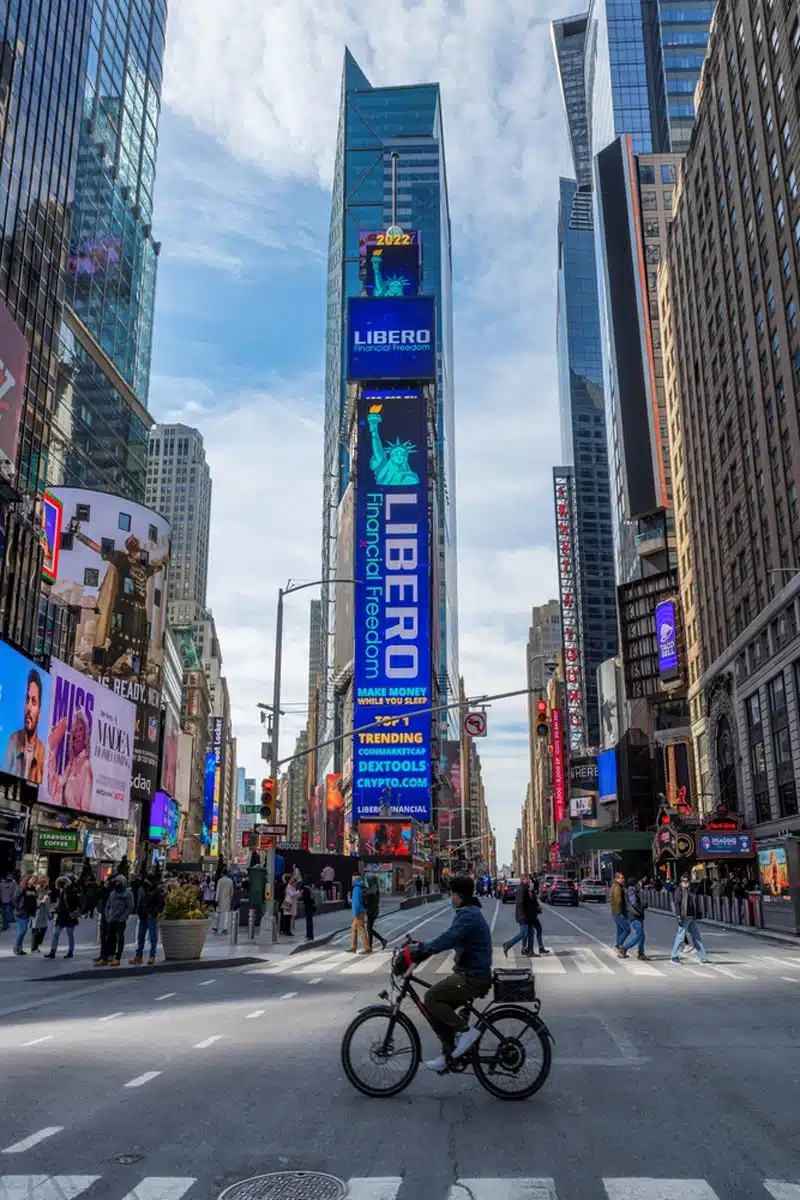 One of the most fun things to do while in New York is wander through the Boroughs and explore hidden gems and off-the-beaten-path treasures.
New York has five boroughs you can explore, each with its own unique offerings:
Manhattan – Perhaps the most popular, this is where you'll find the most landmarks and popular NYC attractions. Think Times Square, Central Park, etc.
The Bronx – Home of the Yankee Stadium and just a short distance from Manhattan, The Bronx is ideal for exploring more NYC history and cuisine.
Brooklyn – A hip neighbourhood exuding culture, foodie delights, and restful spaces like the botanical gardens and the clean beaches.
Queens – Not as big of a tourist spot, Queens offers a few fascinating landmarks, museums, and parks — all without the need to fight your way through crowds.
Staten Island – This is more of a residential area, but ideal to spend a few hours strolling the green spaces. Be sure to stop in at the living museum, Historic Richmond Town.
Be Amazed at ARTECHOUSE NYC
This fully immersive art experience will leave you amazed by beautiful colours and interesting sounds. Take everything you know about art and leave outside as you enter this unique museum, full of genre-pushing artworks.
In the Chelsea Market, ARTECHOUSE NYC features new media artists, psychedelic-like imagery, and unique stories. It should be on the top of your "things to do in NYC" list if you like art and technology.
Top tip: There is a one-hour limit for visits, which is very rarely enforced, but if the museum is busy, you may have to leave after the hour.
Things to Do in New York City: Practical Tips for Your Trip
Where Should I Stay in New York?
Picking where to stay in NY can be as challenging as choosing what to do, so I've done the heavy lifting and found two excellent options.
Freehand New York (Mid-Range)
This hip boutique hotel is conveniently around 500 feet from the 23rd Street metro station and close to Midtown. And with its wooden furniture and minimalist decor, its vibe feels timeless.
However, Freehand's amenities are not, from its rooftop bar to the 24-hour gym and co-working space.
Check Rates and Availability for Freehand New York on Booking.com
The Wallace (Luxury)
With spacious rooms, luxurious bedding, and pops of pastel tones, this hotel is perfect for a relaxing night's rest after a busy day of exploring. The Wallace understands world-class service, delivering it the second you walk in.
Even better, it's close to metro stations and Museum Mile. And it has enchanting views over the Hudson River and Central Park.
Check Rates and Availability for The Wallace on Booking.com
Recommended Tours in NYC
Things to Do in NY: Map
Things to do in New York: Read Next