Planning a trip to the Maldives? The SAii Lagoon resort is perfect for a luxurious and relaxing vacation on this stunning island archipelago. Read on for an in-depth review of my seven-day stay at SAii Lagoon.
Peppered with white-sand beaches and vibrant coral reefs, it's no wonder the Maldives is such an elusive destination.
In fact, its Indian Ocean location makes the Maldives secluded enough for a peaceful getaway filled with snorkelling, swimming, and beach-chillin'. But what makes the Maldives truly a spectacular place is that most of its luxurious resorts occupy entire islands, giving you that private escape feel.
One such resort is SAii Lagoon Maldives Curio Collection by Hilton – and I had the pleasure of staying there on my recent trip.
This reasonably priced 5-star hotel boasts lots of terrific amenities, a bright and airy gym, and an indulgent spa. SAii Lagoon also provides access to some of the best activities in the Maldives.
Now, without further ado, let's dive into why you should stay at Curio Collection by Hilton's SAii Lagoon.
British Airways offers holidays to Saii Lagoon on an all-inclusive and bed & breakfast basis with flights from London. Check rates here.
SAii Lagoon, Maldives: At a Glance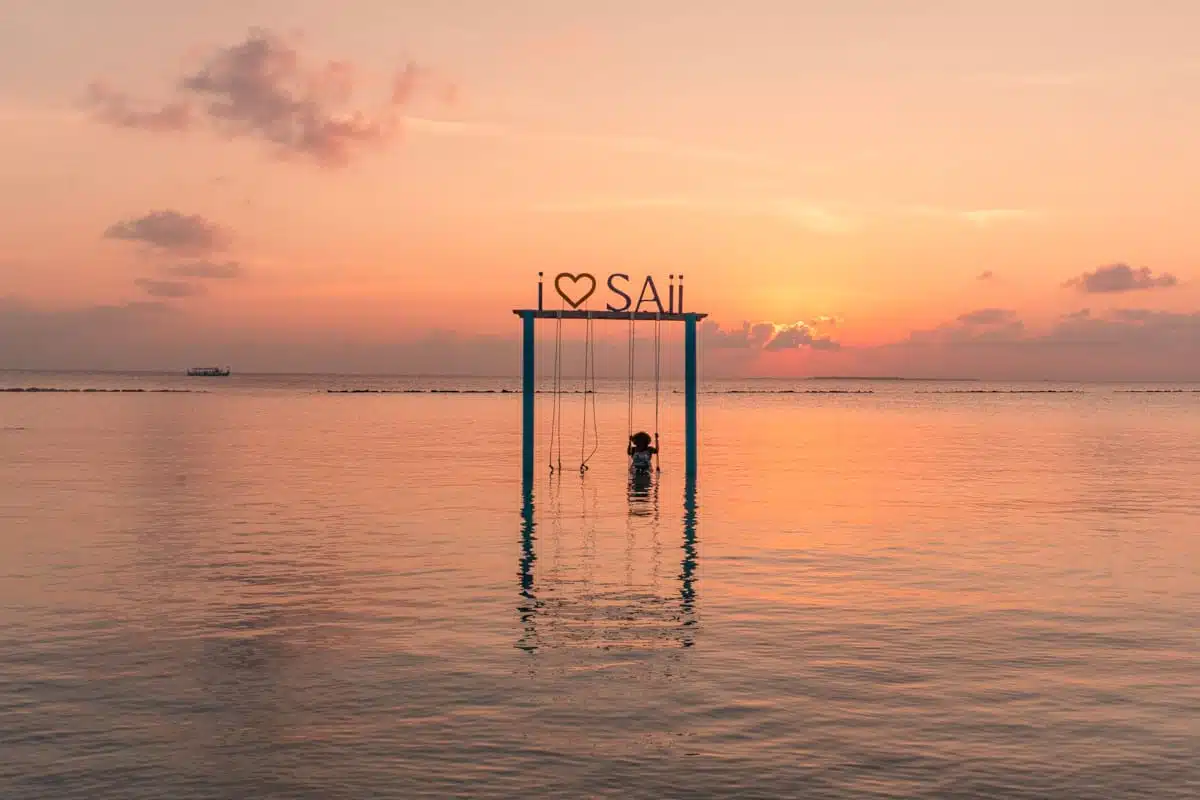 Let's not beat around the bush – would I recommend a stay at SAii Lagoon? Answer = a big yes.
I loved my stay at this resort. Mainly because there were lots of amenities, plenty (and I mean PLENTY) of great restaurants and the rooms were beautiful. So, if you're interested in why I'm raving so much about SAii Lagoon, read on…
Location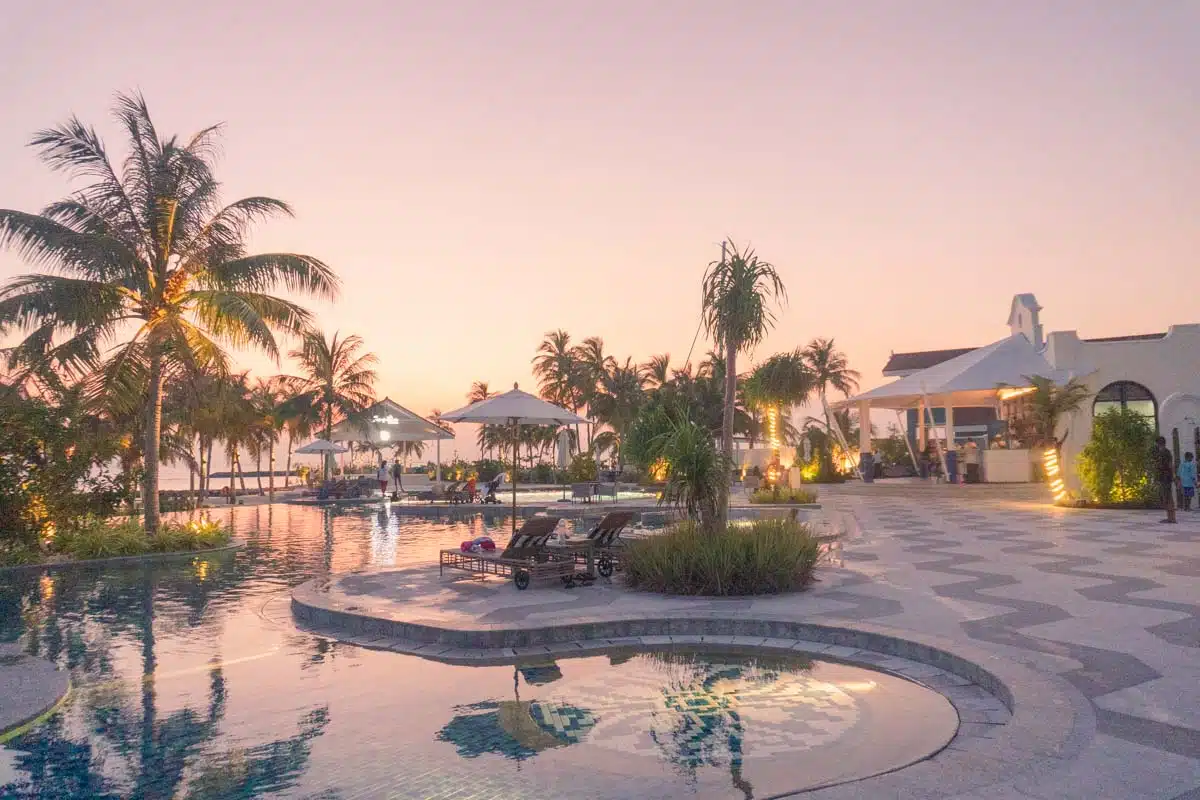 Located in the picturesque Emboodhoo Lagoon, a multi-island chain dotted with luxurious resorts and several recreational spots, SAii Lagoon could attract tourists on its appeal alone.
The resort sits in the South Malé Atoll, the preferred option between North and South thanks to its scarcity of rainy days and an abundance of sharks and manta rays in its waters.
So, how do you get there?
SAii Lagoon is just over six miles from the airport, and it takes around 15 to 20 minutes via speedboat to get to the resort. You can arrange your travel from the capital to SAii Lagoon with private transfer outfitters in Malé, or you can arrange this with the hotel concierge (which is what I did).
Style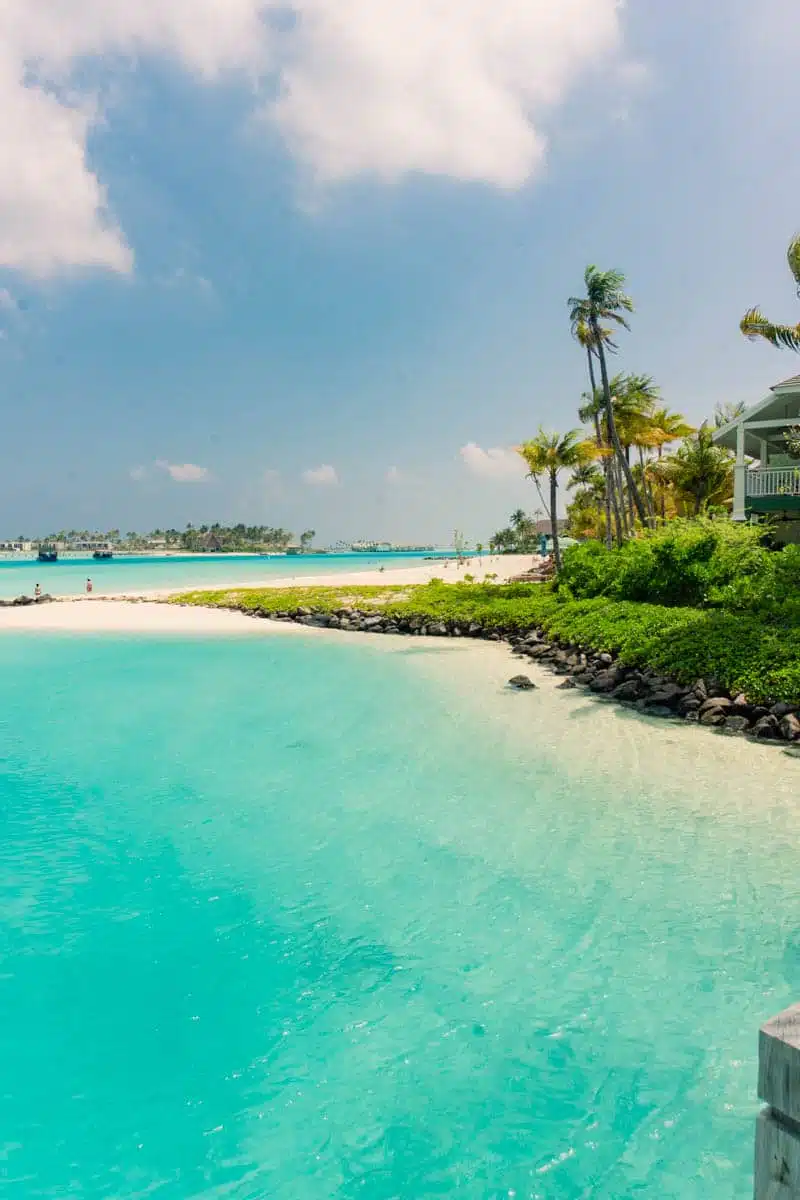 Colourful, modern, and dotted with aquatic decor — SAii Lagoon's interior and exterior designs boast exemplary features that you would (and should) expect from luxury hotels in the Maldives.
The resort is decked out in typical Maldives flair, with several sky rooms, beach bungalows, and overwater villas to boot.
The beachy vibes carry through to the resort's interior, from the monochrome lobby with its high-beamed ceilings to the airy guest rooms with ocean views. SAii Lagoon's chic decor features prints, artworks, and furniture inspired by the Maldives' traditional arts and crafts.
Rooms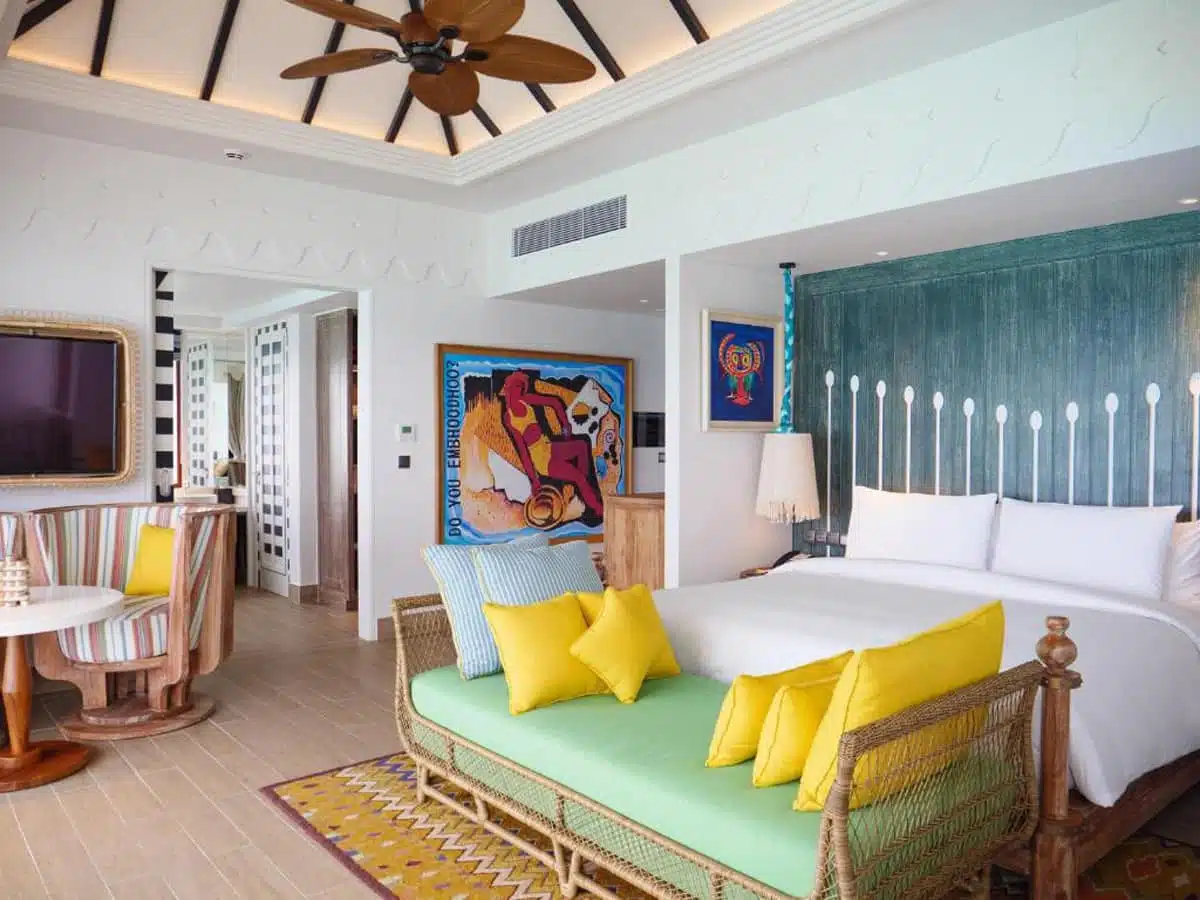 SAii Lagoon offers a relaxing stay in all of its 198 guestrooms. Split into sky and beach rooms, suites, and overwater villas, this resort features standard-size, king-size, and two-bedroom family suites, so you can bring your whole gang along (or opt for a romantic break instead – you do you).
Each room boasts contemporary interior designs with hardwood floors, beamed ceilings, and bamboo furniture. You'll also love the vibrant chairs, carpets, and artwork dotted on the walls.
While not all guest rooms at SAii Lagoon have an outdoor swimming pool, you'll wake up to stunning ocean views regardless of the room you book. Other amenities you can look forward to include private terraces with sun loungers (some have plunge pools), outdoor bathtubs, and all the mod-cons you'd expect from a Hilton-owned hotel.
Amenities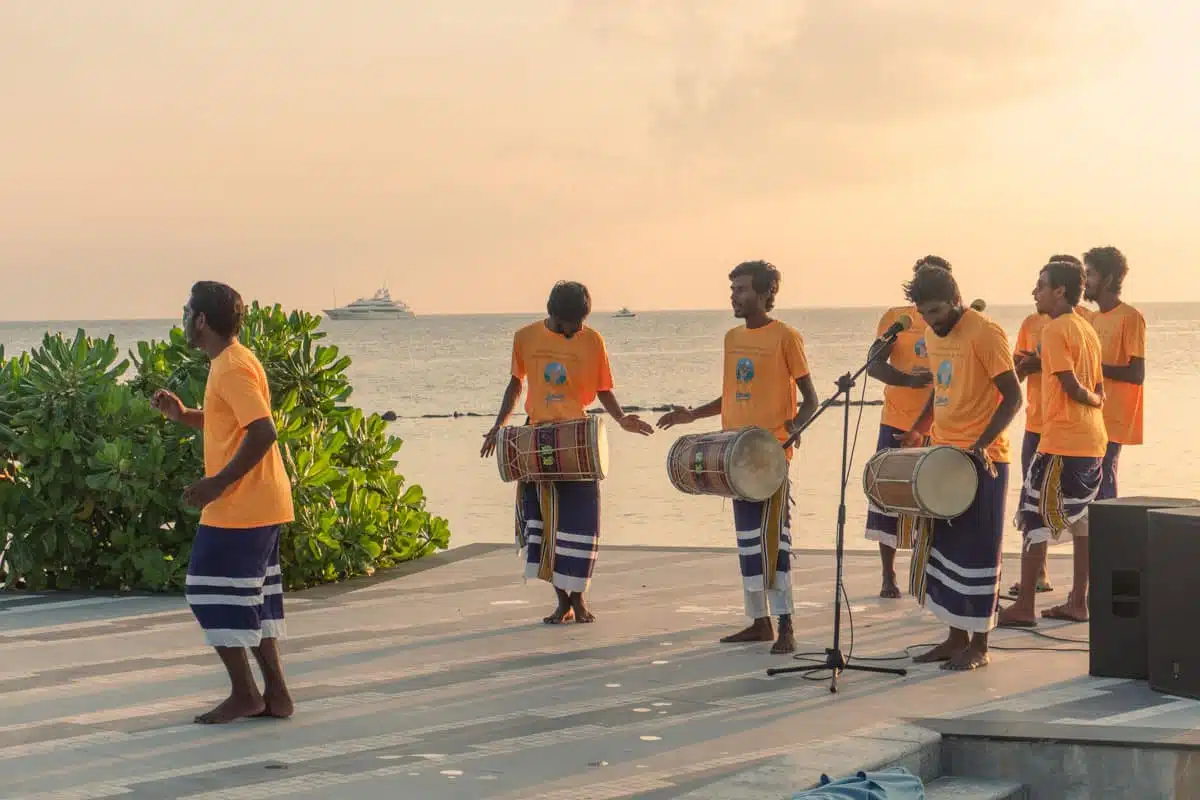 As a 5-star-rated resort, SAii Lagoon has all the amenities you need for a perfect beach vacation. The resort's proximity to The Marina Crossroads center adds more brownie points, making SAii Lagoon a top contender for the best hotel in the Maldives.
Let's take a closer look at some of the best amenities SAii Lagoon offers:
Fitness Centre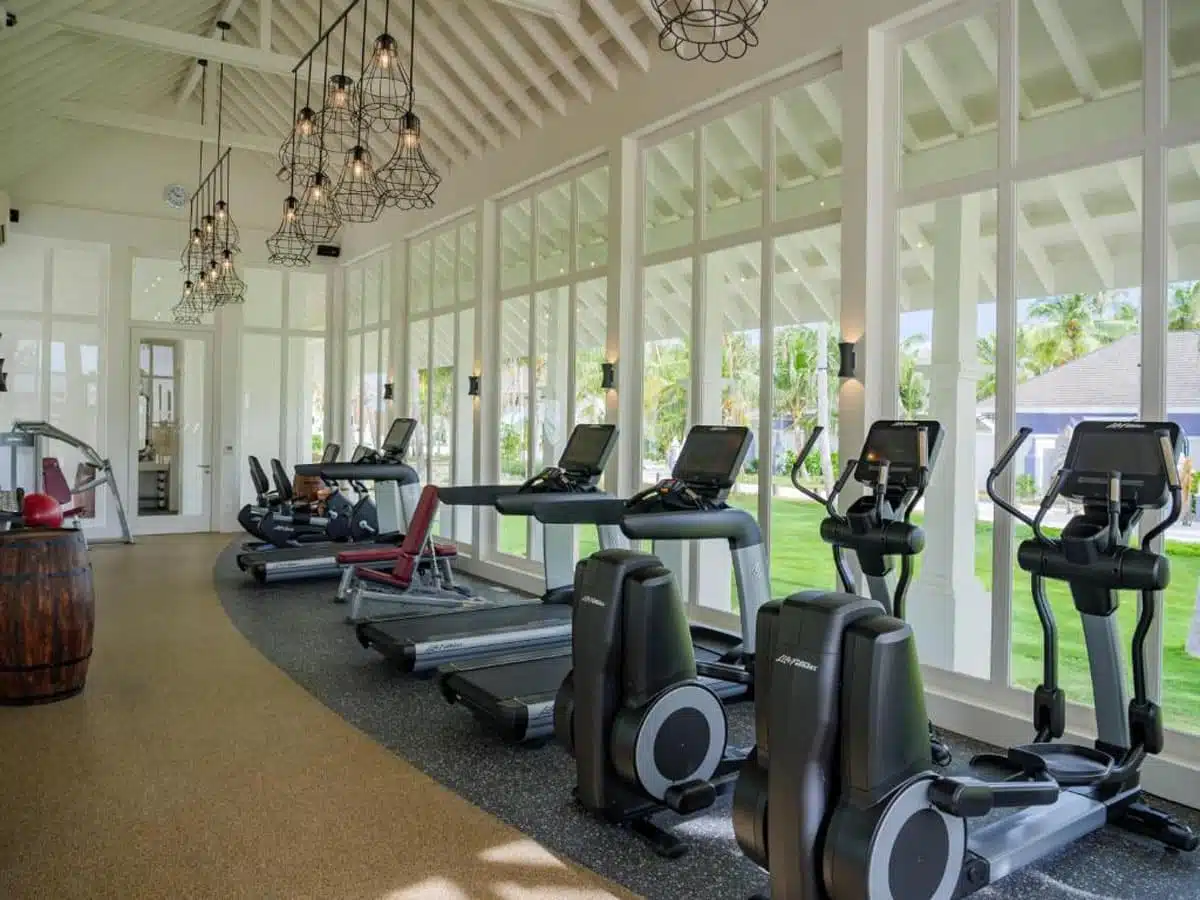 You'll love SAii Lagoon's gym if you're a fitness fanatic. It's bright, airy, and well-equipped with machines and devices, such as treadmills, stationary bikes, dumbbells, and several stability balls.
But, even if you don't like working out, I'm sure SAii Lagoon's fitness centre will change your mind. The gym boasts a mirrored wall, a high beamed ceiling, and air conditioners to keep you cool. Best of all, the stationary equipment faces a lush courtyard.
Lèn Be Well Spa
Turn your holiday into the ultimate relaxation escape at the pristine Lèn Be Well Spa. Offering a range of spa treatments, from gold particle-infused facials to neck and foot massages, holistic therapies, and energy healing sessions, Lèn Be Well has it all.
I have to say – while the spa treatments are good and will surely leave you feeling rejuvenated, the treatment rooms and outdoor space were on the smaller side. I would have expected them to be larger to maximise the incredible scenery.
Complimentary Recreational Activities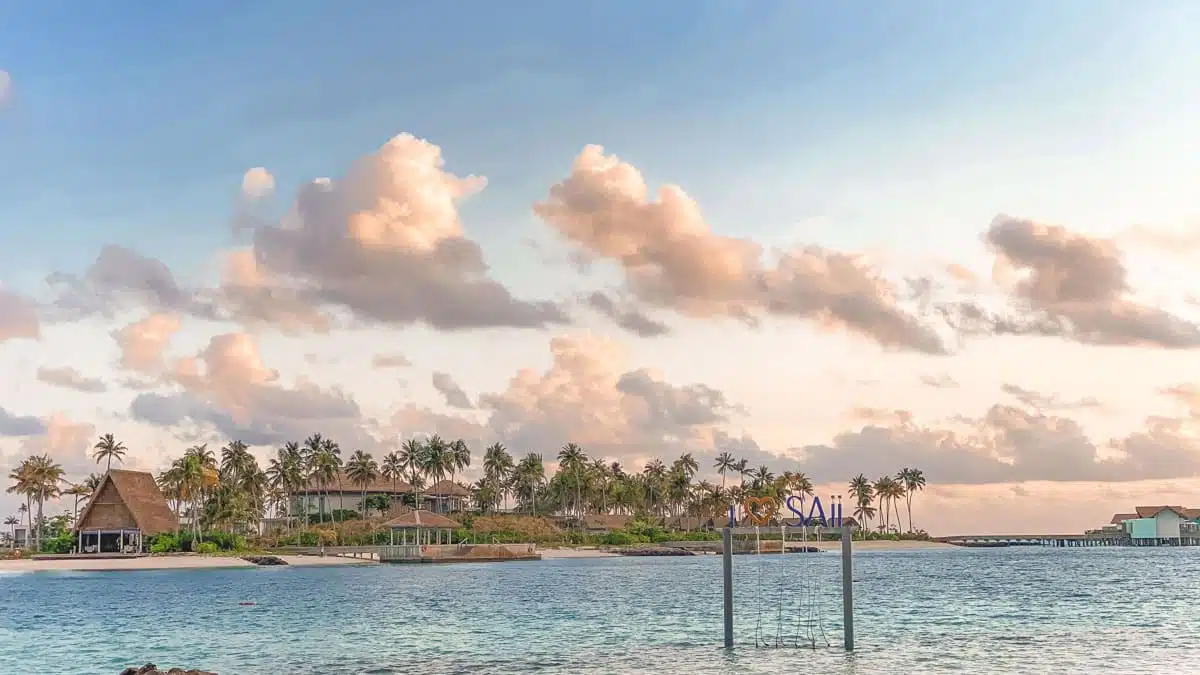 SAii Lagoon offers its guests plenty of fun and interactive activities, and guess what? Most of them you can do for free!
You can enjoy activities like sunrise yoga and beach volleyball, while SAii Lagoon also offers henna art sessions, interactive cooking, and Zumba classes.
Snorkelling lessons for adults take place at the Beach Club Pool throughout the week – you should book prior if you'd like to participate in these activities and access your schedule.
P.S. SAii Lagoon has a very helpful General Manager who will be happy to assist you and answer any questions.
Maldives Discovery Centre
Want to do something a little touristy? The Marina Crossroad houses the Maldives Discovery Centre, where you can learn more about this island's diverse culture and local arts and crafts scene.
You'll see the story in five zones of interactive exhibitions, including a walkthrough of the island's coral reef and an exploration of the ancient Maldivian way of life.
Marine Discovery Centre
Get an insider's look into the country's unique marine ecosystem through storytelling, fish identification, dolphin surveys, and participating in the interactive coral propagation program.
The centre aims to shed light on conservation issues by showcasing the natural beauty of the local wildlife.
If you want an adventure that is a bit more daring, the Marine Discovery Centre also offers adrenaline-pumping activities like snorkelling, scuba diving, and tuna discovery.
Best Dives Crossroads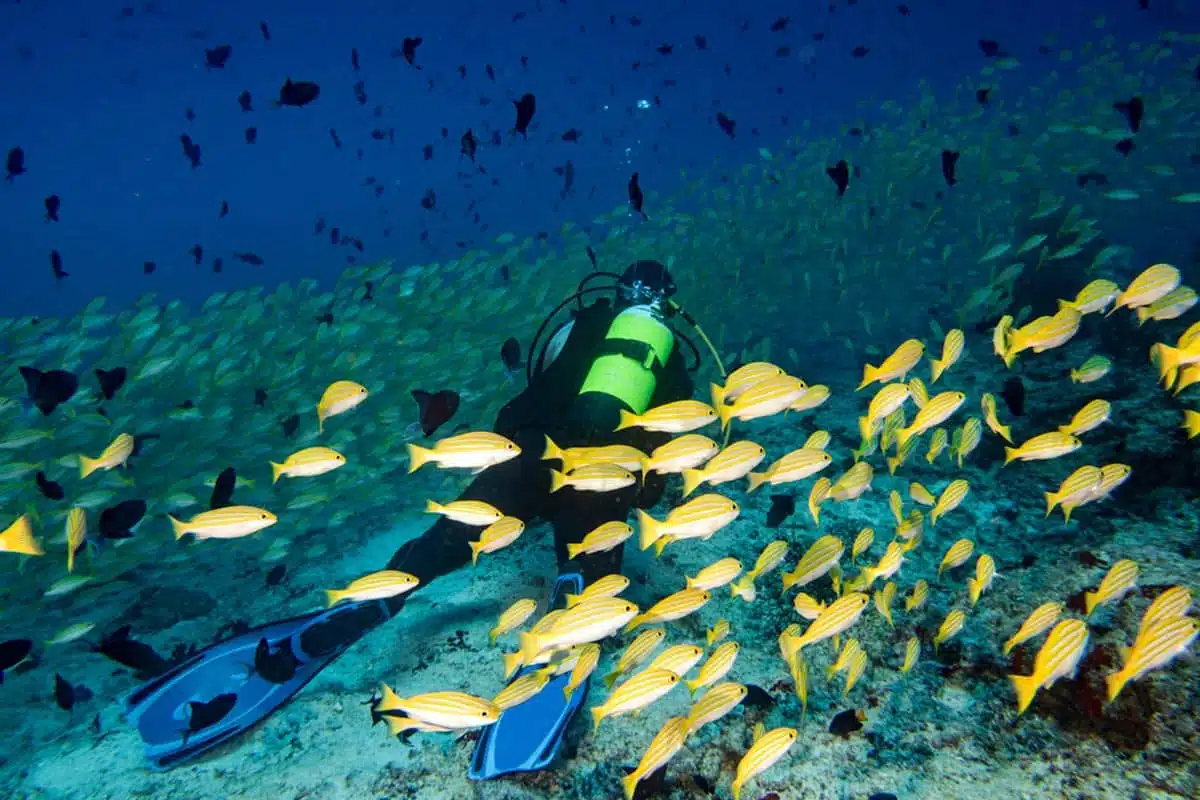 When you're ready to discover the Maldives' stunning coral reefs or just want to enjoy a cruise on a luxury yacht, head down to Best Dives at Marina Crossroads. This PADI 5-star dive centre offers a range of water activities, scuba diving, snorkelling, and many watersports.
From wakeboarding to parasailing, flyboarding, and jet skiing, you will surely get your adrenaline pumping with Best Dives. If you want a more relaxed watersport, opt for an activity requiring non-motorised equipment like kayaking, stand-up paddleboarding, and pedalos.
There are many other activities you can do here (too many to mention), but I do wish the staff around the island were as helpful and friendly as SAii Lagoon's staff. The receptionist at the diving outfit was not as friendly as I had hoped – in fact, she was pretty rude and the definite lowlight of the trip overall.
Food & Drink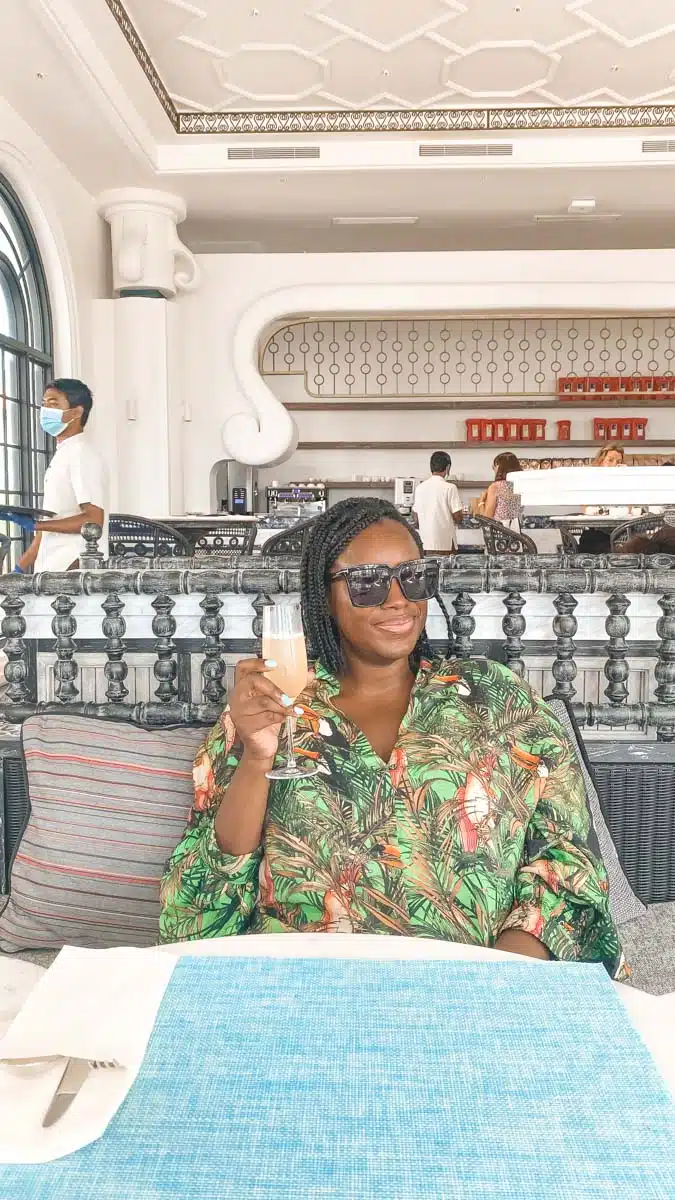 Food and drink is where SAii begins to really shine. The resort has several restaurants on-site, and they serve an array of delicious local and international cuisine.
But the cherry on top is that you'll find more places to wine and dine at the Marina Crossroads sitting across the bay.
To be totally honest, I didn't have a single disappointing meal during my seven-day stay. And I loved that there were more than enough for me to try a different place each day!
SAii Beach Club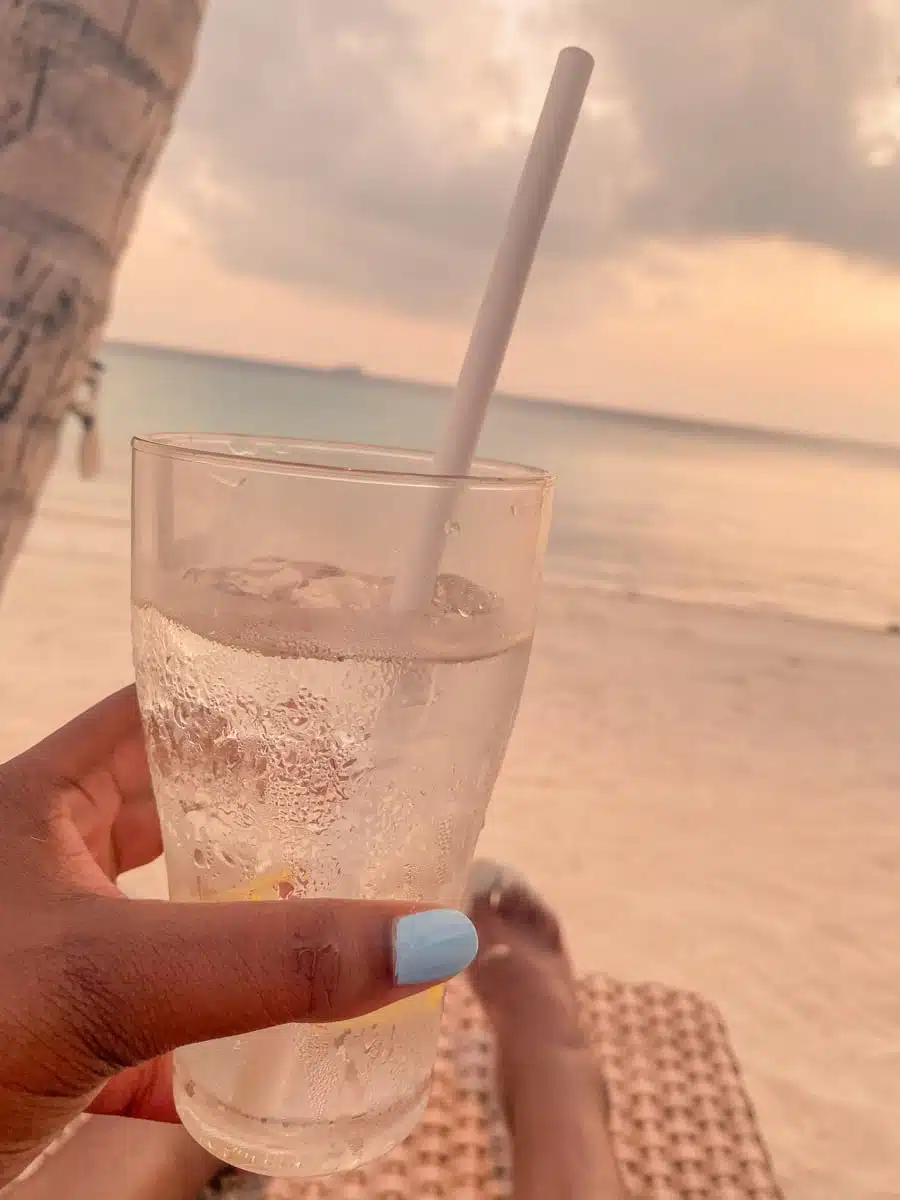 Within SAii Lagoon, you'll find several dining options, and they also offer private dining and in-room dining upon request.
SAii Beach Club is home to several of these trendy eateries – it also boasts a swim-up bar and a gelato counter.
Kinkao Thai Bistro
I enjoyed the Thai dishes at Kinkao — an ornately and brightly decorated restaurant with carved wooden furniture and elaborate Asian artefacts.
Their menu boasts great lunch and dinner meals, but I suggest you try their Thai red curry lamb shanks or chicken massaman curry, as they come highly recommended.
Nihonbashi Blue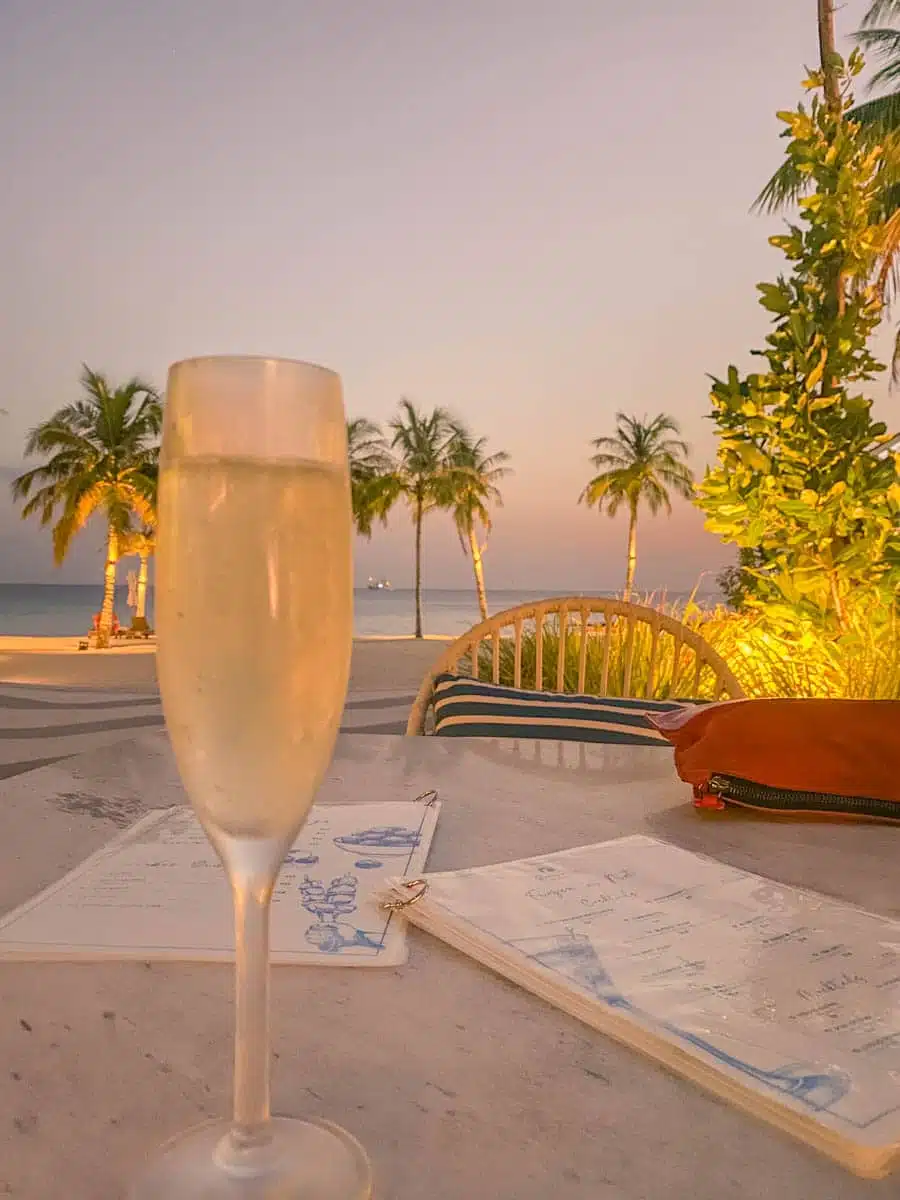 This casual Japanese restaurant by the sea is an extension of Sri Lanka's Nihonbashi Restaurant, and was probably my favourite place I dined throughout my stay.
Nihonbashi Blue has a sake bar and a sushi counter manned by dedicated chefs making magic. You'll even feel like you're in Japan as you enjoy your meals while sitting on traditional tatami seating.
Miss Olive Oyl Restaurant
Miss Olive Oyl Restaurant offers a casual menu, quirky black-and-white decor, and gorgeous ocean views. This vibrant restaurant serves Mediterranean cuisine with a healthy mixture of land and sea dishes. You can also order tropical cocktails, wines, and spirits.
Mr Tomyam
If you enjoy alfresco dining, Mr Tomyam serves great snacks that draw inspiration from Thai and Italian cuisine (it's a weird mix but I promise it works).
Mr Tomyam's menu is exquisite, offering several signature pizzas, pasta dishes, burgers, and desserts. It's a great place for poolside lunches and starry outdoor dinners.
Bean/Co
Bean/Co is a beautiful spot to get a caffeine fix before exploring the Maldives. You can also get quick grab-n-go meals, from savoury pastries to freshly-made sandwiches, sweet treats, beverages, and a selection of tea.
Hard Rock Cafe
You'll find a few more dining options on the island at the Marina Crossroad complex. Hard Rock Cafe — one of the most famous restaurant brands in the world – serves juicy smash burgers, fries, and classic American fare.
Kebab & Kurry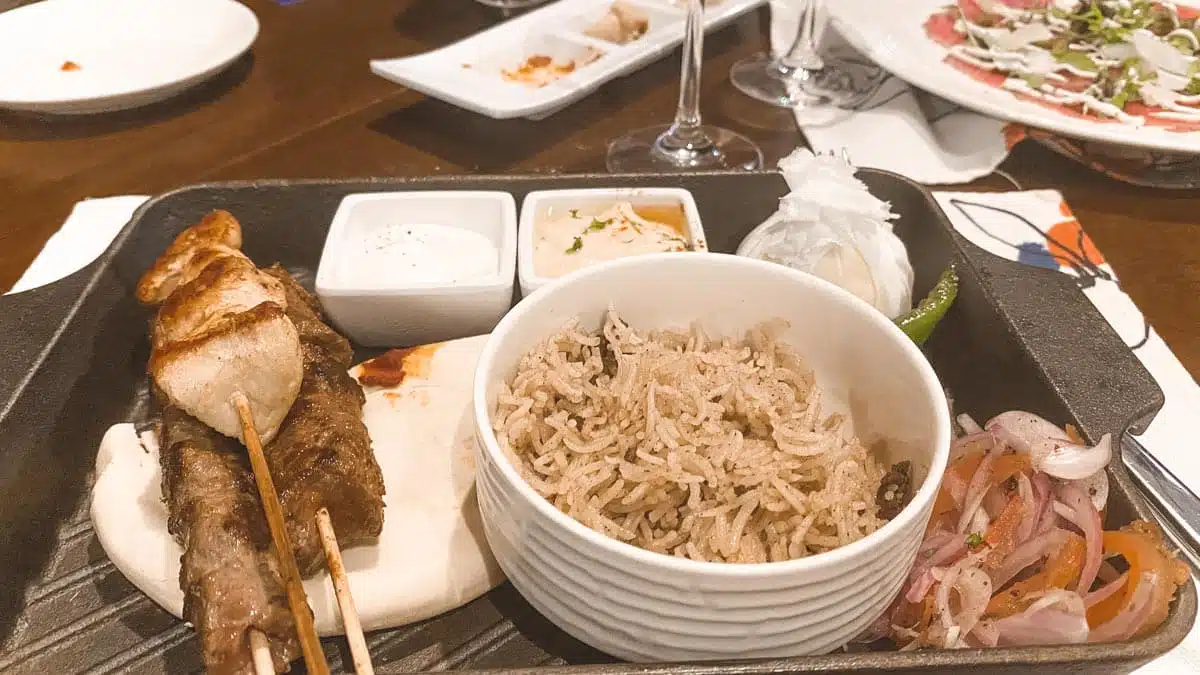 If you love spicy, tangy, and flavourful cuisine, how about trying Indian food at Kebab & Kurry?
This eatery boasts elegant decor, mosaic tiles, and modern furniture – and their food is just as good. Try their butter chicken curry; it's one of the local favourites.
Fact File: SAii Lagoon Review
Booking Your Stay at the SAii Lagoon
You can book your stay directly through the hotel (ideal if you're wanting to arrange an all-inclusive stay).
British Airways offers holidays to Saii Lagoon on an all-inclusive and bed & breakfast basis with flights from London. Check rates here.
Alternatively, book your stay through Booking.com
Planning a Maldives Trip? Read Next
Love This? Save and Share on Pinterest