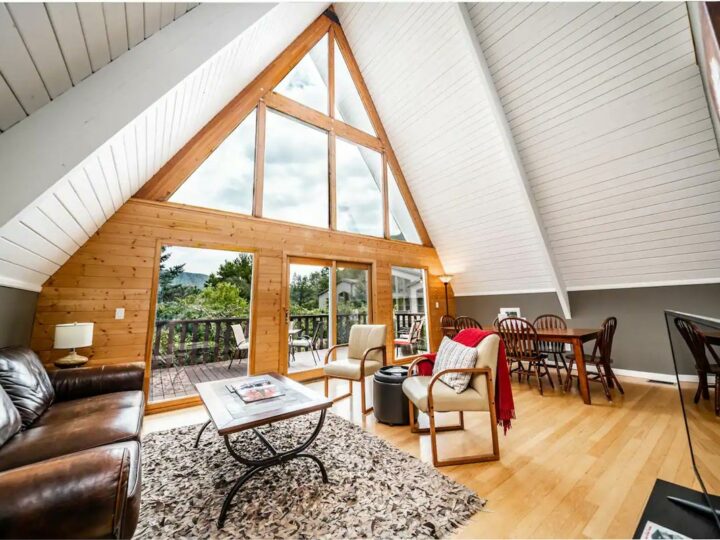 Planning a trip to Sedona? I've rounded up some of the best Airbnbs in Sedona – these are the most stylish, quirky, and luxurious places in the city.
Oh, Sedona – the New Age capital and home to magnetic energy centres known as vortexes – I adore you.
The city instantly draws you in with its otherworldly aura and charm. And trust me when I say that you need to meditate, hike, and chill in Sedona's swirling vortexes at least once — it's a weird and wonderful experience.
Besides the spiritual endeavours, Sedona is drop-dead gorgeous, with red rocks reflecting fiery hues. So it only makes sense that you're planning a trip.
Wondering where to stay? These are the best Airbnbs in Sedona.
Note: I prefer using Plum Guide when looking for accommodation as their properties are expertly vetted, ensuring excellent overall quality.
Best Airbnbs in Sedona: At a Glance
Best Airbnbs in Sedona
Boulder's Beauty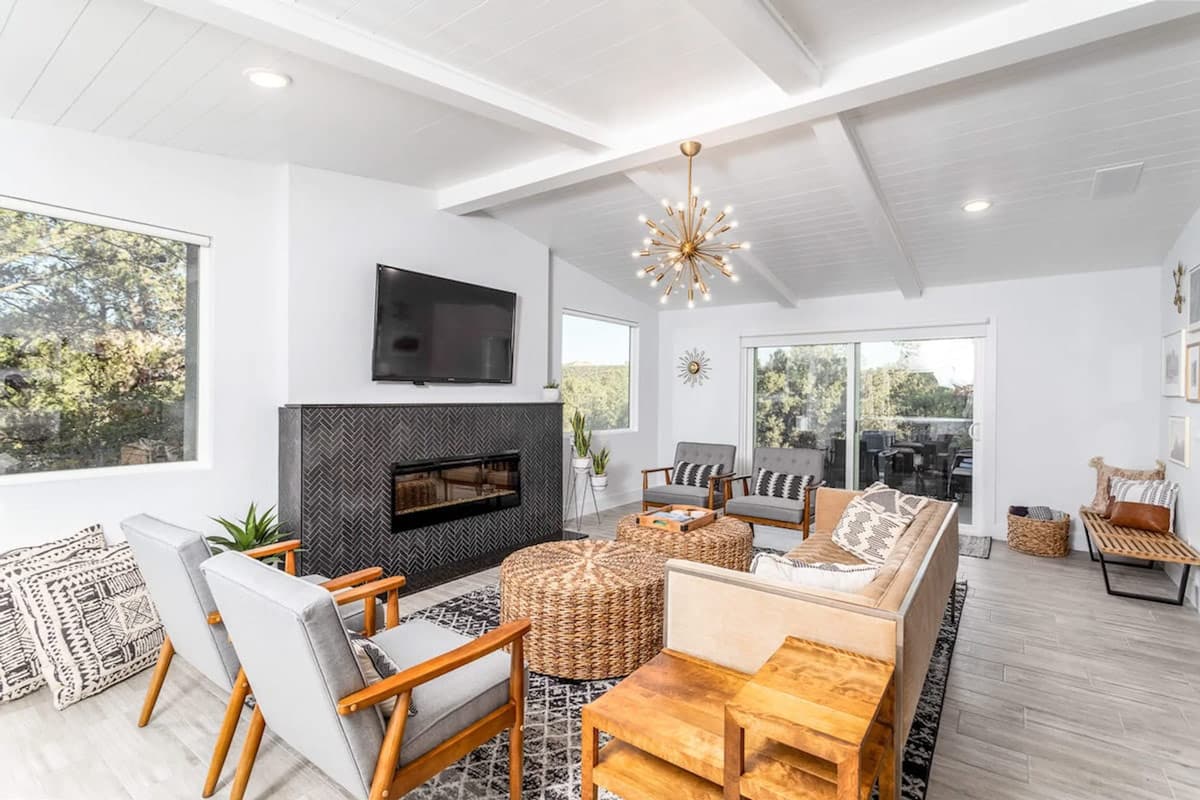 If it's stunning views you're after, Boulder's Beauty has got you more than covered. This modern home features bright and airy spaces throughout, and sleeps up to four guests.
But the real draw? This beautiful property faces stunning Red Rock vistas, including Chimney Rock, Mogollon Rim and Thunder Mountain. So it's no surprise that hikers, mountain bikers and runners will thoroughly appreciate the nearby trails leading to these mountains.
Each room here has been hand-designed: The glossy light fixtures and contemporary farm-style furnishings only enhance the white-washed walls throughout. Plop down in the cosy living room to savour the views or catch up on the latest Amazon Prime or Netflix series.
There are also books, board games and fitness equipment to stay busy (not that you'll need it with those aforementioned trails). The back garden offers a tranquil escape in hammocks, and you can enjoy an evening barbeque under the stars.
This Sedona Airbnb is pet-friendly but for a fee, so check in with your friendly host.
Location: West Sedona
This lively residential area has renowned restaurants, quirky cafés, trendy boutiques, and scenic hiking trails.
The Red Rocks
This next Sedona Airbnb has a seriously elegant and sleek design. The Red Rocks is an open-plan, monochromatic space featuring Instagram-worthy elements. The glimpses of polished chrome throughout only make the home feel extra sophisticated.
Moving upstairs, you're met with earthy tones and soft wooden touches to echo the rustic red rocks outside. Speaking of, this property features massive windows and relaxing patios to showcase Sedona's stunning landscape.
While I'm usually a fan of dining out on vacation, even I am tempted to rustle something up in the gorgeous kitchen. The bathrooms are reminiscent of a spa, but that's not where the magic ends – there's also a home cinema setup, and a charming outside area with fairy lights, a hot tub, and a fire pit to enjoy.
Location: Chapel
The property sits five minutes from Sedona and Airport Mesa Trail in a quiet shrubby area surrounded by Red Rock mountains.
L'Auberge De Sedona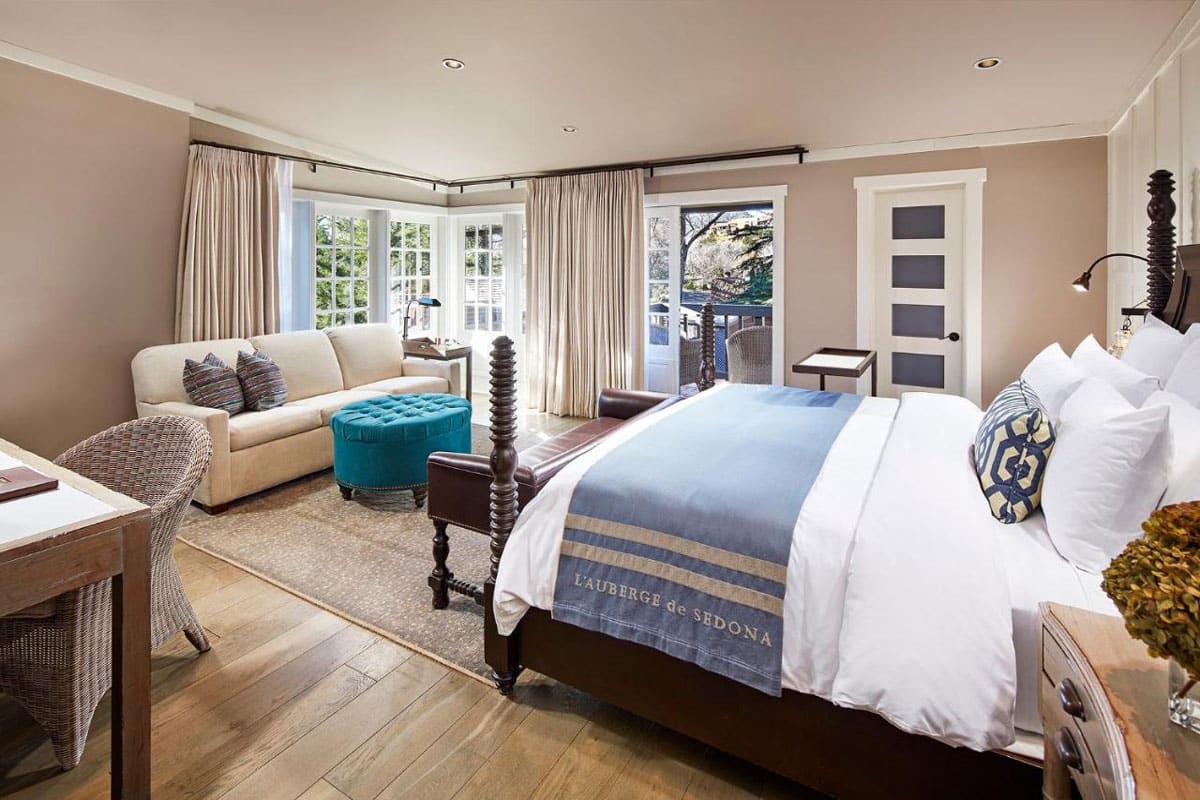 Expect ultimate seclusion at L'Auberge De Sedona, offering a magical cabin-in-the-woods vibe. This homey cabin has a beachy look, and it also boasts a spa centre and outdoor pool to unwind in.
Slip on the provided bathrobes and slippers, and simply relax. There's free Wi-fi, a flat-screen TV and room service at your disposal. You can keep up with your routine in the fitness centre, then grab a meal at Cresson Oak Creek.
The living area invites you to curl up on the cosy couch with the fireplace and ethereal sunset views setting a peaceful scene.
The only downside? It can be noisy near the restaurants and pool area – request a room further away if you think this will ruin your trip.
Location: Uptown
Uptown is a bustling, touristy neighbourhood with some of Sedona's best restaurants and shops.
Adobe Village Villa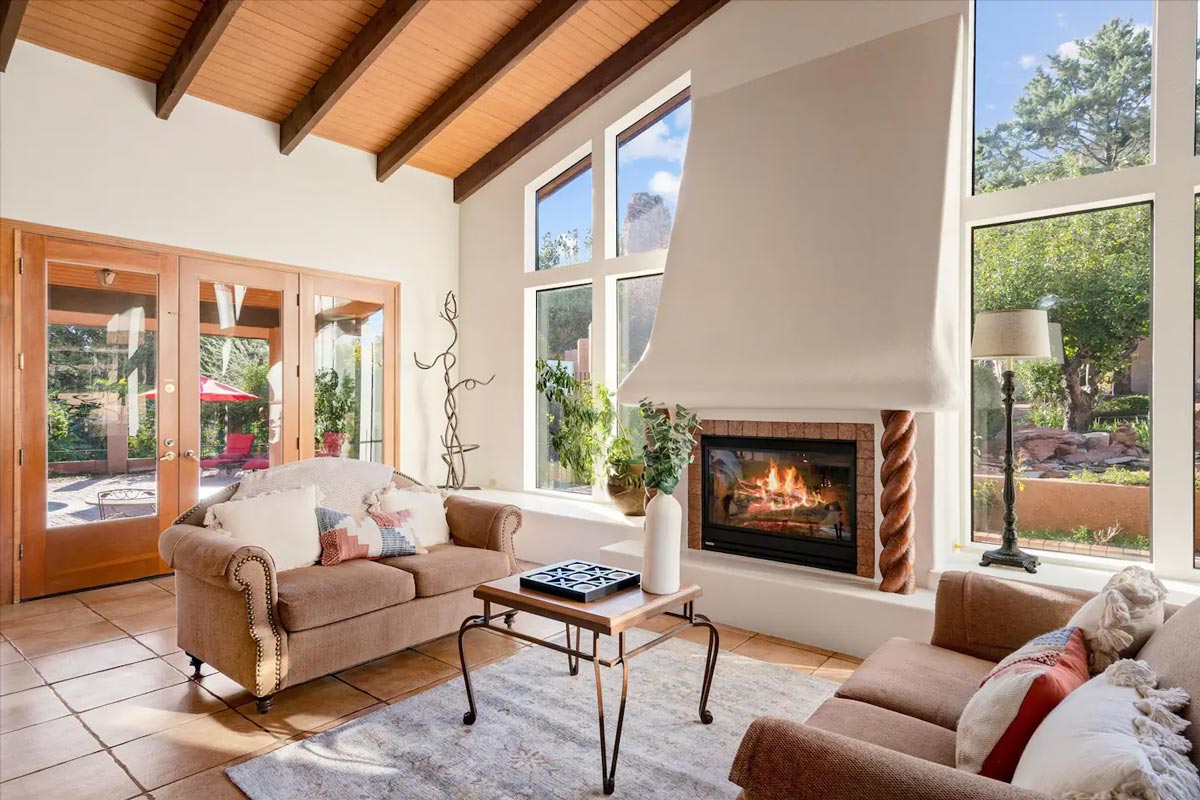 If it's a little bit of rustic charm you're after, you'll adore this cosy villa in Sedona. It's on the smaller side, but it's ideal for a couple seeking a romantic getaway amongst the Red Rocks – of which, the views are pretty incredible.
With a small kitchenette and lounge area, you have the choice between holding yourselves up for a dreamy weekend away or heading into nearby hotel's amenities for something a little livelier.
Though the entire villa is Flinstones-chic, the patio is a real highlight – recline on one of the deckchairs and admire the desert views that stretch out for miles and miles in front of you.
Location: Bell Rock
Situated in the grounds of a luxe hotel, this villa is perfect for those who want epic views and plenty of restaurants on their doorstep.
Dirt Cabin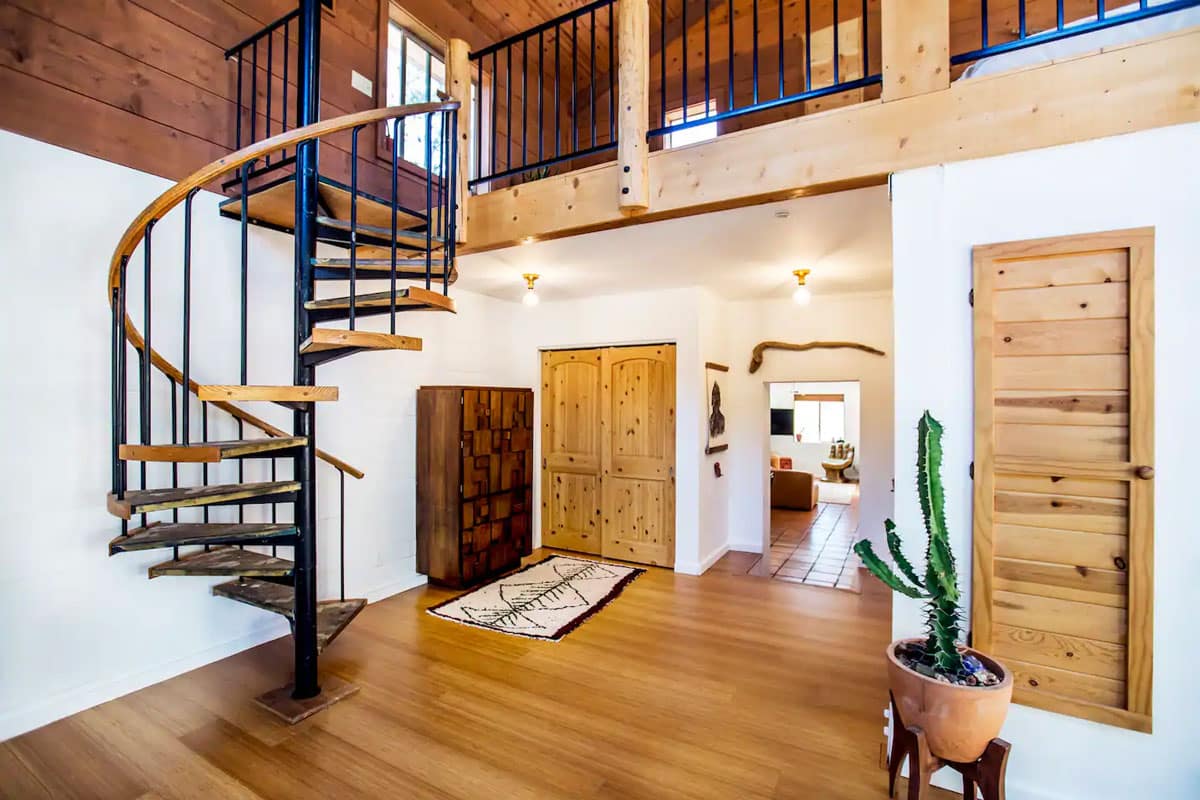 Let me put your mind at ease – this Sedona holiday rental is named Dirt for the surrounding desert area, not because it lacks in the hygiene department. Quite the opposite; this home is spotless.
This Airbnb has a style similar to the ones you'll find near Joshua Tree, decked out in brown leather and cacti throughout. The outdoor seating area and hot tub are just some of this home's best features. While the books piled throughout the cabin just adds to the homely feel.
This is an epic place to stargaze, too – lay back in the hammock and unwind as you peer at the cosmos above.
Location: Bell Rock
This property is ideal for those seeking adventure, with plenty of hiking and mountain biking trails nearby.
Beautiful Home With Views of Cathedral Rock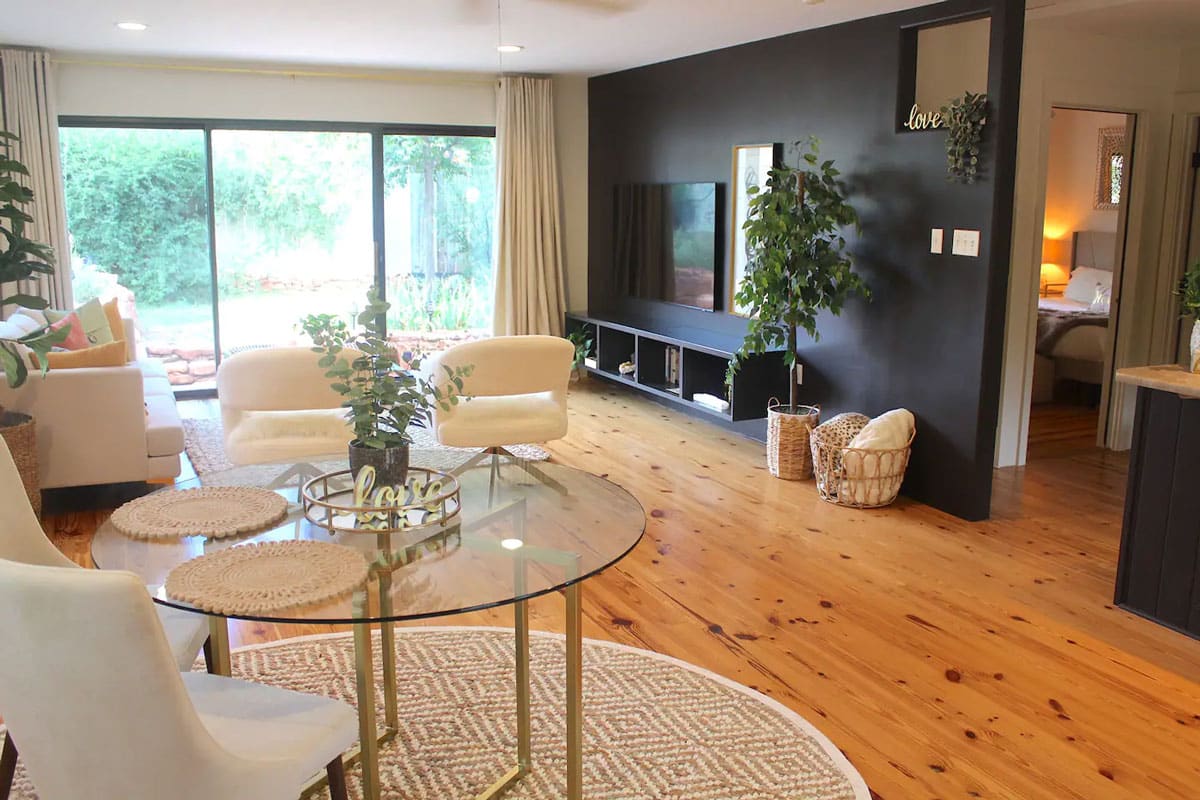 This charming little property will give you a real sense of Sedona being in the heart of the vortex. And you have a view of majestic Cathedral Rock from the living room. Who could say no to that?
Best-suited to couples, this will become your home away from home, thanks to a warm and welcoming host. The interior of this beautiful home radiates the same mysticism as its surroundings.
It's completely private, with parking and a well-equipped kitchen for your convenience. The accommodation has a luxurious king-size bed, smart TV, loveseat and comfy recliners — see what I'm getting at?
Apart from being romantic, this joint stays true to 'Sedonian' culture by providing yoga mats, organic teas, coffee and toiletries. The host has a fantastic response rate and is responsible for the aesthetically pleasing appearance of this home.
Location: Creek
The property sits in a quiet neighbourhood near scenic hiking trails and a six-foot-deep (1.8 metres) swimming hole in the Creek.
Home for 2 With Private Pool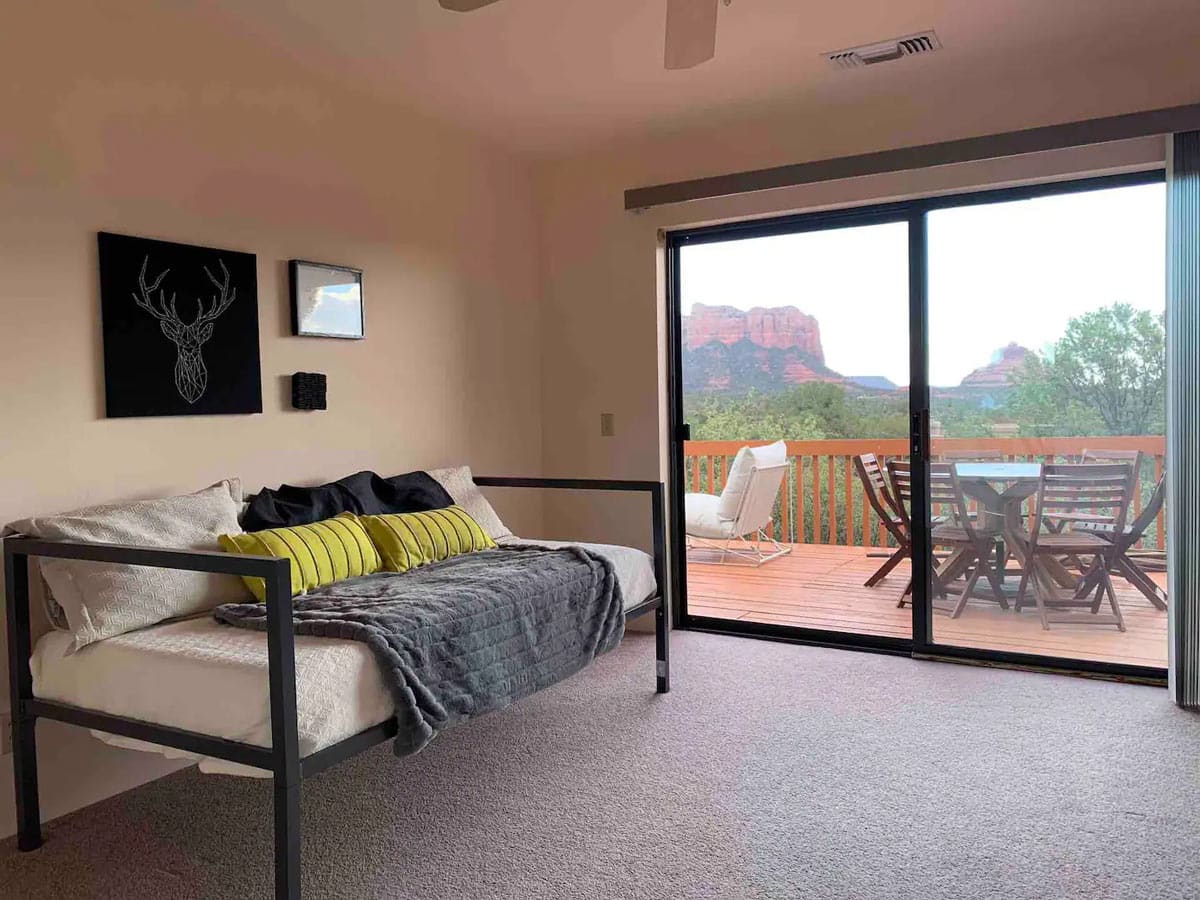 This Sedona Airbnb has a lot going for it – the private pool and panoramic views are just the tip of the iceberg.
With a swanky decor style and huge windows throughout, this truly is an Airbnb for a special occasion (or any time, you deserve it). Direct views of Bell Rock, Court house and Cathedral Rock ensure that you're able to see the best of Sedona without even leaving the property.
If that wasn't exciting enough, the Master Suite comes with an oversized jetted tub to soak away the strains of the day. Why would you want to stay anywhere else?
Location: Chapel
This Airbnb is located in Chapel, so expect plenty of brilliant hikes and views in the surrounding area. It's perfect if you're after a secluded escape.
Sweet Serenity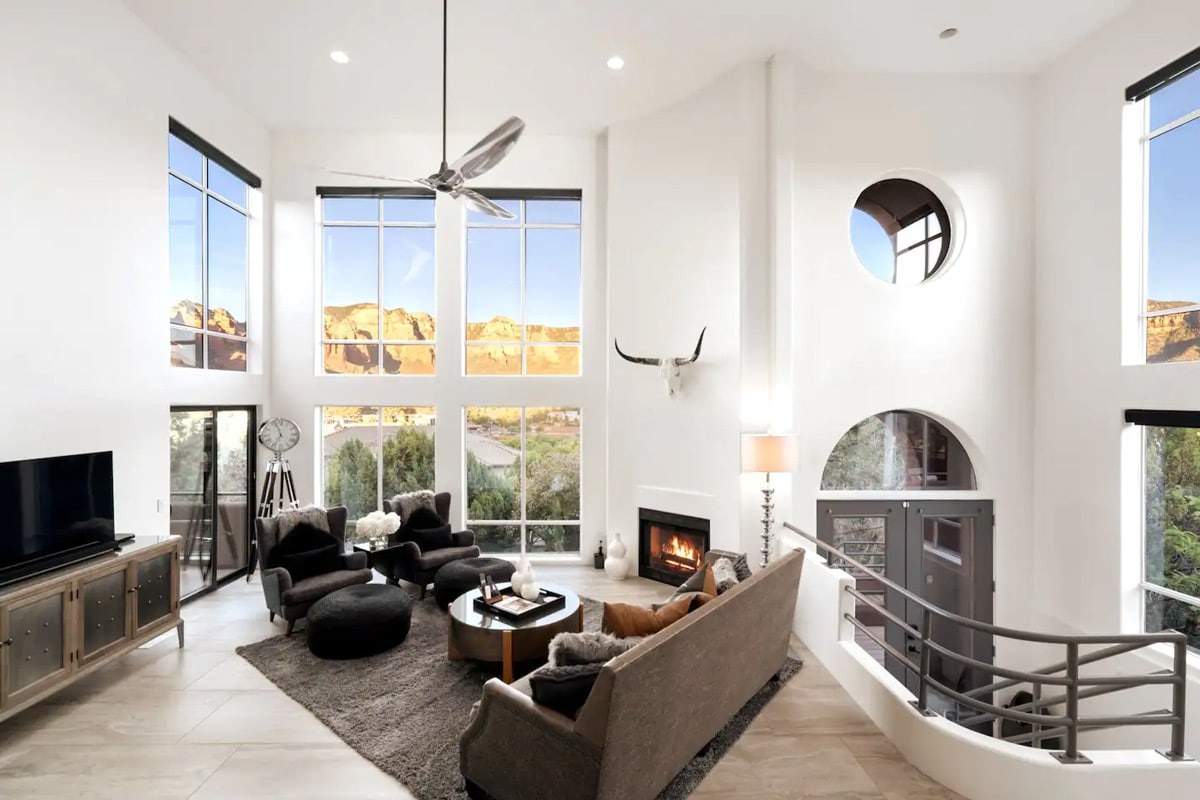 Sweet Serenity is a chic modern place like no other. The white-washed walls, high ceilings, and expansive views through large windows are breathtaking. With hues of greys and earthy browns, this luxurious space features a gourmet kitchen with marble tops.
Each room is pristine and sophisticated, with ultra-modern lighting and decorative pieces tying it all together. After exploring Sedona, you can get comfy in front of the fireplace or treat yourself to a spa-like shower.
Its outside area is just as pretty, decorated with fairy lights, lanterns and cosy couches. There's a private hot tub to sink into while the clear desert skies glisten with stars — total bliss.
It's a sweet escape for four hosted by a highly-rated Arizona resident.
Location: Tlaquepaque
You're in Sedona's beating heart with the Red Rocks and Tlaquepaque's shops and restaurants nearby.
Stylish Home With Mountain Views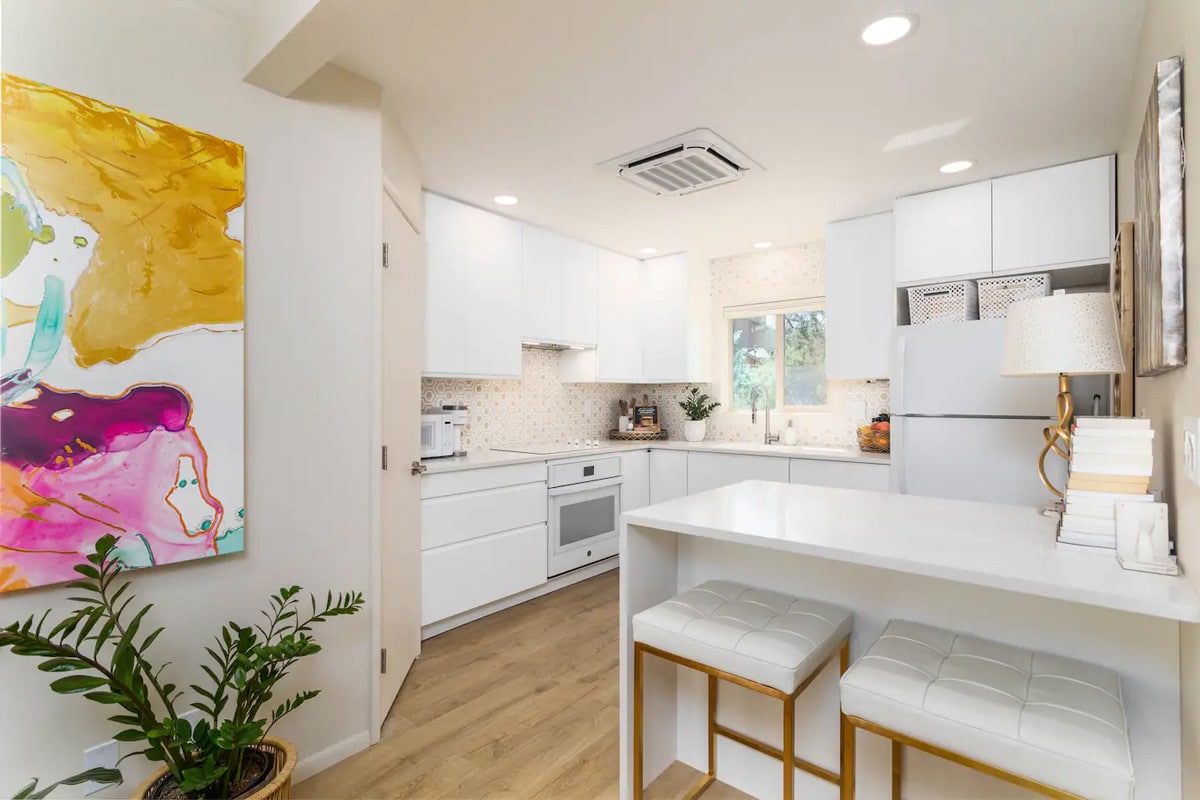 Come for the views but stay for this cute home's stylish and cool vibes. The Stylish Home is the perfect retreat for romance or spiritual seekers, so couples and solo travellers are welcome. For larger groups, not so much.
Your highly-rated super host created this space with a 'classy boutique hotel' in mind, which you'll notice immediately. It's filled with small, intimate spaces that scream charming boutique with pops of colour to juxtapose the white walls.
Outside, you can enjoy warm desert air on the screened porch with bohemian-style hanging chairs. The cleanliness and attention to detail in amenities such as Wi-fi and central air conditioning make it unique.
Location: Creek
The home is situated in a lovely quiet area near scenic hikes, fishing spots and a swimming hole in the Creek.
Sedona Dream Home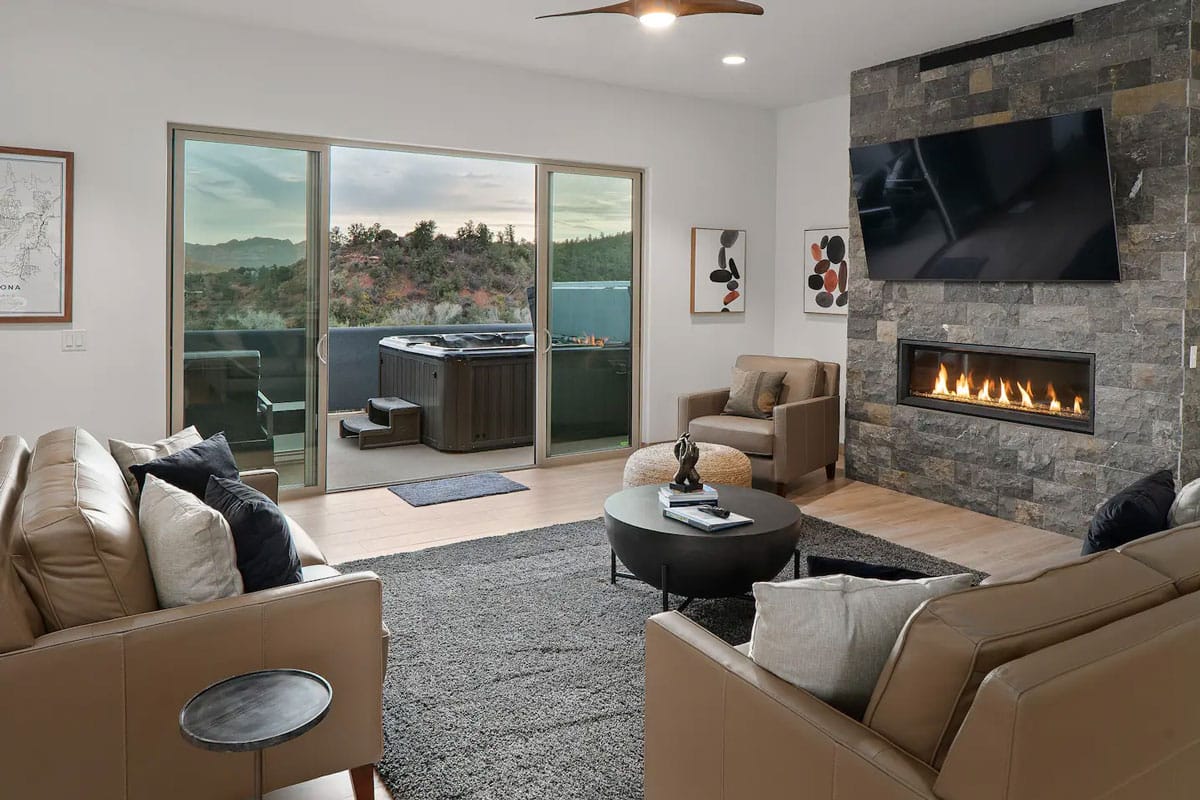 This is probably the best Sedona Airbnb with a hot tub, but there's more. The Sedona Dream Home features a 17-foot (5.2 metres) AquaSport Swim Spa with three HydroTherapy seats and adjustable jets, giving you the ultimate aquatic experience.
Inside, you'll find a lavishly designed space with a fully-equipped modern kitchen. Sticking with the white canvas and minimalist look, the rooms are neat with floor-to-ceiling windows. The bathrooms are just as luxurious, with a large tub and windows that allow for epic views.
This home is pricier, but it's so chic, with superb amenities and a location near restaurants, trails, and quirky shops. The five bedrooms make it more suited for larger groups (up to 14), and furry family members can join, too.
Location: Uptown
This newly-constructed home sits in a quiet, sleepy neighbourhood surrounded by abundant nature – not far from Uptown.
Oak Creek Chalet at Shangri La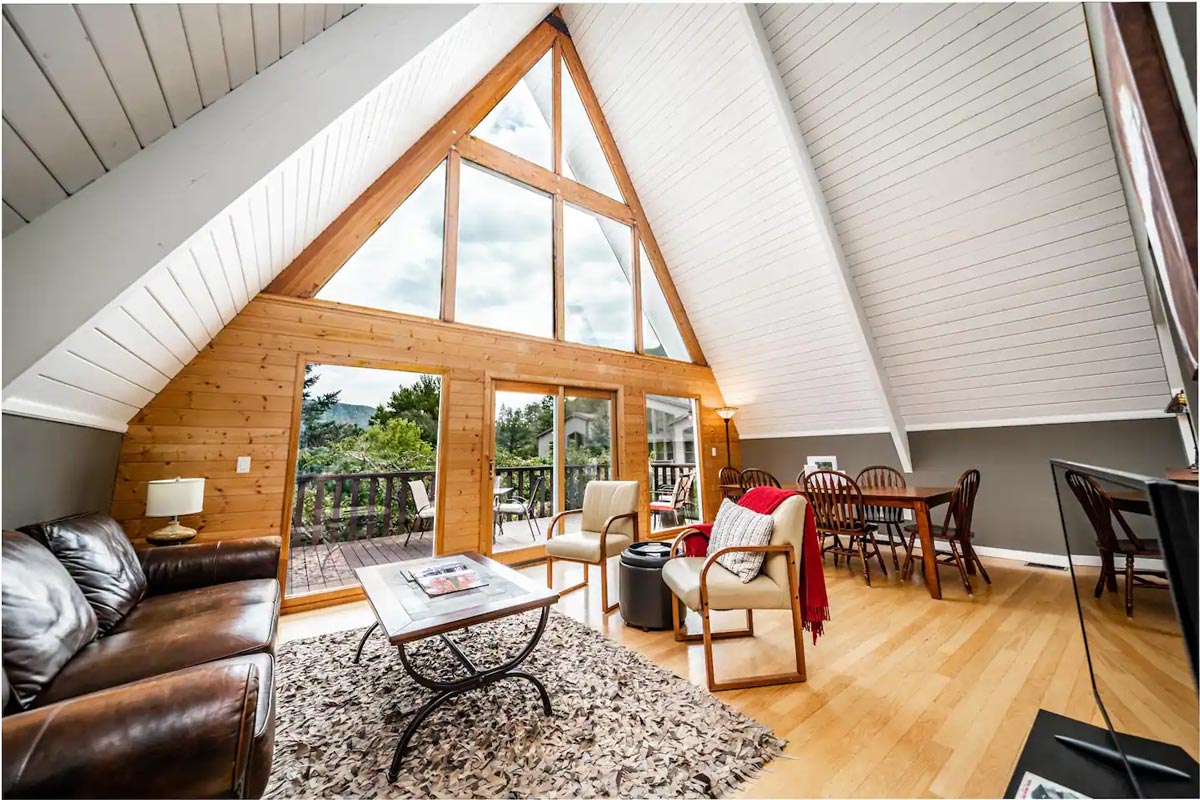 The Oak Creek Chalet is one of the more unique stays in Sedona due to its A-Frame, tri-level design courtesy of friendly and experienced hosts. Gorgeous natural scenery surrounds this chalet, with tons of fruit trees and breathtaking views on site.
Most A-Frame chalets tend to feel dingy and cramped. However, this one is roomy and bright because of its white-washed ceilings and walls.
Enhancing this further is the ample light pouring in from its massive windows. Every single corner looks inviting and cosy, with lots of lounging space and king-size beds in every room.
The property features two fully-equipped kitchens, three bedrooms and two baths, allowing up to 10 guests. You'll feel at home with free Wi-fi, an HDTV, two parking spaces, a dedicated working area and other amenities.
Location: Oak Creek
This property sits in an idyllic canyon with a creek running through it – ideal for those seeking a quieter stay.
Modern Cottage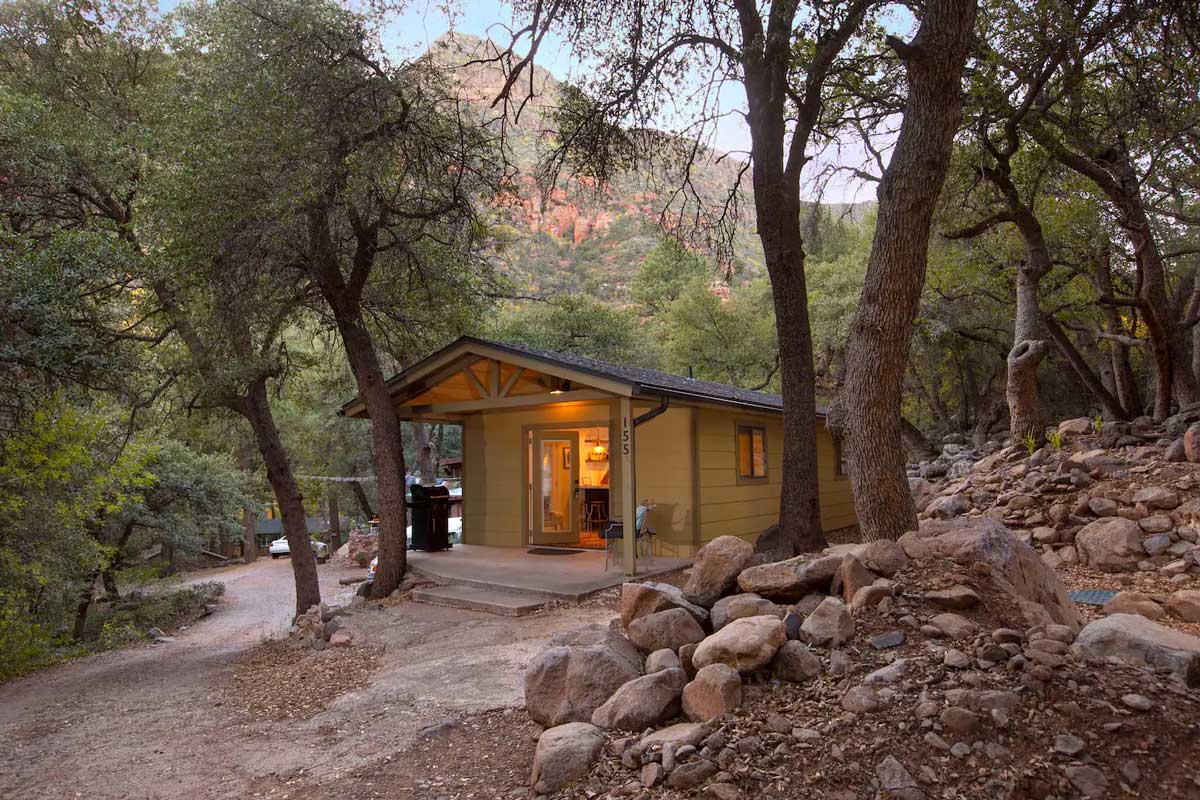 As a tiny home, Sedona's Airbnbs have never looked better. Yes, it's small, but this Modern Cottage will steal your heart. It's stunning inside and set in gorgeous nature with mountain and creek views.
Don't leave your camera at home, as the stunning Sedona forest is at your doorstep. From the outside, you may feel underwhelmed (it is a tiny home, after all), but the stylish and modern interior will surprise you.
Starting with the fully-equipped kitchen and minimalist living room, you'll notice how spacious the open-plan design feels. And wow, the bathrooms are so glamorous for their size. This cottage offers a quiet escape filled with sounds of nature for up to four people.
The host is friendly and helpful, though some guests have noted a broken sleeper couch – which shouldn't be an issue for two guests.
Location: Oak Creek
This area is peaceful and quiet, surrounded by nature with exciting hiking trails nearby.
Sundance Home With Infinity Pool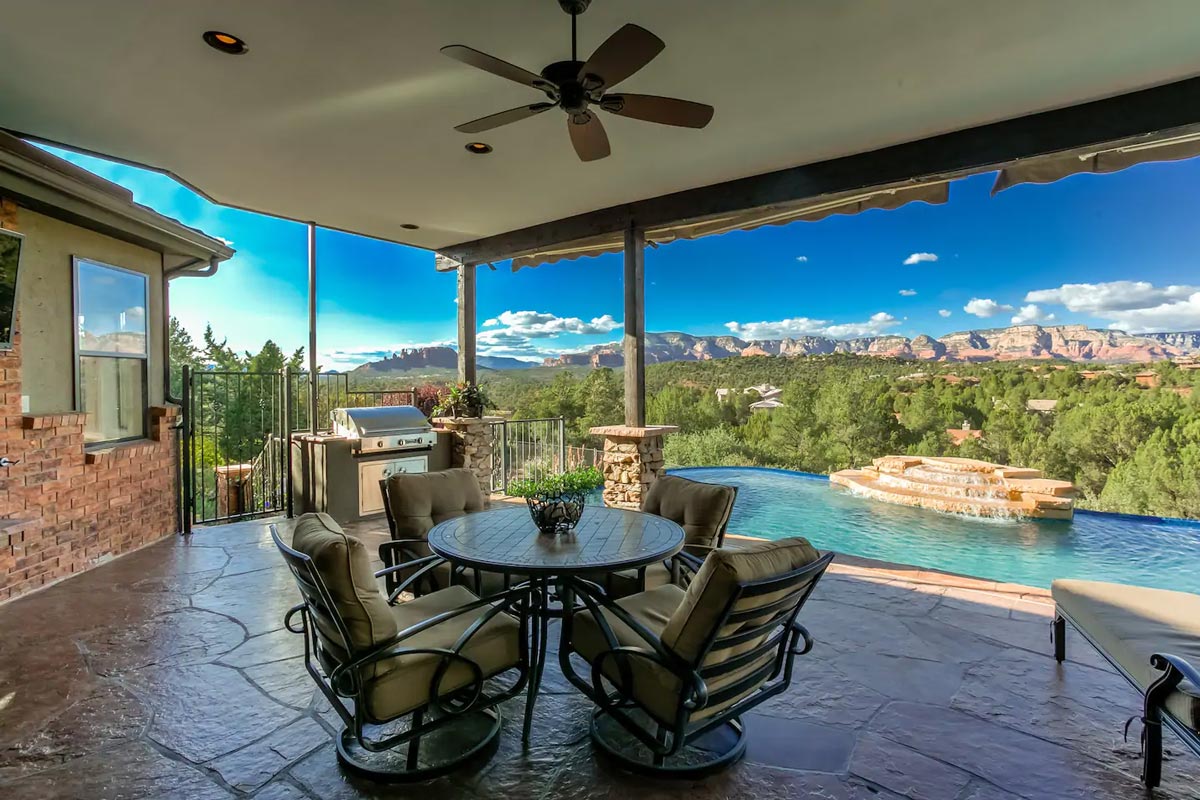 Sundance Home is one of the best Sedona Airbnbs with a pool. And you'll agree once you see its azure infinity pool overlooking sweeps of lush greenery and Red Rock mountains.
The surrounding scenery is dreamy, and so are the exterior and interior of the house. Multiple seating areas across the property offers socialising opportunities with serene views.
Rooms are airy and modern, with plush bedding and equally impressive bathrooms. Relax in the sunlit living space with stellar views and a cosy fireplace, or pick up a game of pool in the downstairs room.
After a tiring hike in the Red Rocks, you can submerge yourself in the jetted hot tub or blow off some steam in the infrared sauna. The contemporary open-plan kitchen contains everything you need to cook up a storm or gather around the barbeque on the beautiful patio.
You'll have access to a fitness centre, Wi-fi, air conditioning and laundry services in this three-bedroom home courtesy of highly responsive and experienced hosts.
Location: West Sedona
This home sits in an upscale neighbourhood near many restaurants and shops. I'll be honest and say that it's probably my favourite area of Sedona.
Practical Tips to Consider Before Booking Your Airbnb in Sedona
Consider the location when booking. Do you want seclusion, or would you like to be near all the buzz? Uptown, West Sedona, and Village of Oak Creek are all excellent lively neighbourhoods filled with trendy and quirky spots.
Try to book for three to five days. Most people make the mistake of reserving only one or two nights, which just isn't enough to embrace Sedona fully.
Airbnbs in Sedona, Arizona: Map
Click here for a map of the hotels featured in this guide.