With natural bridges, a gorgeous scenic drive overlooking cliffs and valleys, and slot canyons that give Zion a run for its money – Capitol Reef is teeming with things to do. Discover the best here.
When I first drew up my Utah National Parks itinerary, I didn't know what to expect from Capitol Reef. My, my, am I happy I added it to my road trip.
You see, Zion and Bryce do live up to their reputations when it comes to dramatic canyons, otherworldly hoodoos, and brilliant hiking trails. But they also have millions of visitors in relatively small areas. And that trend isn't changing.

Capitol Reef is a national park with just as much to see and far fewer tourists.

The 377 square miles of the least visited national park in Utah are home to famous landmarks, like the Capitol Gorge and Cassidy Arch trails. But it also has surprising finds like ancient petroglyphs and nearly 2,000 fruit trees where you can sample apples, cherries, and peaches.
My advice? Try to balance a few hikes and famous lookout points with historical and cultural landmarks to make the most of your trip.

Here's a look at the best things to do in Capitol Reef National Park to help you learn the area's history, culture and geology (and have a hella good time while you're at it).
Best Things to Do in Capitol Reef
Take the Scenic Drive on Highway 24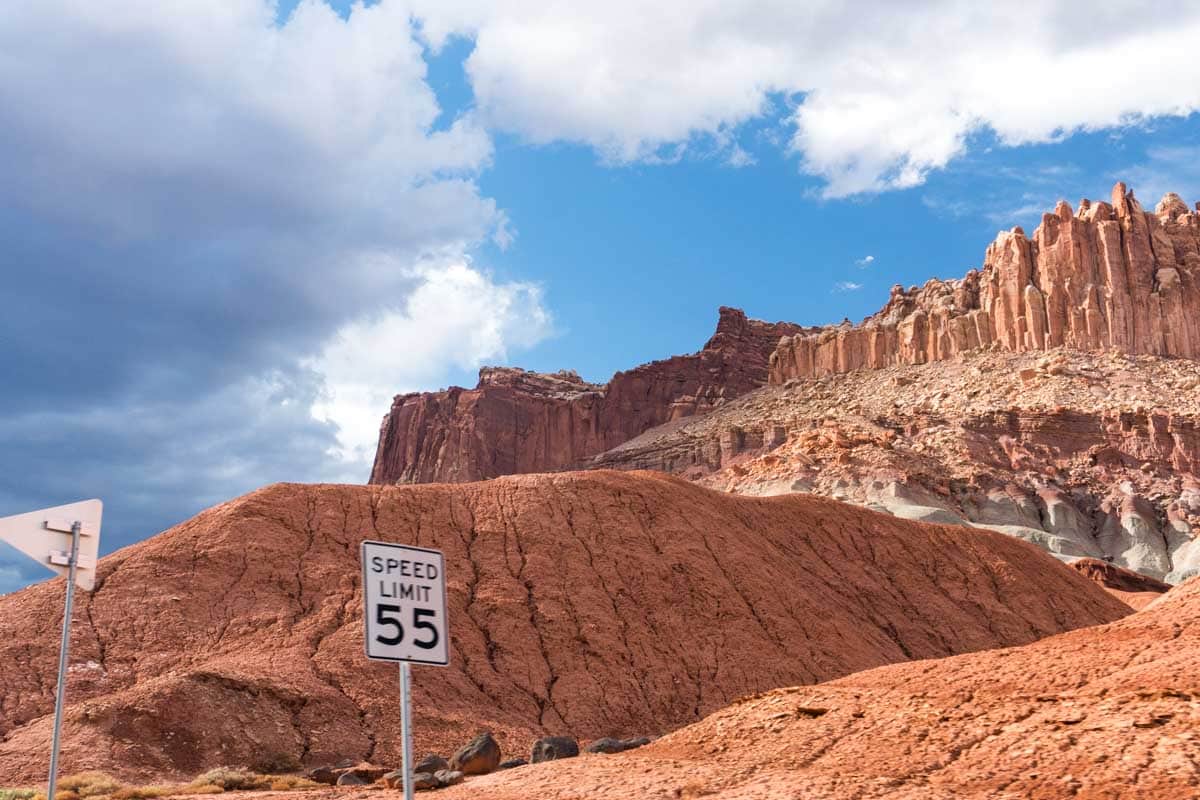 If you only have a day to explore the park, you can truly get a great idea of what Capitol Reef offers in just a few hours.

The 12.7 km (7.9-mile) drive is full of many of the park's most famous attractions. You'll drive right by the steep sedimentary cliffs and canyons like the Grand Wash, and Capitol Gorge.

You can also see evidence of the park's rich cultural history through petroglyphs, homesteads, and the Pioneer Register.
Top Tip
Check the forecast before you go. The roads are unsafe during or after a storm and may close following rain or snow.
Hike Over Cassidy Arch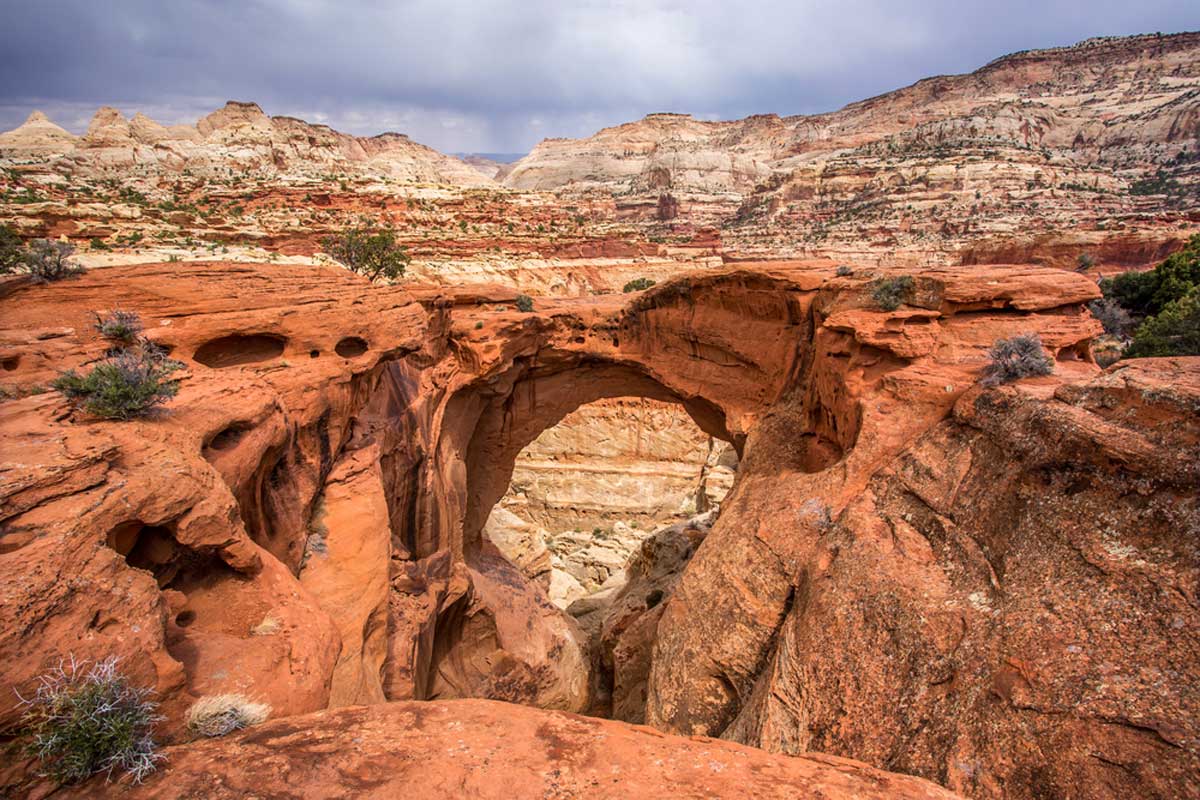 Do I have a favourite hike in Capitol Reef? Yes. Cassidy Arch is the one hike you'll want to schedule if you only have enough time for a brief but scenic stroll.

What should you expect to see? A natural bridge that rivals most I've seen in Arches National Park is your handsome reward for the modest effort of a 3.4-mile hike.

Honestly, it's a slightly challenging route, with over 245 metres (800 feet) of elevation change, and the open space gets very hot in the summer. But the beautiful views of Grand Wash and the chance to admire (and even hike over) the 120-metre (400-foot) natural arch make it feel like a breeze.
Getting There
Take a left when you reach the literal fork in the road. Otherwise, you'll take a long, unexpected detour.
Petroglyphs Along Highway 24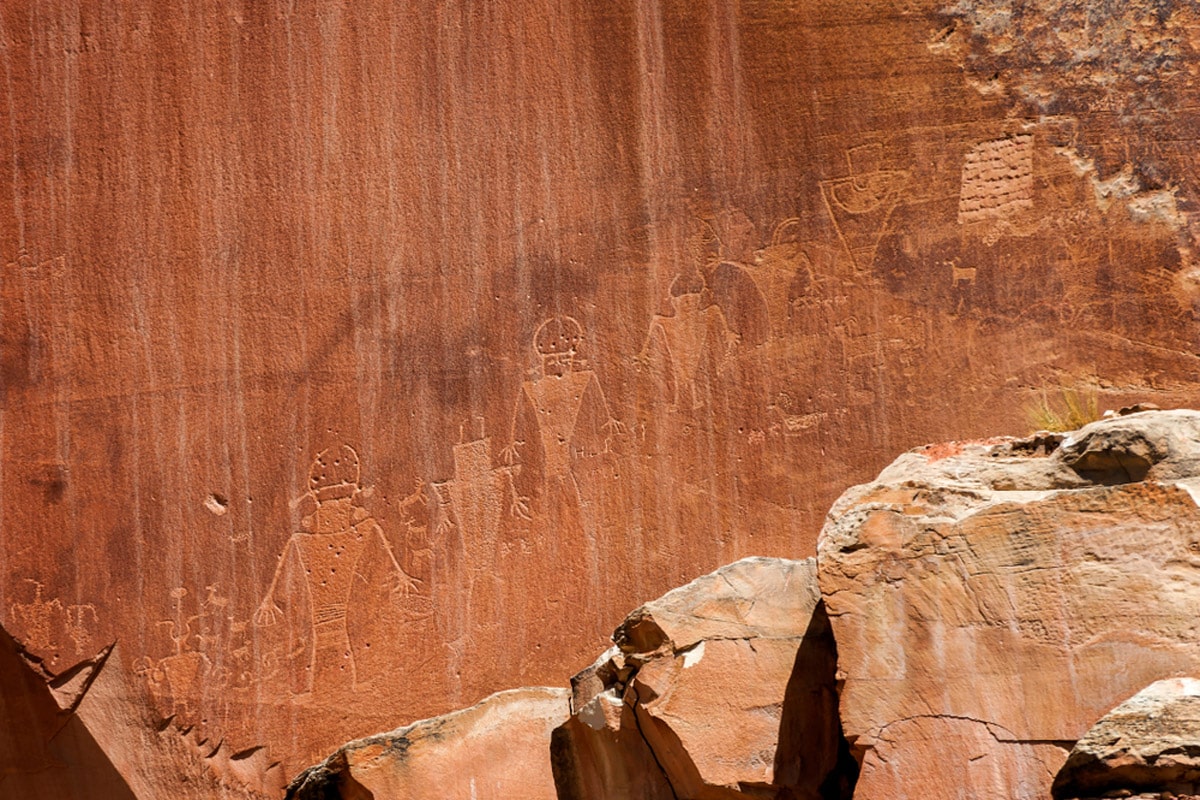 One of the best parts of the scenic drive is all the cultural landmarks hiding in plain sight. Of all of them, my favourite is the petroglyphs etched into the sandstone by the Freemont culture as far back as 1300 AD. You'll see both human and animal portraits with impressive detail, considering their age.

It's easiest to see the petroglyphs if you bring a pair of binoculars and show up when the sun is high in the sky, as you'll be about 50 yards away from them. 
Getting There
You can access the site by arriving at the visitor centre and walking over one of the nearby boardwalk pathways.
Learn About the Pioneers at Fruita Historic District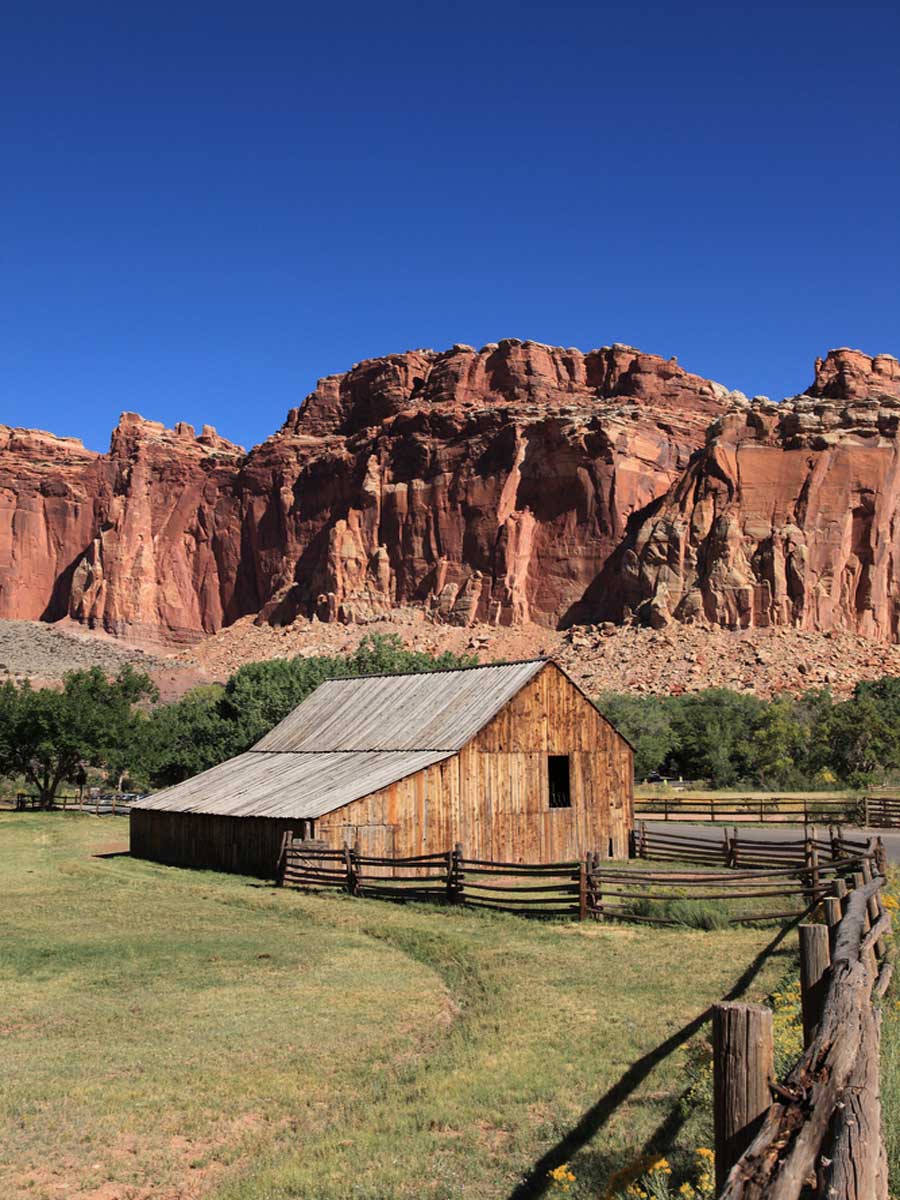 Capitol Reef wasn't a national park until 1971. However, the area has a long history of settlers, from Native American cultures to pioneers at the turn of the 20th Century.

If you visit the Fruita Historic District, you can see Fremont petroglyphs before visiting a schoolhouse from the early 1900s and the Gifford Homestead. Early pioneers built this house in the late 1800s, before the Gifford family took over and renovated the home and land, where they ran a hotel for tourists visiting Capitol Reef.

It's no wonder so many people settled in this area over the years. The fertile landscape is ideal for agriculture and livestock near the otherwise unforgiving sandstone cliffs and high desert terrain.
See the Twilight Colours at Sunset Point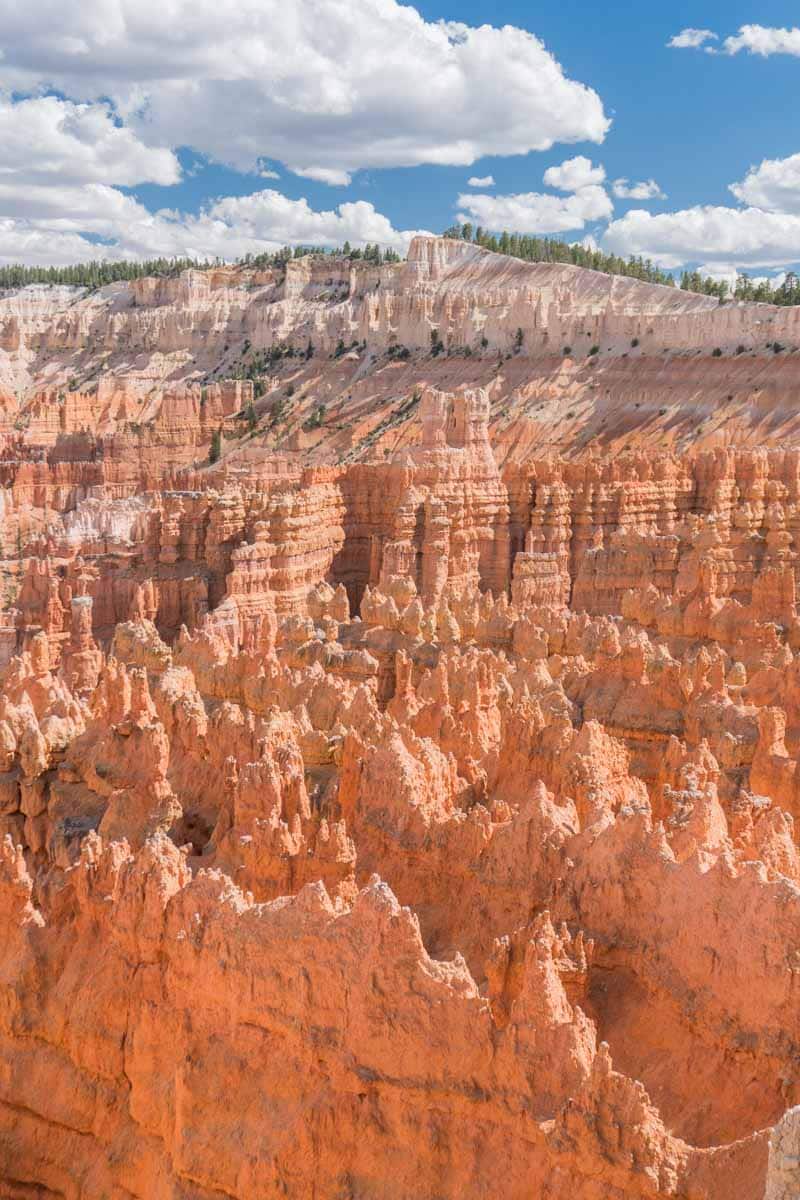 Watching the sunset at Sunset Point in Bryce Canyon isn't actually everything you imagine. Sure, the evening hours are an opportune time to capture Thor's Hammer with some cool lighting, but you don't actually see the sunset.
That's not the case in Capitol Reef. Sunset Point in Capitol Reef delivers on romantic sunset vistas. Big time. You'll see brilliant shades of red and orange over the Henry Mountains and valley below.

You might even get lucky and score a seat on one of the benches.
Top Tip
Watch out for dangerous drop-offs along the edges, especially at dusk.
Visit the Temple of the Sun and Moon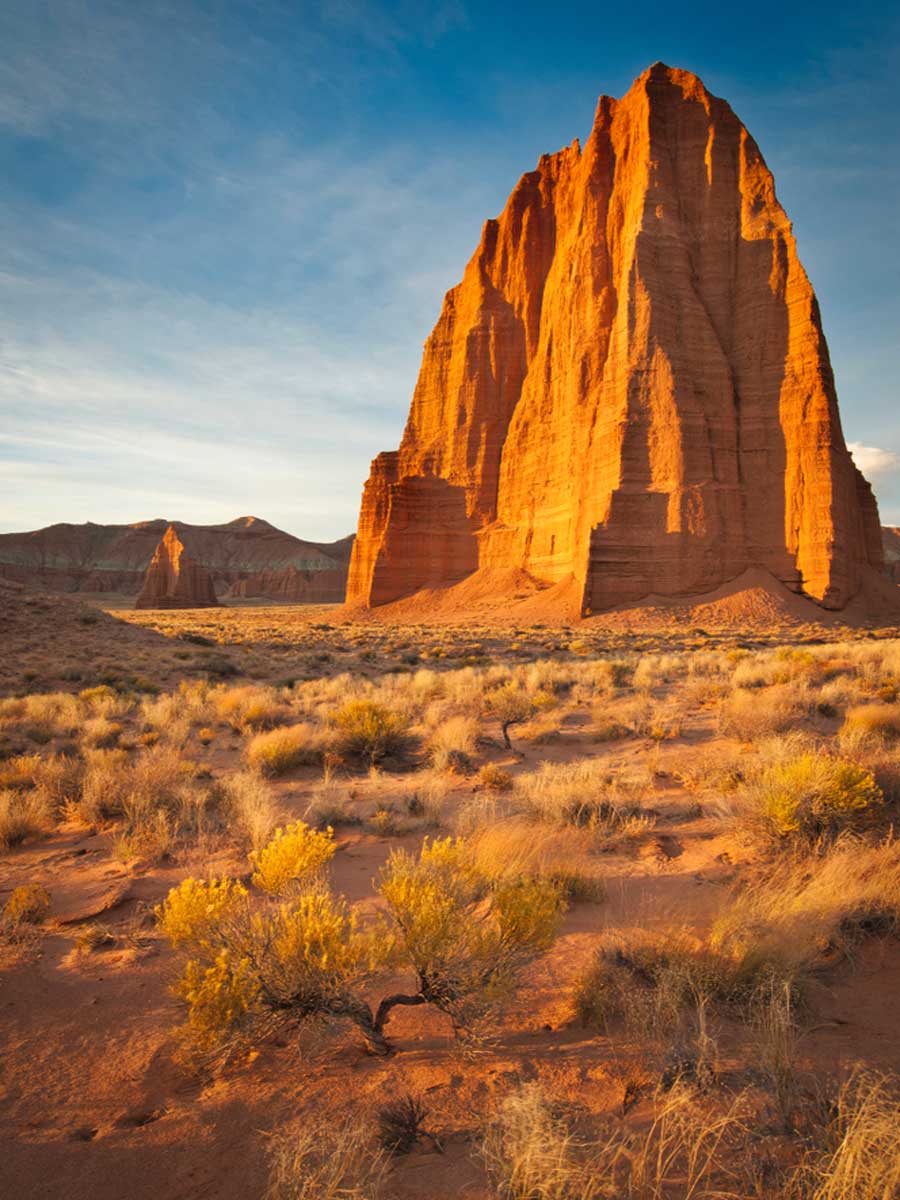 The Temple of the Sun and Moon is a landmark many people gloss over (and shouldn't).

The 2 monoliths are a bit off the beaten path. But if you take a guided tour or have your own 4WD vehicle, you'll see some of the coolest geology in the park. It's also a perfect place to watch the sunrise.

The Temple of the Sun is over 120 metres (400 feet) tall, whereas the Temple of the Moon is still an impressive 87 (285 feet), each with a story to tell.

How did they get here? The beautiful Entrada sandstone formed into towering pyramid-like shapes during the Jurassic period from tidal flats. Trust me, you need to see them yourself.
Getting There
It can be tricky to get there on the long, uneven Cathedral road. Hire a 4WD vehicle or take this guided tour.
Get the Lay of the Land at Panorama Point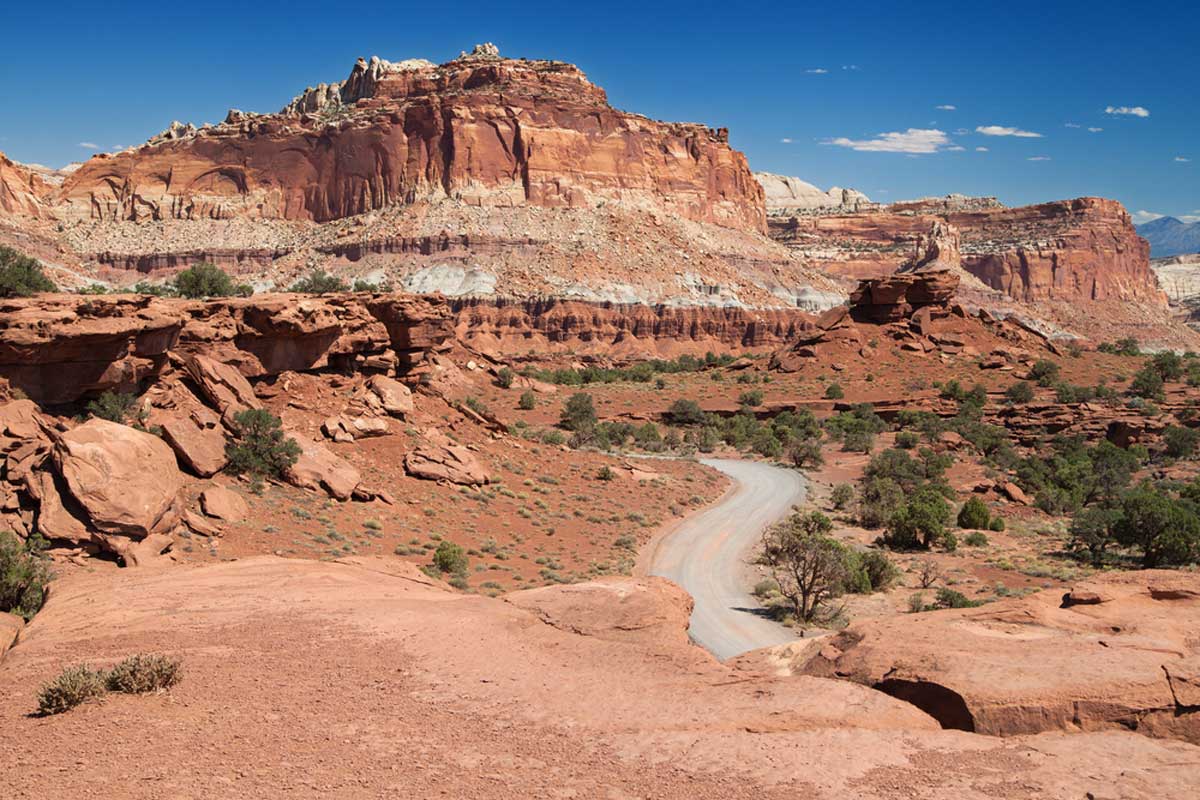 When you enter the park, one of the first lookout areas is Panorama Point. I highly recommend stopping here to get an idea of the national park's landscape and take in the scenery before venturing out. You don't have to hike far to the viewing platform, and it offers incredible views of the rock formations, cliffs, and valleys.

Stargazing is wonderful in this national park, and the wide-open 360-degree views of Panorama Point make it one of the best spots to do it.
Getting There
After you reach the visitor centre, head west on Highway 24 for about 4 km(2.5 miles) to the parking lot.
Stop by the Pioneer Register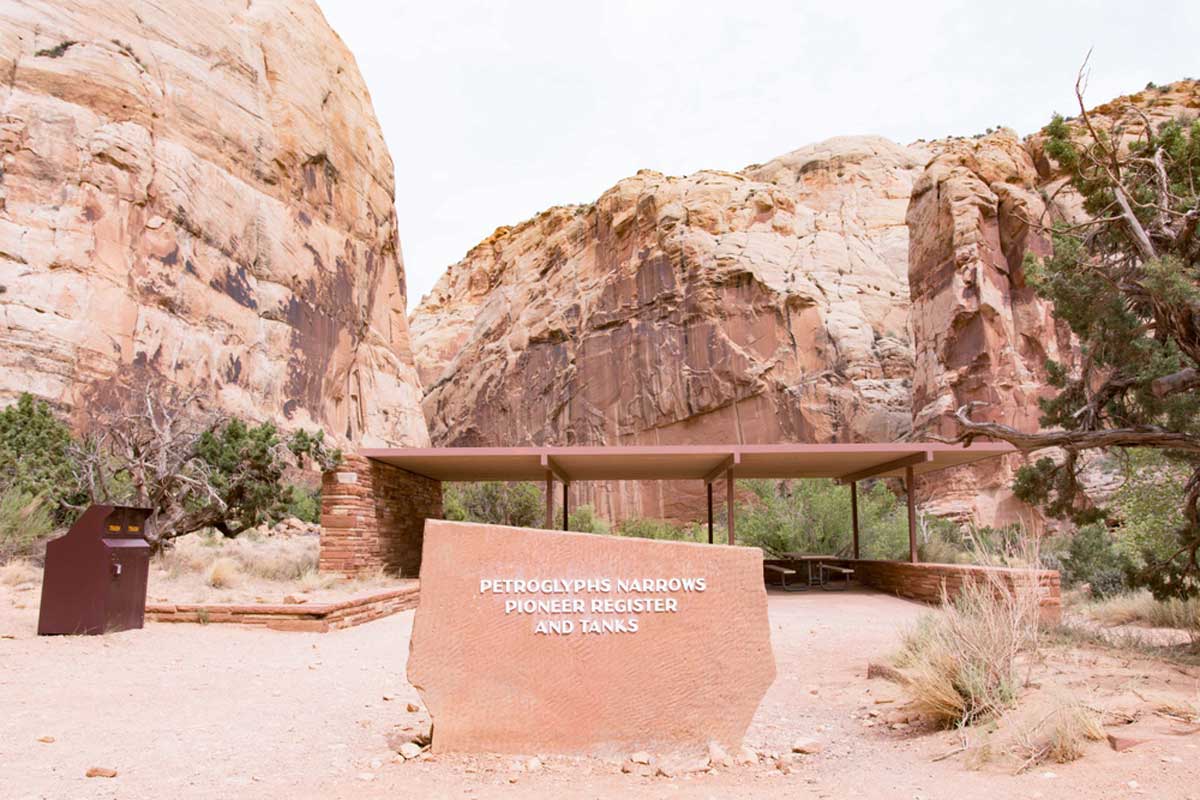 Although not nearly as old as the petroglyphs, the Pioneer Register is a fascinating look at pioneers, miners, and early Mormon settlers who etched their names into the stone at Capitol Reef.

It's a cool reminder of the site's history and easy to access from the Capitol Gorge Trailhead.
Capitol Gorge Trail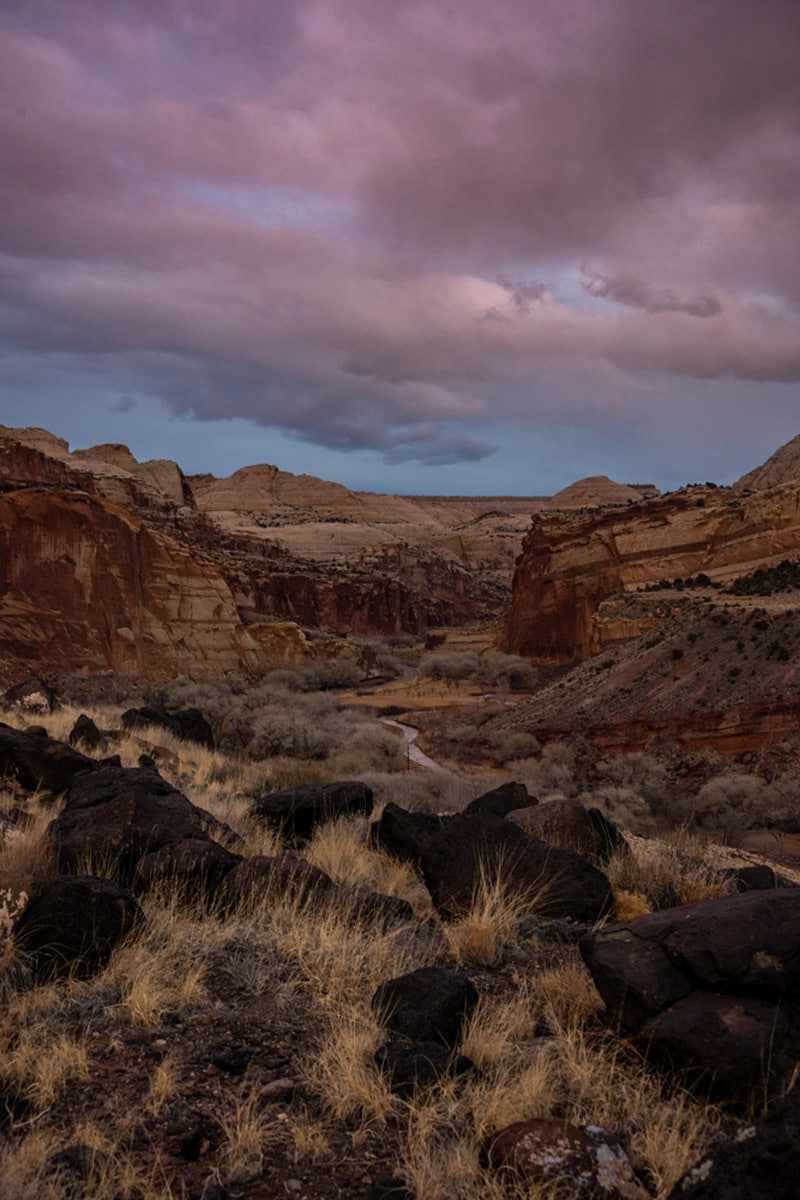 Is there a more famous hike in Capitol Reef? Probably not. And there's a good reason why the easy 4.5-mile hike is a popular route.

Start by checking out the Pioneer Register before making your way through the sandstone cliffs and valleys and seeing some of the cool rock formations firsthand. You'll notice natural water tanks, layers of rocks along the craggy cliffs, and some petroglyphs etched into the eroding sandstone.
Getting There
You'll need to drive all the way down the Scenic Drive before taking a winding route along Capitol Gorge, which takes around 30 minutes total from the visitor's centre.
Cohab Canyon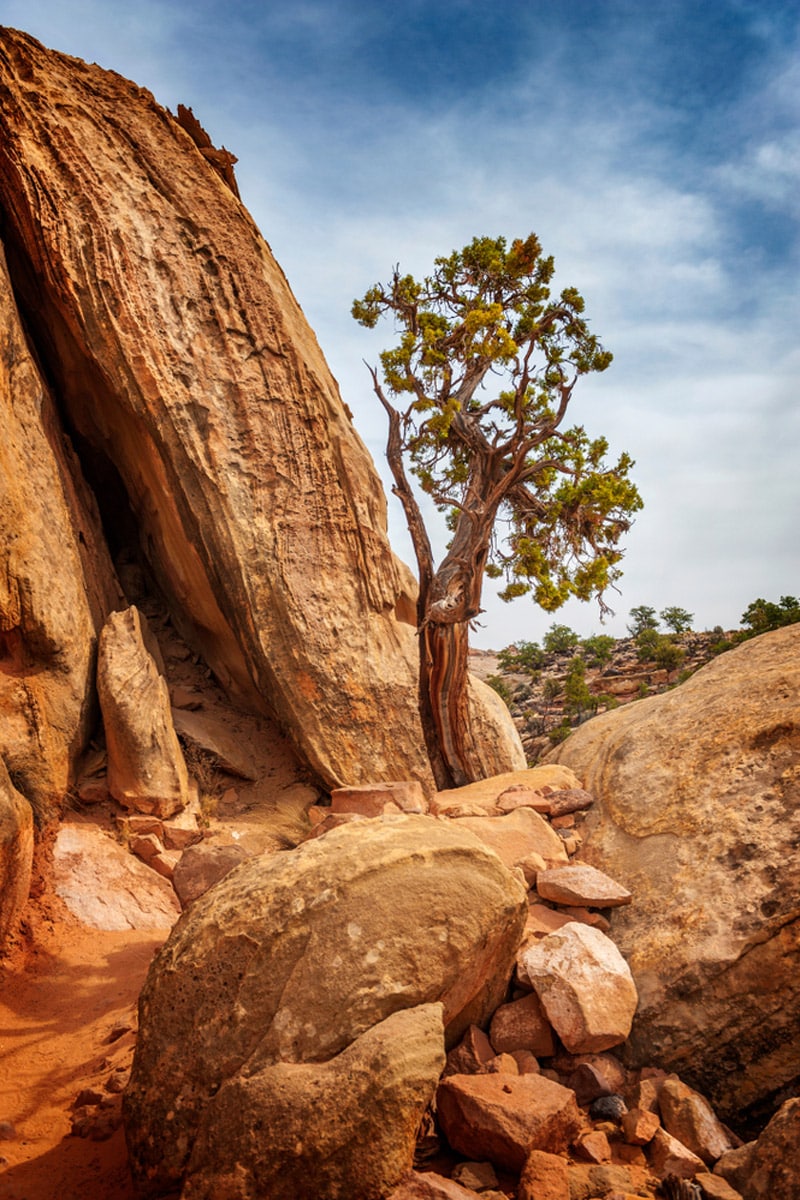 Another great hike that allows you to explore the southern end of the park is Cohab Canyon.

Expect a moderately challenging walk on the out-and-back trail with beautiful views of the park near the beginning of the Waterfold District.

You can add a few vistas or trails to your hike, like walking over to the Hickman Bridge Trail or the Fruita Overlook.
Top Tip
It's a popular area for birdwatching, and golden eagles are frequent visitors. 
Go Fruit Picking at an Orchard
Apple orchards (lots and lots of orchards) were a surprise on my first visit to the park, but it's easily one of the best things to do in Capitol Reef.

How did they get here in the first place? Pioneer settlers planted thousands of trees in the late 19th century, and using a unique irrigation system and hard work, they've managed to stick around today.
Explore the thousands of fruit trees, which blossom throughout the year and are on an honour pay system if you decide to take some back to your vacation home.
Top Tip
While fall is famous for apples, if you travel in the spring or summer, you can still get in on the fun. Peaches, cherries, and other stone fruit peak in the spring and summer.
Hike Up to the Viewpoint at Gooseneck Overlook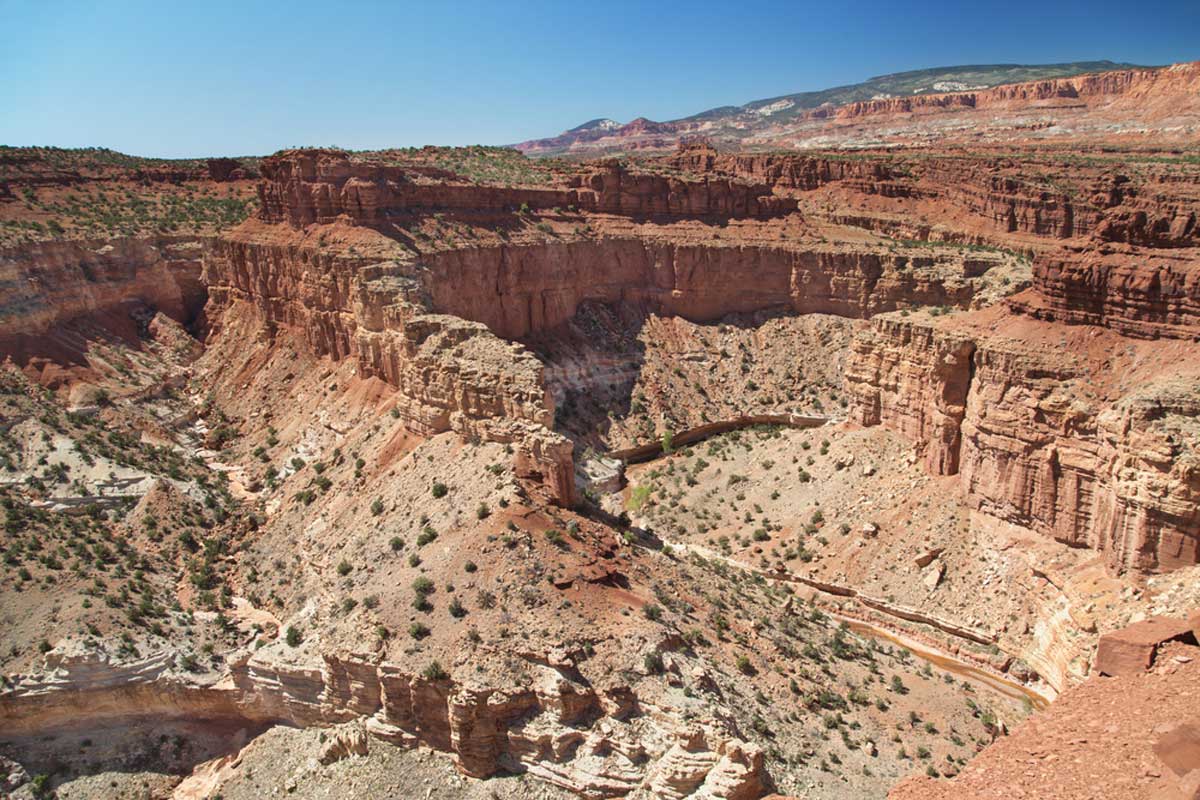 Hike up this short but moderately challenging trail for a brief geology lesson on the beautiful effects of thousands of years of erosion along the banks of the Fremont River.
The dusty red and tan cliffs and valleys are offset by lush green trees and shrubs and the slowly moving waters of this Colorado River offshoot. It's a wonderful reminder of the ever-changing nature of Capitol Reef.
Look for the Milky Way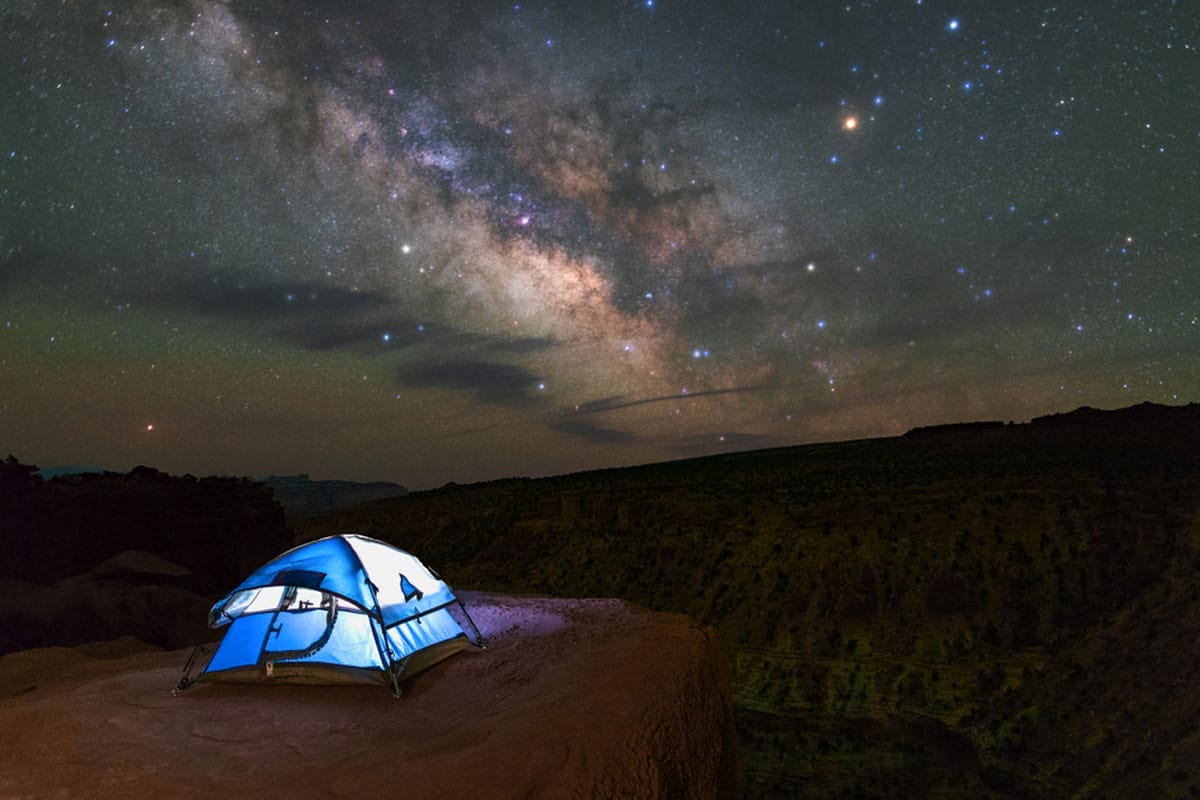 Utah is home to some incredible places for stargazing, but many visitors overlook Capitol Reef National Park. Don't. With up to 3350 metres (11,000 feet) of elevation, the park is perfect for seeing the stars and galaxies far away.

So, where should you try your chances with a telescope or the naked eye? Panorama Point and Cathedral Valley are some of my favourites. They both have mostly wide-open views and sit at higher elevations.

When is the best time for stargazing? You can find clear nights in the summer, but September to November gives you the best chance at mild temperatures, clear nights, and seeing the Milky Way.
Look for Wildflowers
Hunt for wildflowers if you're visiting Capitol Reef in the spring or summer. You can see bright pops of red, orange, yellow, and white in many of the park's most popular areas.

Where are the best trails? I think Capitol Gorge, Hickman Bridge, and Grand Wash are great locations to try your luck.

Depending on when and where you go, you may see the brilliant purple Showy Four O'Clock, the golden spires of Prince's Plume, or the gentle peach hue of Globemallows.
Meet the Rangers Who Work at the Park
I always recommend taking some time to have a chat with the people who run the national parks whenever possible. You'll gain insight and unique perspectives regarding the geology, changing conditions, and history of the park.

When you first arrive, head to the visitor centre and plan to spend some time asking questions. This can give you a better idea of where to go, what to do, and any incoming weather you may want to avoid.
Have a Slice at Gifford Homestead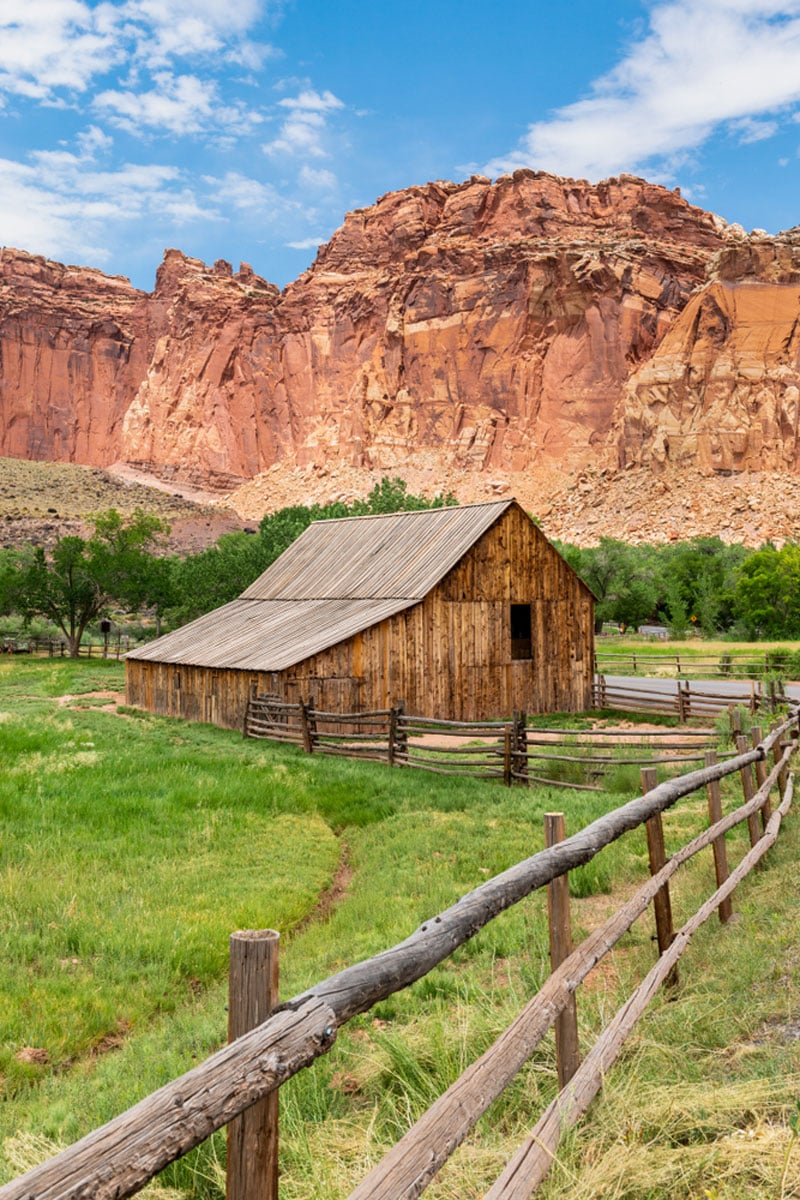 It's easy to get nostalgic thinking about the families who settled here in the early to mid-20th century. Apple orchards, red rock cliffs, and clear blue skies are all idyllic reminders of the American dream.

And if you think the smell of freshly baked pie is a figment of your imagination, you're actually mistaken.

You can try apple, peach, and berry pies while soaking up the best view you'll ever have while eating homemade dessert.
Top Tip
Head to the homestead early from March to October to grab a slice of pie before they sell out.
Take a Ride on the Wild Side at Bentonite Hills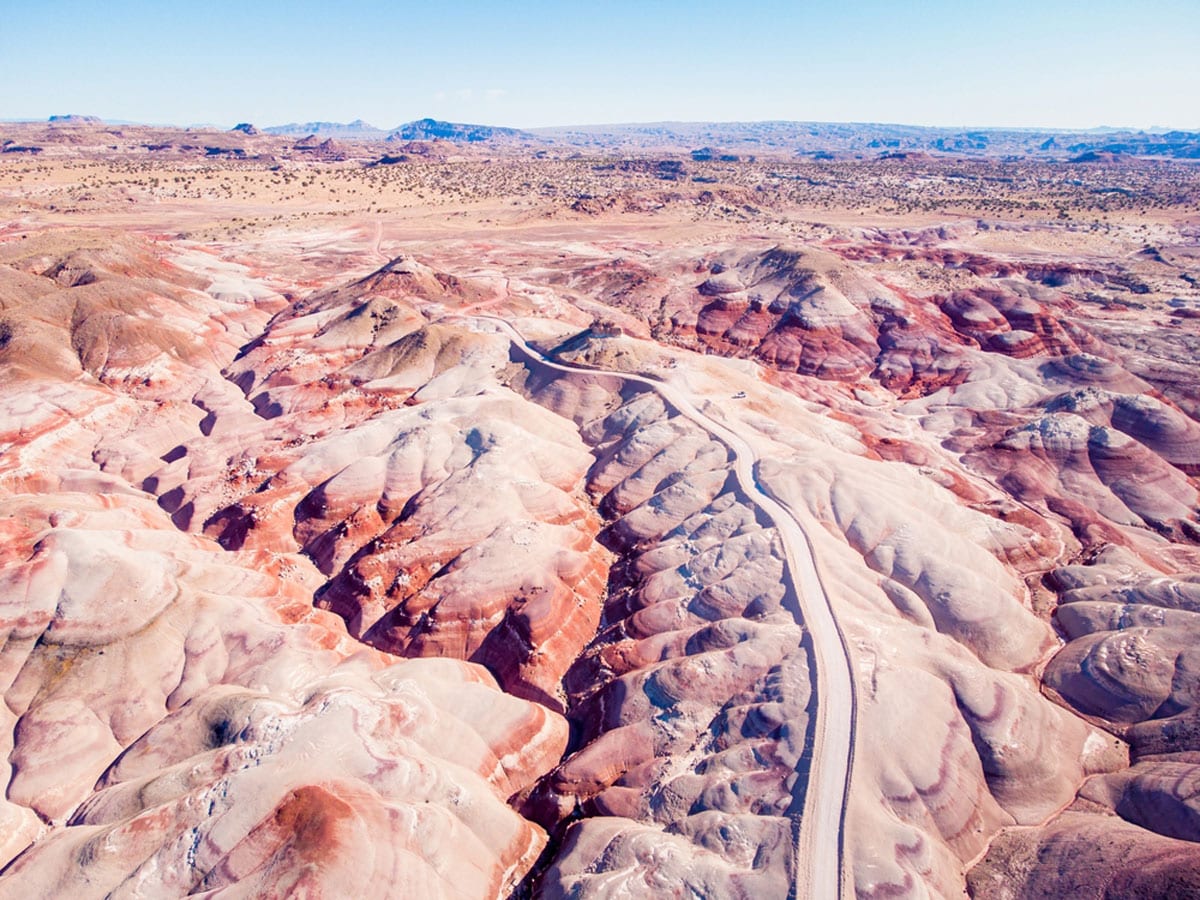 Bentonite Hills aren't in Capitol Reef proper, but that doesn't mean you shouldn't save some time to explore the ancient landmark.

The rolling hills take on brilliant colours of purple and red thanks to prehistoric volcanic ash and sand deposits.
How do you get there? Go on your own, or take a guided tour in a 4WD vehicle to learn all about the history along Bentonite Hills and Capitol Reef from an expert guide. Roads are a bit unpredictable, so I recommend the guided tour, where you can let someone else do the hard work for you.
Go Camping 
Whether you want to stargaze, snap photos of a sunset, or share a romantic evening around a campfire, camping in Capitol Reef National Park is the perfect way to enjoy everything the park offers.

You can choose from the popular campground in Fruita, which has fire pits and restrooms, or backpack into a primitive campsite at Cathedral Valley or Cedar Mesa.
Do
Reserve a campsite at Fruita up to 6 months ahead here for $25 per night, or hike into one of the primitive sites.
Take a Day Trip to the Grand Staircase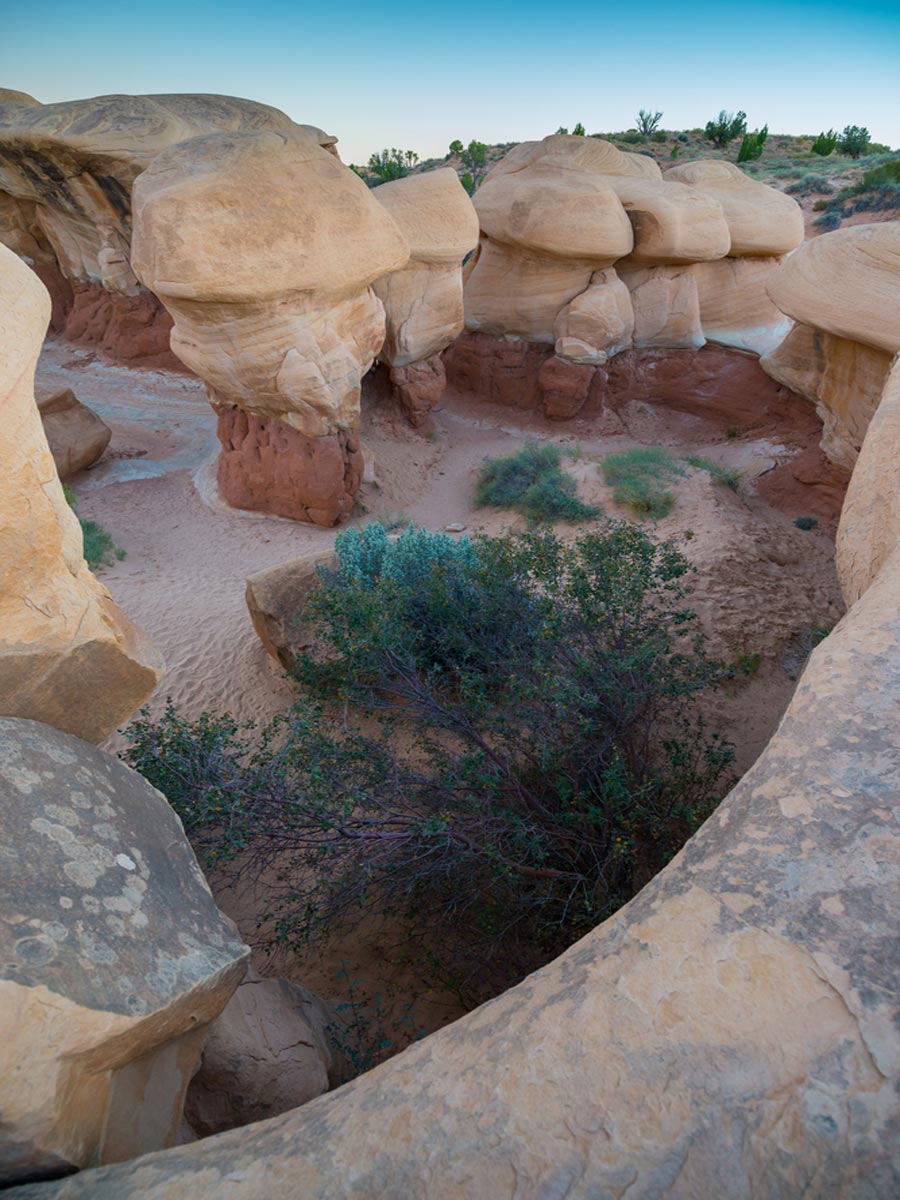 Driving to the Grand Staircase-Escalante National Monument from Capitol Reef is a perfect day trip.

Why? You'll see unique landmarks ranging from the 130-foot-high rapids at Calf Creek Falls to moody Spooky Slot Canyon.

There are opportunities galore to exercise and sightsee at this unique Utah wilderness locale, just an hour from the park.
Getting There
Take Highway 12 South, about an hour from the visitor centre.
Visit Anasazi State Park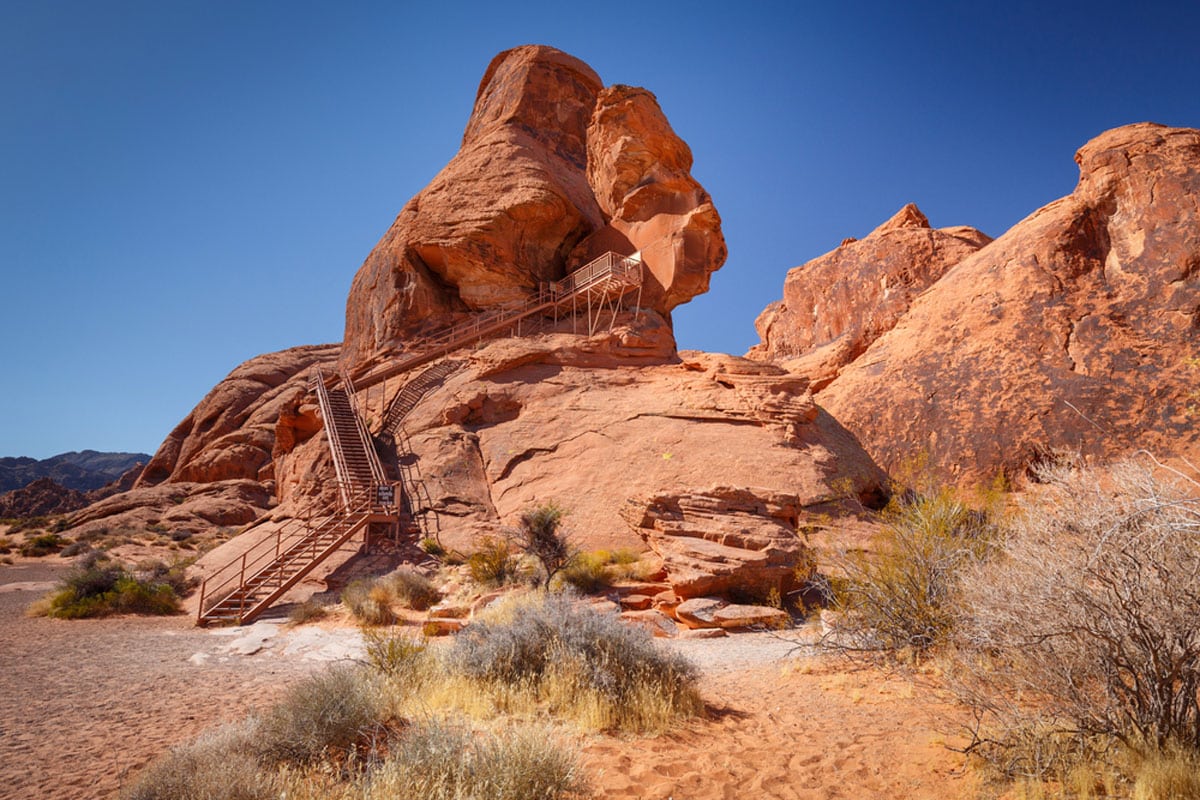 If you do take a day trip south on Highway 12, be sure to stop by Anasazi State Park for an opportunity to learn more about indigenous cultures in Utah.
The Pueblo village is a replica, but you can look at artefacts from as far back as the 11th century.

Stop by to check out pottery and the tools used to make them from Native Americans who lived in the area around 1050 and 1200 AD.
Photograph Hickman Bridge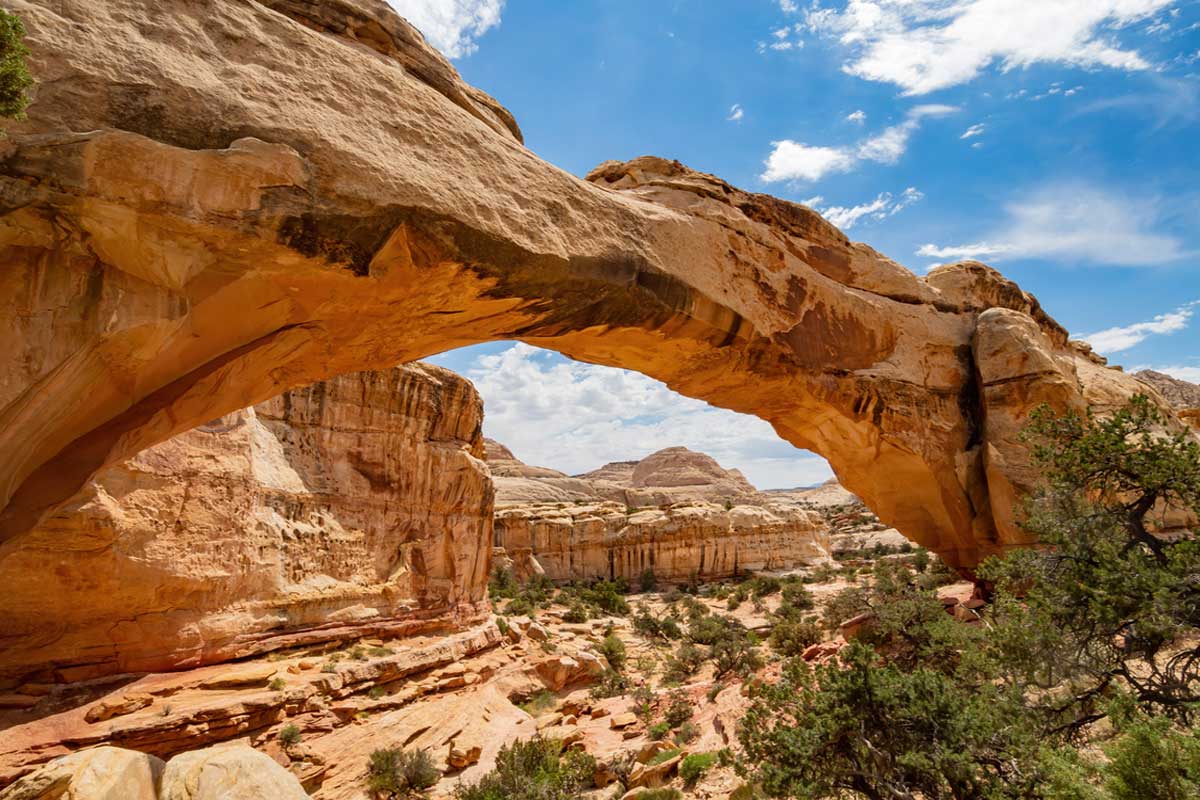 Another fun stop just outside of the visitor centre area is Hickman Bridge. The sandstone arch rises over 40 metres (130 feet), making it one of several impressive natural bridges in the park.

You can hike the trail in about an hour and snap some excellent photographs.

What's the best time to bring your camera? Go in the morning when the golden rays peer through Hickman Bridge for the most memorable shots.
Top Tip
If you're into wildflower hunting, this is one of the top spots in the park to see them in the spring. Look for yellow catspaw, Utah penstemon, and other colourful species.
HIke the Grand Wash Trail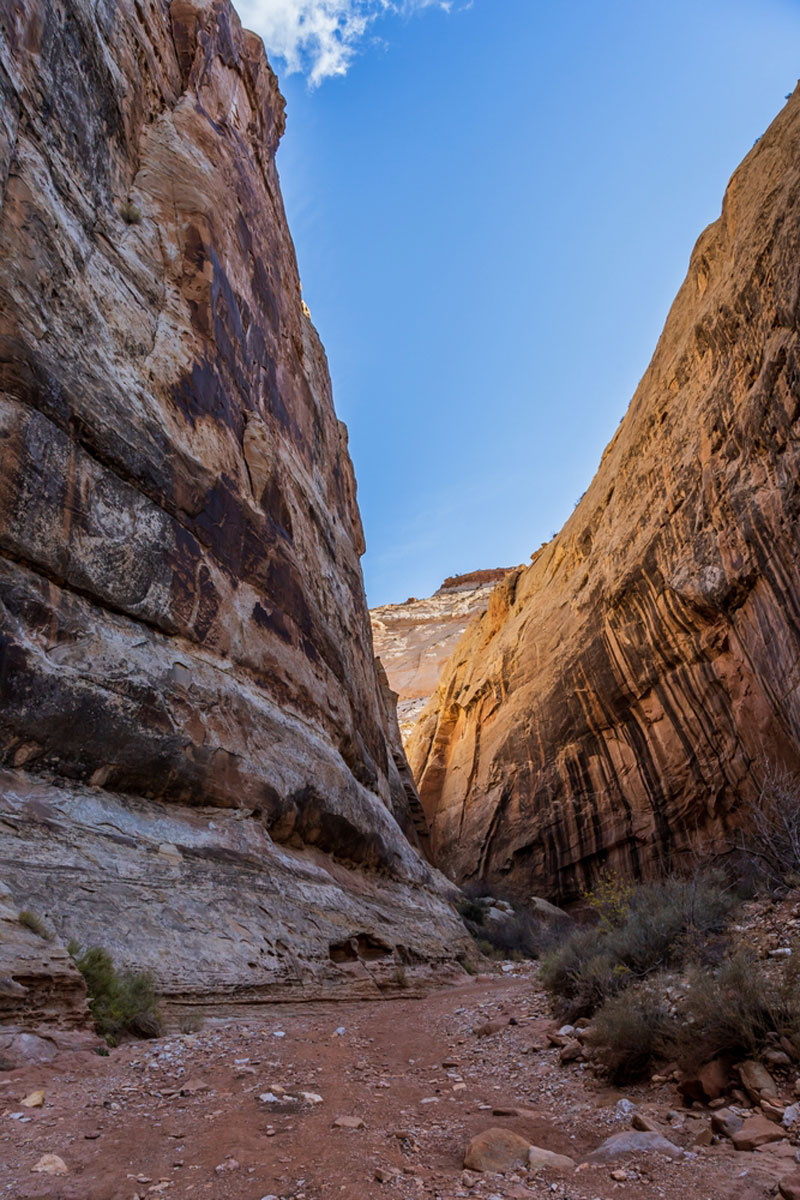 The Grand Wash Trail is in the underrated southern end of the park and is easily one of my favourite hikes.

Get ready for some spectacular scenery without the crowds on this easy 2-hour walk through the gorge known as the Grand Wash.

What can you expect? I did a whole lot of oohing and aahing at the massive sandstone walls from hundreds of feet below. Also keep your eyes open for the bighorn sheep, which are common visitors to the area.
Horseback Riding
If you want to cover more of the park, horseback riding is a great way to do it.
Seasonal tours run from spring to fall, and allow you to explore areas around the park like a petrified forest or the valleys below the sandstone cliffs. It's a great way to see more of the area and catch beautiful views from outside the park.
You can book through a few local companies and decide between short or long trail riding packages.
Navajo Knobs Trail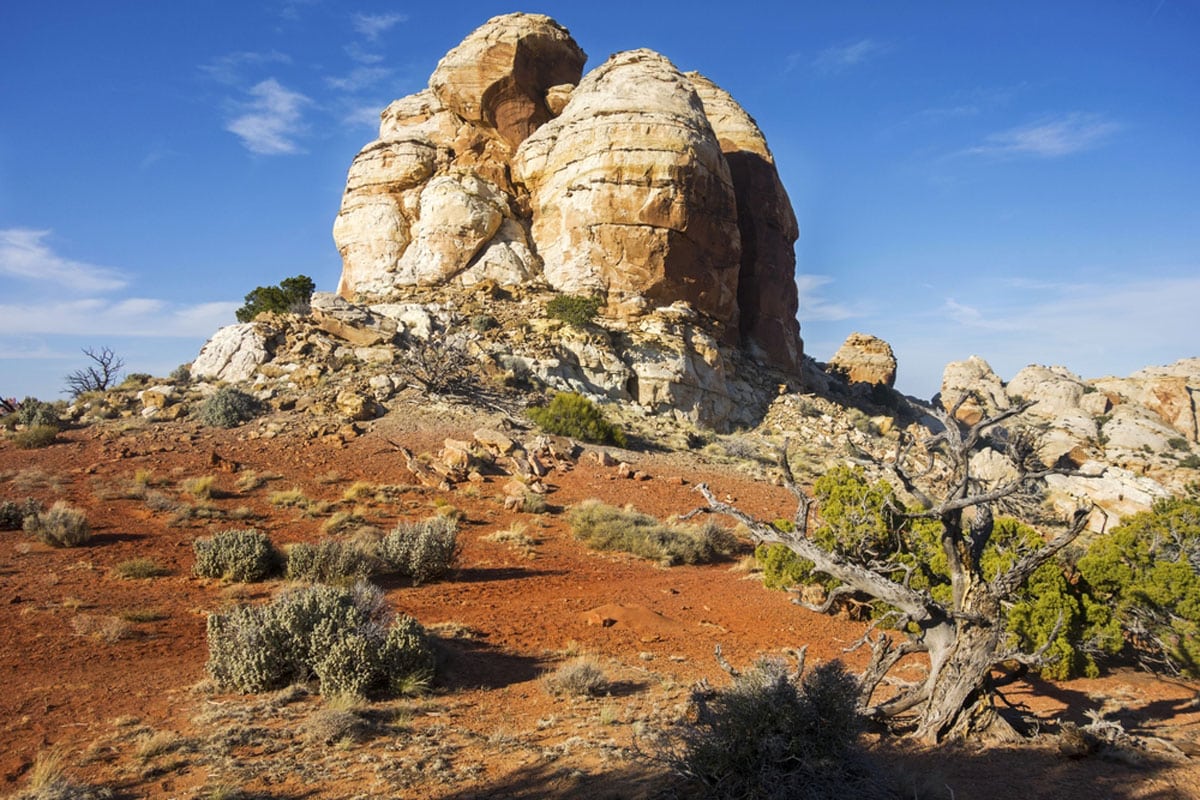 Is a more challenging hike more your speed? Don't worry epic adventurers, I wouldn't forget about you when mentioning the best things to do in Capitol Reef.

Navajo Knobs is a challenging trail that can feel much longer than its 14.5 metres (9 miles) when you're out in the sweltering summer sun. But if you're up for the challenge, it's worth the scramble. Hikers swear by this spot as offering some of the best views anywhere.

Pack lots of water, a wide-brimmed hat, and plan to leave early in the day for this five-hour journey.
Drive Around the Waterpocket District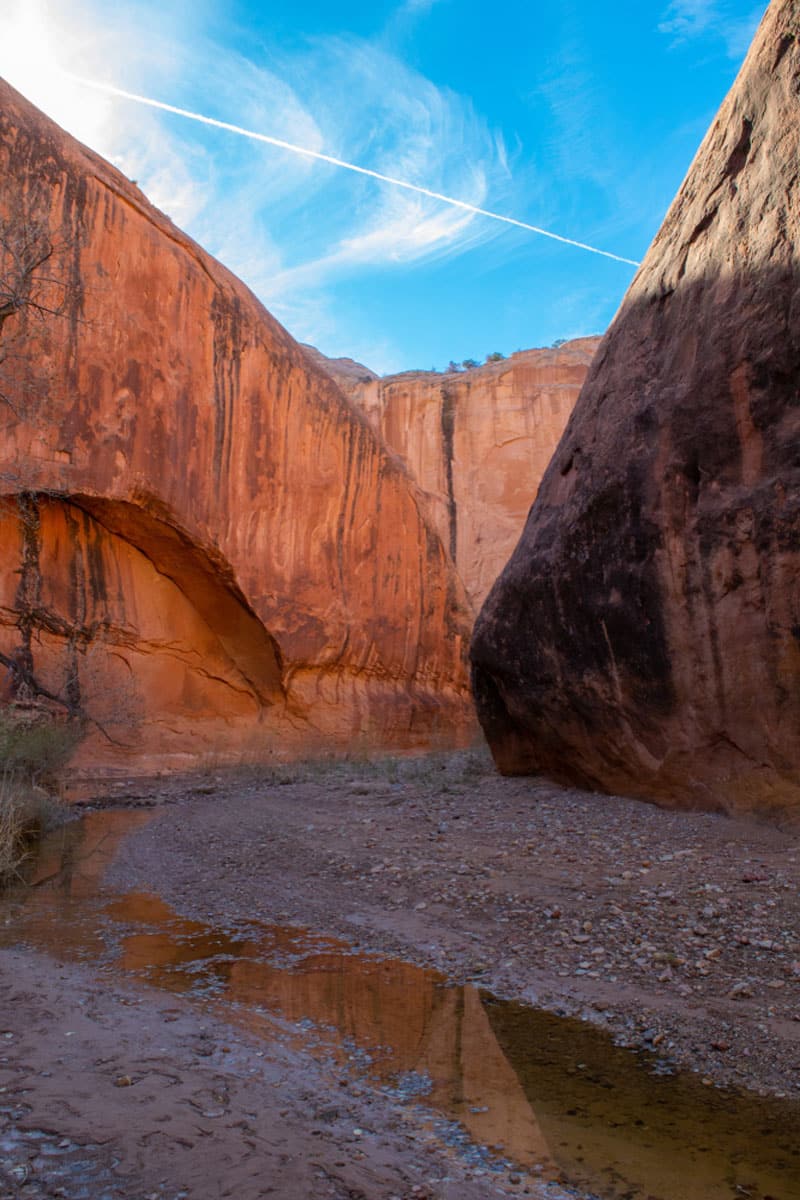 The Waterpocket Fold is an exciting stretch of hiking trails, campgrounds, and roadways.

The scenic Fold Loop is 199 km (124 miles) and takes you past the Cedar Mesa Campground, many underexplored hiking trails, and the surreal Navajo sandstone rock formations the park is known for.
While it's not at the top of many casual tourist lists, I know you're probably looking for something more (isn't that why you're here?).

Geology fans will geek out at the eroding sandstone formations formed as far back as 70 years ago during a "step up" event. Because ancient underground secrets were unearthed here, you'll find seashells and other marine fossils dating back 100 million years. It's truly a special drive if you have the time.
Getting There
As remote as this section of the park is, it's easy to find the entrance. You begin your drive near the main visitor's centre.
Practical Tips for Your Capitol Reef Trip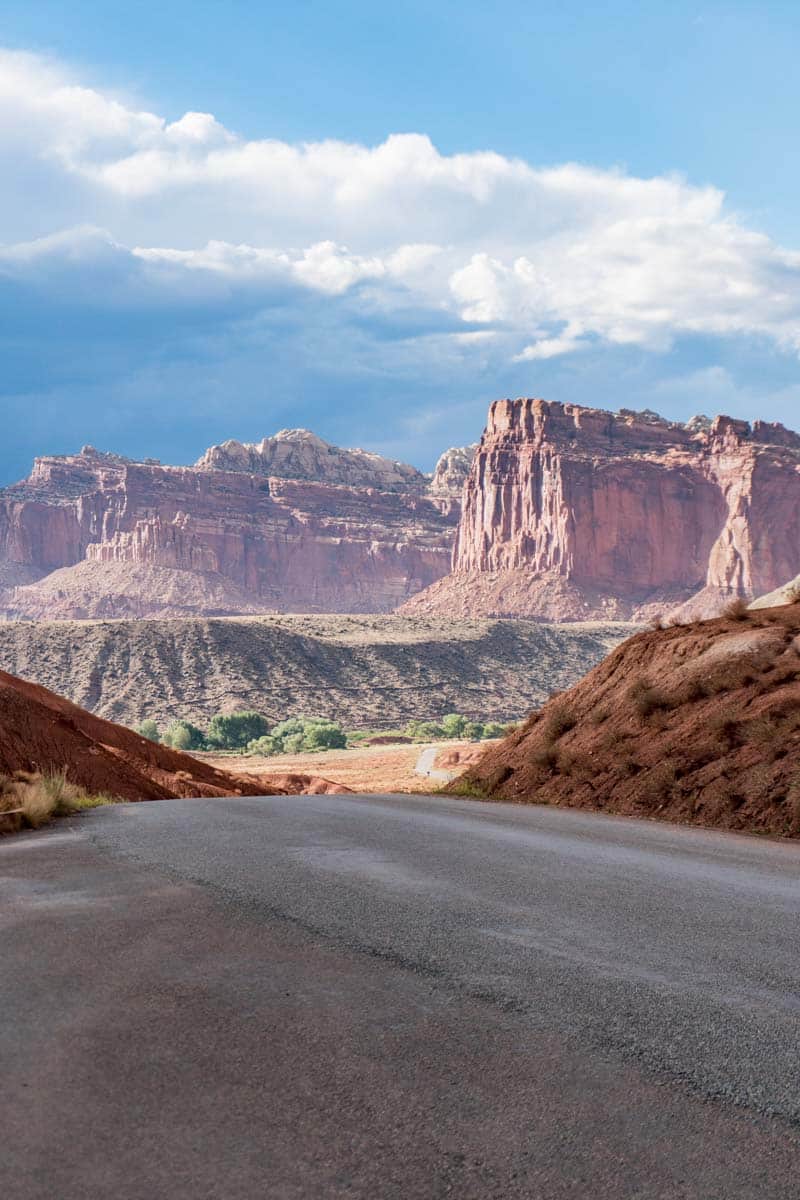 Compared to other Utah national parks, I found booking accommodation relatively easy. Rates are affordable, hotels often have surprisingly modern amenities, and the resorts and B&Bs in Torrey are only about 10 minutes from the park.
Roads can get tricky to navigate, especially in the Waterpocket Fold after rain. Get a vehicle with 4WD, or take a guided tour if you plan on going deep within the park.

You can get to State Route 24 into Capitol Reef from several local and interstate routes, making it easy to add to a USA travel itinerary.
Other Top Tips for Your Visit
Summer temperatures easily get over 37.7°C (100°F), so pack plenty of water and know your limitations when you hike.
Bring a compass or GPS. Some of Capitol Reef (especially the Waterpocket Fold) have remote trails that are difficult to navigate, even for experienced hikers.
Mountain lions and bears do live in Capitol Reef Park. Carry bear spray and a bear canister when hiking, and never run from a predator (you likely won't win a foot race).
Leave things the way you found them. Don't climb trees, don't etch your name into sandstone, and clean up any trash you bring.
Personal aircraft aren't allowed in the park, but areas like Bentonite Hills nearby are legal to fly your drones.
How Long to Visit Capitol Reef?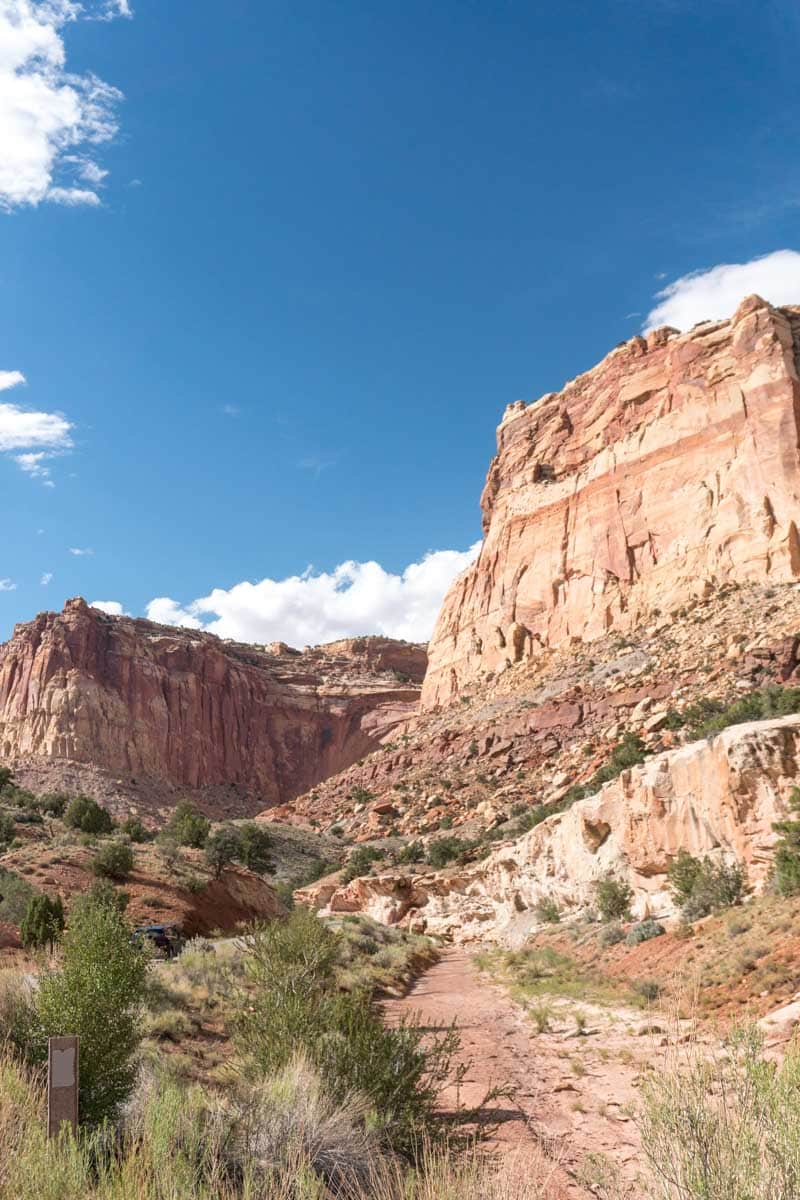 I recommend at least 2 days when visiting Capitol Reef National Park. If you can stretch it to 3 or 4, you'll be able to get a better look at most of the top sights and activities.
Best Time to Visit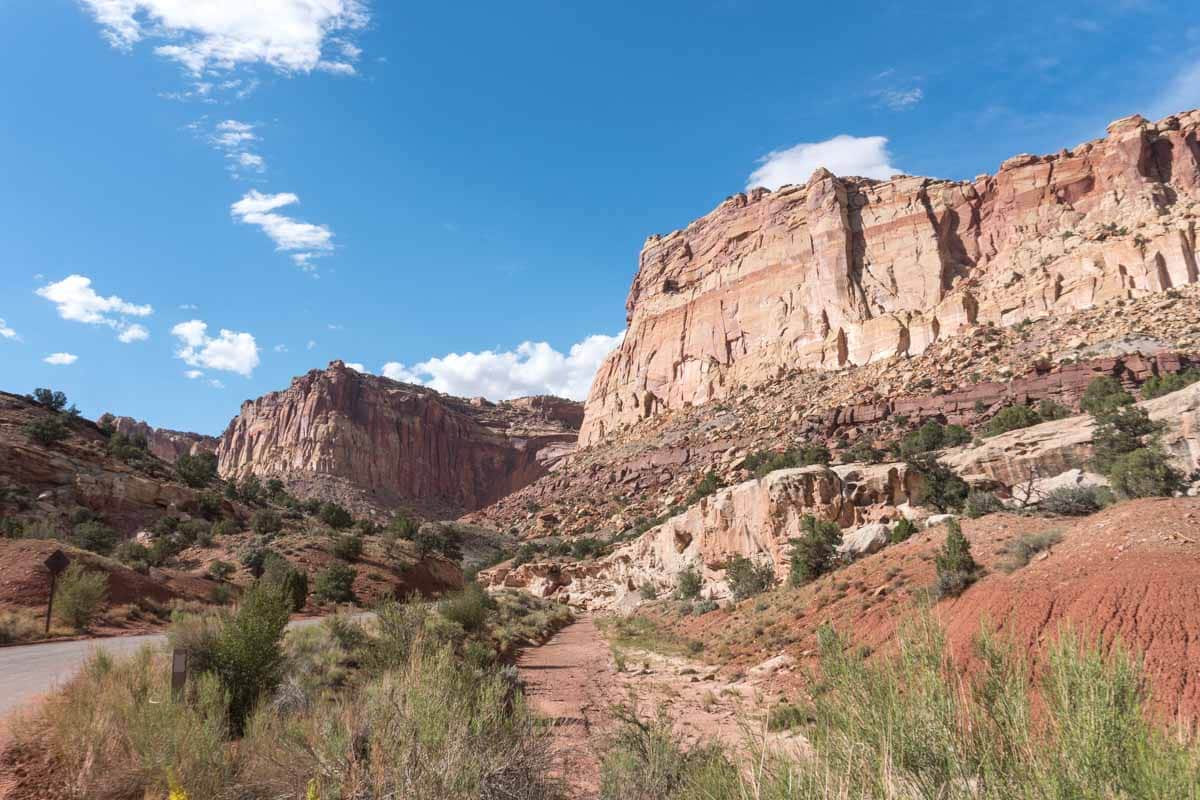 Make the most of your holiday in Utah by visiting in late spring or early fall. If you plan to tour all of Utah's Mighty 5, go in September or October to avoid the peak crowds and triple-digit temperatures.
Where Should I Stay in Capitol Reef?
Red Sands Hotel (Mid-Range)
I was frankly a bit surprised by how much I liked the stylish decor, chilled-out bar and restaurant, and amenities like the spa and indoor pool at Red Sands Hotel.

Rooms are clean & cosy, have everything you need, including AC & WiFi, and are moderately priced. 
Check Rates and Availability for Reds Sands Hotel on Booking.com
Cougar Ridge (Luxury)
If you're looking for something more romantic or just need more space and comforts of home, stay at Cougar Ridge.

It's only a few miles from the park in the small town of Torrey, and the studios and villas offer first-rate views of the mountains surrounding Capitol Reef.
If you spring for a villa, you'll enjoy 1500 square feet of luxury cabin vibes with a hot tub, balcony, and kitchen.
Check Rates and Availability for Cougar Ridge on Booking.com
Things to Do in Capitol Reef: Map 
Read More Southwestern USA Guides
Love This? Save and Share on Pinterest