Tucked in a series of coves surrounded by pine forest and edged by the Aegean Sea, Hillside Beach Club is the Dalaman's luxury getaway. Looking for a gorgeous getaway? This is why you need to go.
My trip to Hillside Beach Club was my first time travelling to Turkey's Dalaman Coast but I had a few clues as to what I was going to find before I arrived. 
Clue number one? It's no coincidence that the stretch of coast surrounding Hillside Beach Club goes by the nickname of The Turquoise Coast. Gorgeous seas, pleasantly warm and coloured in shades of mint lap against the shores. 
Clue number two? The number of rave reviews written about the hotel in a time when apathy or biting comments reign supreme – yet for Hillside? Nothing but glowing comments and rosy words.
Add to this plentiful sunshine – by the time of my September visit not too hot, not too cold but a Goldilocks just right and I was starting to see the equation for a successful escape from the bleak September weather in the UK.
Hillside Beach Club: First Impressions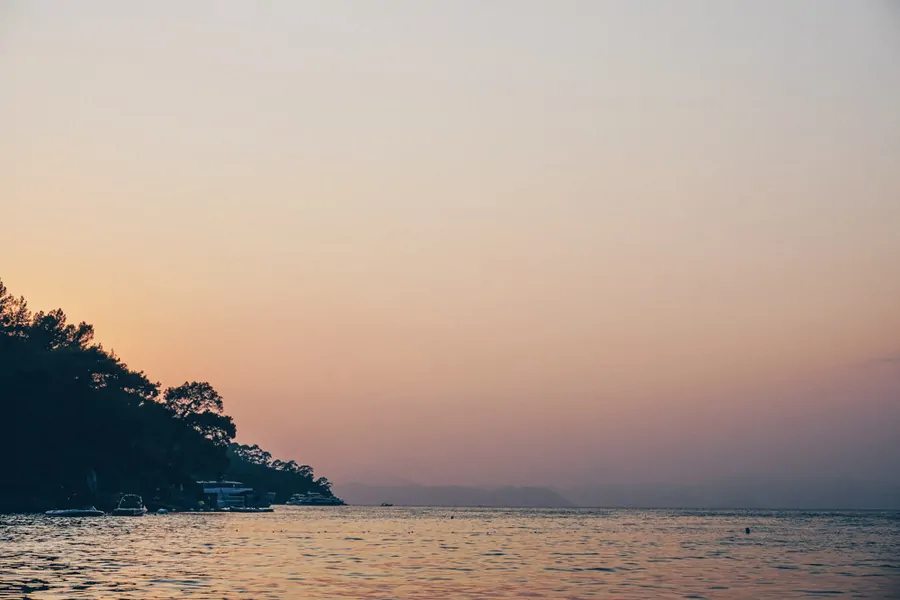 I floated on the calm sea, the water is slowly moving through a kaleidoscope of colours – pink to purple purple to dark blue. The preluding sunset was one of the most beautiful I've ever seen. It's hard for that not to sound melodramatic, but it's also true.
Relaxing on the water, I had time to reflect on the past day. It had started as so many journeys do, with an early start and bleary eyes, a zombie passage through the airport and an unmemorable flight – but then it took a turn for the better.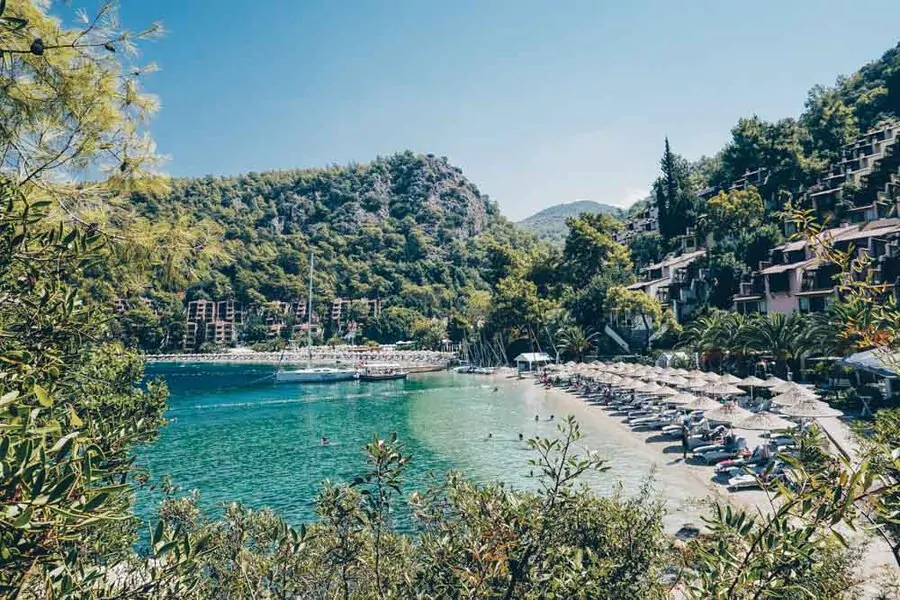 I had only arrived at Hillside Beach club a few hours prior lured by the promise of late summer sunshine (I visited in September), delicious food, luxury lodgings and an exclusive hotel that had clients not only raving about it but returning year after year.
Less than an hour away from Dalaman airport, Hillside Beach Club is the secret don't repeat visitors don't want you to know about.
You can see why: if you found a gorgeous hotel with spacious rooms panoramic views and a chilled out atmosphere, would you want to share it? Not really I guess.
The hotel staff had shown me to my rooms, smiling graciously when I'd oohed and ahhed about the spacious accommodation and those incredible views.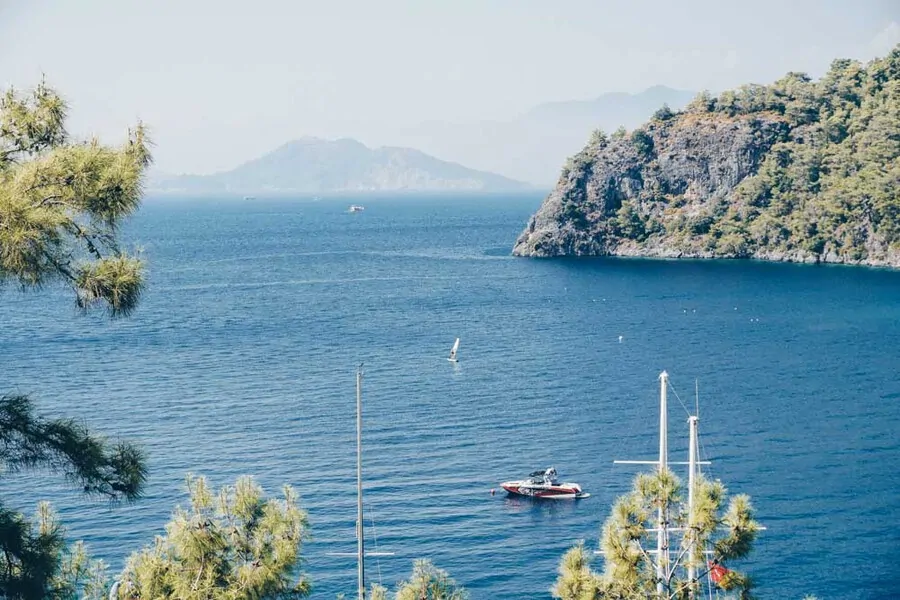 Within a few minutes, I was plumped down on my private terrace, drinking a glass of fizz from the chilled bottle that had been left on the counter, segueing into a much welcome holiday mode.
Technology Meets Luxury
I'd already downloaded the Hillside Beach Club app, handy not only for finding out what was on each day at the hotel, but for ordering drinks and booking activities throughout your stay.
An initial scroll told me that they were going to be having an adults only showing of Bohemian Rhapsody on one of the private beaches, which sorted out my evening plans (it was suitably magical – the everlasting hits of Queen against the clear night sky a combination that cannot be bested).
The app is just one of the ways that Hillside has put their guests front and centre of the hotel experience.
Rather than signing endless slips and finding desks or calling the concierge to book reservations and activities, guests can manage their stay through a few taps in the app. 
Striking the Right Balance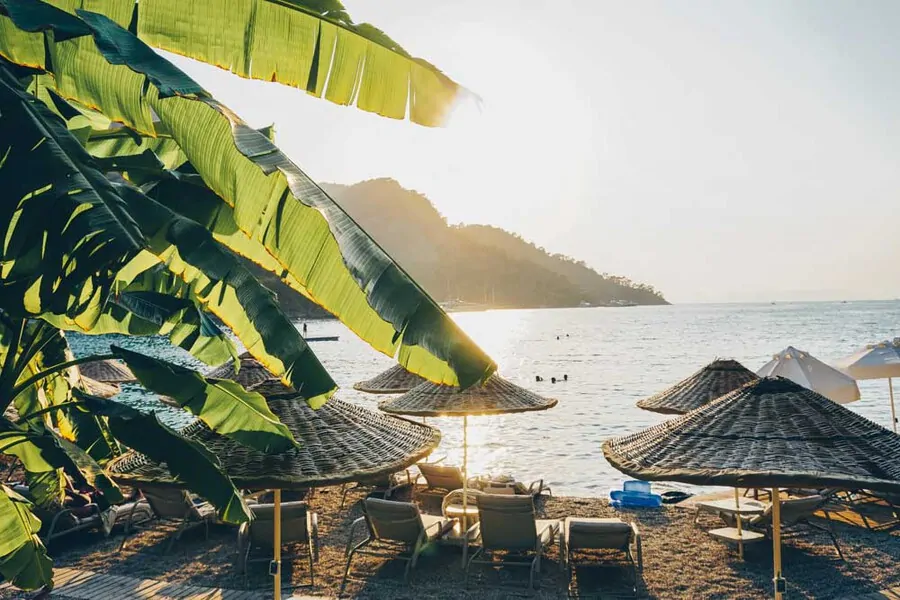 The hotel staff had already shown me the three beaches talking me through the differences between them.
There are two adults-only beaches: Silent Beach and Serenity Beach – two coves fringing Main Beach, which is open to both adults and children. 
Deceptively large, the hotel has more than enough activities for you to entertain yourself however long the duration of your stay.
My days took on a casual rhythm, varying between morning spent lounging reading on the terrace, afternoon sitting in the sunshine on one of the adults only beaches.
A long massage at the Sanda Nature Spa relieved any residual stress (and memory of the outside world) – the experienced therapist working through my muscles to leave me in a state of total bliss. 
Beyond the beaches and the spa, I varied the routine by popping onto one of the floating jetties adorned with sun loungers and umbrellas – If there's anything more relaxing than bobbing a top a floating deck with a good book in hand, I'd like to know what it is.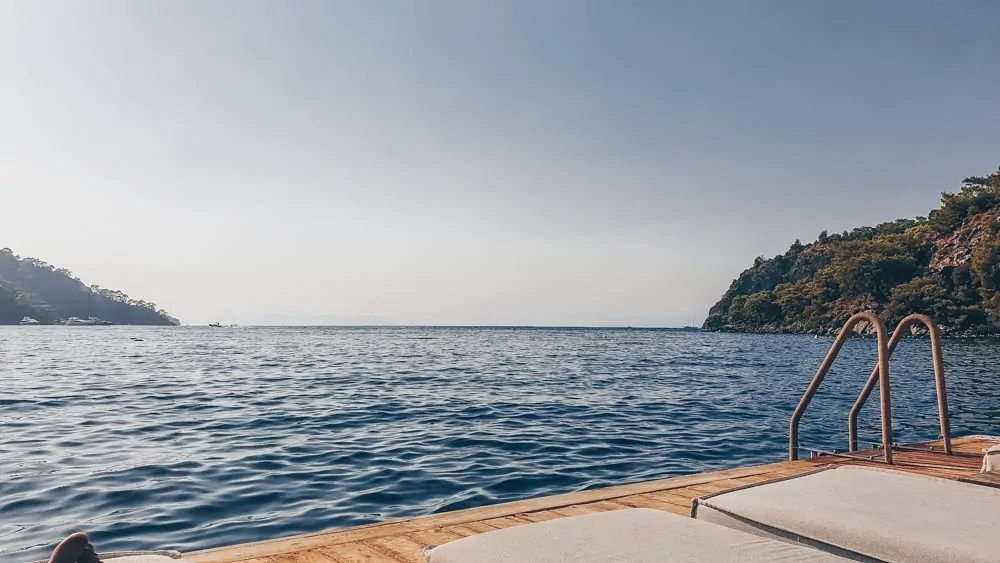 Welcoming to Everyone
Catering to adults who are looking for a relaxing getaway and families who want a place to spend time together is a theme that runs that was present throughout my stay at Hillside.
Of the three restaurants, one, the high-end Pasha on the Bay was adults-only at dinner – even the main buffet restaurant has a section for adults only, slightly away from the hustle and bustle of the main buffet.
You can see why even though on the face of it Hillside Beach Club is a family hotel, so many adults use it as a favourite getaway.
Dining at Hillside Beach Club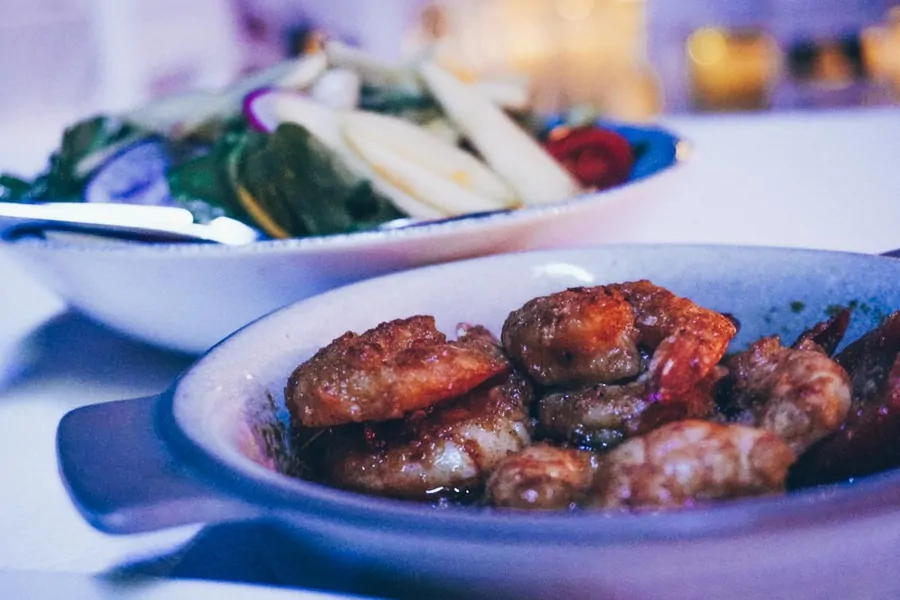 All of that before we get to the food. I have to admit that I wasn't sure what to expect from the food at a half-board resort. In short? It was fabulous. The three restaurants at Hillside are nothing short of stellar.
The main restaurant bustles with a number of live stations, each more tempting than the others. When paired with the mounds of Turkish salads available at every meal bursting with fresh flavours and local produce of the kind I wish I could only get at home, the end result is impressive.
In search for something a little more formal?
At night, the Beach Bar transforms into an open-air Italian restaurant, serving a compact but well thought out range of delicious dishes, while Pasha, the high-end Mediterranean restaurant (only open for breakfast and dinner) treads the balance between being upmarket, yet relaxed enough to allow you to enjoy it at your leisure. 
Exploring the Turquoise Coast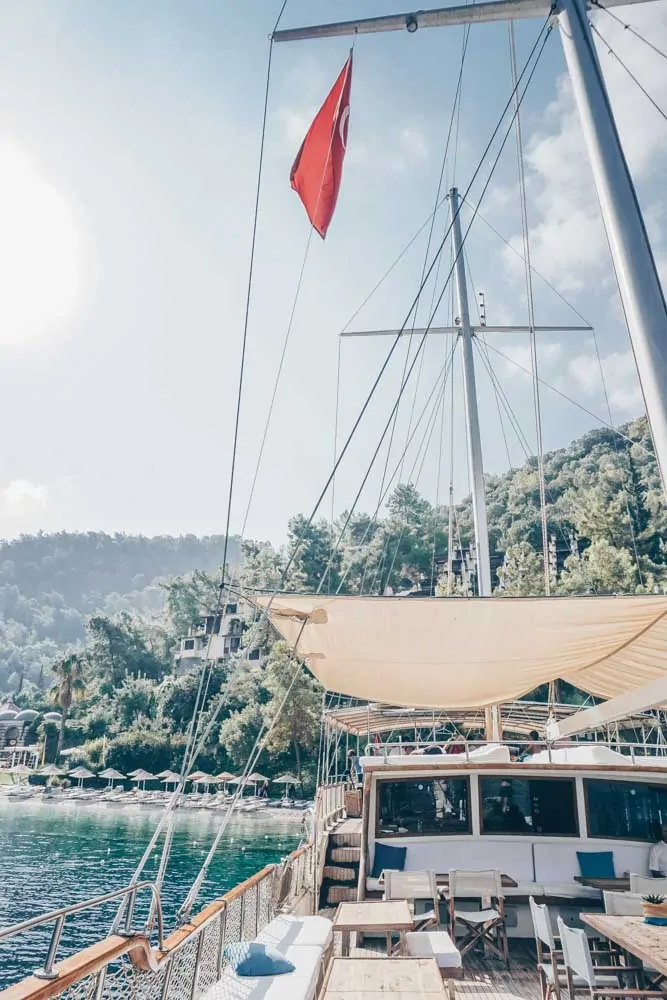 It would be a shame to come this far and not set out by boat to explore the gorgeous coastline for which the Dalaman is famed.
Hopping aboard one of Hillside's large yachts, I could barely contain my excitement for a day spent snorkelling and taking in the views from the deck. I was not disappointed – we set off, sailing between the islands along the coast.
Spells spent navigating the calm seas were punctuated with stops where we'd jump off board, snorkels on, to peek at that separate life, teeming with colour and vitality, that exists under the surface of the water.
At lunchtime the crew laid on a full Turkish barbecue – devoured quickly in the wake of the hunger built up after a morning of salty air and activity.
The rest of the day was spent in a similar vein. Arrive at a new spot, drop anchor and pop down into the sea. There was even a secret beach – swam and waded to from the boat, the sand and silence framed by pine trees whose sharp resinous smell drifted on the breeze.
A Popular Choice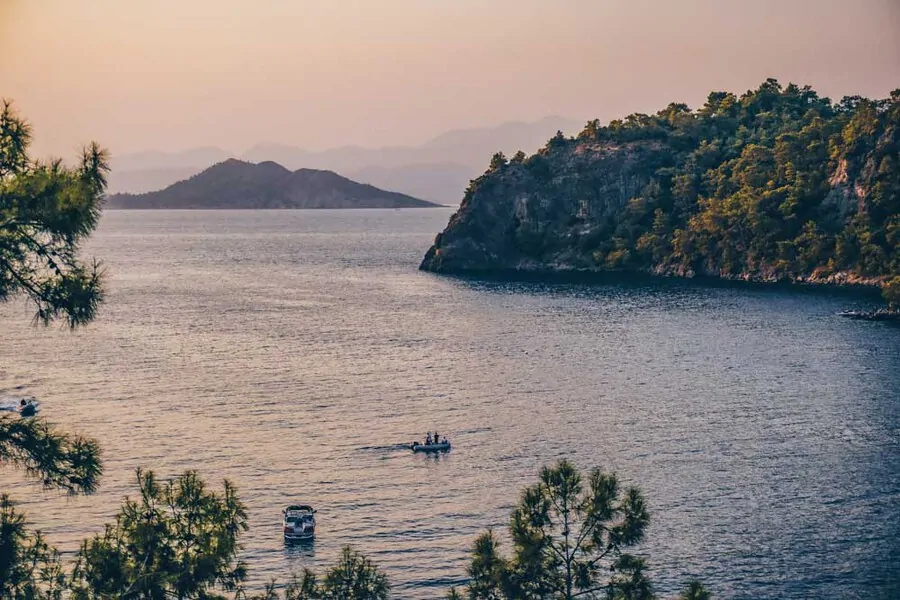 It's only fair to warn you that this hotel is popular… and I mean really popular.
If you want to book your stay, the best thing to do is to make the reservation when the hotel opens its bookings early in the year.
After this you might luck out with some last-minute availability or rooms for a stay later in the season but even that's not guaranteed: even when I stayed in September, there weren't any rooms available for the next three weeks.
Hillside's popularity alone speaks volumes.. Guests that I spoke to at the hotel came here year after year enjoying not only the luxurious hotel, but the friendly hospitality that Hillside Beach Club does so well.
Hillside Beach Club: Final Thoughts
Almost too soon, it was time to go home.
As I packed my bags, I reflected on how much I'd relaxed throughout this trip. After a few days at Hillside, I'd forgotten what it was like to wake up to grey weather, with the tension of starting your day remembering the long list of things you have to do. It might have been a temporary fix, but a welcome one.
I knew one thing though, like all those other guests I'd spoken to throughout the week I would be coming back.

Hillside Beach Club is the jewel in Turkey's Dalaman coast: a five-star luxury hotel with not one but three private beaches, it's the perfect escape away from it all.

Summer rates start from £352. Nightly rates for October 2019 start form £228. 

https://www.hillsidebeachclub.com
I was hosted by Hillside Beach Club on this trip. As ever, my thoughts and opinions are very much my own.
In Need of Travel Inspiration? Read Next
Love this? Save and Share on Pinterest