Packing for a round the world trip can be tough. We've put together a comprehensive guide to everything you need to travel the world.
When you're setting off on a round the world trip, or any long-term travels, packing can become stressful. You've got to balance wanting to be prepared with not wanting to be that person lugging an overstuffed backpack or suitcase and feeling sad because it's about ten times to heavy. I hear you.
The first time I set off to travel the world, I made every rookie mistake in the book. I overpacked, brought too much travel gear, left necessary stuff at home and nearly broke my back because my pack was just too heavy.
It all culminated in a dramatic episode in a hostel in Bangkok where I stuffed about ⅓ of my belongings into a bin (and then thought better of it and gave it to charity – the bin was clean) whilst wailing "I just can't carry this anymore. Make it end! Make it end" and everyone else in my dorm looked on in understanding pity.
Look, you don't want to be that person – that's why you're asking the question "what do I need to travel the world" in the first place. I don't want you to be that person either. So here we are.
So… What do I Need to Travel the World?
In short, you'll need…
At least a rough idea of where you're going and what you want to do
Backpack or suitcase
Daypack
Clothing
Anti-Insect Sleepwear
Travel shoes
Packing cubes
Universal adapter
Electronics
Camera
Portable battery pack
Headlamp
Inflatable Pillow
Travel towel
SteriPen
First aid kit
Toiletries
Travel Insurance
Other
Save the list for later!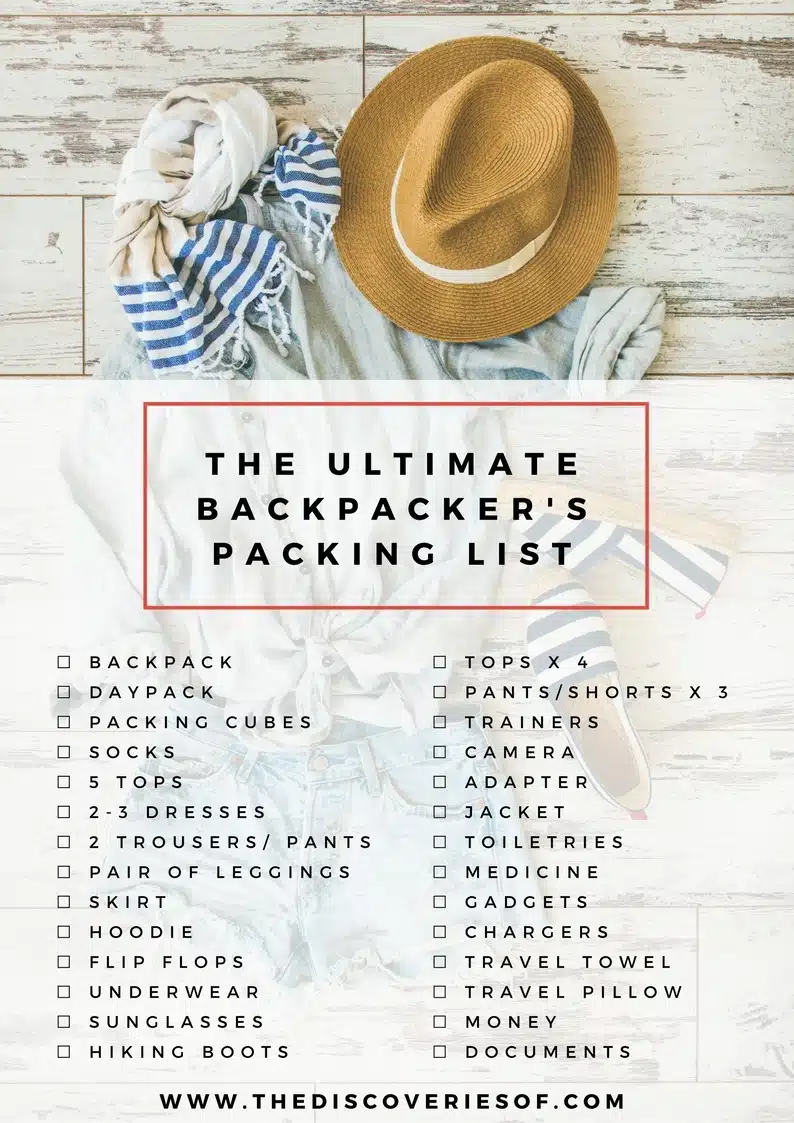 What do I Need to Travel the World: Packing List
Backpack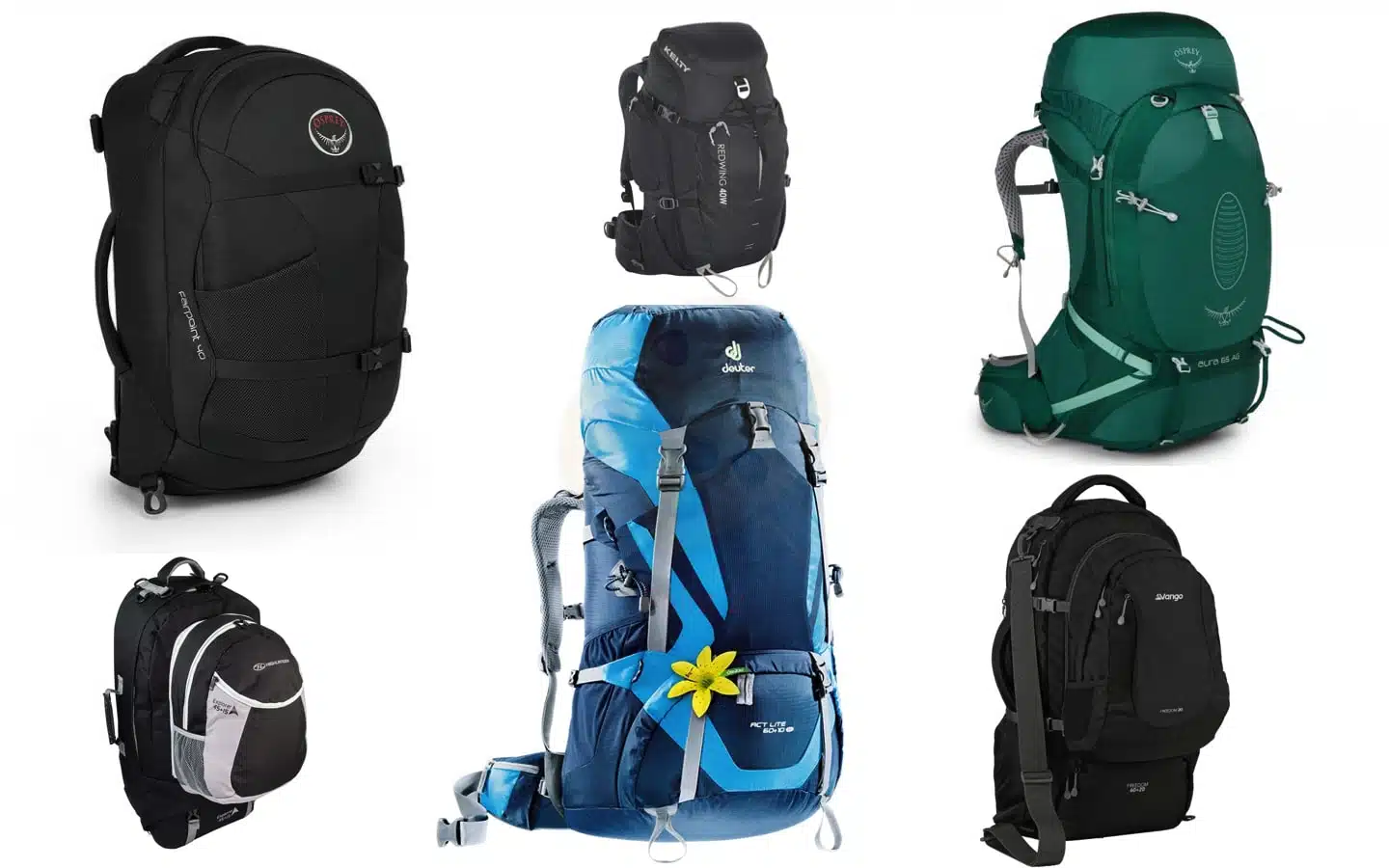 It's called backpacking for a reason. You'll need a backpack to pack away your necessities but that allows you to move around freely. I know that they make you look a bit like a snail and they make you walk a bit like a turtle, but trust me, you're going to be grateful you're not that person trying to drag their wheelie case down the beach.
Choosing a backpack is a difficult task – if it's your first time, you should go into an outdoors outfitters and get them to measure you up and make a few recommendations. You might want to opt for a carry-on size backpackcarry-on size backpack if you are taking lots of flights.
If you aren't convinced by the whole backpack idea and are set on being able to wheel your luggage around, may I present… the wheeled backpack. We've reviewed our favourites – take a look.
If you're going for a straight-up backpack, I'd pick the Deuter ACT Lite – the backpack's Aircontact system allows the bag to adapt to the traveller's back and hold the load towards the center of gravity. Along with its uncluttered layout makes it the perfect bag for those travelling for a long period of time.
The Deuter ACT Lite has plenty of pockets making it easier to access your belongings (nobody enjoys pulling out everything from their bag to look for a pair of socks). Click here for a full review of the Deuter ACT Lite 60+ 10 SL and more travel backpacks
With so many pockets, I'd also recommend also getting a combination lock to keep your items a little safer.
Daypack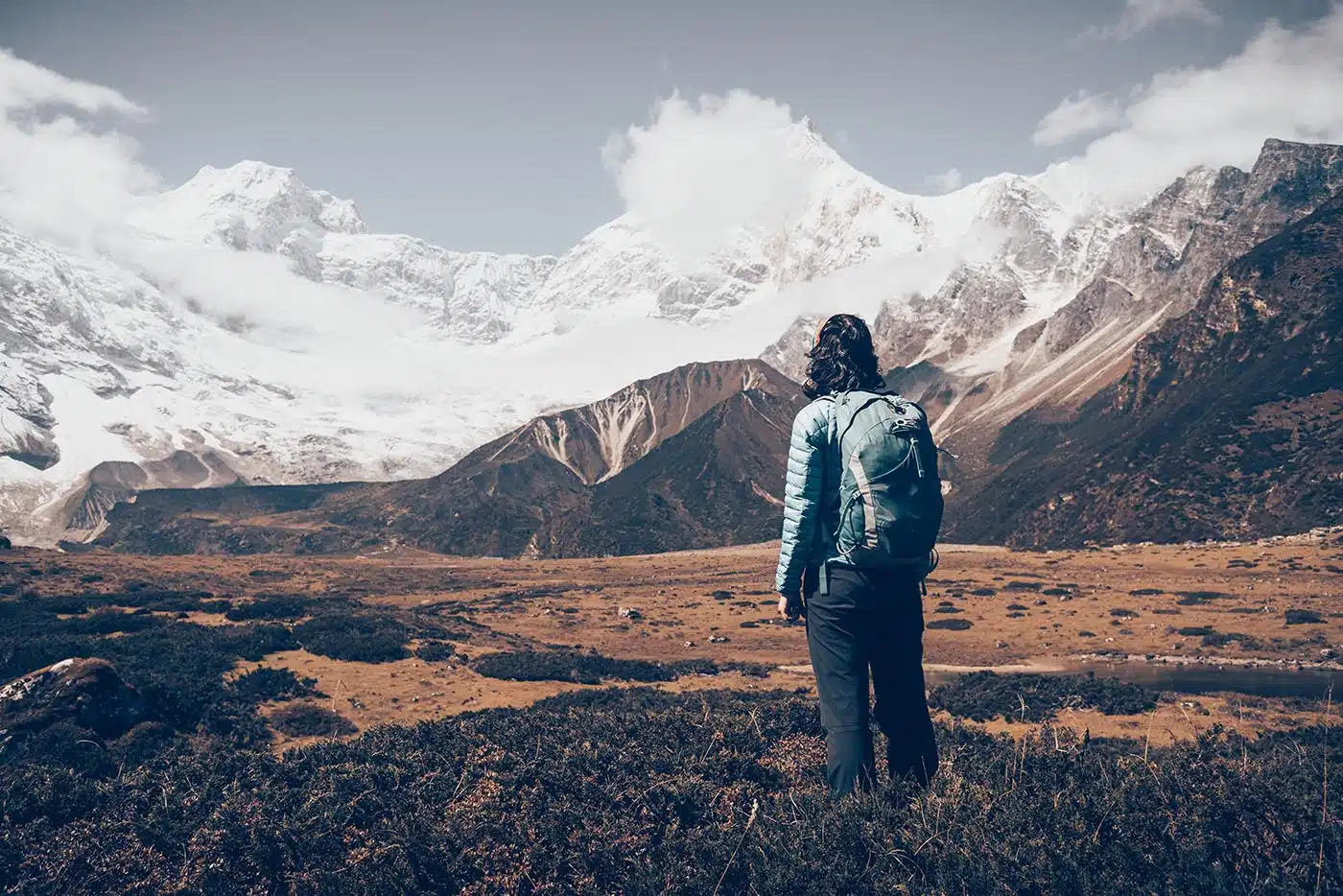 A comfortable and durable daypack is a must on your travel packing list for carrying your belongings around in on those blessed days where you're not in transit and can dedicate yourself to having fun and exploring the destination.
The Fjallraven Kanken is stylish, practical and comes in a rainbow of colours, ready for you to pick your favourite.
Travel Clothing
Remember where I said at the beginning that you'd need a rough idea of where you want to go and what you want to do when you travel the world?
Well yeah, it's kind of obvious but you can't pack for every single eventuality so a little bit of planning will help you out (I KNOW, I'm such a killjoy, just raining on that parade every single day).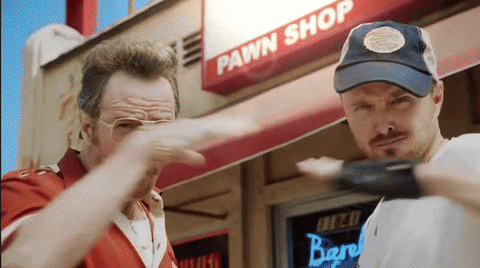 Why the GIF? Why not?
To help you out a bit, I've broken things down into hot climates, cold climates and err, stuff you just need in any climate. I'm not going into specialist activities because this post would never end if I did.
One complete game-changer has been We Drifters' Anti-Insect Sleepwear, which is cosy AF and stops you from getting nibbled in the night. Sounds great right? It is. Read my full review.
Essential Travel Clothing (irrespective of climate)
A light jacket – should be waterproof. 3 in 1 jackets are a good option for versatility and comfort.
Socks
5 Tops of differing sleeve lengths and thicknesses
2-3 Dresses
2 pairs of trousers or travel pants
A pair of leggings
A skirt (if you want)
Hoodie
Underwear
Clothing for Warm Climates
Lightweight trousers
Shorts
Long skirt
Flip flops
Protective hat
Swimsuit or bikini
Clothing for Cold Climates
Beanie
Fleece
Thermal Base Layer
3 Long-sleeved mid layers – flannel shirts etc
Thick socks
Gloves
Buff or Neck Gaiter
PS I know you're going to look at this and get all "you forgot jeans" in my face. I didn't. I think they're pretty heavy and I don't like walking around all day in them, plus they're a pain to dry but if you disagree, it's your call.
Read more: Packing List for Hiking the Torres del Paine
Travel Shoes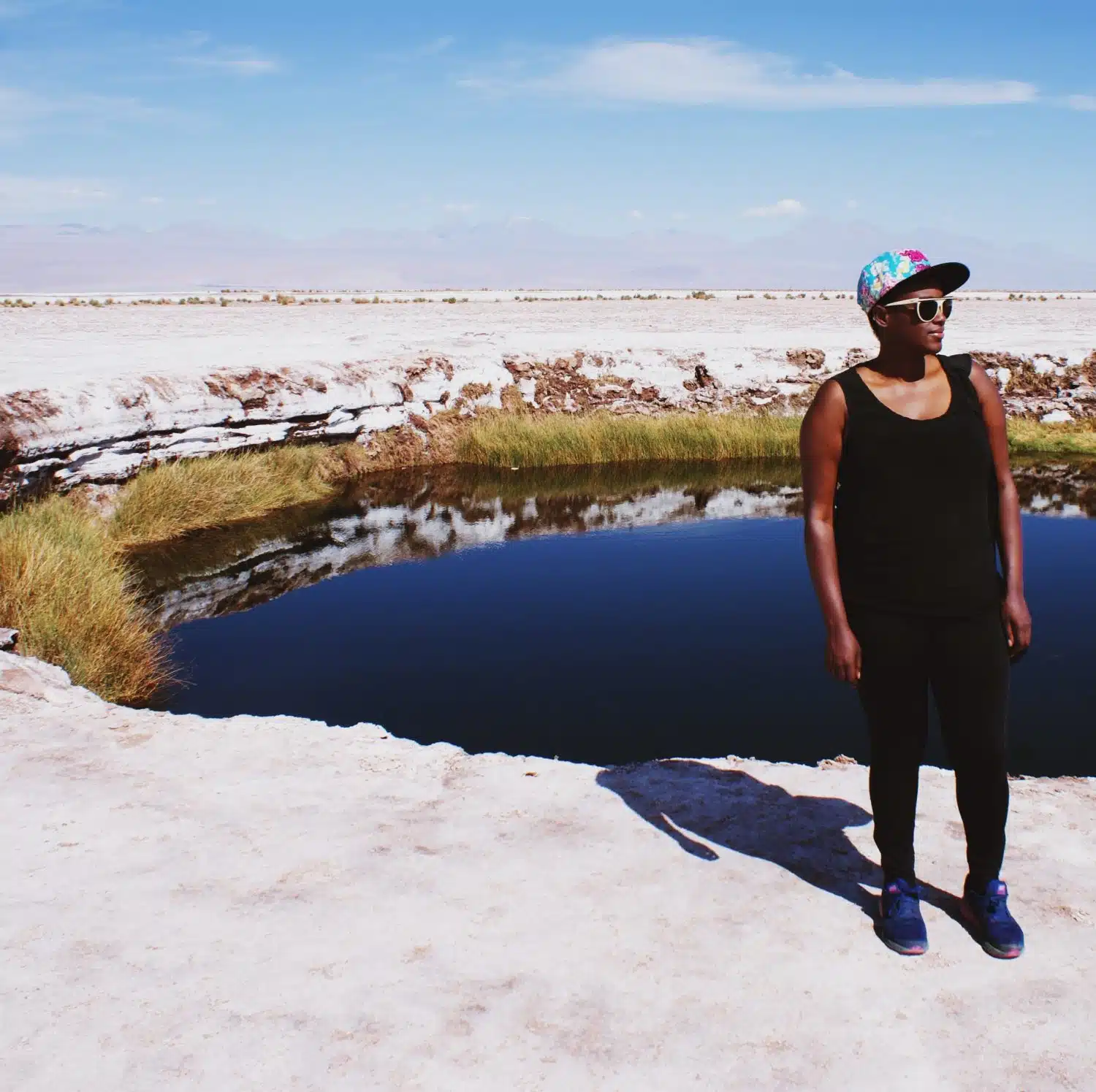 OK, so your first question when it comes to travel shoes is… form or function? To which your answer should be function. You won't care how good your shoes look as you travel the world when your feet are covered in blisters and you can barely walk – that's the straight up truth.
Nothing beats a pair of lightweight trainers that can also stand up to being walked around in all day or even a bit of easy-terrain hiking.
New Balance make some comfortable women's trainers. They're pretty sturdy and not too bulky either. If you're travelling to warm climates, Birkenstocks are great (break them in at home before you go).
Obviously, if you are planning on doing a lot of hiking, a good pair of hiking boots is a must. I've had my Berghaus Expeditor AQ Ridge boots for a while and they've always been reliable as well as being lightweight. I've used them to hike the Torres del Paine, scale mountains in the French Alps and bag some peaks in the Lake District and they're still going strong.
It's super-boring but you'll also need a pair of reliable socks. Smartwool socks keep your feet cushioned and comfy.
Read Next: The Best Travel Shoes for Women / Men
Packing Cubes
What did we do before packing cubes? Well, every time you emptied your backpack, it was like boom – your clothes are everywhere. Everywhere. Sounds fun doesn't it? It's not.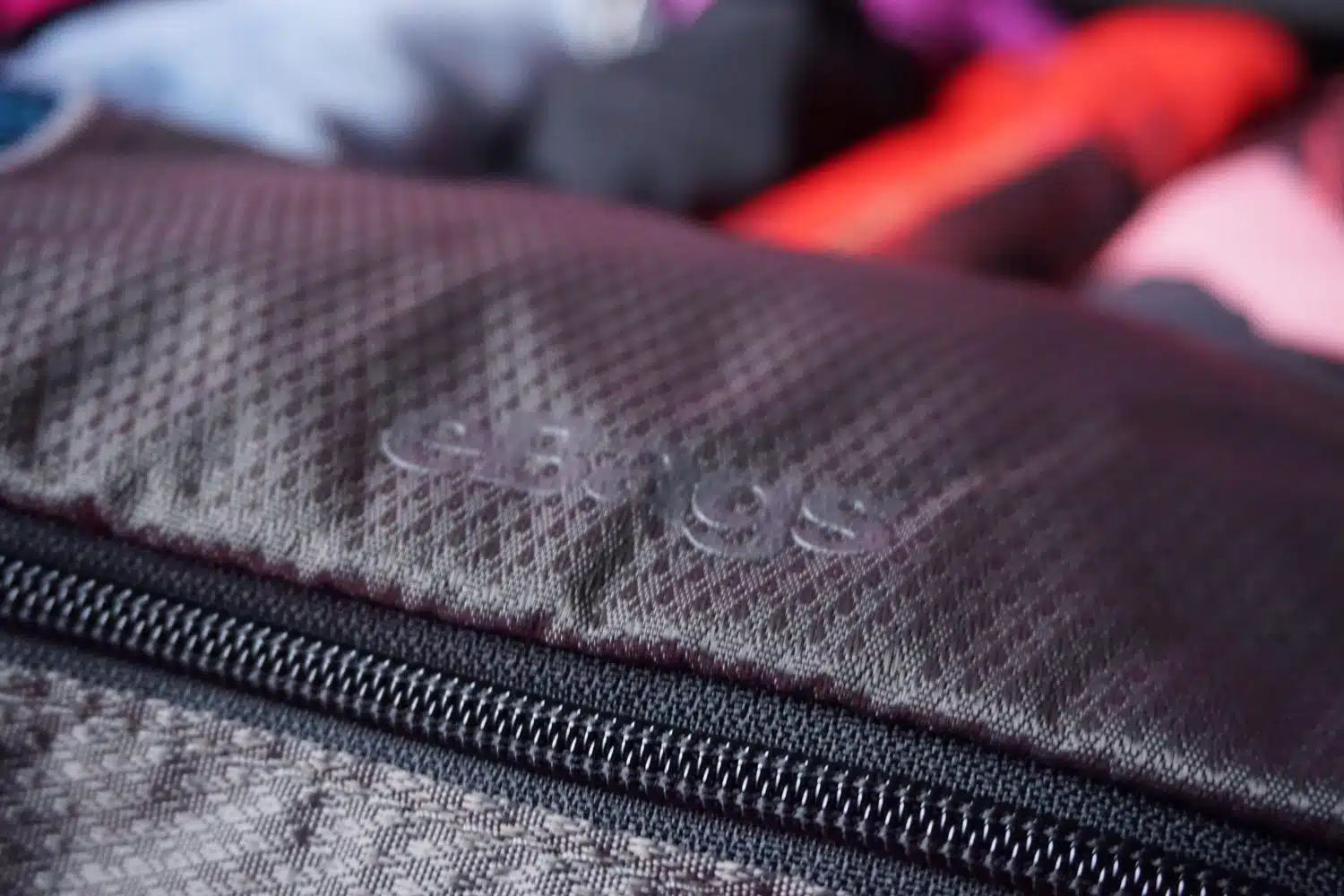 This is where packing cubes come in. Easy to use and convenient, packing cubes help you organize your belongings so you're never stuck emptying your entire backpack or suitcase to find a pair of socks.
I use these eBag packing cubes – they come in a bunch of snazzy colours (I opted for plain old grey but knock yourself out). If you're super organised, you can put one together for each day of the week, in which case you'll need more than four (duh) – you'll also be able to revel in your superior packing skills.
Read more: The Best Packing Cubes
Universal Adapters
Technology makes the world go round, even when you're travelling. As we become ever more reliant on laptops, mobile phones and cameras, being able to plug in wherever you are is ever more important.
A universal adapter saves you from having to pack loads of different adapters – simply adjust the adapter to suit whichever country you're in and you're good to go.
Read our full guide to the best universal travel adapters.
One of the best universal travel adapters on the market is the BEZ Worldwide Travel Adapter. This adapter works in over 150 countries and allows you to charge two devices at once.
Electronics
I travel with my MacBook because I need it for working on the fly. If I didn't, would I have a laptop with me? Probably not. If you don't need a laptop with you, I wouldn't bother bringing one. If you do, you'll want to make sure it's a) light and b) insured.
Obviously everyone has their phone with them wherever they go (Instagram would shrivel up and die a much-welcome death if they didn't). Speaking of which – why don't you follow me on Instagram for more travel inspiration
Kindles are great if you like to read but aren't down with carrying the weight of a not small child in books. Plus, it means you're not restricted to the sometimes alarmingly rubbish selection available at the book swap shelves.
Camera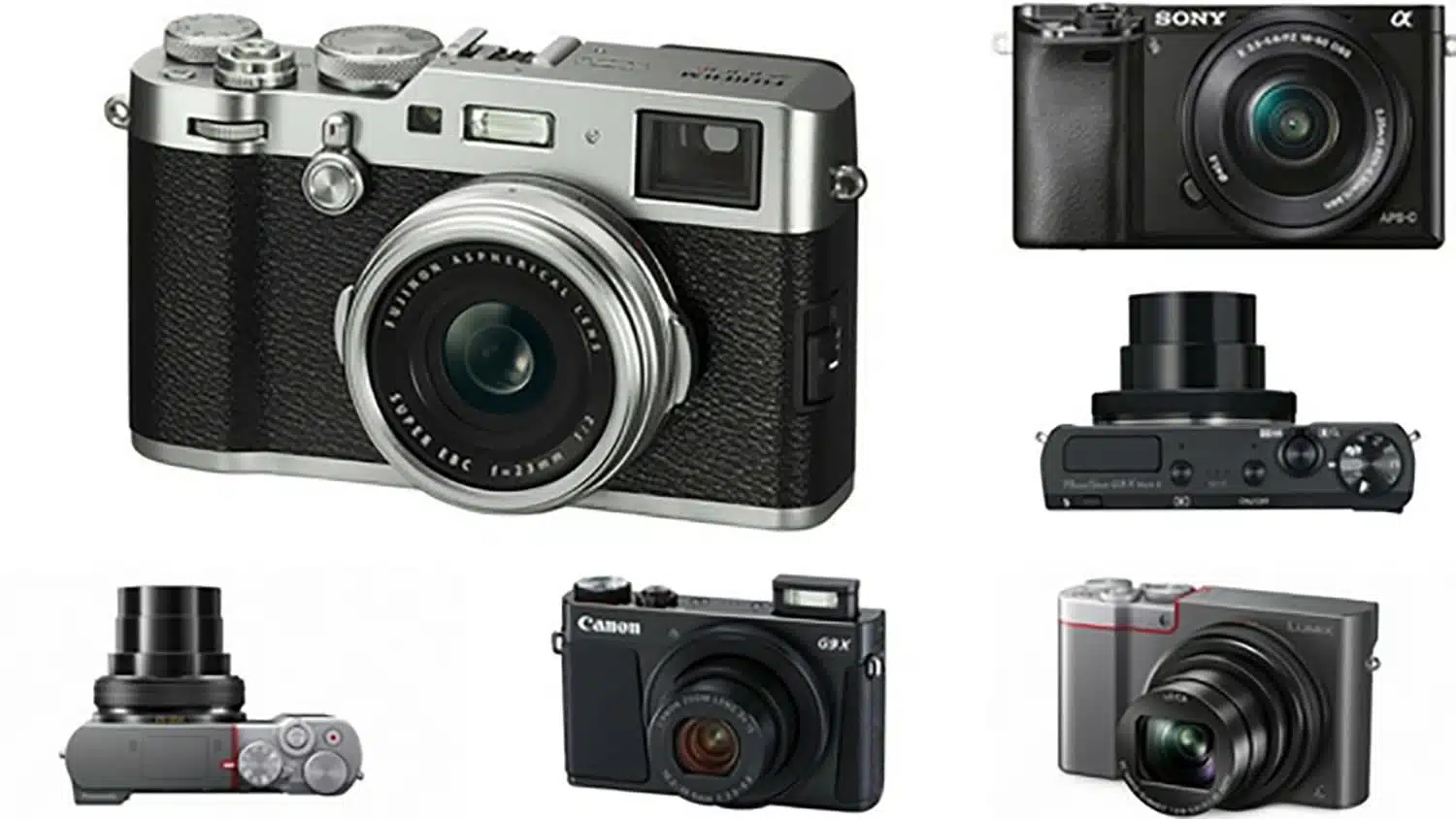 Phones are great but a good travel camera will help capture those photos you can keep going back to time and time again. You'll appreciate it, particularly when you're back from the trip and sitting at your desk on a bleak day.
As a keen photographer, I've tried and tested so many travel cameras (and written a full post about it). The Sony A6000 Mirrorless Camera is what I travel with.
If you would prefer a compact, the Canon PowerShot G9 X Mark II is a great option for high-quality photos from a tiny camera.
Portable Battery Back
Even with the best intentions in the world, you are going to run out of juice from time to time.
Bring a decent battery pack that can charge your phone a few times for long flights and bus journeys. I use an Anker one – it can charge an iPhone seven times from one charge.
Headlamp
The headlamp is the new and improved flashlight. This travel essential gives you hand free access for about anything from reading a book to camping.
One of the highest rated headlamps on the market today is the Petzl Tikkina Headlamp. This headlamp will come in handy if you find yourself off the beaten path or stuck in a power outage.
Inflatable Pillow
I've been in relatively nice hotels where the pillows are trash and definitely more than a few hostels where I'd say the same.
Did I get all teary about it? Nope, I had my own inflatable travel pillow so normal sleeping (snoring) could resume. Definitely a must if you plan on doing any camping too.
Travel Towel
Ain't nobody got the time for their massive (heavy) towel to dry before packing it into their luggage. In the dark old days when you used to have to travel with a full-sized bath towel, it was pretty grim. Towels are heavy. They also smell if you don't leave them to dry properly. They smell really gross. Along came microfibre and we rejoiced.
To be honest, there are many travel towels I've heard people swear by it's kind of up to you which one you opt for. Want a few ideas? You can read our travel towel reviews here.
The microfibre quick dry towel by Mountflow is a traveller's best friend, especially those wanting to jump in the water or wipe away the sweat. The Mountflow travel towel dries within minutes after laying out in the sun. If you don't have time for that, no worries – pack the towel in its mesh bag where it'll dry just as quickly.
SteriPEN
Staying hydrated can be tough in some places. Traveller's belly is real and distinctly unpleasant. It's useful to have a SteriPEN with you for situations where you're not sure about the water. It only takes about 30 seconds for it to make your water clean and fit for consumption.
Collapsible Water Bottle
A reusable water bottle is a must for any traveller remotely interested in sustainability (that should be all of you). Just make sure you are sterilising your water or refilling from a reliable source.
I know I've referenced traveller's tummy a few times guys but really, that's a rollercoaster you really don't want to ride if possible.
First Aid Kit
I'm not saying going full Emergency Room here and pack a hospital in your pack, but a good travel first aid kit can be worth its weight in gold.
You should add the following where appropriate:
Prescription medications – (stock up on the pill, it can be hard to find)
Malaria Tablets
Ibroprufen/ paracetamol
Rehydration sachets
Toiletries
Being smelly won't help you to make any friends on the road. Cleanliness is godliness and all that jazz.
Travel Insurance
Ah insurance. SO MUCH FUN. Whether you like it or not, things can go wrong when you're on the road. Those things can be relatively trivial, like a flight that's delayed by 2 hours, more serious, like lost luggage or very serious – ending up in hospital for example.
I just don't think it's worth the risk of travelling without insurance – you might save a few pounds in the short run but it could cost you thousands of pounds (no exaggeration) in the long run.
If you buy annual insurance and are travelling for longer than a month, just watch out for the maximum trip length you're insured for. Some providers only insure you for trips of up to 30 days, others 45, others 90 – make sure you know before you purchase.
Other
You'll also want to bring
That's it! You're ready. Go forth and travel my little chicks, it's time to fly the nest.
Anything I've missed? Let me know in the comments below.
Save and share on Pinterest