Ready to flop onto the best beaches in Antigua? Here's where to head for sun-soaked bliss.
I'm not exaggerating when I tell you there are some seriously amazing beaches in Antigua.
There really are enough beaches on the island to tick one off your calendar every day of the year. Sounds great in theory, but I'm guessing you only have a week or two to explore them on your Caribbean trip, so let's narrow them down a bit.

Ready to learn about the best beaches in Antigua? Grab your sunglasses and swimsuit, and read on.
Best Beaches in Antigua
Ffryes Beach
Best for a Lazy Day at the Beach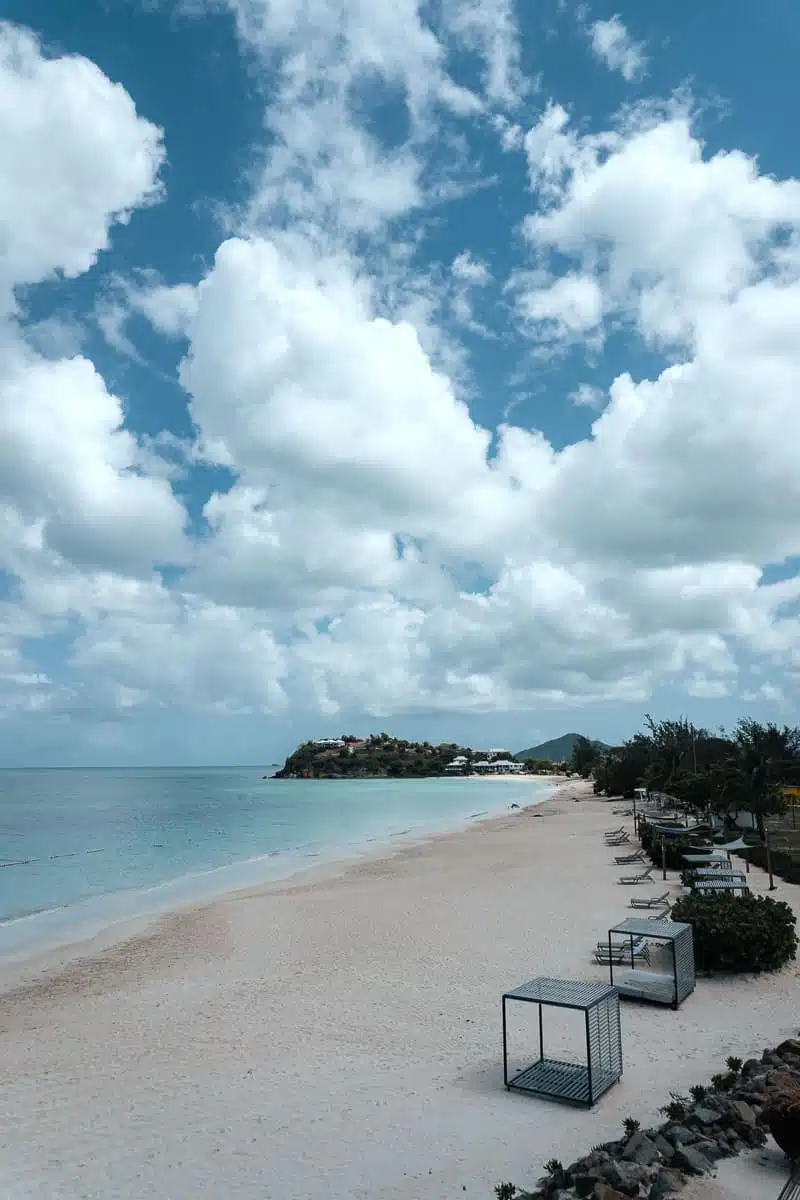 When you think of the best beaches in Antigua, Ffryes Beach is likely a name you may have heard of. And for good reason.

If it's your first time learning about this stunning beach nestled along the Caribbean Sea, you won't want to miss Ffryes. Silky white sands, crystal clear waters, and endless sunshine make this an archetypal Antigua Beach with a little something extra.
Top Tip: Keen to grab a cocktail or lunch? Dennis Cocktail Bar & Restaurant is a gorgeous beachside hangout with laid-back vibes and some incredible Antiguan food. Don't miss the curried conch or goat.
Darkwood Beach
Best for Epic Views From the Beach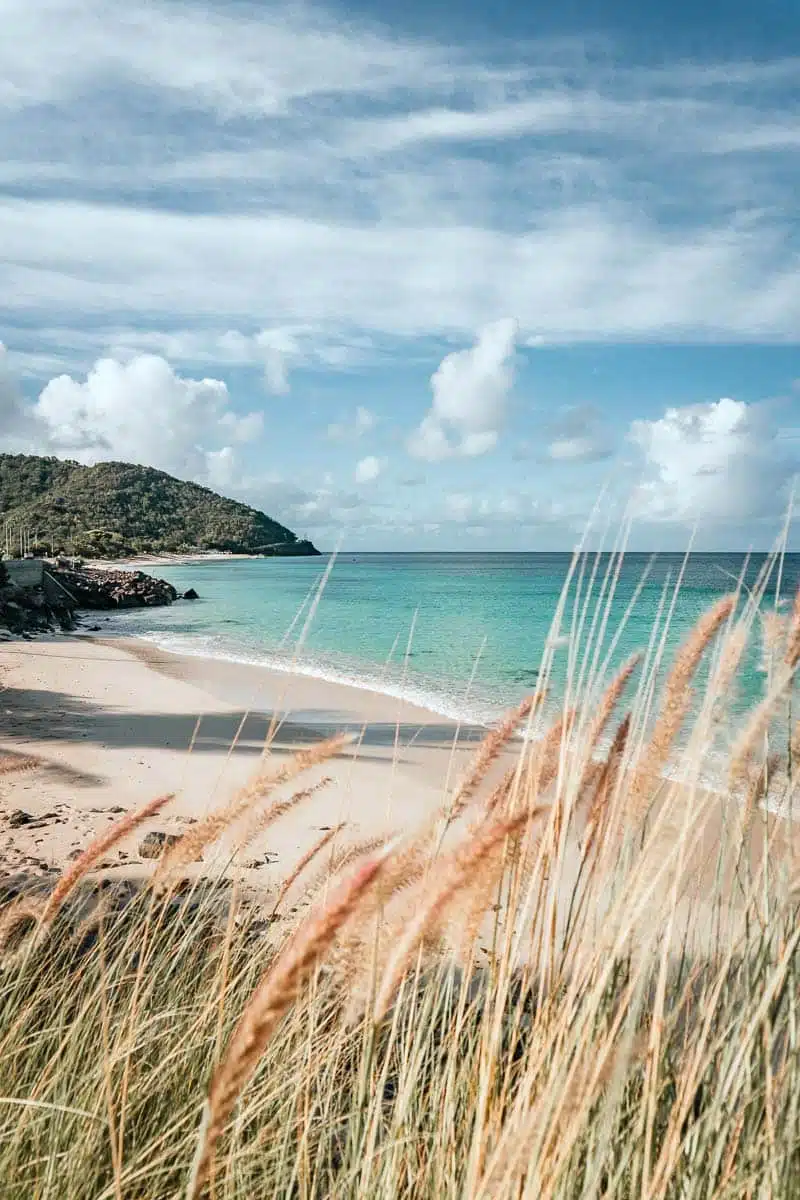 Look at a map of Antigua beaches, and you may notice that next to the well-known Ffreyes sits Darkwood Beach. Don't overlook this one. It's worth a visit.

While there is some pesky background noise from the nearby road (it's really not that bad as it's quite quiet), the views more than make up for any interruption you get while laying on your blanket in otherwise total serenity.

There are truly incredible views of the rainforests and mountains nearby when you peer past the rocky coastline and cerulean waters.
Top Tip: Look closely, and the gorgeous island of Montserrat announces itself proudly. Magic.
Half Moon Bay Beach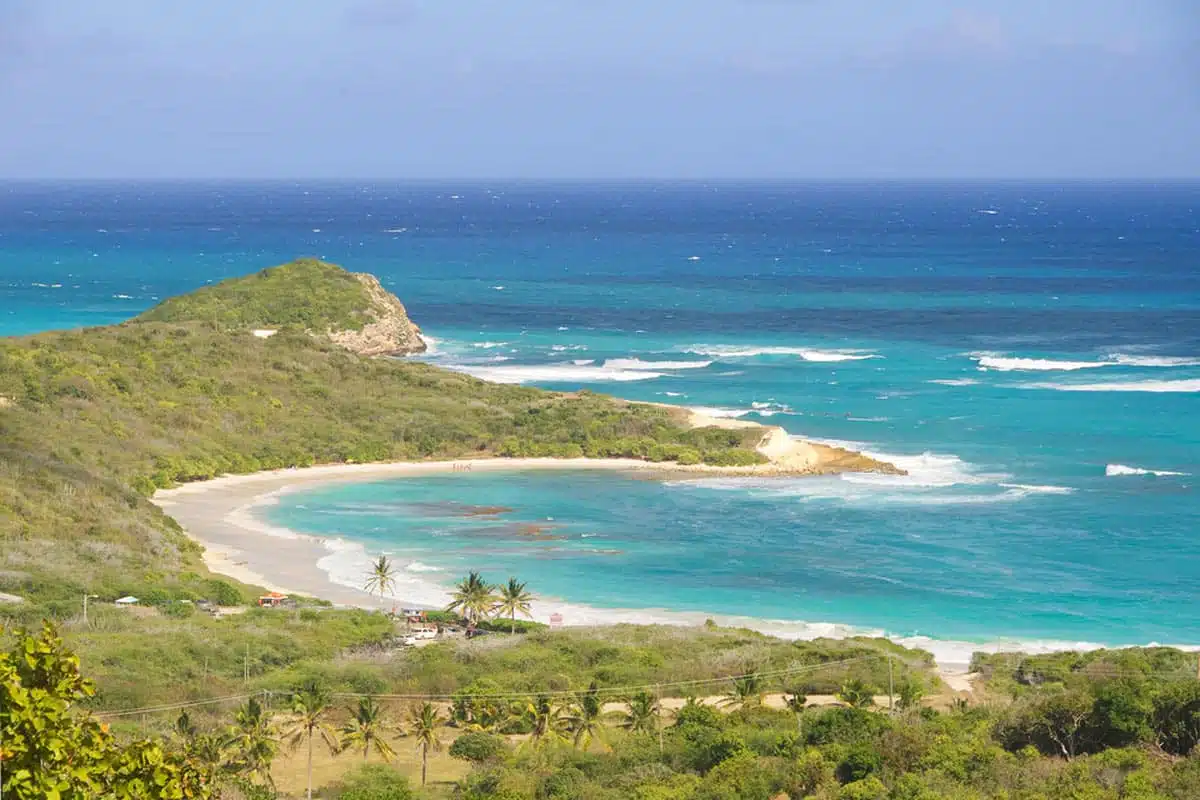 Best for an Antigua Beach on the Atlantic Ocean

Want to find beaches in Antigua that are a little more off the radar? Half Moon Bay Beach may not technically be a secret, but since it's located on the far eastern side of the island (away from many of the Antigua resorts), it sometimes feels like it.

You'll be sharing the sands and surf with fellow tourists, but the idyllic setting, epic windsurfing conditions, and beautiful Atlantic Ocean views make this a popular spot for a lazy day away from the hustle and bustle.
Top Tip: Arrive in the morning as it's a long trek from most hotels and Airbnbs in Antigua.
Dickenson Bay Beach
Best Antigua Beach for All the Amenities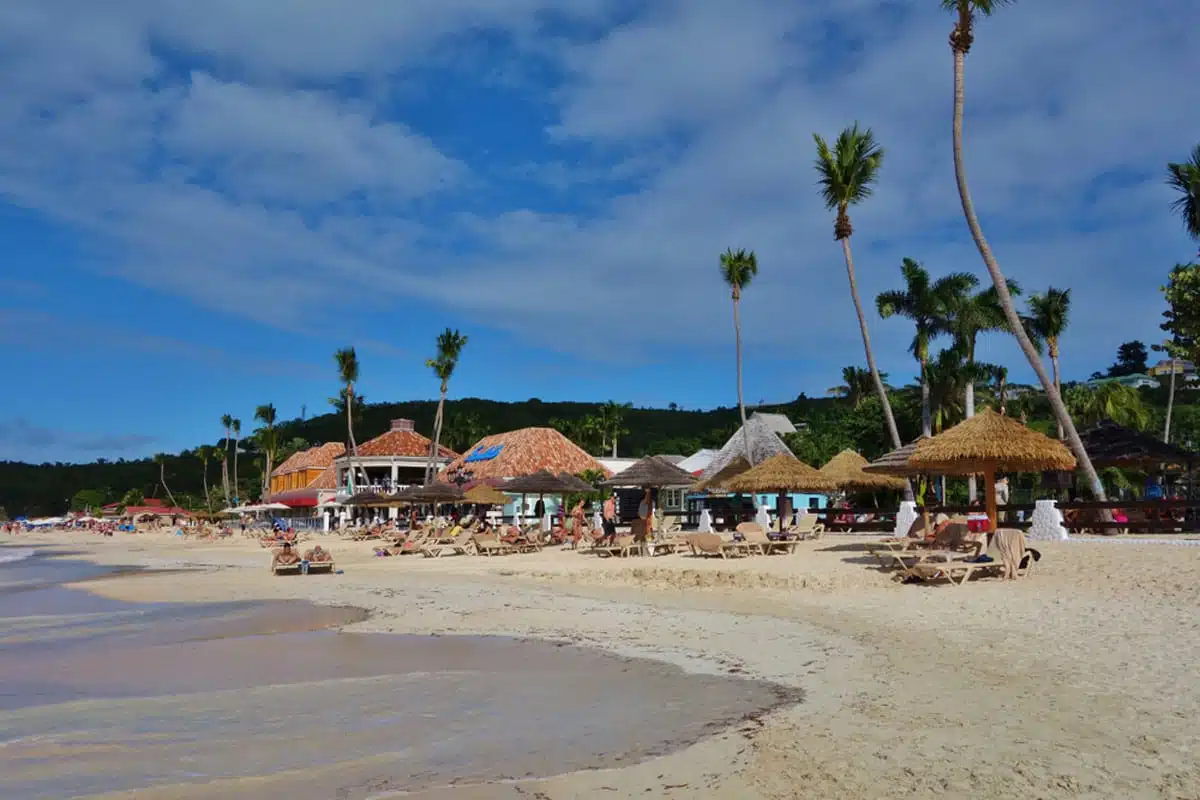 Planning a Caribbean holiday often involves finding the best beaches to soak up the sun, relax, and mellow out.

But there are also those moments when you want to let loose, party, and have a good time. Dickenson Bay Beach is much the latter, so skip this one if you're trying to find a secluded slice of paradise.

This is one of those Antigua beaches where you can find almost anything you're looking for, including beach loungers, great lunch or dinner spots, and water sports equipment rentals.
Pink Sand Beach
Best Beach for Memorable Photos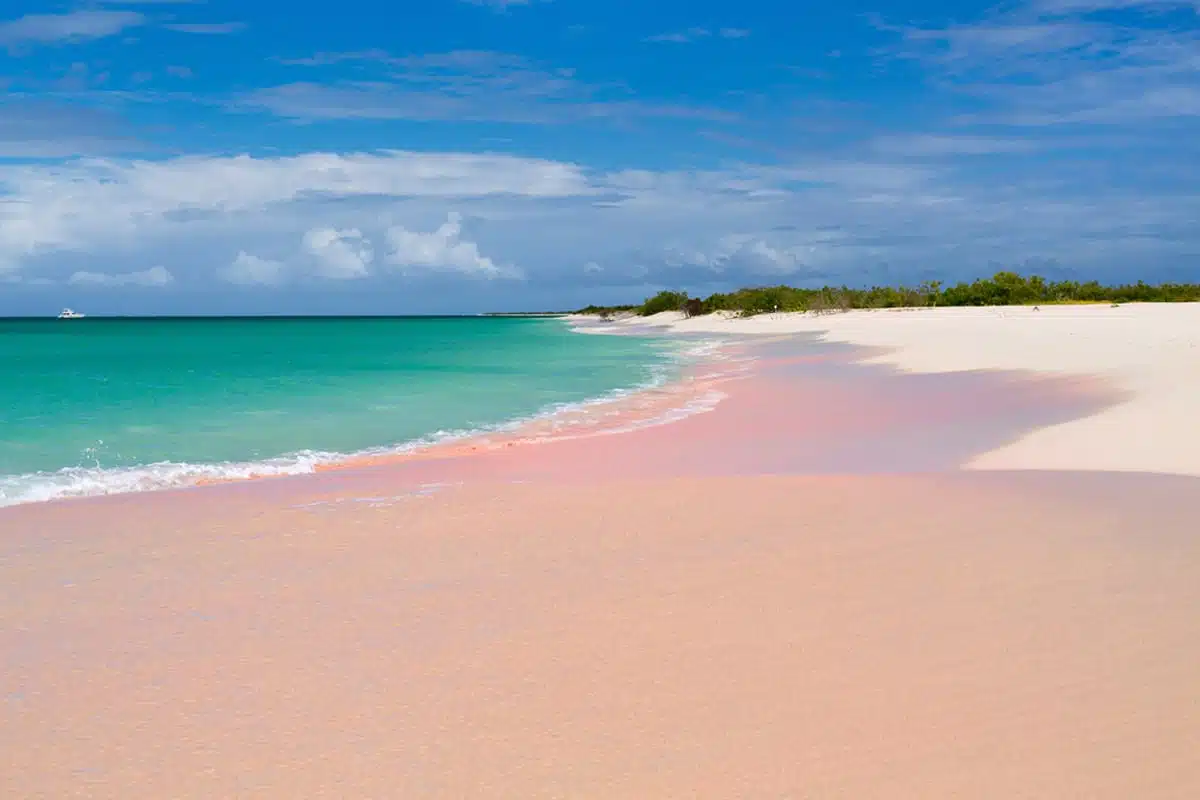 OK OK, this is in Antigua's sister island Barbuda but when you travel to Antigua, you should schedule a ferry ride over to see the gorgeous Barbuda , which is packed with beaches and has very much the laid-back vibe of a small island next door.
While you're there, Pink Sand Beach is a must-see, and it's just a short walk from the Barbuda Express Ferry.

Due to millions of tiny pink shells along the beach broken down into tiny particles, the beach becomes a brilliant pink colour for several months out of the year. It's one of the most famous Antigua and Barbuda Beaches.
Top Tip: The pink sands are generally most visible from about October through February.
Prickly Pear Island
Best for a Beach on a Private Island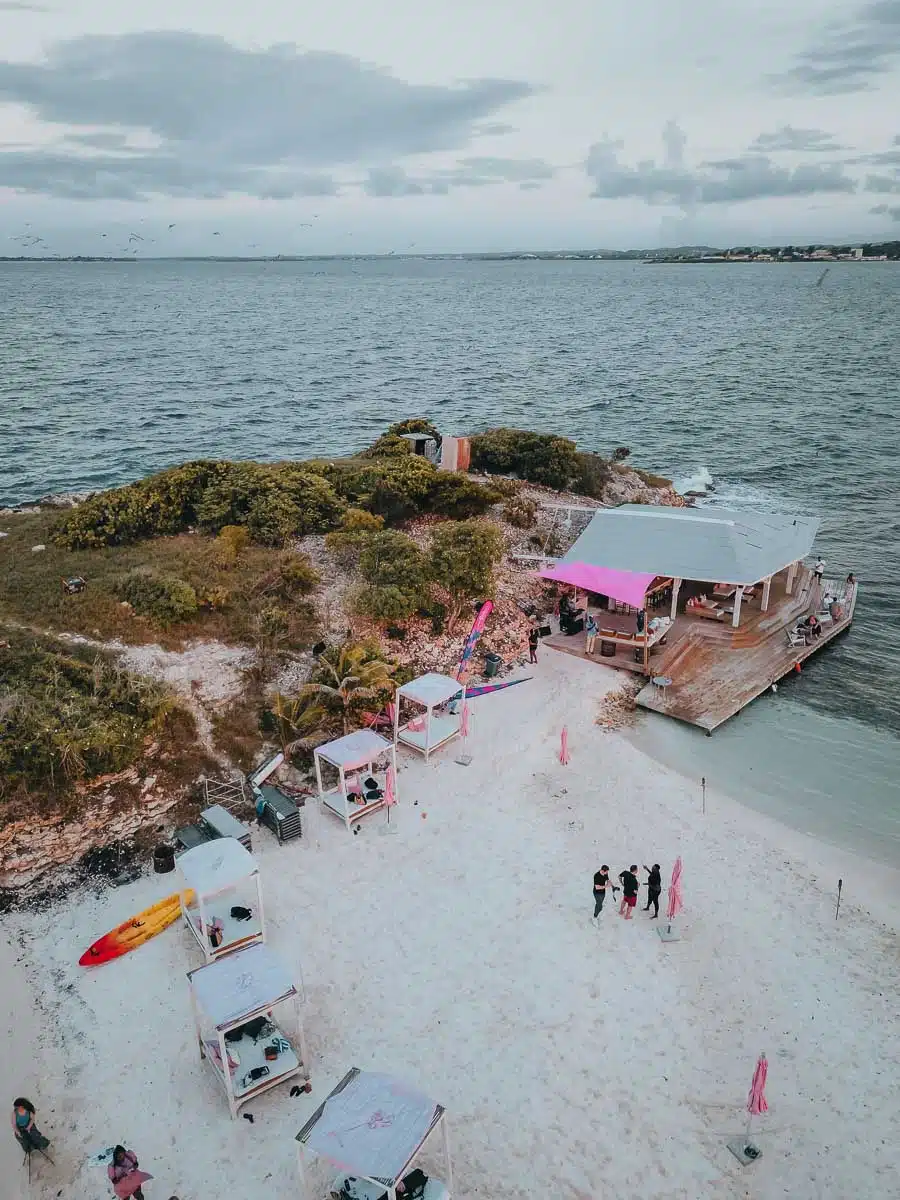 Ok, I know you may wonder why I've included an entire island on this list, but hear me out. The tiny 50 m x 50 m island is famous for its white sands, shallow waters, and epic snorkelling adventures.

Take the charter boat from Hodges Bay Resort & Spa (you don't need to be a hotel guest) and see why this tiny deserted island isn't just a novelty. It's home to one of the best Antigua beaches for swimming with rays, sea turtles, and coral.
Top Tip: There's a private bar on the island, which is a perfect way to wind down after a day out on the water and a fun place to meet others if you're travelling solo.
Carlisle Bay Beach
Best Beach in Antigua for Chill Island Vibes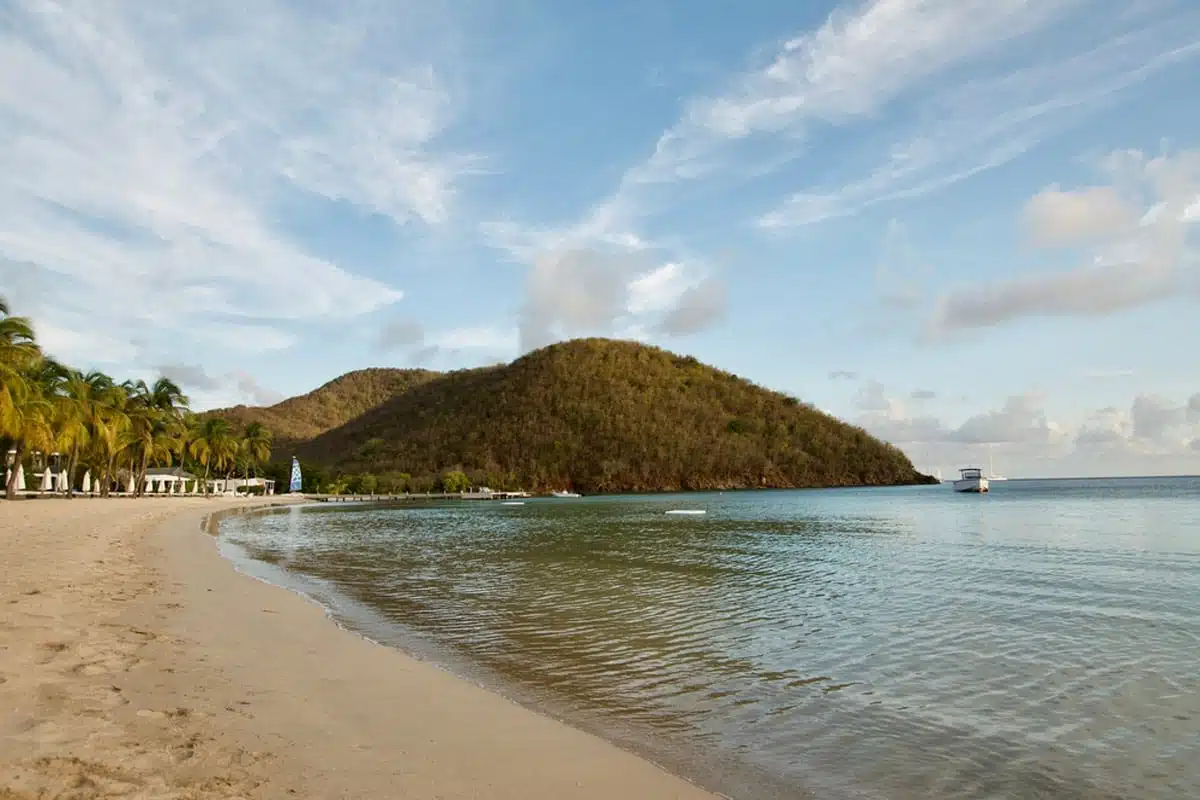 Located next to Carlisle Bay (one of the best hotels in Antigua), is the stunning Carlisle Bay Beach. While technically part of the resort, you can access it for free. You just need to look for parking.

It's a wonderful place to have a quiet afternoon on a secluded beach in Antigua and enjoy the soft sands, clear-blue waters, and wide-open sunshine.

If you're staying at the hotel, you'll have access to complimentary paddle boarding, kayaking, and sailing. But trust me, it's one of the best beaches Antigua offers, whether or not you're staying here.
Galley Bay Beach
Best Beach Near St. John's Antigua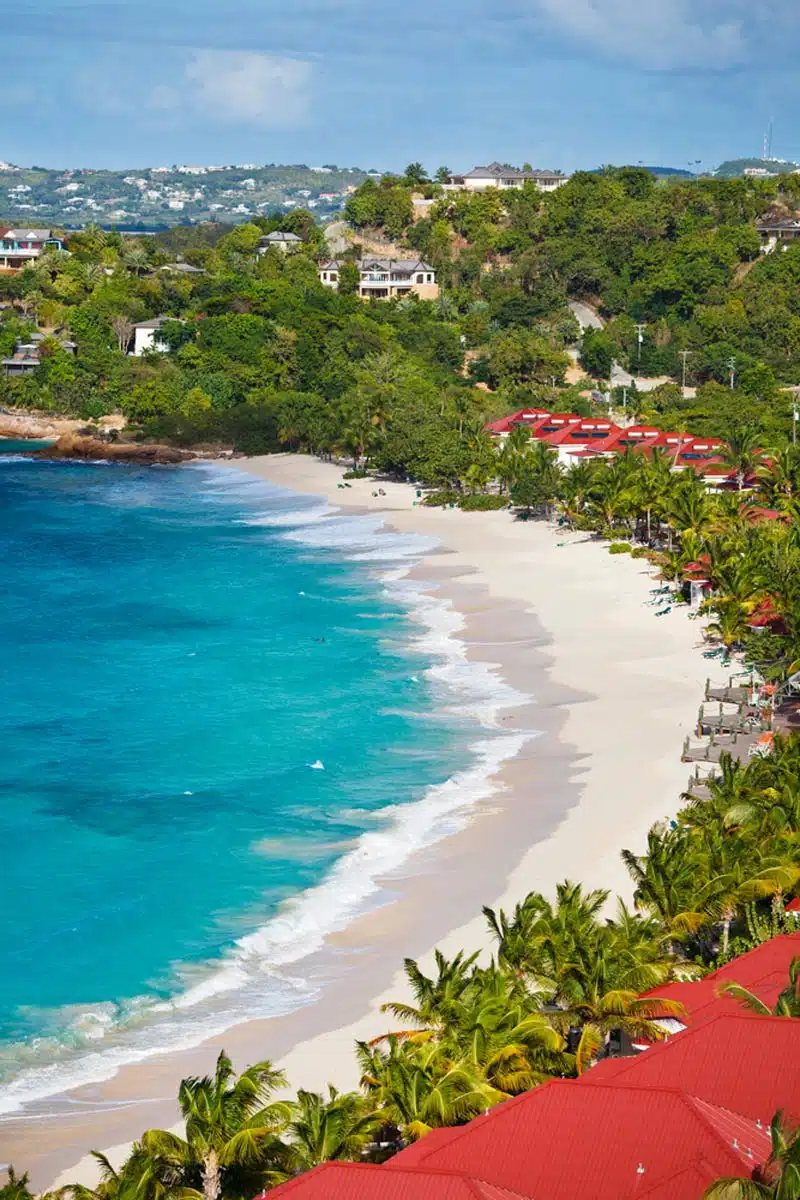 If you're meandering the streets of St John's for an afternoon of shopping, dining, and drinking (you should), you might want to free up some time to head over to Galley Bay Beach.
Why? The small beach is tucked away from all the nearby action of the city and is home to some excellent snorkelling and swimming.
Top Tip: It's not as crowded as you may think due to its somewhat secluded location.
Palmetto Point
Best Beach for Surfing
Antigua isn't necessarily a surfing hot spot. But the best beach in Antigua to surf is actually in Barbuda, and it's somewhat of a local (and international) legend.

Palmetto Point is a world-renowned location famous for its wetlands and mangrove forests, white sands, and nearly picture-perfect waves that shows up from time to time throughout the year.
Top Tip: Don't miss this if you're a serious surfer (it rivals legendary waves in Portugal and California), as it sadly may no longer be public pending an ongoing lawsuit.
Valley Church Beach
Best for Picture Perfect Views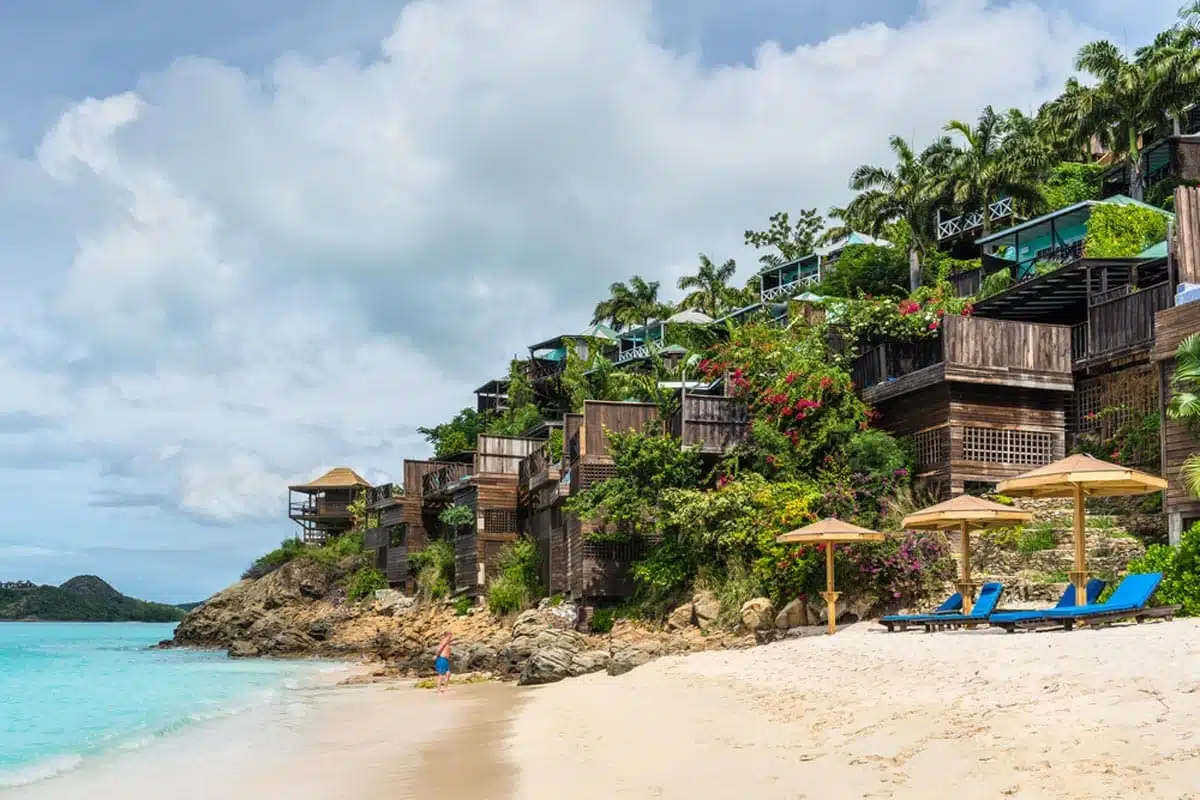 Sometimes all I want when I head to a beach in the Caribbean is to lie down, look out, and appreciate the ocean's natural beauty.

Valley Church Beach satisfies that longing and some and is a great place to forget your troubles, if for an afternoon.

The central location near Jolly Harbour gives you easy access to water sports rentals, delicious Antiguan cuisine, and tropical sundowners. Need anything more? I didn't think so.
Fort James Beach
Best for a Beach Near the Cruise Port in Antigua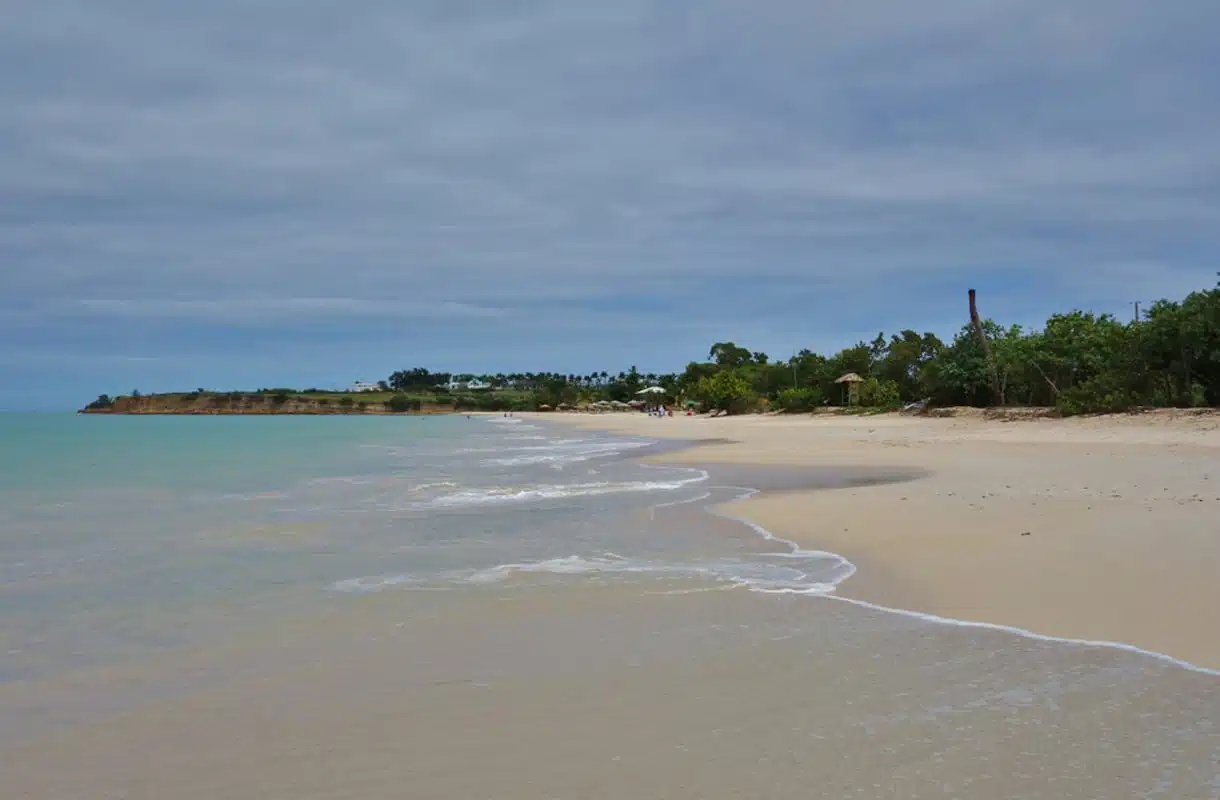 Taking your first cruise through the Caribbean? If you dock in Antigua and Barbuda, you'll be close to one of the top beaches Antigua offers at Fort James Beach.

What makes this a great choice if you only have a few hours is its proximity to the port. The location makes it an easy beach to access, but it somehow feels surprisingly remote.

There are prettier beaches in Antigua, but if you only have a couple of hours to see what the best beaches on Antigua are like (before returning to the seas), you could do a lot worse.
Mermaid Gardens
Best for a Beachside Hike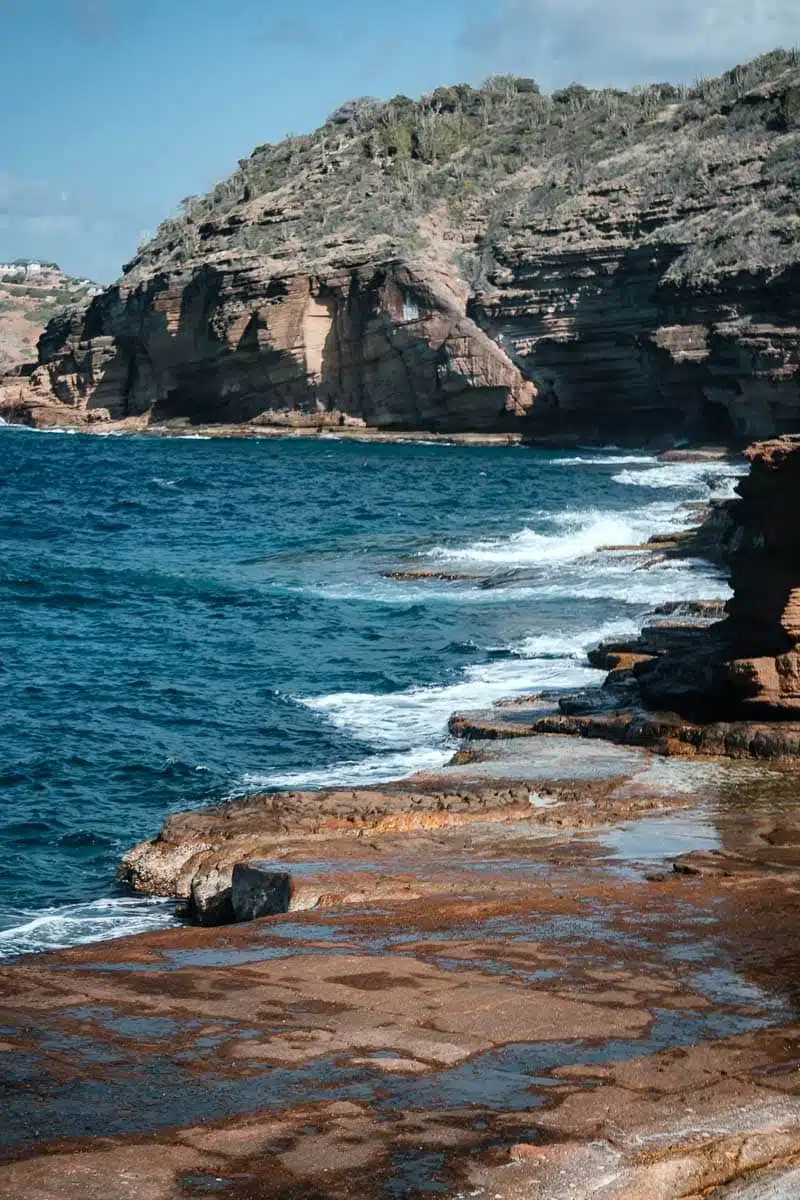 Technically not a beach as much as a series of idyllic rock pools, Mermaid Gardens is a can't-miss seaside spot on your trip to Antigua.

Hike in from Shirley Heights or Galleon's Bay and see why the gorgeous ocean bluffs and rocky tide pools are a must-see on your trip to Antigua.
Runaway Beach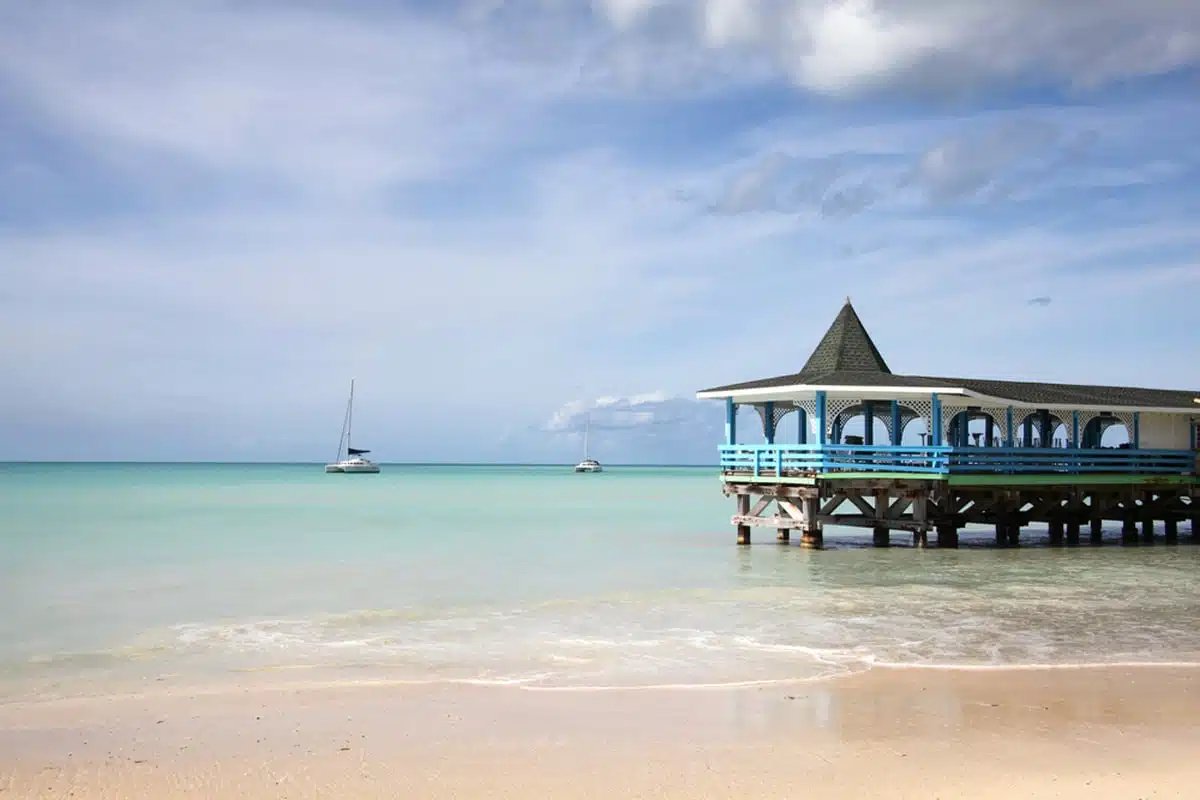 Best Antigua Beach for Clear Blue Waters
One of the reasons the best beaches Antigua Map is a bit tough to wrap your head around is there are just So. Many. Amazing. Beaches.

Good problem to have, and all that, but Runaway Beach stands out because it's close to many of the top things to do in Antigua, yet the waters are as clear blue as the sky.
Top Tip: Drop your beach blanket, kick off your shoes, and appreciate the finer things in life, like the silky white sands.
Practical Tips for Exploring Antigua's Beaches
Although many are located on resort properties, Antigua's best beaches are public. You may need to park elsewhere and walk in, but don't be intimidated by the location if you're not staying at the hotel.
The perfect time of year for the best beaches to visit in Antigua is shoulder season in November or May when the weather is nice, and peak tourism hasn't picked up yet.
Take a drive around the island and find some beaches yourself. Antigua 365 beaches isn't just a slogan. The small island is jam-packed with epic spots to drop your beach towel and umbrella in the sand.
Antigua Beaches: Map
Love This? Save and Share on Pinterest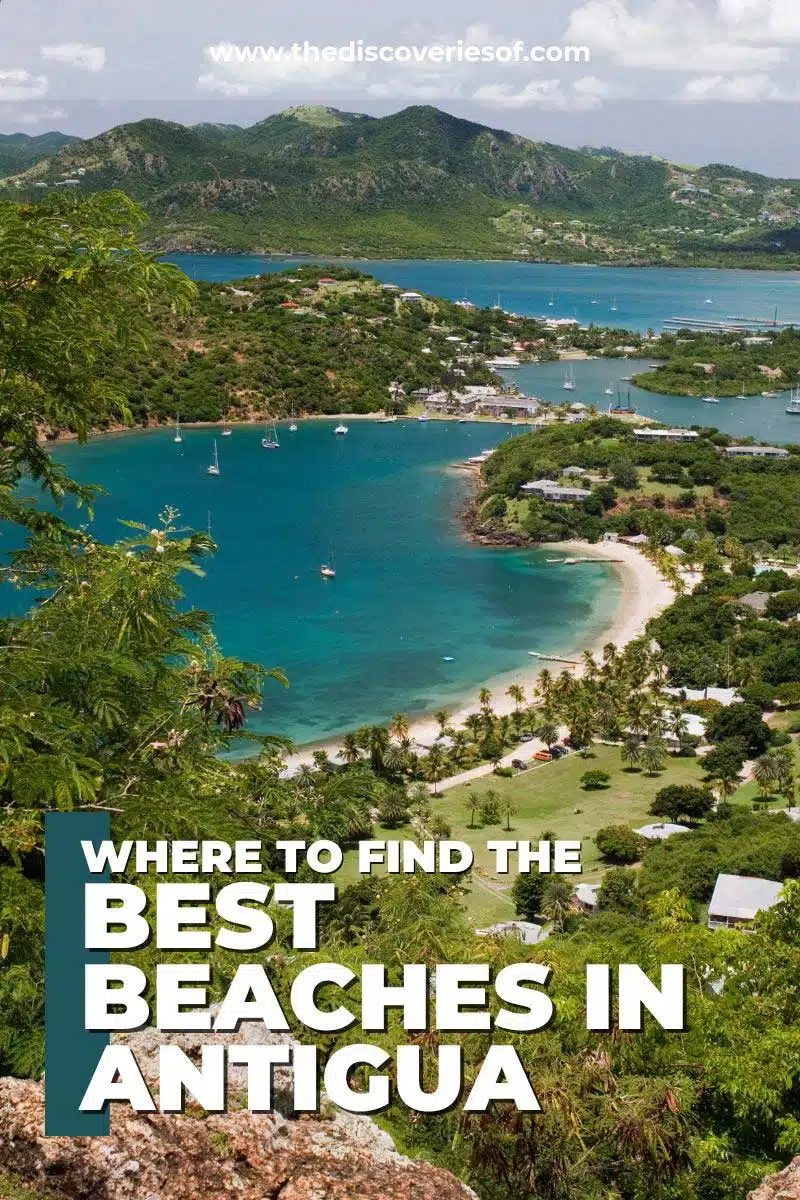 Now You've Discovered Antigua's Beaches: Read Next