Looking for the best time to book a flight? Travel planning doesn't have to be turbulent. Settle in – it's time to take a deep dive into these insider tips and tricks on scoring the best airline prices.
Who doesn't want to find the best deals when booking a flight? I know it might seem easier said than done, but there are some ways you can find some great deals on travel (even when you least expect it).

If you're trying to figure out the best time to buy a flight, I'll give you a heads-up. Flexibility and timing are everything.

You can really discover some incredible travel deals if you're open to putting in a little effort and planning. Taking that red-eye flight, avoiding peak tourist season, and beginning your search early can all help you score great deals.

But there are unexpected forces at work here, too. Mysterious algorithms that defy conventional logic and fly in the face of historical trends (more on that later). Then there are the classic cases where you just get lucky (or unlucky).
Nonetheless, there are some predictable trends, reliable tactics, and helpful tips that can help you secure the best flight prices. This guide will take a practical and actionable look at everything you need to know to find the best time to buy a flight.
Best Time of Year to Book Flights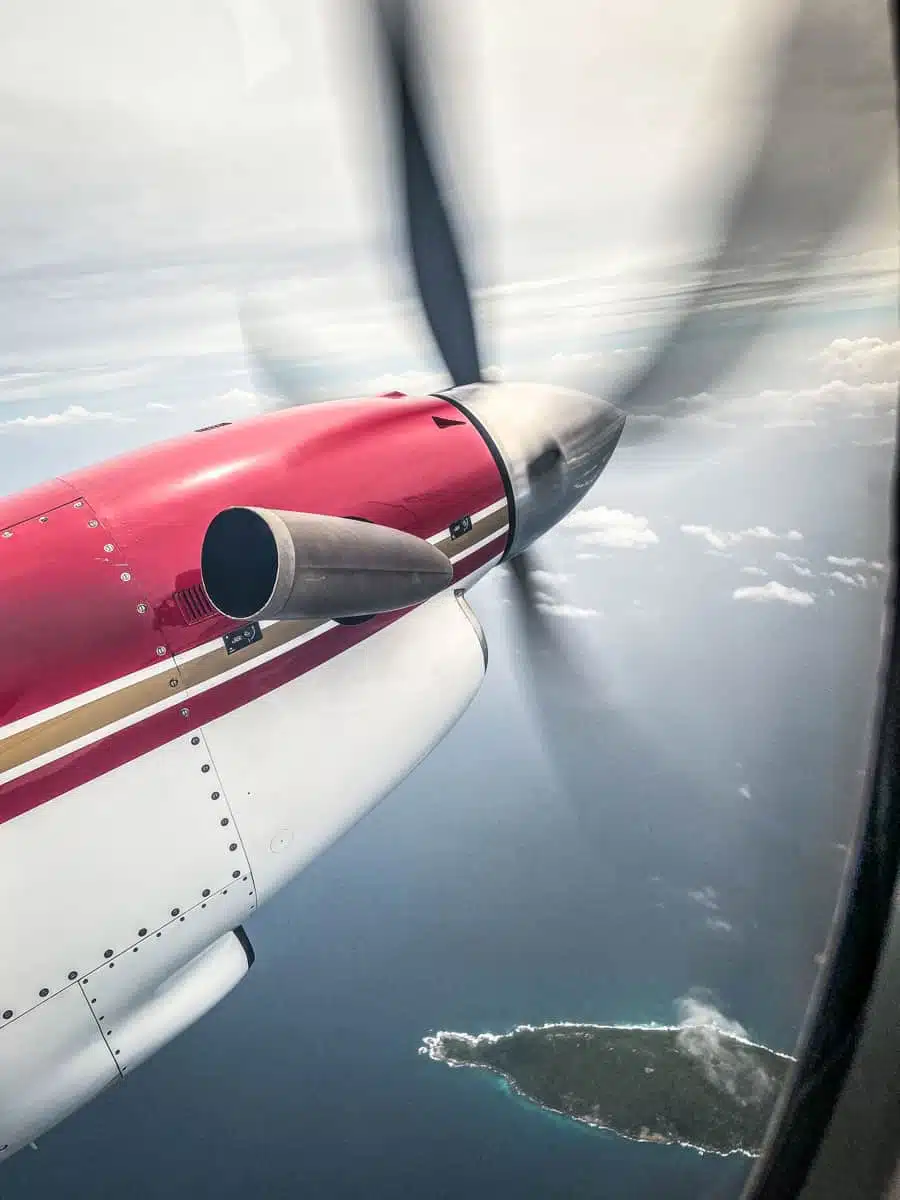 Is there a general rule for the best time to book a flight? Yes and no. There are some ways you can lower your fare, and remaining flexible with your dates can help you save some serious dough.

So when is the best time to buy flights? Let's take a look.
Understanding the Booking "Sweet Spot"
Trying to find the cheapest time of year to buy flights? Generally, booking your airfare one to four months before your trip will give you the best deals.

But this can change depending on when you're travelling, where you're going, and whether there are special events or large conferences during your stay.

That said, as a general rule, most experts think you'll find the perfect balance of available flights and excellent fares when booking during the "sweet spot". This is between three weeks and two months (21 – 60 days) before your trip nationally and three to five months (90 – 150 days) internationally.
Off-Peak vs. Peak Travel Seasons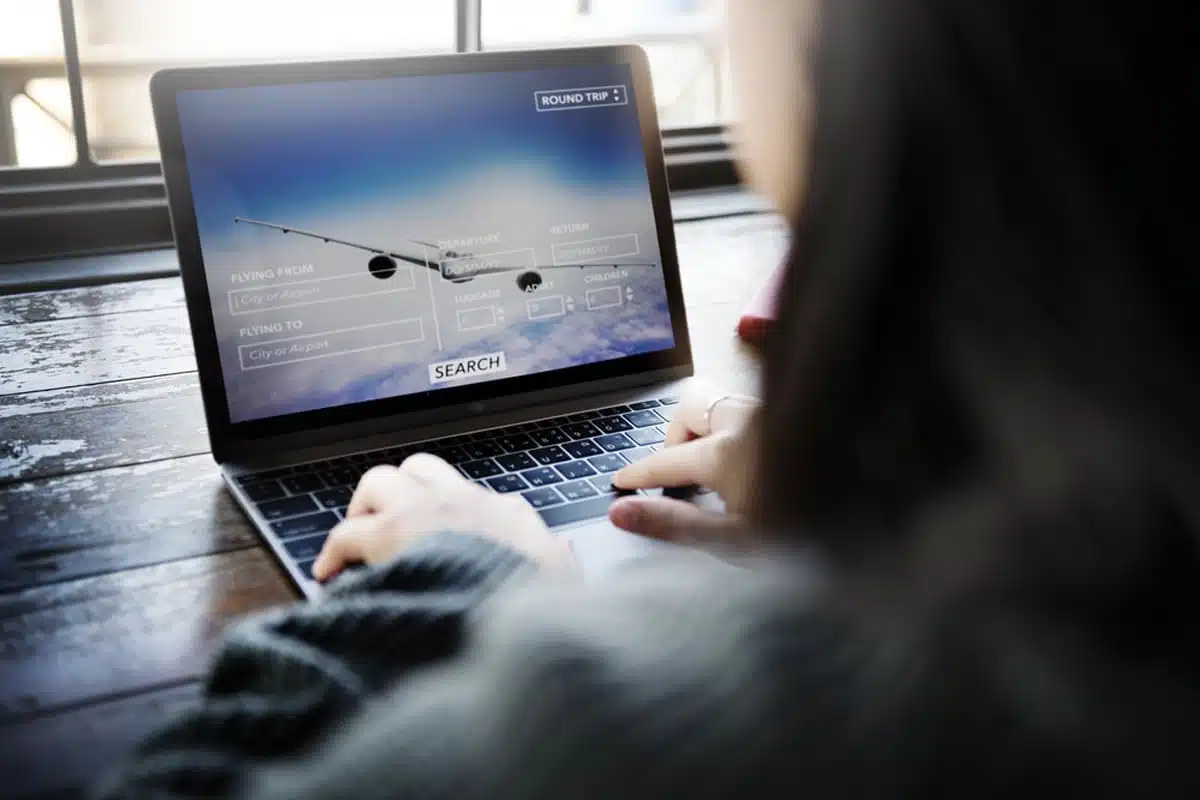 What's the best month to buy flights? Well, it depends on a few things. Generally speaking, the shoulder season (spring and autumn) is much cheaper than the prime travel season, which is usually summertime.
Of course, every location has different off-peak and peak travel seasons, so you'll want to use travel apps and flight search tools like Momondo and check local events calendars for large events occurring in your destination of travel.
So what's the best month to buy airline tickets? In my experience, January to March offers incredible deals, especially when travelling from the USA to Europe.
Analysis of Historical Data on Ticket Prices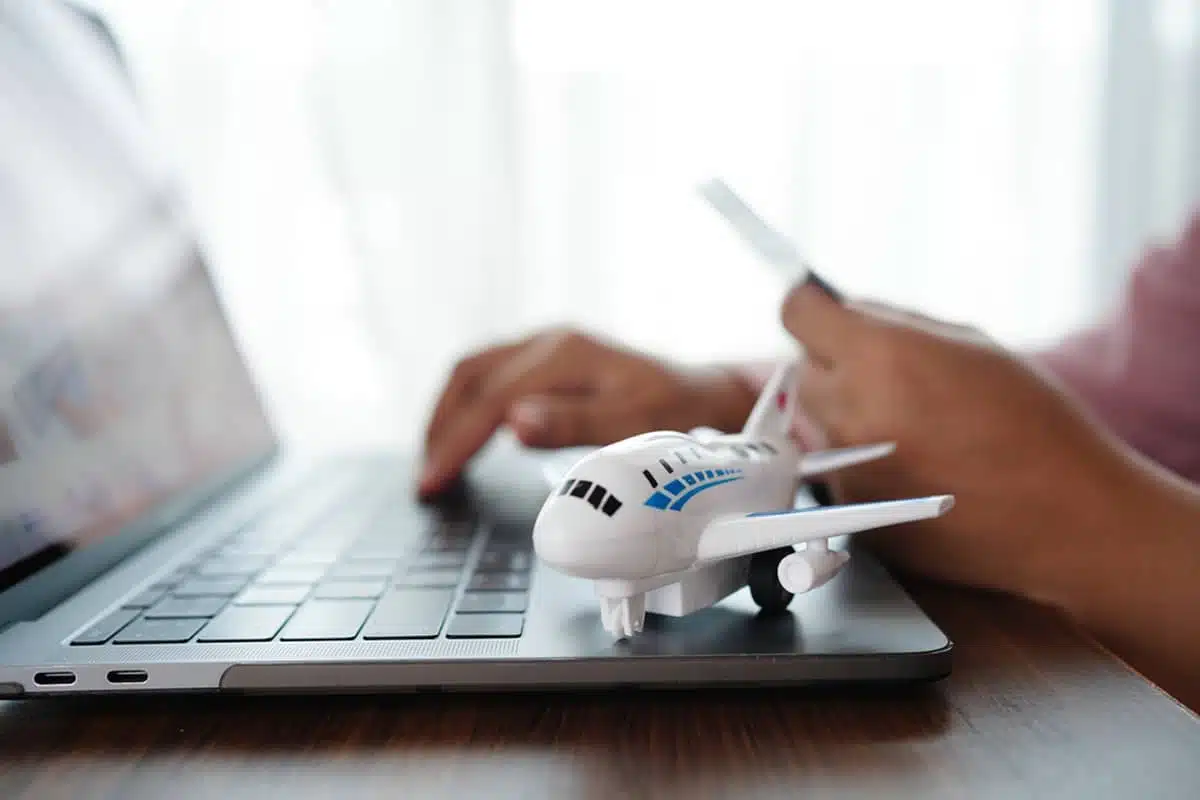 Some historical data does show that Tuesdays (or other days early in the week) may have scored better deals for diligent travellers waiting in the wings for those late-night and early-morning price drops.

Times have changed.
The fact is, our world is constantly evolving, as is the technology with it. That said, some historical data sticks. Summer, bank holidays, and spring break are always going to be the more expensive times of the year, and Friday or Sunday travel tends to be the most expensive.
Tips on Flexible Travel Dates for Savings
So, when is the best time to buy international flights or travel domestically? Short answer – when fewer people are flying. But here are a few tips to find those dates:
Don't lock into a specific day for departure and return.
Consider flying a week or two after the holidays or the peak season.
Plug in a more extensive region (or entire continent) into your flight search.
Look for flight deals daily.
Best Day of the Week to Book Flights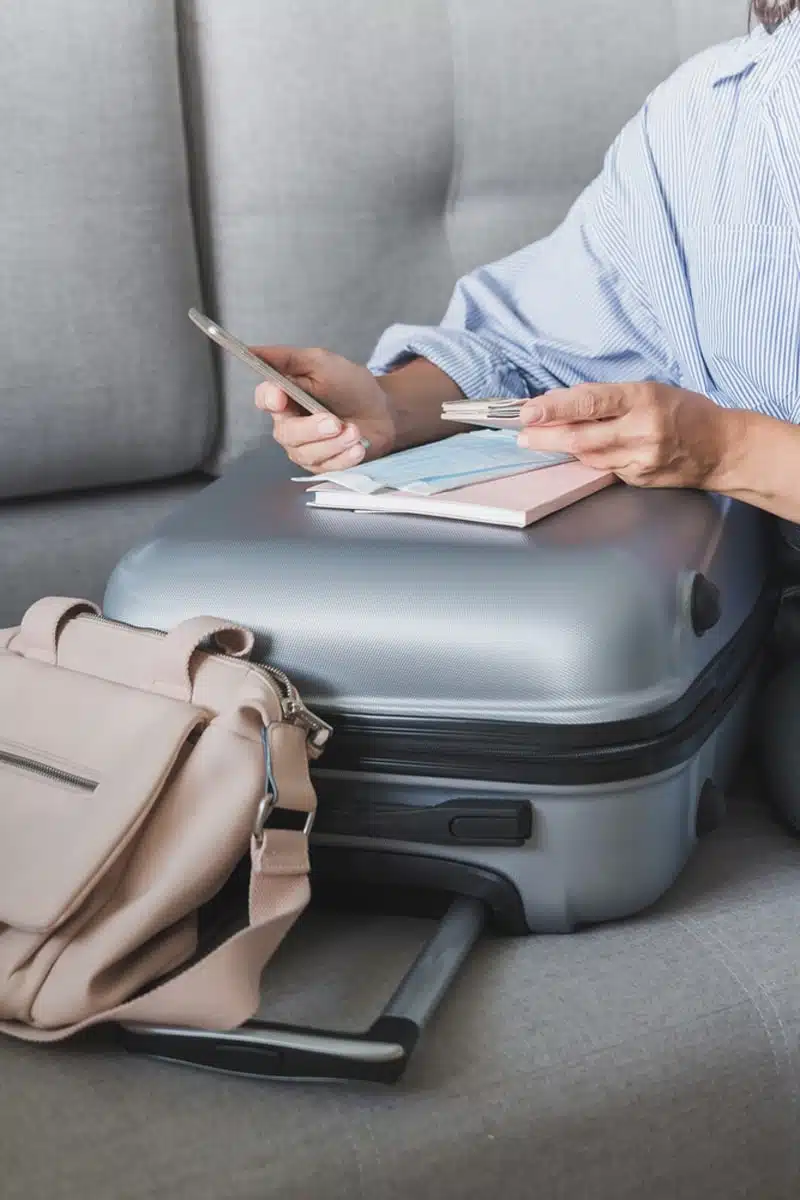 I've heard anecdotal evidence about the best time to buy flight tickets – but is there a specific day of the week that's best? Yes and no.

Let's take a look at the best time to buy cheap flights from a few different angles.
Examining Airline Pricing Algorithms
You're probably well aware, but the price you paid for the seat next to me on the aeroplane might be different. A lot more or a lot less. Welcome to the world of dynamic pricing.
I'm sure you've used Google Flights, Kayak, or Skyscanner (my favourite) at some point or another. They compile data about flight prices from numerous airlines to try to score you the cheapest tickets.

But not so fast. Airlines have a team of experts who set prices based on their own algorithms. Ever-changing factors like the price of oil, days of the week, and large events like conventions all play a role here.

According to research by Yale University, this algorithm ebbs and flows (often based on competition), which means the best times to buy flights may change, too.

What does this all mean? Just because you scored a deal to fly out on a Tuesday doesn't mean I necessarily will, too.
The Myth of Booking on a Specific Day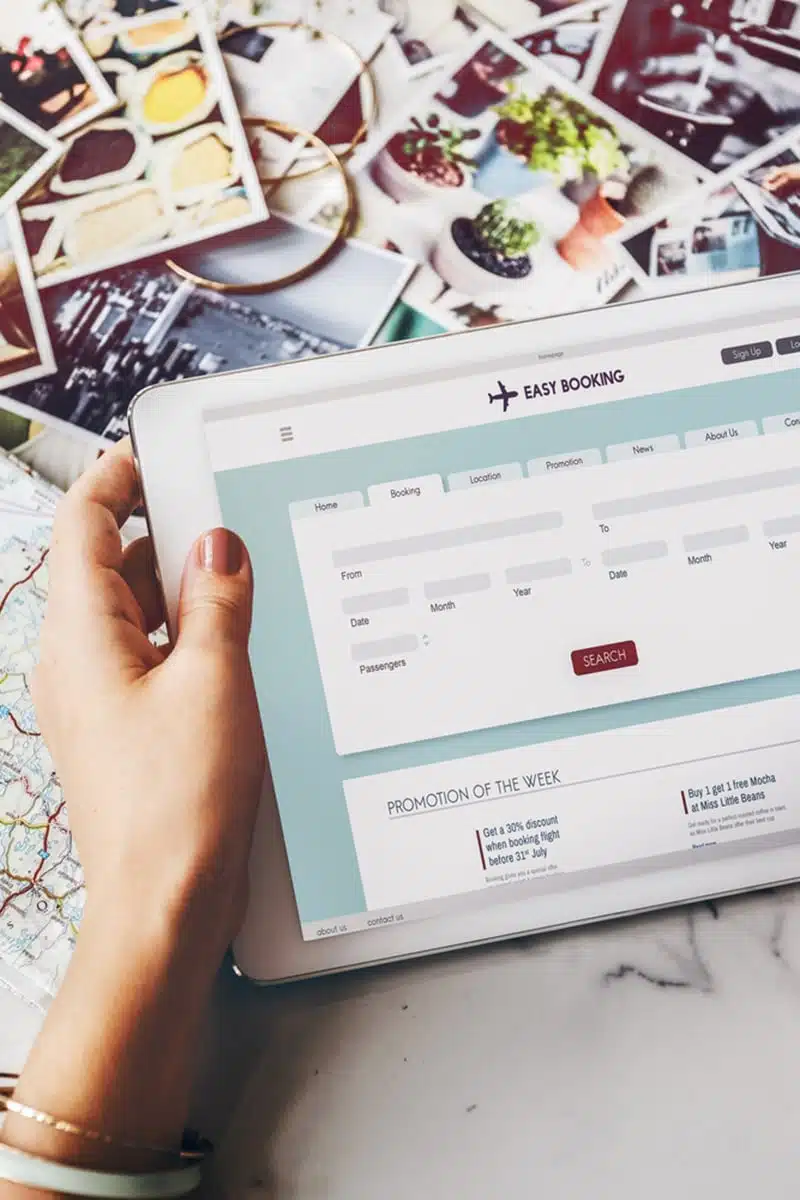 Ever heard that story about how the best time to buy flights is always on Tuesdays? Meh. Not so much.

Most experts agree that it doesn't necessarily matter if you log in to find the best fares on a Friday night or a Monday morning.
So what day should I buy airline tickets? Truthfully, the best time to buy a flight is when you find the best deal. Start looking early and compare often; it might be your lucky day.
Analysing Price Variations Throughout the Week
I took a look at data compiled from several studies, including one published on NerdWallet, analysing data from 2022, and there is some truth to certain days being the best time to book flights.

You'll find an inverse head and shoulders pattern from Sunday to Saturday. Wait, what? Keep reading.

Basically, booking tickets for a Sunday will be the most expensive date, with it gradually decreasing on Monday, Tuesday, and Wednesday before returning to higher prices.
In short, the best time to book airline tickets is for flights departing on Tuesdays and Wednesdays.
Trends in Midweek vs. Weekend Bookings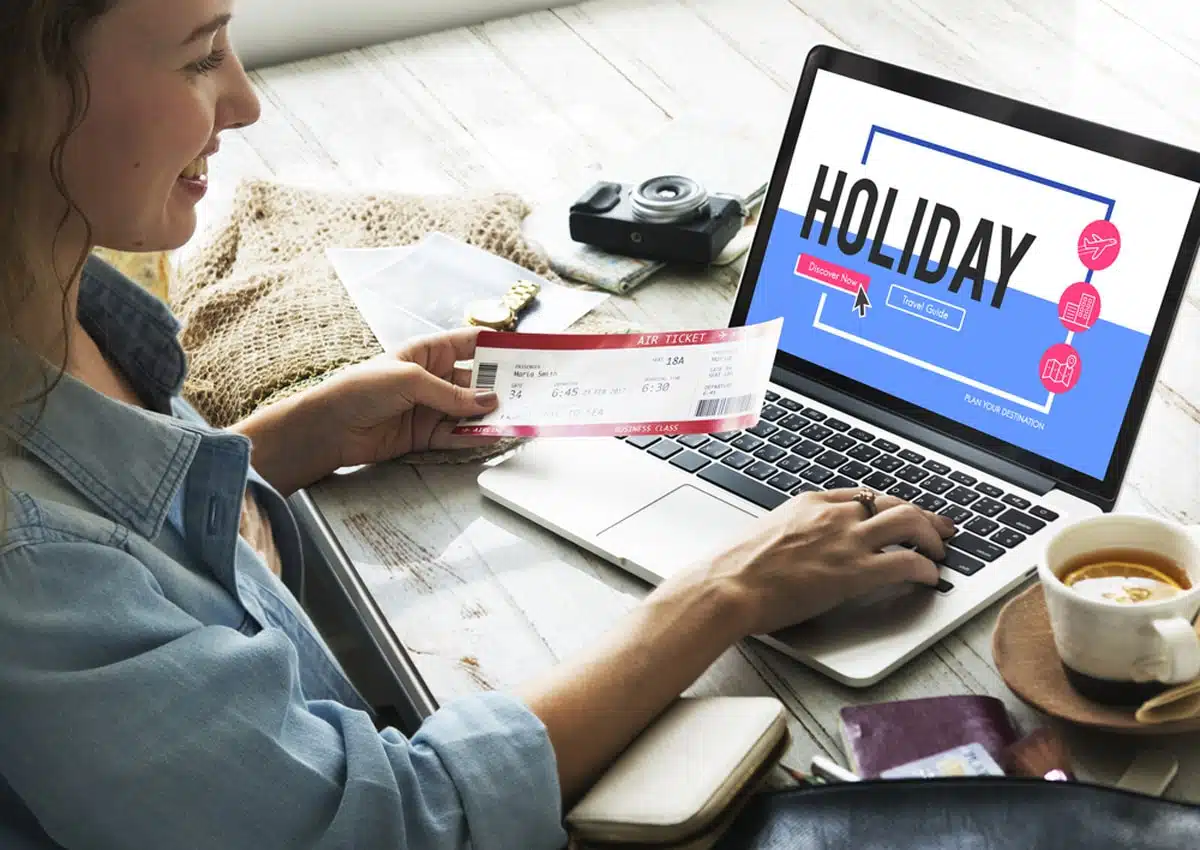 Now there is some strategy involved with finding the best dates to book flights. While the day of the week you purchase your tickets might not matter, flying midweek vs. on the weekend often does.

So when is the best time to buy flight tickets? According to a recent Forbes article, Haley Berg from Hopper says if you fly on weekdays, you "can save an average of $90 off of domestic airfare, and over $140 on international airfare". Not bad, right?
Strategies for Finding the Best Deals Based on the Day of Booking
OK, so you know you can save money if you fly on a Tuesday vs. Friday, regardless of what day you do your research on. But that's not to say there aren't some tools you can use to ensure you get the best deal on certain travel days.
The best advice I can give you is to be as flexible as possible when entering travel dates in a third-party search engine or when booking directly through an airline.
But it also pays off if you can avoid flying home on a Sunday or on a bank holiday, as these are competitive flights, and save your return flight for early to midweek.
Best Time of the Day to Book Flights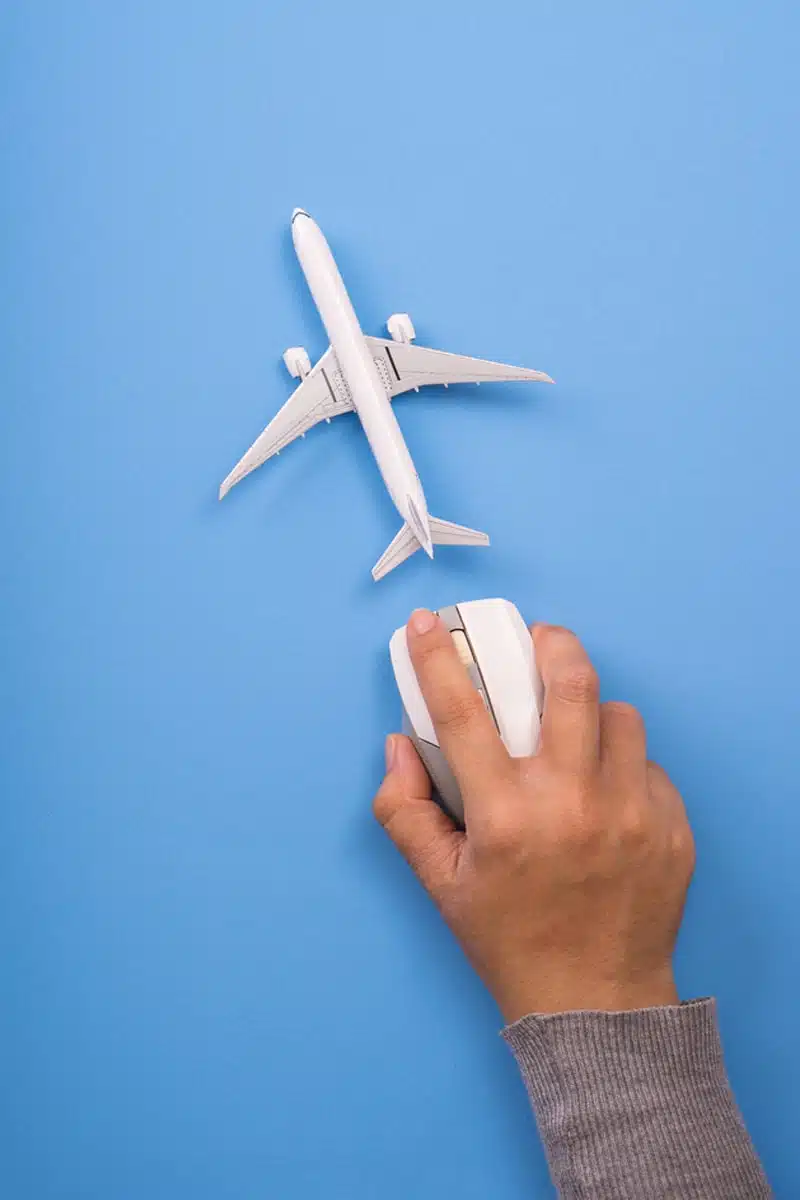 Is there a best time of day to buy flights? Well… sort of.
As far as the act of booking the flight, your guess is as good as mine. I'd say not really. But when it comes to choosing a time of departure – it absolutely matters. Let's take a look at why.
Impact of Daily Fare Updates on Ticket Prices
When is the best time to book flights? Before too many other seats are sold.

I know this is easier said than done, but the impact of daily fare updates is unpredictable, especially with technology and global travel increasing rapidly.
Fares go up when airlines sell seats (and they often separate them into price tiers), so you'll need to decide if a deal is too good to pass up on and pull or pass.
Morning vs. Afternoon vs. Evening Booking Patterns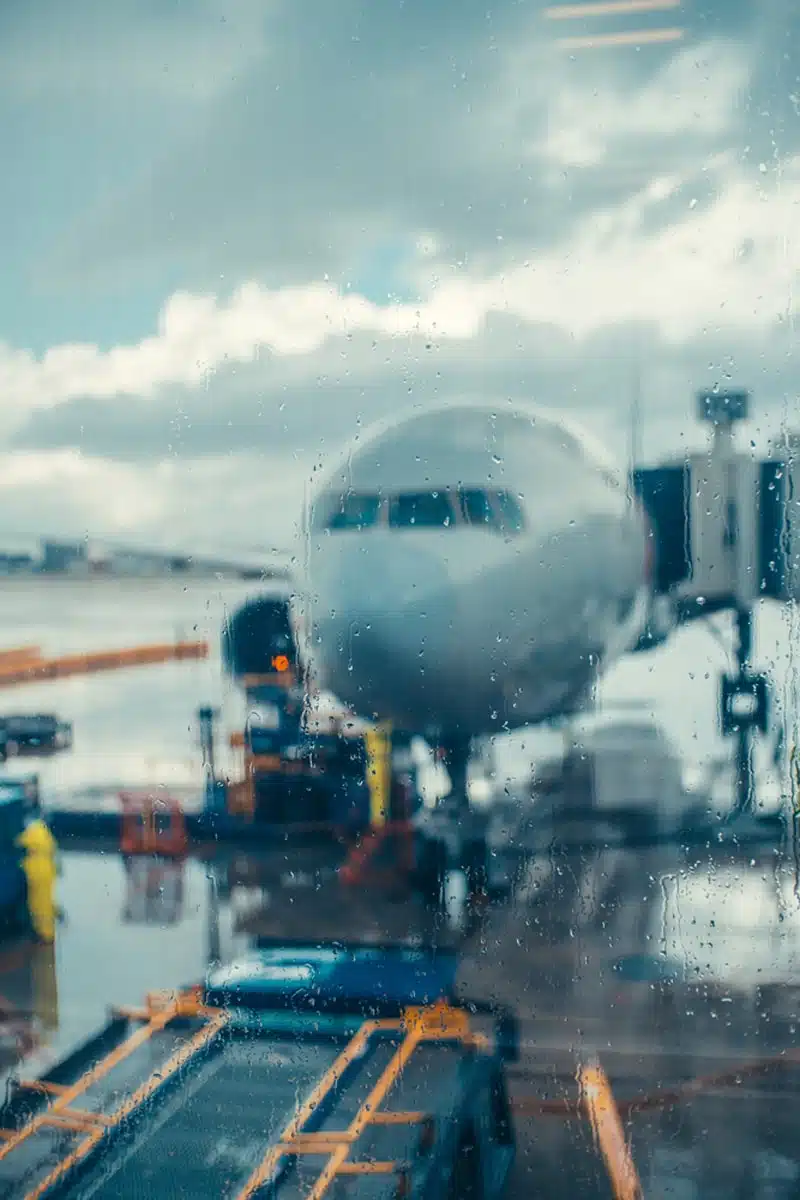 OK, I don't love setting my alarm for 3 am to be at the airport early enough to trudge through a security check, half awake before squeezing into a seat next to a couple of strangers for the next 12 hours. Neither do you.

But what are the best times to buy flights? Flights departing during those late nights and early morning hours tend to be much cheaper than afternoon and evening flights.

It's not the most fun, but if you want to save money, both professional and anecdotal evidence backs up flights in the wee hours.
The Role of Time Zones in Flight Pricing
When is the best time to buy a flight, and will my time zone matter? Not particularly.
Long ago (in technology years), it mattered. But now that airlines rely on AI and algorithms to determine flight prices, you shouldn't have an issue booking your flight any time of day.

Just be sure you're scheduling the right date when you choose your time, so you don't miss your flight.
Tips for Using Fare Prediction Tools Effectively
Using fare prediction tools can help you find the cheapest time to buy plane tickets – but you need to know how to use them effectively.

Use filters and be as flexible as possible when choosing your dates and even location.
When you sign onto Skyscanner, choose the "Whole Month" filter, which gives you a price for every day of that month.

Alternatively, if you use Kayak, you can filter for +/- up to 3 days from your travel date to find the best deals by day. And some apps like Hopper send you frequent alerts about price trends.
Advanced Booking Techniques for Maximum Savings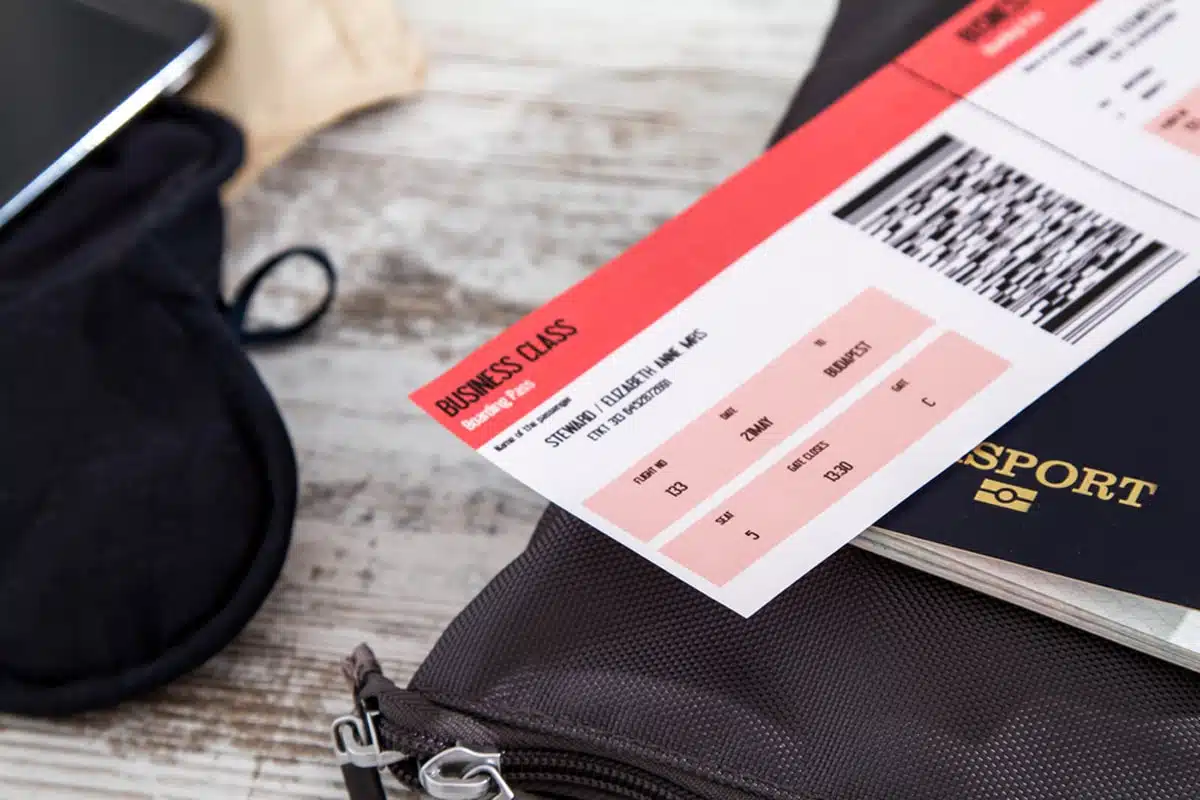 Sometimes, it takes a bit more planning (or sheer luck) when trying to find the best airfares. This is especially true when you're looking for the best time to buy last-minute flights.

Here are a few popular strategies you can use to level up your search for cheap seats.
"Hidden City" Ticketing and Its Risks
I'm all about a good travel hack. "Hidden City," or Skiplagging, has gained some fame over the past decade as a way of saving airfare by using a layover destination as your last stop. But it's also a bit sketchy.

Look, it can work. I know people who've knocked off hundreds of dollars doing it.
Though it's not illegal, it's frustrating for airlines, as it costs them money. As such, they may penalise you for doing it.

It's not uncommon to lose perks or even the right to fly if you get caught doing the Hidden City hack.
Open-Jaw and Multi-City Itineraries for Cost Optimization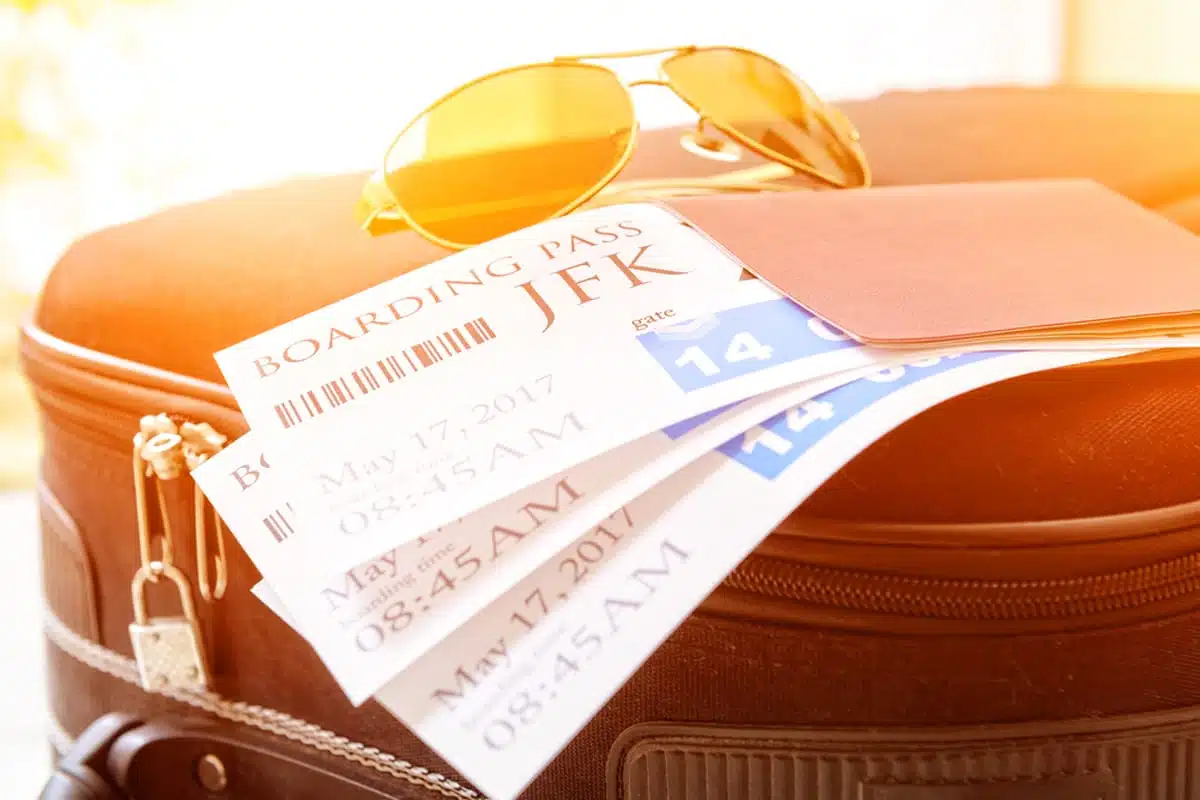 Now, here's a travel hack I can get fully behind. Open-Jaw and Multi-City itineraries are not only super fun, but you might save money.

Gone are the days when round-trip travel was undoubtedly cheaper than one-way tickets. It's just not always the case, especially if you have flight credits or reward points you can use up for one leg.
But you can also see more than one location (and sometimes knock off hundreds of dollars) if you fly in and out of two different cities, connecting by bus or train.

It's also a great way to practise slow travel when you're booking an international flight.
Understanding the Impact of Layovers on Prices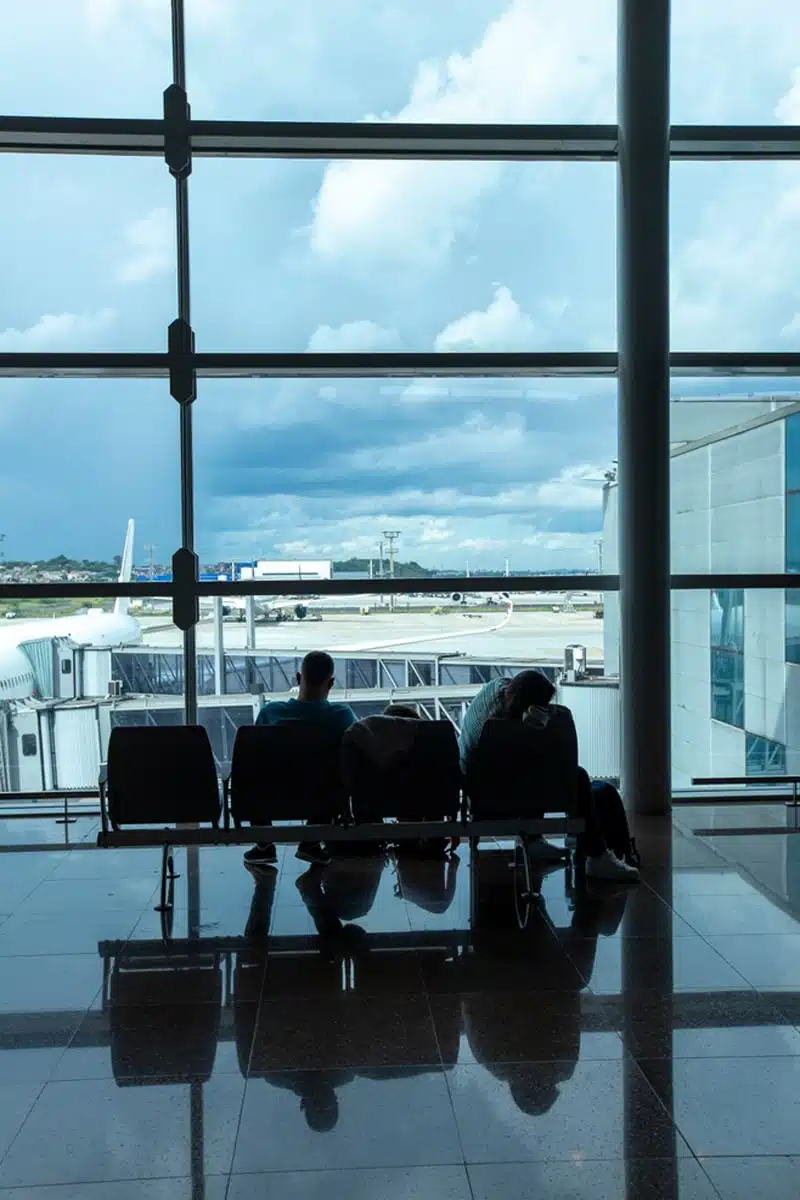 Layovers are a way a lot of travellers save money on flights, especially when they're first beginning to travel. Look, if you don't mind diving into a good book or bingeing a show for a few hours – it's fine.
You can save a good deal of money, but you also need to consider what your time is worth.

Cancellations and delays increase each time you schedule an additional flight, so you'll need to have a wide-open itinerary and IMO the best travel insurance.
The Art of Utilising Loyalty Points and Rewards Programs
You get points when you travel (or spend money if it's a credit card program), so use them. Many reward points have expiration dates, so you'll want to stay on top of knowing when they run out.

When you're ready to use them, upgrade to first class, or book your bucket list trip – you can travel comfortably and more often when you take advantage of loyalty points and rewards programs.
Stay on top of promotional deals from airlines and credit cards; many offer introductory bonuses and seasonal specials that can add up quickly and help you afford to travel to faraway locations. One great way to follow your rewards points and if you're using them correctly is the TPG app by The Points Guy.
The Best Time to Book Flights: Key Takeaways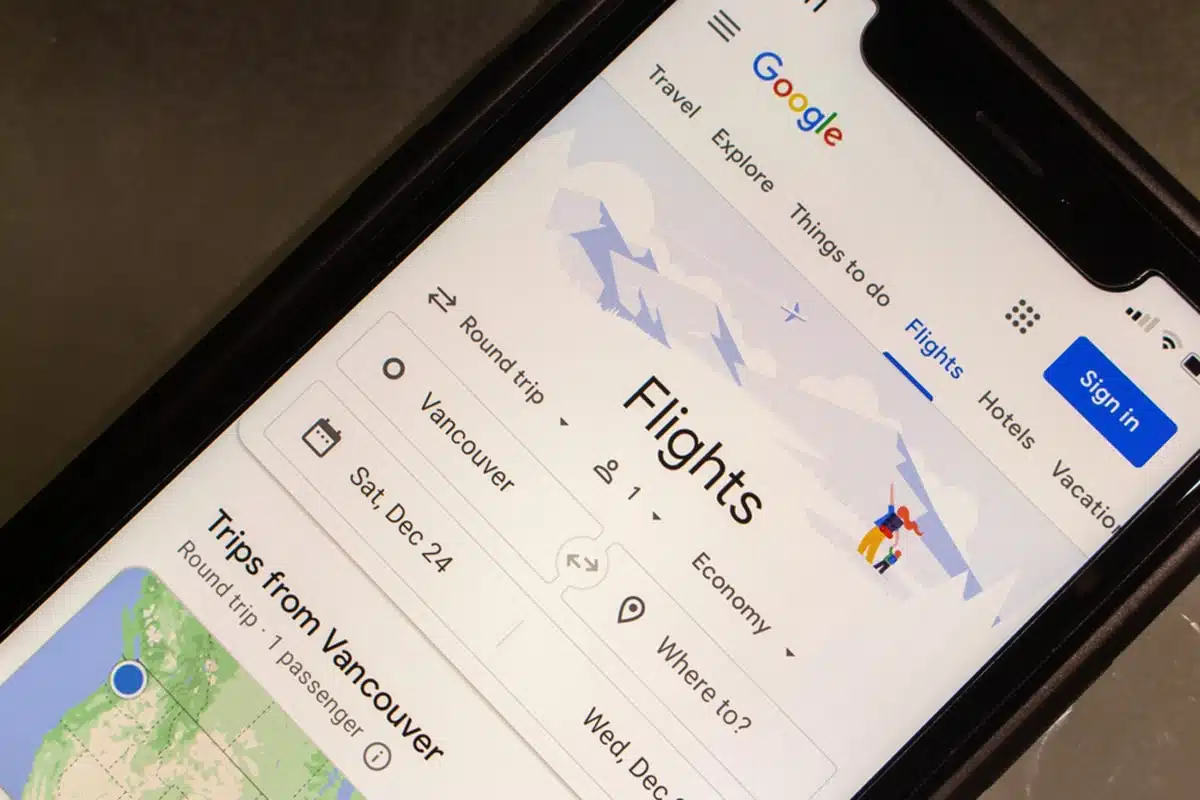 I hope this article helps you plan your next travels and you strike gold on your next flight deal.
The best advice I can give you is to come up with a plan that works for you. Start your flight search early, use tools you're comfortable with, and you might find great airfares by sticking to your own strategies of where and when to look.

Always read up on the constantly changing trends, stay flexible with where you want to travel to, and don't forget to check in on The Discoveries Of – I'll do my best to keep you up to date.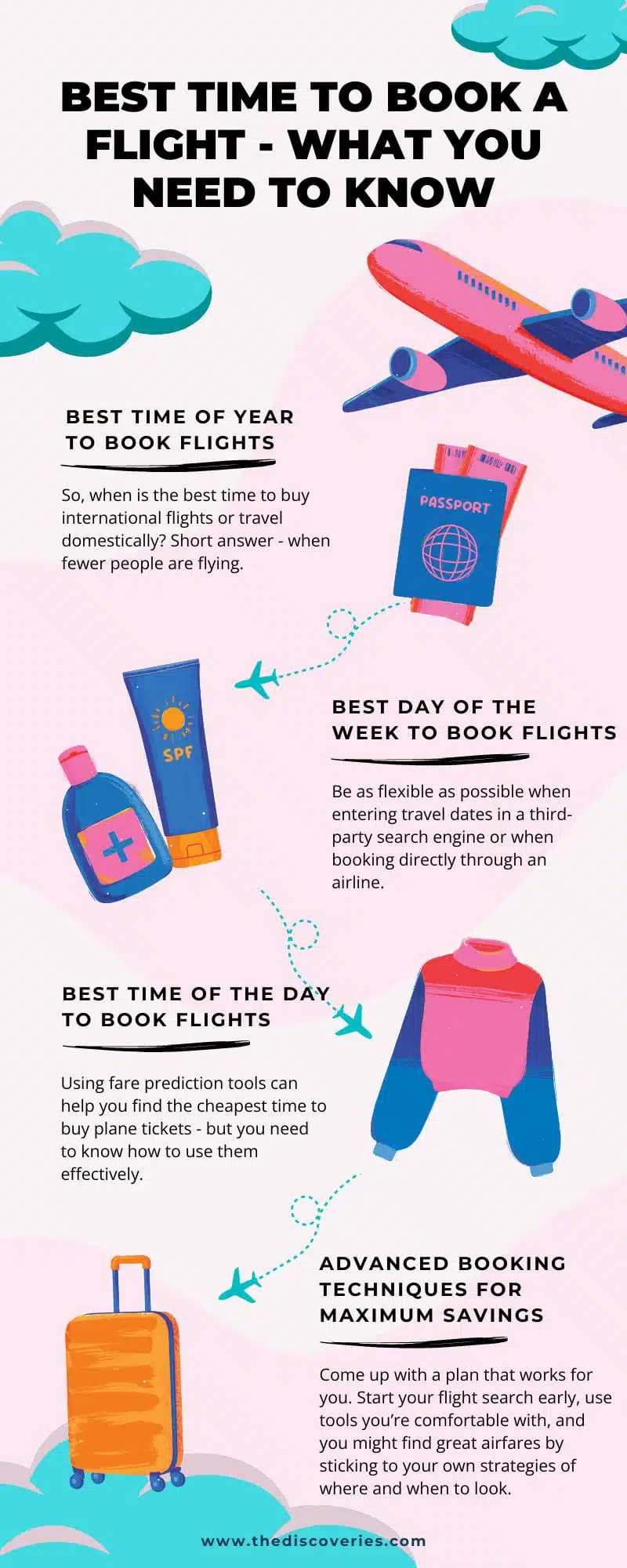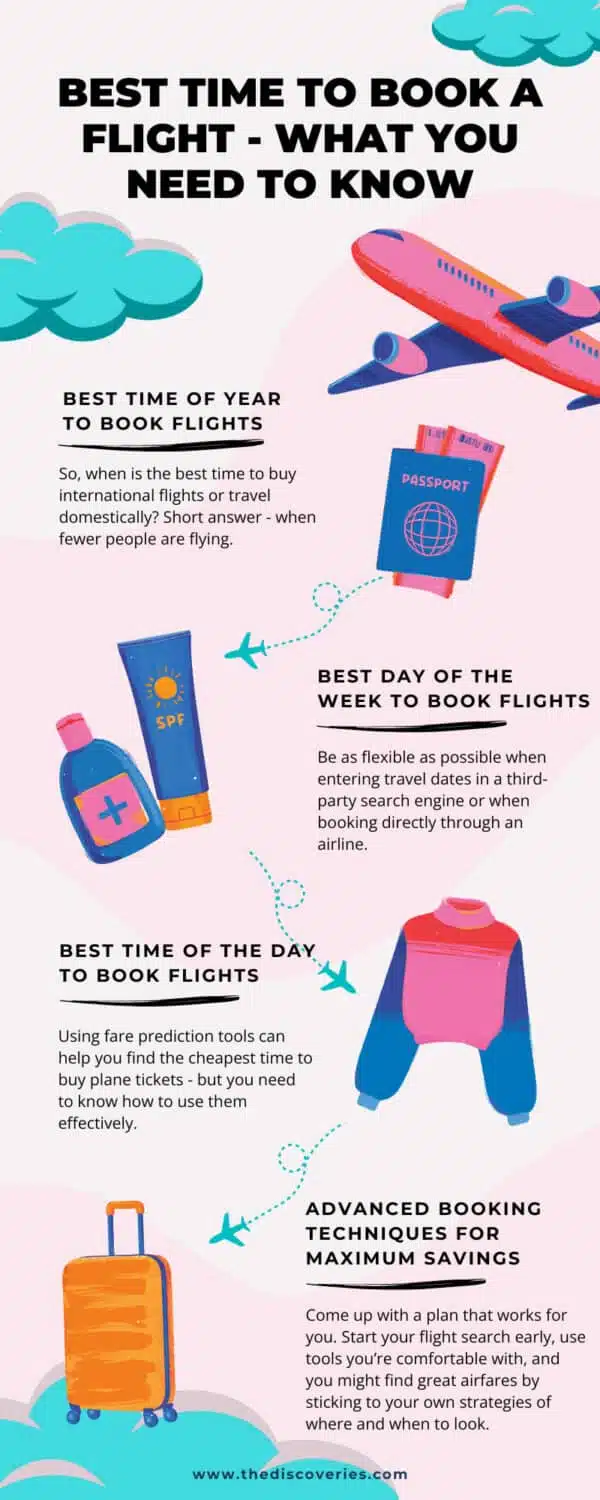 Love This? Save and Share on Pinterest