Looking for the best things to do in Dubai? Don't miss this handy guide filled with everything you need to know to plan your trip.
Located on the southeast coast of the Arabian Peninsula, Dubai has grown quite the reputation of being luxurious, expensive, and, let's face it, a little bit snooty.
However, there's far more to this desert destination than just designer shopping and sports cars – it's a dreamy holiday destination filled with culture and unique things to do.
From desert safaris and historic districts to theme parks and delicious food – ready to discover the top things to do in Dubai? Let's go.
Looking for a hotel in Dubai? I recommend the Wyndham at Dubai Marina – check rates and availability here.
Top 5 Things to do in Dubai
Visit Burj Khalifa – The World's Tallest Tower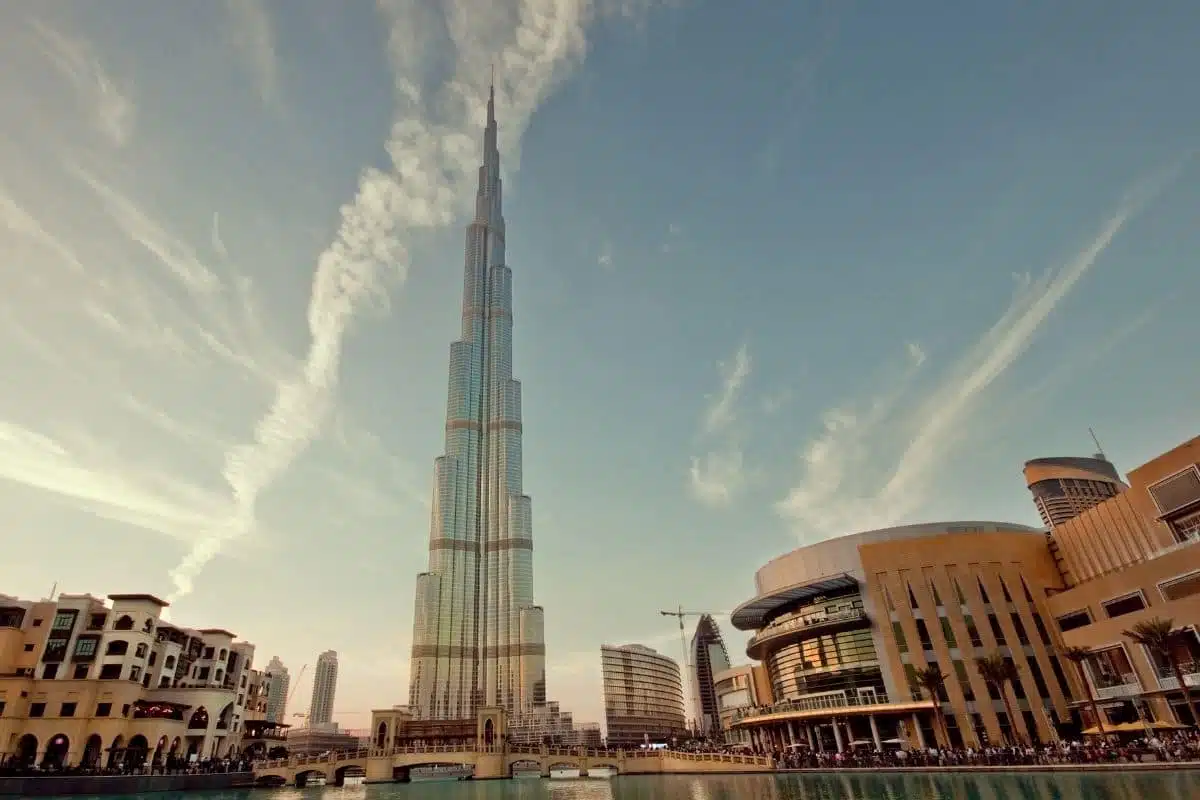 After all, did you really visit Dubai if you didn't snap a picture of Burj Khalifa?
This tower is currently the tallest man-made structure in the world, towering above Dubai at 2,717 meters (or 9,125 feet).
Located in Downtown Dubai, the tower has 163 floors which makes it nearly four times higher than the previous record-holder, the Sears Tower in Chicago – the architectural icon began construction back in 2004, and it was completed in 2010 after 12 years.
While you can head up to the observation deck for breathtaking views of the city's other impressive skyscrapers, don't feel like you need to ascend the tower.
For the best view of the Burj Khalifa, head through Dubai Mall to the Dubai Fountains and you'll be treated to a wonderful show in the evening.
Book Your Burj Khalifa Ticket Here
Enjoy A Desert Safari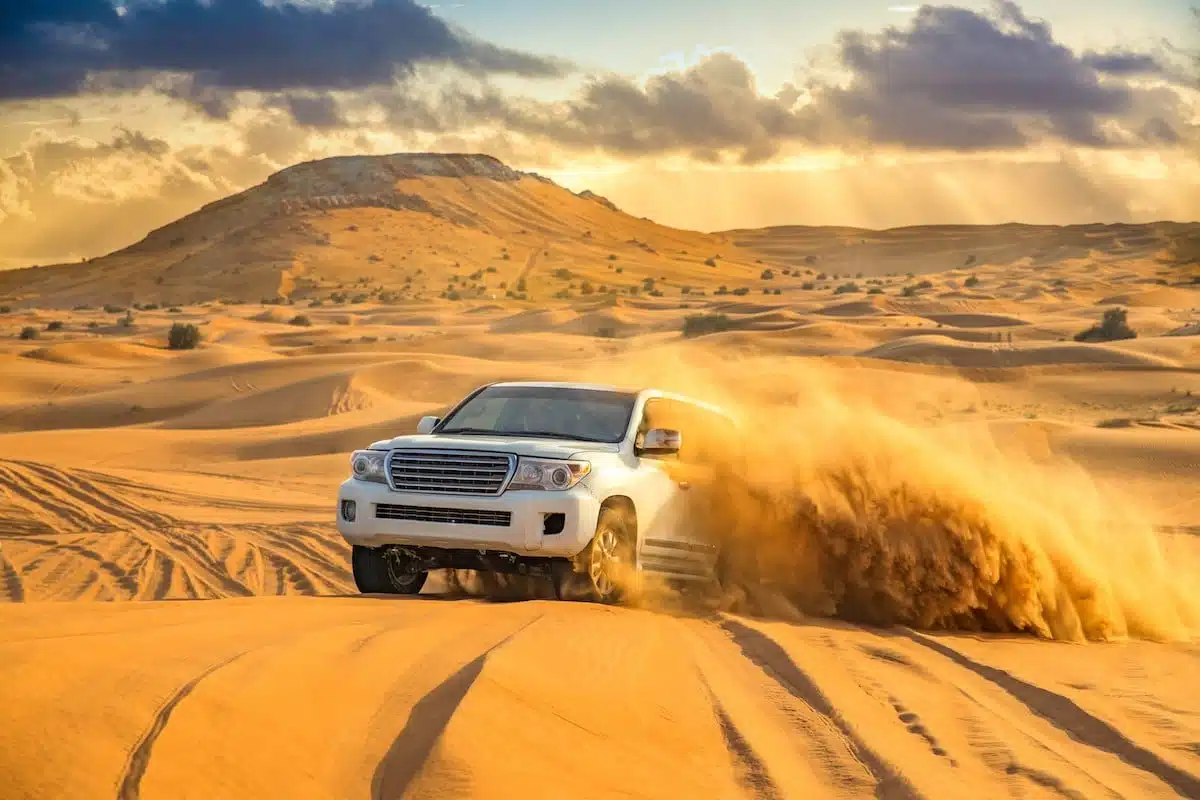 Swap the glitz and the glam of the city for a desert safari – it's a must do in Dubai
One of the most exciting Dubai activities is riding through the desert terrain in a 4×4 vehicle – not only does it allow you to admire the landscape, but you will also get to stop along the way for a bite to eat and to see the sights.
The Al Lahbab Desert is a popular place in the Dubai desert. It is located about 50 kilometres from Dubai and has red dunes, providing the most incredible safari experience to tourists.
Explore Al Shindagha's Historical Neighbourhood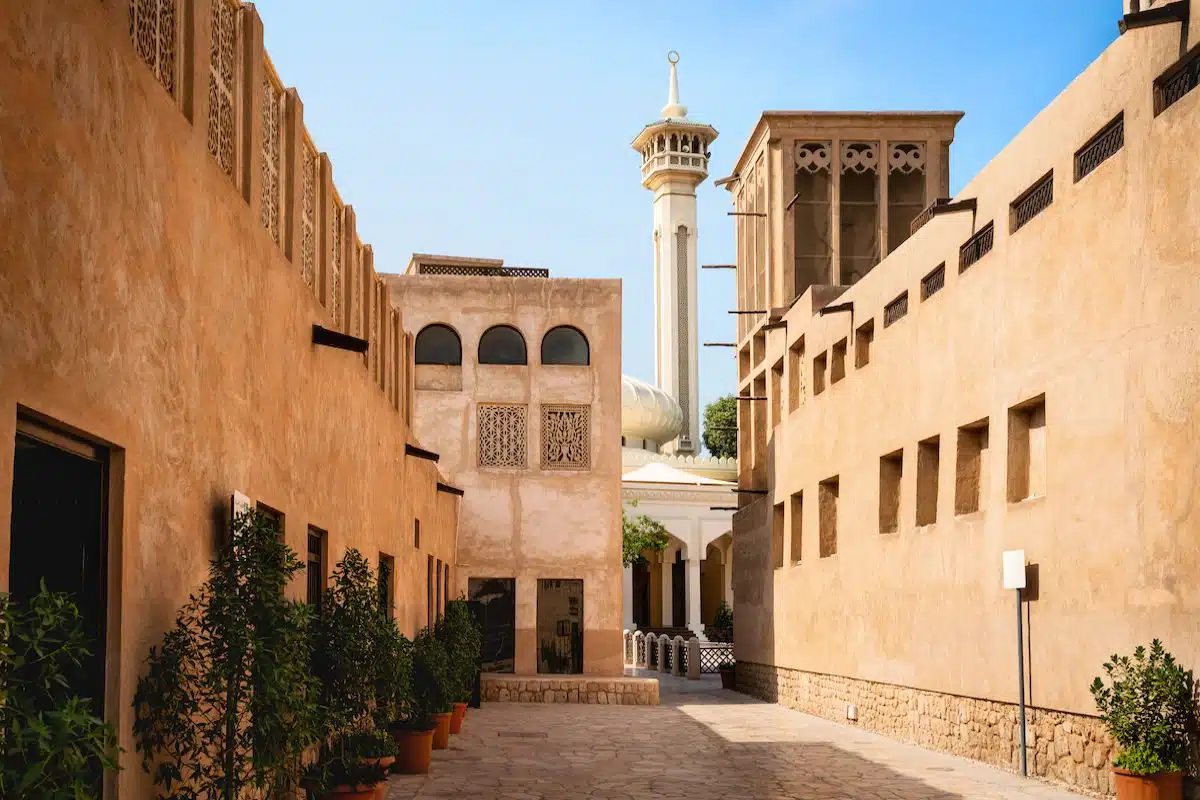 One of my favourite things to do in Dubai is to head to the older part of town and explore. Situated on the shores of the Creek, the Al Shindagha district is one of the oldest inhabited areas of Dubai – the neighbourhood dates back to the 18th century, when the state was first established.
Most of the buildings were built between 1760 and 1870 and reflect the eclectic influence of Arab, Persian, and European styles – in fact, head deeper into the Al Fahidi district and it's perfectly undisturbed, akin to a film set.
Al Ahdagha is also home to Al Fahidi Fort, which was constructed in 1787 but later expanded into a palace that belonged to Dubai Crown Prince Sheikh Hamdan bin Mohammed.
The fort then became the residence of other members of the ruling family until today. Al Fahidi Museum exhibits historical artefacts taken from various sites across the Emirate of Dubai including coins, weapons, ceramics, and more.
Drink, Eat, and Shop at Dubai Marina
Located besides Dubai Waterfront, Dubai Marina is a man-made marina that has been transformed into a hot spot destination.
It's a great place to take a walk or jog since there are no cars allowed inside the marina – though, you can also zip line your way across the marina if you'd rather take in the views from above.
Yachts in the marina offer day trips, private tours, and even hidden restaurants. The area is also filled with shops, cafés, and bars – so if you want to spend the afternoon relaxing while watching the sunset, then this is the place for you.
Marvel at Dubai Miracle Garden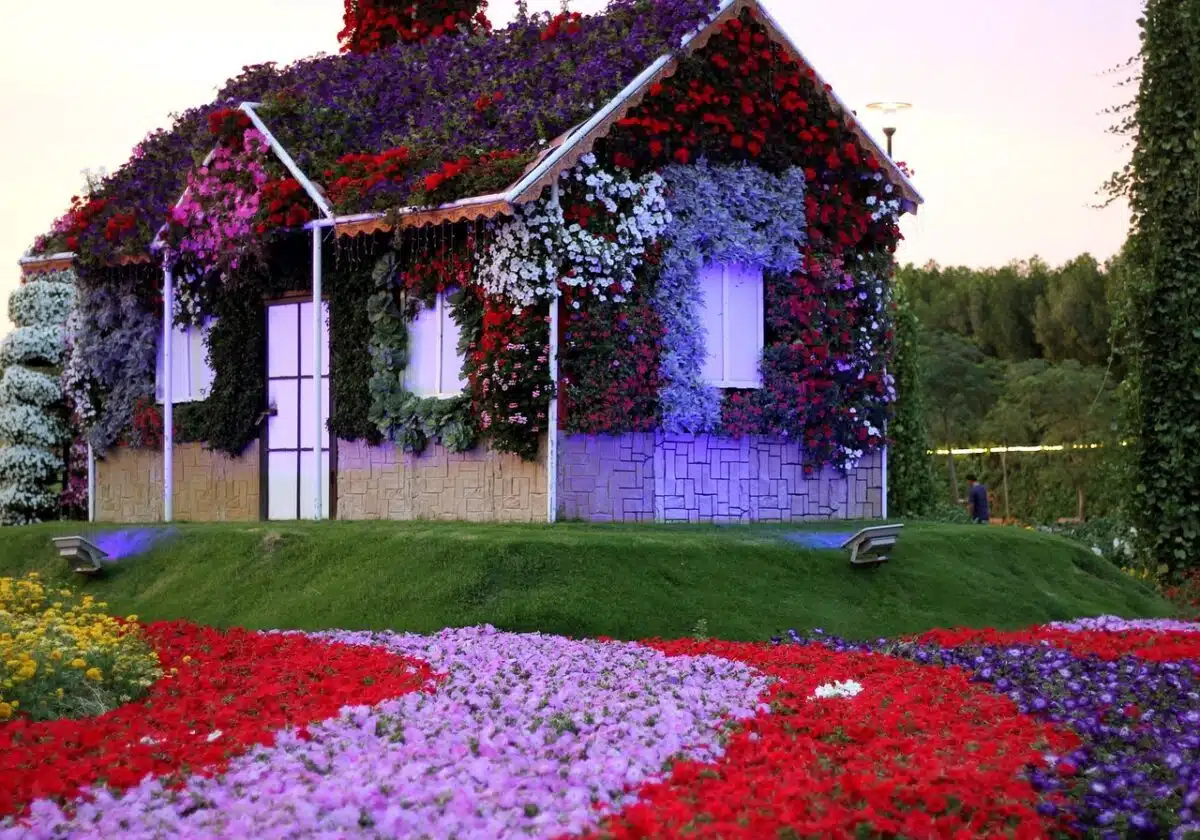 Behold the park of Instagram dreams, Dubai's Miracle Garden is one of the top things to see in Dubai.
What exactly is it? Well, it's a garden filled with impressive floral sculptures (and a surprisingly large number of giant smurfs).
Rather fittingly, the garden was first unveiled on Valentine's Day in 2013, and it sprawls across 72,000 square metres – which makes it the largest natural flower garden in the world.
Don't fret as your driver drives you to what can only be described as the middle of nowhere, you'll soon find yourself at the gates of an impressive world of flower sculptures.
Book Your Miracle Garden Ticket Here
Brilliant Things to See & Do in Dubai During the Day
Hot Air Balloon Tour Over the Desert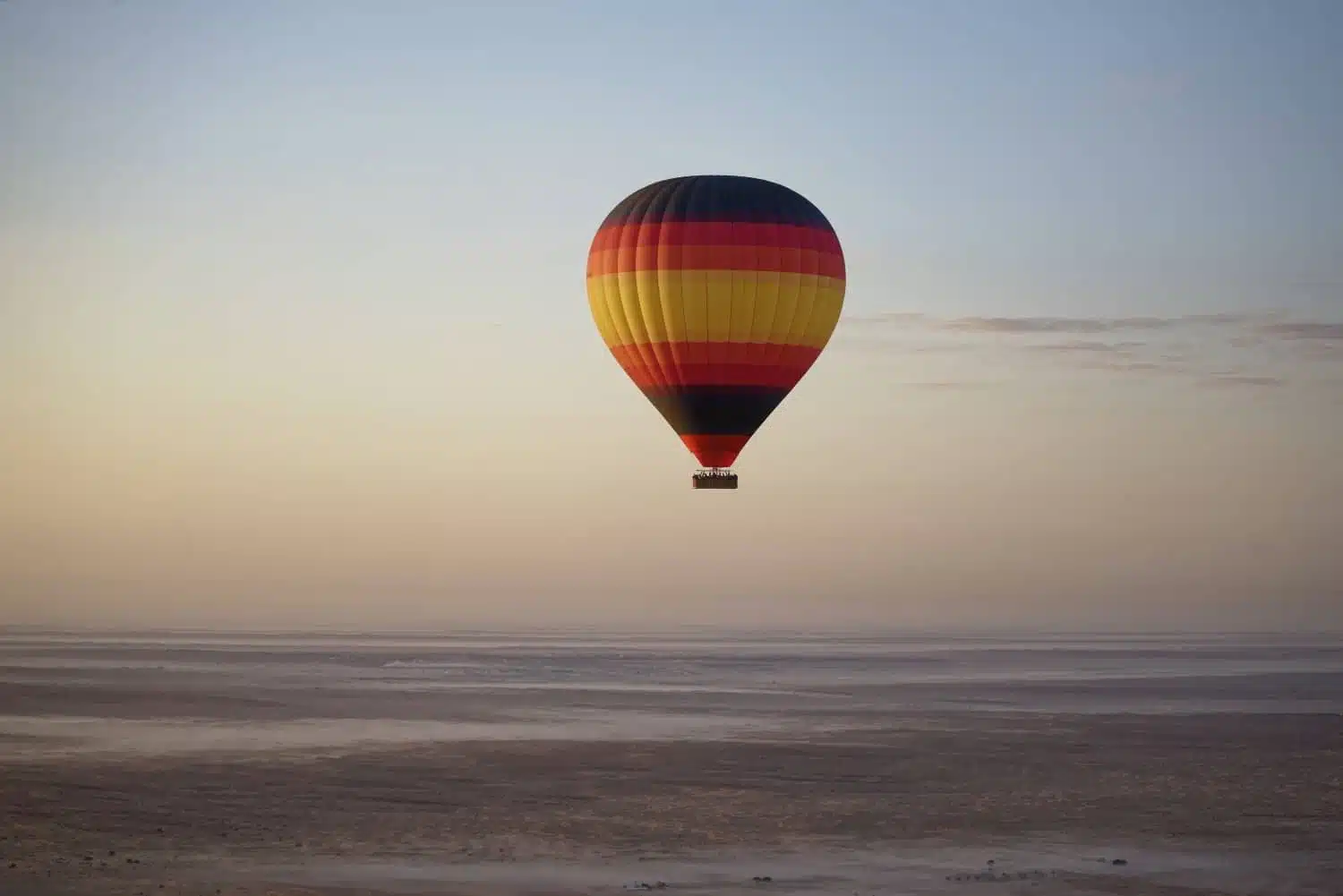 As Dubai is built on a desert, it's no wonder that so many of the top things to do in Dubai involve it. Admire Dubai from above with this Hot Air balloon tour over the desert.
You'll be swept from your hotel to the desert by a friendly guide, who comes equipped with all the tea and coffee needed to perk you up as it's still dark outside.
During the flight, you'll be treated to an incredible view of of the sun as it rises over sand dunes, and you'll be able to spot camel farms below as you soar at 4000-feet.
Book Your Dubai Hot Air Balloon Tour Here
Seek Thrills at One of Dubai's Many Amusement Parks
Dubai boasts plenty of places where you can seek thrills. From Legoland to Motiongate and IMG World of Adventure, you're not short of brilliant theme parks in UAE.
One of the top Dubai things to do is Wild Wadi Waterpark, where you can cool off in the water park's natural pools and relax under the sun loungers.
If you're feeling brave, check out the "Twisted Xtreme" slide which, as the name suggests, features a twisting and turning slide – trust me, it's not for the faint-hearted.
Bollywood Parks Dubai is another amusement park you're not going to want to skip a trip to. With plenty of rollercoasters, family-friendly rides, and a Ferris wheel, the whole family will be able to enjoy the park.
Book Your Wild Wadi Waterpark Ticket Here
Take Day Trip to Abu Dhabi to See The Sheikh Zayed Mosque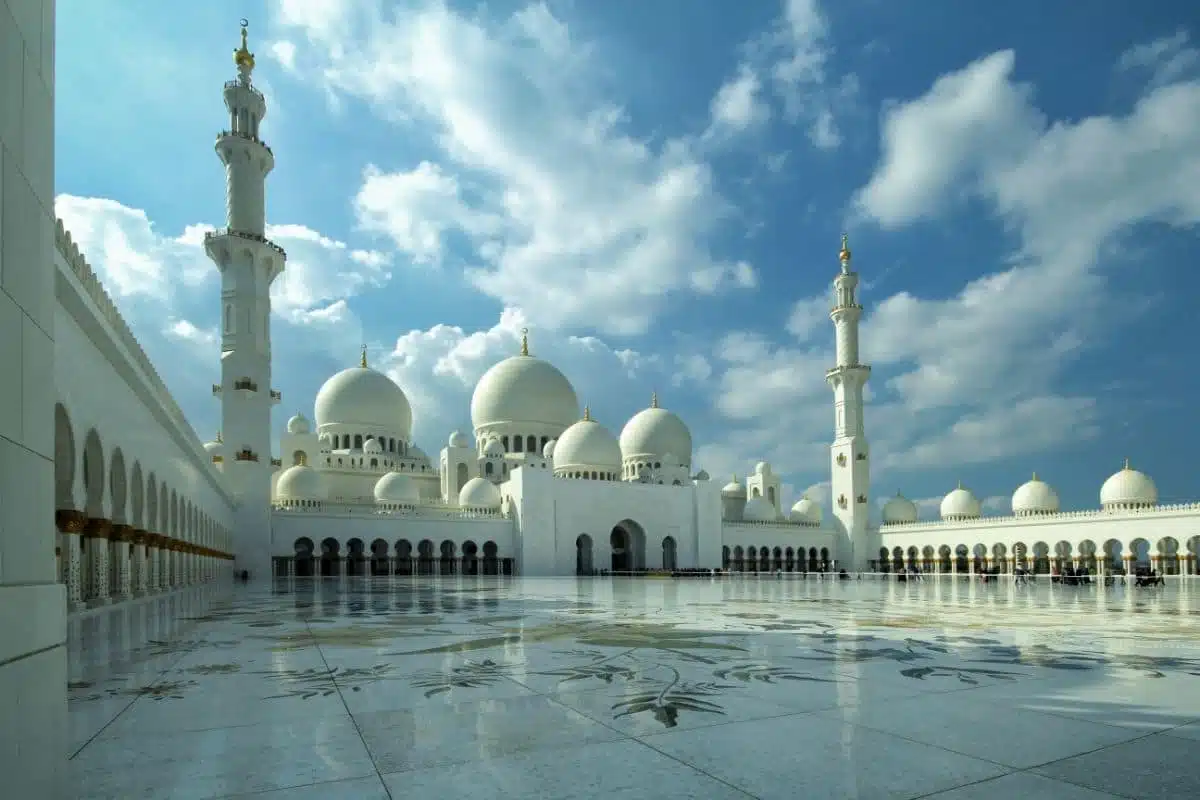 Okay, so it might be in Abu Dhabi, but visiting the grand Sheikh Zayed Mosque is a must do while in Dubai – in fact, you can head there on a half-day tour.
The mosque was named after the founding father of the UAE, Sheikh Zayed bin Sultan Al Nahyan. The religious building is edicated to Sheikh Zayed, who died before construction began – meaning that he didn't live to see his project completed.
Book Your Sheikh Zayed Mosque Tour Here
Swim With Dolphins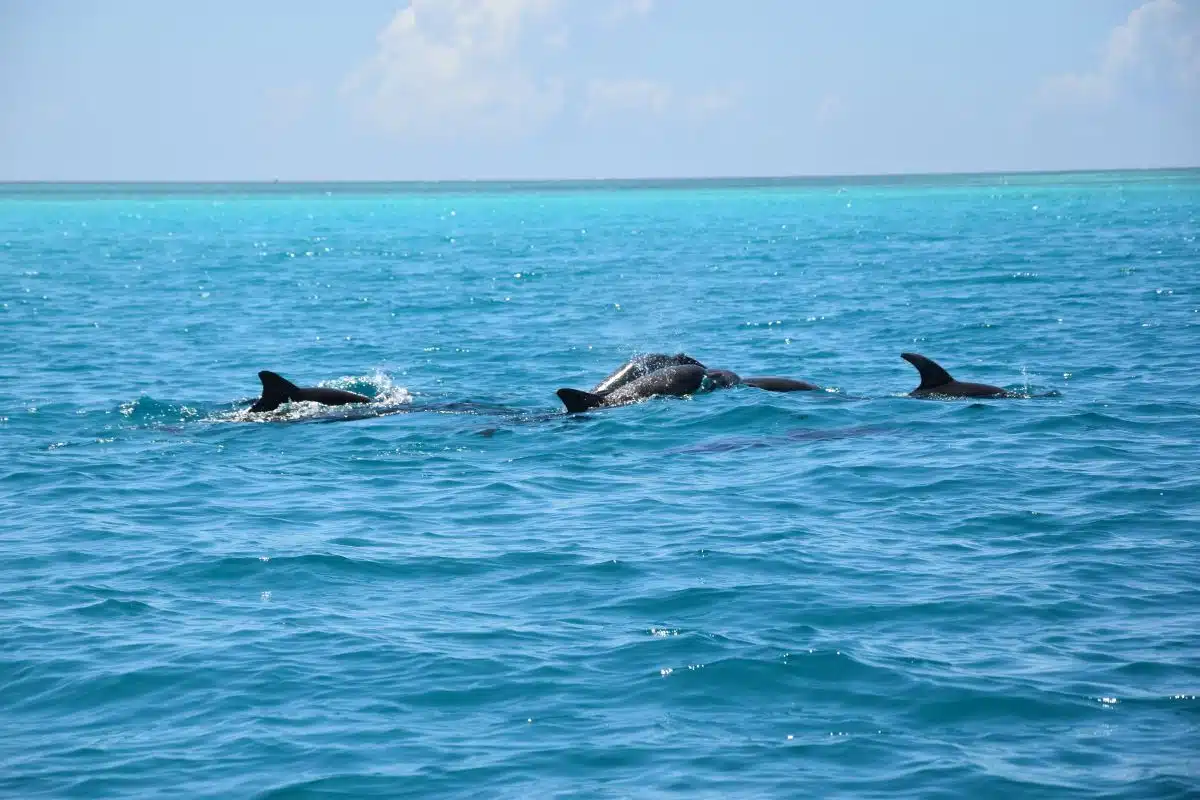 Dolphin swimming is one of the most popular activities in Dubai.
You can opt for half-day, full-day, and even overnight trips that allow you to get up close and personal with bottlenose dolphins, observing them in their natural habitat.
There are also plenty of places that allow you to swim indoors with dolphins – though I advise you to skip those and head out on a tour that finds them in their natural habitat instead.
Top Tip: The best popular time to swim with dolphins in Dubai is early in the morning when they're active and eating their first meal.
Book Your Dolphin Experience Here
Indulge in Afternoon Tea At Raffles Salon
Raffles Hotel is a historic hotel in the heart of Dubai's financial district. For nearly 130 years, it has been serving an iconic afternoon tea to guests from around the world.
The smorgasbord of food has a distinct Victorian charm to it, thanks to the floral theme courtesy of the hotel's partnership with Forever Rose London.
The platter of food arrives infused with flowers, with the likes of cured salmon with hibiscus extract and scones with strawberry jam and rose water big favourites.
They even have a children's afternoon tea available, which allows children to enjoy an array of sweet and savory snacks with hot chocolate and juice.
Take A Camel Trekking Tour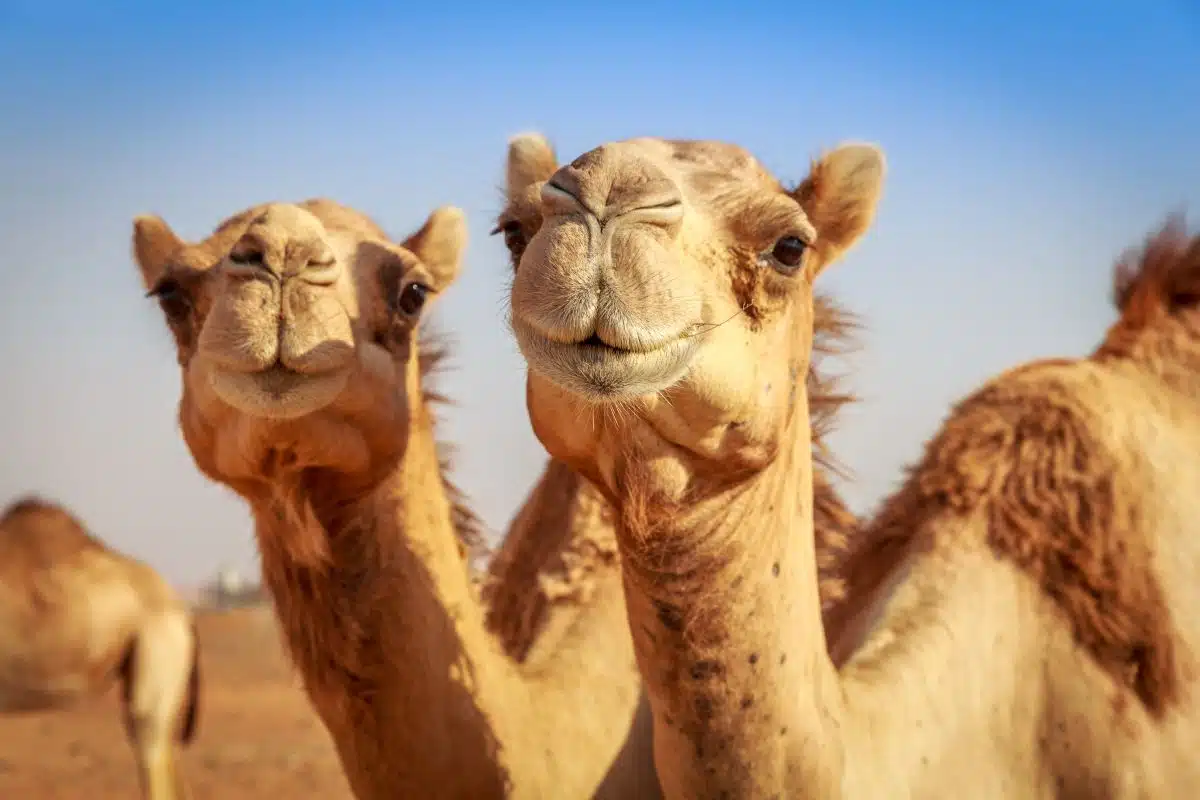 Camel riding is another popular thing to do in Dubai – in fact, it's actually an adventure sport in the UAE. This activity was first introduced by the Bedouin community in UAE back in the 1970s when they used camels to help farmers work the land.
While you don't need to partake in the extreme sport of camel racing, getting up close and personal with these adorable (and very gentle!) creatures is a must-do.
I recommend combining your camel trek with a visit to the desert – this tour also includes a hilariously-terrifying desert safari and the opportunity to sand surf.
Book Your Camel Trek Tour Here
Go Shopping at Dubai Mall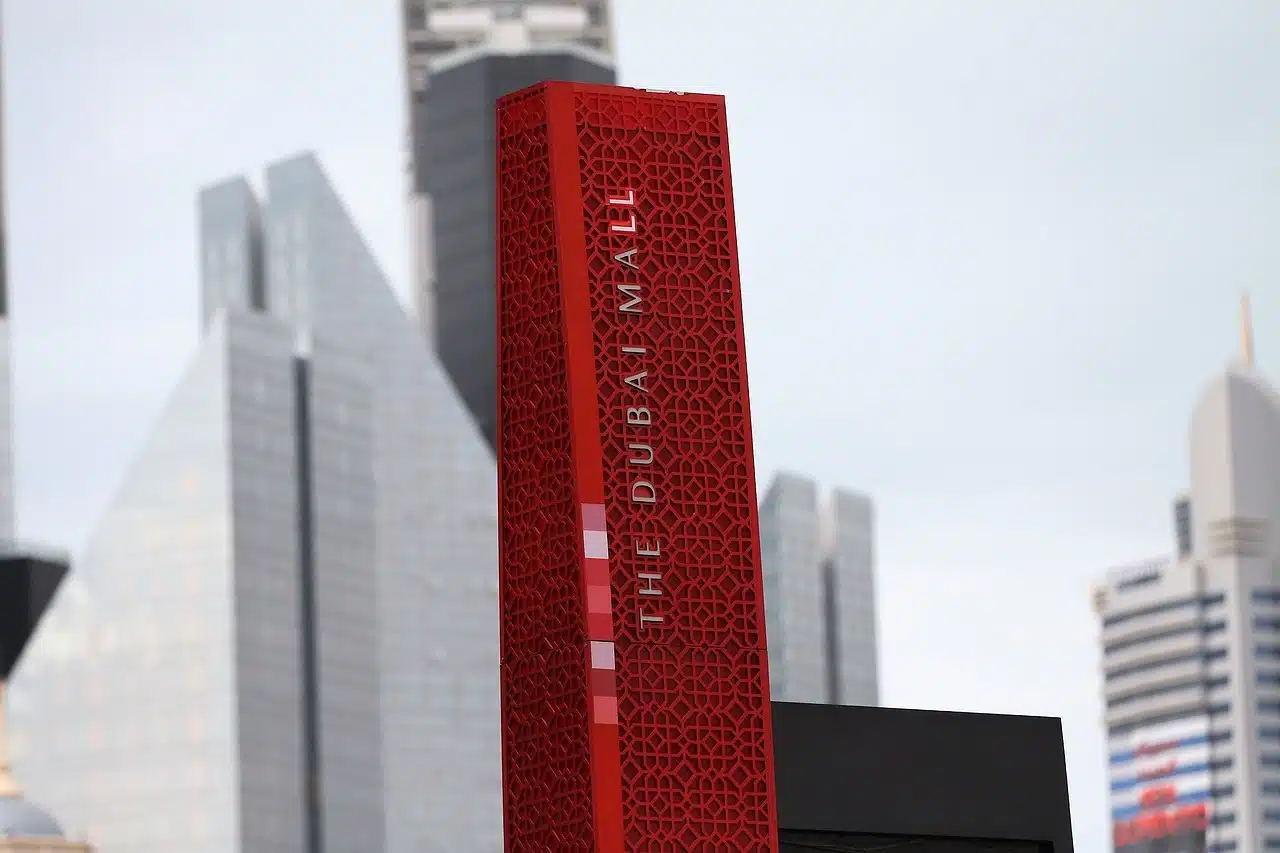 Wondering what to do in Dubai? It's a guilty pleasure, but shopping in Dubai is a favorite pastime for locals and tourists alike.
While shopping might not seem like the most useful way to spend your time on holiday, a trip to Dubai Mall is an incredible experience. It's a one stop destination for dining, shopping, and activities. There's even an aquarium inside. Yes, really.
It's the second largest mall in the entire world – trust me, grab a map when you enter.
Take A Trip To Maktoum Mohammed Bin Rashid Boulevard (MBR Boulevard)
See how the other half live on one of the most expensive streets in the world. It features luxury car dealerships, five-star hotels such as The Address Downtown Dubai and Al Manzil, which are dotted along the route, and fancy restaurants along the way.
The Boulevard runs in an almost full circle around Souk Al Bahar, and the Burj Khalifa. Dine in this area and you'll be treated to views of some of the most iconic landmarks right from your seat.
Take A Helicopter Ride Over The City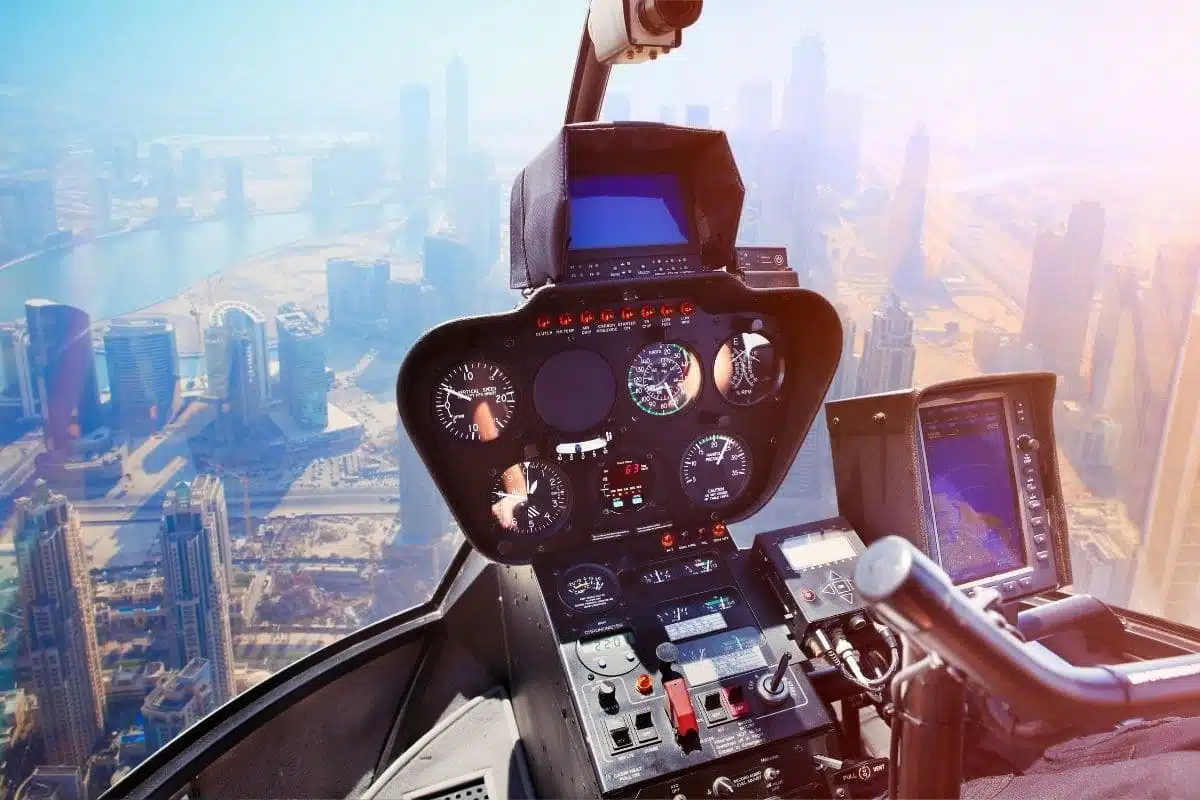 If you ever wanted to get a bird's eye view over the city, this is your chance. Plenty of companies offer helicopter flights over Dubai.
From the towering Burj Khalifa to the vast expanse of the desert, flying over Dubai is a great way to see the city – you can appreciate the luxury of the city from above.
Book Your Helicopter Tour of Dubai Here
Go On An Arabic Street Food Tour And Enjoy Local Cuisine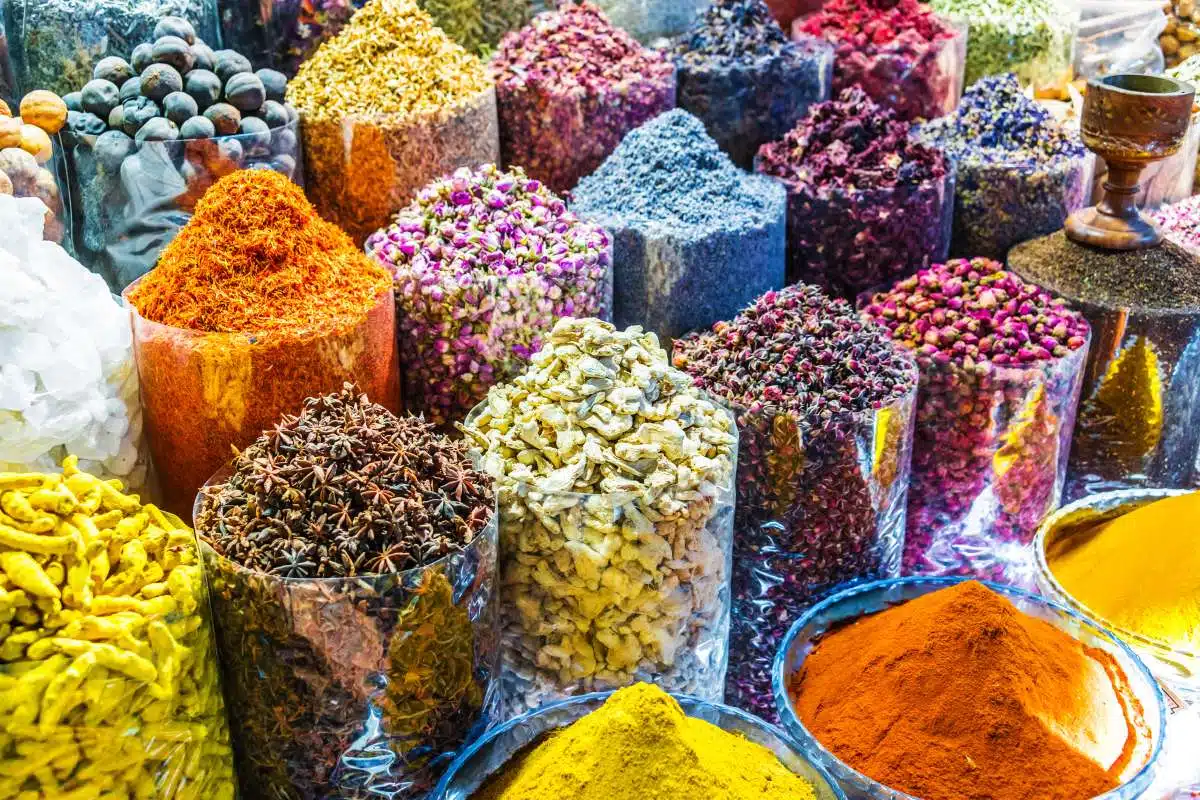 Without a doubt, one of the best things about Dubai is its amazing food culture – and nowhere is this more evident than on its streets.
From shawarma to hummus, falafel to kebabs, and baklava to kulfi ice cream, Dubai has something for everyone when it comes to street food.
One of the best ways to experience the culture is by taking a tour of the local cuisine – I love this one that combines a visit to the Old Souk and Dubai Creek.
Book Your Street Food Tour of Dubai Here
Admire Art on Alserkal Avenue
Founded in 2007 from abandoned warehouses in the area, Alserkal art hub has an industrial vibe but is home to some of Dubai's best art galleries – such as The Third Line, Lawrie Shabibi, and Green Art Gallery.
If you're an art fan, this is one of the best things to do in Dubai. The emphasis of the hub is on new talent, with a spotlight focus on Middle Eastern and Asian artists.
This makes it an extremely progressive art scene that encourages all types of creative projects. You'll also find workshop spaces, concept stores, and small boutiques with designer fashion from top designers.
You can also find some great coffee spots like Tom&Serg, which offer some top-tasting coffee and relaxed atmospheres.
Cool Things to See & Do in Dubai at Night
Eat Your Way Around the Time Out Market
One of the top things to do in Dubai during the evening is to head to the Time Out Market.
If you're not familiar with these markets, they are the coolest hubs in the city for global street food. And the market located next to Dubai Mall is no different.
From UAE cuisine to American burgers and mouthwatering Chinese dishes, this canteen-style food joint offers plenty of toothsome meals. The best part being that you and your gang can all order from different spots, and join eachother on a table to dine together.
Word of warning: Skip on the pizza. Dubai's pizza game leaves a LOT to be desired.
Catch a Show at The Dubai Fountains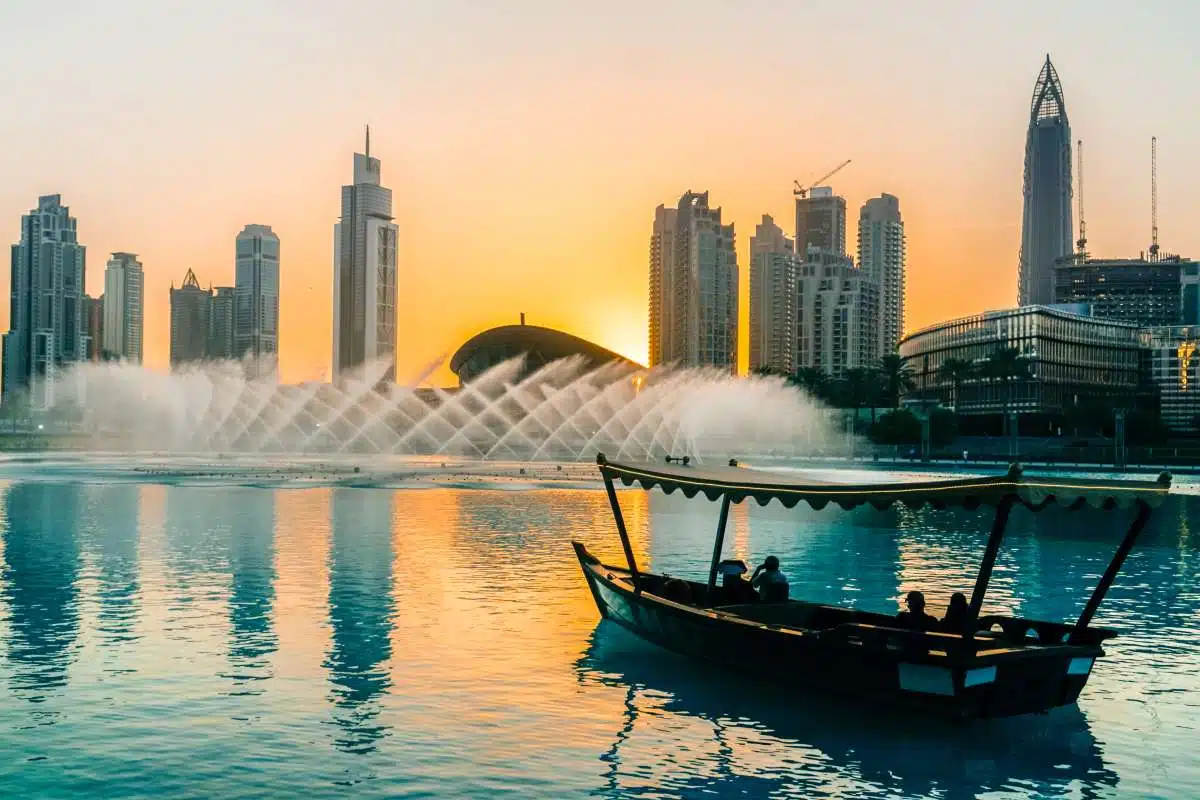 Situated in the centre of Downtown Dubai, The Dubai Fountains are best experienced at night – illuminated by the glow of skyscrapers.
With the Burj Khalifa as its backdrop, these fountains perform choreographed routines to music throughout the evening (every 30 minutes from 6pm, FYI) – get there early to secure a spot near the front.
Expect a soundtrack that switches from Whitney Houston to Adele. The best part? It's totally free to watch.
Party at Jumeirah Beach Residence
If you're looking for fun things to do in Dubai at night, you'll want to head to the beach.
Not only is it fun to chill out on the sand when the intense heat has died down, but there are plenty of bars and restaurants nearby where you can grab a drink and enjoy live music well into the night.
Where do I recommend? Bla Bla Dubai and Bliss Lounge are my top picks – the drinks are reasonably priced (a real rarity as Dubai is ridiculously expensive), the music is varied, and the vibes are great.
If you're after an ultra-casual spot to hangout with friends, Lock, Stock, and Barrel JBR is another great bar in Dubai.
Take an Evening Dinner Cruise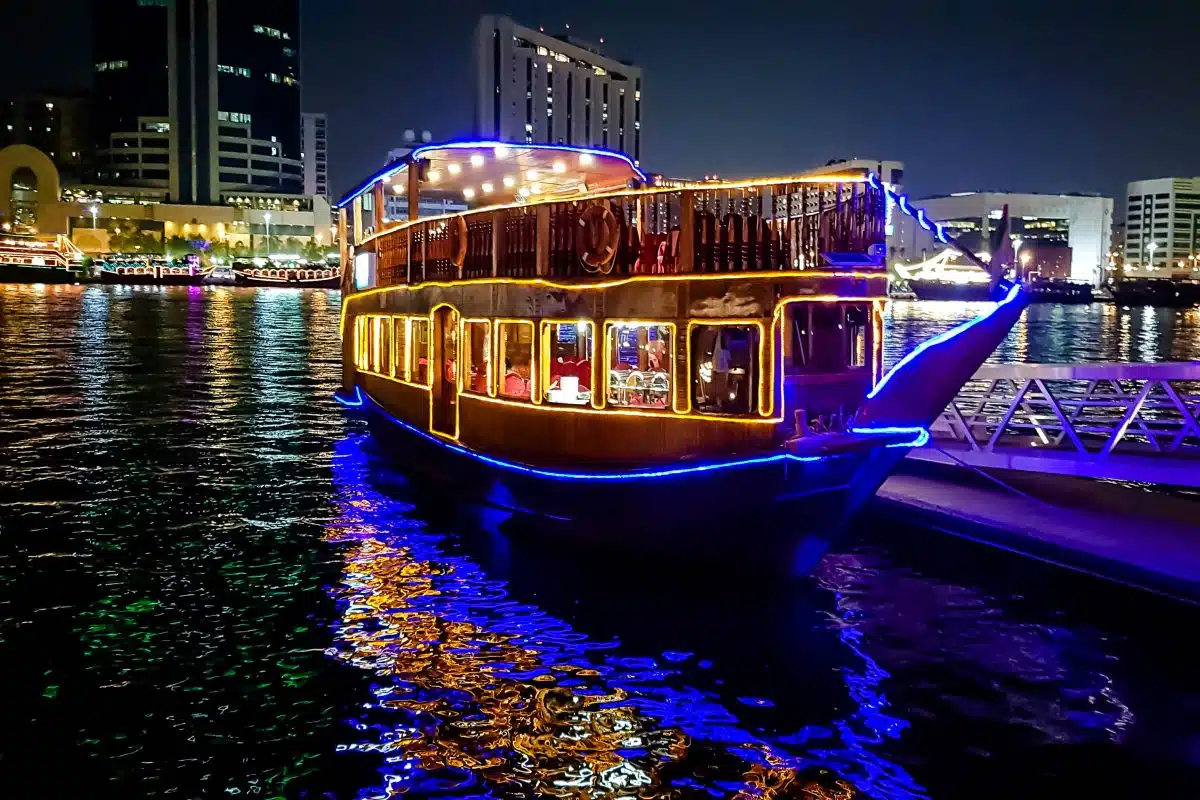 Dubai really comes alive at night, and there's no better spot to witness its magic than on Dubai Marina – especially when you're taking an evening dinner cruise.
As the skyscrapers begin to sparkle, chow down on a huge buffet filled with the likes of noodles, pasta, and grilled veggies – all thanks to Chefs at the nearby Radisson Hotel.
A soundtrack of live music really helps to get the party started, while you can head out to the terrace and sip wine as you admire the views.
Book Your Evening Dinner Cruise Here
Things to do in Dubai: Practical Tips for Your Trip
How Long to Visit in Dubai?
I recommend spending a week in Dubai – this gives you enough time to see all the main attractions as well as a couple of days of chilling by the pool or on the beach.
Best Time to Visit Dubai?
Summer in Dubai is unbearably hot for some, so November to February are popular months for tourists.
Where Should I Stay in Dubai?
Wyndham Dubai Marina
Located in Dubai Marina, the Wyndham Hotel is a luxurious hotel boasting large, spacious rooms with beautiful views. Whether you want to chill by the pool, relax in the spa, or pump iron at the gym, this hotel has got everything you need for a comfortable stay in Dubai.
Check Rates and Availability for Wyndham Dubai Marina on Tripadvisor I Booking.com
Atlantis, The Palm
The Atlantis at The Palm is the most iconic hotel in Dubai (though it comes with a hefty price tag). This resort has pools, an aquarium, a plethora of restaurants, and even a waterpark. If you can, splurge on a room with an aquarium view – you'll have a literal aquarium in your room!
Check Rates and Availability for Atlantis, The Palm on Tripadvisor I Booking.com
Recommended Tours in Dubai
Things to do in Dubai: Map
Discover More Dubai Guides