Dubai is the very epitome of luxury. From the majestic and awe-inspiring Burj Al Arab, to the incredible world's highest restaurant At.Mosphere, Dubai has pretty much redefined luxury on its own terms, says Neha Varma.
Dubai is a big name.
International celebrities drop in for quick weekend visits just to lunch at the Burj Al Arab or for luxury shopping at Dubai's uber-chic malls. Come with us as we take you on a journey of the luxuries of Dubai.
Be ready to be awed!
How About A Luxury Private Yacht Cruise On The Persian Gulf?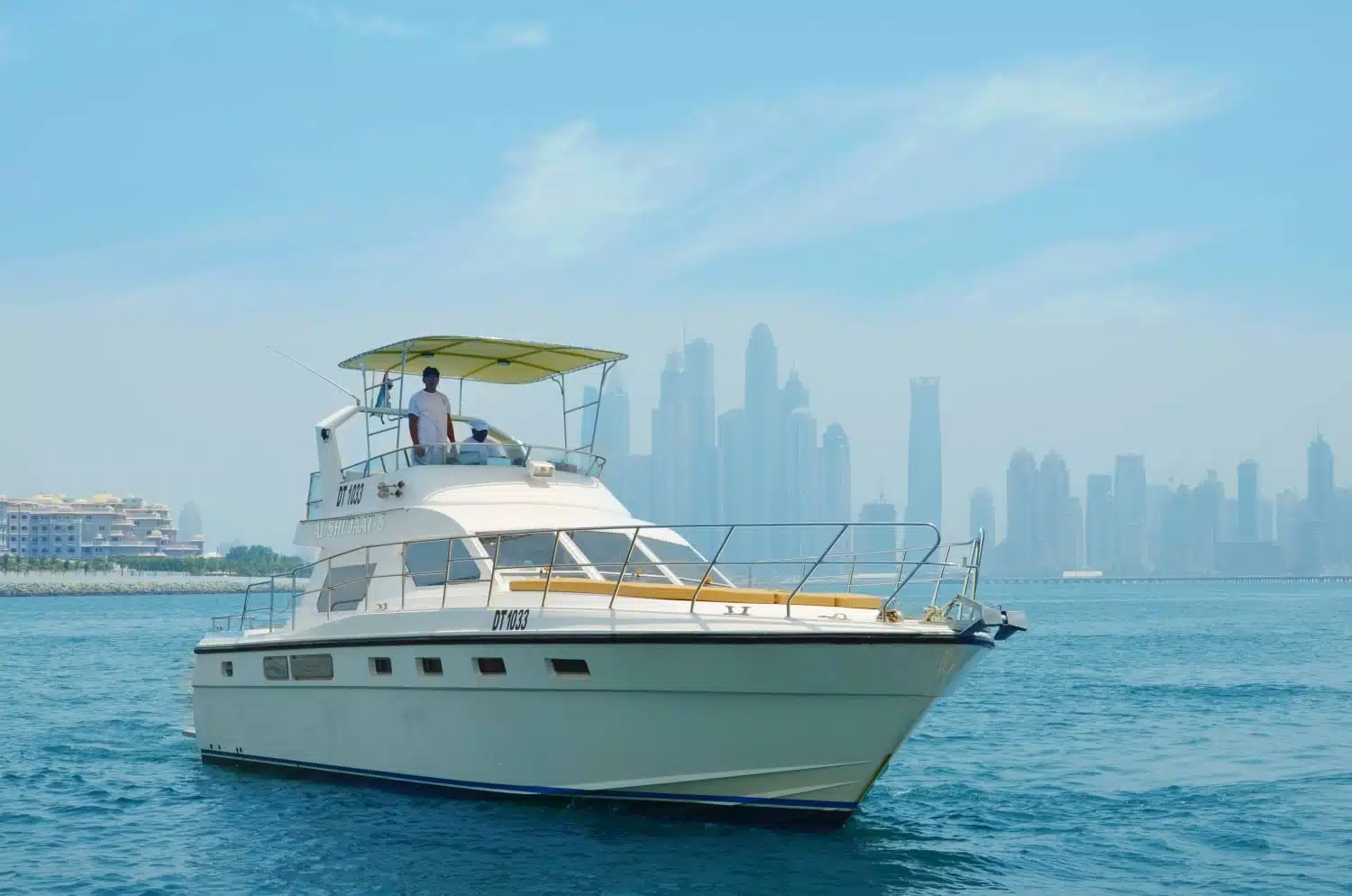 A private yacht cruise on the Persian Gulf with a permanent butler on call, a cooler full of refreshing snacks and drinks, and an entire crew standing by just to satisfy your every need.
A five–star lunch cooked and served to you on golden plates. Sounds good? It's like a Hollywood-style movie dream turned into reality for most people.
There are a lot of things you need to know about Dubai. Hiring a beautiful private yacht will cost you an arm and a leg, plus the crew's salaries and the add-ons – you do the math.
Cruise gently along the Dubai Marina and down the coastline, stopping at every wonderful landmark you fancy. The yacht is yours for the entire cruise, so you can stop anywhere, take as many pics as you like, and feel like a sheikh for an hour or two.
---
[easyazon_link keywords="Dubai Travel Guides" locale="US" tag="discoveries0f-20″]Shop Dubai Travel Guides Now[/easyazon_link]
[easyazon_image align="center" height="160″ identifier="1742208851″ locale="US" src="https://www.thediscoveriesof.com/wp-content/uploads/2017/07/51vYnHUchHL.SL160.jpg" tag="discoveries0f-20″ width="102″]
---
The Ultimate Luxury Desert Safaris
Here's an unbeatable luxury experience for you in Dubai. A Dubai desert safari in a Mercedes Benz G-Class VIP, complete with every possible luxury facility you can imagine.
Tinted windows, A/c, mirrored ceilings, drinks and snacks bar, sophisticated audio and video equipment, video games and music CDs, DVDs and so much more. You'll be picked up and dropped off at your hotel in the very best of style and luxury. If you're bothered by the traffic for the 45 minutes it takes to get to the desert, you just opt for a helicopter transfer to and fro!
What's more, there's custom entertainment with Steinway Grand Piano recital and music sung by a real opera singer, belly dancing and more.
A luxury 5-Star dinner ends your day, as you soak it up, sitting in the very lap of luxury. For the best hospitality, carefully select the tour operators. Go for only respectable and known names while selecting luxury desert safaris.
How About A Night At The Exquisite Burj Al Arab?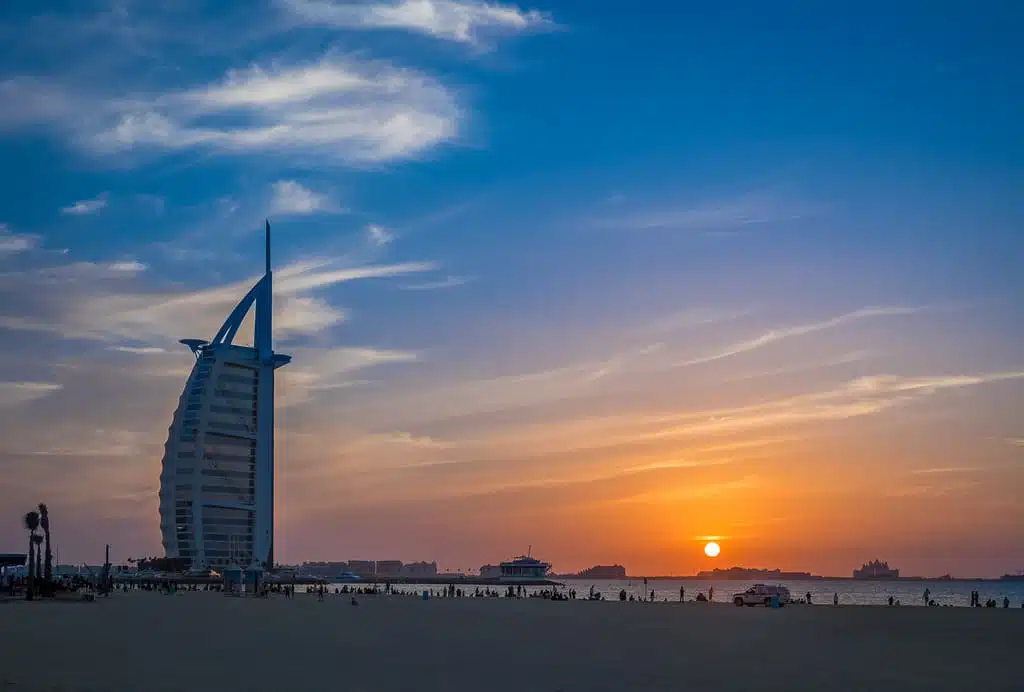 The hotel is a sail-shaped glory that rests on its own island, connected to the Palm Jumeirah Islands by a strip of land. You enter via the simply mesmerising golden atrium, complete with an escalator and a sparkling fountain. The Deluxe Suite has its own private dining room, a private bar and a butler's kitchen, served by, of course, a personal butler! A single night's stay at a suite on the 25th floor will cost you $24,000! Luxury, anyone?
Then let's talk about the seafood restaurant with the oyster-shell shaped entrance – Al Mahara. Here diners can enjoy watching the floor-to-ceiling spherical aquarium containing sharks, stingrays and lovely aqua plants. Gold archways, gold fittings, and gold everywhere – the Burj Al Arab puts all the gold in Dubai's Gold Souq to shame.
Tour The Blissful UAE In A Supercar!
Nothing screams luxury like the roaring burble coming from the exhaust of a supercar, don't you think? So how would you like to take a private tour of anywhere in the UAE on a Ferrari 458 Italia or Spider, or the Mercedes SLS, or the Lamborghini Avantador or the McLaren MP4-12C or the Lamborghini Gallado?
Consider all the luxuries within –the very last word in entertainment technology, mirrored ceilings, tinted windows and any other custom changes you want to make. For 7 blissful hours you're the master of a supercar, with a complimentary tray of drinks and snacks to demolish as you drive along the UAE's most beautiful roads.
Ever Tasted 23-Carat Ice Cream?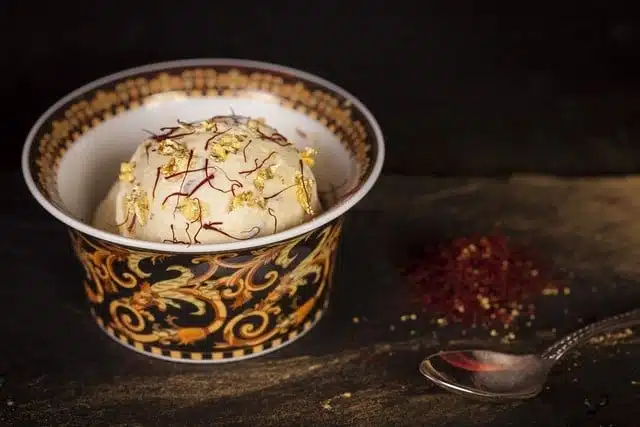 What's the most you've paid for a scoop of ice-cream? A couple of dollars, perhaps more? Here's the most expensive ice cream in the world, something to lick and relish for as long as it will last. For AED 3000 a scoop, the world's costliest scoop is a Madagascan vanilla ice cream with Black Diamond flavor.
Sounds ordinary? Just wait. Here comes the expensive part – your scoop of ice-cream is garnished with slices of Italian black truffle and strands of Iranian saffron. Right on top of all that is a garnish of – wait for it – 23-carat edible gold leaf. The end product is served on a lovely-beyond-words gold-leaf decorated Versace dish.
Love this? Save and share on Pinterest.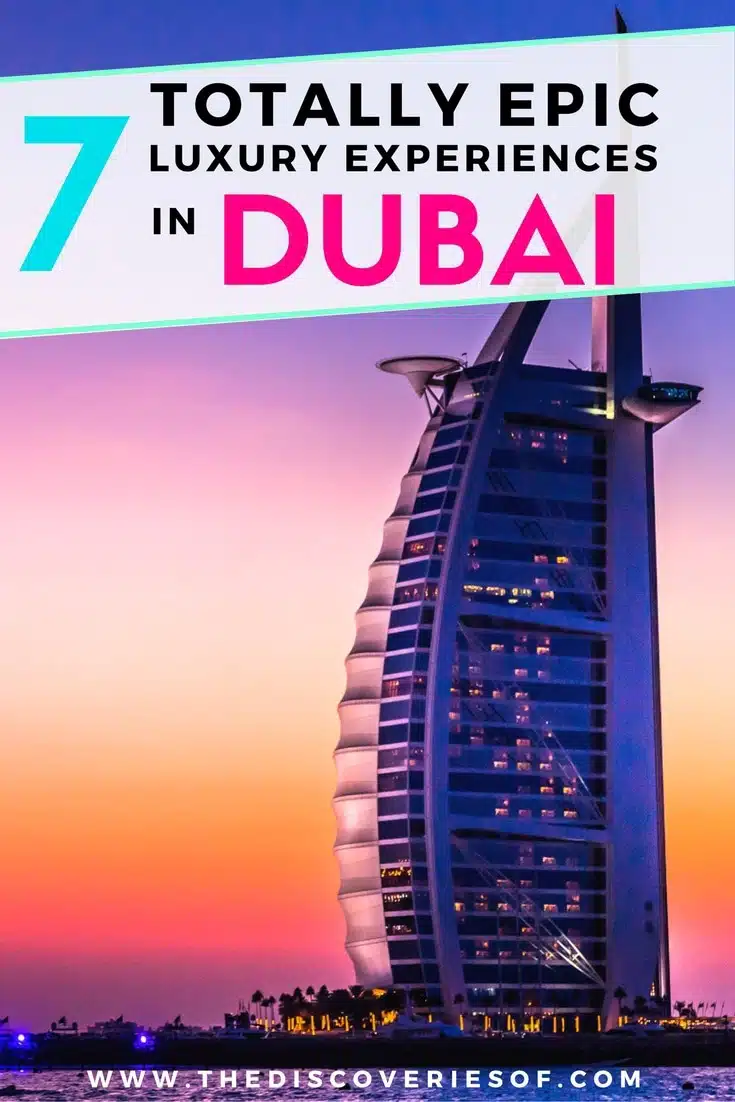 A Private And Exclusive Dinner On The Burj Al Arab Helipad.
If dining at the Burj Al Arab is the very height of luxury, a private dinner on the Burj Al Arab's helipad is literally the last word on the subject. It takes pretty heavy moolah to afford a private dinner on the famous helipad, which has become iconic of Dubai's creativity and innovative luxury. The Burj Al Arab helipad is huge – in fact, the famous Agassi v's Federer 2011 tennis match was conducted on it. There was also a big Tiger Woods drive on it as well. It's just an exclusive setting and something cherished by the royals of Saudi Arabia for weddings and other celebrations.
Flying To Dubai In Style
What's the most luxurious experience you can have on the way to Dubai? You fly to Dubai in very lap of luxury, in the Emirates First Class service, that's what. Each suite has a personal mini bar, vanity table, wardrobe, mirror, a sliding door and adjustable ambient lighting. That's not the end of it. The light bulb holders are painted in gold, which casts a lovely color all around. Extremely comfortable couch and a wide screen with movies and TV channels and Wi-Fi on the house complete the list. Beat that!
Conclusion
Our list of luxurious experiences in Dubai is but a mere scratch on the surface of what this uber-luxurious city has to offer in terms of luxury. Everywhere you go, you'll find excellent Arabian hospitality coupled with gracious luxury. To top it all, every building, every structure is crafted in the most ardently luxurious manner. In Dubai, the very air speaks luxury.
Guest post by Neha Varma of www.dubaiwikia.com
An avid trekker, explorer and a true foodie; Neha finds happiness in small endeavours of life and loves to pen them down as a cherished memory. A firm believer that "we have just one life to live and so much to do", Neha lives every moment to the fullest.