The Musandam, a small Omani enclave surrounded by the United Arab Emirates is an exciting but little-known destination. Head on a Dubai to Musandam trip for an unforgettable escape.  
The Musandam is one of the Arabian Peninsula's best-kept secrets. An enclave of Oman on the north-east corner of Arabia, the Musandam Peninsula is little-discovered and makes for a perfect day-trip or weekend getaway from Dubai.
The Musandam Peninsula
As someone who used to live in Dubai, it's hard for me to get excited by the glitz and glam of the Emirate. But the Musandam is a completely different affair. This small enclave of Oman should be on every person's travel bucket list, whether for a day trip or a stay in one of the Musandam's hotels.
Oman is a striking country – and worth spending time exploring (check out this Oman travel guide for some inspiration). But The Musandam is something a little different.
The region boasts jaw-dropping vistas of rugged mountains, small villages, unpopulated sandy beaches and numerous hiking trails
Tempting as the idea of working up a sweat on a mountain hike was, I was looking for something a little more low-key for my most recent trip to the Musandam Peninsula. If that sounds like more your style, taking a traditional dhow (wooden boat) trip along the coast is one of the best things to do in the Musandam.
I mean, cruising along the picture-perfect coast, meandering into and amongst the numerous fjords sounds pretty fabulous right? Right.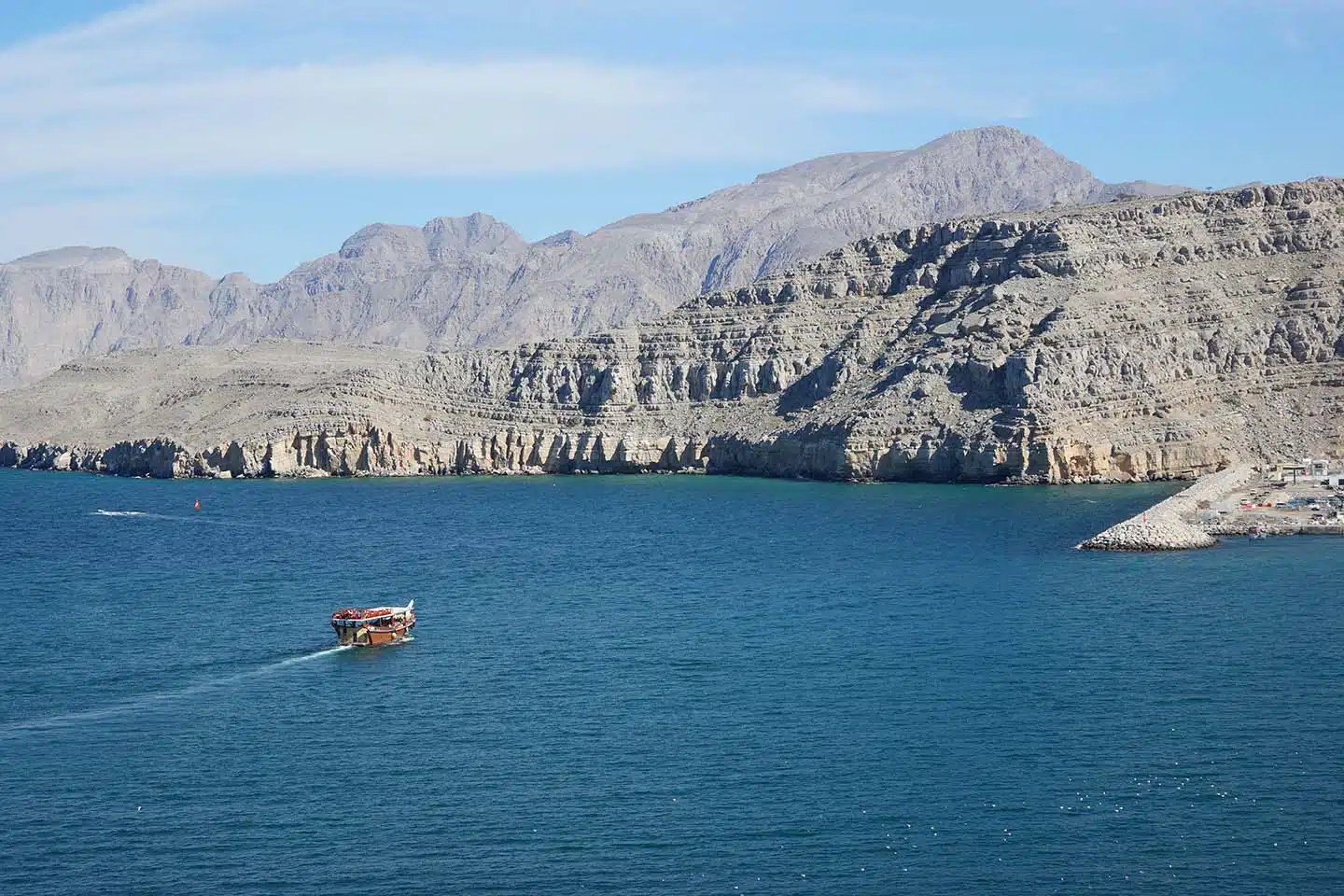 Dhow Trips in the Musandam
There are all manner of tour operators offering Musandam trips, which range from half-day trips to week-long sailing excursions all the way from Dubai to the Musandam and back again. Given enough notice, most operators will work with you to create a custom itinerary to suit.
Tempting as that was, I was on a short timeframe, so opted for a day-cruise on my Dubai to Musandam trip.
Operators set sail from the small seaport town of Dibba, which is on the border between the UAE and Oman's Musandam. It's about a two hour drive from Dubai, so can easily be visited as a day trip from the emirate's capital city.
A Day Trip from Dubai
The journey alone was an eye-opener. Trucking along through the desert scrubs, I kept a close eye out for camels and oryx and was rewarded with a glimpse of a herd of each. After the undulating dunes of the desert, the rocky splendour of the Hajjar Mountains came as a bit of a surprise – but a welcome one.
Time your visit right and you can stop off at the weekly market in Masafi in Fujairah (one of the other seven emirates that make up the U.A.E)- held every Friday, the market is a treasure trove of Persian carpets, freshly-picked fruits and lush plants.
The market is like stepping back in time – very little seems to have changed since the days when Wilfred Thesiger (my new favourite read) wandered across the region in the forties in his much-loved book Arabian Sands. Still, I digress.
All Aboard
By the time I reached Dibba, I was ready to hop aboard. After breezing through passport control (this is a border, albeit an informal one after all) I spotted the quiet harbour. It would have been difficult to miss – a series of majestic dhows bobbing up and down on the water.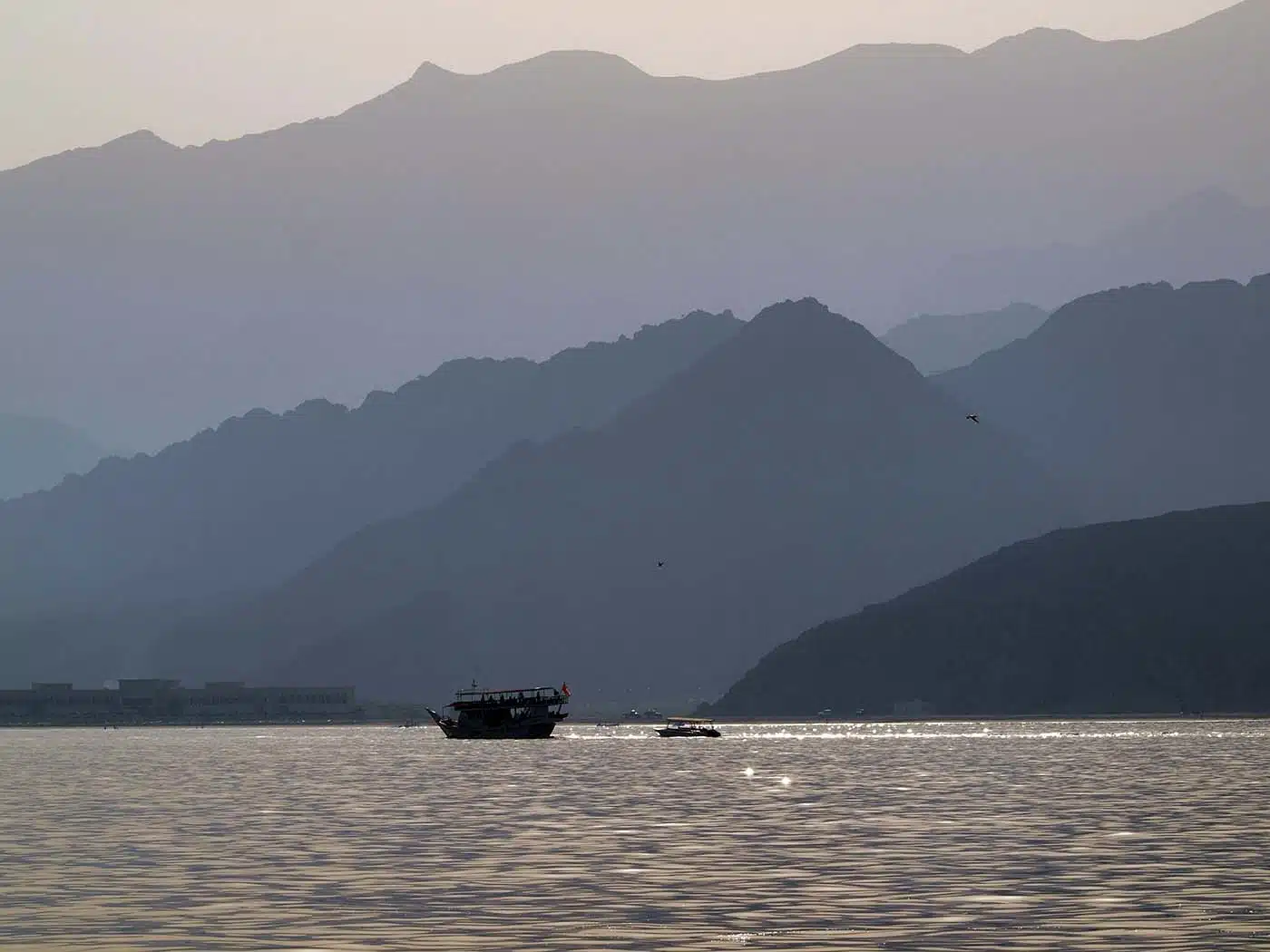 Dhows are bastions of comfort and hospitality – ours was fitted with plush cushions and a two-tiered sun deck for soaking up the rays.
Book these top Musandam Experiences now
We sailed out to sea, enjoying the plentiful fresh air and sunshine and that special thrill that comes with the wind blowing in your hair and salty splashes from the sea.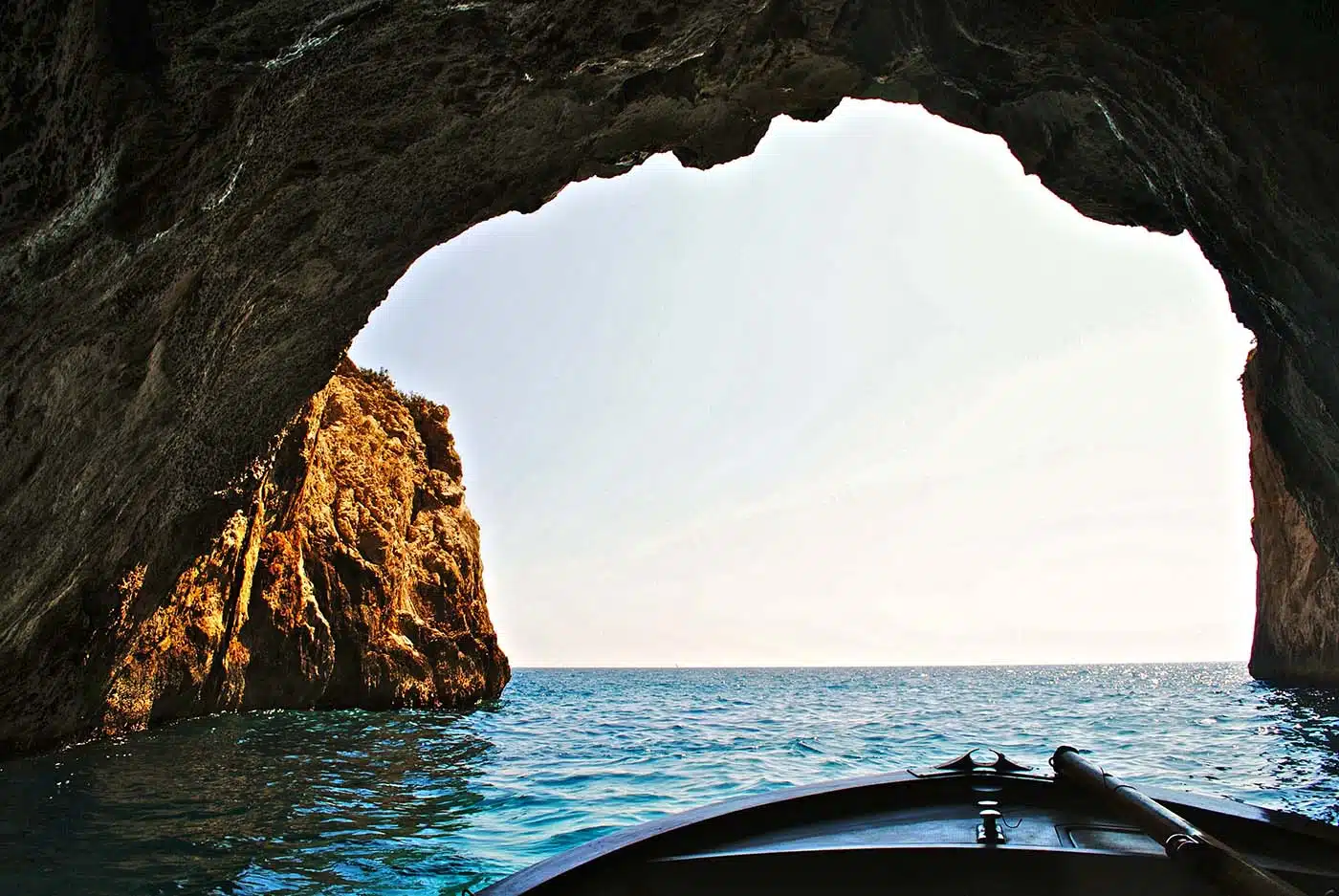 I would have been happy enough if that had been it – but we moored in a small enclave before stripping down to our swimsuits, donning flippers and snorkels and dive-bombing into the water.
Is there anything more pleasurable than bobbing along in calm waters, floating face down as you play peekaboo with passing shoals of tropical fish, the sun warming your back?
If you can summon the energy to pull yourself from your sun-and-sea torpor, there are plenty of caves and small coves you can explore. I swam (very, very lazily) to a small cave, where I spotted a few baby lobsters and yet more fish.
Thrills and Adventure
After a relaxing swim, the captain brought the speedboat out onto the water – a banana boat trailing cheekily in its wake. I've never been able to resist a banana boat or trust those who can. With a sudden whoosh, we were off. Ripping through the water at breakneck speed and tumbling off the inflatable every time the speedboat made a turn. Scream, splash, repeat.
Back on board, we putted along for an hour or so before we reached another calm cove. The boat's engine stopped after we'd moored a little way off shore and we heard… nothing. Near-absolute silence – only interrupted by the quiet lap of the waves against the boat.
An Arabian Feast
By this point, we had all worked up an appetite
and were more than ready to eat – a feeling compounded by the tantilising aromas wafting from the on-board barbecue.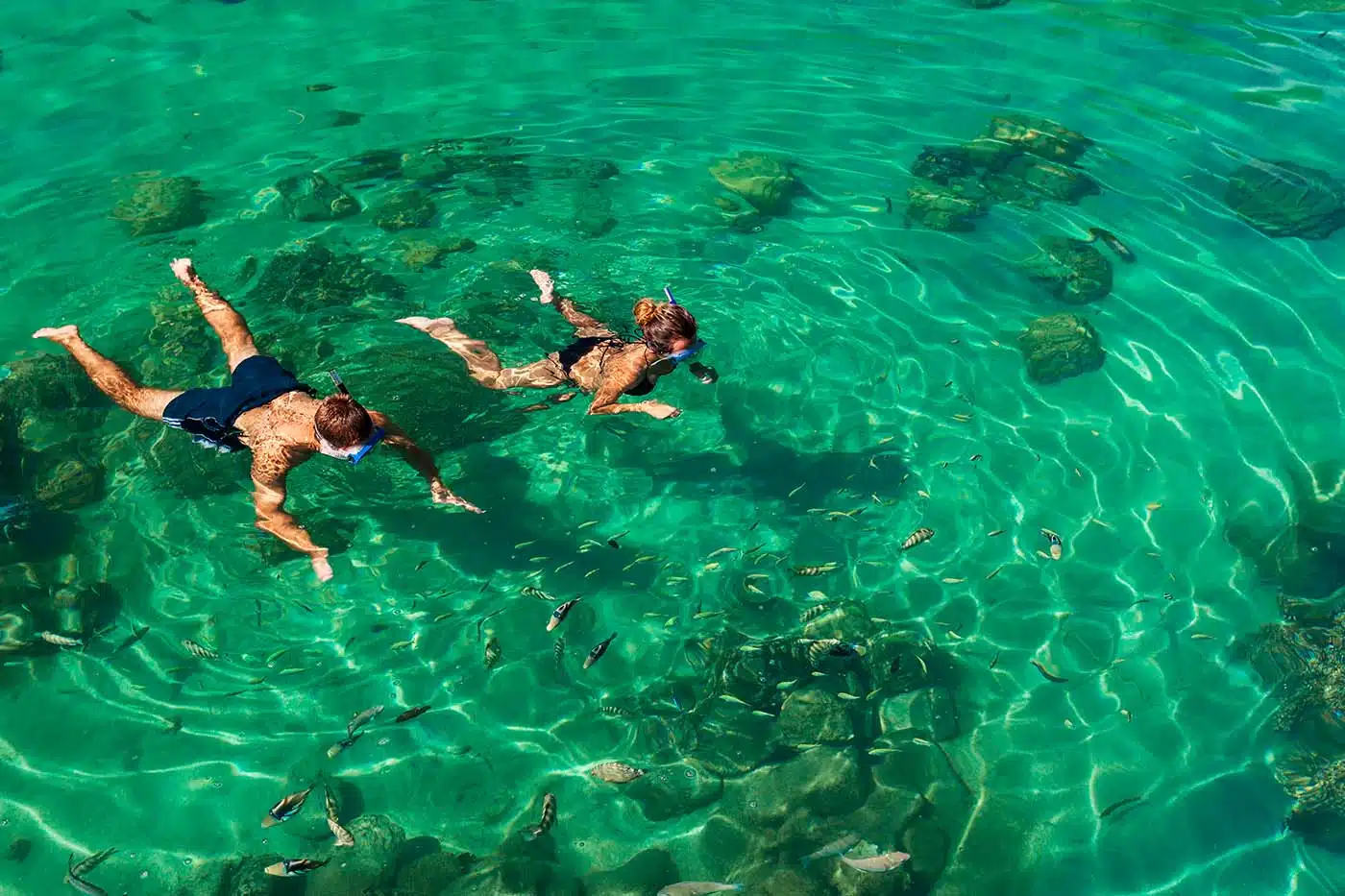 I tucked into the feast – a welcome array of steamy Arabian breads and mounds of local staples such as hummus, moutabal and tabbouleh.
Appetite sated and energy restored, I was ready for the next adventure – a trip to the small beach. Though it was in sight, it was something of an accomplishment getting there – a combination of speedboat and inelegant wading with a final stagger onto the sand. I can't say I cared much as I plopped down my sarong and took a snooze.
The Return Journey
It seemed that my trip was coming to an end. Not going to lie, I was pretty disappointed that the day had gone so quickly. A spot of fishing (12 people on board and all we caught was one tiny barracuda – good thing we hadn't relied on our fishing skills for lunch). Still, it was a pleasant way to end our time at sea.
I climbed into the 4×4 – direction set for Dubai, sand in my shoes, salt on my skin and set off for the city.
Book Your Dubai to Musandam Trip
Where to Stay in the Musandam
Have a little more time to spend in the Musandam? Six Senses' opulent Zighy Bay is the perfect escape from it all. Expect spectacular views, luxury private pool villas and a fabulous spa.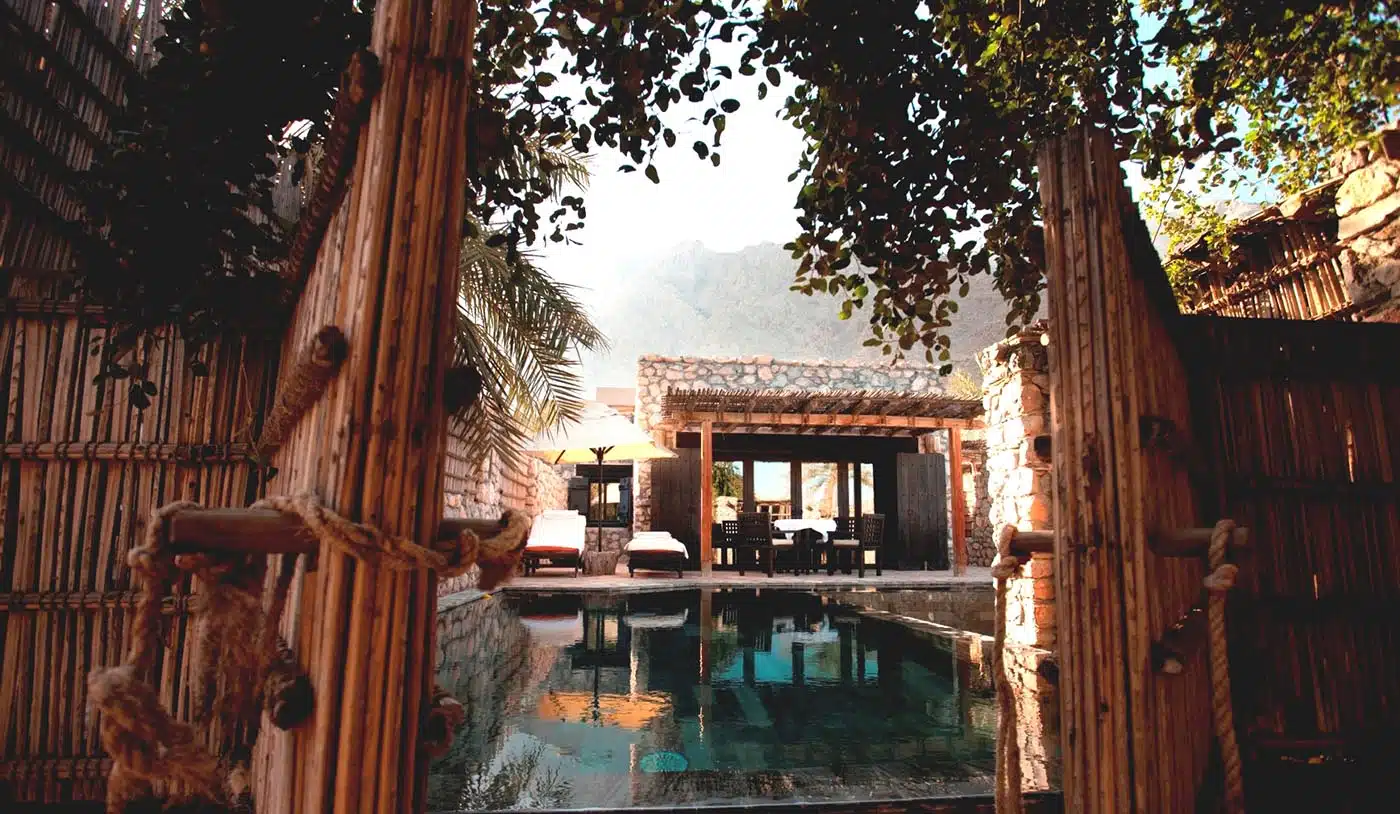 Prices start from £520 per night.
Love this? Save and share on Pinterest.