Get ready to take a trip around Europe with these seven European itineraries – stacked with culture, history, fine food and sights around every corner.
Welcome to the grand tour of Europe – a continent steeped in history, bursting with culture and natural wonders.
Whether Europe is on your doorstep or on the other side of the world, crafting the perfect Europe itinerary can be a challenge. Should you focus on one or two countries or pack your time seeing as many places as possible? How long should you spend in each place?
Whether you've got a long weekend or an entire month to spare, I've picked out some of the best European itineraries so you can experience the best the continent offers.
We're hitting up must-visit destinations and hidden gems – complete with top tips to help you plan an epic trip.
So, all aboard, strap in and let's press on with my guide to the best European travel itineraries.
Europe Itineraries
One Month Europe Itinerary
Route Summary
Paris >> Bruges >> Amsterdam >> Berlin >> Prague >> Salzburg >> Venice >> Florence >> Rome >> Nice >> Barcelona
Distance: 2668 miles / 4294 km
1 month
How to Do It: By Train
This superb 1-month European travel itinerary takes in some of Western and Central Europe's most beautiful, historical and cultural highlights and is best enjoyed by train.
Taking in stops in eight countries is one of the best ways of enjoying Europe's rich cultural diversity in one fell swoop.
Highlights of the Trip
Paris
This European itinerary bursts with places of artistic, cultural and historical significance and Paris really gets you off to a flyer. Cruise along the Seine, enjoy an evening at the Cabaret and wander around Luxembourg Gardens.
The Louvre and d'Orsay are ripe for a bit of art and history, while Notre Dame never fails to wow with its spectacular facade and interior.
Bruges
Heading across the border to Bruges, a few days is enough to see what this Belgian gem offers.
I've spent a good chunk of time in Bruges and it's just as charming as they say – no sooner have you turned a corner, you're staring at another picture-perfect view – there's a reason they call it the Venice of the North you know.
Cruise along the gorgeous canals, marvel at the stunning medieval architecture in the Old Town and why not indulge yourself with one of the city's fantastic Beer and Chocolate tours?
Amsterdam
A 3-hour hop across the border will take you to Amsterdam, where checking out their famed canals is a must.
I recommend using a bike to explore this super cycling-friendly city while exploring the city's rich artistic past at Rembrandt House and Van Gogh Museum.
And if you're so inclined, why not take a peek around the red light district after dark before heading to one of the city's fabulous coffee shops for a nightcap?
Berlin
The next stop is one of my favourite locations on this European tour. It's a city that both acknowledges its horrific past but which has its feet firmly in the present. The Brandenburg Gate, Checkpoint Charlie and Holocaust Memorial are must-visits.
After dark, head into the city's dark underbelly and famed nightlife for Bier, Schnapps und Tanzen!
Prague
Venture from Berlin and take the short five-hour hop to the Czech capital, Prague. The view across the city from Prague Castle is unmissable – see if you can count the hundred church spires dotted around the skyline.
Meanwhile, the Prague City Card is your golden ticket to unlocking dozens of the city's finest tourist treasures.
Salzburg
Whether you're a fan of the Sound of Music like me or more into Baroque architecture and Mozart, Salzburg is an underrated gem on this Europe trip itinerary.
As well as the famed Sound of Music Tour, the views across the city from the Hohensalzburg fortress are unparalleled.
Venice
Venice is probably the best of the lot in a tour bursting with romantic stops.
You cannot visit this stunning city without riding through the world-famous canals. And if you're looking for something less cliched, head out to some outer islands like Burano, Lido or Murano.
Nice
Nice by name, very nice by nature. Take in the unmatched glory of the French Riviera and the crystal clear blue water of the Mediterranean in Nice. Laze on the beach and explore the stunning old town.
While you're there, why not detour to nearby movie hotspot Cannes or have a little flutter at one of Monte Carlo's famous casinos?
Barcelona
Journey's end brings this stunning European itinerary to a close at the beautiful city of Barcelona. I spent three months in Barcelona earlier this year and there's no doubt about it, I love the city.
Be enchanted by the street performers in Las Ramblas, become captivated by the Gothic glory of Gaudi's designs and why not go out on a high by trying out one of the city's stellar restaurants?
London and Paris
Route Summary
London >> Paris
Distance: 301 miles / 484.5 km
1 week
How to Do It: By train
The Eurostar made it so easy to breeze between London and Paris (in three hours). Simply hop on in London's St Pancras Station, whizz through the Garden of England and the beautiful Northern French landscape before landing in the heart of Paris.
This low-key, simple one-week European itinerary is perfect for travellers seeking an introduction to touring around Europe, with both cities offering plenty for the discerning tourist to enjoy.
Highlights of the Trip
London
Regular readers of this site will know that I have enormous fondness for my hometown and once again, I'm only too happy to extol its virtues.
Of course, as well as all of the famous tourist trappings London's well known for, heading off the beaten track will open up London's many off-piste charms.
I'm always grabbing food at Maltby Street Market, trying out one of the city's many street food vendors and love to explore London's many rooftop bars after dark.
Paris
Hop onto the Eurostar from London St Pancras International and arrive in Paris hours later.
Head to the Eiffel Tower, stroll around Montmartre's incredible artistic community and enjoy a lazy afternoon drinking wine and eating the city's magical cuisine at one of the streetside cafes while watching the world go by.
If you're a history buff, heading out to the Palace of Versailles and immersing yourself in its rich regal history is well worth a few hours.
Scandinavian Tour
Route Summary
Copenhagen >> Stavanger >> Bergen >> Oslo >> Stockholm
Distance: 1215 miles / 1955 km
10 days
How to Do It: By Plane / Car
This 10-day European itinerary takes in stunning vistas across Scandinavia, one of my favourite European locations.
Beginning in Denmark's beautiful capital, Copenhagen, I suggest flying the first leg of the tour to Stavanger before hiring a car to drive across Norway and Sweden and fully drink in the incredible Nordic scenery.
This tour is best enjoyed between late April and September when temperatures are higher and you're less likely to get stranded by bad weather.
Highlights of the Trip
Copenhagen
Frank Loesser wrote "Wonderful Copenhagen" for the 1952 film Hans Christian Andersenand; even though he'd never visited the city, he nailed it.
Grab yourself a City Pass upon arrival to make getting around Copenhagen nice and easy.
Wander around the Tivoli Gardens at your leisure and visit one of the many royal palaces dotted around the city. If you're a water baby, you'll love seeing the city via a canal cruise from Nyhavn.
Stavanger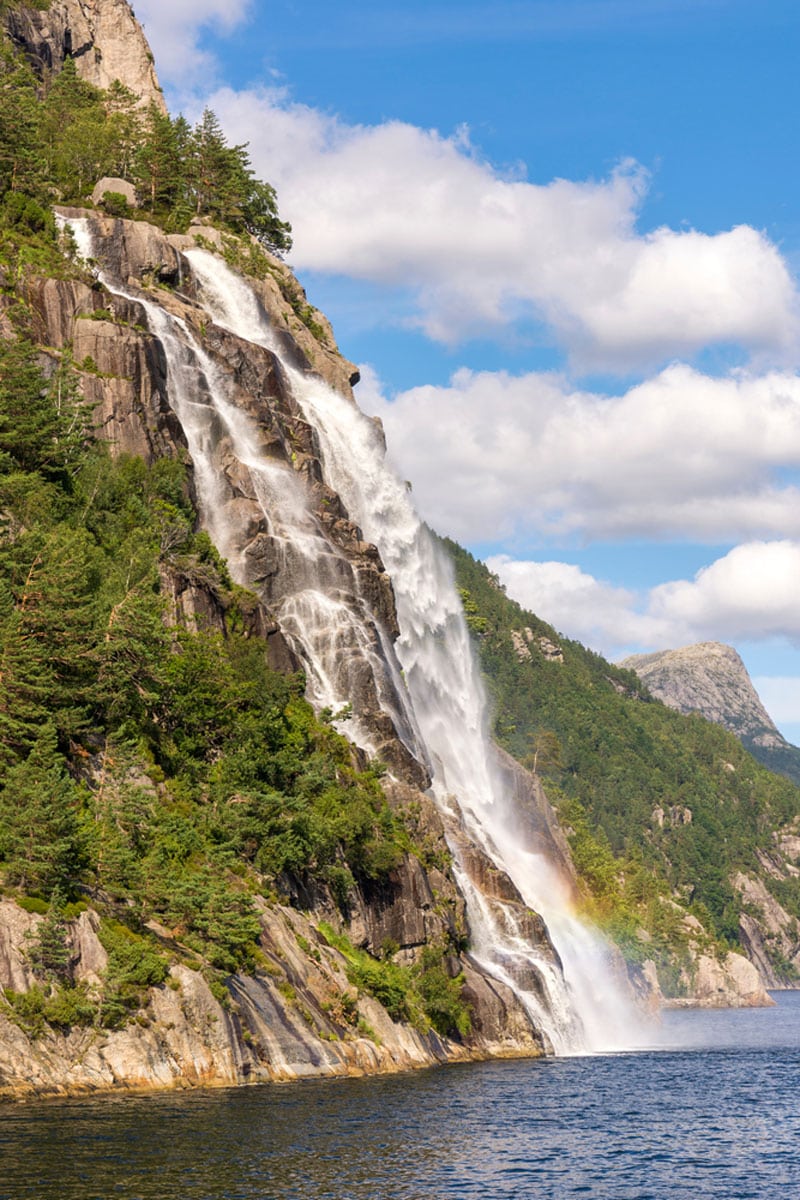 Flying into Stavanger gives you your first glimpse of the incredible Norwegian landscape. This city on the southwestern coast of Norway makes an excellent base for hikers to explore Pulpit Rock, Kjeragbolten and the Flørli 4444 steps.
If you're not into hiking, you can take in the craggy, rocky coastline on the Lysefjord cruise.
Bergen
One of the rainiest spots in Europe, don't visit Bergen without a waterproof and robust brolly. Luckily, this gorgeous city has plenty of extraordinary museums to see when it inevitably chucks it down.
The Bryggen Hanseatic Wharf is a UNESCO World Heritage site with its picture book-coloured wooden dwellings. The Fløibanen funicular takes you to the top of Mount Fløyen, where the view has to be seen to be believed.
Oslo
You'll probably need a day for the drive across from Bergen to Oslo as you'll want to stop several times to drink in the incredible scenery.
Once you arrive in Norway's capital, visit Vigeland Park, which contains over 200 sculptures created by Gustav Vigeland.
No trip to Oslo is complete without a visit to the Viking Ship Museum, while night owls will find plenty to do in the vibrant Aker Brygge area.
Stockholm
The Swedish Capital, Stockholm, is the final stop on this Nordic itinerary and makes for a stunning endpoint for our journey across Scandinavia. Gamla Stan, the city's Old Town, is wonderfully preserved, with incredible golden facades.
Meanwhile, Drottningholm Palace is an unmissable site next to the Old Town. As you navigate the city, art fans will be seduced by the incredible Stockholm Subway art.
Best of Italy
Route Summary
Rome >> Florence >> Cinque Terre >> Venice
Distance: 536 miles / 862 km
1 week
How to Do It: By train
This stunning Italian tour takes you through some of Italy's golden areas, with amazing sights, scenery and, of course, cuisine.
Head north from Rome into the heart of the stunning region of Tuscany and Florence before enjoying the Cinque Terre area and then beading across Italy's thigh to the city of romance, Venice.
Route Highlights
Rome
Rome, La citta eterna, the beating heart of Italy and historical colossus. There's plenty to see, including the Colosseum, the Pantheon, and a Vatican tour.
For dinner options, I can't recommend the Trastevere area of the city and its breathtaking selection of boutique restaurants highly enough.
Florence
In a nation of art lovers, Florence stands head and shoulders above everywhere else.
This Tuscan gem includes must-visits such as the Galleria dell'Accademia to learn about Florence's part in the Italian Renaissance and climb the Duomo di Firenze for incredible views across the city with rolling Tuscan hills as the backdrop.
While in town, why not learn from the best with an authentic Italian cookery class?
Cinque Terre
The Cinque Terre comprises five towns, the main one being La Spezia, where your train will arrive.
These five towns on the Mediterranean coastline provide the perfect mix of crystal-clear blue seas and picture-perfect craggy cliffs topped with colourful, beautiful towns. A heavenly oasis away from the din of the big cities.
Venice
A train journey from the Mediterranean coast to the edge of the Aegean takes in some spectacular views before arrival in Venice.
If you want to remain away from the tourist hotspots, I suggest exploring the Jewish ghetto and taking a cruise to Murano to visit the incredible Glass Museum.
Exploring the Balkans
Route Summary
Ljubljana >> Zagreb >> Dubrovnik >> Kotor >> Sarajevo
Distance: 610 miles / 981 km
10 days
By car
Taking in three nations of the former Yugoslavia, this Balkan tour is an ideal way to explore the underrated charms of the Balkans.
Taking in former Ottoman strongholds such as Bosnia, with a sprinkling of former Communist architecture in Slovenia and Croatia and some stunning scenery, This 10-day tour is one of Europe's finest hidden gems.
I suggest driving this itinerary to fully appreciate the many charms of this fantastic region.
Route Highlights
Ljubljana
The Slovenian capital, Ljubljana, is the perfect spot to start this Central European itinerary. Explore the Triple Bridge that connects the historical old town with the modern city, the 18th Century Robba Fountain, made of limestone and marble.
If you're looking for waterside relaxation, visit Lake Bled and let the lapping waters relax as you recharge your batteries.
Zagreb
Head through the stunning Slovenian and Croatian borderlands before arriving in Zagreb. Take in the Old Town, which contains the Cathedral, Lotrscak Tower and beautifully maintained Medieval Stone Gate.
I loved exploring Dolac Market with its vibrantly coloured flower and food stalls.
Dubrovnik
Into Game of Thrones? You'll find plenty of familiar sites as you wander around Dubrovnik.
The city is also home to one of Europe's most beautiful monasteries, with the 14th-century Franciscan Monastery containing an incredible library and historic pharmaceutical displays.
After dark, the Stradun is the best place to head for food, drink and a little party atmosphere.
Sarajevo
Steeped in history, Sarajevo is the perfect place for this itinerary to end.
Allow two or three days to take everything in, from the Ottoman-era Latini Bridge, near the site of Archduke Franz Ferdinand's assassination in 1914, to the eerie surroundings of the abandoned bobsleigh track built for the 1984 Winter Olympics.
The Tunnel of Hope is a must-visit, serving as a reminder of the appalling horrors of the Bosnian War in the 1990s.
Loire Valley
Route Summary
Orleans >> Blois >> Amboise >> Chinon
Distance: 150 mile / 240 km
5 days
By car
The Loire Valley is an area South of Paris in the middle of a stretch of the Loire River. This easy-drive 5-day itinerary is ideal for anyone wanting to experience the real France outside of what Paris offers.
Châteaus, vineyards, staggering scenery and eye-catching architecture from the ages make up this beautiful, relaxing road trip, ideal for history buffs.
Route Highlights
Orleans
The City of Joan of Arc, Orleans, has recently spent millions of Euros on significant conservation projects to return to its former glory.
Orleans has an essential place in French history as Joan of Arc led French troops to victory against the occupying English armies in a turning point in the 100-year war. Explore the banks of the Loire and the Cathedral of Sainte-Croix.
Blois
Between Orleans and Blois, stop at the Château de Chambord. Sat right on the bank of the Loire, this impressive structure still has its original double-spiral staircase as designed by Leonardo da Vinci.
Once you arrive in Blois, wander around the Old Town on foot and drink in the incredible architecture.
Experience more of France's royal history at the Chateau de Blois, home to no fewer than seven French Kings! Fans of architecture will have a field day with the fusion of styles.
Amboise
Amboise is a small town on the banks of the Loire, best known for the 15th-century Royal Chateau. Explore the wonderful garden with sensational river views and the eerie, if exciting, underground passageways.
With the car safely parked in the evening, why not test your palette with wine tasting at Les Caves Ambacia?
Chinon
Chinon is your final stop on this beautiful, castle-dominated itinerary. On the way from Amboise, stop in at the Chateau de Villandry and explore the unparalleled gardens before arriving at Chinon.
Cimb to the medieval Royal Fortress of Chinon to see incredible views across the town and the Vienne River.
Iceland Ring Road
Route Summary
Blue Lagoon >> South Coast >> East Coast >> North Iceland >> Reykjavik
Distance: 828 miles / 1332 km
1 week
By car
Speak to anyone with the travel bug and the likelihood is that if they haven't already been to Iceland, it's sitting in the top five of their bucket list. And rightly so. There is nowhere on earth like this forbidding wintery paradise that sparkles all year round.
Volcanoes, lagoons, glaciers, rocky outposts, Northern Lights and some of the friendliest people you'll ever meet. You can experience it all with this comprehensive Iceland Ring Road itinerary.
Route Highlights
Blue Lagoon
The Blue Lagoon is one of Iceland's most famous attractions and is an unmissable visit. Alongside treatments, there is a swim-up bar in the main lagoon and you can eat so long as you pre-book your time slot.
Game of Thrones fans will enjoy visiting the nearby Thingvellir National Park, where several scenes of the hit show were filmed.
South Coast
Along Iceland's south coast is Geysir, a geothermal park where steam and scorching hot water (beware!) regularly erupt into the air.
Nearby Gullfoss is one of Iceland's most spectacular waterfalls, which, given the number of incredible falls on the island, is quite a claim. Meanwhile, the Lava Centre is a great stop to learn more about Iceland's volcanic activity.
East Coast
Once you head onto the East Coast, I thoroughly recommend stopping at Gardagafoss and walking the 45 minutes or so up to the town. This gorgeous, colourful town has a stunning rainbow-painted high street leading to the church, a fine addition to any Instagram feed.
The east coast is also the best spot in Iceland to participate in a reindeer safari. Trust me, this is unmissable.
North Iceland
Dentifoss, in North Iceland, is the most powerful waterfall in Europe, spanning 100 metres wide and 45 metres high, making for a spectacular sight!
Meanwhile, Husavik – the Will Ferrel movie Eurovision location – is the best place for whale watching in Iceland. Plenty of volcanic action is going on, including several lava fields that you'll pass on your drive.
Reykjavik
Your final destination is the Icelandic capital Reykjavik, a nice dose of civilisation after a week in the wilderness. Take a puffin-watching tour and watch these gorgeous birds in their natural habitat and if you want more lagoon action, head to the Sky Lagoon to quench your cravings.
Europe Itinerary: Practical Tips for Planning Your Trip
When planning for your European tour, there are several things to consider.
Book your tickets early to take advantage of the best prices if you're travelling by train. Monitor your bookings to ensure timings remain unchanged, and see if your tickets are refundable or transferable if your plans change.
If travelling by car, research your itinerary to ensure you have the right vehicle. While a Fiat 500 might be perfect for your cruise through the Loire Valley, you probably need something more robust for exploring Iceland.
Many cities have special passes that allow entry into some of their most prominent attractions. This is an excellent way of saving money while taking advantage of these European hotspots' best attractions.
Europe Travel Itineraries: Map
Now You've Planned Your Europe Itinerary: Read These
Love This? Save and Share on Pinterest