Escape to the refined world of adult-only hotels – where serenity, luxury and personalised service unite to offer an unforgettable escape.
Let's be honest – there's no shame in wanting a well-earned retreat in a tranquil setting without noise or bother. And adult-only hotels are just the places to experience relaxation and fun away from kids (whether that be your own or someone else's).
I'm a big fan of an adult-only hotel escape when I need to relax and recharge to the fullest. Each of these handpicked destinations promises an unforgettable escape with a blend of comfort, unique experiences, and a touch of indulgence.
So, whether you're planning a honeymoon in the Caribbean, hitting up stunning resorts in the USA or just want a lowkey European break, these are the adults-only resorts you need to check out.
Best Adults-Only Hotels
The Caves
££
Negril, Jamaica
I'm not kidding when I say the Caves Hotel is exceptional. This boutique hotel boasts 12 luxurious cliffside villas and rooms, each with stunning ocean views. Of all the adult-only hotels in Jamaica, this one is top-notch.
As an extra special treat, you and your companions can enjoy numerous activities, from enjoying water sports to grabbing a drink at the Sand Bar.
The Caves Hotel is the ideal escape for couples looking for peace and tranquillity because of its cosy atmosphere, opulent accommodations and (obviously) a gorgeous location.
COMO Cocoa Island
£££
Maldives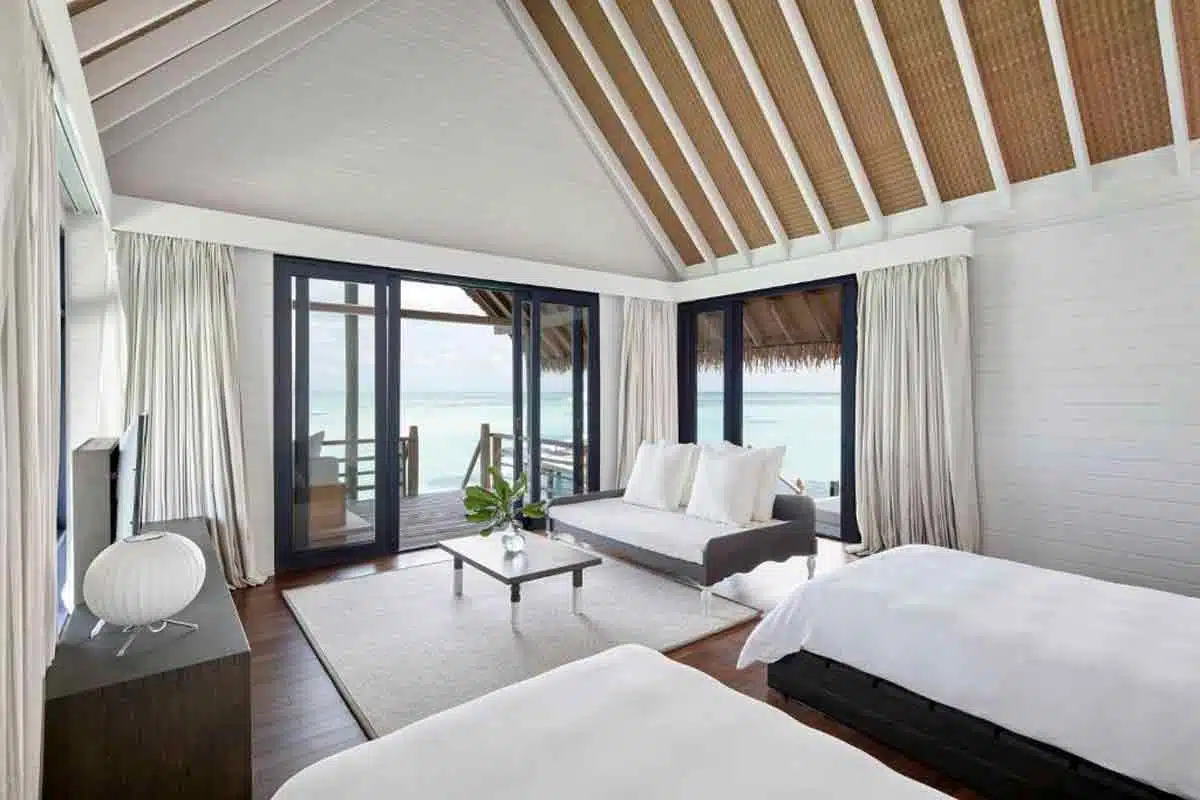 Luxury adult vacations are in no shortage, especially in a location as tropical and – let's face it – breathtaking as the Maldives.
COMO Cocoa Island is the perfect hotel for sharing a romantic, intimate getaway with your partner or even a group trip with friends (you can have up to seven people in a villa).
This hotel offers plenty to keep you entertained, including wellness activities like hydrotherapy and a delicious dining experience with classic Mediterranean cuisine. It's also an amazing location for private events, like weddings.
Serenity at Coconut Bay
£££
Vieux Fort, St. Lucia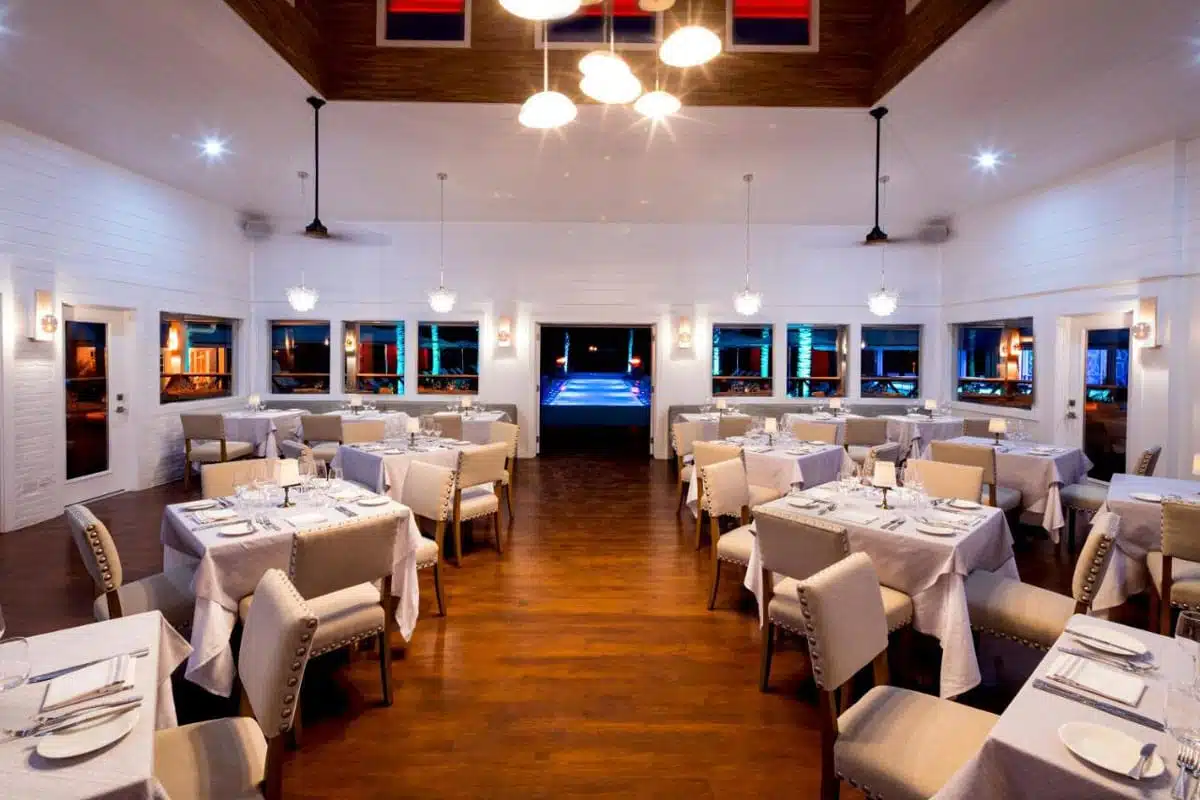 St. Lucia is undoubtedly one of the most stunning locations in the Caribbean and, unsurprisingly, hides some fantastic hotels. Luxury adult-only resorts, like Serenity at Coconut Bay, are ideal private settings for both fun and quiet getaways.
The resort features a tranquil pool, a spa for some extra indulgence and access to a fantastic beach. Of course, you can't forget about the mouthwatering food, but if you want a chilled vibe, you can stop by the pool bar for a quick snack.
Komati Tented Lodge
£
Nkomazi Game Reserve, South Africa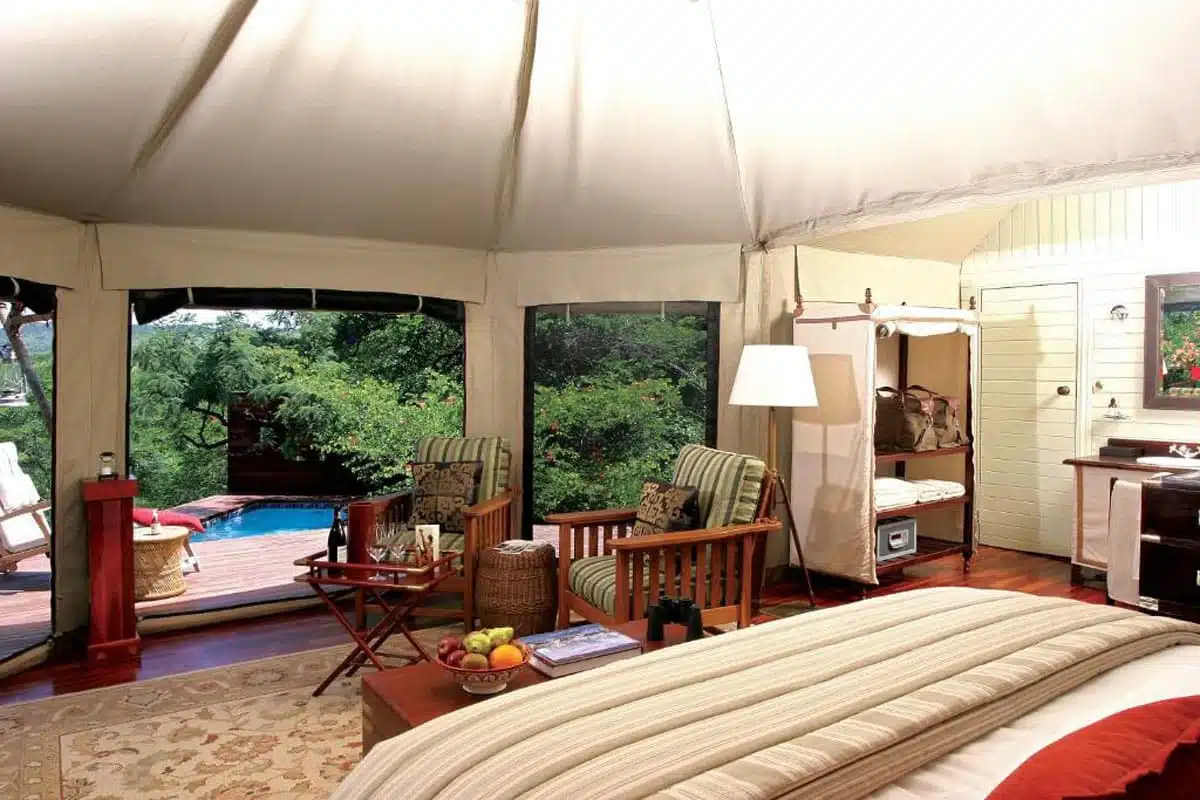 Komati Tented Lodge brims with ubiquitous South African charm. Trust me when I say this is an excellent addition to your South Africa itinerary. It's a fantastic alternative for nature enthusiasts and animal lovers out there.
The luxurious tented lodgings lie alongside the Komati River and include a private deck and pool. And what can you get up to, you ask? Well, there's plenty. How does mountain biking, stargazing beneath the night sky or adventure-filled safari tours sound?
JA Enchanted Island Resort
£££
Round Island, Seychelles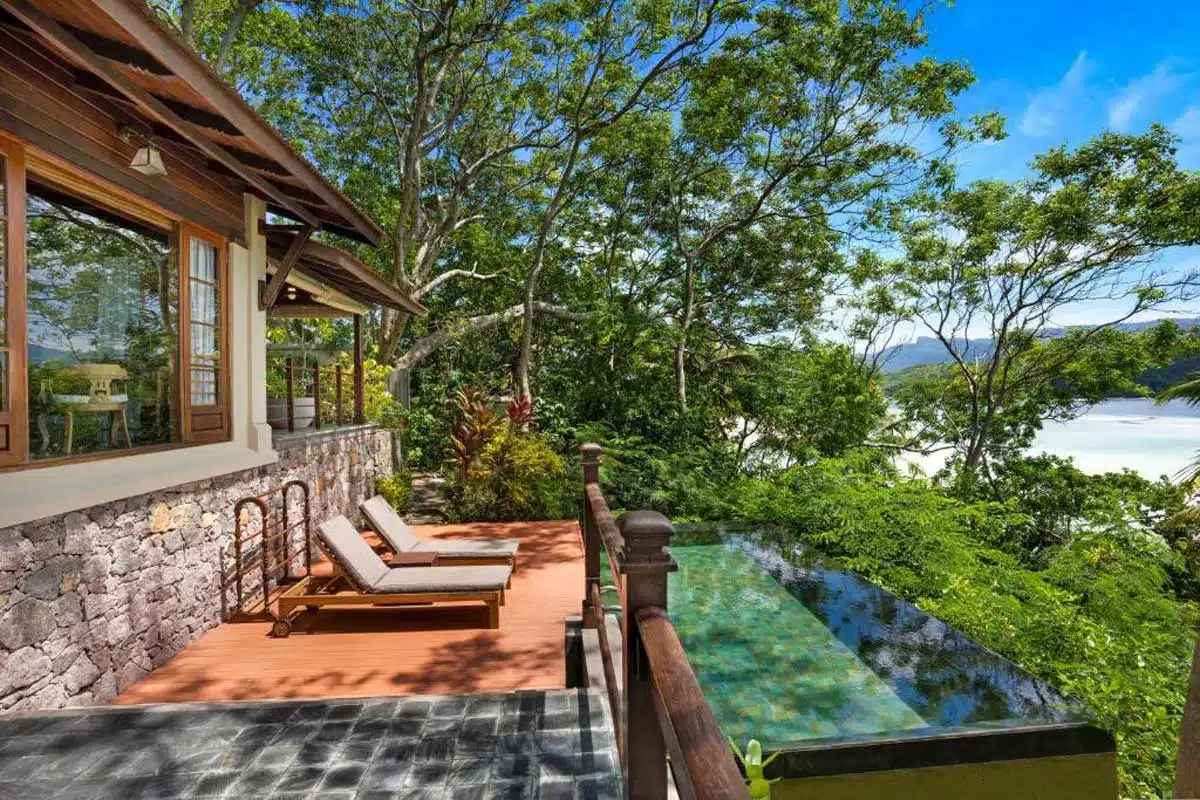 This 5-star adults-only resort is on a magnificent, lone island just asking for a visit – I mean, who doesn't want to stay in Seychelles? It might be one of the smaller resorts, but don't let that fool you – there is so much to enjoy at JA Enchanted Island Resort.
Enjoy tasty private dining in your villa or beach picnics or have breakfast served in the pool – beat that, breakfast in bed. Perhaps venture out into the crystal blue waters and go snorkelling or kayaking.
You can even rent the entire island for an unforgettable, private retreat – how cool is that?
Turquoize at Hyatt Ziva
£££
Cancun, Mexico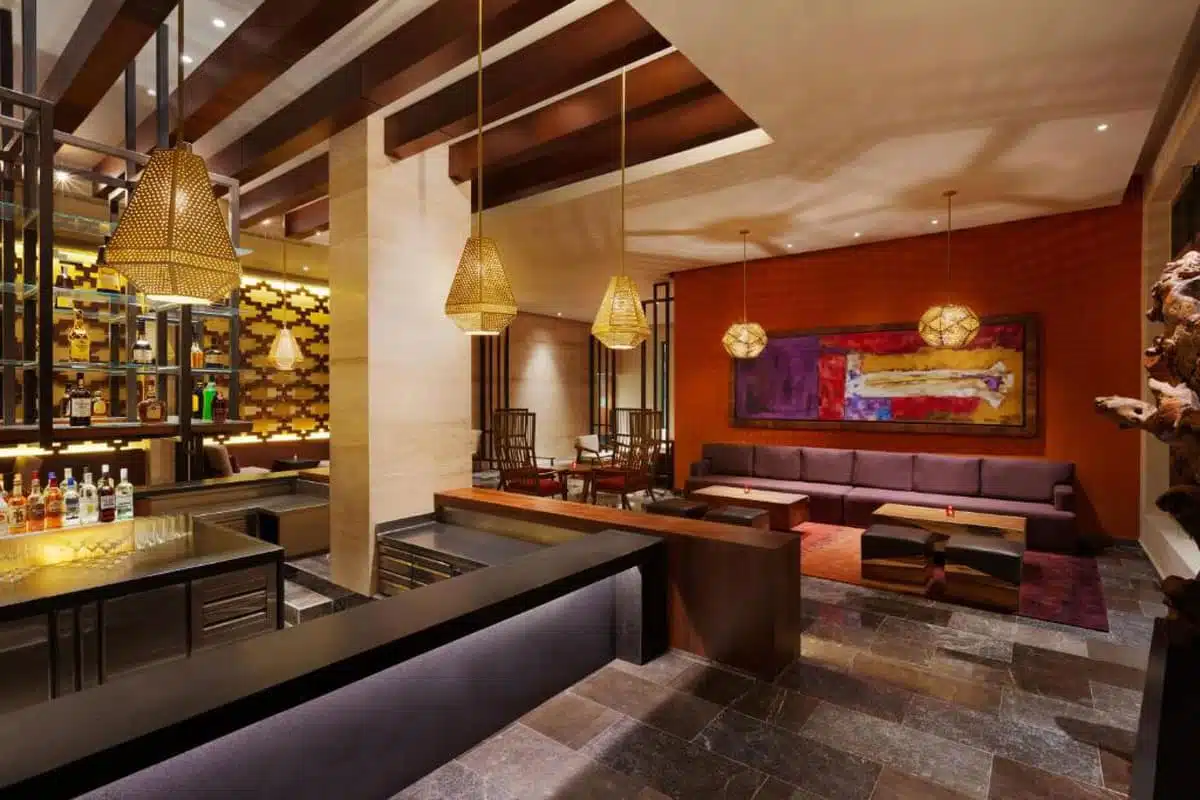 If you're looking for fun all-inclusive, adults-only hotels, Cancun certainly has a lot of fabulous options. The Turquoize at Hyatt Ziva is a case in point. This hotel offers a high-end experience that is hard to beat, especially when paired with views of the breathtaking Mexican coastline.
This grown-up haven stands proudly and boasts stunning rooms with floor-to-ceiling windows, cosy and modern decor, coffee machines and a fully-stocked refreshments fridge. Between the several dining options among bars and lounges, and the various watersports and daily activities, this stellar adults-only resort is calling your name.
Lindos Blu Luxury Hotel
££
Rhodes, Greece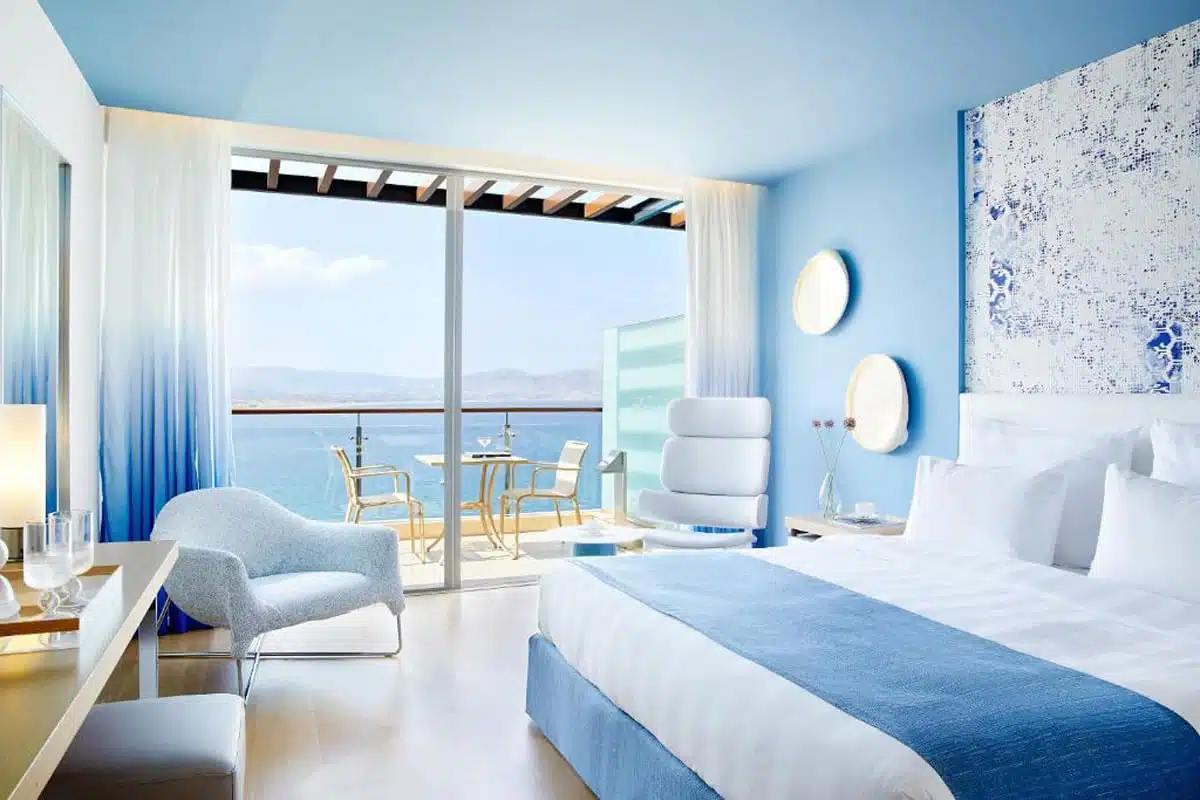 Greek island hopping has never looked so good, especially when it includes staying at Lindos Blu Luxury Hotel. This captivating haven of luxury and tranquillity sits proudly on a cliffside overlooking the Aegean Sea.
The spacious and beautiful rooms exude elegance and comfort, with private pools or whirlpools available. Bask in the Mediterranean sun by the infinity pool, unwind with personalised spa treatments (booking is required in advance) or savour the delicious gourmet cuisine at the on-site restaurant. It's truly a slice of Grecian paradise.
Sunrise Attitude Hotel
£
Quatre Coco, Mauritius
The Sunrise Attitude Hotel in Mauritius is just as inviting as it sounds. This adults-only vacation spot nestles alongside the stunning Belle Mare beach, boasting ocean views and natural greenery.
The rooms in the hotel provide comfort and a modern touch that allows you to cosy up after a day of fun and excitement (or lounging, I won't judge). Plus there are plenty of activities to get stuck into, including music events, yoga, spa treatments and more.
Cocobay Resort
££
Antigua, Antigua and Barbuda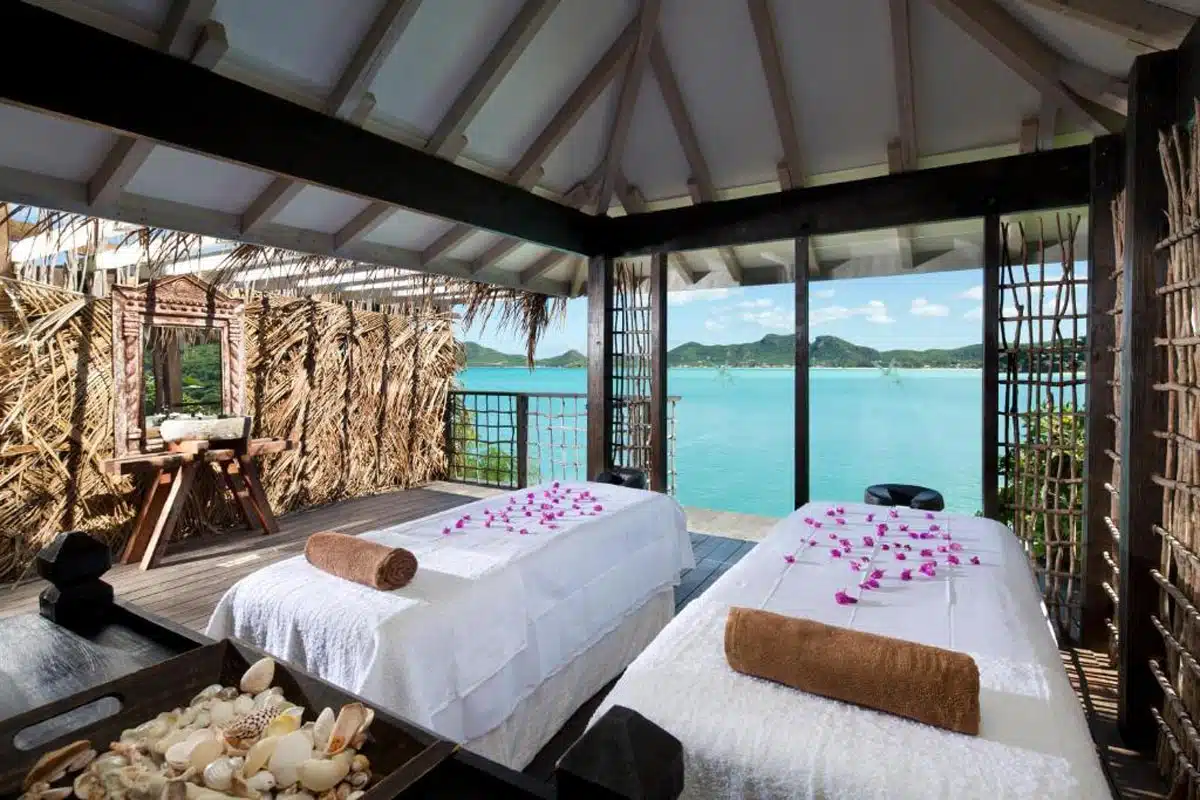 Ah, yes, the Caribbean – home to some of the most popular tropical locations and famous for its brilliant beaches and lush forests. It's no wonder that Cocobay Resort is an excellent option for a grown-up-only vacation.
You can choose from the stunningly-decorated cottages and villas, each with private terraces and unbeatable views. This is the ideal place for an intimate romantic getaway, but it is suitable for a friendly vacation, too.
And don't forget to take advantage of the snorkelling, restaurants, spa and wellness activities on offer.
TRS Turquesa Hotel
££
Punta Cana, Dominican Republic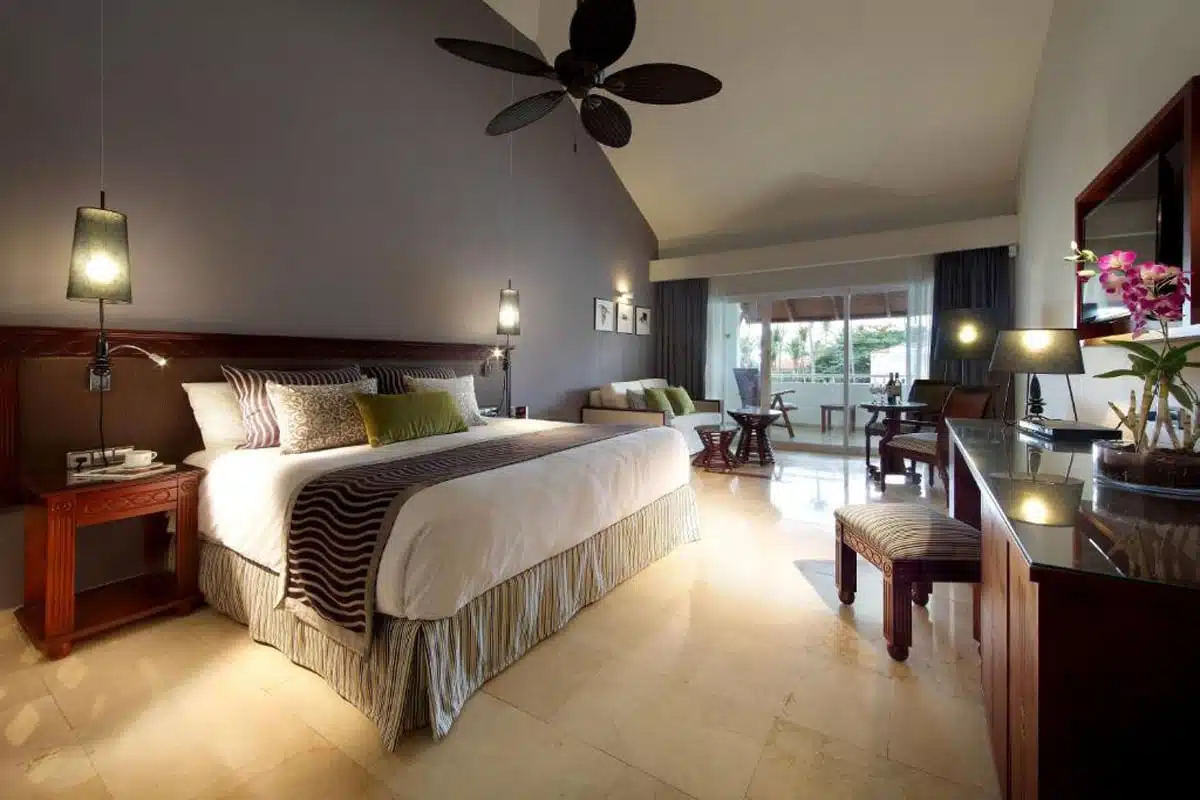 Let's see – tropical location? Check. Pools and jacuzzis? Double check. An adult-only experience for an affordable price? Yes, again. TRS Turquesa Hotel in the DR has everything you have been looking for.
This hotel boasts gorgeous views and your choice of ten different, uniquely-designed cosy rooms and suites. You can enjoy various activities and treatments, like a Turkish bath, sauna, spa treatments, beauty salons and more.
And like any good hotel, the food options are chef's-kiss good.
Los Enamorados
£
Ibiza, Spain
Let's take a jaunt to Spain. And nowhere quite says adults-only vacation better than Ibiza.
Los Enamorados welcomes all adults to a blissful escape in the heart of Ibiza. And I'm not exaggerating when I say that this hotel has one of the most gorgeous views of the brilliant, azure waters of the ocean.
Each room in this hotel combines the comfort, charm and elegance you deserve on your trip away from home. What's more, you can enjoy delicious cuisine at the in-house restaurant or relax in the lounge area to your heart's content – the choice is yours.
Chanalai Romantica Resort
£
Kata Beach, Thailand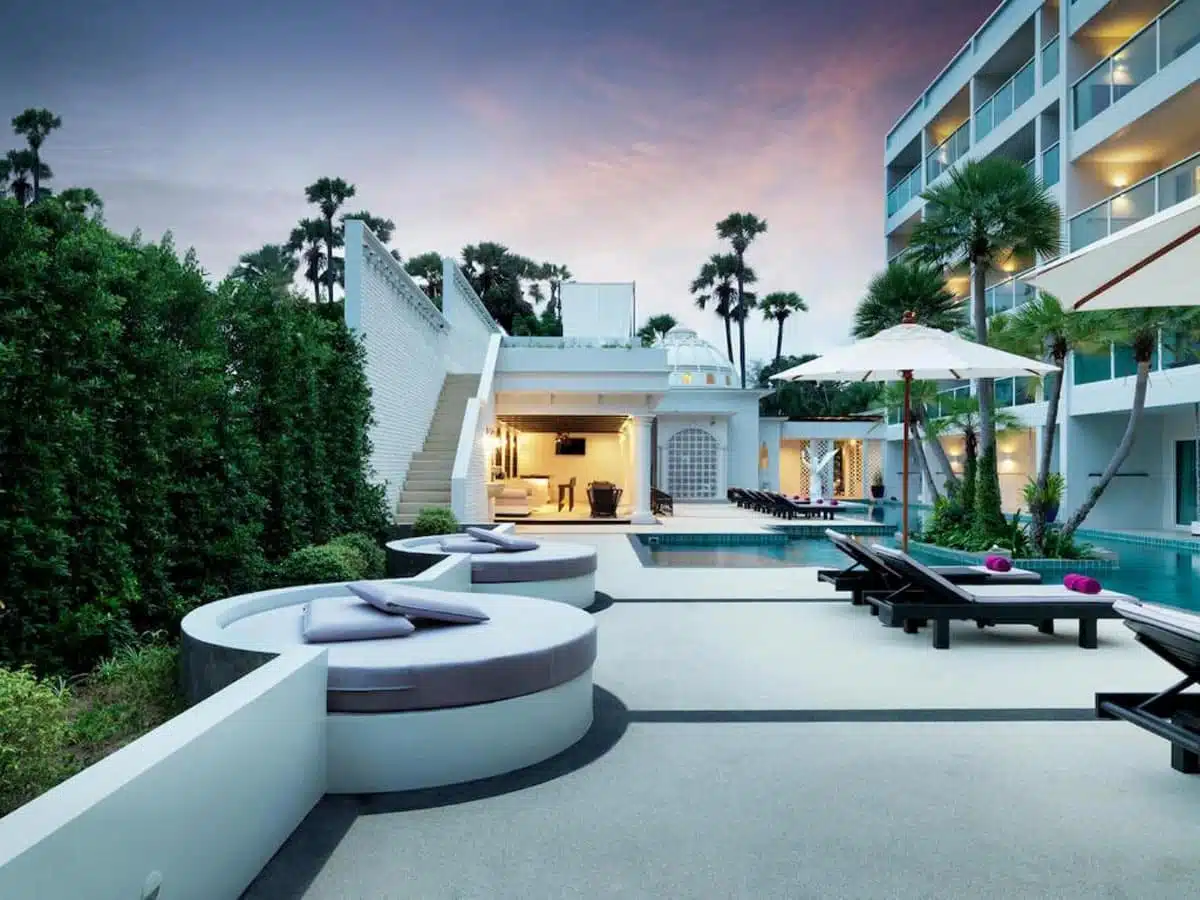 Thailand is home to some real hidden gems in the vacation world, such as the Chanalai Romantica Resort.
This tropical spot along Kata Beach offers a serene and calm escape from the bustle on the streets outside. Plus, it's one of the more affordable options – which is always a bonus.
Each room has a modern and elegant design, with useful amenities like free Wi-Fi and views of the ocean and poolside.
Don't forget to pop by the poolside bar for a quick drink or two (or more) – who's counting? Plus, the food on offer is absolutely delish with wholesome renditions of local Thai cuisine at the Stardust Restaurant.
Casa Chameleon at Mal País
££
Mal País, Costa Rica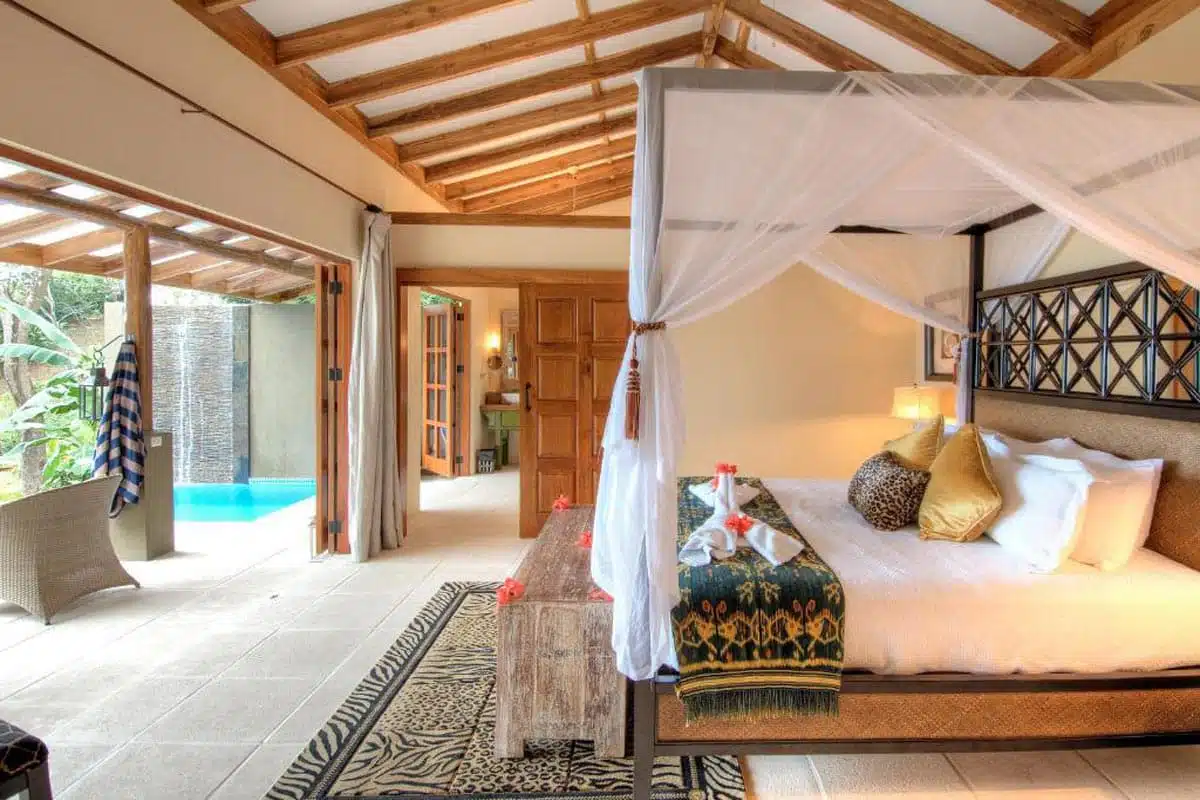 Did anyone ask for adults-only hotels in Costa Rica? Yes? Casa Chameleon is right up your alley, with its luxurious feel and unique charm. This tropical and peaceful paradise offers the perfect escape for an adventurous duo (or group, for that matter).
What better way to spend your trip than in the rustic and comforting rooms with views of the lush, green forests around you? Enjoy serenity with wellness treatments like facials, massages, or yoga and fitness lessons.
And, when that's over, you can step into Brasas del Mar Restaurant for some toothsome authentic cuisine.
The Mirage
£
Las Vegas, NV, USA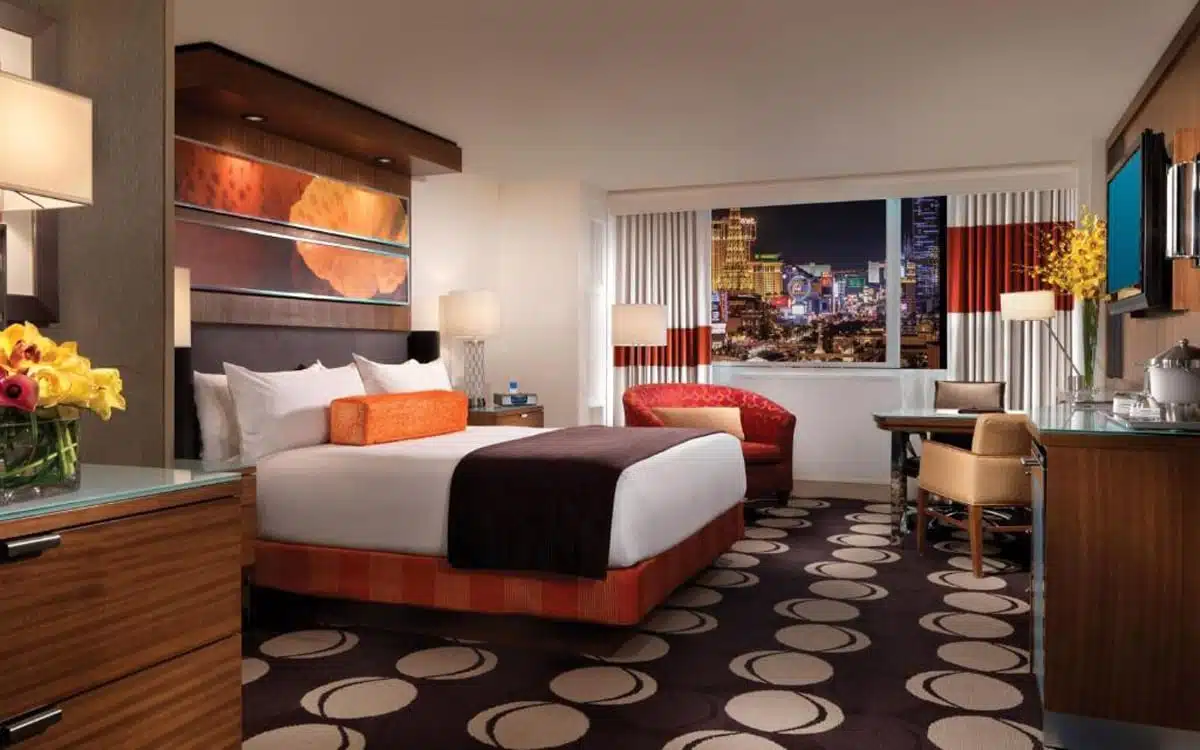 Now, let's be honest – nowhere quite says 'grown-up vacation' more than a trip to Las Vegas. Adult-only hotels in Las Vegas aren't in short supply, but few are as famous as the Mirage Hotel.
From one-bedroom suits to luxury penthouses, this hotel is perfect if you want to treat yourself to something special. There are plenty of bars and restaurants to choose from, not to mention the fantastic live entertainment.
After enjoying the music or comedy shows, hit up a casino on the strip and continue your adults-only vacay until the wee hours.
L'Horizon Resort & Spa
£££
Palm Springs, CA, USA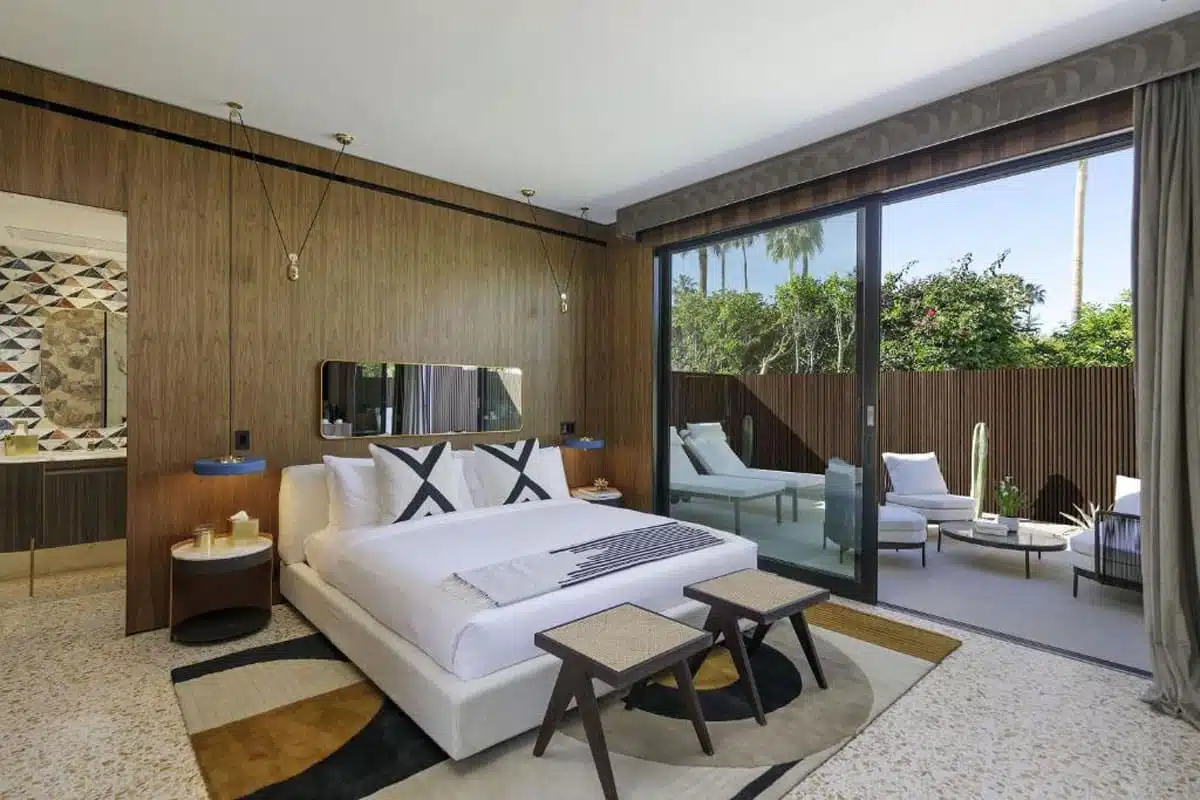 Let me put you into something: L'Horizon Resort & Spa is one of the best adult-only hotels in Palm Springs. It's completely luxurious and offers the blend of relaxation and sophistication that I know you've been dreaming of.
The resort features a stunning mid-century modern design and boasts spacious, elegant rooms with private balconies.
You can unwind by the saltwater pool or enjoy rejuvenating treatments at the on-site spa. The resort's restaurant offers a tasty culinary experience with its tranquil ambience and impeccable service. And if fitness is important to you, take advantage of the many classes on offer.
Practical Tips for Booking Your Escape to an Adult-Only Hotel
Make sure to plan what you pack. Most locations worth noting are in stunning tropical areas, so check out everything you need for the ultimate tropical vacation packing list.
Travel during the off-season, especially if you want to avoid large crowds and get the biggest bang for your buck. The times of year will differ based on your chosen locations, so it's always best to check beforehand.
Love This? Save and Share on Pinterest