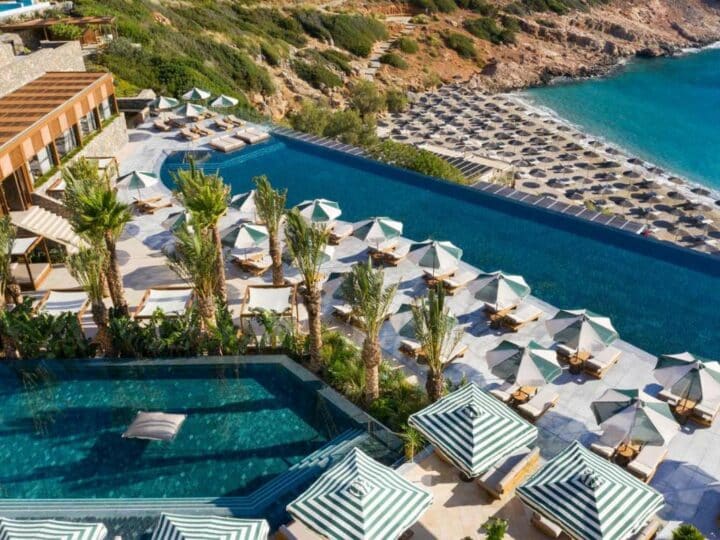 Looking for the best hotels in Crete? From luxury hotels to cosy village-style apartments, these are the top places to bed down on the island.
A place of myth, legend, and unforgettable adventure, it's no wonder that Crete is a highly-sought-after getaway destination. So it's logical that I delved into every corner of this slice of heaven.
From the shorelines of the best beaches in Crete to the enticing attractions and streets of Chania, I've left no stone unturned with my Crete travel guides.
The only thing that's left? A carefully curated guide to the best places to stay in Crete.
Read on to discover the best hotels and resorts in Crete.
Best Hotels in Crete: At a Glance
Best Hotels in Crete
Blue Palace Elounda
£££
Plaka
Let me introduce you to one of my favourite places to stay in Greece.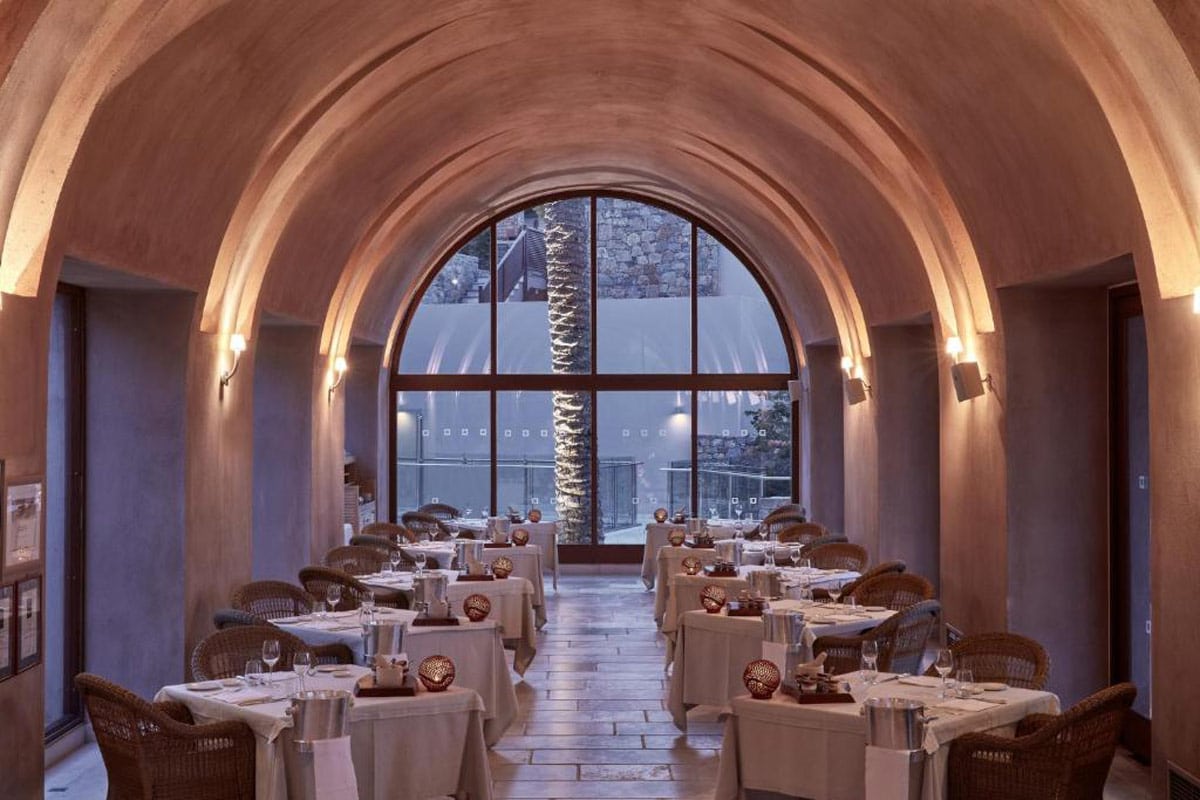 Set between a charming fishing village and the uber-chic port of Elounda lies the Blue Palace. Sitting on a sea-facing cliff that looks out onto Spinalonga, this hotel is as opulent as they come.
With its pink-hued bungalows, villas, and suites dotted among immaculately landscaped gardens, each room features captivating views. While the interiors combine pristine earthy tones of the region and include a private veranda. Oh, and some even have a private infinity pool.
Outside and down the hill, you'll find a pebbly beach, a waterfront spa, and a fitness centre. And to round things off, at its heart sits a Greek taverna serving farm-to-table delicacies.
Minos Beach Art Hotel
£££
Mirabello Bay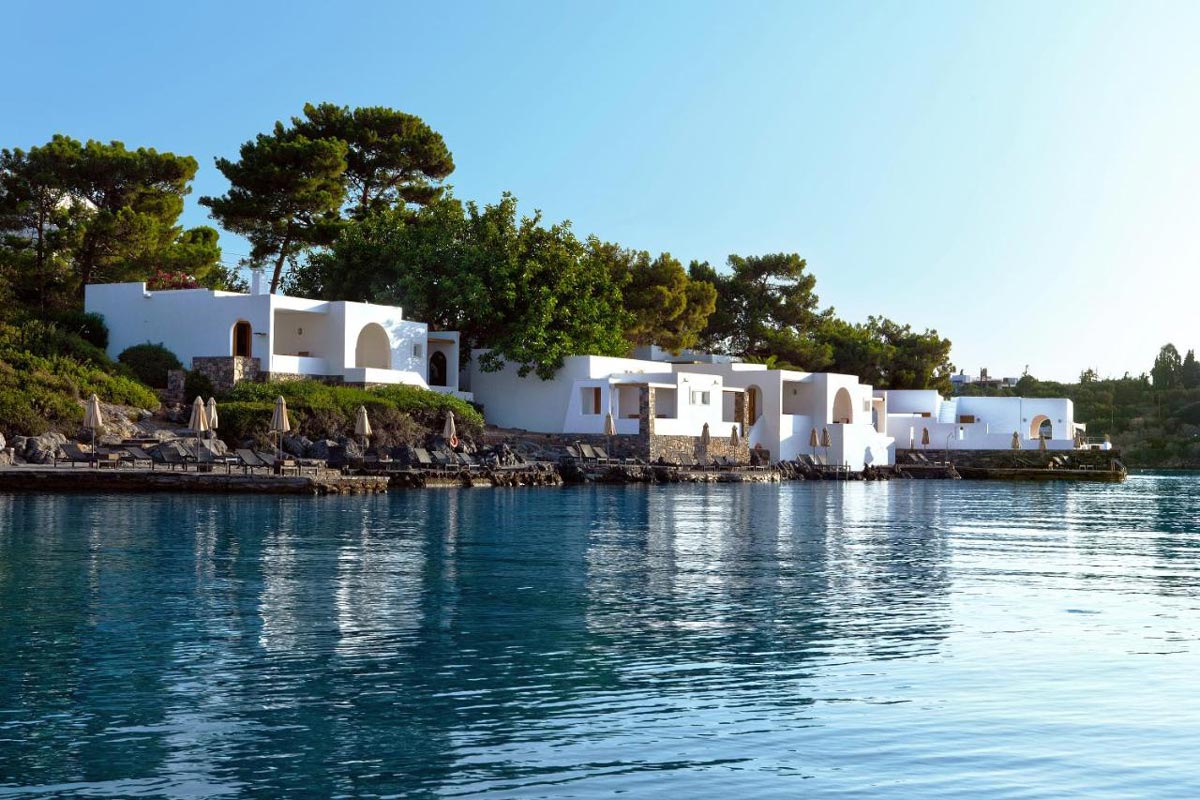 Hidden in the corner of Mirabello Bay, the Minos Beach Art Hotel is, as its name suggests, a whimsical reflection of art and luxury. It's an aesthetic masterpiece that can easily compete for the most beautiful Cretan luxury hotel. And, if you ask me, it wins.
Outside its manicured lawns and plant-strewn alleyways are lined with sculptures, and the stunning seafront location will win you over instantly. As for where you'll stay, take your pick from luxury bungalows and villas that draw inspiration from Crete's fishing villages.
When you're hungry, Minos outdoes itself with award-winning Chef Giannis Baxevanis helming the in-house restaurant.
Stella Island Luxury Resort & Spa
£££
Analipsi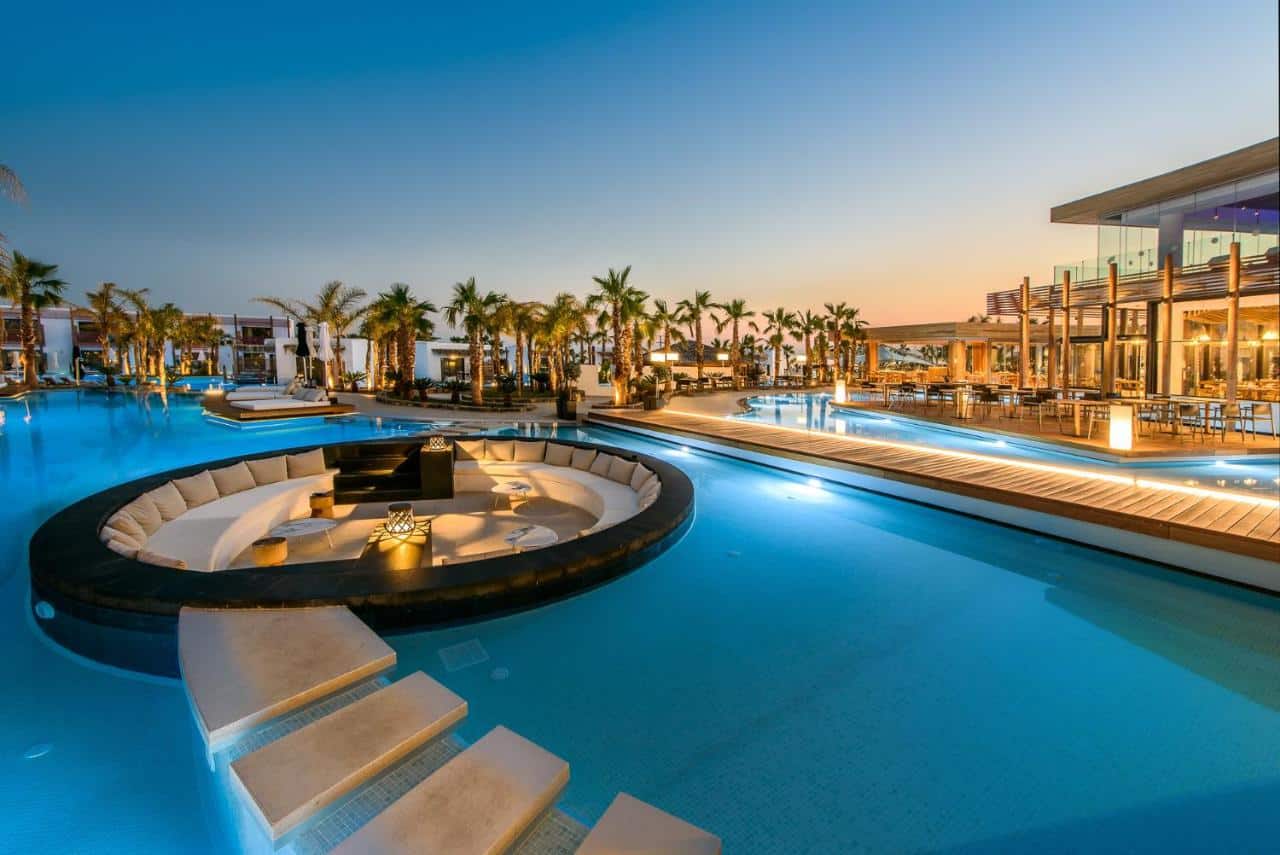 If you're looking for the best hotel in Crete for a honeymoon, then the Stella Island Luxury Resort snags the crown. Built on and around a lagoon-style pool, some rooms have swim-up water access. Which, if you ask me, is a luxury you deserve.
While your room, suite, or villa has every feature you can (and can't) imagine, outside, there are dozens of daybeds, hammocks, and sunken seating. Clearly, relaxation is key here and reaches a climax at the Elemis Spa.
As for cuisine, Vergara offers the best in Cretan traditional dishes, and Umami serves tantalising Asian-inspired treats. But if you just want a spot for some cocktails, the resort boasts several premium bars and lounges.
Asterion Suites & Spa
££
Pyrgos Psilonerou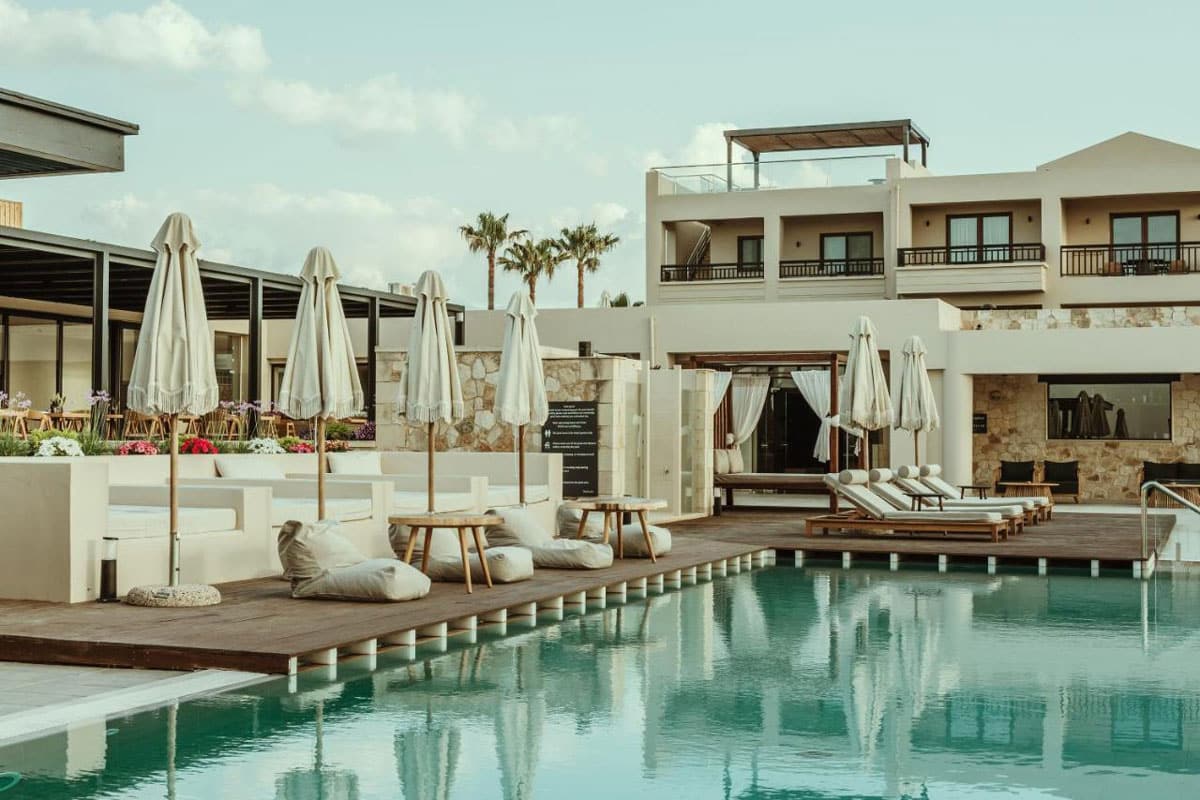 When it comes to luxury hotels in Crete, you'll often find a blend of contemporary and traditional buildings. Welcome to the Asterion Suites & Spa – named after the mythical king of Crete, it's fair to say it's a masterstroke of style.
Envision modern lines, earthy tones, and natural materials from wood to wicker and stone, and you've already got the idea. These elements reflect in each room, and as an extra touch, each suite (of which there are 67) bears the name of a celestial body.
Splurge and book a suite with a private pool and direct beach access. The Greek Gods (and I) approve.
Elounda Peninsula All Suite Hotel
£££
Elounda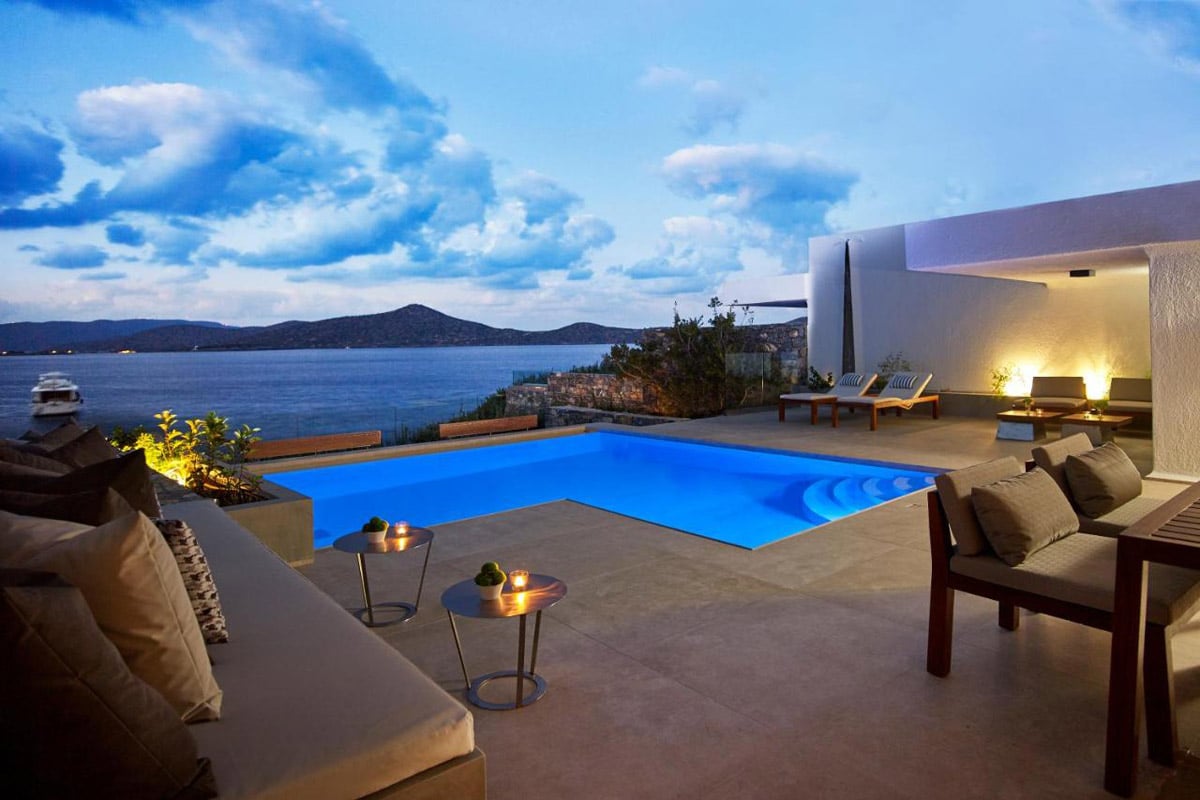 Those shopping around for the best all-inclusive hotel in Crete will adore the Elounda Peninsula All Suite Hotel. Built and designed with a nod to Greek fishing villages (a touch that many hotels in the region adopt), it's a beachfront resort that reigns supreme thanks to its many features.
Yes, it does cater to families, but for couples and those looking for an escape from the usual, prepare for astonishment. On-site, you can indulge in a game of golf or go scuba diving.
How about hiring a private yacht and setting sail? Sold yet?
No? Okay, then immerse yourself in a well of serenity and unwind at the Six Senses Spa. That's if you can draw yourself away from the opulent suites, with each having direct beach access.
Domes of Elounda
££
Elounda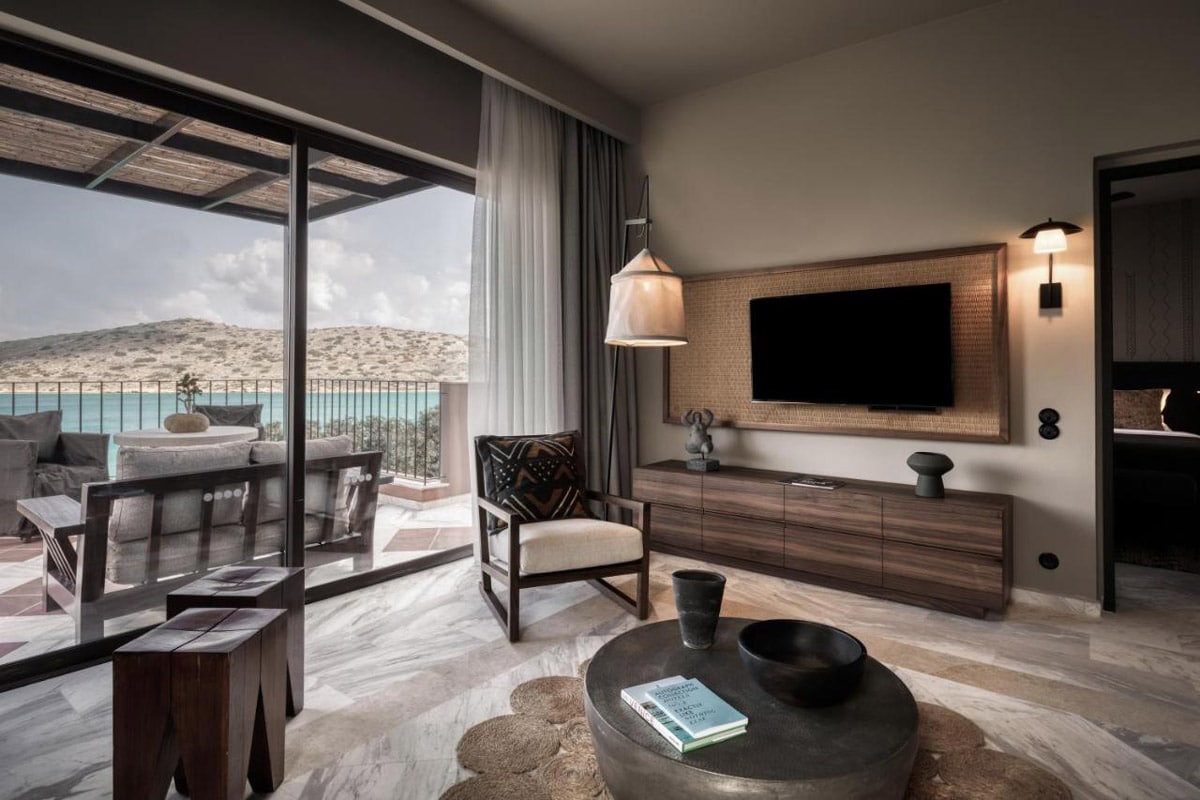 Now for something with a bit of a village rather than a hotel vibe, Domes of Elounda is a sprawling retreat that overlooks the sea. In the distance, the island of Spinalonga towers out over shimmering waters. What more could you want?
It comprises a number of villas that link through winding paved alleys, amenities that include an olive-tree-shaded beach, and several outdoor pools. These villas come in all shapes and sizes, some self-catering while others include private gyms and saunas.
Luxurious elements include plunge pools or whirlpool baths, private terraces, and outdoor patios with stunning furnishings.
Cayo Exclusive Resort & Spa
££
Plaka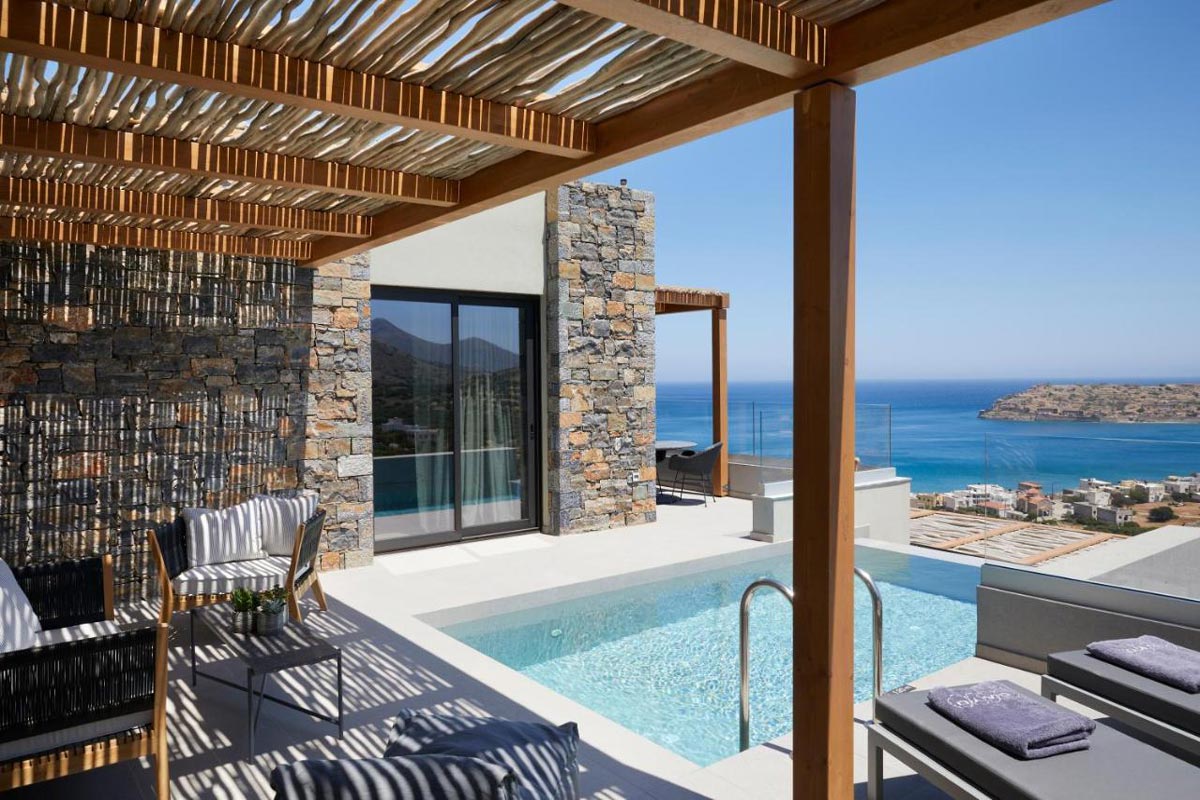 When in paradise, sometimes you just want to get away from it all (while still being in paradise), and that's where Cayo Resort & Spa shines. It's easily one of the best resorts in Crete.
Here you'll find tastefully decorated rooms and suites featuring a gorgeous terrace with a plunge pool. Cayo has a dedicated stretch of Plaka beach where you'll find parasols, loungers, and a private bar – Stone Beach House.
Now I'm sure you'll agree that that already sounds near perfect, but a part of the crown jewels here are the four individual restaurants, looked over by acclaimed chef Lefteris Lazarou.
Nana Princess
££
Hersonissos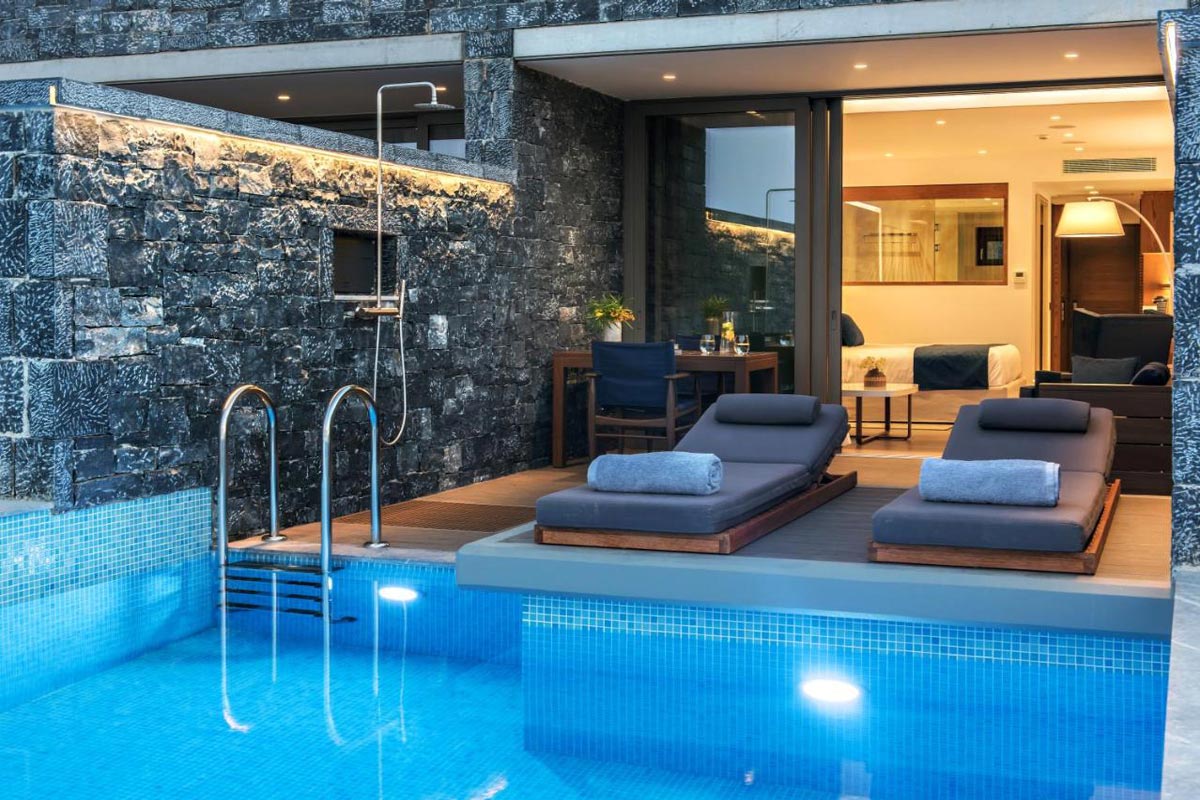 I'm a sucker for striking beauty, which is what Nana Princess does exceptionally well. Its sleek black stone buildings close to Hersonissos offer a stark contrast to other entries in this guide. It's an opulent luxury hotel in Crete that few could compare.
Suites and villas here showcase glass walls, with rooms filled with funky artwork, and each overlooks two stunning outdoor pools and a sheltered cove. Beyond that, they come with heated plunge pools and chromotherapy lighting; while some even have a private gym.
And the best bit? The space-age spa sits in an entire property wing, where you'll find wellness therapies tailored to your star sign.
Creta Maris Beach Resort
££
Hersonissos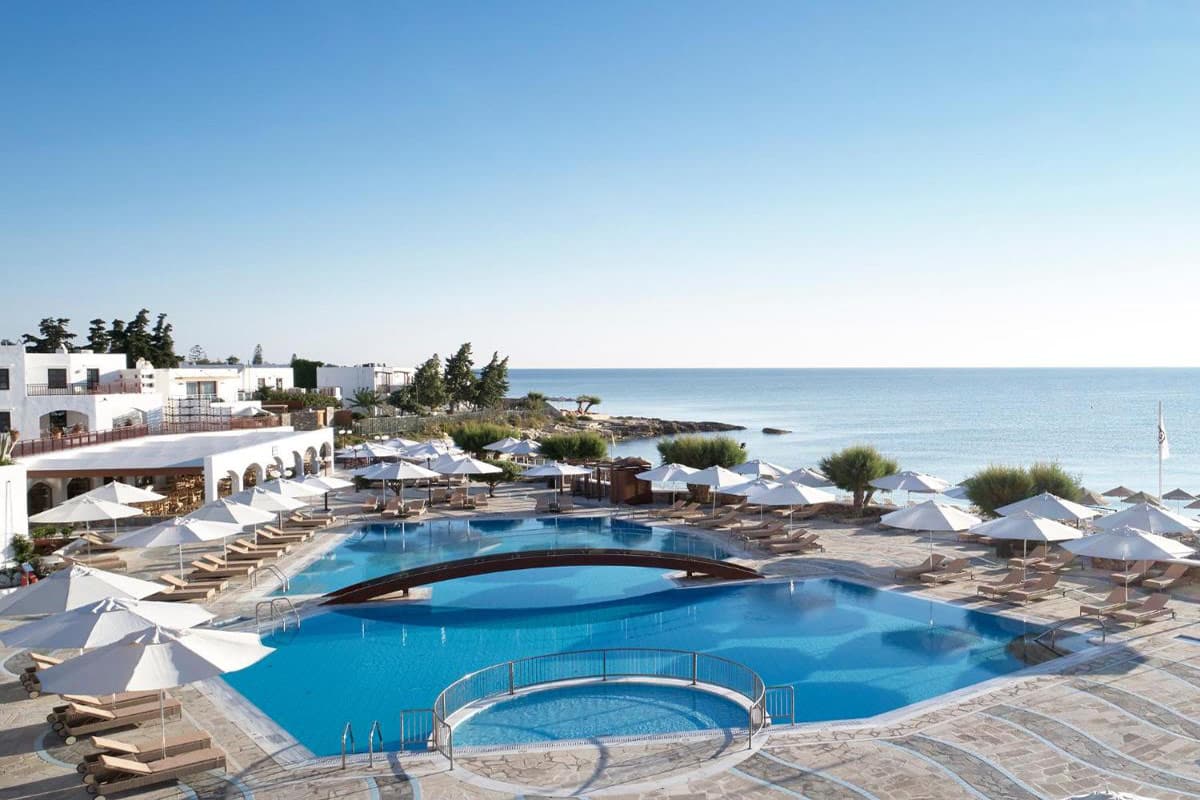 One of the best hotels in Crete, Greece, also happens to be massive and bursting with charm. The Creta Maris Beach Resort is not afraid to blow you away, and considering its 680 rooms; this property holds nothing back.
Get this, there are 15 (yes, 15) pools, an aquapark, tennis courts, a golf course, and a cinema on the grounds. So I doubt you'll have a moment of boredom. Rooms and suites feature every amenity you need and decor that screams comfort and luxury.
However, what sets it apart, is the six different and exquisite restaurants. The cuisine here is of the highest calibre, with a mix of Cretan and Mediterranean ingredients locally sourced.
Daios Cove
£££
Agios Nikolaos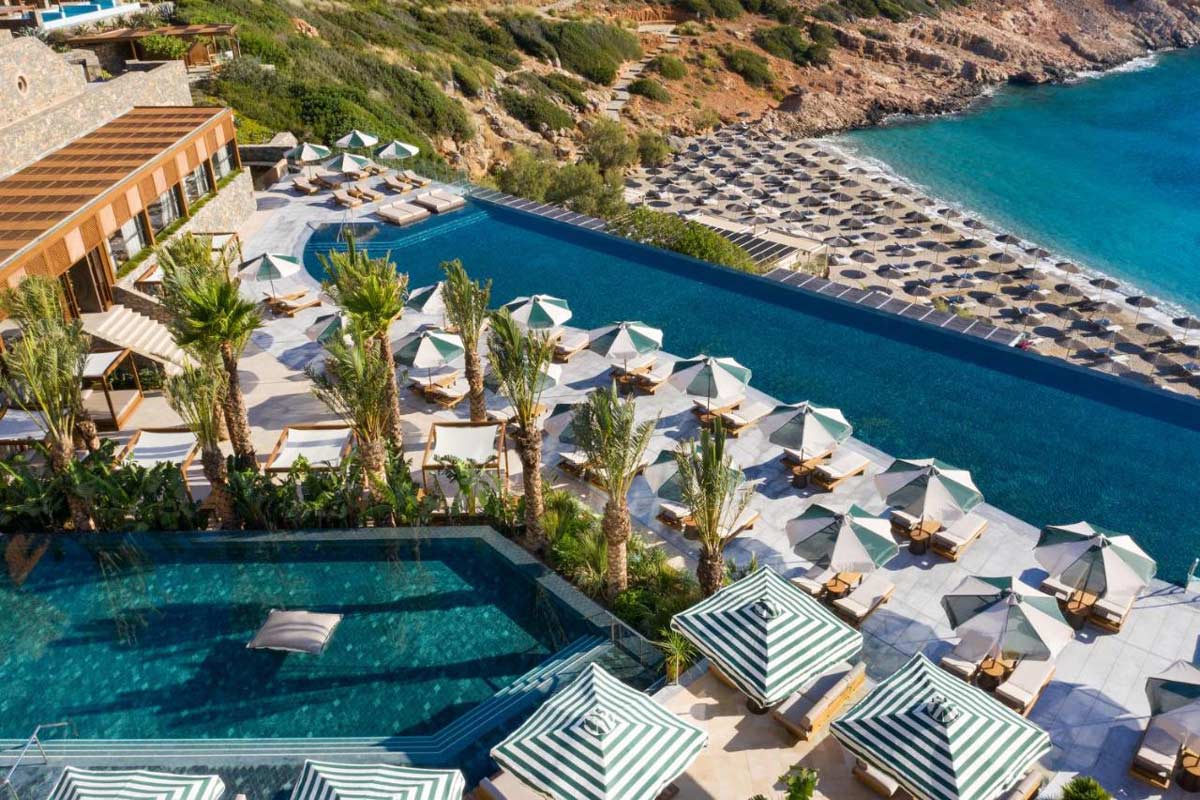 A high-end resort unlike any you've seen before, Daios Cove stretches out along a coastal cliff that overlooks a picturesque cove. As a standard, each room, suite, and villa has unparalleled views of the sea. And if that hasn't won you over, there's more.
You'll love this gem if you have a flair for the finer things in life. Each room, regardless of which type you choose, comes with an impressive pillow menu. Aside from that, you can select a fragrance fed into your air-conditioning from vanilla, mango, or violet.
And upon entering your room, a basket of fresh macaroons and feta muffins await every time. On-site, there are six restaurants and The Clumsies – a bar rated as one of the 50 best in the world.
Kapsaliana Village
£££
Rethymno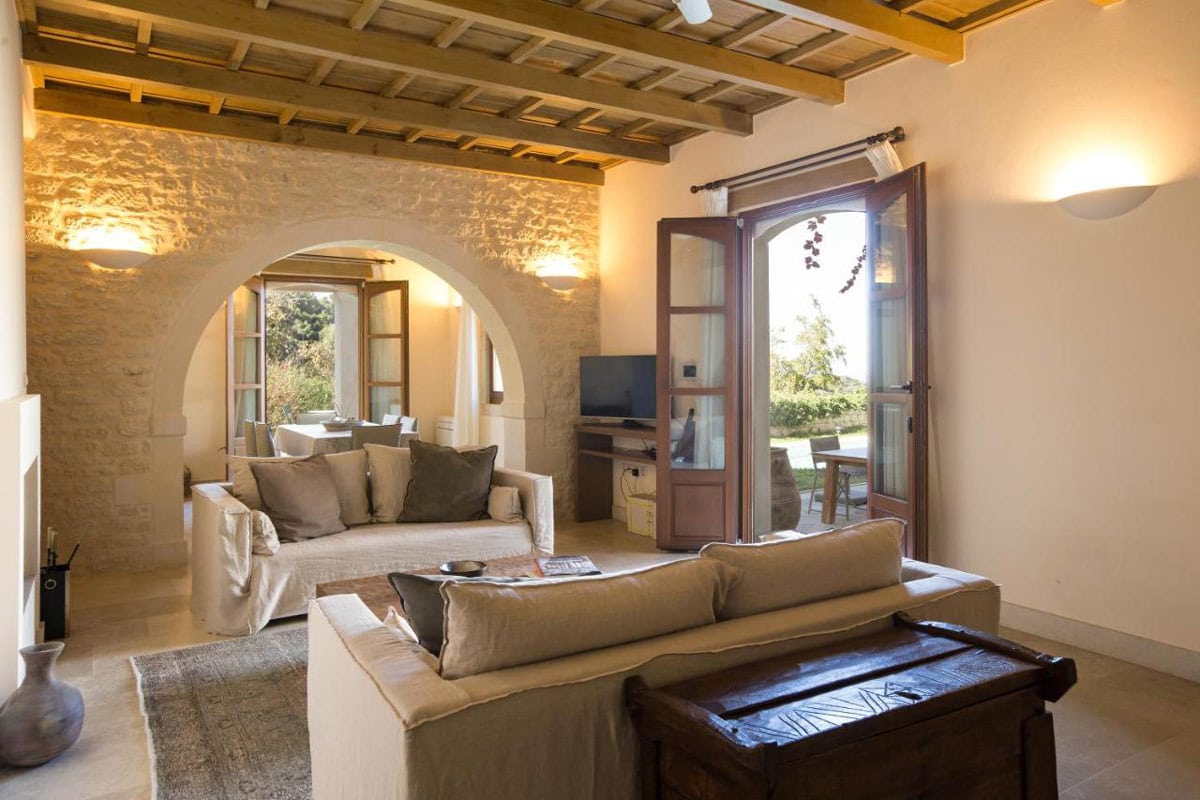 It might be challenging to pull yourself away from the beaches of Crete but head inland to experience a more rustic and authentic slice of the island. Here sits the village of Kapsaliana, a stone-built town overflowing with olive gardens and citrus orchards.
This resort village is the brainchild of architect and owner Myron Toupogianis, who has been buying buildings since the 1970s. Now the town is the perfect escape from the bustling beachside norm of Crete.
Each villa exudes comfort and style with lofty timber-beamed ceilings and handcrafted beds made from scented olive wood. And if you want a culture trip, the 16th-century monastery of Arkadi sits right in the middle of the village.
Abaton Island
££
Hersonissos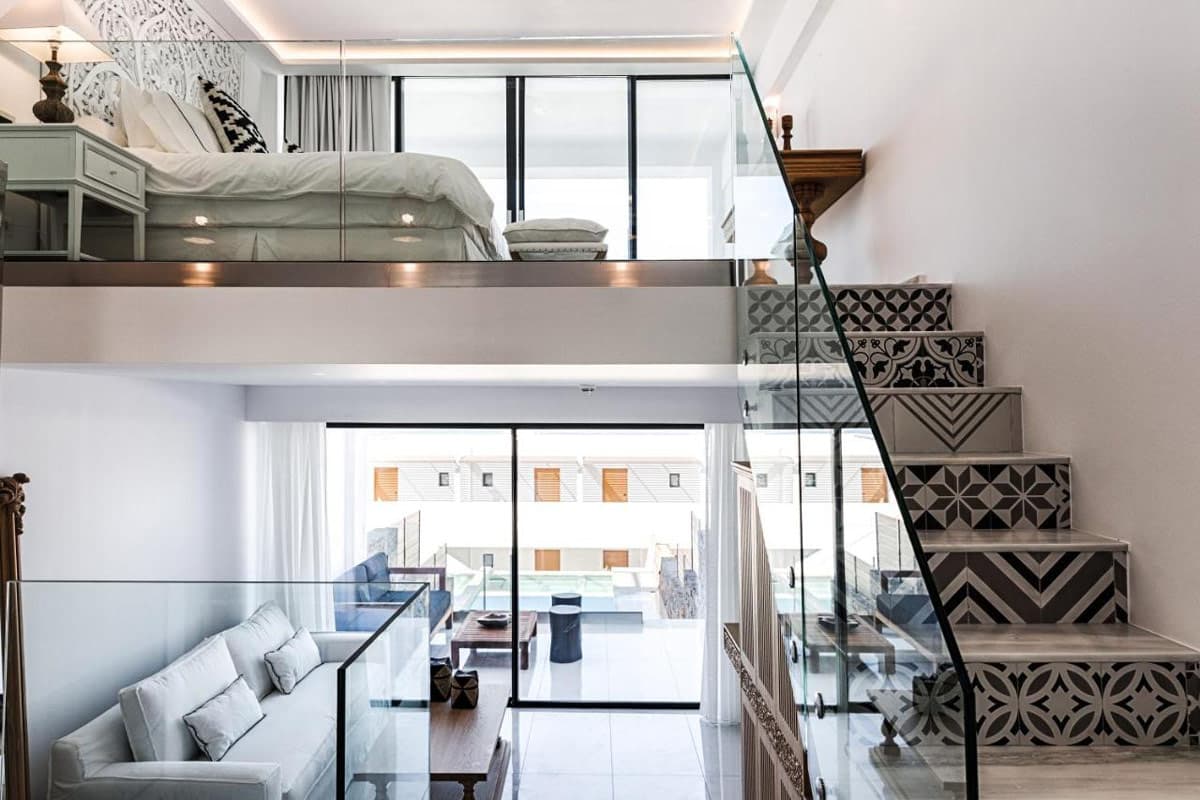 A classy spa resort that overlooks a sand-powdered beach, Abaton Island is the perfect spot for a secluded getaway. It's a magical sight from the moment you set foot in the glass-walled reception with panoramic ocean views off wooden decks dotted with sun loungers.
A narrow path leads to your villa, many of which have a heated pool – housed in low whitewashed buildings. Each villa features manicured lawns fringed with lagoon-like water features.
Dining here is also a fantastic experience, with five restaurants offering the best Cretan food. Although I must admit, the private pier that leads out onto the ocean, kitted with bean bags, takes the cake.
The Royal Blue
££
Rethymno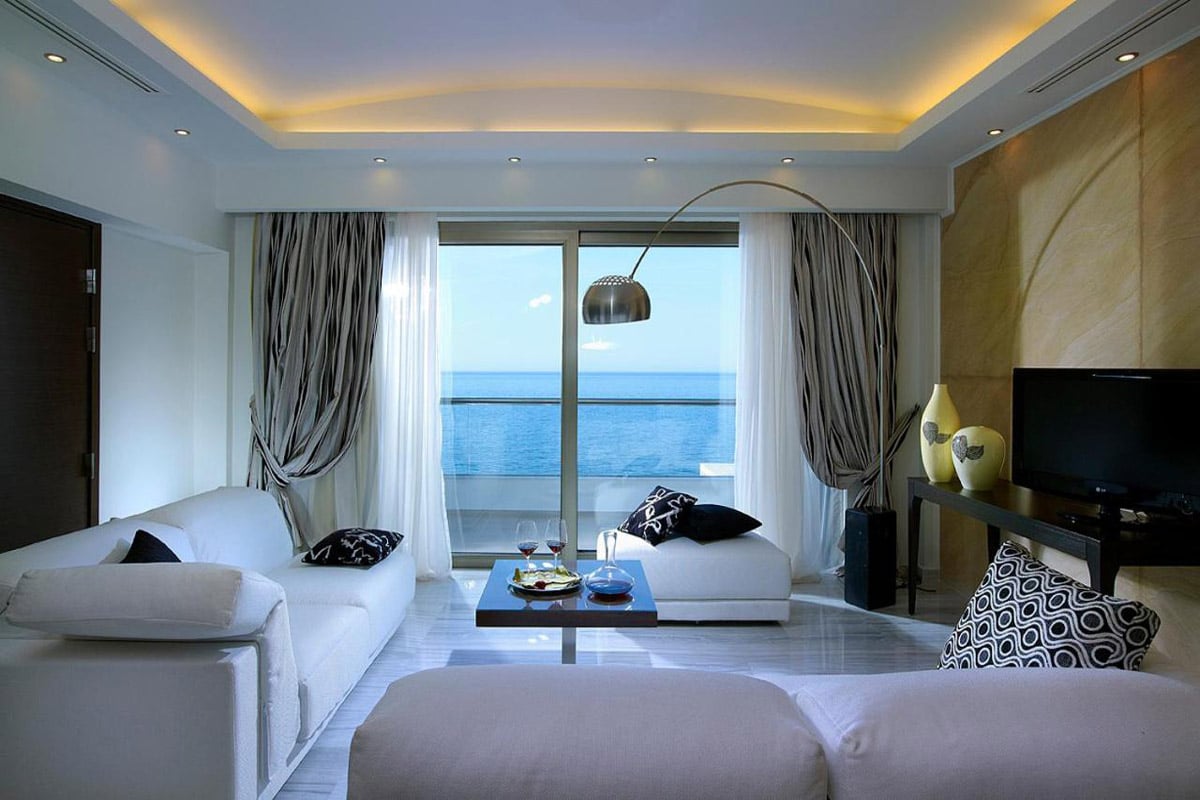 A sprawling 70-acre property, The Royal Blue is undeniably one of Crete's top luxury resorts. This one is not for those looking for peace and quiet, as it's famous for its vibrant atmosphere.
It also ticks every other box, from stunning architecture to tasteful decor and modern luxuries inside and out. During the summer season, this is the spot where international DJs play intimate shows for guests only.
Other highlights include pop-up restaurants featuring globally renowned chefs and sponsored evenings by brands such as Moet & Chandon. Heck, it even hosts workshops in fields like photography led by the best in the world.
Porto Veneziano
£
Chania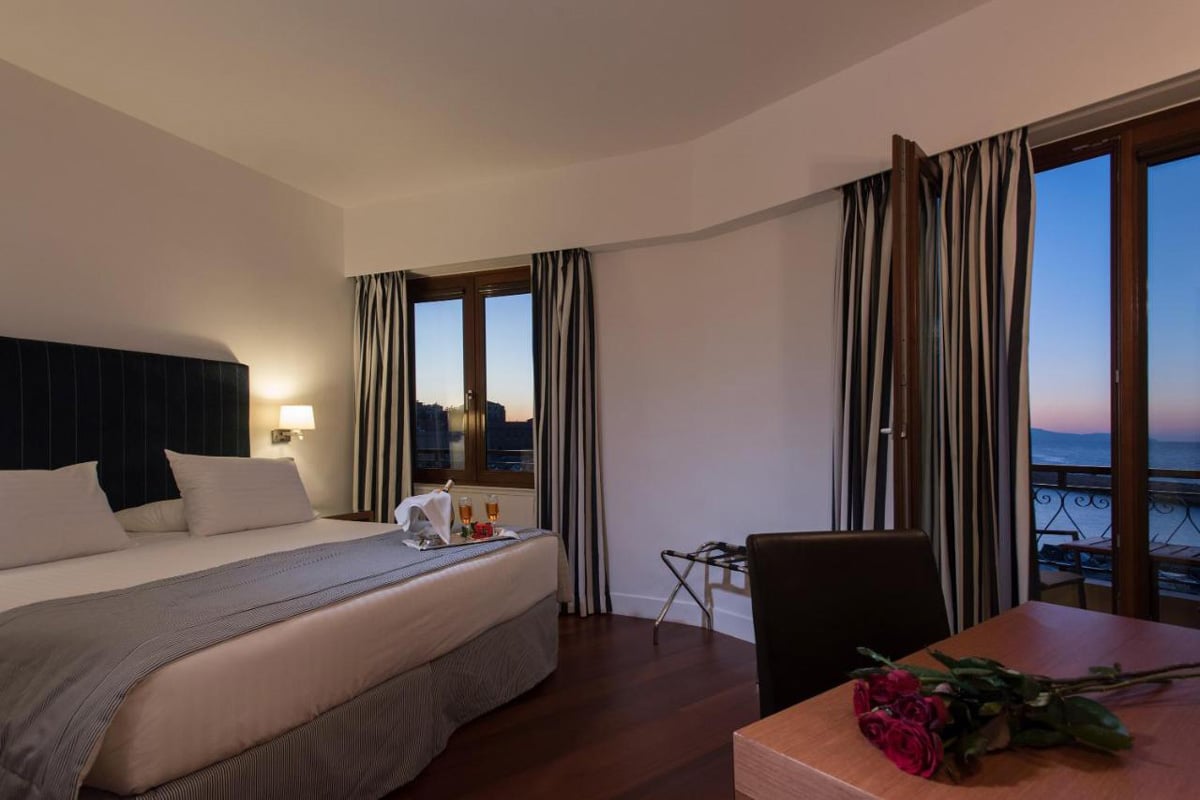 Now, you don't have to break the bank to enjoy luxury and comfort in Crete. Porto Veneziano is a budget-friendly option and makes a strong run for the best hotel in Chania, Crete. It's an urban boutique hotel that looks directly onto the historic Venetian harbour.
Rooms at the Porto Veneziano might not be the largest, but they are spacious enough and exude a welcoming feel. They come with either sea or city views, and each has a private balcony. With decor and styling in tones of white and black, it gives off a minimalist appearance.
Its winning feature, though, is its location. Close to Old Town in Chania, it's the perfect spot to use as a base for exploring the city's monuments, attractions, and alleyways.
Domes Zeen
££
Chania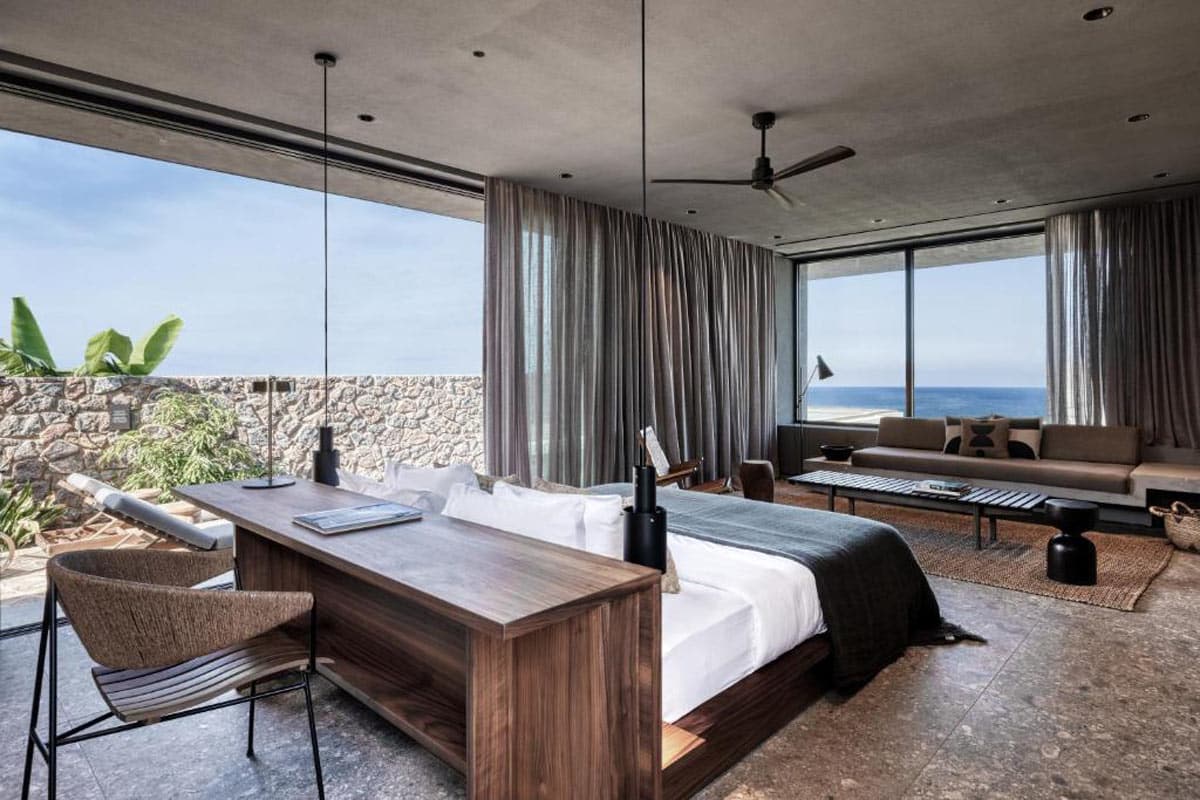 Another stellar option in the town of Chania, Domes Zeen presents a faraway feel with its location, palm trees, tropical gardens, and knockout seafront view. The focus here is on wellness and tranquillity, with a mix of modern aesthetics and natural twists.
Rooms at Domes Zeen come decked out with the most up-to-date hotel tech while combining elements from the island, such as unpolished stone and wood. It sticks to its guns with the Jungle Spa that sits right on the beach.
And while here, indulge in an open-air fitness class with your trainer, or take the coastal footpath to Old Town.
Best Hotels in Crete: Frequently Asked Questions
Practical Tips to Consider Before Booking Your Crete Hotel
If you take one piece of advice, book your accommodation in advance. Crete is extremely popular, and during its peak season (summer), properties fill up quickly.
I've put some time aside to plan the ultimate travel packing list ideas. You're heading to the beach and living it up with epic nightlife. So pack accordingly.
Keep your Crete itinerary in mind when booking your hotel. Choose properties that make visiting the best attractions easy and accessible.