Bumbu Bali curry paste sits at the heart of every Balinese curry – here's how you make it at home.
I hate to play favourites but I adore Balinese curry – lighter than traditional Indian curries, with more roundness of flavour than the thin, sour Thai curries, if you haven't tried it, it's high time you did.
I've spent a lot of time in Bali, taking cooking classes at the Amandari in Ubud, an organic farm and several local restaurants throughout the years.
Whipping up a Balinese curry never fails to take me back to memories of looking over the beautiful rice paddies, feasting on aromatic dishes spread out on my table, all washed down with a crisp, cold Bintang.
Like every good curry, the clue to the flavour lies in the paste.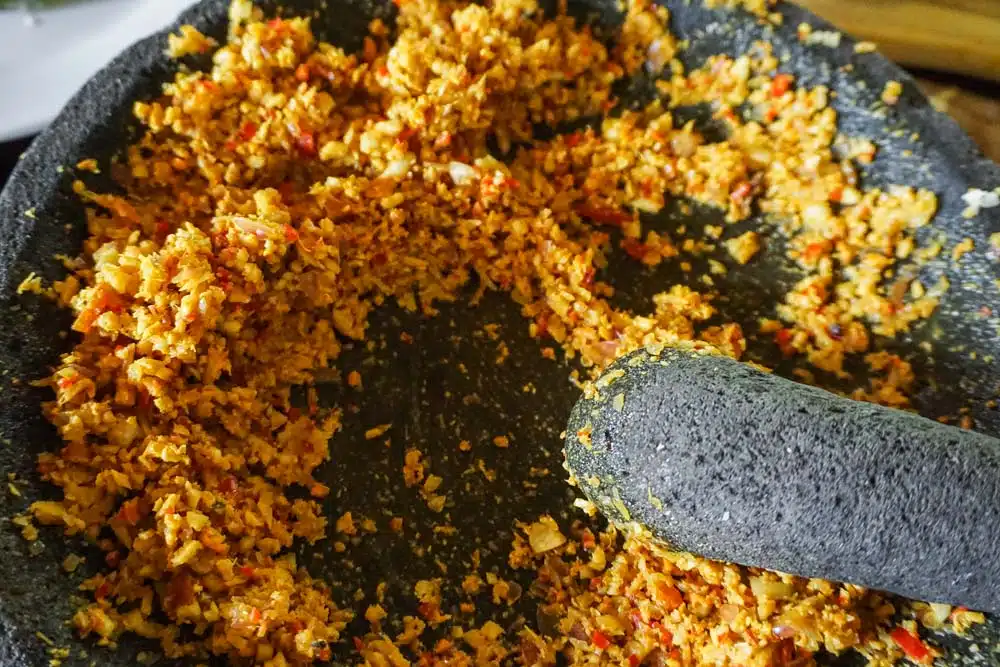 This Bumbu Bali recipe goes beyond simple curries though – you can add it to stir fries, soups and pepes (Balinese spiced meat or fish parcels that are grilled in banana leaves) for a nice kick.
Forget about buying shop-bought pastes, which never strike the right balance. They're often overloaded with salt and lacking in pretty much every other flavour. Quite frankly, I'm on a one woman mission to stop people buying pre-made curry pastes and discover the joy of making their own.
Why would you buy a shop-bought Balinese paste anyway? This quick bumbu bali curry paste takes less than five minutes to make but will make all the difference to your final curry.
It keeps for a couple of weeks in the fridge (store it in an airtight jar for maximum freshness) or for a couple of months in the freezer.
I'd advise you to make more than you need and have it on hand for a quick lunch or dinner.
Tips for Making Bumbu Bali Curry Paste
Which Nuts to Use?
Traditional Balinese curry pastes use candlenuts, which can be hard to get your hands on at home.
The best alternative would be macadamia nuts, but you can use any waxy, oily nuts including almonds or cashews.
Almonds and cashews will change the flavour, but cooking is all about experimentation anyway.
Use Shallots Rather than Onions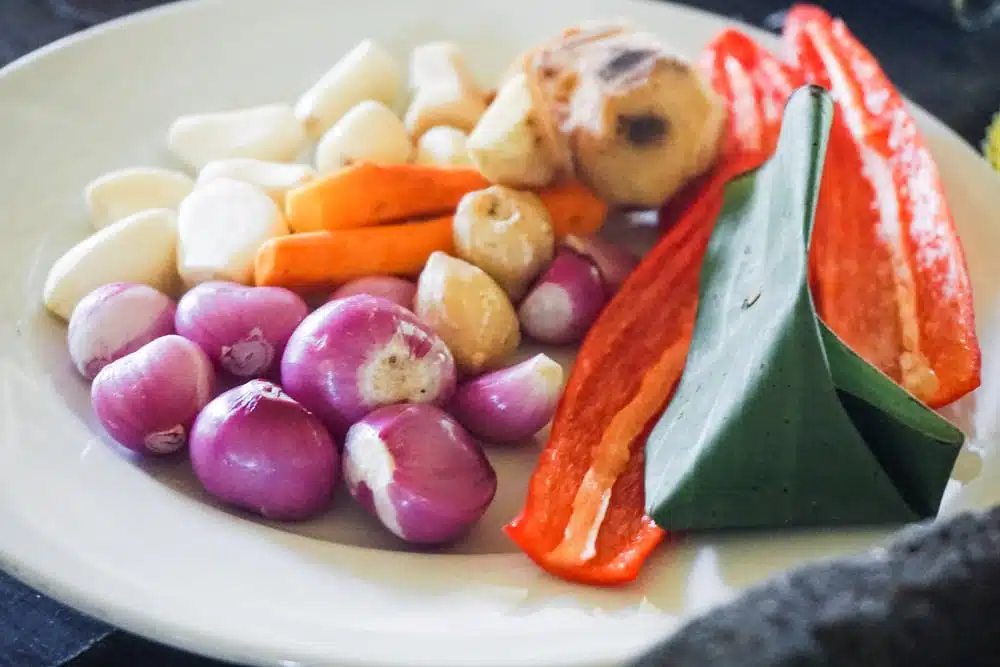 Tempting as it is to use onions instead of shallots, I'd urge you to go through the extra fiddly bother of buying and peeling shallots as the recipe specifies.
Look, I'll be frank – I absolutely detest peeling shallots, so I totally understand the temptation. Fact remains that shallots are much milder in flavour than onions and work much better for the paste. If you do have to use onions, use the mildest ones you can find and use no more than ½ large white / brown onion.
Do not use red onions, which are much stronger than white / brown ones.
Chop Ingredients First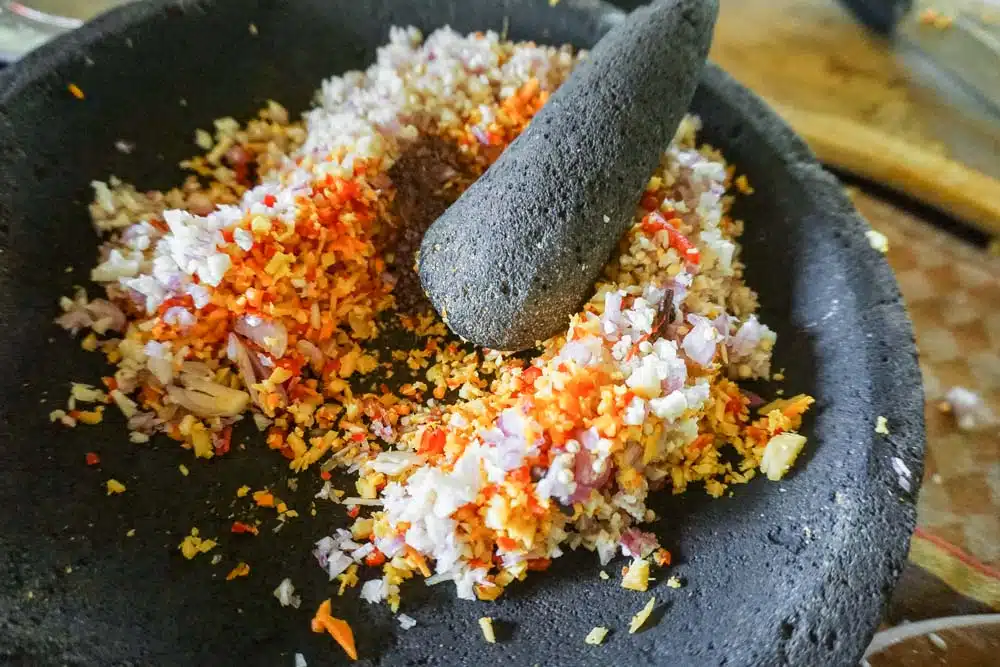 The finer you chop your ingredients at the beginning, the easier it's going to be to grind them into a paste in a pestle and mortar. You don't need to worry about this as much if you're using a food processor.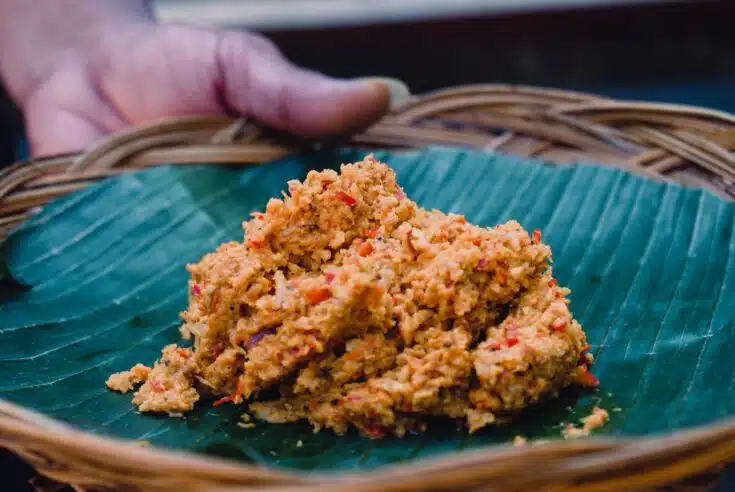 Yield:

Makes 1 cup
Bumbu Bali - Balinese Curry Paste Recipe
A step by step guide to making Bumbu Bali - a delicious Balinese curry paste that's the foundation of so many Balinese dishes.
Ingredients
For the Base Wangen (makes ⅓ cup)
3 candlenuts
2 cloves
3 teaspoons coriander seeds
1 teaspoon black peppercorns
¼ teaspoon white peppercorns
1 teaspoon sesame seeds
¼ teaspoon freshly grated nutmeg
¼ teaspoon cumin seeds
For the Curry Paste
Makes 1 cup
Large piece (15cm) galangal
4cm piece of fresh turmeric (or replace with 2 tbsp of dried turmeric)
3cm piece fresh ginger
7 shallots, peeled
7 cloves of garlic, peeled
3 long red chillies
2 hot chillies
¼ tsp shrimp paste (or mushroom sauce for vegetarians)
2 salam leaves (or 1 bay leaf)
1 stick of lemongrass (chopped)
4 tablespoons of coconut oil
½ teaspoon of salt
3 tablespoons base wangen
Instructions
Blitz the ingredients for the base wangen in a spice grinder, or grind with a pestle and mortar until you've got a fine powder.

Set aside three tablespoons of base wangen and put the rest into an airtight jar for future use.

Finely chop all of the ingredients except the salam leaf, base wangen and lemongrass.

Heat the coconut oil, fry your base wangen, salam leaf, lemongrass and salt until they release a strong aroma.

Pound the chopped ingredients and those from the pan in a pestle and mortar until you have made a paste (you can do this in a food processor but you will need to add a little water and the flavours don't tend to be as pungent).

Use as much as you need and store in the freezer for next use.

Nutrition Information:
Yield:
4
Serving Size:
1
Amount Per Serving:
Calories:

378
Total Fat:

29g
Saturated Fat:

14g
Trans Fat:

0g
Unsaturated Fat:

13g
Cholesterol:

1mg
Sodium:

325mg
Carbohydrates:

30g
Fiber:

8g
Sugar:

10g
Protein:

6g
Love this? Save and Share on Pinterest!