From the dry, orange sands of the Atacama Desert, to the frothy, turquoise waterfalls of the Saltos de Petrohué, Chile is every nature lover's paradise. Step away from the thriving capital, Santiago for our pick of the best things to do in Chile to inspire your travels.
Chile is complicated. And I mean that in the best way possible. With its mountains, coastline, deserts, and glaciers, this country is home to some of the most spectacular and tantalizing landscapes on Earth.
After three visits to Chile, I left last time ready to plan yet another trip (yeah, I think I'm a bit of an addict…). There are just TOO MANY incredible places to visit in Chile. I can't do and see everything in just 1 (or 3…) trips! Chile is like a bowl of the best macaroni and cheese in the world – I just keep wanting to come back for more and more.
Here's an example. In Chile, you can start your day off hiking a volcano, go wine tasting in the afternoon, sample amazing local seafood dishes for dinner, and lay out a blanket at night to see some of the most amazing stars at night.
I know this because I DID IT, and you can too if you visit!
But don't let me be your only guide. Here are the most amazing places in Chile that you can visit. Check them out and see if you don't start to fall in love with this amazing and diverse country.
Incredible Things to do in Chile
Explore the Beauty of Torres del Paine National Park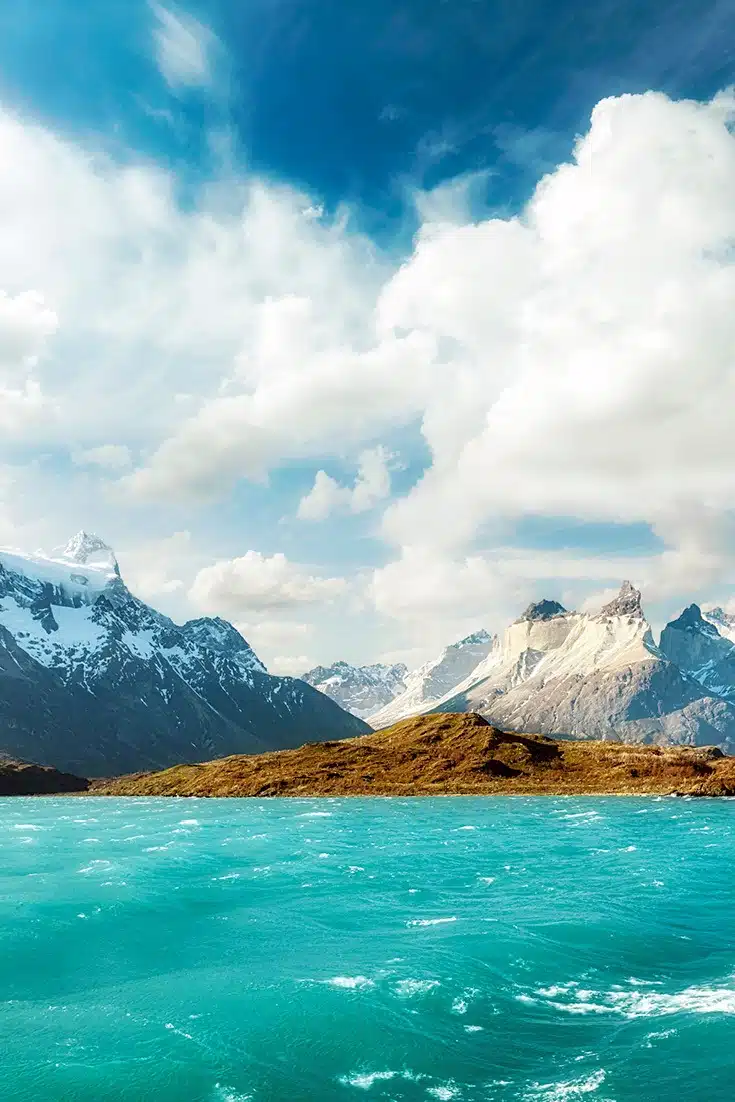 With towering, snow-capped mountains, open, green-tinged lakes, and forests dense with windswept trees, the Torres del Paine National Park is a must-see spot in Chile and should be at the top of your South America bucket list.
The park is spread over one hundred thousand hectares and is visited by an average of two hundred and fifty thousand tourists yearly.
The scenery is dominated by the Cordillera del Paine mountain range, but there's much more to the park than that.
The Torres del Paine National Park is also criss-crossed by valleys, rivers, glaciers, and lakes including the rather fittingly named Grey Lake.
Many different varieties of flora and fauna bloom across the Torres del Paine counting Chilean fire trees. A leisurely wander, steep hike, or winding trek through the Torres del Paine is without a doubt one of the best things to do in Chile.
The W Trek in Torres del Paine is one of South America's best-known treks, thanks to the magnificent and varied sceneries it offers to those who trek its path. Planning a trip? This is what you need to pack and here's an in-depth camping guide.
Click here to read more about hiking the W Trek in Torres del Paine
Marvel at the El Tatio Geysers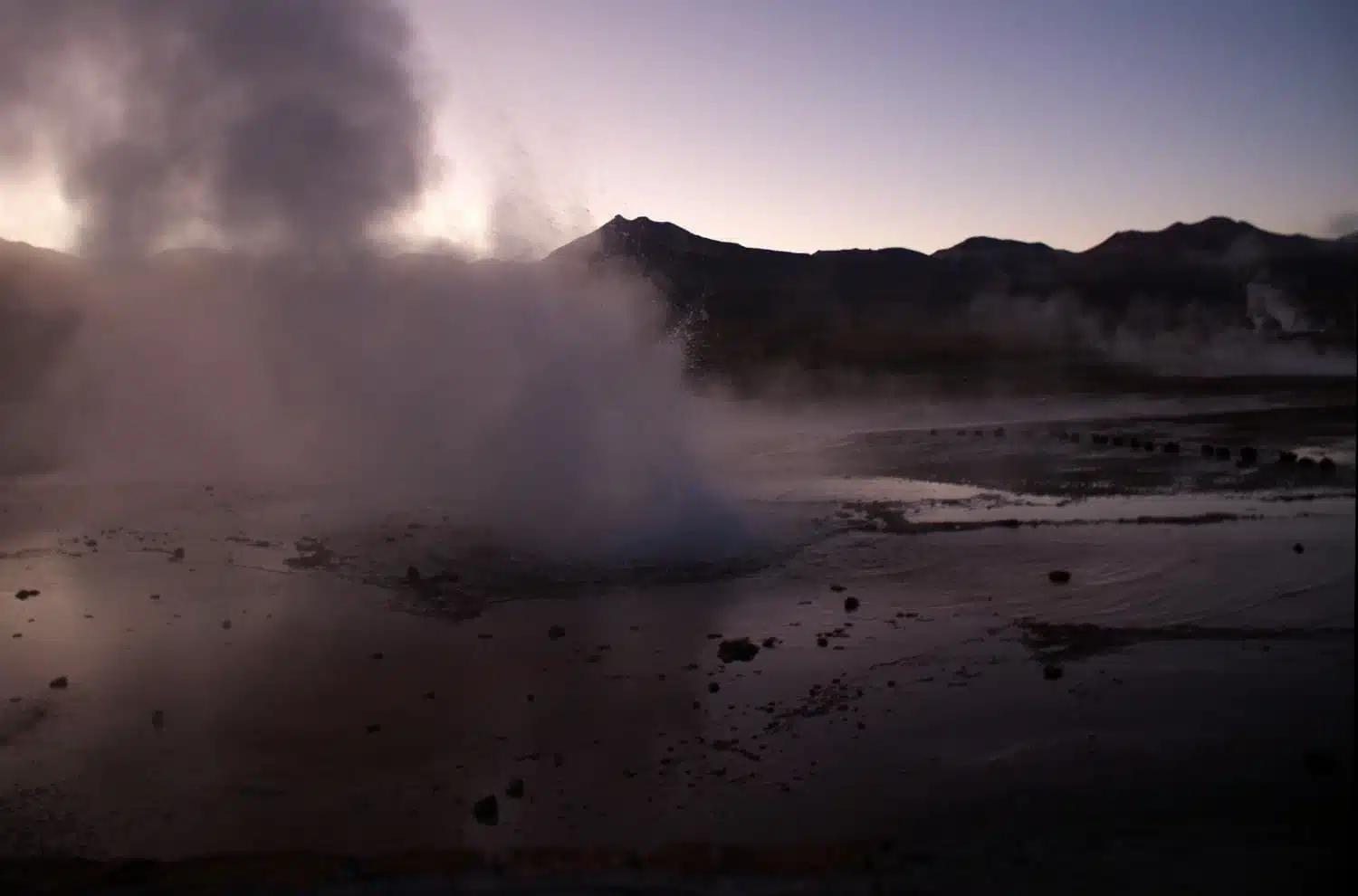 In the north of Chile on the slopes of the Andes Mountains you'll find the El Tatio geysers. With over eighty explosive geysers, El Tatio is home to the third largest geyser field in the world and the largest in the southern hemisphere – certainly one of the must-see spots in Latin America.
A visit to El Tatio is one of our top 11 things to do for the sheer beauty and wonder of the site. The geysers are most active at dawn, when they erupt to heights between one to six metres. Seeing the geysers starting to erupt as the sun rises over the mountains is an unforgettable experience.
Once you're finished, you can bathe in the hot geyser water pools before heading off.
See The Wonders of the Atacama Desert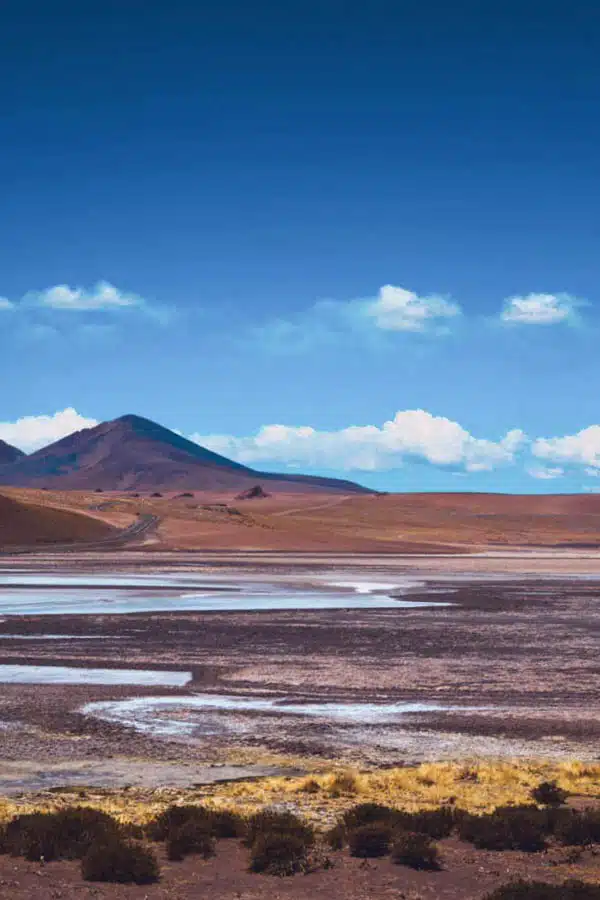 The grainy salt lakes, the jagged otherworldliness of the Valle de La Luna – there's no doubt that the Atacama Desert is one of the best things to do in Chile.
A trip into the Atacama Desert is like stepping into a technicolour world, pastel pink waters, bumpy volcanoes, and fumbling flamingos contribute to the surreal effect (see our 10 awesome images from the Atacama Desert to see what we mean).
Located in northern Chile, the Atacama Desert is famous for being one of the driest places in the entire world. For this reason, the stargazing and astronomy opportunities here are unlike any others in the world, and the desert is home to several observatories and research facilities like ALMA.
The Atacama Desert is one of the oldest deserts in the world and has many highlights including the Laguna Chaxa (home to three species of flamingo), the lime green Salar de Capur and Guatin Canyon, where the cacti grow taller than humans.
If you manage to explore parts of the Atacama Desert away from the big bunches of tour groups you'll be able to enjoy the true stillness of the desert while sitting under the star-speckled sky.
Here are a few of the most popular activities in the Atacama Desert: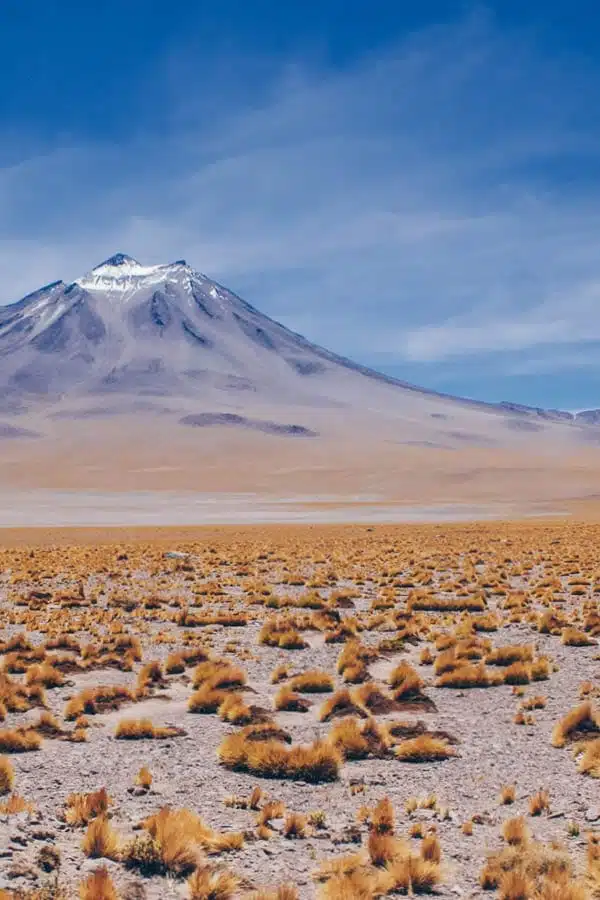 Summit a volcano: Dotted with volcanoes all over, it's hard NOT to feel tempted to climb one while visiting the Atacama Desert. Luckily, you can! There are guided hikes to the summits of dormant and active volcanoes. Cerro Toco and Volcan Laskar are two of the most popular volcano hikes from San Pedro de Atacama.
Sandboard down the sand dunes: If you're looking for a more adrenaline-inducing activity, you can strap on some boots and sandboard down the dunes of the desert. There are beginner lessons offered by Sandboard San Pedro that are perfect for people who are curious to try it but don't know where to begin.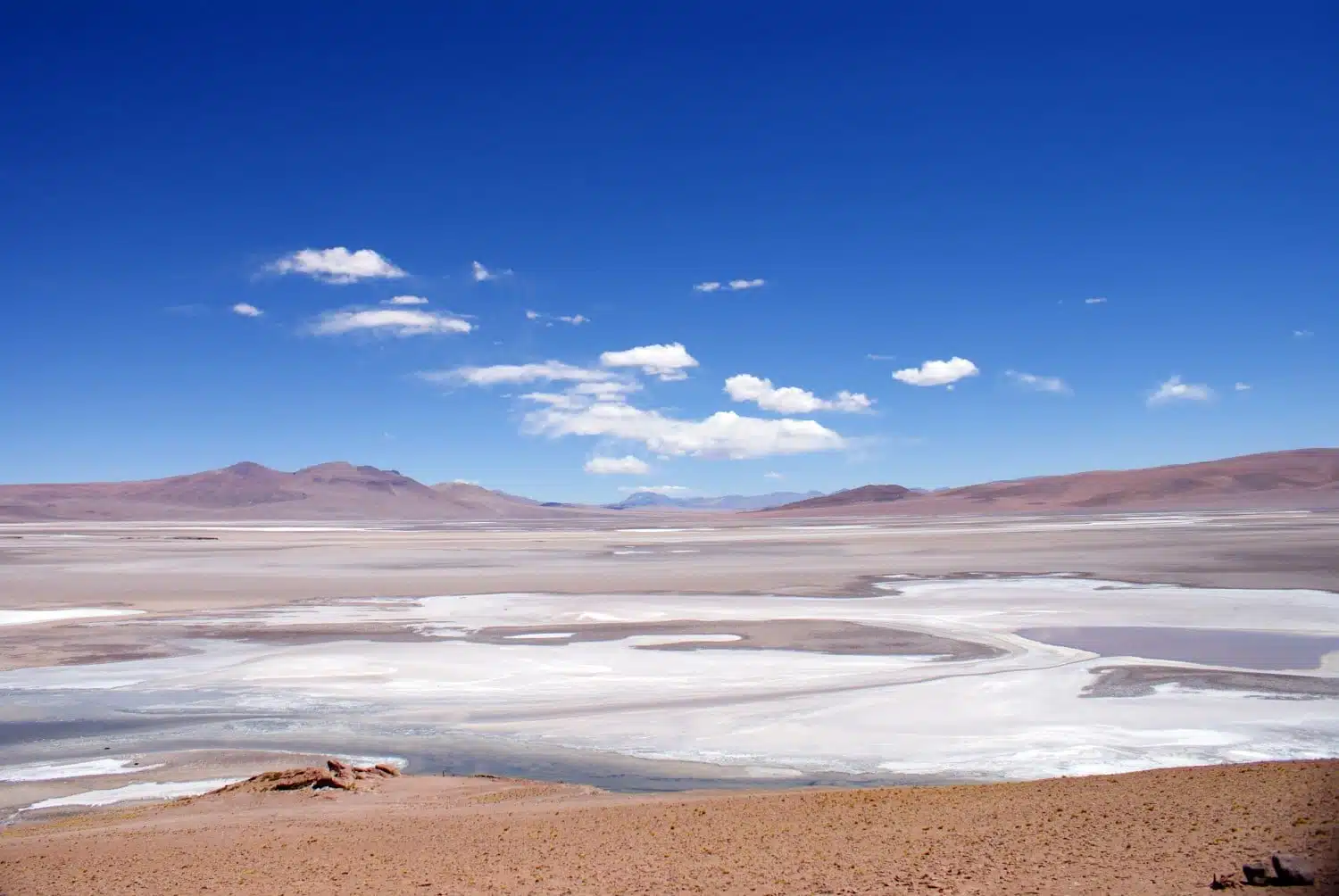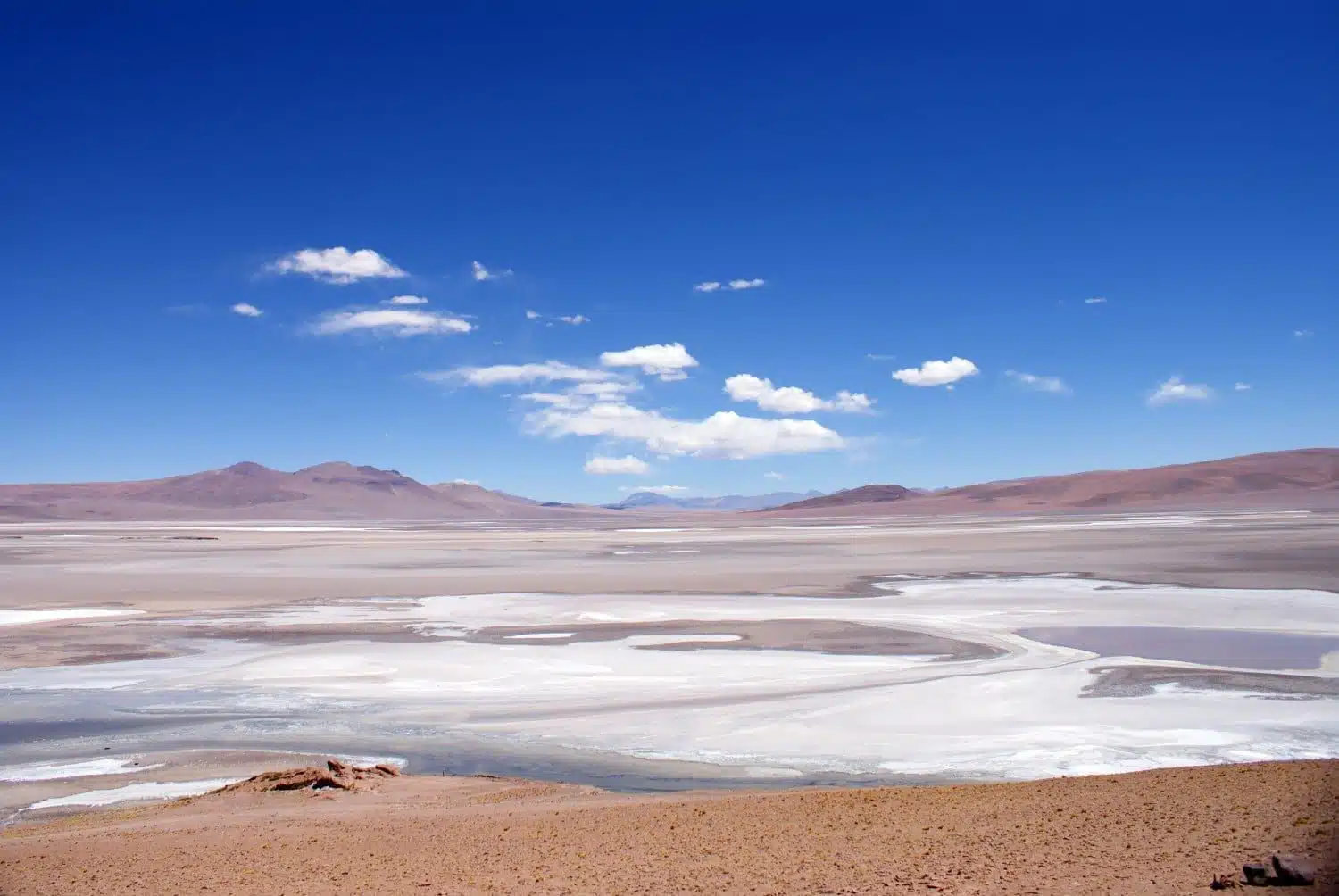 Explore nearby salt flats and lakes: There are several other incredible natural attractions to see in the Atacama Desert. Some of these include expansive salt flats and lagoons. My personal favorite was the Piedras Rojas tour, which took us to some seriously incredible landscapes in the Atacama region.
Visit an observatory: Space geeks, rejoice! There are several observatories that you can visit in the Atacama Desert as a tourist, including SPACE Obs and ALMA (radio telescope array). During the evenings, you can see nebulas, constellations, and more using the powerful telescopes the tours have available.
Read Next: Incredible Things to do in the Atacama Desert
Spend Time Getting to Know Santiago de Chile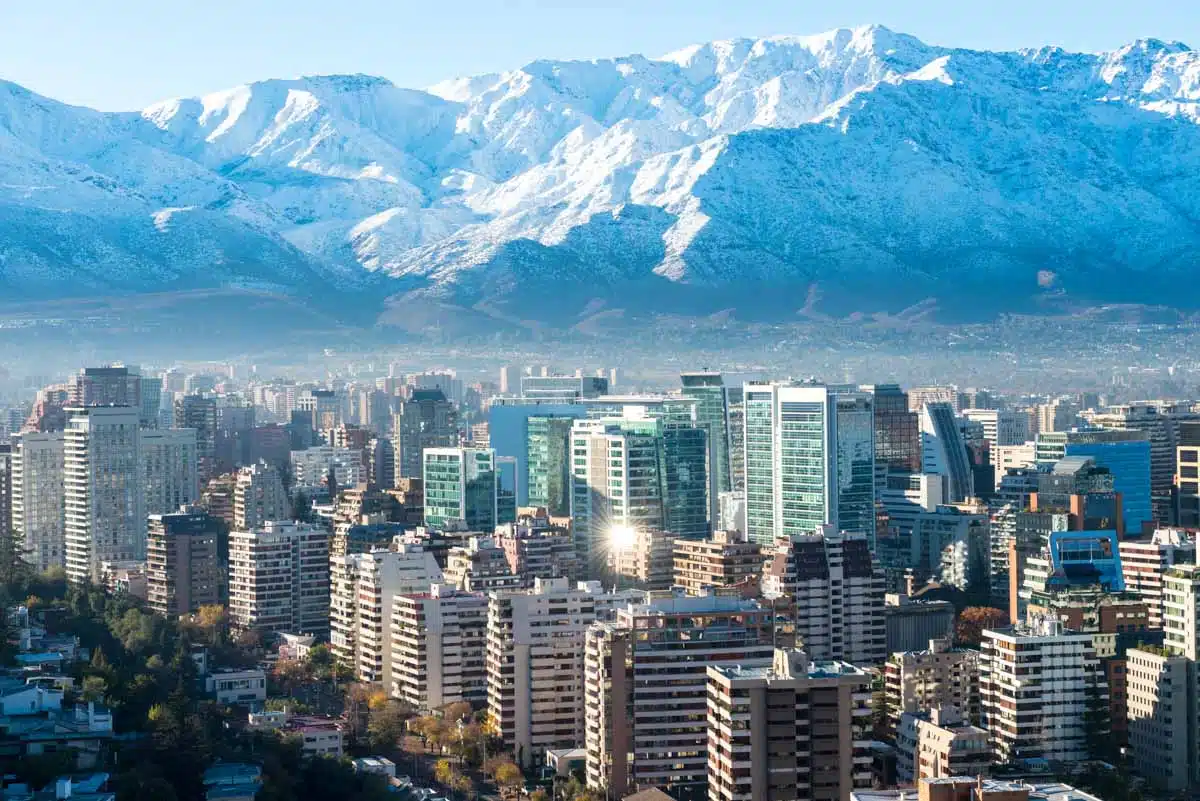 We couldn't write a piece on the best things to do in Chile without mentioning the country's buzzing capital, Santiago. The country's largest airport is here, and it's also the largest city in the country, perfect for people looking for a variety of urban experiences.
Some visitors to Chile are tempted to skip Santiago, but I think it's definitely worth exploring for a few days if you have the time! While it's not one of the most picturesque places to visit in Chile, it has HUGE cultural significance within the country.
Scratch beneath the surface and you'll find something to suit every taste – from the upscale eateries in neighbourhoods such as Vitacura to the old city "Centro", home to the city's oldest buildings and some of its most important sights.
With world-class museums, restaurants, nightlife, and views, Santiago is full of awesome activities. Here are a few of my favorite things to do in Santiago:
Take a free walking tour: There's no better way to orient yourself to a new city than by taking a tip-based guided walking tour. Your guide will explain the history of the city and show you around to some of the most fabulous places to explore.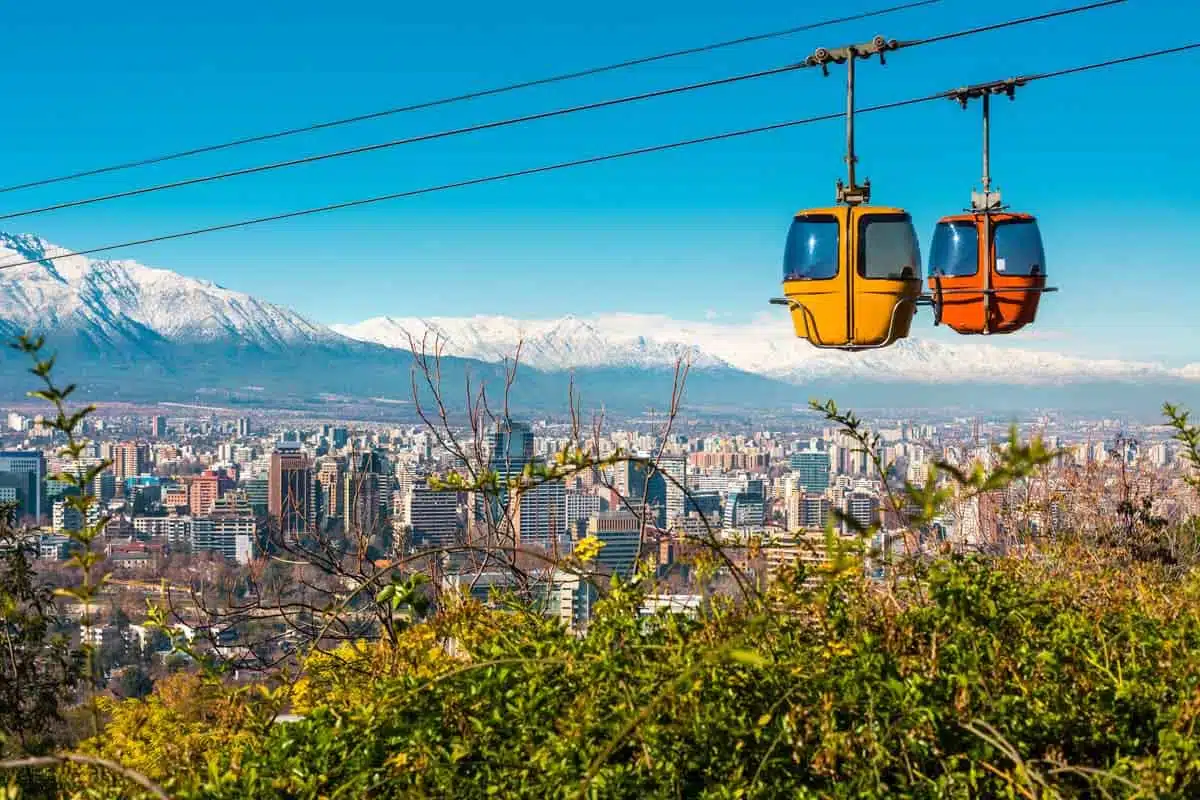 Climb a hill for spectacular views: Santiago is a city with a ton of topography, with hills and mountains everywhere. There are two hills with stunning views that are popular for tourists: Cerro Santa Lucia and Cerro San Cristobal. If you'd rather not climb stairs in the Santiago heat (I don't blame you), you can take a funicular car to the top of the Cerro San Cristobal for a small fee.
Learn about Chile's history: There are tons of awesome museums in Santiago, from fine art to history and more. I was especially moved by the Museo de la Memoria y Derechos Humanos, which details the political prisoner crisis and dictatorship that happened in Chile from 1973 to 1990.
Eat the most delicious Chilean food ever: Chilean food is surprisingly awesome. My favorite dish is the paila marina, a delicious seafood soup that you can find in little home-style restaurants tucked into the corners of Santiago's Mercado Central. Top it off with a sweet mote con huesillo from a street vendor and your whole meal is complete.
Take a day trip: Santiago is a fantastic place to base yourself for a few days while you're exploring the surrounding areas. If you have extra time in the area, take one of the popular day trips from Santiago to see the coast, drink some wine, or go for a hike in the Andes.
Read Next: The Best Things to do in Santiago, Chile
Chart a Course Across the Beagle Channel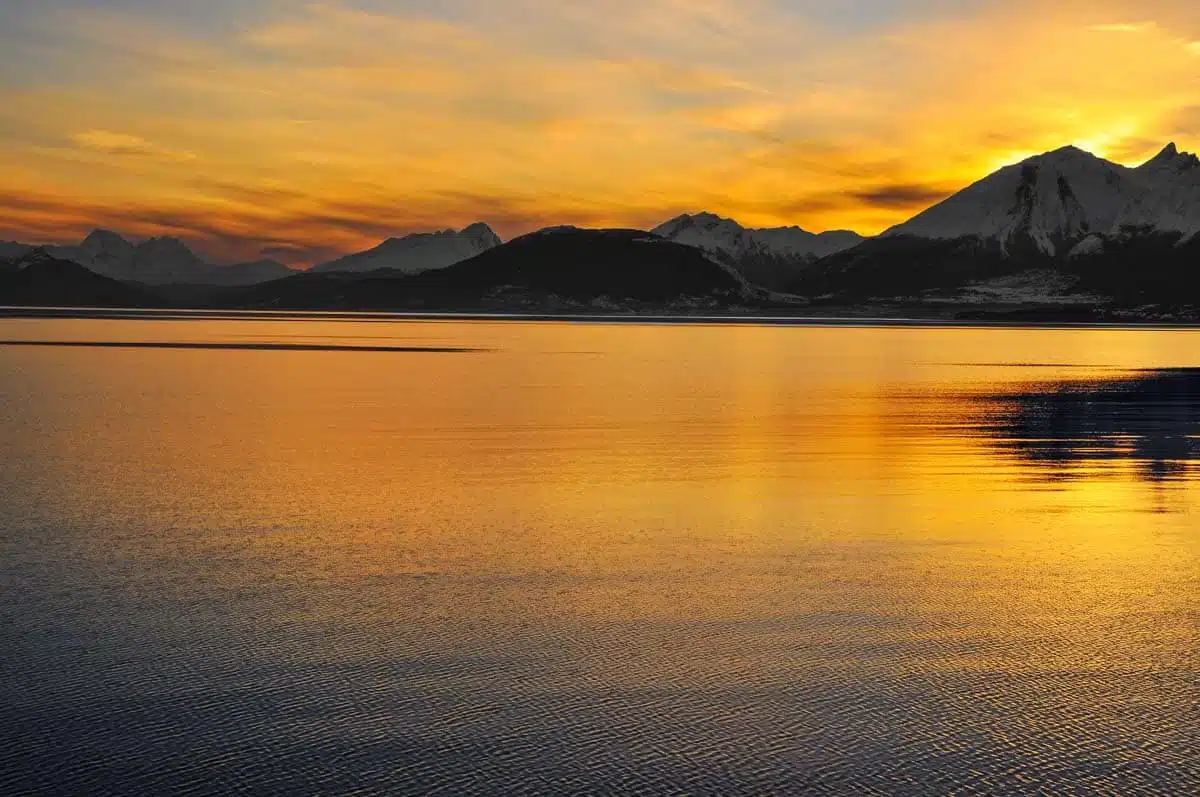 The Beagle Channel cuts a course through the tip of South America, spanning an area from the Atlantic Ocean to the Pacific Ocean, passing through Chile and Argentina along the way.
Covering a distance of around two hundred and forty kilometres, the channel separates some of the larger southernmost Chilean islands from the mainland.
The port village of Puerto Williams is the closest spot to the Beagle Channel in Chile and is the point at which tourists hop onto boats or kayaks to sail across the waters.
Crossing the Beagle Channel is one of the best things to do in Chile; take the opportunity to go dolphin and whale spotting. If you have the time, stop off at a few of the smaller islands across the channel to to explore the wildlife and untamed beauty of the landscapes.
Planning a trip to South America? Take your pick of these five two-week itineraries.
See the Saltos de Petrohué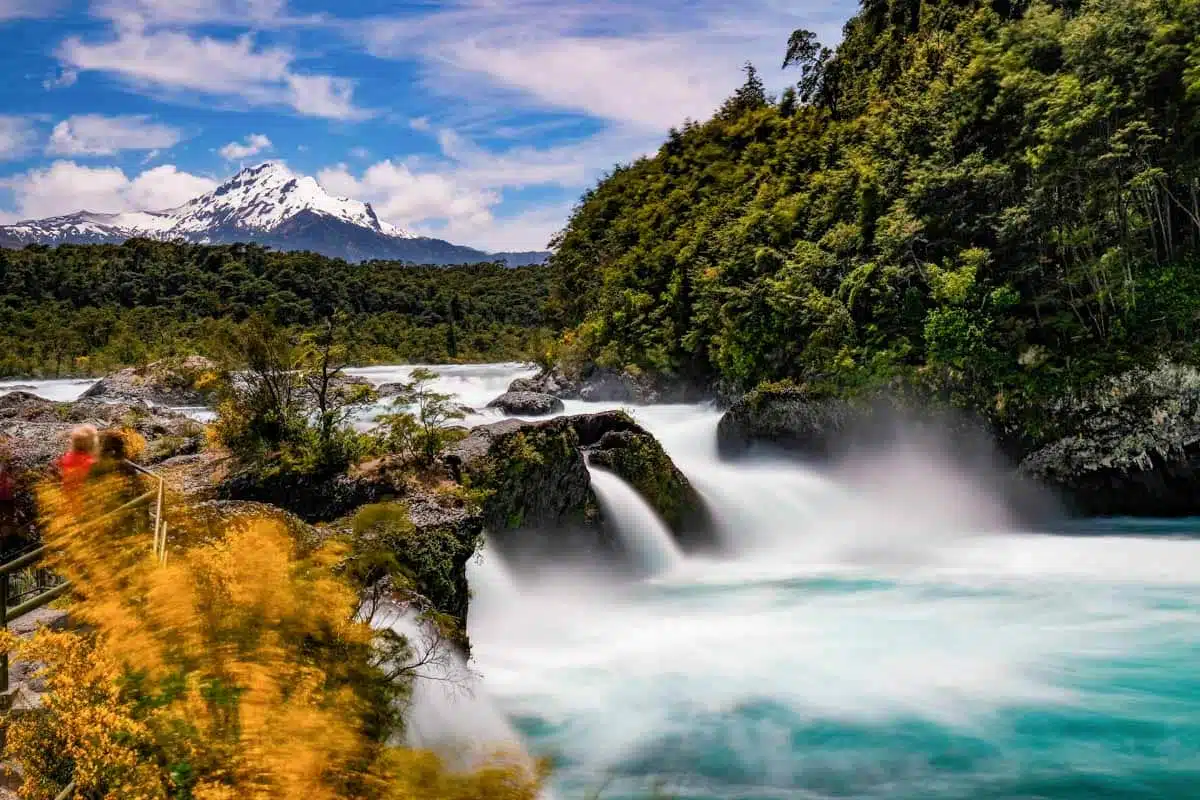 A visit to the Petrohué Waterfalls is a must when travelling to Chile. Located within the Vicente Pérez Rosales National Park, a trip to the Saltos de Petrohué is one of, in our opinion, the best things to see in Chile.
Cascading from the edge of the Petrohué River, the waterfall is tinged a blue-green colour and is often surfed by brave torrent ducks.
The fan shaped Llanquihue Lake and colour changing (almost like a mood ring) Todos los Santos Lake both flow near the Saltos de Petrohué.
In the background of every shot of the waterfall stands the active Osorno volcano sprinkled with a swirl of snow. The volcano often throws sand and silt into the Petrohué Waterfall, smoothing the rocks scattered across the rapids.
Visit Pucon & Villarrica Volcano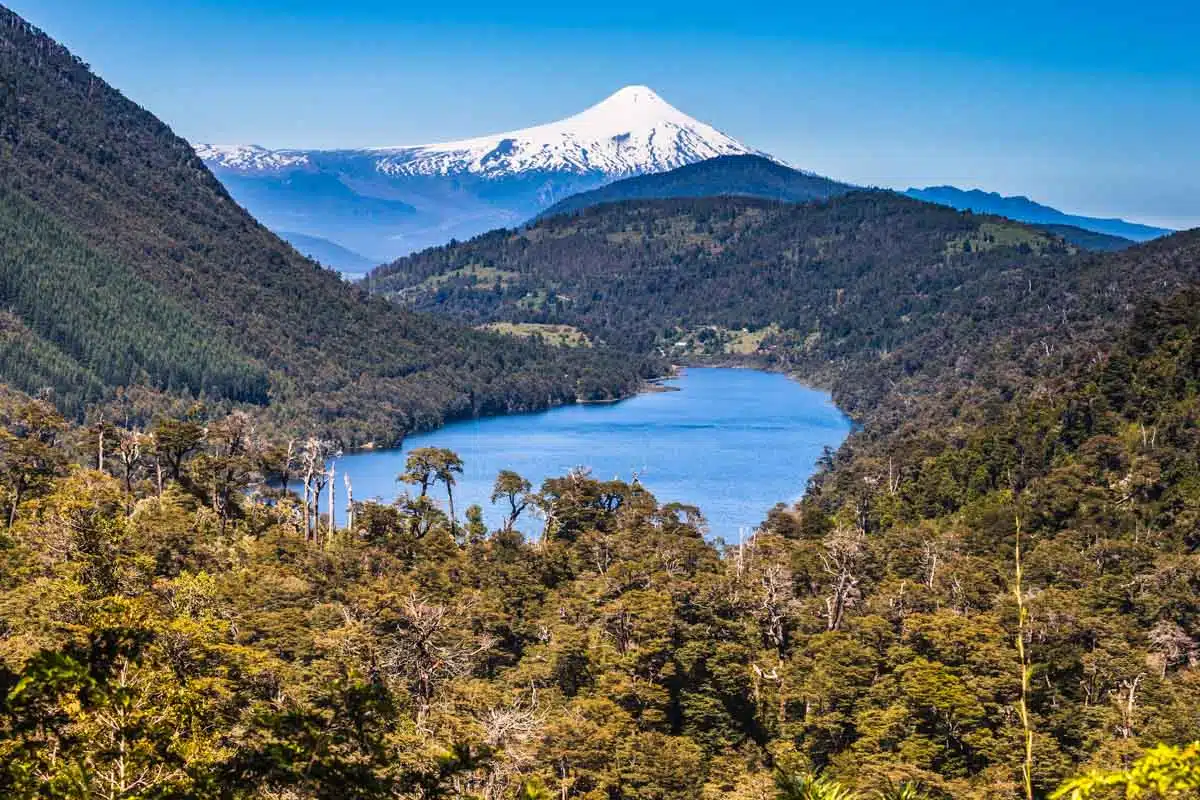 Volcanoes. Lakes. Food. An amazing destination for any type of traveler, Pucon has these and more. Pucon is located in the heart of Mapuche territory, meaning that the indigenous influence ans greatly impacted the region's food scene and culture.
As the most active volcano in the country, Villarrica is another popular tourist hotspot on our list of things to do in Chile.
While in Pucon, you can take some time to explore nearby Villarica, a gorgeous, snow capped volcano that looms in the distance seemingly everywhere you look. While there are plenty of amazing viewpoints of Villarica, the most intrepid of adventure travelers can also climb to its summit.
It's best to tackle the Villarrica volcano with guided tour groups, as with bad weather conditions the hike can be extremely dangerous.
You can also get your adrenaline pumping with a variety of other adventure sports and tours. Some of these include canyoning, rafting, skiing, trekking, and wildlife watching in one of the nearby nature reserves or national parks.
See the Stunning Miscanti Lake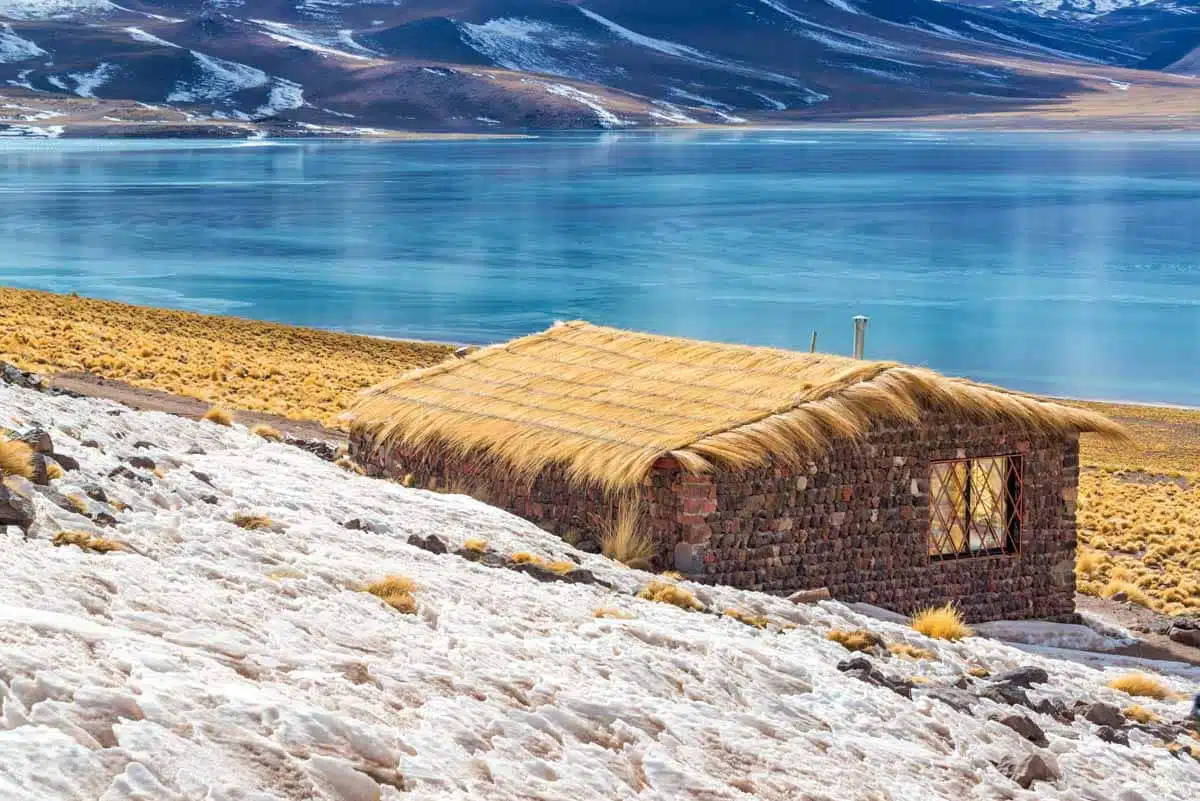 Another destination on our list of extraordinary things to do in Chile is the Miscanti Lake located to the north of the country.
Positioned besides the Miñiques volcano, the Miscanti Lake is known for its distinctive heart shape and dark blue waters. The Miscanti Lake is also close to the Salar de Atacama and Salar de Talar salt flats.
While a trip to the lake is a must when exploring Chile, a visit to the largest salt flat in Chile (the Salar de Atacama) also cannot be missed.
The Salar de Atacama salt flats cover around one thousand and two hundred square miles and are surrounded by mountains and volcanoes. In a country filled with natural wonders, these two stand out for their rugged, natural beauty and photo-worthy scenes.
Go Wine Tasting in the Elqui Valley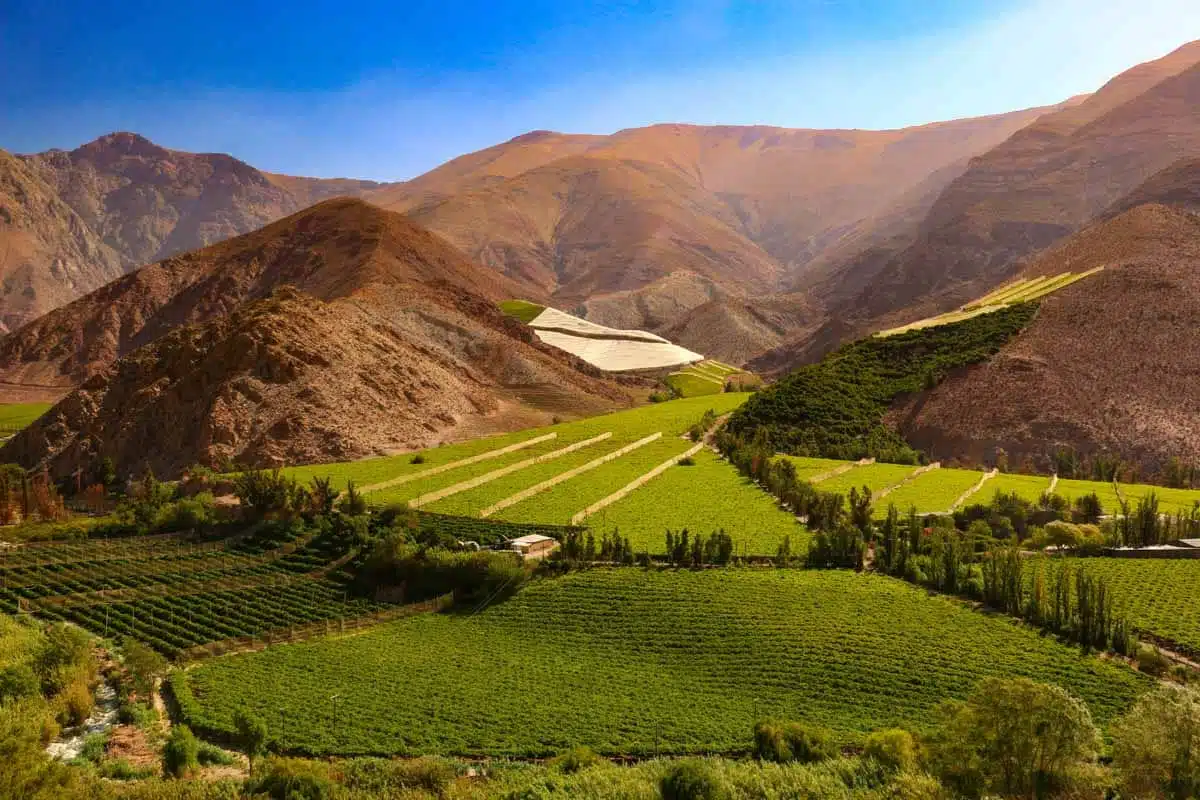 Located abut over 470 km north of Santiago, Chile's Elqui Valley is an amazing place for wine tasting, hiking, and stargazing. This region is a conglomeration of several small towns, stretching from the seaside in La Serena inwards.
Home to a dry climate, charming small towns, and amazing food and drink options, you'll enjoy the attractions in the Elqui Valley no matter what kind of traveler you are
The valley runs from the Pacific Ocean along to the Andes Mountains and is known for its vineyards that produce wines and Pisco brandy (one of Chile's most popular liquors). Rising to over six thousand feet, the Elqui Valley is shaped by rolling hills, stretches of grasslands, and staggering mountains.
Along with the many trekking routes spiralling all over the Elqui Valley, the valley is also home to several small, tucked away villages.
The Elqui Valley has earned its place on our list of extraordinary things to do in Chile for its clear starry nights (the valley is an International Dark Sky Sanctuary), vineyard covered slopes, and spectacular views over northern Chile.
Curious to learn more? Here are a couple of awesome things to do in Elqui Valley:
Go wine or pisco tasting: The Elqui Valley is home to some of the best wine and pisco production in the country. You can visit several wineries during your stay, most which specialize in Syrah and Carmenere grapes. There are also several pisco distilleries that offer tastings of some of the best pisco in Chile.
Enjoy a horseback trek: With its beautiful mountains and natural areas, there's a lot of landscapes to explore in the Elqui Valley. You can hike to various areas on foot or take a horseback riding tour to catch a glimpse of this picturesque valley.
Watch the night sky: Elqui Valley is home to some pretty epic places to watch the night sky, including in your own glass eco-dome! If you're looking for an amazing astronomy experience, this is one of the best places to visit in Chile. You can learn the constellations while sipping a wine and enjoying the cool night air of the region.
See the Vast General Carrera Lake
With cool, bright blue waters, thick, tangled fauna, and the Andes mountains on the horizon, the General Carrera Lake is a must see for your time in Chile. The lake, which is shared with Argentina is the biggest lake in the country.
And the Marble Caves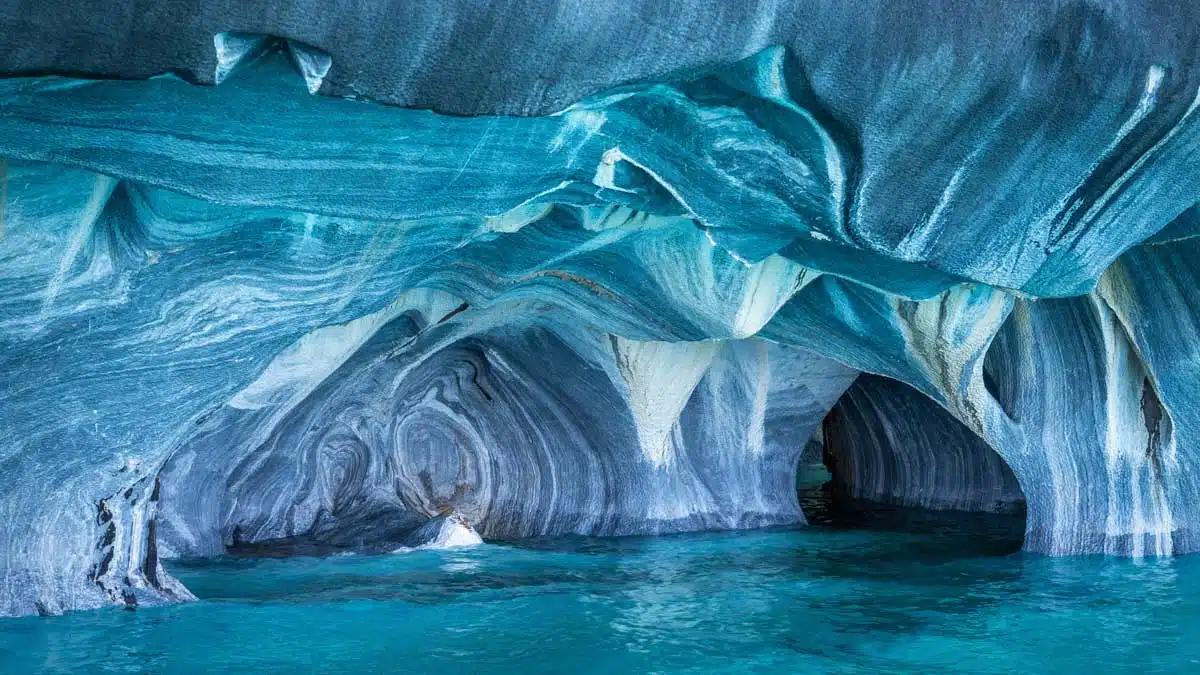 Located deep in the waterways of Patagonia, the Marble Caves are a world-famous series of caves with gorgeous blue striations. While many people opt to go by motorboat, I'll be choosing a kayak tour when I go for an immersive, tranquil, and eco-friendly experience.
You may be worried about taking such a long trek for a short, day-long excursion to the caves. Luckily, there's a lot more to do in the region. If you've got a rental car, you can continue down the Carretera Austral for even more of those stunning Patagonian landscapes.
If you have more time, there's also the option to tour nearby San Rafael Glacier. Compared to the more famous Perito Moreno or Grey Glacier, San Rafael receives a small number of visitors. It's perfect for more intrepid travelers looking for a unique experience.
Drive The Carretera Austral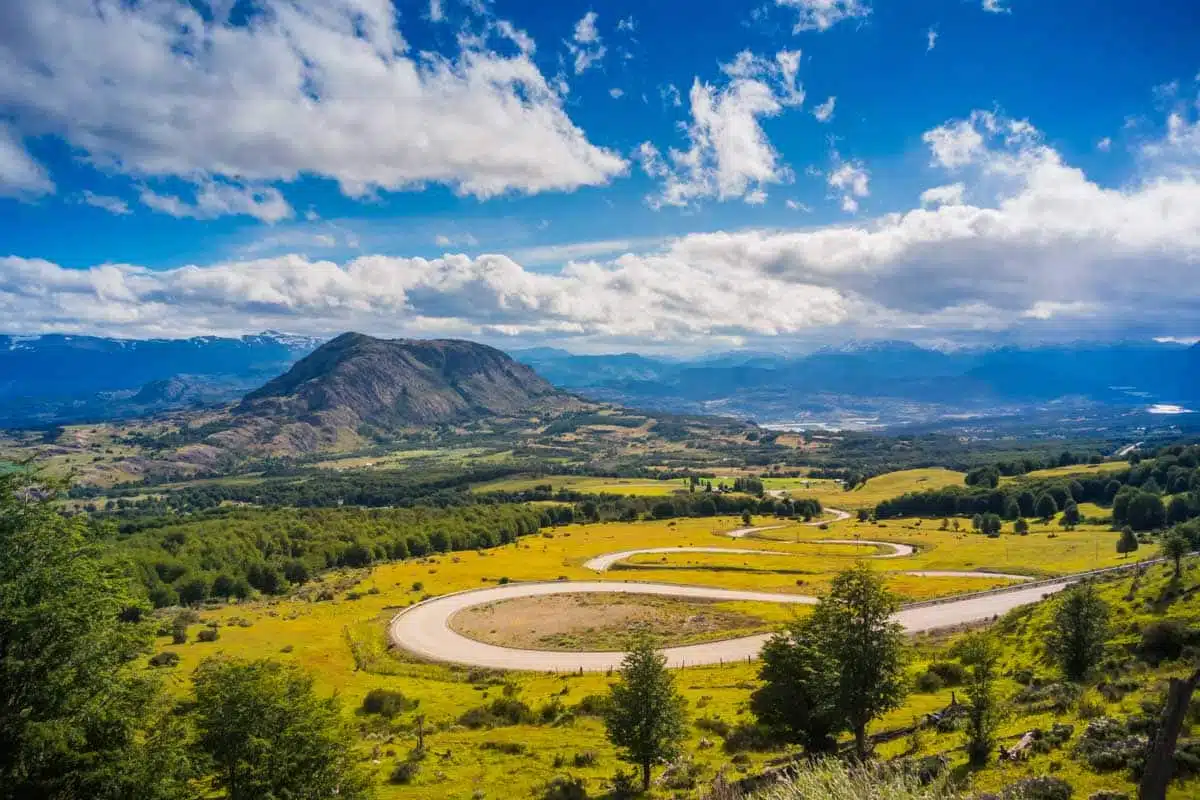 For the avid road trippers out there, the Carretera Austral is one of the most incredible highways in the world. You could spend weeks simply driving along this Patagonian thoroughfare and exploring the amazing hiking, photography, and wildlife watching opportunities it has to offer.
Beginning in Puerto Montt and extending over 1,200 km to Villa O'Higgins, this highway traverses most of Patagonia and offers some of the most picturesque stops along the way. Once you arrive, kayaking, trekking, backpacking, and wildlife expeditions await.
Explore the Cajón del Maipo (Maipo Canyon)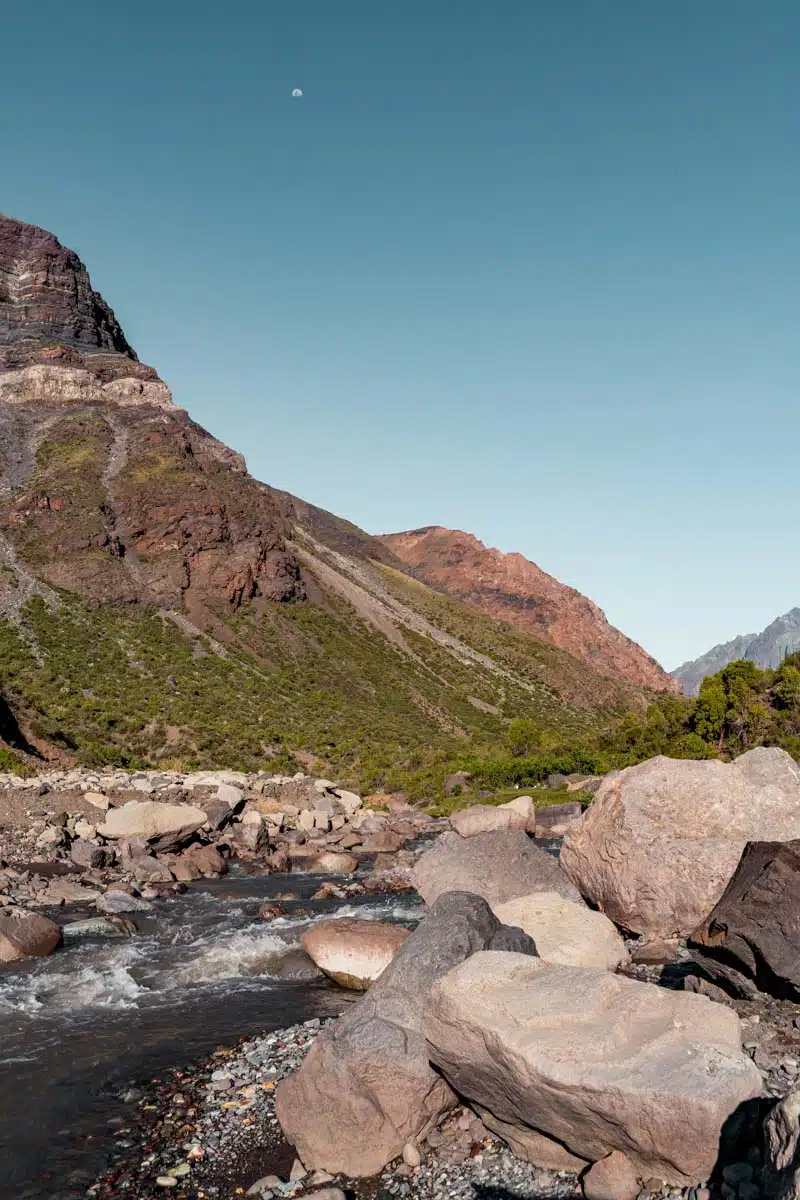 Located just southeast of Santiago, the Maipo Canyon is a popular attraction for locals and tourists alike.
Its steep, jagged walls and rocky peaks make the canyon the ideal place for hiking, climbing, and trekking. There are also several camping bases set near the Maipo Canyon ideal for nature enthusiasts trading the buzz of bustling Santiago for a night under the stars.
The Maipo Canyon surrounds the Maipo River basin and is crossed by several other streams including El Volcán River and Yeso River. Thick greenery also covers the slopes of the gorge, creating a picture perfect scene that's too good to miss.
t's definitely the most accessible mountain escape in Chile. At less than an hour from Santiago's city center, Cajon del Maipo is a perfect outdoor day trip or a short weekend getaway.
Here are just a few activities you can try in Cajon del Maipo:
Hike to a glacier: There are several glaciers in the Cajon del Maipo region, which you can hike to in a single day. A couple of the most popular day hikes include Glaciar San Francisco and Glaciar El Morado.
Explore El Yeso reservoir: El Yeso is probably the most iconic and picturesque area of Cajon del Maipo. It's a large lake surrounded by snowy peaks – what's not to love? The easiest way to get to El Yeso is by driving yourself or booking a guided tour.
Relax in some hot springs: Given Chile's geothermal activity, there are a couple of hot springs you can enjoy in the Cajon del Maipo region. The two most popular ones for tourists are the Banos Colina, perfect for chilling out after a day of hiking.
Go rafting in the Maipo River: There are a bunch of outfitters that offer rafting trips in Cajon del Maipo. These tours are a few hours in length and go through some serious rapids! Many travelers recommend Rafting Ruta Vertical for rafting trips in Cajon del Maipo.
Explore The Lake District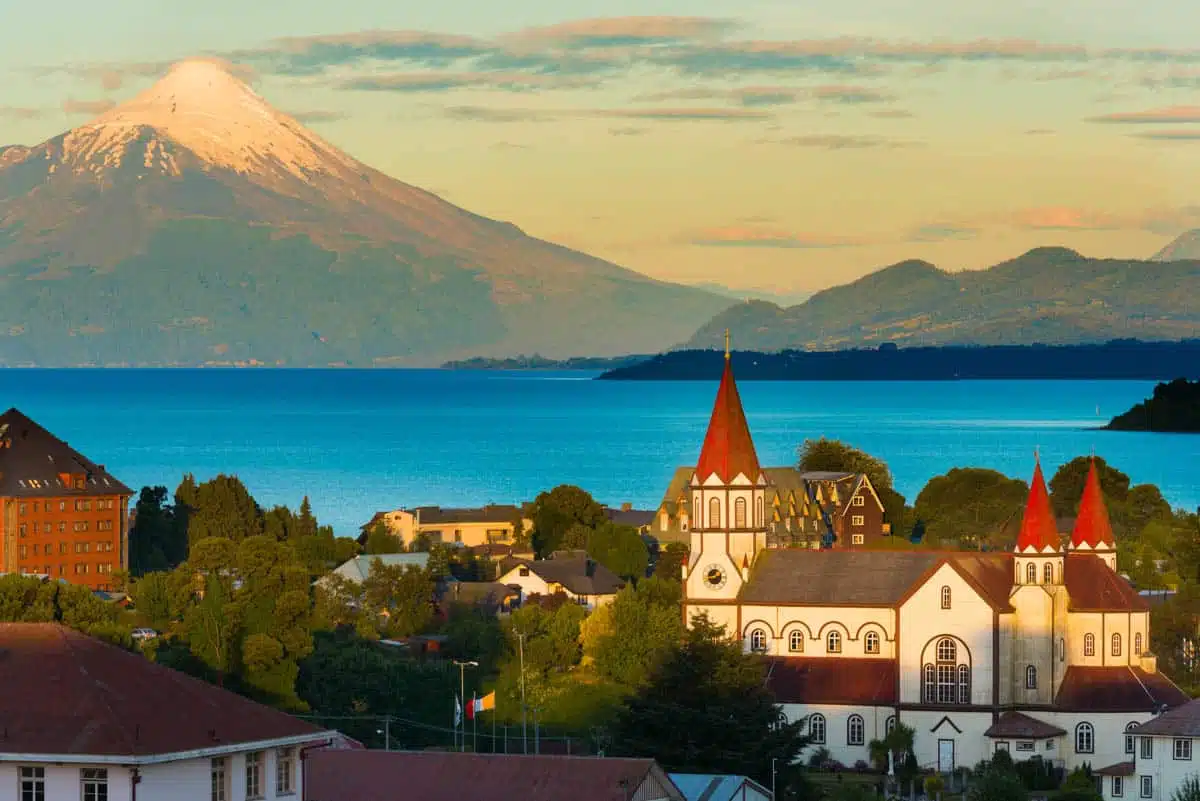 In Northern Patagonia lies Chile's famed Lake District, which is full of sweeping mountains, sparkling lakes, and incredible geographic marvels.
The entirety of the Lake District spans two of Chile's regions and encompasses several thousands of kilometers of the country. Some of the most notable cities in the area include Puerto Montt, Coyhaique, Pucon, Puerto Varas, and Temuco.
While here, you can explore Conguillio National Park or hike one of the many mountains or volcanoes that dot the area. Alternatively, enjoy the water by booking a waterfront resort or going for a boat tour.
Either way, you can't go wrong with a few days (or weeks!) in the Lake District – it's unbelievably beautiful and you'll get a unique taste of Chile's landscape and culture.
Punta Arenas & Tierra del Fuego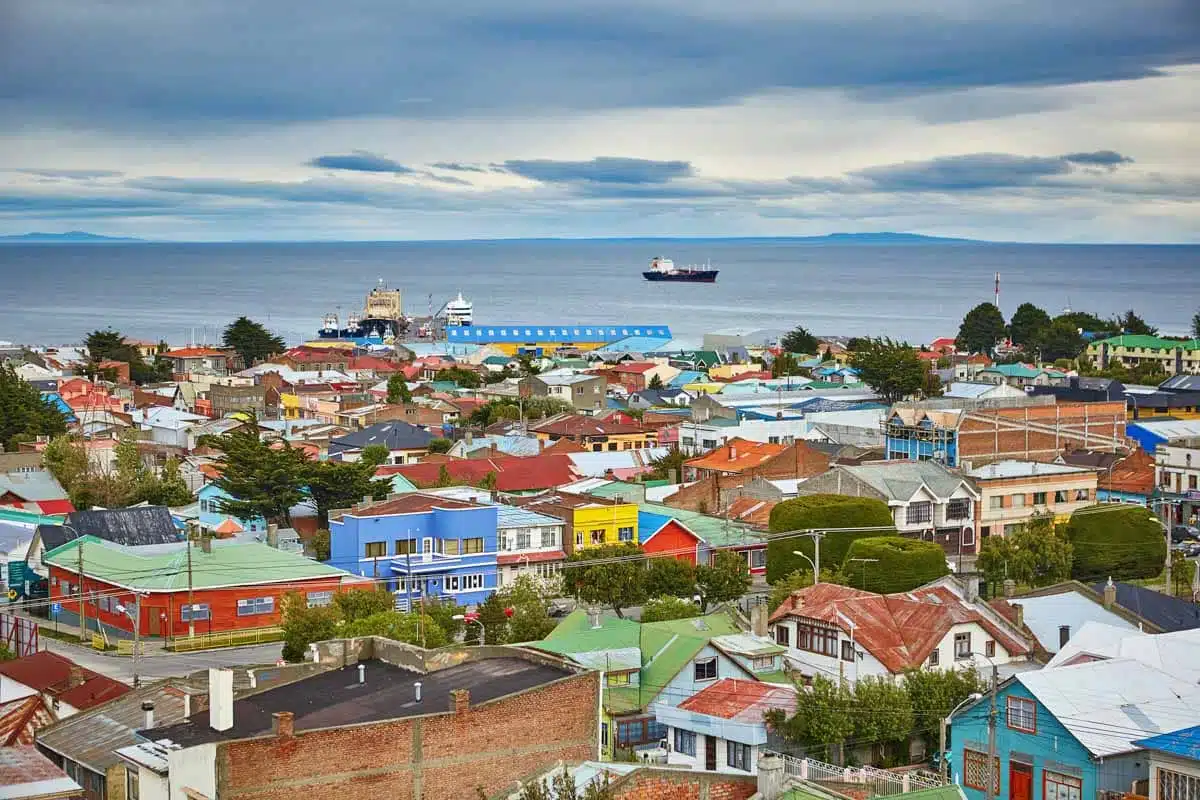 Located on the very southern tip of Chile is the town of Punta Arenas. Just look at it on the map! It literally looks like it's on the end of the world.
As you can imagine, landing in Punta Arenas is eerie and beautiful at the same time. The skies are huge and the breeze is strong.
While it's not as full of rocky peaks like its northern Patagonian counterparts, there's a different kind of magic here. From Punta Arenas, you can hop on day tours to see the magnificent wildlife in the area – penguins, whales, sea mammals, and more.
For even more adventure, you can also take a trip into the Argentine side of Tierra del Fuego easily. Here, you can visit Ushuaia and see the surrounding areas there.
More Wine Tasting in the Maipo Valley & Casablanca Valley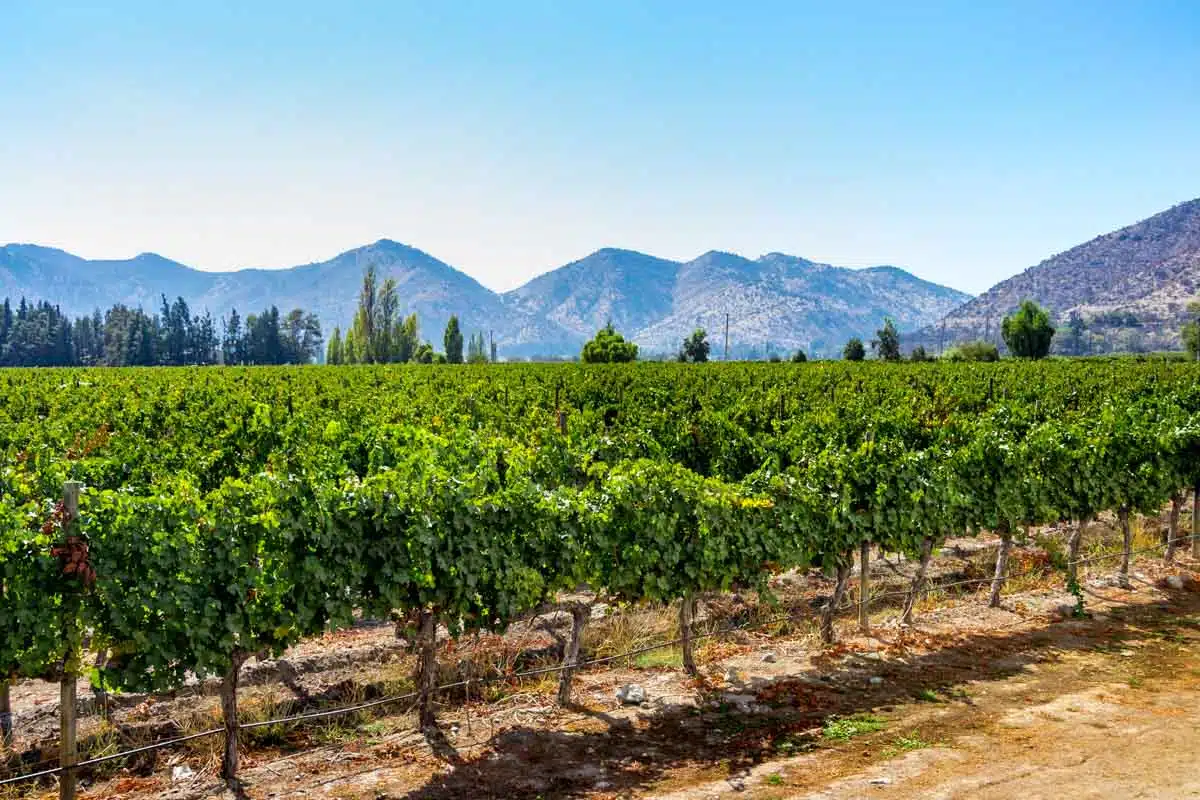 One of Chile's prized contributions to the world is its rich and flavorful wine. In Chile, winemakers grow both red and white grapes, making for an incredible variety of tastes and flavors. Maipo Valley and Casablanca Valley are two of the dozens of winemaking regions in Chile, both within a short drive from Santiago.
While Maipo Valley and Casablanca are two very different wine regions, I've grouped them together here solely because of their proximity to the capital city. However, they are quite different.
For example, in Casablanca Valley, you'll often find wines that use Sauvignon Blanc and Pinot Noir grapes, while Maipo Valley commonly has full-body red wines on offer.
It's worth visiting each valley separately to understand the differences between them. It's easy to spend a day or more hopping around to the different wineries in each valley. Each one has its on unique history and methodology for winemaking, which I found totally fascinating during my travels in each.
If you're looking for a way to relax and see one of the finest Chilean exports, look no further than the vineyards in the valleys surrounding the Andes mountains.
See Colourful Valparaiso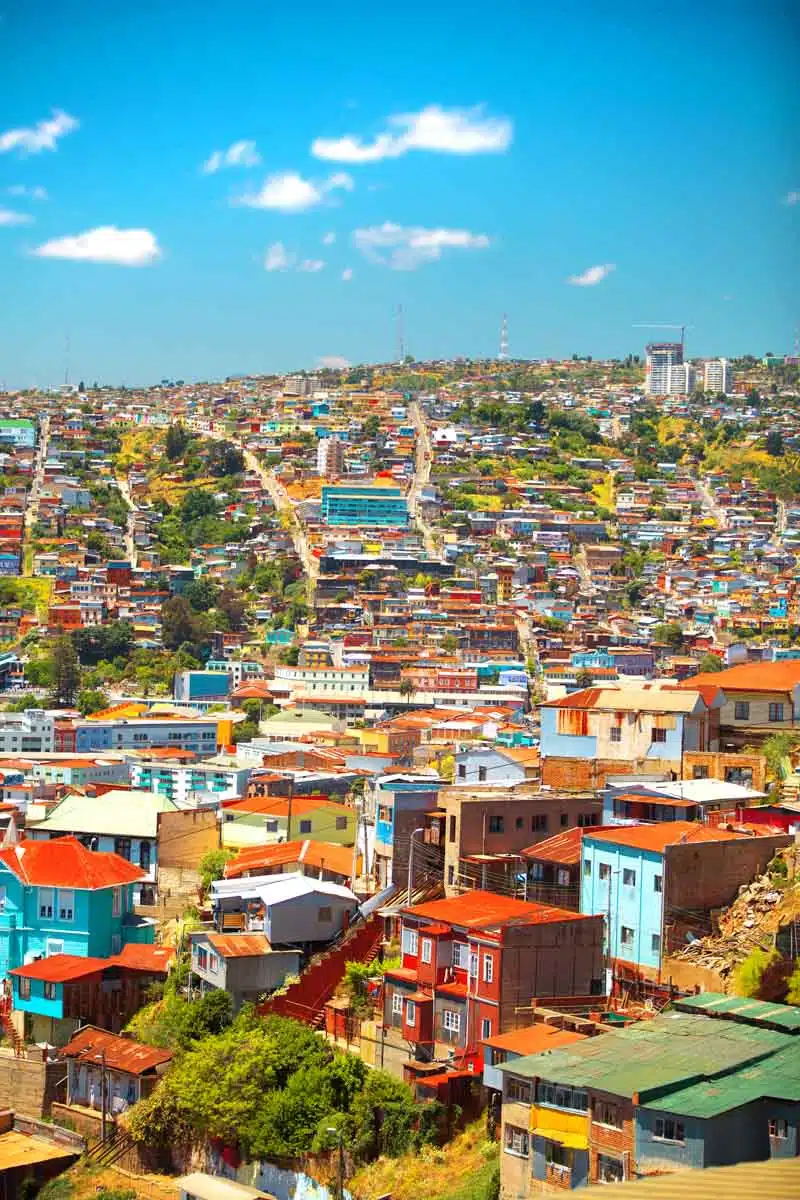 Cheery Valparaiso should be at the top of any traveller's list of things to see in Chile. This busy port has a long and colourful history that is reflected in the enchanting maze of jewel-coloured architecture typical of the city.
Endearingly called "Valpo" by Chilean locals, Valparaíso is a colorful city located on a steep hillside. You can wander for hours through the many staircases and alleys of street art (what I did), or grab a coffee and peruse the many small artisan shops, cute cafes, and galleries (also what I did).
Beloved by artists, poets and novelists for centuries, this slightly eccentric but endearing city boasts a wealth of things to do and see and is becoming increasingly popular with visitors looking for an alternative city to Santiago for their travels.
While Valparaiso is best for simply wandering around or relaxing on a terrace somewhere, here are some other fun things to do in Valparaiso:
Eat some seafood: Being on the seaside, Valparaiso & Vina del Mar also have AMAZING seafood options that local portenos boast as some of the best in the country.
While I didn't get to eat there the last TWO times I was in Valparaiso (the owners were out of town both times), locals say that Tres Peces is one of the best of the best restaurants in the city for seafood. Alternatively, head straight to the source at the Caleta Portales, which in addition to the day's fresh catches, you can sample freshly made ceviche and marinated mariscos.
Take a free walking tour: Valparaiso has TWO free daily walking tours (you just have to tip the guide at the end) – 10 AM and 3 PM. These begin near the base of Cerro Concepcion and will give you lots of amazing historical context of the city, as well as taking you to some of the best street art areas and miradores of the city and the ocean.
Get out on the water: As two cities located on the seaside, there's no better way to get amazing views of the cities themselves than by taking a public guided boat tour.
For budget travelers, there's a local one that leaves from the port of Valparaiso throughout the day for just $4,000 CLP. (And, like it sounds, you'll be nice and cozy with a bunch of local tourists wielding selfie sticks. It's definitely an experience…) Travelers who prefer a bit more comfort can opt for a private guided boat tour on a nicer boat.
And Neighbouring Viña del Mar
Viña del Mar is Valparaiso's beachy counterpart. Narrow staircases give way to flatter lands with a more commercial spin.
Large beach resorts and upscale dining options collide with the city's several miles of sand interspersed with jagged rocks and the occasional sea lion. Here, you can live your best beach life, sipping pisco sours on the sand and pretending to be a Chilean celebrity.
Take a Trip to Chiloé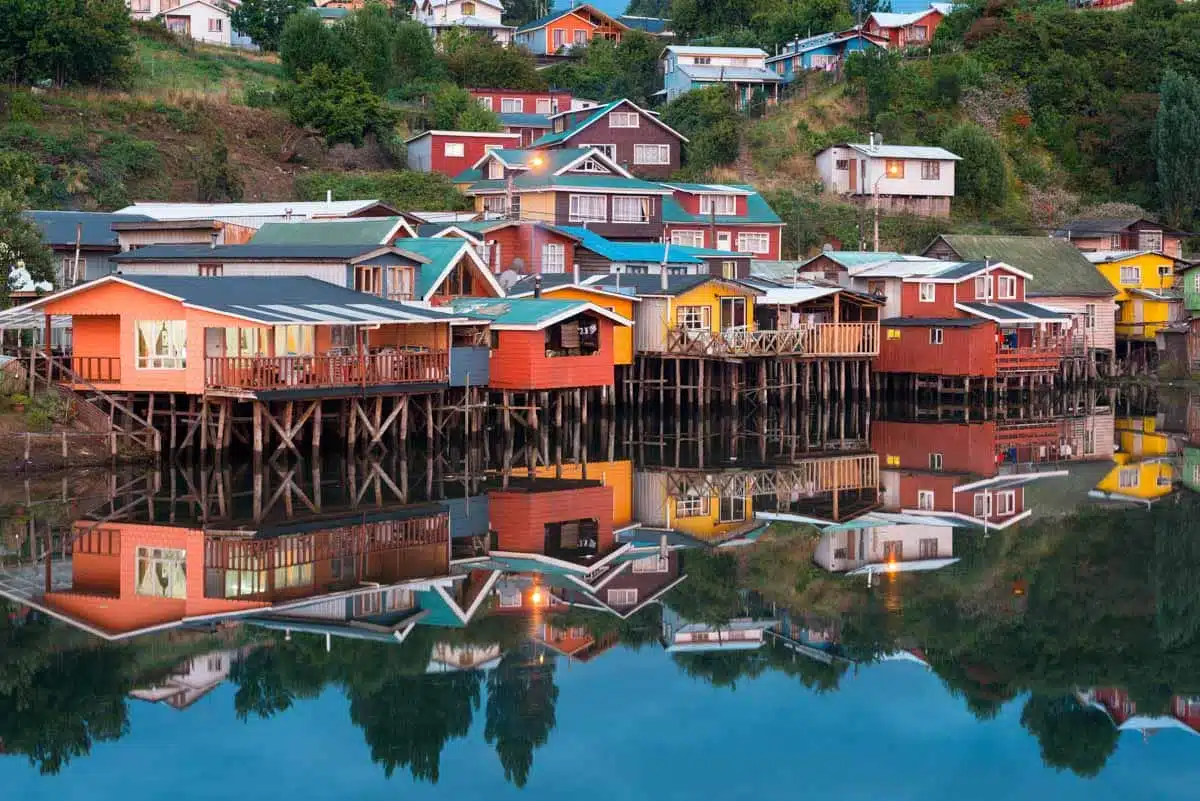 Pristine nature, fascinating history and culture, and beautiful small towns dot the island of Chiloé. Chiloé is home to a whopping 16 incredible UNESCO world heritage sites. Many of these recognized sites are old, historic churches built of wood, like the Church of San Francisco.
Other common activities in Chiloé include kayaking, hiking, exploring the colorful towns, and learning about the fascinating legends surrounding this place.
There are two national parks in the area – Chiloé and Tantauco – that provide ample opportunities for outdoor adventures or relaxation in nature.
Hang Out in Laid-Back Arica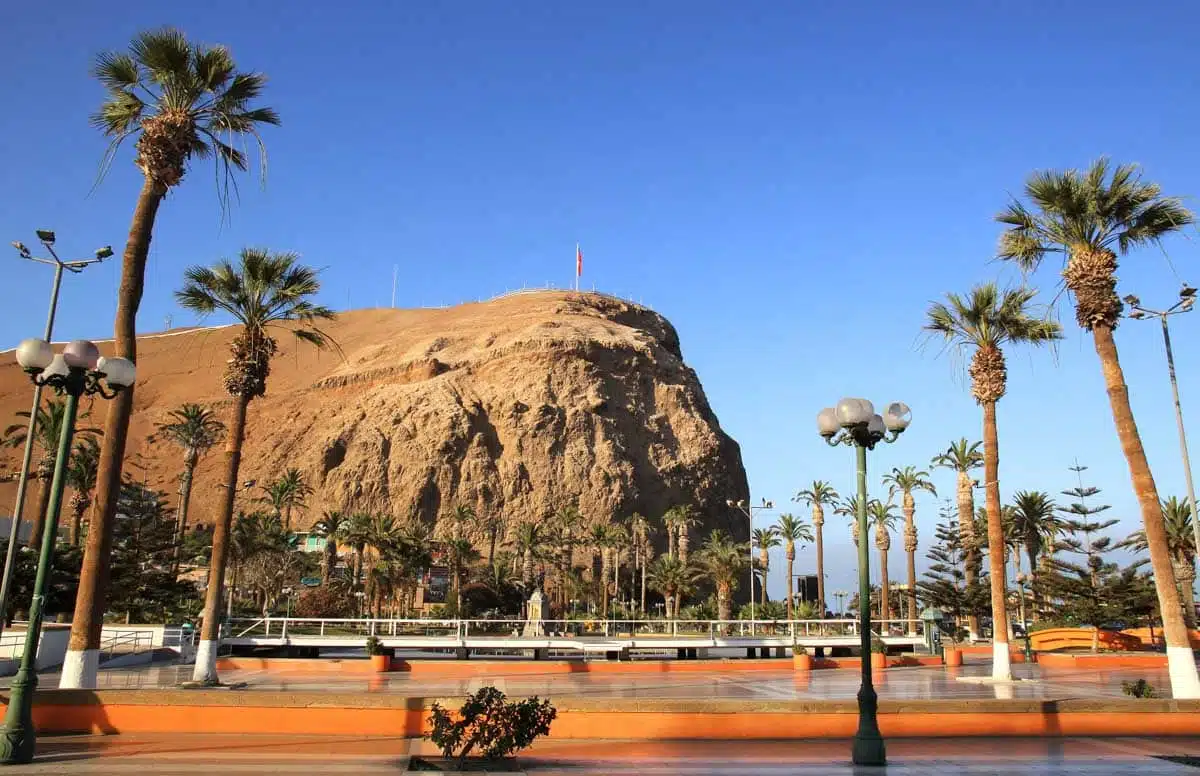 Located on the northernmost tip of Chile on the coast, Arica is a gorgeous little beach town that attracts sunbathers and surfers alike.
Because of its proximity to dry areas like the Atacama Desert, Arica has balmy weather pretty much the entire year, making it an ideal little gem on the many kilometers of Chile's Pacific coast.
Most people come to Arica to relax for a few days before they cross over the border to Peru. This means there are several beach hotels, resorts, and hangouts to lounge around in.
Aside from simply lounging at the beach, here are a few other things you can do in Arica:
Climb El Morro de Arica: Arica is home to a large hill, called El Morro de Arica, which is home to the best views of the city. The Morro is also home to lots of important history in Chile, on display at its Museo de Armas, during wars with neighborhing Peru in the 1800s.
Visit the Cuevas de Anzota: Just over 10 kilometers from Arica lies a system of caves known as the Cuevas de Anzota. These jagged caves, canyons, and rock formations are a fun place to explore the unique landscape and wildlife of the area.
Try your hand at surfing or watersports: Because of its perfect waves, sunshine, and wind, Arica is the perfect place to lean watersports like surfing and bodyboarding and more.
Strike Out for Rapa Nui (Easter Island)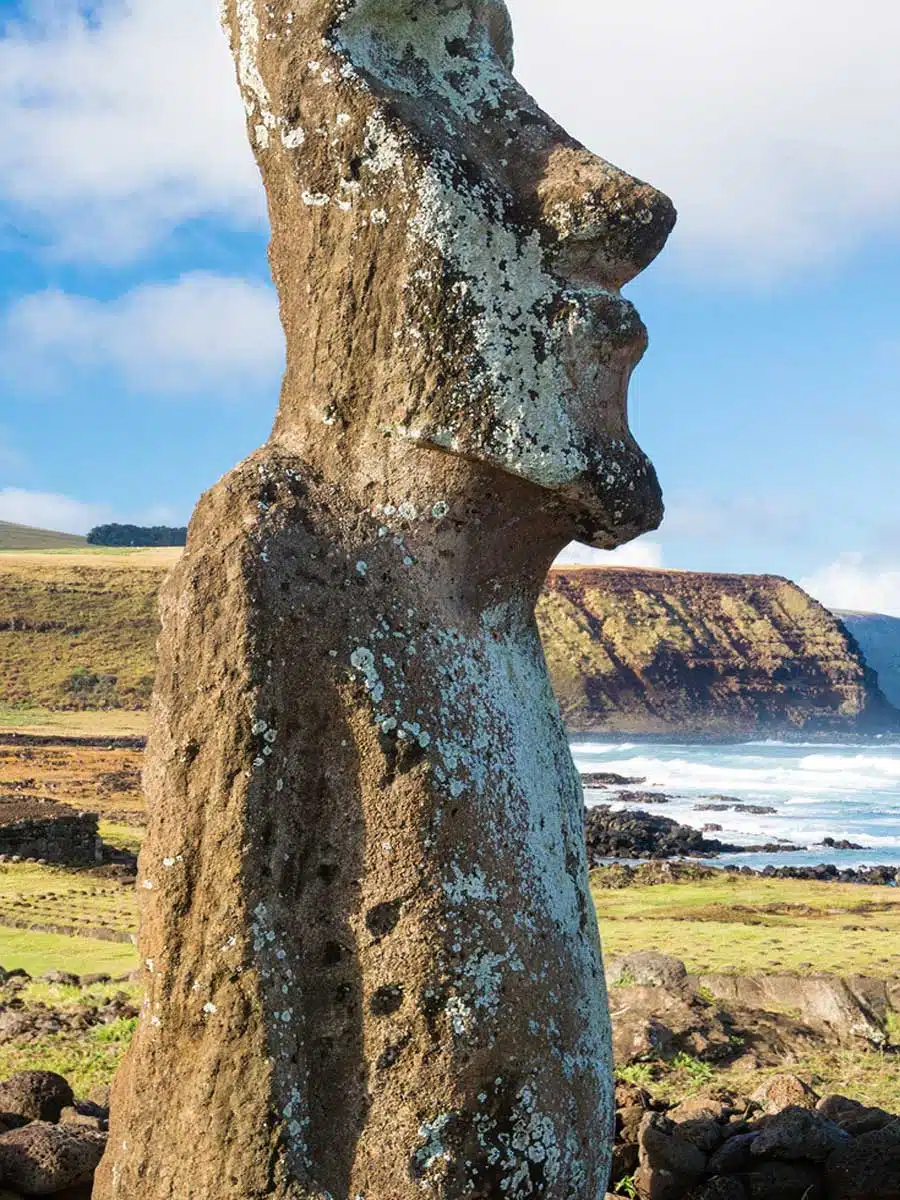 Ah, the famed Easter Island, more correctly known as Rapa Nui. It's a beauty, isn't it? The most iconic view of Easter Island is of the mysterious head statues that almost everyone has seen in photos. But did you know that this baffling place is actually a territory of Chile?
Now known as the most isolated inhabited island in the world, Rapa Nui was originally inhabited by indigenous people linked to Polynesia. The famed heads here, known as the Moai Statues, are the main draw of the island, which now makes significant revenue from the tourism operations in the area.
A visit to Easter Island is neither cheap nor easy, but it's a worthwhile endeavor to experience one of the most remote islands in the entire world. If you're trying to save a bit of money while there, go camping on the island to bask in its beautiful nature. Additionally, booking your flight far in advance can help you reduce travel costs.