Discover the best Norwegian ski resorts for the ultimate winter vacation.
Imagine sipping on a cup of hot cocoa as you admire mighty mountains with a blanket of snow covering their surface. After you're all warm, you hit the slopes, racing past towering pine trees and fellow skiing enthusiasts.
If you can picture it, you might as well be in Norway already. You may be wondering how many ski resorts there are in Norway. Finding the right one isn't easy, with a whopping 125 ski resorts across the country.
But this is where I come in to show you the best Norway ski resorts and make your life a little easier.
So when you're ready, let's take a journey to discover unmissable spots to add to your Norway travel guide.
Best Ski Resorts in Norway
Geilo
Best for the most variety of slopes
Starting with a bang, Geilo has held the title as one of Norway's best ski resorts for the last three years. This destination has this title for a good reason, as it's one of the most diverse ski slopes in the country.
At Geilo, you can traverse across 45 slopes on either side of the Hallingdal valley. The best way to experience this place's variety is on the Geilo High Five tour.
On tour, you'll travel to the top of the valley's five peaks, where you can admire the breathtaking views of Norway. You'll ski down the most unique parts of Geilo, from thin hairline tracks to the best open-view slopes.
With its 22 lifts and fantastic restaurants like Trakia, you'll have an unbelievable time at Geilo.
Suggested Stay: Ustedalen Resort Leiligheter
Suggested Ski Holiday Package: Geilo Forest Cabins Package
Hafjell Ski Resort
Best for Olympic standard skiing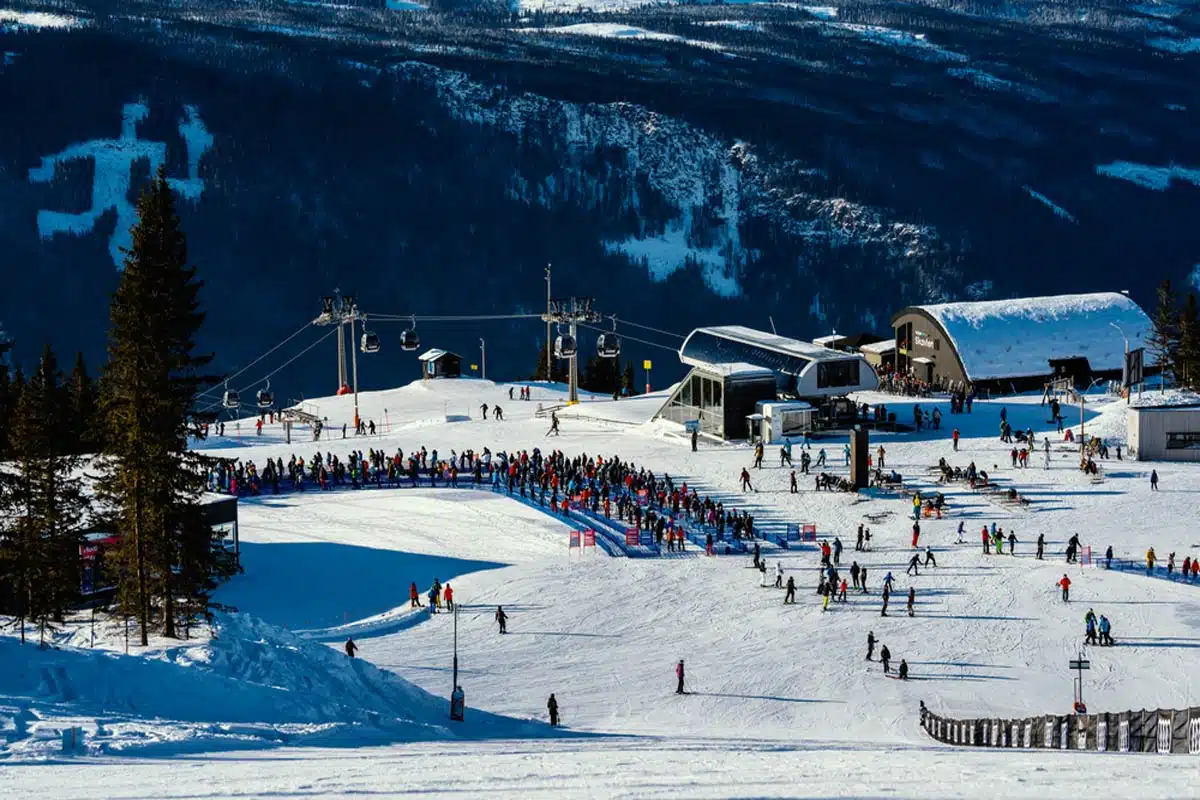 If you want to test your skiing skills, then Hafjell Ski Resort is the perfect place. This resort is well known for its Olympic-standard slopes. You may recognise the tracks and courses from the 2019 X Games.
You can get a ski pass based on the number of days you will spend at the resort. You can traverse the VM Starten jumping trail, made for the 2014 World Cup. Or go on the scenic NM-Loypa trail through forests, rock gardens, and the notorious "Hangar ship" jump.
There are 19 flawless trails for you to try out, and with the world-class training school, you'll get up to speed in no time. If you want delicious Norwegian food with a mesmerising view of the landscape, grab a bite at Skavlen Restaurant.
Suggested Stay: Pellestova Hotell Hafjell
Suggested Ski Holiday Package: Clarion Collection Hotel Hammer Package
Top Tip: There is more to do than ski in this beautiful country. Read about the best things to do in Norway for an unforgettable holiday.
Hemsedal Ski Centre
Best for après skiing in Norway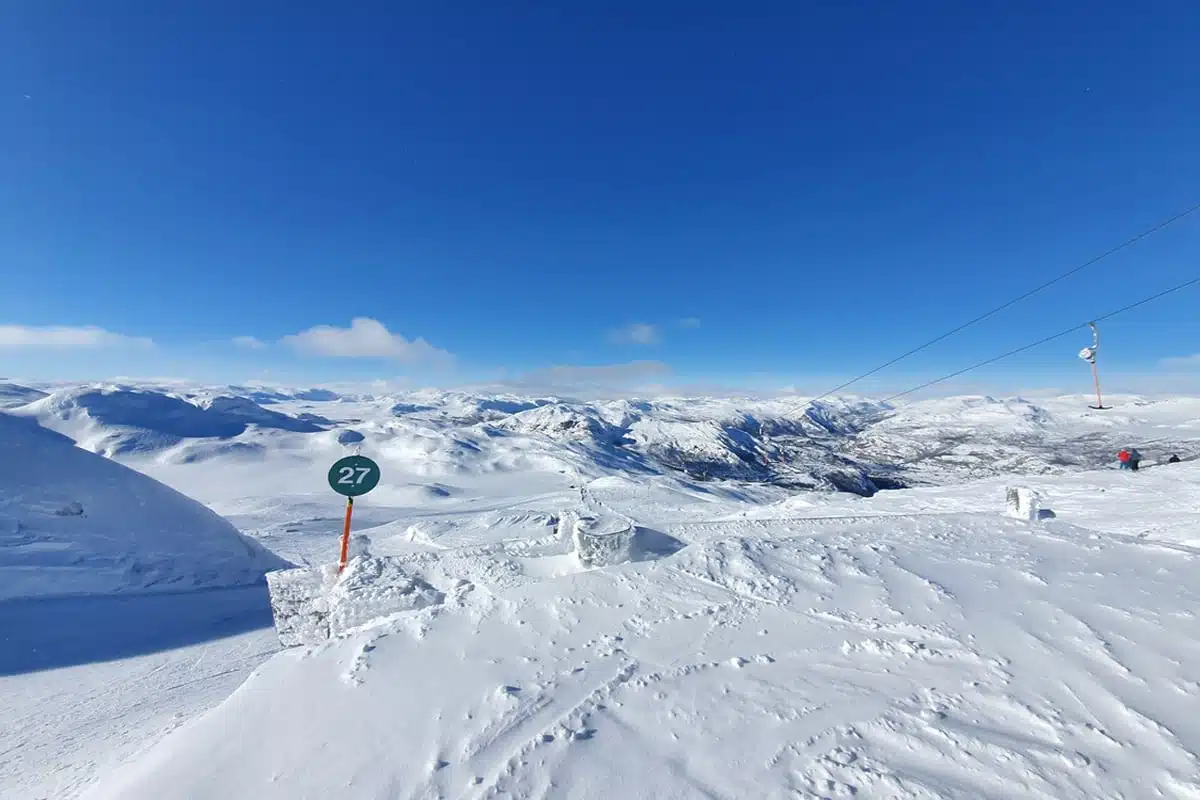 This is the second biggest ski resort in Norway, so you can imagine there's much to do here. Hemsedal Ski Centre is a sustainable travel destination, so you can have a great time here and know you're doing your part for the environment.
There are 53 slopes leading from the Totten, Tinden, and Roni peaks. There is plenty to choose from, like the leisurely panoramic trail down Tinden peak or the challenging bullet trail through pine forests.
No matter your level, there is something you can do here. If you want something more manageable, you can always join a SkiStar fun ride through the resort.
Wondering where to eat in Hemsedal? Visit the Harahorn restaurant for a culinary journey through Norway's finest delicacies, and let's not forget the incredible view.
Suggested Stay: Fýri Resor
Suggested Ski Holiday Package: Short Week at SkiStar Lodge
Hovden Alpine Centre
Best for southern Norway skiing
If you want to stay close to other countries like Denmark, then the Hovden Alpine Centre is a fantastic option. There are three regions of the mountain you can ski down, with all of them meeting at Nos peak.
With 34 slopes catering to a vast range of skills, you have plenty of options. If you want a long journey through the mountains, join a cross-country skiing trip.
Not your vibe? You can always enjoy some night skiing with the starry sky up above. It's a truly mesmerising sight.
For a truly Nordic dining experience, head to the homely Furumo restaurant. And just before you think Hovden can't get any better, there's a water park and spa for a relaxing day.
Suggested Stay: Hovdestoylen
Suggested Ski Holiday Package: Hovdestoylen Holiday Package
Kvitfjell Ski Resort
Best for long black trail skiing in Norway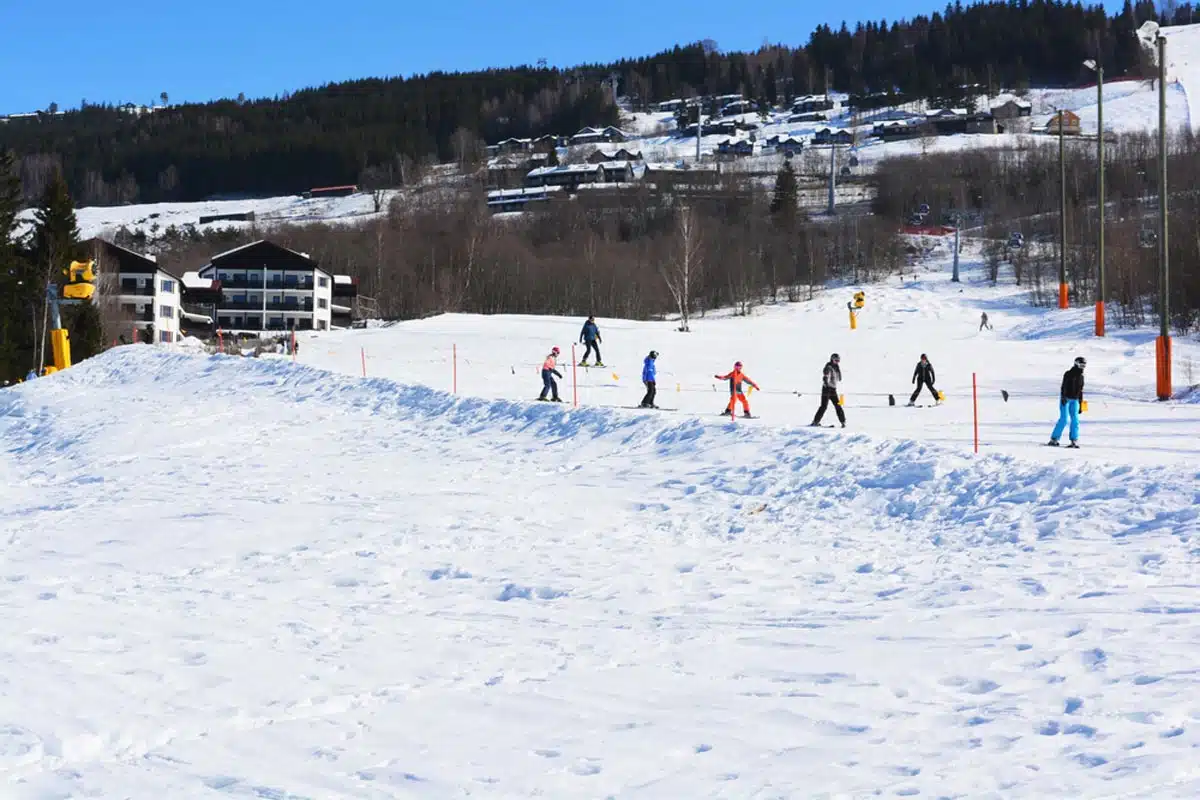 Kvitfjell is another one of those Olympic standard resorts to ski in Norway that is only open in the winter. It's only 30-minutes away from Hafjell, with 33 slopes leading down Segelstadsæterkampen and Varden peaks.
Kvitfjell is one of the best places to go for black trail skiing, with the Ovre Olympiabakke trail as the most exciting of the lot. You traverse down 2,801 feet of the thrilling mountainside.
If that is a bit too daunting, you can always enjoy the relaxing slopes of the terrain park, which cater to just about every skier. Kvitfjell is also a fantastic spot for Norway snowboarding, with plenty of jumps and rail boxes in the terrain park.
To top it all off, Kvitfjell is one of the best places for ski holidays in Norway, thanks to its diverse range of restaurants. One of the top places to visit is Fôr restaurant on the east side of Varden.
Suggested Stay: Gudbrandsgard Hotel
Suggested Ski Holiday Package: Ilsetra Hotell Package
Myrkdalen Mountain Resort
Best for snow-filled fun in Norway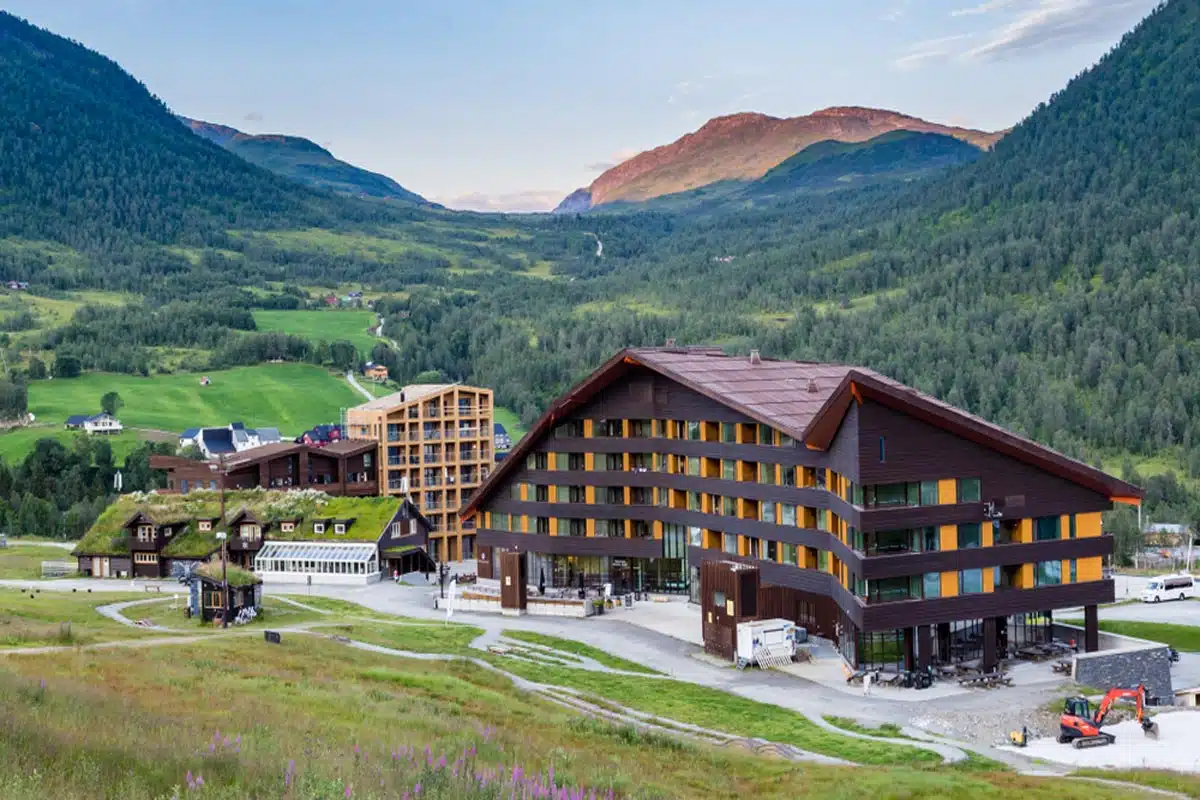 Myrkdalen is one of the smaller resorts on this list, but it's still full of adventurous terrain. The 22 slopes have deep paths that cut through the picturesque mountainside. Before you head down the mountain, don't forget to take in the breathtaking views of Voss.
Myrkdalen is also well known as one of the snowiest ski resorts in Europe, so you'll be in a winter wonderland. And you don't just have to ski here, as their avalanche transceiver training area can help you gear up for avalanche hunting.
As far as food goes, you're not short of options. If you want delicious pizza, Restaurant Tunet is your best shot. Feeling like some warm cheesy bread? Head over to Restaurant Nuten Fondue.
Top Tip: While at Myrkdalen, make sure you visit the Nærøyfjord UNESCO site for an authentic experience of Norway.
Suggested Stay: Myrkdalen Resort Hotel
Suggested Ski Holiday Package: Stalheim Hotel Package
Narvikfjellet Ski Resort
Best for skiing with the Northern Lights overhead
Did you ever think you could ski under the Northern Lights? If so, then you're in luck, as Narvikfjellet is the perfect place to do so. It's the highest ski resort in Norway's northern region and has a variety of 15 unique slopes to pick from.
Most of the slopes begin just below the panoramic viewpoint of Skaret, with the longest trail (3.1 miles) reaching up to Linken peak. The resort is 136 miles north of the Arctic Circle, so nights in winter last for just about the entire day.
This means you're more likely to catch the once-in-a-lifetime opportunity of seeing the Northern Lights. Aside from this natural phenomenon, you can have a bite at several restaurants near the resort. For a unique Norwegian dining experience, go to Fiskekroken for fresh nordic fish.
Top Tip: Discover the top Northern Lights hotels in Norway.
Suggested Stay: Scandic Narvik
Suggested Ski Holiday Package: Quality Hotel Grand Royal Package
Trysil
Best ski slopes for all ages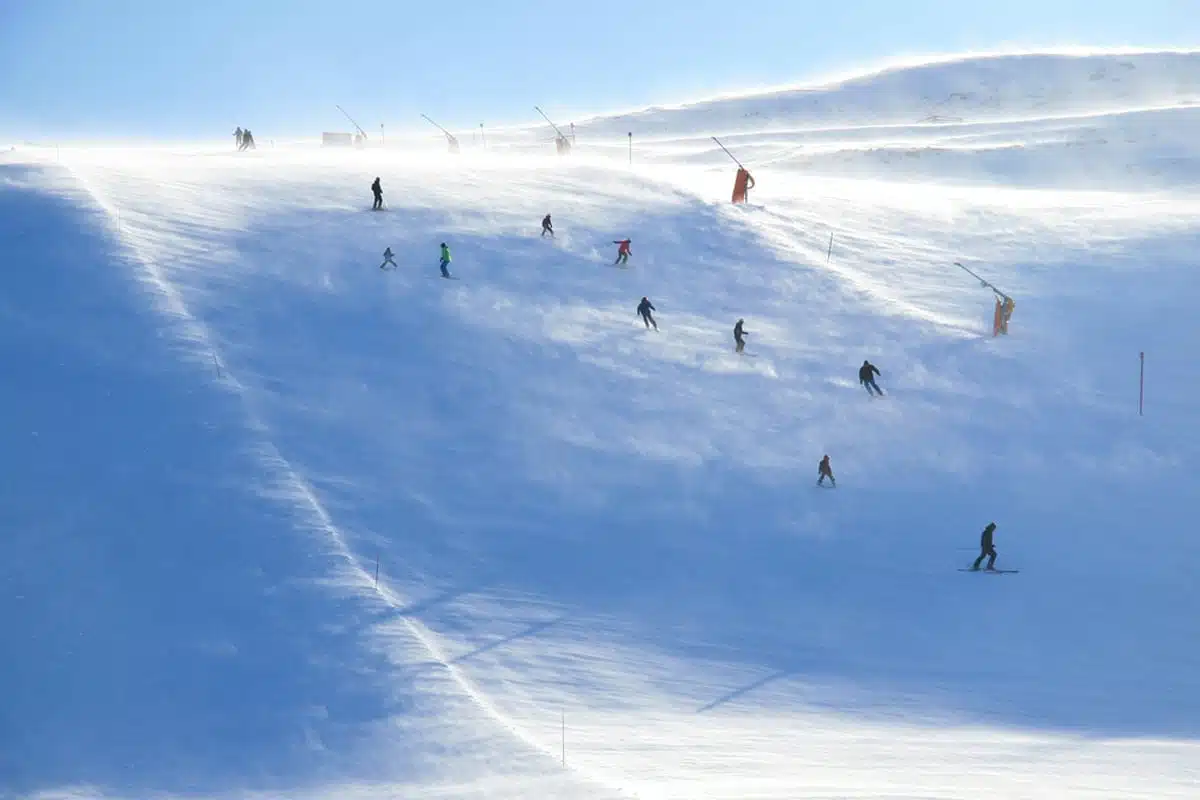 Last but certainly not least is Trysil. This is the largest ski resort in Norway, so you can expect lots of options and, of course, lots of people. But don't let the crowds deter you. You'll barely notice its business with 68 slopes and 31 efficient lifts.
The longest trail is a staggering 3.1 miles long, and you can't forget Black Trail 75, which has an impressive 45% slope. Now that is pretty steep. If you're not at the master level just yet, you can still enjoy the splendour of skiing through pine forests with panoramic views.
And after a long day of exploring the Trysil slopes, take your pick from more than 30 eateries in town. The people of Trysiil's favourite is Kveik Restaurant & Brewpub, which serves up some mouthwatering Nordic cuisine.
Suggested Stay: Radisson Blu Mountain Resort
Suggested Ski Holiday Package: Trysil Hotel Package
Practical Tips for Skiing at Norway's Ski Resorts
Best Time for a Norway Ski Holiday
The best time to visit Norway for skiing is in November or from February until March. Although December and January get the best snowfall, they are also the most expensive times to visit.
Can you ski in Norway in the summer? The short answer is no, but you can still go on the many bike trails at the ski resorts.
When is the Norway Ski Season
The ski season in Norway depends on the region you are visiting. If you are in the south of Norway, the skiing season is from November until May. If you are in the north of Norway, the season can last from November until July.
What to Expect When Skiing in Norway
Each resort has a grading system for each slope, ranking them from easy (green) to difficult (black). It's best to stick to only skiing on the slopes you know you can handle.
Otherwise, you can expect a lot of friendly faces. Each resort has a passionate team of skiers who help everyone, no matter your skill level.
Ski Resorts in Norway: Map
Skiing in Norway: Read Next